This oil free Vegan Red Velvet Cake is moist and chewy with a hint of chocolate. Its made with oat flour, almonds, colored with fresh beetroots and sweetened with dates. It's a delectable yet healthy treat for all ages with a simple and creamy frosting.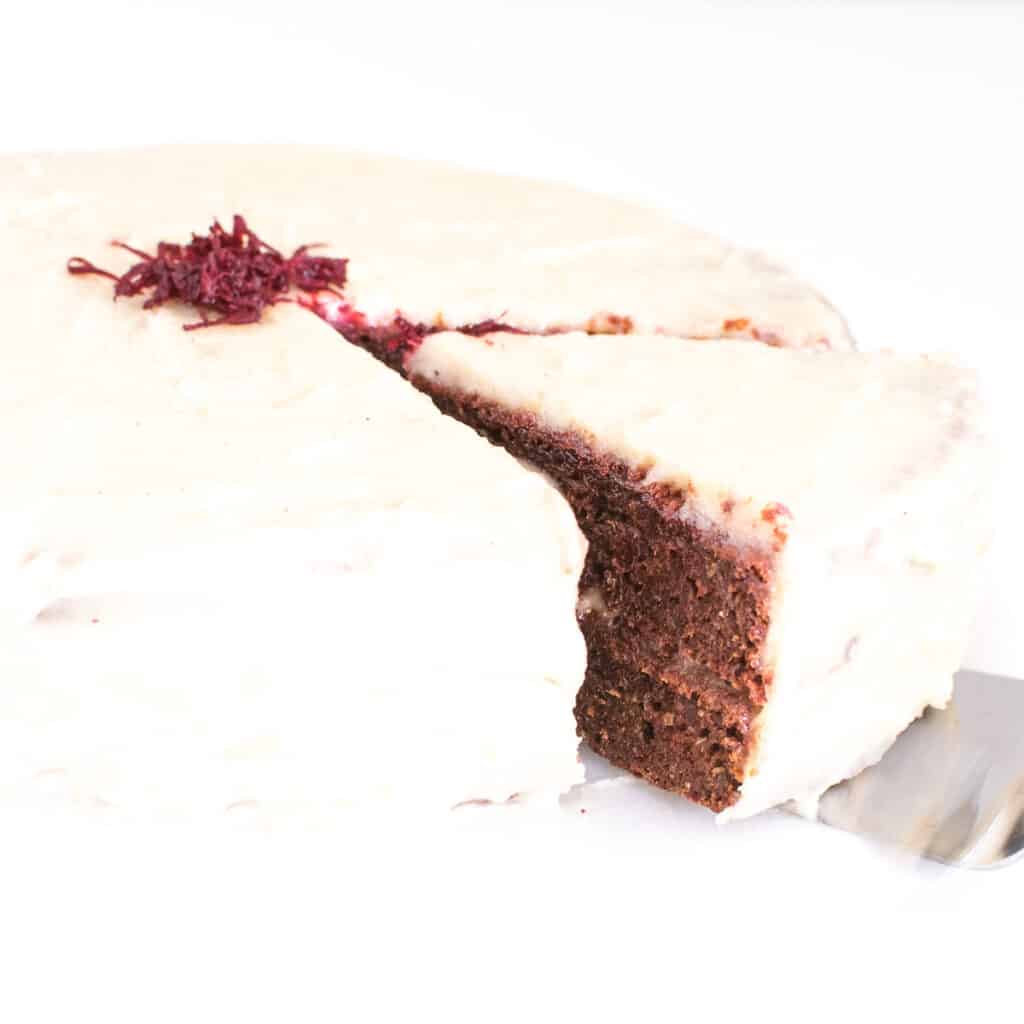 Usually, a store-bought red velvet cake includes food color and they use all the processed food ingredients. So, I have been wondering to come up with a recipe with fresh and real ingredients and yet delightful.
Therefore, the first thought that I came up with was to use fresh beets to color it. Wait….. I know it sounds weird but you have to try it first. Its works excellently in this recipe.
I am amazed at this veggie's versatility. It colored beautifully and also proved this cake with nutrition and lots of taste. I have shared all my tricks and tips to smoothen out its taste so that it's a smooth journey of baking for you.
Hence,I guarantee you will love this delicious red velvet cake with your loved ones.
Moreover, its kid friendly too. My daughter loves it like a pound cake and the rest of use like it with frosting/icing. Overall, it's a beautiful Valentine's treat which is healthy, nutritious and guilt free.
I have also tried other desserts which you may find interesting like:
Pistachio Cake
Oil Free Cherry Cake
Vegan Strawberry Cake
Vegan Carrot Cake with Oat flour
Easy Vegan Chocolate Cake
Other beetroot recipes you might like:
Beetroot Rhubarb Ice Cream
Paleo Beetroot Tortilla
Veggie Beetroot Curry
Spicy Beet Burger
However, coming back to this recipe, I practiced it many times with variations. Every time they taste as excellent as ever. So therefore, it's a well tried and tested recipe.
In fact, I got a chance to get it tested by my brother who himself is an excellent cook and a food expert. So, when he loved the flavors of this vegan dessert and approved it, I was super motivated. He totally encouraged me to post it here.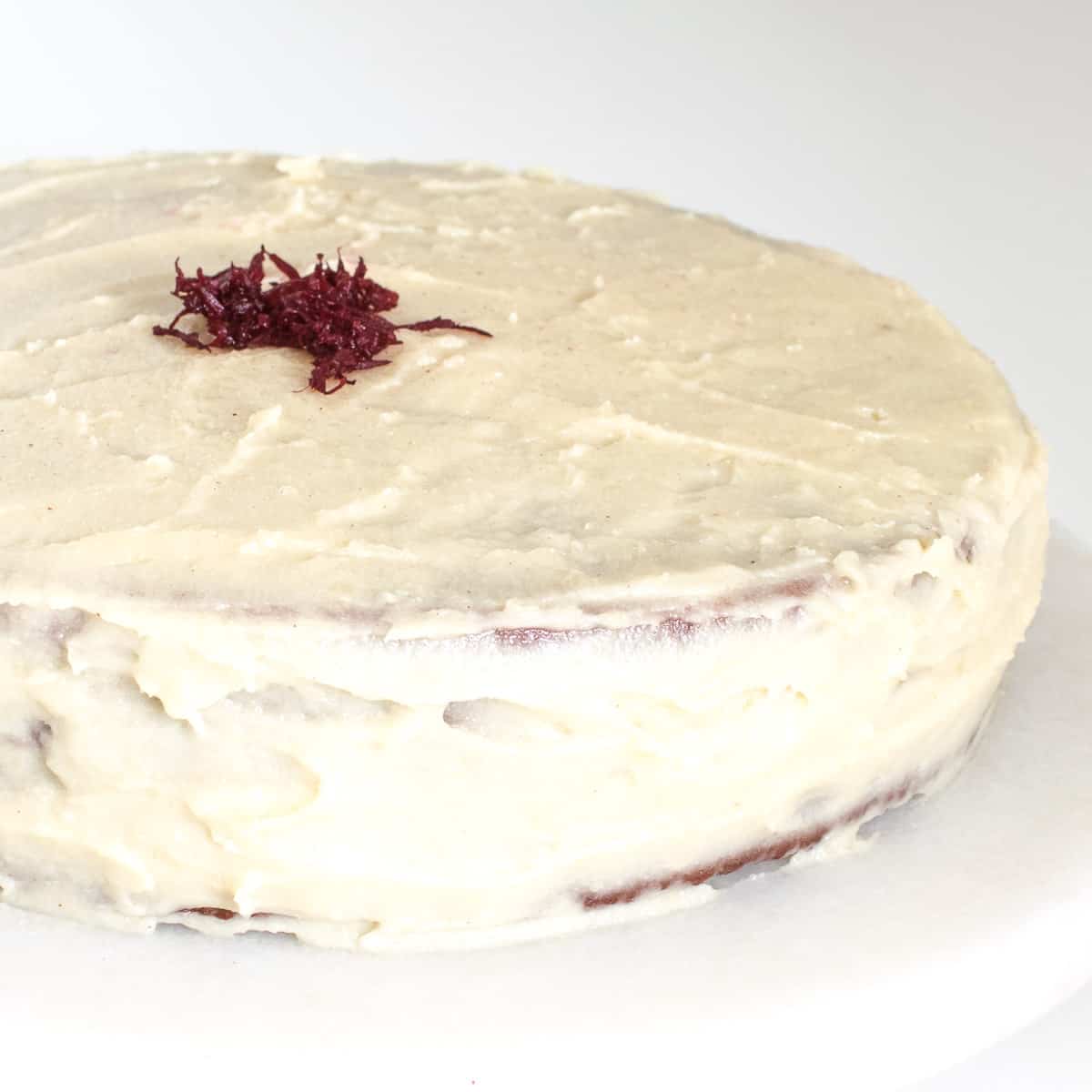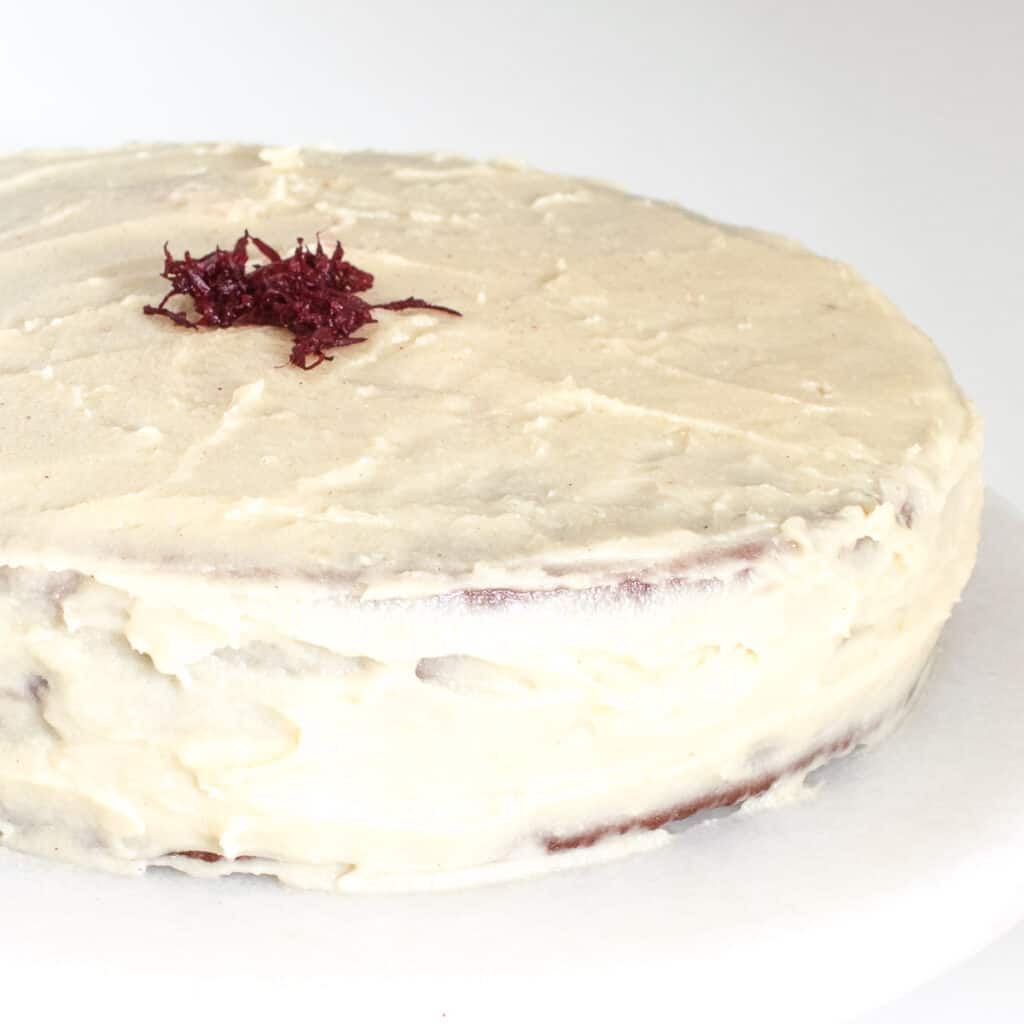 Hence, I am here to share this awesome vegan red velvet cake recipe with you all:
Ingredients you will need:
Dry ingredients
Oat flour
Almond flour
Cocoa powder
Baking powder
Baking soda
Salt
Wet ingredients
Beetroots
Oat milk
Vanilla extract
Dates
Soaked chia seeds
Maple syrup
Apple cider vinegar
Frosting
Cashew nuts
Oat milk
Sugar
Vanilla extract
I have used these easily available ingredients which you may buy from any local grocery store but I have provided links to few of them here for your convenience.
If you plan to buy from these affiliate links then I get a small commission which in turn encourages me to bring in more delicious recipe for you all.
Ingredients notes:
Oat flour – its fiber rich and low GI food ingredient. It's a great source of iron and less processed. It's a healthier grain and has a slight sweet nutty flavor to it.
Almond flour – it is basically blanched, dried and ground almonds. It's a great source for healthy fats especially omega 3.
Beetroot – its iron rich vegetable that colors this recipe perfectly and naturally. It also adds lot of fiber and nutrition to this dessert. Along with weight loss it also promotes brain health and keeps blood pressure in check. Its loaded with antioxidants and increases exercise performance.
Oat milk – I used it because of its creamy texture and sweet flavor. You may use any dairy free milk in this recipe.
Dates – its fiber rich and a great source for antioxidants. It promotes natural labor and is natural sweetener that is a family of whole foods.
Chia seeds – its superfood with protein and fiber along with healthy fats. I used it as a vegan egg replacer here.
Maple syrup – I used a tiny bit of it to smoothen out the earthy taste of beetroot.
Cashew nuts – this is important to make the frosting. I blended it well to make a thick, creamy and stiff frosting that resembles the traditional one. However, its more nutritious because it adds healthy fats, protein and other vitamins and minerals to this recipe.
How to make Vegan Red Velvet Cake
Firstly, in a mixing bowl, I combined all the dry ingredients and mixed it well. I made it sure that there were no lumps in it and kept it aside.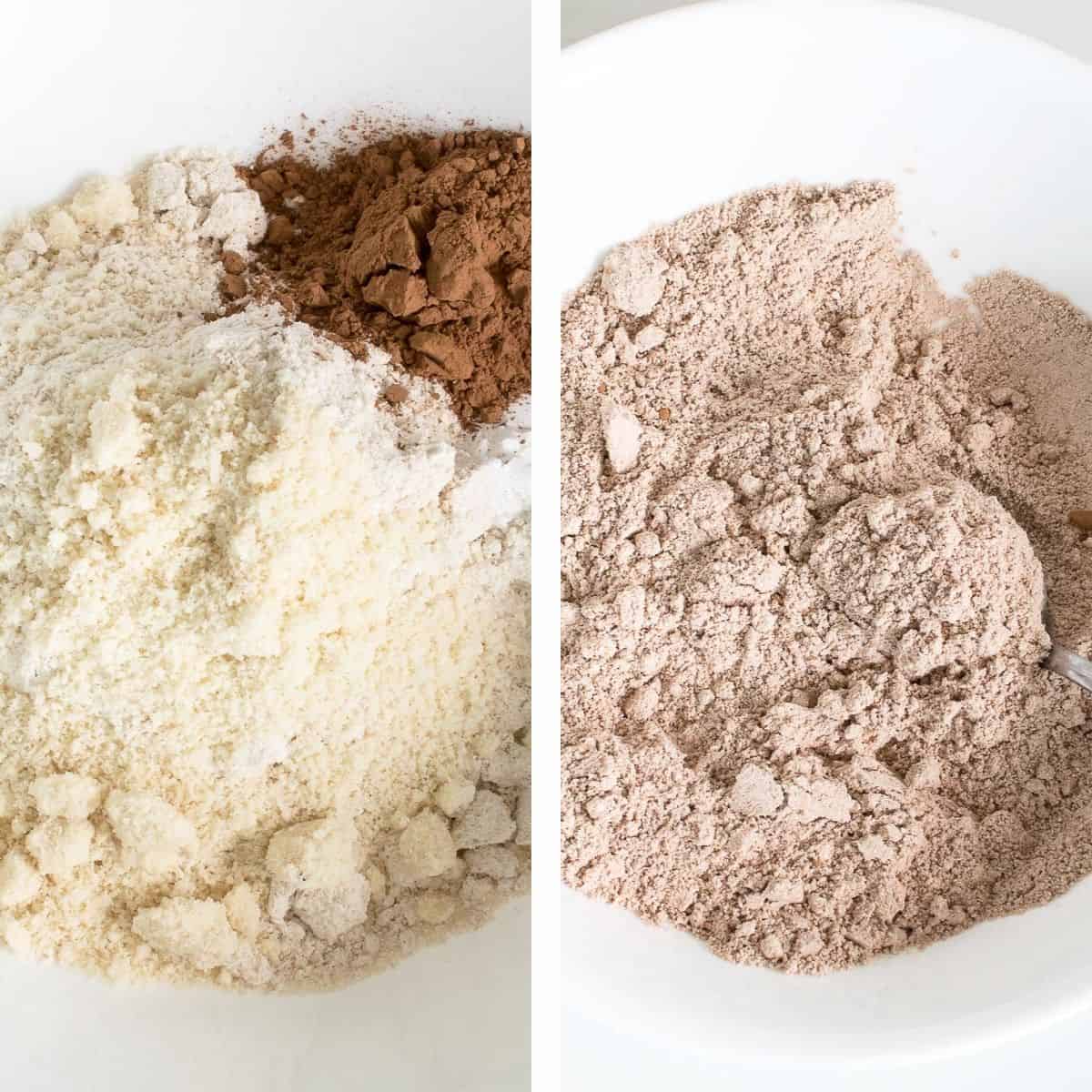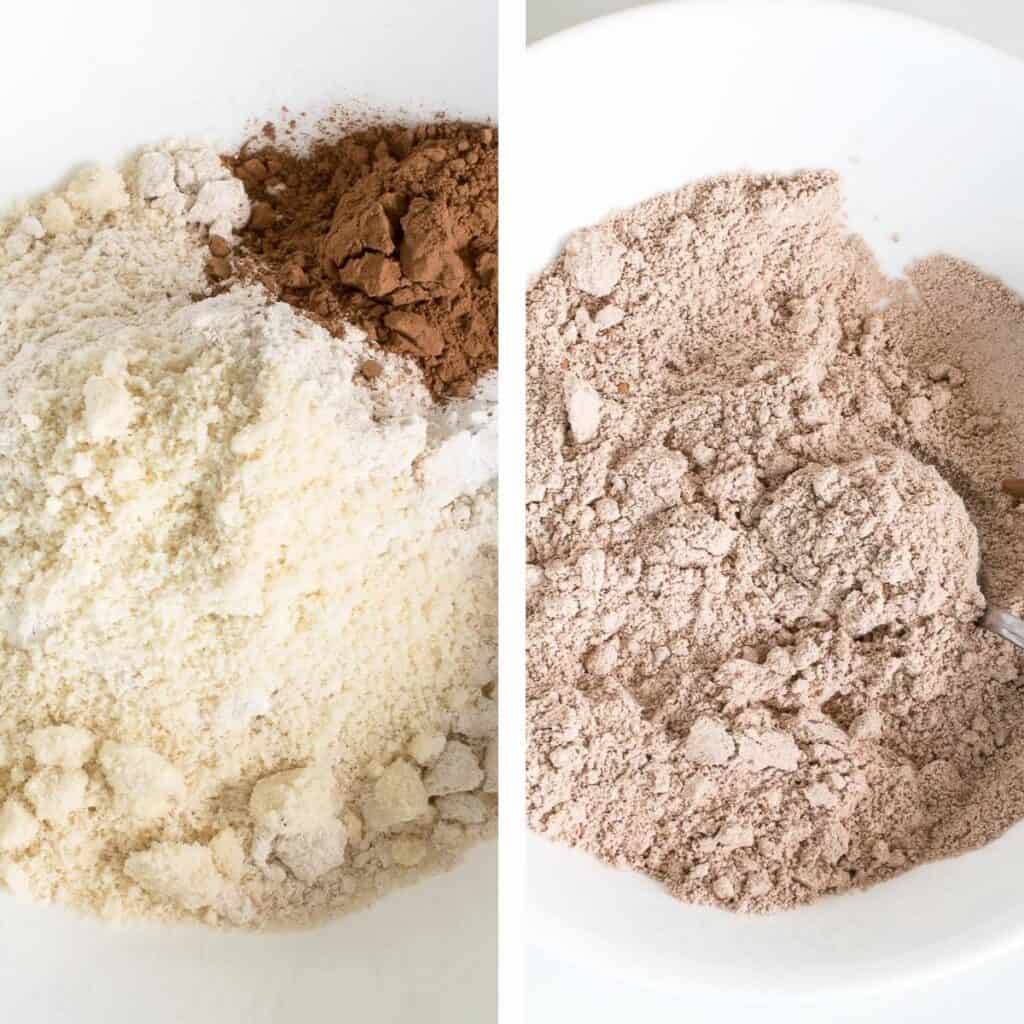 Secondly, in a blender I combined all the wet ingredients and blended it smooth.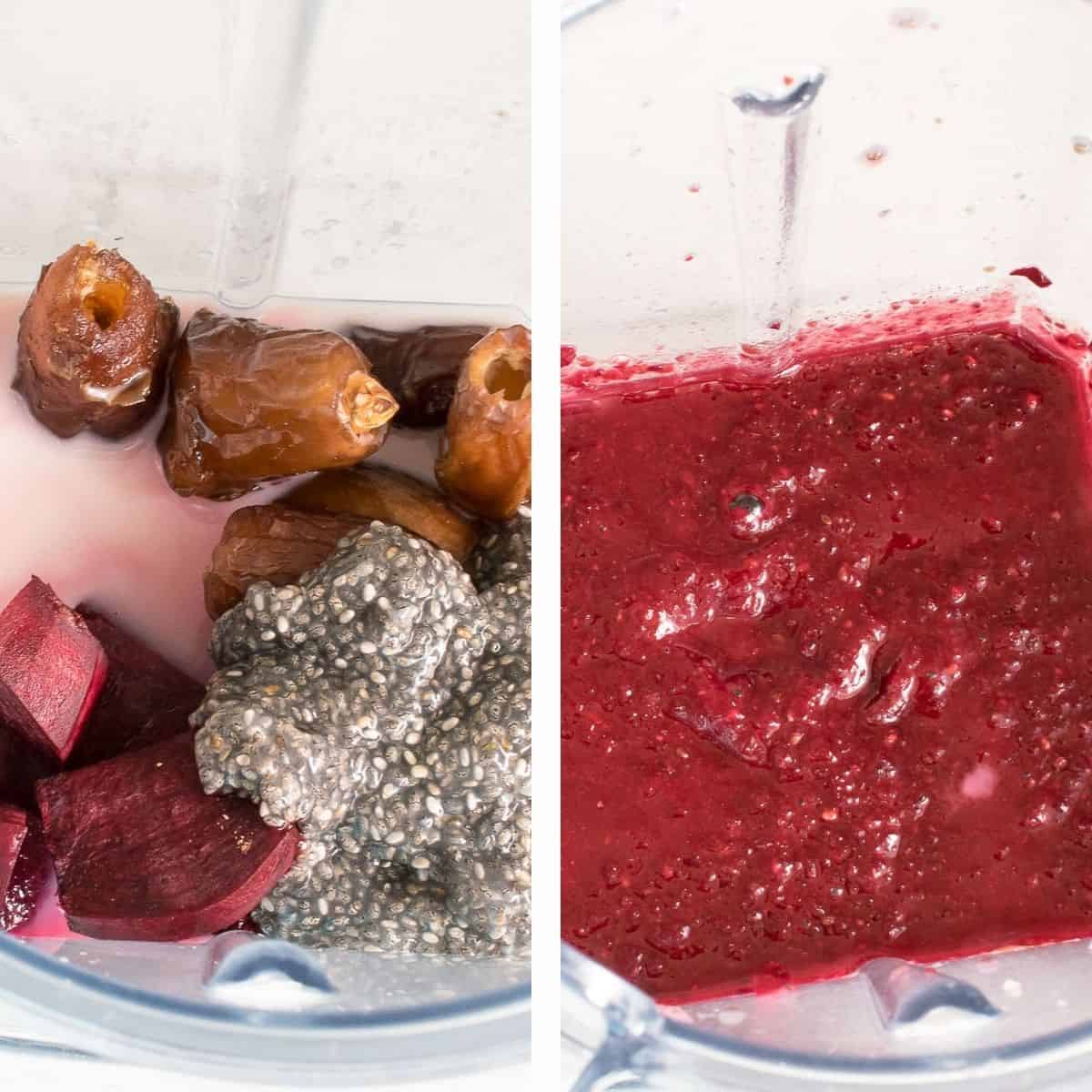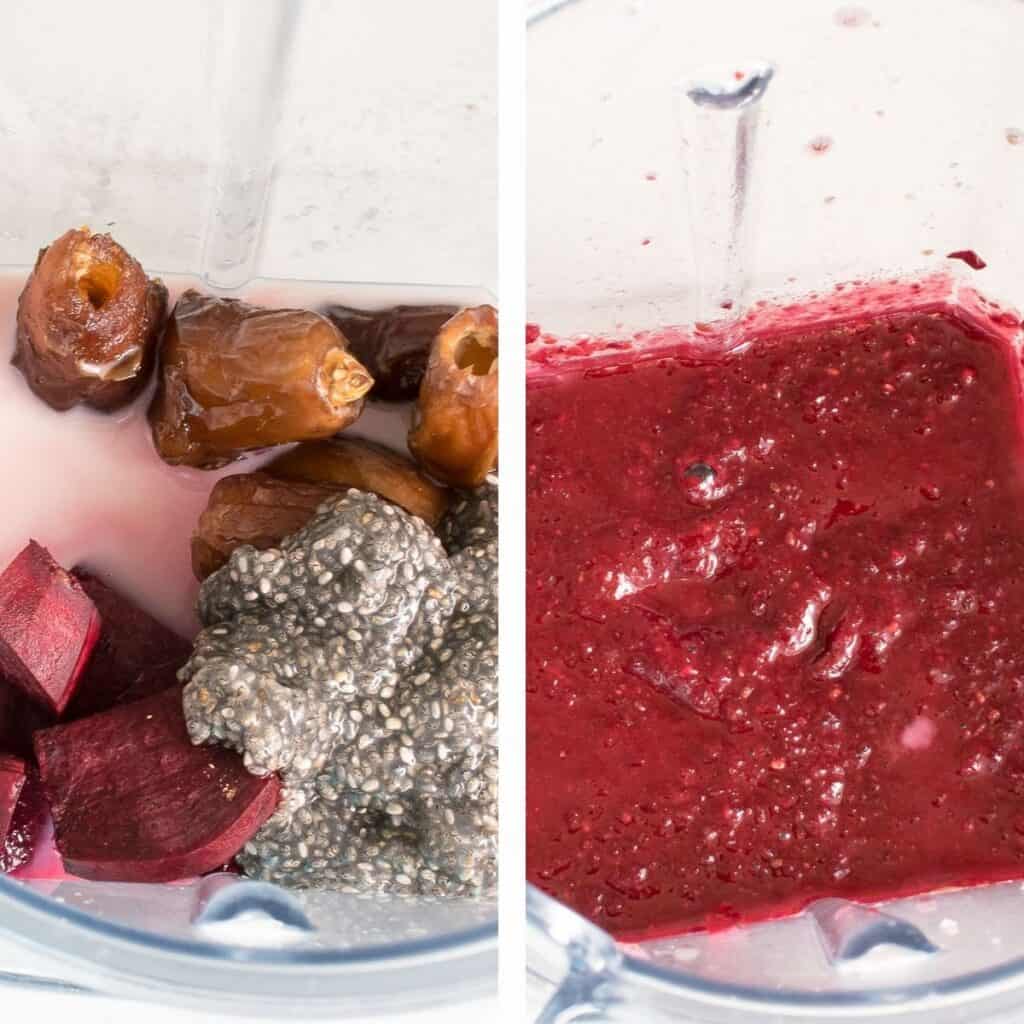 Next, I folded in the wet ingredients into the dry ingredients and whipped it into a soft yet thick batter.
Then, I spooned it out in two prepared cake pan and gently tapped them to shape the batter as per the pans. Immediately, I placed them in the preheated oven and baked them for 25-30 minutes or until the tester came out clean.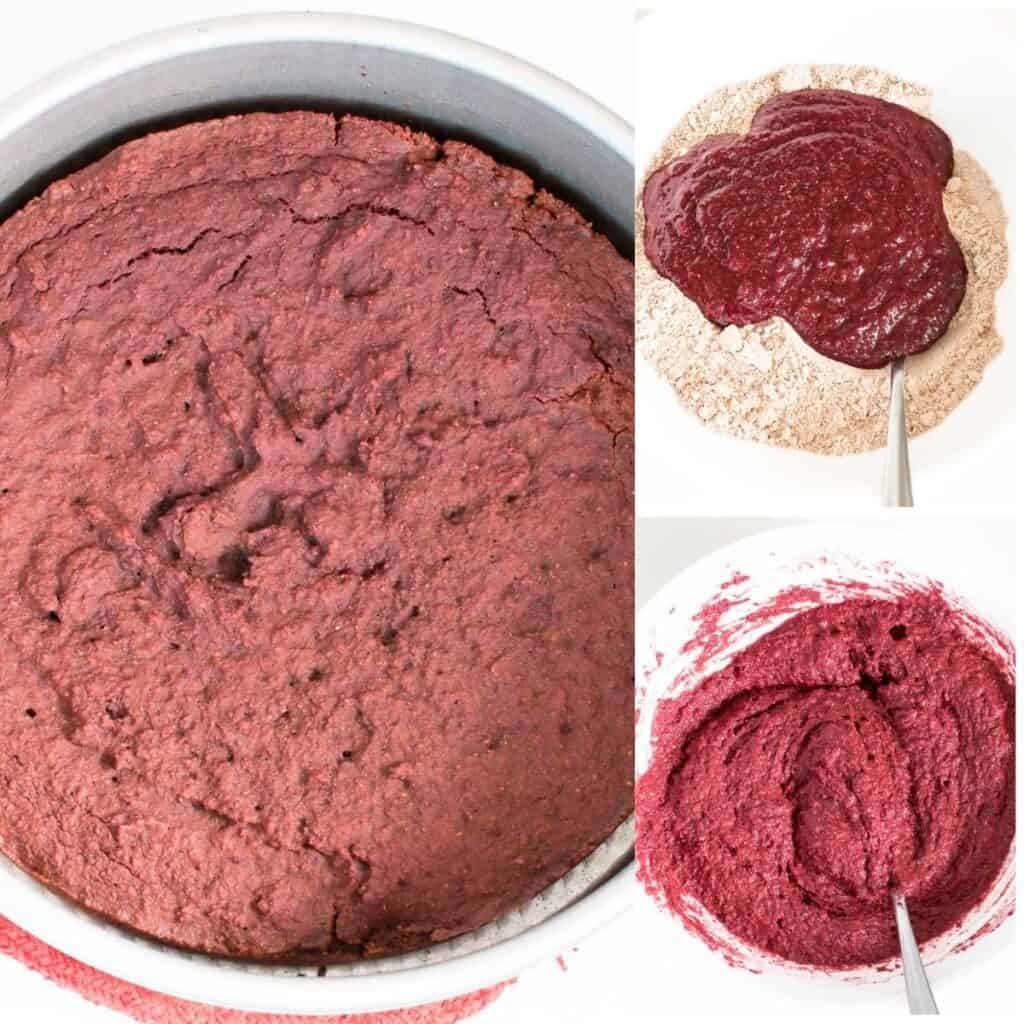 In the meanwhile, I blended the frosting ingredients in a blender. This took me about 5 minutes. I made sure to scrape and press the ingredients at intervals so as to get a smooth creamy and yet stiff texture. Then, I spooned it out in a bowl and kept it aside.
Once done, I turned off the oven and took out the pans form it. Then, I placed them on a flat surface and let them cool for about 20 minutes without disturbing them.
Thereafter, I inverted one of the cakes on a working flat surface and spread the frosting on it with a butter knife.
Afterwards, I inverted another one on the first layer and topped it with the frosting as well.
Lastly, I covered the whole cake with the frosting.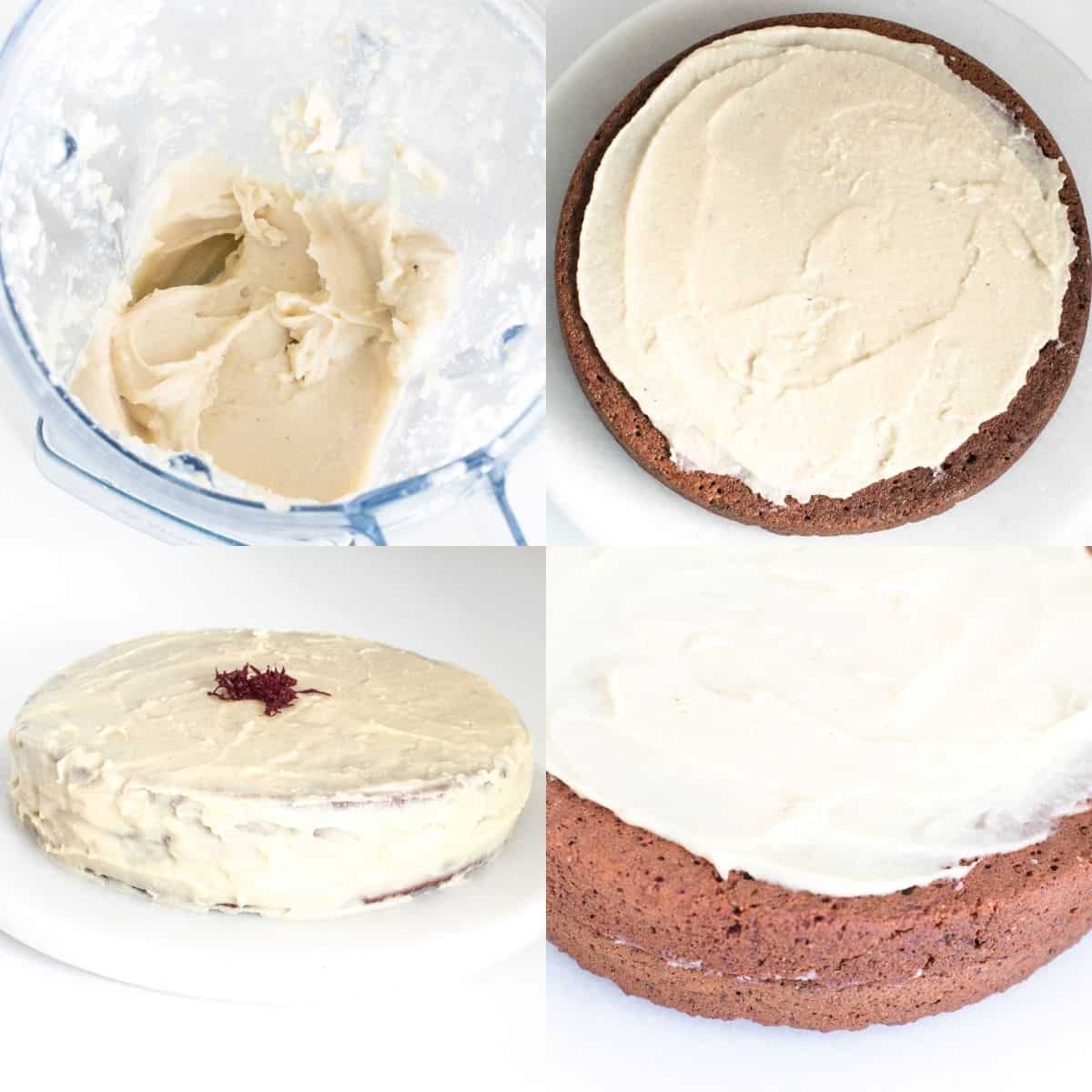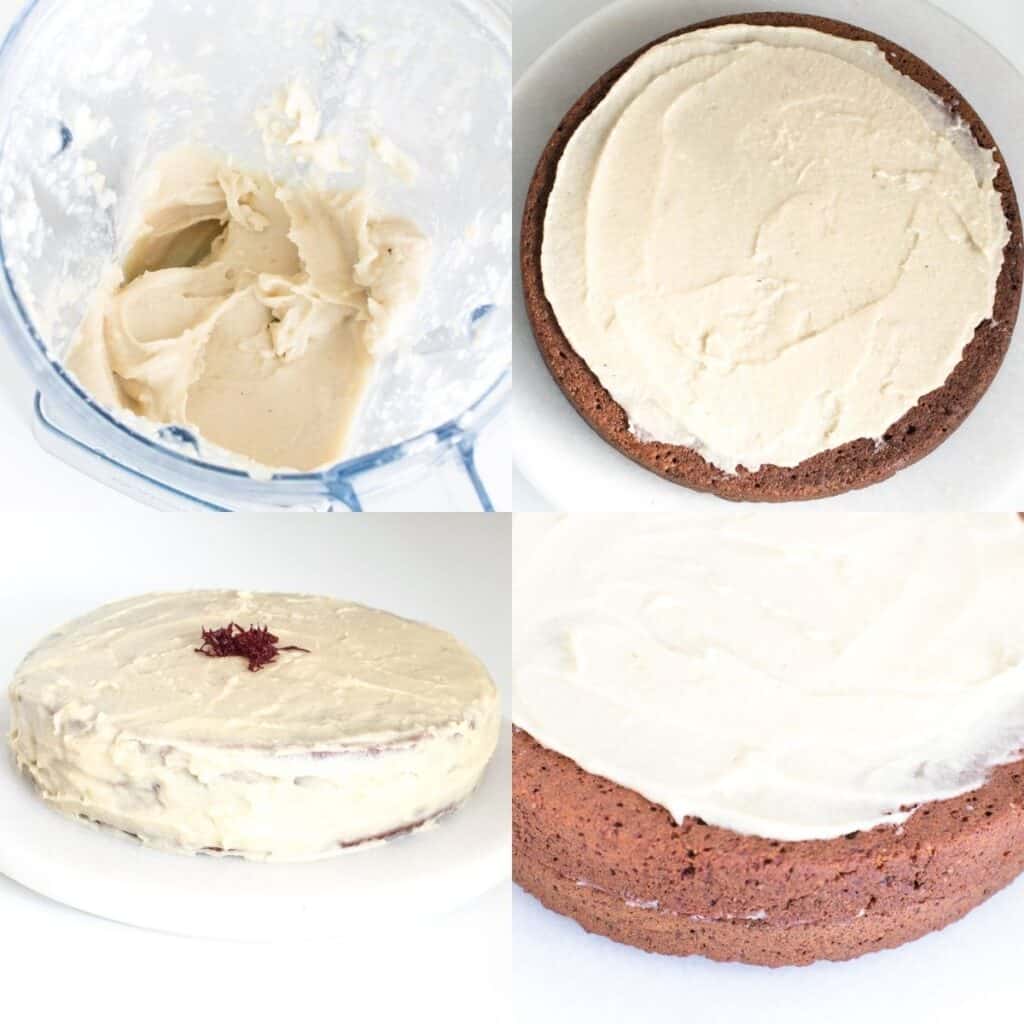 Then, I sliced and served. It looked pretty, festive and stunning. We all enjoyed it happily.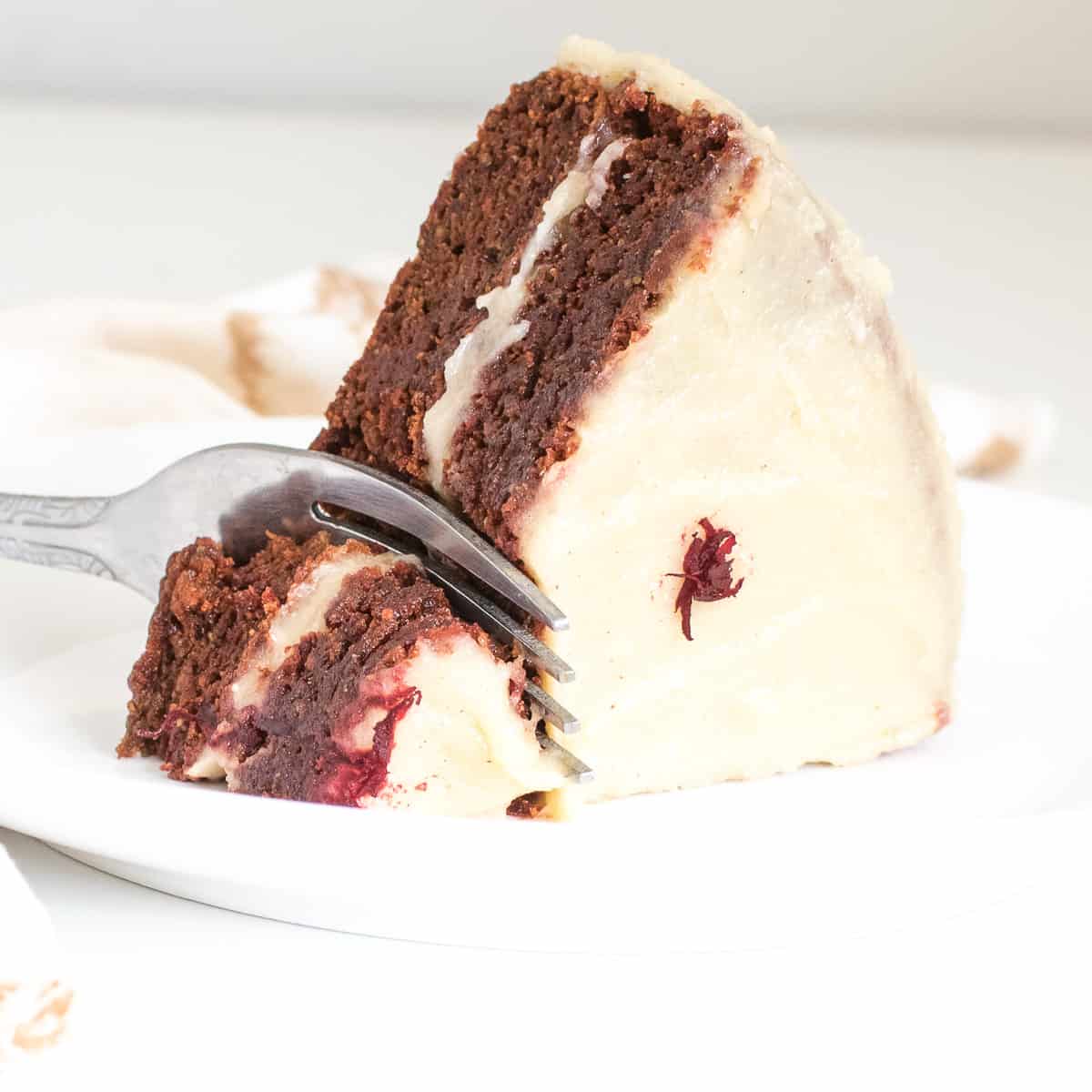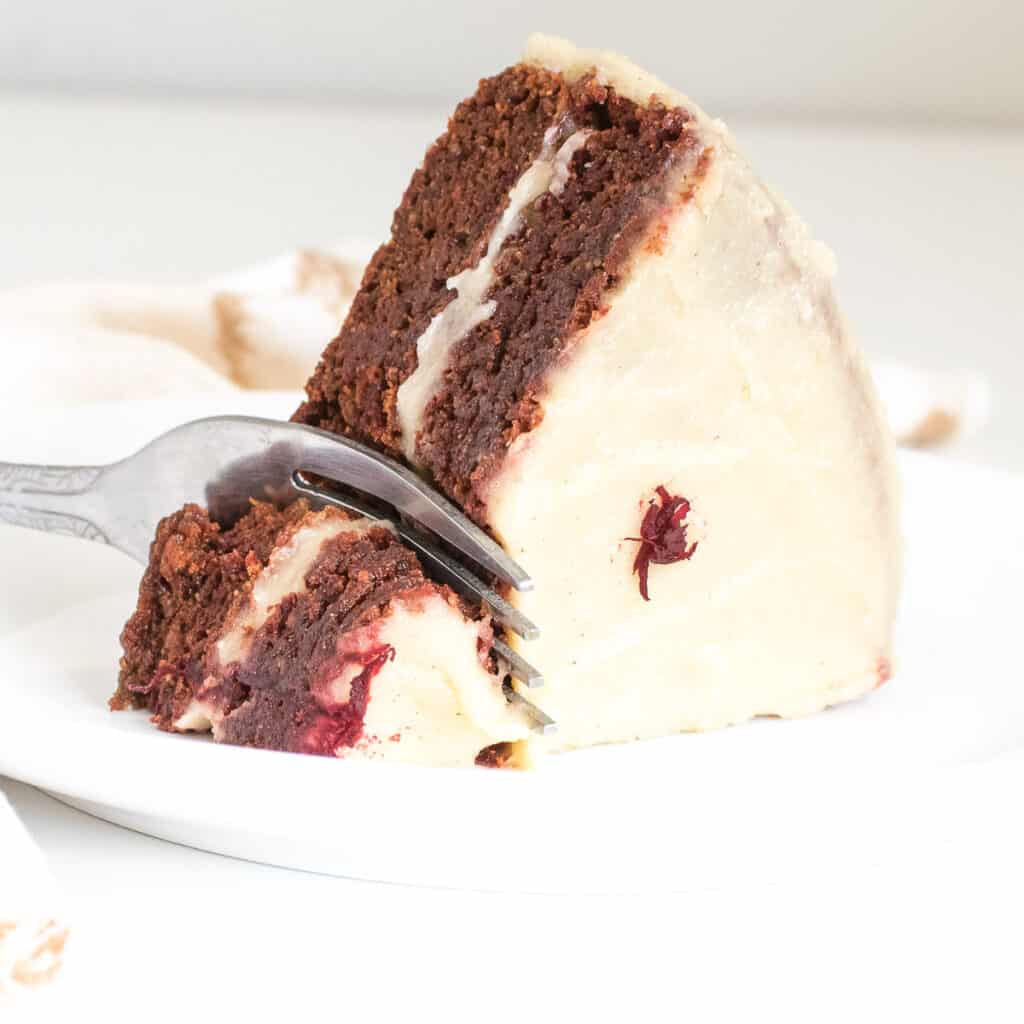 This eggless red velvet cake is definitely on my menu for Valentine's Day because its is so lovely and lovable looking treat.
Expert tips:
Its is important to note the measurement of beetroot here. I have not measured it in cups because it comes in various sizes and the chopped shape varies as well. Beetroot usually is between 1-3 inches in size so buy a combination of small and large so that you can get the exact pretty red color as mine. However, if by any chance its color changes for you then do not worry because it will still taste the same.
Most importantly, soak the chia seeds in warm water and keep stirring until it becomes like jelly. This way you can use it immediately.
Make sure to not add too much liquid in the frosting. It has to be slightly stiff so its easy to spread. If after the mentioned measurement of milk, if needed then add another 2 tbsp. of oat milk but do not exceed that.
You may be little flexible with the sugar though. After blending the frosting, you may taste test. If you feel that its very mild for you then add another ½-1 tbsp. of sugar. But do not exceed or else the entire cake recipe would become too sweet since the sponge is already sweet.
Vegan Red Velvet Cake FAQs
How long do they last?
For the best color and taste serve it the same day. However, you may refrigerate the leftovers for couple of days in an air tight container.
Is it healthy?
I made its sponge with oat flour and almond flour so I used only healthy grains. Then, I sweetened it with dates mainly which is a whole food. Its oil free and gluten free. Also, I have naturally colored this cake with fresh beetroot instead of any food coloring. Next, for the frosting I again used whole foods except the minimum amount of granulated sugar to get the nice white color. Overall, it's a healthier treat with minimal processed food ingredients. However, since it's a dessert and sweetened with natural ingredients it would still spike sugar in your blood so therefore, I would recommend to enjoy it occasionally.
How does it taste?
It is very different that the regular ones so it's pretty satisfying and filling. Its slightly chewy, gooey and sticky. At the same time, its nicely but mildly sweetened with a hint of earthy beets in it.
Therefore, this vegan red velvet cake with beets is definitely a must try and you will realize that desserts can be made healthy yet decadent.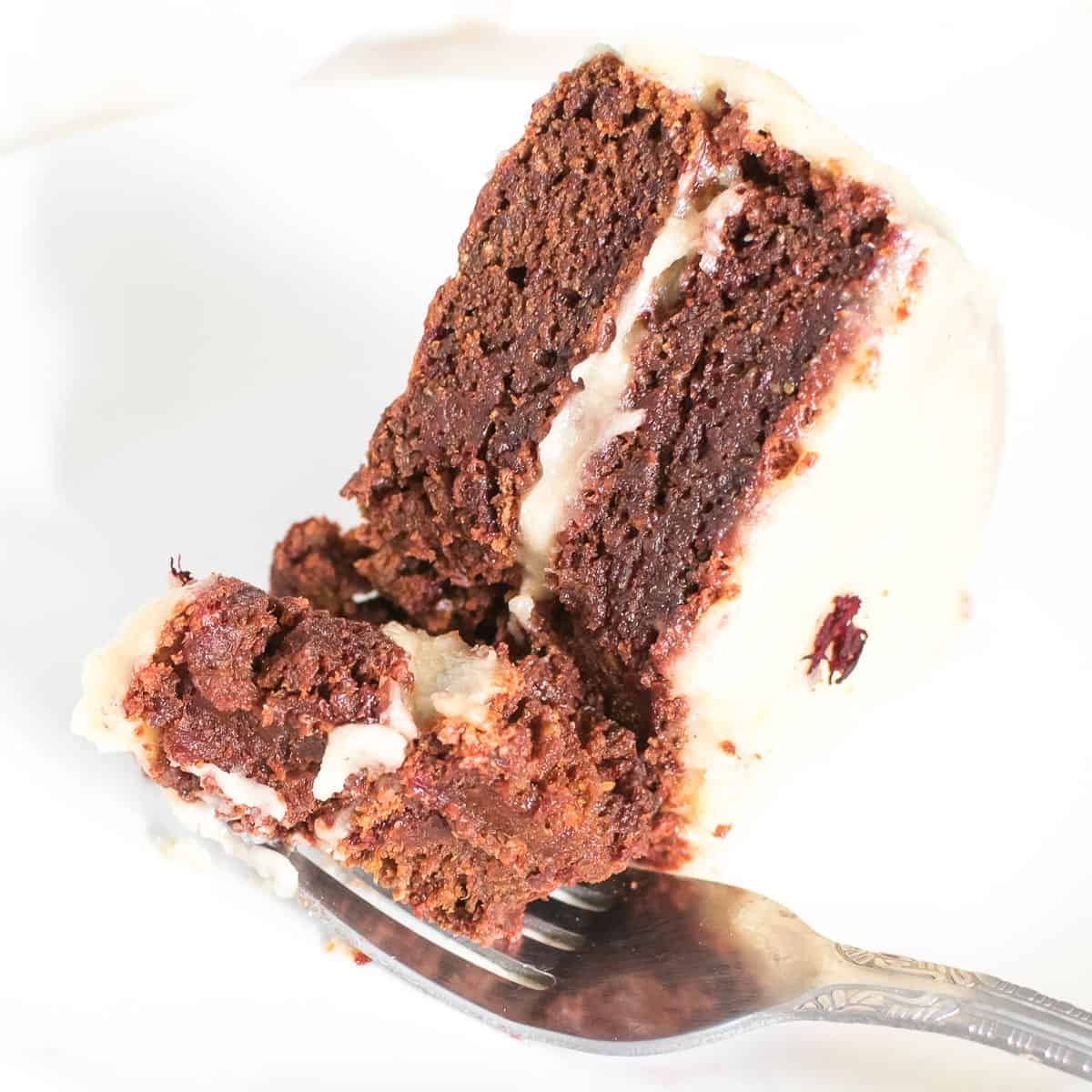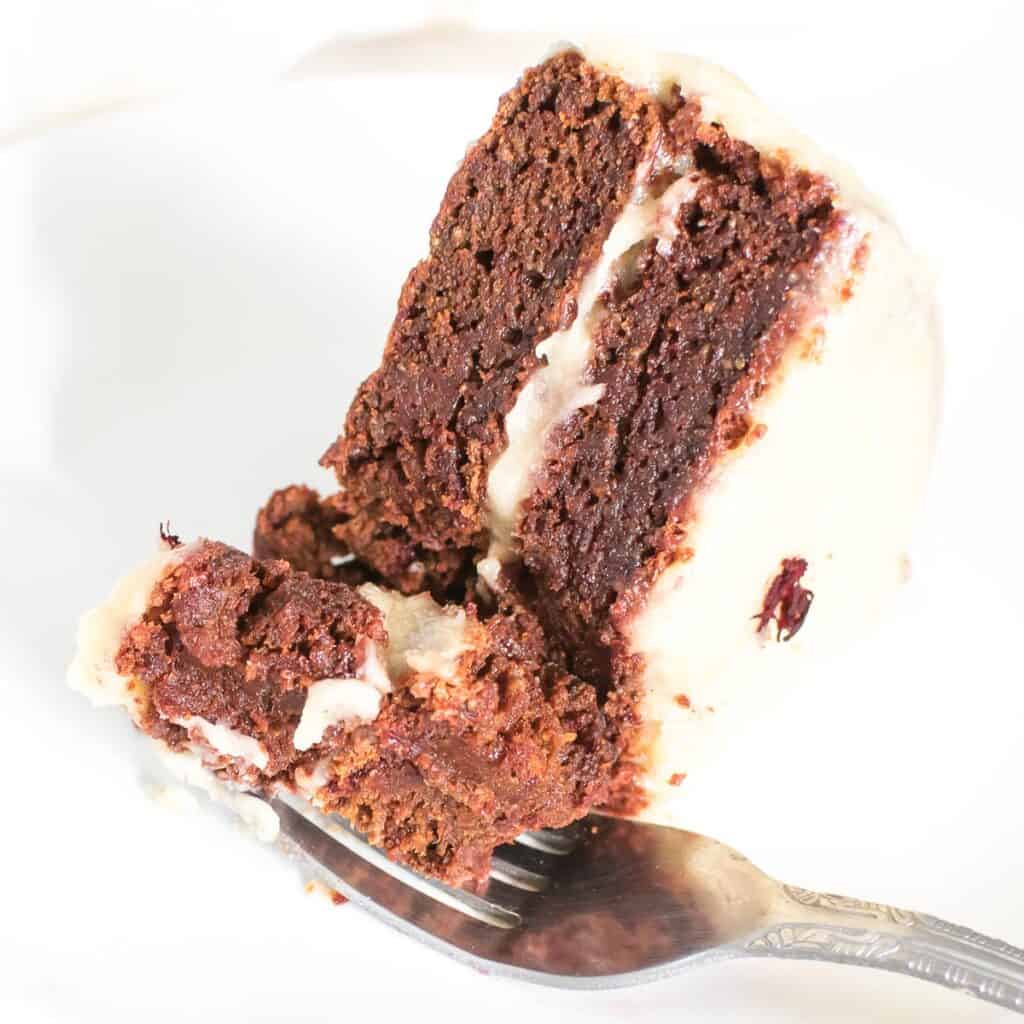 Did you make it?
If you get a chance to make this recipe then please leave your feedback in the comments below along with the ratings. In addition, you tag @kiipfit on Instagram with your recipe images because we would love to see what you cooked.
In addition, if you desire to explore more delicious recipes of mine then you may checkout my cookbooks.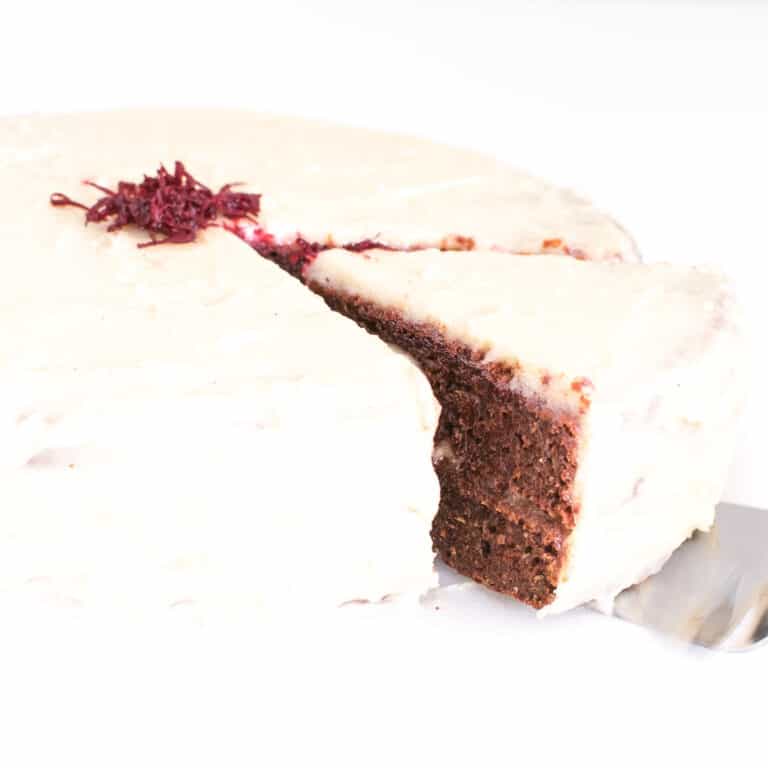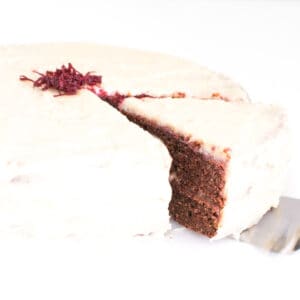 Print Recipe
Vegan Red Velvet Cake
This oil free Vegan Red Velvet Cake is moist and chewy with a hint of chocolate. Its made with oat flour, almonds, colored with fresh beetroots and sweetened with dates. It's a delectable yet healthy treat for all ages with a simple and creamy frosting.
Ingredients
Instructions
Preheat oven at 350-degree Fahrenheit and prepare two 8-inch round cake pans by greasing them. Parchment paper would not work here as the cake might get sticky. In a mixing bowl combine all the dry ingredients. Mix them very well making sure there are no lumps and keep it aside.

In a blender combine all the wet ingredients (beetroots, oat milk, vanilla, dates, soaked chia seeds, maple syrup and apple cider vinegar). Blend them smooth and keep it aside.

Now, fold in the wet ingredients into the dry ingredients and whip it into a soft yet thick batter.

Spoon it out equally in the two prepared cakepans. Then, tap and shake cake pans by rotating them with both hands so that the batter equally spreads in the pan taking its natural shape. Do not disturb its top or else the cakes will crack. Place them in the middle rack of the oven and bake for 25-30 minutes or until the tester comes out clean. Turn it off and take out the cakes. Place them on a flat surface and let them cool for 15-20minutes without disturbing.

In the meanwhile, drain the cashew nuts and blend the frosting ingredients smooth. It should be thick and creamy and firm. If needed you may add another 2 tbsp. oat milk to blend it easily but do not exceed. Scrape from all side at intervals and press the ingredients so it blends absolutely smooth and creamy. Spoon it out in a bowl and keep it aside.

Now, invert one of the cakes on a flat surface and cover its top with the frosting.

Then, invert the other cake on the first layer and cover its top with the frosting too.

Then, cover the entire cake with the leftover frosting spreading it evenly. Slice and serve.
Notes
This cake taste best when served the same day. However, the leftover may be refrigerated for 2-3 days.
This cake is different for the regular ones and the store-bought ones. The combination of dates and oat flour makes it slightly gooey, chewy and sticky. Overall, it tastes absolutely delicious and its guilt free. it does not rise like flour cake but rises quite good like an oat flour cake. 
The frosting should not be runny so do not add too muck liquid to it. The blending may take up to 5 minutes or so. Keep pressing and scraping until you get the creamy and stiff consistency. Therefore, soaking cashew nuts for longer is important for this recipe.
Make sure to soak chia seeds just before starting the recipe so as to get the jelly like consistency.
The size of the beetroot plays a role in coloring the cake mainly. They should not be extra large and should not be pitted as well. Small and large roughly is the best measurement. You may also opt for 3 large or 6 small beetroots. There is no cup measurement for this because the size of chopped beetroot differs depending on the size of the beetroot.
You may blend you own oat flour for this recipe as well. Simply add old fashioned oats in a food processor and grind it until its well powdered. Measure it after grinding.
Nutrition
Calories:
279
kcal
|
Carbohydrates:
30
g
|
Protein:
7
g
|
Fat:
10
g
|
Saturated Fat:
1
g
|
Trans Fat:
1
g
|
Sodium:
142
mg
|
Potassium:
176
mg
|
Fiber:
3
g
|
Sugar:
11
g
|
Vitamin A:
69
IU
|
Vitamin C:
1
mg
|
Calcium:
105
mg
|
Iron:
2
mg