Healthy Baked Banana Chocolate Popsicles are a lip smacking summer delight. Its guilt free and absolutely kid friendly. This dessert is made with real ingredients.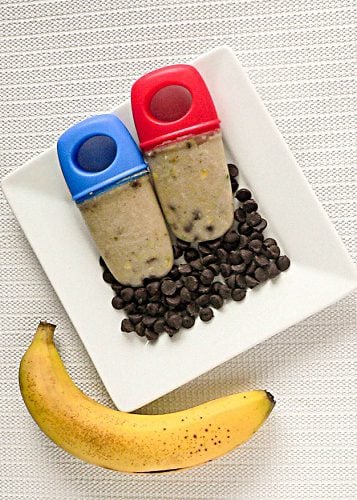 With all the raincoats and overcoats displaying in the stores my 2 year old figured out that in few weeks summer would end. Suddenly she decided to indulge in Popsicles even more than usual and that is her way to enjoy every bit of summer.
This concerned me because of her consumption of too much food color and too much sugar and I was thinking deeply on how to introduce a new variety of healthy Popsicle into her dessert diet.
Immediately, she brought a banana and some chocolate chips to me. I was surprised with her action and was wondering what she wanted me to do. She then took out the blender machine from one of the kitchen cabinets. Initially, I thought either she wanted a smoothie or a banana shake. But wait, I was wrong, she wanted a Popsicle. 🙂 I couldn't stop smiling and immediately it struck me to create Baked Banana Chocolate Popsicles.
I decided to give my Popsicle recipe a twist by caramelizing the bananas to add a different flavor to it. Since, I wanted to control her chocolate chip consumption without depriving my baby of her desires. Therefore, I decided to add the chocolate chips at the last stage of freezing. This way, with minimum pieces and calories I could add chocolate flavor to the Popsicles. It turned out to be delicious and she now eats 2 Popsicles at a time. 🙂
Ingredients for Baked Banana Chocolate Popsicles
Banana
Maple syrup
Vanilla unsweetened almond milk
Vanilla extract
Almond powder
Crushed pistachio
Chocolate chips
How to make Baked Banana Chocolate Popsicles
First, I drizzled maple syrup on banana slices. Then I covered it with aluminium foil and baked in a pre-heated oven.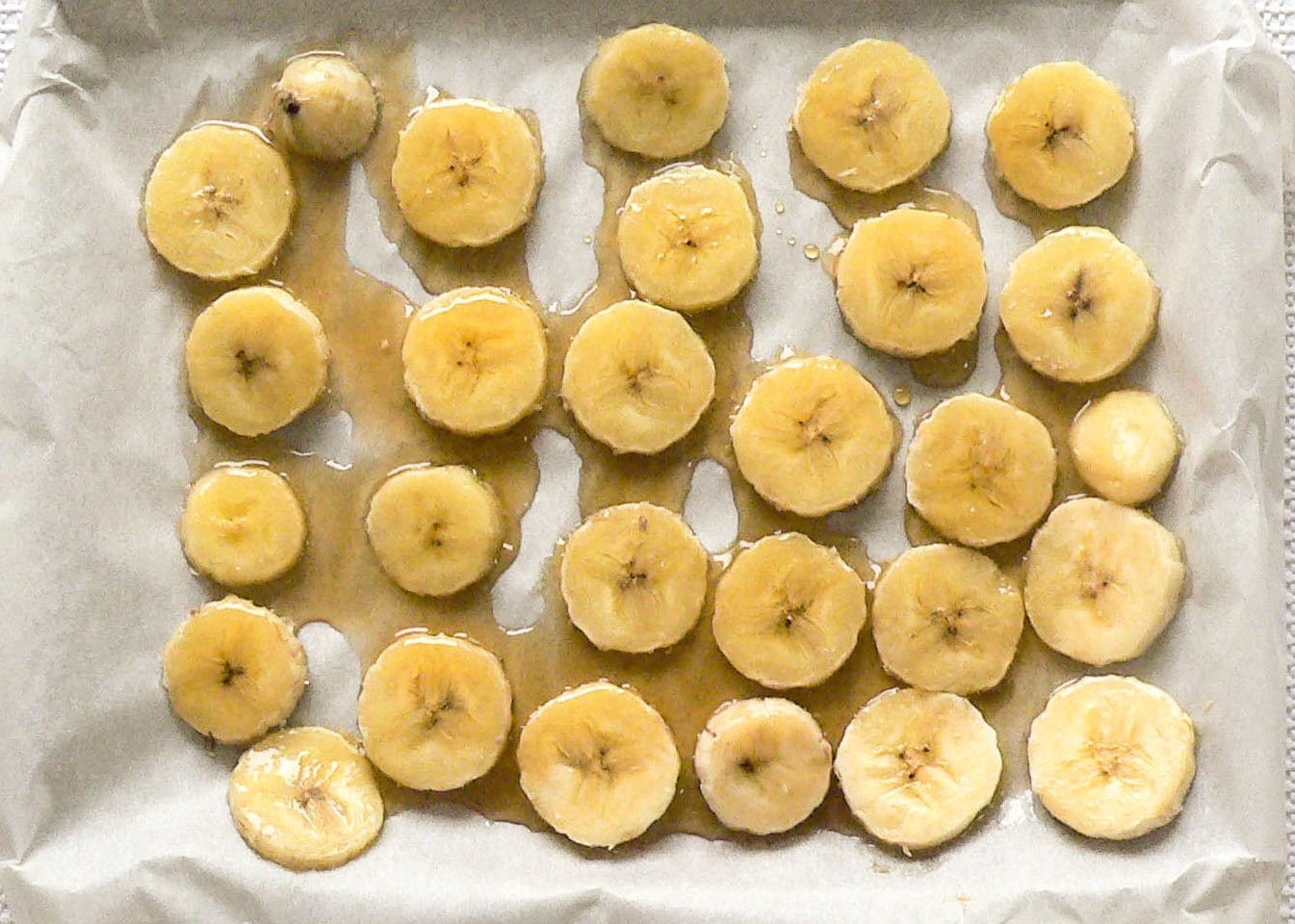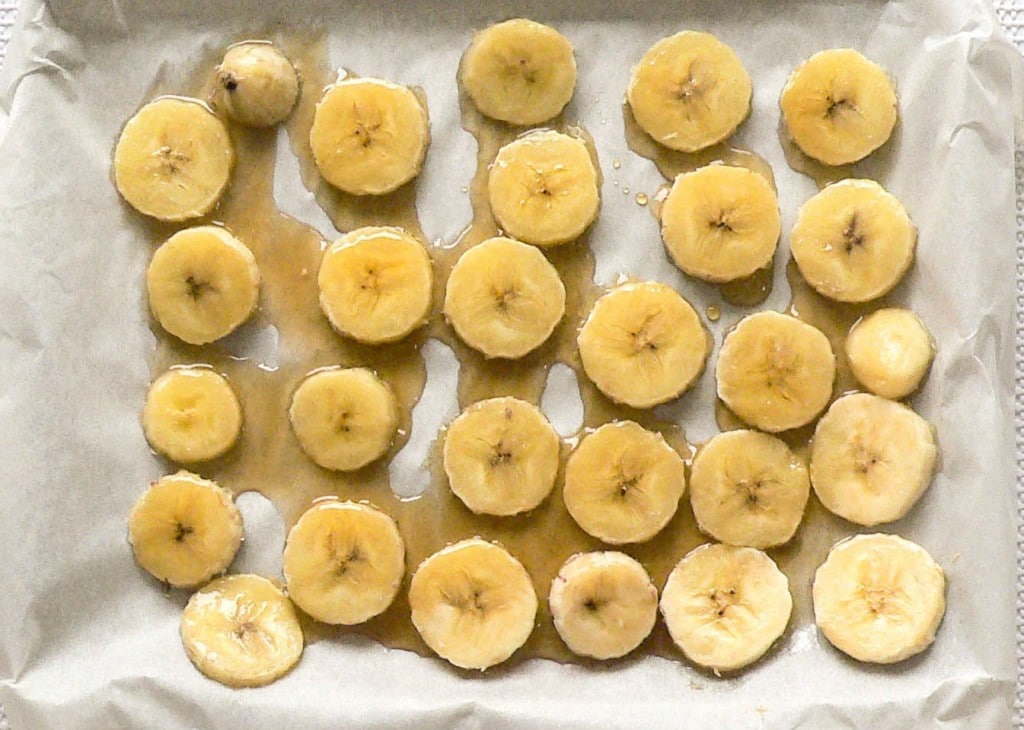 Once the banana was baked and cooled, I blended all the wet ingredients in the blender.
Thereafter, I emptied the blender in a mixing bowl and tossed in the remaining ingredients.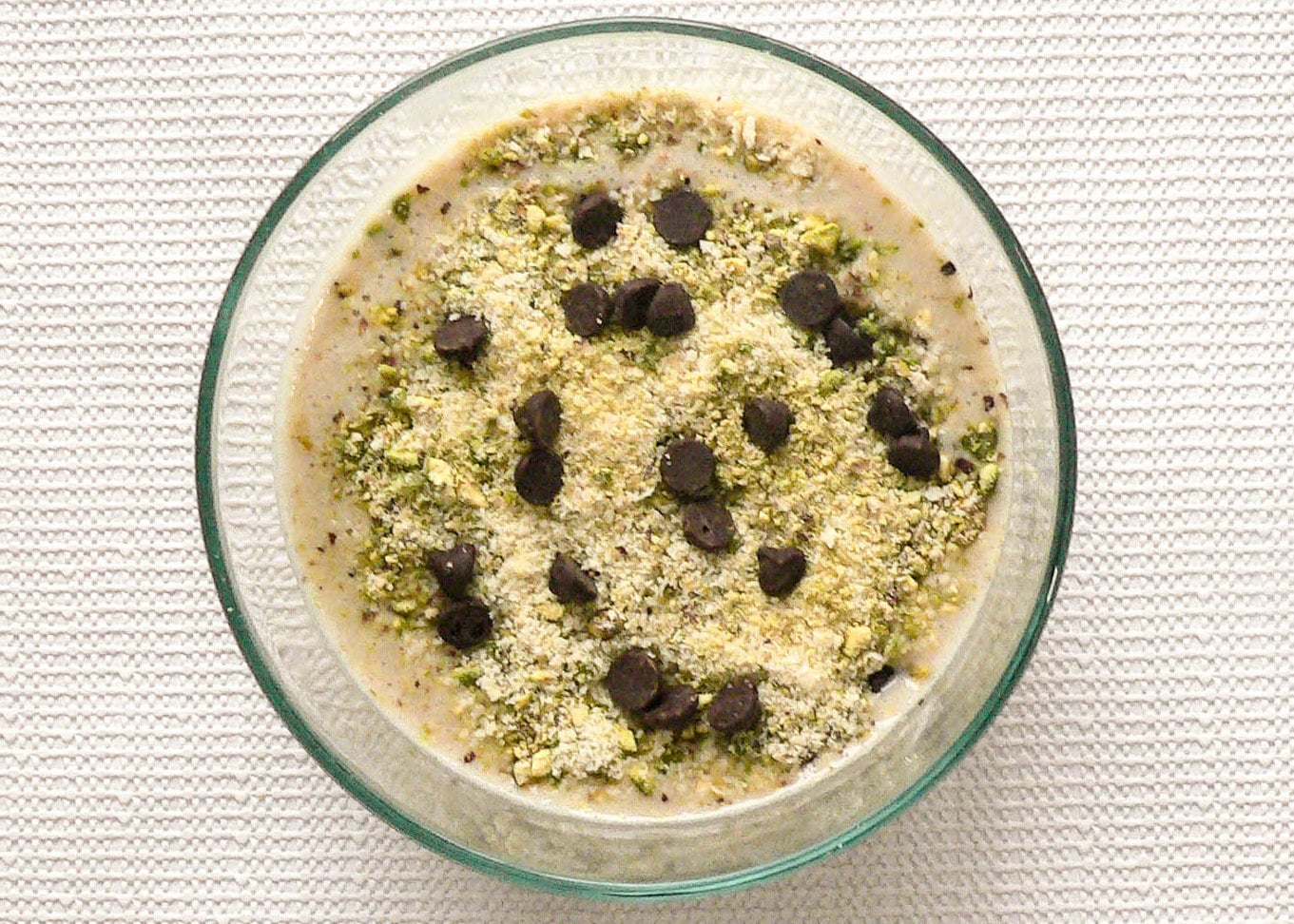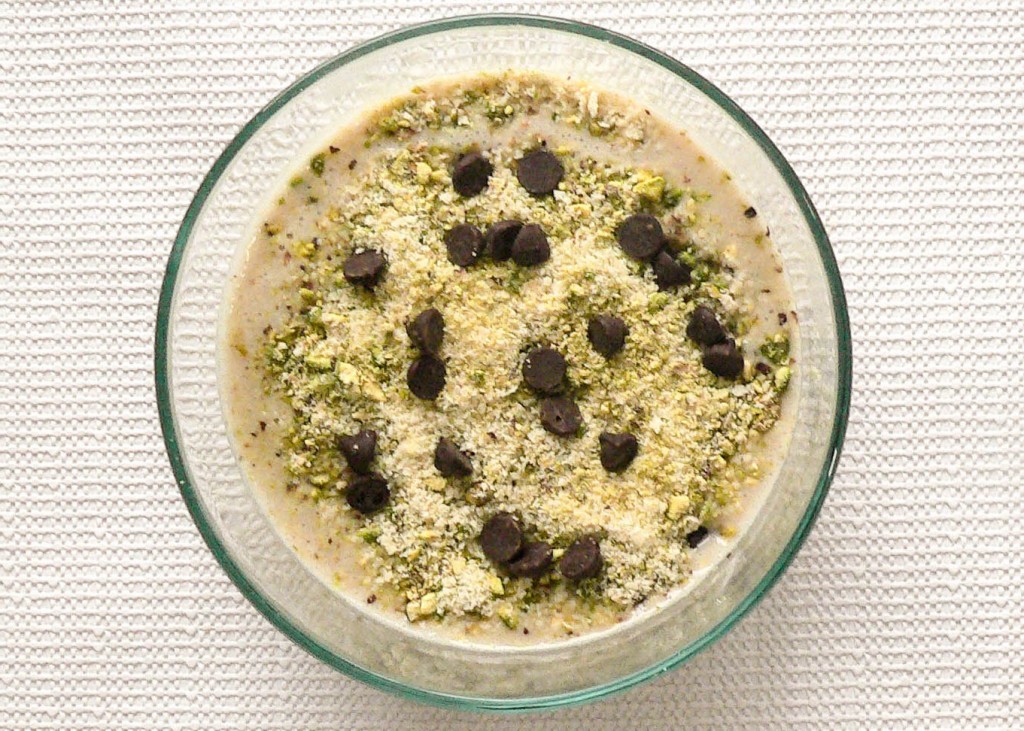 Afterwards, I poured the ice cream batter into the popsicle molds and let it rest in the freezer for a minimum of 3 hours.
Lastly, we simply enjoyed them to beat the heat.
This time my daughter decided the ingredients for this summer dessert and I must say I have a chef in the making at my home. 🙂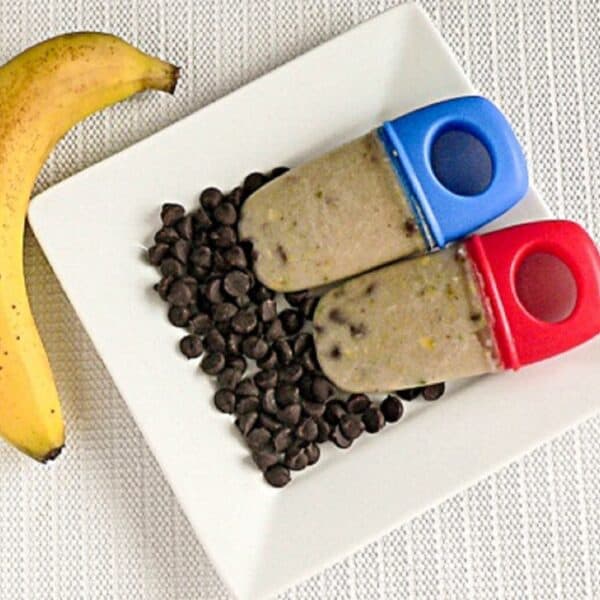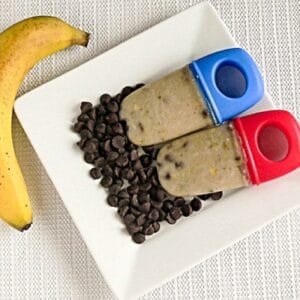 Print Recipe
Baked Banana Chocolate Popsicles
Healthy Baked Banana Chocolate Popsicle is a lip smacking summer delight. Its guilt free and absolutely kid friendly. These popsicles are made with real ingredients.
Ingredients
1

large

banana

2

tbsp

maple syrup

1

cup

unsweetened vanilla almond milk

1

tbsp

almond powder/flour/ground almond

2

tbsp

crushed unsalted pistachio

1 1/2

tbsp

vegan chocolate chips
Instructions
Preheat the oven at 350 degree Fahrenheit. Prepare the cookie sheet with a liner/parchment paper.

Slice the bananas in round shape and drizzle 1 tbsp maple syrup over it, cover the bananas with aluminum foil and bake for 10 minutes.

Take it out and keep the banana covered and let it cool to room temperature. Make sure to keep it covered to avoid the banana getting oxidized/brown.

In a blender add the milk, baked banana along with the maple syrup, and another 1 tbsp maple syrup, vanilla extract and blend until smooth. This will take 1-2 minutes to blend.

Empty the blender in a bowl and add almond powder, pistachio and chocolate chips and mix with a spoon.

Pour the ice-cream batter into the Popsicle mold and freeze it at the top shelf rack for a minimum of 3 hours.
Notes
Feel free to add more sweetener according to taste in the above mentioned ingredients.
For non-vegan option - honey can be sued instead of maple syrup.
If after 3 hours you feel that the pops are yet frozen then place them again in the freezer until the pops are frozen as per your desire. You may also make this recipe and freeze it overnight.
These popsicles has a shelf life of a week. 
Nutrition
Calories:
104
kcal
|
Carbohydrates:
16
g
|
Protein:
2
g
|
Fat:
4
g
|
Saturated Fat:
2
g
|
Sodium:
1
mg
|
Potassium:
96
mg
|
Fiber:
1
g
|
Sugar:
11
g
|
Vitamin A:
15
IU
|
Vitamin C:
2
mg
|
Calcium:
18
mg
|
Iron:
0.7
mg