This vegan Strawberry Chia Amaranth Parfait is a nutritious make-ahead breakfast. Its easy, quick and a good combination of carbohydrate, fiber and protein. Its a delightful summer dessert that's made in layers of deliciousness.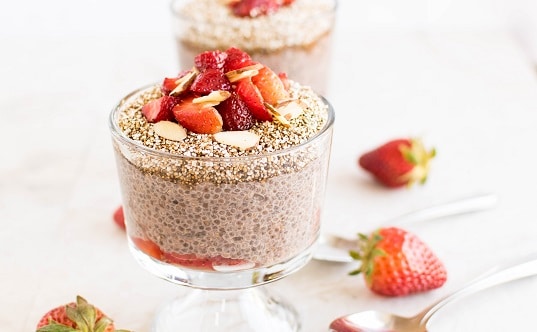 These warm spring days brings back my cravings for parfaits. As I am on the lookout for healthy desserts with seasonal fruits strawberries top my list.
Therefore, I have tried strawberry cheesecake brownies , vegan strawberry cake, strawberry shortcake protein smoothie, strawberry chocolate lassi.
However this strawberry parfait is my all time favorite. Its is so nutritious nd high in protein that sometimes I like to snack on it after my workouts.
My family loves to dig into it. I make it frequently. Originally chia pudding was in my mind but I wanted to add a bit more into my recipe. So therefore, I basically converted strawberry chia pudding into a parfait form and including crunchy amaranth at its top.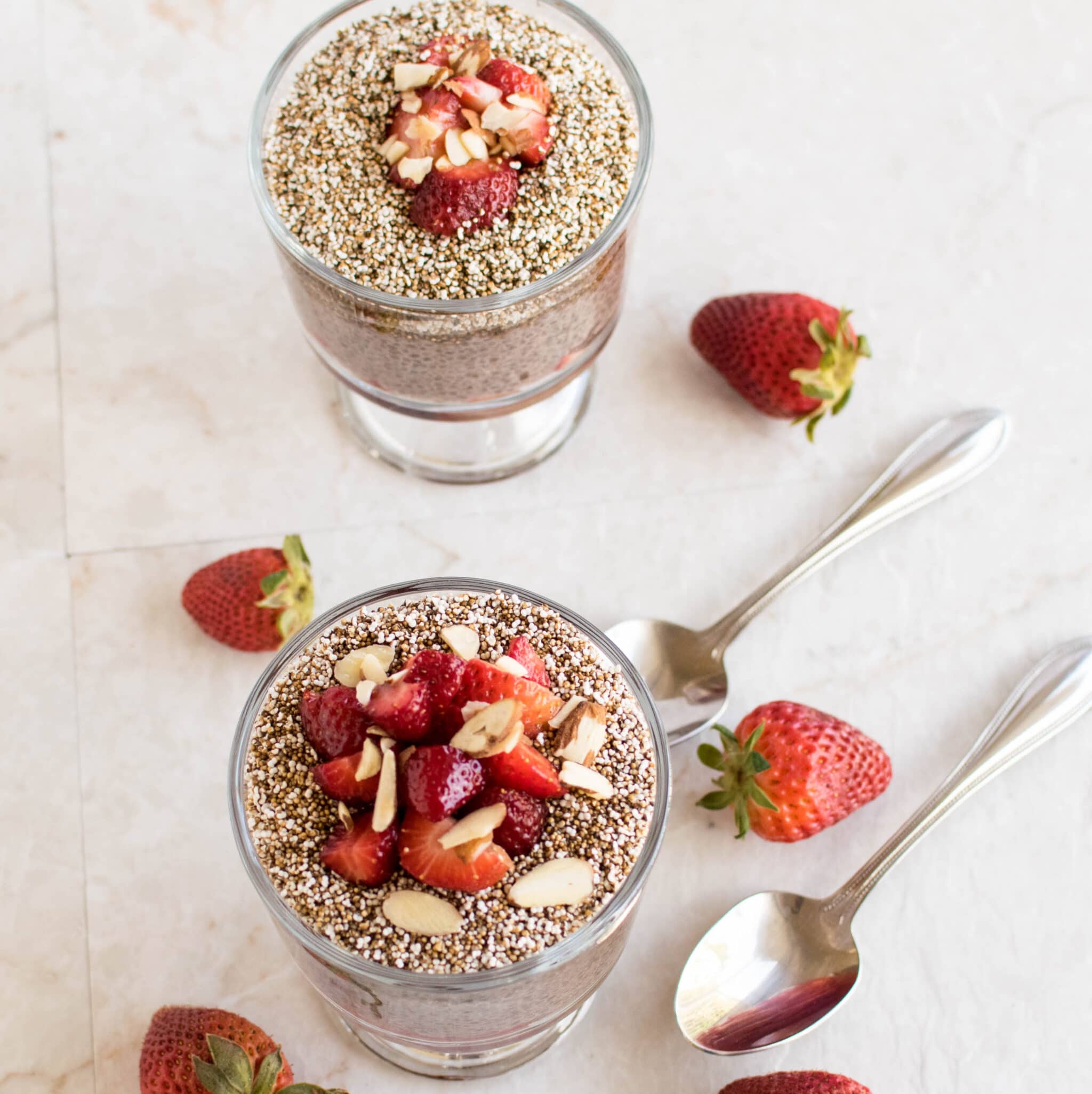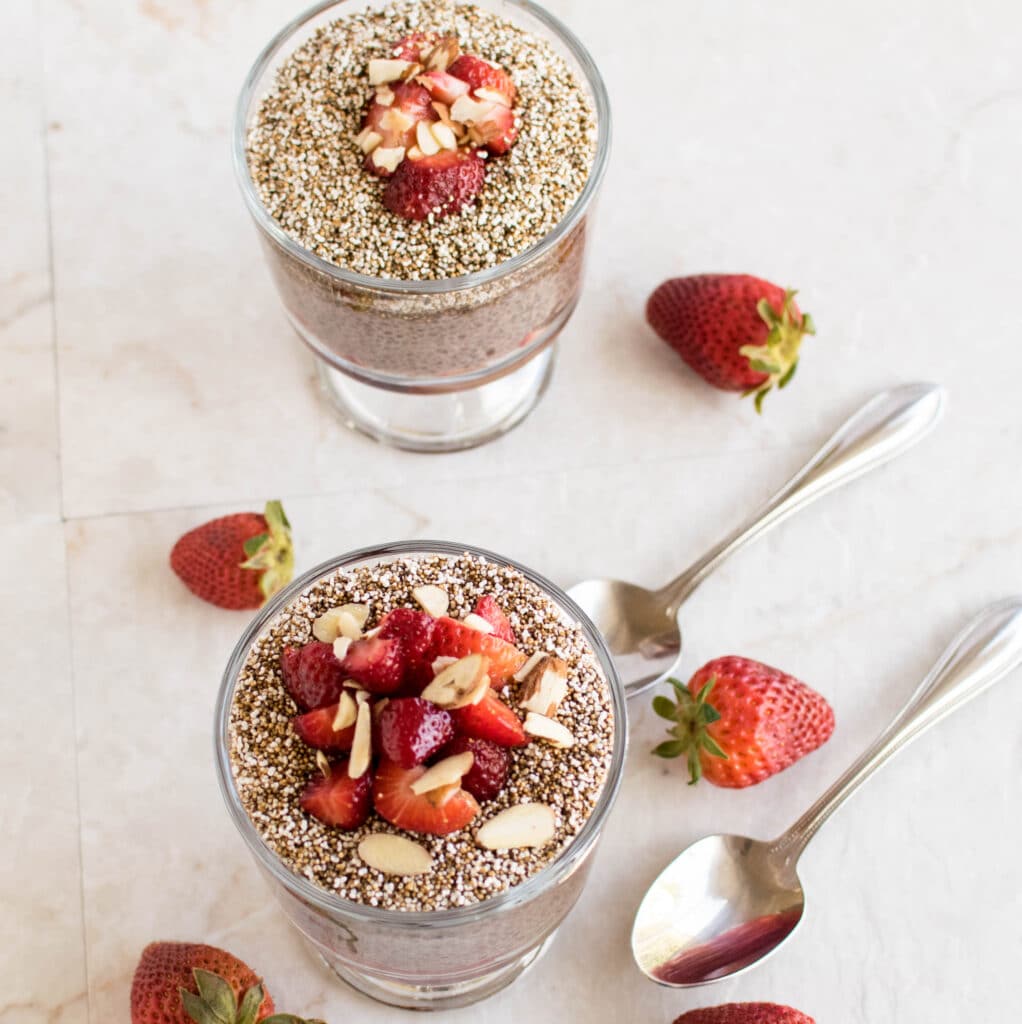 My other parfait recipe that you may like are:
Vegan Yogurt Breakfast Parfait
Blueberry Semolina Porridge Parfait
Roasted Peaches, Papaya, Quinoa Parfait
However, today I am here to share this awesome strawberry chia amaranth parfait recipe with you all.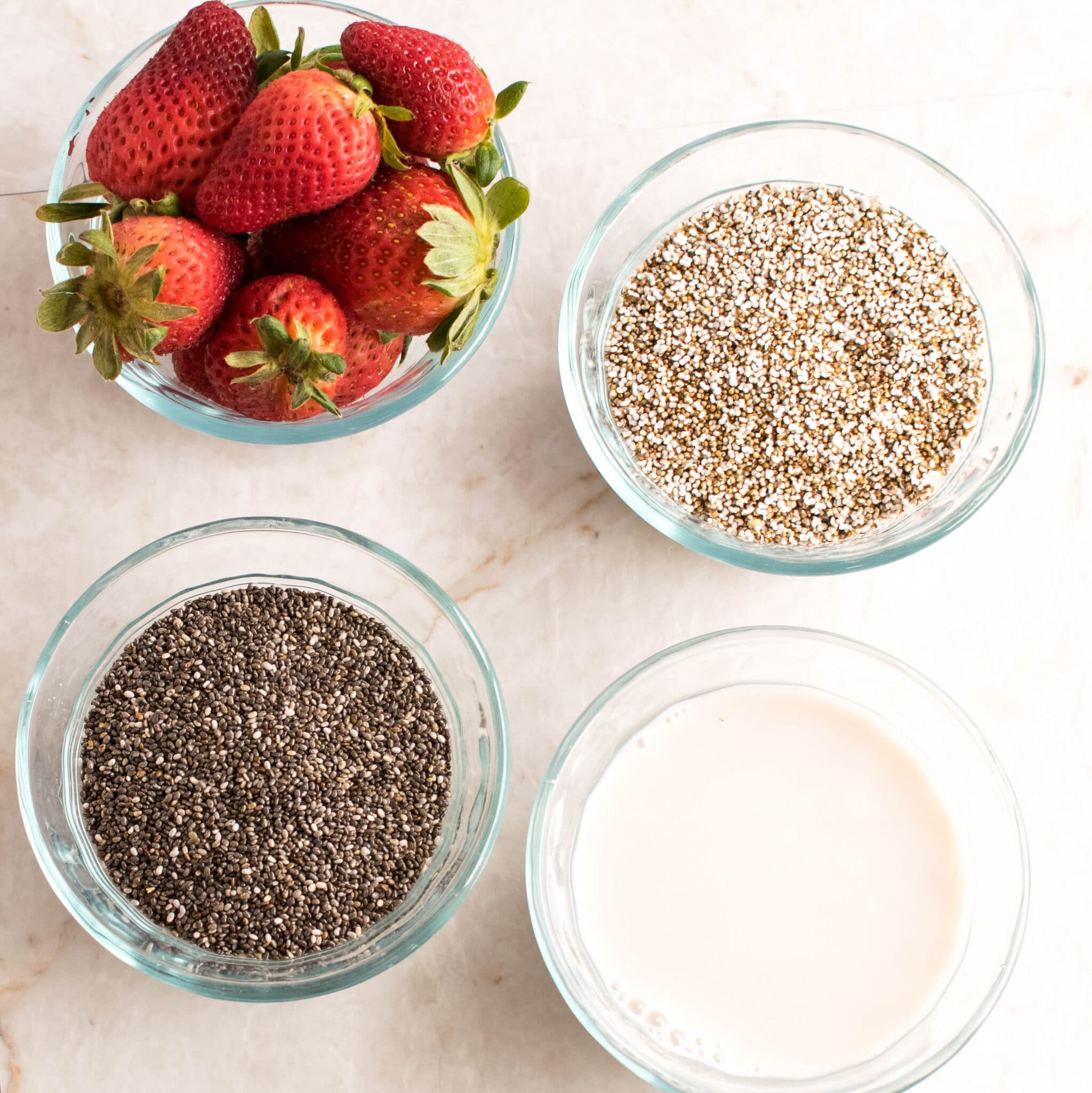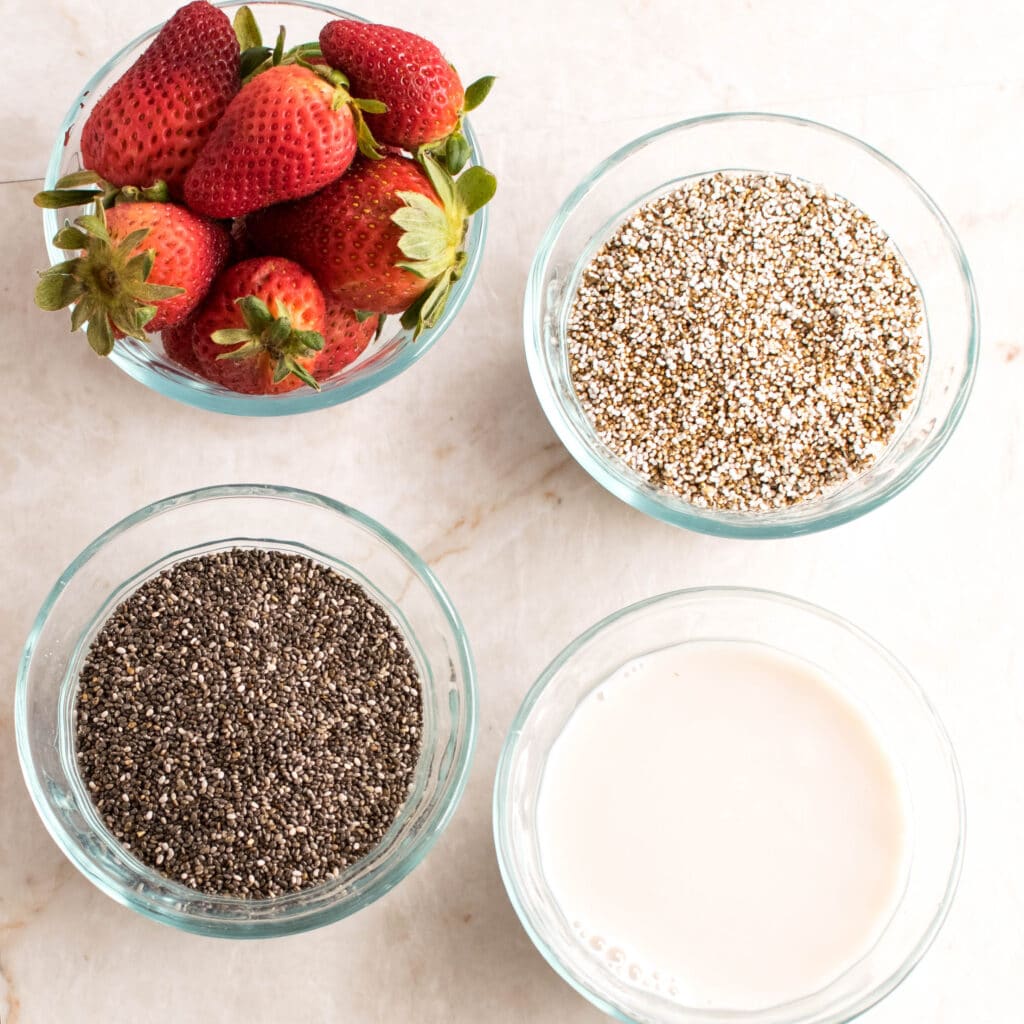 Ingredients you will need:
strawberries
maple syrup
almond milk
chia seeds
amaranth
sliced almonds
I have used these easily available ingredients which you may buy from any local grocery store. However, I have provided links to few of them here for your convenience.
If you plan to buy from the affiliate links then I get a small commission which in turn encourages me to bring in more delicious recipes for you all.
Ingredients notes:
strawberries – high in antioxidants and fiber its a delicious sweet tangy and juicy fruit. Its versatile and very nutritious. its the main ingredient in this parfait recipe.
maple syrup – you may substitute it with brown sugar as well. However, maple syrup is healthier sweetener comparatively.
almond milk – any dairy free milk of your choice can be used in this recipe.
chia seeds – its high in protein and fiber. its a great egg substitute and works well in binding and forming a pudding like texture in this recipe.
amaranth – its a nutritious ancient grain and has more protein than quinoa even. Its known to be a complete protein and is more chewy and crunchy in nature. It is gluten free in nature as well.
How to make strawberry chia amaranth parfait
Firstly, in a mixing bowl, I tossed in strawberries and maple syrup together.
Secondly, I blended half of that and cooked in almond milk.
Next, I added chia seeds to it and let it thicken.
Thereafter, I let it cool down in the refrigerator.
In the meanwhile, I puffed amaranth grains and kept it aside.
Afterwards, in serving glasses, I added a first layer of the strawberry mix.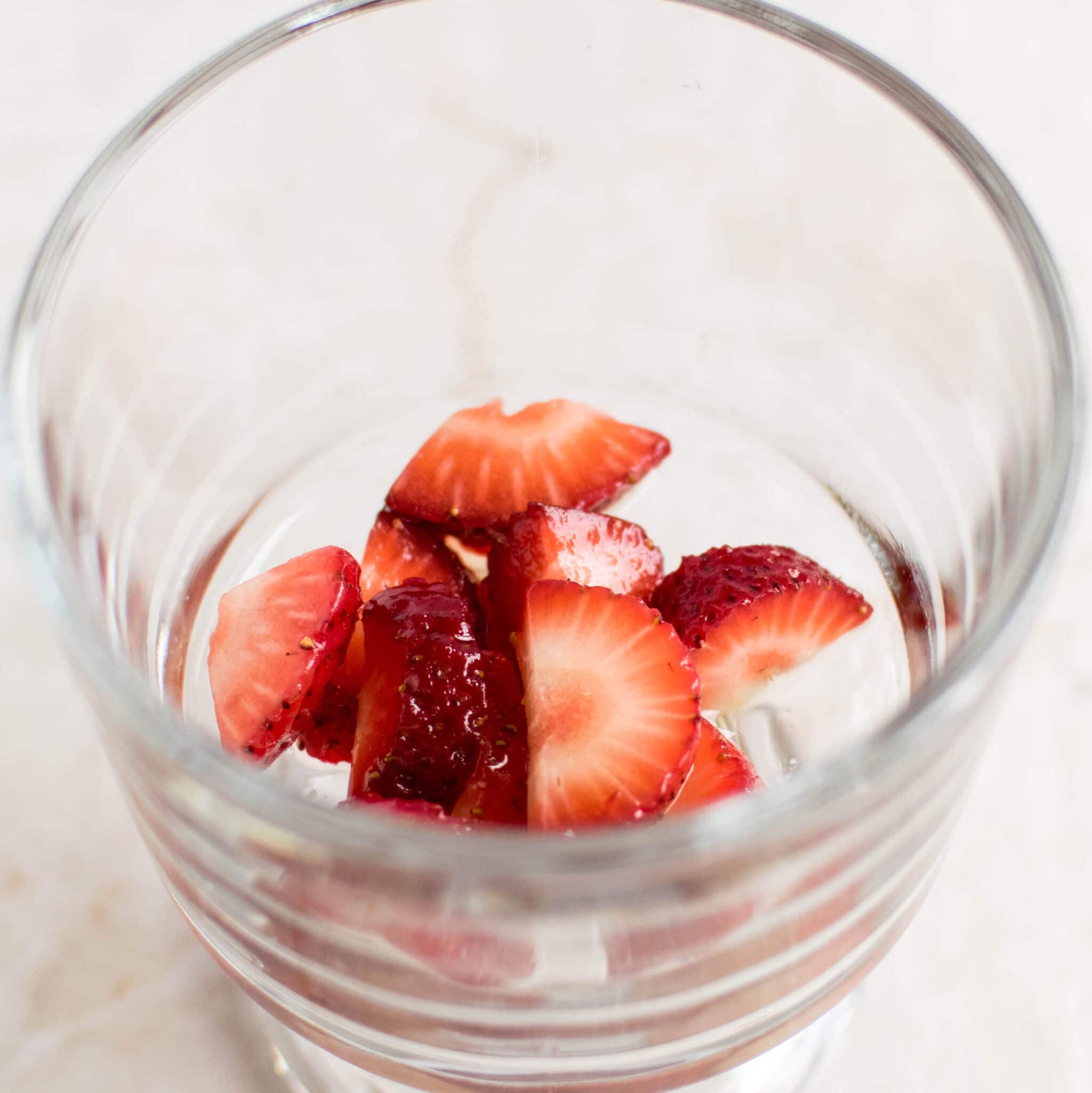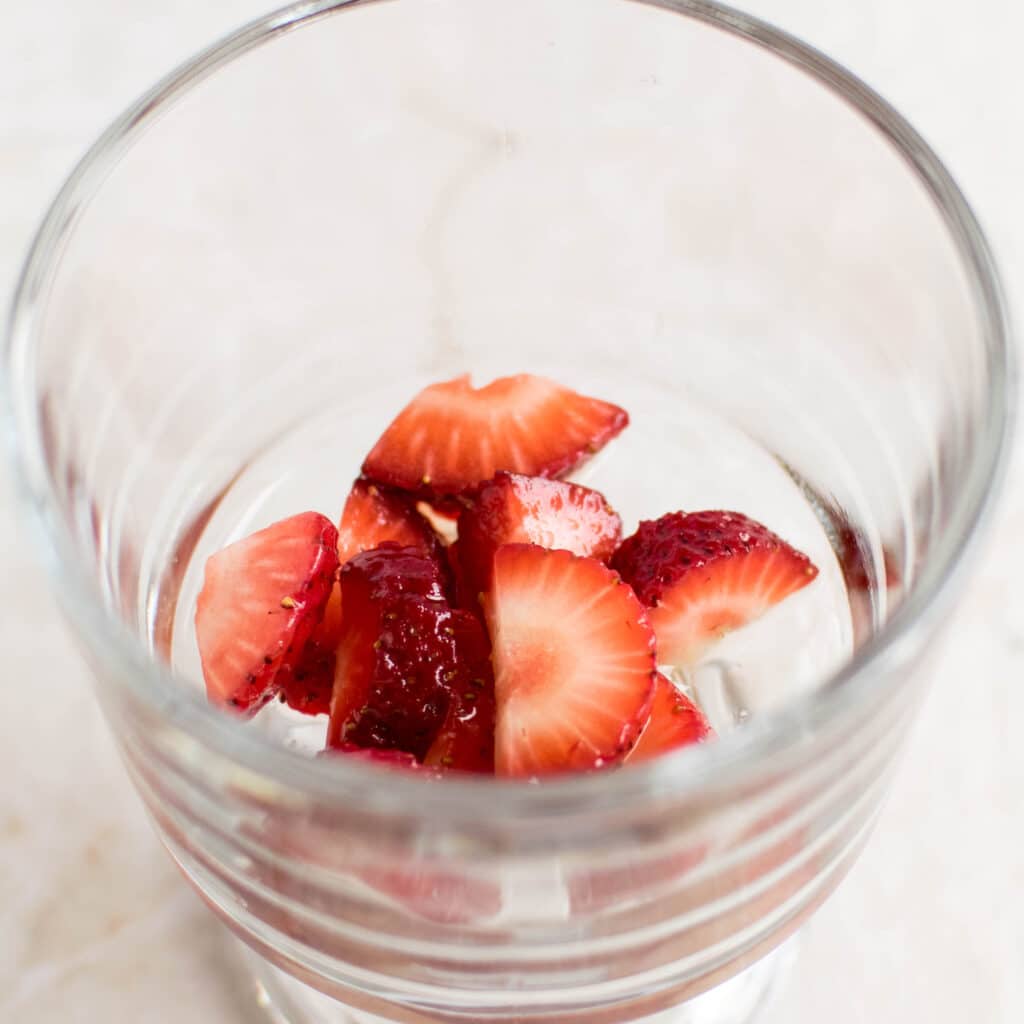 Then, I filled half of the glass with chia mixture.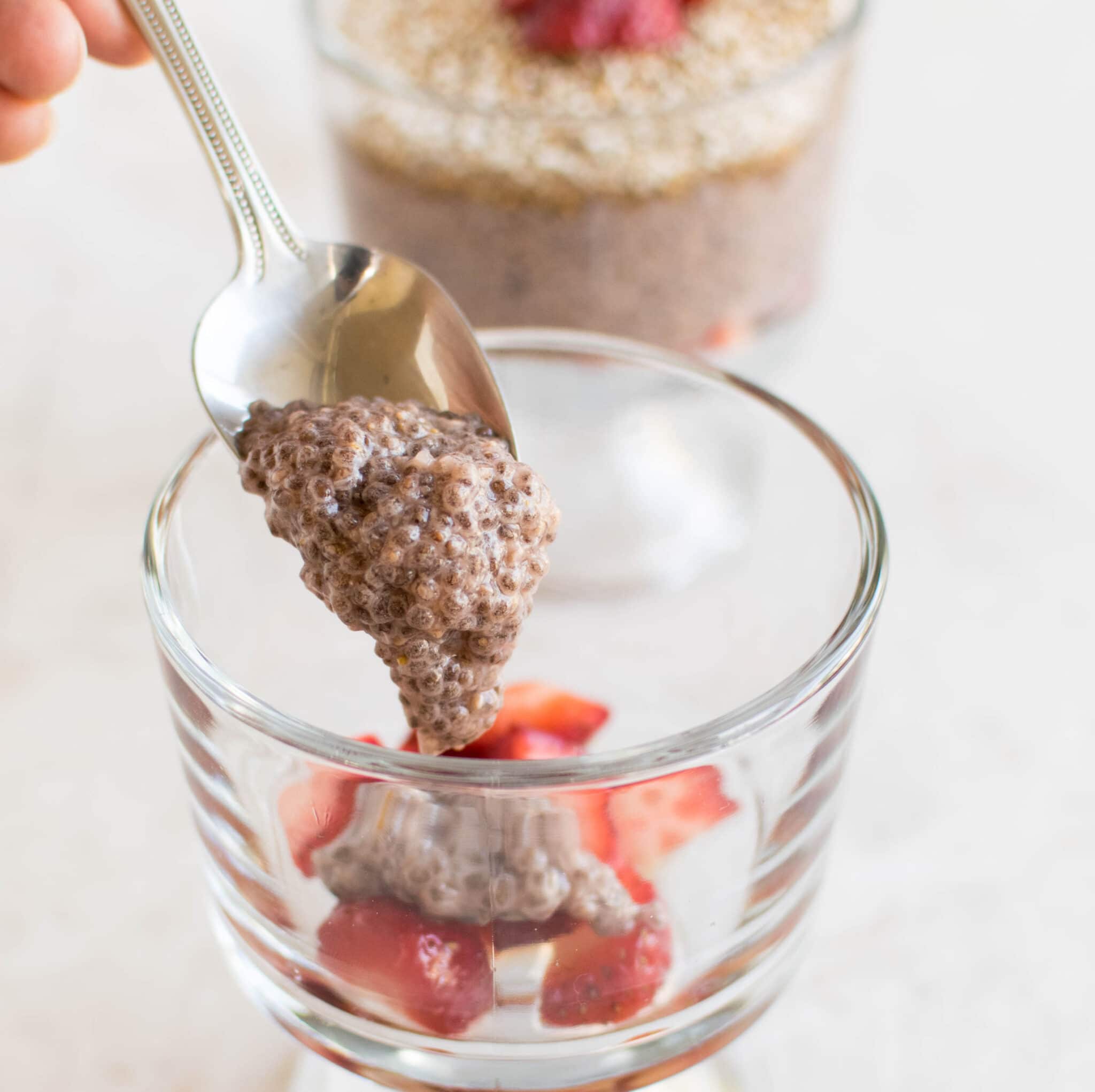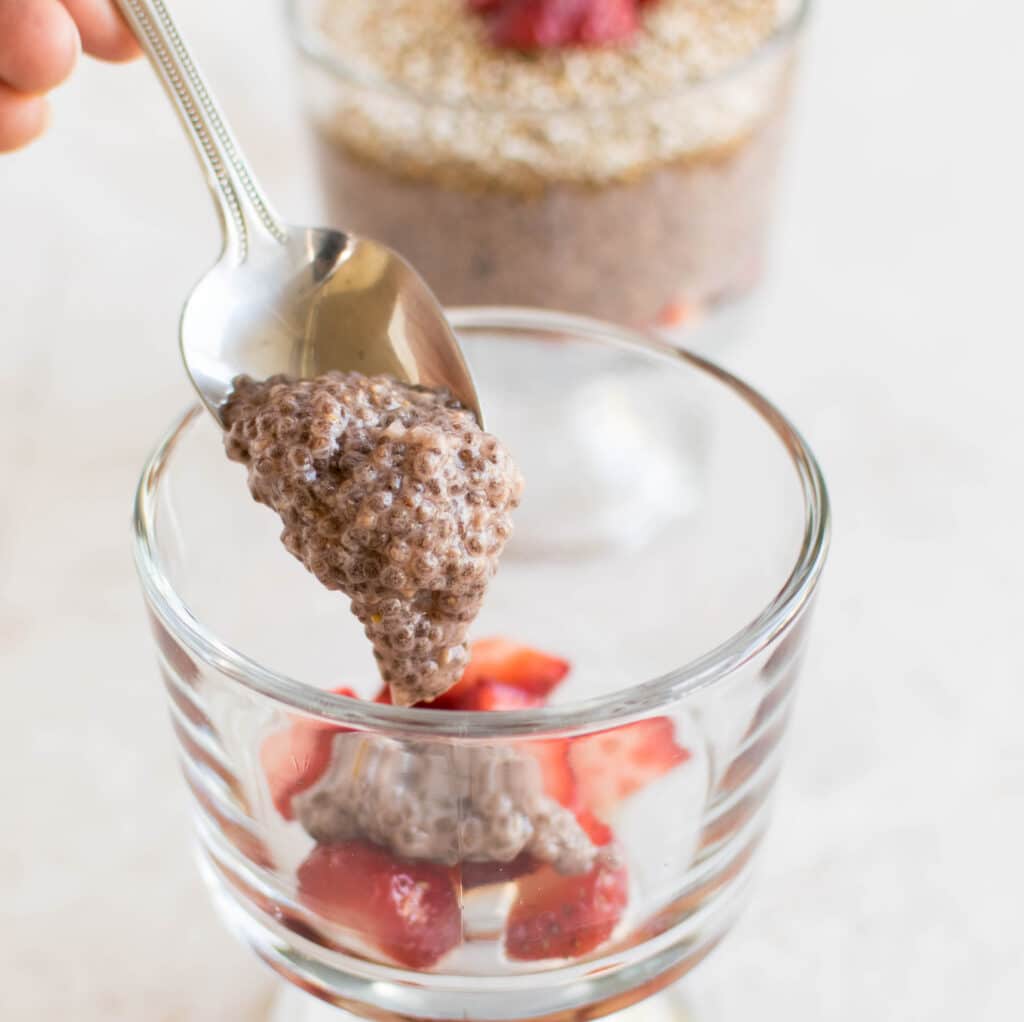 Later, I topped it with puffed amaranth and filled the rest of the glass.
Lastly, I garnished it with more strawberry mix and sliced almonds.
I served it immediately to my family and they simply loved every bit of it.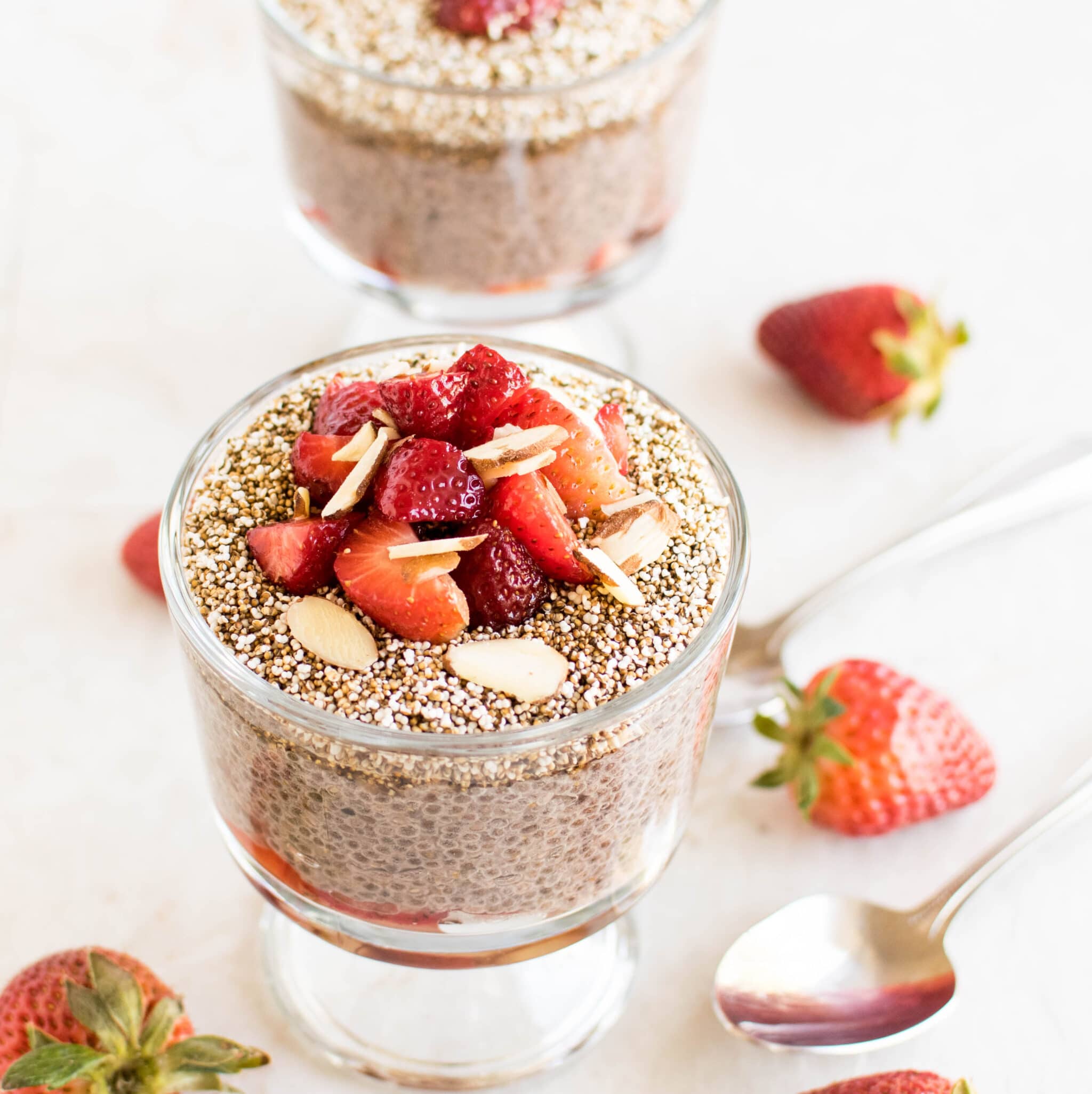 I usually intend to make extra and save it for the next day for a quick breakfast. But I never have any leftovers because my kids make a meal out of this amaranth parfait.
Strawberry Chia Amaranth Parfait FAQs
How long does it last?
Once assemble it tastes best when served immediately. If kept for long amaranth my soften and become soggy.
How can I prep for it ahead of time?
you may make the chia pudding and refrigerate overnight. Puff amaranth and keep in an air tight container at room temperature for about 1 month. When ready, mix fresh strawberries in maple syrup and assemble the entire recipe.
Is it healthy?
Yes. its a protein rich and fiber rich nutritious recipe. I made with with a combination of chia seeds, fresh strawberries and healthy whole grain. I sweetened it with pure maple syrup therefore, its oil free and sugar free.
Did you make it?
If you get a chance to make this recipe then please leave your feedback in the comments below along with a 5-star rating. In addition you may follow me on Facebook or tag @kiipfit on Instagram with your recipe remake images because we would love to see what you cooked.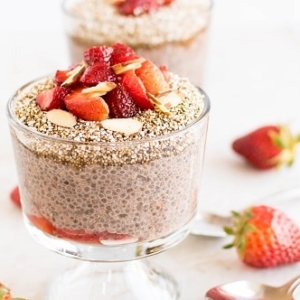 Print Recipe
Strawberry Chia Amaranth Parfait
This vegan Strawberry Chia Amaranth Parfait is a nutritious make-ahead breakfast. Its easy, quick and a good combination of carbohydrate, fiber and protein. Its a delightful summer dessert that's made in layers of deliciousness.
Instructions
In a mixing bowl combine chopped strawberries with maple syrup and let it soak for a minute.

In a blender, blend ½ of the strawberry mix ( from step1). Keep aside the rest of the soaked strawberries.

In a saucepan combine almond milk and blended strawberries and bring to a boil.

Add chia seeds to the pan and cook for couple of minutes stirring continuously. As soon as the milk starts to thicken cook for another minute and turn off the flame. (Do not overcook). Let it cool in the refrigerator until ready to use.

In a serving glass place the soaked chopped strawberries (about 1-2 tbsp.). Spoon the cooled chia strawberry mix on the chopped strawberries (depending on the size of the glass). Top it with puffed amaranth generously for the crunchy bites. Finish it with more soaked strawberries and slivered almond.

Repeat the same process with rest of the servings. Serve immediately and enjoy.
Notes
If in a hurry put the strawberry chia mixture into the freezer for 5 minutes to cool down quickly. Make sure to take it out and stir at intervals.
To puff amaranth – heat a nonstick pan properly (temperature of the pan is important to get the maximum puffed amaranth or else it will burn without popping). Put 1 tbsp. of dry amaranth grains into the hot pan and the moment it starts to pop cover it. Take it out in a bowl and repeat the same process for the rest of the amaranth grains.
Amaranth grains can be popped ahead of time and stored in an air tight container at the room temperature to maintain its crunchiness.
Feel free to add more maple syrup according to taste. For me this sweetness was perfect.
Nutrition
Calories:
342
kcal
|
Carbohydrates:
54
g
|
Protein:
9
g
|
Fat:
12
g
|
Saturated Fat:
1
g
|
Trans Fat:
1
g
|
Sodium:
7
mg
|
Potassium:
201
mg
|
Fiber:
11
g
|
Sugar:
12
g
|
Vitamin A:
17
IU
|
Vitamin C:
1
mg
|
Calcium:
233
mg
|
Iron:
3
mg