This creamy and flavorful Orange Coconut Breakfast Chia Pudding (Vegan) is packed with nutrients, fiber and protein to help you start your day off right. Its easy, healthy, tasty and a no-cook recipe.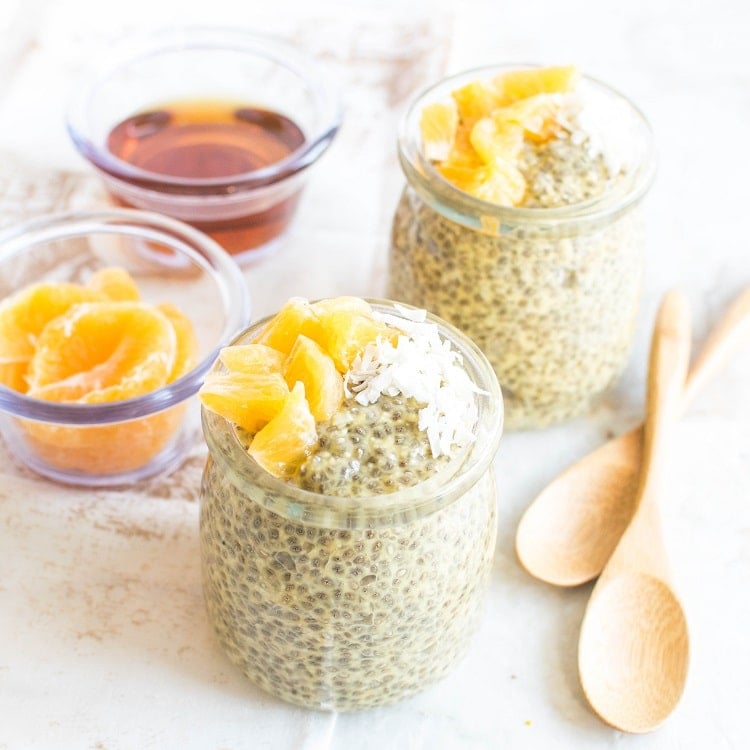 Chia seeds soaked in the refreshing flavor of oranges and coconut milk is a unique twist on the classic chia seed pudding recipe.
Chia pudding with coconut milk is a vegan version with the addition of fresh oranges for the best taste.
This breakfast pudding is packed with Vitamin C and antioxidants to boost the immunity at the same time. Its naturally gluten free and vegan.
I promise you will get hooked on to this scrumptious orange chia pudding.
I love the fact that this pudding is an overnight recipe and no cooking is involved thereby making our meal preps easy and simple.
Other overnight recipes that I often make are carrot cake overnight oats and peanut butter overnight oats and my family loves them.
Health benefits of chia seeds
Even though these are so tiny in size but they are packed with protein, fiber and omega 3 fatty acids. Chia seeds are high in antioxidants and also promotes weight loss. hey are a great source of calcium, magnesium and phosphorus thereby promoting bone health.
How to store chia seeds?
Once the packed is opened its best to store in the refrigerator for its longer shelf life and to retain its freshness.
I often use chia seeds in my recipe and some of them are coconut chia cookies, mango chia drink, strawberry chia amaranth parfait.
Ingredients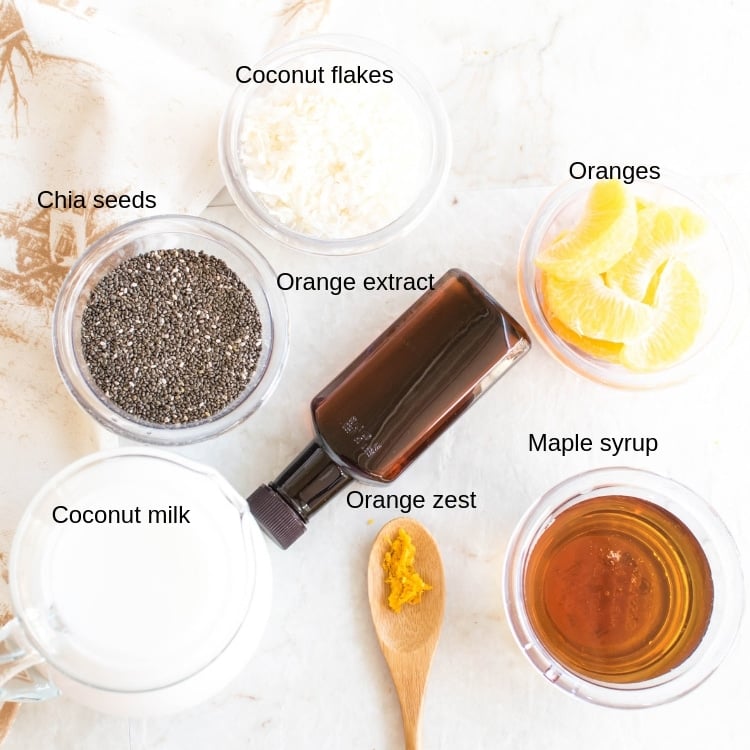 Ingredients notes
Oranges – its the ultimate source of vitamin c and is loaded with antioxidants. It high in fiber and bring out a nice flavor in this recipe.
Coconut flakes – I used the unsweetened version of it to keep the sugar content as low as possible in this vegan chia pudding.
Maple syrup – its a a healthier sweetener and is sugar free. I like the overall flavor of maple syrup in this chia pudding recipe.
Coconut milk – I used tetra pack coconut milk here to lighten it up. You may use canned coconut milk but lightened and unsweetened one.
Orange extract – It helps in flavoring this recipe a little strongly and enhances its aroma as well.
Chia seed – its a vegan superfood that is high in protein and fiber. it helps in forming a jelly like pudding texture and is very versatile.
For detailed measurement of ingredients, please scroll down to the printable recipe at the bottom of this post.
How to make
Firstly, I squeezed out fresh orange juice. I used my blender to blend the oranges and then strained them. Then, I discarded the leftover pulp. You may use your juicer if you have.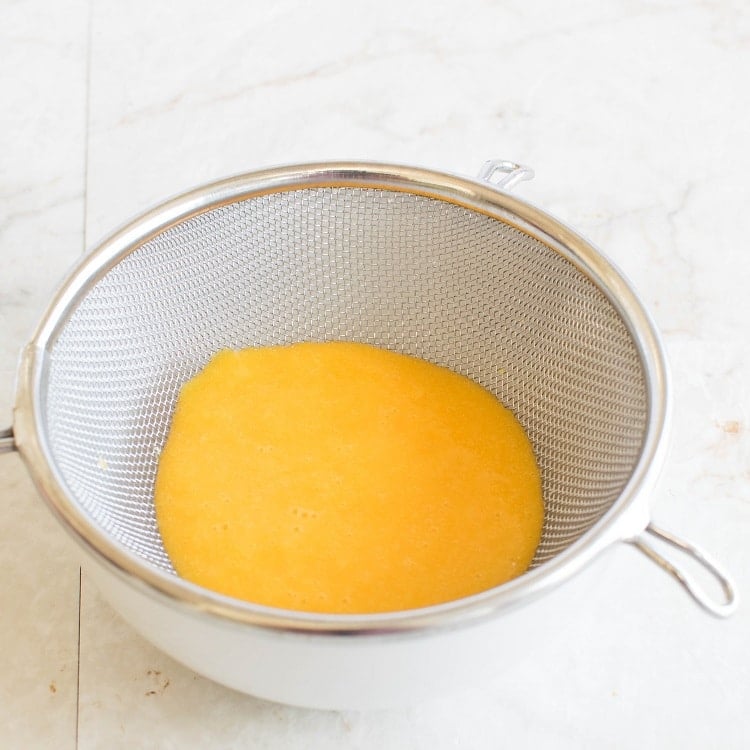 Afterwards, I blended all the ingredients (orange juice, coconut milk, coconut flakes, orange extract and orange zest) in the blender except chia seeds.
Lastly, I vigorously whipped up chia seeds in the blended coconut orange juice and let it rest in the refrigerator overnight.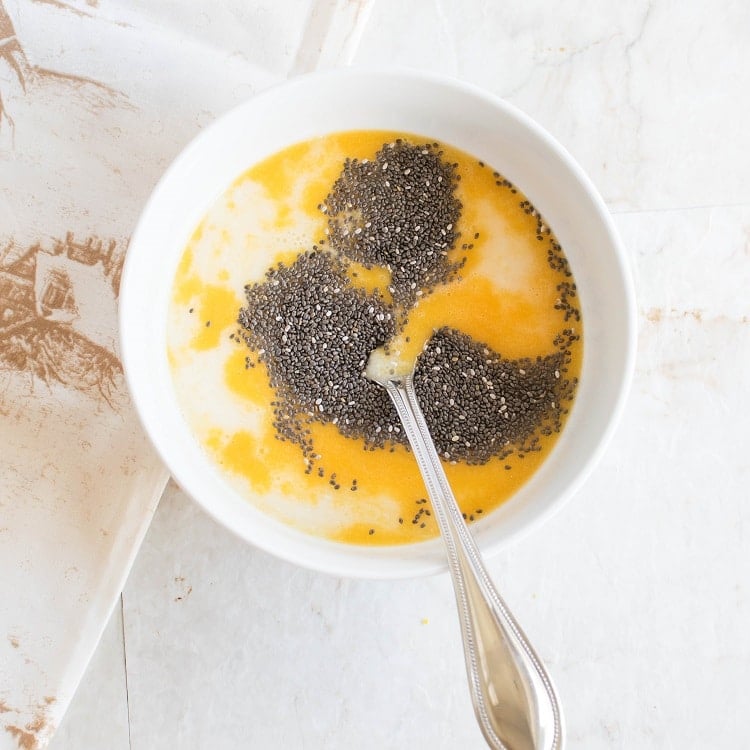 In the morning just before serving, I vigorously whipped the pudding again and spooned it in the serving jars/bowls.
Then topped it with some fresh oranges and fresh coconuts.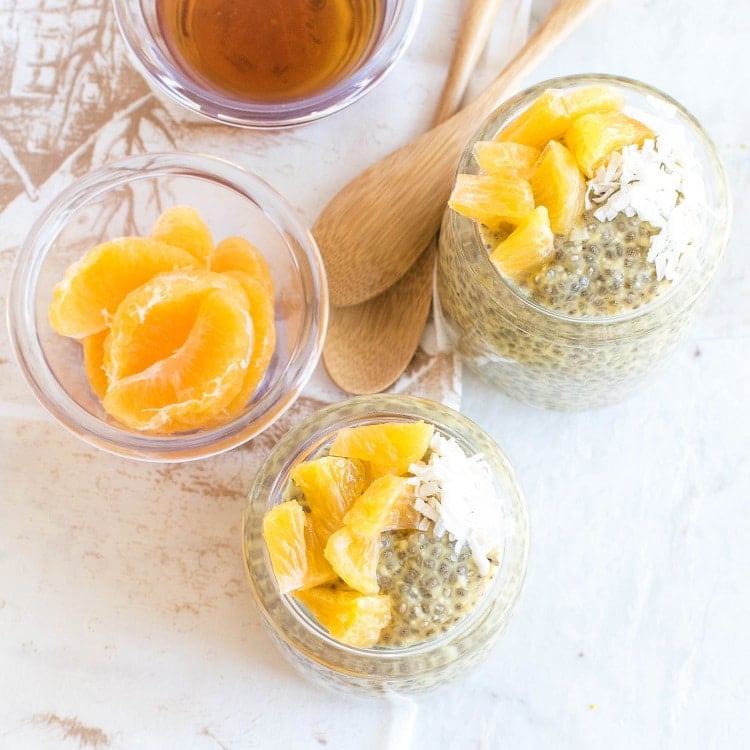 It tasted so good and so refreshing. This chia pudding is like dessert for breakfast. The best part is that its guilt free and yet delightful to the taste buds. It is a perfect go to breakfast for busy mornings as well.
Therefore, I encourage you all to make this recipe and enjoy it. I am sure you will devour every bite of this lip-smacking chia pudding recipe.
Expert tips
Make sure to squeeze fresh orange juice instead of using the store bought juice. Freshly squeezed orange juice brings out the best flavors in this breakfast chia pudding.
Chia seeds may sediment at the bottom so its important to stir nicely before serving for the well balanced taste.
Frequently Asked Questions (FAQs)
How long does it last?
I usually refrigerate this orange coconut chia pudding overnight and it tastes best the next day. However, this can be eaten for another 3 days if kept in a glass container in the refrigerator.
How does it taste like?
It has a crunch of chia seeds and a strong flavor of orange and random bites of coconut flakes.
Is this chia pudding healthy?
yes, its high in protein and fiber plus has enough vitamin C. Therefore this can be enjoyed frequently in a given proportion.
More vegan breakfast recipes
Vegan Omelette
Sweet Potato Pancakes
Air Fryer Tempeh Bacon
Savory French Toast
This post may contain affiliate links which means that if you click on them and make a purchase, I will get a small commission. Moreover, I share only those products which I use personally and love.
I hope you enjoy this recipe as much as we did. I am very excited to hear back from you.
Where to find me?
Follow me on Facebook or on Twitter. You may tag @kiipfit on Instagram with your recipe remake images because I would love to see what you cooked.
Did you make it?
If you get a chance to make this recipe then please leave your feedback in the comments below along with a 5-star rating.
In addition, you may checkout my cookbook for everyday comfort vegan recipes.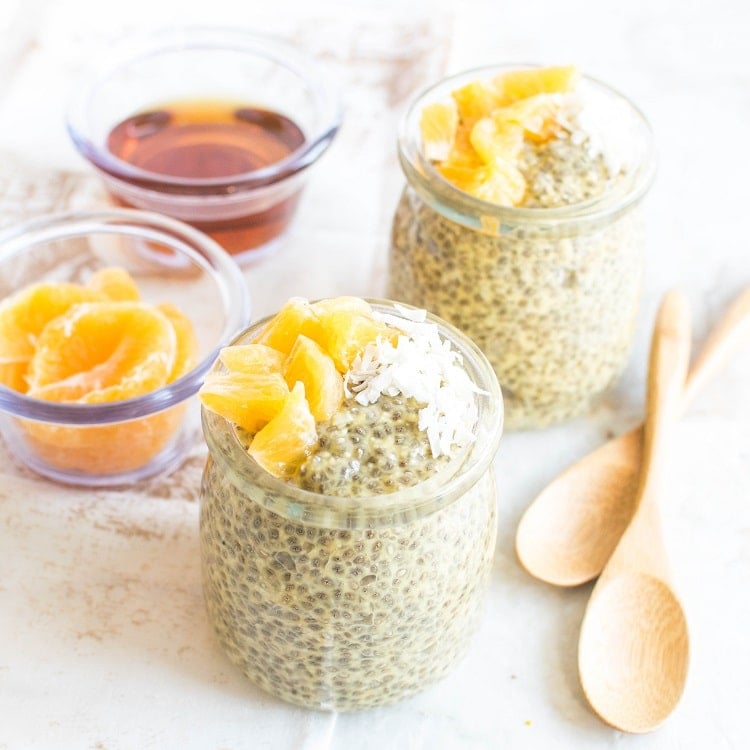 Print Recipe
Orange Coconut Breakfast Chia Pudding (Vegan)
This creamy and flavorful Orange Coconut Breakfast Chia Pudding (Vegan) is packed with nutrients, fiber and protein to help you start your day off right. Its easy, healthy, tasty and a no-cook recipe.
Instructions
In a blender put orange pieces and blend it smooth. Strain the orange juice in a strainer and collect the orange juice in a mixing bowl. (Pulp not needed for this recipe).

Now, in the blender again combine orange juice, coconut milk, coconut flakes, orange extract and orange zest). Blend it extremely smooth.

Pour the blended ingredients in a mixing bowl. Stir in chia seeds and mix very well.

Put the bowl in the refrigerator overnight. However, just before sleeping stir it vigorously once to spread the chia seeds nicely.

Just before serving stir this pudding again vigorously. 

Now,spoon the pudding in the serving jars/bowl/glasses and garnish with fresh oranges and fresh/dried coconut and enjoy.
Notes
Depending on how sweet the oranges are you may adjust maple syrup as per your taste.
I used tetra pack – beverage style coconut milk for this recipe. You may use any dairy free milk here if desired. 
Nutrition
Calories:
376
kcal
|
Carbohydrates:
42
g
|
Protein:
12
g
|
Fat:
17
g
|
Saturated Fat:
32
g
|
Sodium:
31
mg
|
Potassium:
613
mg
|
Fiber:
19
g
|
Sugar:
22
g
|
Vitamin C:
8.1
mg
|
Calcium:
320
mg
|
Iron:
5.6
mg