This vegan Spicy Beet Burger is bursting with color and flavor. Its soft and chewy from inside and perfectly crisped from outside. Its absolute scrumptious, oil free and versatile enough to be cooked in a skillet on stove top or Air fried!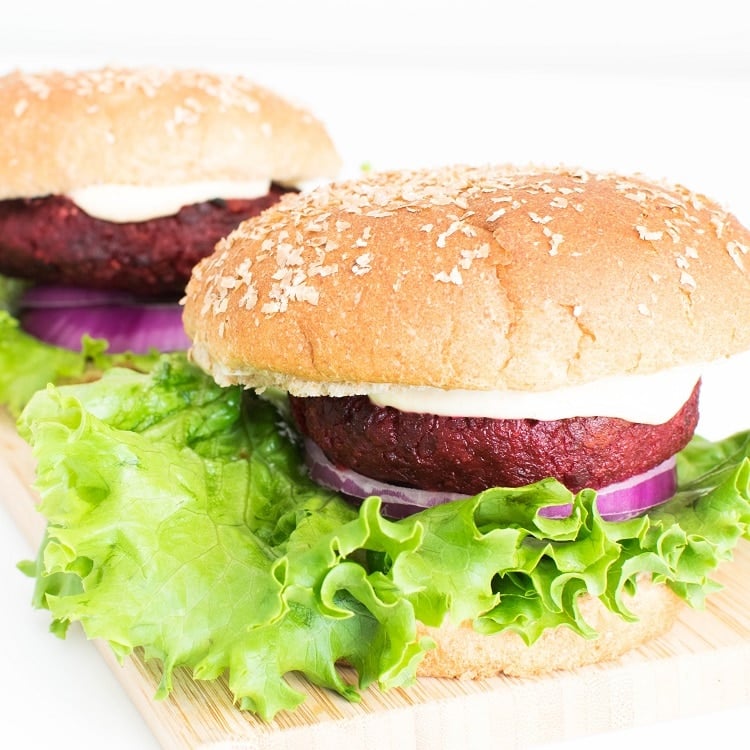 Who doesn't like veggie burger? I am absolutely a burger fan. Moreover, I have a tendency to try a variety of combination and this time this root veggie named beetroot was the star of my recipe.
Every time I make this beet burger recipe my family simply goes on appreciating its taste, texture and flavors along with its vibrant colors. Even though it gets slightly messy to handle beets but it is very high in iron and is a must in our diet especially in a vegan diet.
Therefore, for us, this beet burger works great and even kids enjoy them.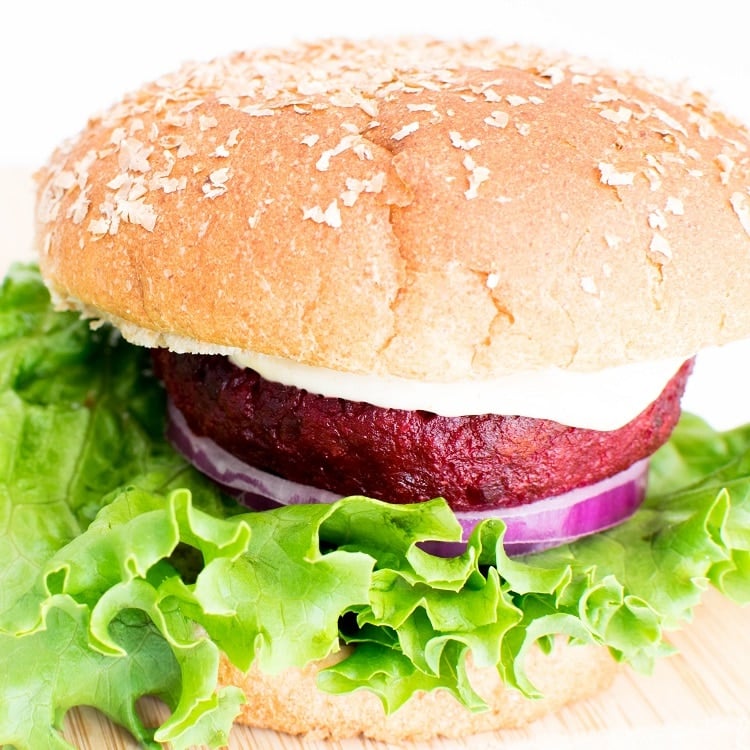 Hence, I am here to share my new recipe.
Ingredients for Spicy Beet Burger
Red beets
Russet potato
Cayenne pepper powder
Cumin powder
Thyme
Garlic powder
Nutritional yeast
Panko crumbs
Salt
I have used all these easily available ingredients which you may buy from any grocery store. However, I have provided links to few of them here for your convenience.
If you plan to buy from these affiliate links, then I get a small commission which in turn encourages me to bring out more delicious recipes for you.
Ingredients Notes:
Beetroot – This root veggie is a great source of folate, fiber, magnesium. Its vibrant color makes any recipe beautiful and very attractive. It is an essential vegetable which must be included in our diet as this also helps in balancing hemoglobin.
Russet potato – I used it to give these patties a thicker base and to add some good carbohydrates.
Panko crumbs – This helps in binding and make these burger patties crispier.
Nutritional yeast – since it's a vegan recipe I used nutritional yeast to add some cheesy flavor to it and also increase its B12 content.
Cayenne pepper powder – it is said that chili promotes good metabolism. So, I used it to give these burgers a hint of spice and add more nutrition.
I have made this easy beet burger with minimum ingredients and in very few steps but if you are looking for a variation then I like this recipe from Power Hungry because I like her idea of including mushrooms and black beans in it.
How to make Spicy Beet Burger
Firstly, I peeled, chopped and shredded red beets in the food processor and kept it aside.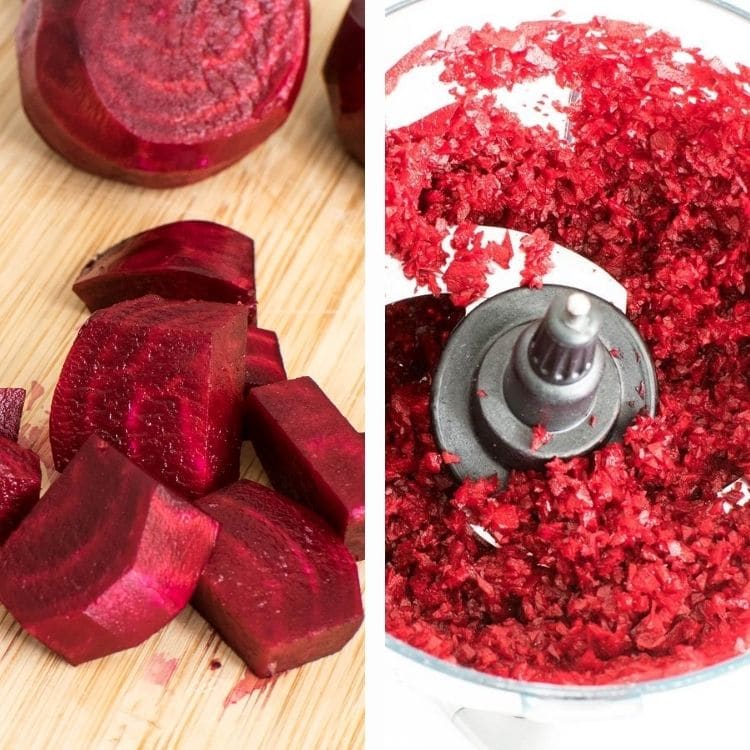 Secondly, in a mixing bowl, I combined all the ingredients and made a soft dough out of it.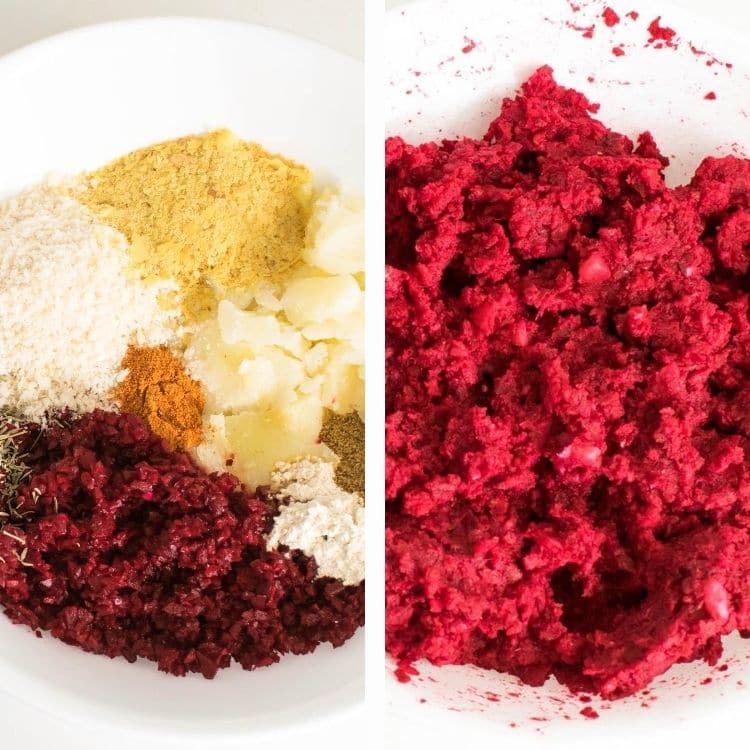 Next, I divided the dough into 4 equal parts and formed round balls between my palms followed by flattening them from the center to give the shape of patties.
Thereafter, I placed them on the baking sheet and baked them in a pre-heated oven at 400-degree Fahrenheit for 30 minutes. Then, I took out the baking sheet and flipped over the burger patties with the spatula and baked them again for another 10 minutes.
Once done, I turned it off and took them out and let them cool a bit.
Lastly, I assembled them in between buns with salad and dressing.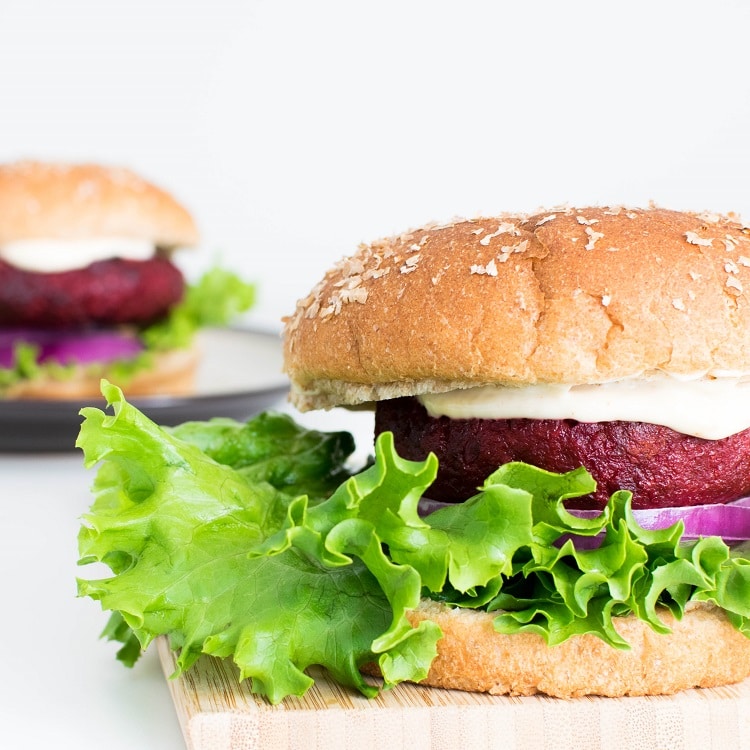 We all enjoyed these beet burgers happily and heartily. In fact, we had a nice family time in our backyard while enjoy my new recipe success.
Expert tips:
Make sure to measure panko crumbs properly. If it is little less the patties may fall apart while baking so therefore its ok if you want to add little extra crumbs.
I used medium sized 4 beets which equaled to 1 ¾ cup shredded beets. So, make sure to follow the rest of the measurements accordingly to get the original delicious taste.
Make sure the beets do not have any water. After rinsing them, pat dry with kitchen towel.
So, by now you must have realized that these veggie burgers are super easy to make. I assure you that once you make it your family and friends will appreciate and thank you for this meal. It has a good meaty texture and taste to it that even carnivores won't realize that its vegan.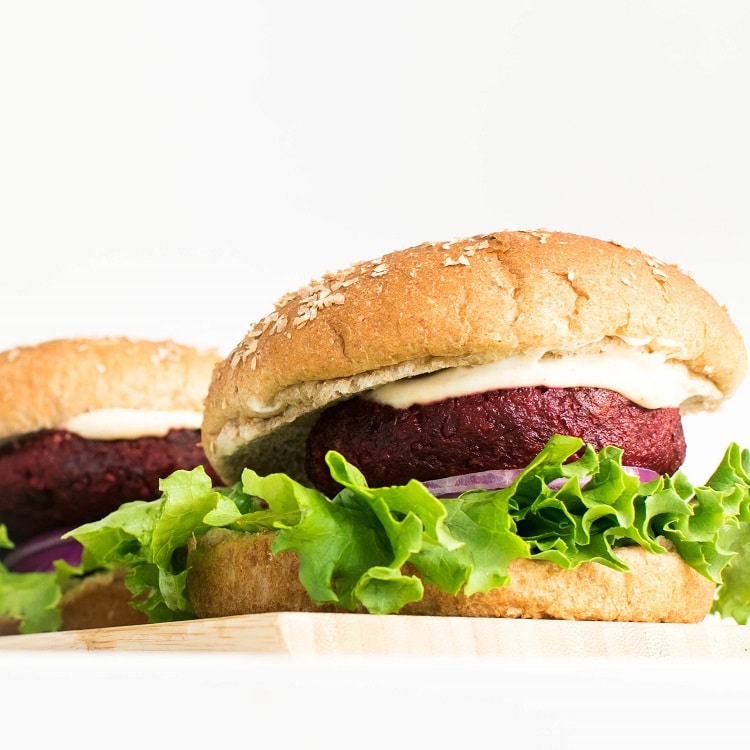 Spicy Beet Burger FAQs
How long do they last?
The cooked patties can be refrigerated for about 3 weeks.
Are they freezer friendly?
Yes, once you cook them make sure to cool them down completely. Then seal them in a Ziplock bag and freeze for about 2 months. When ready simply re-bake or air fry them or even microwave them for a quick fix.
Are these healthy?
Yes, the beets are extremely rich in iron and antioxidants. I have used boiled potato because everything in moderation is required for the body. The rest of the spices and herbs and used for flavoring. Panko crumbs are vegan and helps in binding. Moreover, panko is used as minimum as possible. To lower the carbohydrate content and increase the nutrition you may enjoy these as lettuce wraps and skip the buns. Therefore, this vegan beet burger is high in nutrition and low in calories and carbohydrates.
Can I make them on stove top or air fry?
Yes, I have explained the steps in detail in the notes under recipe card.
I guarantee, this vegan burger will top your food menu and will become regular in your household. I would insist you to get started with it ASAP so that you and your family can enjoy this delicious, wholesome and hearty burger recipe as much as we did.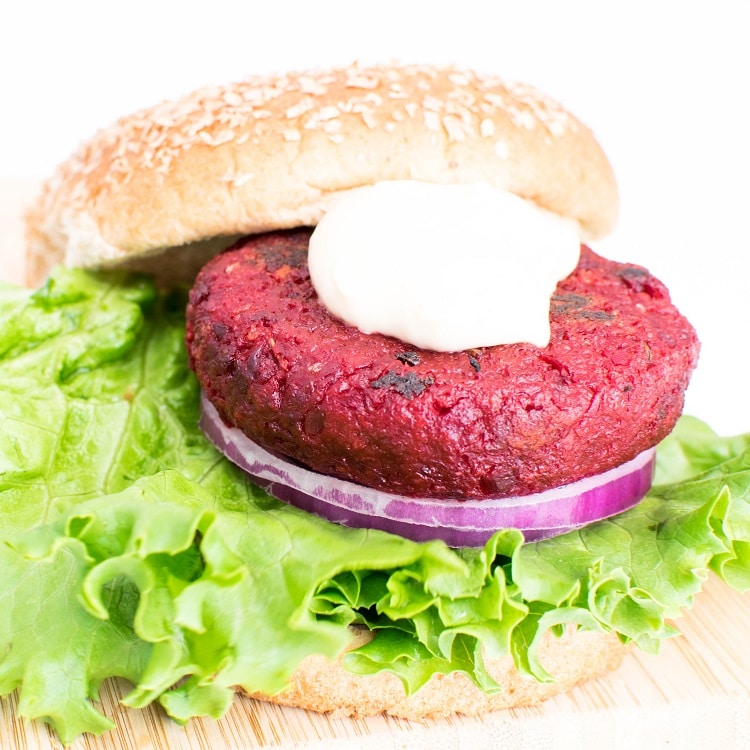 You may also like:
Green Monster Veggie Burger
Tofu Beans Sun Dried Burger with Sauteed Mushrooms
Tempeh Parmesan burger
Cilantro Edamame Burger
Lentil Curry Burger
Dips and dressing to pair with:
Oil free Vegan Mayo
Vegan Ranch Dressing
Caesar Dressing
Fire Roasted Jalapeno Dip
Did you make it?
If you get a chance to make this recipe then please leave your feedback in the comments below along with the ratings. In addition, you may tag @kiipfit on Instagram with your recipe image because we would love to see what you cooked.
If you desire to explore more of my delicious recipes then you may checkout my cookbooks.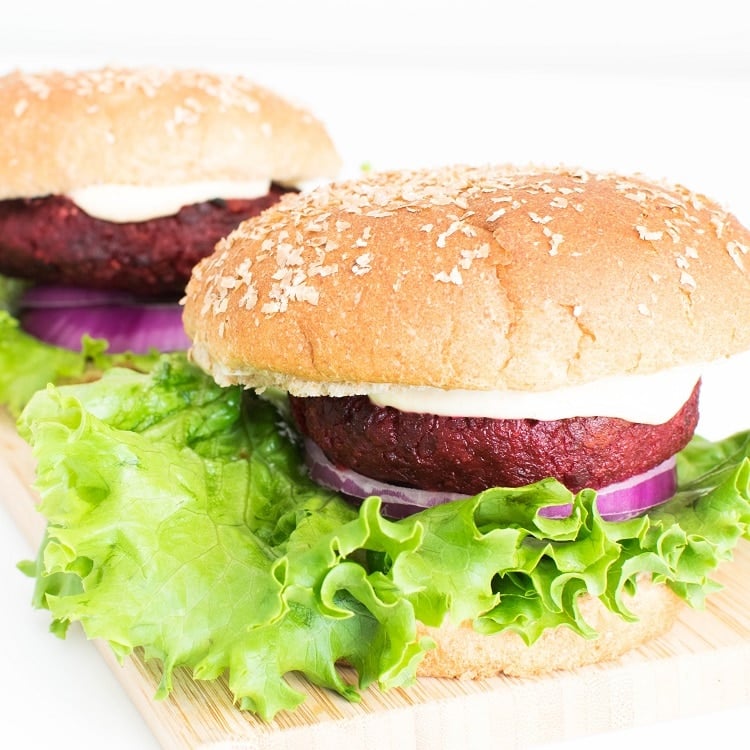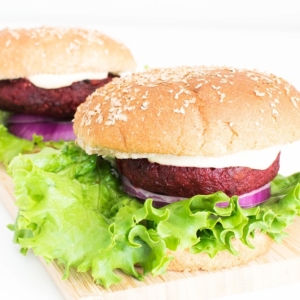 Print Recipe
Spicy Beet Burger
This vegan Spicy Beet Burger is bursting with color and flavor. Its soft and chewy from inside and perfectly crisped from outside. Its absolute scrumptious, oil free and versatile enough to be cooked in a skillet on stove top or Air fried!
Instructions
Preheat oven at 400-degree Fahrenheit and prepare a baking sheet. Peel the beetroots and roughly chop them and place the pieces in the food processor. Now, in the crush mode simply process them until well shredded.

Combine all the ingredients in a mixing bowl (including the shredded beets) and mix with your hand to make a soft dough.

Divide the dough into 4 equals parts. Take one part between palms and make a tight round ball gently pressing from the center to flatten them and make patties. Place them on the baking sheet. Then, bake them in the preheated oven for 30 minutes. Take it out and flip the burger patties with a spatula. Then place the baking sheet again in the oven and bake for another 10 minutes or until evenly crispy.

Turn it off and take them out. Assemble them between buns with salad and dressing/dips and serve immediately.
Notes
Stove top – grease the cast iron skillet very well. Place the patties and cook until it becomes firm and cooks well from the bottom. Flip them over with a spatula and cook again until brownish in color.
Air fry – place the patties in the air fryer basket and attach it to the air fryer. Turn it on at 400 degree and air fry for 20 minutes. Pause and take the basket out. Flip them over with spatula and air fry again for another 3-4 minutes or until well-cooked from inside.
Refrigerate – leftovers can be refrigerated in an air tight container for about 3 weeks.
Freeze – once the patties are well cooked and absolutely cooled down to room temperature, seal them in a Ziplock bag and freeze them for about 2 months. When ready take them out, defrost and re-bake, air fry or microwave.
This recipe yields 4 big burger patties and the serving size is 1 patty per person.
I have provided the nutritional value of the patties without the buns. The nutritional value would vary depending on the buns and dressing you use.
Nutrition
Calories:
86
kcal
|
Carbohydrates:
19
g
|
Protein:
3
g
|
Fat:
1
g
|
Saturated Fat:
1
g
|
Sodium:
33
mg
|
Potassium:
478
mg
|
Fiber:
2
g
|
Sugar:
1
g
|
Vitamin C:
5
mg
|
Calcium:
24
mg
|
Iron:
2
mg