Simple, easy and flavorful, this One Pot Vegan Mexican Brown Rice is lip smackingly delicious and a perfect weeknight dish. It's made with whole grain rice and uses simple pantry staples.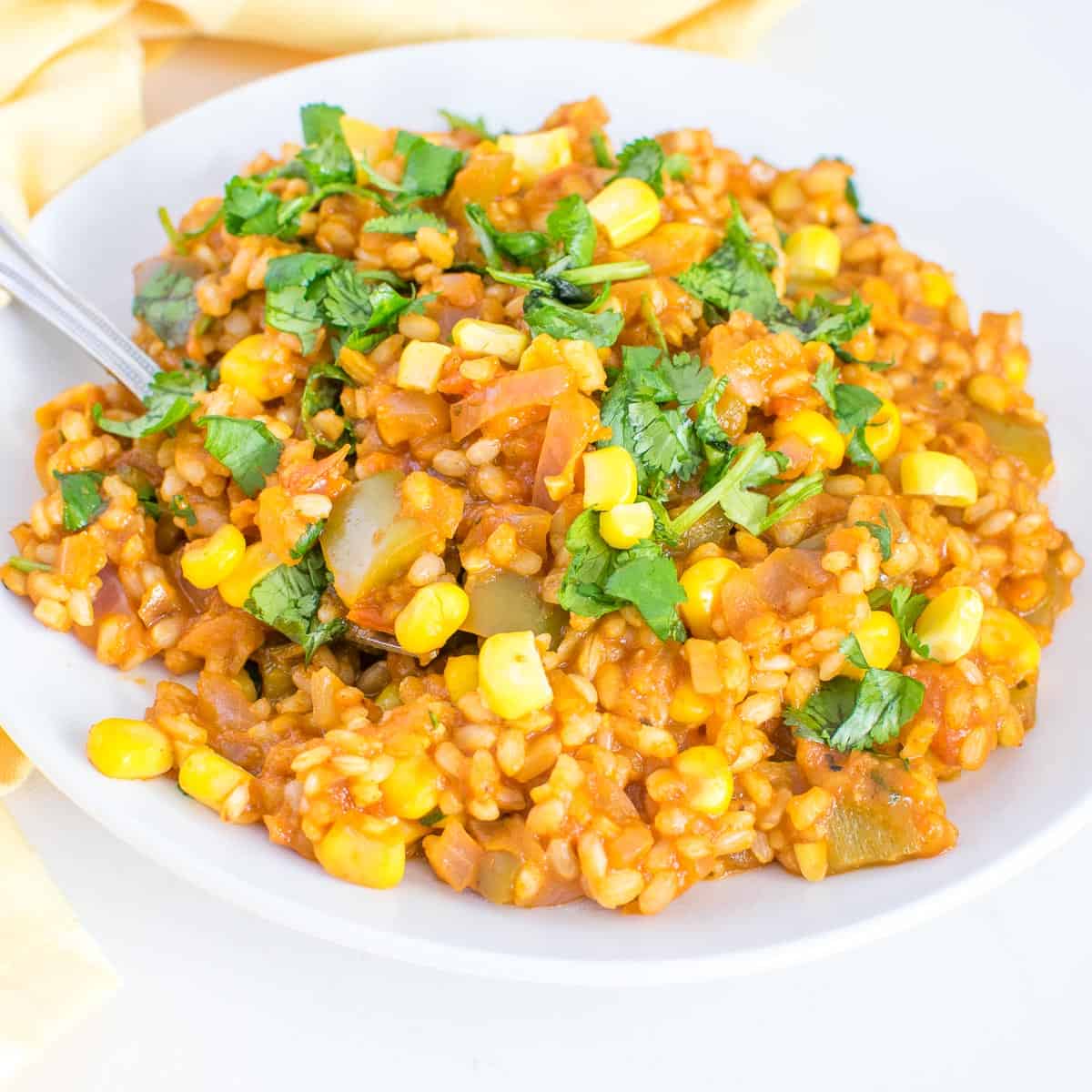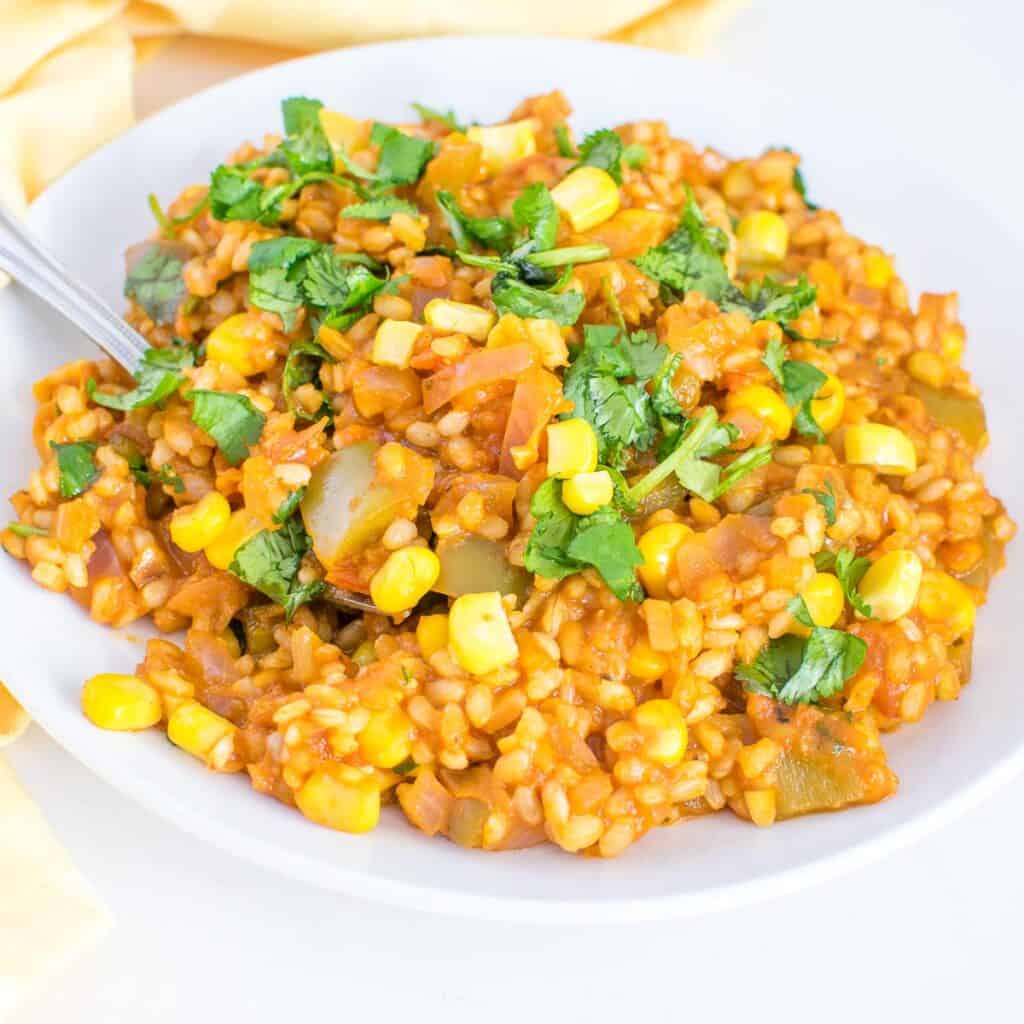 Mexican Brown Rice is the same as Mexican Rice with the only difference being the type of rice that I used in this recipe.
I like to add whole grains into my diet and so I made it with brown rice to make it healthy and also to add fiber to this dish.
In fact, my kids love this dish so much that sometimes they prefer to take it for school lunches too.
My other Mexican inspired dishes are taco soup, taco pasta, baked taquitos, and all of them are loved by everyone.
Is Mexican rice same as Spanish rice
There is a thin line of difference between the two. They mostly have the same ingredients and the cooking method is similar too. The difference is in their color and texture. Spanish rice uses saffron and is more yellow in color. Also, Spanish rice is a bit firmer whereas Mexican rice is softer in texture and is melt in mouth.
What is Mexican Rice
Its main component is rice and tomatoes with Mexican spices. It is a popular dish in Central and North Mexico and is eaten all year round. It's local name is arroz rojo in Mexico.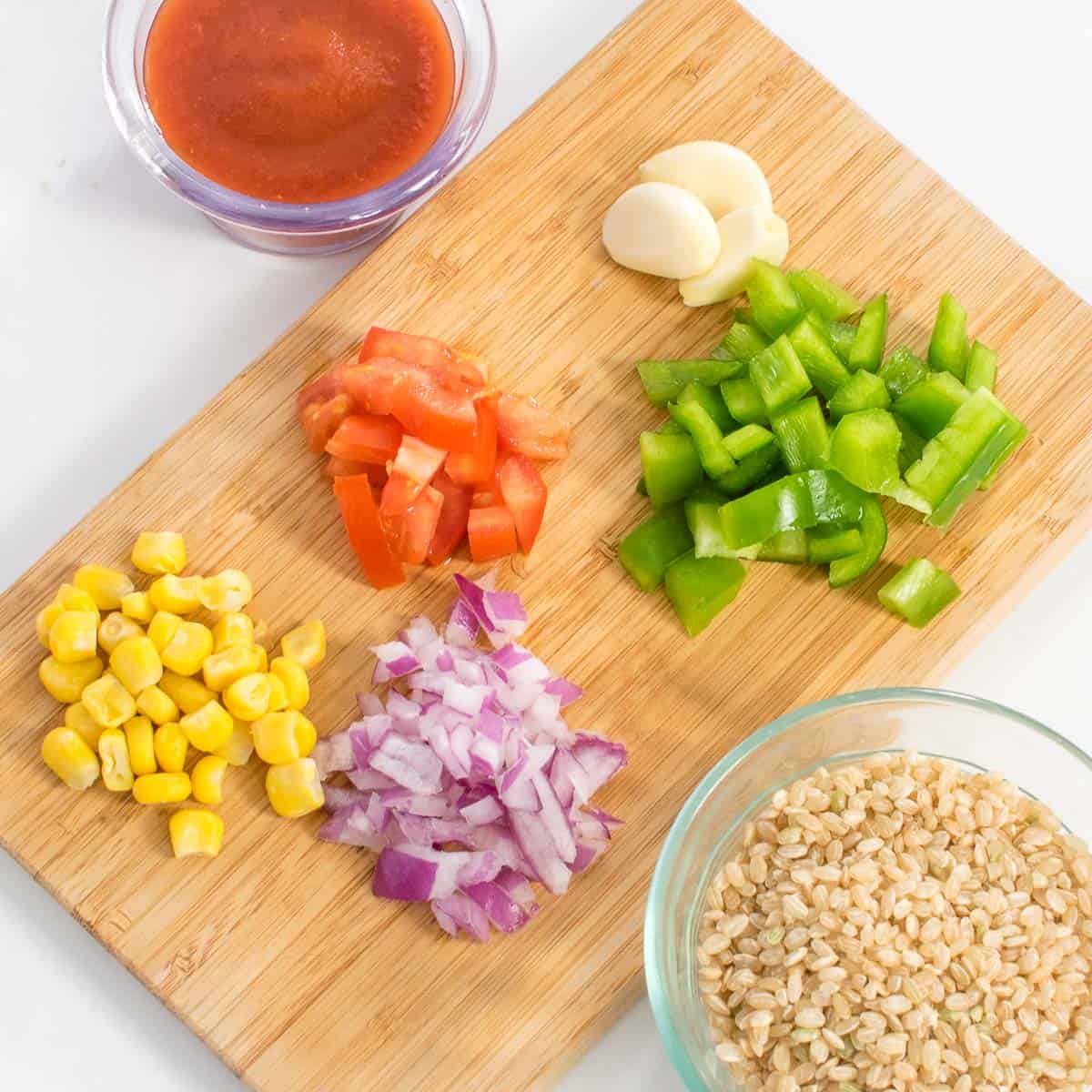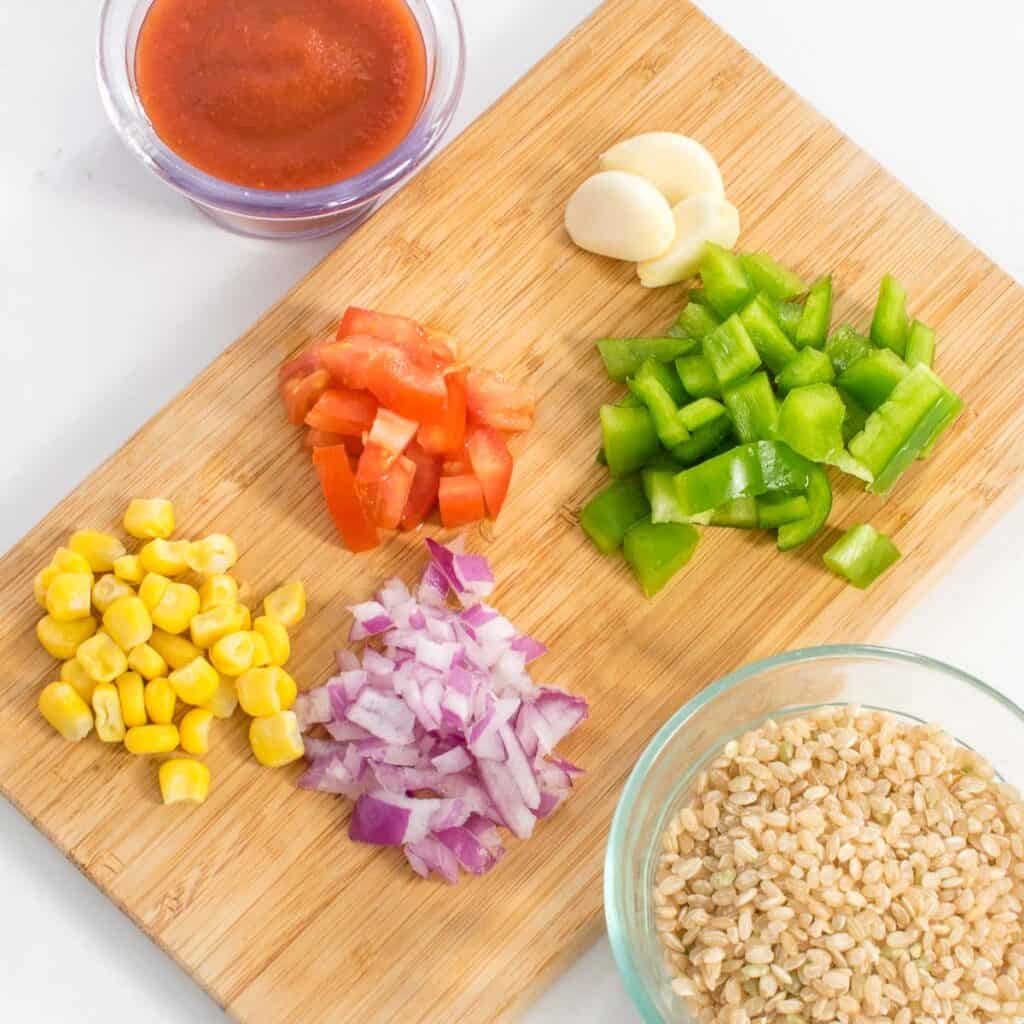 Ingredients
Olive oil
Garlic
Brown rice (short or long grains)
Onion
Tomatoes
Sweet corn kernels
Green bell pepper
Tomato sauce
Cumin powder
Chili powder
Salt
Vegetable broth
Cilantro
I am sure you have these ingredients in your pantry right now. Hence, I am excited for you to make this vegan Mexican rice and enjoy it with your loved ones.
Ingredient notes
Brown rice – I used short grain brown rice in my recipe but long grains also work great here. You may make it with white rice too. But the cooking time will change. White rice cooks earlier and takes less time to cook as compared to brown rice.
Tomato sauce – make sure to use canned tomato sauce for that extra punch of flavors.
Sweet corn – I used frozen sweet corn kernels but you may use canned ones too. If you use canned corn kernels make sure to drain them before using in this vegan Mexican rice recipe.
Spices – cumin powder is a must in this recipe. Feel free to adjust chili powder as per taste. You may also use taco seasoning to add more flavor if desired.
Vegetable broth – This is an important part of this dish. Vegetable broth adds lot of flavors and nutrition to it so make sure to use vegetable broth of your choice and not plain water for the best results.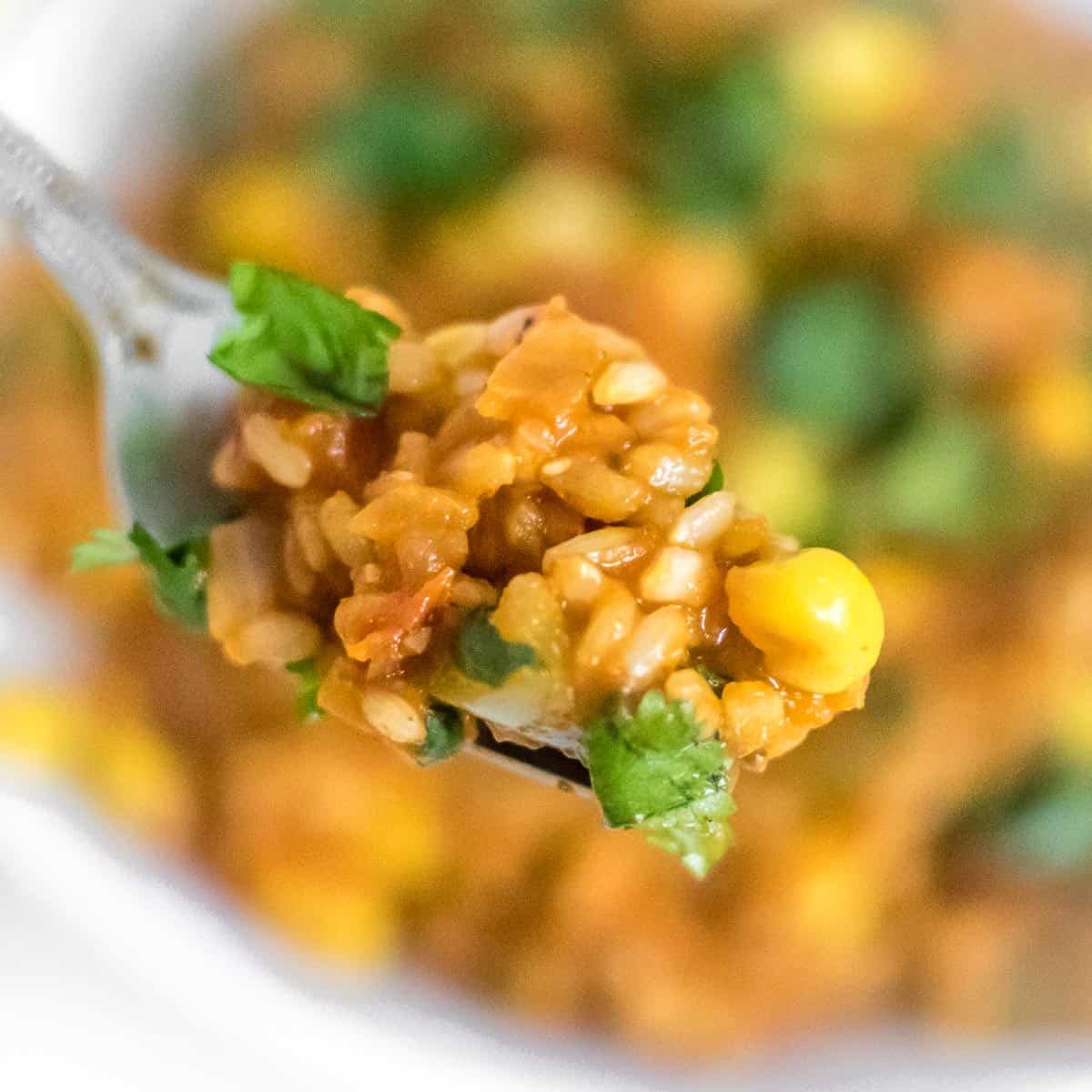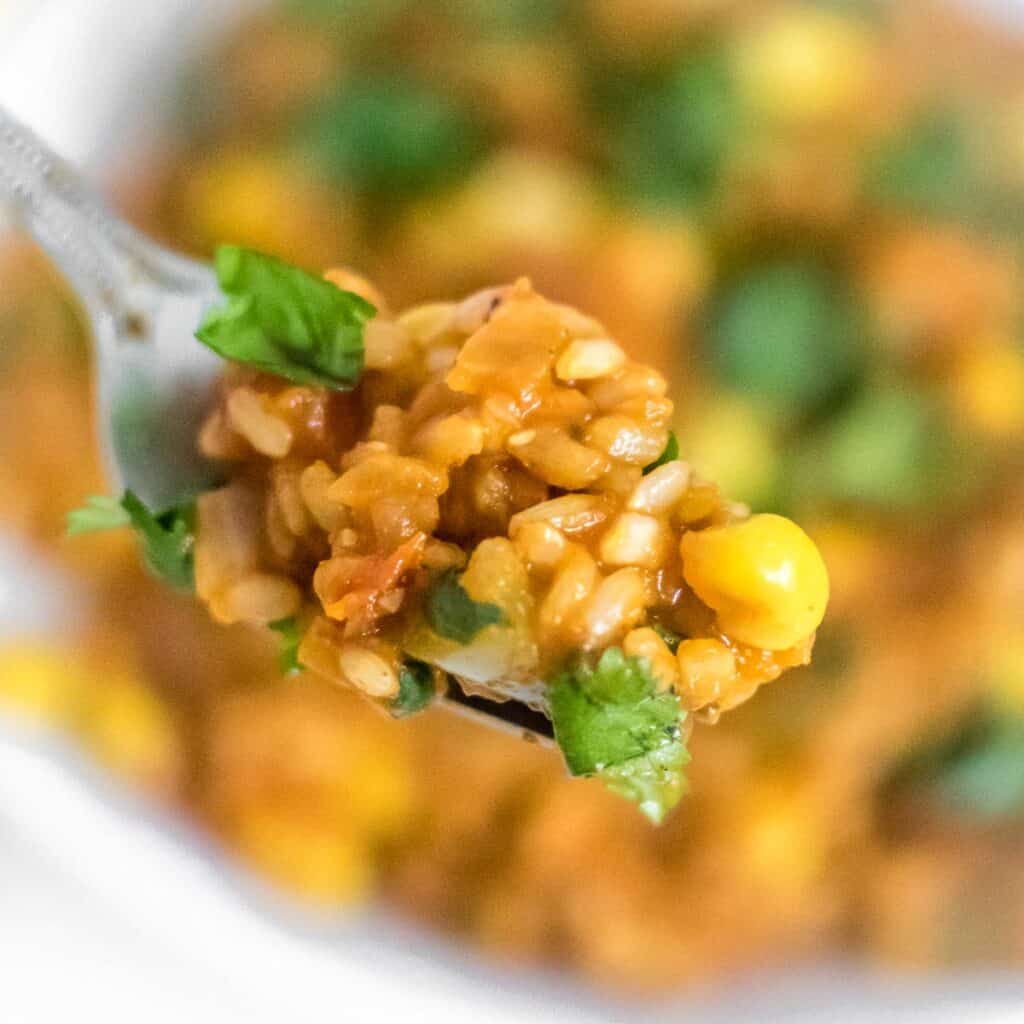 For detailed measurement of ingredients, please scroll down to the recipe card at the bottom of this post.
How to make One Pot Vegan Mexican Brown Rice
Firstly, I heated oil in my nonstick stockpot and sautéed garlic until golden in color followed by onions. Then, I sauteed for about 1 minutes until raw aroma disappears.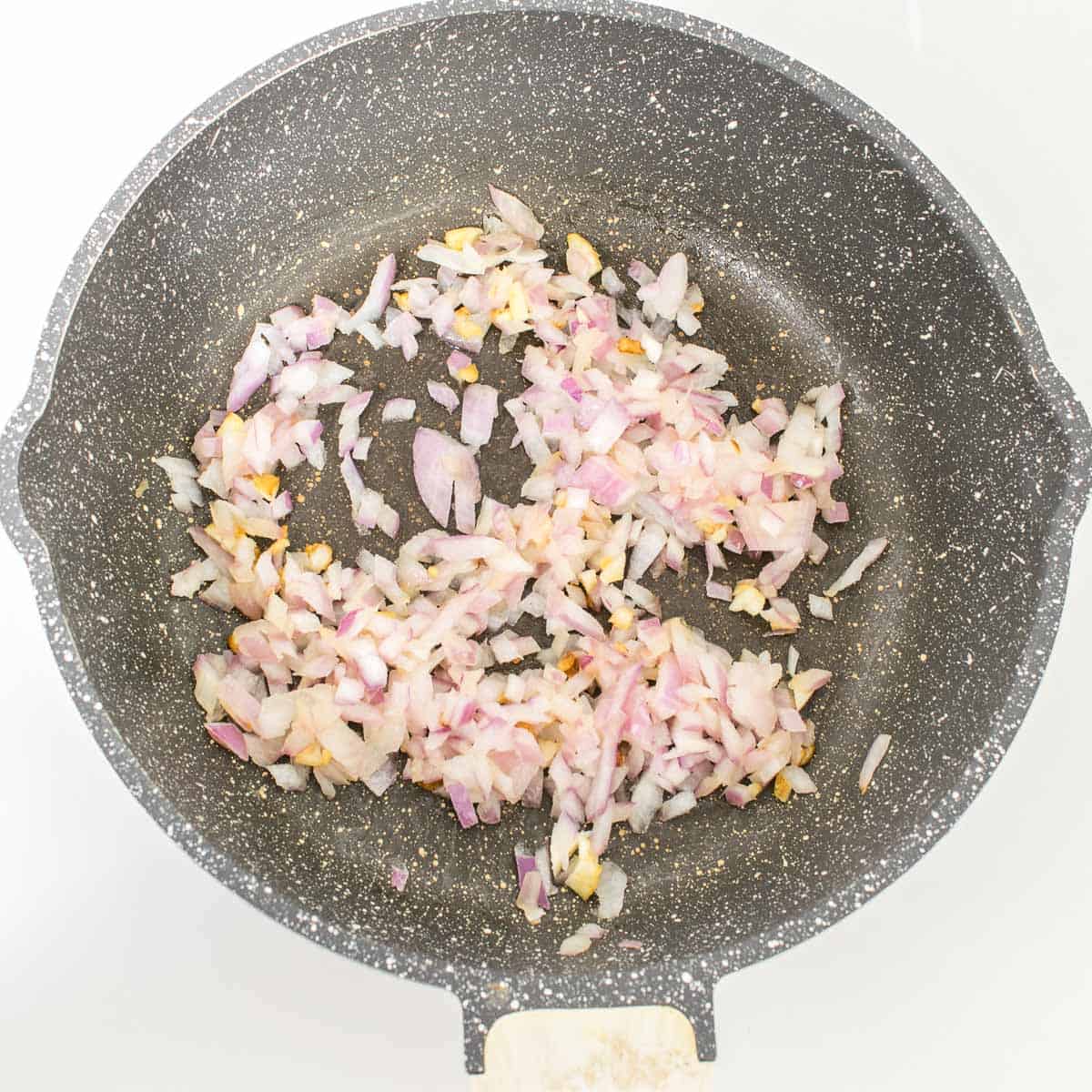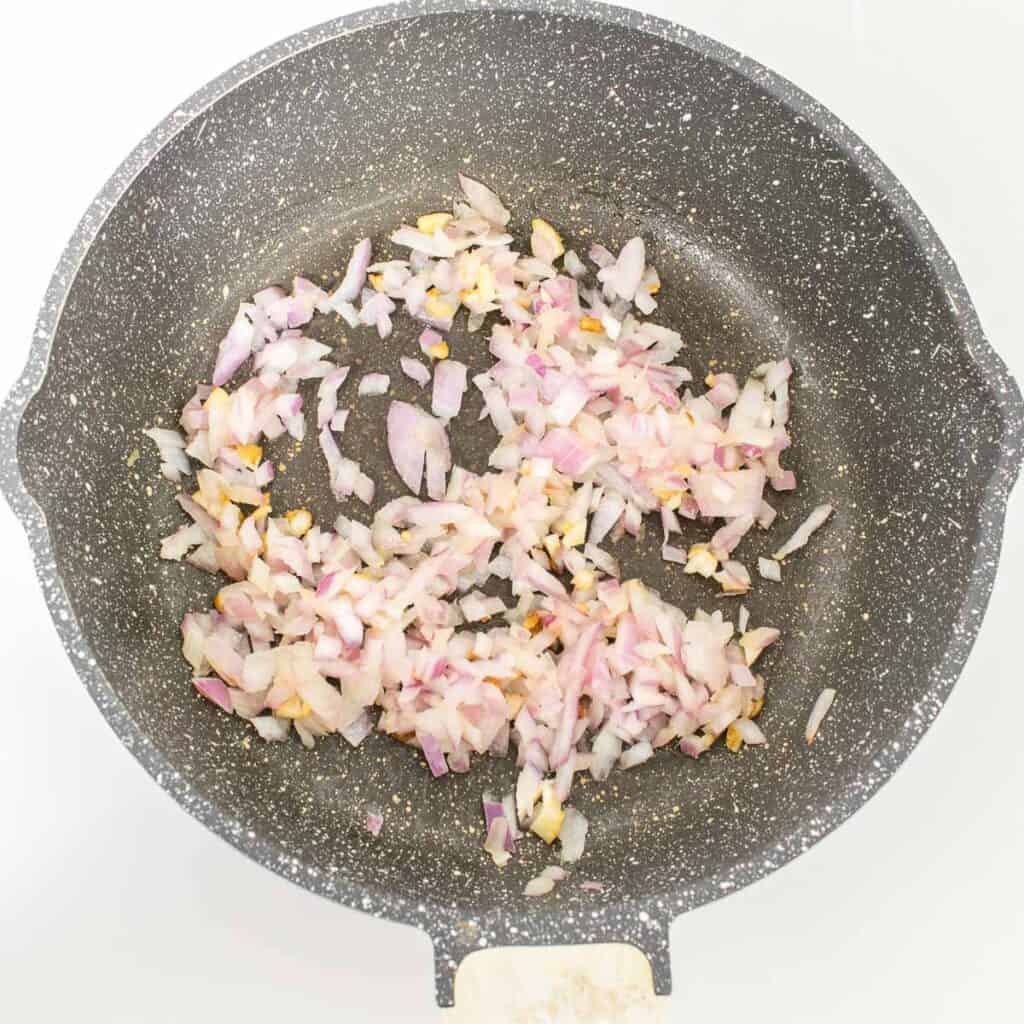 Secondly, I sauteed in rinsed brown rice for 2 minutes until it was toasty.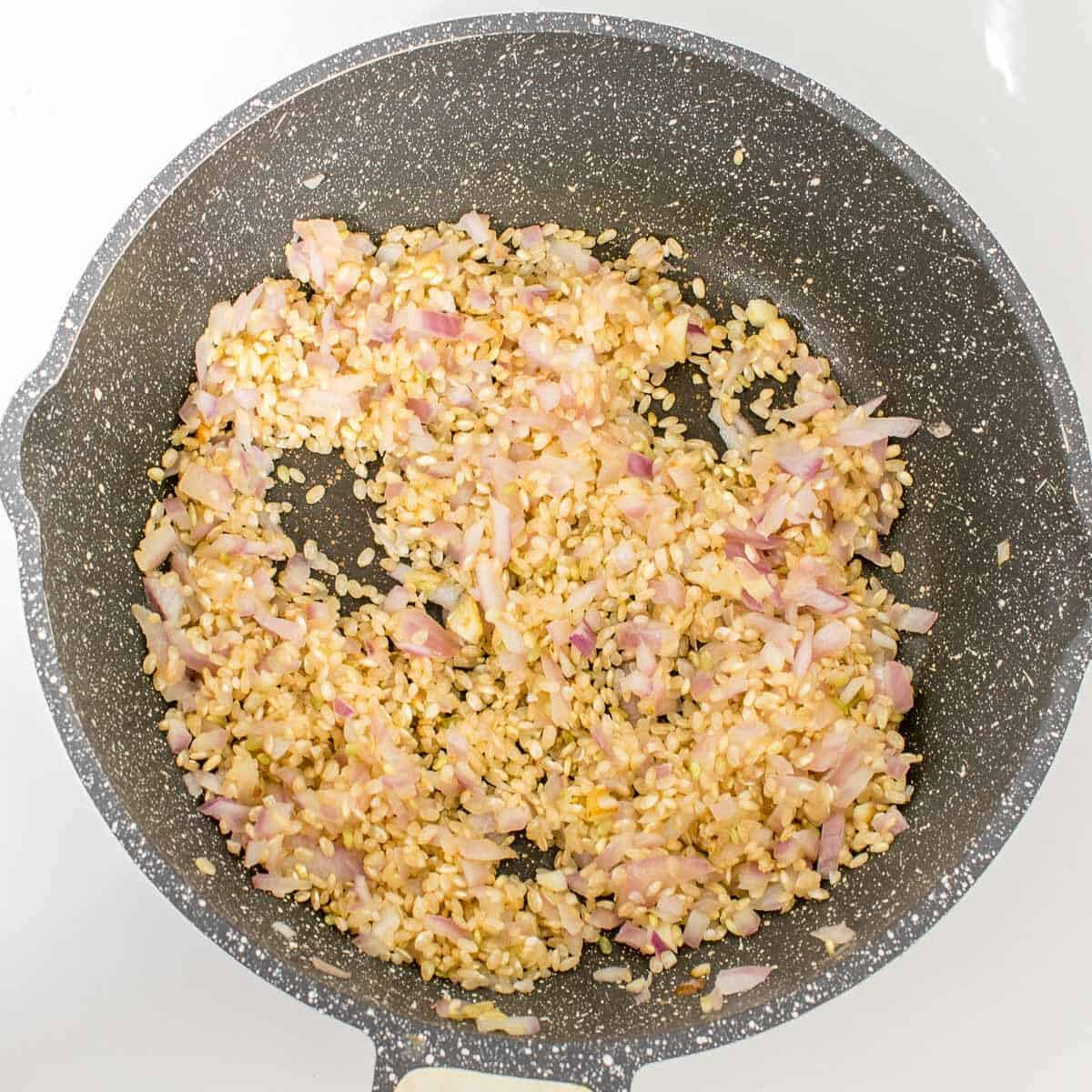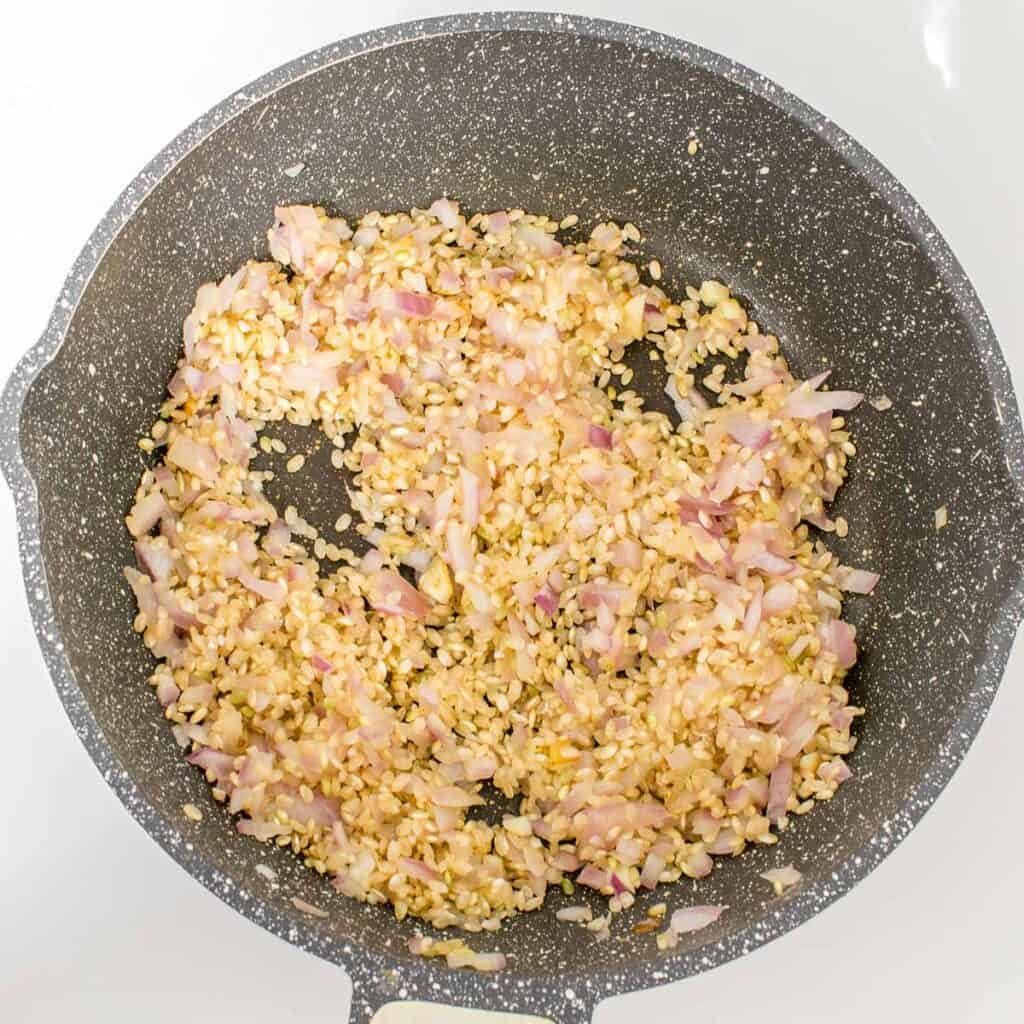 Next, I added tomatoes, corn and green bell pepper and mixed it well.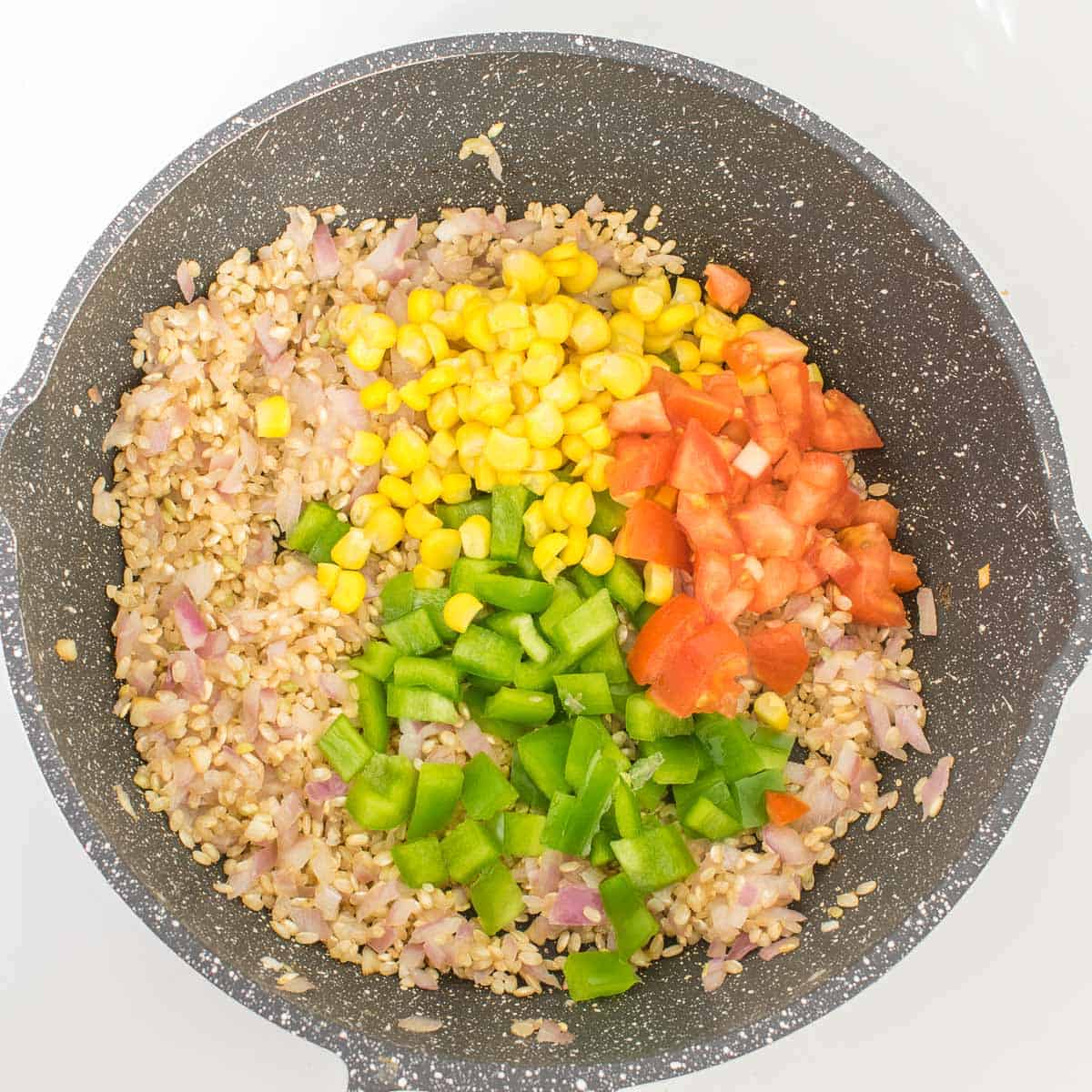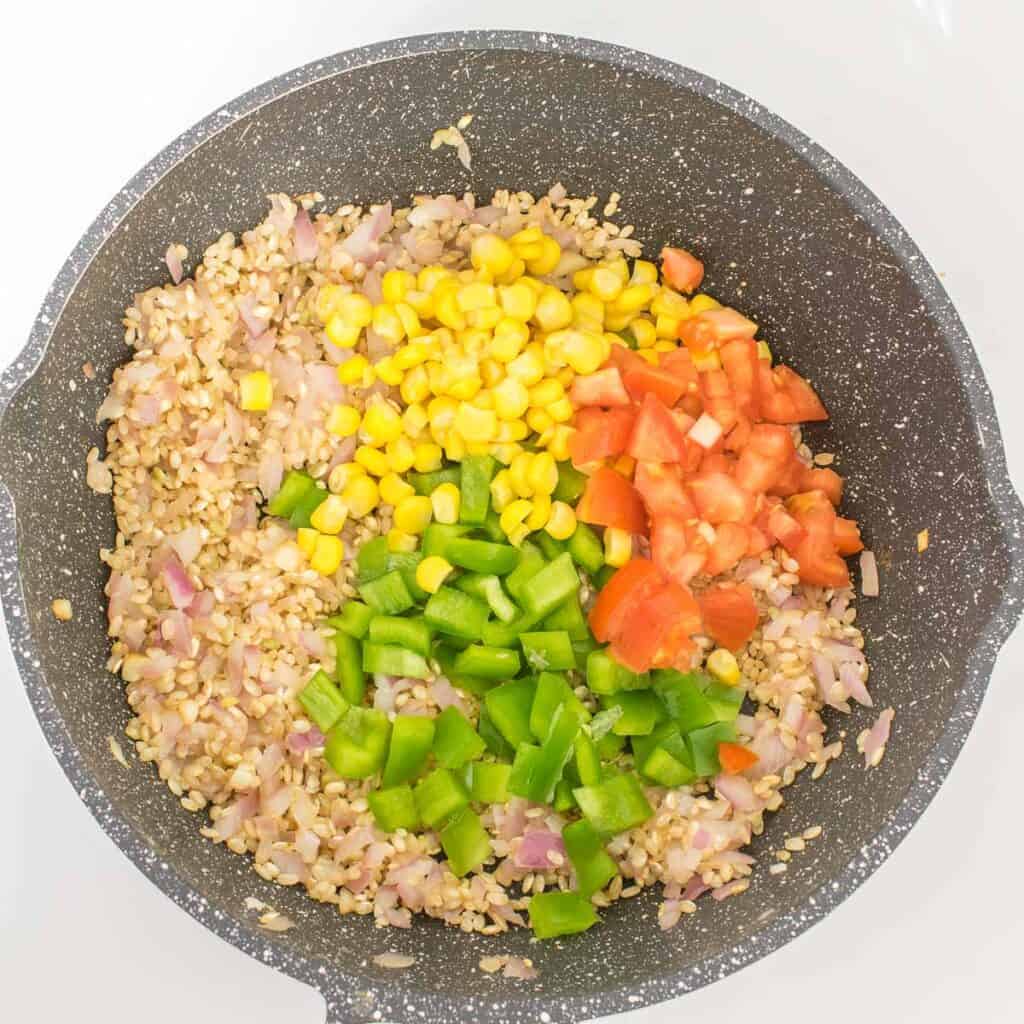 Thereafter, I added tomato sauce and the seasoning to it. Then, I mixed it again and cooked for 30 seconds at medium-high flame.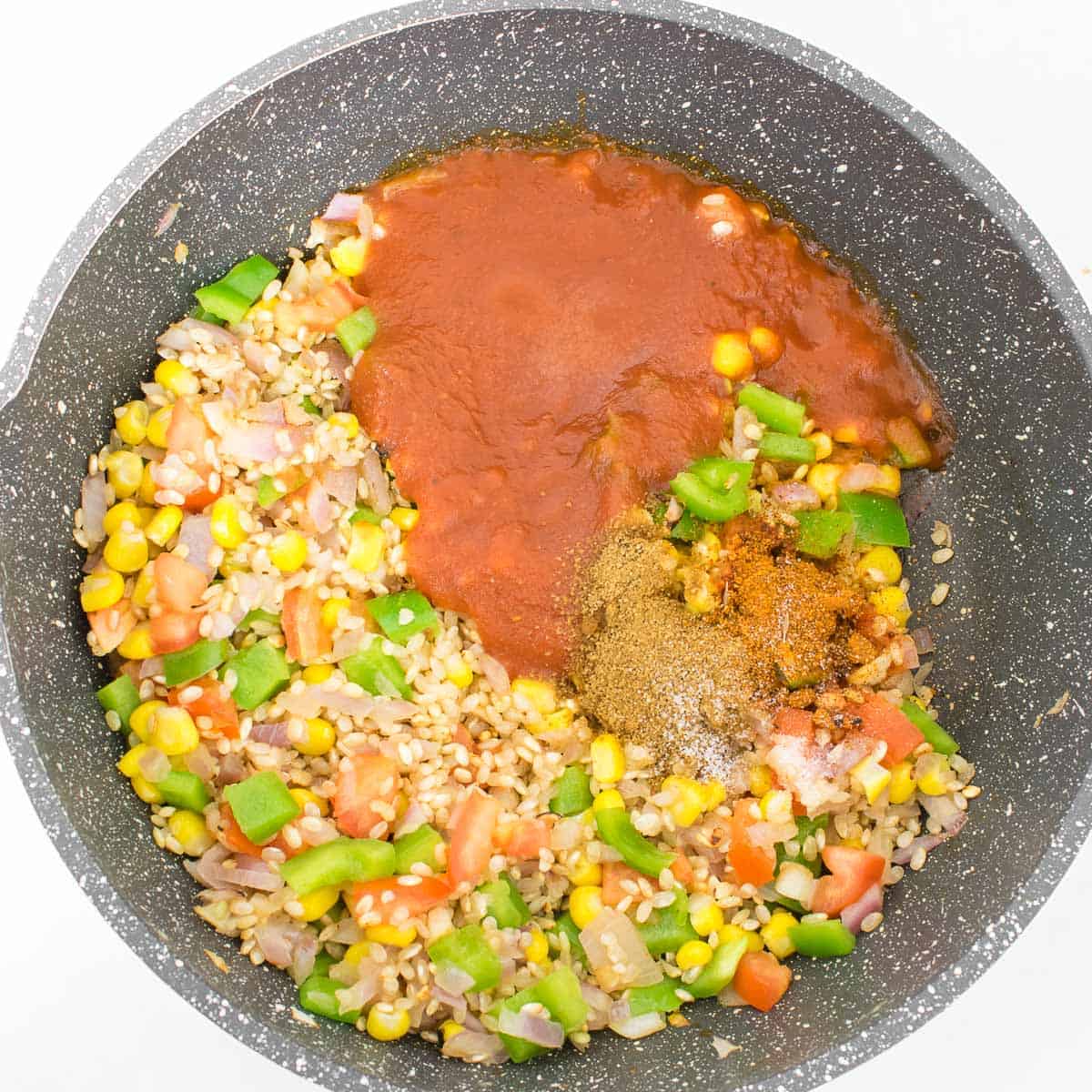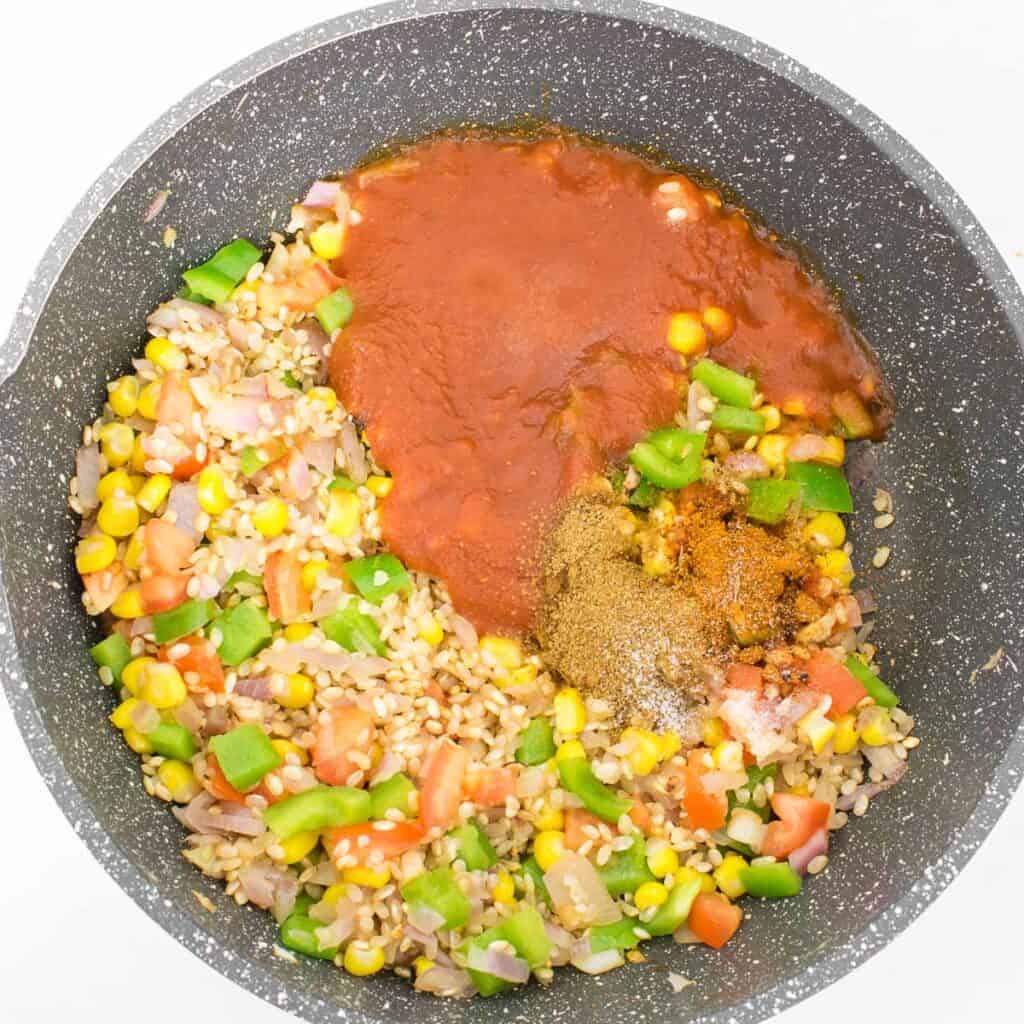 Afterwards, I added vegetable broth and stirred it. Then, I let it cook at high flame for 5 minutes or so until half the liquid was absorbed.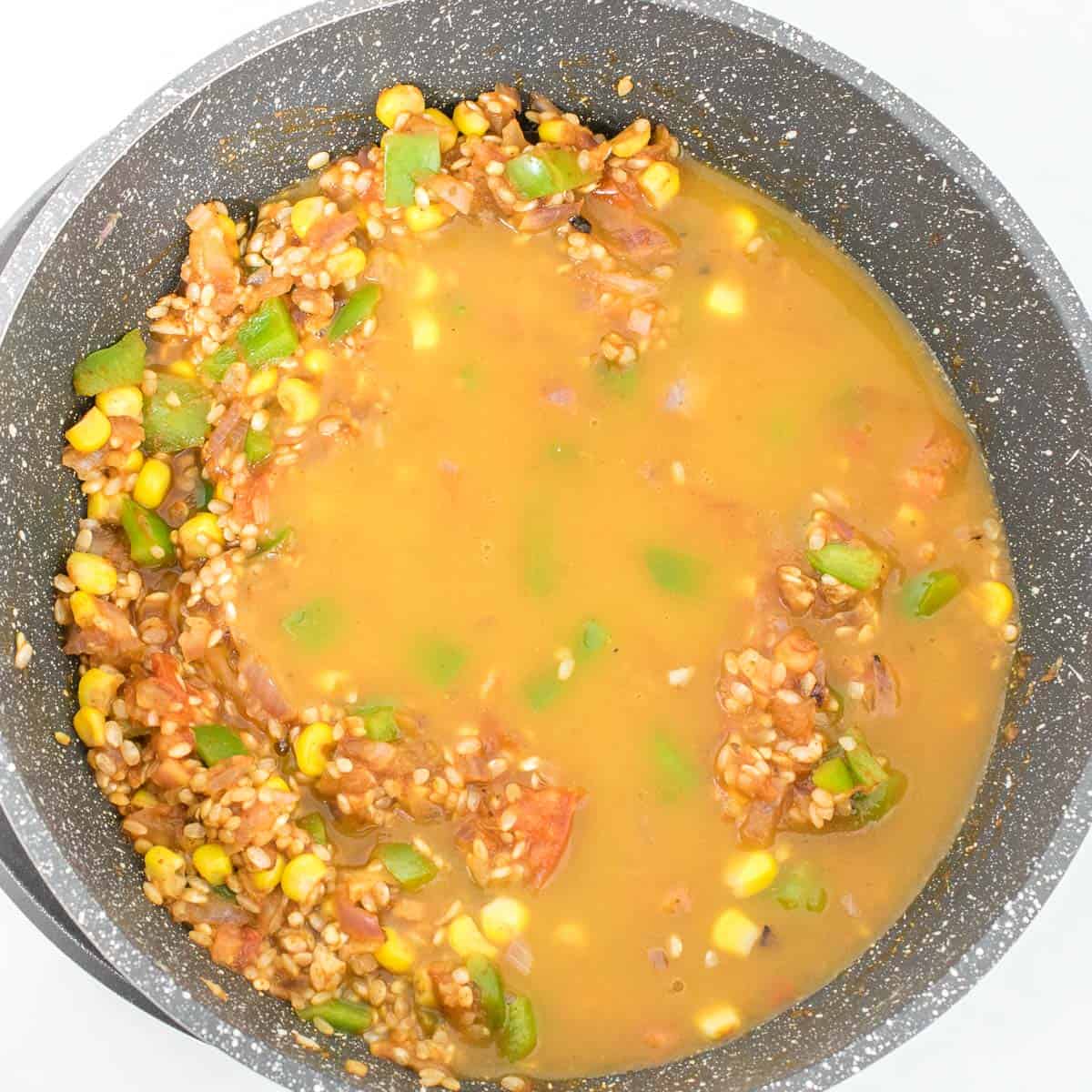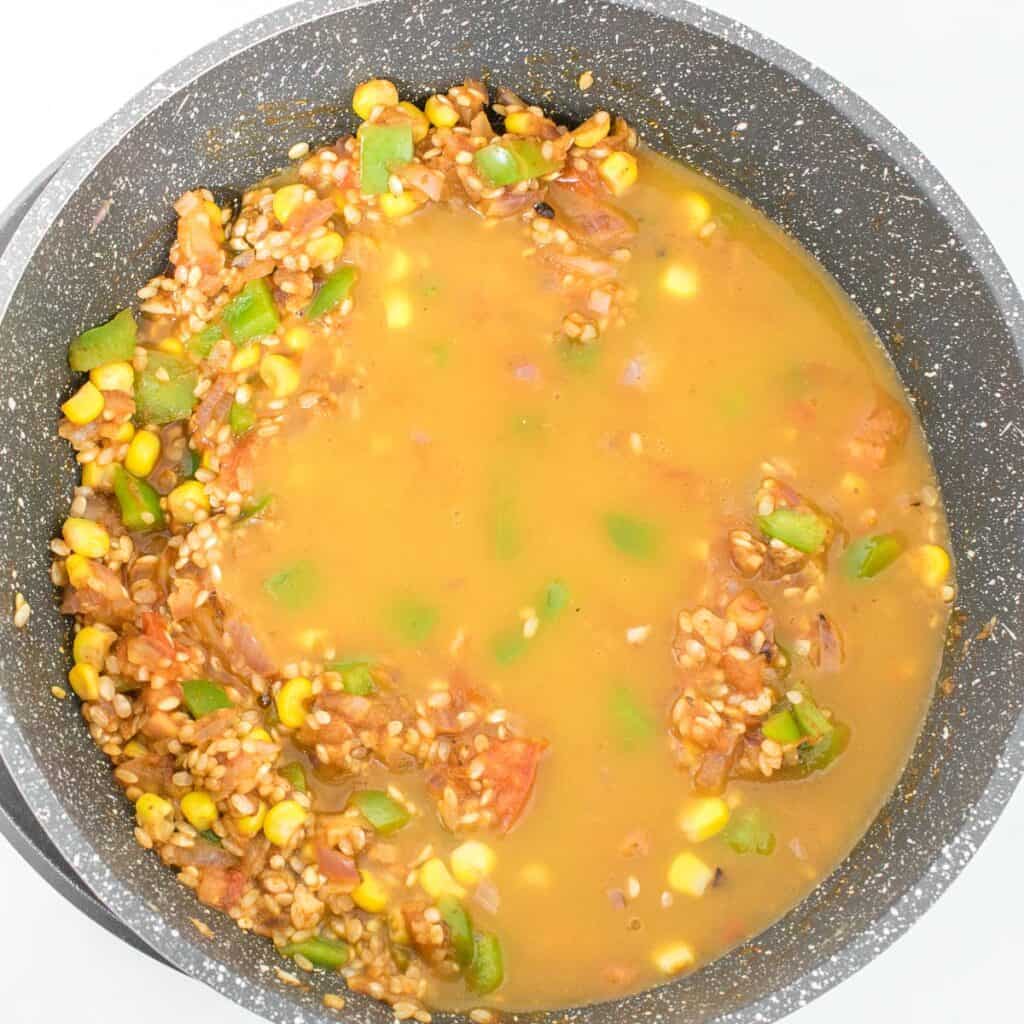 Later, I covered the stockpot with a tight lid and let it cook for 30 minutes at low flame.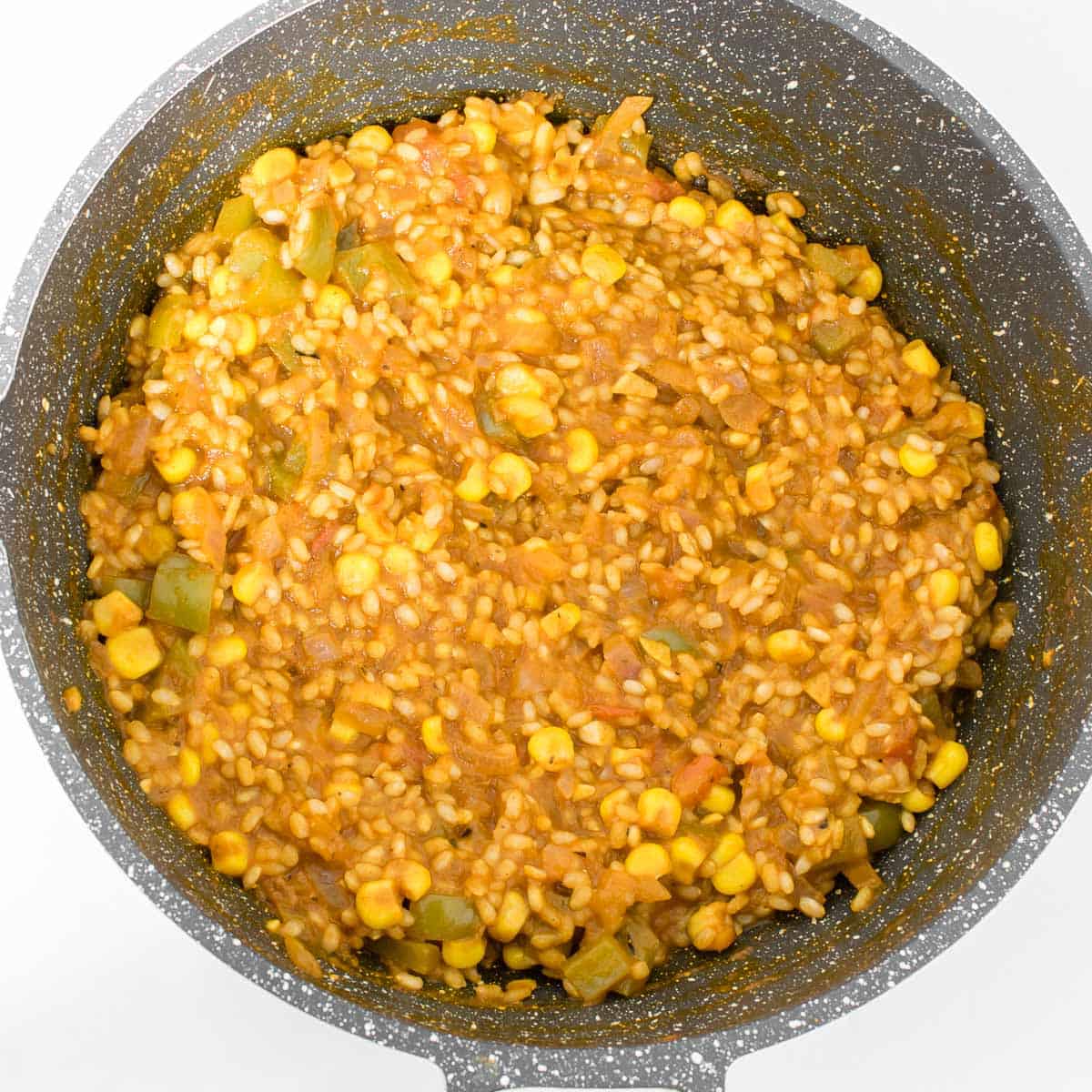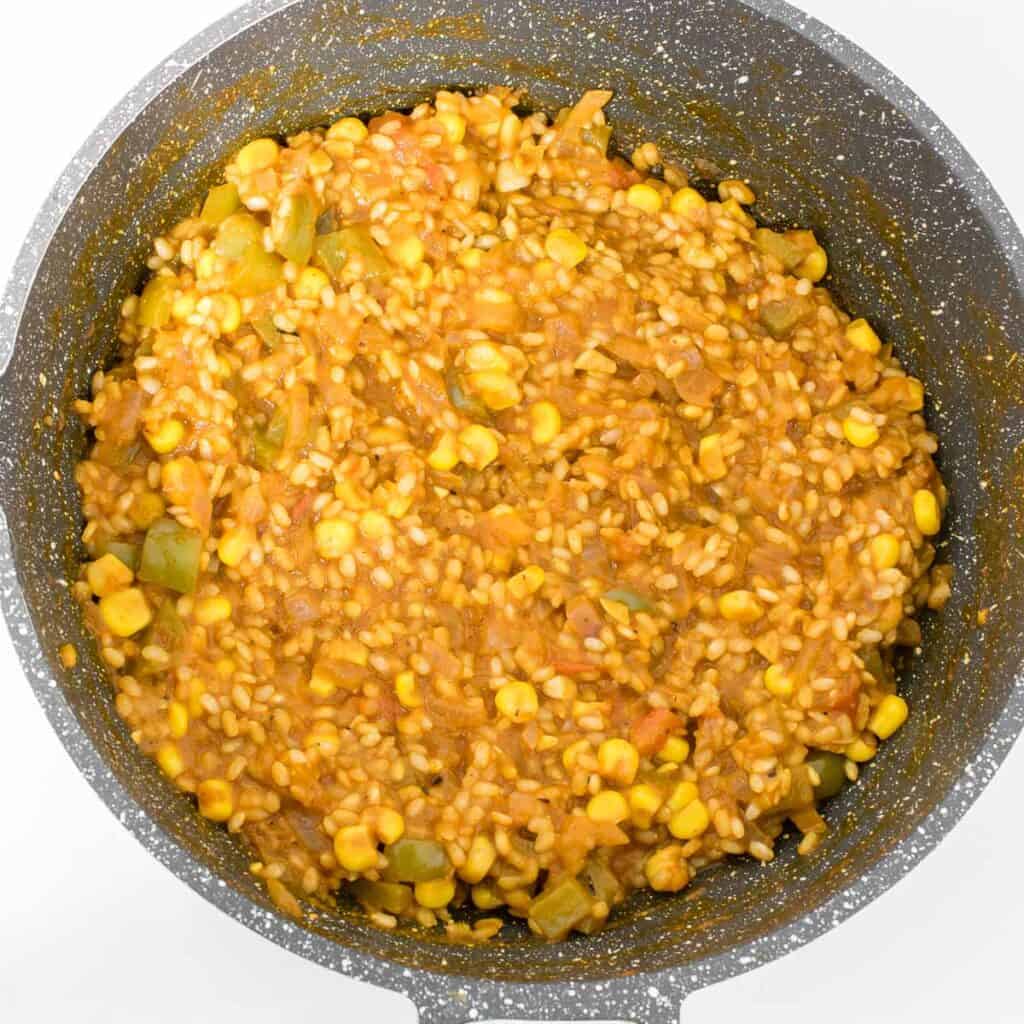 Lastly, I removed the lid and turned it off. Then, I fluffed the rice and garnished it with cilantro and served hot.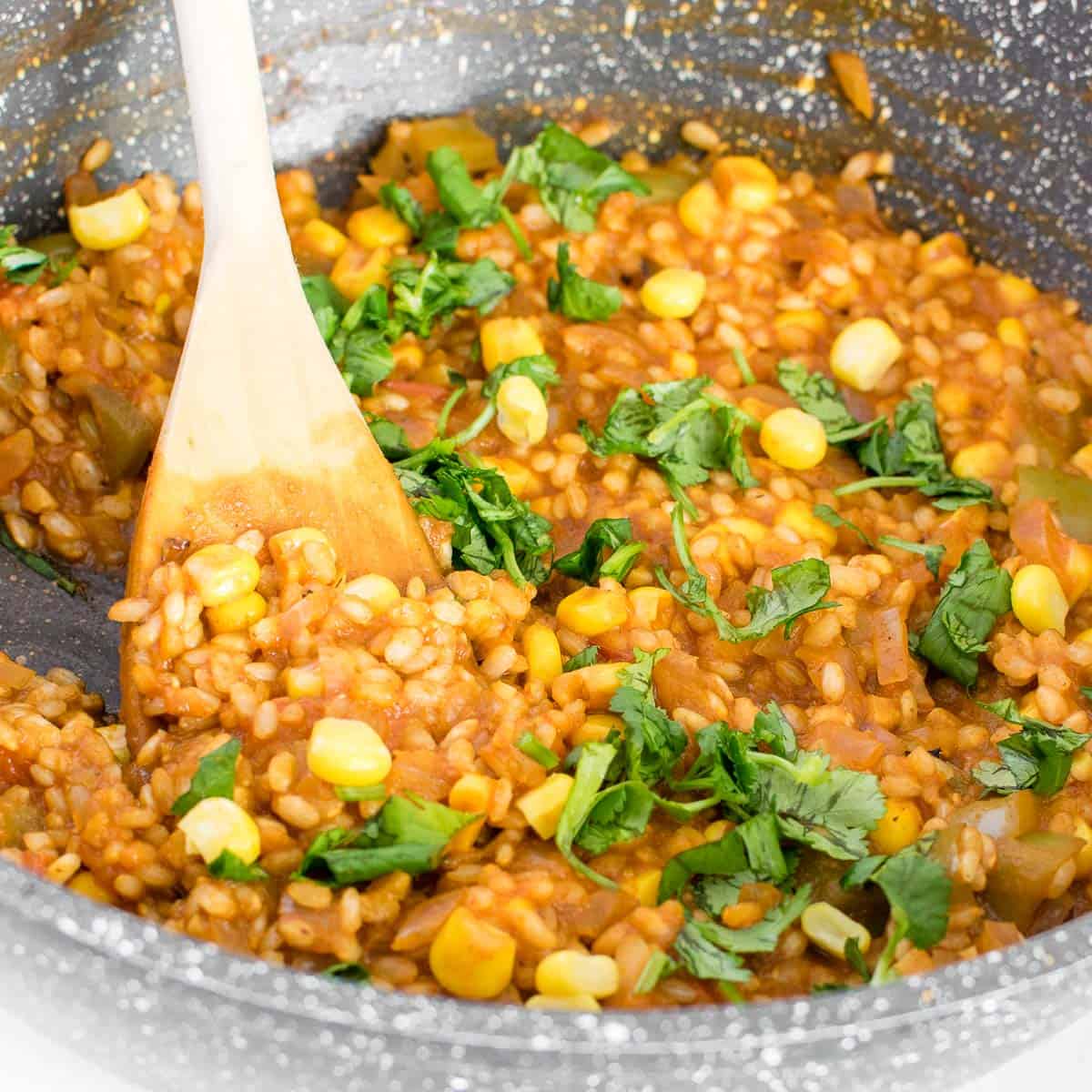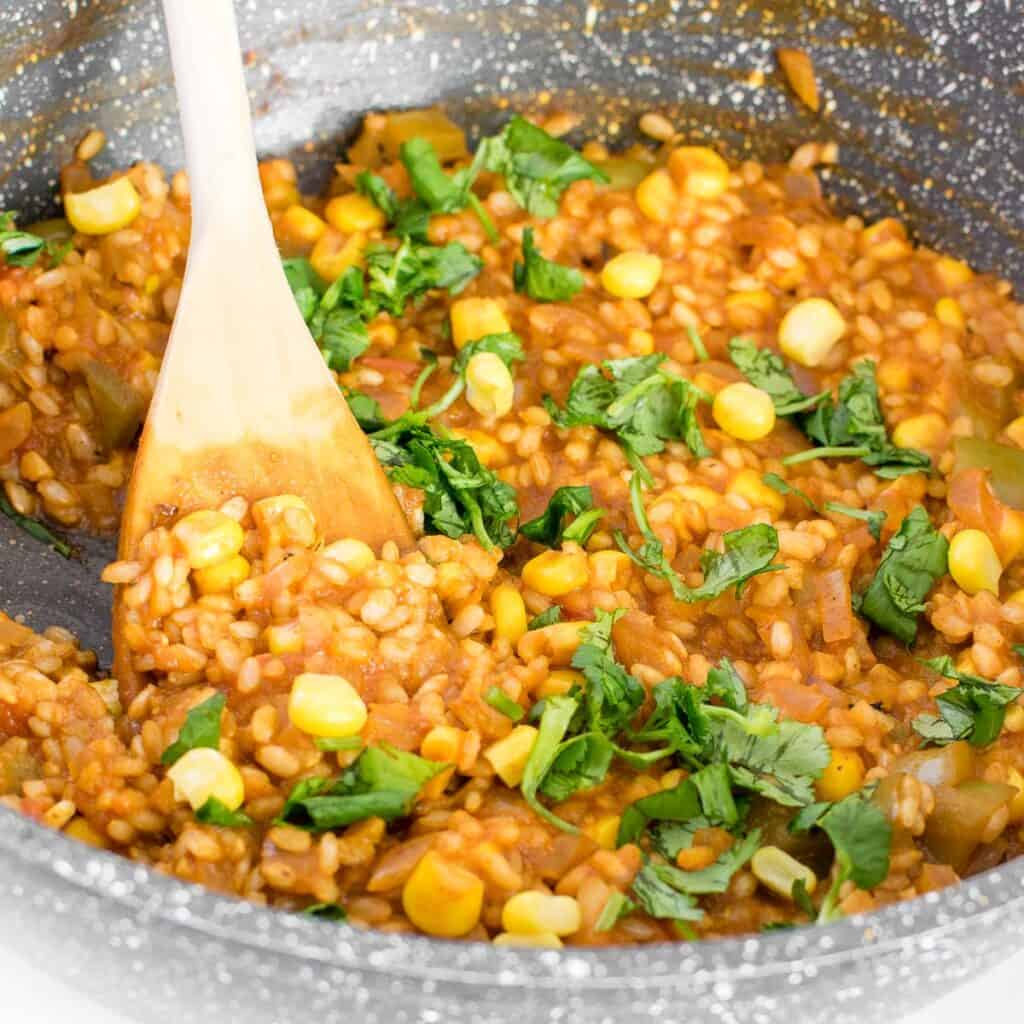 Serving tips
I like to eat it as is but you may wrap it in burritos or soft tacos. Serve this vegan Mexican brown rice as a side with vegan protein. It goes well with a side of black beans and Mexican coleslaw salad too. My kids love it with vegan Mexican style cheese over it also.
Storage tips
Even though this vegan Mexican brown rice taste best when served immediately, you may refrigerate the leftovers in an air tight container for 3-4 days. Warm it up well in the microwave before serving.
Expert tips
It is important to cover the pan with a tight lid so that brown rice cooks well. Also, do not rush through the step and let the brown rice cook at low flame for 30 minutes.
Make sure to fluff the rice with a fork before garnishing for a nice texture.
Frequently Asked Question (FAQs)
How does it taste?
It has a nice tomato-y taste with mild spices. Since I used brown rice, its is slightly chewy but overall, it is satisfying.
Is it mushy?
If you follow the measurements as mentioned in the recipe and let the rice cook thoroughly, this Mexican brown rice recipe is not mushy and has a nice fluffy texture.
Do I need to soak brown rice before cooking?
For this recipe, I rinsed the brown rice before starting the recipe and that works fine. No need to soak it for hours.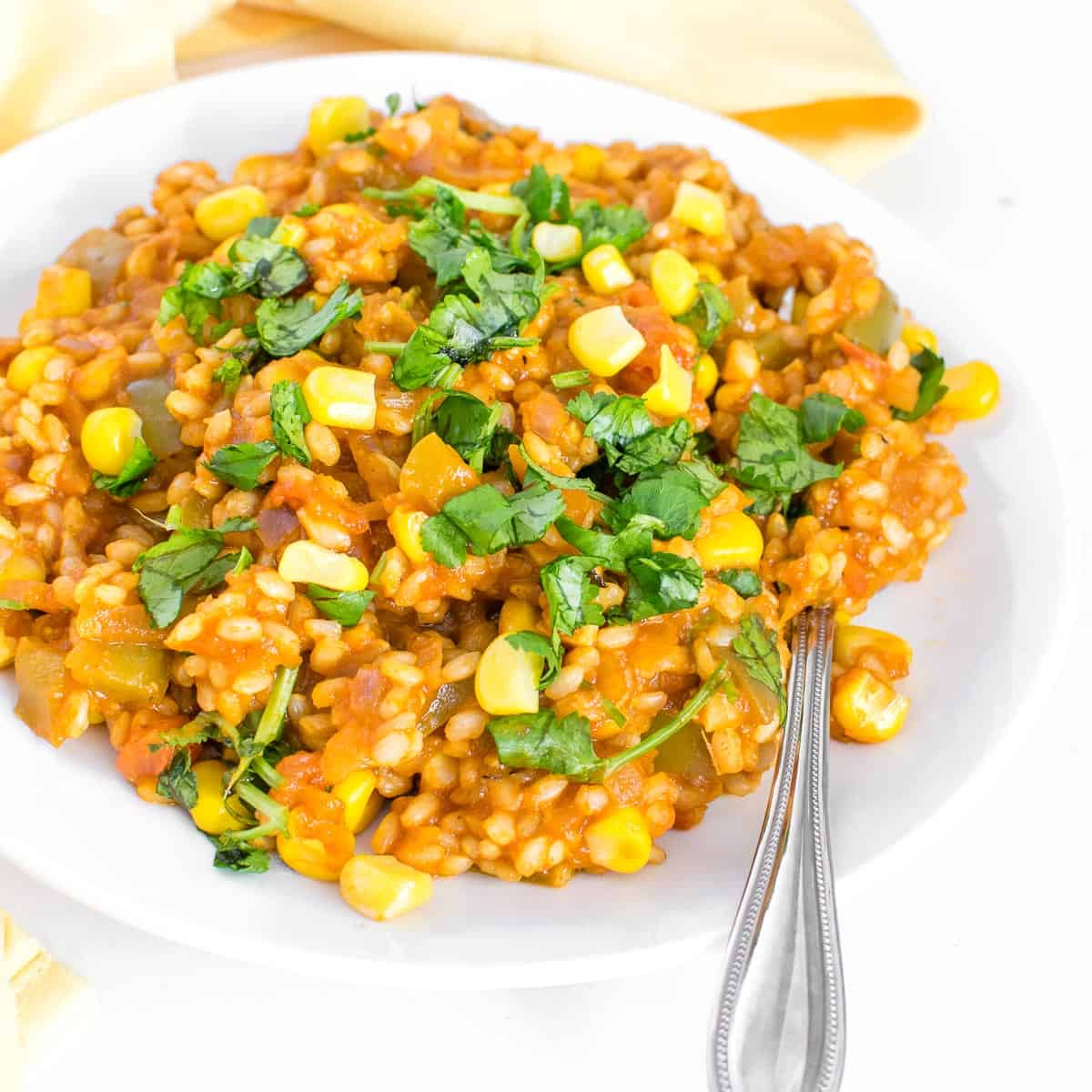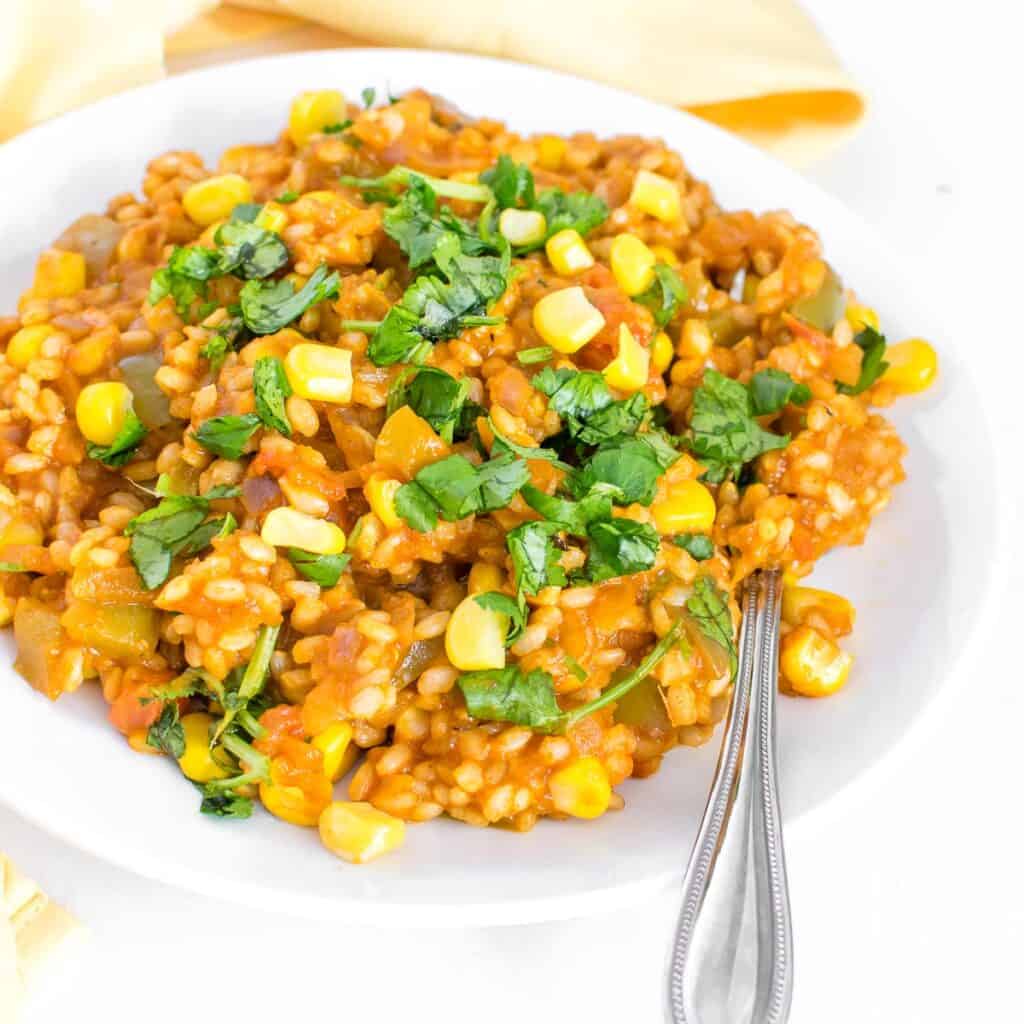 More vegan brown rice recipes
Coconut Rice
Chana Pulao
Schezwan Rice
Palak Rice
This post may contain affiliate links which means that if you click on them and make a purchase, I will get a small commission. Moreover, I share only those products which I use personally and love.
I hope you enjoy this recipe as much as we did. I am very excited to hear back from you.
Where to find me?
Follow me on Facebook or on Twitter. You may tag @kiipfit on Instagram with your recipe remake images because I would love to see what you cooked.
Did you make it?
If you get a chance to make this recipe then please leave your feedback in the comments below along with a 5-star rating.
In addition, you may checkout my cookbook for everyday comfort vegan recipes.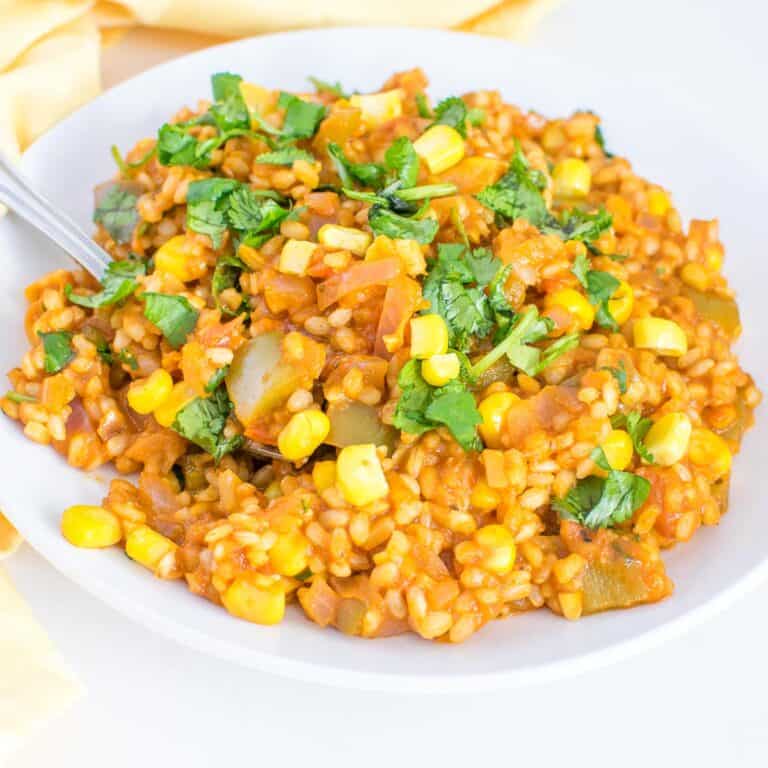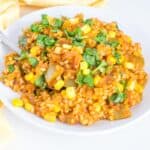 Print Recipe
One Pot Vegan Mexican Brown Rice
Simple, easy and flavorful, this One Pot Vegan Mexican Brown Rice is lip smackingly delicious and a perfect weeknight dish. It's made with whole grain rice and uses simple pantry staples.
Instructions
Heat oil in a nonstick stockpot or a Dutch oven and sauté garlic until golden. Then, toss in chopped onions and sauté until raw aroma disappears.

Add rinsed brown rice to it and sauté for about 2 minutes until toasty at medium-high flame.

Add tomatoes, green bell peppers and sweet corn kernels to it and mix well for 30 seconds.

Add tomato sauce, cumin powder, chili powder and salt to it and mix. Stir in vegetable broth and let it cook at high flame for 5 minutes or until half the liquid is absorbed. Stir at intervals to make sure that the rice does not stick at the bottom.

Bring the flame to low heat and put a tight lid on your pan/pot and cook for 30 minutes without disturbing it. Remove the lid. At this stage the liquid must have been absorbed. Turn it off and fluff the rice. Cover it with the lid again for 2 minutes. This will help the rice to settle and absorb any extra liquid if any. Remove the lid and garnish with cilantro. Serve hot.
Notes
Rinse the brown rice in a colander under running tap water before starting the recipe. Make sure the rice is well drained and then keep it aside and prepare for the recipe so it can soak for few minutes while still damp.
Brown rice takes longer to cook so do not rush through it. Let it cook well at low flame for about 30 minutes for the best results.
This taste best when served immediately but the leftovers can be refrigerated in an air tight container for 3-4 days.
Make sure to warm it in the microwave very nicely (about 45 seconds – 1 minute) before serving.
Nutrition
Calories:
216
kcal
|
Carbohydrates:
43
g
|
Protein:
5
g
|
Fat:
4
g
|
Saturated Fat:
0.3
g
|
Polyunsaturated Fat:
0.3
g
|
Monounsaturated Fat:
2
g
|
Sodium:
691
mg
|
Potassium:
252
mg
|
Fiber:
1
g
|
Sugar:
4
g
|
Vitamin A:
568
IU
|
Vitamin C:
7
mg
|
Calcium:
23
mg
|
Iron:
1
mg