These vegan Garlic Jalapeno Oatmeal Rolls are absolutely lip smacking. They are healthier substitute to the regular dinner rolls. Its easy to bake and serves well as a side.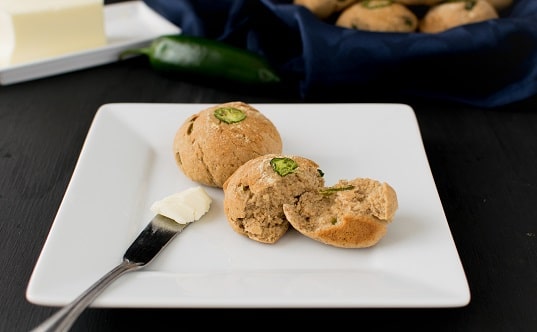 Dinner rolls are one of my favorite side dishes, and it's so popular since it goes well with almost all main course dishes like pasta, soup, salad or some curries.
I sometimes enjoy dinner rolls as snack also with some drizzled olive oil. Although I am a big fan of dinner rolls I usually avoid them to save on carbohydrates and processed ingredients.
In my attempt to find healthy dinner rolls and satisfy my taste buds I started experimenting with baking them with my choice of ingredients at home.
Finally, I was satisfied with my creation of Garlic Jalapeno Oatmeal Rolls.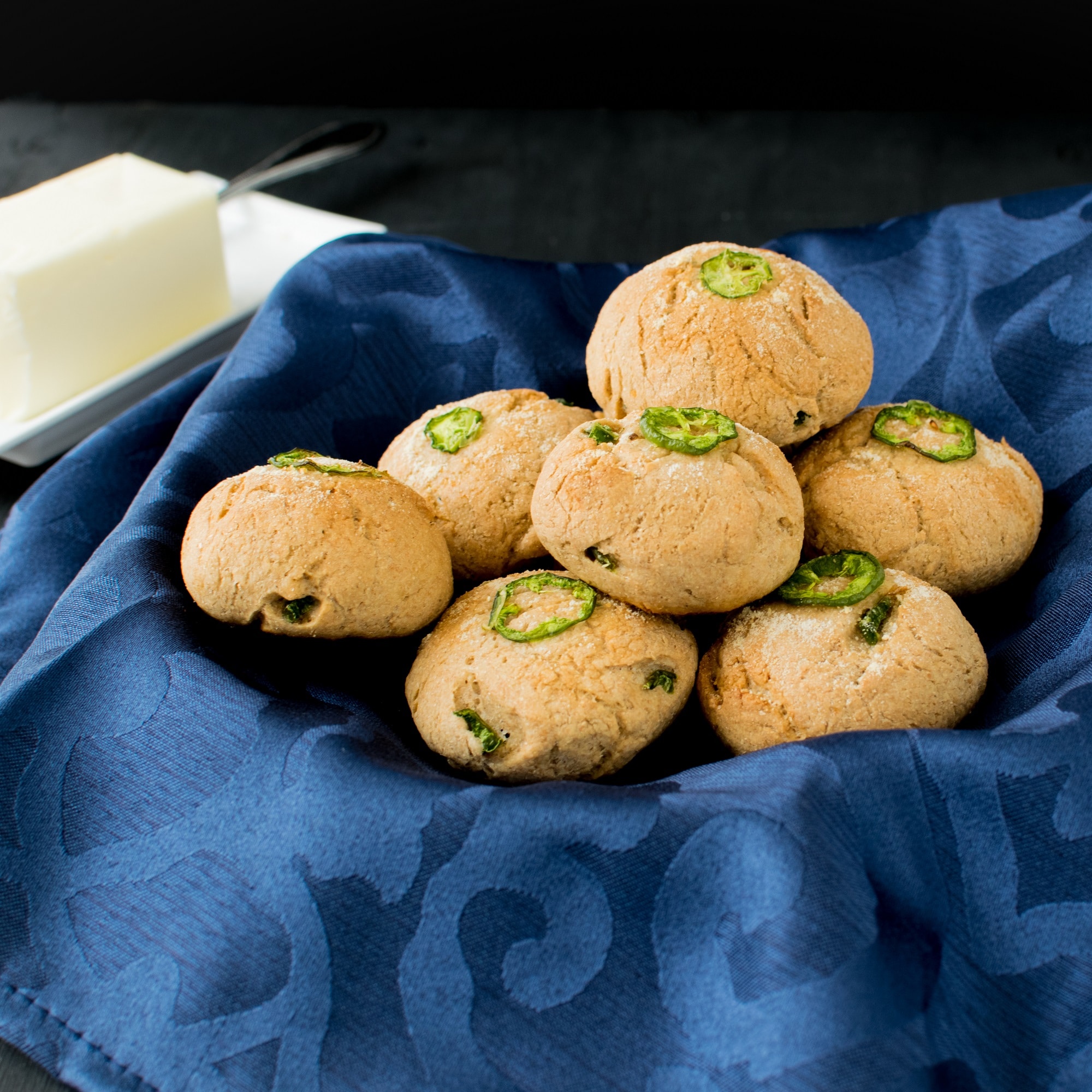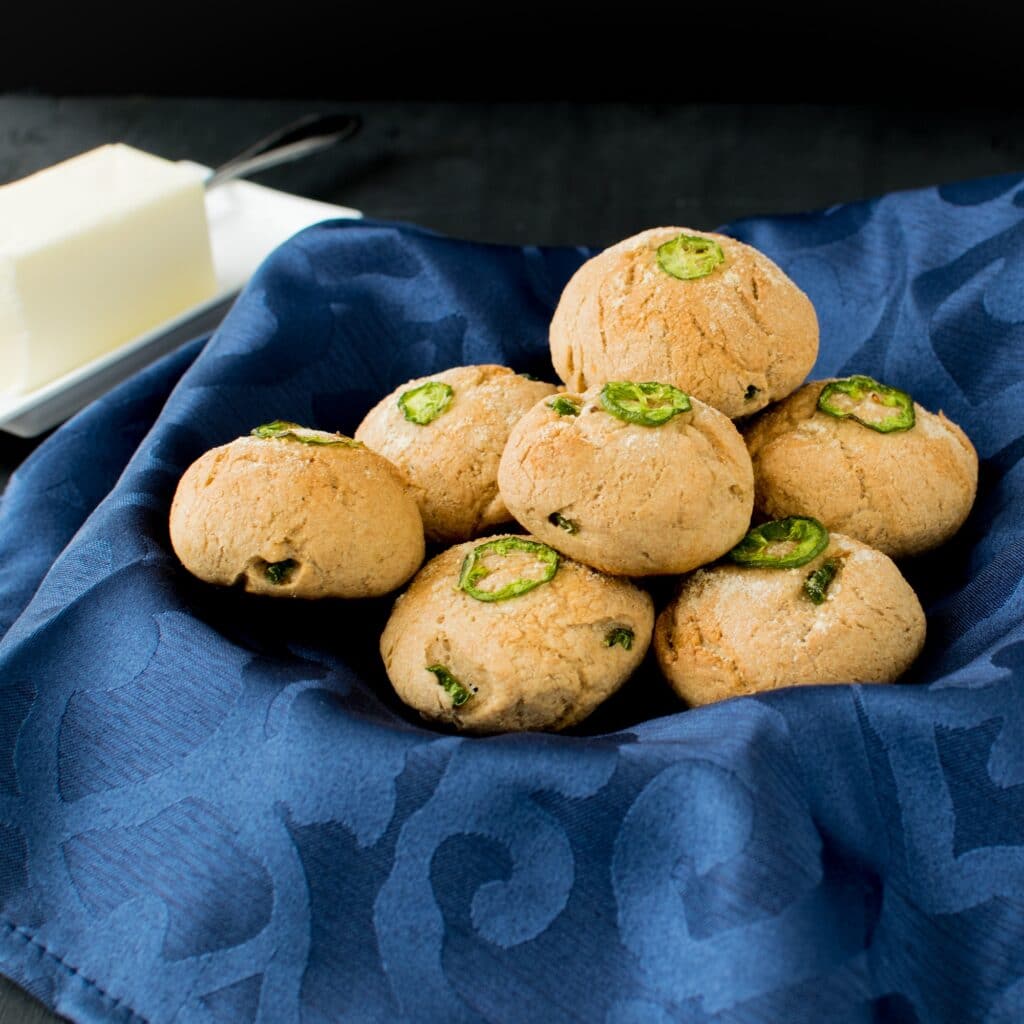 With the festivities all around garlic and jalapeno together make a great combination and who doesn't like flavored breads.
So the flavors were decided from the beginning but my endeavor to add whole grains to this recipe was a challenge because taste cannot be compromised on 🙂
Ingredients for Garlic Jalapeno Oatmeal Rolls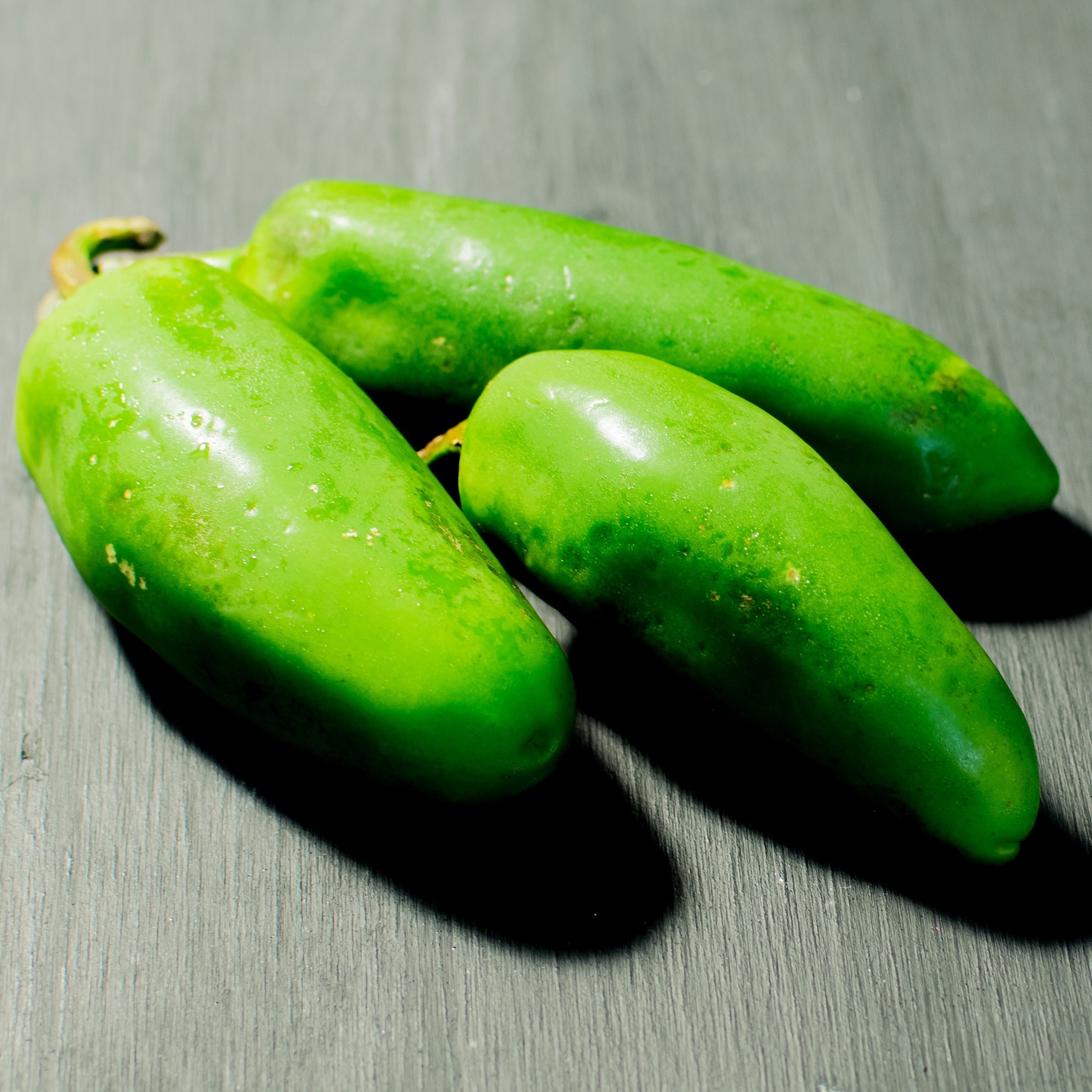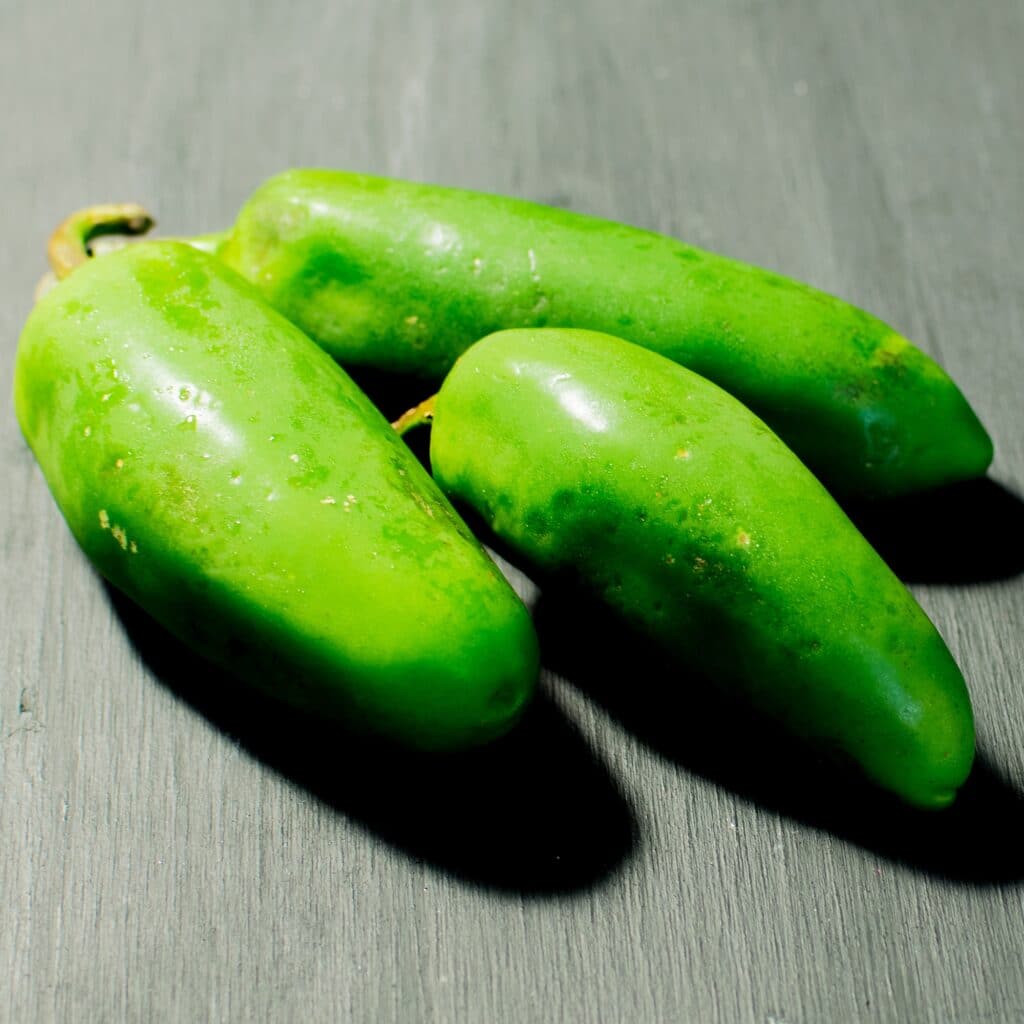 Oat flour
Rapid rising yeast flour
Jalapeno garlic seasoning
Salt
Jalapeno peppers
Water
dairy free milk
Maple syrup
Olive oil
Whole Wheat Flour
How to make Garlic Jalapeno Oatmeal Dinner Rolls
Firstly, I combined oat flour, yeast, garlic seasoning and salt in a mixing bowl.
Secondly, I warmed up the liquid in a microwave.
Thereafter, I mixed the dry and liquid ingredients together.
Afterwards, rolled them into a dough with he help of whole wheat flour.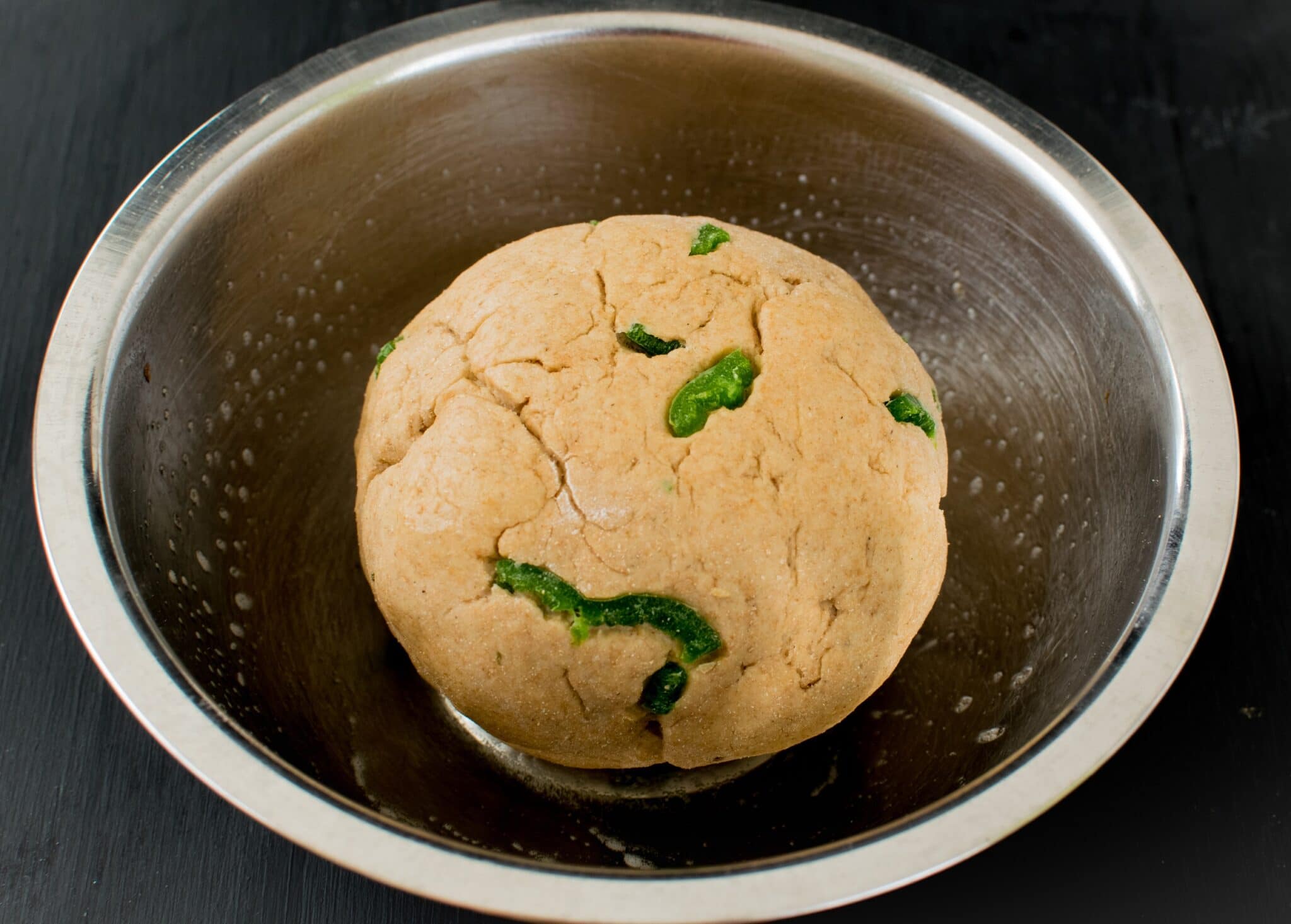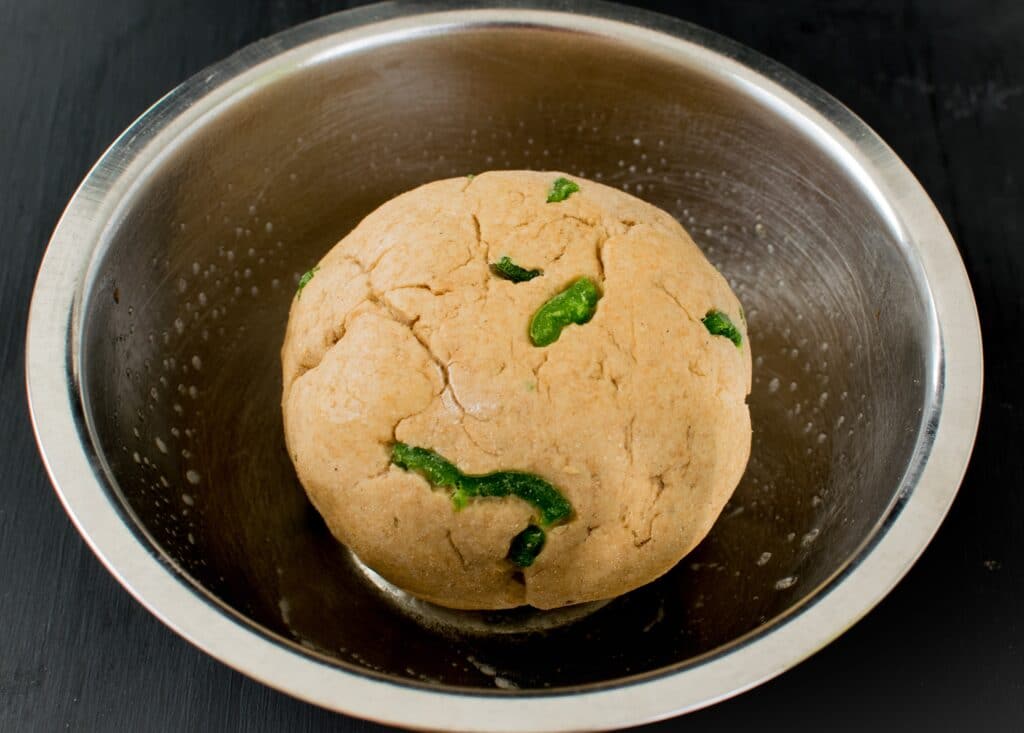 Then, I covered it and let it rest until the dough rose.
Subsequently, I made 12 rounds balls of the dough and placed them on the baking sheet. Then, I covered them again and let them rest so as to rise again.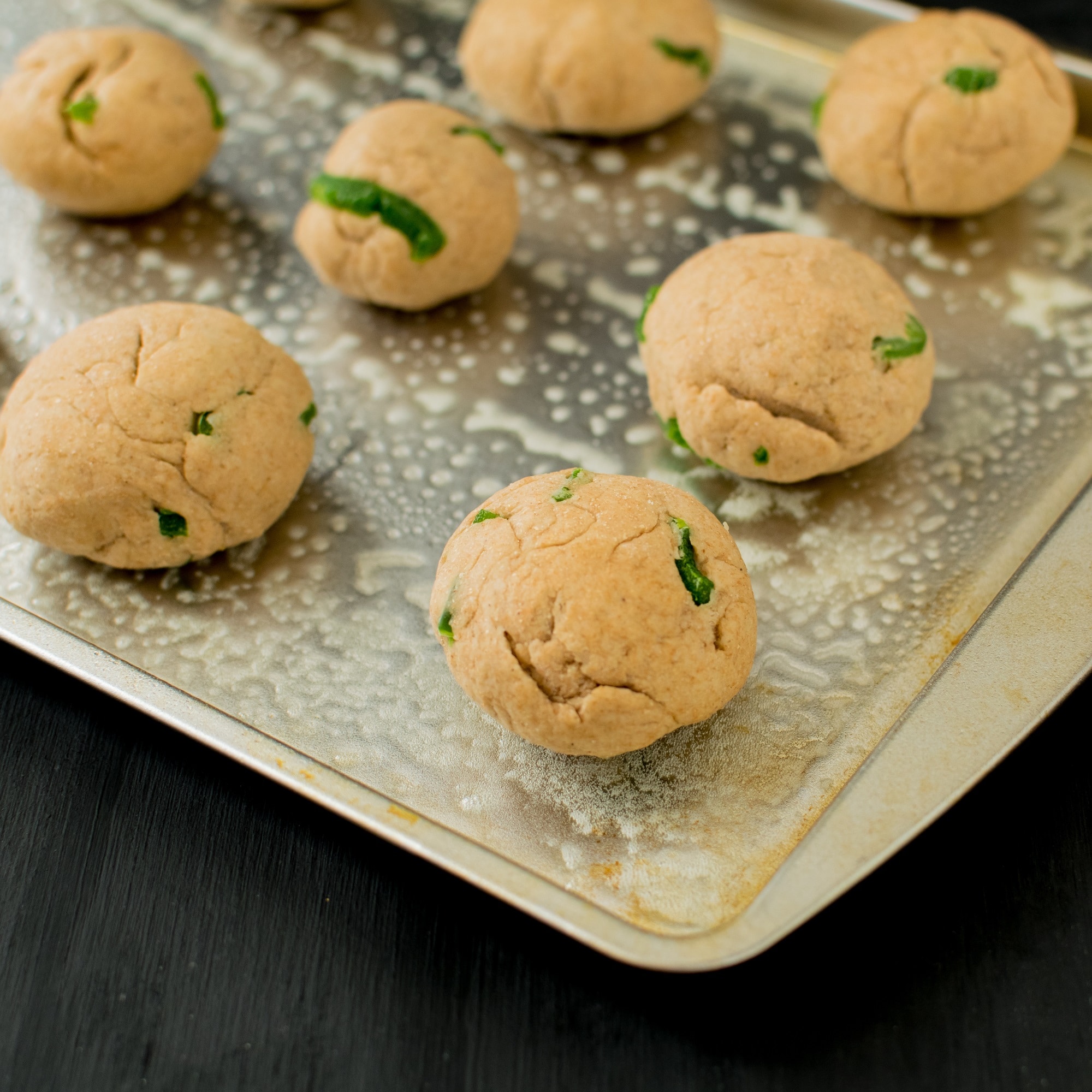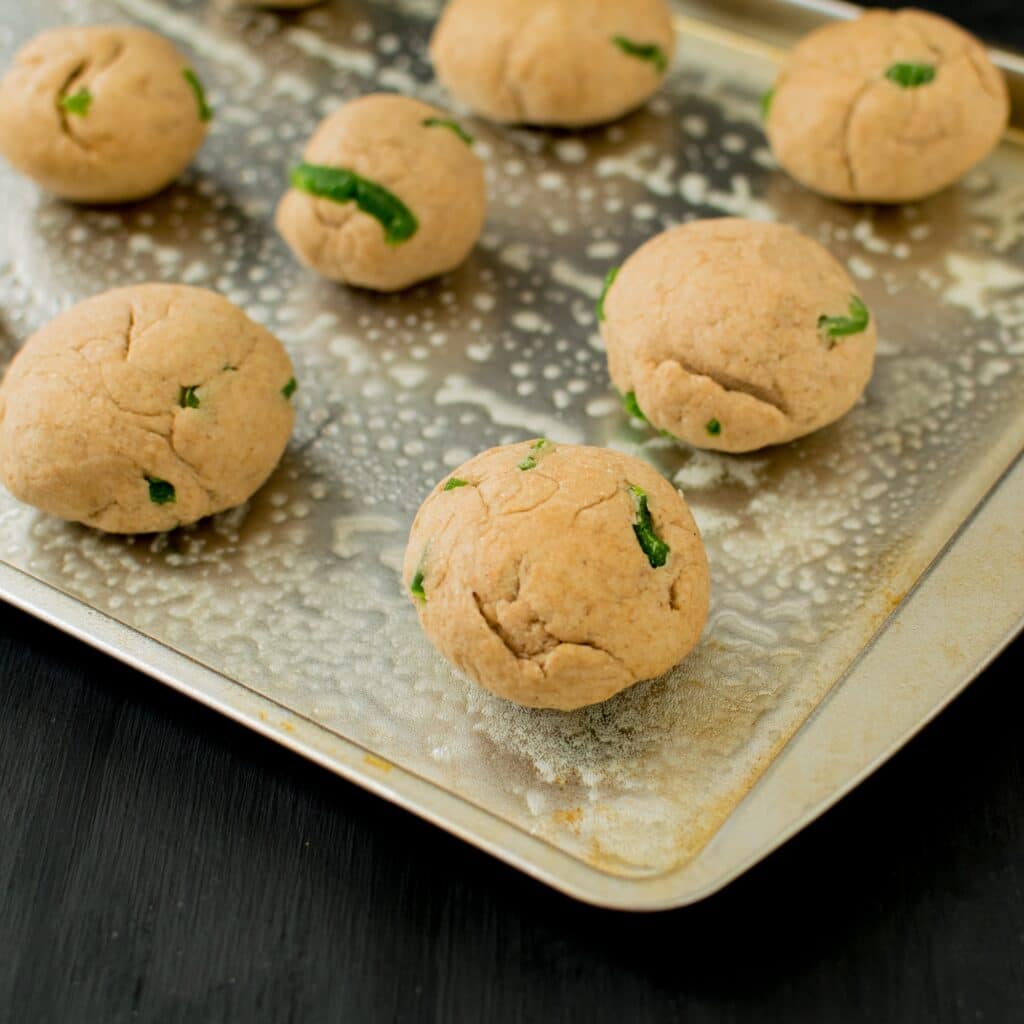 Once they rose again on the baking sheet, I placed them in the preheated oven and baked them for 25 minutes.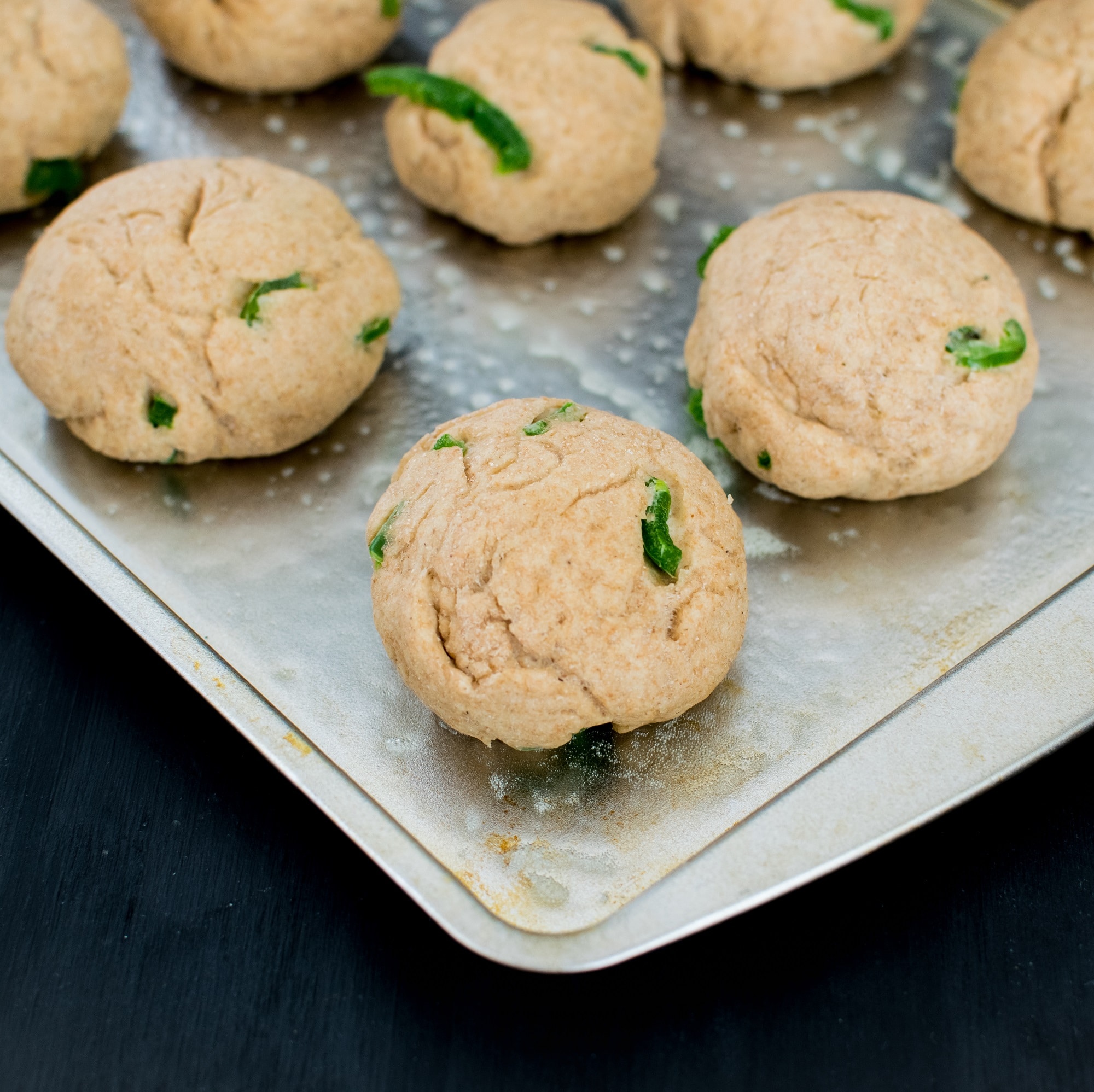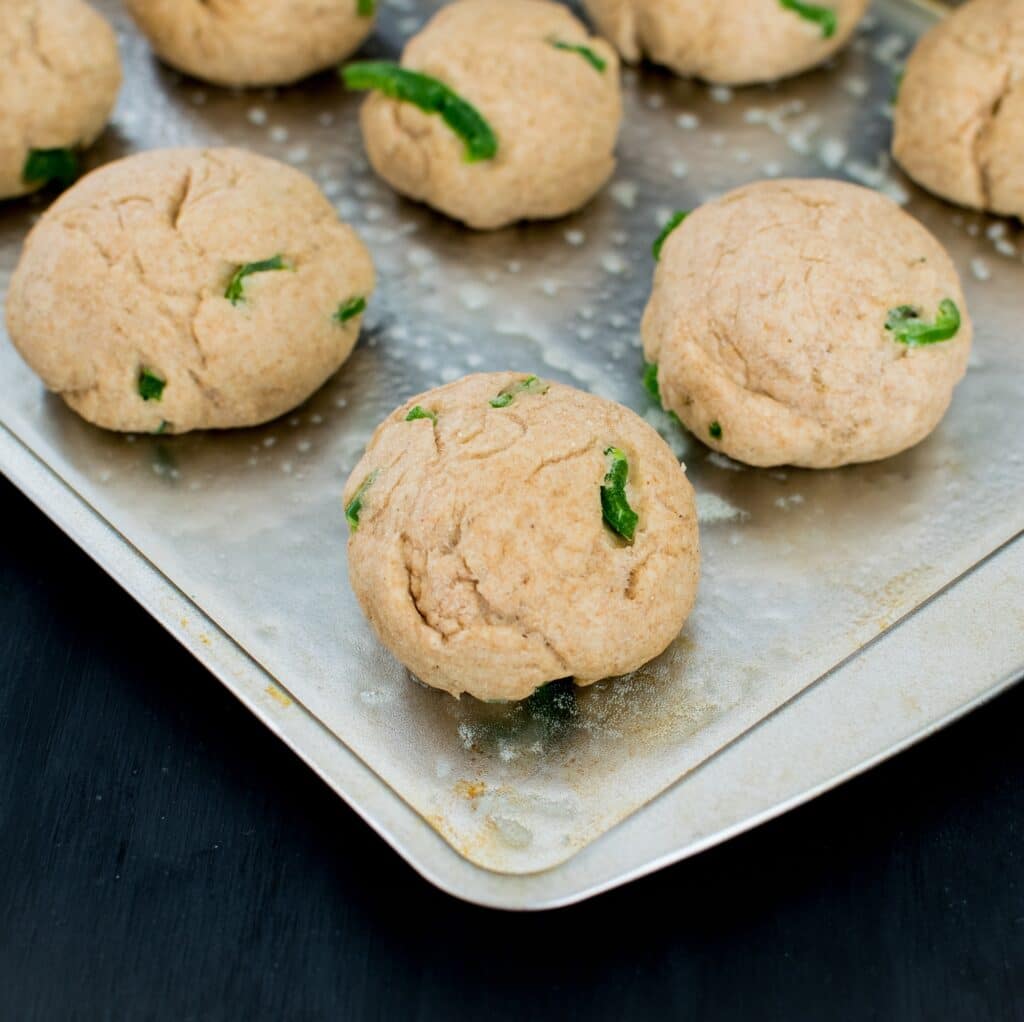 Lastly, I turned off the oven and took them out.
We immediately enjoyed these while they were warm.
While I was baking these rolls many thoughts crossed my mind like how I always used to avoid using yeast and now I get excited to bake with yeast.
With some practice yeast baking has become my love and I realize how much easier and healthier it is. Even though it takes a little extra time to rise but if you time your dish properly the end result would be worth the effort and super delicious.
I have totally fallen in love with baking especially breads and rolls, because it creates a lot of excitement in me which helps me come up with new creations.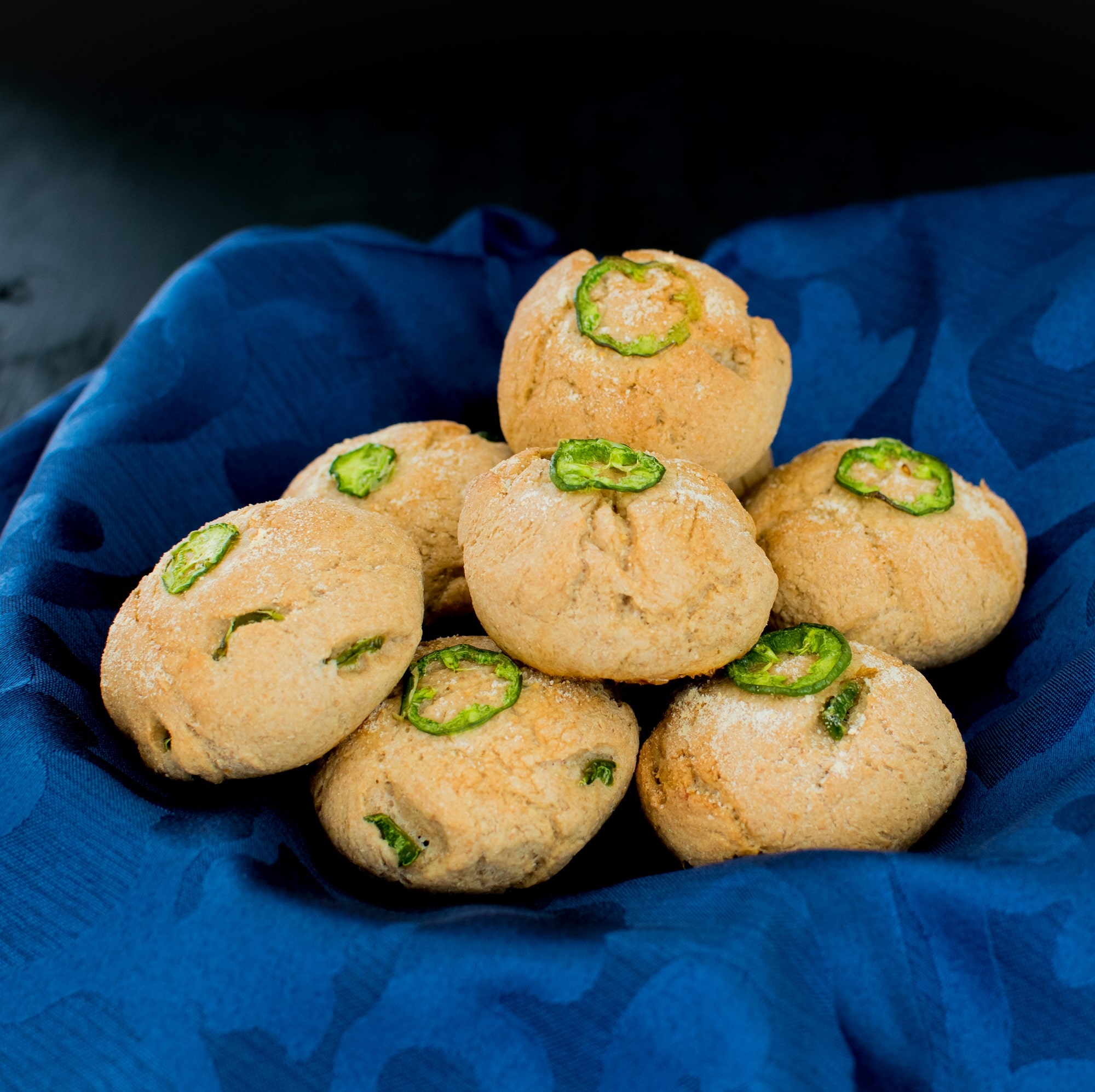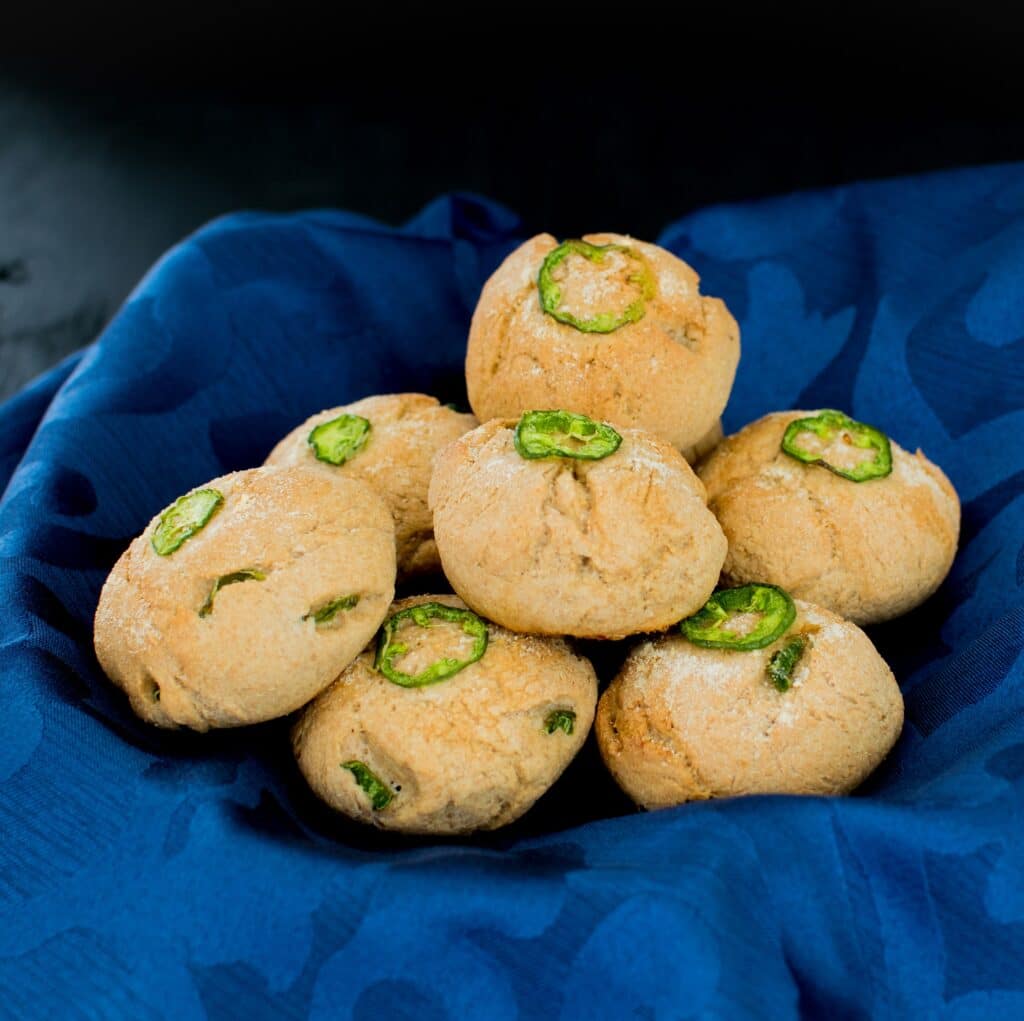 It's interesting to see Yashvi following my passion of cooking. She wanted a full-fledged play kitchen for herself with all the kitchen equipments.
When I bake in my kitchen she makes sure she bakes in her kitchen too. She comes to me and asks for the ingredients and the procedure, goes back to her kitchen and pretends to be a chef and cook again.
When I photo shoot my dishes she pretends to do the same in her play area 🙂 .
We always enjoy the cooking/baking time together while laughing, chatting and hugging each other and playing at the same time. She makes my work fun and exciting and I love cooking for my family and all my readers 🙂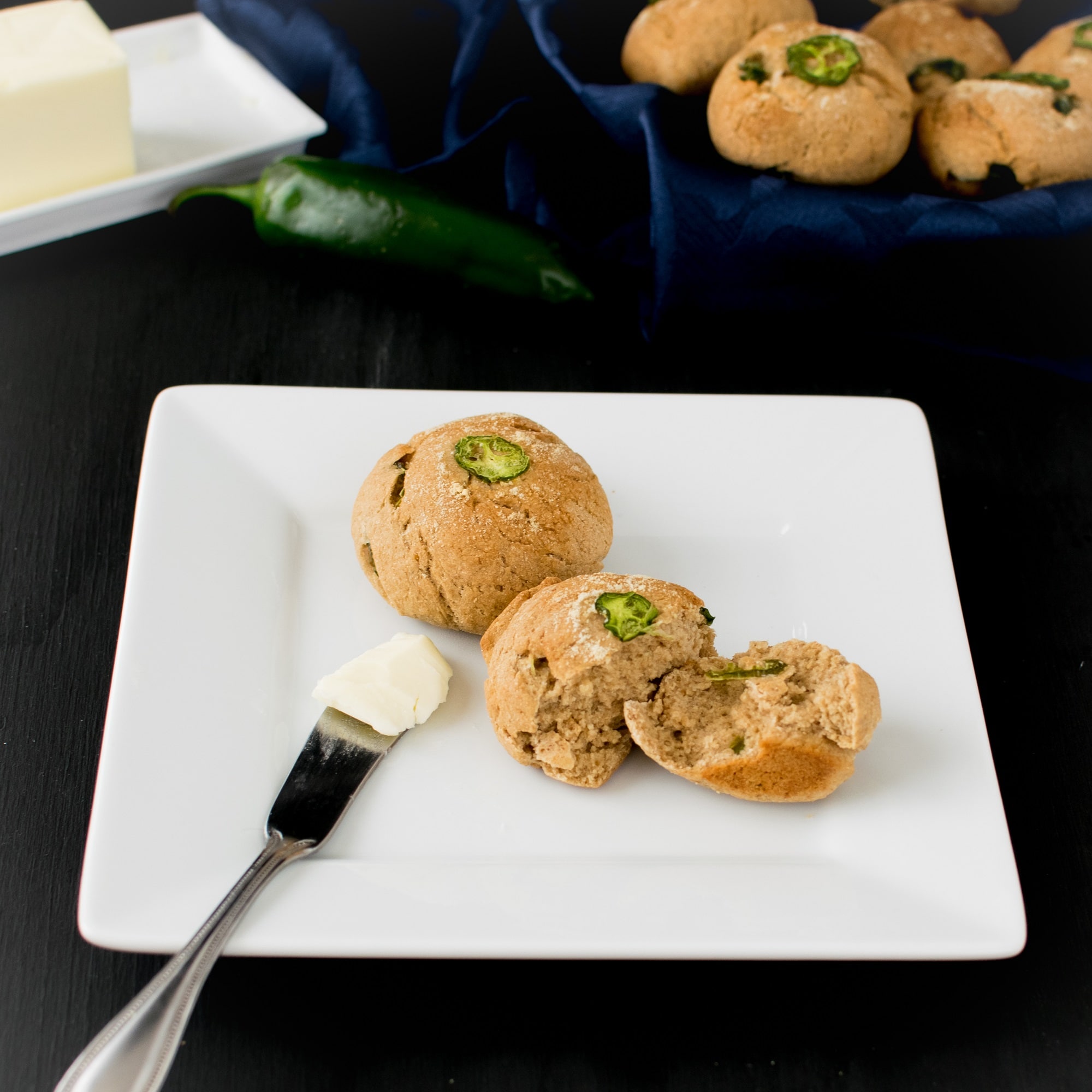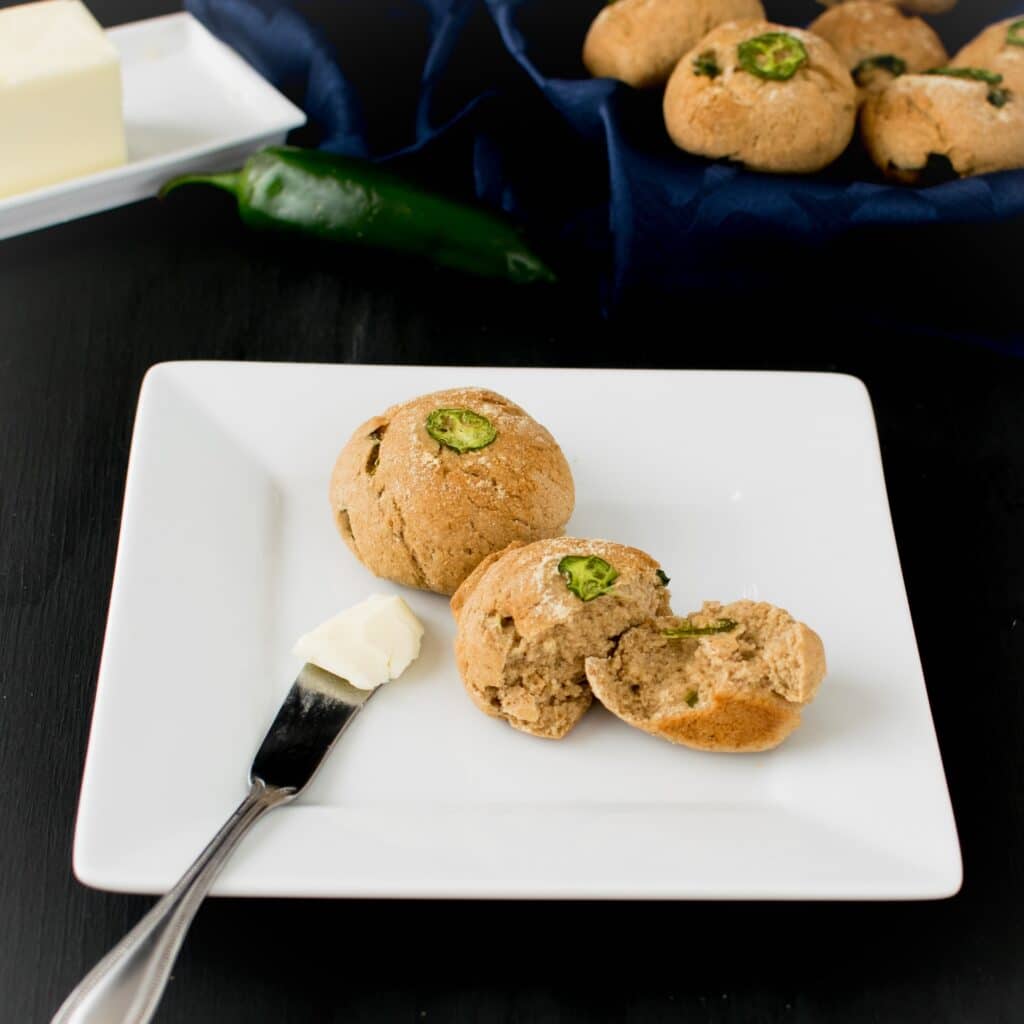 You may pair these with:
Roasted Brussel Sprouts Fettuccine Alfredo
Vegan Pepper Jack Pumpkin Fettuccine
Instant Pot Potato Corn Chowder
Butternut Squash and Sweet Potato Soup
Did you make it?
If you get a chance to make this recipe then please leave your feedback in the comments below along with the ratings. In addition, you may tag @kiipfit on Instagram .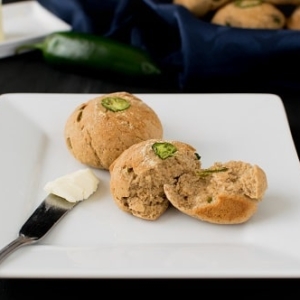 Print Recipe
Garlic Jalapeno Oatmeal Rolls
These vegan Garlic Jalapeno Oatmeal Rolls are absolutely lip smacking. They are healthier substitute to the regular dinner rolls. Its easy to bake and serves well as a side.
Ingredients
1

cup

oat flour

1

envelope

rapid rise yeast

(fast acting)

1/4

tsp

salt

1

whole

jalapeno pepper

(thinly sliced)

1/2

cup

water

1/4

cup

unsweetened dairy free milk

2

tbsp

maple syrup

1

tbsp

olive oil

1

cup

whole wheat flour
Instructions
In a large mixing bowl combine oat flour, dry (undissolved) yeast, jalapeno garlic seasoning, salt and sliced jalapeno and mix with a spoon until no lumps and blended well.

In a microwavable bowl combine water, milk, maple syrup and oil and warm up liquid to 110 degree Fahrenheit. ( you can measure this temperature by kitchen cooking temperature thermometer).

Now pour the warm liquid into the dry flour mix and whip with a spoon scrapping from the bowl at intervals. The whipping should be equivalent to electronic medium speed (you may use hand blender or a dough maker).

Now add whole wheat flour and form into dough. (If you use a dough hook or any other dough maker you may have to use your hands to form into dough.

On a lightly dusted surface knead the dough for 1 minute and form a ball. (It may be slightly tight dough and don't worry about the cracks if at all, that's because of jalapeno).

Now let it rest covered in a warm place for 10 minutes. The dough will rise but not double itself.

Divide the dough into 12 equal parts and form round balls between your palms and place them in a greased cookie sheet. Cover again and let it rise in a warm place for an hour. (You may use your oven function of bread proofing at this stage).

Preheat oven at 375 degree Fahrenheit. Wash the dinner rolls with milk and sprinkle more jalapeno garlic seasoning/garlic salt. Place the sheet in the middle rack of the oven and bake for 20 -25 minutes until it starts to brown. Do not over bake or it will become crusty.
Notes
If you like your dinner rolls slightly crusty on the outside then bake for 27-30 minutes until light golden in color or else bake for 20 minutes for soft rolls. In both cases the inside will be soft and fluffy.
Make sure to add dry yeast in the oat flour.
Measure the temperature of the liquid with a thermometer. If you don't have one you can assess the warmth of the liquid with the tip of your finger. When you touch the liquid it should feel very warm.
Sugar can also be used in place of maple syrup. In that case add 2 tbsp. dry sugar into the oat flour.
Store these dinner in an air tight container at room temperature for about a week. 
Nutrition
Calories:
96
kcal
|
Carbohydrates:
18
g
|
Protein:
3
g
|
Fat:
2
g
|
Saturated Fat:
1
g
|
Sodium:
51
mg
|
Potassium:
81
mg
|
Fiber:
2
g
|
Sugar:
2
g
|
Vitamin C:
1
mg
|
Calcium:
13
mg
|
Iron:
1
mg