Instant Pot Zuppa Toscana is a medley of vegan protein and vegetables simmered in vegetable broth and seasoned perfectly. It's a warm one pot meal for all ages and for any work weeknight.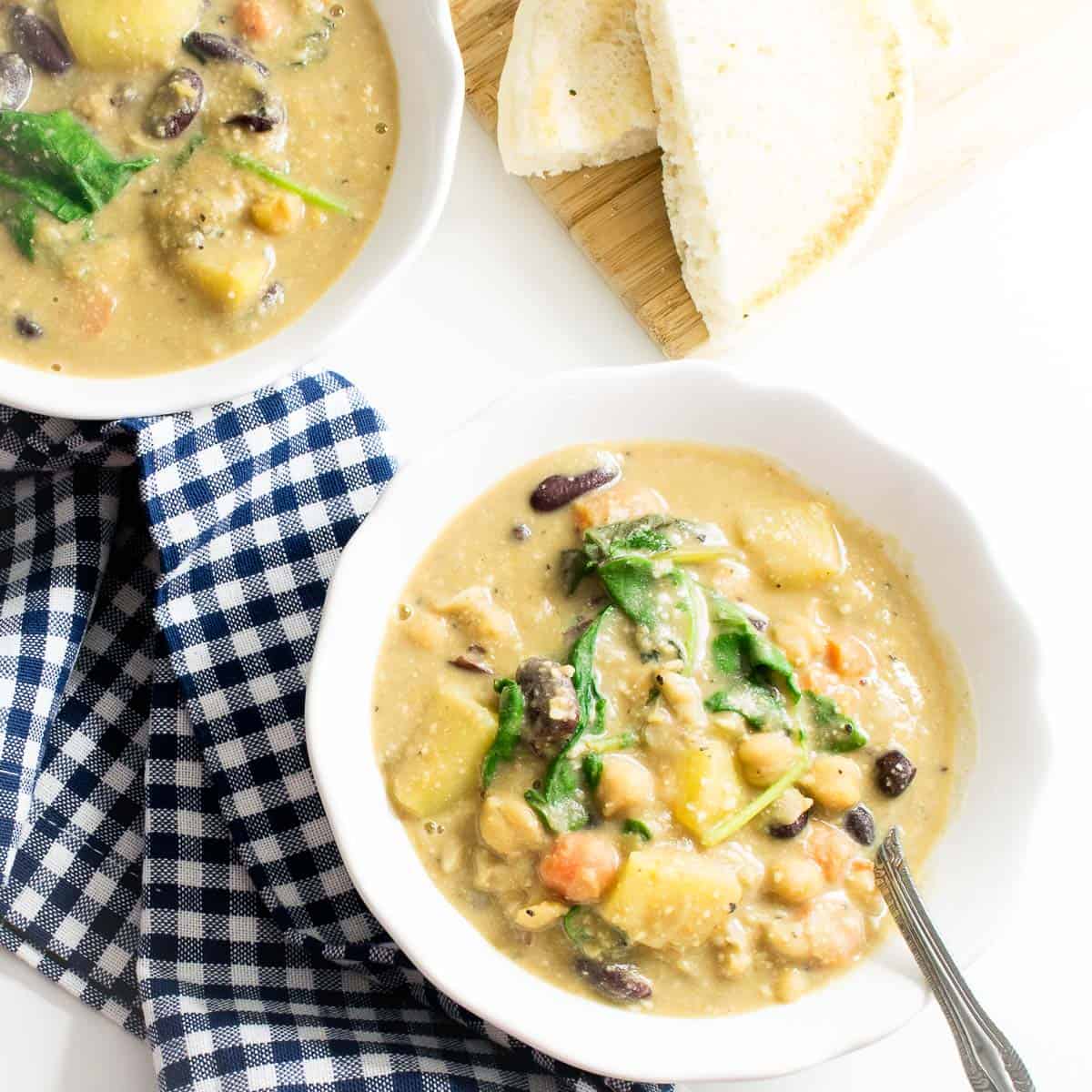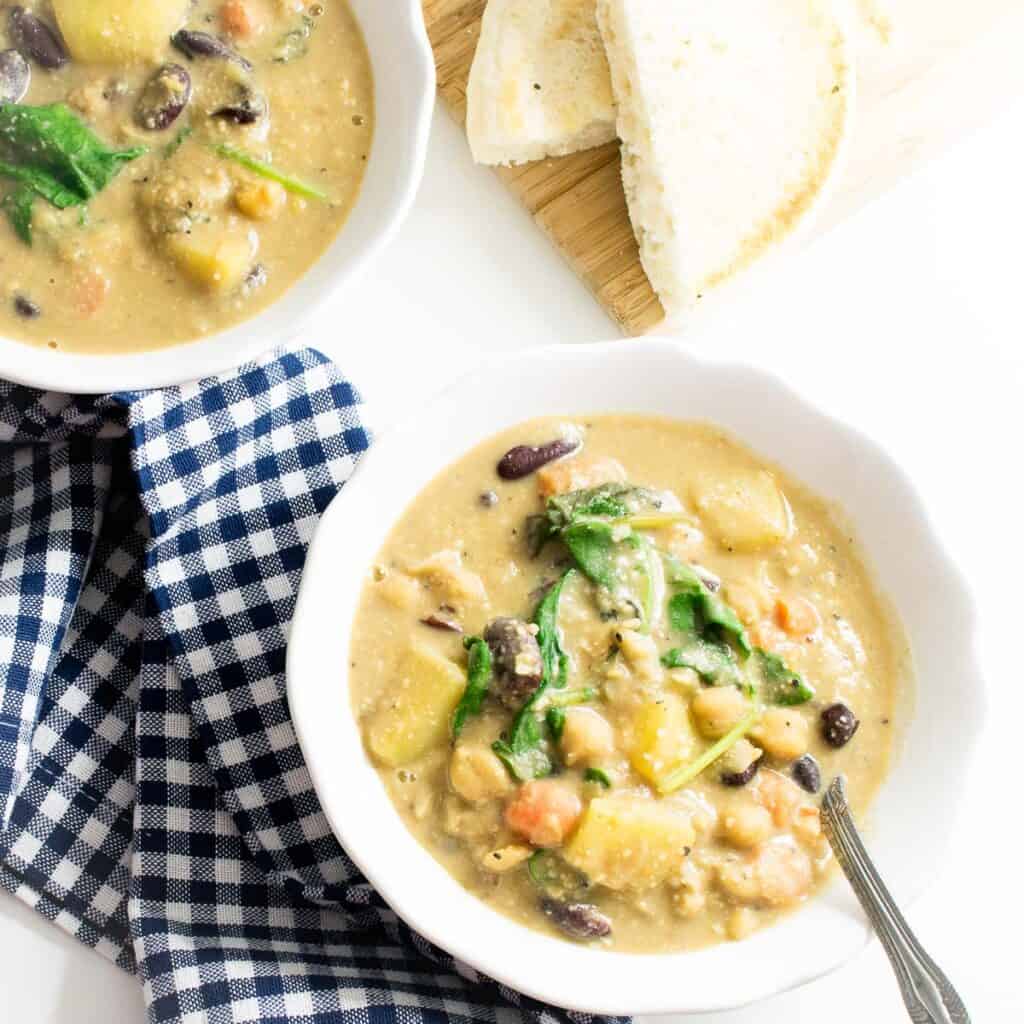 I know that Olive garden is famous for its Zuppa Toscana but I wanted to come up with my version of it. I endeavored on making this zuppa Toscana soup in a vegan version which then I decided to go for gluten free ingredients and finally came up with a version that would fit almost all diet types. However, I wanted to add pantry ingredients at the same time.
Originally this Toscana soup is made with sausage and it can be substituted with vegan sausage. But I wanted to bring similar comforting taste with the addition of vegan proteins that were sitting in my pantry. I narrowed it down to chickpeas and red kidney beans.
I realized it was very easy and healthier. Moreover, my family loved it and my 3rd grader picky eater ate a full bowl of this vegan zuppa toscana for her lunch.

Therefore, I decided to share my interpretation of this zuppa soup with you all because after all we want to make the same original recipes with easier ingredients and in just few steps and most importantly healthier.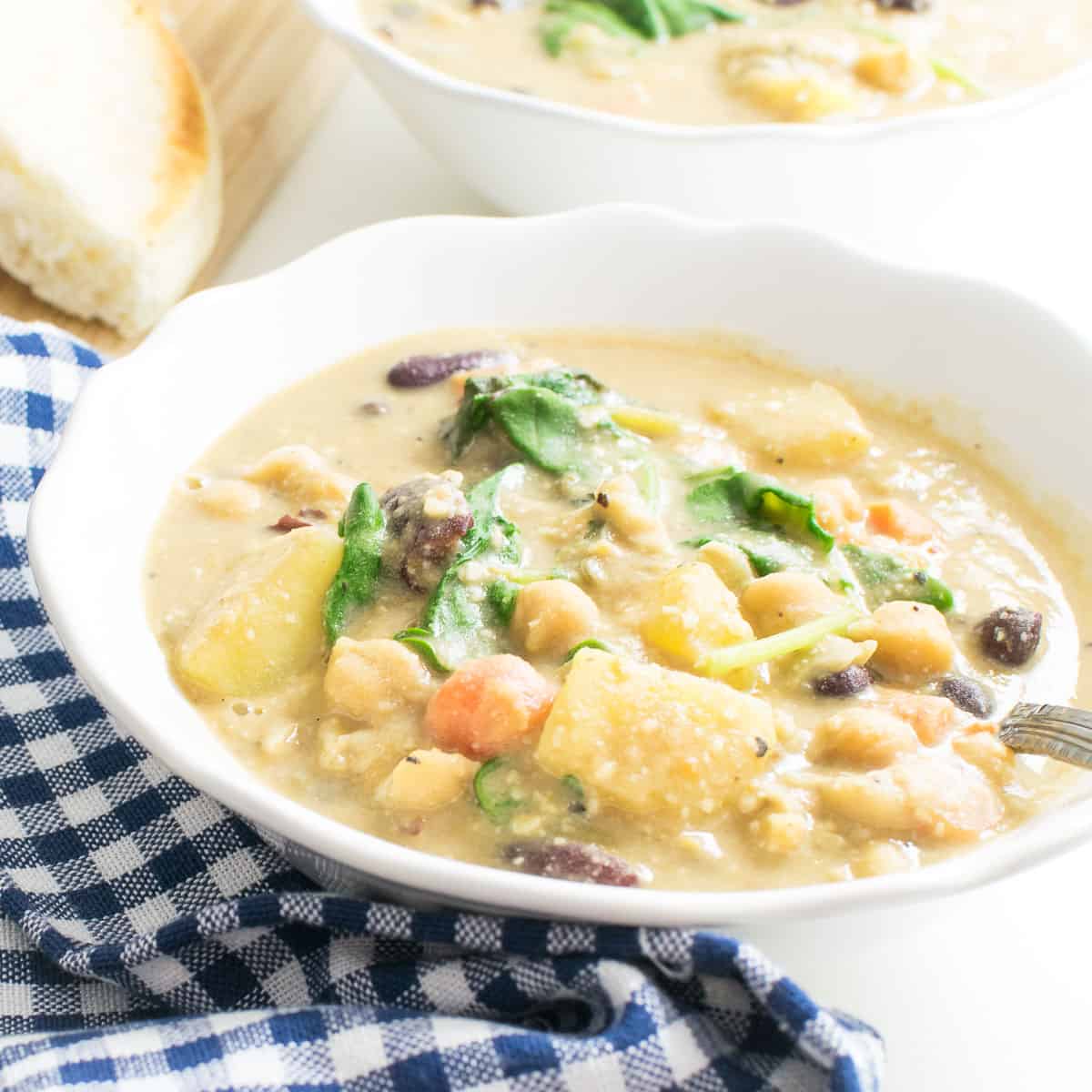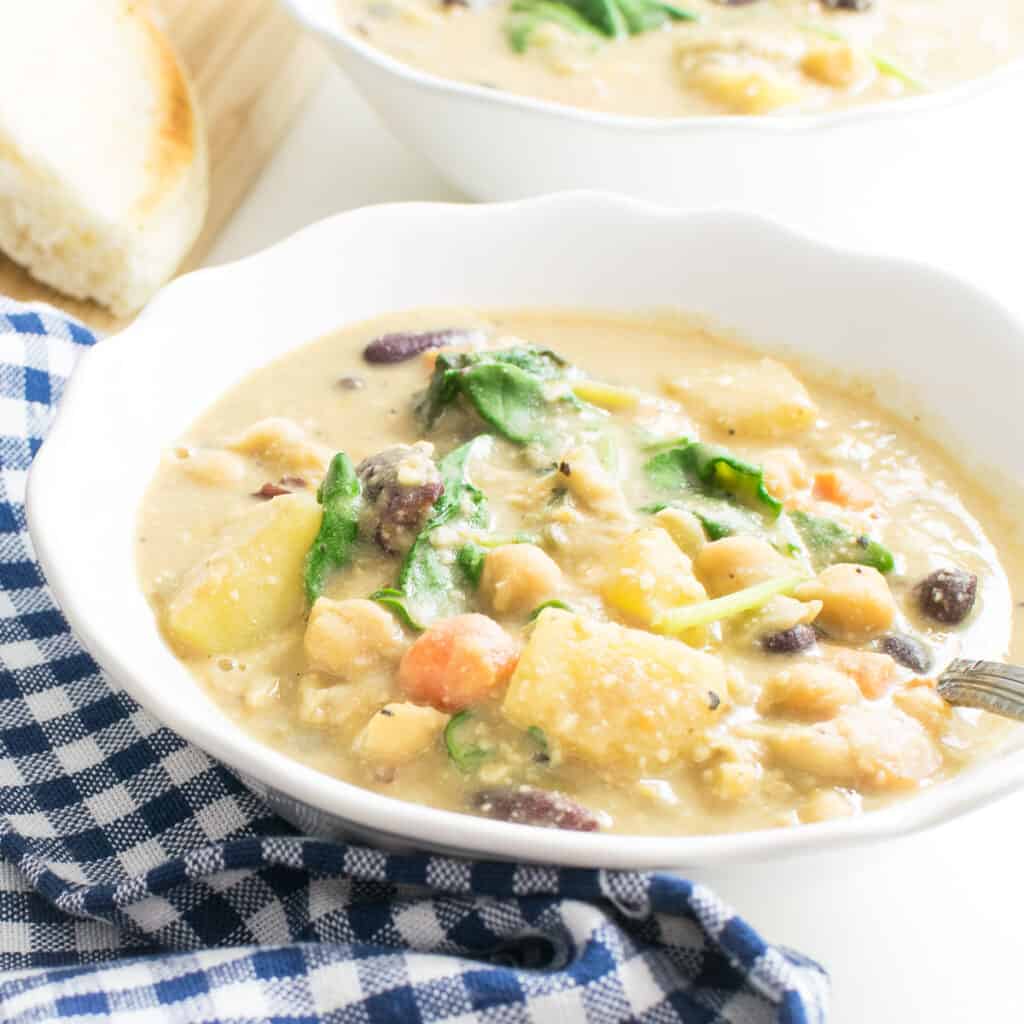 Ingredients for Instant Pot Zuppa Toscana
For the soup
Vegetable broth
Red kidney beans
Chickpeas/garbanzo beans
Potatoes
Fennel seeds
Salt
Black pepper
Onion powder
Garlic powder
Chili powder
Nutritional yeast
Carrots
Kale
For cashew cream
Raw cashew nuts
Dairy free milk
I have used these easily available ingredients in this recipe which you may buy form any local grocery store. However, I have provided links to few of them here for your convenience.
If you plan to buy from these affiliate links then I get a small commission which in turn encourages me to bring out more delicious recipes for you all.
Ingredients notes:
Vegetable broth – this is important in here because it brings out the right and perfect flavor of the soup. Moreover, it's a base of many soup recipes.
Kidney beans – it is high in protein and has complex carbohydrates. I used this pantry staple in here to make this soup easy and desirable.
Chickpeas – it is again a pantry staple and vegan protein. My kids prefer beans over most of the vegan proteins so this worked out excellent for us.
Nutritional yeast – this substitute well for parmesan cheese and brings out a nice cheesy flavor and texture in this recipe. It also adds some nutrition to this soup.
Cashew nuts – instead of using full fat dairy free milk like (coconut milk), I decided to go with cashew cream. This gave a nice subtle nutty flavor to this soup recipe instead of making it very coconuty. Moreover, it adds a bit more nutrition with healthy fats in this zuppa soup recipe.
How to make Instant Pot Zuppa Toscana
Firstly, I combined all the soup ingredients in the inner pot of the instant pot. Then, I closed the lid and sealed the valve. Next, I turned it on at high for 15 minutes.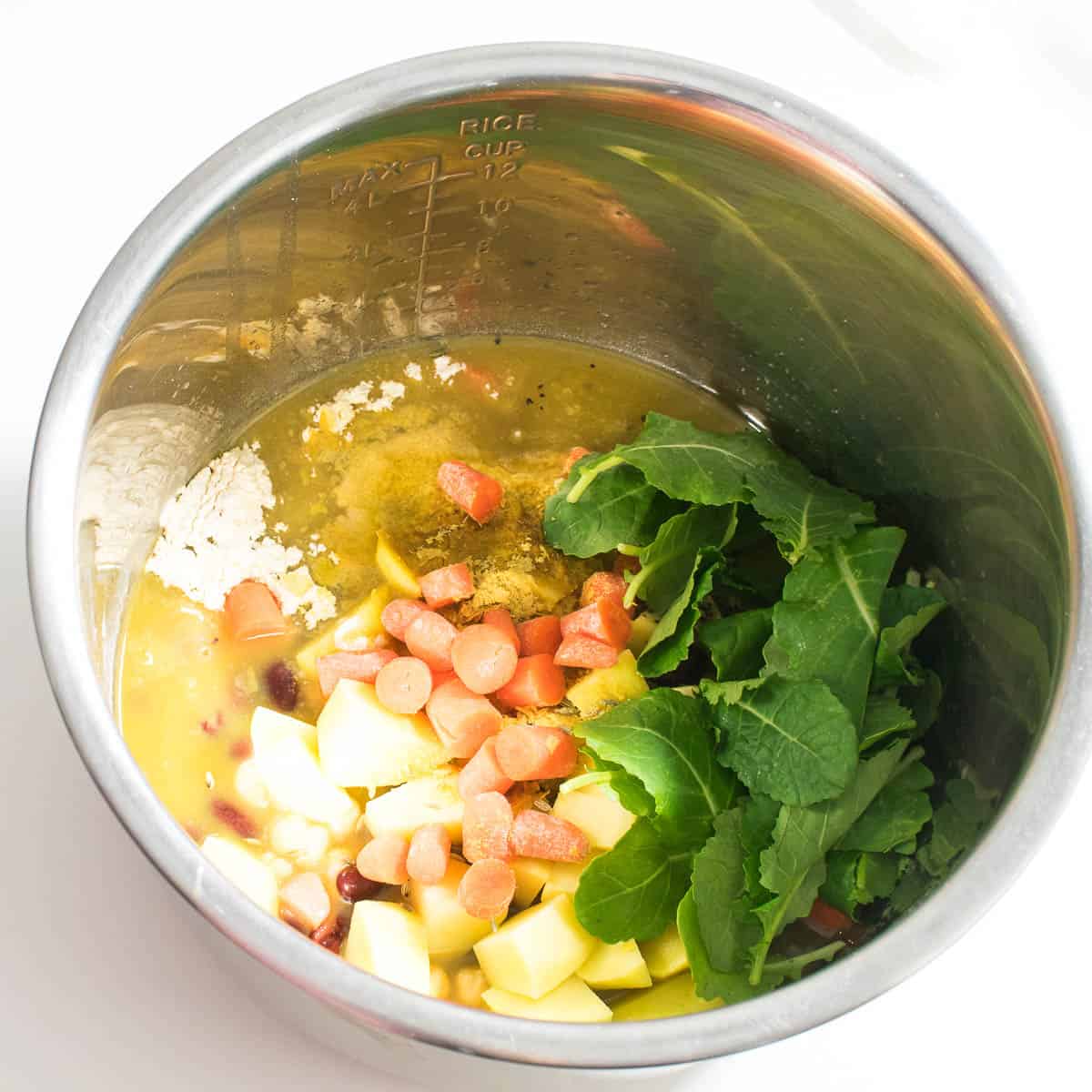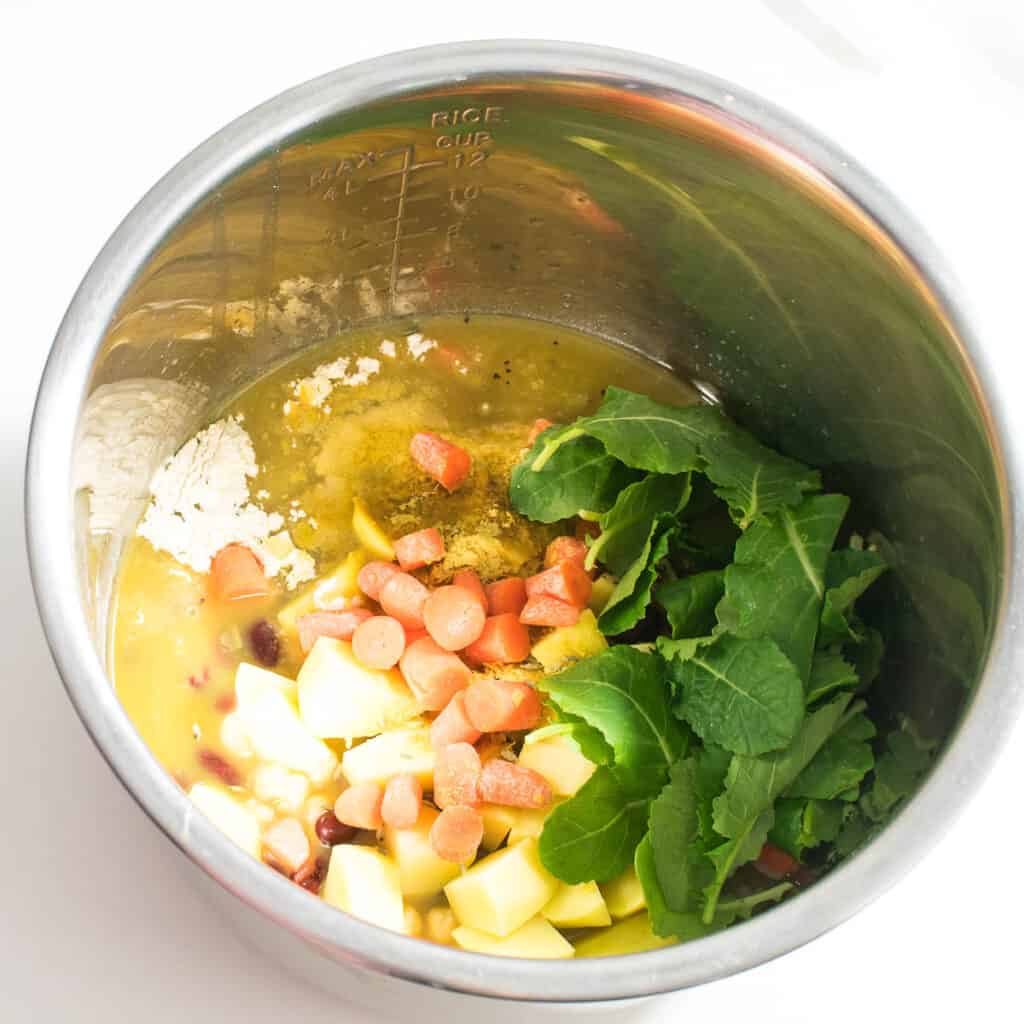 In the meanwhile, I blended the cashew cream ingredients in a blender and kept it aside.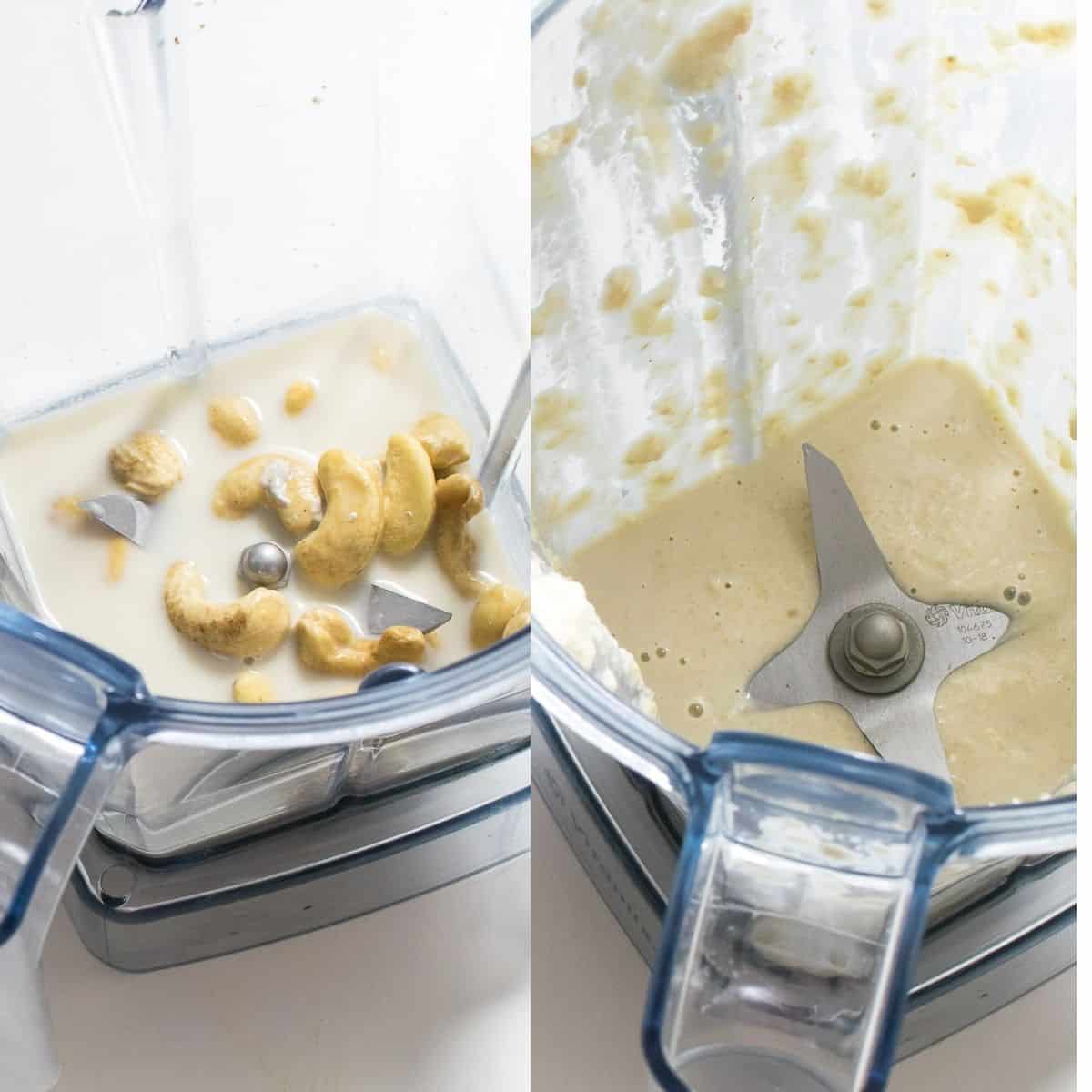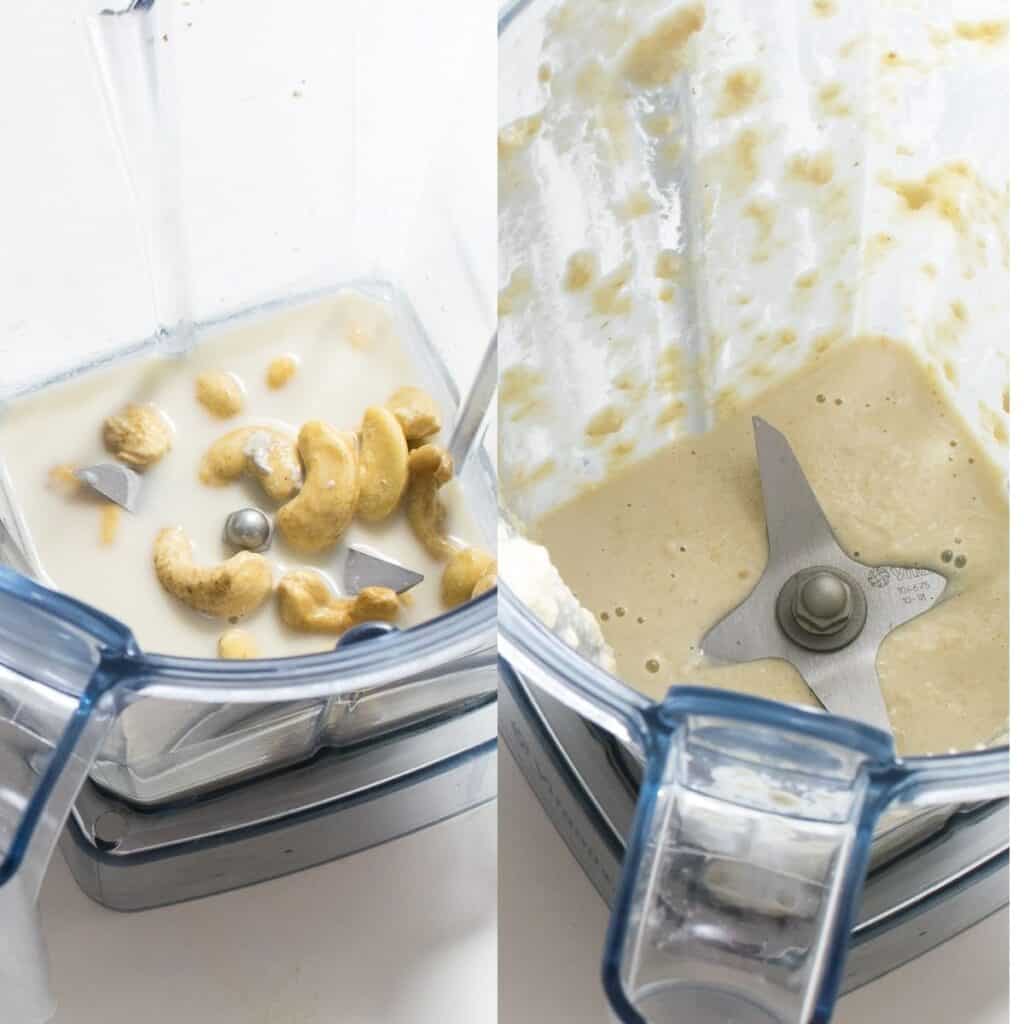 Once, the soup was cooked I released its pressure and opened the lid. Then, I stirred in cashew cream and served it warm.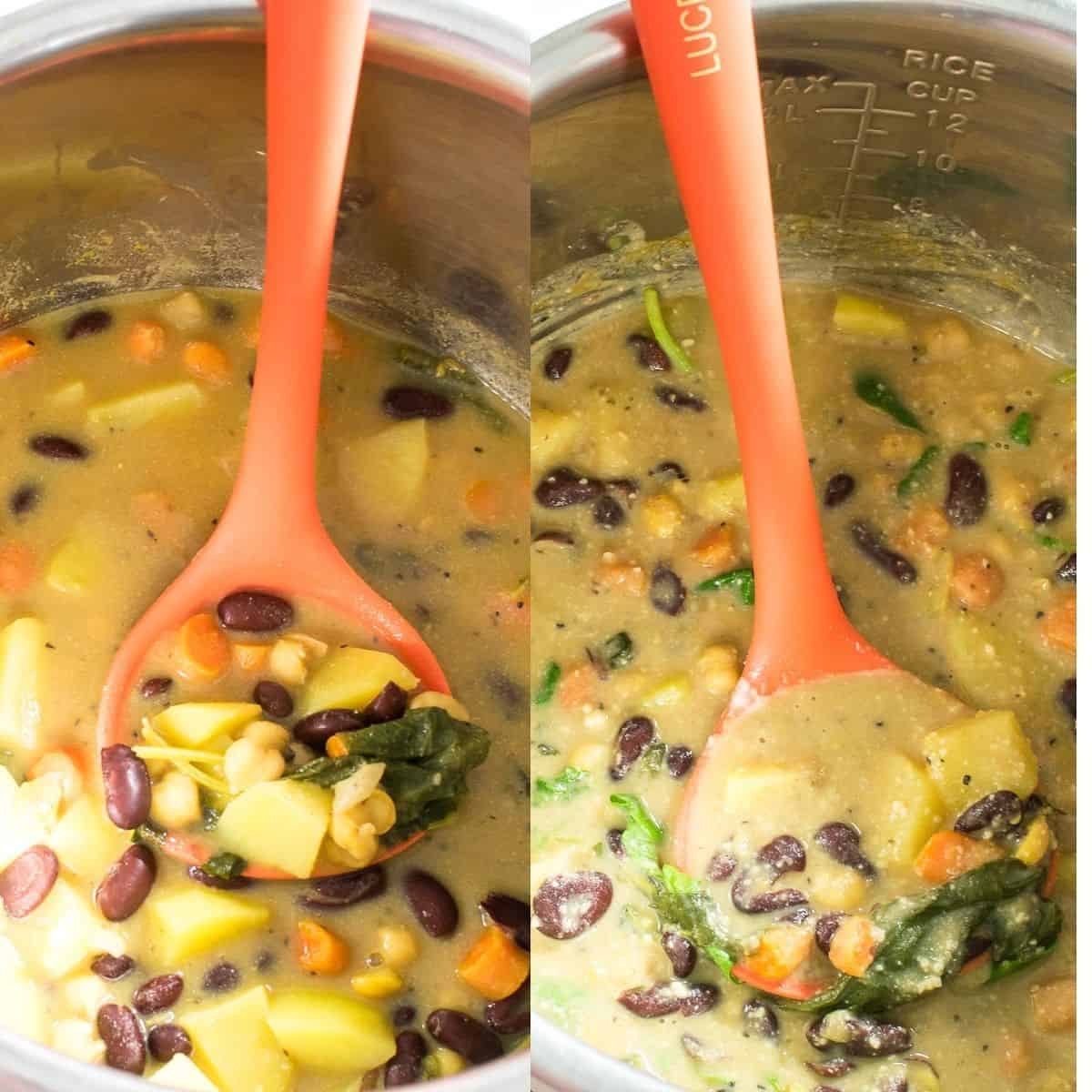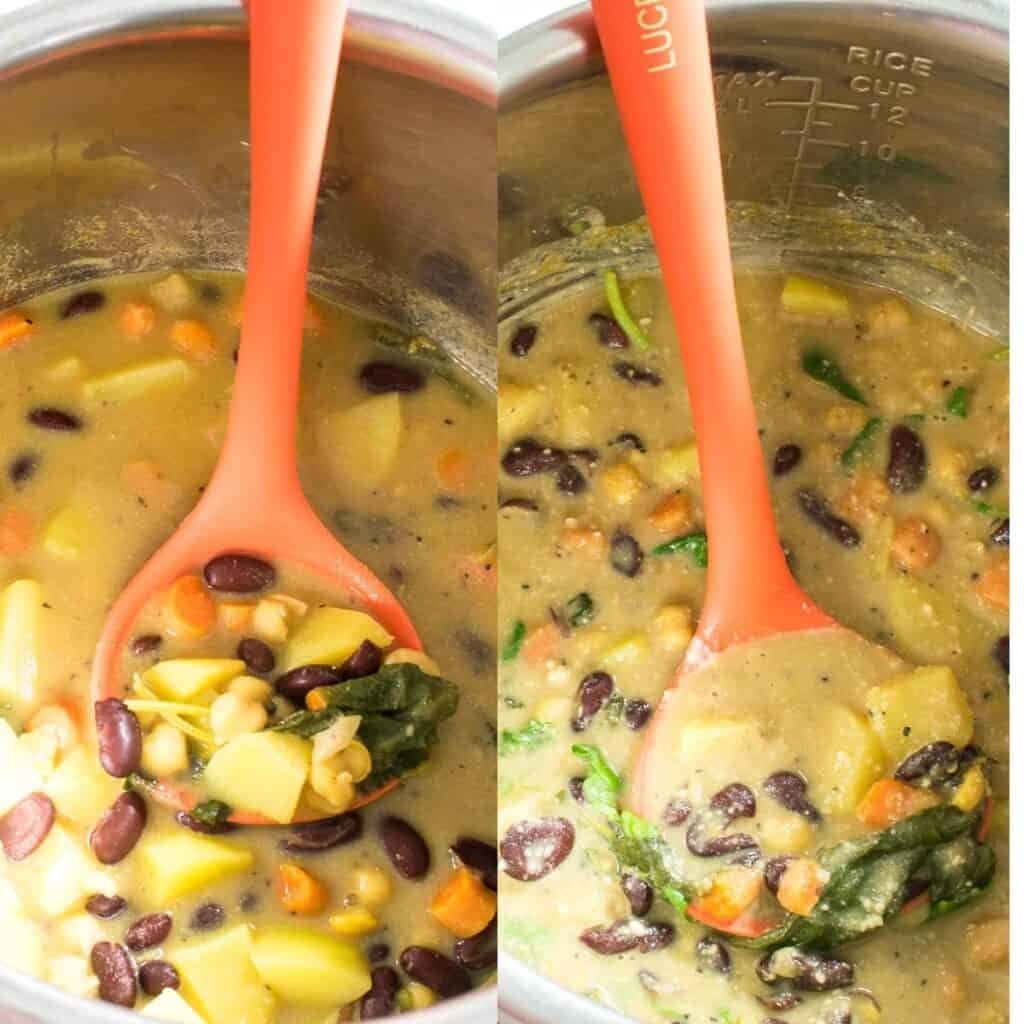 We heartily ate our warm bowls of soup and enjoyed every bite of it. Its easy and quick to make. Since I used the pantry ingredients this Zuppa Toscana recipe can be in a short notice.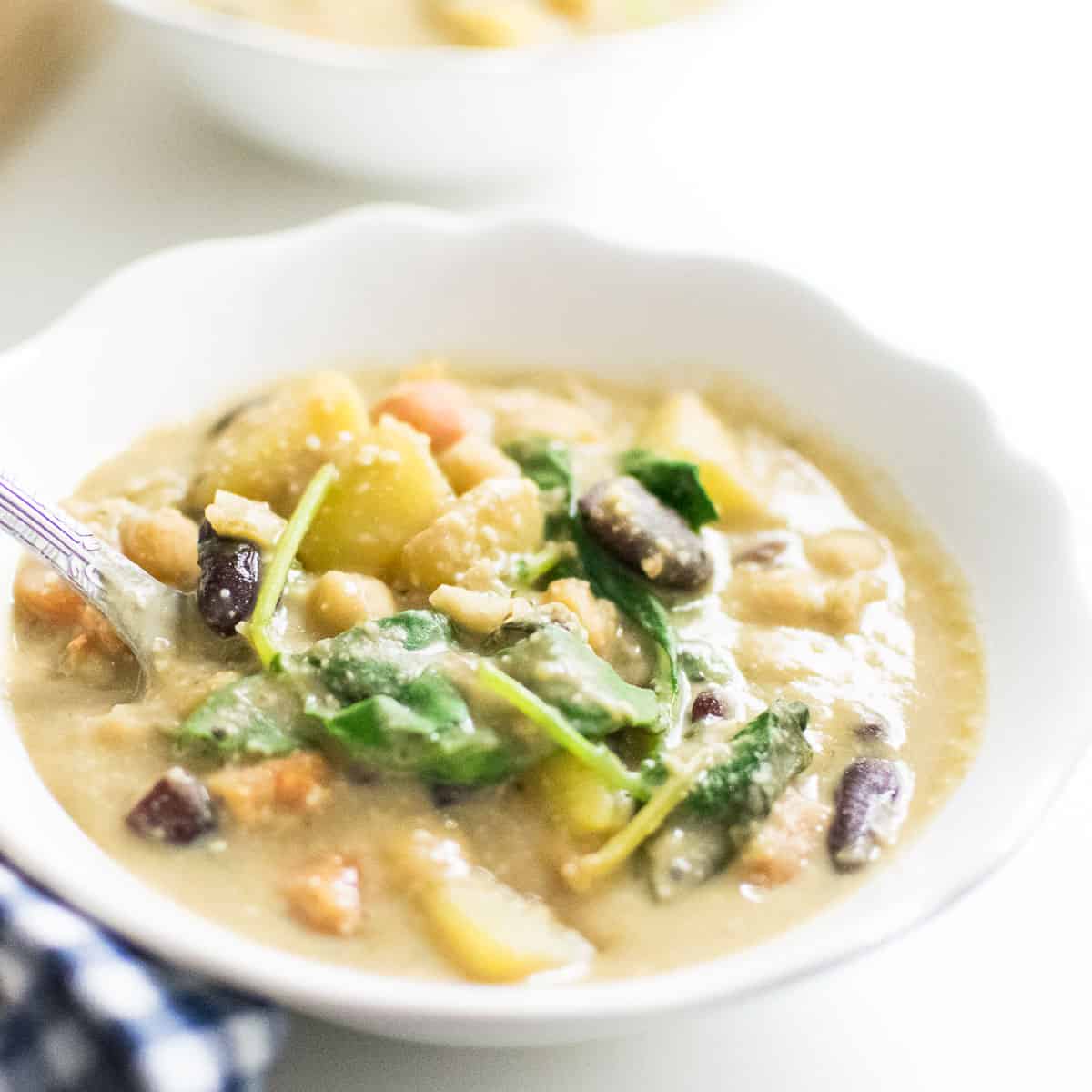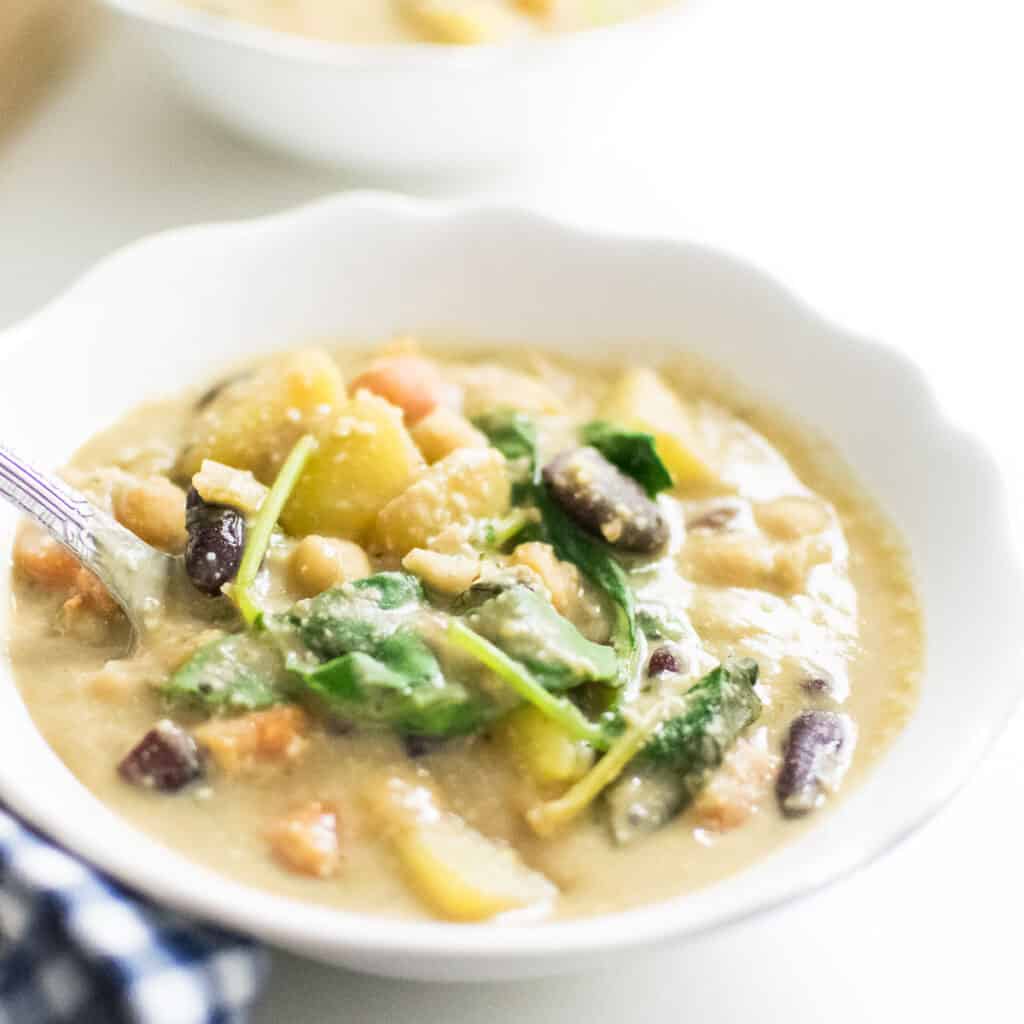 Its healthy, wholesome and comforting for the cool weather.
Expert tips:
I would highly recommend using a high-powered blender to blend cashew cream. The smoother and creamier it is the tastier soup will be.
2 regular sized gold potatoes equal to 1 cup peeled and chopped potatoes.
Do not let the soup cook when stirring in cashew cream.
I am sure you all must be drooling over it by now. Its one of our recent favorite and I made it easy and simple for you so that you may enjoy it every day of the week.
Instant Pot Zuppa Toscana FAQs
How long does it last?
This soup tastes best when hot. You may refrigerate it for a week.
Can I freeze it?
If you want to freeze it then freeze it without the cashew cream. Simply cook it in the instant pot and freeze in a freezer friendly container. When ready to use, warm it well and stir in cashew cream.
Is it healthy?
I made it absolutely oil free and gluten free. I did not use any flour or any thickener. It is made with simple and healthy whole food ingredients in just few simple steps. It is low in calories and low in fat too. Therefore, this Zuppa Toscana is for sure healthier since it has sufficient protein, complex carbohydrates and good fats.
Can I make this on a stove top?
Yes, absolutely. Combine all the ingredients in stock pot or a Dutch oven and cook covered at medium-high heat. Once the potatoes are soft and cooked. Turn it off and stir in cashew cream.
Can I make this with vegan sausage?
I have not personally tried it with vegan sausage but I have tried it with tempeh bacon. Chop tempeh bacon into small bits and garnish this soup with it just before serving.
I would insist you on trying this Zuppa Toscana soup recipe ASAP because I am sure you must be having all these ingredients in your pantry and refrigerator.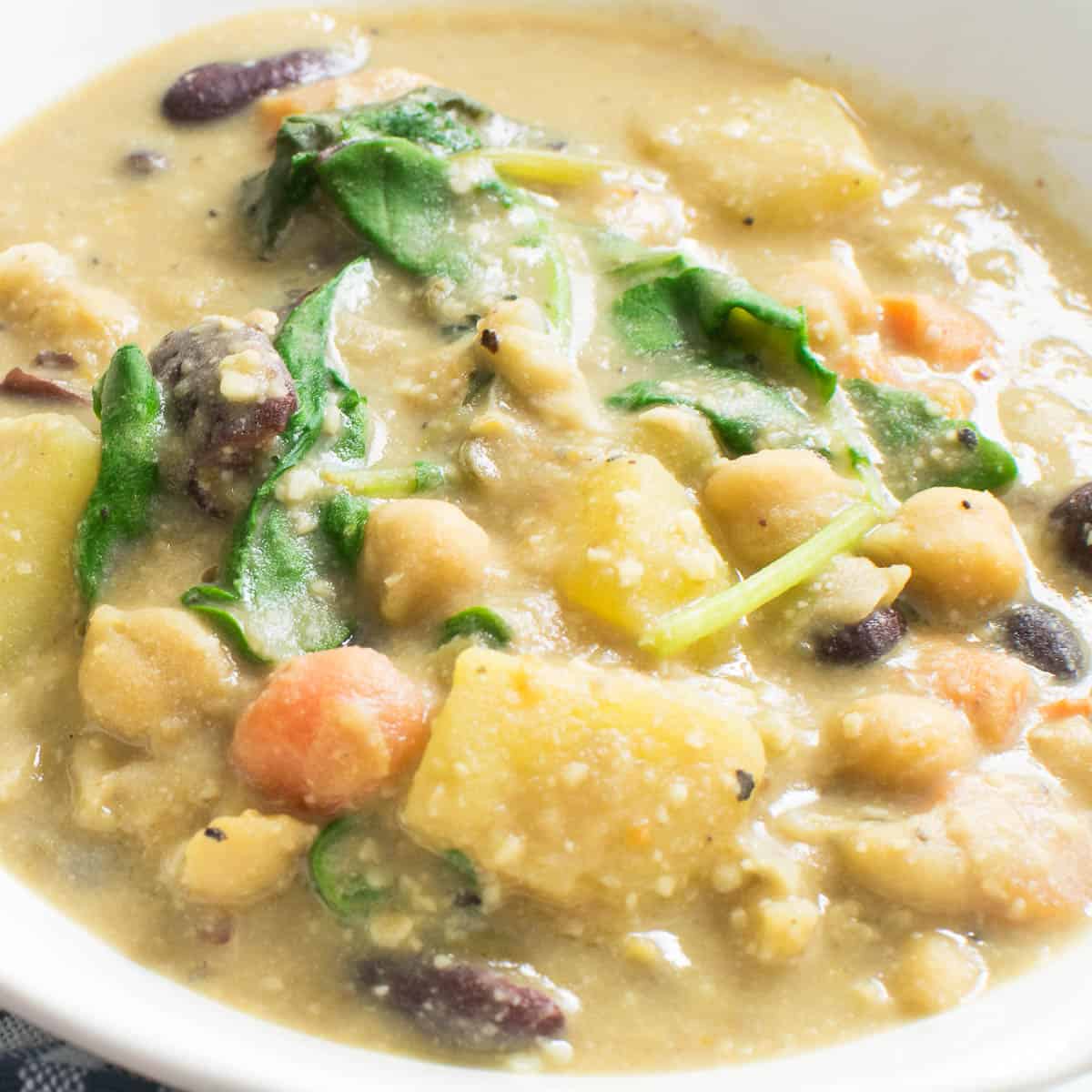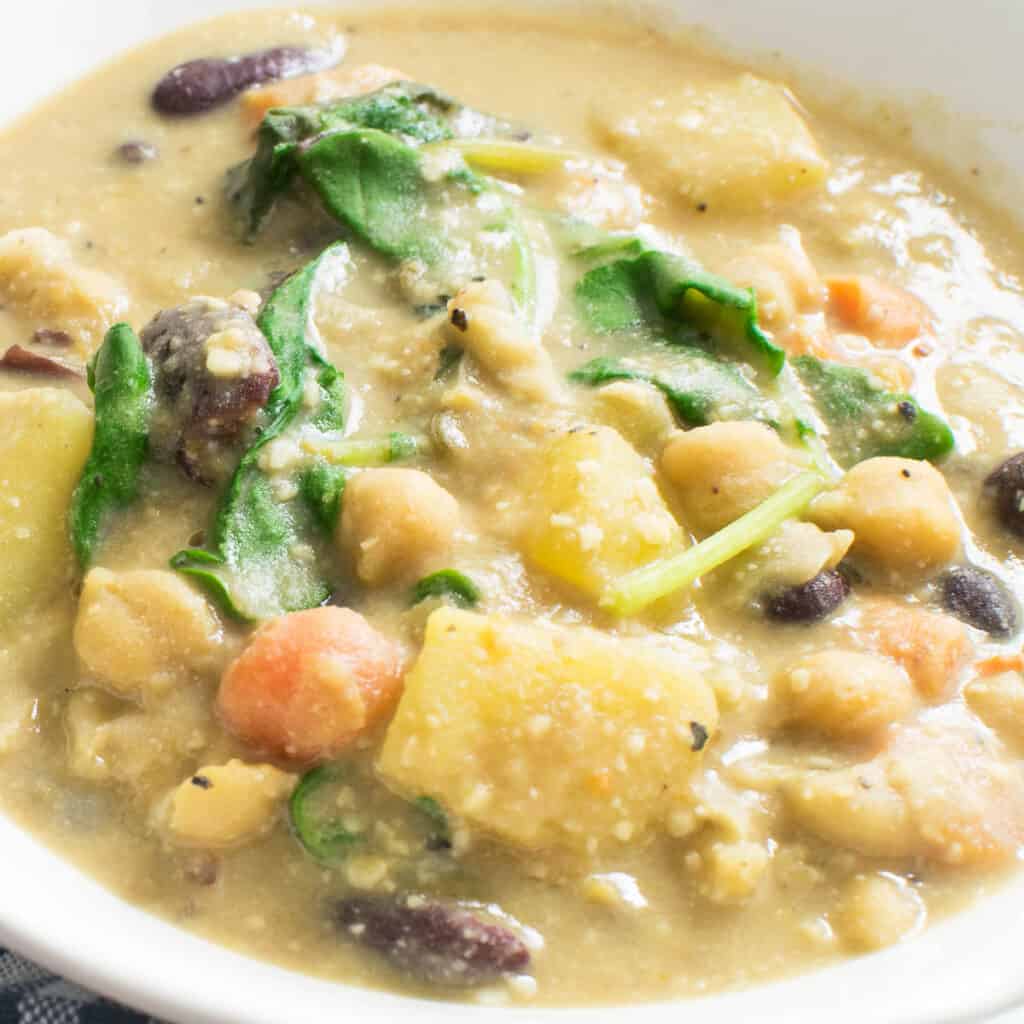 You may also like:
Vegan Cauliflower Soup
Instant Pot Pasta e Fagioli Soup
Potato Corn Chowder
Roasted Red Pepper Pasta Soup
Cilantro Tofu Soup
Other instant pot recipes that you may like:
Coconut Rice
Herb Masala Lentil Curry
Did you make it?
If you get a chance to make this recipe then please leave your feedback in the comments below along with the ratings. In addition, you may tag @kiipfit on Instagram with your recipe images because we would love to see what you cooked.
If you desire to explore more delicious recipes of mine then you may checkout my cookbooks.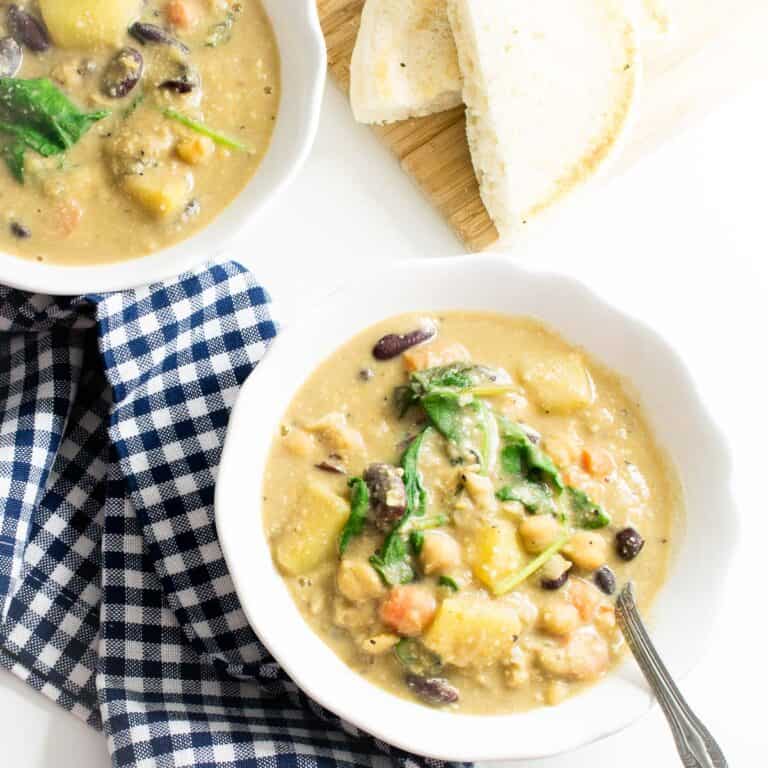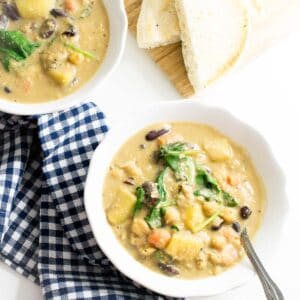 Print Recipe
Instant Pot Zuppa Toscana
Instant Pot Zuppa Toscana is a medley of vegan protein and vegetables simmered in vegetable broth and seasoned perfectly. It's a warm one pot meal for all ages and for any work weeknight.
Instructions
Combine all the ingredients for the soup in the inner pot of the instant pot. Stir and close the lid. Seal the valve and turn it on at manual mode high for 15 minutes. Once done, release the pressure and open the lid. Stir again.

In a blender combine the ingredients for cashew cream and blend it smooth and creamy.

Stir in the cashew cream to the soup (do not cook the soup at this point). Serve it hot.
Notes
We do not need to soak cashew nuts for this recipe. We can use it directly.
I used oat milk for the cashew cream for a creamier texture. However, you may use any dairy free milk of your choice.
There is no added oil in this recipe so if you make your own vegetable broth without oil this recipe would be absolutely oil free.
For stove top option: Combine all the soup ingredients in a stockpot/Dutch oven and cook it covered at medium-high flame for abut 10-15 minutes or until the potatoes are soft and cooked. Turn it off and stir in cashew cream and enjoy.
This can refrigerate in an air tight container for about a week.
To freeze: Cook this soup and do not add the cashew cream at this stage. Cool it down completely to room temperature and seal it in a freezer friendly container. Freeze it for about a month. When ready to sue it warm it up nicely until few boils. Turn it off and stir in cashew cream. Enjoy!
Nutrition
Calories:
313
kcal
|
Carbohydrates:
49
g
|
Protein:
16
g
|
Fat:
8
g
|
Saturated Fat:
1
g
|
Sodium:
947
mg
|
Potassium:
64
mg
|
Fiber:
1
g
|
Sugar:
2
g
|
Vitamin A:
601
IU
|
Calcium:
3
mg
|
Iron:
1
mg