These crispy and crunchy vegan Chickpea Nuggets are kid friendly and made with simple ingredients. Its oil free and can be oven baked or air fried. They are super easy, healthy and so delicious.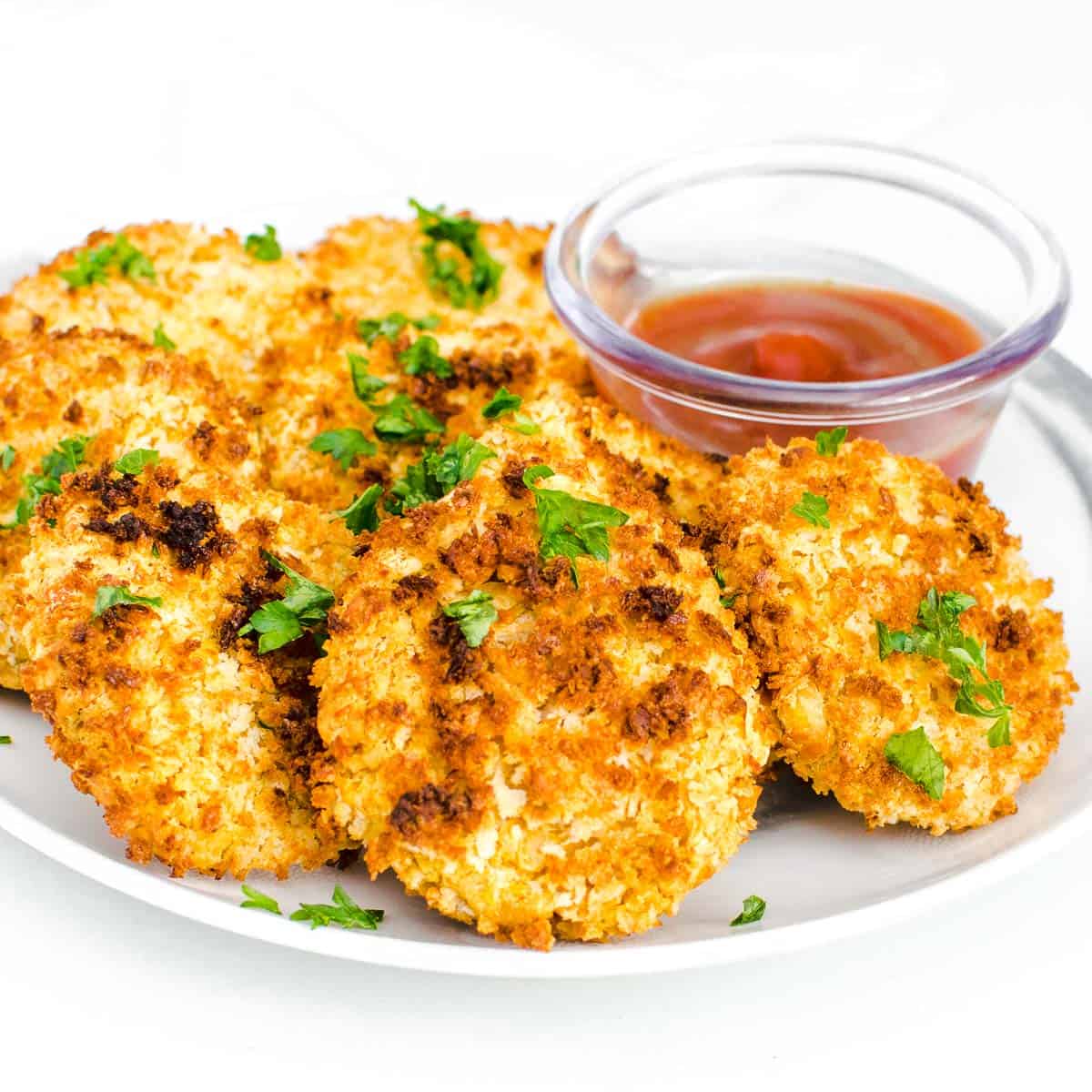 These easy chickpea nuggets are a great substitute for chicken nuggets and its as comforting as the traditional nuggets.
They are protein packed plus cruelty free and plant based too. Moreover, its so good that even the non-vegans would love these and appreciate.
I baked them in the oven as well as air fried them in the air fryer and both came out equally excellent.
Hence, vegan comfort food at its best.
These vegan nuggets are nut free so they can be packed for school lunches and are wholesome too.
About chickpeas
Its also called garbanzo beans and is a versatile ingredient. It's a protein packed ingredient that can be used in sweet and savory recipes. It's a legume and a very popular in Mediterranean cuisine and Indian cuisine.
I often make chana pulao with is our favorite go to recipe. Along with my chickpea zucchini burger and chickpea cookie dough these chickpea veggie nuggets are our recent favorite.
Overall, it's a healthy ingredient and great source for vegan protein. Therefore, often I try to include this legume in our diet.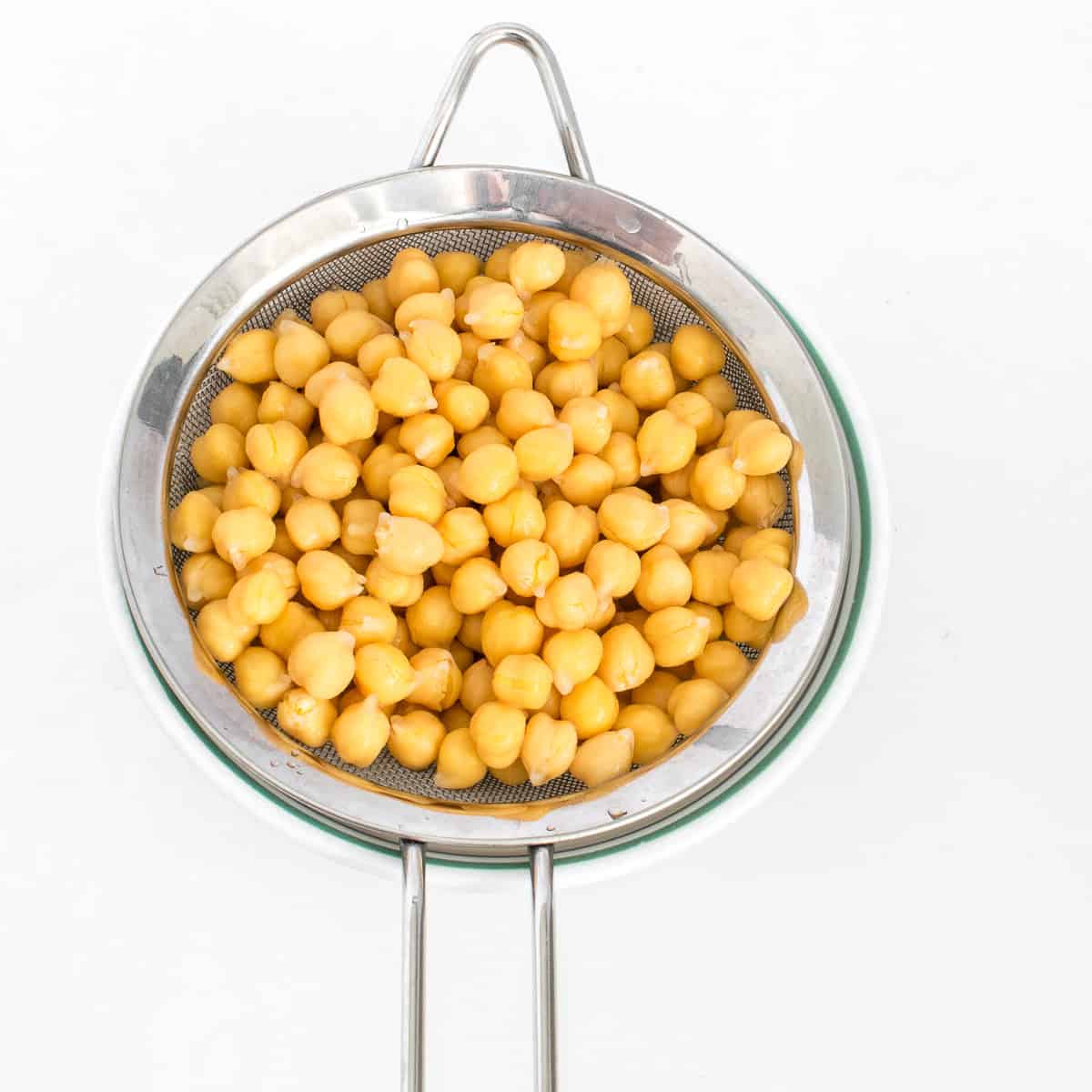 Hence, today I am sharing these chickpea nuggets recipe with you.
Ingredients for the best chickpea nuggets
Canned chickpeas
Chickpea water
Chickpea flour
Nutritional yeast
Garlic powder
Onion powder
Paprika
Salt
For coating
Chickpea flour
Water
Salt
For rolling
Panko crumbs
For garnishing
Parsley
I have used these easy and simple ingredients which I am sure you must be having in your kitchen pantry.
Ingredients notes:
Chickpeas – I used canned chickpeas and 0061 z saved its water to help in grinding. You may boil your own and use its water too. If you boil your own then you may use 1 ½ – 2 cups of cooked and drained chickpeas.
Chickpea flour – this helps in binding and flavoring these chickpea chicken nuggets
Paprika – chili powder or cayenne powder can also be substituted here.
Panko crumbs – these are the best bread crumbs and makes these nuggets super crispy and crunchy.
Parsley – a tiny bit of fresh parsley makes them presentable and tasty too. However, fresh cilantro also works here.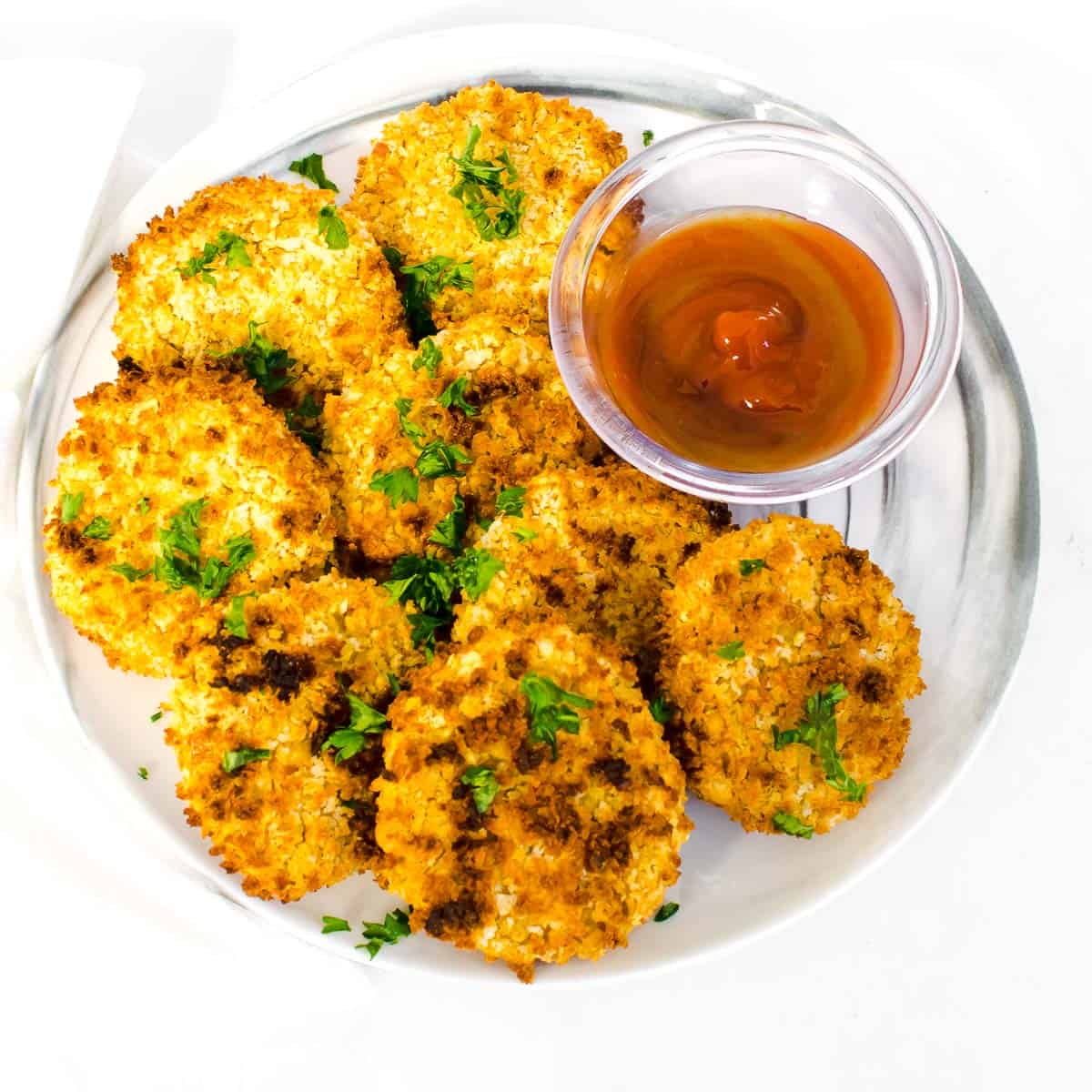 For detailed measurement of ingredients please scroll down to the printable recipe card at the end of this post.
How to make Chickpea Nuggets
Firstly, I combined drained chickpeas, its water, chickpea flour, garlic and onion powder, paprika and salt to a food processor and ground it smooth.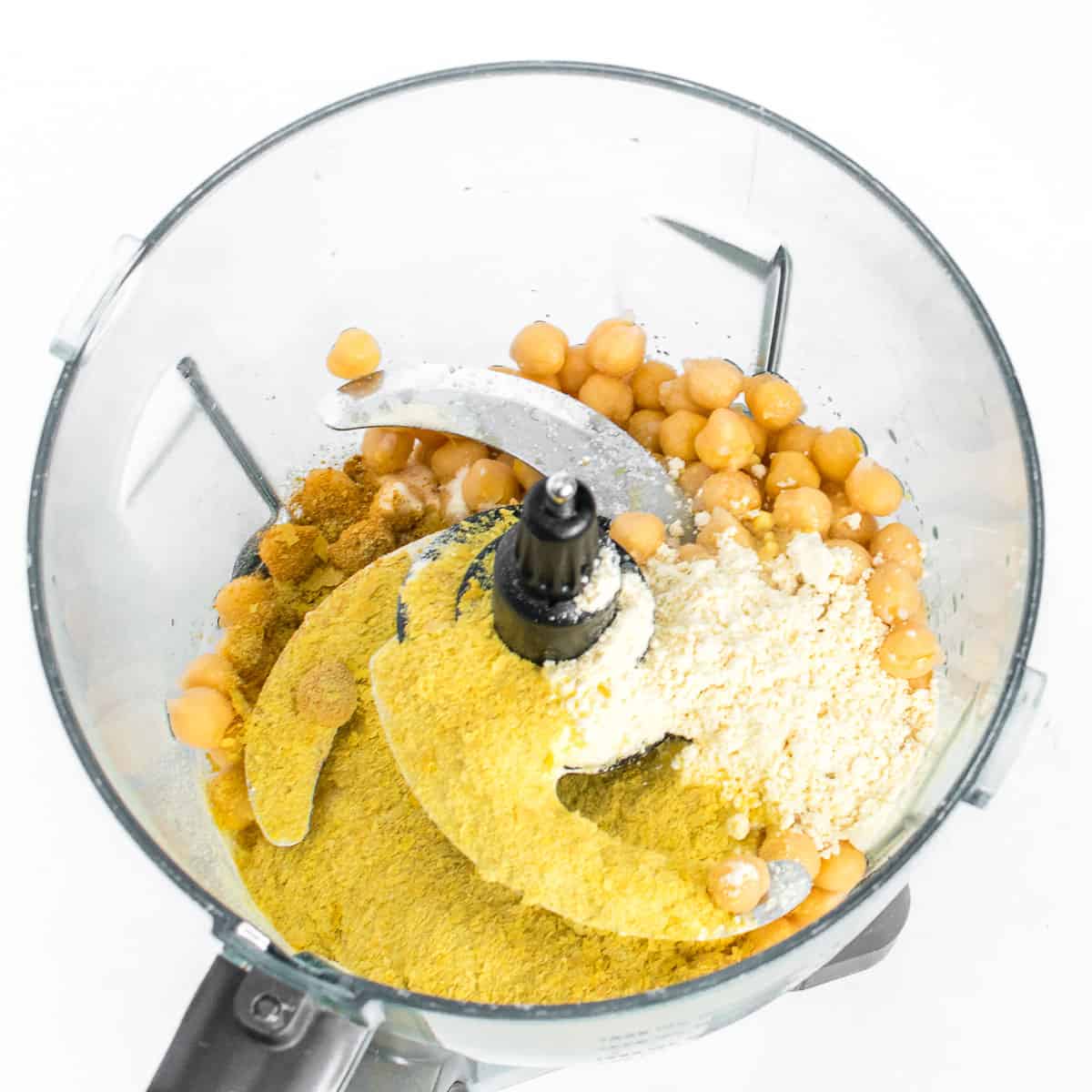 Secondly, in a bowl, I combined chickpea flour, water and salt and whisked it smooth.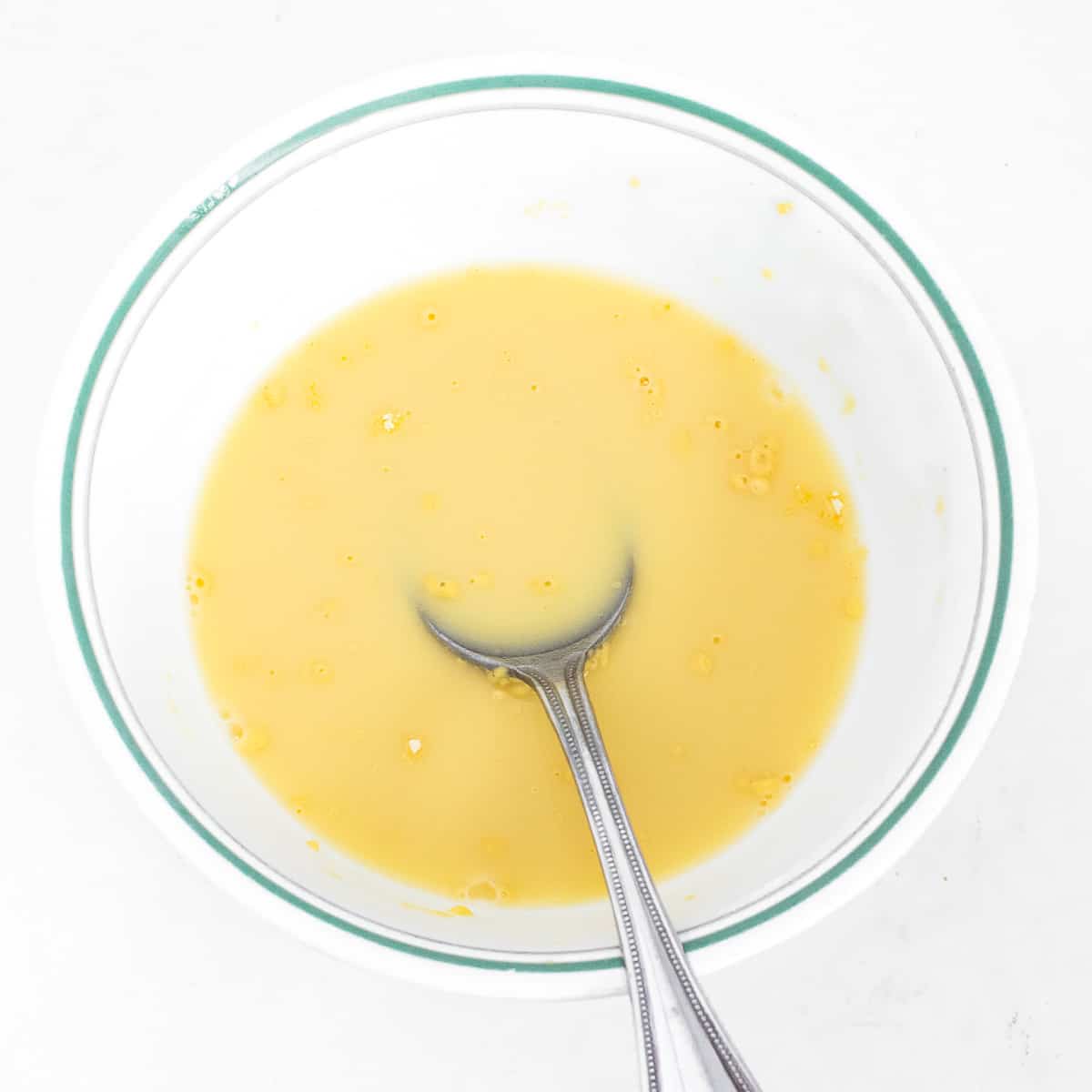 Next, I prepared panko crumbs in a flat plate and kept it aside.
Thereafter, I took about heaped 1 tbsp of the dough batter and made a round flat patty between my palms.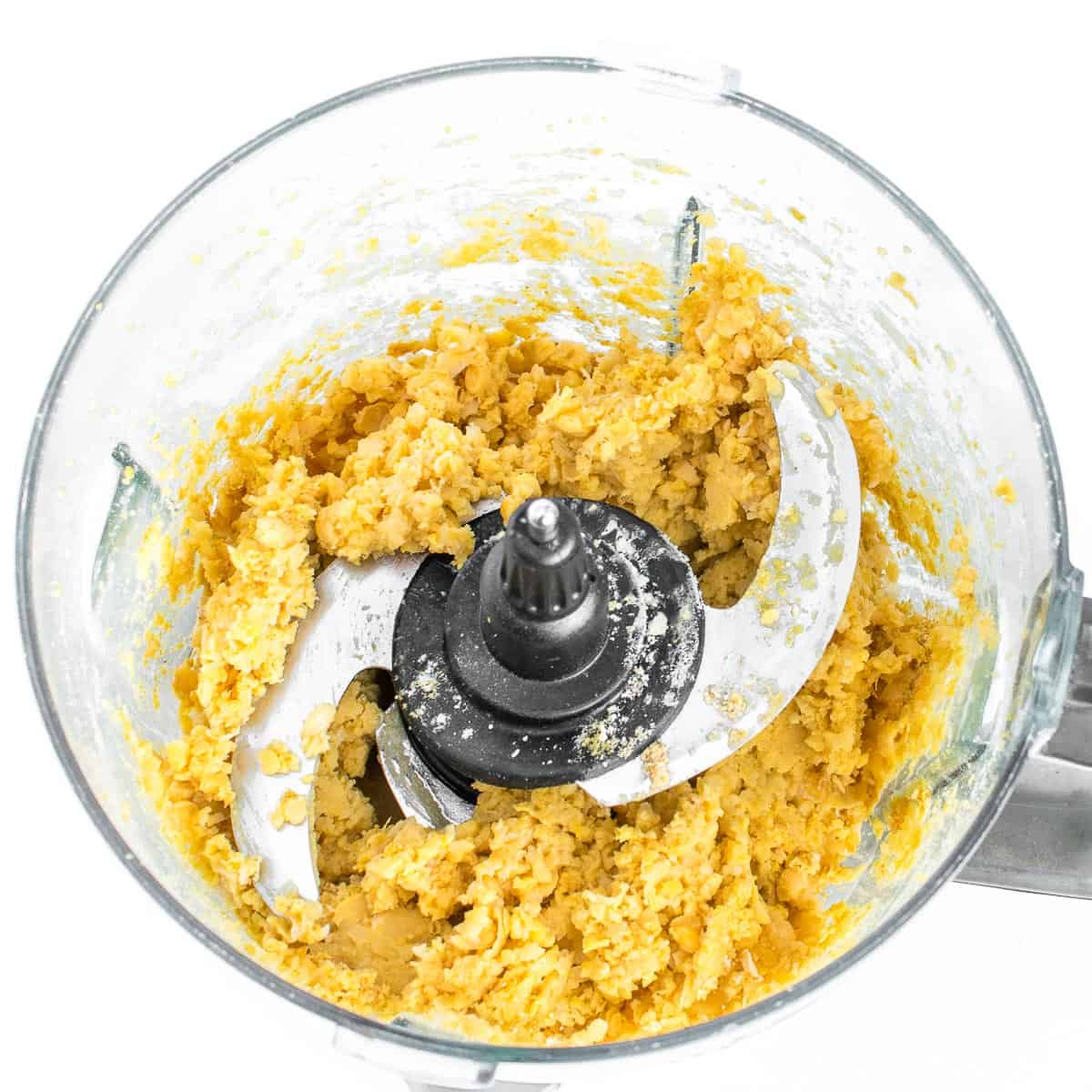 Then, I dipped it completely in the chickpea flour mixture.
Afterwards, I rolled it in the panko crumbs from all sides and placed it on a prepared baking sheet.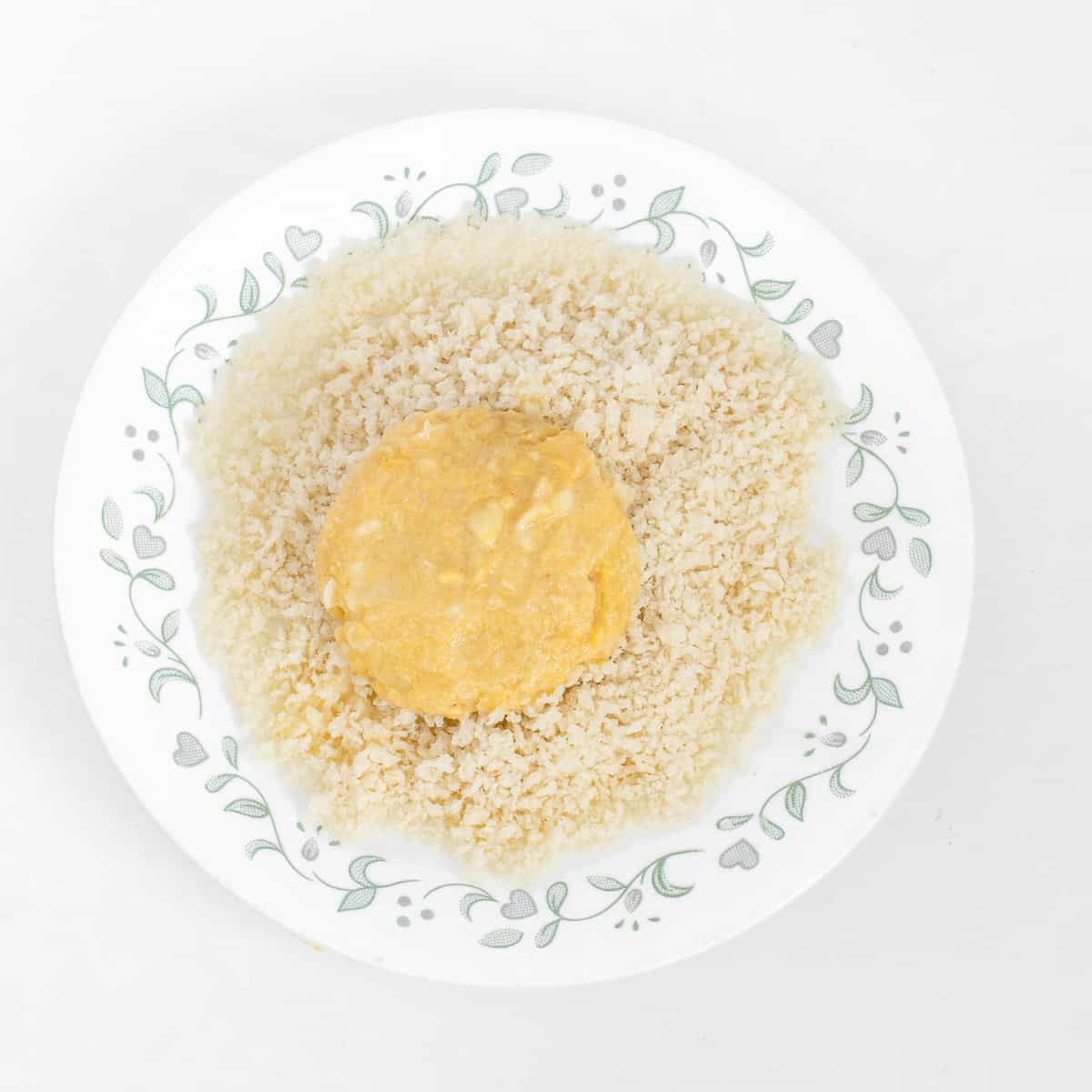 I repeated the entire process for the rest of the dough batter and placed the baking sheet in the middle rack of the preheated oven at 425-degree Fahrenheit. I let it bake for 30 minutes.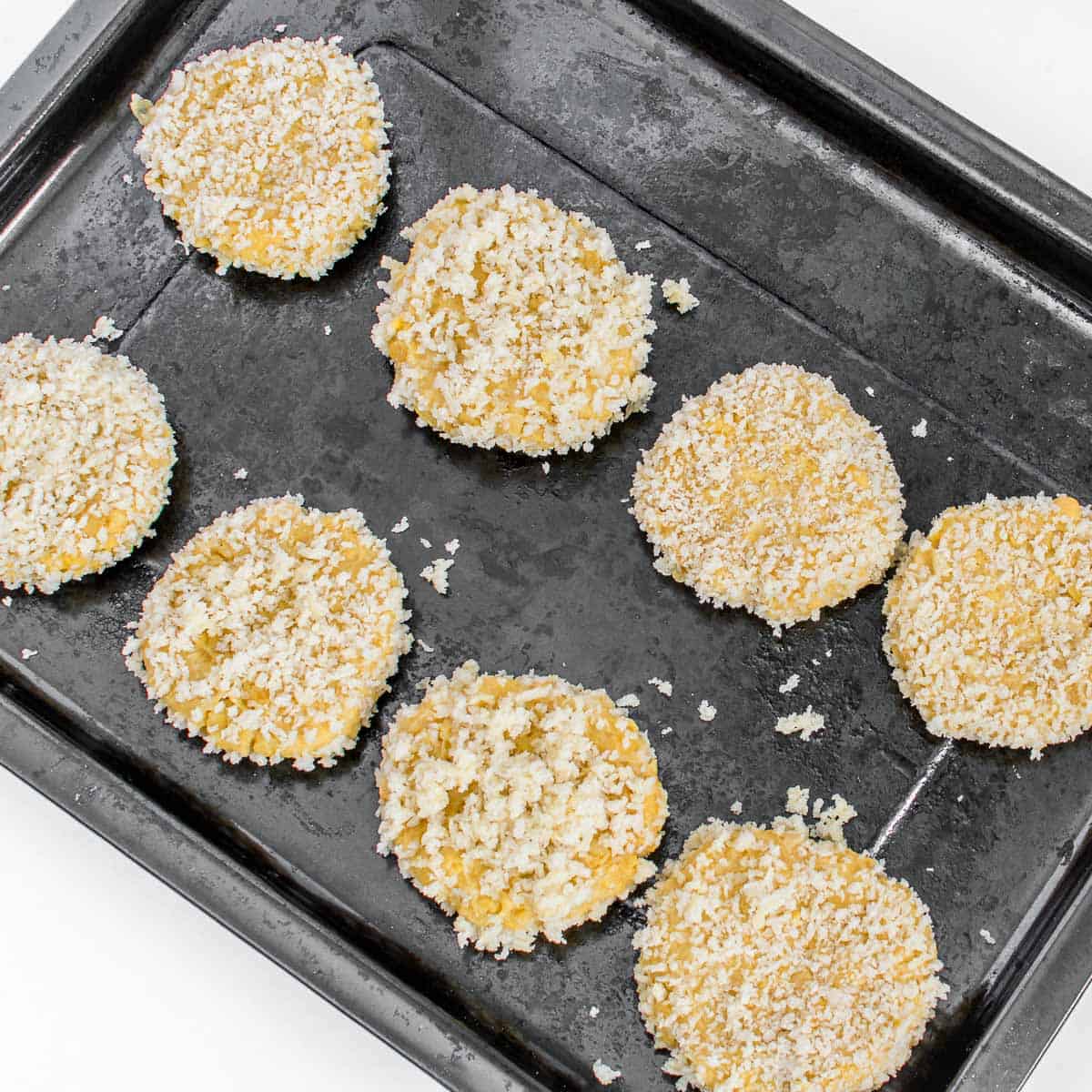 Once done, I turned off the oven and took it out and garnished.
Then, I served it immediately wit ketchup or vegan mayo or vegan ranch.
To air fry these chickpea nuggets
Follow all the steps as explained for shaping, coating and rolling. Then, place each of them in the air fryer basket. Then, attach the basket to the air fryer and turn it on at 400 degrees for about 12 minutes or until brown and crispy. Turn it off and detach the air fryer basket. Garnish and serve immediately.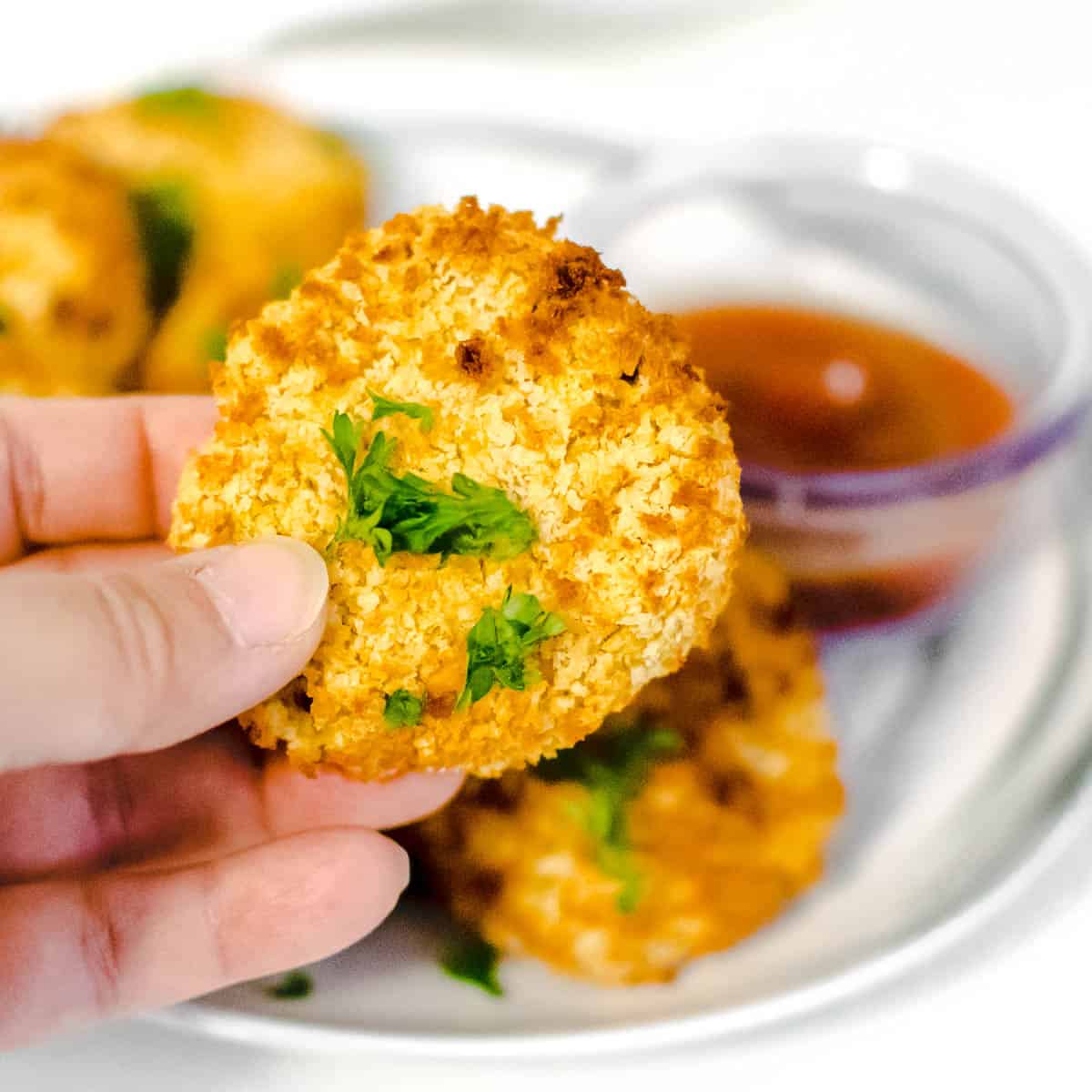 I even got a chance to get it approved by some of my friends. I served them oven baked and air fried versions and they could not say the difference and devoured every bit of these nuggets.
These chickpea nuggets were an instant hit and was appreciated even by the kids.
In fact, I was asked to make more and the second time they encouraged me to share this recipe with you all.
Expert tips:
Make sure to shape the nuggets well and seal the sides as much as possible.
Most importantly coat each of them well with chickpea flour mixture dipping it completely in the flour mixture.
It is important to save chickpea water before draining. However, rinse the chickpeas later and grind it.
Chickpea Nuggets FAQs
How long do these last?
These tastes best hen served immediately since they are crunchy and crispy. However, the leftovers can be refrigerated for 3-4 days. Toast them in the oven toaster for crispy bites.
How can I prep for these ahead of time?
You may coat and roll the nuggets in panko. Cover and keep it at room temperature for a day. Oven bake or air fry when ready.
Are these chickpea nuggets healthy?
Yes! These are high in protein and fiber plus oil free. Its healthy, nutritious and can be enjoyed frequently for snacks or as an appetizer.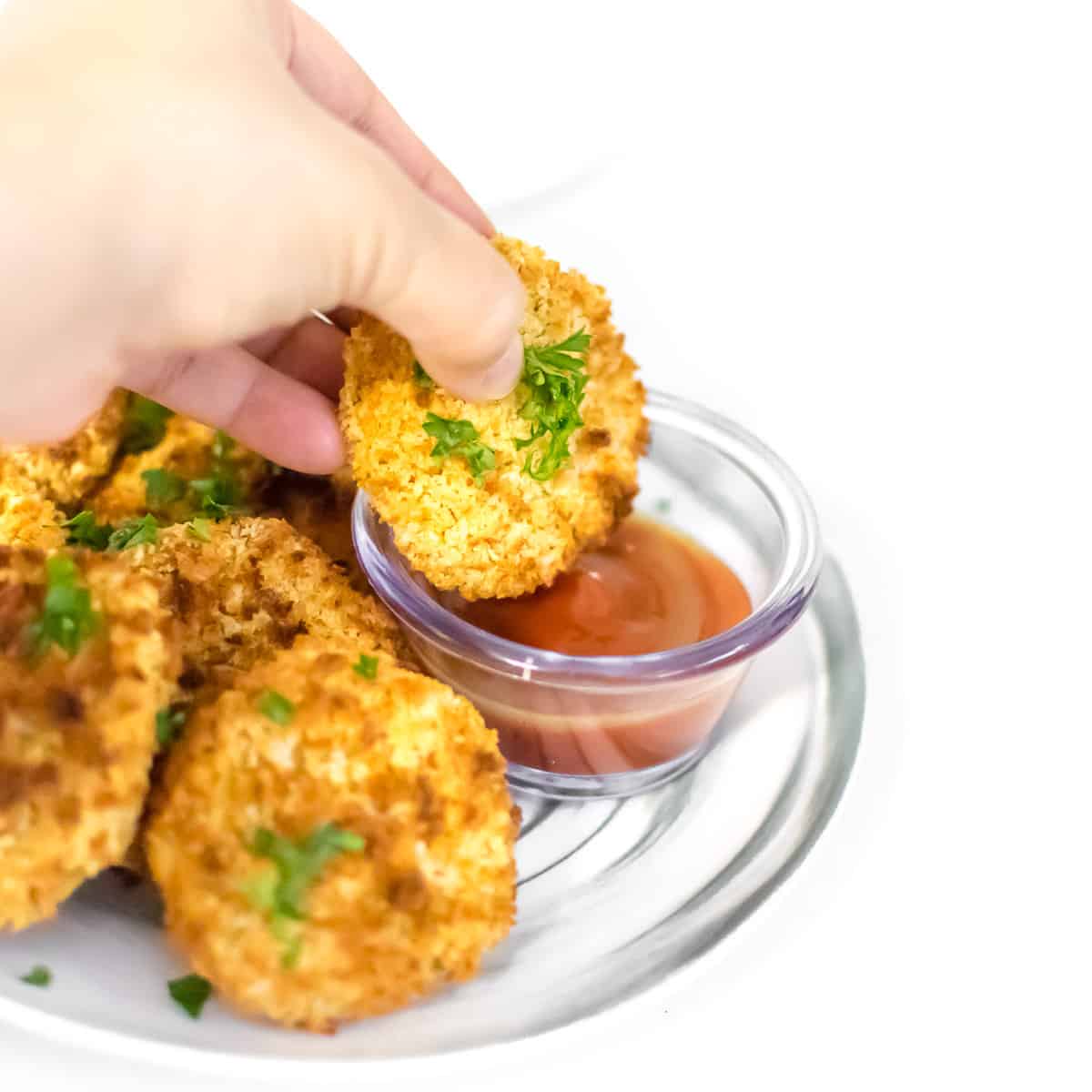 My other snacks/appetizer recipes that you might like:
Avocado fries
Air fryer eggplants
Bang bang cauliflower
Tofu nuggets
Air fryer carrots
This post may contain affiliate links which means that if you click on them and also make a purchase, I will get a small commission. Moreover, I share only those products which I use personally and love.
I hope you will enjoy these as much as we did and I am very excited to hear back from you about this vegan chickpea nuggets recipe.
Where to find me?
Follow me on Facebook or on Twitter. You may tag @kiipfit on Instagram with your recipe remake images because I would love to see what you cooked.
Did you make it?
If you get a chance to make this recipe then please leave your feedback in the comments below along with a 5-star rating.
In addition, you may checkout my cookbook for everyday comfort vegan recipes.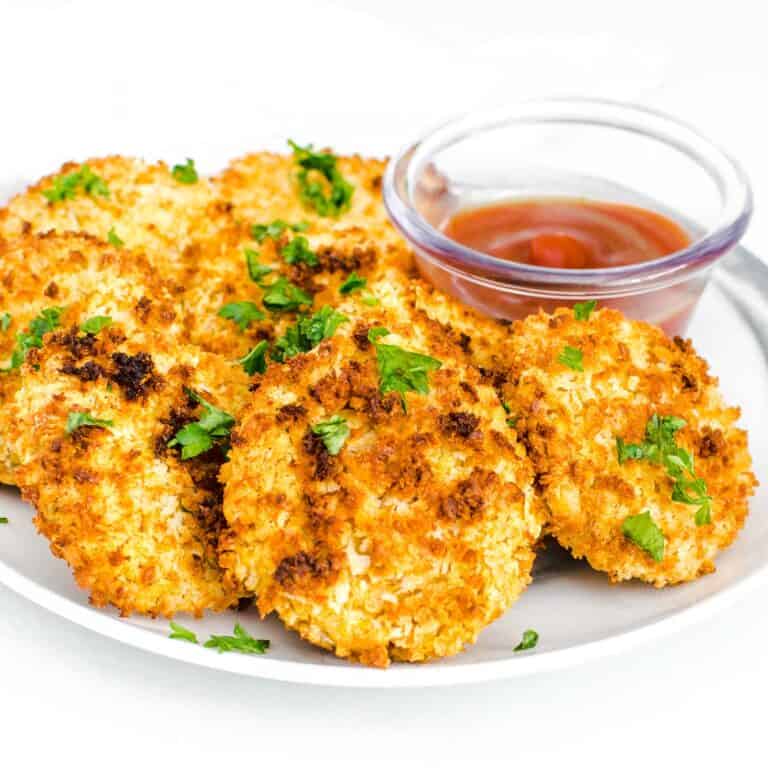 Print Recipe
Chickpea Nuggets
These crispy and crunchy vegan Chickpea Nuggets are kid friendly and made with simple ingredients. Its oil free and can be oven baked or air fried. They are super easy, healthy and so delicious.
Ingredients
for garnishing
1

tbsp.

fresh chopped parsley
Instructions
making the nuggets
In a food processor combine all the nuggets ingredients (chickpeas, chickpea water, 1 tbsp. chickpea flour, nutritional yeast, garlic powder, onion powder, paprika and salt). Grind it smooth.

In a small bowl combine another 1 tbsp. chickpea flour, water and salt and stir it until smooth. Keep it aside.  Prepare panko crumbs in a plate and keep it aside.

Now, take about 1 tbsp. heaped ground chickpeas mixture and form a round flat patty between your palms. Make sure the side do not crack.

Dip/coat the small patty completely it in the chickpea flour mixture making sure that it is covered from all sides. Then roll it in panko from all sides. Place it on a flat plate. Repeat all the tree steps for the rest of the batter dough.
Oven Bake
Pre-heat oven at 425-degree Fahrenheit and prepare a baking sheet with a parchment paper. Place all the nuggets on the prepared baking sheet and bake it in the middle rack of the oven for 30 minutes. Once done, turn it off and take it out.
Air Fry
Place each of the prepared nuggets in the air fryer basket. Attach it to the air fryer and turn it on at 400 degree for 12 minutes. Once done, detach the basket. Garnish and serve.
Notes
While draining chickpeas from the can, place a colander on a small bowl to collect its water so as to use it while grinding the dough batter.
quick rinse the chickpeas before grinding. 
Discard the remaining chickpea flour mixture.
This recipe makes 12 nuggets and the serving size is 2 nuggets per person.
For the best experience place the nuggets on the baking sheet or in the air fryer basket and lightly grease them with a cooking spray. Then cook. This brings a nice color along with making it crunchier.
Garnishing is optional. You may use fresh cilantro as well.
I have provided step wise images in the post above so feel free to scroll up for visual details.
Nutrition
Calories:
106
kcal
|
Carbohydrates:
17
g
|
Protein:
6
g
|
Fat:
2
g
|
Saturated Fat:
1
g
|
Polyunsaturated Fat:
1
g
|
Monounsaturated Fat:
1
g
|
Sodium:
40
mg
|
Potassium:
81
mg
|
Fiber:
1
g
|
Sugar:
1
g
|
Vitamin A:
83
IU
|
Vitamin C:
1
mg
|
Calcium:
13
mg
|
Iron:
1
mg