This protein rich Chickpea Cookie Dough is a healthy dessert dip which is high in fiber and is vegan along with being gluten free. Its ready within minutes and enjoy it as is or bake them into delicious treat for snacking.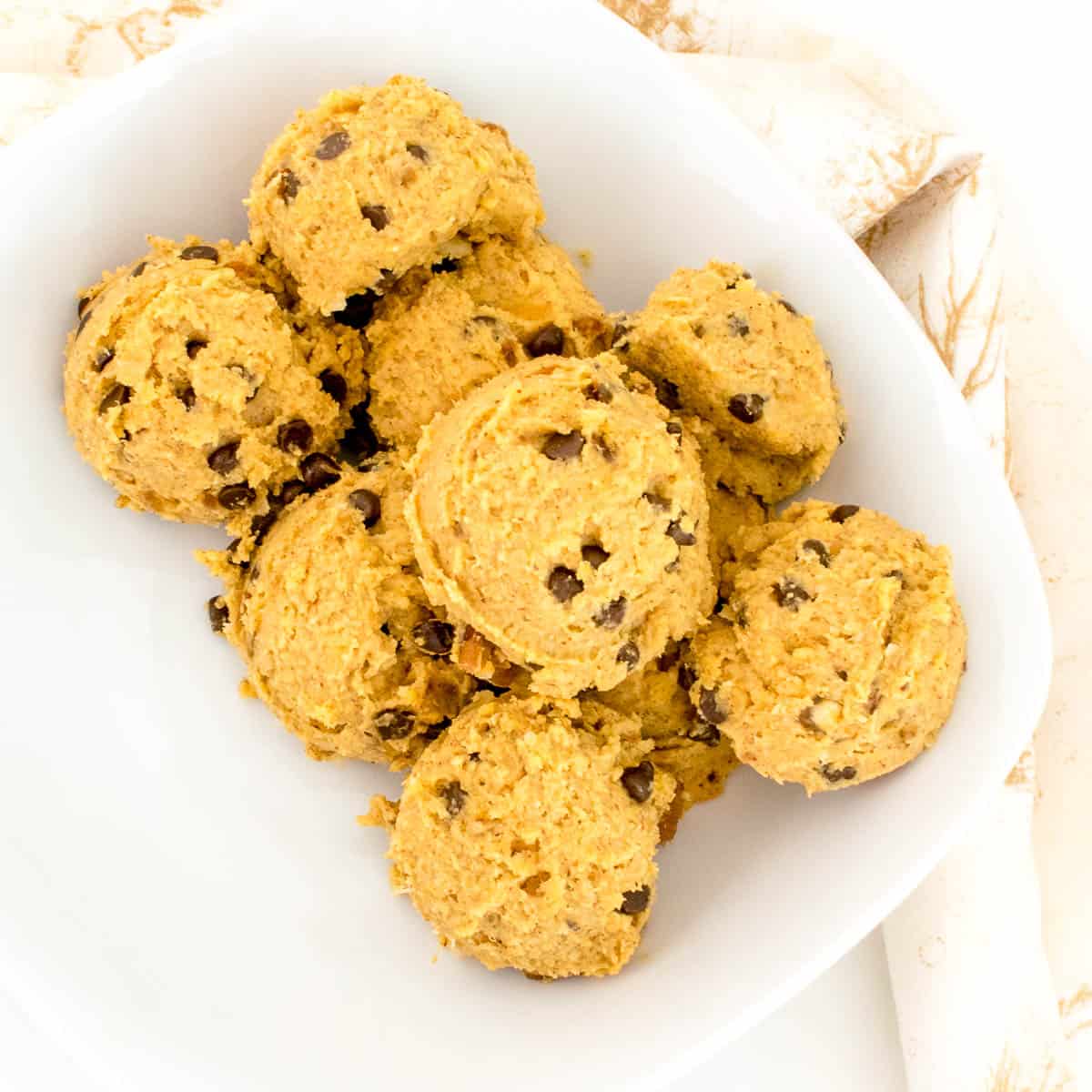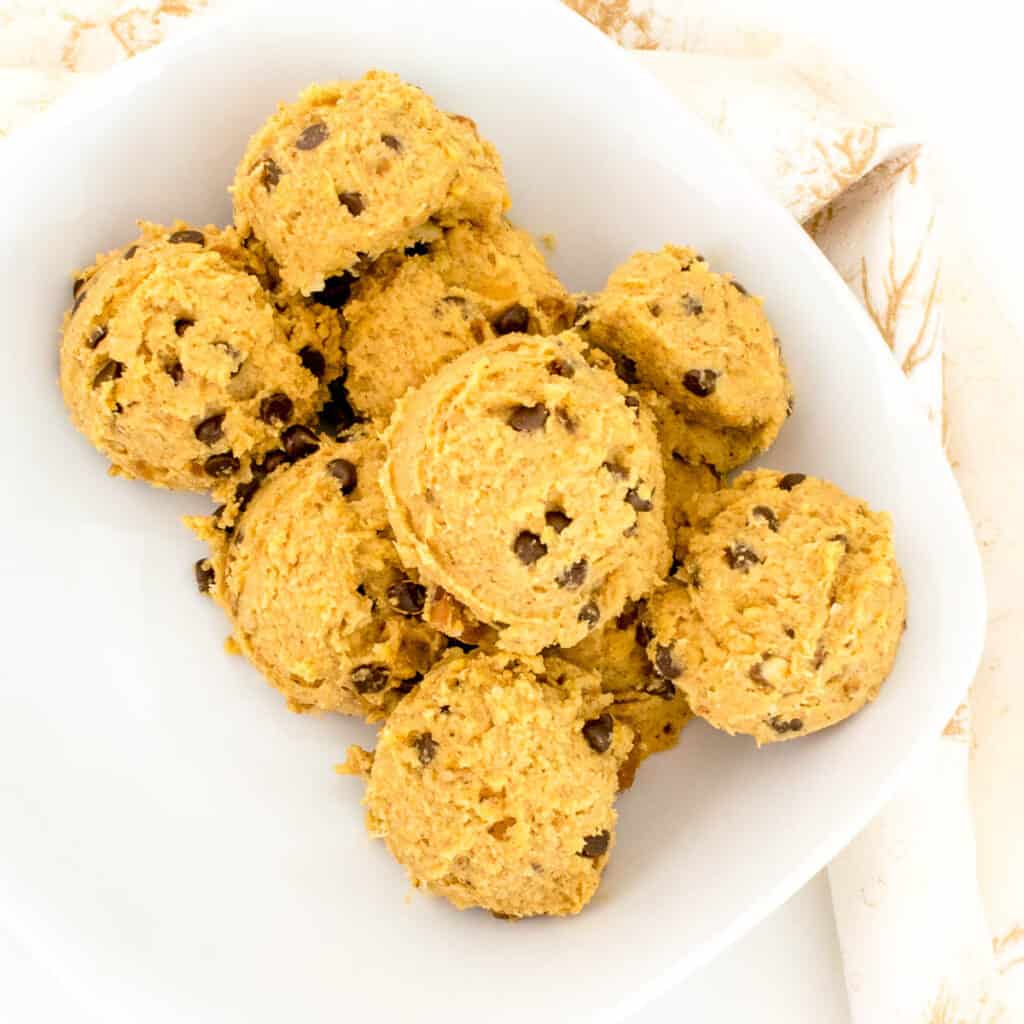 Can you imagine getting all your nutrition from a dessert? I know, it is hard to believe but trust me this cookie dough is the most nutritious and delicious. Every time I make it my family licks every bit of it and it's gone with the blink of an eye.
Health benefits of chickpeas
Its a great vegan protein which promotes weight loss and healthy eating. Its a versatile ingredient and is packed with soluble fiber. Along with boosting mental health, its a great source of calcium, magnesium and promotes bone health. Chickpeas are from legume family but extremely nutritious.
Chickpeas are quite regular in my home and we love it in various ways. However, my quinoa chickpea salad is my family's favorite in savory dish.
I often make chickpea nuggets too for school lunch recipe and its very healthy.
What's a chickpea cookie dough
Firstly, its the best no bake dessert I have ever tasted. Its like a sweet hummus with being a low calorie and guilt free. Its easy to blend and all you need is a blender.
Does this cookie dough taste like raw cookie dough?
Not at all, its very soothing and delicious. I bet once you try it you will be enticed to finish the entire recipe in one go. It is made with cooked chickpeas and is extremely delectable. I promise you won't taset the beans at all.
This healthy chickpea cookie dough is the desirable summer treat and is an answer to all the cravings.
Its sugar free and oil free made with whole foods and natural ingredients.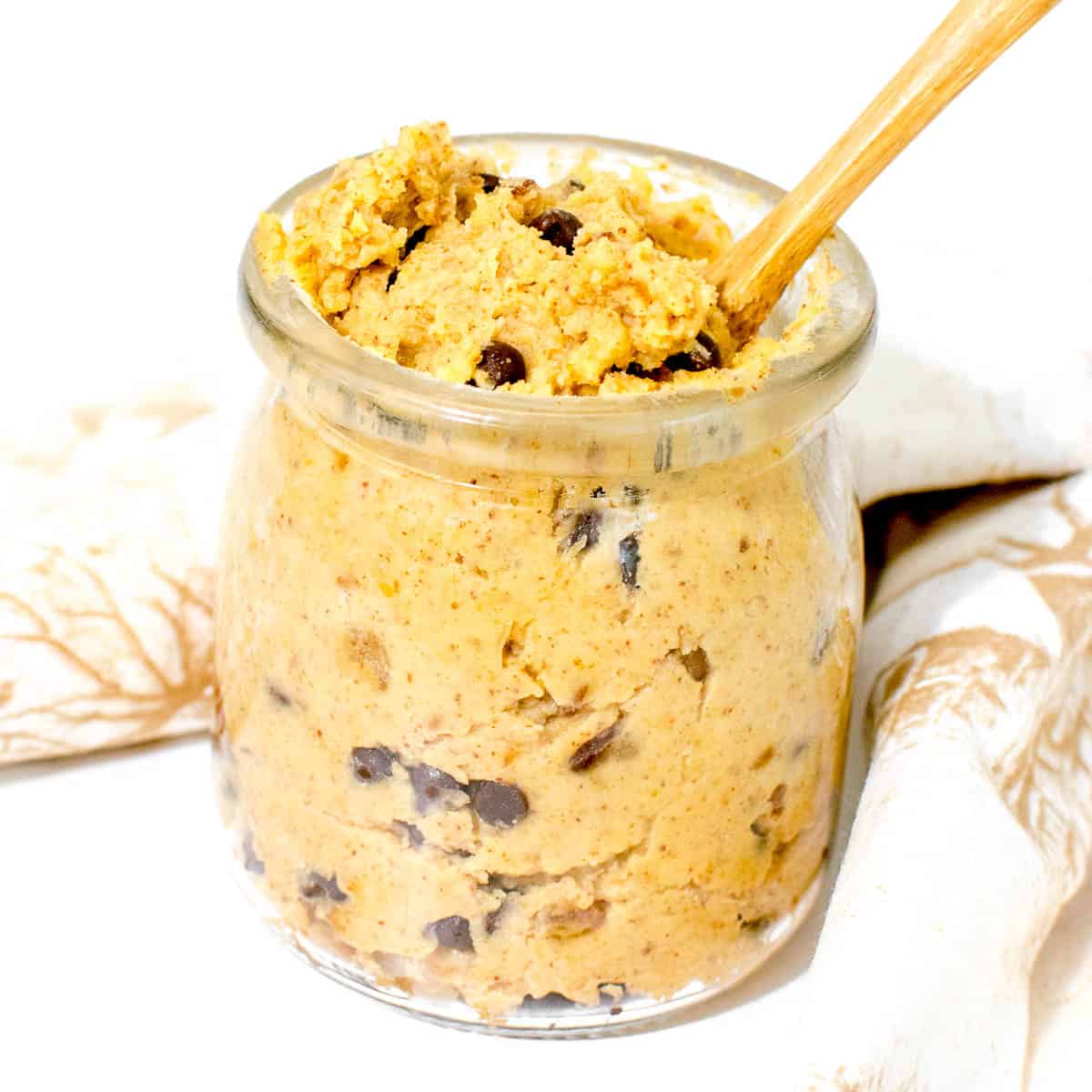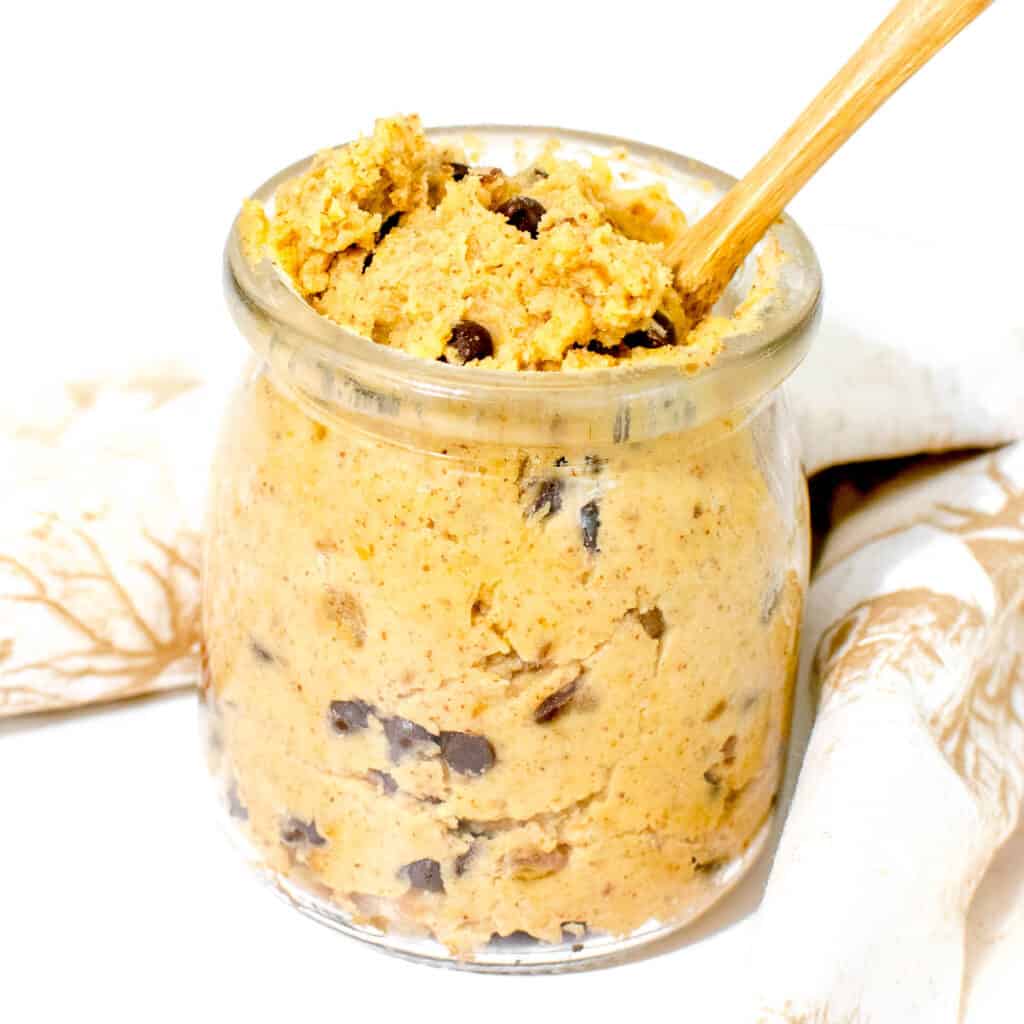 At the same time, it a great Mother's Day recipe too for simply enjoy with fruits.
I love no bake treats because its quick, easy and is often ready within minutes.
My other no bake recipes are:
Tahini Bars
Chocolate Truffle
Chocolate Quinoa Protein Balls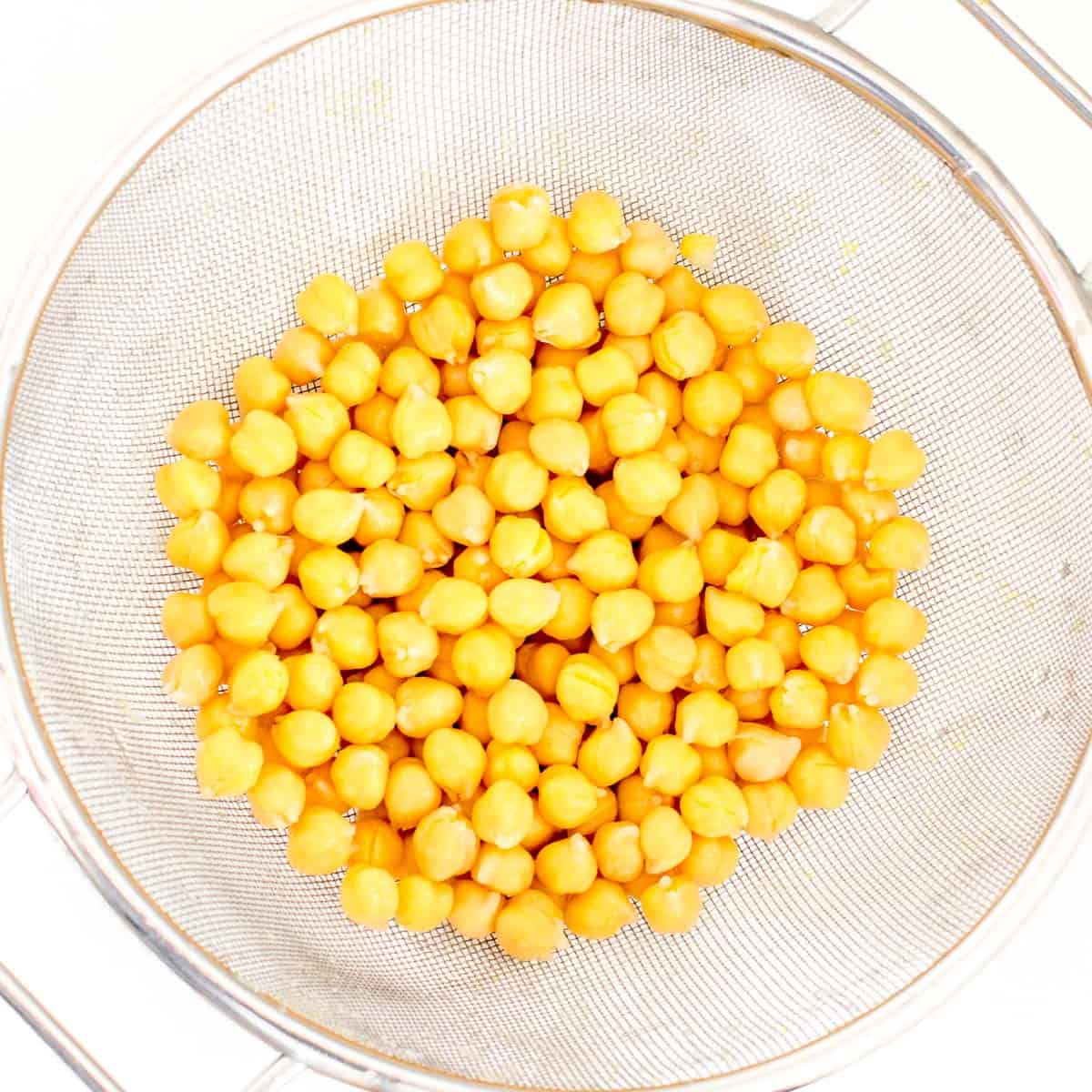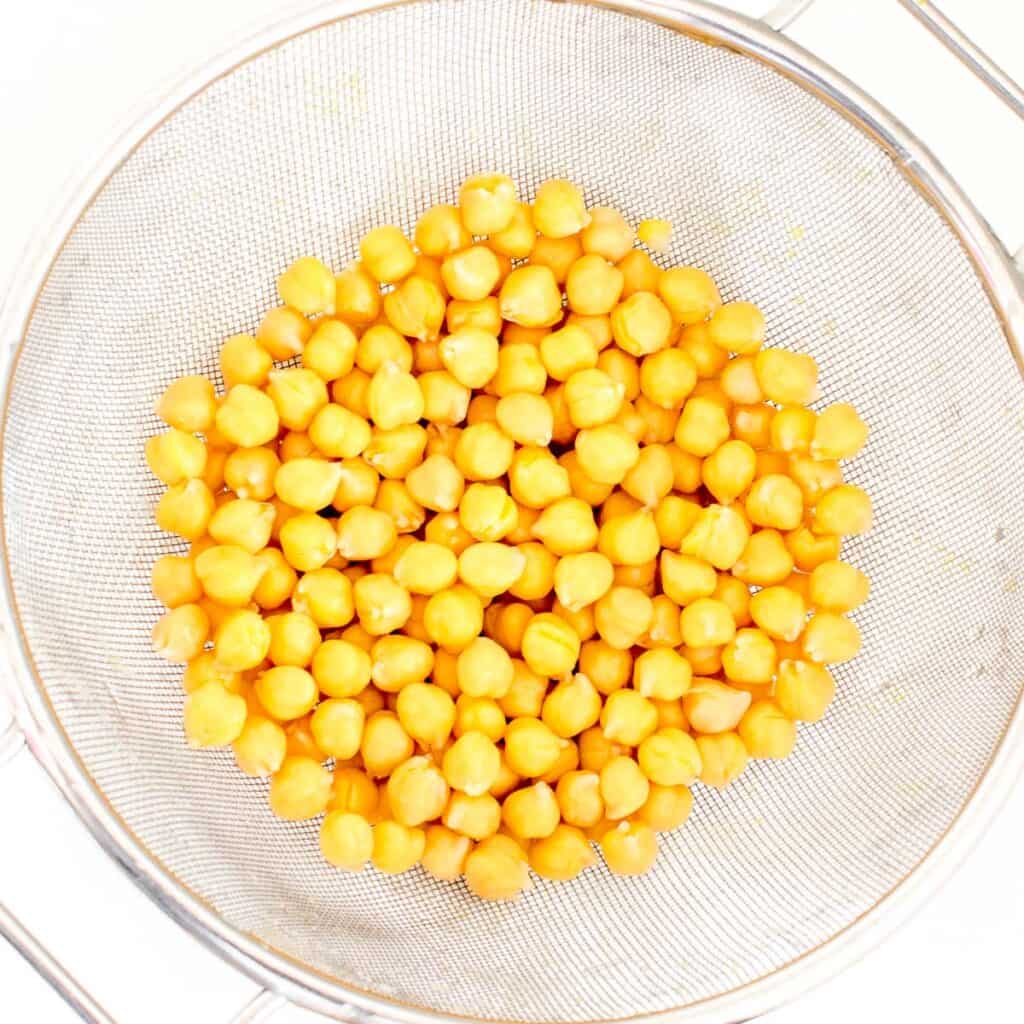 Ingredients for healthy chickpea cookie dough
Chickpeas/garbanzo beans
Dates
Almond butter
Almond flour
Vanilla
Salt
Maple syrup
Chocolate chips
I have used only 8 ingredients to make this garbanzo bean cookie dough dip. These are pantry staples and absolutely easy to find in any store.
Ingredients notes:
Chickpeas – it's a protein rich legume and is super versatile. It is rich in fiber too. This forms a base here in this recipe and brings out a beautiful texture along with the wonderful flavor. I used canned chickpeas here but you use home cooked chickpeas as well.
Dates – it's a natural sweetener with being high in fiber and antioxidants. It adds perfect sweetness to this recipe and helps in making the dough stick to each other as well.
Almond butter – it a great substitute to any oil and butter. Adds healthy fats along with protein to this recipe and makes it creamy as well. You may use any nut butter in this recipe though.
Almond flour – I used it to bind and compliment almond butter. At the same time, it helped me to make this chickpea cookie dough dip flourless and healthier.
Maple syrup – this I used to smoothen out the taste and add a bit of caramelized flavor to it. Maple syrup also facilities better blending of this recipe.
Chocolate chips – I use it to make it family friendly and add extra punch to this recipe.
For detailed measurement of ingredients, please scroll down to the printable recipe card at the bottom of this post.
How to make Chickpea Cookie Dough
Firstly, I combined all the ingredients (except chocolate chips) in the food processor and blended it well until smooth and creamy.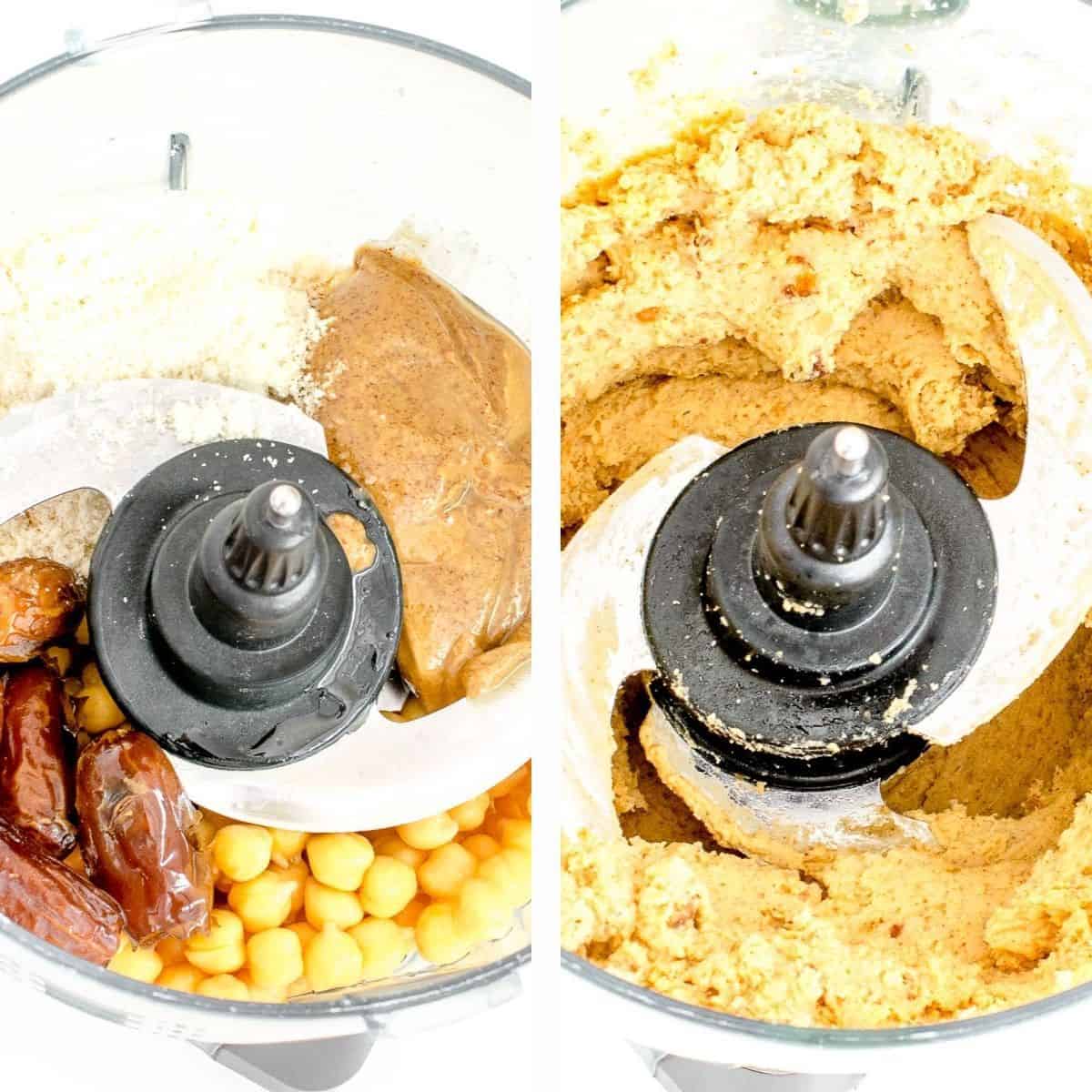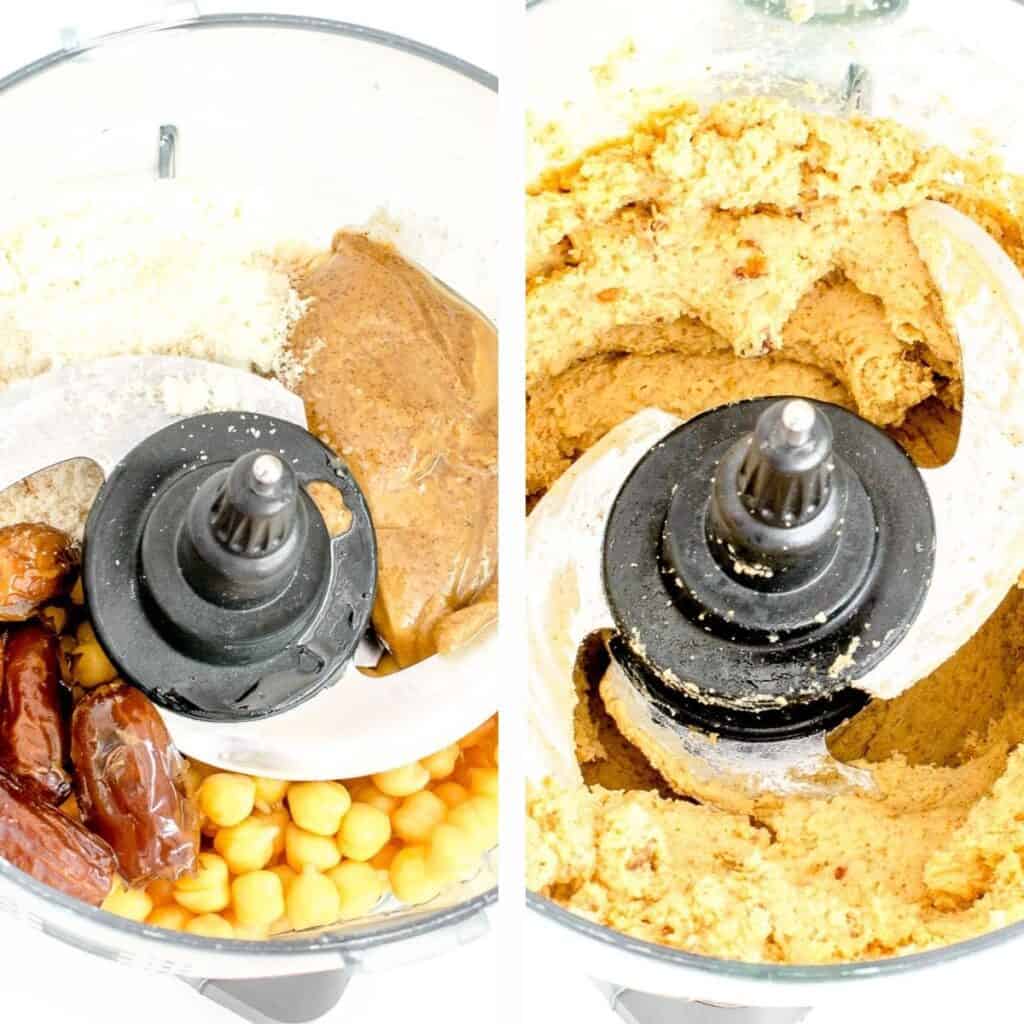 Secondly, I spooned it out in a bowl and folded in chocolate chips to it.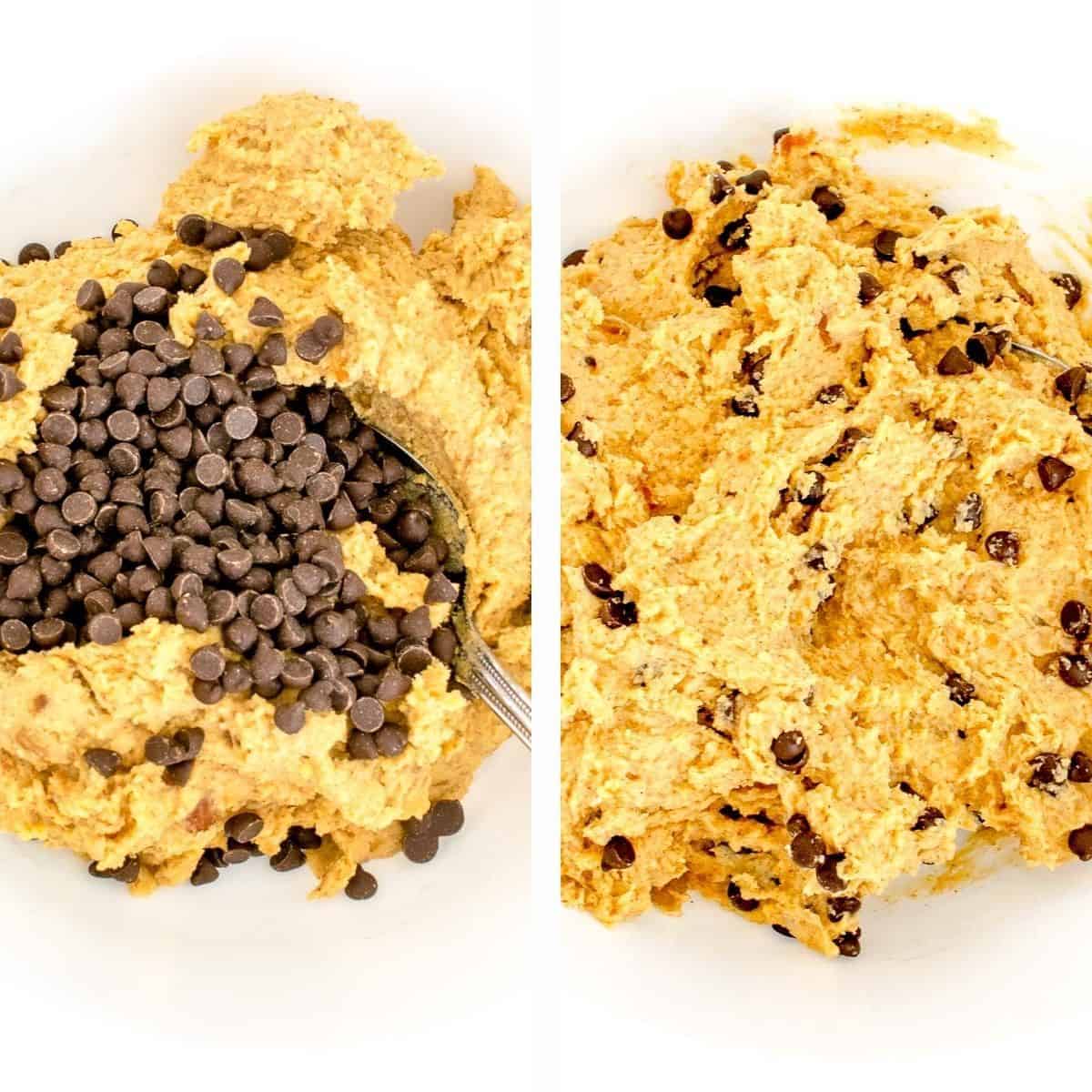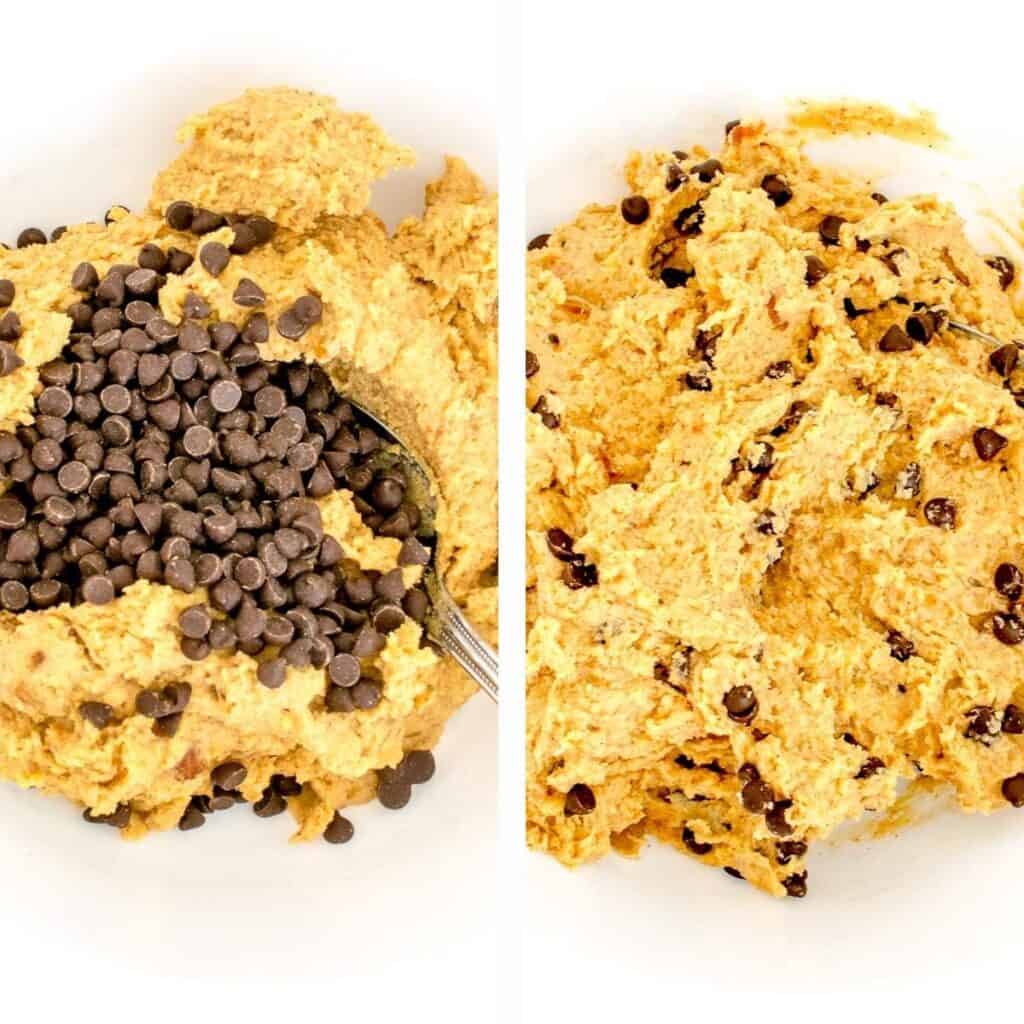 Lastly, I served it immediately with lots of juicy fruits like apples, pears and oranges.
We totally had a fun time with this dessert dip.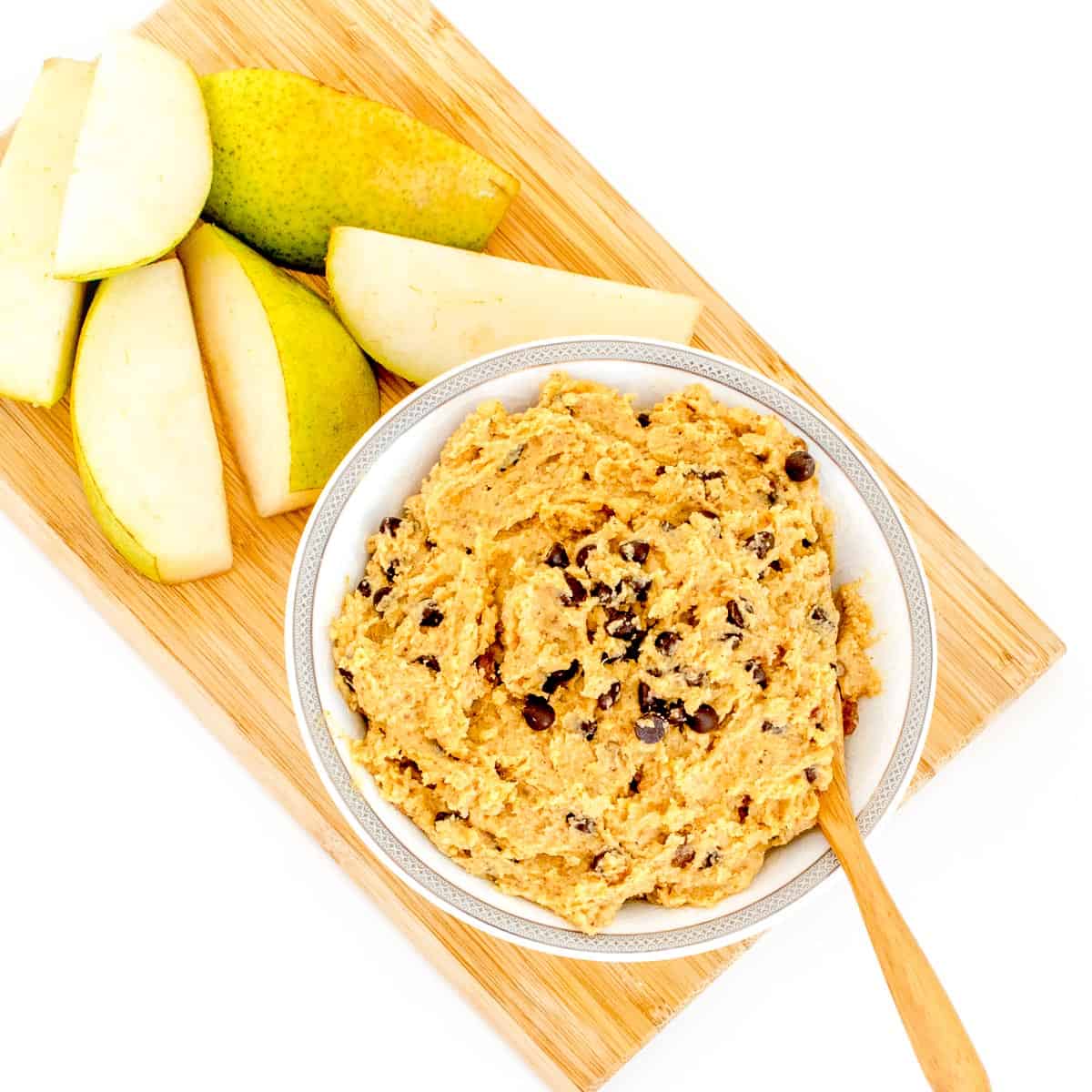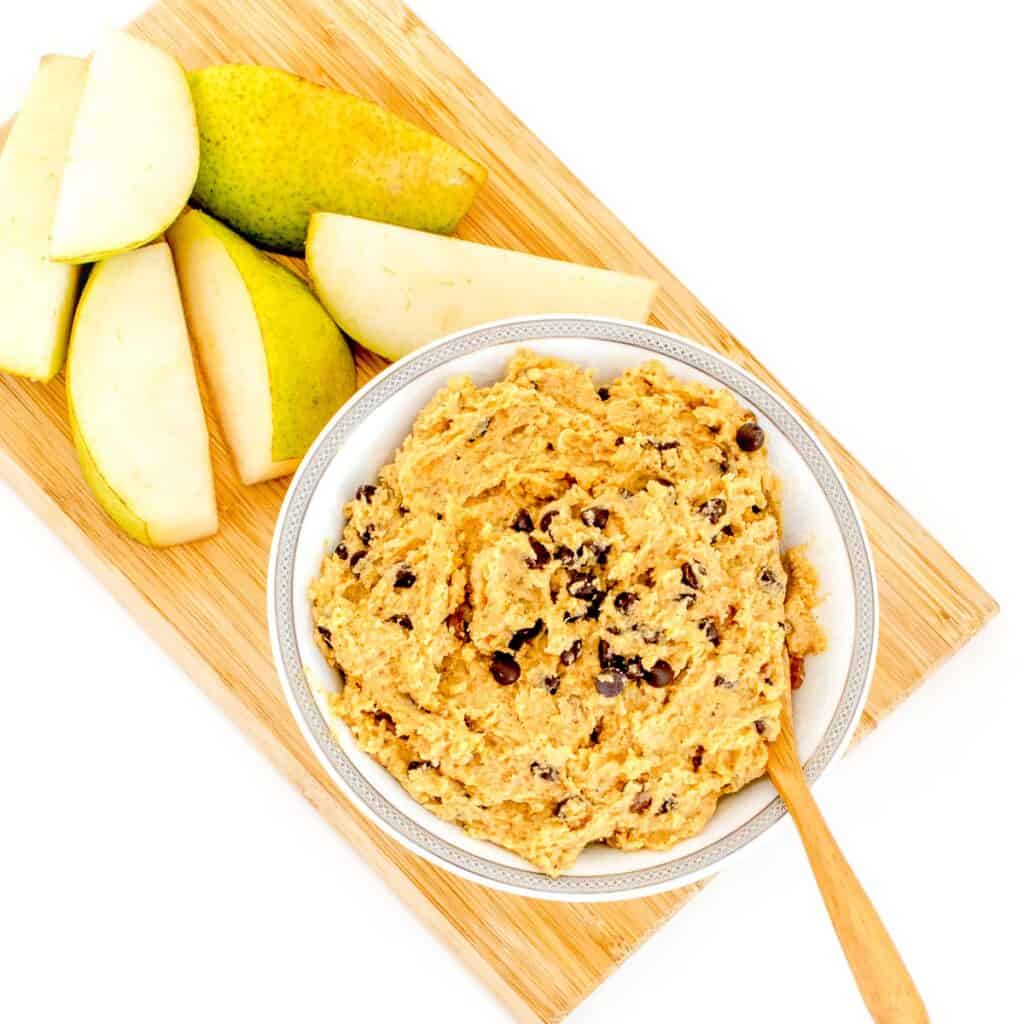 Its on rotation for us now especially on Mother's Day as we are chilling with this satisfying vegan cookie dough.
Moreover, its guilt free and healthier so all the moms out here can simply enjoy without worrying about burning calories the next day.
Can I bake vegan chickpea cookie dough into cookies
Yes, and here is how. Simply fold in 1 tsp baking powder to it and scoop it out with the help of cookie scoop on the prepared cookie sheet and bake them in the middle rack of the oven at 350 degree for 20 minutes. Turn it off and let it stand for 10 minutes in the warm oven and then take it and cool down.
Expert tips:
Make sure to soak the dates in warm water as long as they soften. This helps in easy blending.
It is important to rinse canned chickpeas to avoid any extra taste or flavor. You may preserve aquafaba for some other use.
Chickpea cookie Dough FAQs
How long does this last?
It tastes amazing when served immediately. However, wrap it with a cling wrapper and refrigerate for about 4-5 days.
Are chickpeas carb or protein?
Its a balanced combination of protein and carbohydrate with being high in protein.
Is it healthy?
Yes, this edible cookie dough is healthy because its fiber rich and high in protein. Its base is made with chickpeas and sweetened with dates mainly. I made it oil free and sugar free mostly with whole foods. Therefore, this can be enjoyed frequently.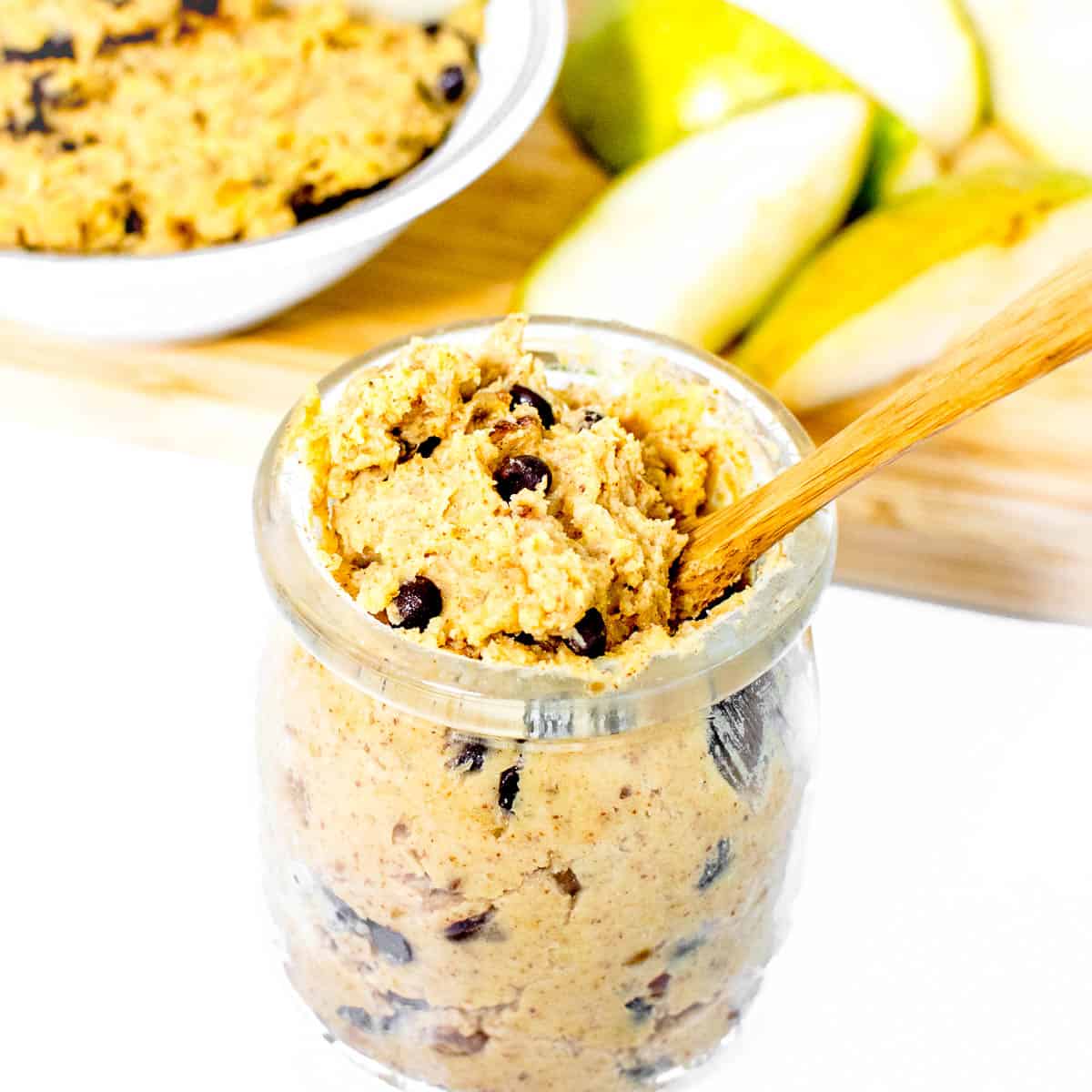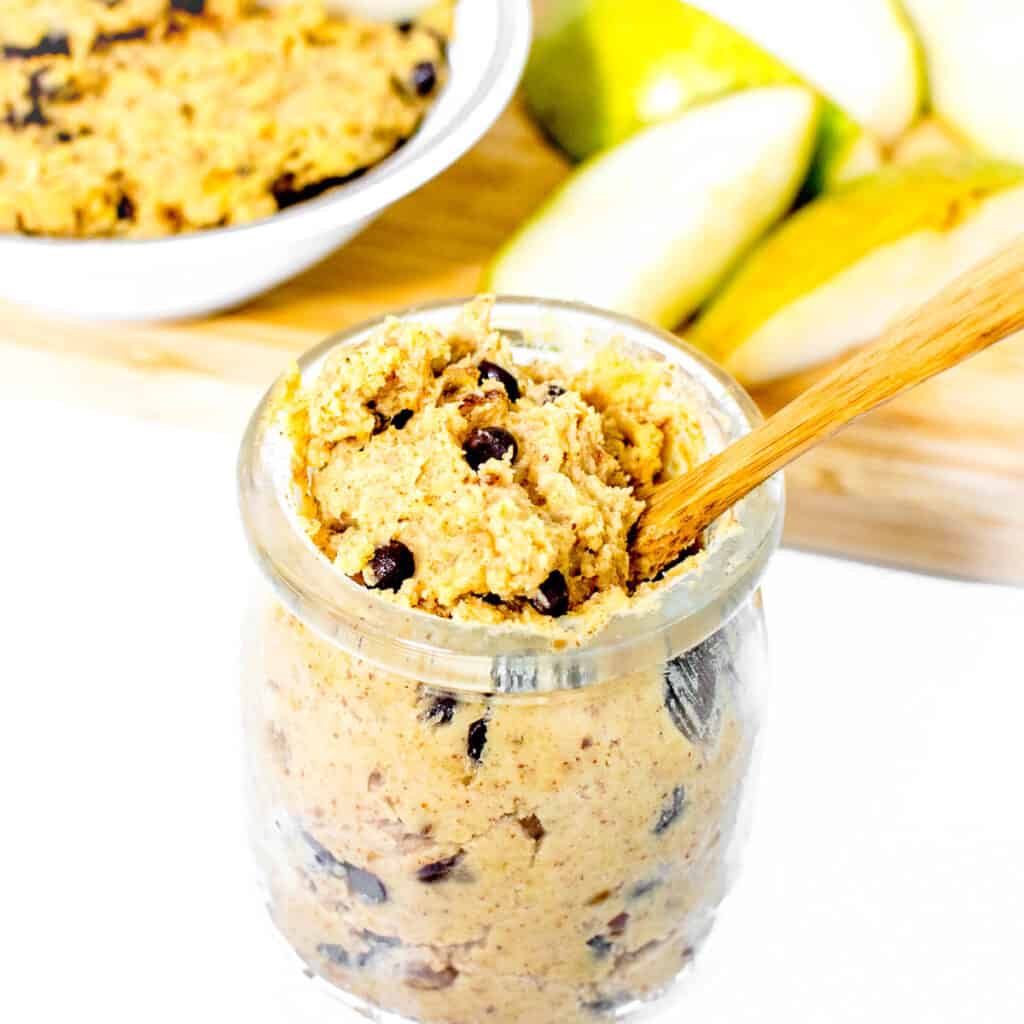 My other healthy cookie recipes are:
Zucchini Chocolate Chip Cookies
Chickpea Cookies
Vegan Lemon Cookies
Banana Bread Cookies
Matcha Cookies
This post may contain affiliate links which means that if you click on them and also make a purchase, I will get a small commission. Moreover, I share only those products which I use personally and love.
I hope you enjoy this recipe as much as we did. I am very excited to hear back from you.
Where to find me?
Follow me on Facebook or on Twitter. You may tag @kiipfit on Instagram with your recipe remake images because I would love to see what you cooked.
Did you make it?
If you get a chance to make this recipe then please leave your feedback in the comments below along with a 5-star rating.
In addition, you may checkout my cookbook for everyday comfort vegan recipes.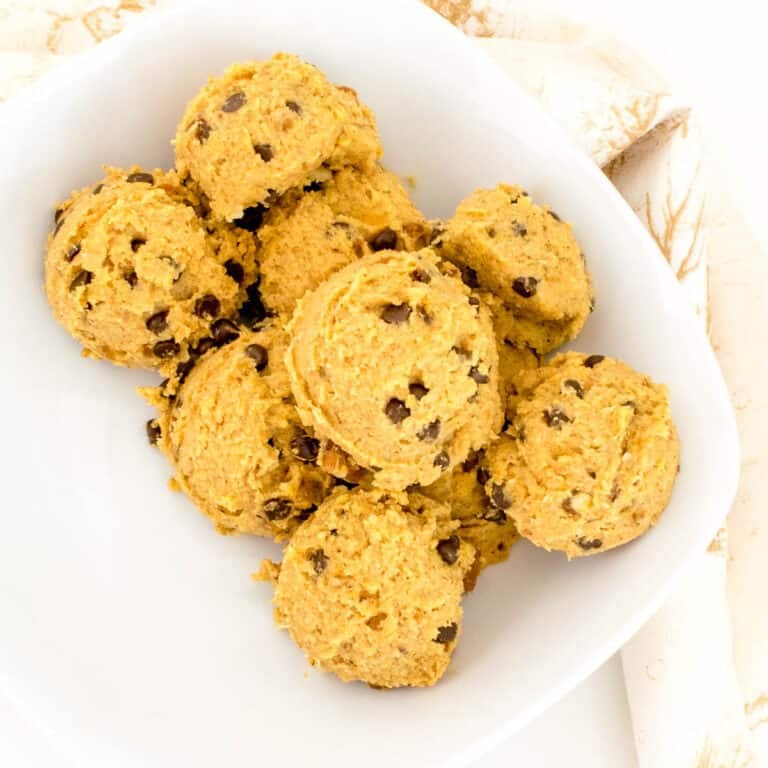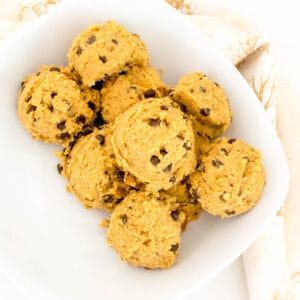 Print Recipe
Chickpea Cookie Dough
This protein rich Chickpea Cookie Dough is a healthy dessert dip which is high in fiber and is vegan along with being gluten free. Its ready within minutes and enjoy it as is or bake them into delicious treat for snacking.
Instructions
In a food processor/grinder combine chickpeas, dates, almond butter, almond flour, vanilla extract, salt and maple syrup. Grind it until smooth and well blended.

Spoon it out in a mixing bowl and fold in chocolate chips.

Enjoy immediately as a dip or wrap it with a cling wrap and refrigerate for about 5 days. Pairs well fruits
Notes
To bake into cookies: Preheat oven at 350-degree Fahrenheit and prepare a cookie sheet with parchment paper. In step 1 of the instruction combine 1 tsp baking powder and blend it. Spoon it out and fold in chocolate chips. With the help of a cookie scoop place the dough on the prepared cookie sheet. Then, grease your palm with oil and take each potion and form into round smooth ball. Then press gently at the center to flatten a bit and place them on the cookie sheet. (do not over press to flatten too much, only gentle shaping in needed). Repeat the shaping process for the rest of the dough and bake them in the middle rack of the oven for 20 minutes. Turn it off and let the cookies sit for another 10 minutes in the warm oven. Take it out and enjoy immediately or let it cool completely. Store the leftovers cookies at room temperature for about 3-4 days in an air tight container.
This recipe makes about 10 cookies when baked or serves 12 if used as a dip.
You can use home cooked chickpeas as well. In that case measure it to about 1 ½ cups after boiling and draining.
Nutrition
Calories:
127
kcal
|
Carbohydrates:
17
g
|
Protein:
4
g
|
Fat:
6
g
|
Saturated Fat:
2
g
|
Sodium:
49
mg
|
Potassium:
25
mg
|
Fiber:
1
g
|
Sugar:
5
g
|
Vitamin A:
1
IU
|
Calcium:
26
mg
|
Iron:
1
mg