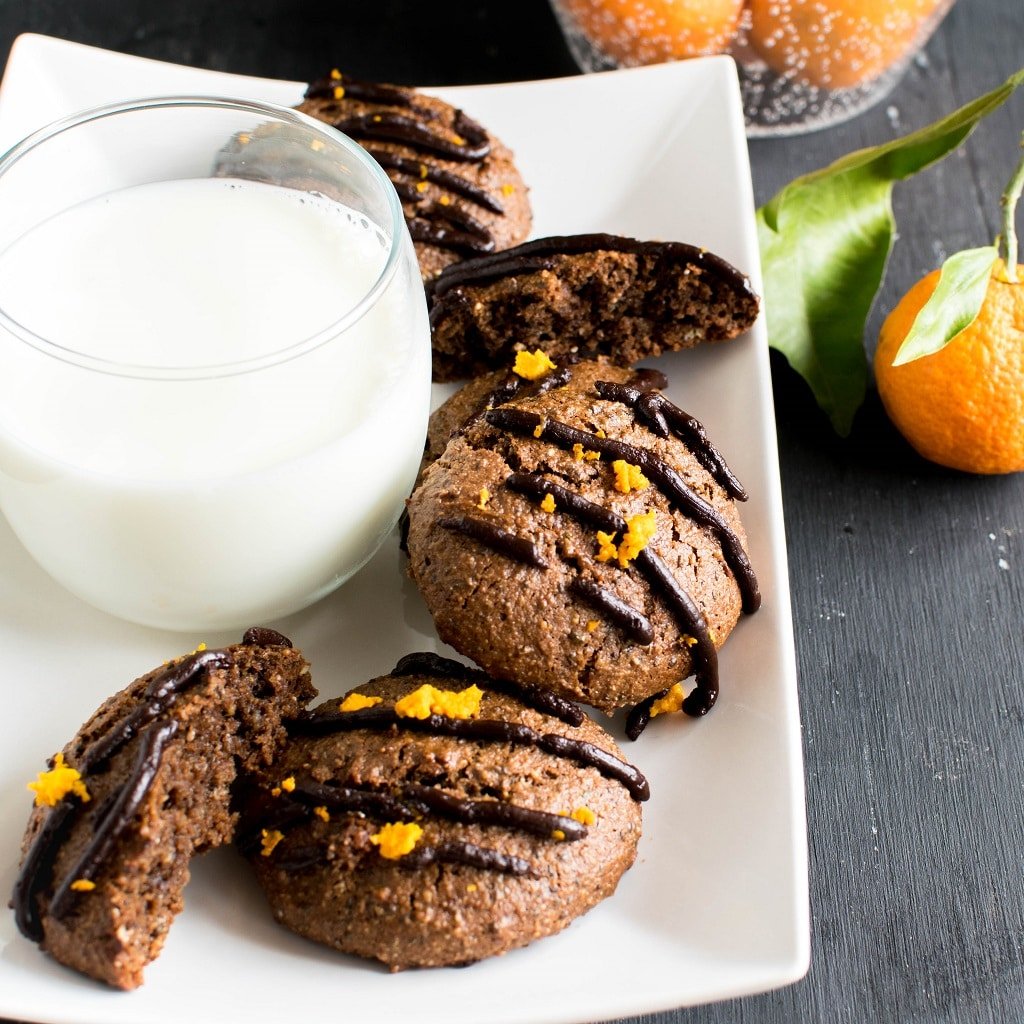 Chocolate Orange Ganache Protein Cookies are firm from the outside and melts in mouth flawlessly. They are baked to perfection for a crunchy and chewy texture. The fresh ingredients and homemade protein powder makes these cookies absolutely desirable. These are perfect breakfast or pre workout snack cookies. However, cookies are cookies and I believe in enjoying them for a dessert as well…..because…I love guilt free desserts.
Chocolate Orange Ganache Protein Cookies are made with real flavors and are naturally sweetened. That means these cookies do not have any hidden processed or refined sugar. I guarantee you will love them in your first bite. Also, if you are a fan of fresh orange flavor then you definitely gotta bake these immediately!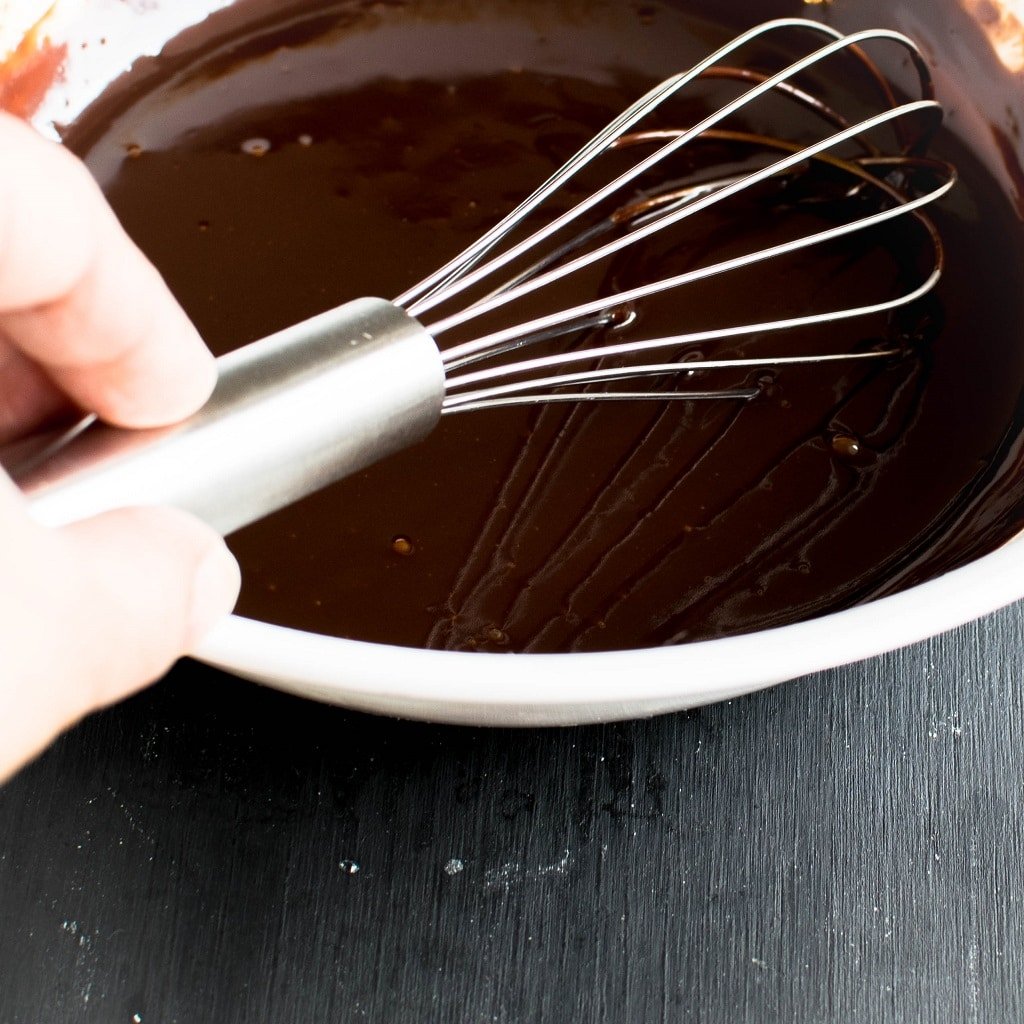 Well, just because its ganache doesn't mean it has any exotic ingredients or is extremely time consuming. These cookies are quick and easy to bake. I packed these cookies with delicious dark chocolate along with fresh orange zest to give it a natural fragrance. I used hemp seeds and chia seeds to load these cookies with protein and banana to sweeten these.
These cookies are healthy and nutritious yet satisfying. One cookie fills up well for a breakfast when paired with warm beverage. It's a great snack for odd hours. It's my favorite dessert to satisfy my ever ready sweet tooth.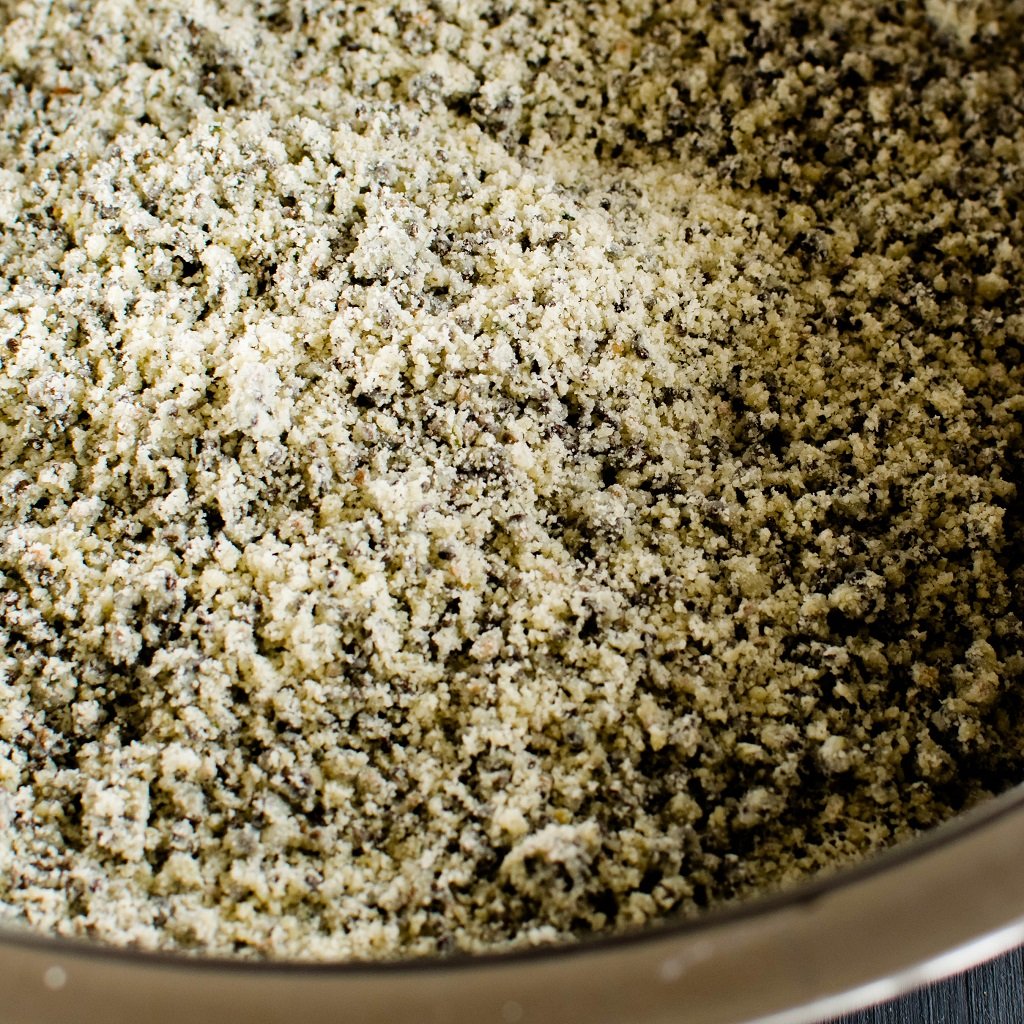 Overall these are protein packed delectable cookies with 9g of fiber and 12g of protein. These paleo friendly cookies are suitable for most of the diets because of minimum sugar content that is mostly in a natural form.
I drizzled some extra chocolate orange ganache over these cookies because of my love for it. However you may drizzle just the melted dark/vegan chocolate over these cookies or simple enjoy these plain. In all forms these cookies are simply mind blowing and scrumptious. Moreover, these fulfil the requirement of protein in natural way and we do not have to spend too much on processed protein powder as well.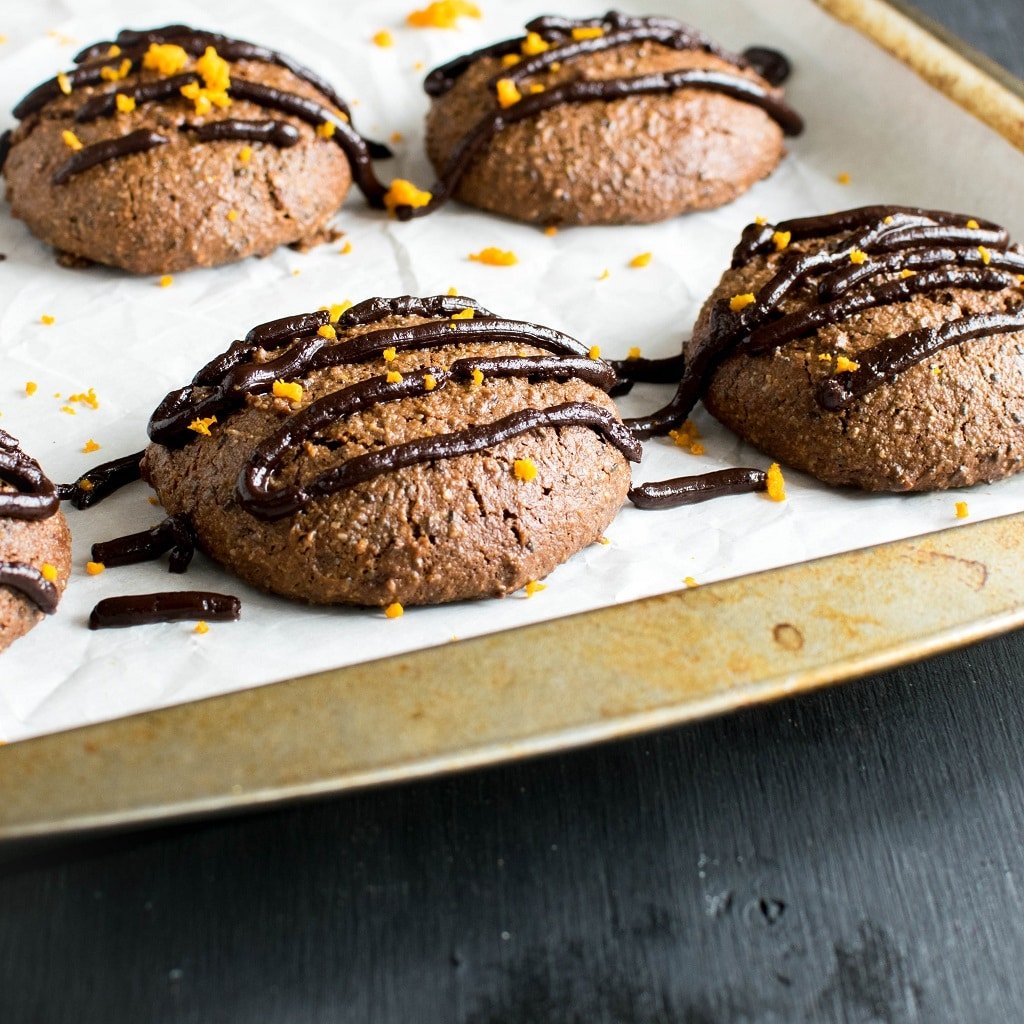 Chocolate Orange Ganache Protein Cookies are one of my most favorite creations. My friends already love these cookies and I have made couple of batches for them. So, if you are looking to fill yourself up with protein yet real stuff along with ultimate deliciousness then these cookies are absolutely your right choice.
If you get a chance to bake these beauties then I would love to hear back from you ….. because…. I love reading your comments always!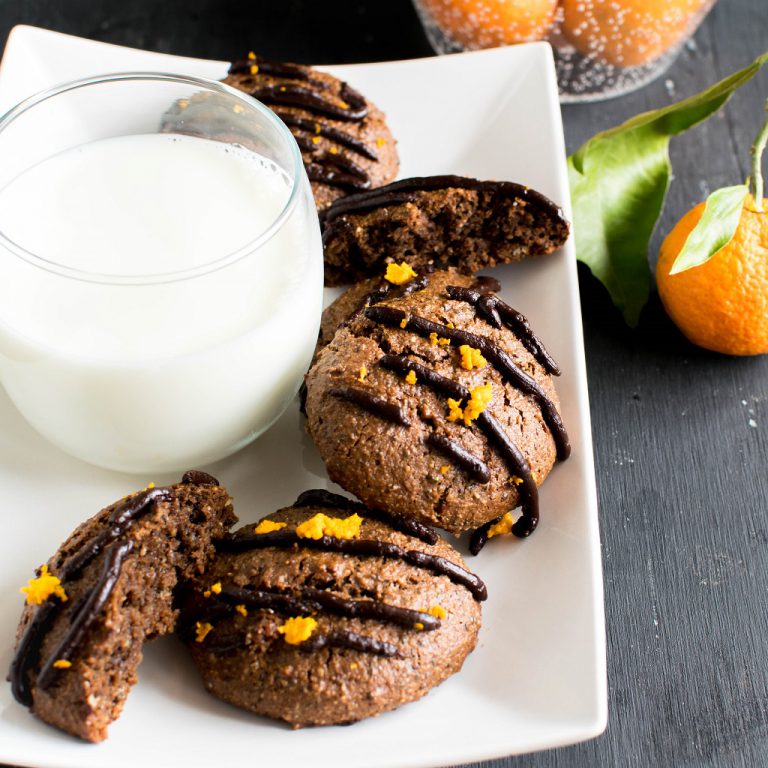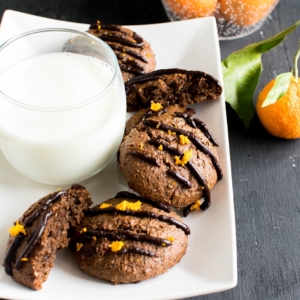 Print Recipe
Chocolate Orange Ganache Protein Cookies
Chocolate Orange Ganache Protein Cookies are firm from the outside and melts in mouth flawlessly. These are baked to perfection for a crunchy and chewy texture. It's perfect for breakfast/pre - workout snack.
Ingredients
For chocolate orange ganache
1/2

cup

vegan chocolate chips

1/4

cup

unsweetened coconut milk

(tetra pack)

1

tsp

coconut/olive oil

1/2

tsp

fresh orange zest

1/2

tsp

pure orange extract
For the cookies
1

cup

hemp seeds

1/2

cup

chia seeds

1

cup

almond flour

1

tsp

baking powder

1/4

tsp

salt

1

medium

banana

mashed

1

tbsp

pure maple syrup
Instructions
In your microwavable bowl combine the entire ganache ingredients and microwave it for 1 minute.

Then take out the bowl and whisk it nicely until fluffy. Later let it sit so it thickens slightly.

In the meanwhile, preheat the oven at 350 degree Fahrenheit and prepare a cookie sheet by placing a parchment paper on it.

Then in your food processor combine hemp seeds and chia seeds. Grind them into powdered form. (Do not make dough out of these).

In a large mixing bowl combine almond flour and powdered seeds. Then mix well with hands rubbing them at intervals so that there are no lumps. Make sure the flour is well combined without lumps and is dry. Now, add baking powder and salt. Mix it with a spoon extremely well.

Now add whisked ganache, mashed banana and maple syrup.

Thereafter, whip it nicely with a spatula. Now, with the help of a cookie scoop place the cookies on the cookie sheet. (Do not flatten them ) The cookies will take their own shape while baking.

Place the cookie sheet in the middle rack of the oven and bake it for 30 minutes.

Lastly, take out the cookie sheet and let the cookies cool in the cookie sheet itself. The cookies must cool down completely or else will stick to the parchment paper. Also once the cookies are cooled the outside will become crispy and inside with be soft and chewy.
Notes
These cookies tastes crispy from the outside and soft melt in mouth from inside if enjoyed the same day.
Store these cookies in an air tight glass jar for up to a week. However, these cookie may soften a bit but will retain its firmness and crunchy texture.
If you like a strong flavor of chocolate orange ganache then feel free to whip up extra ganache and drizzle generously over the cookies. Then, let the cookies sit for a while until ganache thickens. Or else you may enjoy them as plain or drizzle melted vegan chocolate. 
Nutrition
Calories:
204
kcal
|
Carbohydrates:
14
g
|
Protein:
12
g
|
Fat:
18
g
|
Saturated Fat:
3
g
|
Sodium:
50
mg
|
Potassium:
123
mg
|
Fiber:
4
g
|
Sugar:
6
g
|
Vitamin A:
95
IU
|
Vitamin C:
1.1
mg
|
Calcium:
117
mg
|
Iron:
3.9
mg