This Vegan Collard Greens is so delicious that you will want to eat the whole pot. Its simmered to perfection in the broth and flavored with sun dried tomatoes. It has no added oil and is made in instant pot with a stove top option too.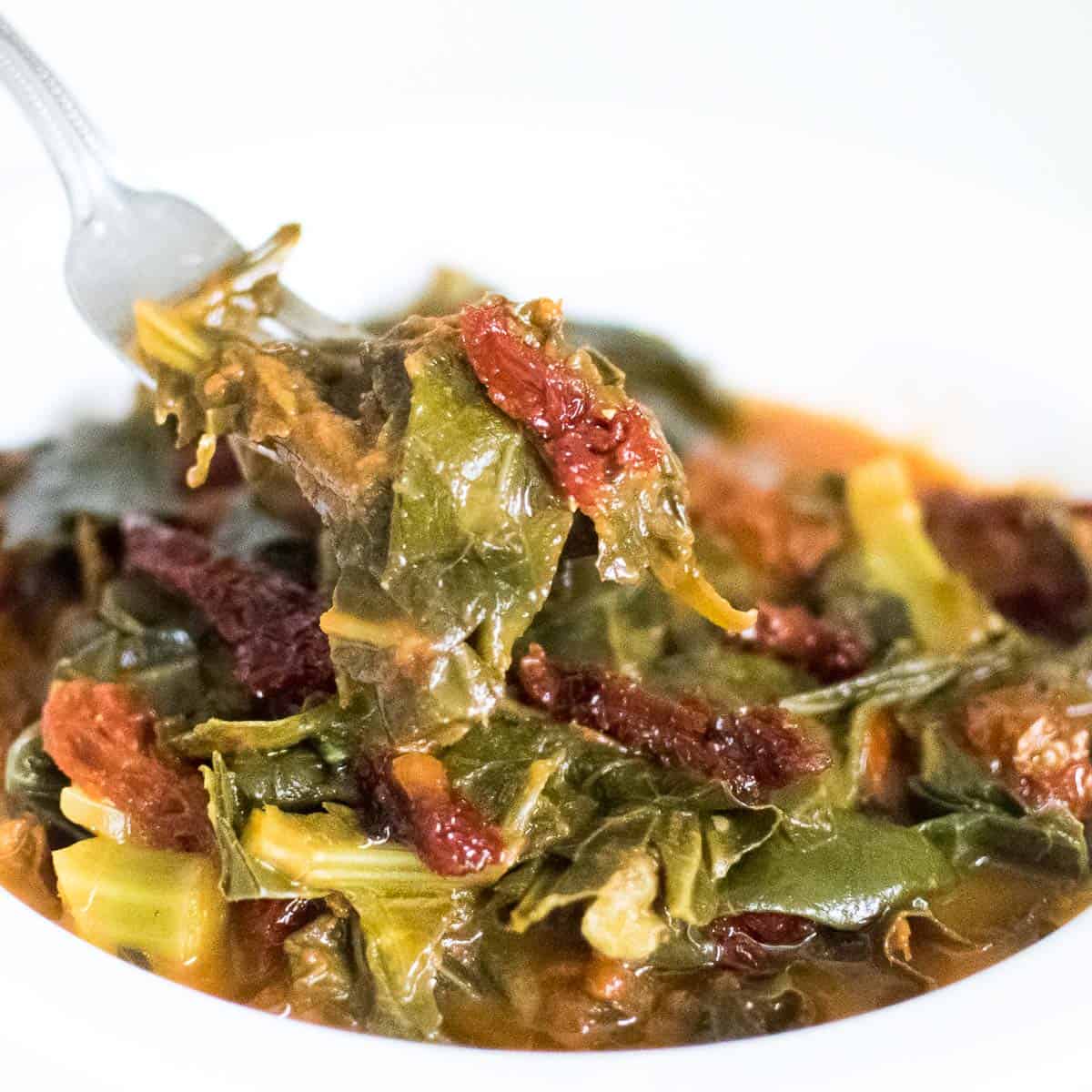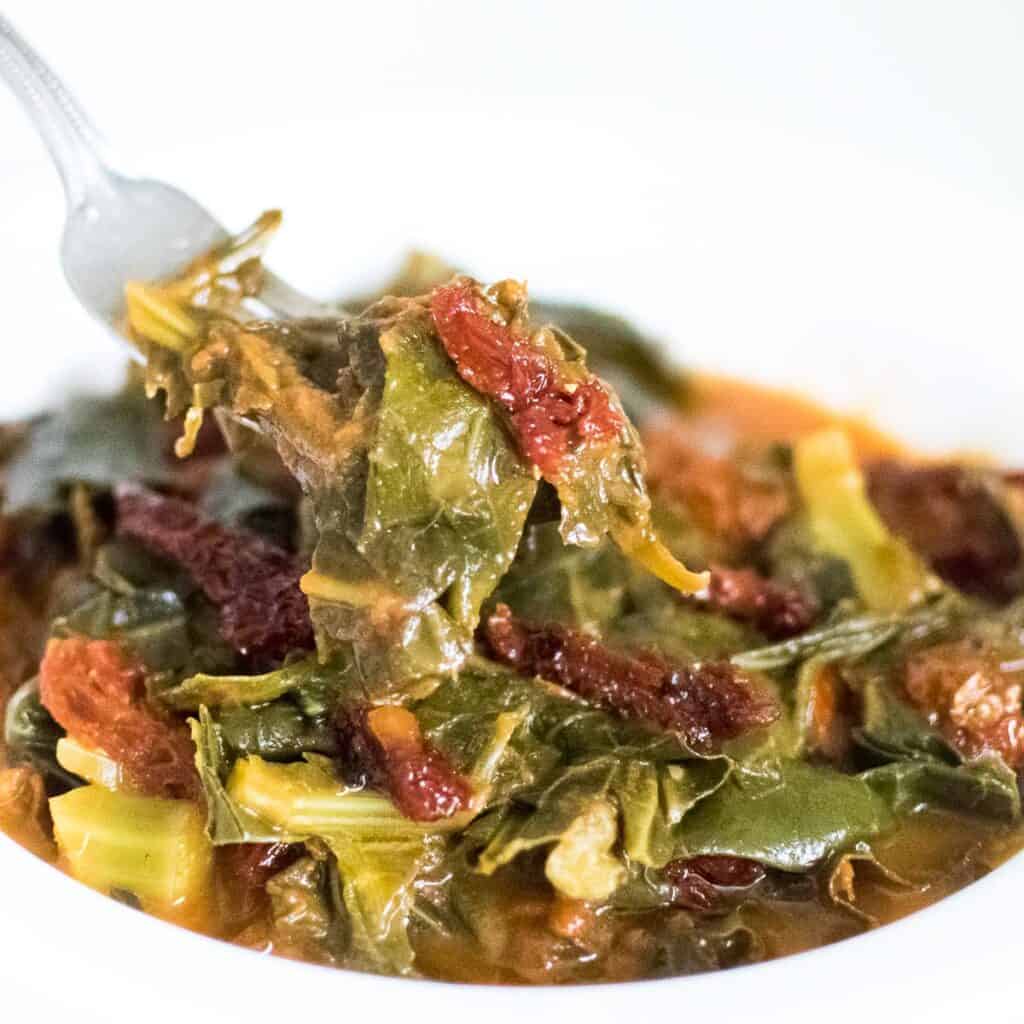 When I tired collard greens for the first time, I was amazed at this healthy veggie. I was surprised that this green veggie could taste so good and yet so nutritious.
Moreover, I was excited with the fact that I could add more variations to it and make it a fun side dish.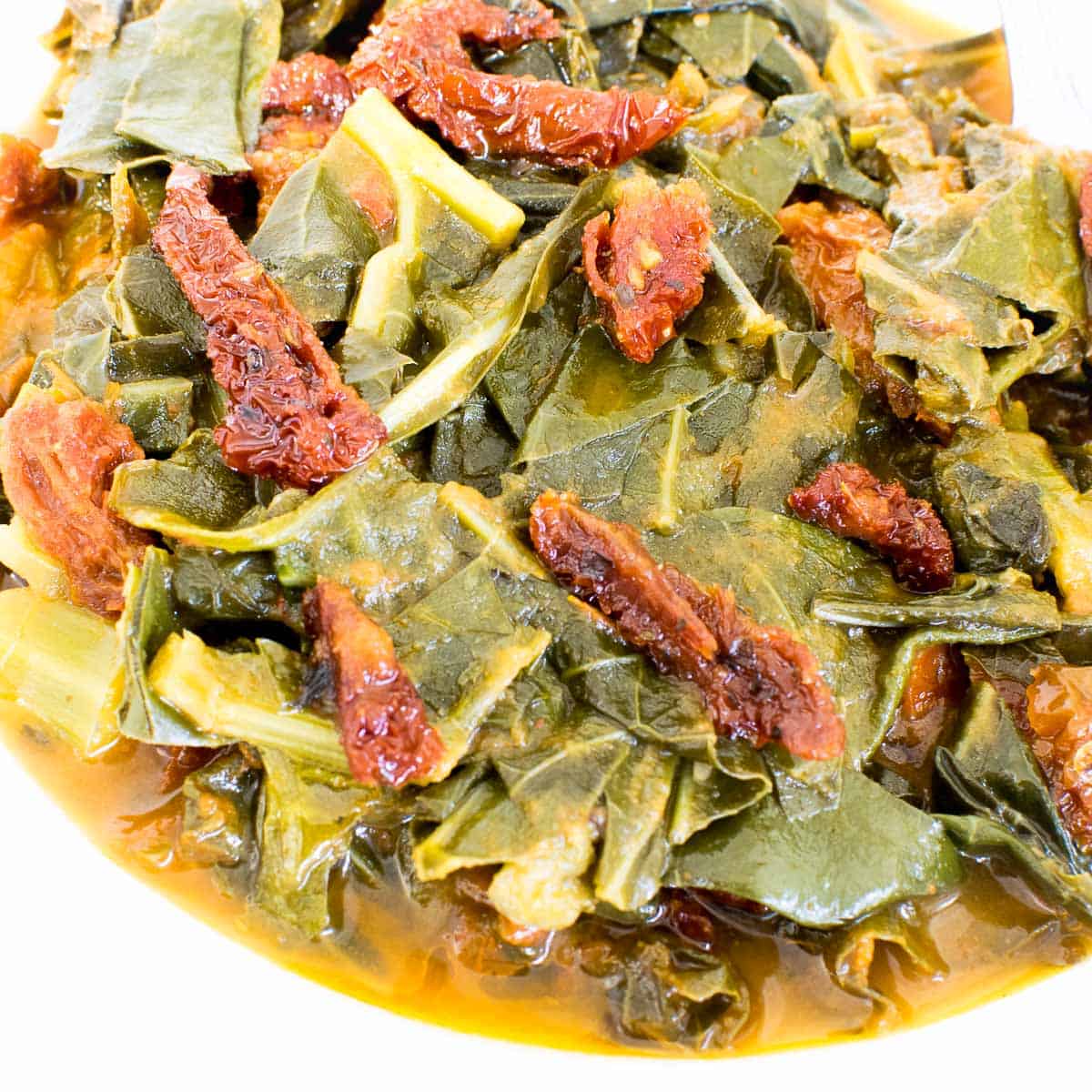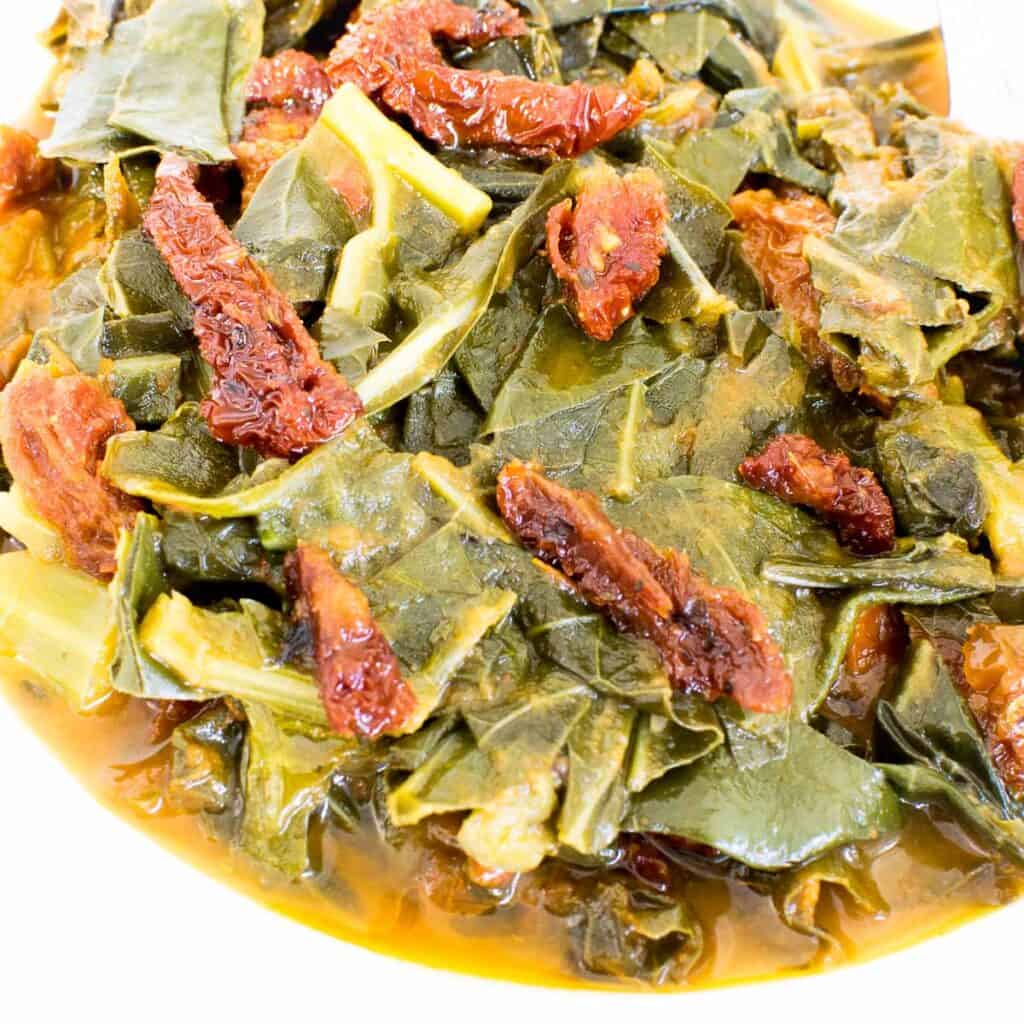 In fact, my toddler enjoyed eating it with me as well. So, here I am to share this awesome vegan collard greens recipe with you.
Ingredients you will need:
Collard greens
Vegetable broth
Garlic powder
Onion powder
Paprika
Sun dried tomatoes
Crushed tomatoes
Salt
Sugar
I have used these easily available ingredients in this recipe which you may buy from any local store. However, I have provided links to few of them here for your convenience.
If you plan to buy from these affiliate link then I get a small commission which in turn encourages me to bring in more delicious recipes for you all.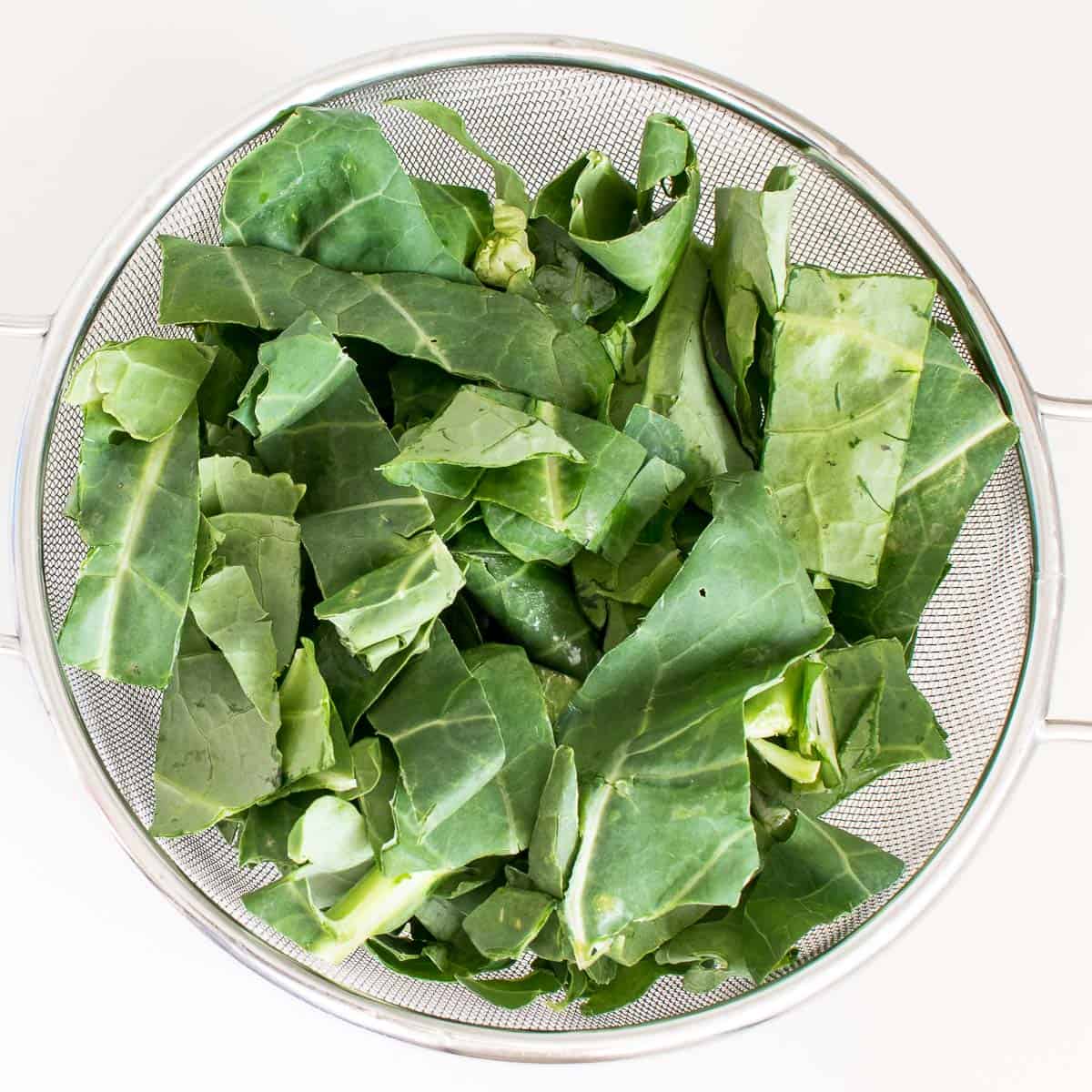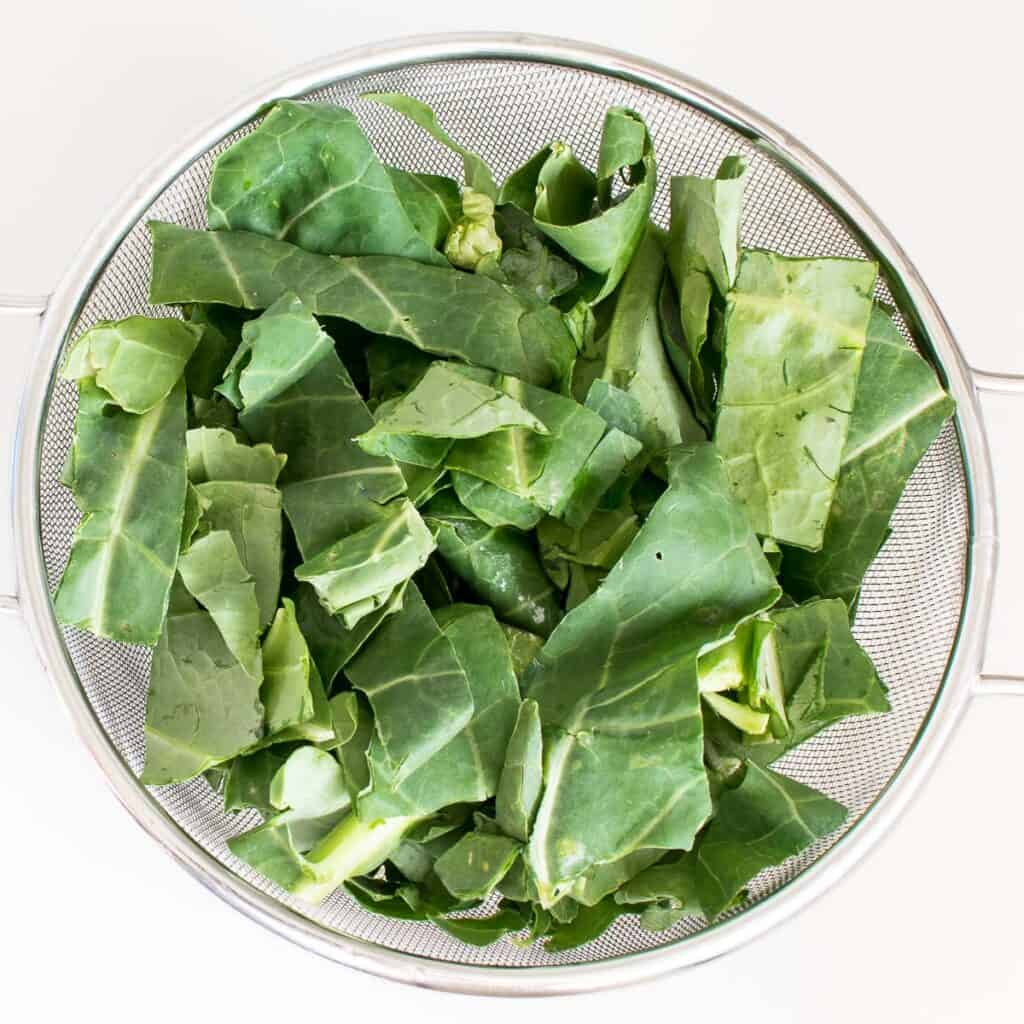 Ingredients notes:
Collard greens – It's a green leafy vegetable from broccoli and cabbage family. It is nutritious and is fiber dense. It adds a nice texture, taste and a bit different tang to this recipe. Moreover, it's a great side dish and the best way to include greens into your diet.
Vegetable broth – I used it to add flavor and nutrition. Since I wanted to make this vegetarian collard greens oil free, I decided to go with vegetable broth to give it a liquid base to cook nicely.
Sun dried tomatoes – I used oil packed sun-dried tomatoes but I drained out all the extra oil so as to keep this recipe within calorie limit.
Canned crushed tomatoes – instead of fresh tomatoes or tomato paste I used crushed tomatoes. It gave a tangy flavor to this recipe and enhanced it sparky taste as well. Of course, we have to stir in bit of sugar to balance out the sour flavors.
Therefore, I have also described a variation of this recipe in the notes below if you want a smoother taste and no tangy flavor to this recipe.
How to make Vegan Collard Greens
Firstly, I combined all the ingredients in the inner pot of the instant pot.
Secondly, I tossed everything once and closed the lid.
Then, I sealed the valve and turned it on at high manual for 5 minutes.
Once done, I released the quick pressure and let the steam out. Then, opened the lid and stirred it nicely.
Since we like it a bit more cooked and on a dryer side and I turned the instant pot again at sauté mode for 15 minutes or until I was satisfied with the consistency and the mushiness of the green veggie.
Lastly, I spooned it out and served.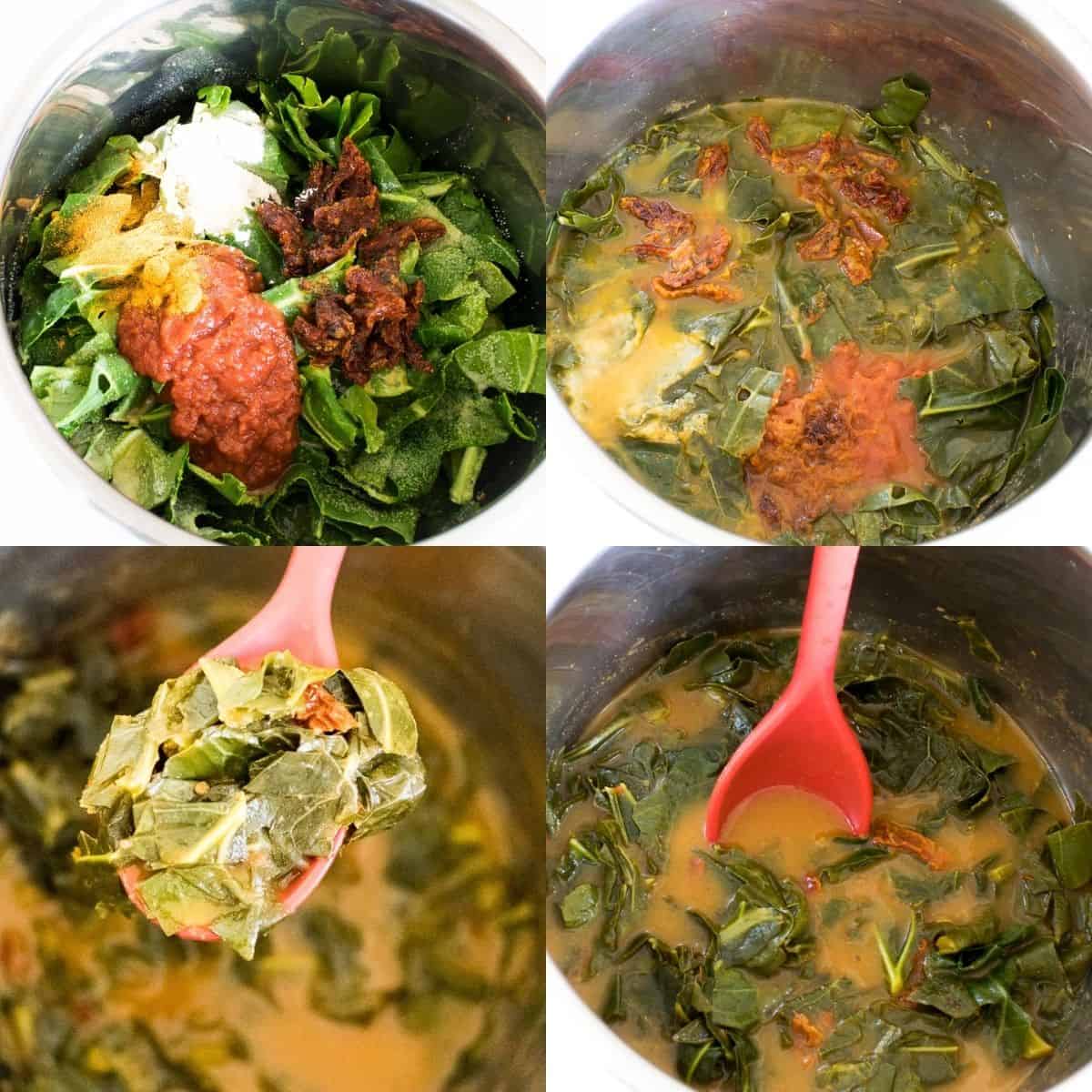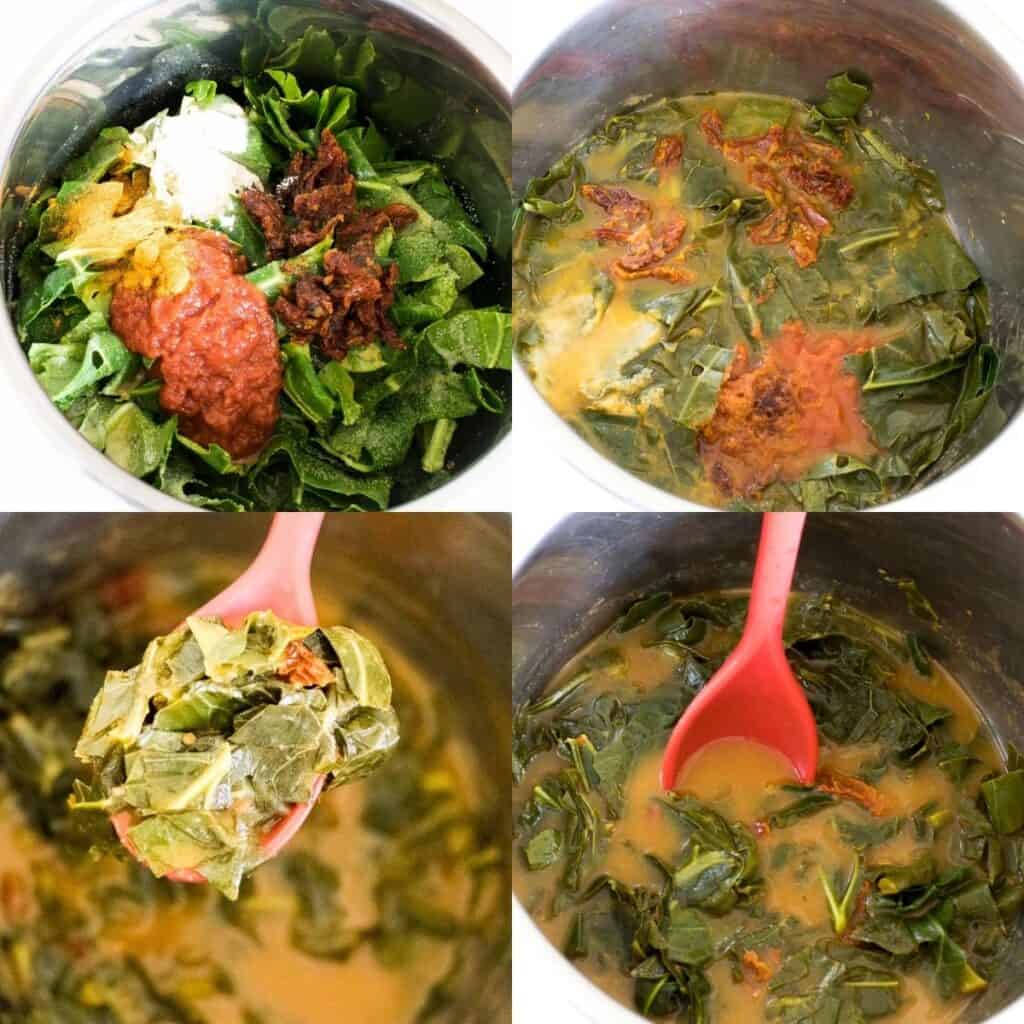 It was definitely a hit. Even though it took me a while to convince the girls to try it but we all ate heartily and enjoyed this collard green recipe.
Since then, this recipe is on my menu at least once a week. I usually serve it with rice and some dal so its easier for my kids to accept the green veggies.
For us, we just eat this delicious side dish with a fork.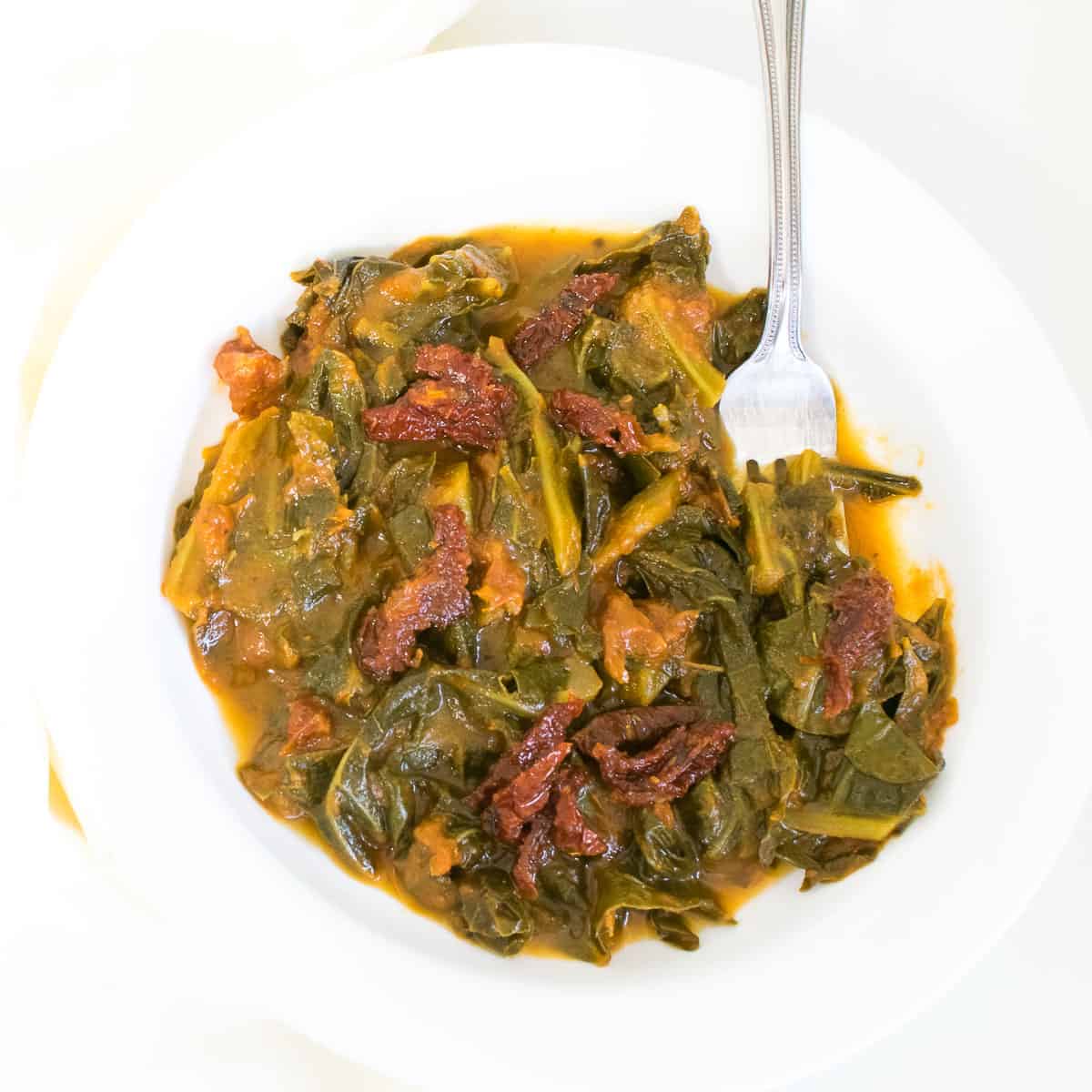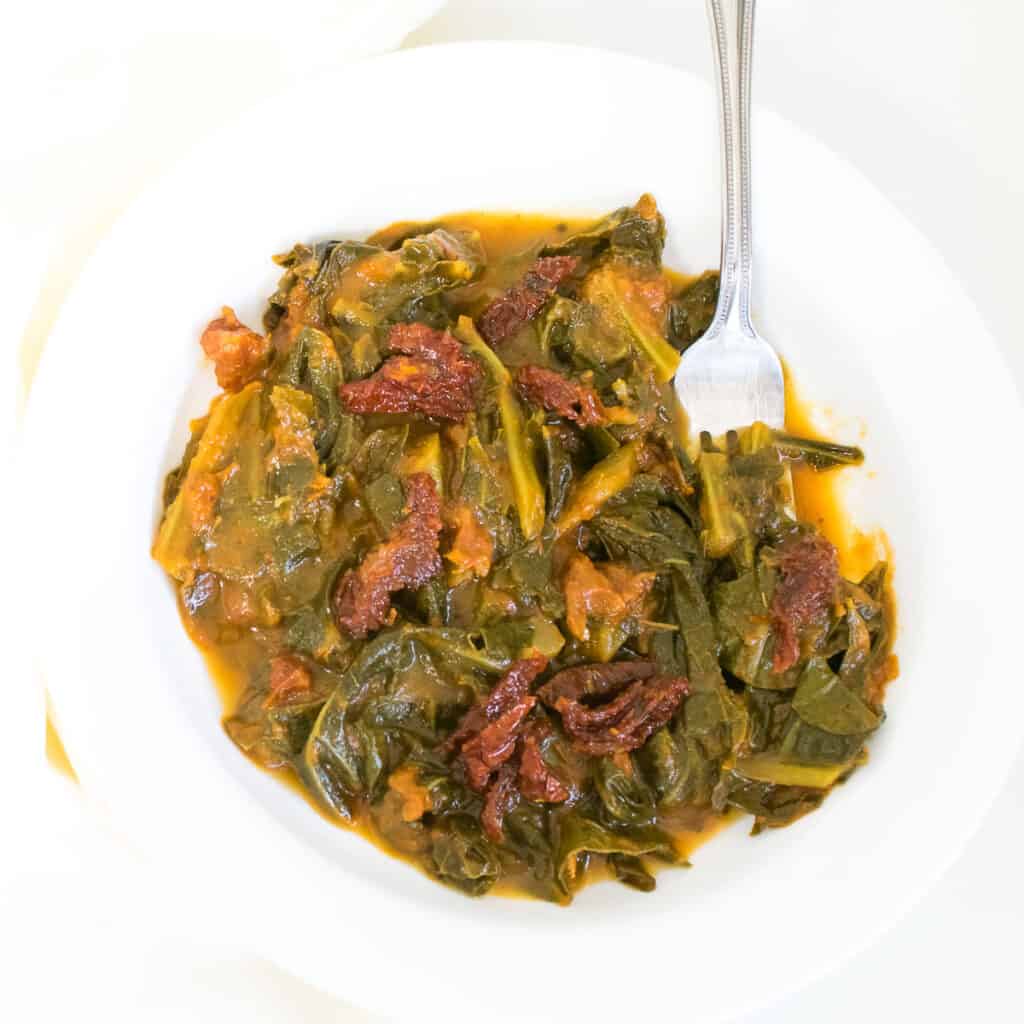 Expert tips:
If you decide to chop this collard greens yourself make sure to rinse each leaf properly. Then chop as per your desired size.
If you plan to use the chopped packaged ready to use greens, then also make sure to rinse properly in a colander. Either way make sure to use fresh collard greens and not frozen for this recipe.
You may adjust the spices and seasoning as per your taste. It's a versatile recipe and you can be creative with it.
Therefore, you must have realized by now that it's the simplest and the easiest vegan greens recipe.
All you have to do to follow the few steps and let your instant pot do the rest.
Vegan Collard Greens FAQs
How long does it last?
It can be made ahead of time and refrigerated in an air tight container for about a week.
Is it healthy?
Yes, absolutely. Collard greens are very nutritious and is great to detoxify. Its low in calories and high in protein. It is a great source of vitamin K and therefore, helps strengthen bones. It helps in digestion and prevents anemia. Its rich in vitamin A and C which in turn supports hair growth. The other ingredients in this recipe supports and complements the flavors to make it tasty and enjoyable for everyone.
Can I cook on the stove top?
Yes, I have provided the details below in the notes along with another variation so you have options to make it as per your taste.
Do I need to soak collard greens before cooking?
These leaves need to be washed thoroughly and so if soaking for few minutes worked better for you then feel free to fill up your kitchen sink with water. I personally use colander and place all the leaves under warm running water.
Does it taste bitter?
This recipe in particular does not taste bitter because I simmered it nicely in vegetable broth for longer. Make sure to cook it nicely until the veggies are soft and mushy.
Hence, I would insist you to get started with this healthy and nutritious collard greens recipe and enjoy this deliciousness with your family.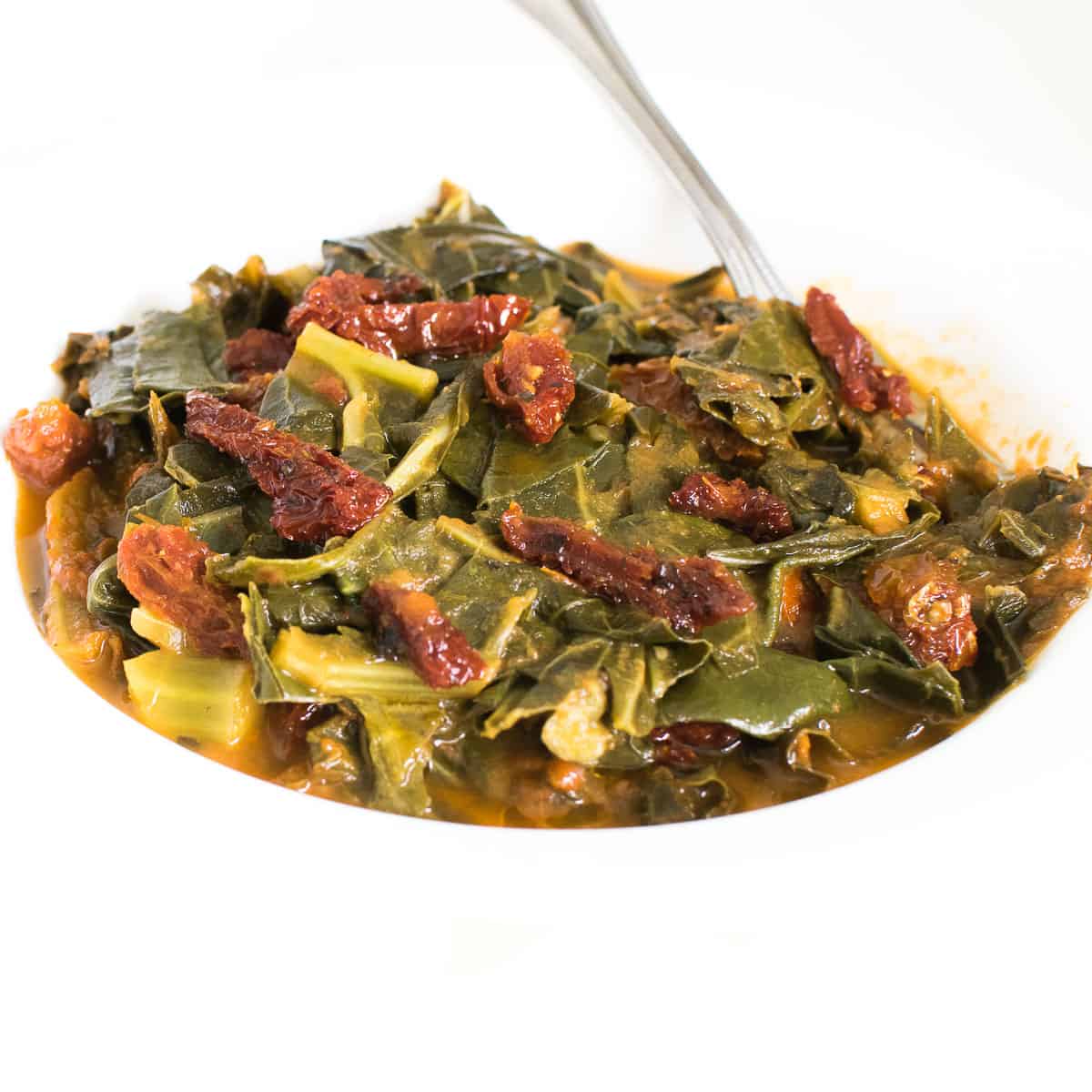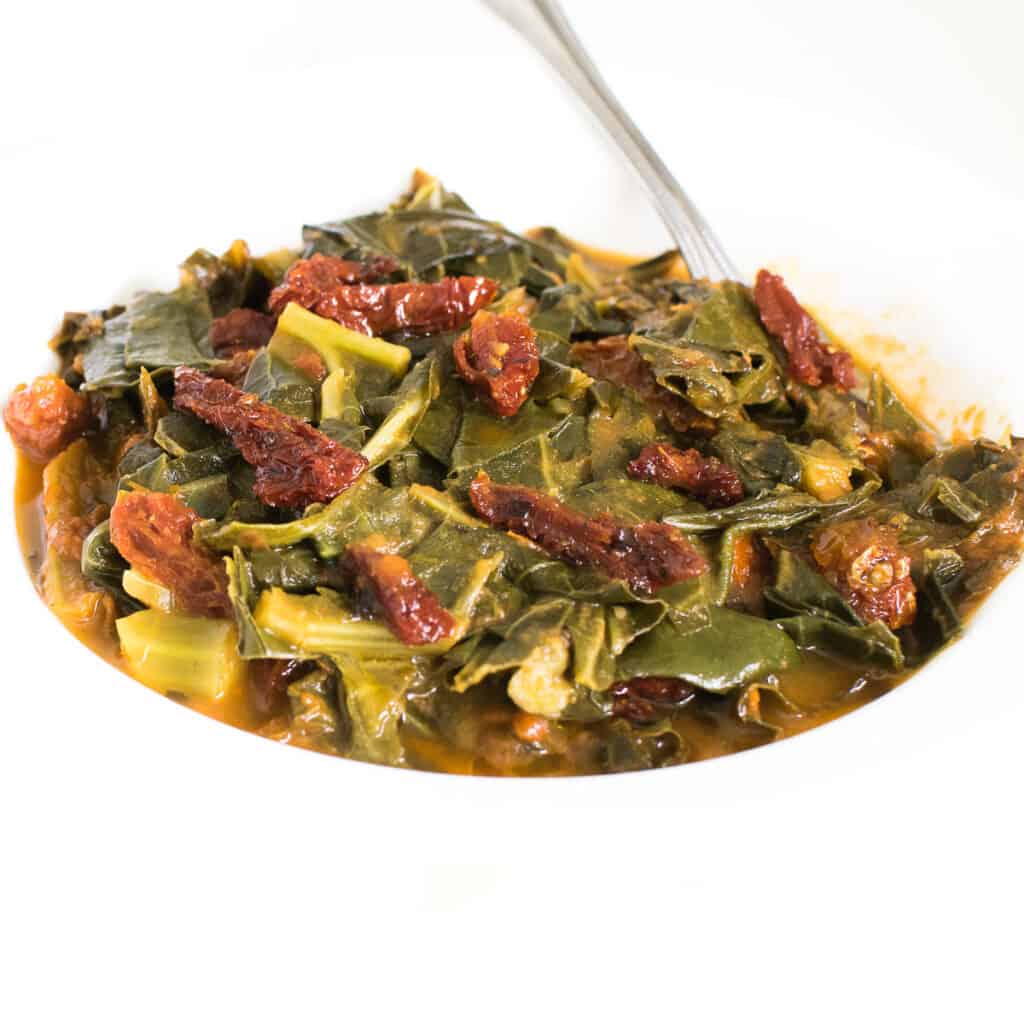 You may also like:
Coconut Sriracha Long Beans
Creamed Corn Casserole
Air Fryer Crispy Broccoli
Cauliflower in kale coconut Curry
Did you make it?
If you get a chance to make this recipe then please leave your feedback in the comments below along with the ratings. In addition, you may tag @kiipfit on Instagram with your recipe images because we would love to see what you cooked.
If you desire to explore more of my delicious recipes then you may check out my cookbooks.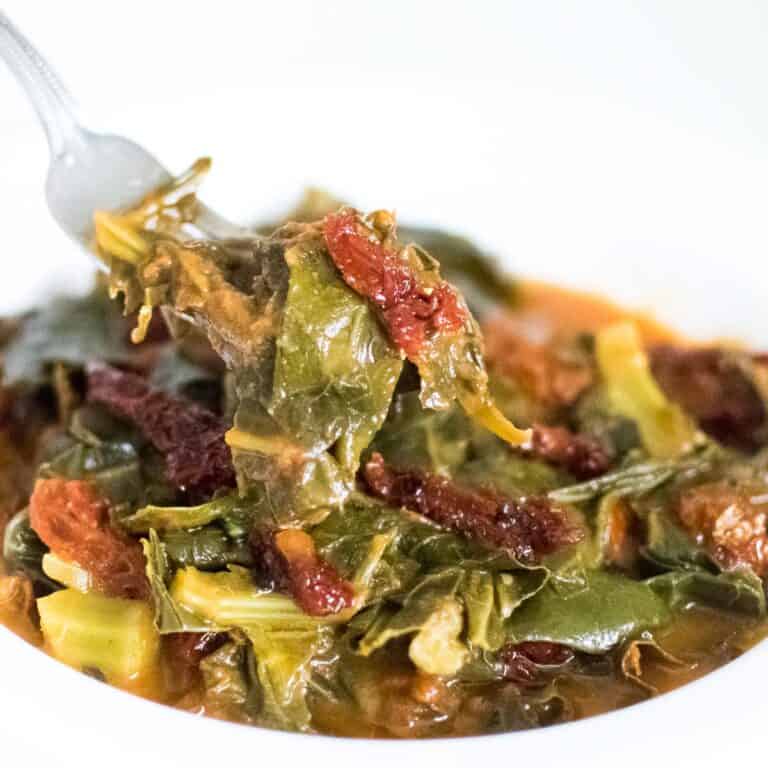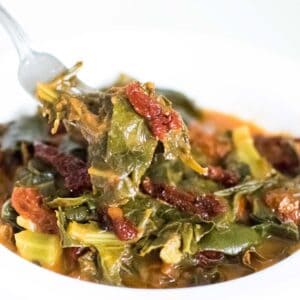 Print Recipe
Vegan Collard Greens
This Vegan Collard Greens is so delicious that you will want to eat the whole pot. Its simmered to perfection in the broth and flavored with sun dried tomatoes. It has no added oil and is made in instant pot with a stove top option too.
Instructions
In the inner pot of the instant pot combine all the ingredients. Stir and close the lid and seal the valve. Turn it on at manual high for 5 minutes.

Once done, release the pressure and open the lid. Stir gain and turn it on at sauté mode and let it cook for 15 minutes or until most of the liquid is absorbed. Turn it off.

Spoon it out in the serving plate and enjoy.
Notes
I used the ready package of chopped collard greens but you may use collard green leaves and chop it yourself. Make sure to remove any thick stems from it.
To drain sun dried tomatoes – If it has been in the refrigerator then microwave for 15 seconds. Then with the help of a sieve drain the excess oil form it and add to the instant pot.
Variation – heat 2 tbsp. olive oil in a nonstick pan or Dutch oven. Add chopped collard greens and sauté for 3-4 minutes or until well coated with oil. Add garlic, onion powder, paprika and salt to it. Sauté again. Now add the drained sun-dried tomatoes and 1 ½ cups vegetable broth. Stir and cook covered for 10 minutes or until the greens are soft and tender. Feel free to cook open at medium-high if you desire to dry it up until you reach your desired consistency.
Nutrition
Calories:
47
kcal
|
Carbohydrates:
9
g
|
Protein:
2
g
|
Fat:
2
g
|
Saturated Fat:
1
g
|
Sodium:
594
mg
|
Potassium:
190
mg
|
Fiber:
1
g
|
Sugar:
4
g
|
Vitamin A:
668
IU
|
Vitamin C:
11
mg
|
Calcium:
5
mg
|
Iron:
1
mg