This no bake chocolate Walnut Fudge is absolutely a delectable dessert that's made healthier. Its oil free and so satisfying with crunchy bites.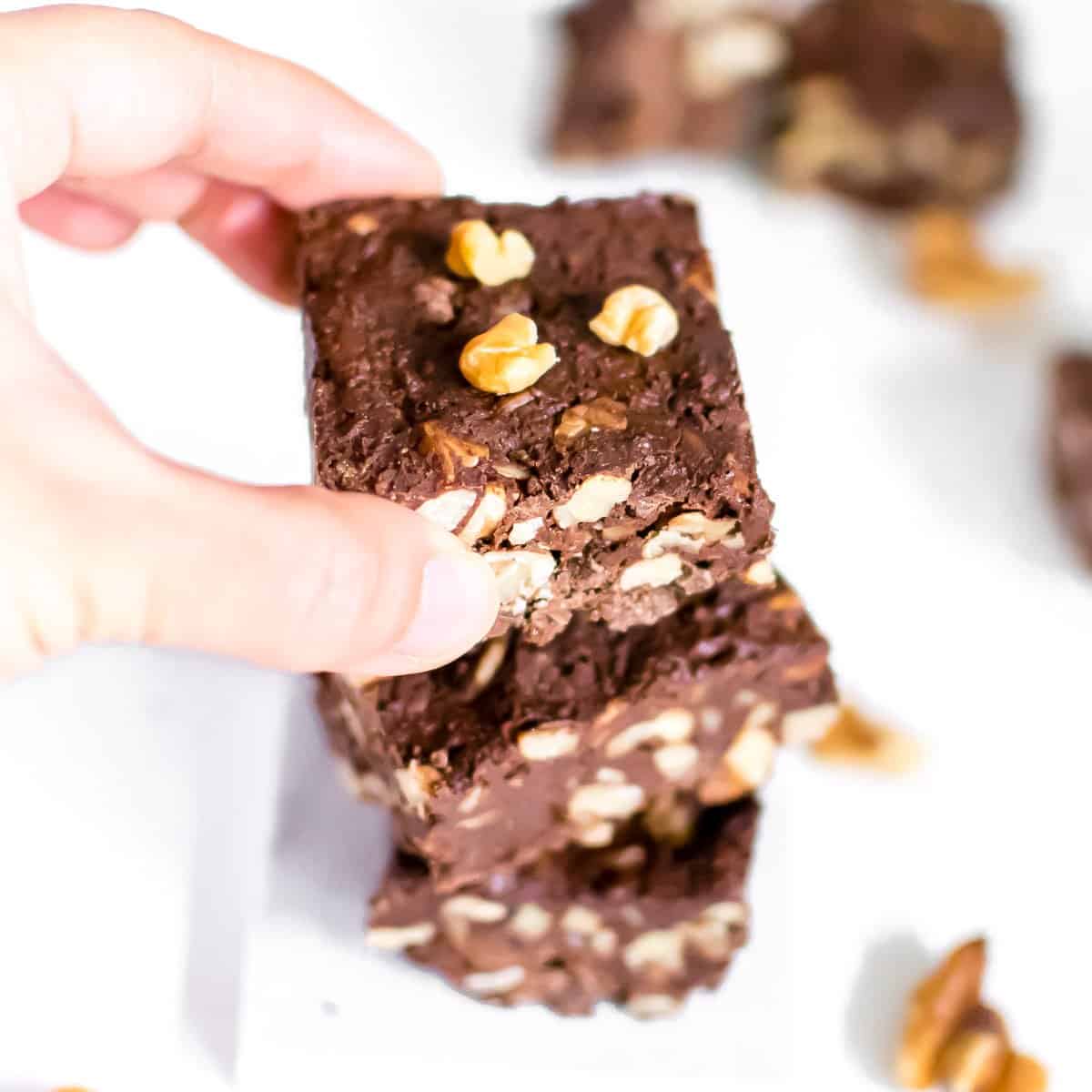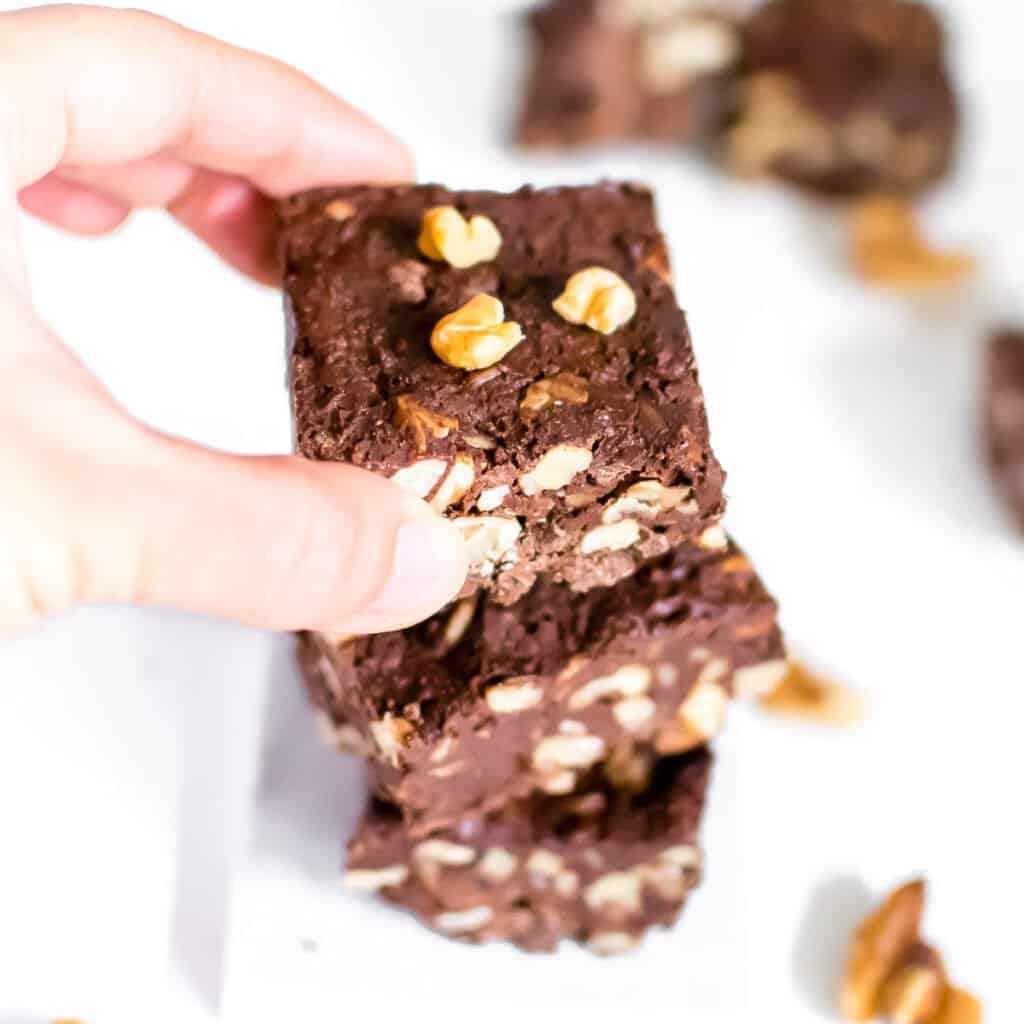 It's packed with vitamins and healthy fats. The chocolate in it makes it even more delicious and the walnuts add lot of nutrition to this.
I love walnuts and I always try to add walnuts to anything and everything possible. But this time even my kids loved these healthy nuts and have been asking for more.
Hence, I have made about 4 batches till now and I am so ready to share this walnut fudge recipe with you.
I even added walnuts in my gingerbread truffles and everyone adored those. It the best and most versatile nut.
I have discussed earlier why should we eat walnuts. However, I have to say that its low in calories and super healthy.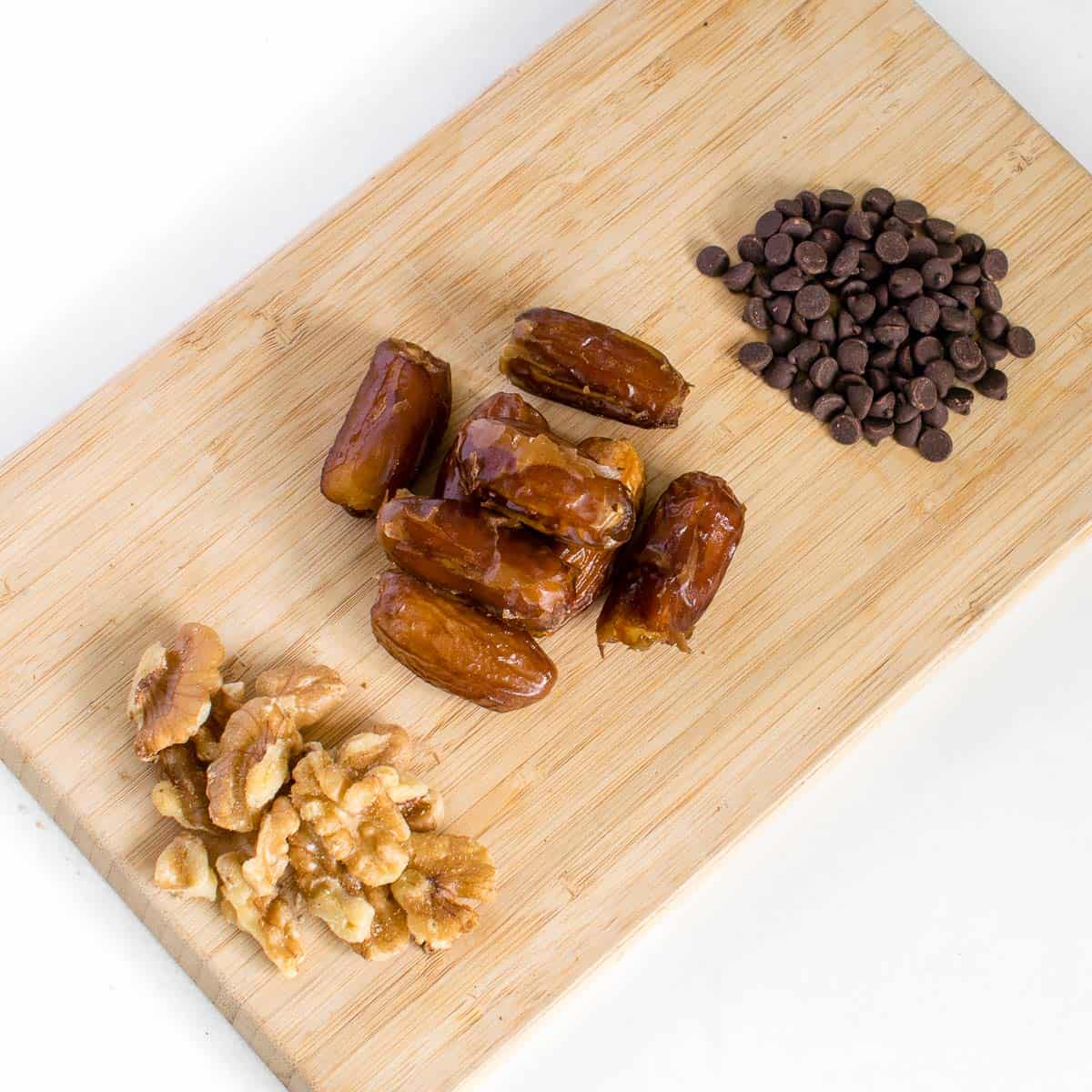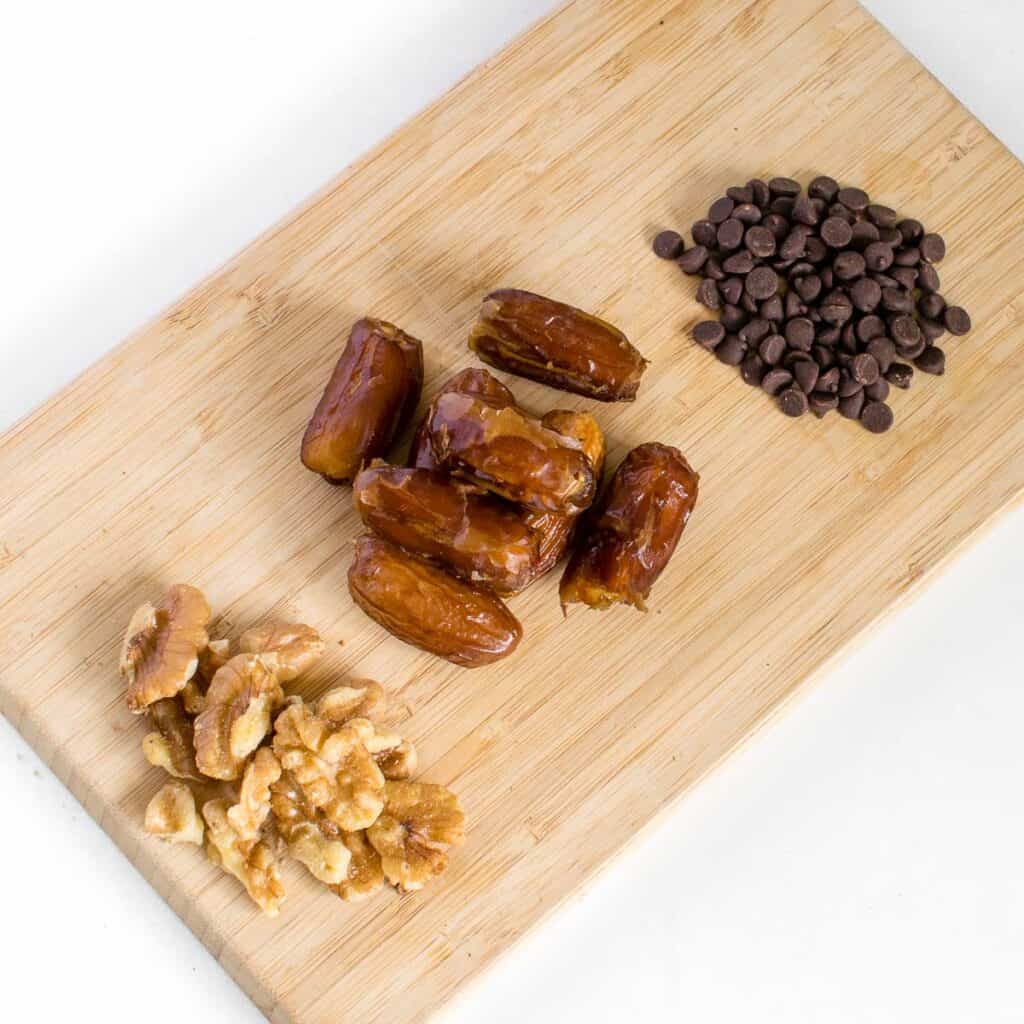 Ingredients for easy walnut fudge
Dates
Cocoa powder
Vanilla extract
Salt
Melted chocolate chips
Walnuts
I have used these simple 6 ingredients for this delectable vegan treat.
Ingredients notes:
Dates – this helps in binding and also acts as a natural sweetener. Its high in fiber and antioxidants. It's very nutritious and belong to whole foods category.
Cocoa powder – I used unsweetened cocoa powder to give a slight cocoa punch to this vegan walnut fudge.
Chocolate chips – I used mini dairy free chocolate chips because chocolate enhances its taste and flavor. Moreover, everyone loves chocolate and when melted chocolate sets in the fridge it comes out as wonderful dessert.
Walnuts – it's the hero of this recipe and I used the ready chopped ones. You may use whole or halves and chop it yourself.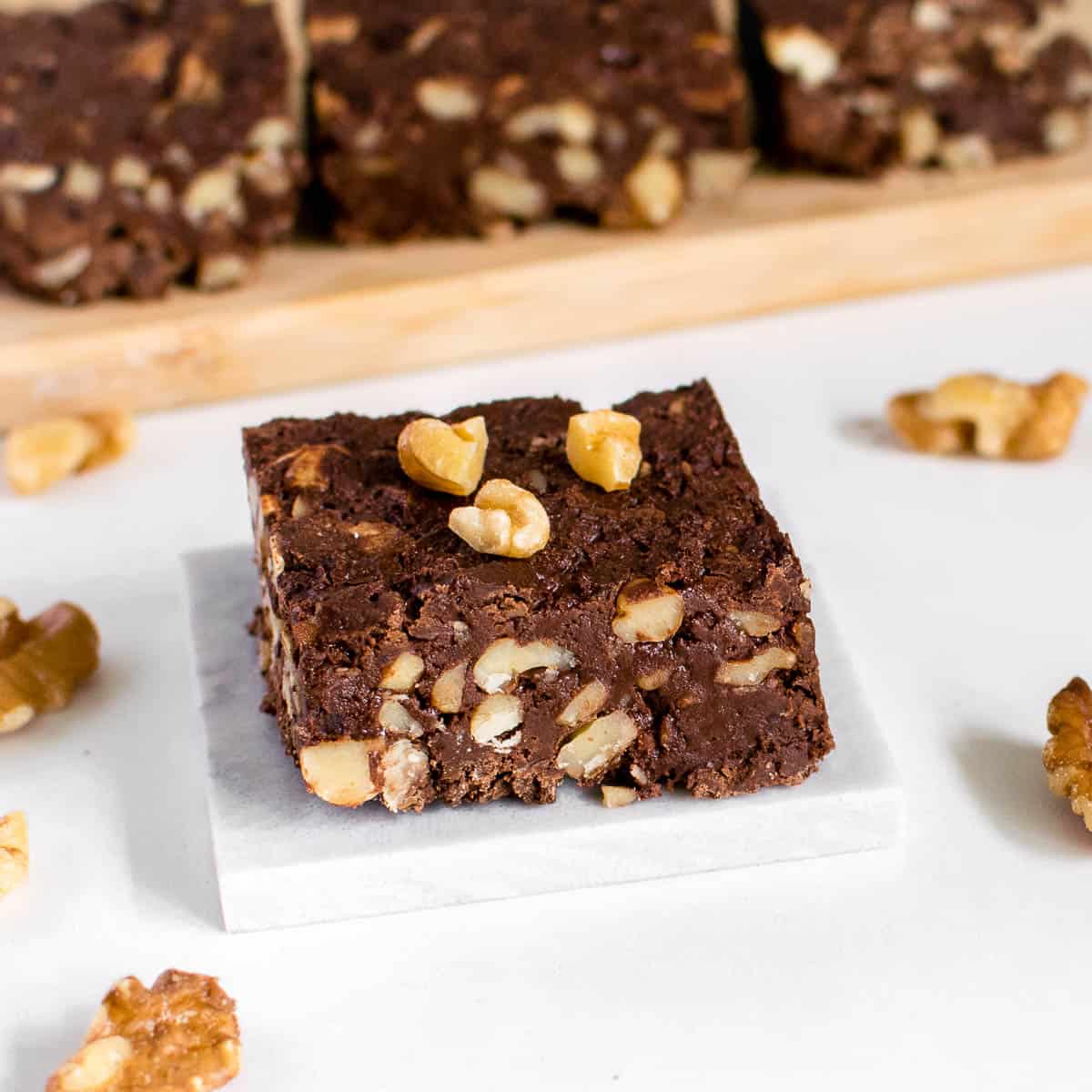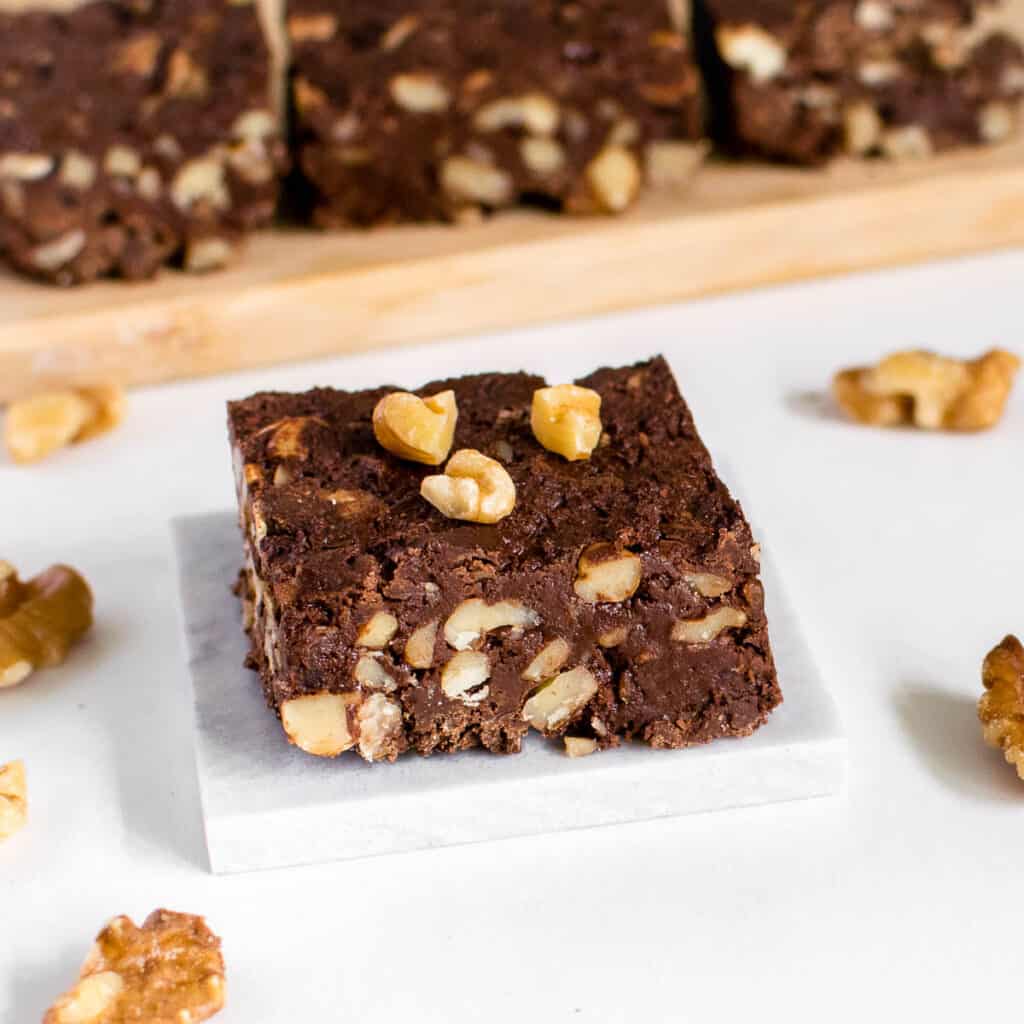 For detailed measurement of ingredients, please scroll down to the printable recipe card at the bottom of the post.
How to make Walnut Fudge
Firstly, in a food processor, I combined soaked and drained dates, cocoa powder, vanilla and salt into it.
Secondly, I melted the chocolate chips in the microwave for up to 2 minutes and poured it in the food processor along with other ingredients.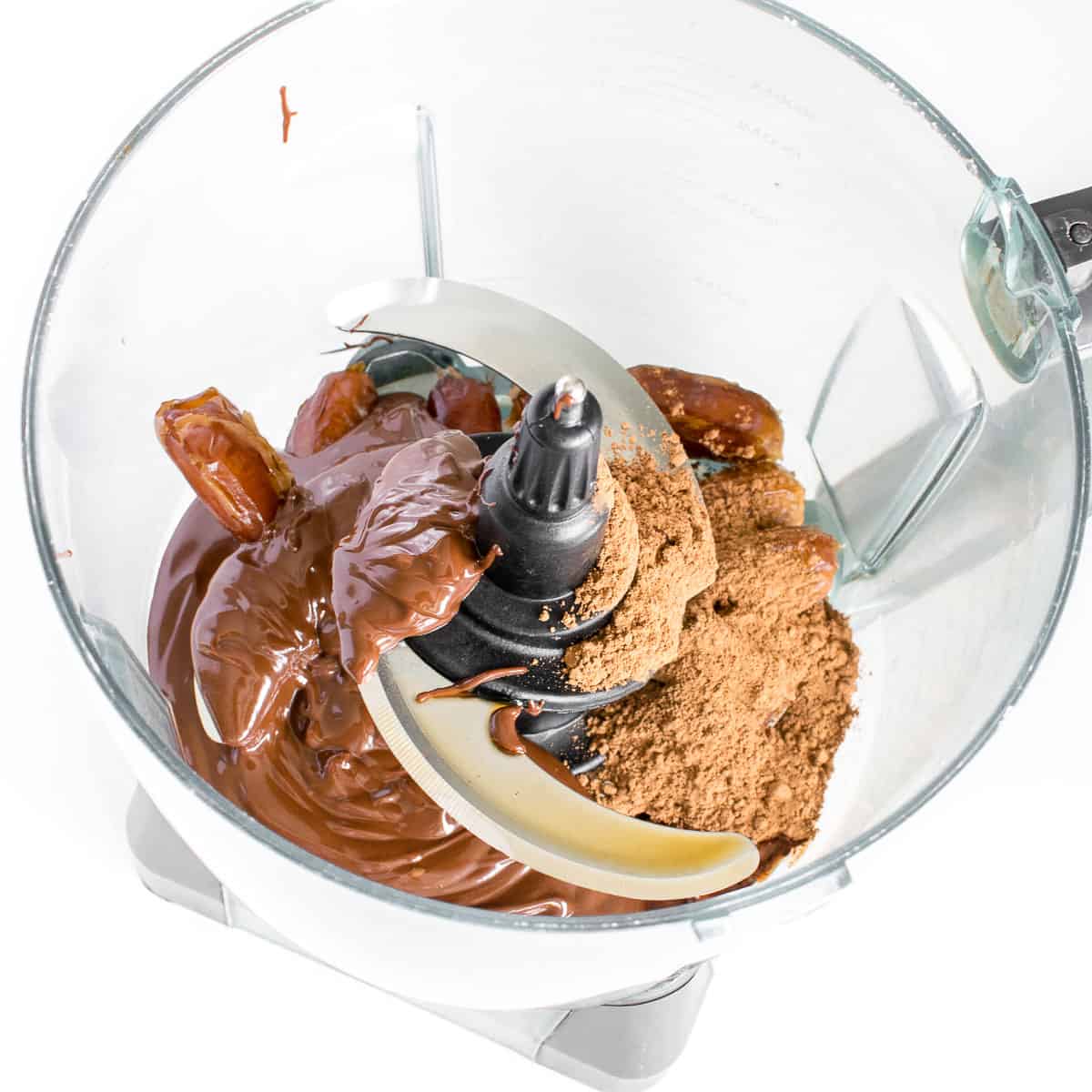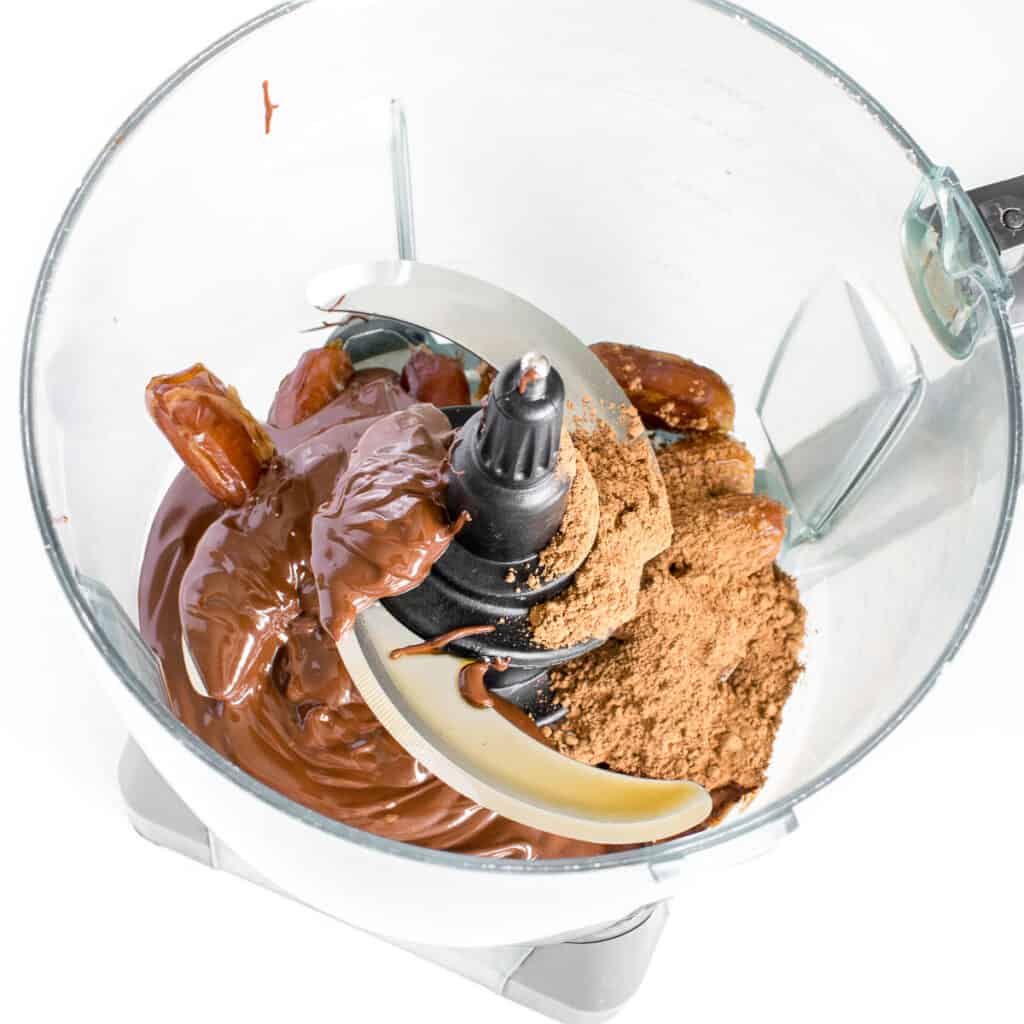 Next, I pulsed it until all blended and ready to form dough.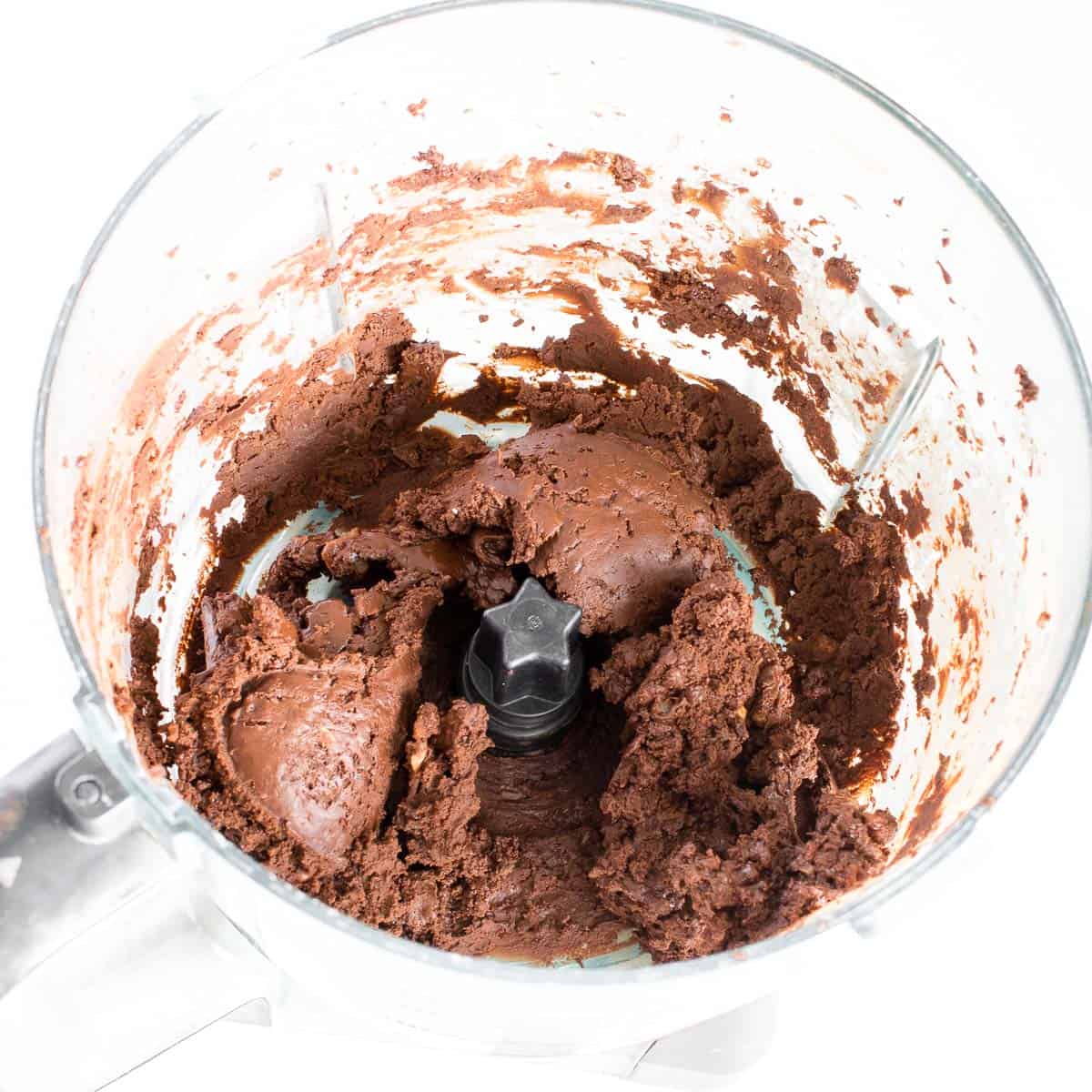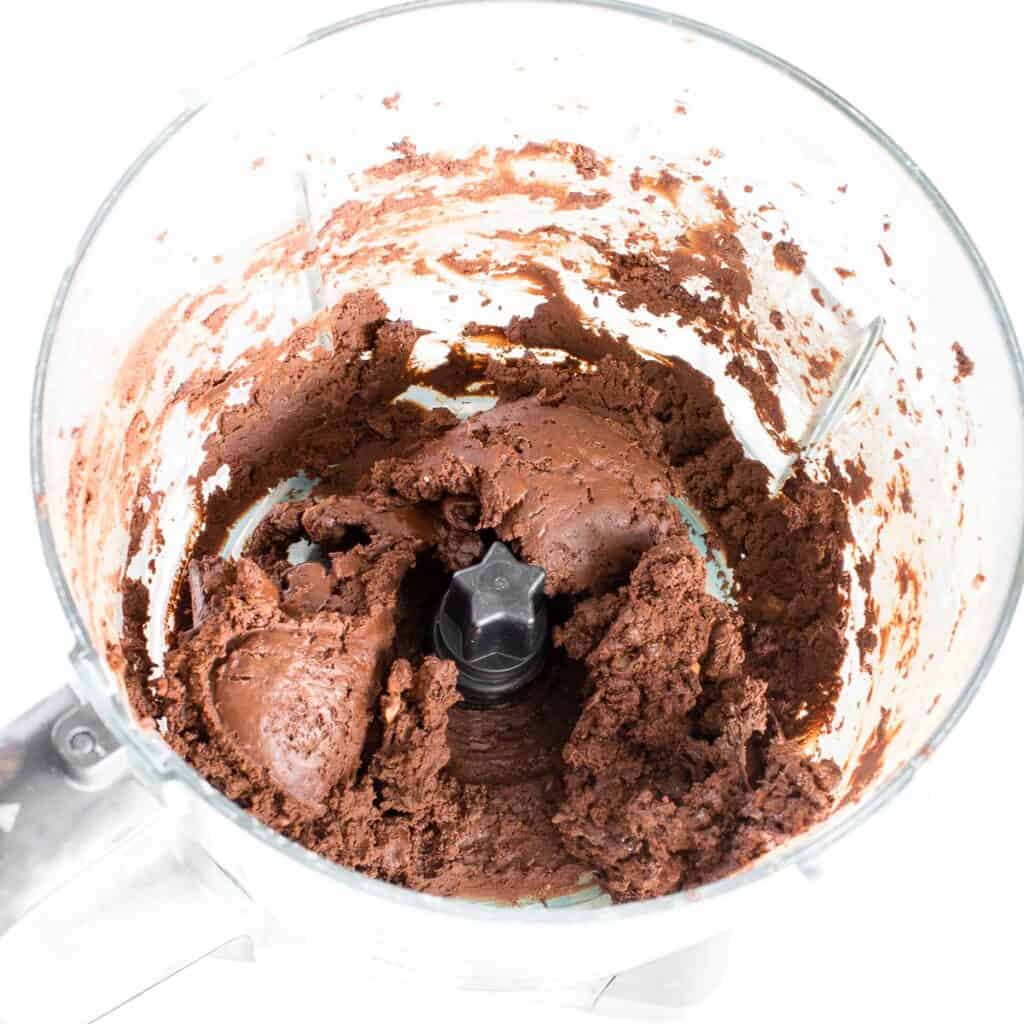 Thereafter, I spooned it out in a mixing bowl and folded in chopped walnuts.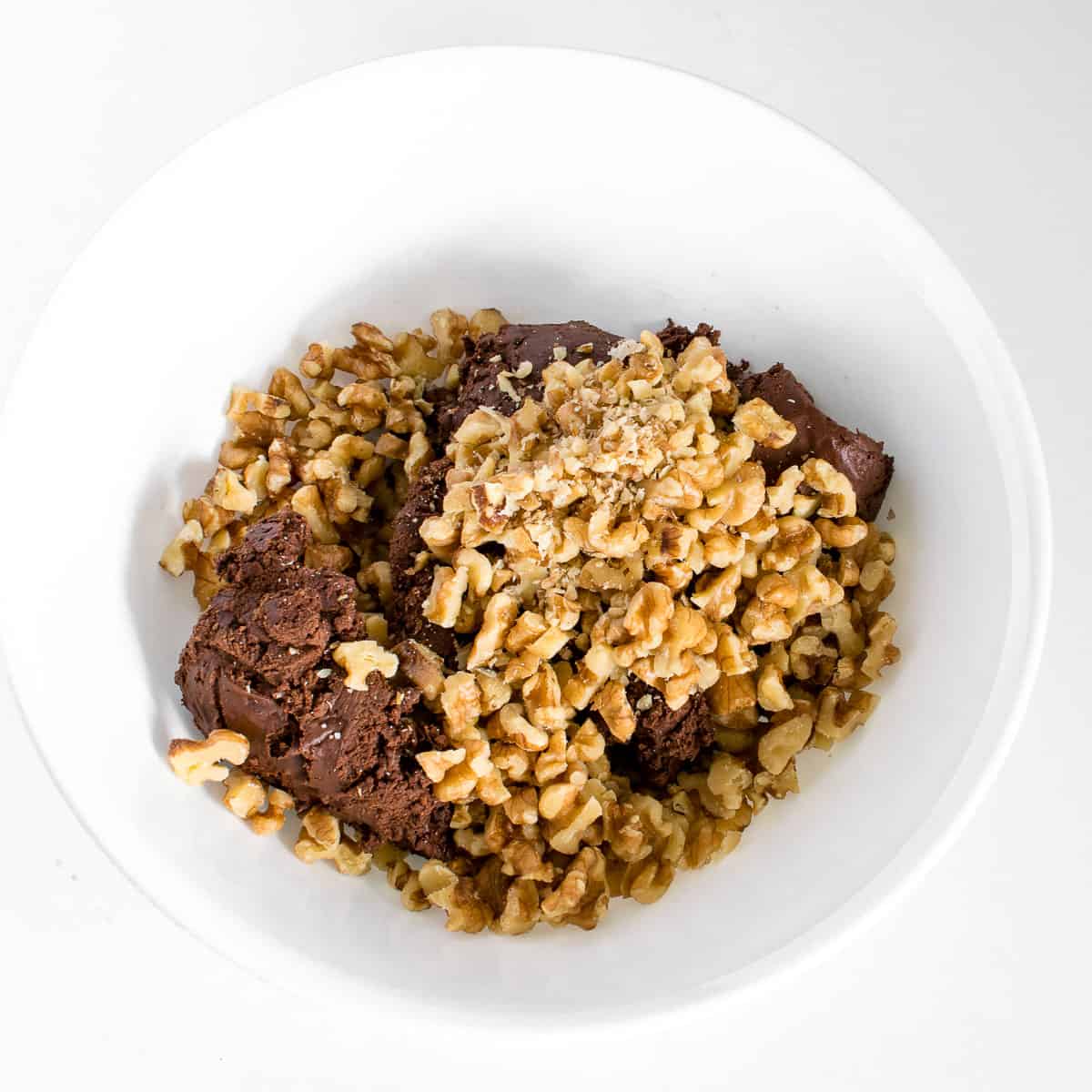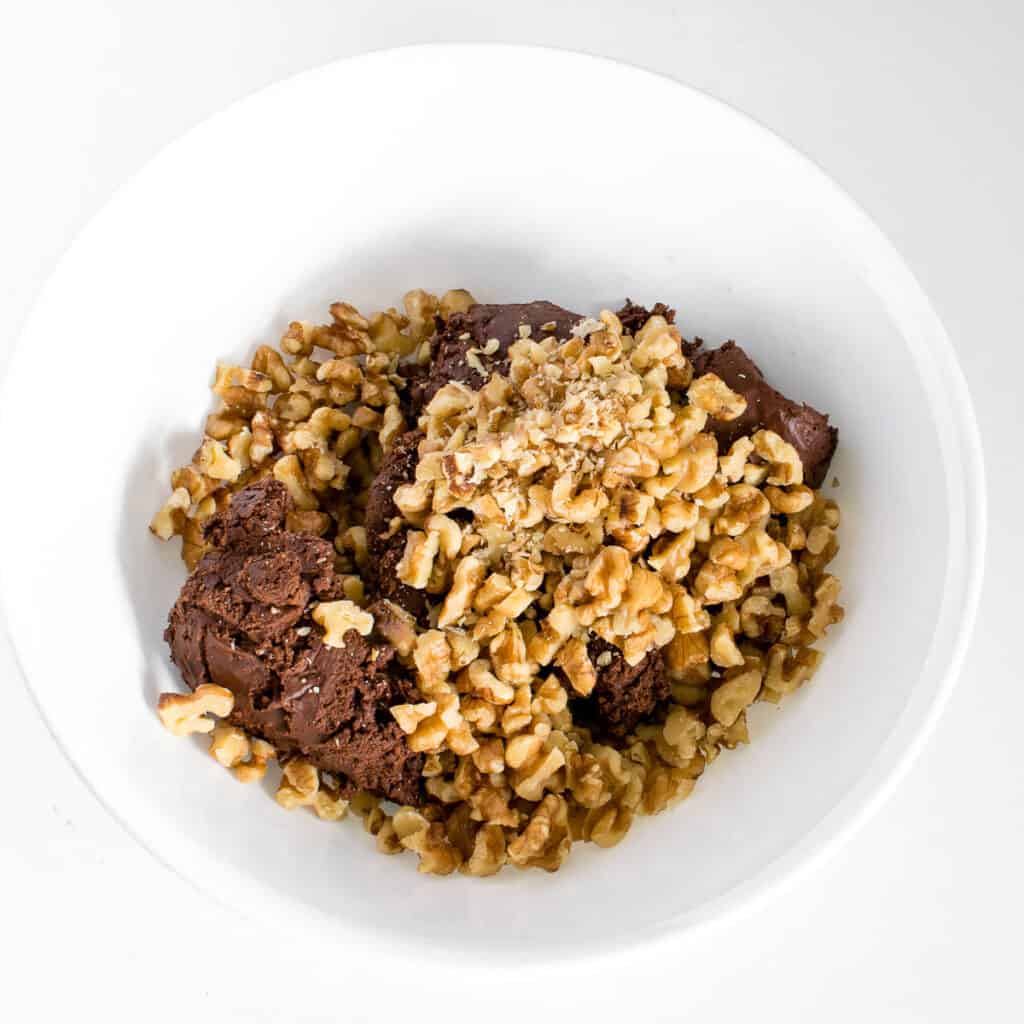 Afterwards, I mixed all the ingredients well.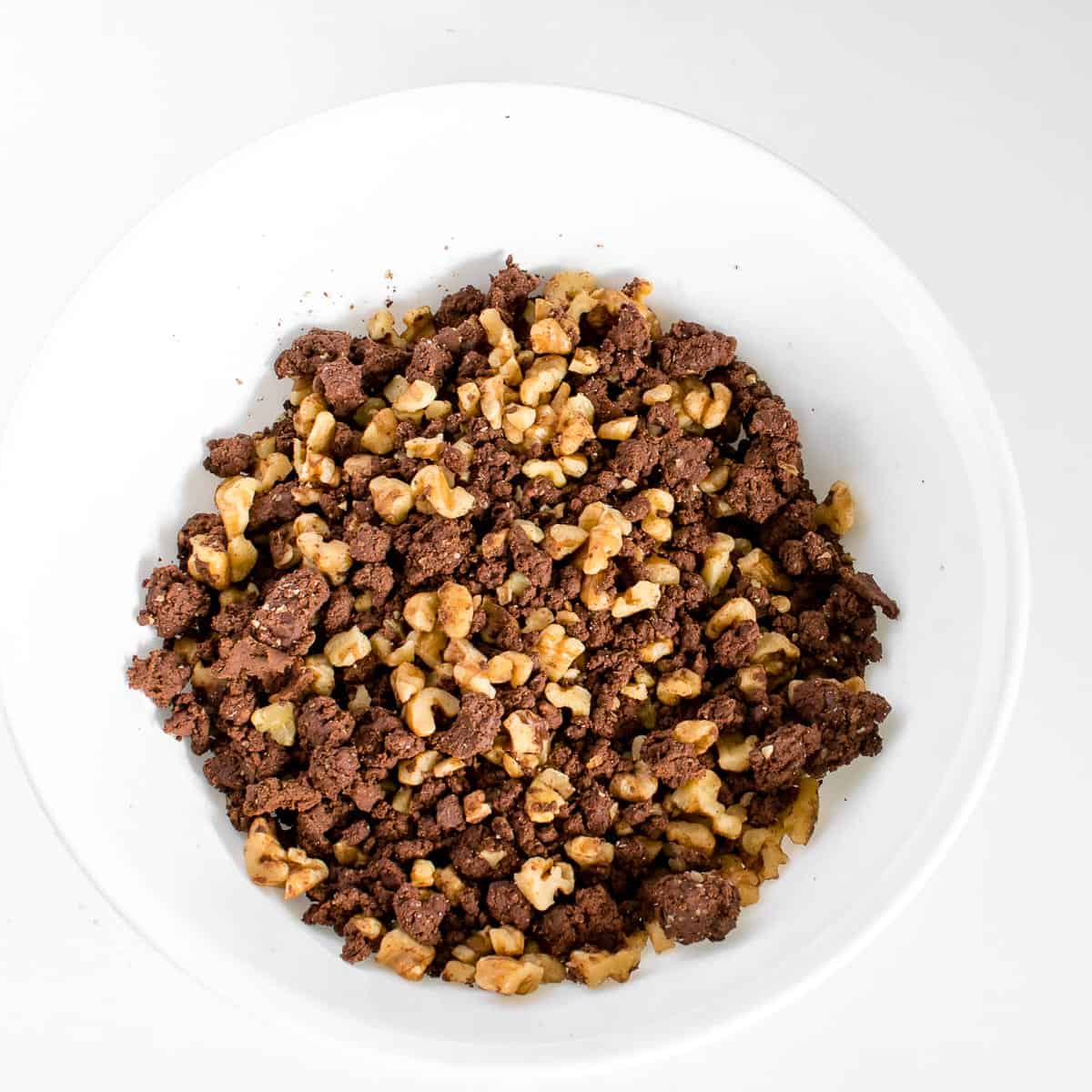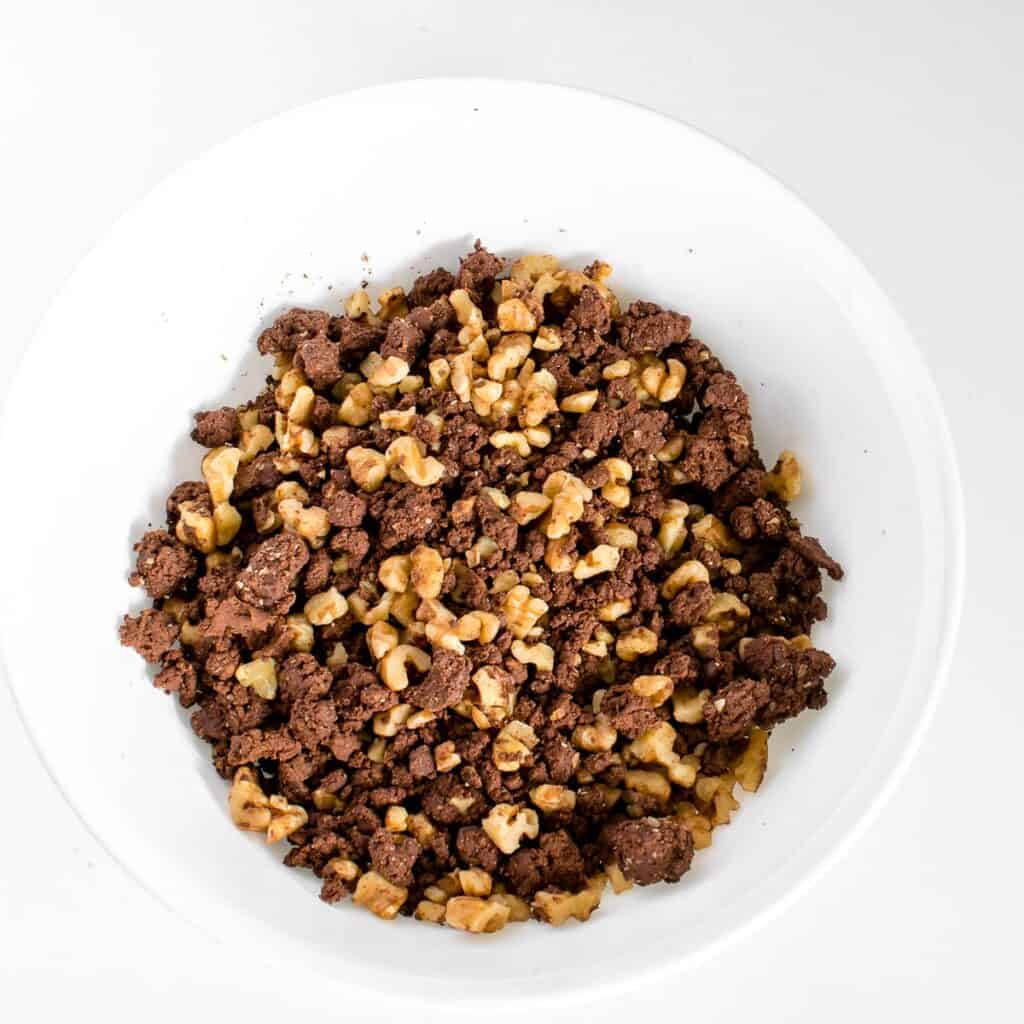 Then, I spooned it again in the prepared 6 inches pan and shaped it by pressing from the top gently. I made sure that its tight and firm.
Later, I let it rest in the refrigerator for about 1 hour.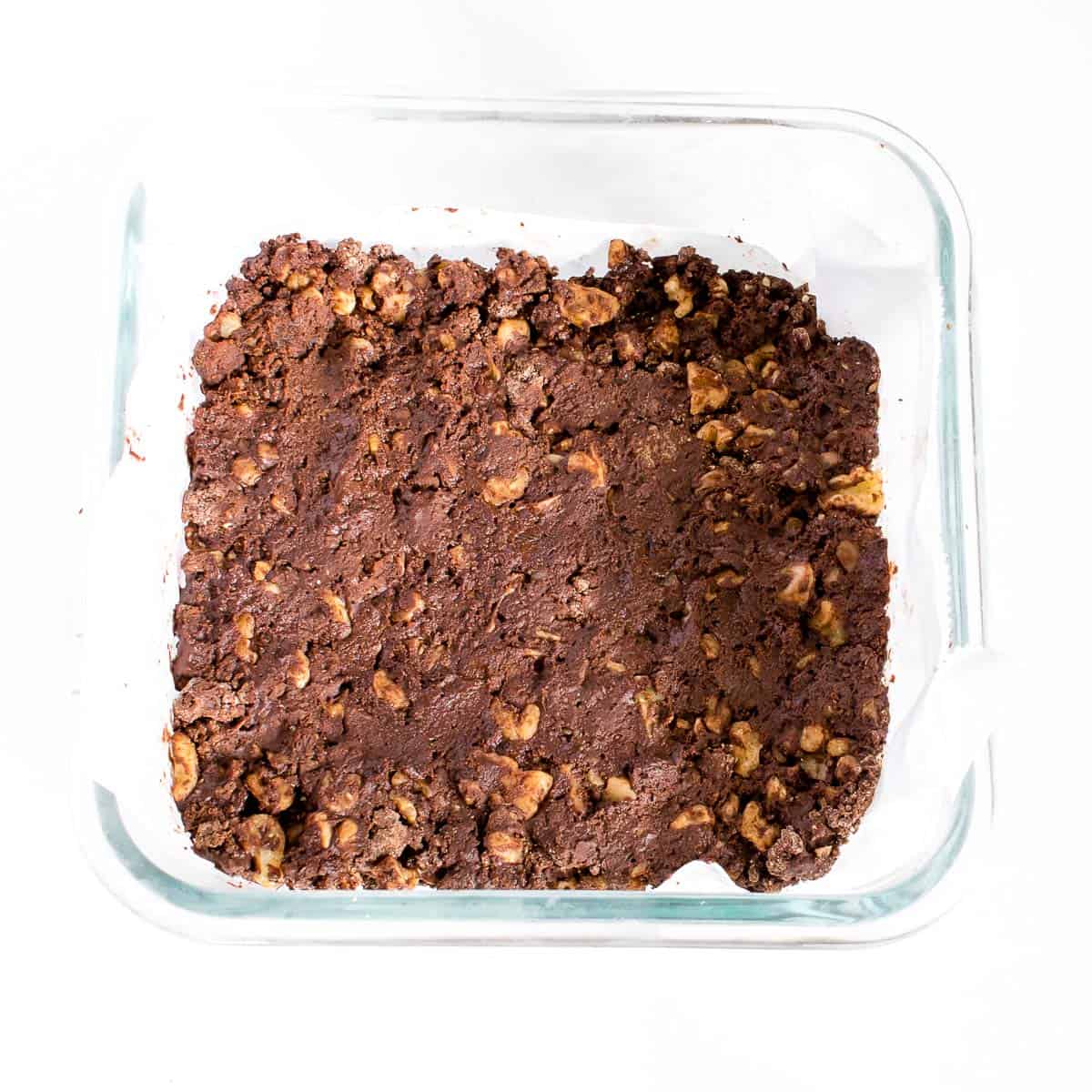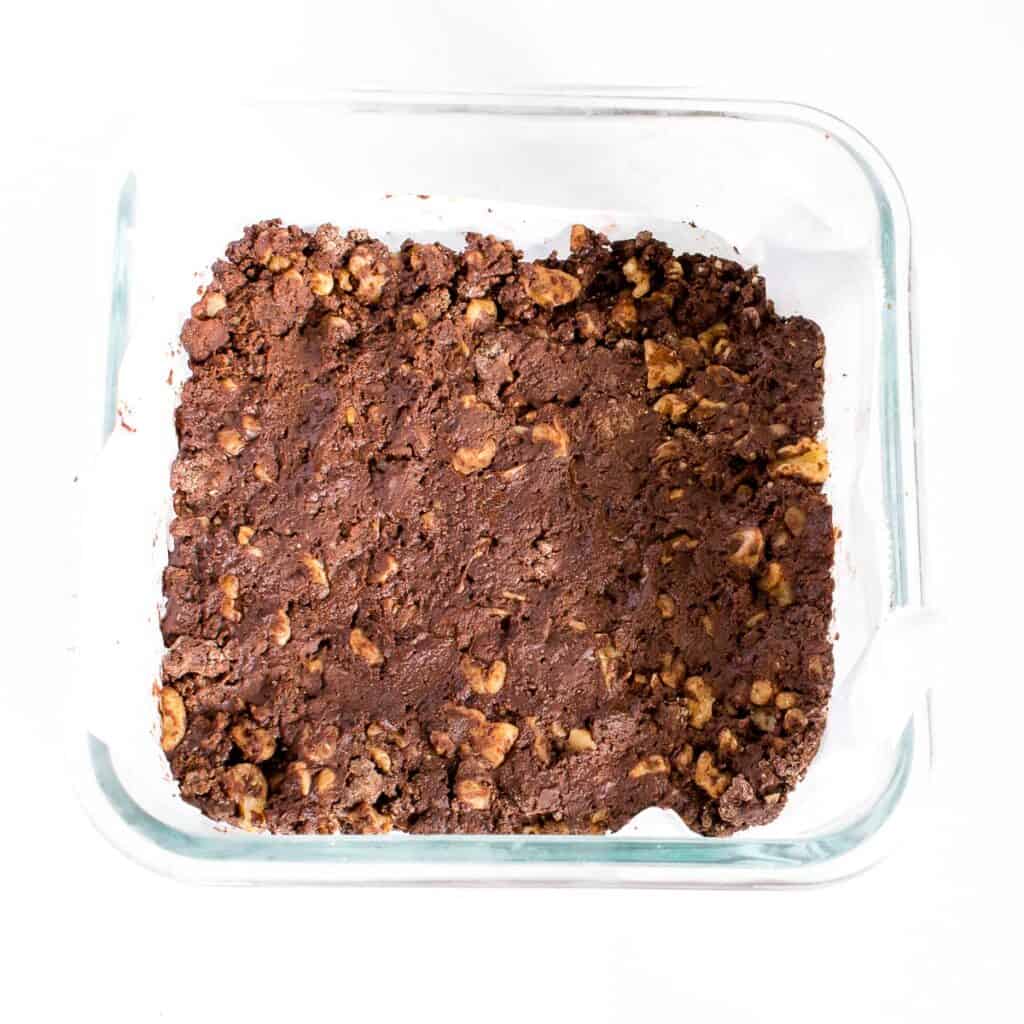 Lastly, I took it out and sliced.
My kids are big fan of this dessert and I happily let them indulge because its very healthy too.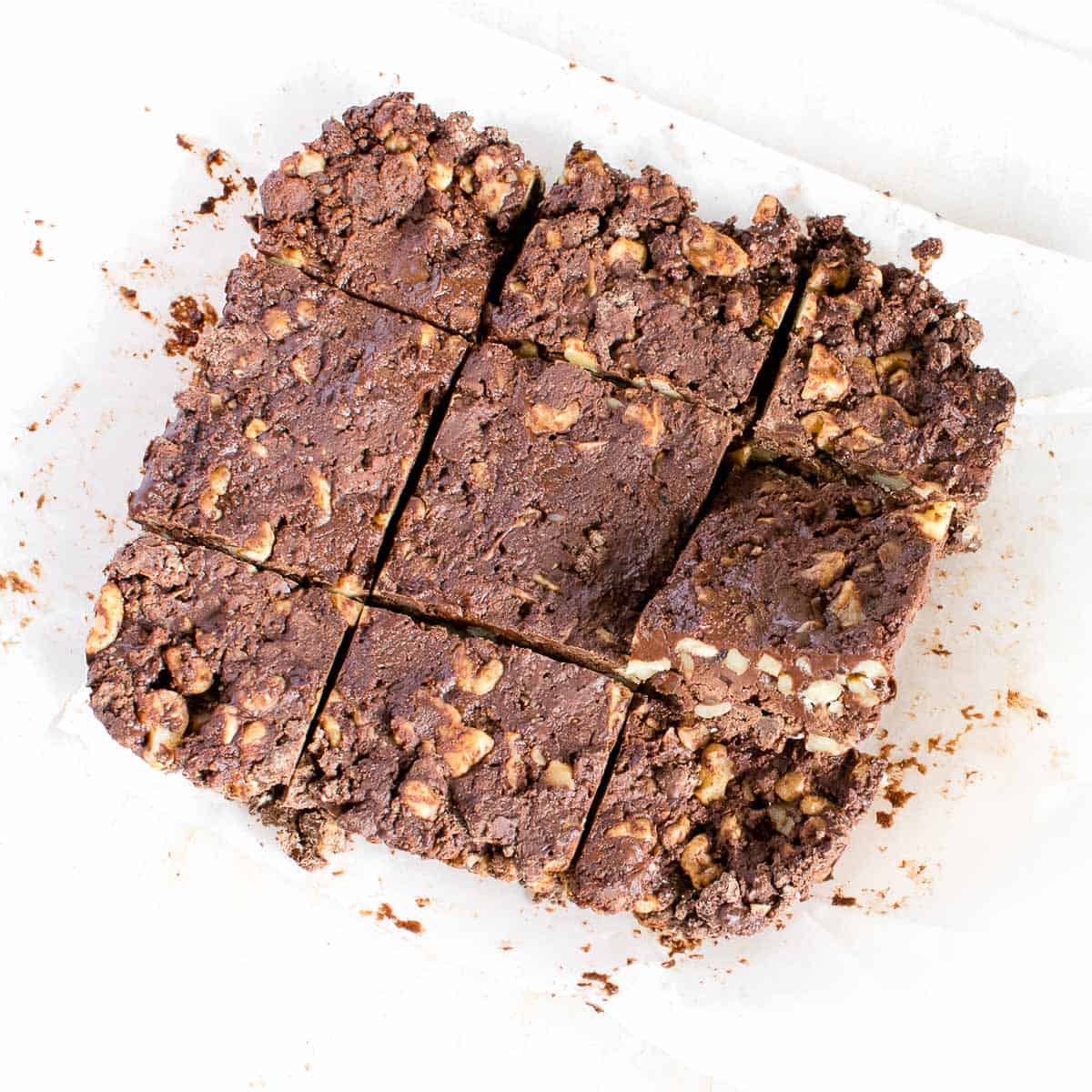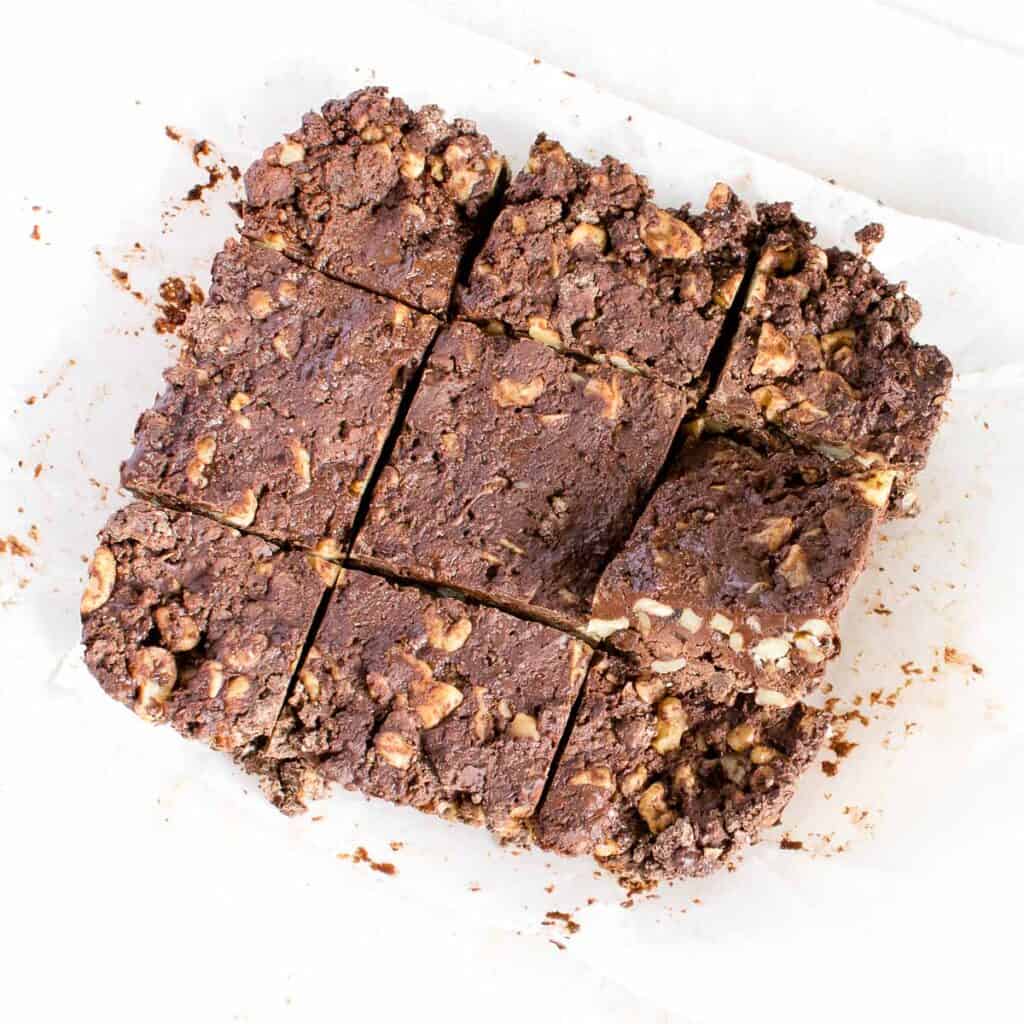 I snack on them as well when I crave for a sweet treat in the evenings.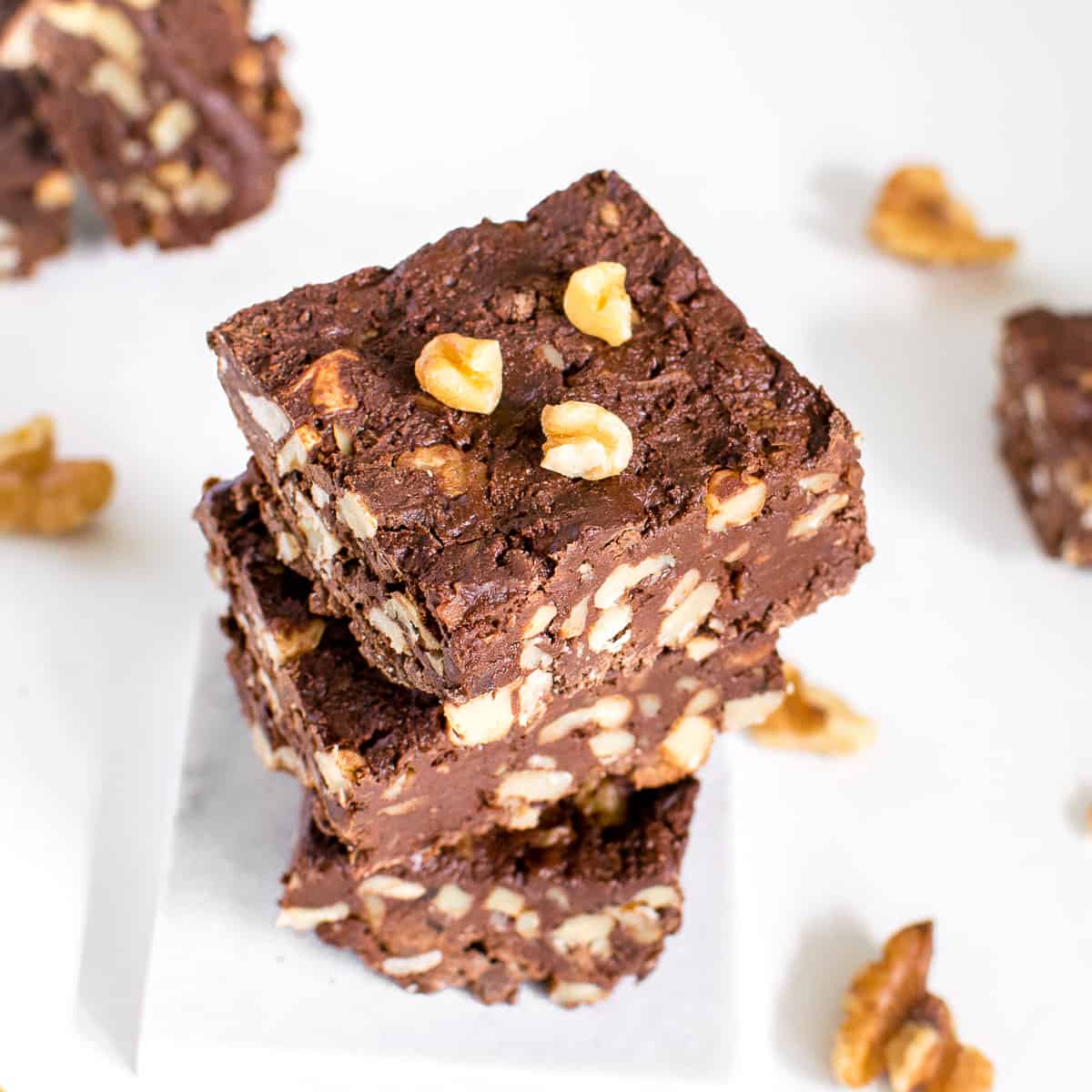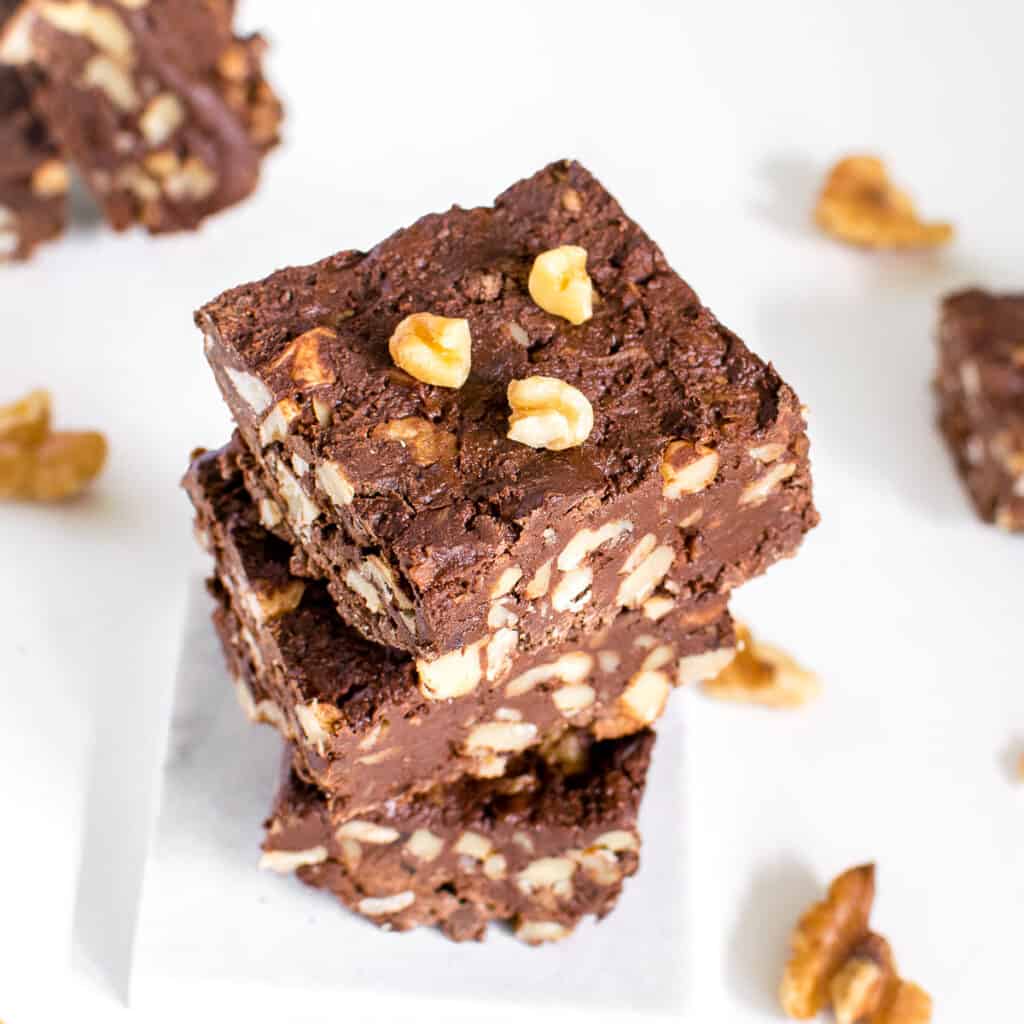 Expert tips:
It is important to pour the melted chocolate in the food processor immediately and then blend it quickly as well. If delayed it may start settling tin the food processor itself which in turn will dry up the dough.
Most importantly, once blended do not let it cool down, immediately, mix walnuts in it and shape so it binds firmly.
Walnut Fudge FAQs
How can I store these?
Once they settle after cooling in the fridge, slice and store them in an air tight container in the refrigerator for about 1 month.
What is the secret of a prefect fudge?
You must blend and shape quickly before the melted chocolate cools down. It should completely cool down in the fridge for perfect slices of the fudge. So, pre- preps are important and coordination of mixing is important too.
Why do I need to add vanilla in it?
Vanilla usually compliments the chocolate in every recipe. I have used it to give it a nice balanced chocolate flavor to this recipe.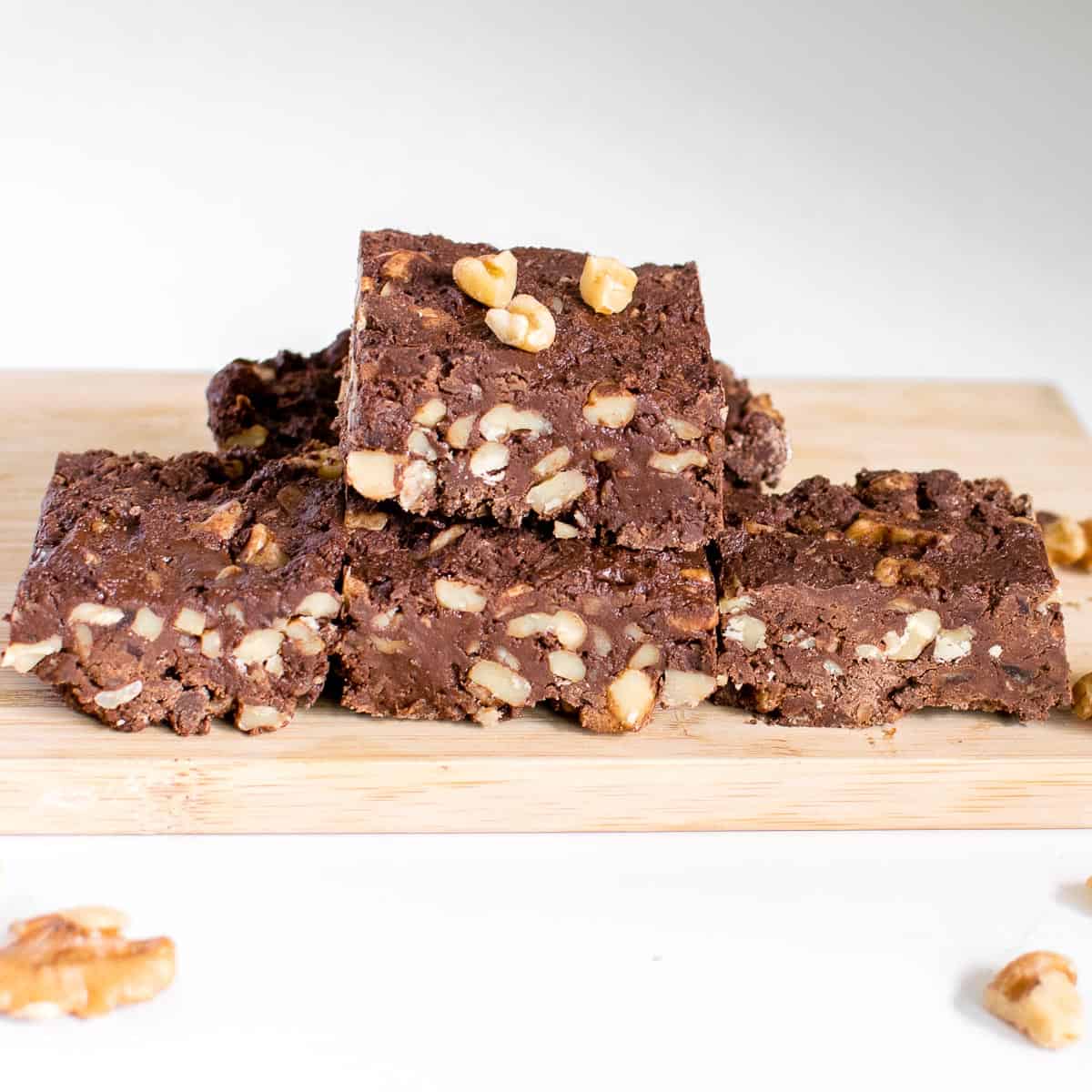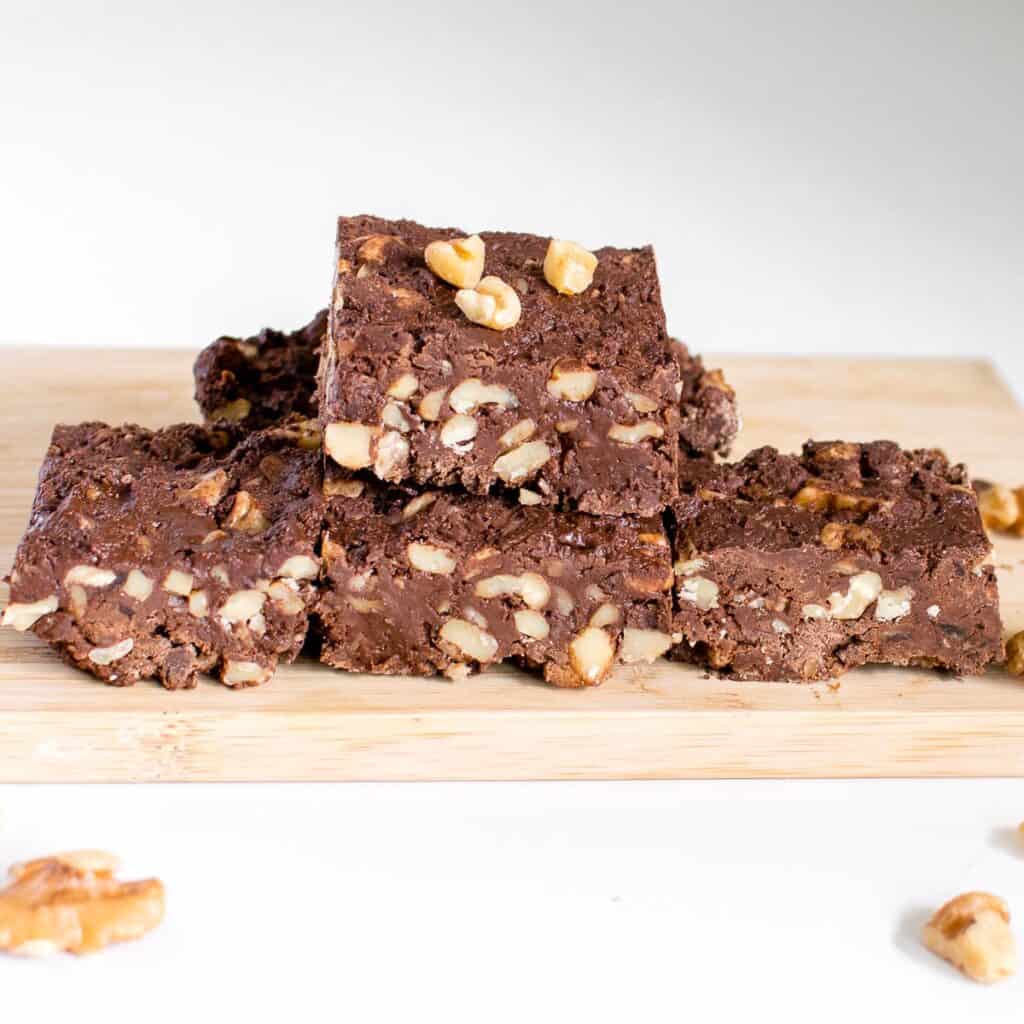 My other no bake recipes that you might like:
Vegan Chocolate Mousse
Matcha Bars
Chickpea Cookie Dough
Chocolate Truffles
Coffee hemp Energy Bites
Pistachio Chia Energy Bites
No Bake Vegan Pumpkin Bars
This post may contain affiliate links which means that if you click on them and also make a purchase, I will get a small commission. Moreover, I share only those products which I use personally and love.
I hope you enjoy this recipe as much as we did. I am very excited to hear back from you.
Where to find me?
Follow me on Facebook or on Twitter. You may tag @kiipfit on Instagram with your recipe remake images because I would love to see what you cooked.
Did you make it?
If you get a chance to make this recipe then please leave your feedback in the comments below along with a 5-star rating.
In addition, you may checkout my cookbook for everyday comfort vegan recipes.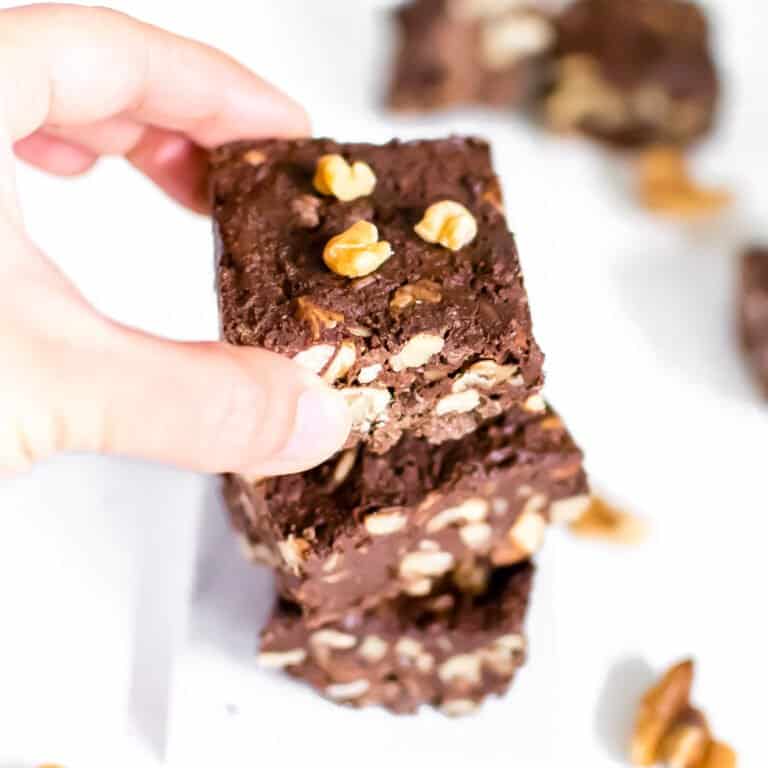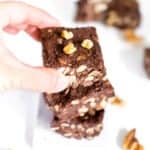 Print Recipe
Walnut Fudge
This no bake chocolate Walnut Fudge is absolutely a delectable dessert that's made healthier. Its oil free and so satisfying with crunchy bites.
Instructions
Prepare a 6-inch square or rectangle pan with a parchment paper. (To stabilize the parchment paper first grease the pan or the bowl and then stick the paper so that it stays in place when you shape the fudge).

In a food processor combine dates, cocoa powder, vanilla extract, salt and melted chocolate chips and blend it for 1-2 minutes or until there are no date pieces visible.

Spoon it out in a mixing bowl and fold in chopped walnuts.

In the prepared pan spoon out the fudge dough and shape it nicely with fingers pressing gently from all sides. Make sure they bind tight.

Place it in the refrigerator for 1 hour. Take it out and gently pull out the parchment paper and place it on a flat working surface. Slice with a clean sharp knife and enjoy!
Notes
This walnut fudge can be stored in an air tight container in the refrigerator for about 1 month.
Make sure to soak dates until they are soft and mushy.
Melt the chocolate chips when ready to blend.
Measure chocolate chips to 1 cup before melting.
How to melt chocolate chips: combine chocolate chips in the microwavable bowl and place it in the microwave for about 1 minute high. Take it out and stir with a spoon. It should start melting at the bottom. Place it back in the microwave and microwave it at high for 30 seconds. Take it out and stir again. It should almost start melting at this point. Microwave again for another 20 minutes. Take it and stir it vigorously and it will have the melted consistency.
As soon as the blending of the dough is done spoon it out quickly. At this point the fudge should be soft and on warmer side. Do not let it cool completely before shaping.
This recipe serves 9-12 depending on your pan and the serving size is 1 slice per person.
For 12 servings: calories 194 fat 12 carb 20 protein 3 (If on a weight loss plan I would recommend going for 12 slices).
Nutrition
Calories:
259
kcal
|
Carbohydrates:
27
g
|
Protein:
4
g
|
Fat:
16
g
|
Saturated Fat:
1
g
|
Polyunsaturated Fat:
7
g
|
Monounsaturated Fat:
3
g
|
Sodium:
1
mg
|
Potassium:
68
mg
|
Fiber:
2
g
|
Sugar:
1
g
|
Vitamin A:
3
IU
|
Vitamin C:
1
mg
|
Calcium:
14
mg
|
Iron:
6
mg