This Vegan Spinach Artichoke Dip is a creamy and cheesy one pan dish with all the comforting flavors in it. It's a stove top recipe which makes it easier to make all year round. It's a perfect crowd pleaser appetizer for any occasion.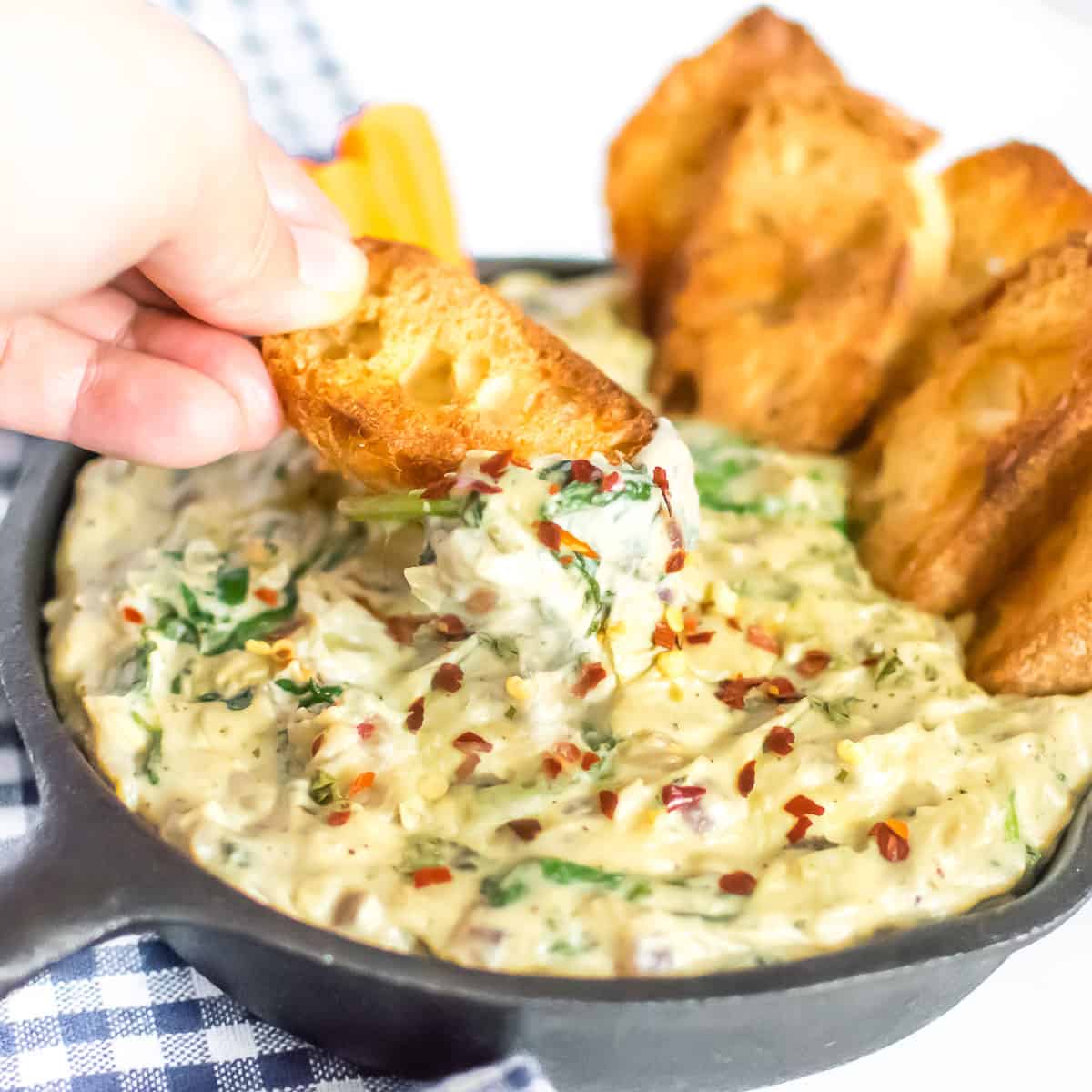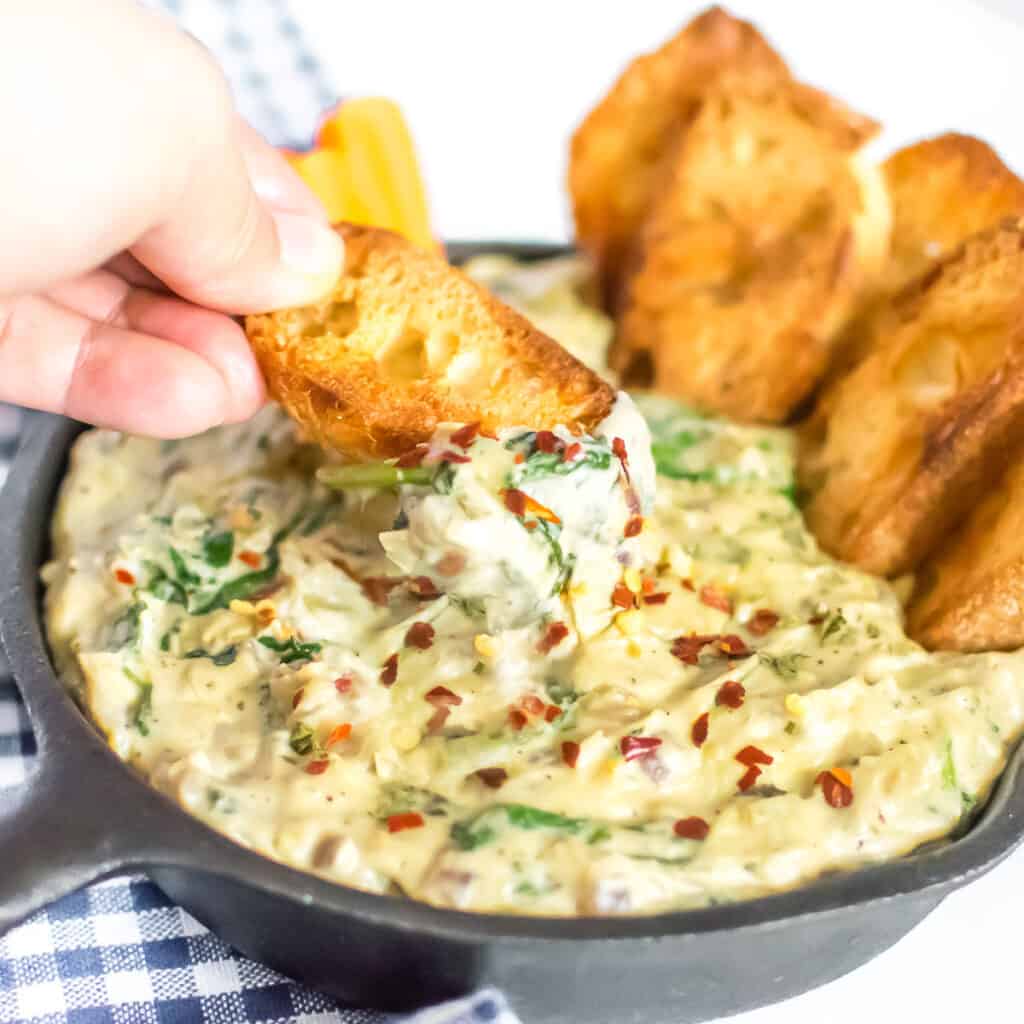 This is a soft, stretchy, creamy and cheesy dip that is perfect for all ages. I made it even simpler by making it on the stove top in a nonstick pan. You may make it in a cast iron pan too.
I used absolutely simple and handy ingredients to bring this spinach artichoke dip together within 30 minutes.
Spinach dishes are quite regular at my home because its so healthy and packed with iron. Most commonly, I make cheesy spinach tofu casserole, crispy cups, quick spinach sauce bread and vegan spinach soup.
Even though I made it for the first time but it was incredibly delicious and outstanding. I was amazed at its beautiful color and delectable flavors.
While testing this healthy vegan dip I made my husband taste a bit and he immediately became its fan.
Once it was ready, I served him with baguette. He loved it so much that he asked for more and by the end of the day half of it was gone.
I enjoyed this vegan artichoke dip with carrot sticks. It tastes equally good and of course was healthier that way.
It has become a regular in my house and I make big batches and refrigerate. So that whenever I want o snack healthy, I simply warm it up and munch on it with my veggies.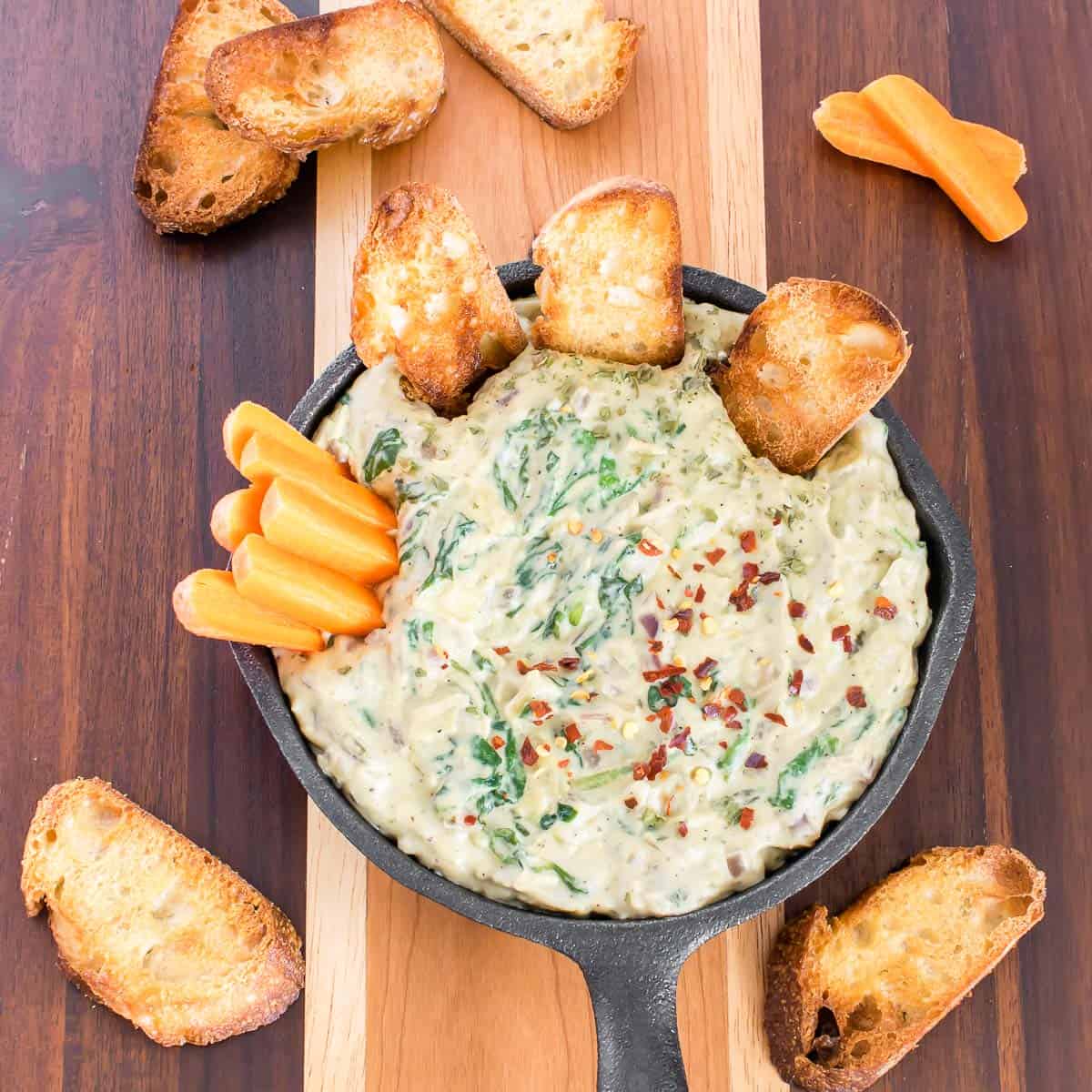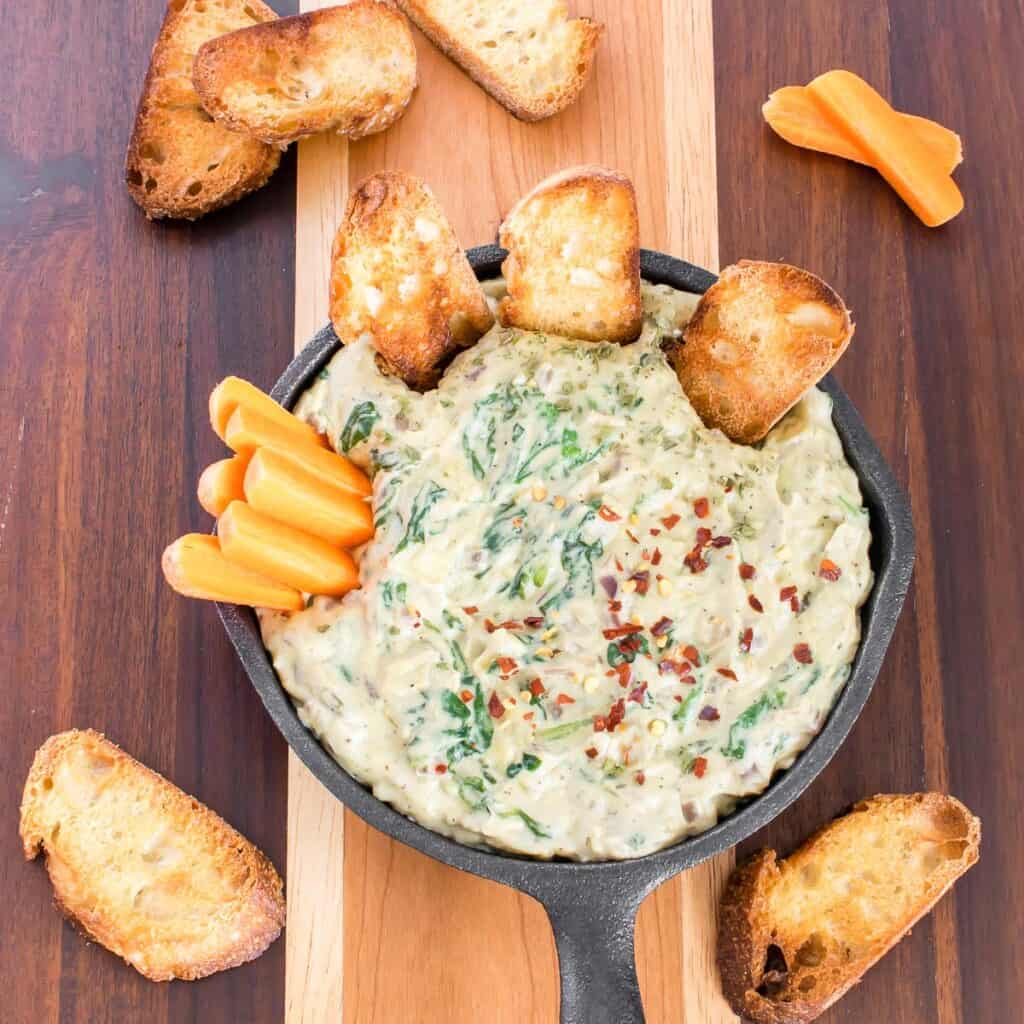 Therefore, I am so excited to share this vegan spinach artichoke dip recipe with you so you can enjoy it also with your loved ones.
Ingredients for this easy vegan spinach artichoke dip
Cashew nuts
Coconut milk
Nutritional yeast
Salt + pepper
Olive oil
Onion
Garlic
Onion powder
Baby spinach
Artichoke in brine
Parsley
Apple cider vinegar
Crushed chili flakes
I am sure you must be having most of these ingredients in your fridge, so let's get into its details and make it ASAP.
Ingredients notes:
Cashew nuts – make sure to use raw cashew nuts. I made its base with cashew nuts to get that thick and creamy consistency and yet subtle cheesy sweet flavors.
Coconut milk – it is important to understand that I used plain unsweetened coconut milk beverage instead of canned coconut milk. It comes in a tetra pack just like any other milk.
Nutritional yeast – this brings the nice cheesy flavor to this dairy free artichoke dip along with adding B12 to this recipe.
Baby spinach – simply toss in spinach as is. Do not chop in order to get the right texture of this dip. I insist on using baby spinach and not regular/adult spinach.
Artichoke – I used canned artichoke in brine. Then, drain it and give it a quick rinse. Make sure to chop it as fine as possible. Fresh artichoke will become too crunchy and give a raw taste to this dip, therefore, use canned one.
Parsley – I used dried parsley for convenience but fresh parsley tastes even better.
Apple cider vinegar – since we used canned artichoke this dip will have a subtle tang to it. Therefore, try and use apple cider vinegar because its sweet along with being tangy and is a bit mellowed. Any other vinegar will make this vegan spinach dip a bit sour.
For detailed measurement of ingredients, please scroll down to the printable recipe card.
How to make Vegan Spinach Artichoke Dip
Firstly, I combined cashew nuts, coconut milk, nutritional yeast, salt and pepper in a blender.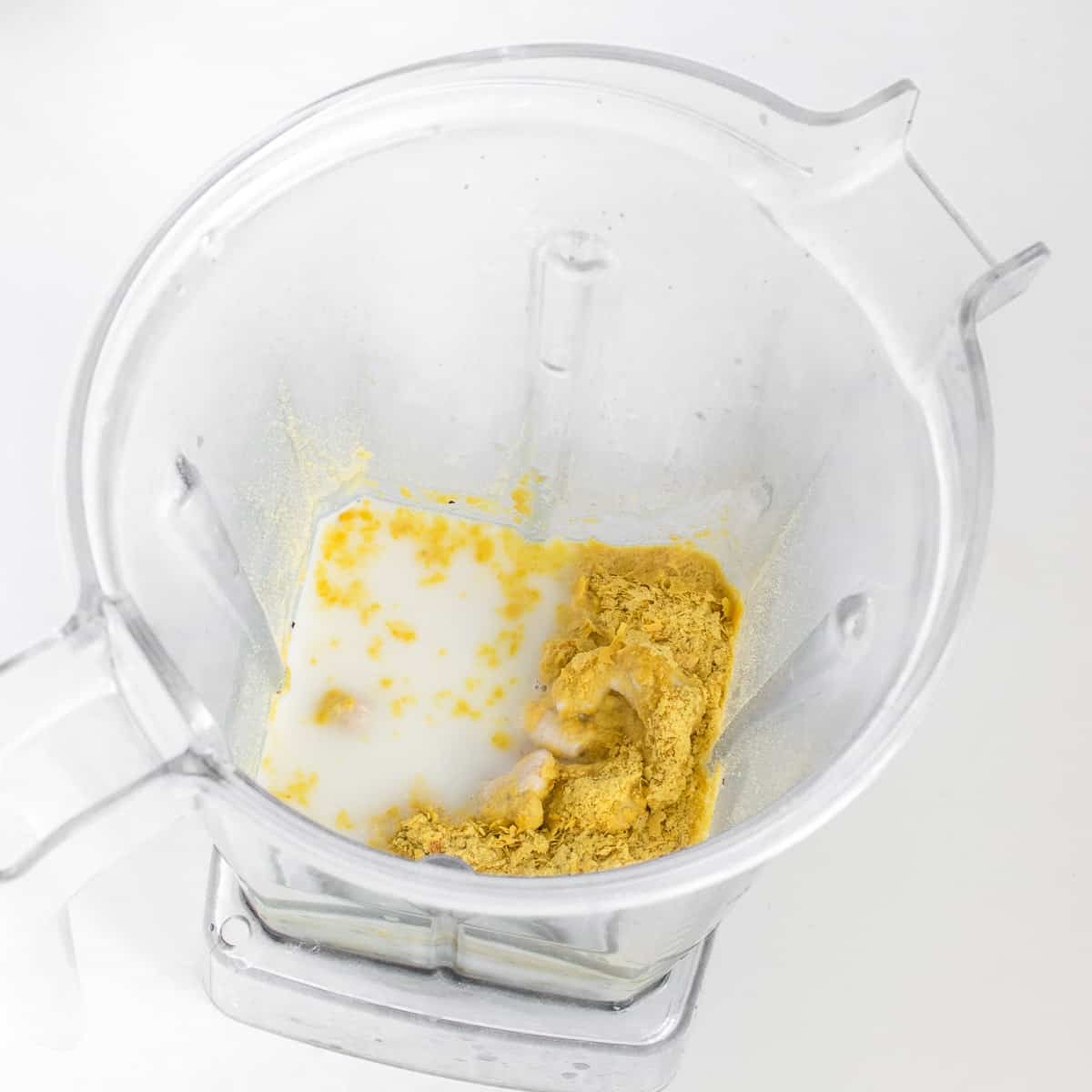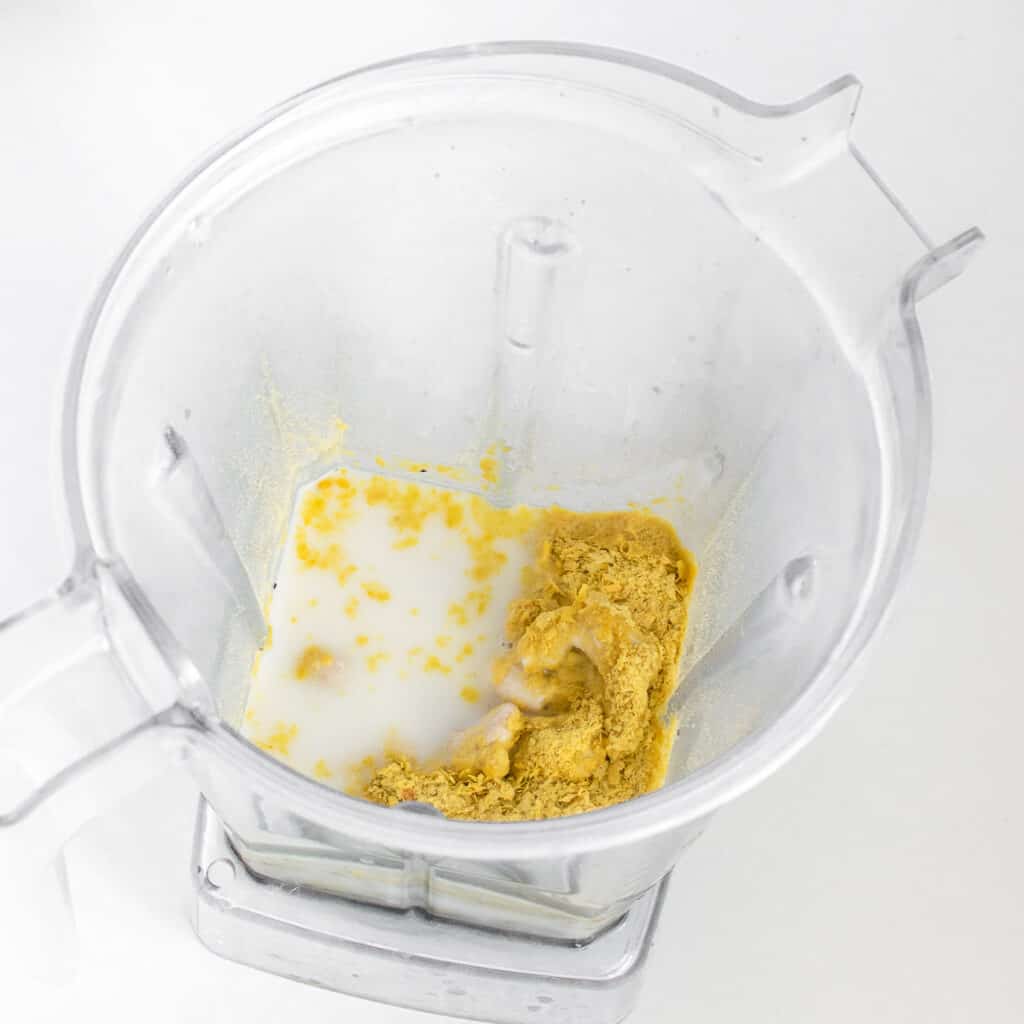 Secondly, I blended it until it was smooth and creamy and kept it aside.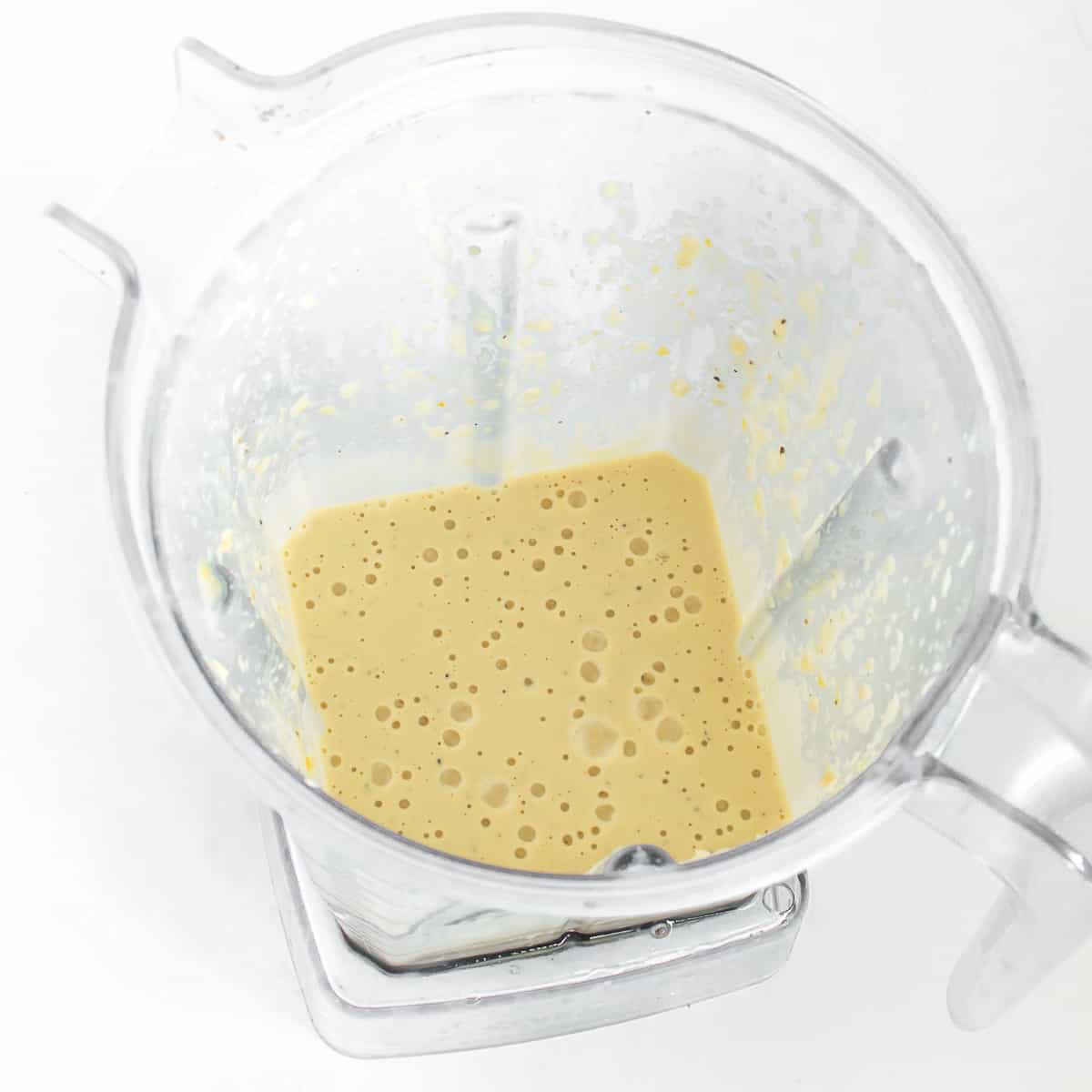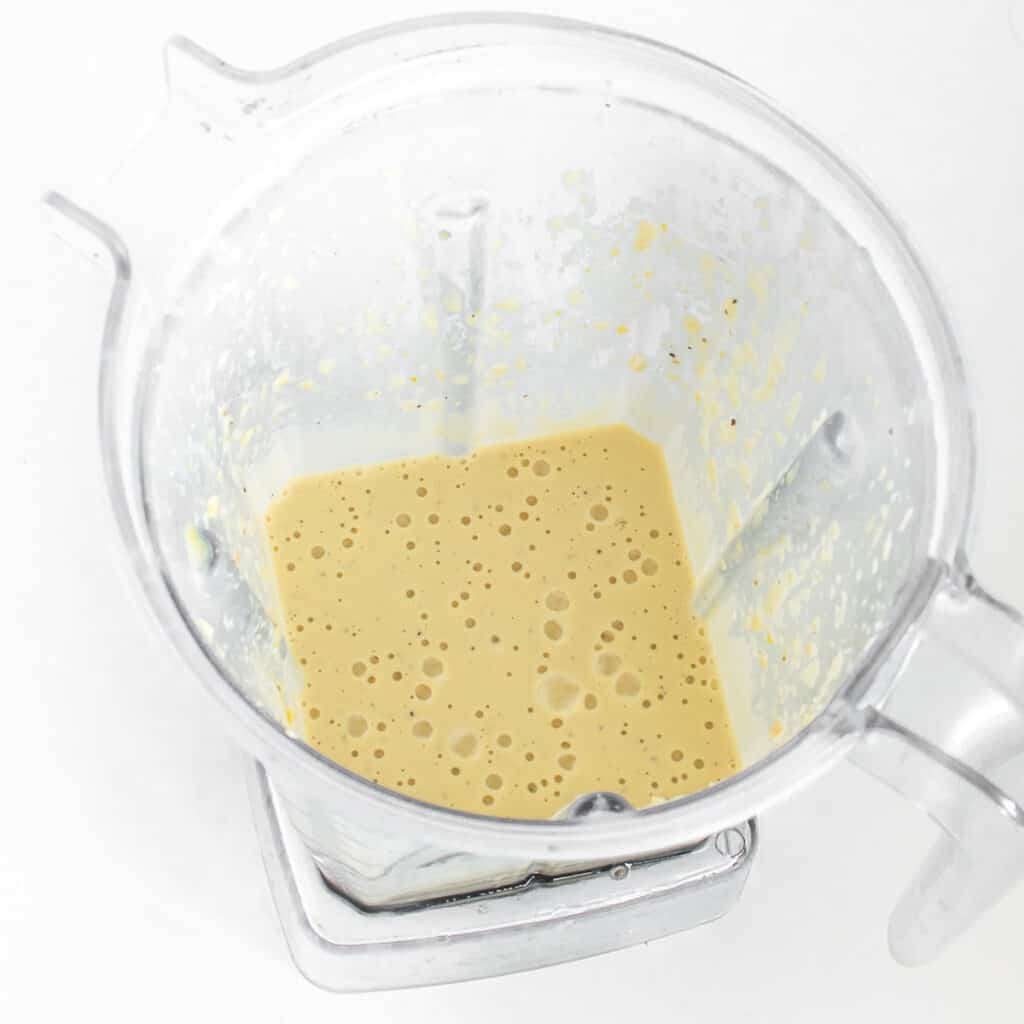 Next, I heated oil in a pan and sauteed onion in it. (1 tbsp oil for nonstick pan and 3 tbsp for cast iron pan).
Then, I added garlic and onion powder to it.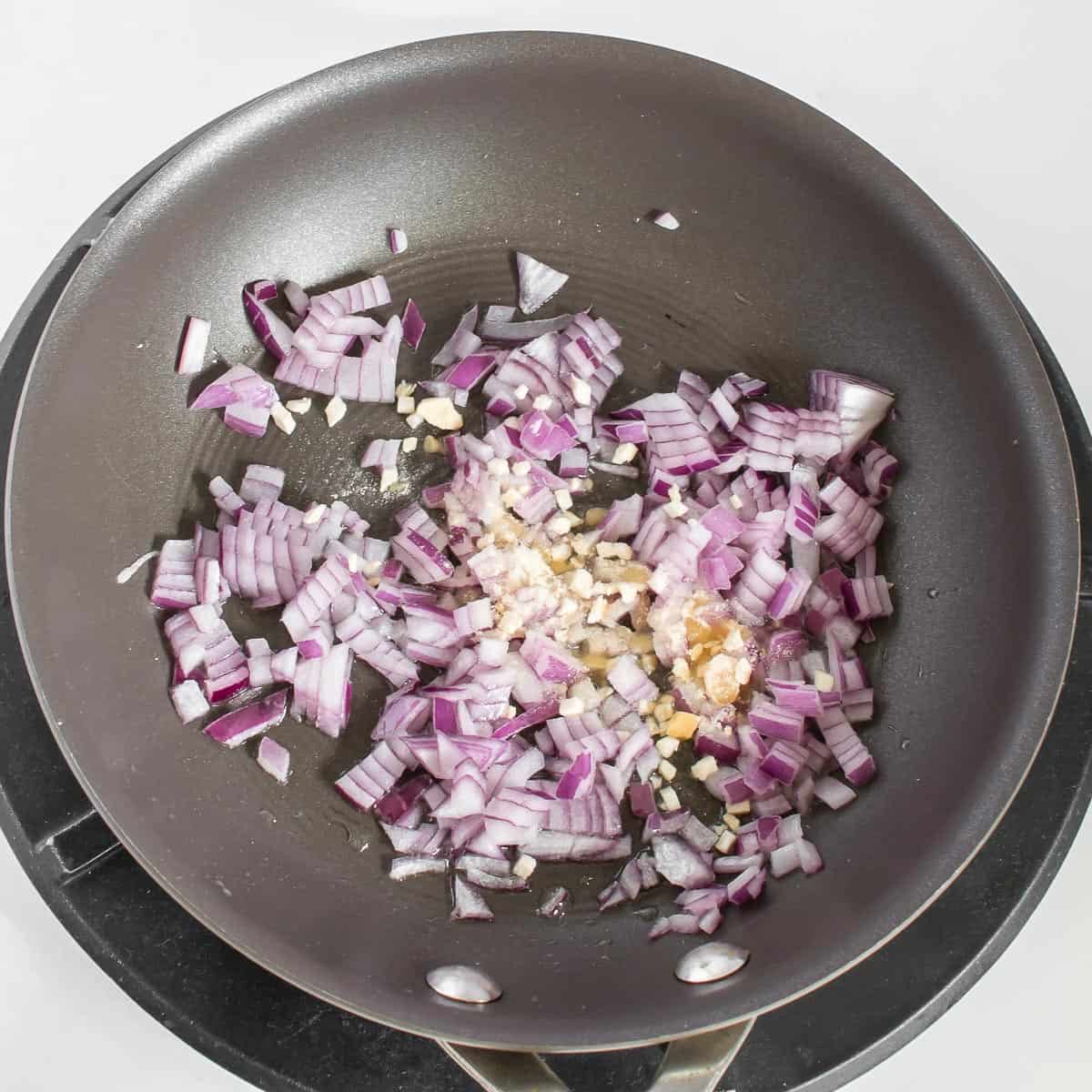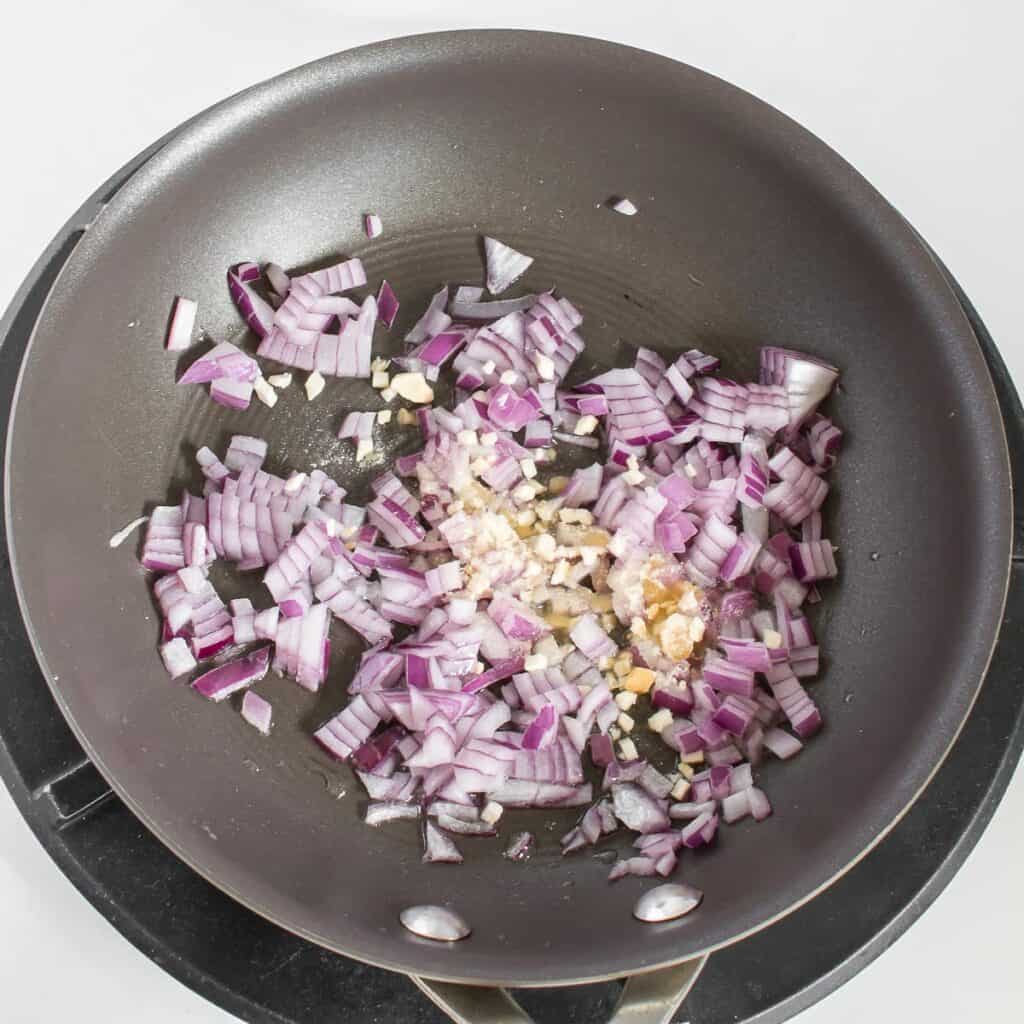 Thereafter, I tossed in spinach and let it cook until all the leaves withered.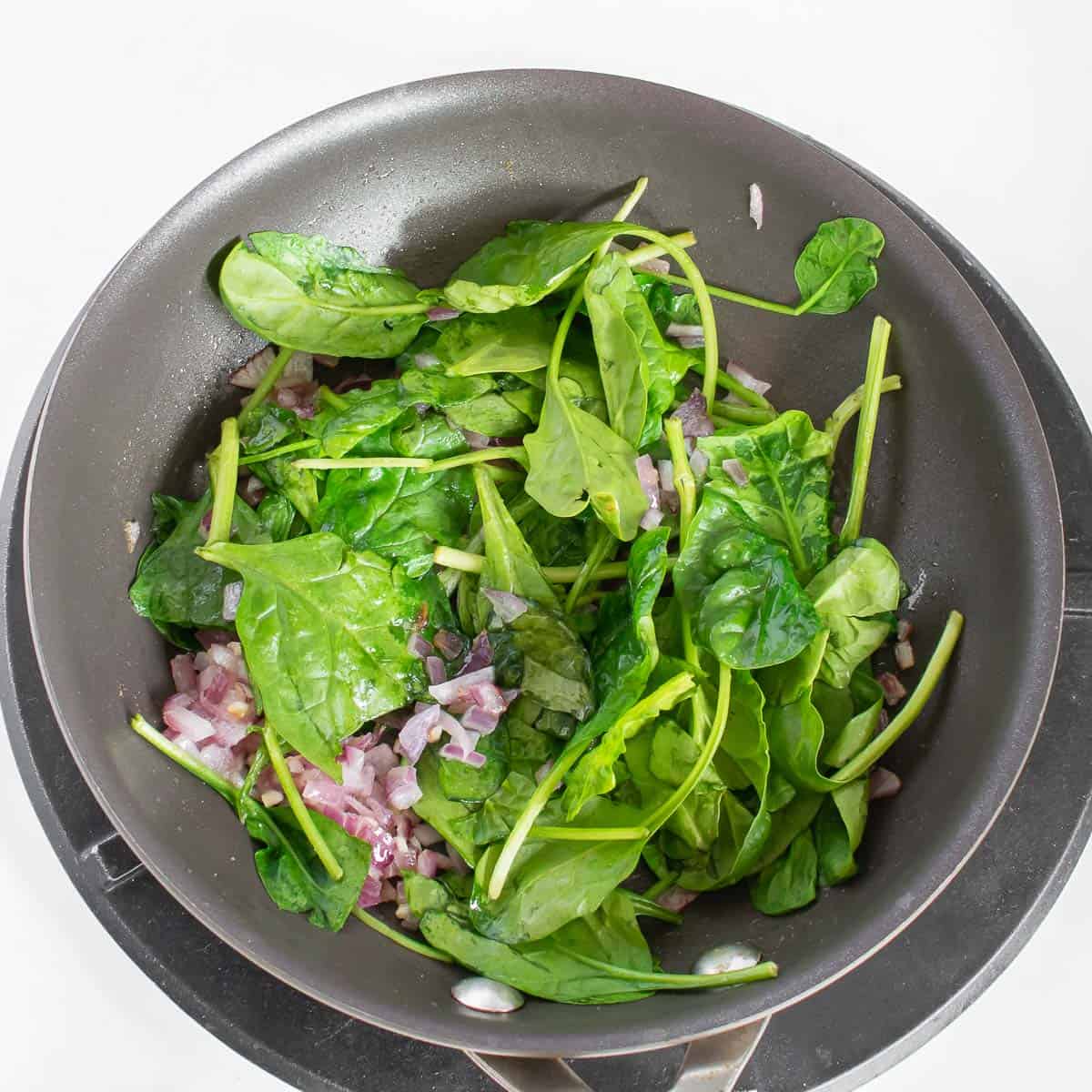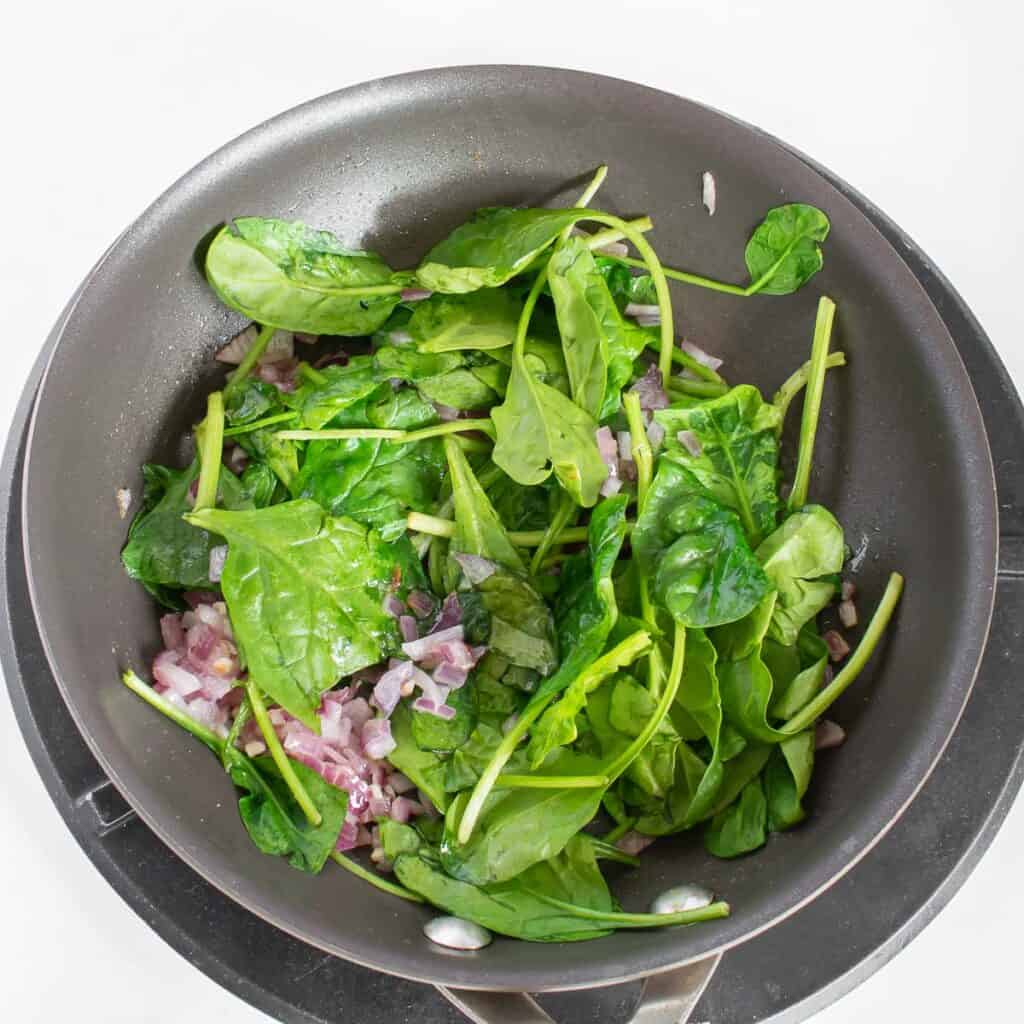 Then, I sautéed in artichoke, parsley and apple cider vinegar to it.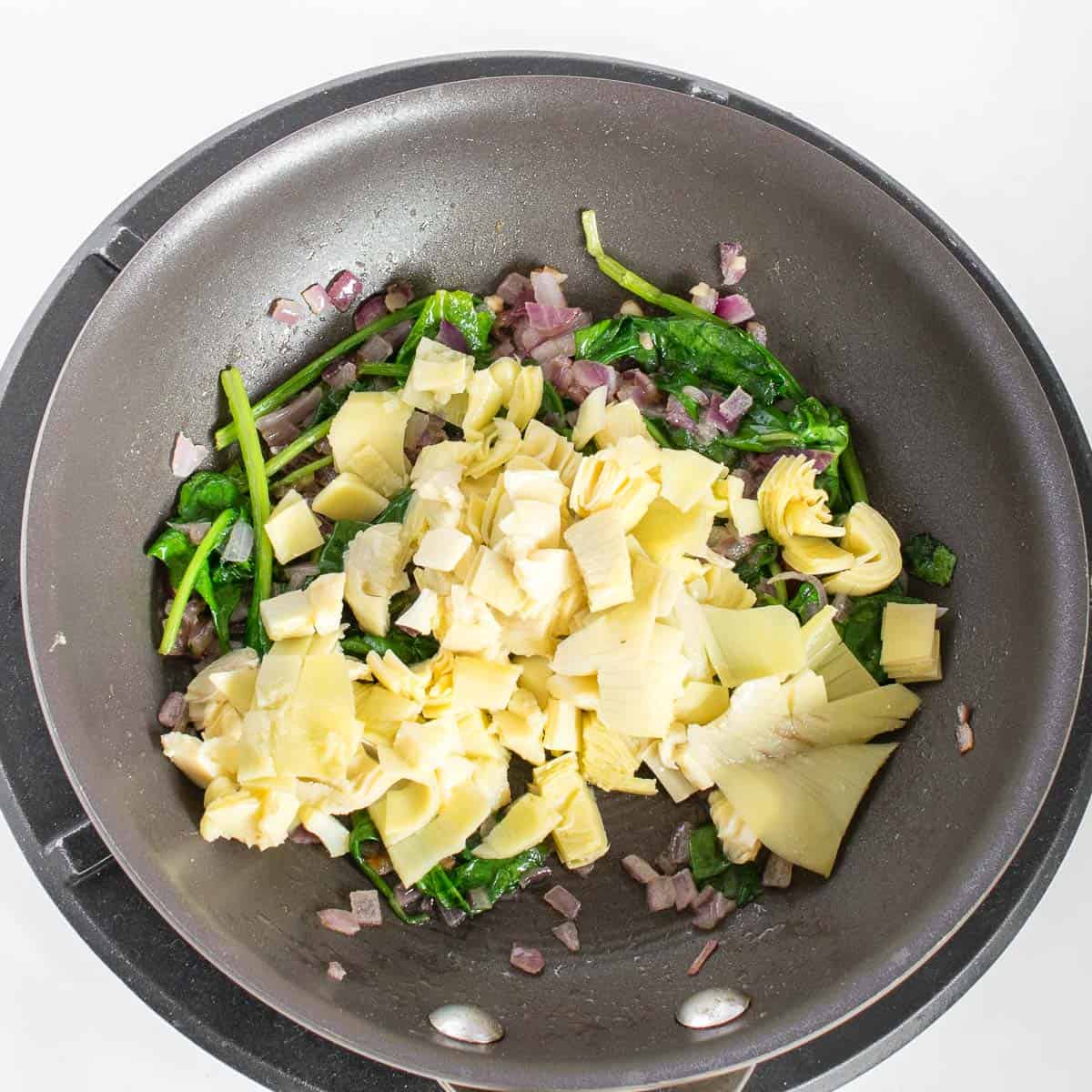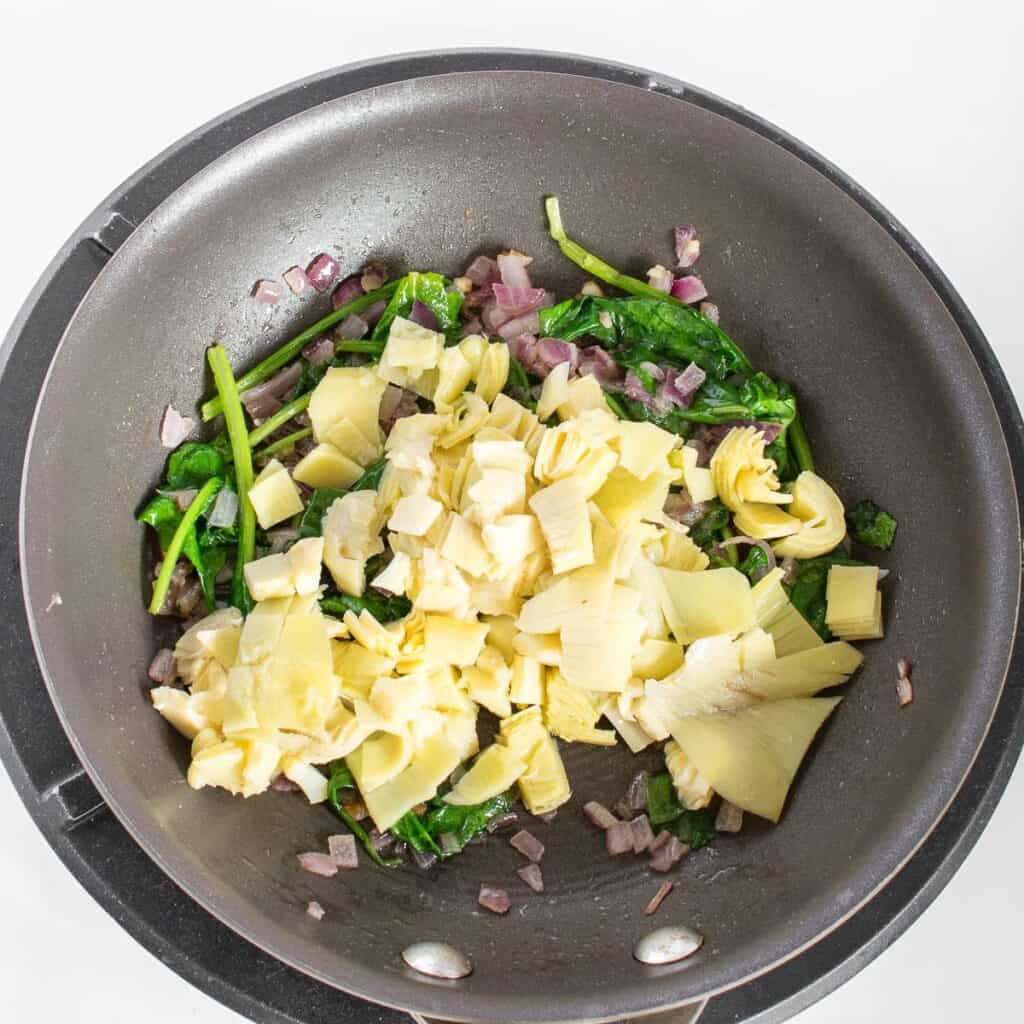 Afterwards, I stirred in blended cashew mixture and kept stirring until bubbles started to form.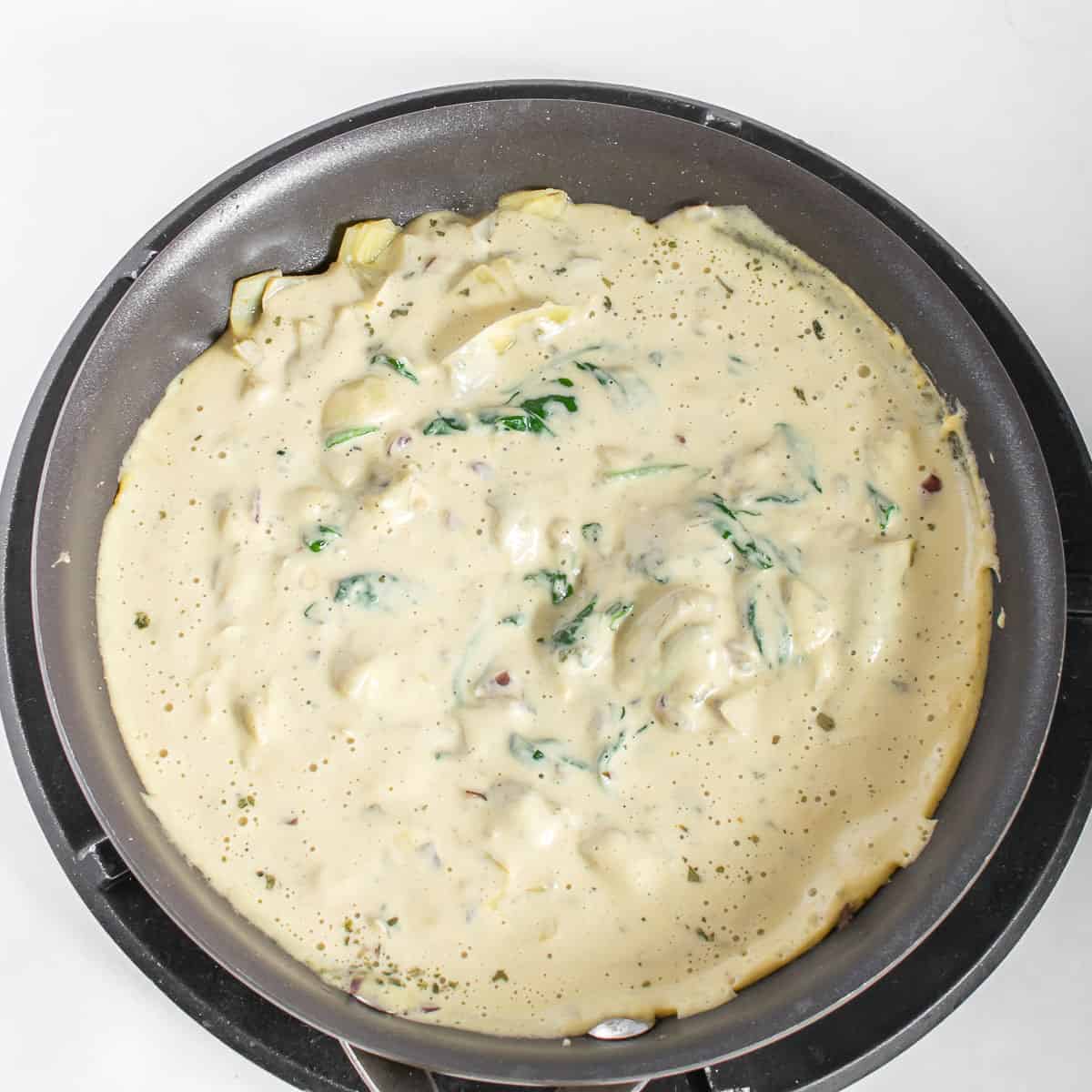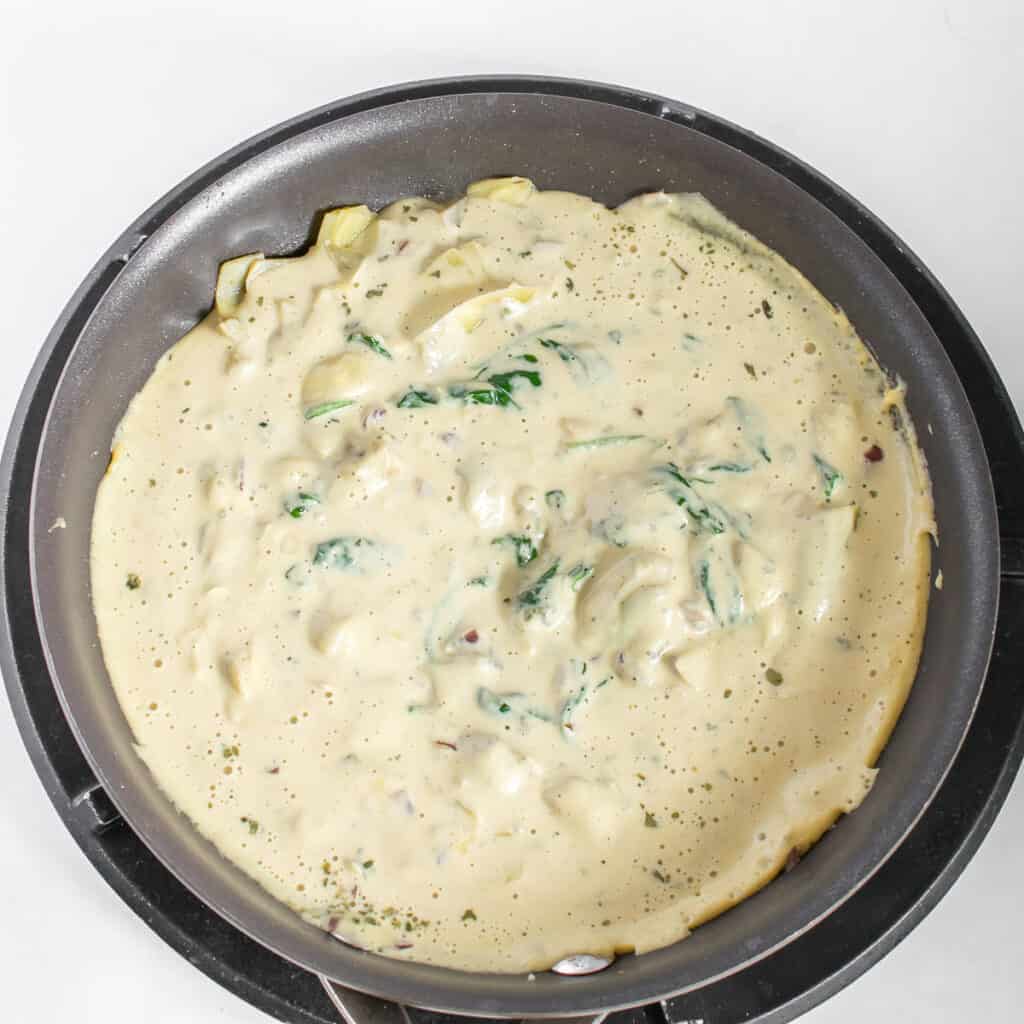 I mixed it well and spread it evenly in the pan.
Later, I let it cook at low-medium flame until it thickened and started to change its color a bit.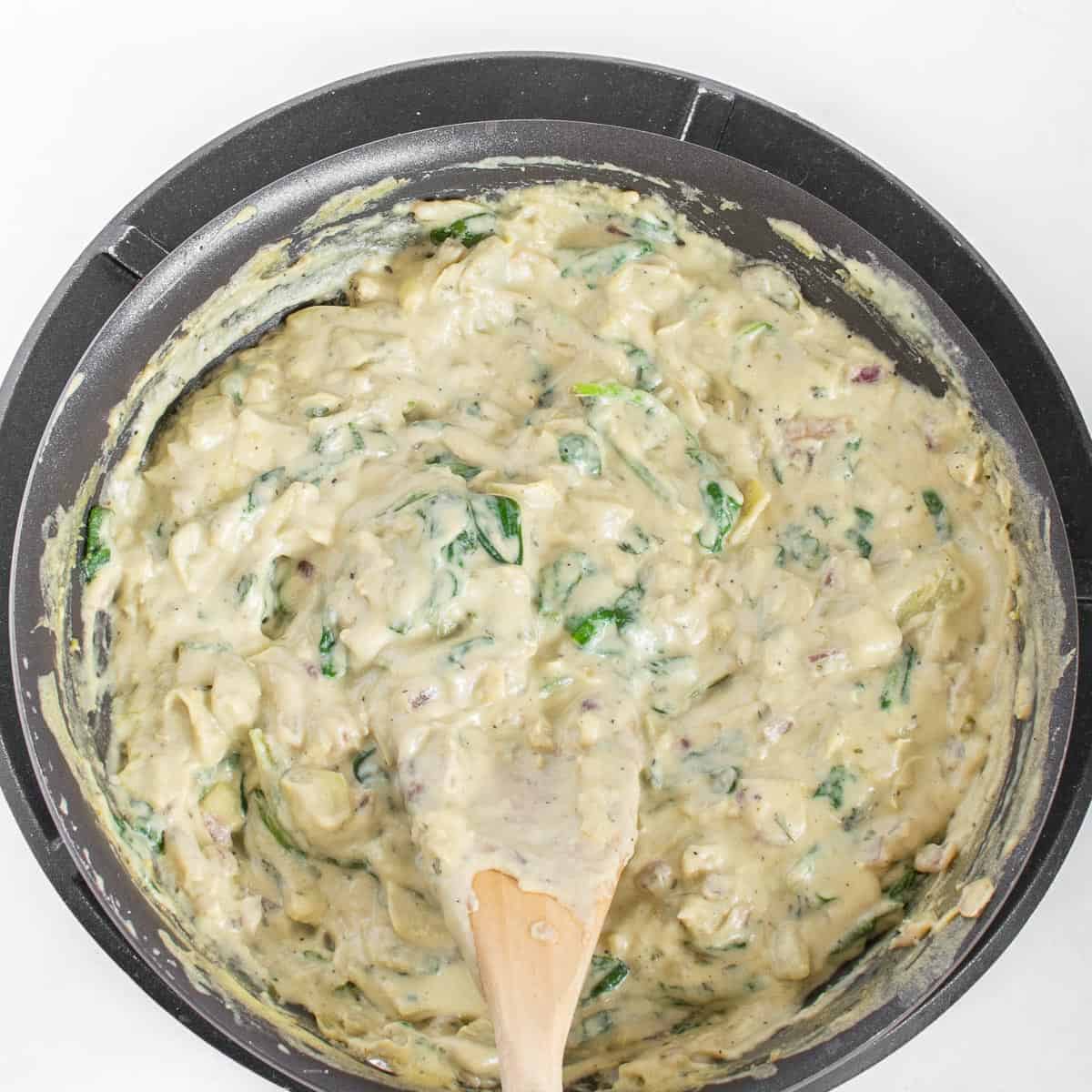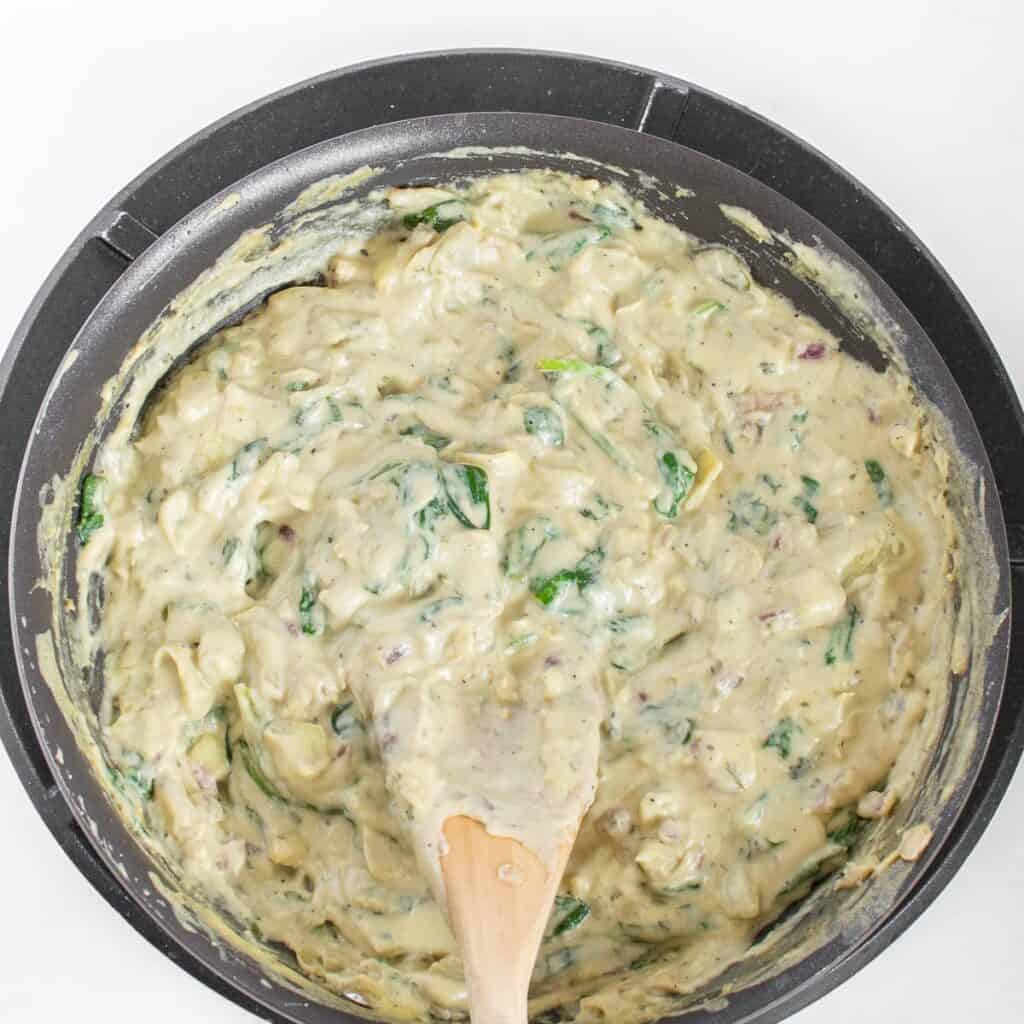 Lastly, I turned it off and garnished with chili flakes.
I, immediately served it hot with baguette, pita chips and veggie sticks.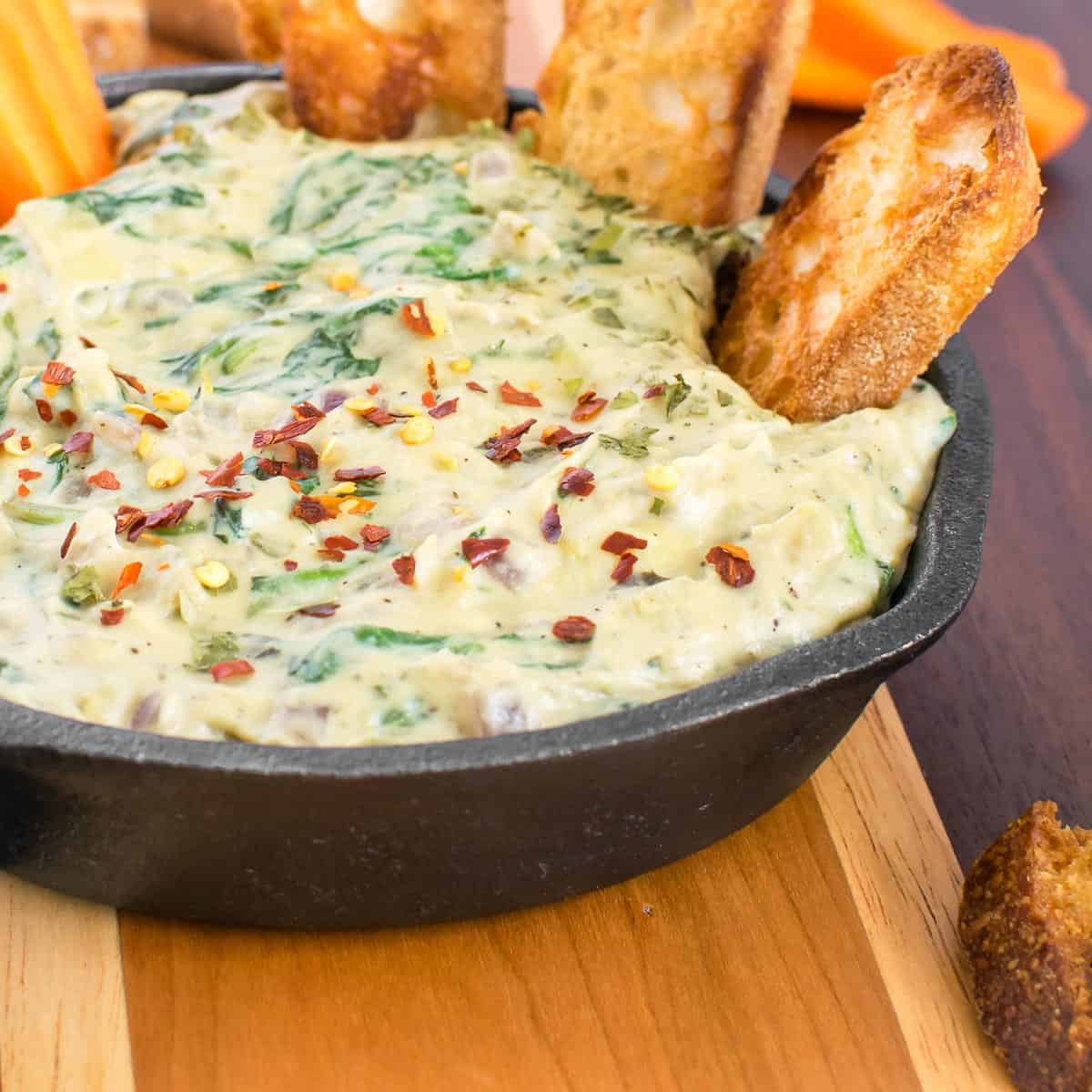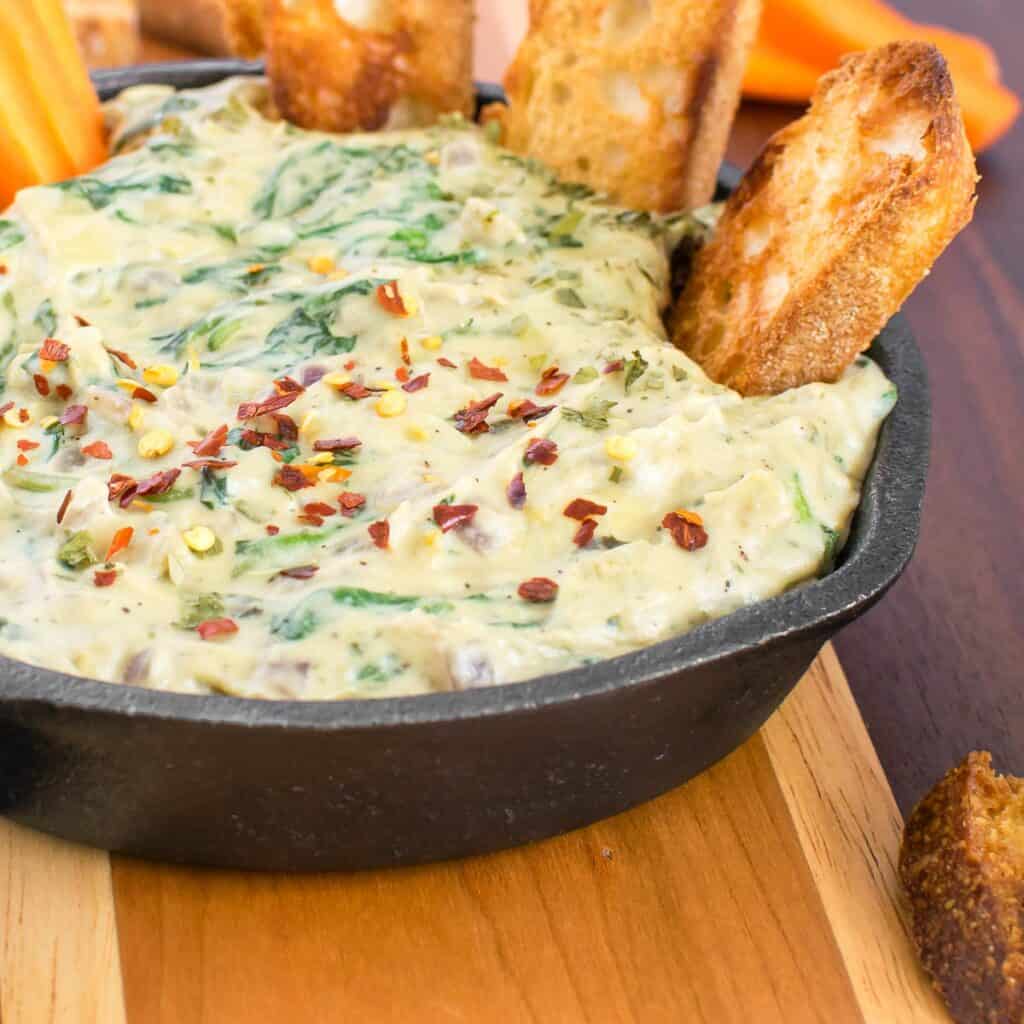 It was an instant hit in my family and it is definitely on my holiday appetizer menu.
This is the best vegan spinach artichoke dip we have tasted so far and I can confidently guarantee it.
Expert tips:
Make sure to blend cashew really smooth. I would recommend using high speed blender like Vitamix. Do not rush through it though and blend it for at least 2-3 minutes or slightly little more.
Keep a watch on your flame so as to avoid any sticking or overcooking from the bottom.
Whether you make it in a nonstick pan or a cast iron pan, serve it as is and do not change the dish for this dip. So, plan how you want to serve it before you start making this recipe.
Vegan Spinach Artichoke FAQs
How long does it last?
This tastes best when served immediately. However, refrigerate the leftovers in an air tight container for about 2-3 weeks. Warm it up in a pan on the stove top or microwave it and serve.
Is it healthy?
Yes, I have used cashew as its base which adds healthy fats and to this recipe. Then, it is loaded with healthy veggies and flavored with salt and pepper. Its low in carbohydrates and calories too. Therefore, this healthy vegan spinach dip can be enjoyed frequently.
Can I use frozen spinach?
I made it with fresh baby spinach with tastes the best. Frozen spinach will make this dip a bit thinner in consistency so I would insist on using fresh ones.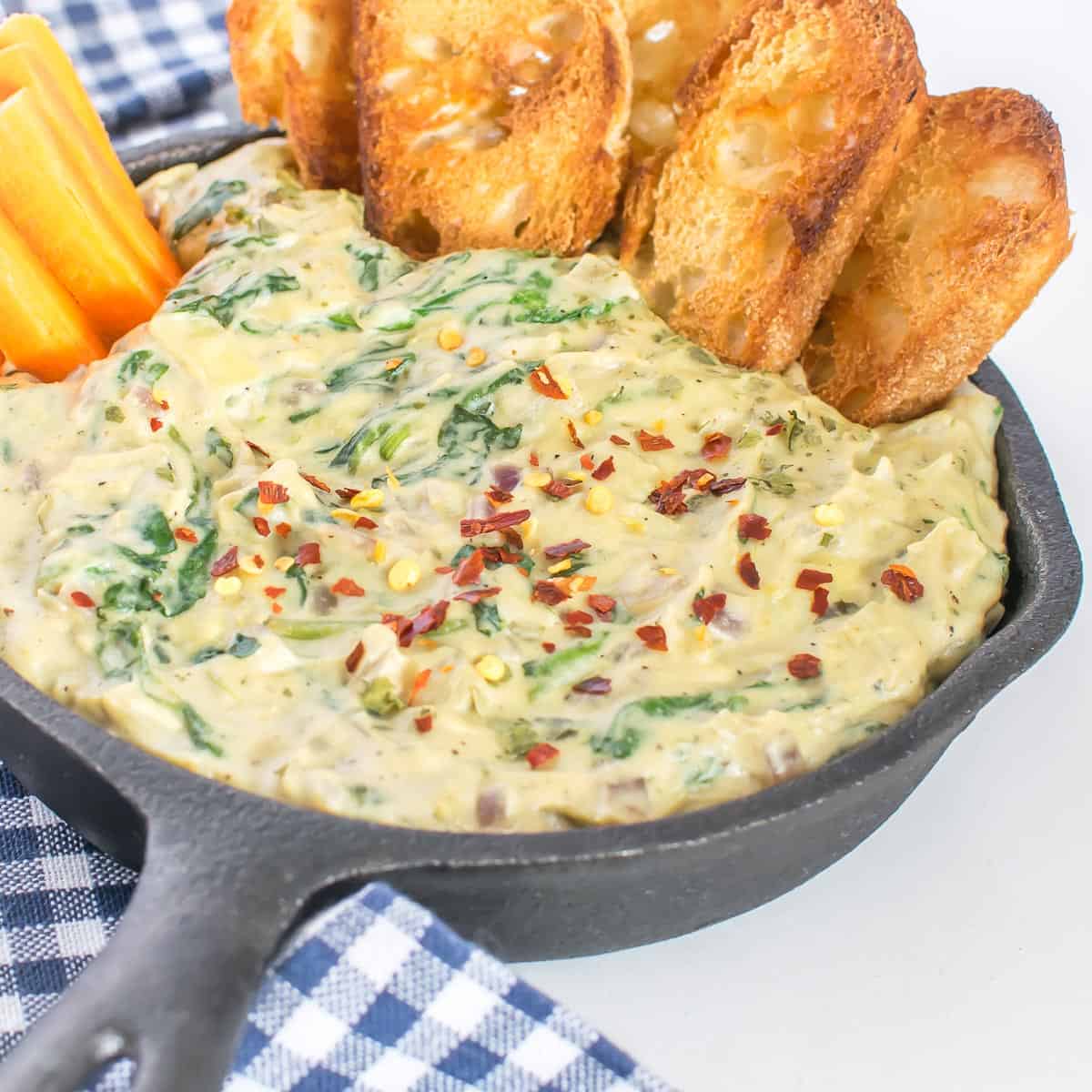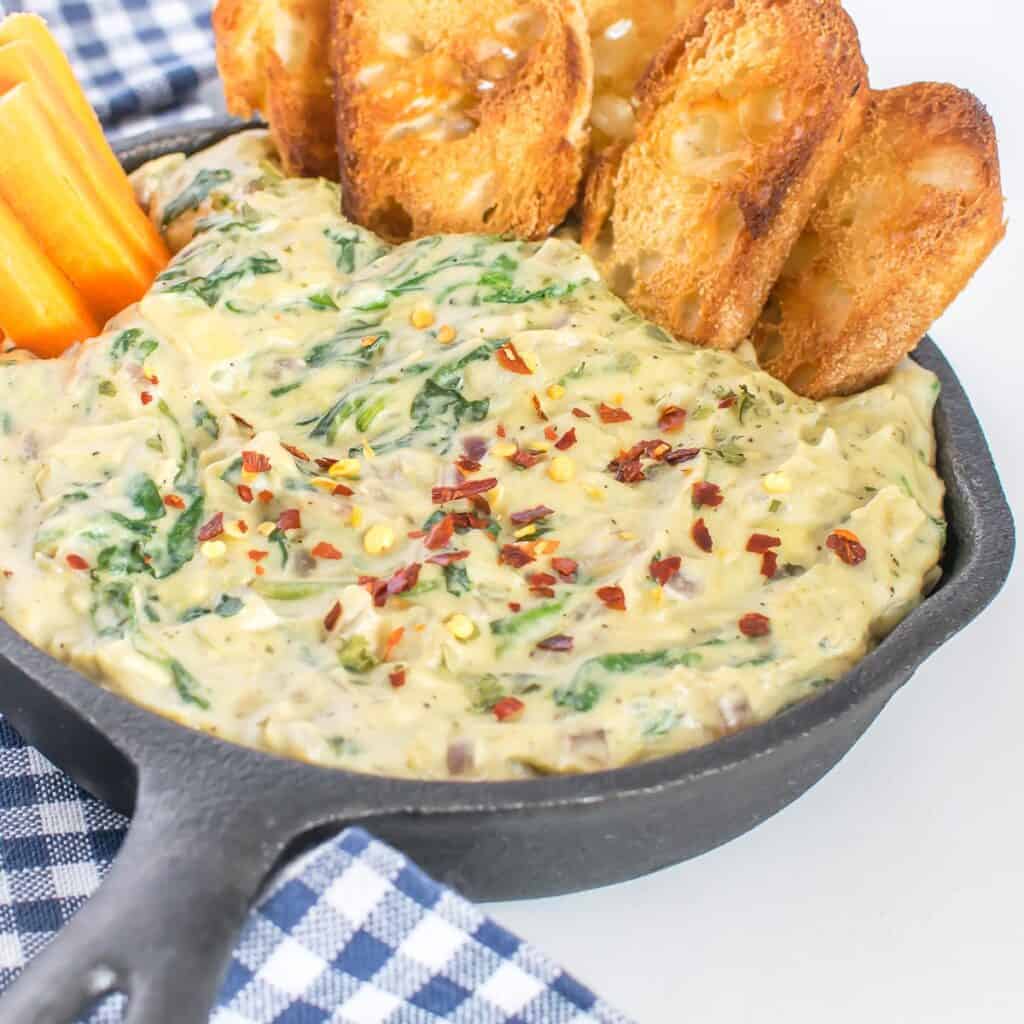 My other dip recipe that you might like:
Instant Pot Cranberry Sauce
French Onion Dip
Vegan Queso cauliflower Dip
Sweet Potato Dip
This post may contain affiliate links which means that if you click on them and also make a purchase, I will get a small commission. Moreover, I share only those products which I use personally and love.
Where to find me?
Follow me on Facebook or on Twitter. You may tag @kiipfit on Instagram with your recipe remake images because I would love to see what you cooked.
Did you make it?
If you get a chance to make this recipe then please leave your feedback in the comments below along with a 5-star rating.
In addition, you may checkout my cookbook for everyday comfort vegan recipes.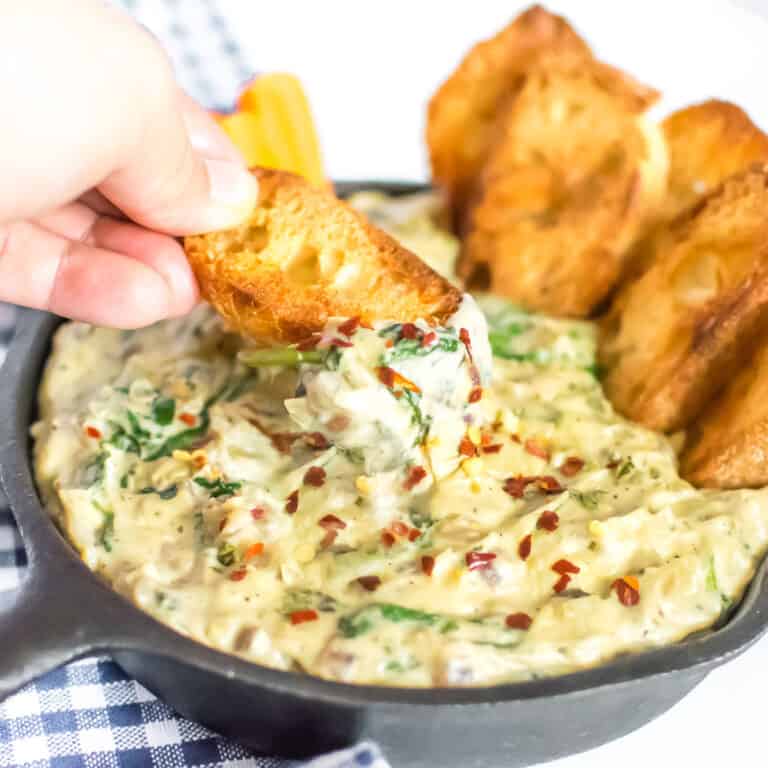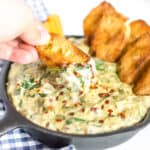 Print Recipe
Vegan Spinach Artichoke Dip
This Vegan Spinach Artichoke Dip is a creamy and cheesy one pan dish with all the comforting flavors in it. It's a stove top recipe which makes it easier to make all year round. It's a perfect crowd pleaser appetizer for any occasion.
Instructions
In a blender combine drained cashew nuts, coconut milk, nutritional yeast, salt and pepper. Blend it smooth and until creamy. Keep it aside.

Heat 1 tbsp. oil in a nonstick pan or 3 tbsp. oil in a cast iron pan and sauté onion in it for 1 minute.

Add garlic and onion powder to it and sauté until onions are translucent.

Toss in spinach and sauté until all the leaves wither.

Now, toss in chopped artichoke, parsley, apple cider vinegar. Mix well at medium -high flame.

Stir in blended cashew mixture and mix well until bubbles start to form. Taste test at this point and adjust salt and pepper.

Spread it evenly in the pan and let it cook at low-medium flame for 5-7 minutes or until it thickens.

Garnish with chili flakes and serve hot in the same pan with toasted baguette or veggie sticks.
Notes
Make sure to boil the water well and soak cashew nuts for at least 15 minutes. Before draining its water test the cashew with fingers and try to mash it. If you can mash with fingers then its ready to be used.
I used coconut milk beverage from tetra pack that comes in similar package as regular milk. Canned coconut milk does not work here as it will be come to heavy and coconutty.
This recipe is a stove top recipe and no baking is required. Just cook until it thickens and you are happy with its consistency. Try and serve it in the same pan as cooked for the best results.
The leftovers can be refrigerated in an air tight container for 2-3 weeks. Warm it up in the pan on a stove top or simply microwave a for 1 minute and serve.
Nutrition
Calories:
112
kcal
|
Carbohydrates:
7
g
|
Protein:
5
g
|
Fat:
8
g
|
Saturated Fat:
8
g
|
Polyunsaturated Fat:
1
g
|
Monounsaturated Fat:
1
g
|
Sodium:
15
mg
|
Potassium:
208
mg
|
Fiber:
2
g
|
Sugar:
1
g
|
Vitamin A:
1125
IU
|
Vitamin C:
4
mg
|
Calcium:
18
mg
|
Iron:
1
mg