This cheesy Vegan Eggplant Casserole is a satisfying one pot meal that's loaded with vegetables and covered with delicious cashew sauce. Its easy and perfect for all year round. Serve it as the main dish or as a side, its beautiful to present to your guests as well.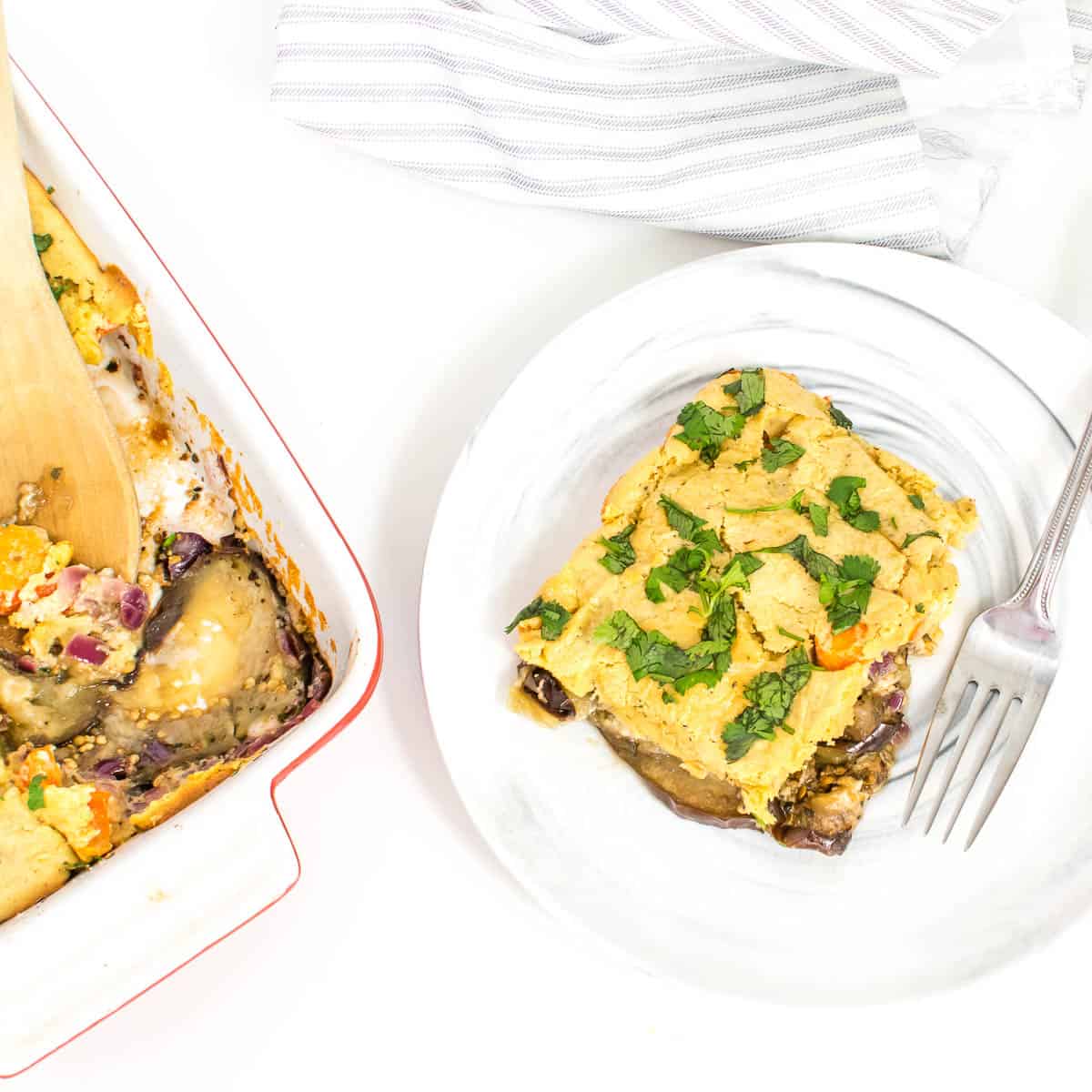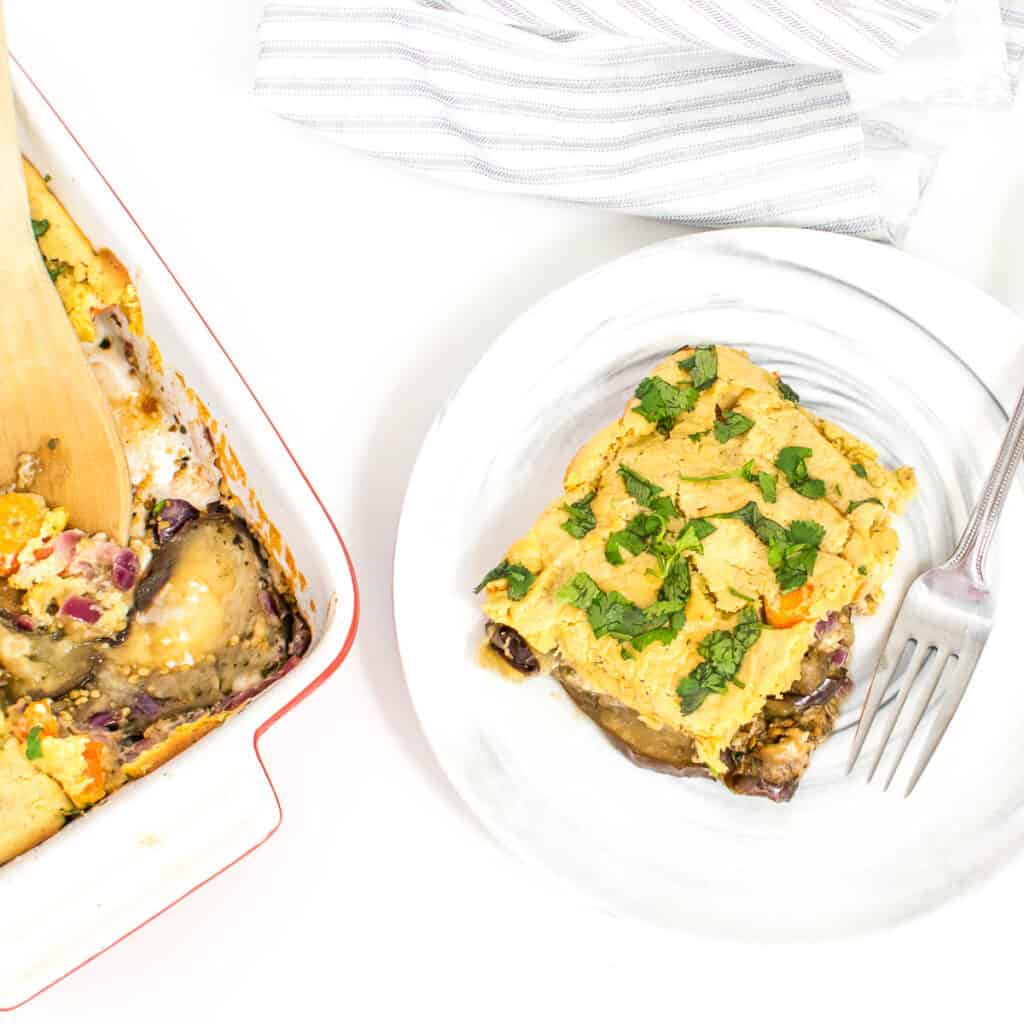 Eggplants are quite versatile and has a nice meaty texture when cooked properly.
They bring out great flavors and compliments well with almost all vegetables.
This Vegan Eggplant Casserole has the best flavors and the perfect blend of ingredients in all its layers.
Its almost similar to my vegan moussaka but my air fryer eggplant is the most popular and you must try it.
My friends have also been raving about eggplant stir fry so you must try it.
How to buy eggplant?
It is important to buy a spotless eggplant to make sure its not brown from inside and must be firm yet ripe. Therefore, when you select it, you must press it gently withy our finger. You should be able to press it a bit but must be firm at the same time.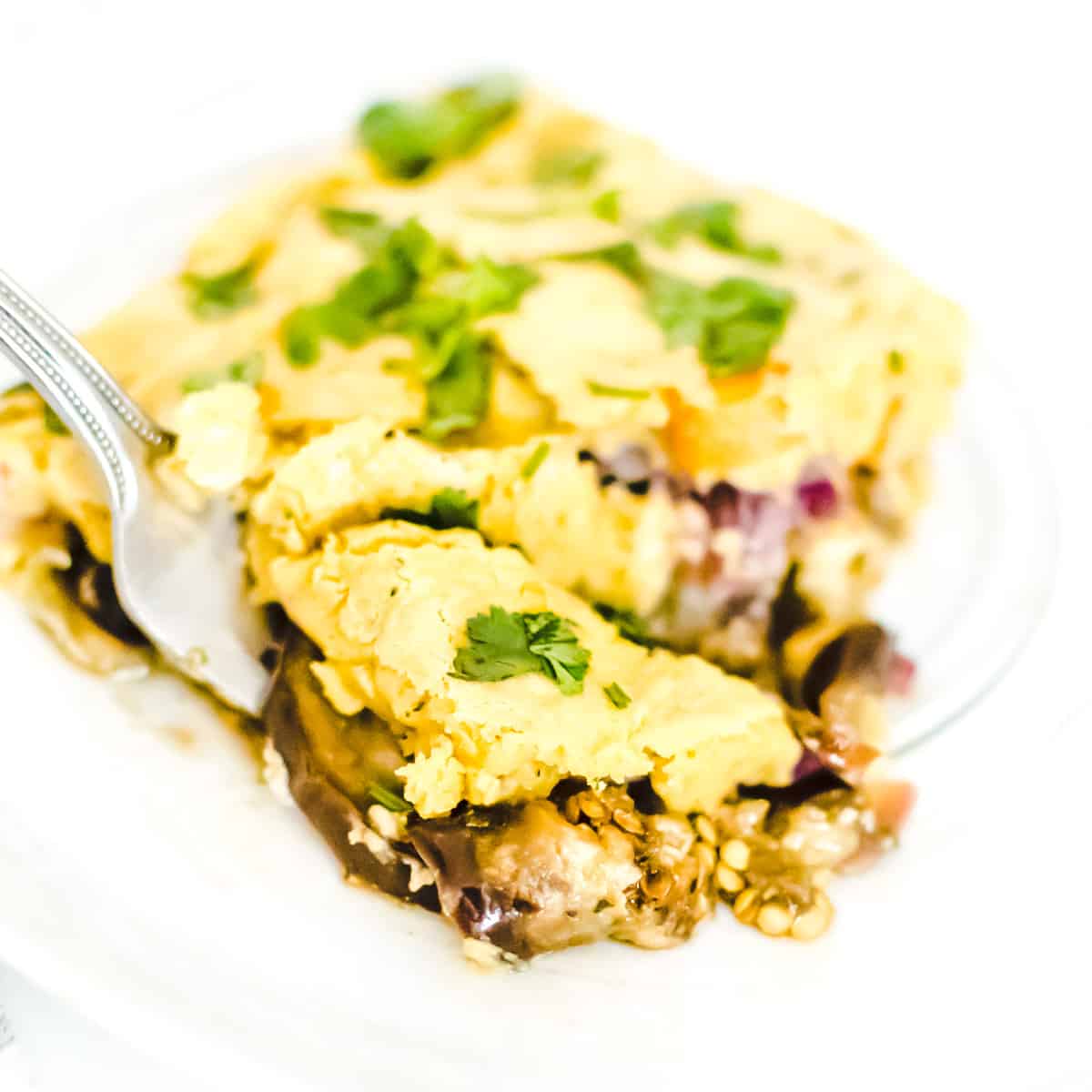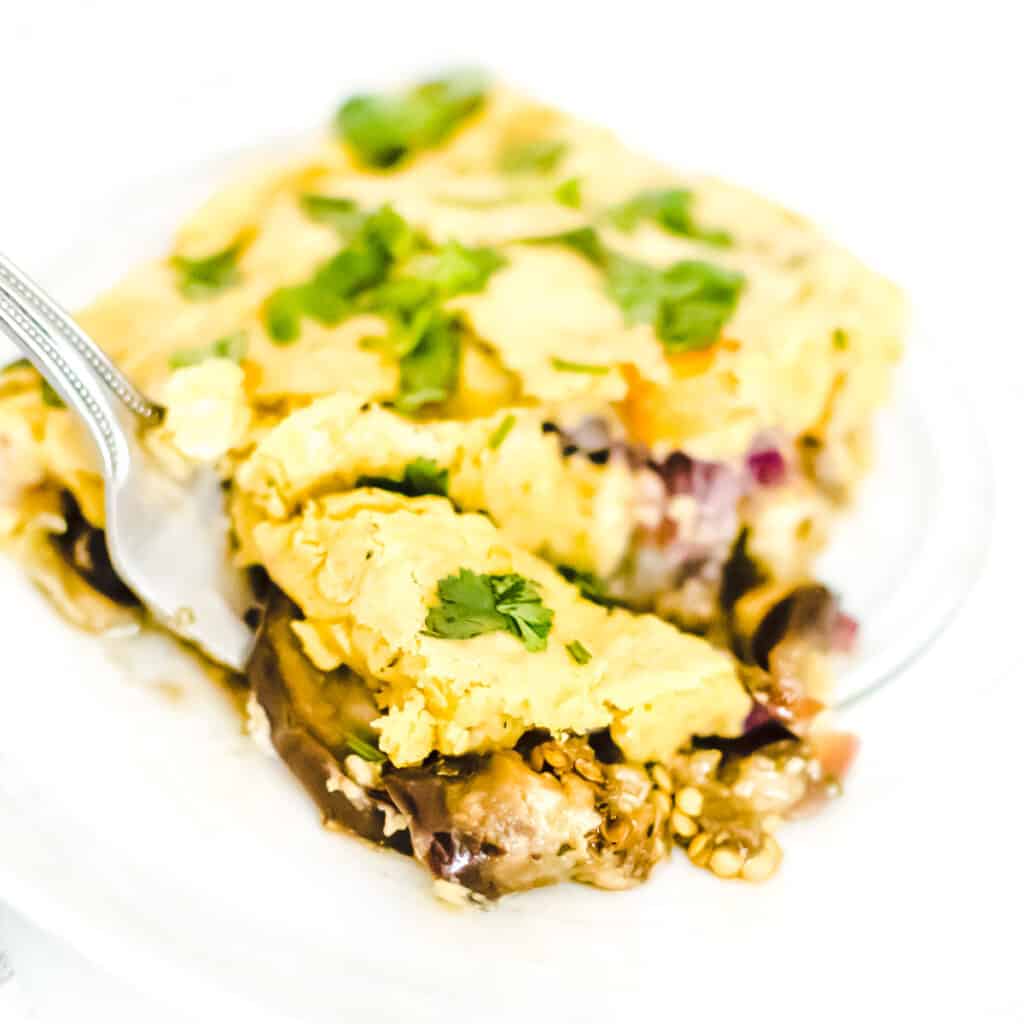 One of my readers requested me to make her an eggplant recipe with cashew sauce and no tomatoes. It was an absolute challenge for me to bring out the right flavors with limited ingredients and such specifications.
I took a while and tested it many times. Finally, I was able to get the right taste and texture to my satisfaction.
I have been working on getting the cheesy taste and the white sauce effect without using any heavily processed ingredients. Finally, I succeeded and my family approved it.
Overall, I enjoyed working on this request because it made me very happy every time I was improvising on this eggplant recipe. All this while I kept imagining her and her smiling face when she sees what I came up with for her.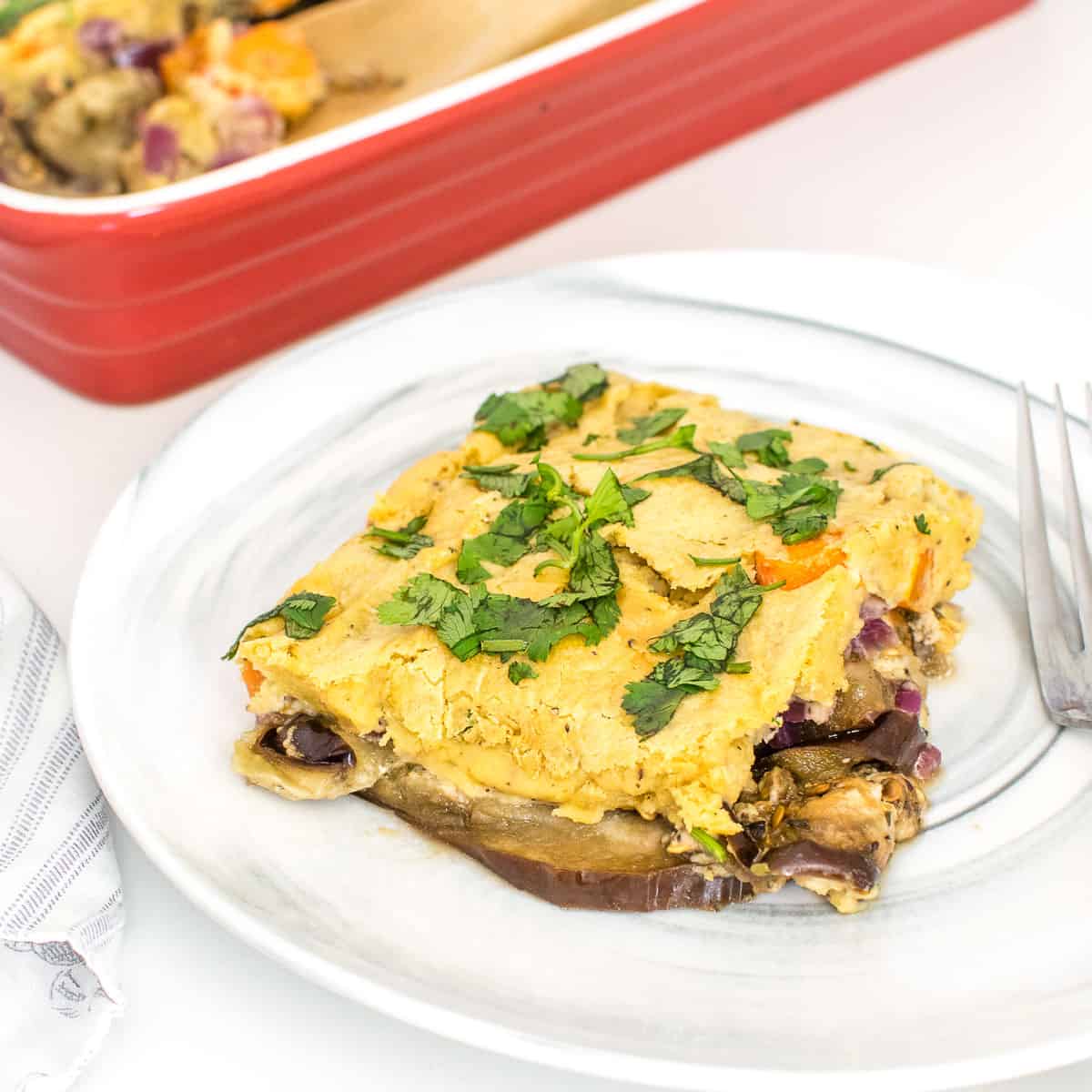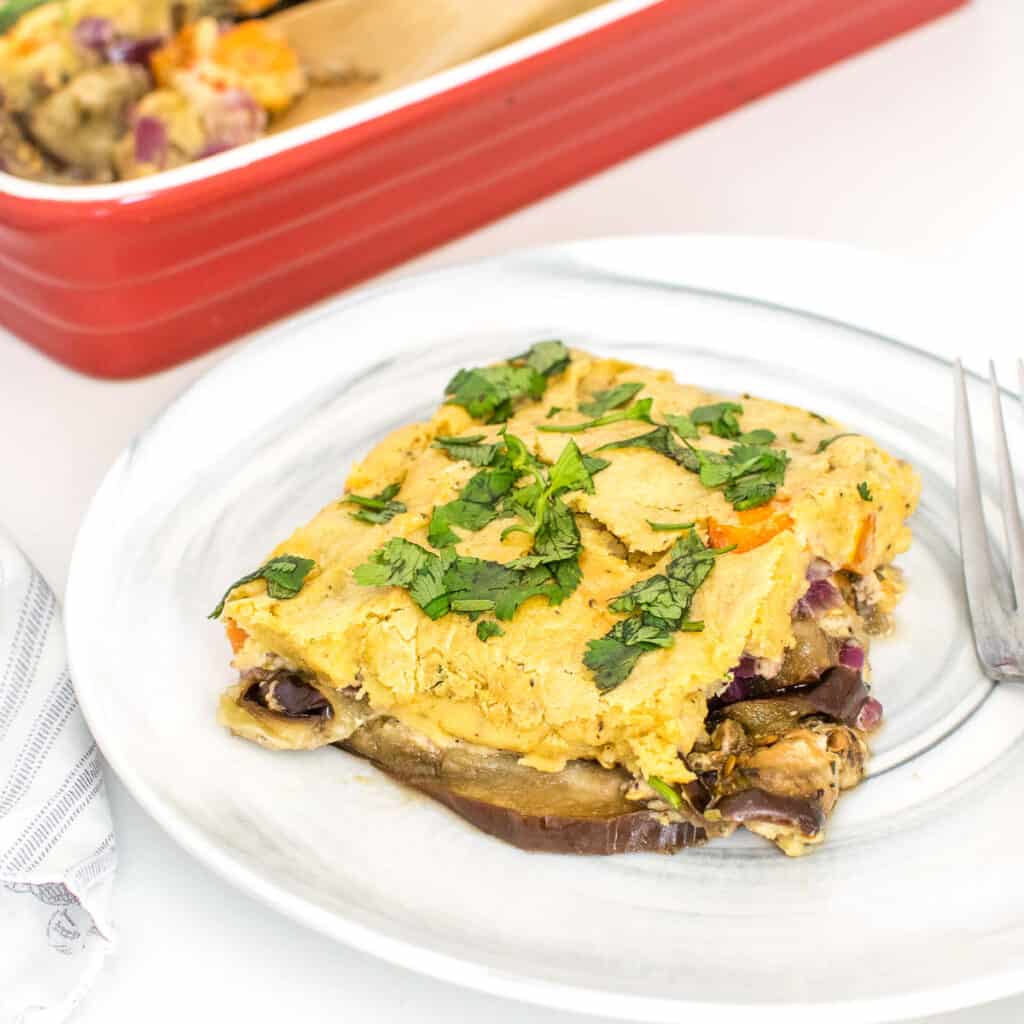 Therefore, here I am sharing this easy eggplant casserole with you.
Ingredients for baked eggplant casserole in a vegan version
Eggplants
Salt
Pepper
Oregano
Parsley
For sauce
Cashew nuts
Nutritional yeast
Salt
Pepper
Garlic
Dairy free milk
Others
Onions
Carrots
Red bell pepper
Garnish
Cilantro
I have used these easily available ingredients. It is basically all pantry staple that is usually available in our houses.
Ingredients notes:
Eggplants – its loaded with antioxidants and vitamin c which in turn helps protect the cells from any damage. It is also known as brinjal in some countries. Here I have used regular eggplant of medium size. Italian eggplant does not work in this recipe as expected.
Herbs – I used dried herbs for convenience but feel free to use fresh ones especially fresh parsley.
Cashew nuts – it makes a great base for this vegan sauce and adds a nice nutty and subtle sweetness to it. At the same time these cashew nuts provide healthy fats to this eggplant casserole recipe.
Nutritional yeast – this adds a nutty and cheesy flavor along with vitamin B12. It plays an important role in this sauce and adds lot of flavors too.
Vegetables – I added few colorful vegetables to make it a complete meal. You may add any colored bell peppers as well.
Cilantro – It's important to garish this vegan eggplant casserole with lots fresh cilantro because it will enhance the flavor, aroma and presentation of this dish.
For detailed measurement of ingredients, please scroll down to the printable recipe card.
How to make Vegan Eggplant Casserole
Step1: how to roast
Firstly, I sliced eggplant into thin round slices and placed them in a prepared baking casserole dish in a single layer.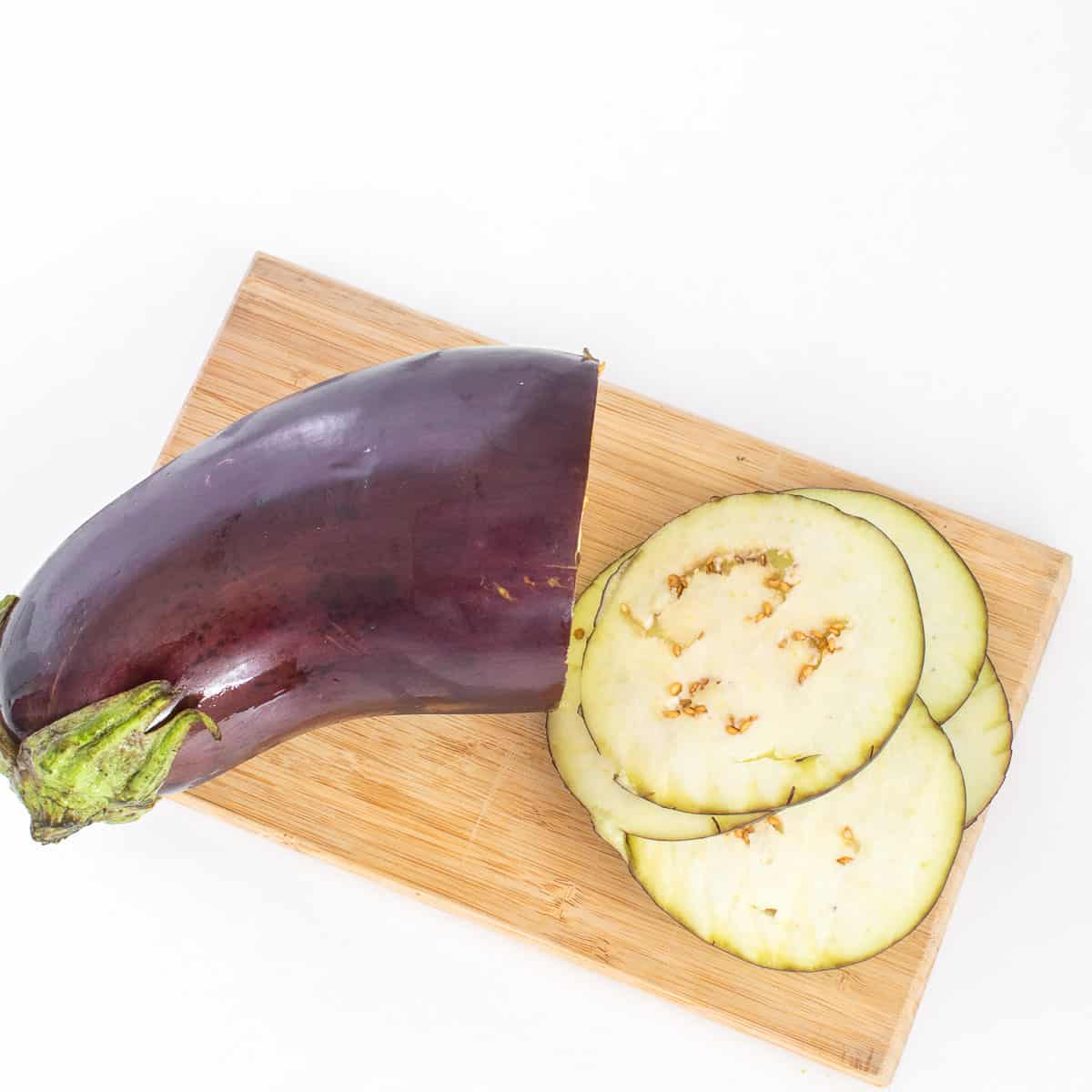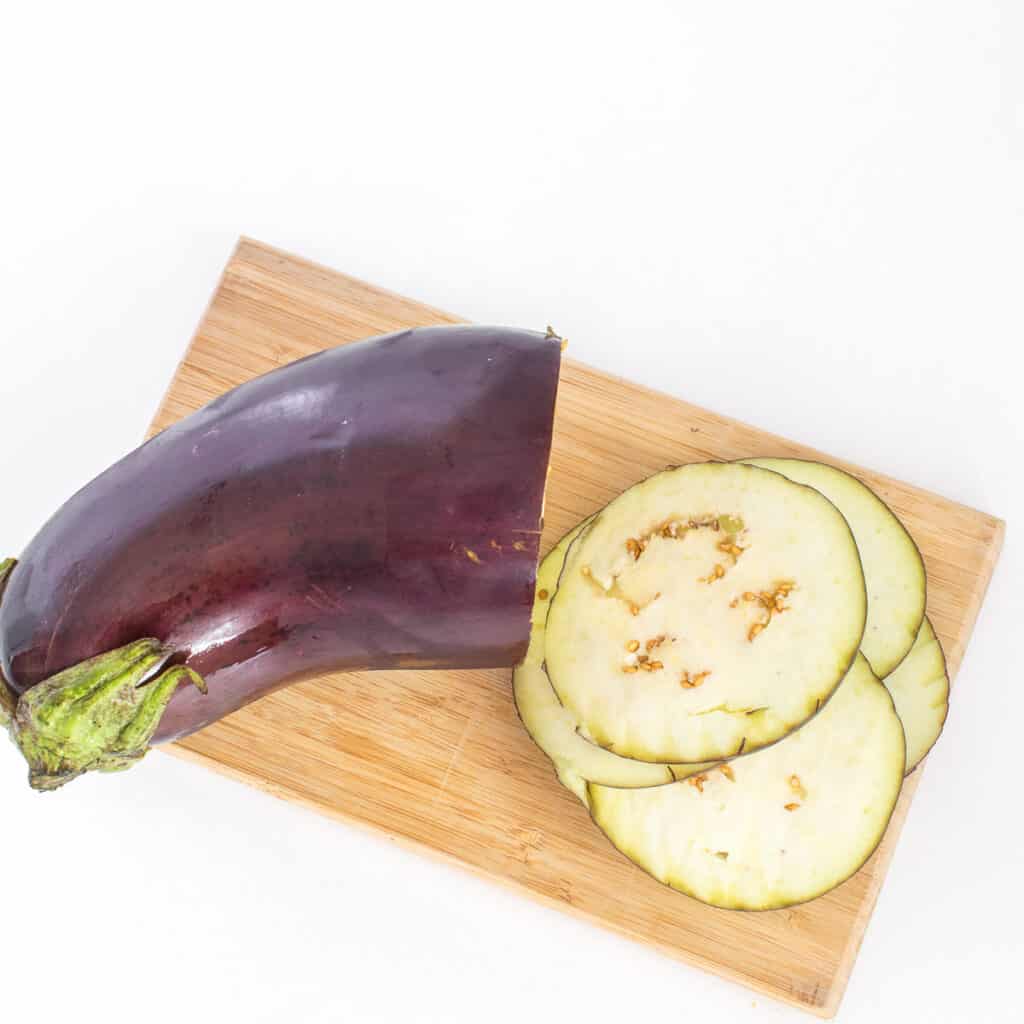 Secondly, I seasoned it with salt, pepper and herbs.
Next, I baked it in the middle rack of the preheated oven at 400 degree Fahrenheit for 10 minutes.
Once done, I took it out and kept it aside.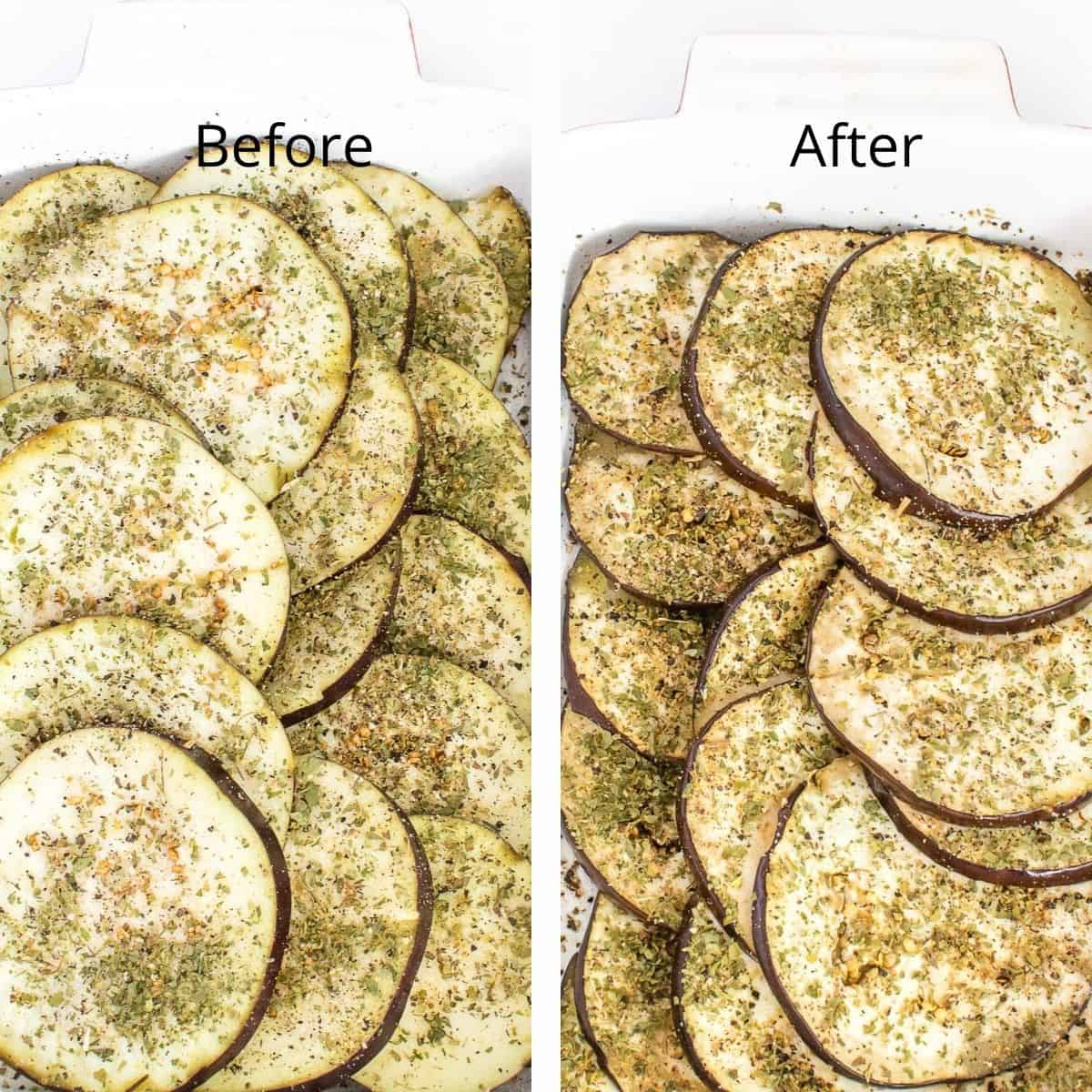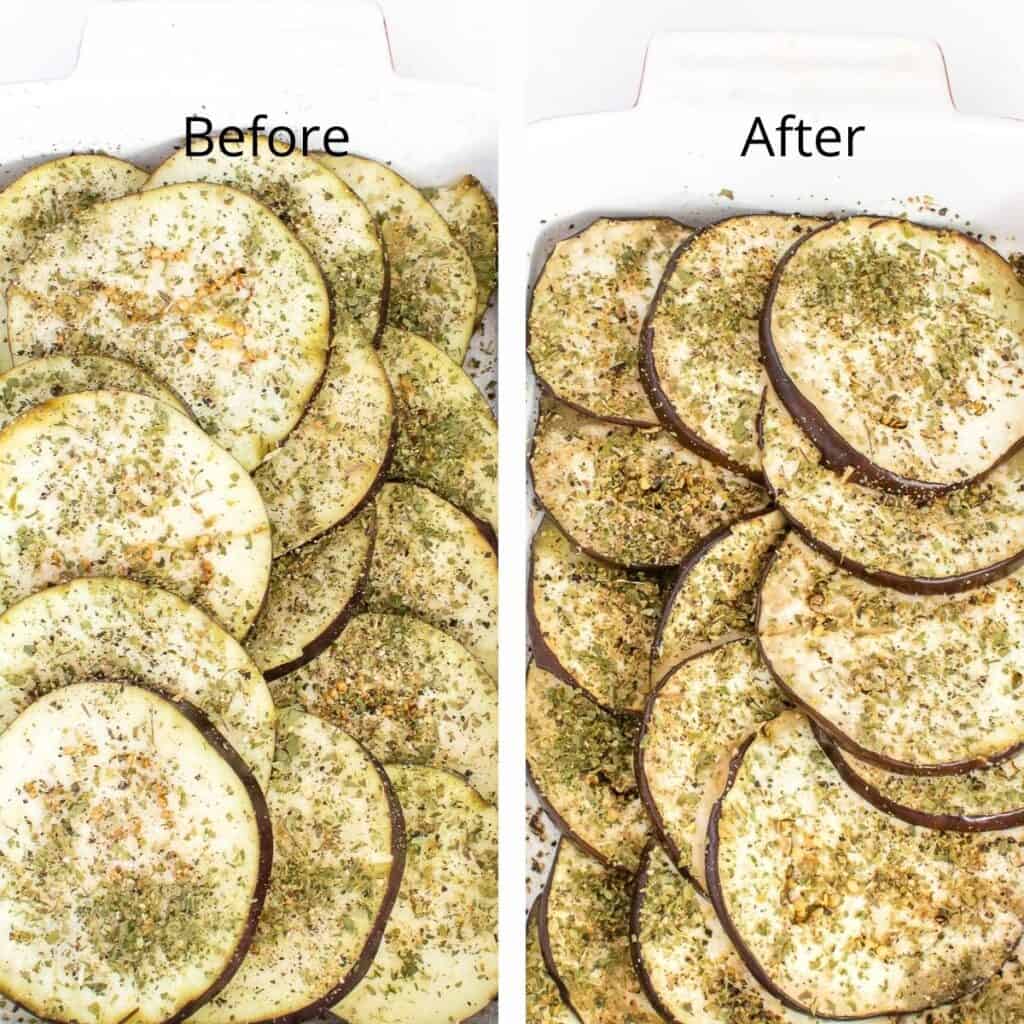 Step2: how to layer
In this step I simply topped it with all the chopped vegetables evenly spreading it.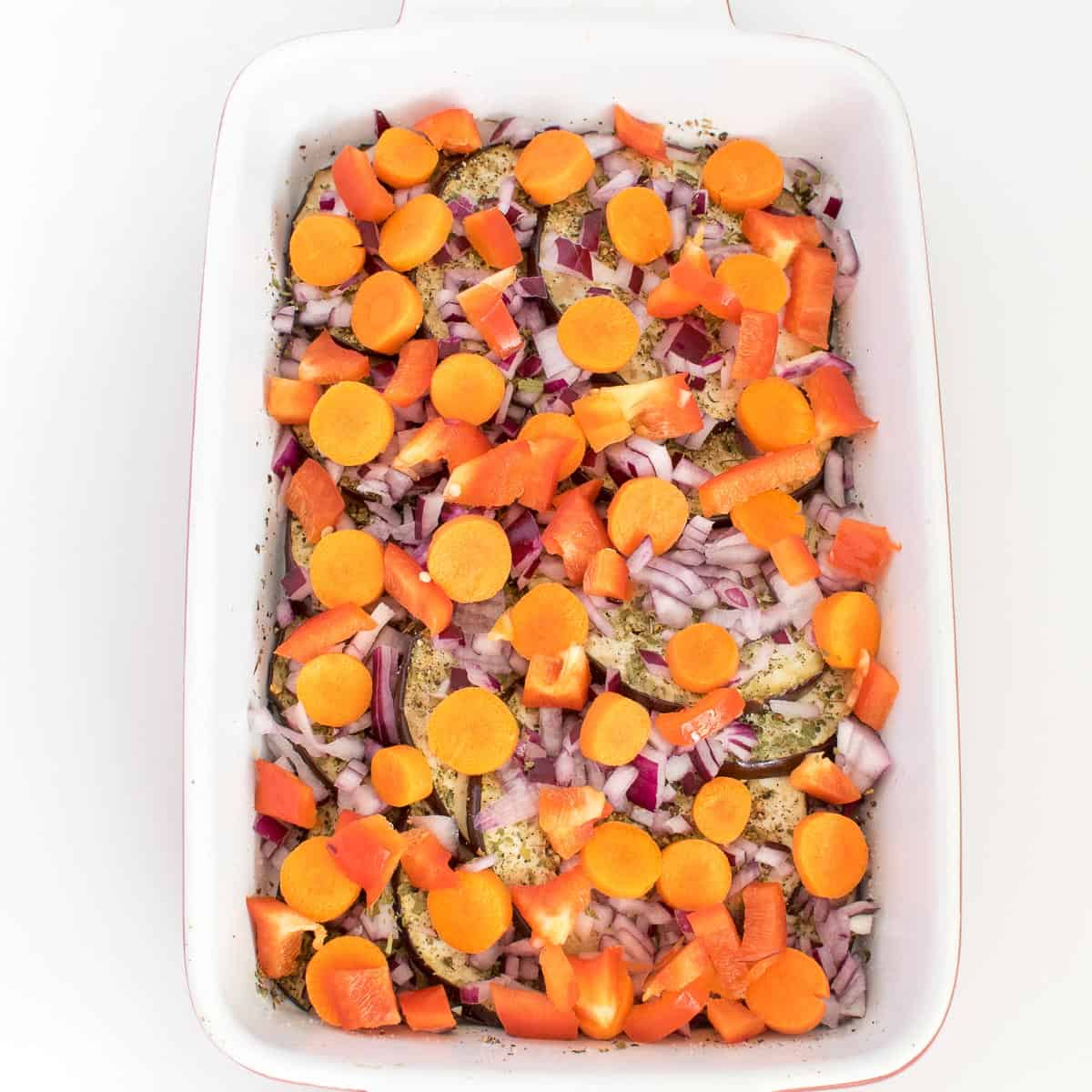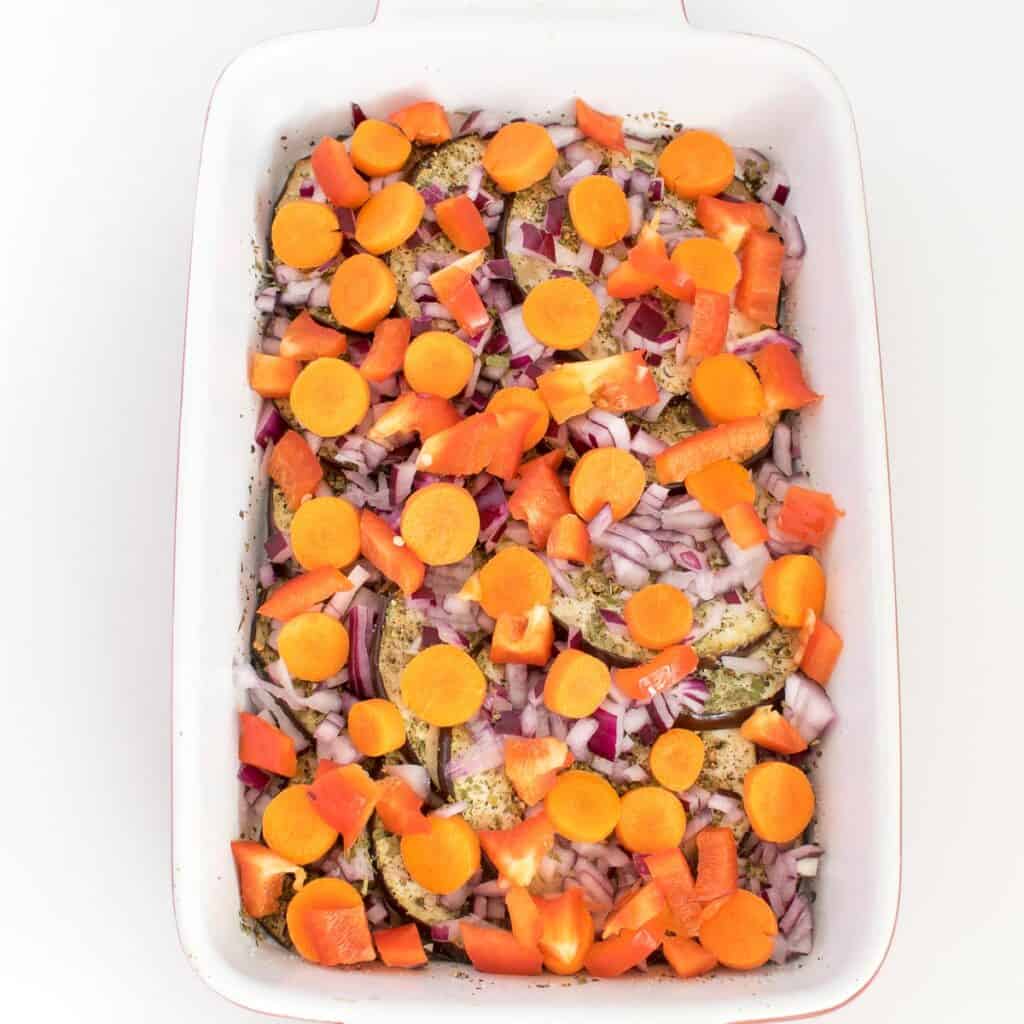 Step3: how to blend cashew sauce
In this step, I combined all the sauce ingredients and blended it smooth.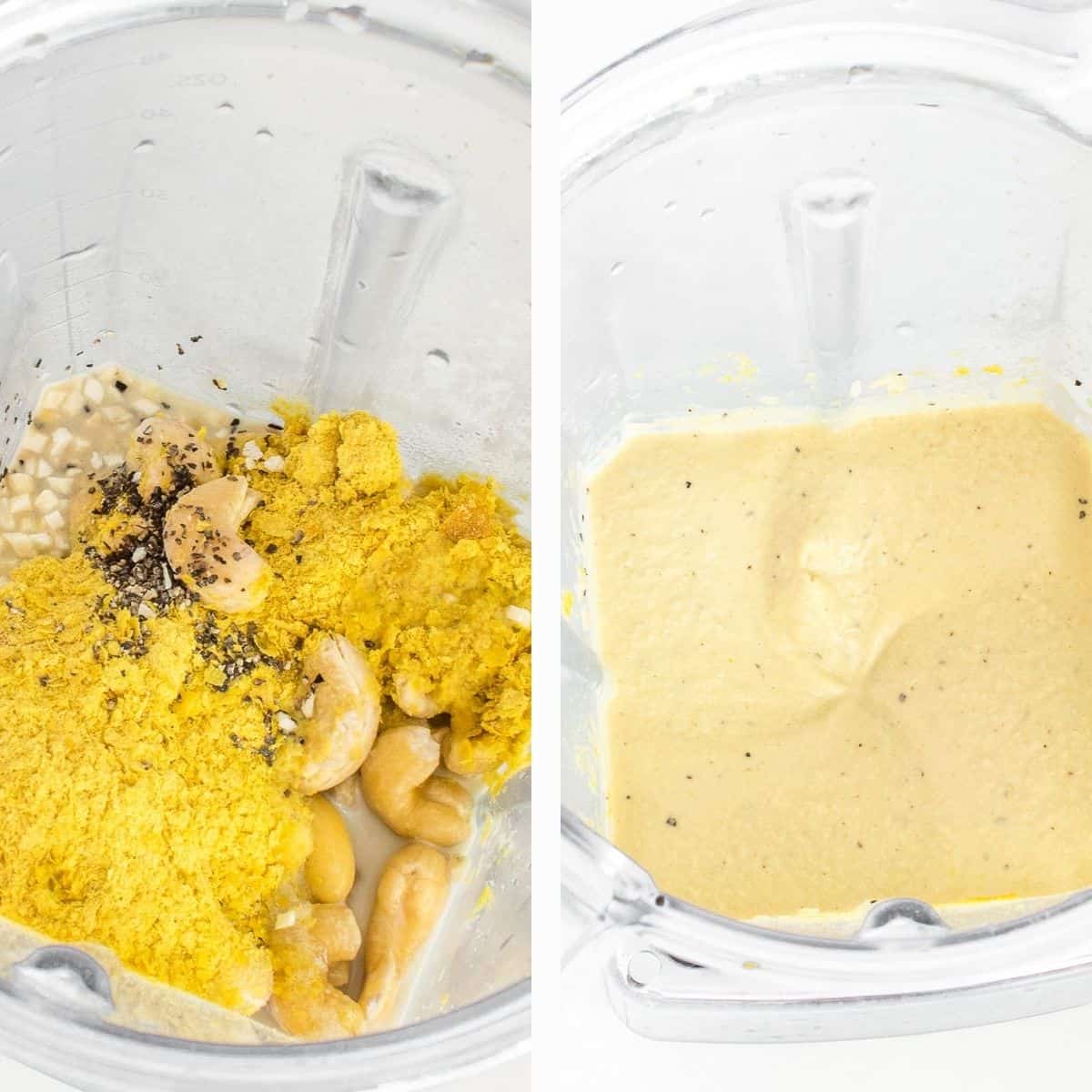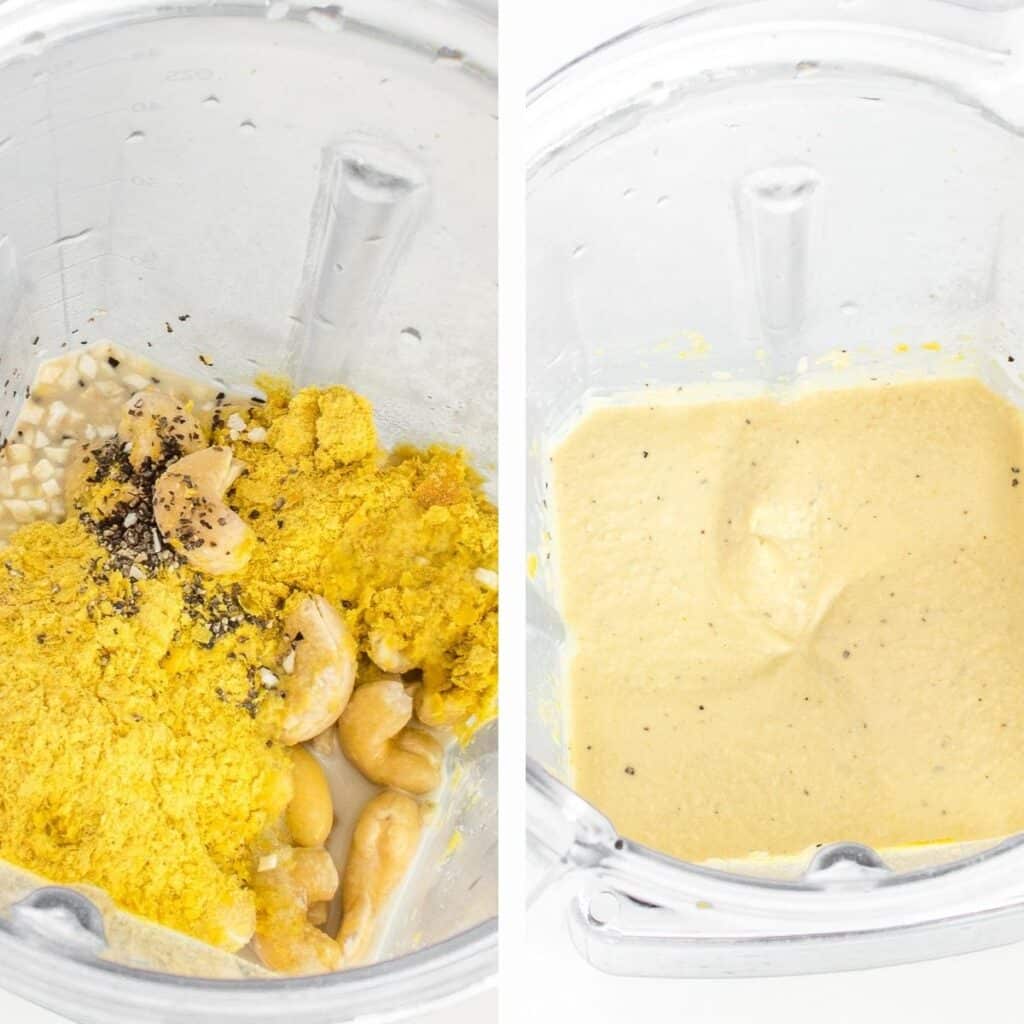 Step 4: how to assemble and bake
Now, I topped the dish with the blended sauce generously and spreading it evenly with a spatula.
Then, I placed it in the preheated oven at 400-degree Fahrenheit for about 20minutes or until the sides started to brown.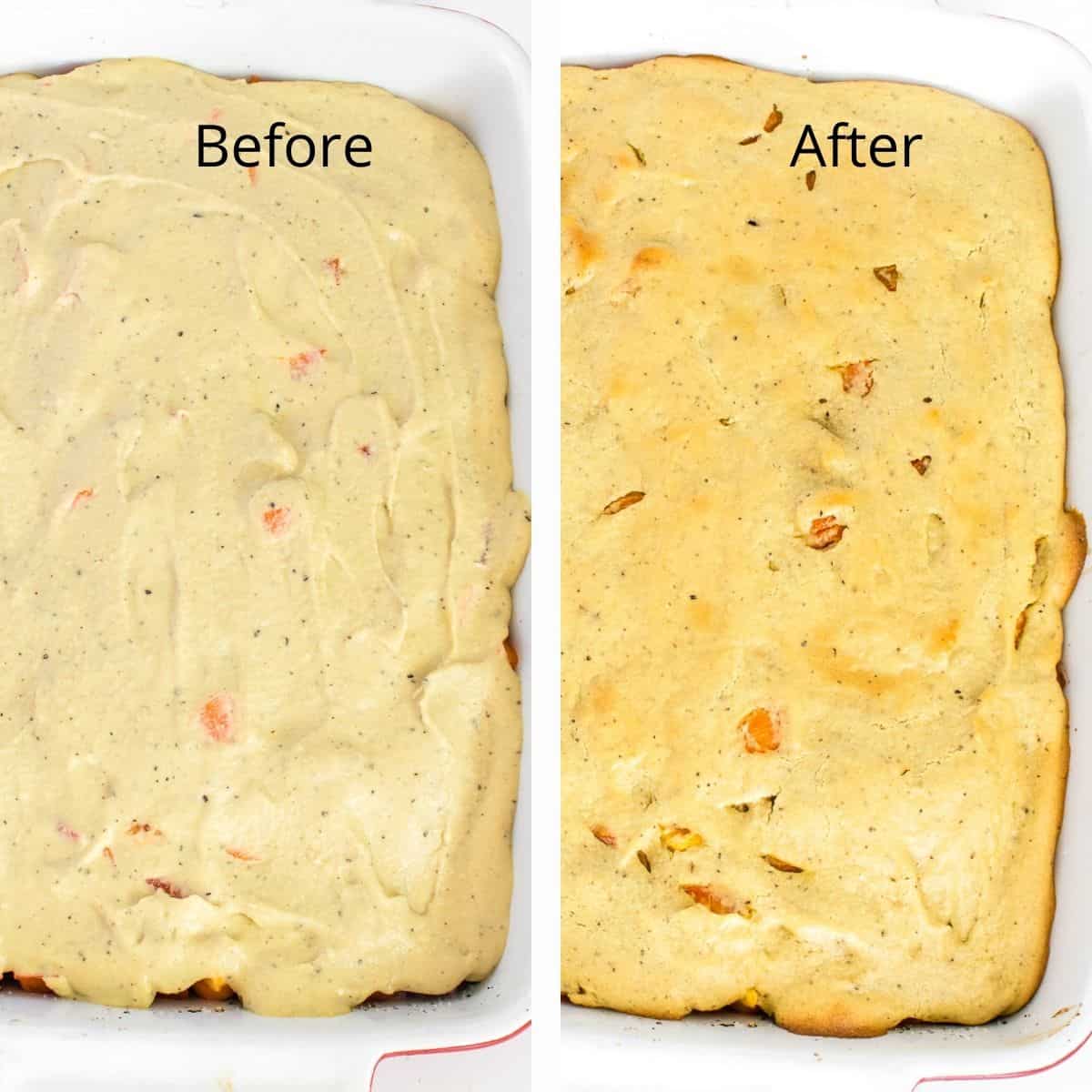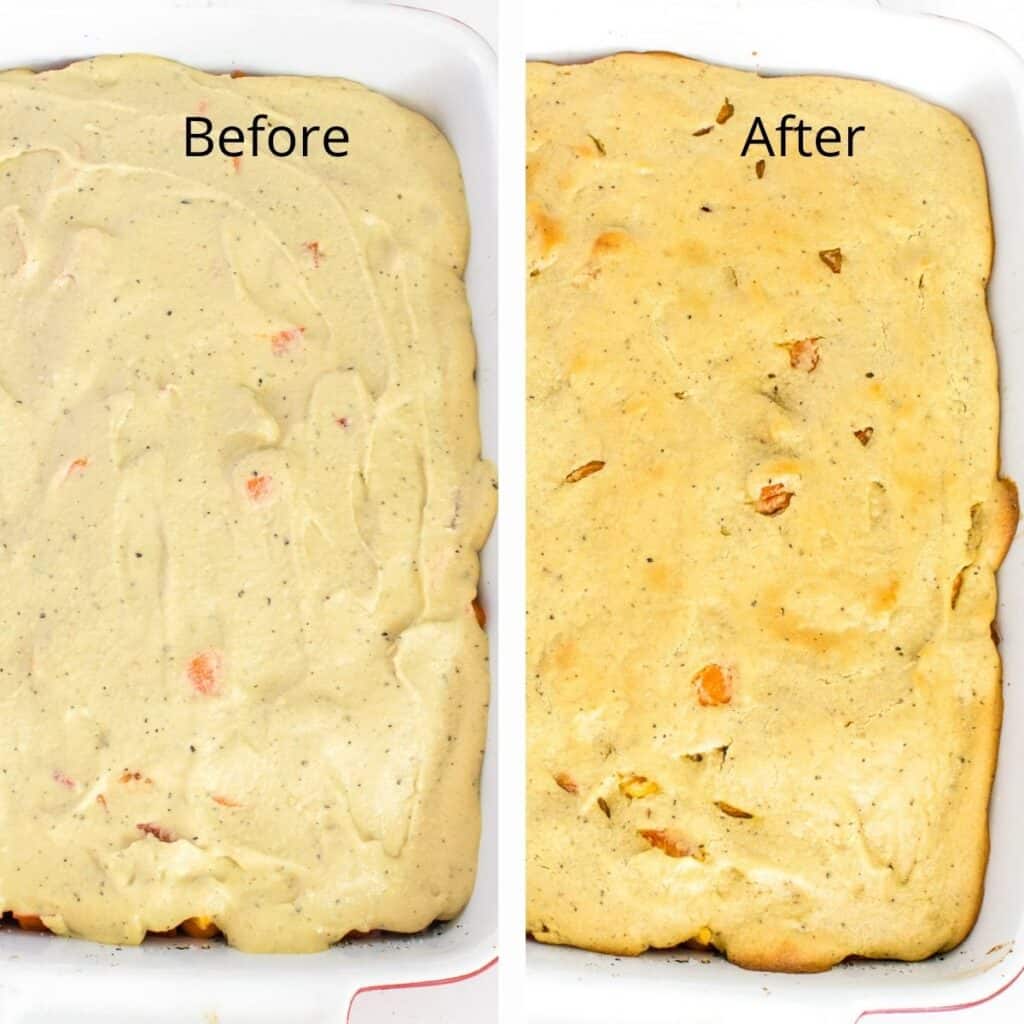 Next, I took it out and turned off the oven. Then, I garnished it immediately with lots of cilantro.
Lastly, I let it settle down for 2-3 minutes at room temperature and served it hot.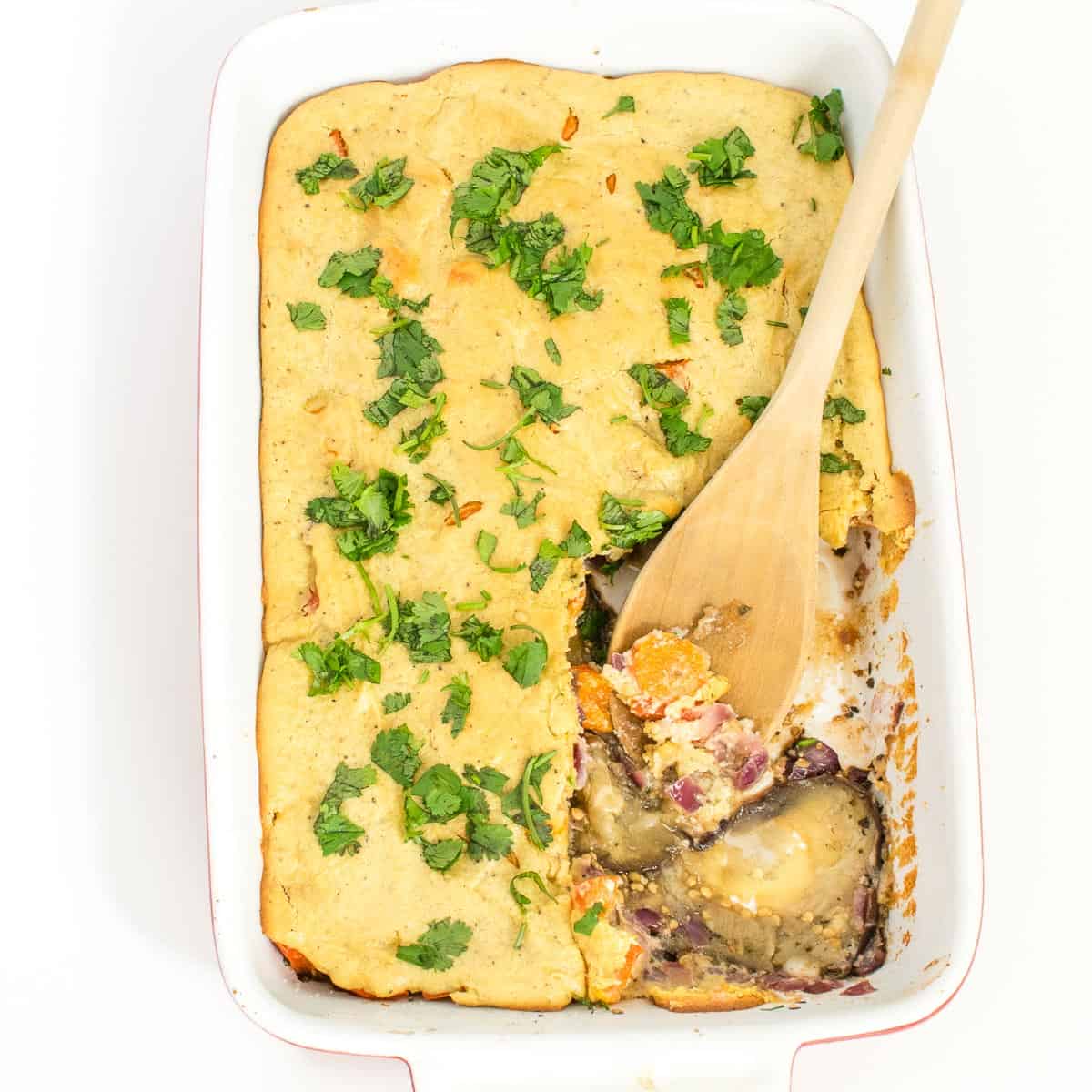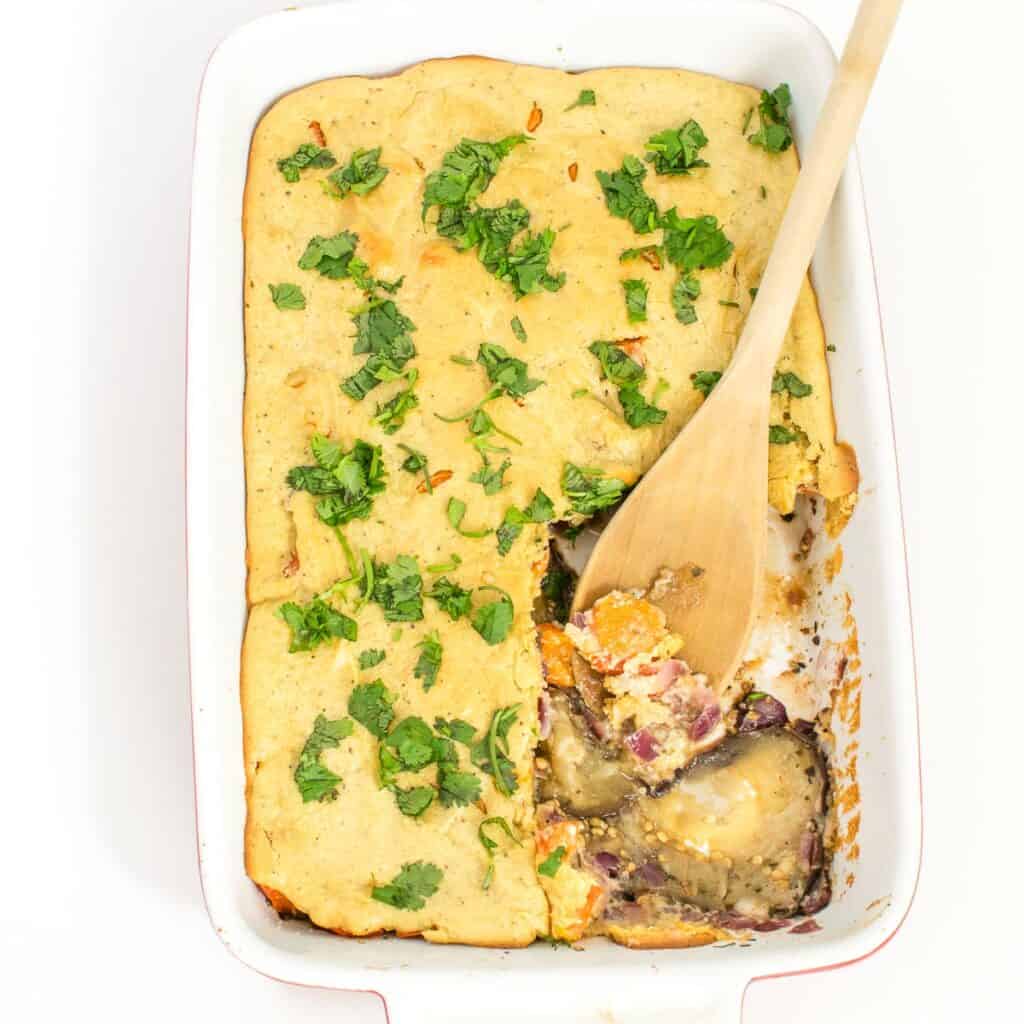 We loved it with my roasted onion oatmeal bread. It also pairs well with any side salad.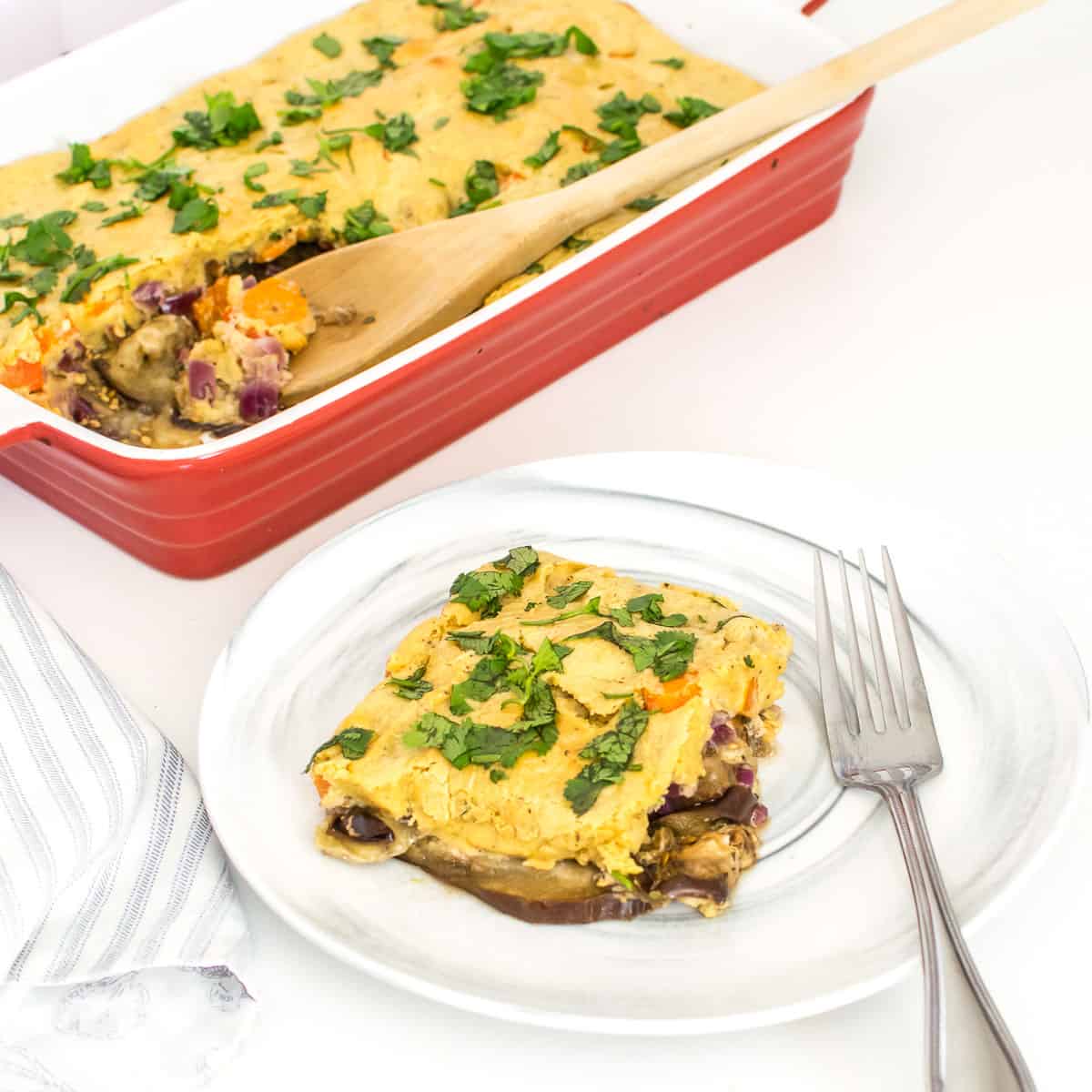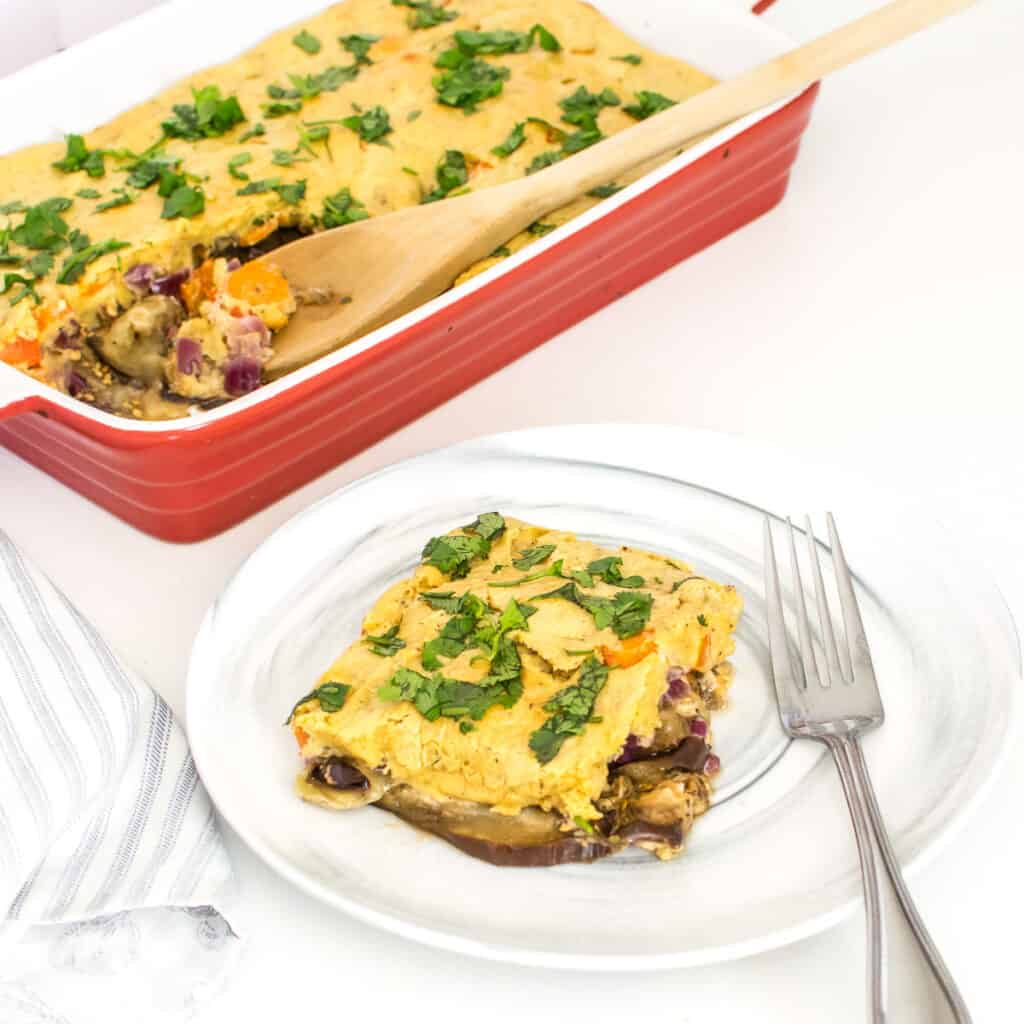 Expert tips:
While slicing the eggplants make sure to keep it to ¼ inch thickness.
It is important to bake initially for only 10 minutes. We do not need to over cook eggplants or else it will start looing its texture.
Most importantly, make sure to sprinkle the seasonings and herbs evenly over the vegetable so that it absorbs all the flavors.
Vegan Eggplant Casserole FAQs
How long does it last?
It tastes best when served immediately. However, cover the leftover in the same baking dish with an aluminum foil or food saver wrap and refrigerate for about 1 week. Reheat in microwave for 15-20 seconds.
Is it different from moussaka?
Yes, I made it differently. Moreover, I made its sauce very different and the layering is also different. It also tastes different than moussaka.
Is this eggplant casserole healthy?
Yes, I made it oil free except that I greased the baking dish with a cooking spray to avoid any drying up or sticking at the bottom. Also, it has no added sweetener and no cornstarch or any other added starch. It is made with whole food ingredients and is perfect to be enjoyed on an everyday basis.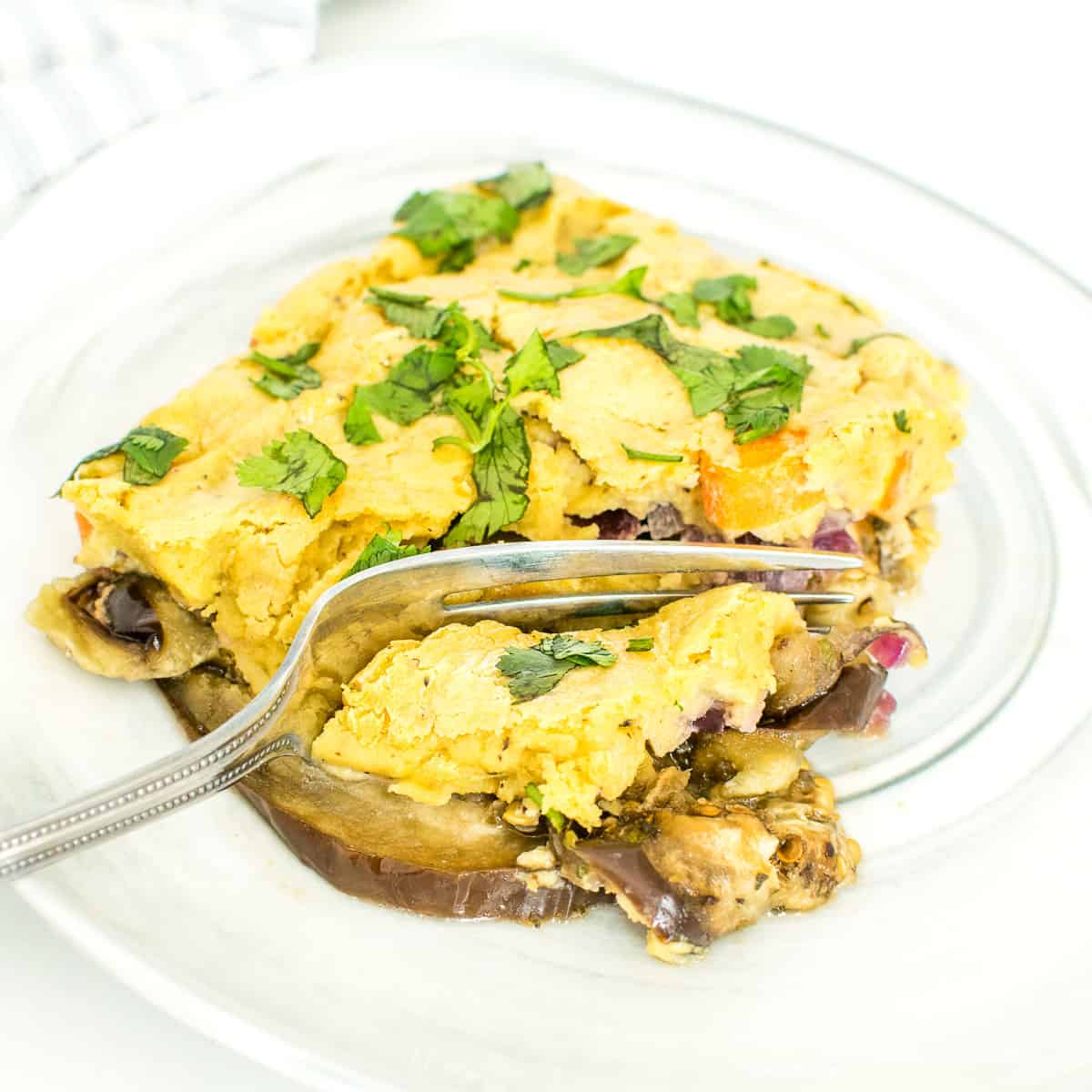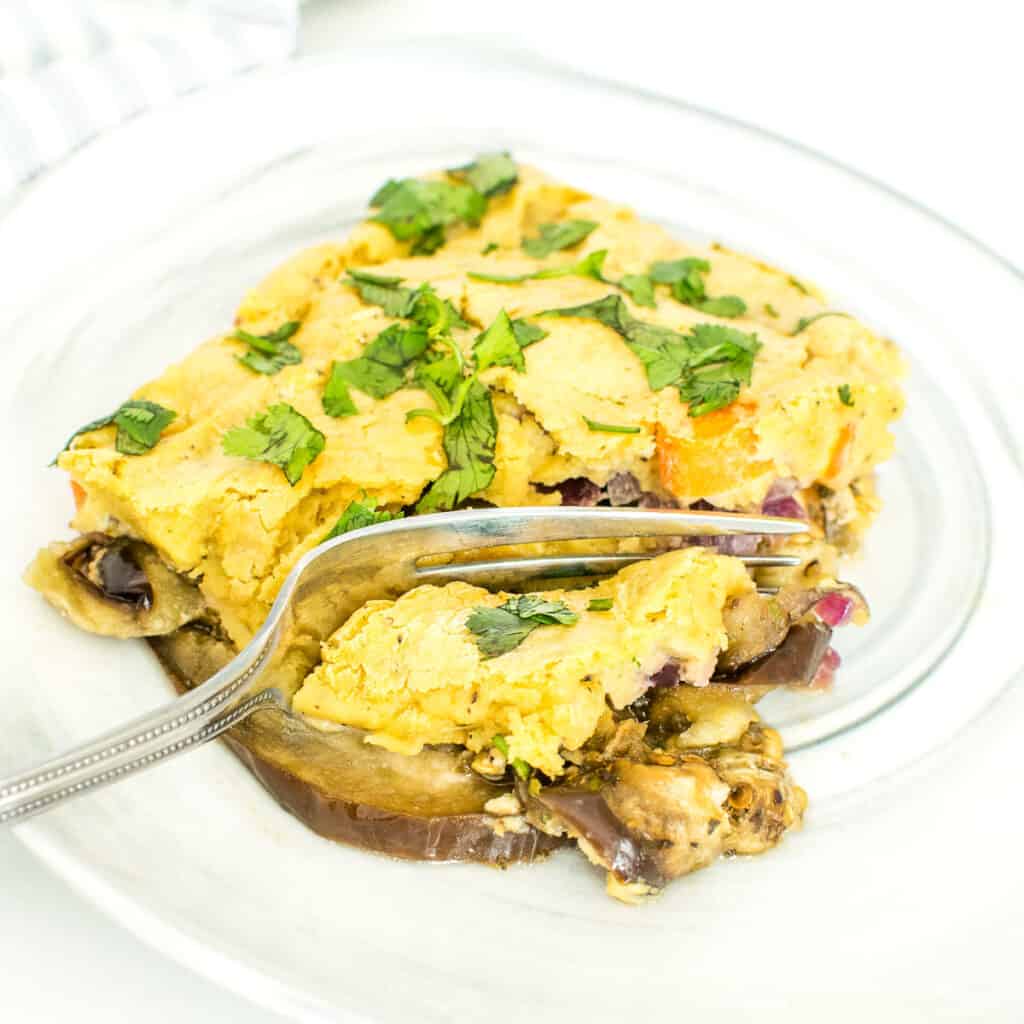 Other casserole recipes that you might like
Spaghetti Squash Casserole
Vegan Green Beans Casserole
Creamed Corn Casserole
Tofu Curry Casserole
Baked Cheese Broccoli Casserole
This post might contain affiliate links. This means that if you click on those links and make a purchase, I receive a small commission. However, I only share my favorite products that I personally use and love.
Find me:
You may follow me on Facebook for regular updates. If you want to share your recipe remake images then tag @kiipfit on Instagram. It makes me very happy to see what you cook.
Did you make it?
If you get a chance to make this recipe then please leave your feedback in the comments along with a 5-star rating.
In addition, you may checkout my cookbooks for everyday comfort vegan recipes.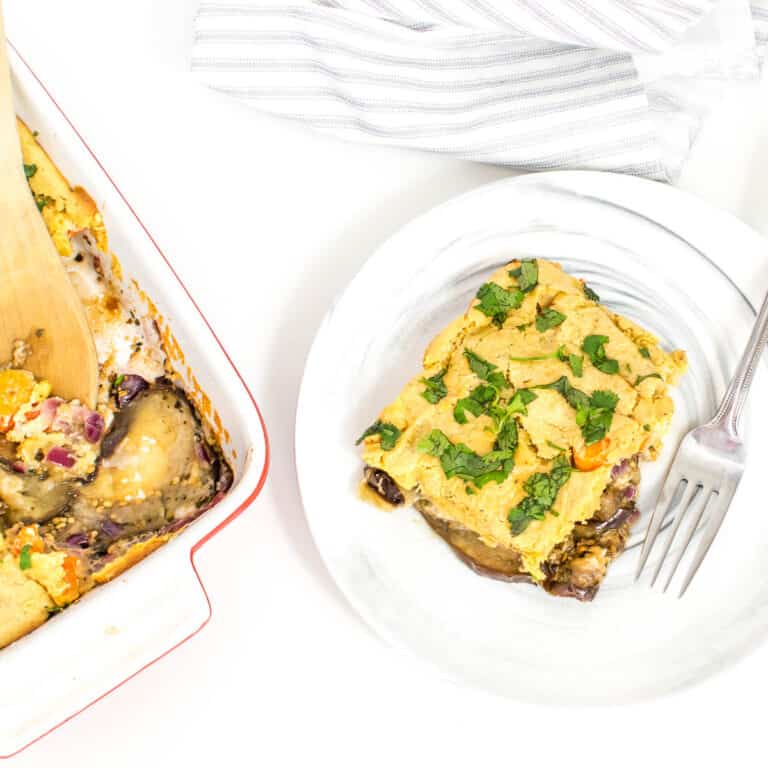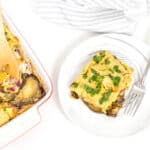 Print Recipe
Vegan Eggplant Casserole
This cheesy Vegan Eggplant Casserole is a satisfying one pot meal that's loaded with vegetables and covered with delicious cashew sauce. Its easy and perfect for all year round. Serve it as the main dish or as a side, its beautiful to present to your guests as well.
Ingredients
for cashew sauce
1 1/2

cups

raw cashew nuts

(soaked in warm water and drained)

1/2

cup

nutritional yeast

1

tsp

minced garlic

1/2

tsp

salt

1/2

tsp

crushed black pepper

1

cup

unsweetened dairy free milk
others
1/2

cup

chopped onions

1/2

cup

chopped carrots

1/2

cup

chopped red bell pepper
garnish
1/4

cup

fresh chopped cilantro
Instructions
Preheat oven at 400-degree Fahrenheit and grease a large rectangular /square baking dish.

Place the sliced eggplants preferably in a single layer (avoid stacking). Sprinkle ¾ tsp salt evenly followed by black pepper, oregano and parsley. Place it in the middle rack of the oven and bake it for only 10 minutes.

In the meanwhile, combine all the cashew sauce ingredients in a blender and blend it smooth. Keep it aside.

Take out the baked eggplant and keep the oven on. Evenly spread onions, carrots and red bell pepper on the baked eggplants.

Cover the top evenly with cashew sauce by spreading it evenly with a spatula. Place it again in the middle rack of the oven and bake it for 20 minutes or until the sides starts to brown.

Turn it off and take it out. Immediately, garnish with cilantro and let it cool down a bit (2-3 minutes at room temperature) so it's easier to handle. This helps in firming up the sauce a bit as well. divide it into 6 servings and scoop it from the bottom to serve.
Notes
I have provided the stepwise images in the post above for your convenience and reference.
While choosing the eggplant try to buy a firm and spotless eggplant. Do not buy a very large one though. A medium sized eggplant works best here.
Do not peel eggplants for this recipe. Its skin provides a lot of flavor and firmness for the right texture.
Slice the eggplants round with ¼ inch thickness.
I used a rectangular stoneware baking dish for this recipe but you may use any with sides. Cuisinart glass baking dishes also works well for this recipe but use the large rectangular one.
Preferably oat milk tastes best here but you can use unsweetened original almond milk as well.
Nutrition
Calories:
237
kcal
|
Carbohydrates:
18
g
|
Protein:
9
g
|
Fat:
15
g
|
Saturated Fat:
1
g
|
Polyunsaturated Fat:
1
g
|
Monounsaturated Fat:
1
g
|
Sodium:
485
mg
|
Potassium:
78
mg
|
Fiber:
1
g
|
Sugar:
1
g
|
Vitamin A:
7
IU
|
Vitamin C:
1
mg
|
Calcium:
6
mg
|
Iron:
1
mg