This healthy vegan Spaghetti Squash Casserole recipe is stunningly beautiful and absolutely delish in every bite. It's made with the goodness of tofu and walnuts and seasoned perfectly to bring out the holiday flavors. It's an outstanding family dinner that is protein rich and high in fiber.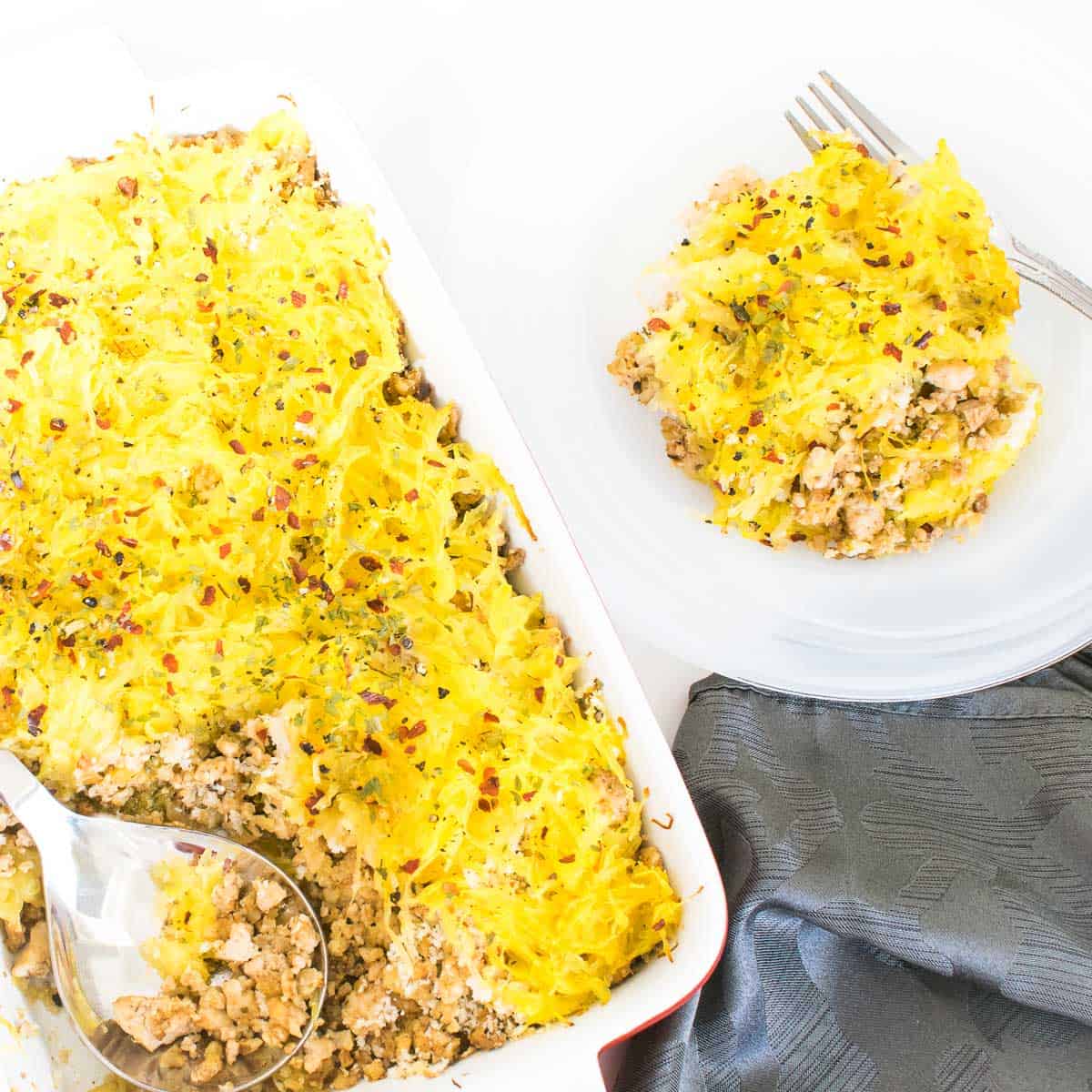 I have eaten a few versions of this vegan casserole dish but I decided to come up with something more exciting and absolutely different. Also, I endeavored to make it healthier and yet delicious.
Therefore, I created my version and I interpretated it in this way. My family loved it. I enjoyed feeding them healthy and protein packed holiday comfort food.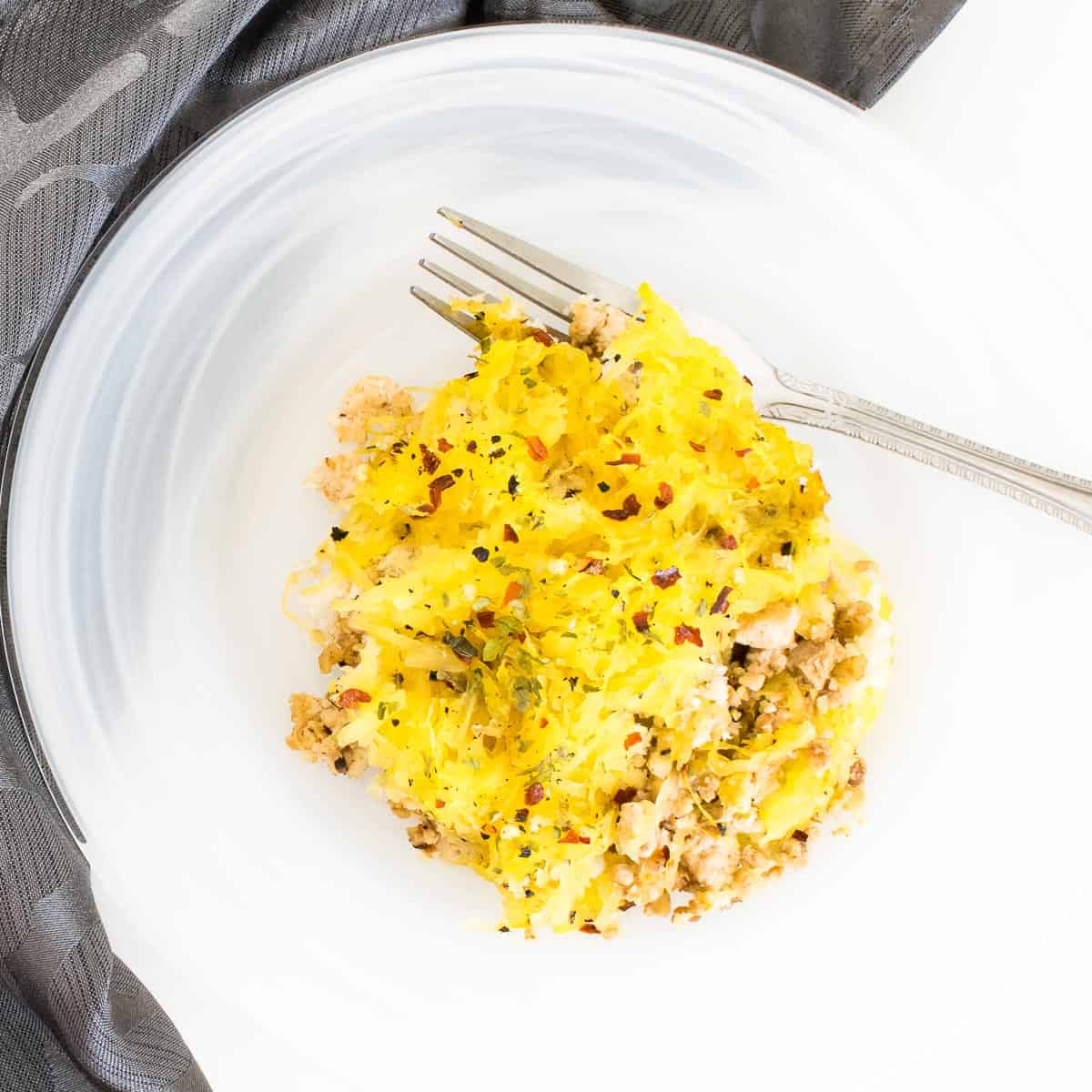 So, here I am sharing this awesome Vegan Spaghetti Squash Casserole Recipe.
Ingredients you will need:
For the squash
Spaghetti squash
Salt
Pepper
For the stuffing
Olive oil
Garlic
Oregano
Tofu
Walnuts
Salt
Pepper
Paprika
Panko crumbs
For the toppings
Crushed chili flakes
Freshly crushed black pepper
Parsley
Vegan parmesan (optional)
I have used easily available ingredients in this recipe which you may buy from any local grocery store. However, I have provided links to few of them for your convenience.
If you plan to buy from these affiliate links then I get a small commission which in turn encourages me to bring in more delicious recipes for you all.
Ingredients notes:
Spaghetti squash – it's a low crab and nutritious substitute to the regular spaghetti. However, I have used it very differently here and treated it like a vegetable. It is loaded with vitamins and minerals and is a great source of antioxidants.
Tofu – its is a soy product and is very high in protein. This adds a nice chewy and meaty texture to this recipe. Also, it makes this casserole dish satisfying and filling.
Walnuts – it's an extremely nutritious nuts that's also low in calories. It's a great source of omega-3 and high in antioxidant as well. This nut promotes gut health and supports brain function. It also helps in healthy aging and lowers blood pressure.
Panko crumbs – it is a kind of bread crumbs mostly used in Japanese cuisine. It is vegan and, in this recipe, provides the perfect crunch.
So, you must have realized by now, that I have used very simple and seasonal ingredients.
If you just follow the steps you will also note that its very easy to make. Therefore, I would love you to enjoy this vegetarian spaghetti squash casserole recipe with your family.
How to make Spaghetti Squash Casserole
Firstly, I sliced the spaghetti squash into two sliced length wise.
Secondly, I scooped out its seeds and sprinkled salt and pepper on its inside.
Then, I pressed the seasoning a bit with my fingers so that they stick to the squash.
Next, I placed them upside down on the baking sheet and baked in a pre-heated oven at 400-degree Fahrenheit for about 30 minutes. Once done, I took it out and turned it over again and let it cool down a bit.
Then, I scraped its strands from the inside with a fork and adjusted its salt while in the slices itself.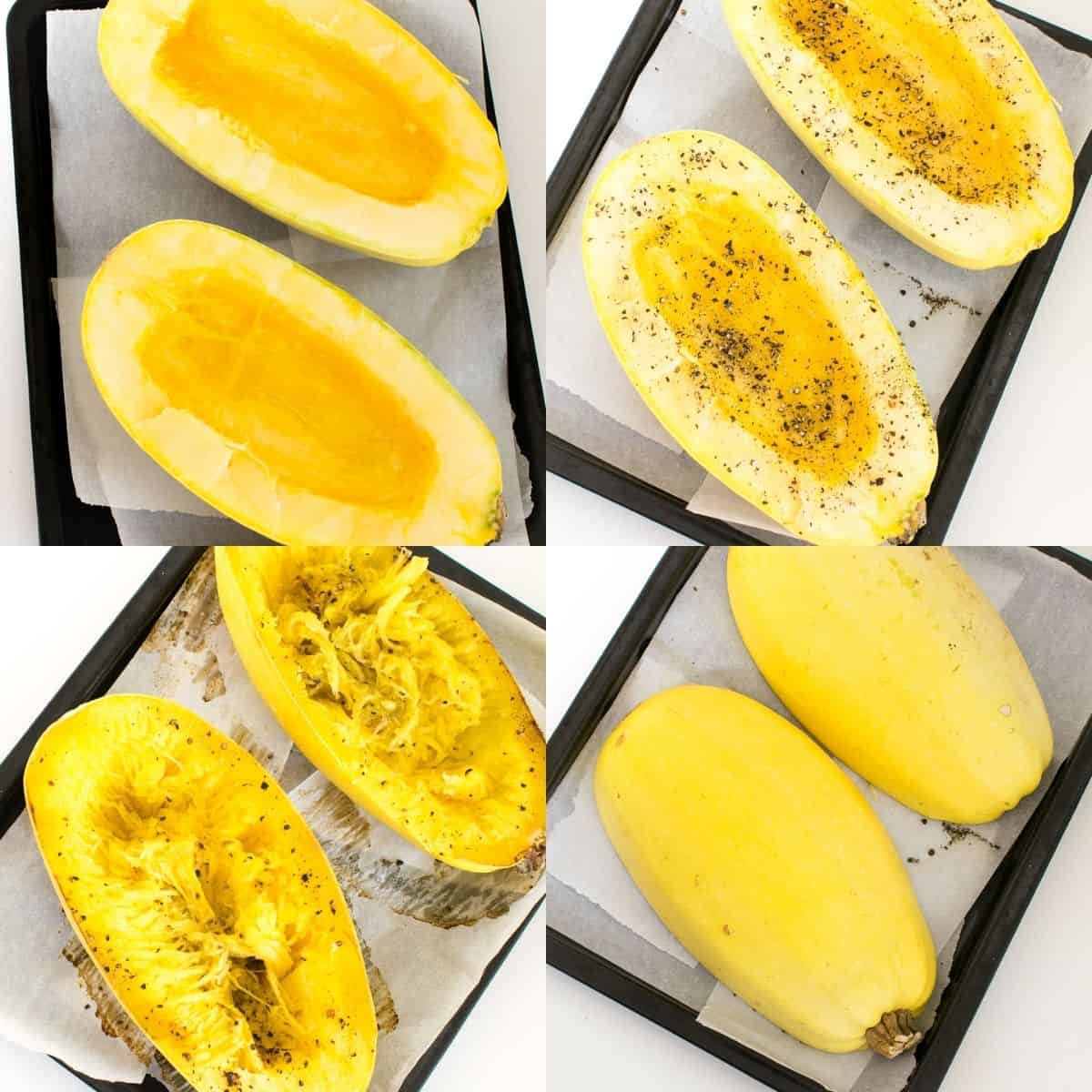 Thereafter, I heated oil in a nonstick pan and flavored it with garlic and oregano.
Afterwards, I tossed in crumbled tofu and cooked until it was dry and golden in color.
Next, I added crushed walnuts, salt, pepper and paprika. Then, I sautéed again for a few minutes and turned it off.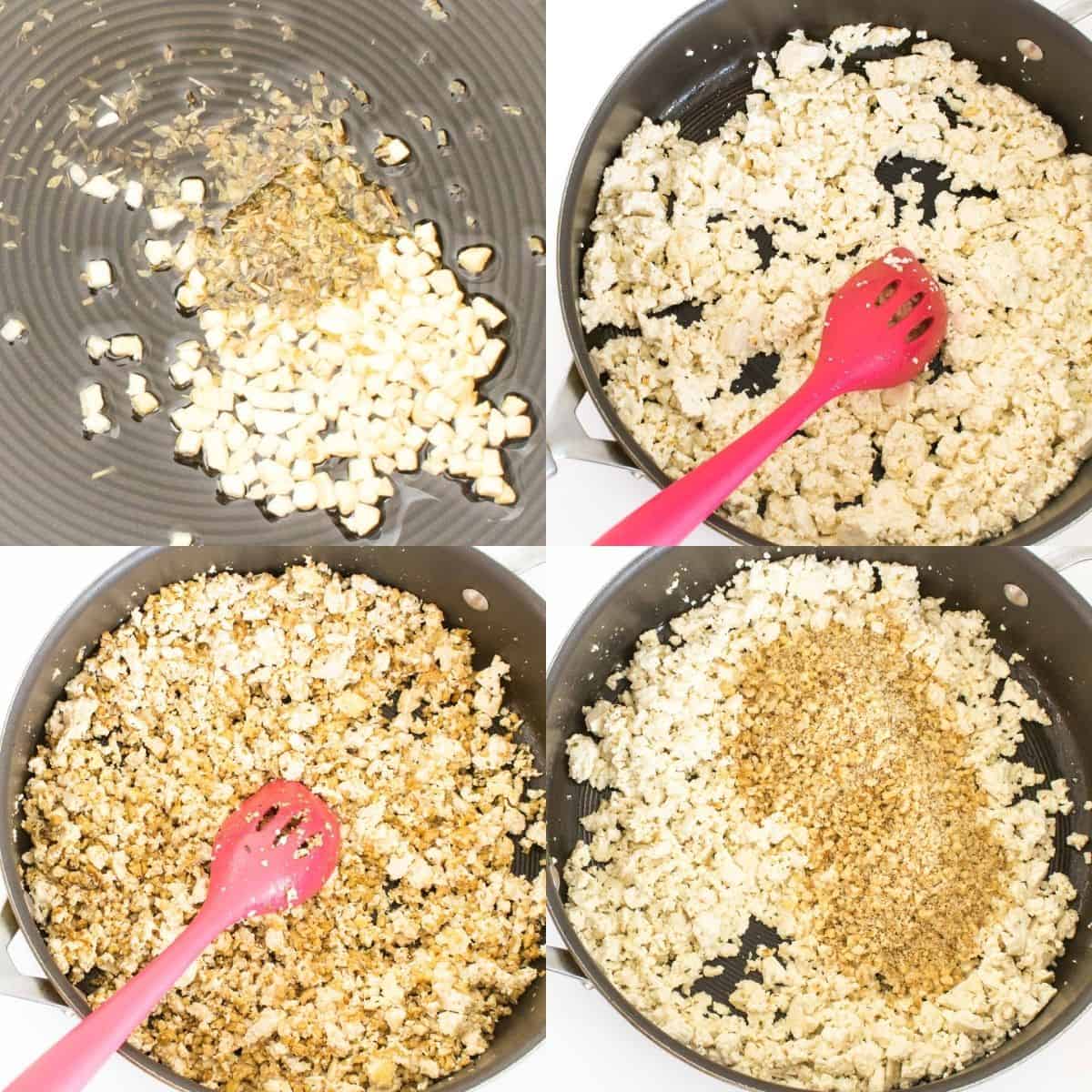 Now, I added strands of one slice of squash in the baking dish as the first layer.

Then, I topped it with cooked tofu followed by panko crumbs. Lastly, I covered it with the strands of the second squash slice and garnished it with chili flakes, pepper and parsley.
Later, I baked it in the preheated oven at 350-degree Fahrenheit for about 40 minutes.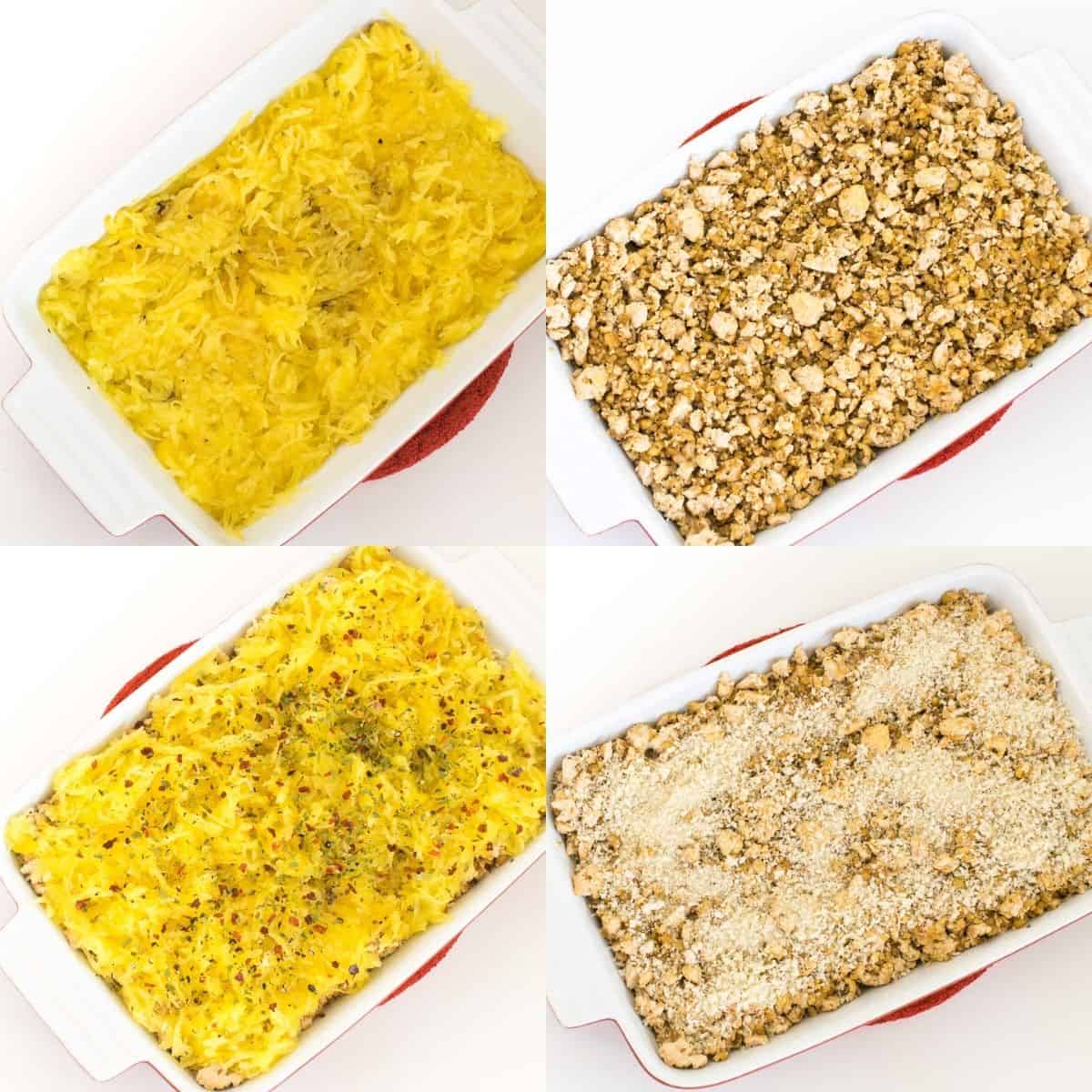 Once done, I took it out and placed it on the flat surface. I scooped and served immediately while it was still hot.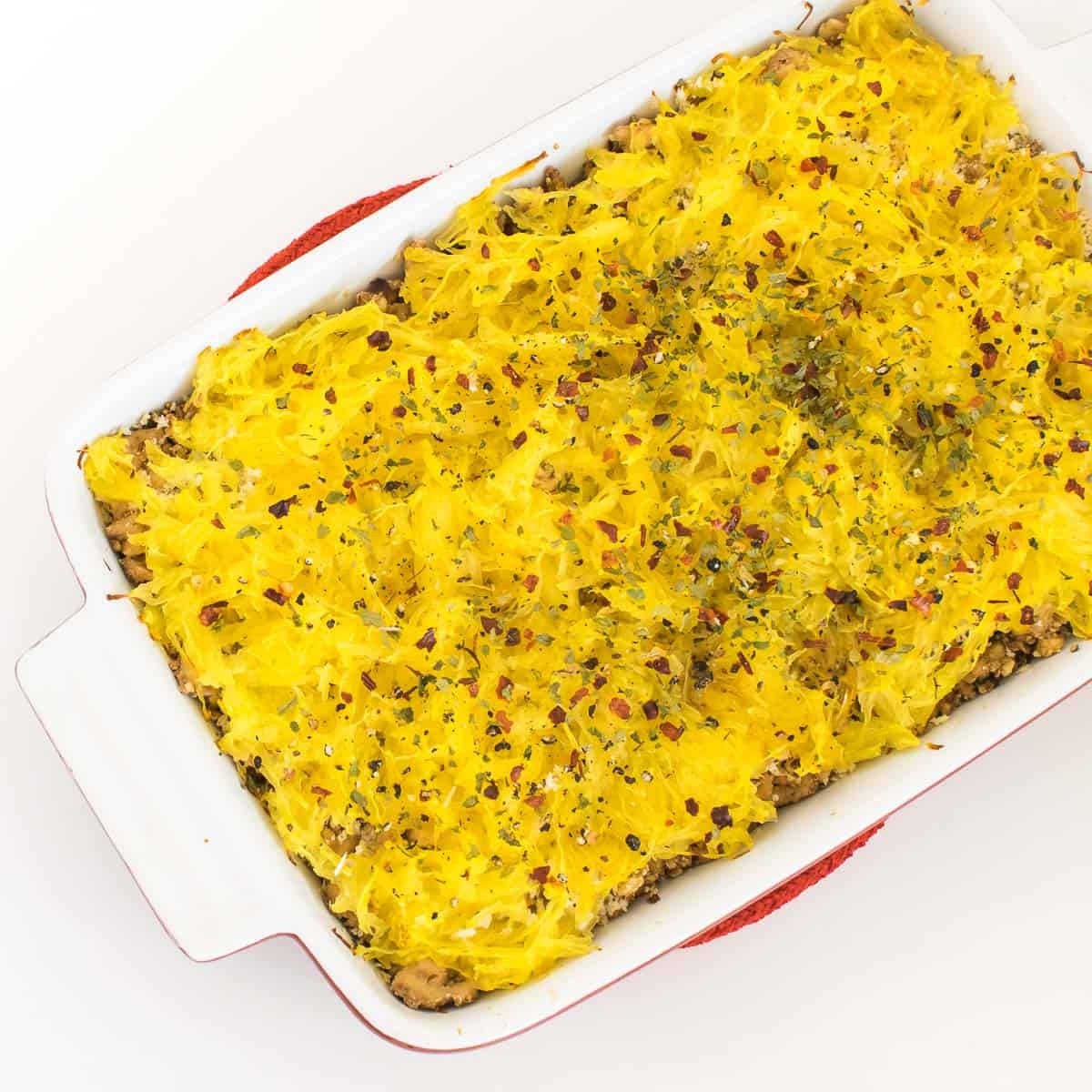 This recipe was an instant hit with my family. So, I have shortlisted this casserole dish for the Thanksgiving dinner menu.
I would insist that you must try it ASAP so you can also present this dish on the main day to your loved ones.
Expert tips:
I used two knives to slice spaghetti squash. Chef's knife to make a dep cut and insert it inside. Slicing knife to make a cut mark all over the squash. Then, with the help of both the knives I just separated the two slices.
Since, I did not grease the squash with oil, make sure to press salt and pepper with fingers so they do not fall off while turning them upside down. Also, after scraping make sure to add more salt and pepper in the squash slices and mix the strands with the fork so they do not lose its texture.
You may use food processor to crush/chop walnuts. But make sure it is not a fine powder since we need it to be finely chopped.
For layering purpose, make sure to keep the two spaghetti squash slices separately so that the bottom and the top layer have even quantity of it.
Spaghetti Squash Casserole FAQs
How long does it last?
It tastes best when served immediately. However, the leftovers can be refrigerated for about a week. Re-bake it and serve.
How can I prep for it ahead of time?
You may bake and scrap spaghetti squash and keep in room temperature. You may also cook the tofu stuffing and keep it aside. Abut an hour before serving you may layer the dish as explained in the recipe card and bake.
Is it healthy?
Yes, spaghetti squash is a seasonal vegetable and very high in overall nutrition. Tofu adds protein and walnuts add omega 3 to this recipe. I have use only 1 tbsp. of olive oil to make the stuffing or else this recipe is low in calories and fats yet high in protein and fiber. Overall, it's a healthy dish.
What if I accidently over cook spaghetti squash?
If you over cook it then at the time of scraping its strand won't stand out and will become mushy. Hence, it will lose its original texture.
What can I pair it with?
It's a complete dish in itself. However, if desired you may enjoy it with a side salad or a dinner roll.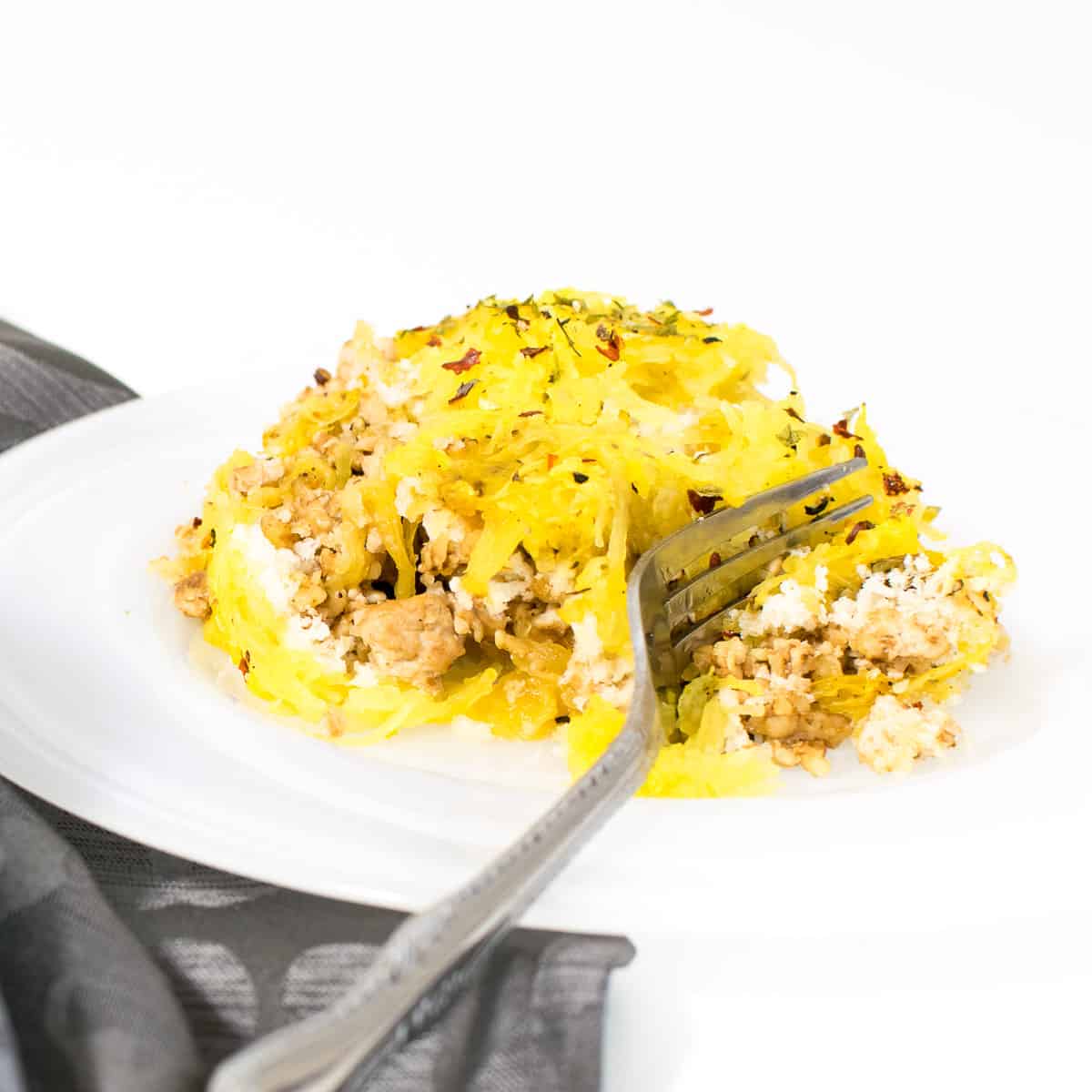 You may also like:
Lentil Shepherd's Pie
Vegan Green Bean Casserole
Creamed Corn Casserole
Baked Cheese Broccoli Casserole
Tofu Curry Casserole
Cheesy Lentil Quinoa Vegan Casserole
Spinach Tofu Casserole
Nut Free Scalloped Potatoes
Did you make it?
If you get a chance to make this recipe then leave your feedback in the comments below along with the ratings. In addition, you tag @kiipfit on Instagram with your recipe image because would love to see what you cooked.
If you desire to explore more of my delicious recipes then you may checkout my cookbooks.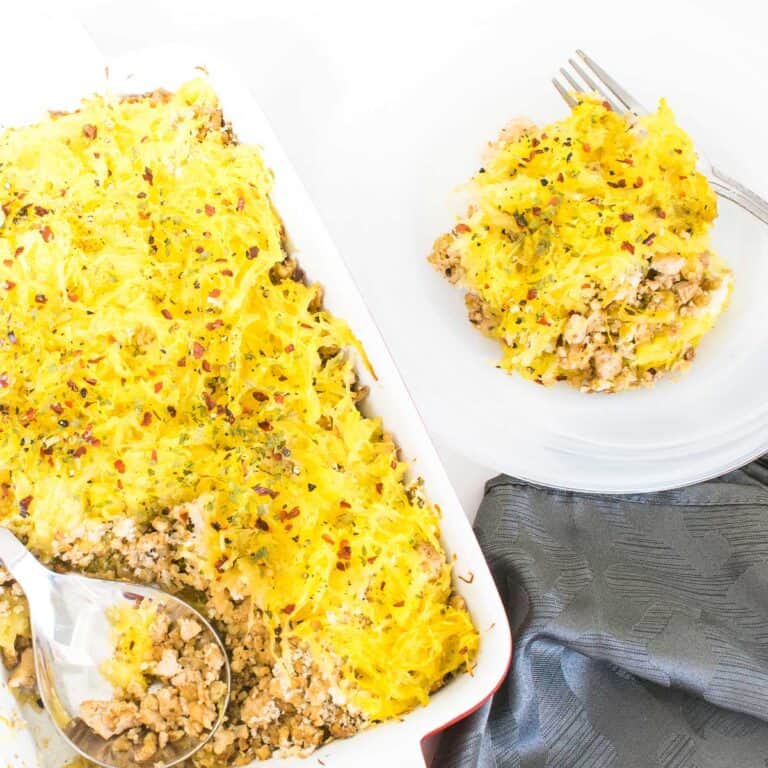 Print Recipe
Spaghetti Squash Casserole
This healthy vegan Spaghetti Squash Casserole recipe is stunningly beautiful and absolutely delish in every bite. It's made with the goodness of tofu and walnuts and seasoned perfectly to bring out the holiday flavors. It's an outstanding family dinner that is protein rich and high in fiber.
Ingredients
For the squash
1

large

spaghetti squash

salt as per taste

freshly crushed black pepper
Instructions
Preheat oven at 400-degree Fahrenheit and prepare a baking sheet with parchment paper. Slice the squash length wise. (the easiest way is to use chef's knife and cut deep and dig a bit on the inside and then slowly make a cut on all sides. Then, separate both the pieces). With a large and sturdy spoon scoop out the inside seeds and discard.

Now, place both the pieces of spaghetti squash on the prepared baking sheet and sprinkle salt and pepper on the inside of the spaghetti squash nicely. Settle the seasoning with your fingers a bit so that it sticks to the squash. Now, turn both the pieces, placing the inner side at the bottom and the outer layer exposed at the top. Bake it in the middle rack of the oven and bake for 30 minutes or until the bottom sides changes to golden color. Once done, take it out and lower the oven temperature at 350-degree Fahrenheit. Set the baking sheet aside for few minutes to cool down a bit. Then turn over the squash slices and scrape the inside with a fork to get nice thin strands. Season it with more salt and pepper as per taste and roughly mix in the strands with the fork while in the slices. Keep them aside.

Heat oil in nonstick pan and flavor it with dried garlic and oregano. Sautee in crumbled tofu until golden in color and completely dried up.

Now, add walnuts, salt, pepper and paprika to it and sauté again for 2-3 minutes or until brownish in color. Turn it off and keep it aside.

Now, place the spaghetti strands of one of the pieces at the bottom layer of a square/rectangle baking dish.

Then, top it with tofu filling spreading it evenly as the second layer.

Now, spread panko crumbs as the third layer evenly in the baking dish.

Lastly, cover it with the strands of another piece of spaghetti squash. Garnish it with crushed chili flakes, pepper and parsley.

Bake it in the middle rack of the oven for 40 minutes. Tur it off and take it out. Scoop out a square piece top it with vegan parmesan and serve hot.
Notes
I usually use two knives to handle spaghetti squash. But make sure that the inside is scooped well before seasoning. Once baked and scraped with fork add some salt in the squash slice itself as per taste and roughly mix the strands with the fork itself. Keep the two slices separately so that the bottom and the top layer of this casserole dish is equal.
Measure the walnuts before crushing/chopping. You may crush walnuts in the food processor in a crush mode or simply pulse to give a finely chopped texture.
After scooping out from one quarter of the casserole the inside might crumble a bit and that is normal because of the ingredients I have used and the way I made this recipe. It is super delicious though.
This tastes best when immediately. But you may refrigerate the leftovers for about 1 week. Reheat in the oven at 350 degree for 20 minutes again or until nicely warmed.
Nutrition
Calories:
382
kcal
|
Carbohydrates:
11
g
|
Protein:
21
g
|
Fat:
30
g
|
Saturated Fat:
3
g
|
Sodium:
70
mg
|
Potassium:
399
mg
|
Fiber:
6
g
|
Sugar:
8
g
|
Vitamin A:
431
IU
|
Vitamin C:
5
mg
|
Calcium:
91
mg
|
Iron:
2
mg