This creamy Vegan Green Bean Casserole Recipe is surely a holiday delight! Its healthish, made with fresh cashew cream and in one pot dish. Simple and yet comforting in every bite.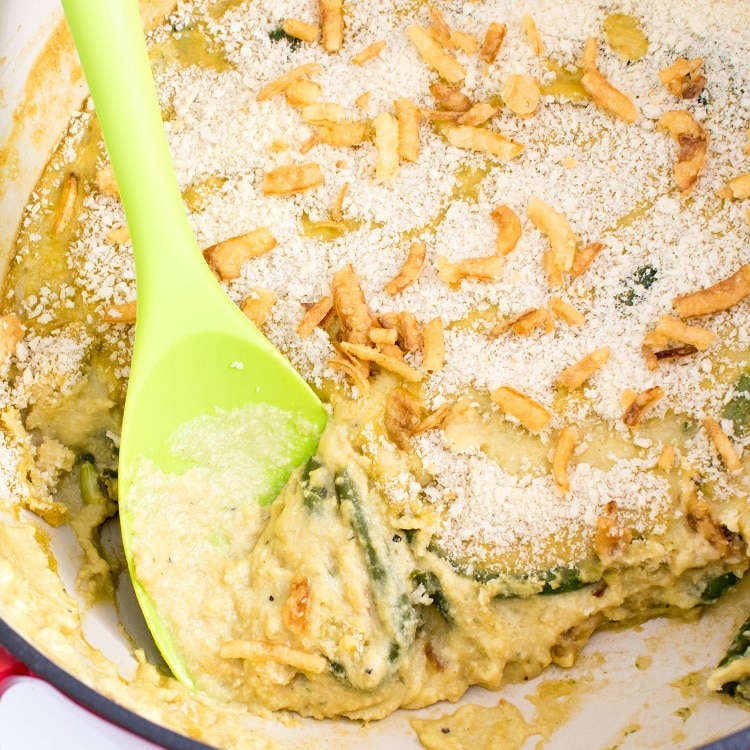 I have been imagining a casserole dish as soon as we stepped into September. Moreover, I am so looking forward to all the festivities and therefore, I decided to try this holiday favorite, green bean casserole. I was so happy at the outcome in my first attempt. However, I wanted to work on few variations and come up with the best combinations.
I made air fryer green beans and that came out so good too. My kids love this style of green beans and i make it frequently for a quick side dish.
I got every more excited when I was able to perfect this vegan casserole recipe without any added oil. Woohoo!!!! This way I saved on quite a bit calorie. Yes, it is true I have added crispy fried onions but it is totally optional. We tried this dish with and without the onions and both tastes equally good.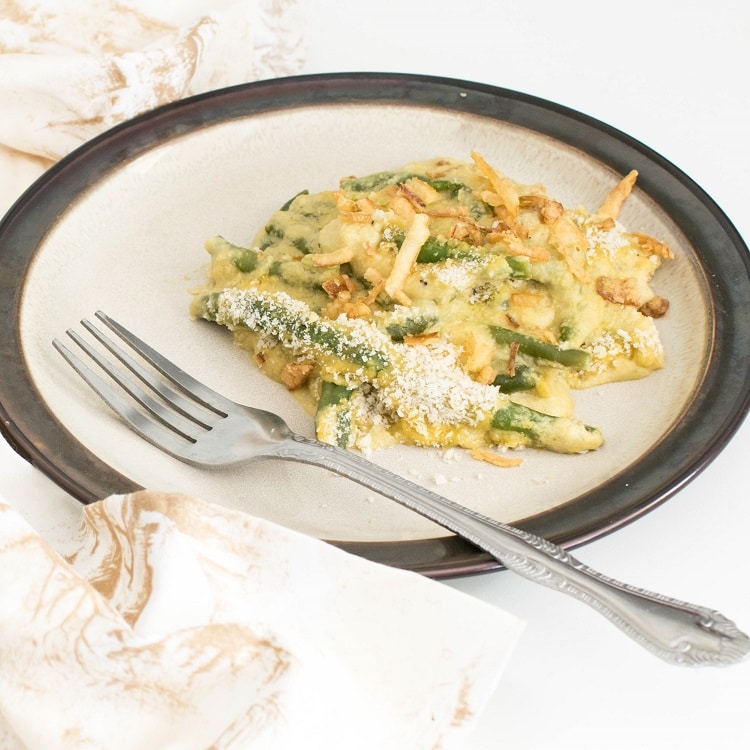 Therefore, if you are oil free then I got you covered. Simply skip the fried onions and enjoy this green bean recipe with your family and friends.
Ingredients for Vegan Green Bean Casserole Recipe
For the Cashew Cream
Raw cashew nuts
Dairy free milk
Nutritional yeast
Garlic powder
For the casserole
Vegetable broth
Green beans
Salt
Black pepper
Cornstarch
Panko crumbs
Crispy fried onions (optional)
I have used all these easily available ingredients in this recipe which you may buy from any local grocery store. However, I have provided links to few of them here for your convenience.
If you plan to buy from those affiliate links, I get a small commission which in turn encourages me to bring out more delicious recipes for you.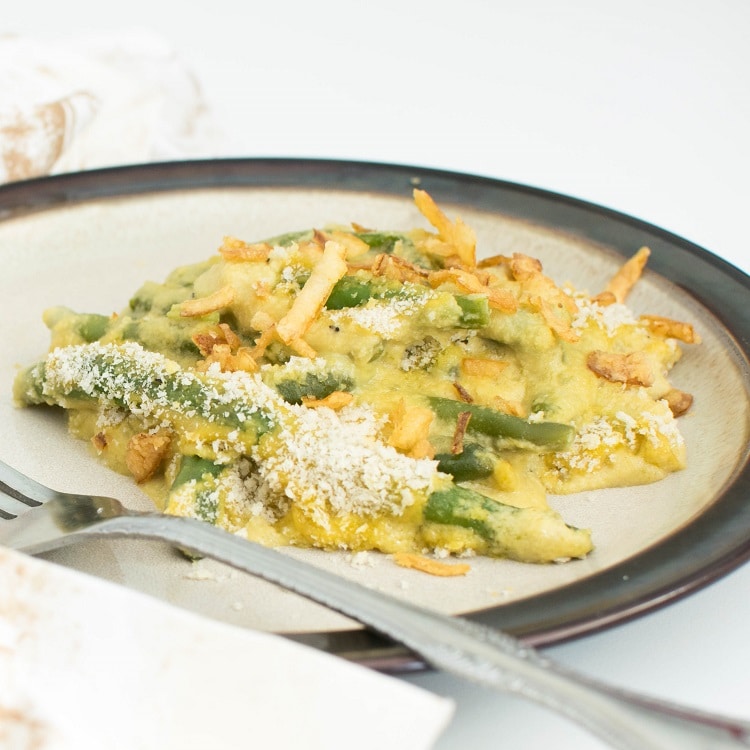 Ingredients notes:
Cashew nuts – this gives a creamy base along with a nice nutty taste plus a mild sweet tone to it.
Nutritional yeast – along with health benefits this also provides a cheesy texture to the cashew cream and enhances the flavor of this casserole dish.
Vegetable broth – It flavors the dish immensely. To make it healthier and absolutely oil free you can use your own homemade vegetable broth or look for the ingredients in the store bought one to make sure there is no oil in the broth.
Green beans – it's the star of my recipe. It's a green vegetable that is crunchy, delicious, low in calories and fiber rich. It is a great source of vitamin C, folate, vitamin K.
Cornstarch – I used this thicken the base a bit to make it easy to cut and scoop without changing its taste and yet maintaining its healthy elements.
Panko Crumbs – They are a kind of bread crumbs mostly used in Japanese dishes. I find them crispier when baked and brings out a nice crunchy texture in any recipe.
So, therefore, you may have realized that this vegan green bean recipe is super easy. Moreover, since it is a one pot dish there is hardly any cleaning expected after dinner. Therefore, it's a hassle-free dinner idea that you can enjoy with your family. It is kid friendly too.
How to make Vegan Green Bean Casserole Recipe
Firstly, I blended the cashew cream in a blender to make a smooth paste. Then, I kept I aside.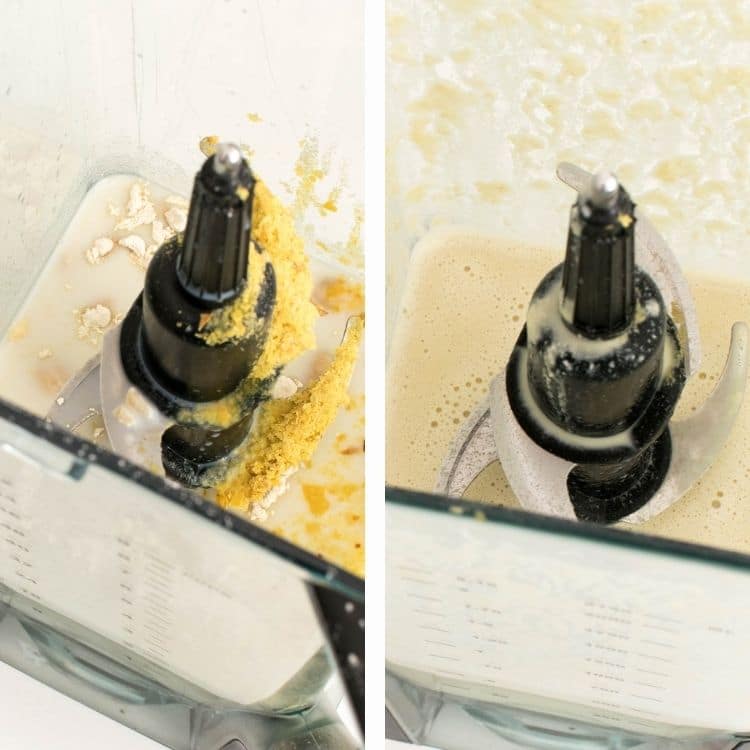 Secondly, I combined vegetable broth and trimmed fresh green beans in a Dutch oven and seasoned it with salt and pepper. I placed it on high flame on the stove top and cooked it covered for few minutes or until the green beans started to soften.
Next, I stirred in the blended cashew cream along with the cornstarch and stirred continuously so as to make sure that there were no lumps.
Later, I turned off the flame and topped it with panko crumbs. Then, I placed the Dutch oven in a pre-heated oven and baked it for 20 minutes.
Once done, I turned it off and let it settle inside the hot oven for another 5 minutes.
Lastly, when I was ready to serve, I garnished it with crispy onions and served it hot.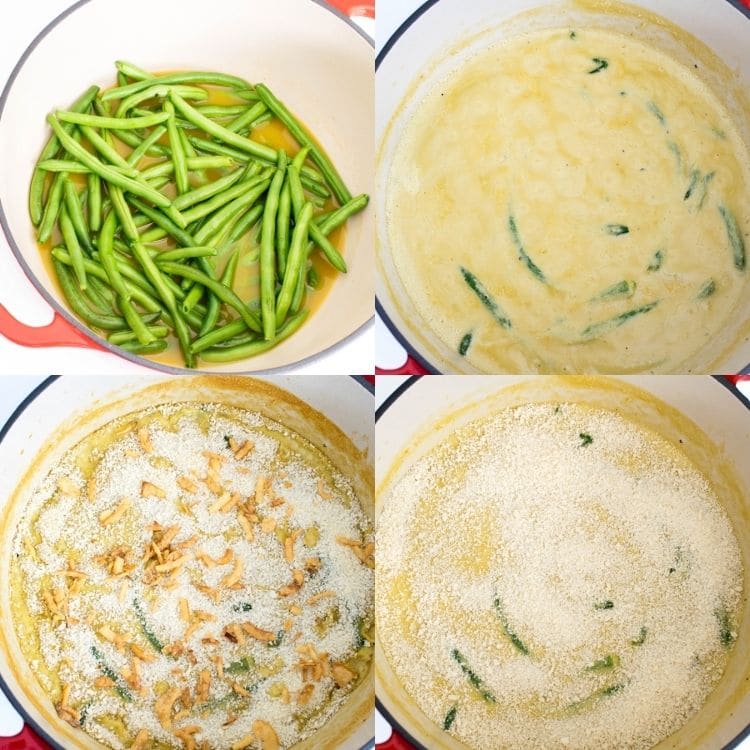 We heartily enjoyed this casserole dish and it is a definite food item listed in my Thanksgiving menu.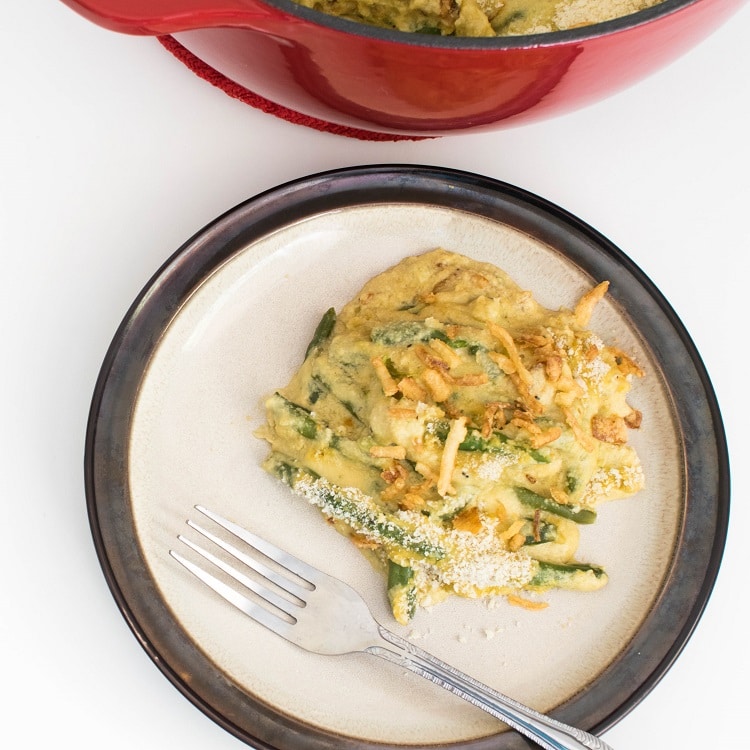 If you are looking for a great green bean casserole recipe then this is definitely for you and I would insist you to make it. It is so simple that you do not even need a practice. Simply follow the recipe as explained on the final day and enjoy the praises showered on you by your loved ones.
Expert tips:
Make sure to trim the sides of the green beans so that it doesn't not come in your bite.
Make sure to adjust the salt before sprinkling panko so that the look of this casserole dish is well maintained.
We only need to soak cashew nuts for 5 minutes so as to make the blending process smooth.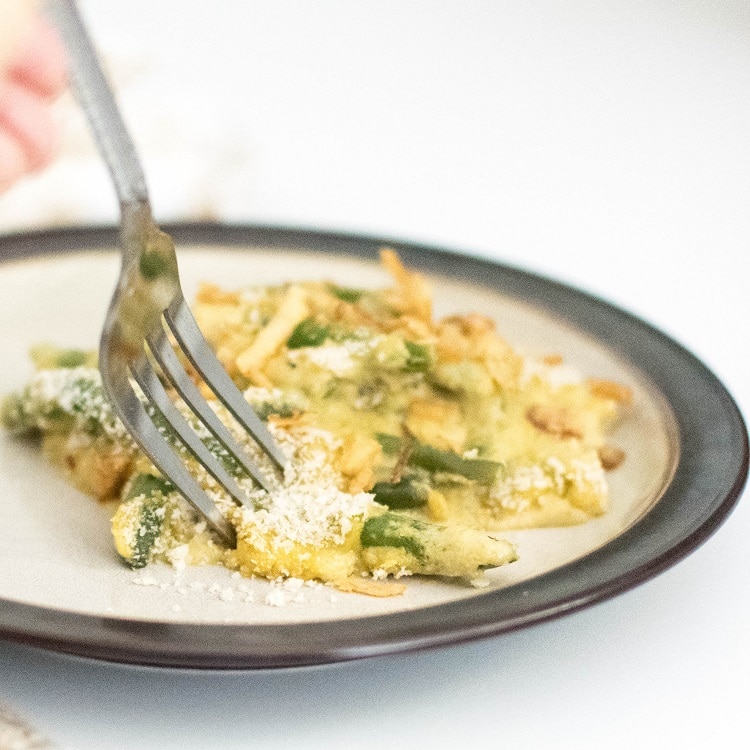 With these simple tips I am sure you are going to enjoy making this recipe. I bet your family would lick their cutlery and plate till the end and would ask for more of these.
Vegan Green Bean Casserole Recipe FAQs
How long do they last?
It tastes best when served the same day especially immediately. However, the leftovers can be refrigerated in an air tight container for about a week. I have also mentioned how to to prep for this dish before a party or a gathering in the notes below.
What type of green beans should I use for in this recipe?
I have used fresh green beans and that works best for this recipe.
How to trim the sides of the green beans?
To trim the sides of the green beans simply use a knife to cut a small portion of the side while stripping off the fibrous string from the side all the way to the other end.
Do I need to blanch or boil green beans before using here?
In this recipe I have explained the steps on how to use the green beans as is. You do not need to pre-cook them before using here.
Is this healthy?
I have made it oil free. The crispy onions are optional and if you use your own homemade vegetable broth then you definitely avoid that little oil as well. I have used only whole food in this recipe except for the panko crumbs. So therefore, we can say this recipe is minimally processed and is healthier comparatively.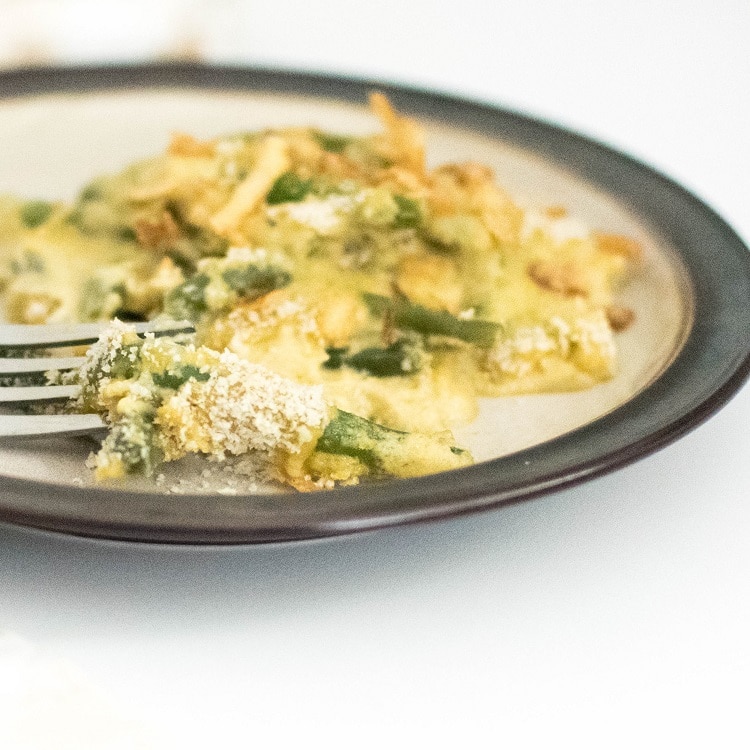 Other Thanksgiving recipes that you might like:
Creamed Corn Casserole
Vegan Gravy
Moroccan Tempeh Mac n Cheese
Herbed Cashew Tempeh Crostini
Baked Cheese Broccoli Vegan Casserole
Roasted Onion Oatmeal Bread
Did you make it?
If you get a chance to make this recipe then please leave your feedback in the comments below along with the ratings. In addition, you may tag @kiipfit on Instagram with your recipe images because we would love to see what you cooked.
If you desire to explore more delicious recipes of mine then you may checkout my cookbooks.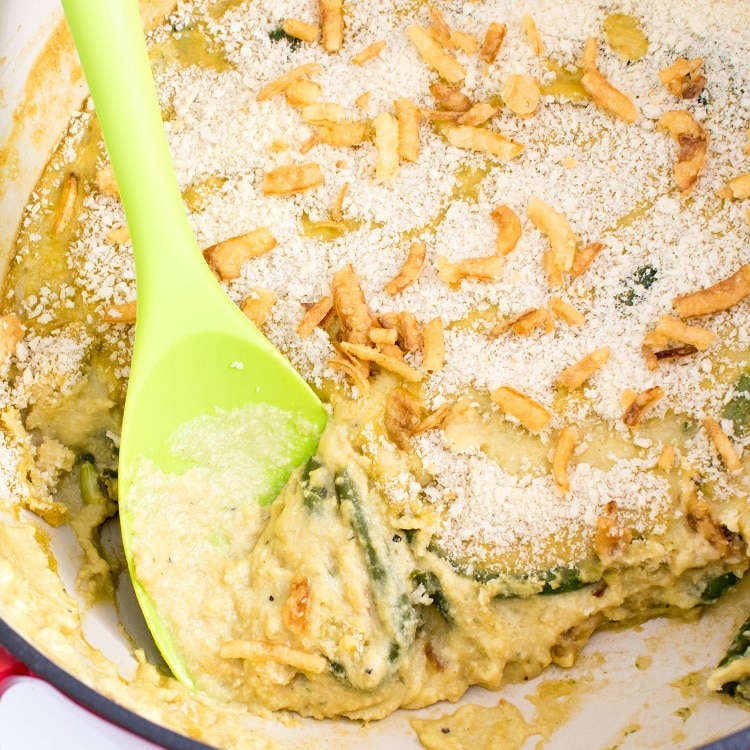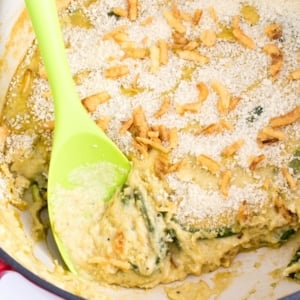 Print Recipe
Vegan Green Bean Casserole Recipe
This creamy Vegan Green Bean Casserole Recipe is surely a holiday delight! Its healthish, made with fresh cashew cream and in one pot dish. Simple and yet comforting in every bite.
Ingredients
For the casserole
2

cups

vegetable broth

1

12 oz pack

or 4 cups fresh green beans

(trimmed)

1/2

tsp

salt

1/4

tsp

crushed black pepper

1

tbsp

cornstarch

1

cup

panko crumbs

1/2

cup

vegan crispy fried onion

(optional)
Instructions
In a blender combine the ingredients for cashew cream and blend it smooth. Keep it aside.

 Preheat oven at 350-degree Fahrenheit and combine vegetable broth and green beans in a Dutch oven. Place it on the stove top and turn it on at high. Stir in salt and pepper. Cover and cook for 4-5 minutes or until green beans soften a bit but not mushy.

Now, fold in the cashew cream and stir in cornstarch. Bring the flame to medium heat and keep stirring continuously until there are no lumps. Let it cook uncovered for 2-3 minutes or until it starts to thicken. Turn it off.

Do a taste test at this point and adjust salt as per your taste. Cover the casserole with panko crumbs evenly and place the Dutch oven in the pre-heated oven and bake it for 20 minutes. Turn it off and let it settle inside the hot oven for 5 minutes.

Take it out and sprinkle the crispy onions if desired and enjoy it hot.
Notes
If you do not have Dutch oven then simply prepare a nonstick baking dish. Follow the steps 1, 2, and 3 cooking it your choice of pan on the stove top. Then, pour the recipe in the baking dish and top it with panko bread crumbs. Bake as per the instructions mentioned above and then follow the last step.
This recipe tastes best when consumed the same day but the leftovers can be refrigerated in an air tight container for about a week. Just warm it up in a microwave.
If prepping for a gathering then cook the entire recipe following until step 3. Then, 30 minutes before serving preheat the oven and top the dish with panko crumbs. Bake it, garnish and serve immediately.
I have provided the nutrition value with fried onions. The nutritional info without fried onions are : Calories – 264, Fat – 14, Carb – 25, Protein – 9
Nutrition
Calories:
271
kcal
|
Carbohydrates:
26
g
|
Protein:
10
g
|
Fat:
14
g
|
Saturated Fat:
19
g
|
Sodium:
885
mg
|
Potassium:
330
mg
|
Fiber:
3
g
|
Sugar:
5
g
|
Vitamin A:
250
IU
|
Vitamin C:
3
mg
|
Calcium:
42
mg
|
Iron:
2
mg