This easy Vegan Eggnog is rich, creamy and pure holiday indulgent. It's made with the combination of cashew nuts and coconut milk and yet its healthier and lighter with the same satisfying flavors.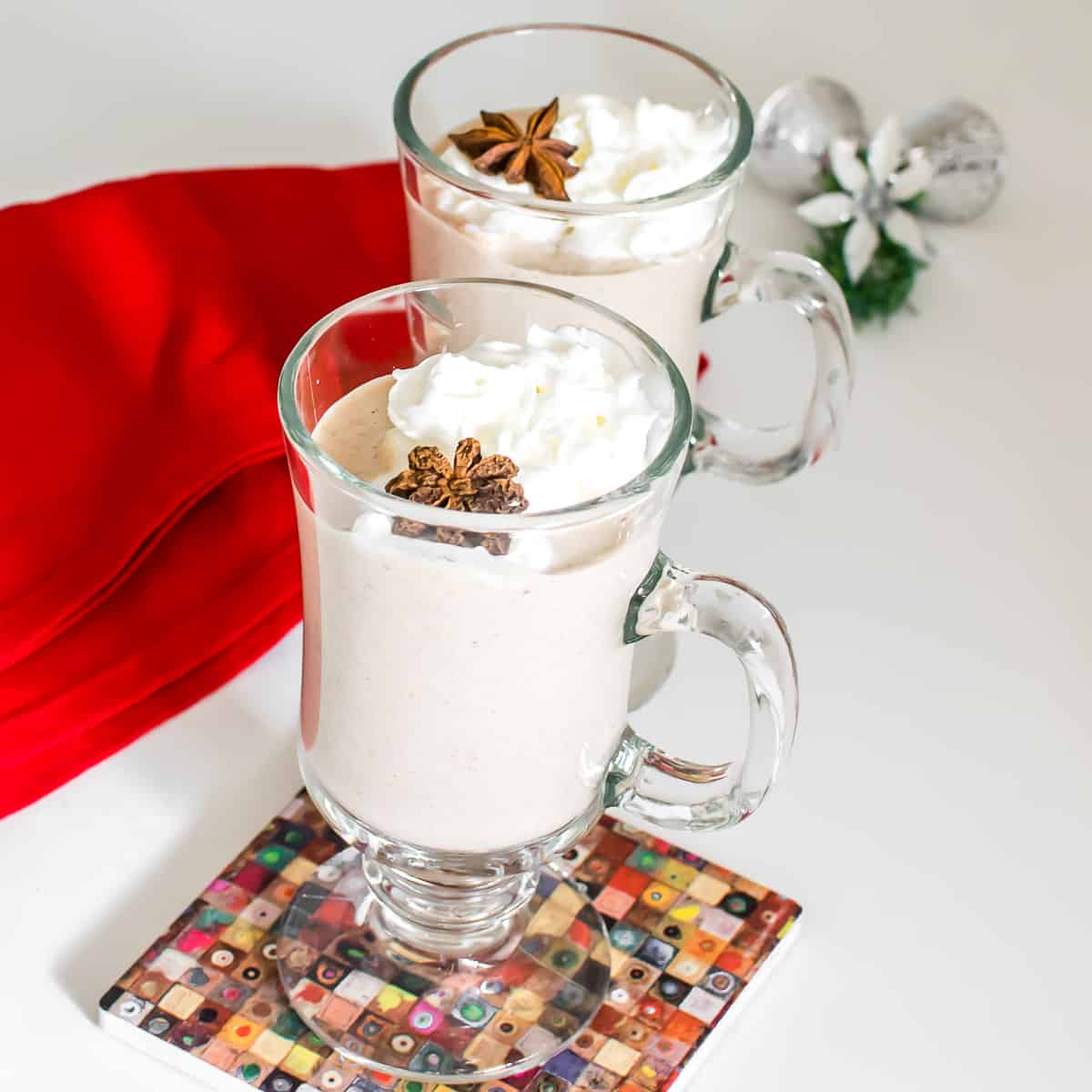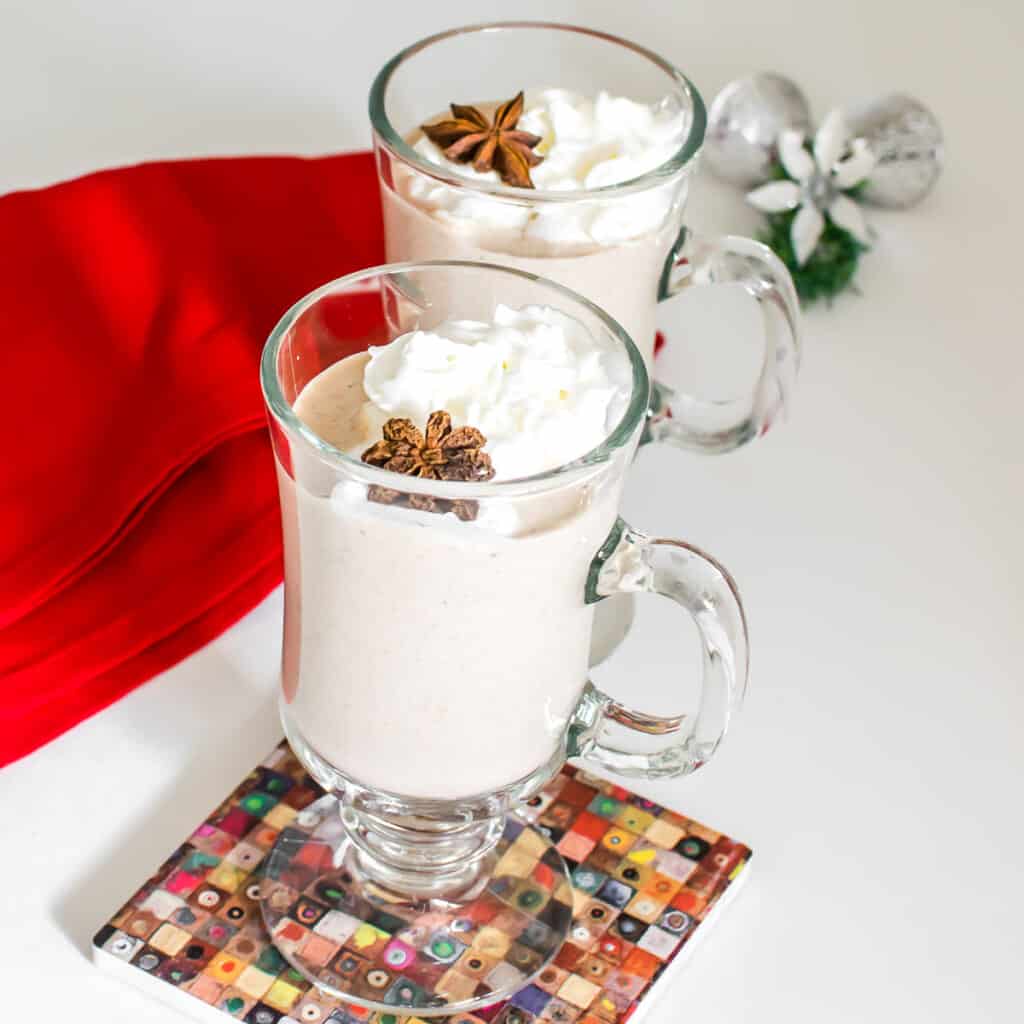 I am so excited to have been able to create a vegan eggnog recipe that's as delicious as the original one. This one does not have eggs and dairy and I have made it lighter.
This is just as delectable as my eggnog cookies which you must bake this Christmas.
Serve this Christmas beverage with my vegan snowball cookies for a complete experience.
So, while you plan your menu for the holiday table you must sip onto this no egg eggnog and enjoy the festive season with a smile on your face.
What is Eggnog?
Traditionally, it's a milk and eggs beverage that's served during holidays. Its nicely flavored with warm spices and spiked with by brandy or rum. It used to be an expensive drink because of the low availability of ingredients in olden days.
However, today we have come up with a variety of options including a vegan version of it. So, therefore, it does not have to be a burden on your pocket anymore.
I made it with simple and handy ingredients. It's the best vegan eggnog I have tried so far and is super quick as well. You will be amazed by its deliciousness and subtle tastes of each spice.
Its budget friendly and perfect for all ages.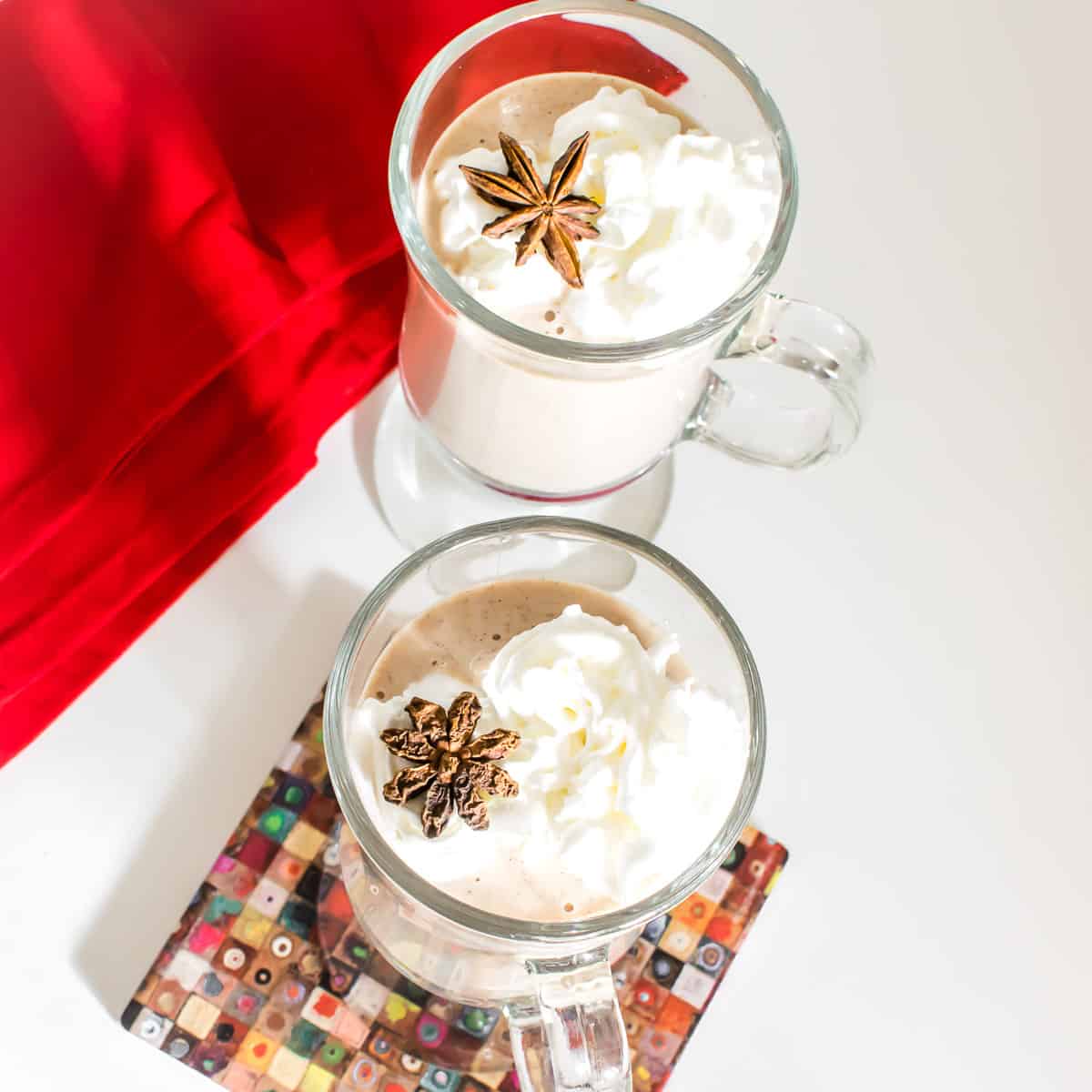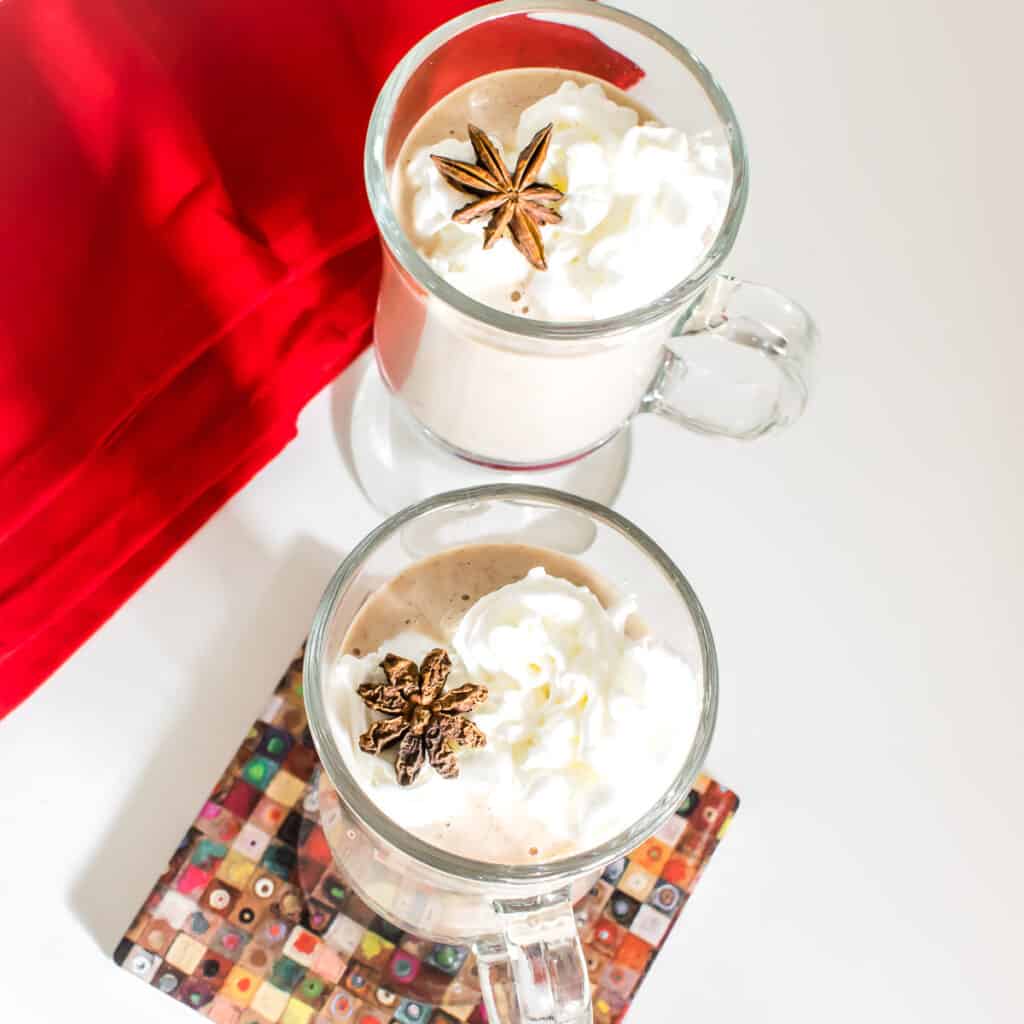 I have tested this recipe quite a few times and every time my husband and I have been enjoying this beverage. My kids also tried it without alcohol and they enjoyed it with a spoon.
Overall, its an easy crowd pleaser drink that you must serve to your guests. Also, it's a make ahead beverage recipe so it's a win win.
It's a creamy, healthier, low in calories, naturally sweetened and festive beverage which will bring lot of joy to everyone this holiday.
Therefore, today I am sharing this easy vegan eggnog recipe with you.
Ingredients for egg free eggnog
Cashew nuts
Coconut milk
Dates
Vanilla
Cinnamon
Cardamom
Nutmeg
Cloves
Toppings
Bourbon
Vegan whipped cream
Ground cinnamon for dusting
I am sure you must already be having these ingredients in your kitchen. So, let's get started with it right away.
Ingredients notes:
Cashew nuts – it is important that they are soft enough to form a creamy base therefore, I cooked these in water instead of only soaking.
Coconut milk – I love this part because I get the same coconut milk satisfaction on a lighter note. Make sure to use from the tetra pack.
Spices – these make this dairy free eggnog delicious and aromatic and also very attractive.
For detailed measurement of ingredients, please scroll down to the printable recipe card.
How to make Vegan Eggnog
Firstly, I combined cashew nuts and water in a saucepan. I covered the cashew nuts with water properly and let it boil for few minutes on a high flame.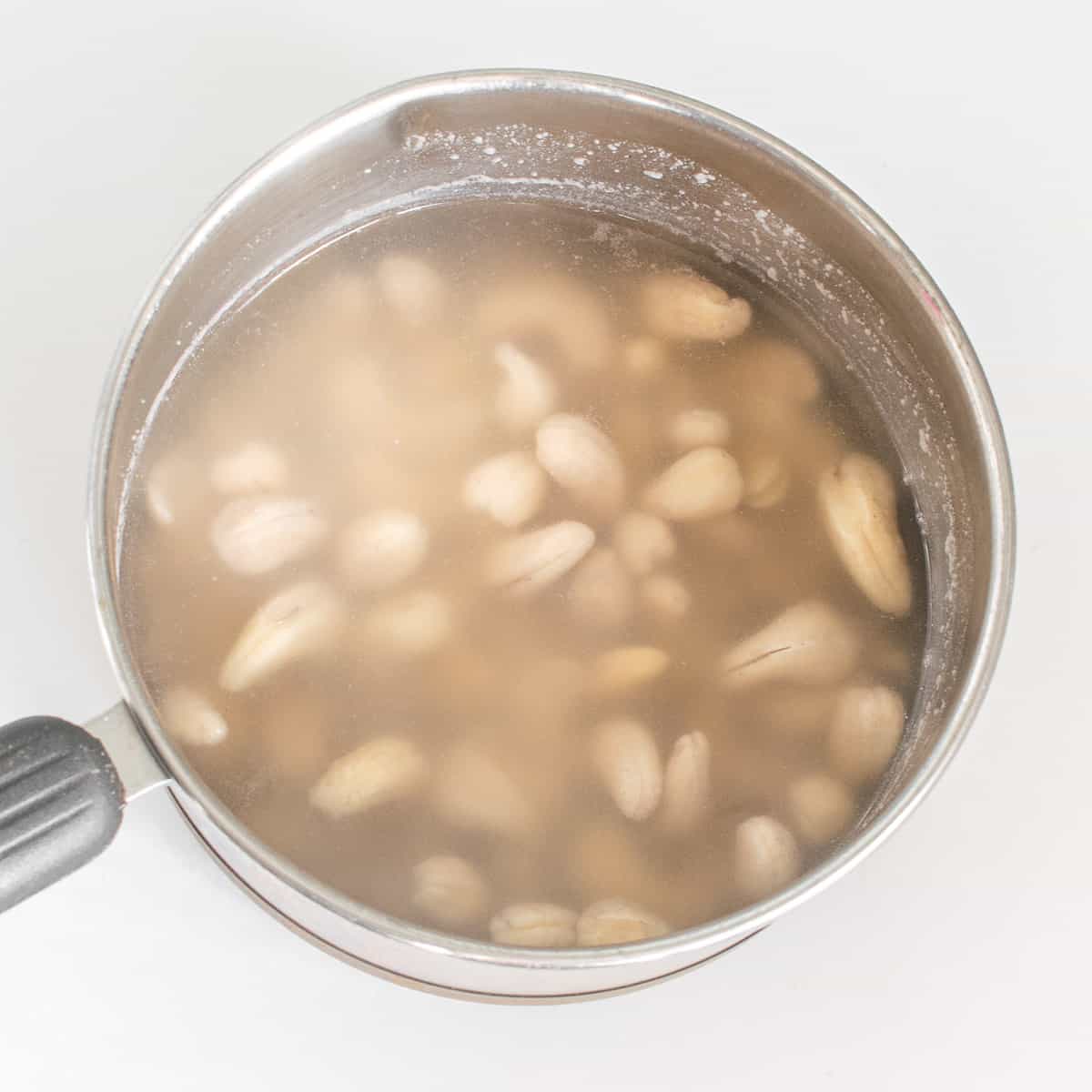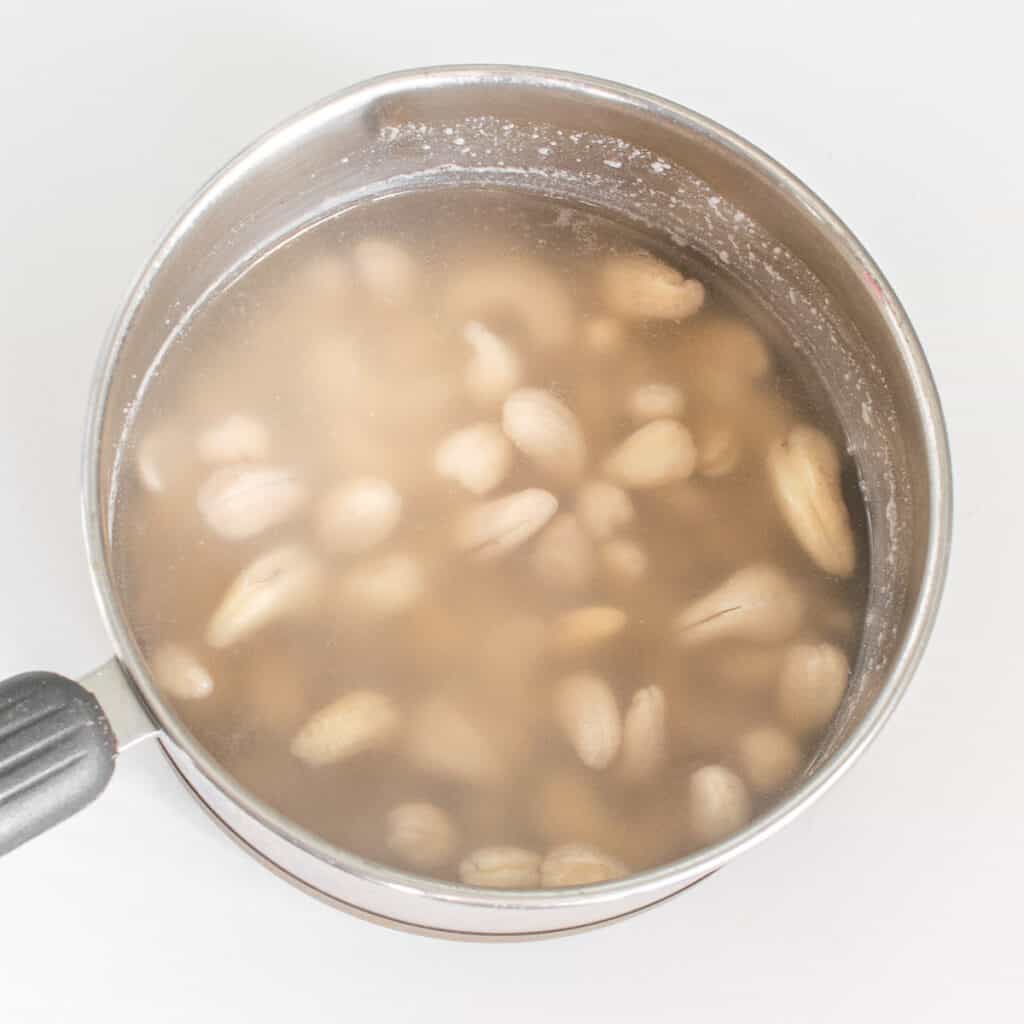 Then, I turned it off and let it cool down to room temperature. Next, I drained it and kept it aside.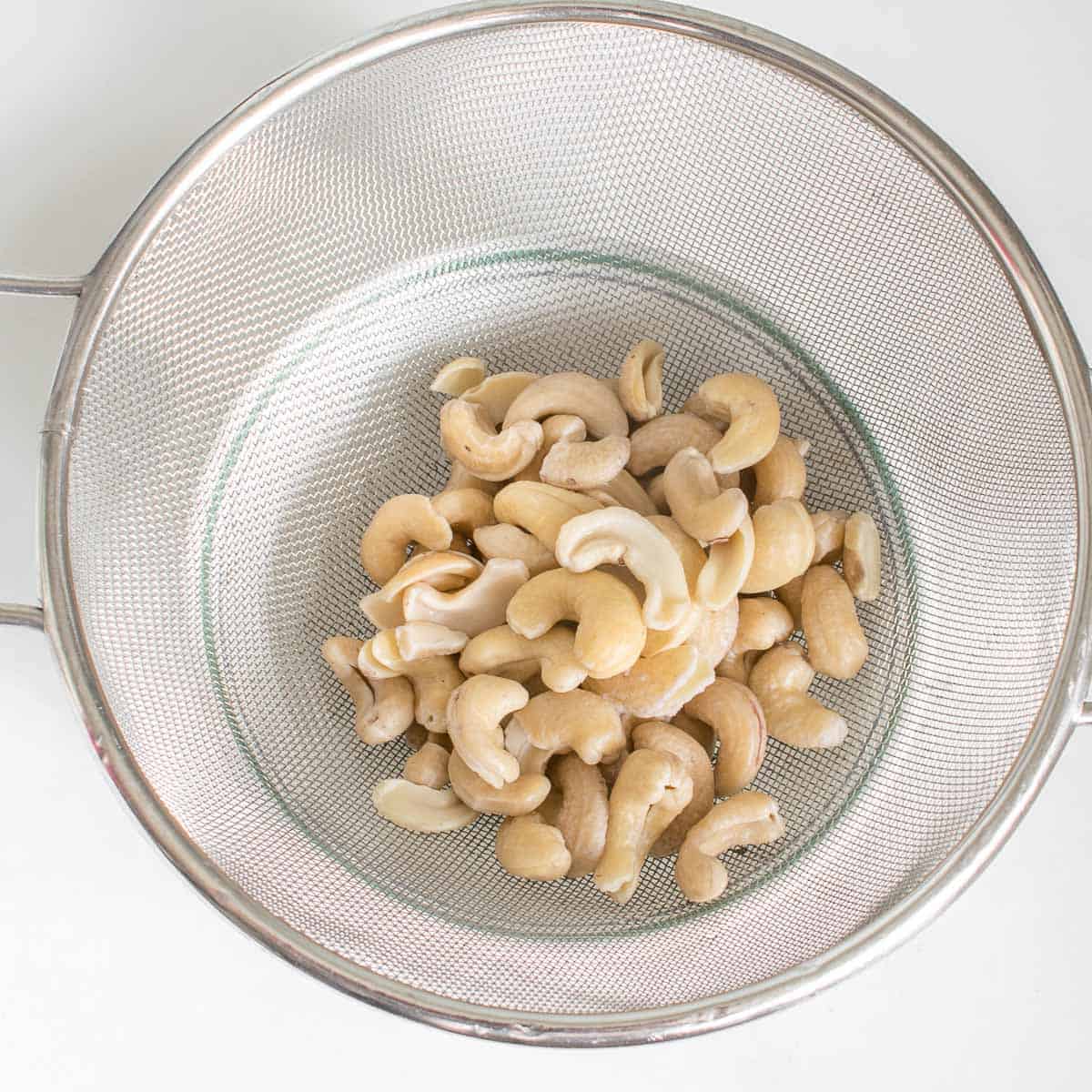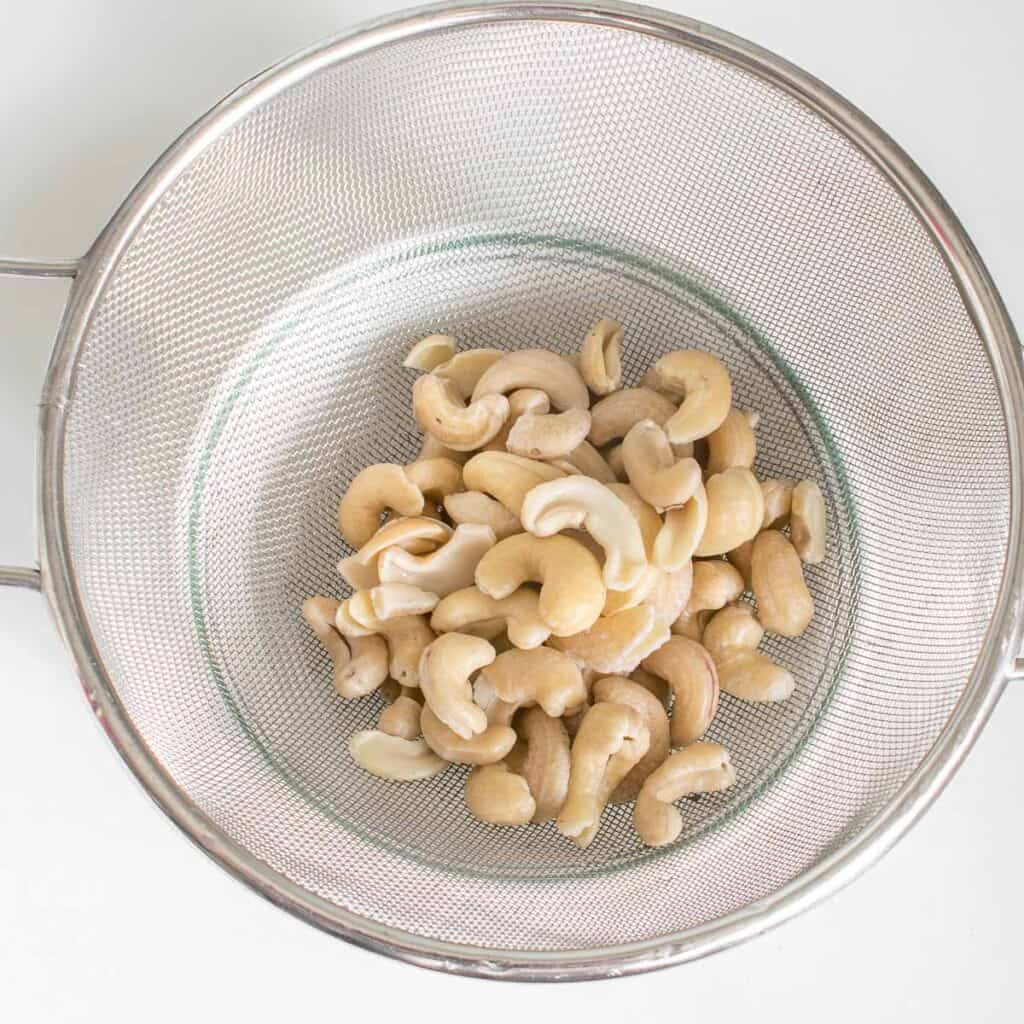 Secondly, I combined all the blender ingredients in the blender (including the softened cashew nuts) and blended it smooth and creamy.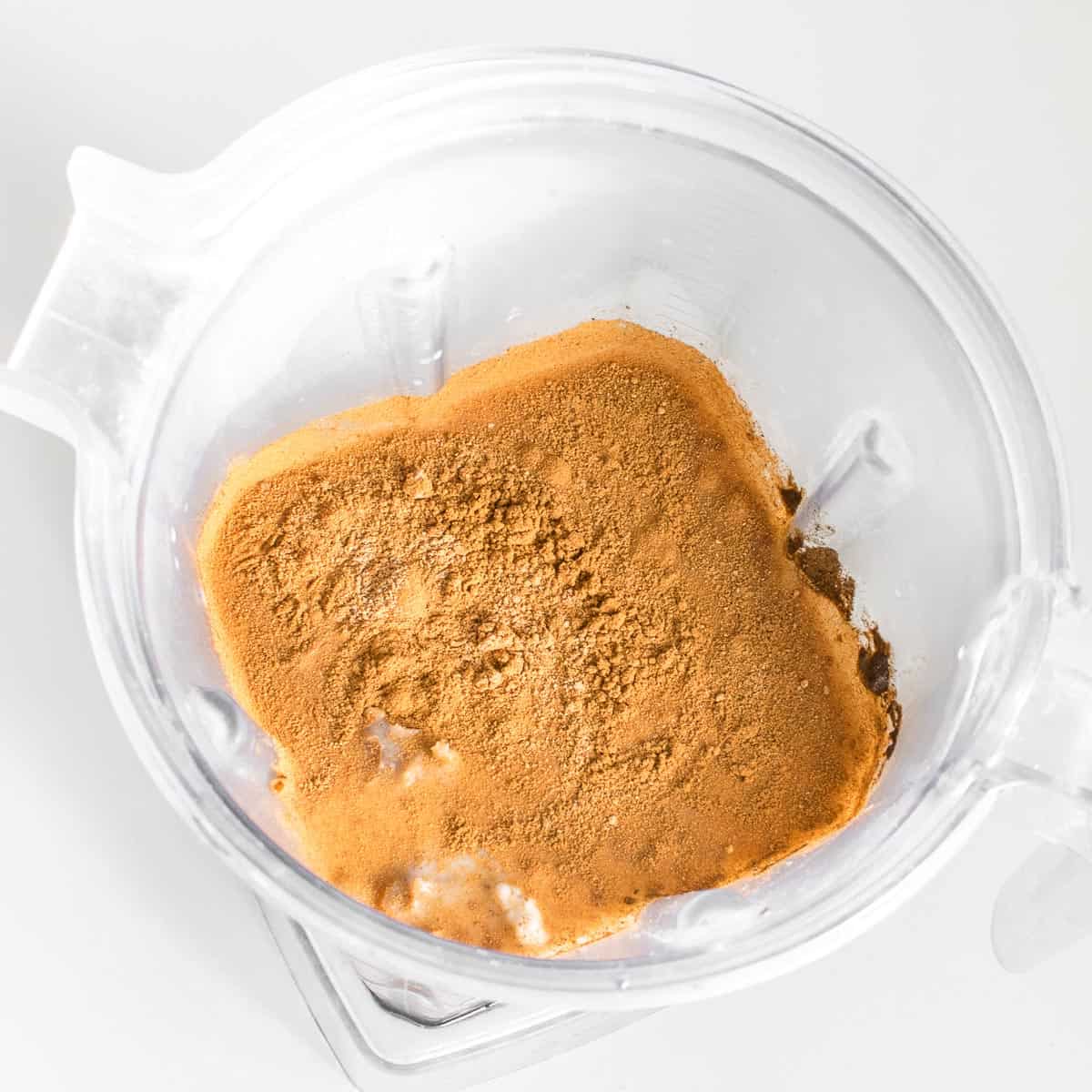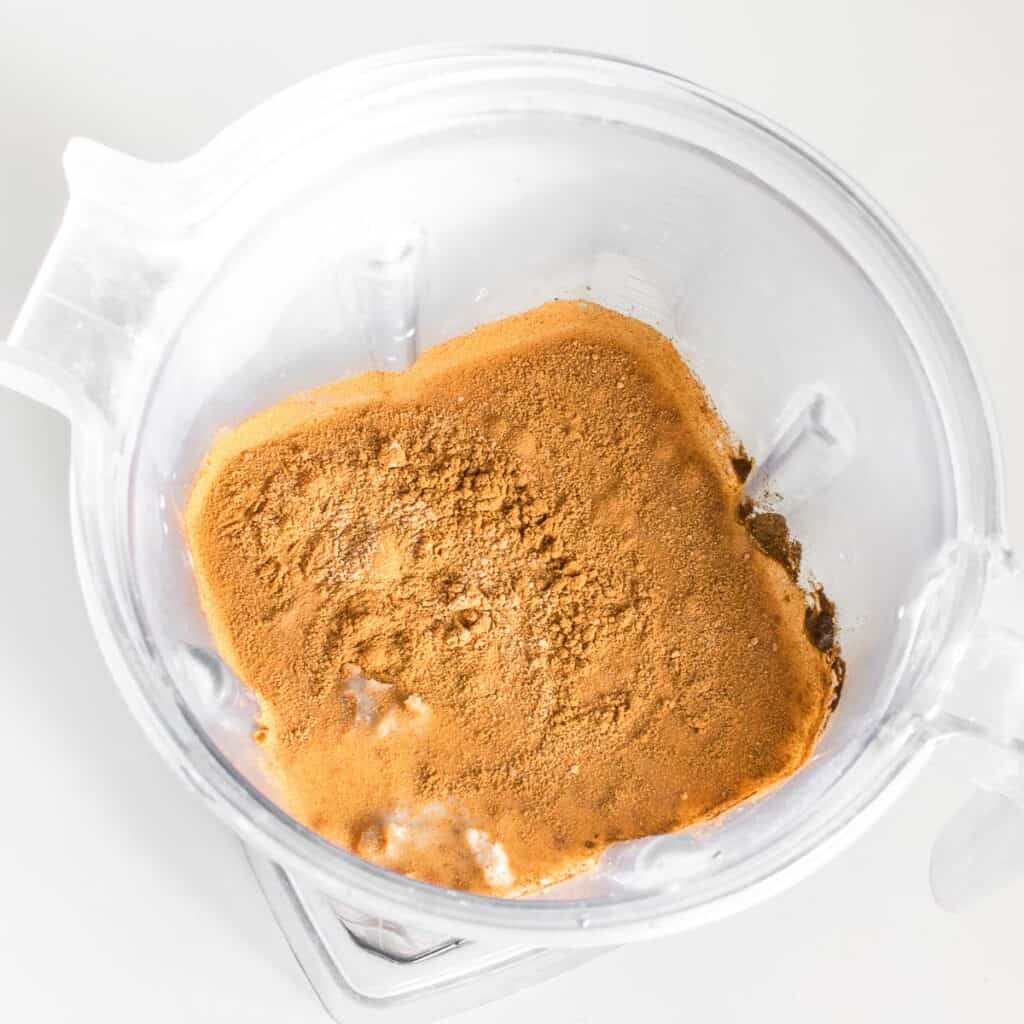 Thereafter, I stirred in some alcohol and poured it in the serving glasses.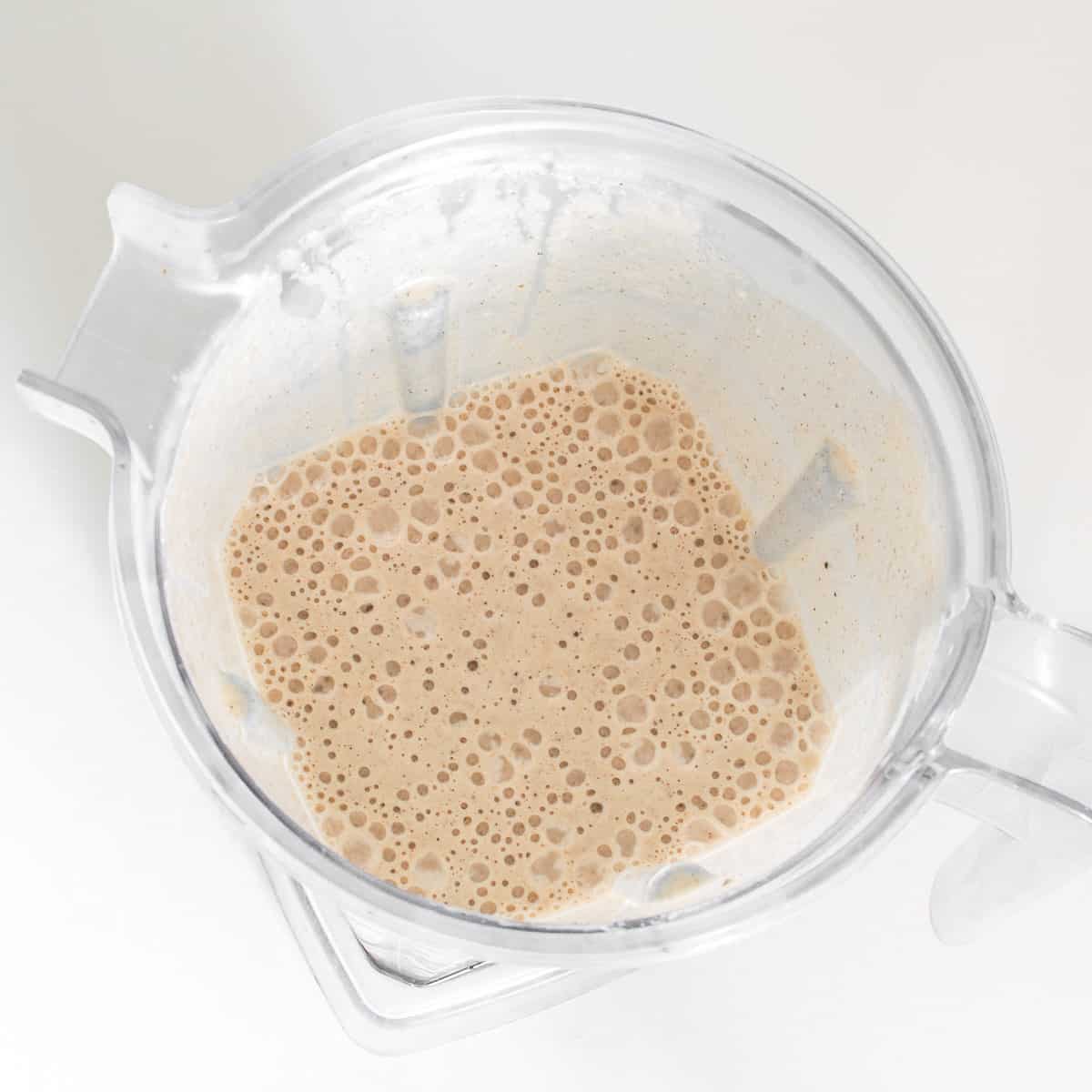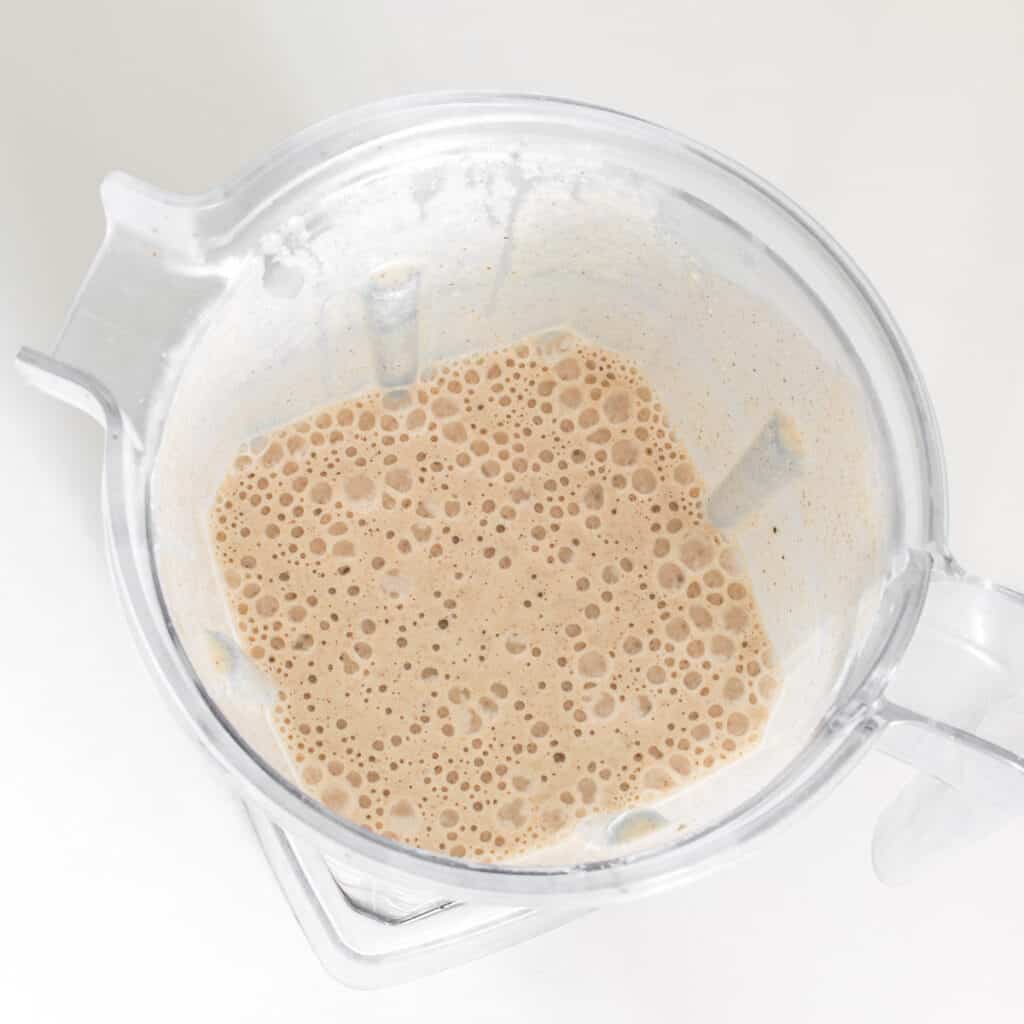 Lastly, I topped it with whipped cream and dusted with cinnamon powder.
As soon as I served it to my husband, he was excited and his joyful smile just made my day.
He loved it and wanted some more. Hence, I have been blending it frequently this season.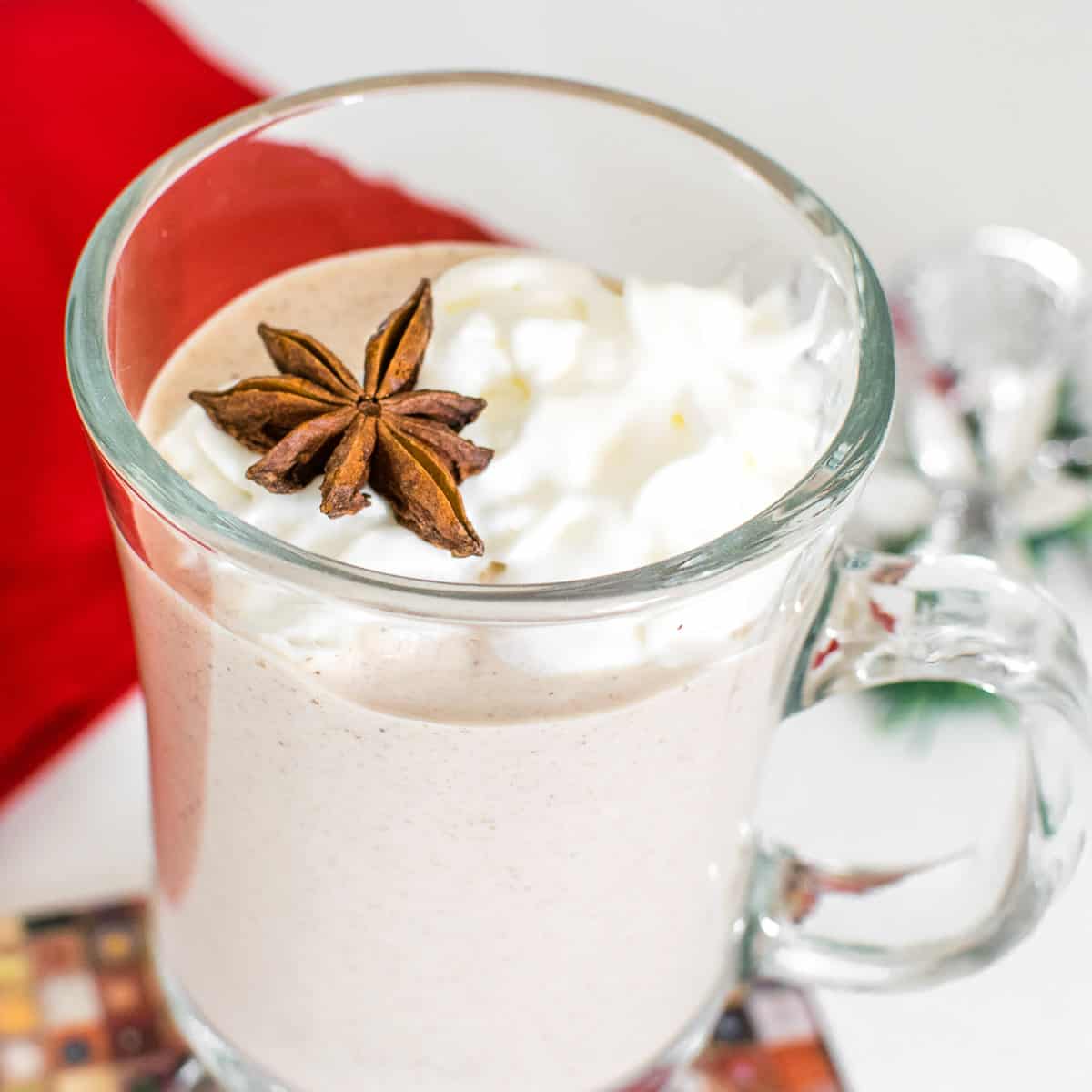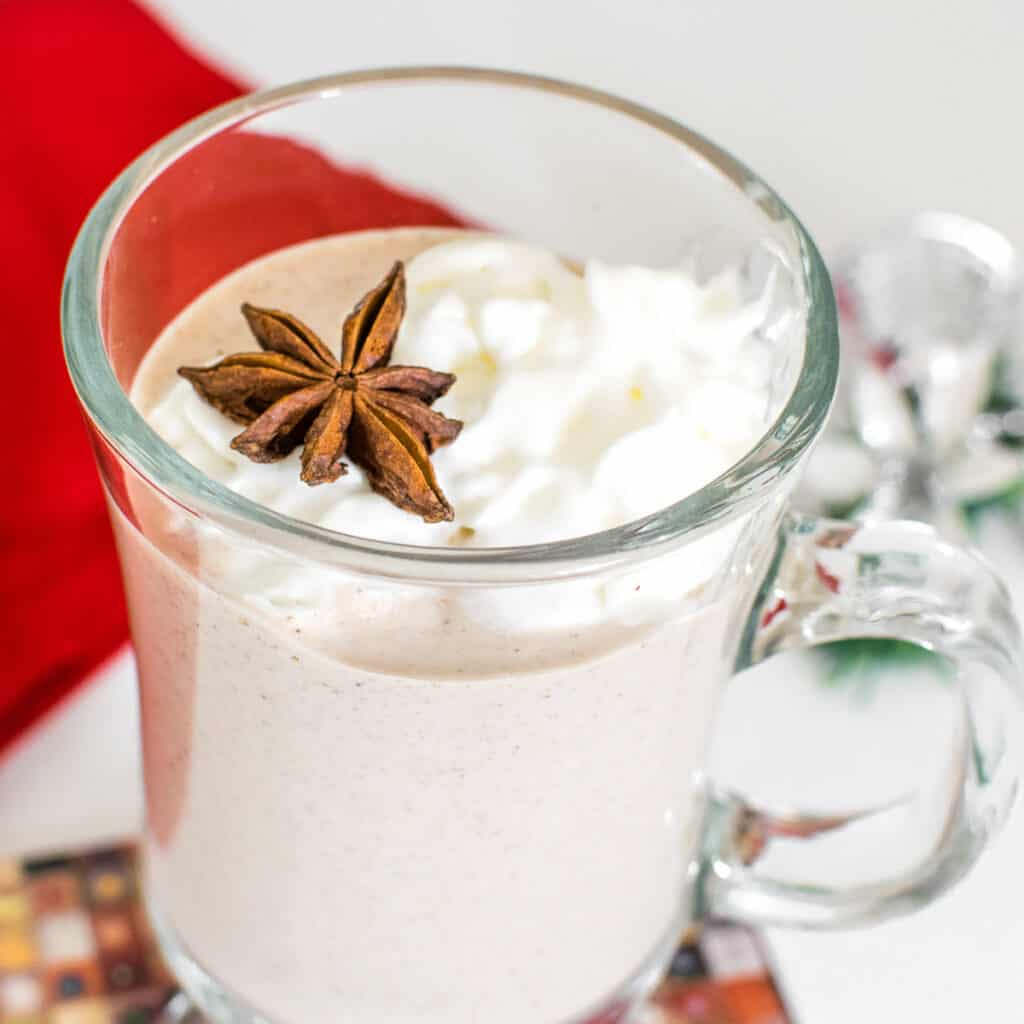 As many times, I practiced it, he totally enjoyed and that gave me a lot of pleasure.
I also made my daughters taste alcohol free vegan eggnog and they thoroughly appreciated every bit of this beverage.
They kept saying that it tastes like melted ice cream and continued digging their spoon into their glasses.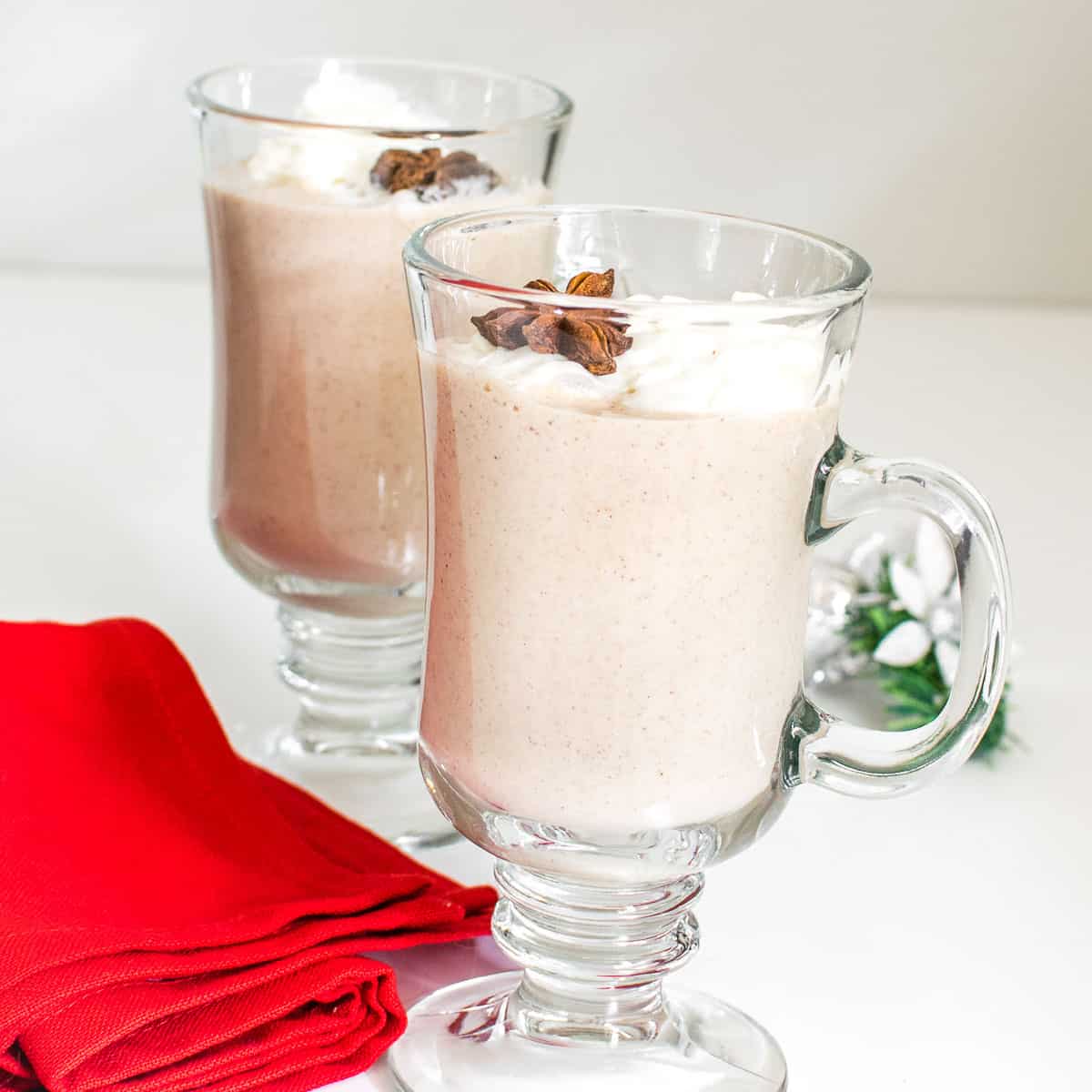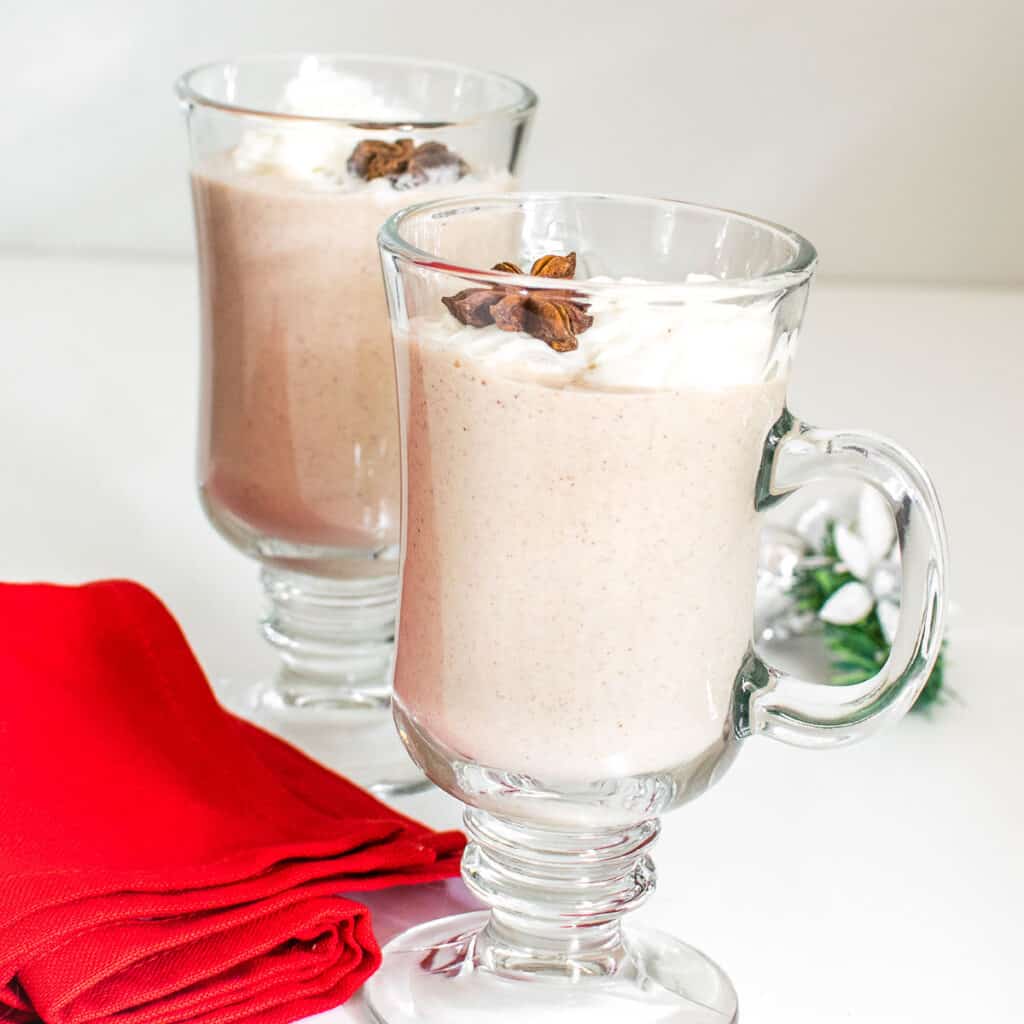 Overall, we were all very happy so therefore, you must blend this to impress your guests.
Expert tips:
Once the cashew nuts are cooled take one in your hand and try to mash it with fingers. If it works that means its ready to blend or else let it cook for 1 more minute.
When blending, do not rush through it. Let it blend well for 2 minutes. Its even better if you can use a high-speed blender like Vitamix.
Stir in bourbon or any other alcohol in it just before serving or else the taste might become different.
Vegan Eggnog FAQs
How long does it last?
This tastes best when served immediately. However, it can be refrigerated for about 1 week in an air tight container without any add-ons or toppings. Just before stir or blend in alcohol. Top it with whipped cream and dust it with cinnamon powder.
How does eggnog taste like?
It tastes like melted ice cream and has the thick consistency and texture just like a custard. It has a distinct taste of cinnamon which is balanced with cardamom and a subtle smooth sweetness from the nuts.
Should I consume it cold or hot?
We prefer it cold because it tastes really funky and fun that way. It's refreshing also when served cold.
What kind of alcohol goes well in eggnog?
I have tested it with bourbon, brandy, rum and they all tastes great. My favorite being bourbon and then I also loved it with rum.
How should I serve eggnog?
It's a great after dinner beverage. Serve it chilled and pair it with any baked treat.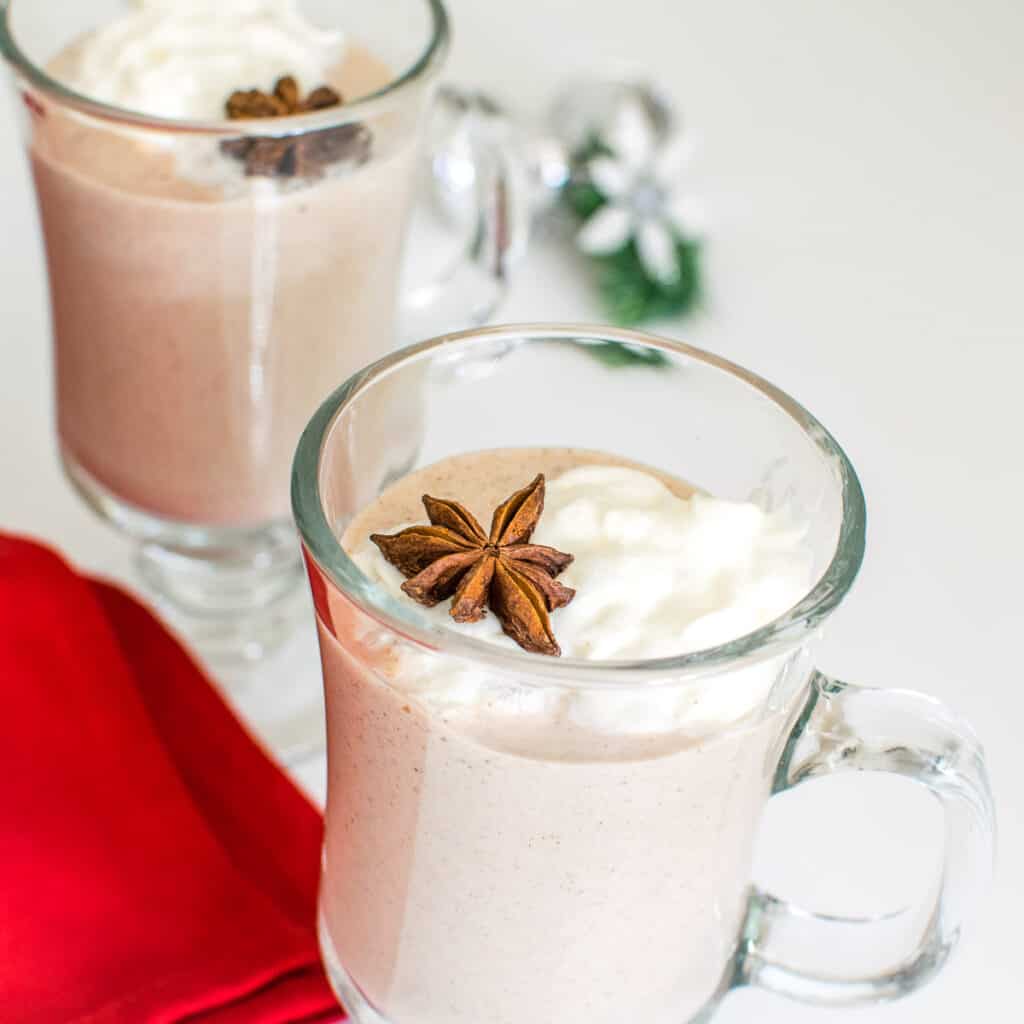 My other holiday beverages that you might like:
Avocado Milkshake
Peanut Butter Milkshake
Salted Caramel Oatmeal Smoothie
Sparkling Pomegranate Coconut Mocktail
Pear Ginger Mocktail
Orange Thyme Mocktail
This post may contain affiliate links which means if you click on them and also make a purchase, I get a small commission. Moreover, I only share the products that I personally use and love.
Where to find me?
Follow me on Facebook or Twitter. You may tag @kiipfit on Instagram with your recipe remake images because I would love to see what you cooked.
Did you make it?
If you get a chance to make this recipe then please leave your feedback in the comments below along with a 5-star rating.
In addition, you checkout my cookbook for everyday comfort vegan recipes.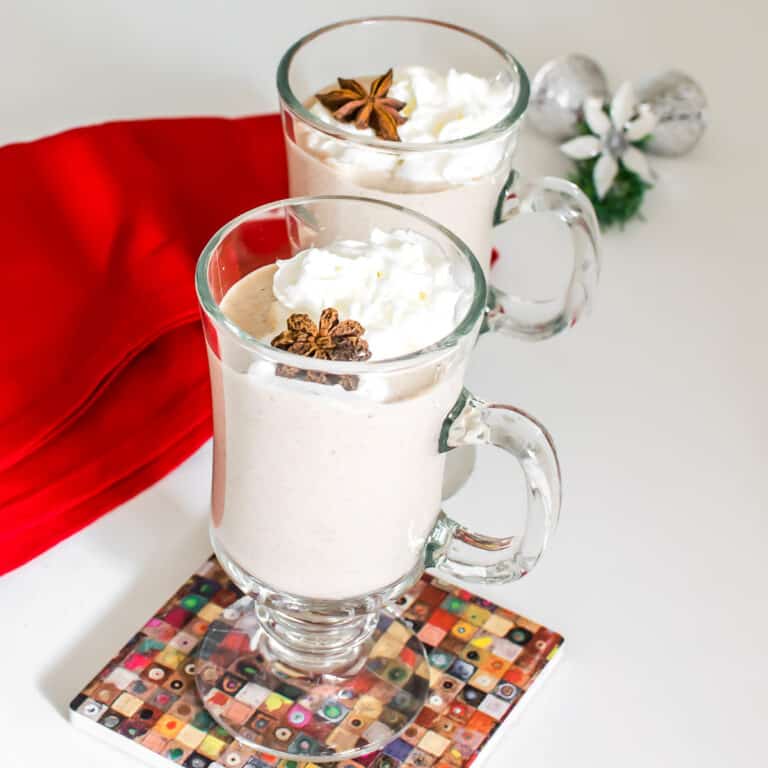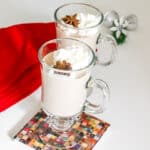 Print Recipe
Vegan Eggnog
This easy Vegan Eggnog is rich, creamy and pure holiday indulgent. It's made with the combination of cashew nuts and coconut milk and yet its healthier and lighter with the same satisfying flavors.
Ingredients
toppings/add-ons (optional)
Instructions
In a saucepan combine raw cashew nuts and cover it with water. Place it on high flame and cook until few 3-4 boils. Turn it off and let it cool down to room temperature. Drain and keep it aside. The longer the cashews are in warm water the softer and creamier it will be.

In a blender combine all the eggnog ingredients including cooked cashew nuts. Blend it until smooth and creamy.

If mixing in alcohol, then stir it in eggnog at this point or give it a pulse in the blender.

Pour in the serving glasses and top it with vegan whipped cream and sprinkle more cinnamon if desired.
Notes
I used unsweetened plain coconut milk that comes in a tetra pack in a beverage form. Do not use canned coconut milk for this recipe as it will become too thick, coconutty and heavier.
If you like your eggnog even more sweet than mentioned then you may upto 10 dates. However, if you plan to top it with whipped cream then be careful of adding more dates since whipped cream is sweet.
This tastes best when served immediately. However, you may refrigerate it for about a week in an air tight container but do not add bourbon then. Just before serving stir in whiskey and the add-ons and enjoy it cold.
You may use bourbon, rum or brandy in this recipe.
The nutritional information will vary depending on the add-ons or toppings.
Nutrition
Calories:
189
kcal
|
Carbohydrates:
29
g
|
Protein:
4
g
|
Fat:
8
g
|
Saturated Fat:
1
g
|
Polyunsaturated Fat:
1
g
|
Monounsaturated Fat:
1
g
|
Sodium:
3
mg
|
Potassium:
108
mg
|
Fiber:
1
g
|
Sugar:
10
g
|
Vitamin A:
2
IU
|
Vitamin C:
1
mg
|
Calcium:
11
mg
|
Iron:
1
mg