Bold, thick and flavorful this Instant Pot Vegan Lentil Bolognese is meaty and chewy with umami flavors. It's a protein packed easy family friendly meal for any busy weeknight.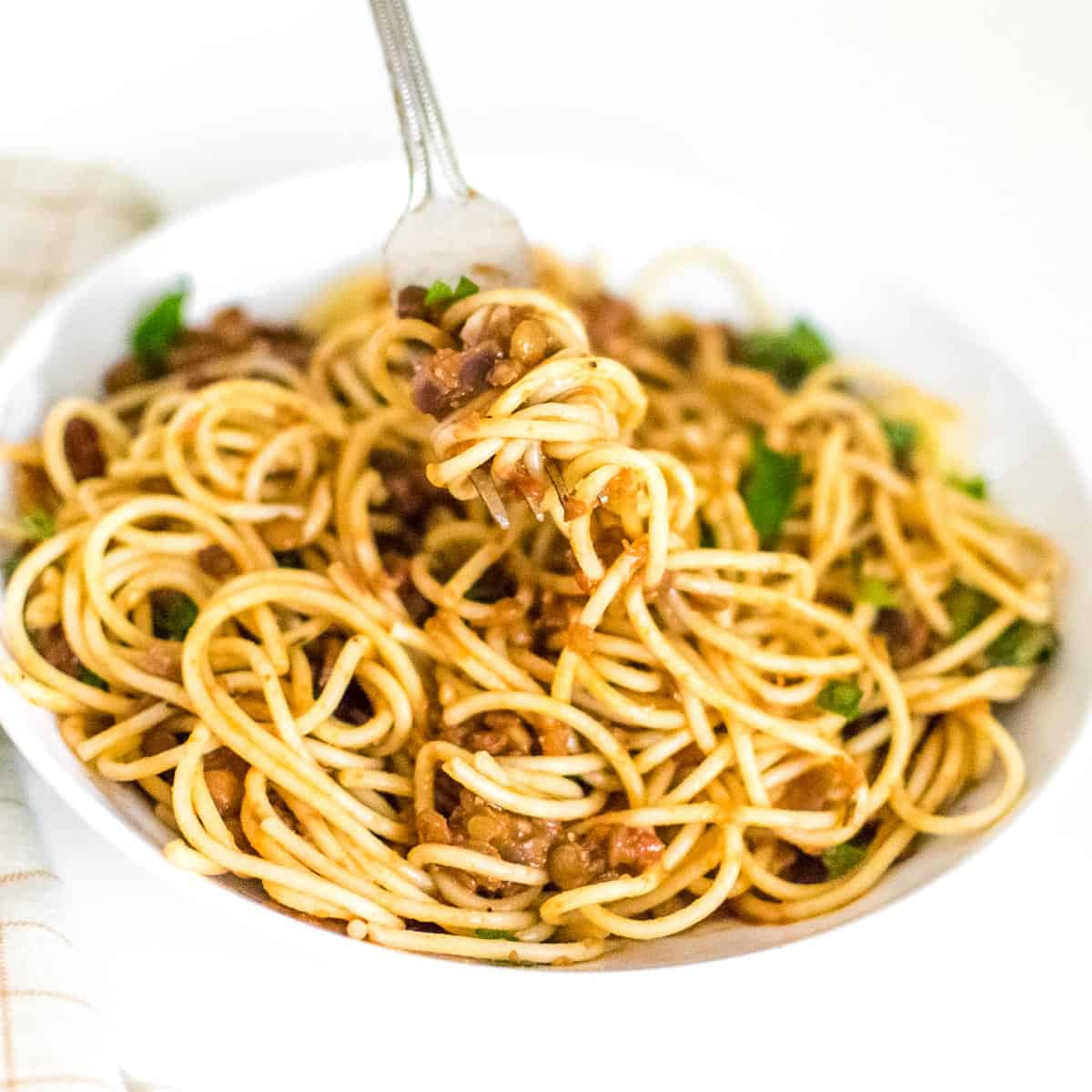 If you love Italian and are fond of spaghetti sauce or ragu then this Bolognese sauce will win you over.
I love the fact that it's made with lentils thereby being high in protein. So, if you are like me and love to eat pasta every single day then this vegan lentil Bolognese is your best bet.
For convenience and for an easy weeknight dinner, I came up with the Instant pot recipe and it worked excellent.
Since, I love to cook in my instant pot, some of my favorites are instant pot chana dal, vegan chili, taco pasta and cranberry sauce.
My family loves this lentil Bolognese and I guarantee you will make this on repeat.
What is Bolognese?
Traditionally it is a meat-based sauce served over tagliatelle. Its thick in consistency with being creamier and has a touch of tomato base. It originated in Bologna and is a common Italian dish and originally not served over spaghetti because the sauce tends to fall and stay in the plate.
However, with many creations we have been able to evolve this recipe and make it more palatable. Hence, I came up with vegan version of Bolognese.
Originally wide noodles pairs well but in my creation and to make it easy and budget friendly, this vegan lentil Bolognese pairs great with spaghetti as well.
Ingredients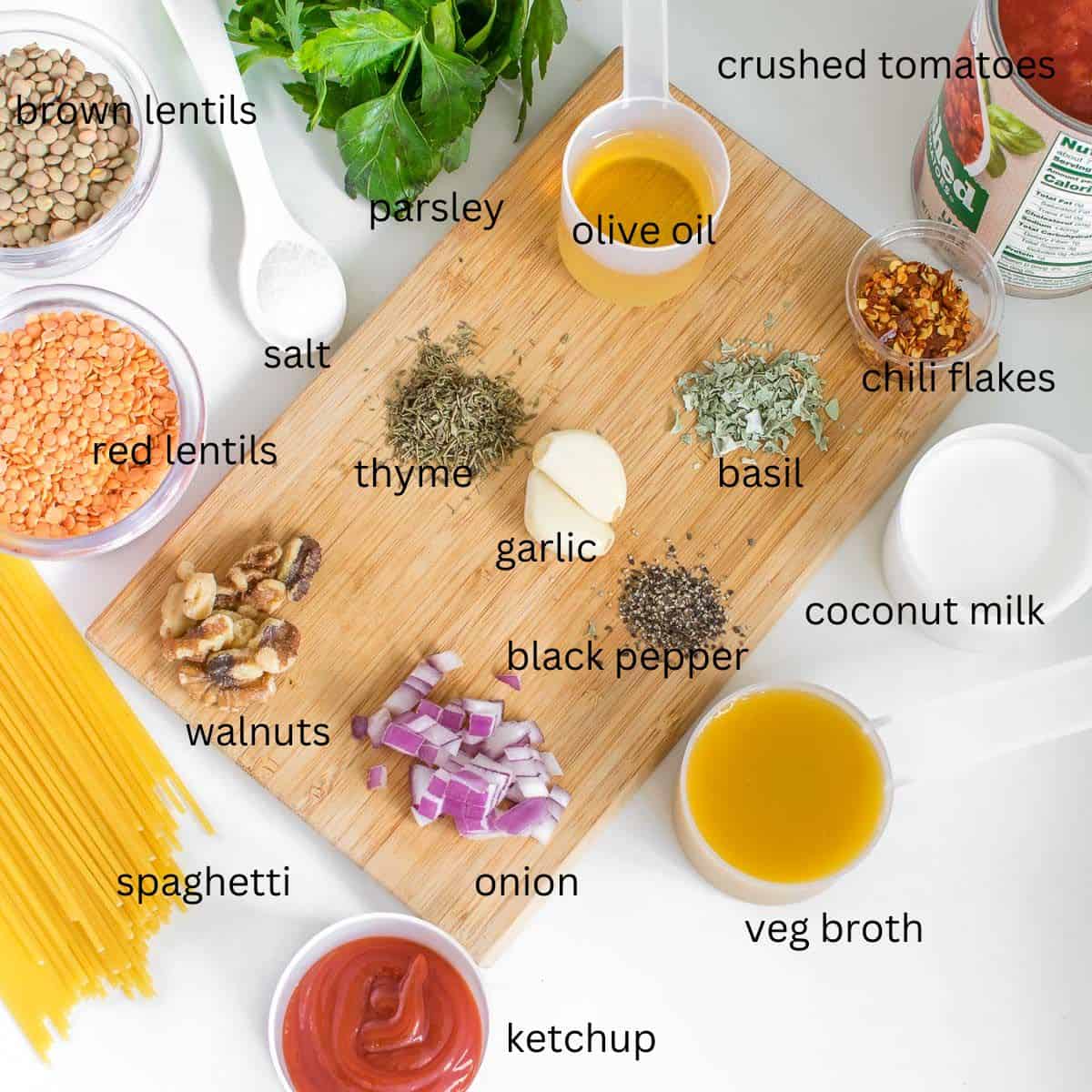 Ingredient notes
Herbs – fresh herbs bring out the best taste and aroma but dried herbs can be used for convenience.
Walnuts – this brings out a nice meaty taste and a slight chewy texture to this lentil Bolognese recipe. You may use chopped walnuts like I did or crush them roughly in your grinder for more subtle bites.
Lentils – I used red and brown lentils in this recipe to get the maximum flavor and nutrition.
Vegetable broth – this makes this Bolognese even tastier. So, make sure to use vegetable broth and not plain water.
Coconut milk – coconut milk makes this Bolognese sauce creamy and smoother. I like to use tetra packed coconut milk but you may use unsweetened canned coconut milk too.
Spaghetti – any pasta of your choice can be used here. However, we loved it with spaghetti.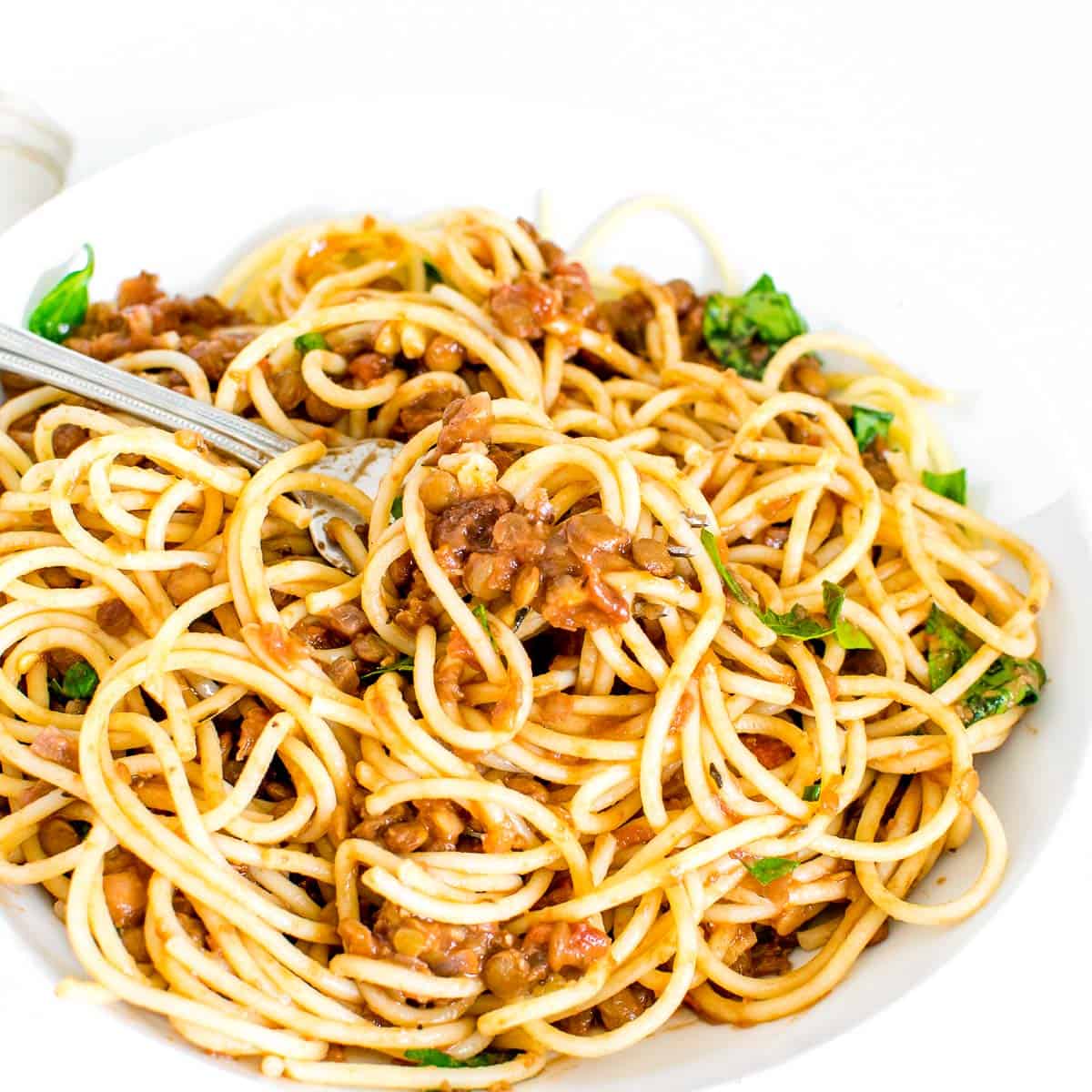 For detailed measurement of ingredients, please scroll down to the printable recipe card at the bottom of this post.
How to make
Firstly, I turned on my instant pot at sauté mode and heated oil in it. Then, I sauteed garlic and onion in it.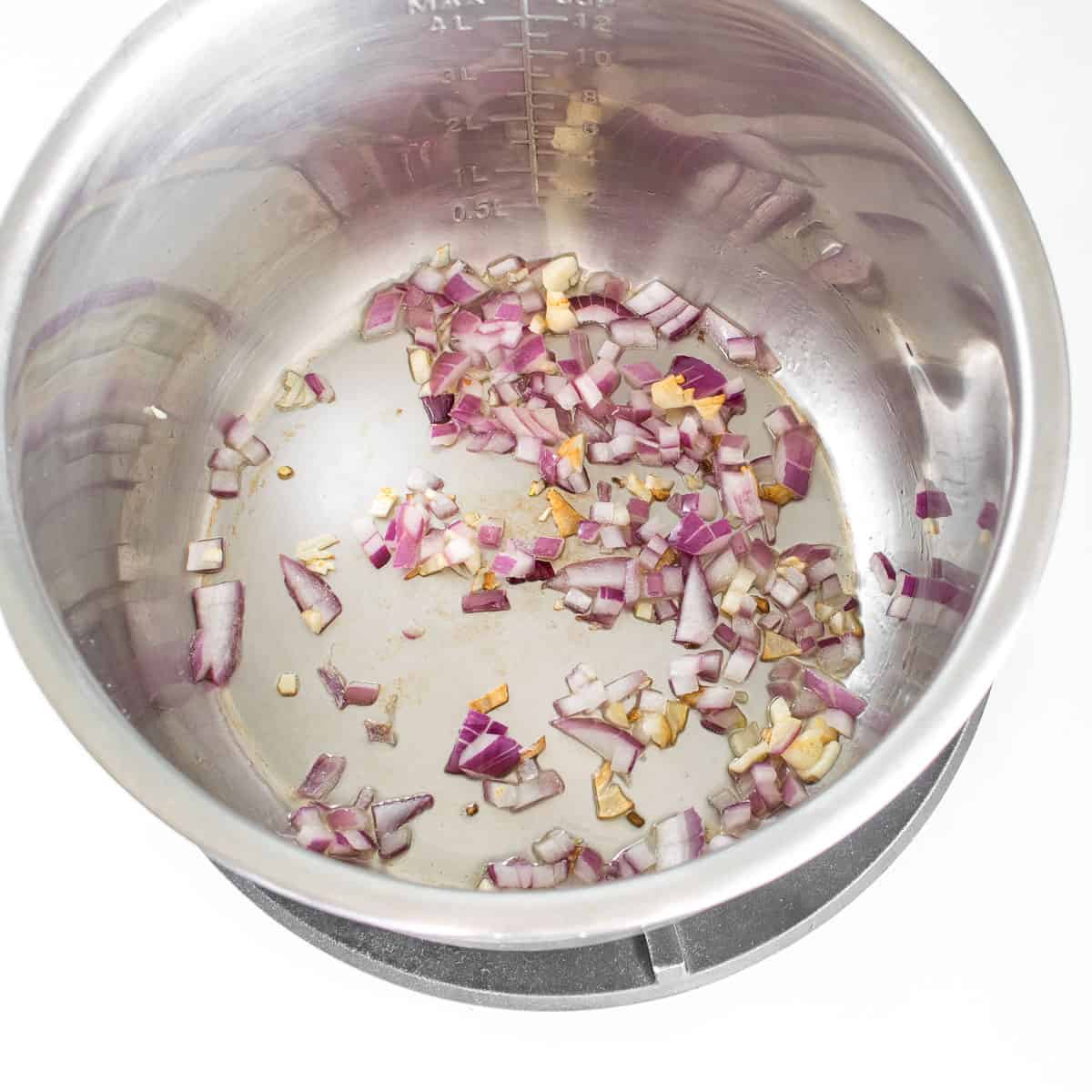 Secondly, I added the herbs along with walnuts and mixed it well.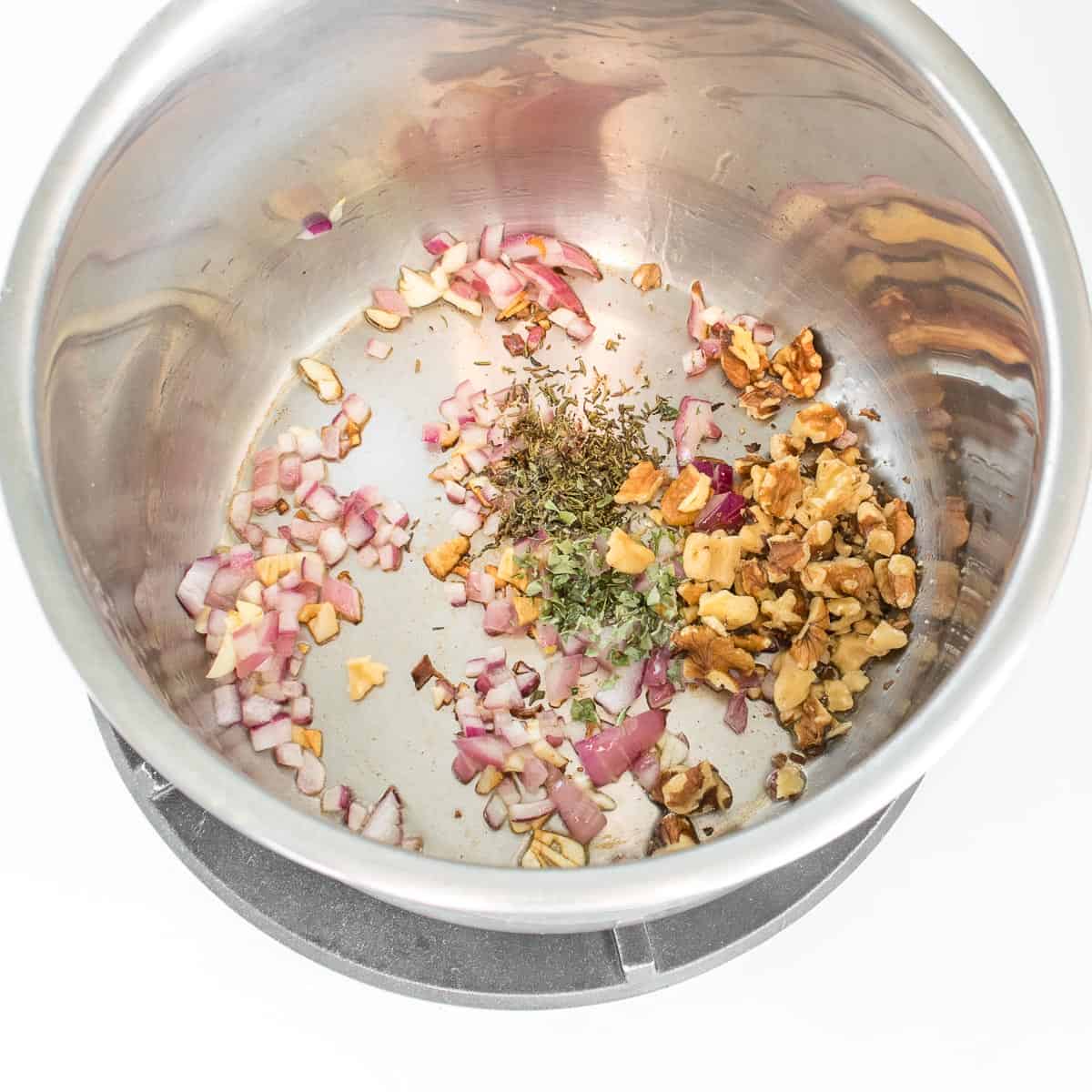 Next, I stirred in crushed tomatoes, chili flakes and ketchup in it. Then, I mixed it well and cooked for few seconds until the tomatoes thickened.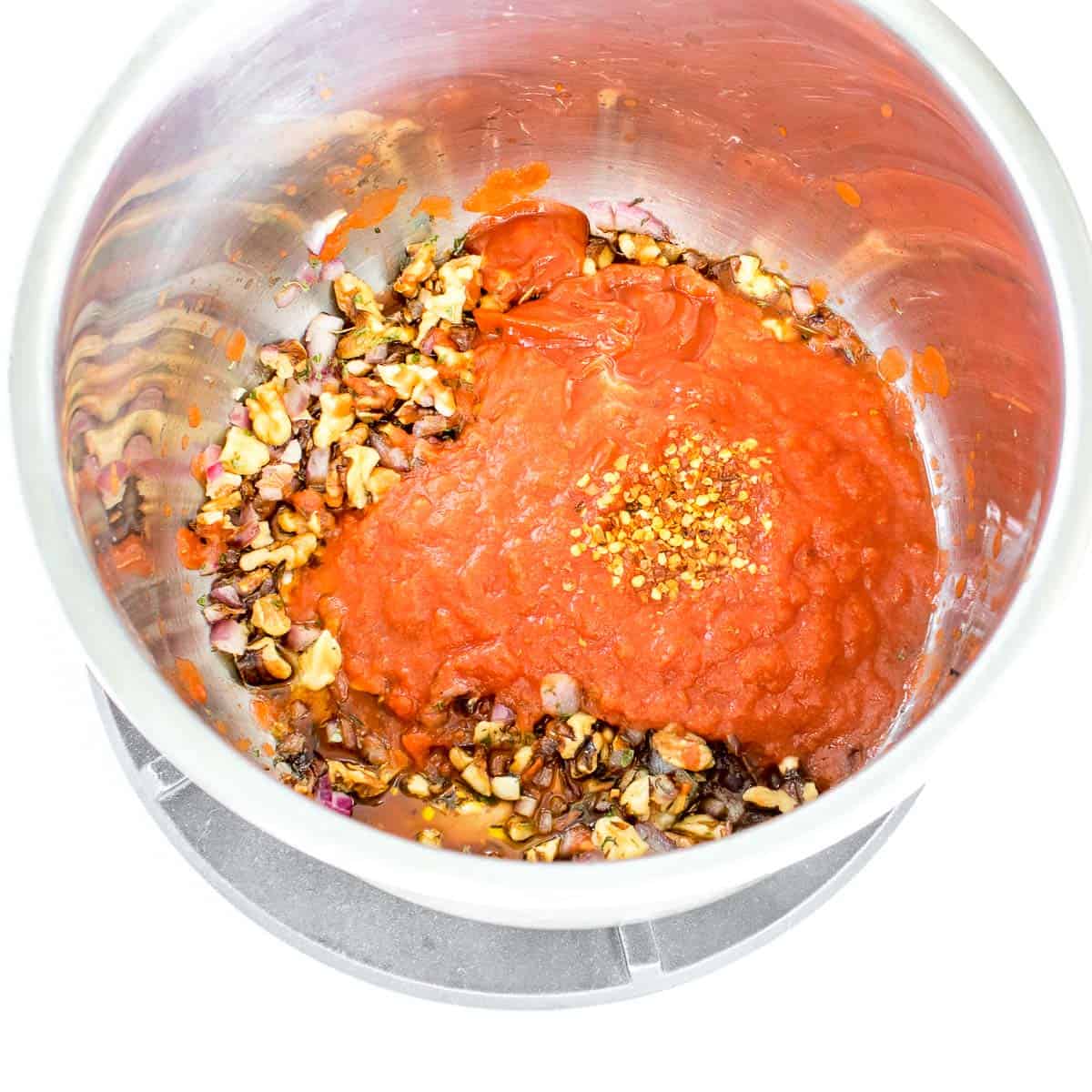 Thereafter, I tossed in rinsed lentils and mixed it for 1-2 minutes.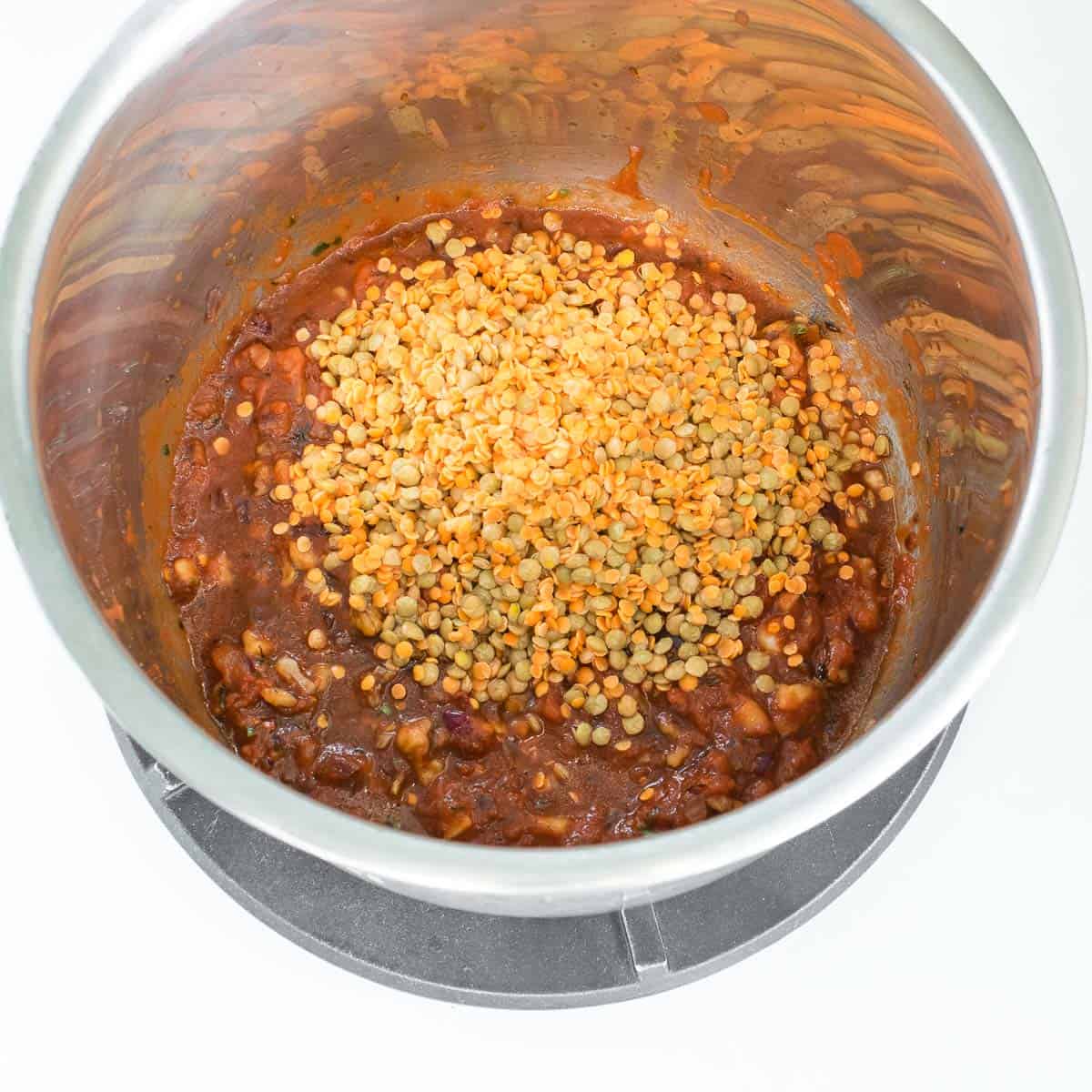 Afterwards, I added vegetable broth followed by salt and pepper.
Then, I canceled the sauté mode and closed its lid. After sealing the valve, I tuned on the instant pot at manual high for 10 minutes.
Once done, I turned it off and released the pressure. Then, I unlocked the lid and fluffed the lentils.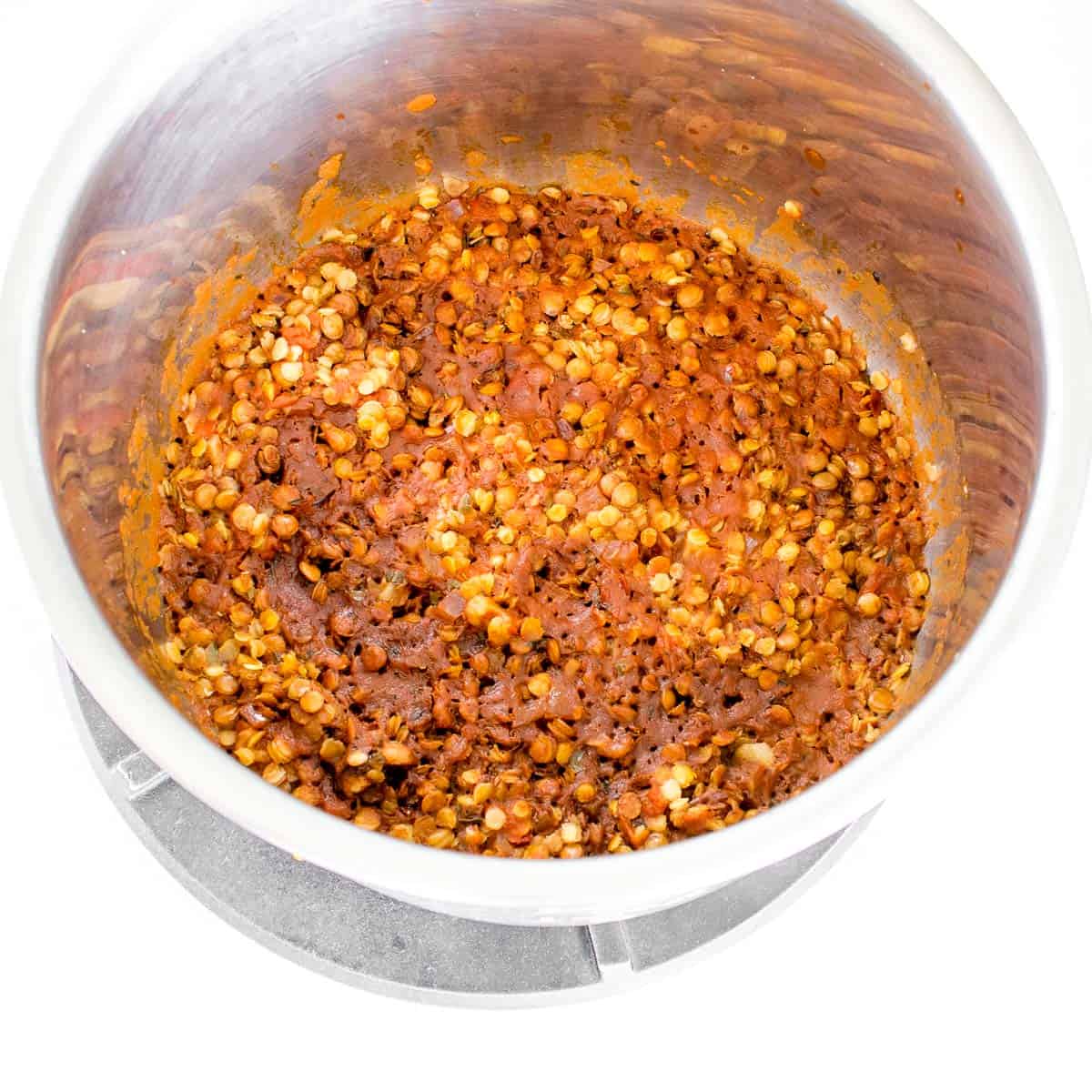 Later, I added coconut milk to it and cooked Bolognese sauce at sauté mode for 1 minute. Then, I turned it off and let it rest covered to thicken.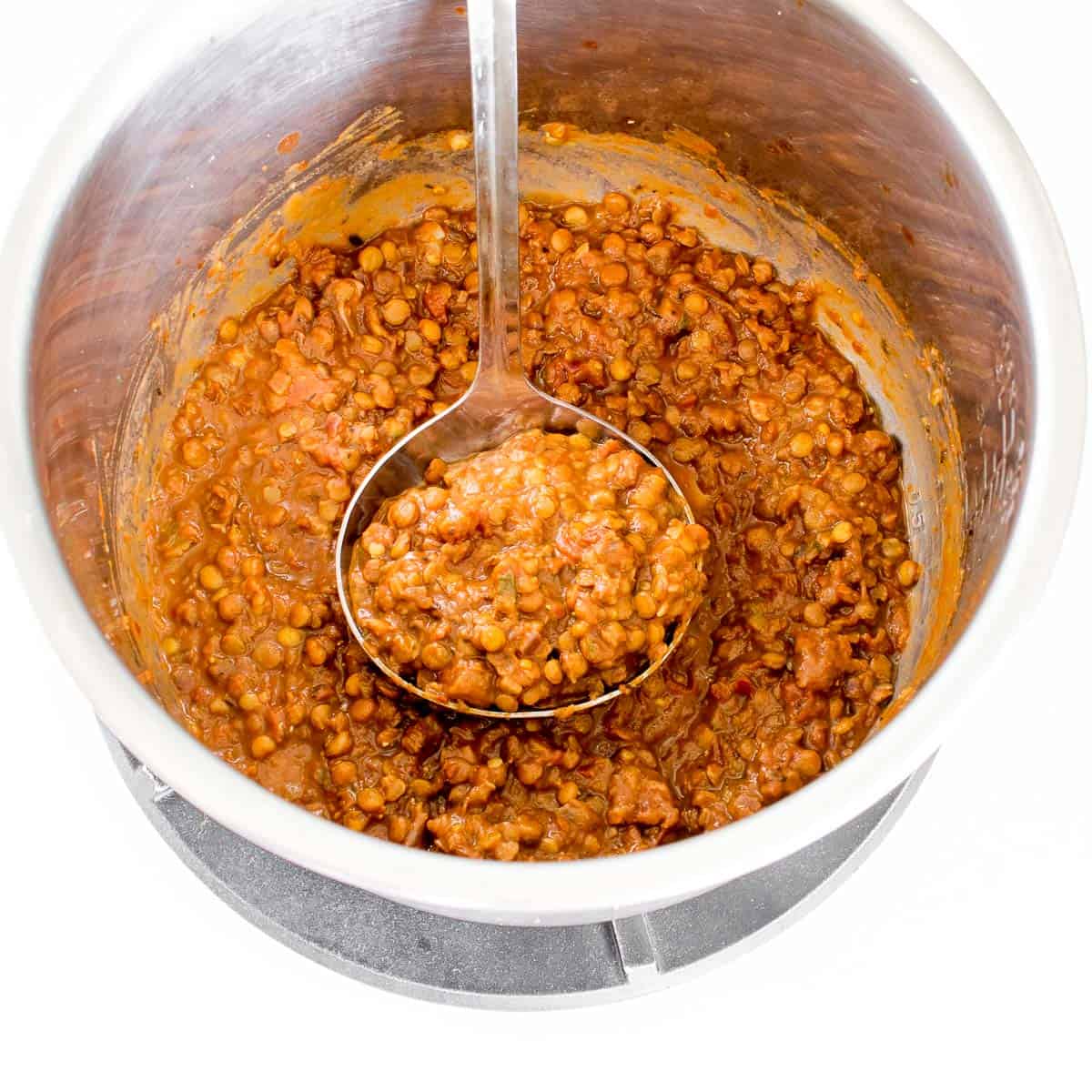 Lastly, I ladled it over spaghetti and garnished with fresh parsley. We loved it so much and it was so satisfying.
This vegan lentil Bolognese is our recent favorite and I often make it to satisfy our comfort food cravings.
Storing tips
Once cooked, let Bolognese sauce cool down at room temperature without mixing it with pasta. Then, store in a container and refrigerate for about 2 weeks. Serve it over pasta/spaghetti when ready to serve.
Expert tips
Make sue to rinse the lentils before staring with the recipe so that the lentils can get soaked for a while.
If making this recipe for your meal prepping then is it important to not mix it with the pasta. Hence, store it as is.
Most importantly, let it rest for sometime after cooking in coconut milk for a nice thick and creamy texture.
Frequently Asked Question (FAQs)
What to serve with Bolognese except for pasta?
It pairs well with cooked polenta or on focaccia bread. It can also be served with salad.
How do I reheat Bolognese?
I like to reheat it over stop top so that I can add vegetable broth to it when it gets too thick. This helps me to bring back the right texture of this vegan lentil Bolognese. Warming it up in the microwave is also a good option. First warm it up for 1 minute. Add little vegetable broth and stir. Warm it again for 30-40 seconds and enjoy.
How do I add richness to Bolognese sauce?
You can make it in vegan butter and add unsweetened canned coconut milk instead of beverage coconut milk for a very rich vegan lentil Bolognese.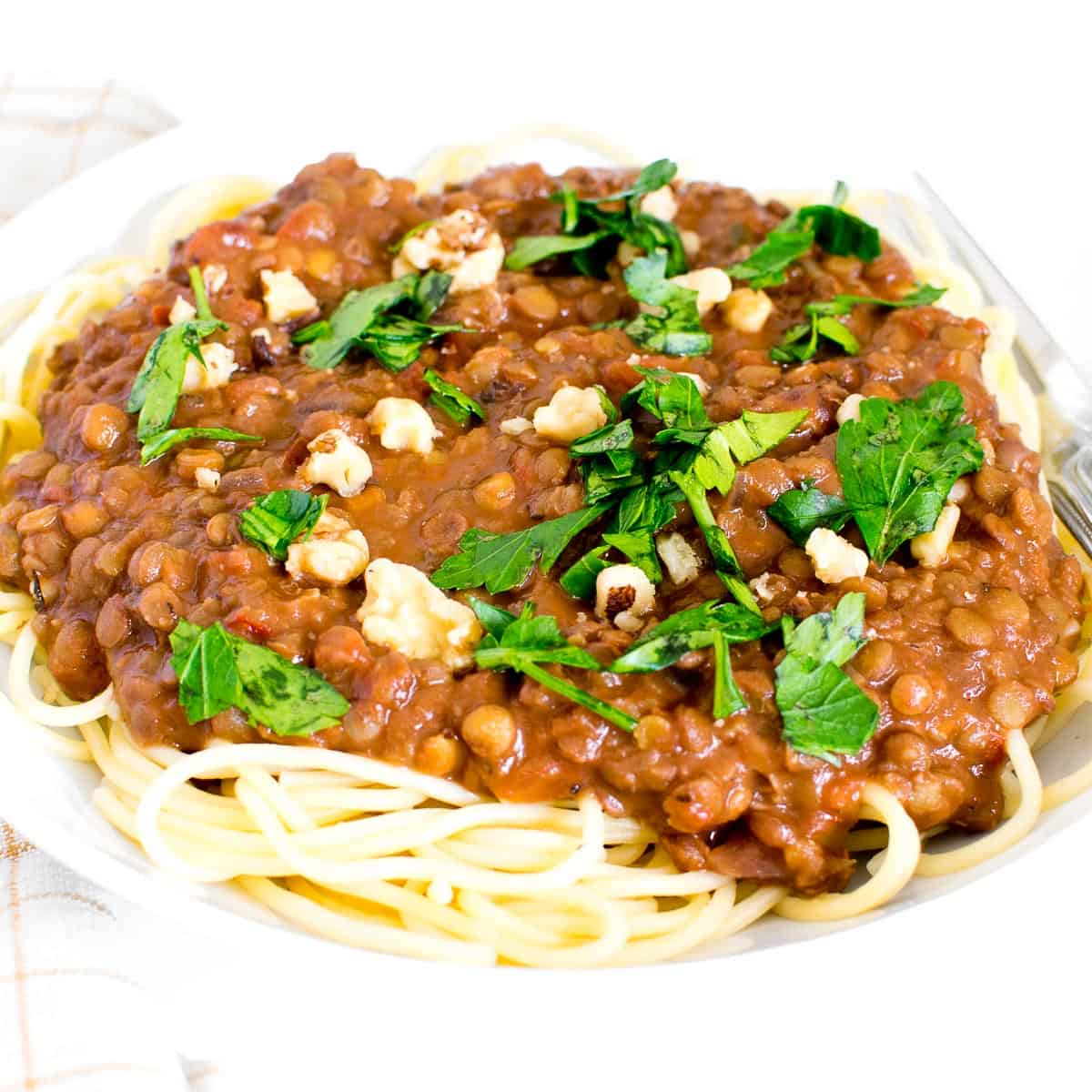 More vegan Italian recipes
Vegan Avocado Pasta
Brown Rice Mushroom Risotto
Pasta Primavera
Vegan Carbonara
This post may contain affiliate links which means that if you click on them and make a purchase, I will get a small commission. Moreover, I share only those products which I use personally and love.
I hope you enjoy this recipe as much as we did. I am very excited to hear back from you.
Where to find me?
Follow me on Facebook or on Twitter. You may tag @kiipfit on Instagram with your recipe remake images because I would love to see what you cooked.
Did you make it?
If you get a chance to make this recipe then please leave your feedback in the comments below along with a 5-star rating.
In addition, you may checkout my cookbook for everyday comfort vegan recipes.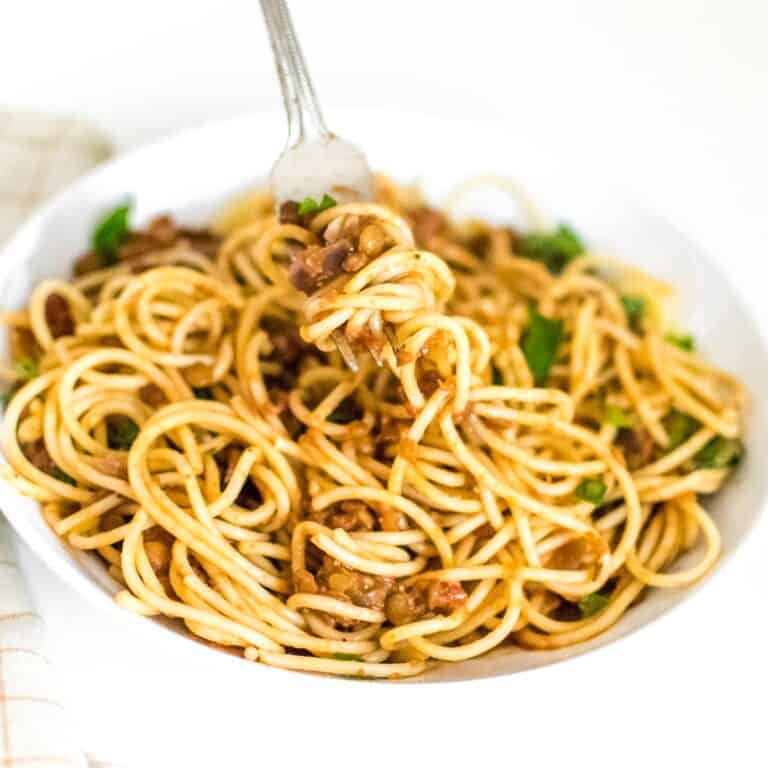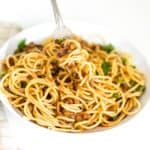 Print Recipe
Instant Pot Vegan Lentil Bolognese
Bold, thick and flavorful this Instant Pot Vegan Lentil Bolognese is meaty and chewy with umami flavors. It's a protein packed easy family friendly meal for any busy weeknight.
Instructions
Turn on your instant pot at sauté mode and heat olive oil in the inner pot of the instant pot.

Add garlic and onions to it and sauté until raw aroma disappears and is translucent.

Add thyme, basil and walnuts and mix it well.

Next, add crushed tomatoes followed by chili flakes and ketchup. Cook for few minutes until the tomatoes start to thicken. Toss in the red and brown lentils. Mix it well.

Stir in vegetable broth, salt, and pepper. Cancel the sauté mode and close the lid. Seal the valve and turn it on at high manual for 10 minutes. Once done, release the pressure and open the lid.

Add coconut milk to it and cook for 1 minute at sauté mode. Stir again and turn it off. Let it rest for few minutes with the lid lightly closed. This helps in thickening the Bolognese sauce.

Remove the lid and mix it again. Ladle it over the cooked spaghetti and garnish with fresh parsley. Enjoy!
Notes
Make sure to rinse red and brown lentils together in a colander and keep it aside before starting the recipe. This helps in soaking the lentils for a while.
You may use any pasta of your choice with this Bolognese sauce.
I used unsweetened coconut milk from tetra pack which comes in a beverage form to keep this recipe light but you may use canned unsweetened and lightened coconut milk too for this recipe. If you use canned coconut milk then start with 1 cup and stir. Check its consistency and then gradually add more coconut milk as per your desired consistency. Make sure that coconut milk does not overpower the taste of Bolognese.
The sauce should not be runny and more on a thicker side and yet easy to mix the pasta with it.
Store the leftover Bolognese sauce before mixing it with pasta in the refrigerator in a container for about 2 weeks.
Warm it well on a stove top. If it gets too thick add a little vegetable broth (depending on your choice of consistency for the sauce) and adjust salt and pepper and pour it over your pasta/spaghetti. 
You may also warm it in the microwave. Heat it for 1 minute. take it out and stir in little vegetable broth. Heat it again for 30 seconds. Adjust salt and pepper and enjoy.
Nutritional info without spaghetti: Cal-364kcal fat-20g carb-35g protein-15g. This will vary depending on the quantity and type of pasta you use for this recipe. It will also vary if you use canned coconut milk.
Nutrition
Calories:
540
kcal
|
Carbohydrates:
69
g
|
Protein:
22
g
|
Fat:
21
g
|
Saturated Fat:
22
g
|
Polyunsaturated Fat:
12
g
|
Monounsaturated Fat:
5
g
|
Sodium:
232
mg
|
Potassium:
420
mg
|
Fiber:
6
g
|
Sugar:
5
g
|
Vitamin A:
129
IU
|
Vitamin C:
3
mg
|
Calcium:
55
mg
|
Iron:
4
mg