I am certainly addicted to red wine vinegar and I am cooking almost all my food in it. Sounds crazy… but believe me it tastes sooo gooodddd. I can't stop craving about red wine vinegar and when I cooked tofu in it the outcome was simply marvelous. I ate almost the entire dish of Red Wine Vinegar Tofu with Quinoa leaving only a tiny bit for my family to taste.
They even commented – is this a tasting contest or do we get more food? Hahahhaha……. Of course I made this recipe twice so they get the same satisfaction as I did. 🙂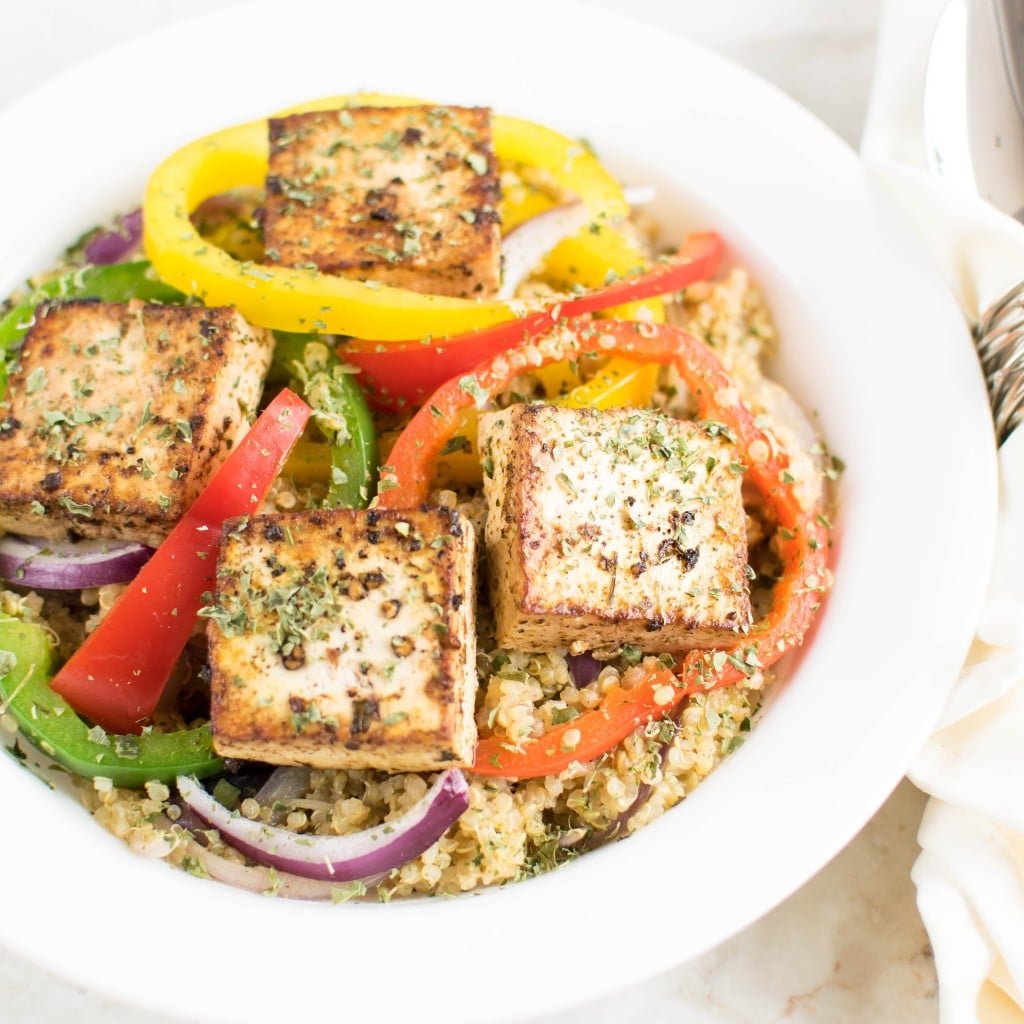 Easy to make Red Wine Vinegar Tofu with Quinoa
Instead of marinating and going for a time consuming recipe I decided to make it a quick 30 minute dish. Therefore, I warmed olive oil in a nonstick frying pan. Then, flavored it with garlic, Italian seasoning, parsley, my favorite red wine vinegar , salt and pepper.  At the first boil I added tofu pieces to it and let it cook until tofu was a nice brown and cooked thoroughly.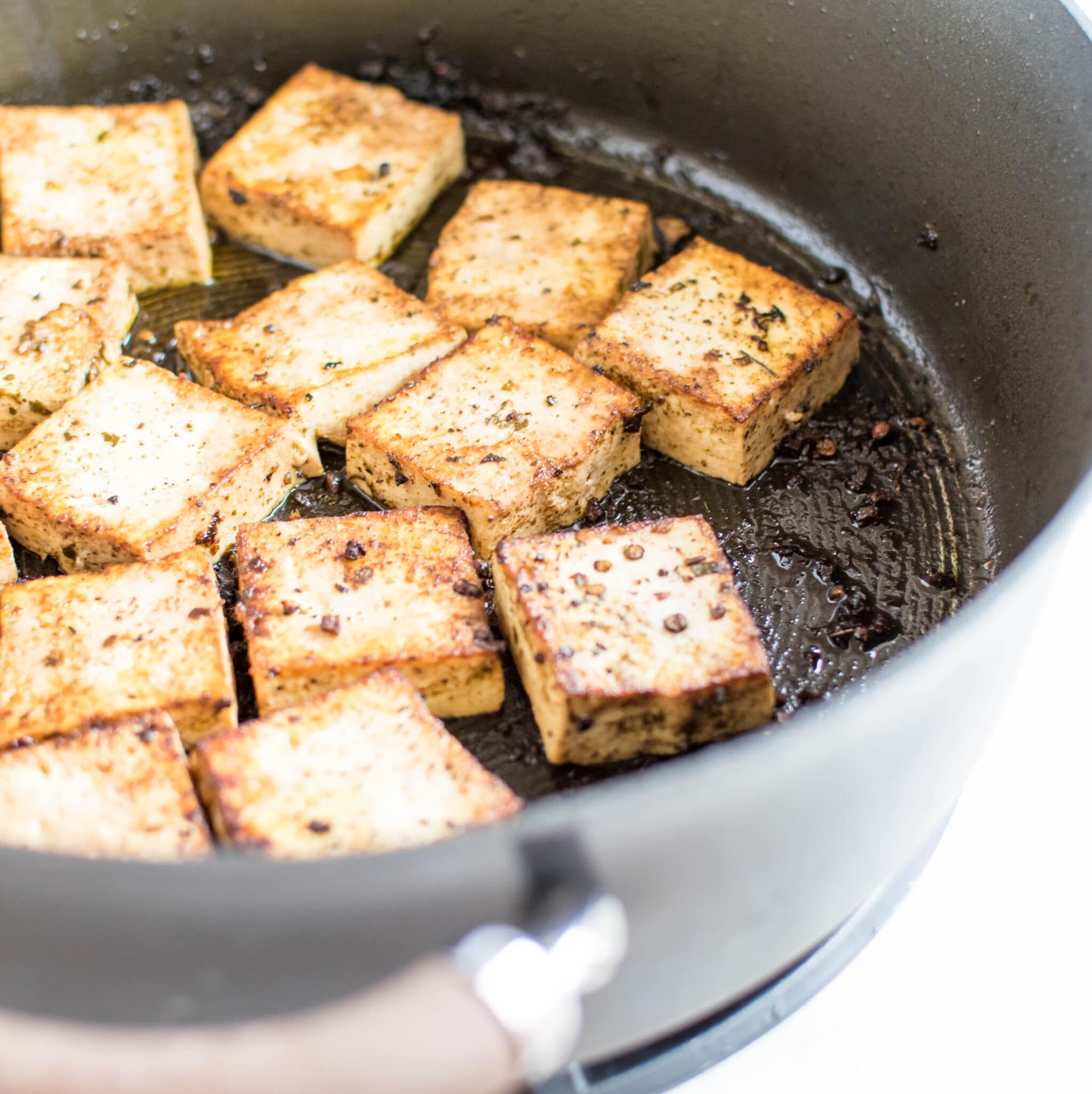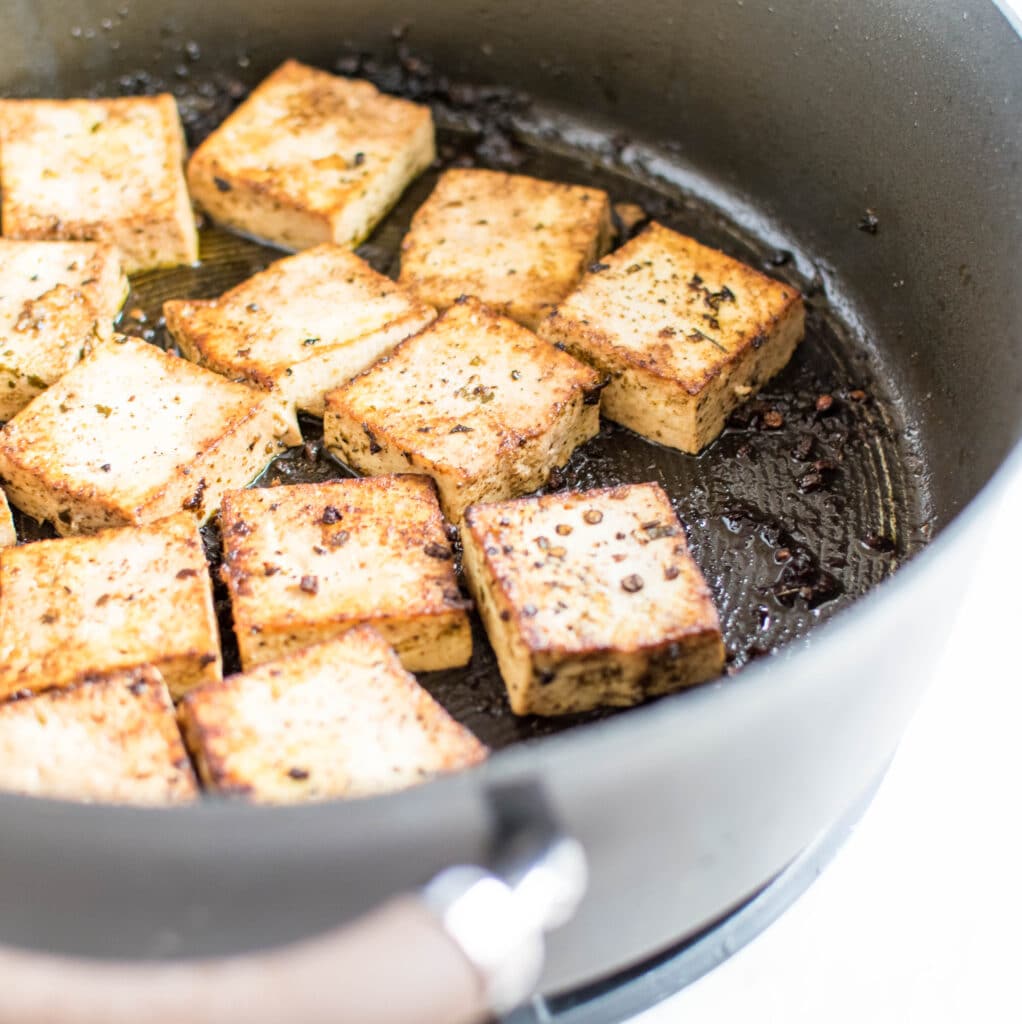 To avoid extra soiled dishes because I hate doing dishes ……. I used the same pan and the leftover seasoning. There are two advantages in using the same pan – one is of course that I mentioned above and the other is to bring the same essence to your veggies your and quinoa. So I took out the tofu pieces in a plate carefully and tossed in the vegetables in the same pan. I like my vegetables crunchy so I sautéed to my desired texture and to make it thick and a slight creamier I added little dairy free milk. This way this dish became rich yet light on tummy and calcium content also increased. Lastly, I added boiled quinoa to it and cooked for a minute.
For plating, I spooned out quinoa and vegetables, making sure that quinoa is at the bottom and vegetables on top to make it look colorful and garnished with red wine vinegar tofu and served it warm.
Enjoy this Red Wine Vinegar Tofu with Quinoa, a healthy Italian dish, in the comfort of your home with your family 🙂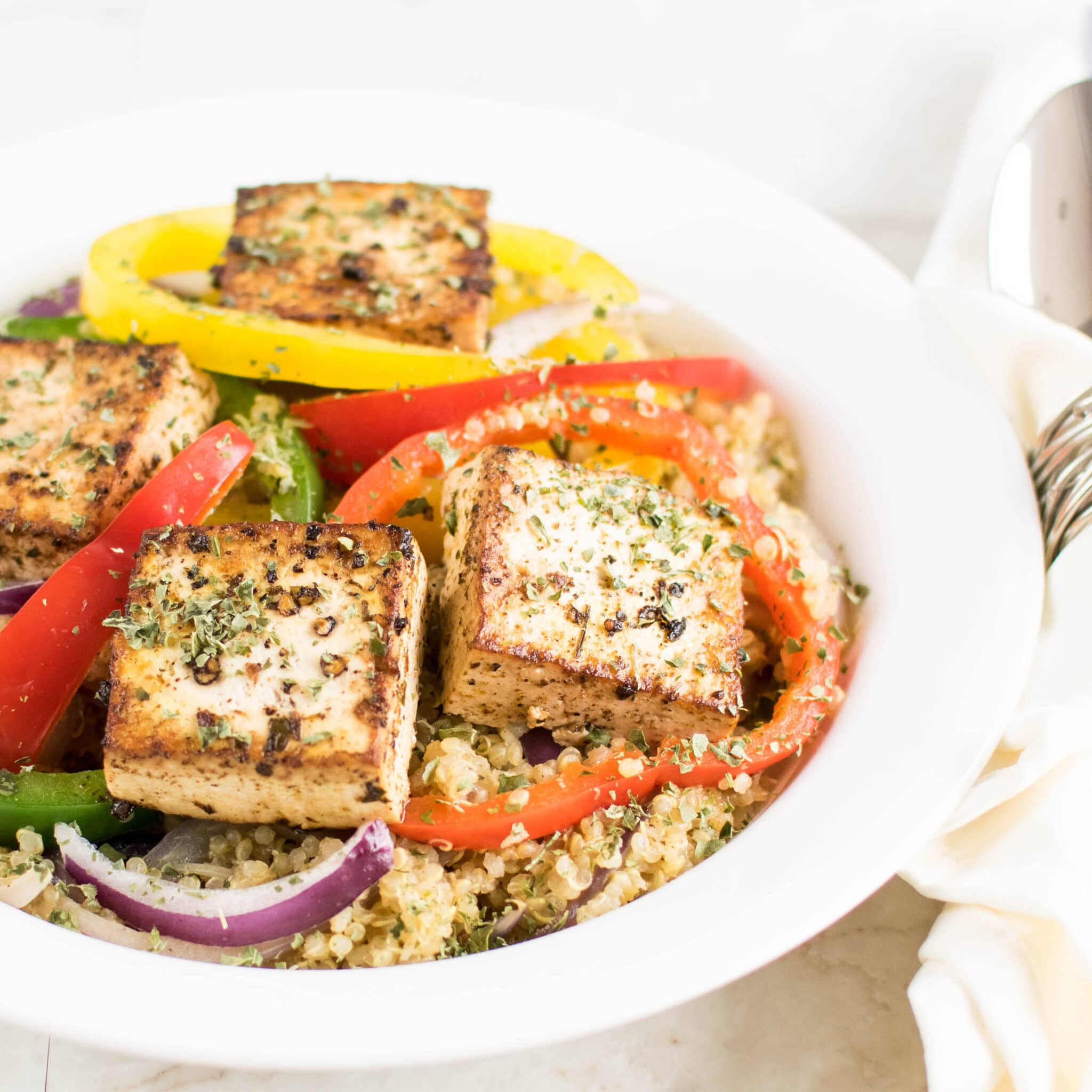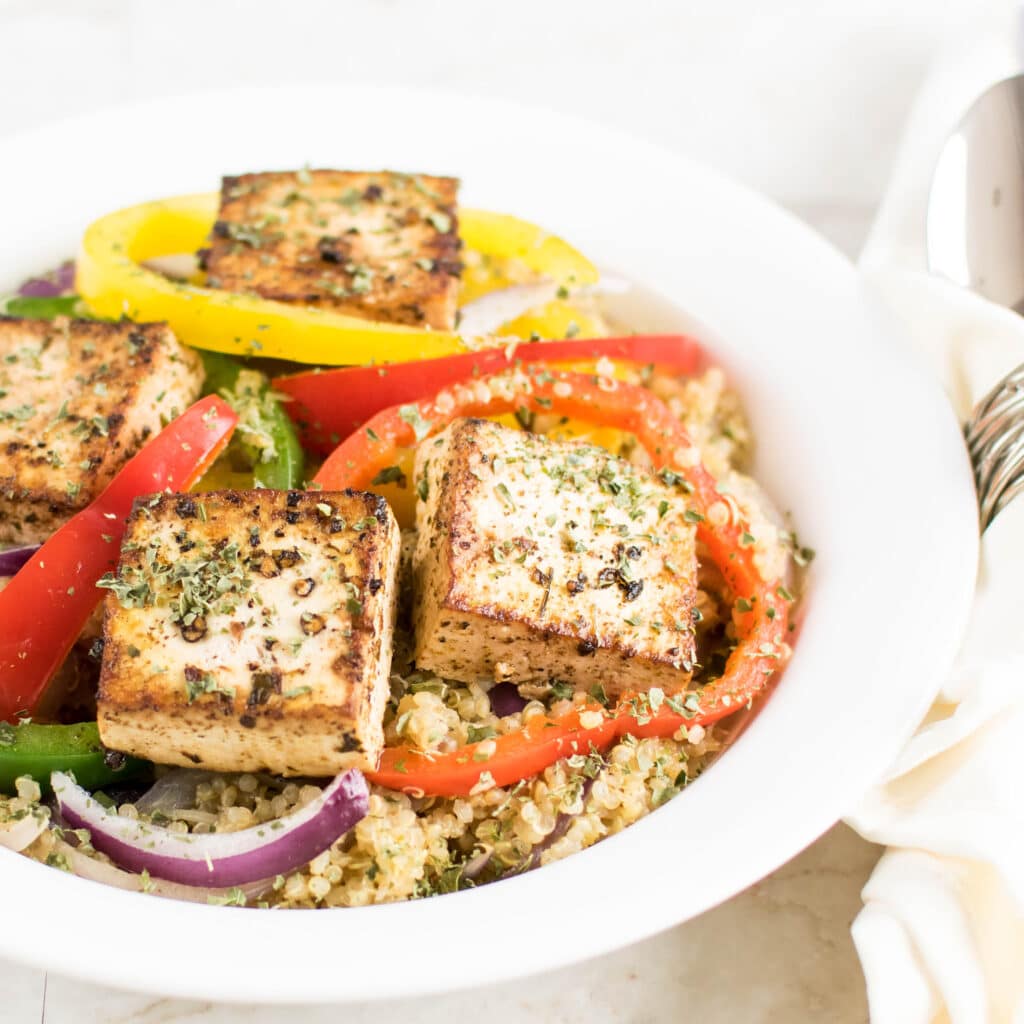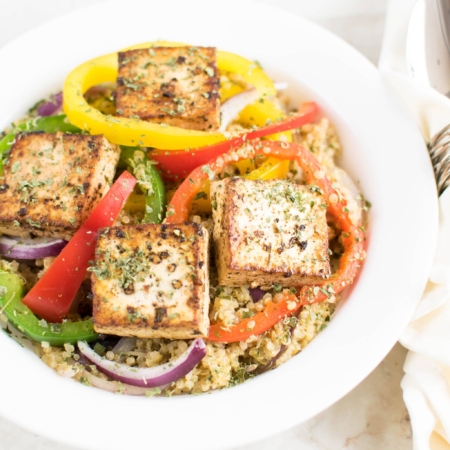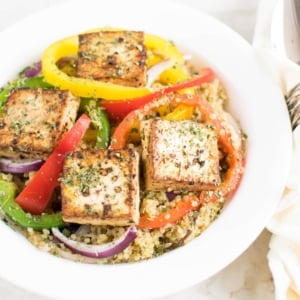 Print Recipe
Red Wine Vinegar Tofu with Quinoa
Red Wine Vinegar Tofu with Quinoa is a 30 minutes nutritious week night meal. it's a healthy Italian flavored dish that is vegan and gluten free.
Calories: 411 ; Fat: 19g ; Carbs: 40g ; Protein: 23g
Ingredients
2

tbsp

olive oil

1

tsp

dried garlic

1

tsp

Italian seasonings

1

tsp

dried parsley

3/4

cup

red wine vinegar

3/4

tsp

salt

1/2

tsp

crushed black pepper

1

14oz

pack of extra firm tofu

(drained and squared)

1

cup

sliced red onion

1

whole

green bell pepper

(deseeded and sliced round)

1

whole

red bell pepper

(deseeded and sliced round)

1

whole

yellow bell pepper

( deseeded and sliced round)

1/2

cup

dairy free milk

2 1/2

cup

cooked quinoa
Instructions
Heat olive oil in your nonstick pan and add garlic, Italian seasoning, dried parsley, red wine vinegar, 1/2 tsp salt and black pepper.

Immediately place each piece of tofu in it. Then, cover and cook until brown on one side. (This make take about 10 minutes). Thereafter, flip the tofu pieces tot he other side and cook it covered again until brown.

When done take out the tofu pieces without braking them on a separate plate. In the same pan saute onion, green , red and yellow bell peppers. Cook the veggies until they are tender but crunchy.

Afterwards, add dairy free milk, res of the salt and cooked quinoa. Next, saute well until all the ingredients are well combined in the pan.

Now, in a serving plate spoon quinoa and veggies. Then top it with cooked toffu pieces.

Lastly, serve it warm and enjoy!
Notes
For non vegan option regular milk can also be used. 
For vegan option - I personally prefer unsweetened coconut milk (tetra pack). However, any dairy free milk can be used in this recipe. 
Feel free to adjust salt as per your taste.
Fresh crushed black pepper tastes great in this recipe. feel free to sprinkle extra black pepper as per our taste if desired. 
Nutrition