This Indian style Masala Pasta is heavenly in taste and lip-smacking comforting. It's an easy flavor packed kid friendly dish. It's the best weeknight dinner or a great lunchbox meal.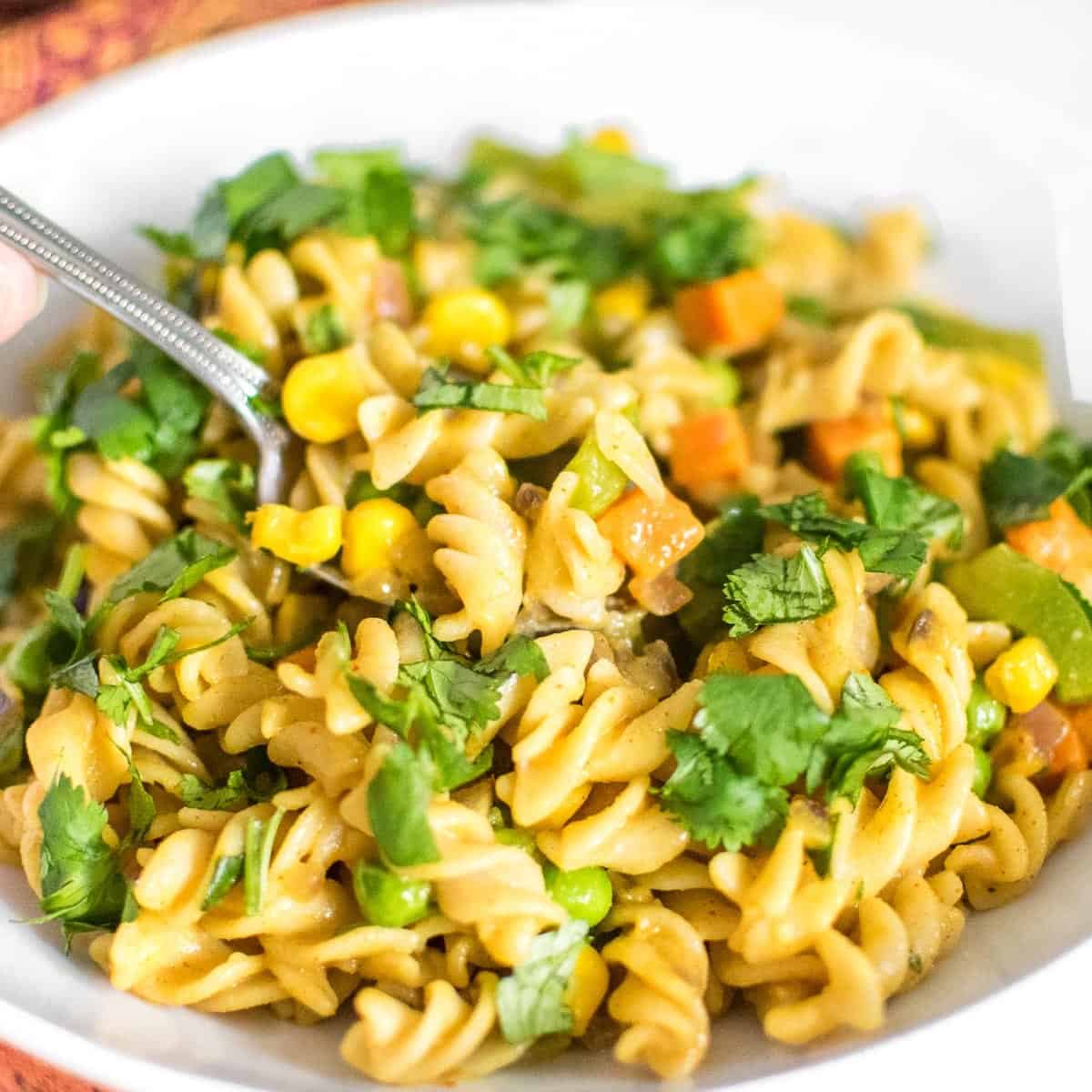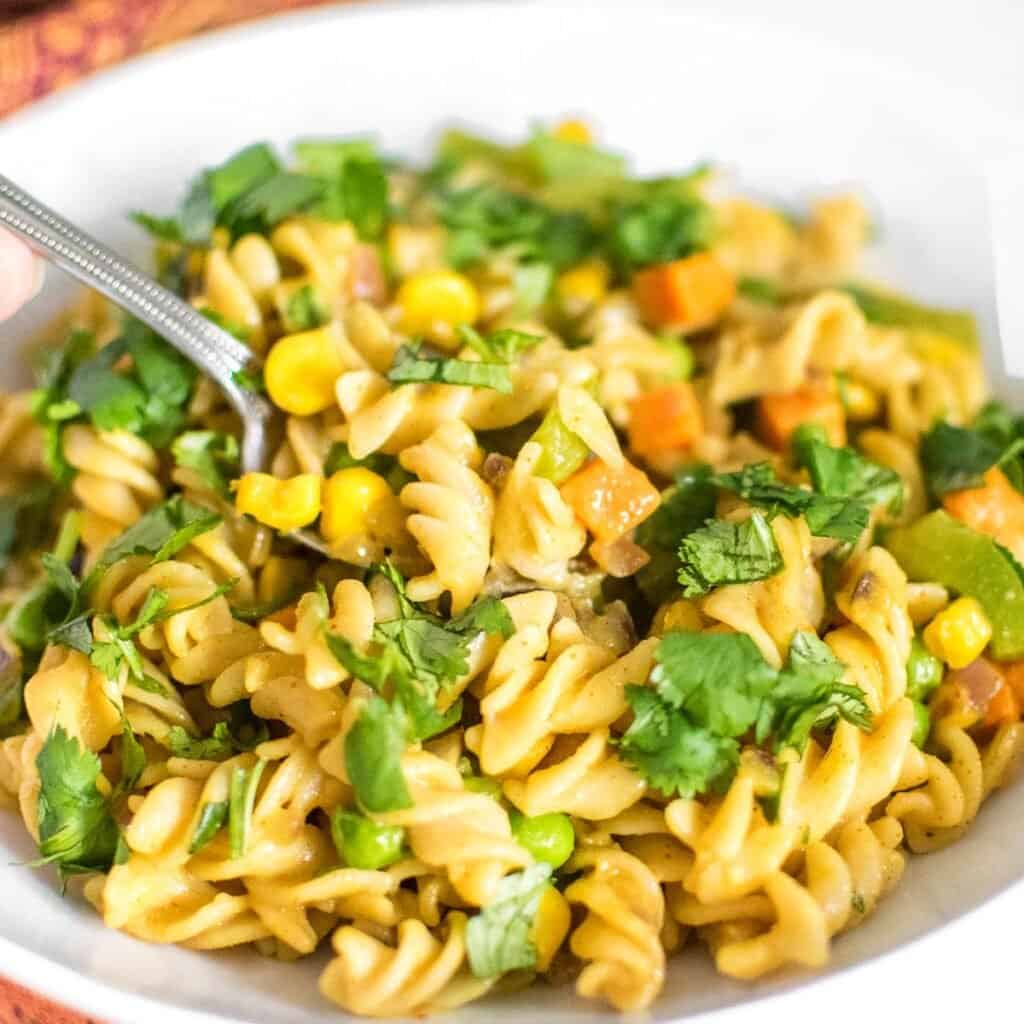 Indian spices in any dish makes it outstanding. The aromatic herbs and spices along with its beautiful colors just makes any recipe so tempting and so attractive along with being satisfactory also.
Hence, my masala chai protein smoothie is regular for me and masala oatmeal is our favorite savory oats recipe.
I cook a variety of dishes and all types of cuisines and always endeavor to make the comfort food healthier. Hence, here also, I have made it healthier by just tweaking few alternatives.
Moreover, I made it vegan too so as to suit all diet types. However, I have provided alternatives for vegetarian diets too.
This Indian vegetarian pasta is so versatile that you can play around with its ingredients according to your taste and preferences. It's the simplest dish and comes together in less than 30 minutes.
This Indo-Italian fusion is definitely a must try. Moreover, if you are looking to add variety to your menu then this desi pasta will be your new favorite.
It's a no-tomato recipe so a good variation from regular pasta dishes.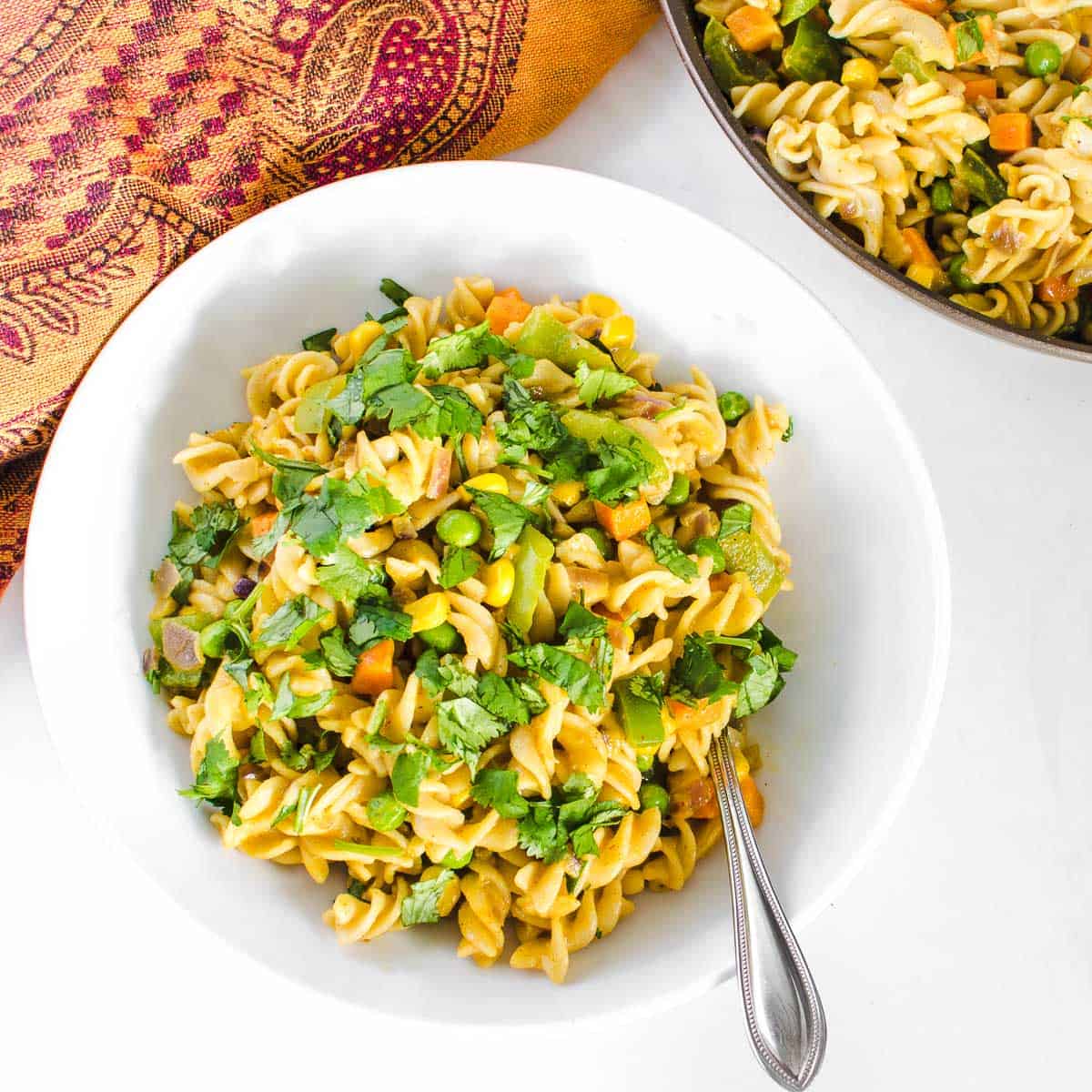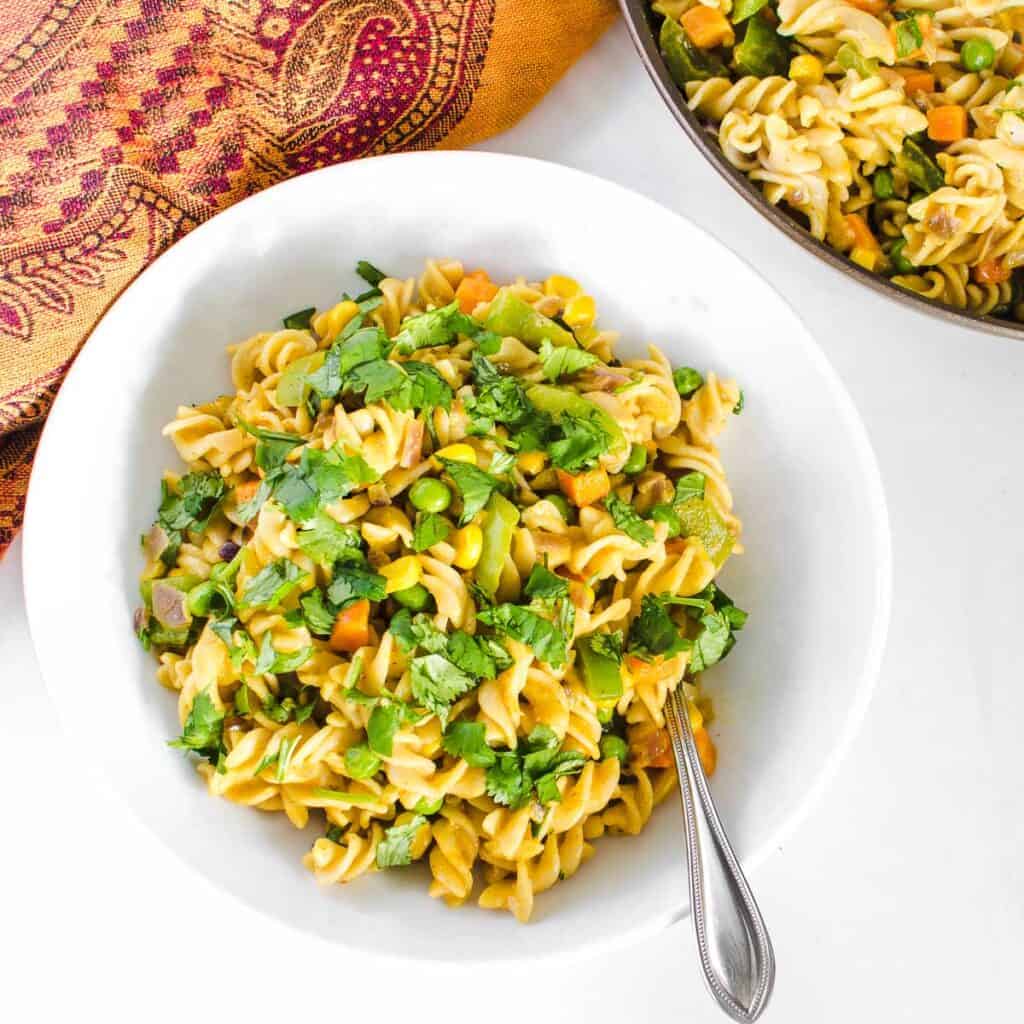 Let's get started with this vegan masala pasta recipe and learn its details.
Ingredients for easy Masala Pasta
Pasta
Olive oil
Garlic
Onion
Green bell peppers
Carrot peas (frozen/fresh)
Sweet corn/corn kernels
Nutritional yeast/parmesan cheese
Vegan or regular cheddar cheese
Turmeric
Chili powder
Coriander powder
Garam masala
Salt
Pasta water
Cilantro ( to garnish )
I am sure these ingredients are mostly available in your kitchen pantries and you must be so excited to check its steps of making.
Ingredients notes:
Pasta – I used rotini (ancient grains) to make this recipe healthy. However, you may use penne or any small pasta of your choice. Regular or whole wheat also works here.
Vegetables – I added the vegetables that's most commonly used in our daily cooking but feel free to use any of your choice.
Nutritional yeast – this is a vegan recipe and nutritional yeast adds a lot of health and cheesy flavor to it. Regular or vegan parmesan cheese also works here.
Cheddar cheese – since, I made this as a vegan pasta so I used vegan cheddar cheese but if you are on a vegetarian diet then regular cheddar cheese also works here. Also, shredded cheddar cheese brings out the best texture of the recipe.
Spices – I have used the most common types of spices here so I would highly recommend you to stick to it.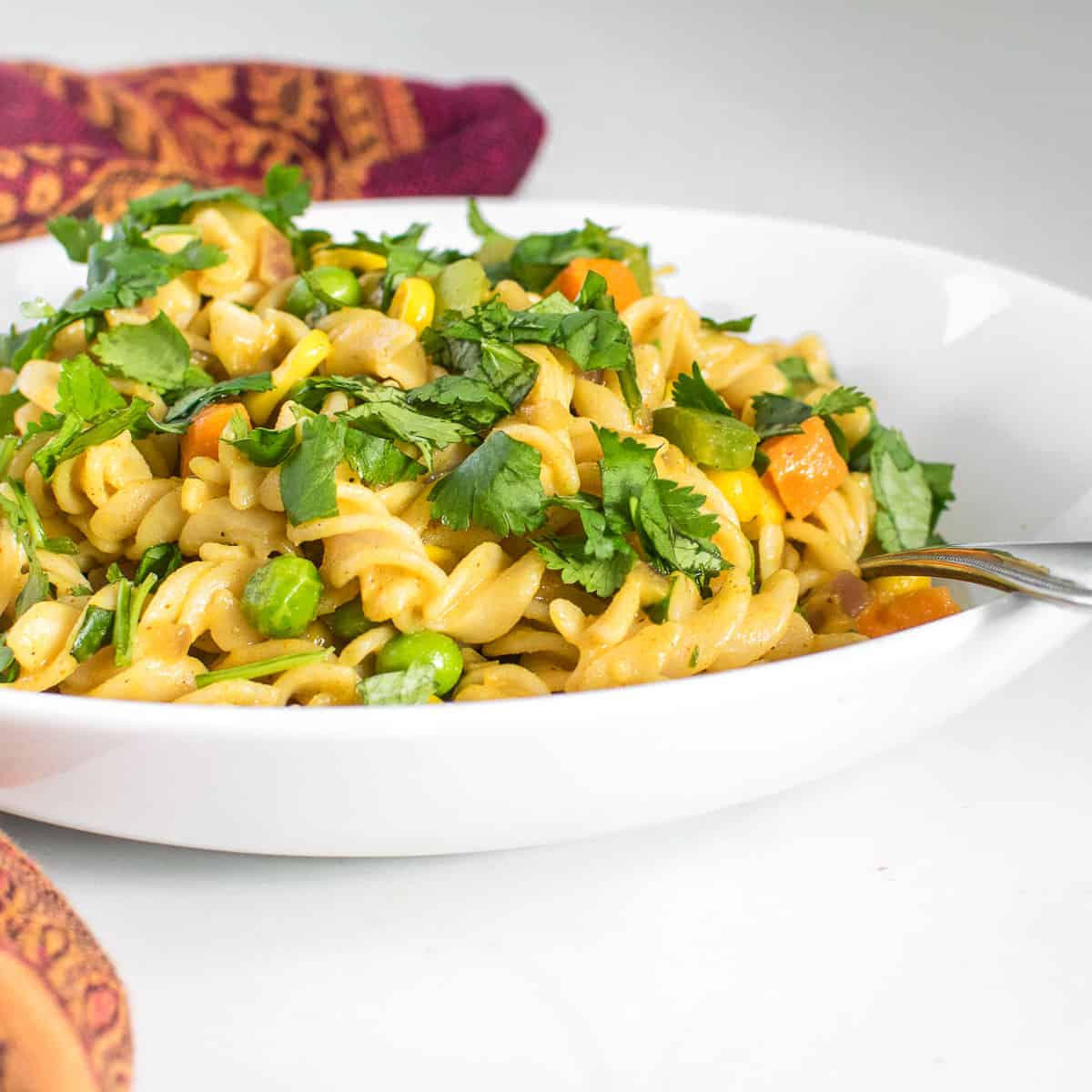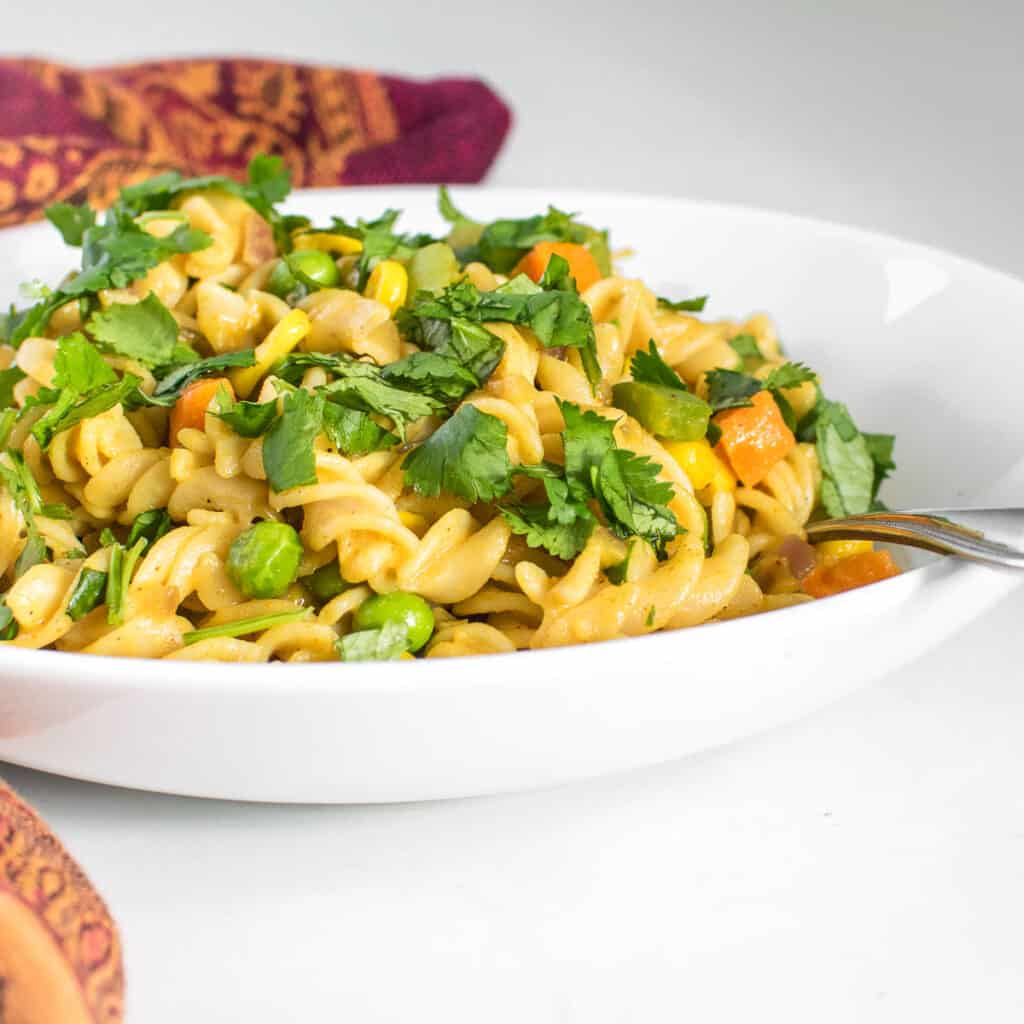 For detailed measurement of ingredients, please scroll down to the printable recipe card at the bottom of the post.
How to make Masala Pasta
Firstly, I cooked pasta as per the package instructions and kept aside. Also, I reserved some of its water before draining and I kept the pasta water also aside.
Secondly, I heated oil in a nonstick pan and sautéed onions with garlic until translucent.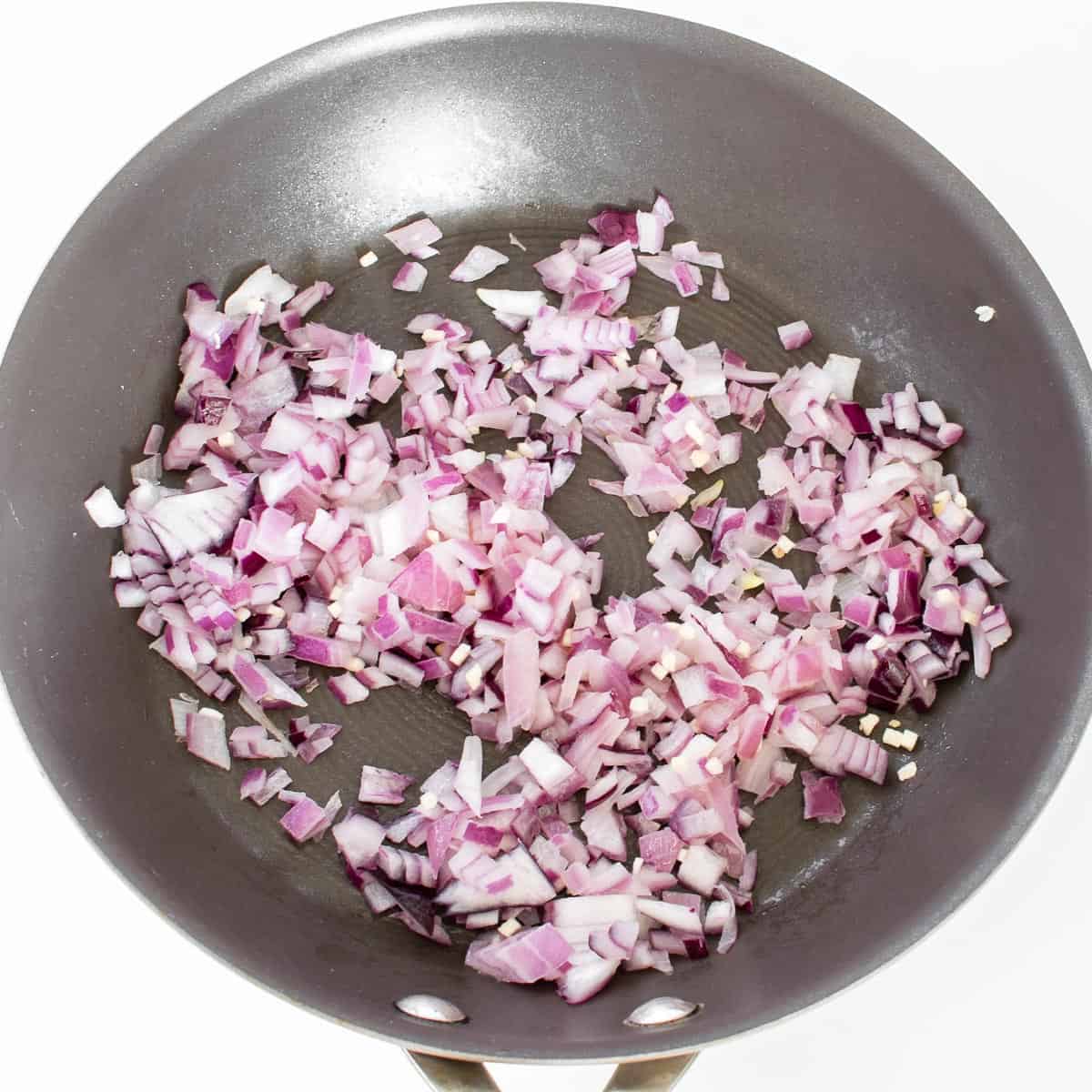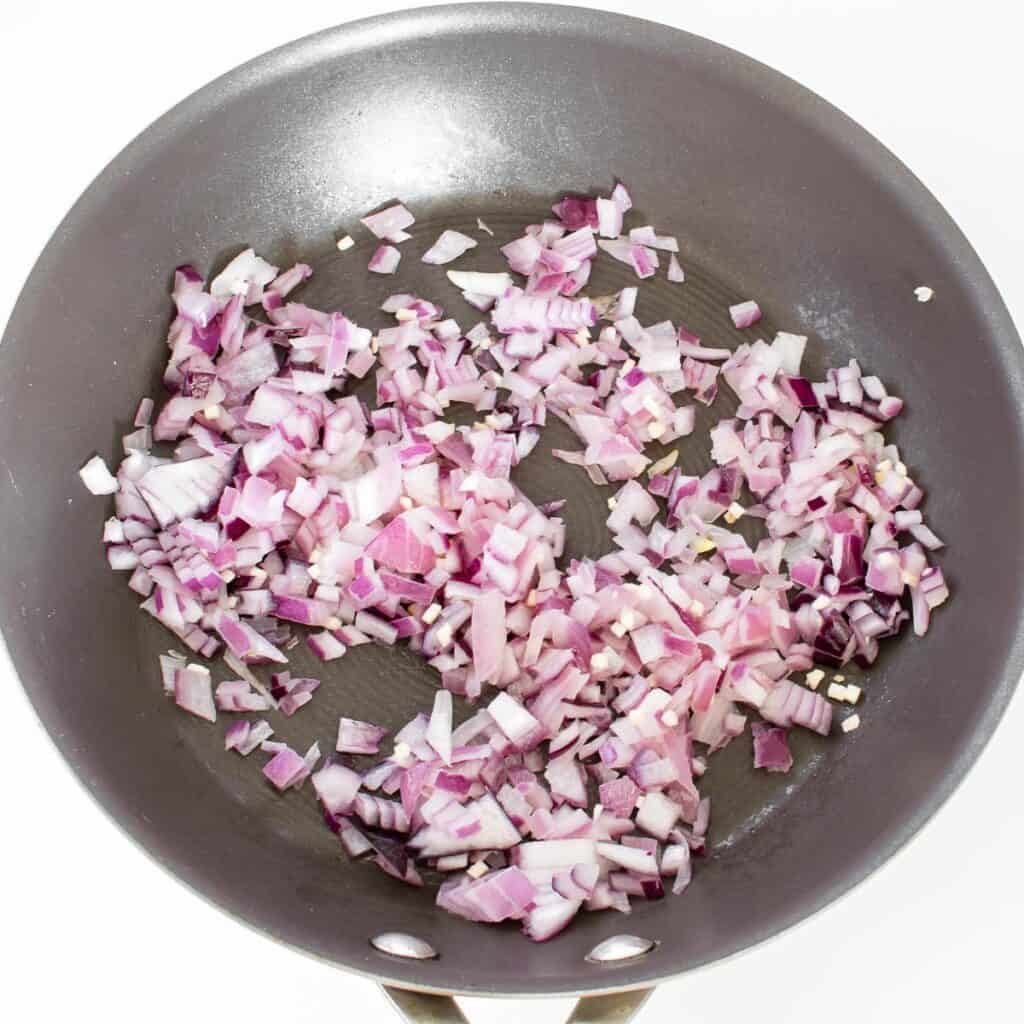 Next, I added the bell peppers and sautéed again for 2 minutes.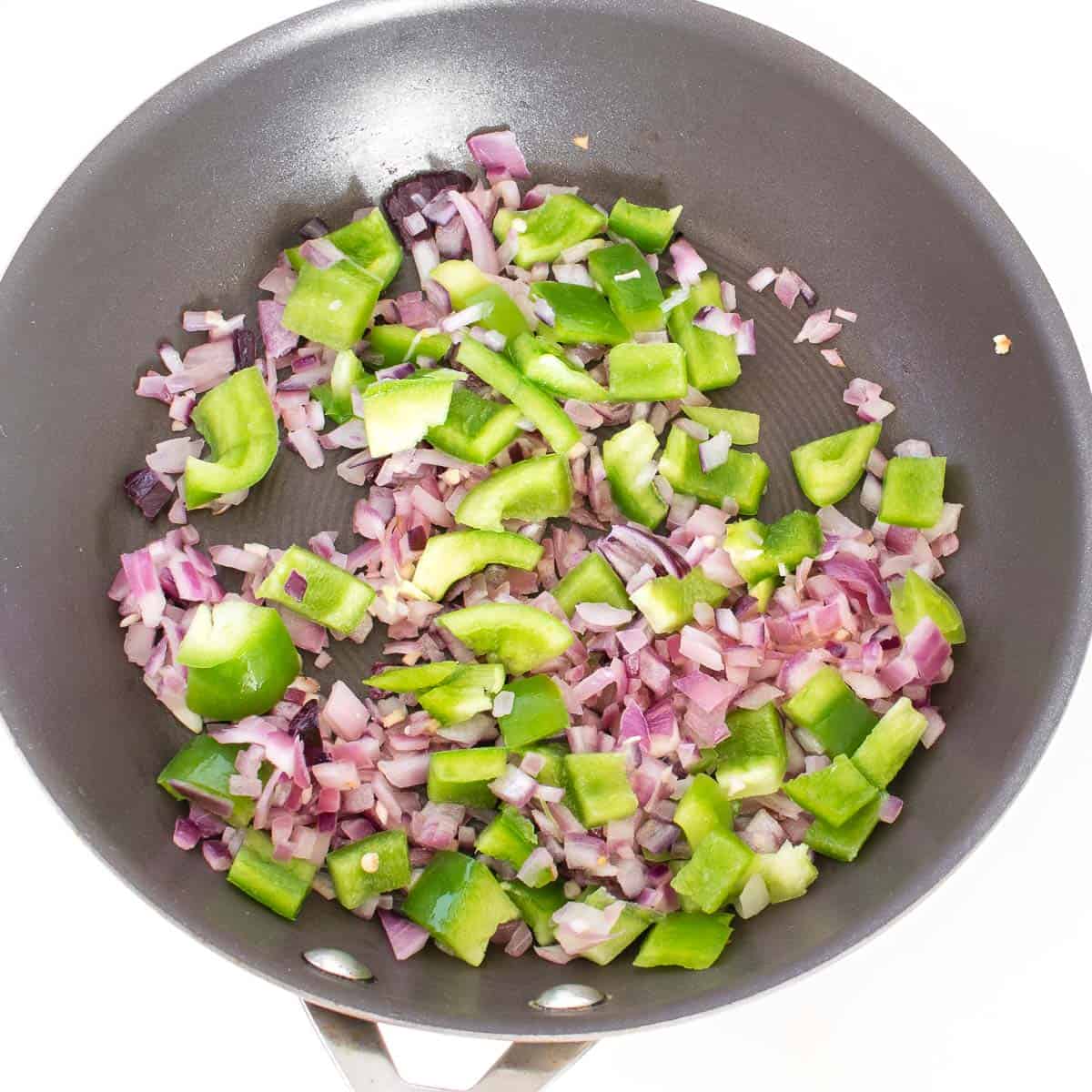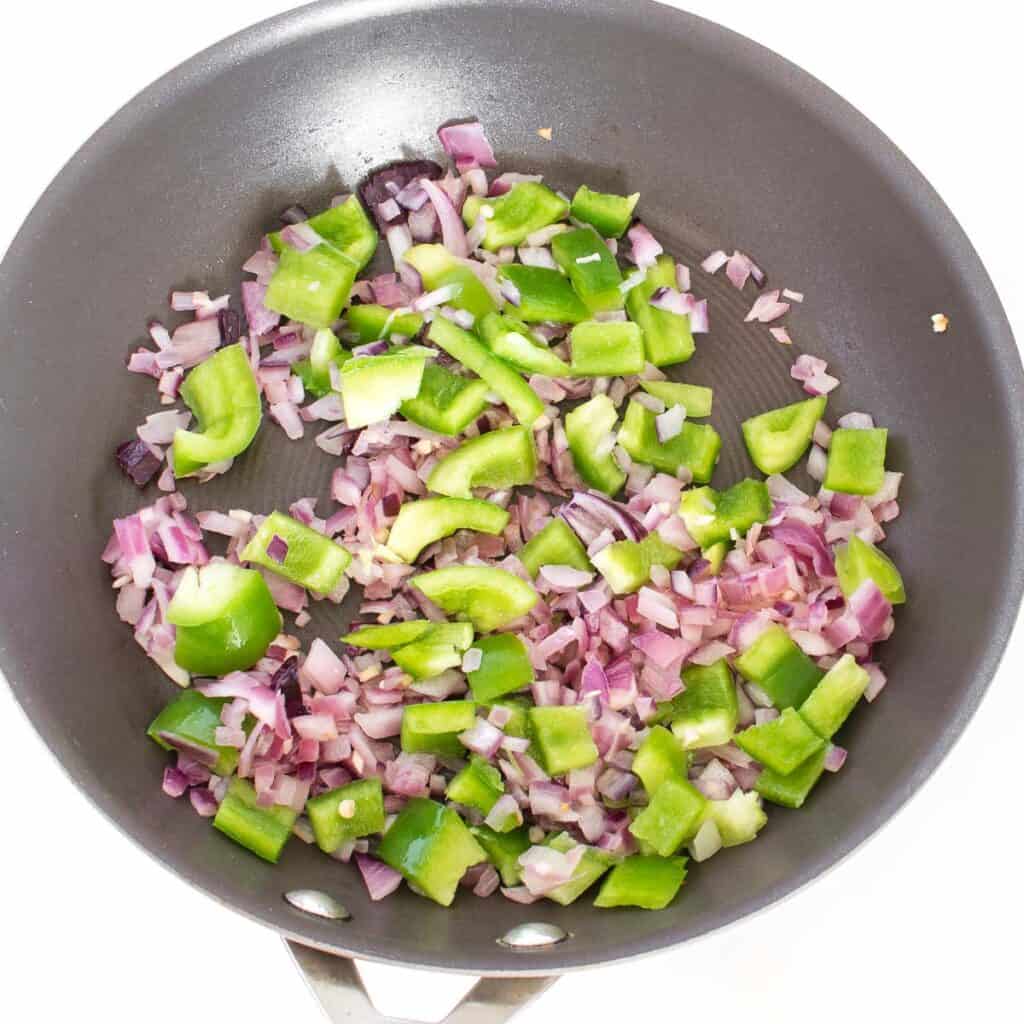 Thereafter, I added the rest of the veggies and mixed it well. I let it cook for some time but I did not let them be mushy.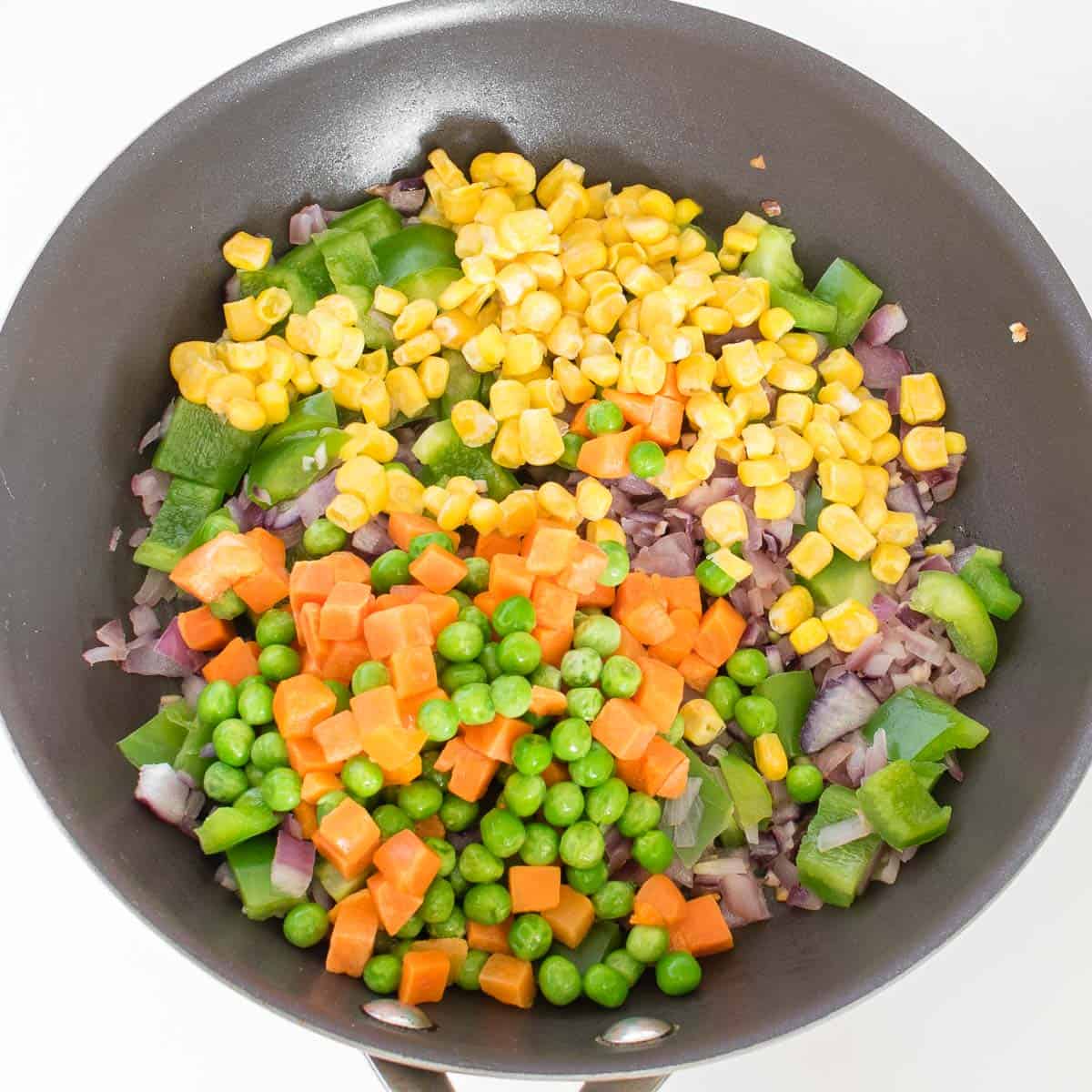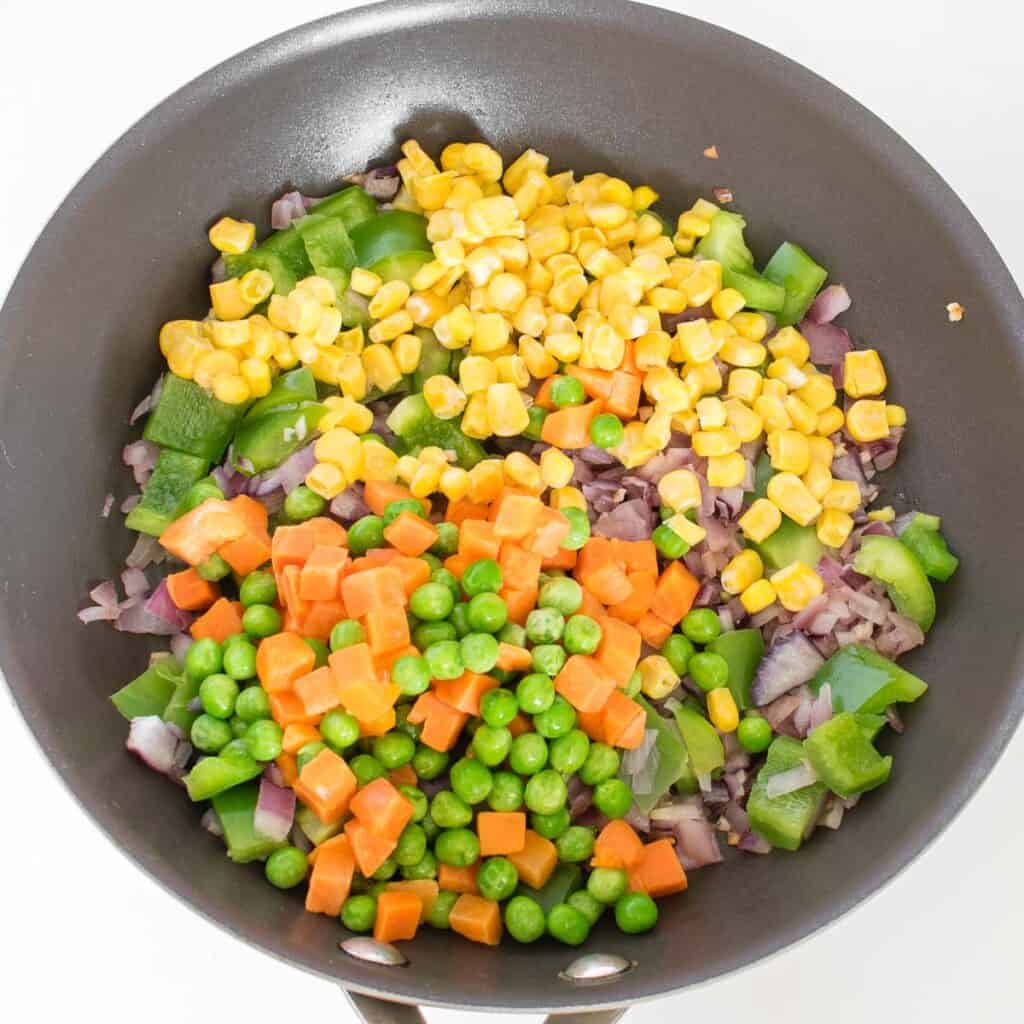 Afterwards, I folded in nutritional yeast and vegan cheddar cheese in it and mixed until the cheese was thoroughly melted.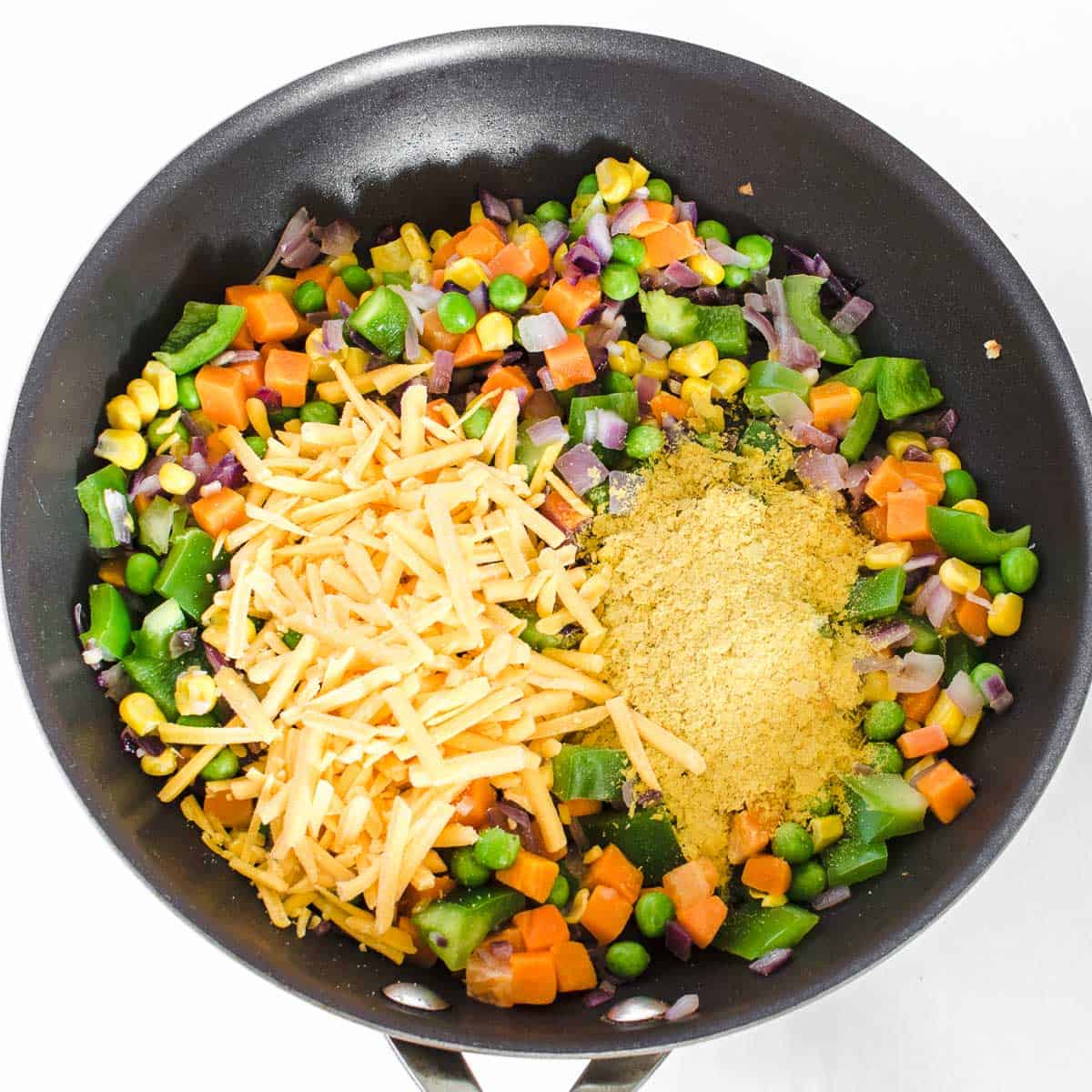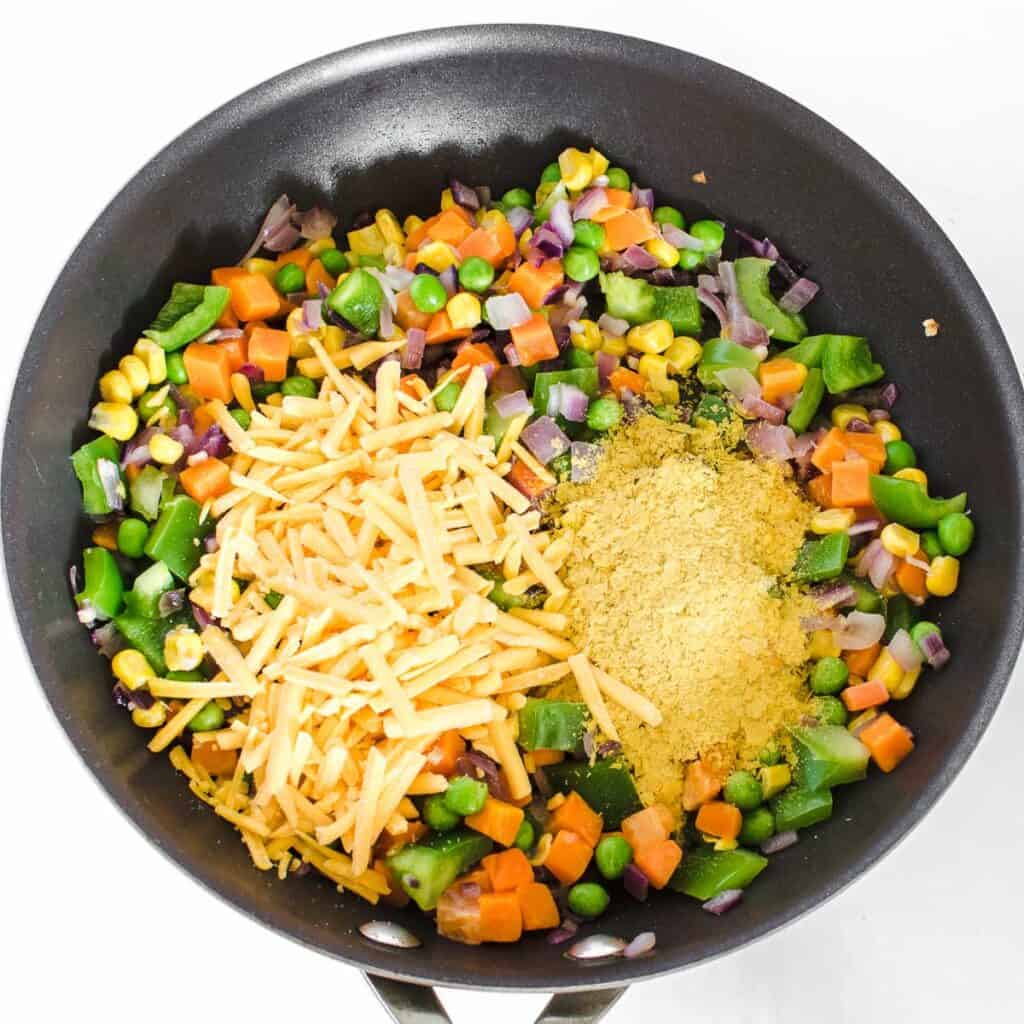 Then, I added all the spices and mixed it well.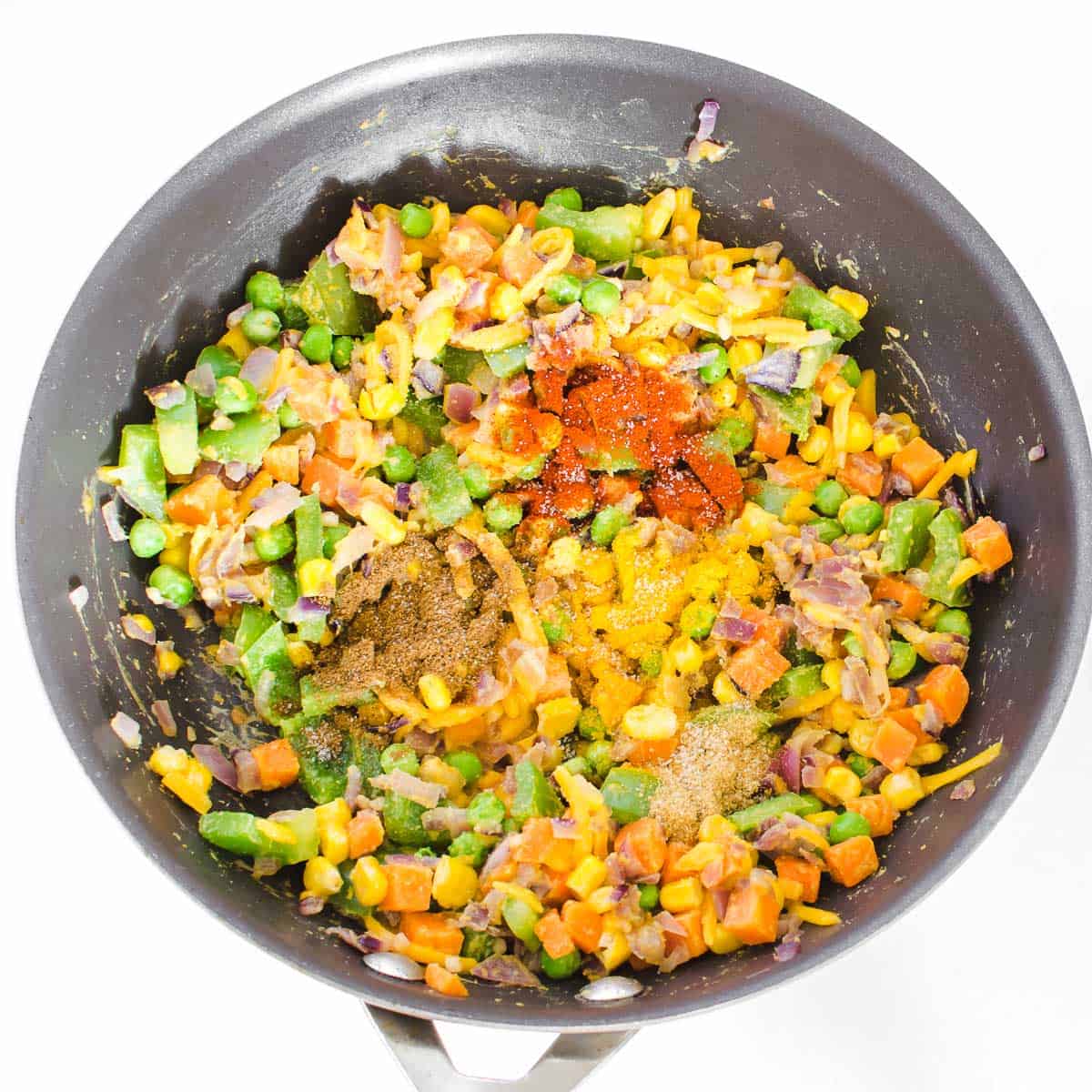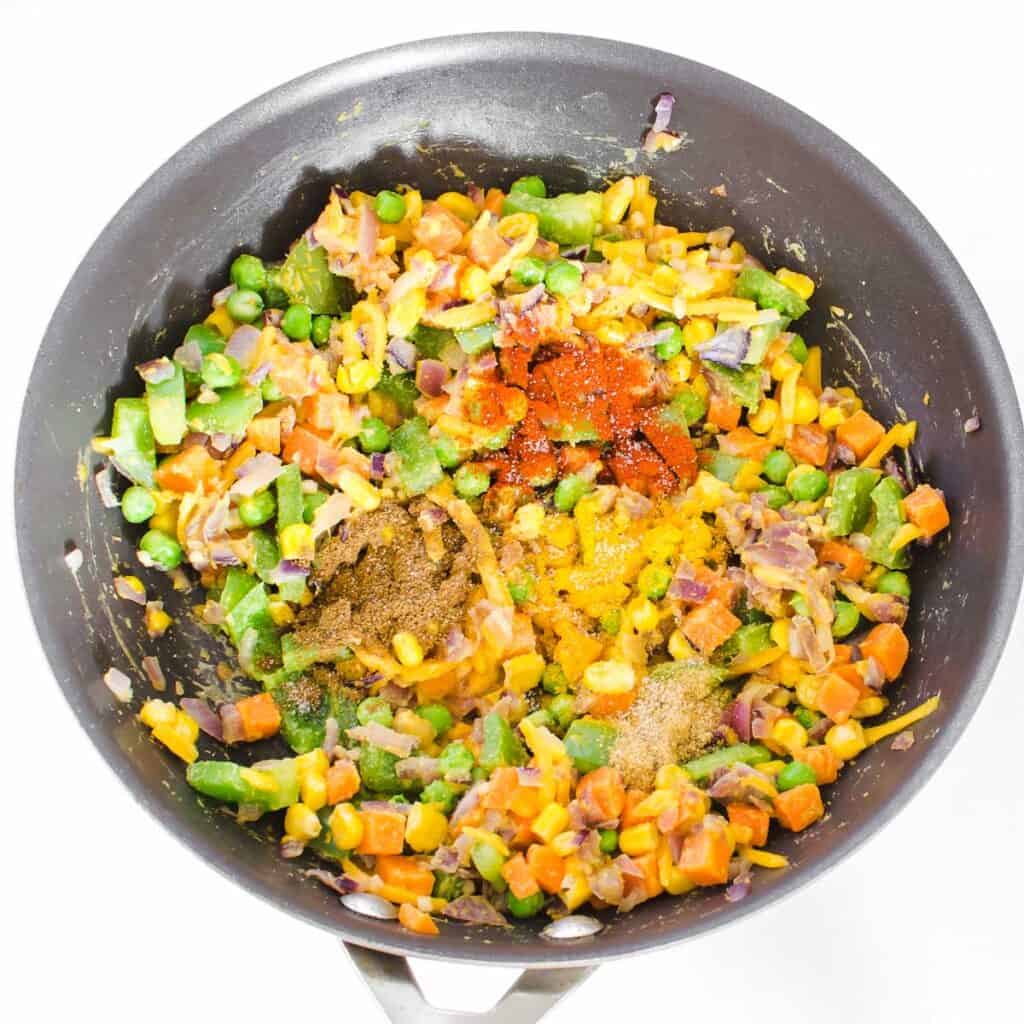 Later, I added pasta water and tossed in cooked pasta along with some salt as per taste.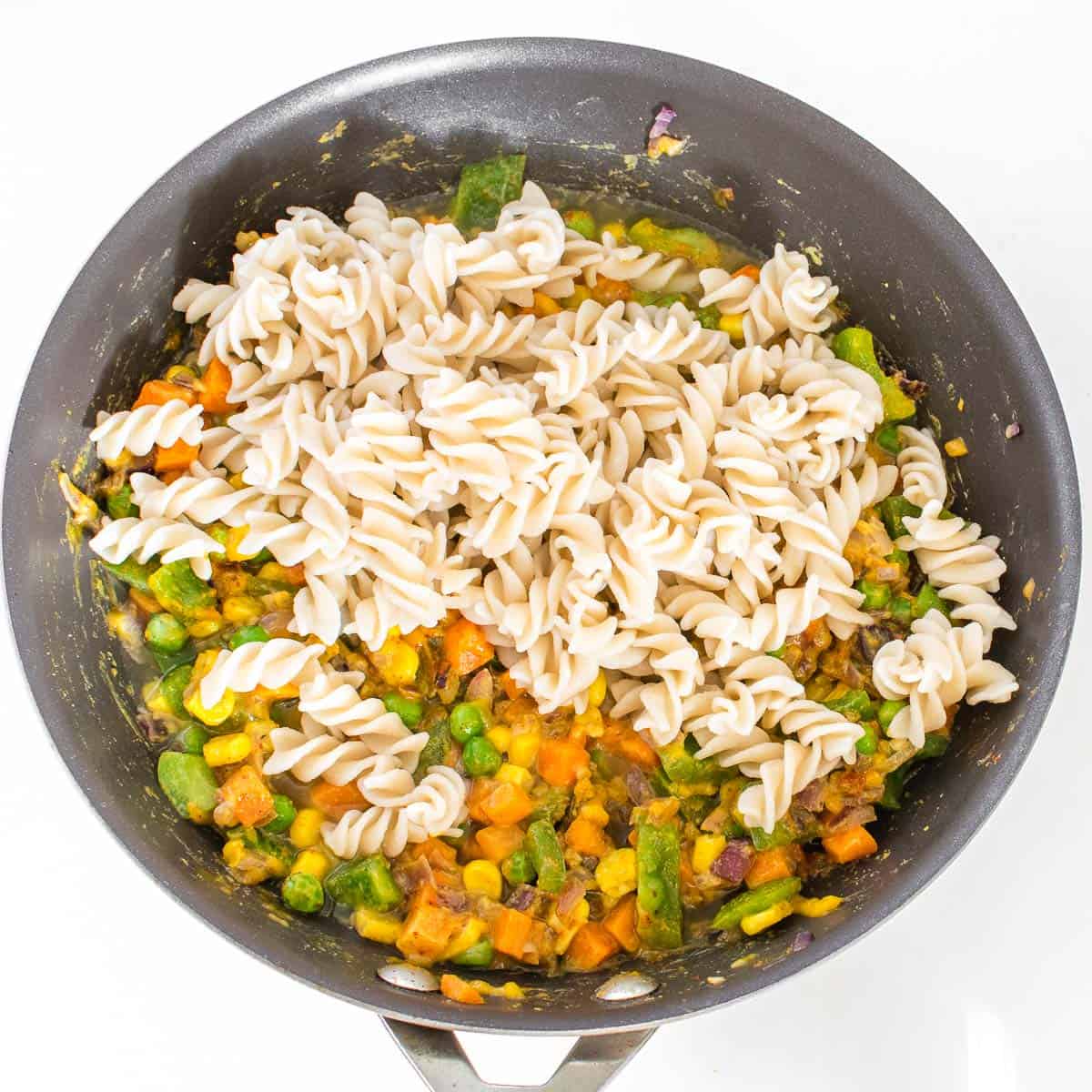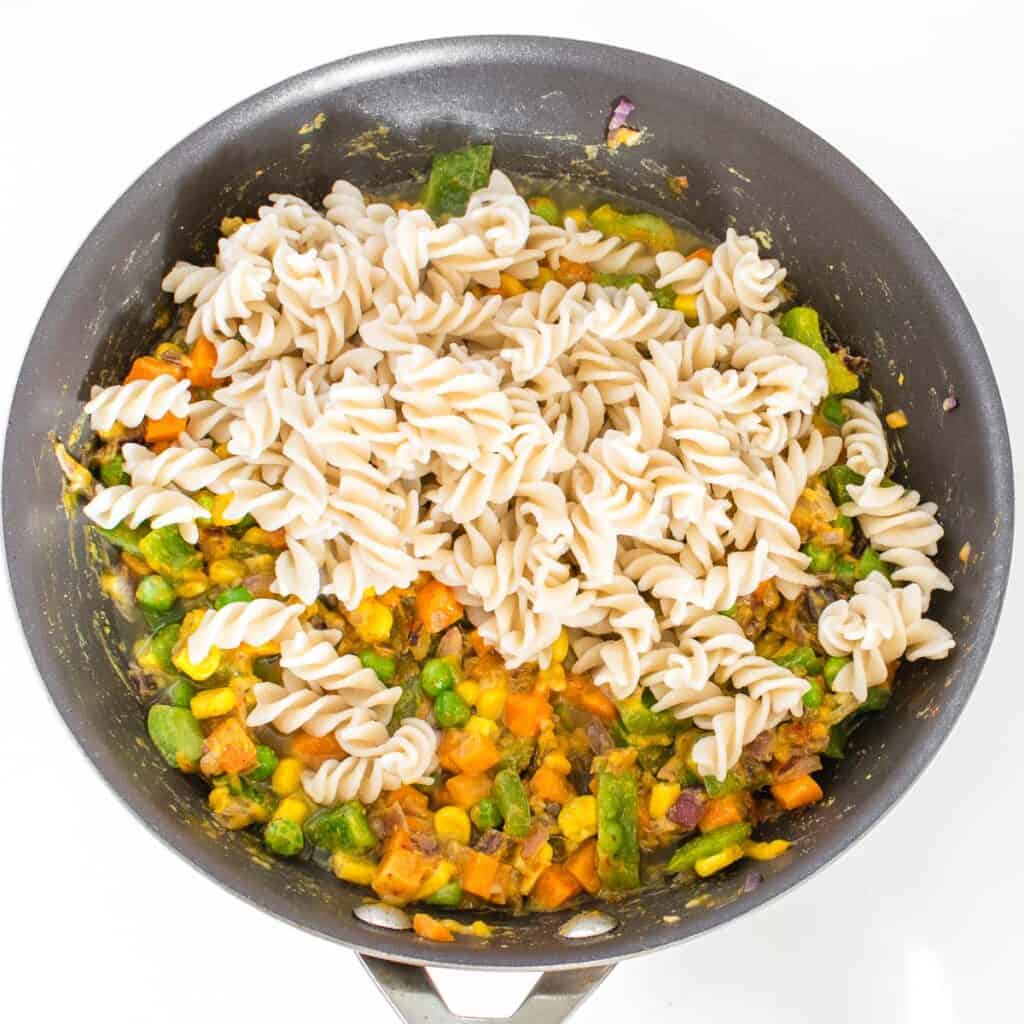 I mixed everything nicely and let it cook at low-medium flame for some time.
Lastly, I turned off the flame and mixed it well and garnished it with lots of chopped cilantro.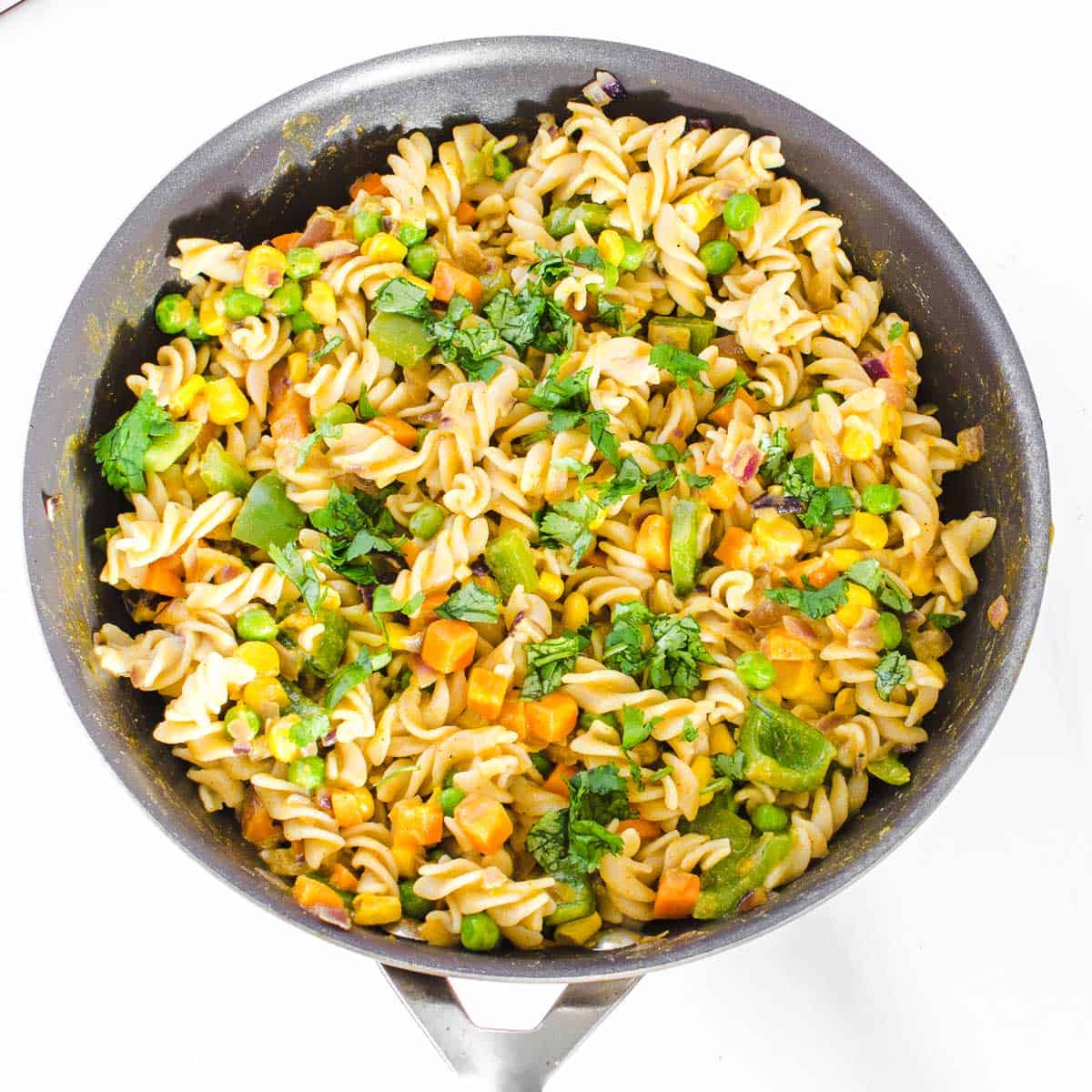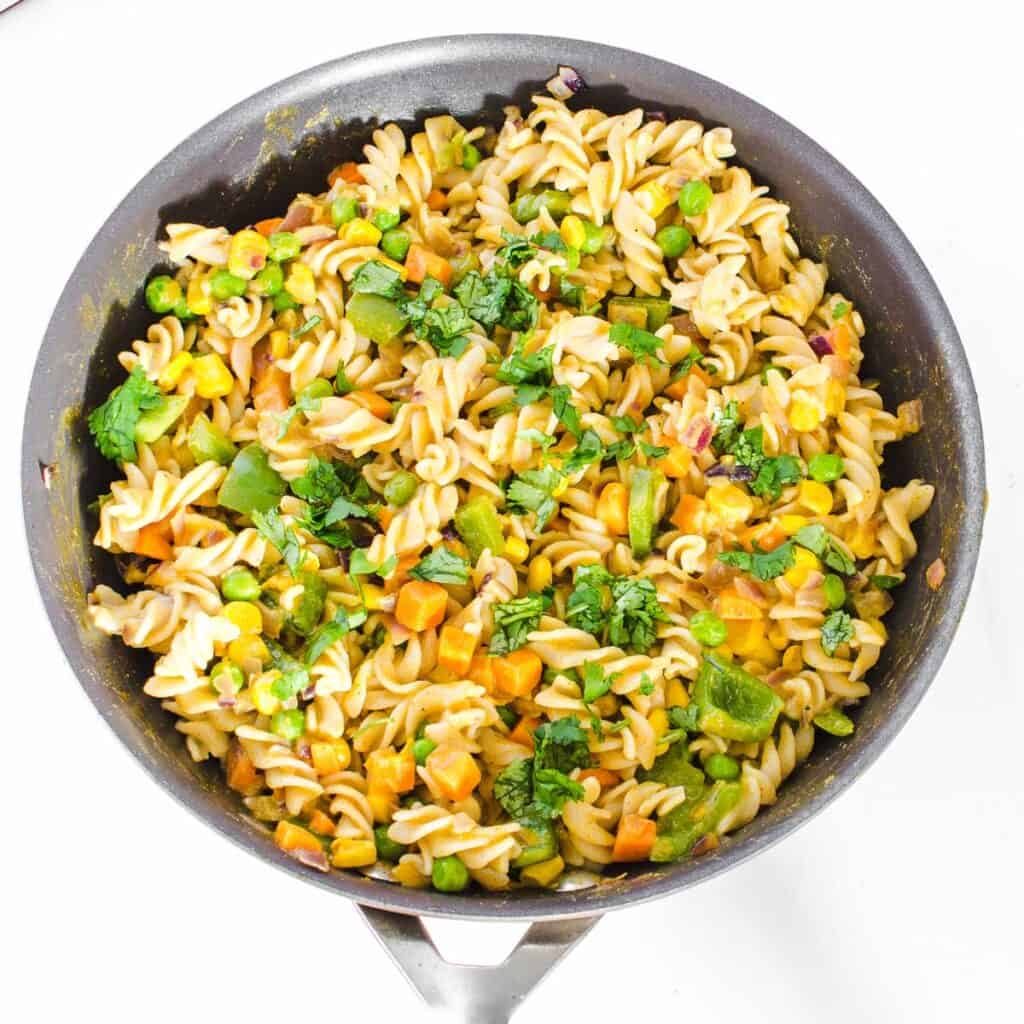 It was an instant hit. My entire family loved it and has now become quite frequent.
In fact, Yashvi wants it everyday for her dinner. Sometimes, I make extra batches and refrigerate for convenience and my kids love it.
However, my daughters like to add a little ketchup for themselves.
I and my husband sprinkled a little crushed peppers flakes and I personally add a bit of green chili sauce for that extra punch of spice.

Overall, it's a great and versatile dish for a comfort weeknight craving.
Expert tips:
When the pasta is almost cooked the starch will float at the top. So, try to reserve that portion of pasta water to add a bit of texture to this recipe.
It is important to let the cheese melt before adding the spices to it. This makes it even more tasty and brings out a nice texture.
Masala Pasta FAQs
How long does it last?
It tastes best when served immediately. However, refrigerate the leftovers for about 1 week. Warm it well in the microwave before serving.
I am vegetarian so can I use regular cheddar cheese?
Yes, regular cheddar cheese works the same. In fact, you may substitute nutritional yeast with parmesan cheese as well if desired.
Does this masala pasta have tomatoes?
I made it without tomatoes or tomato sauce. I simply made with the combination of handy vegetables and some common Indian spices.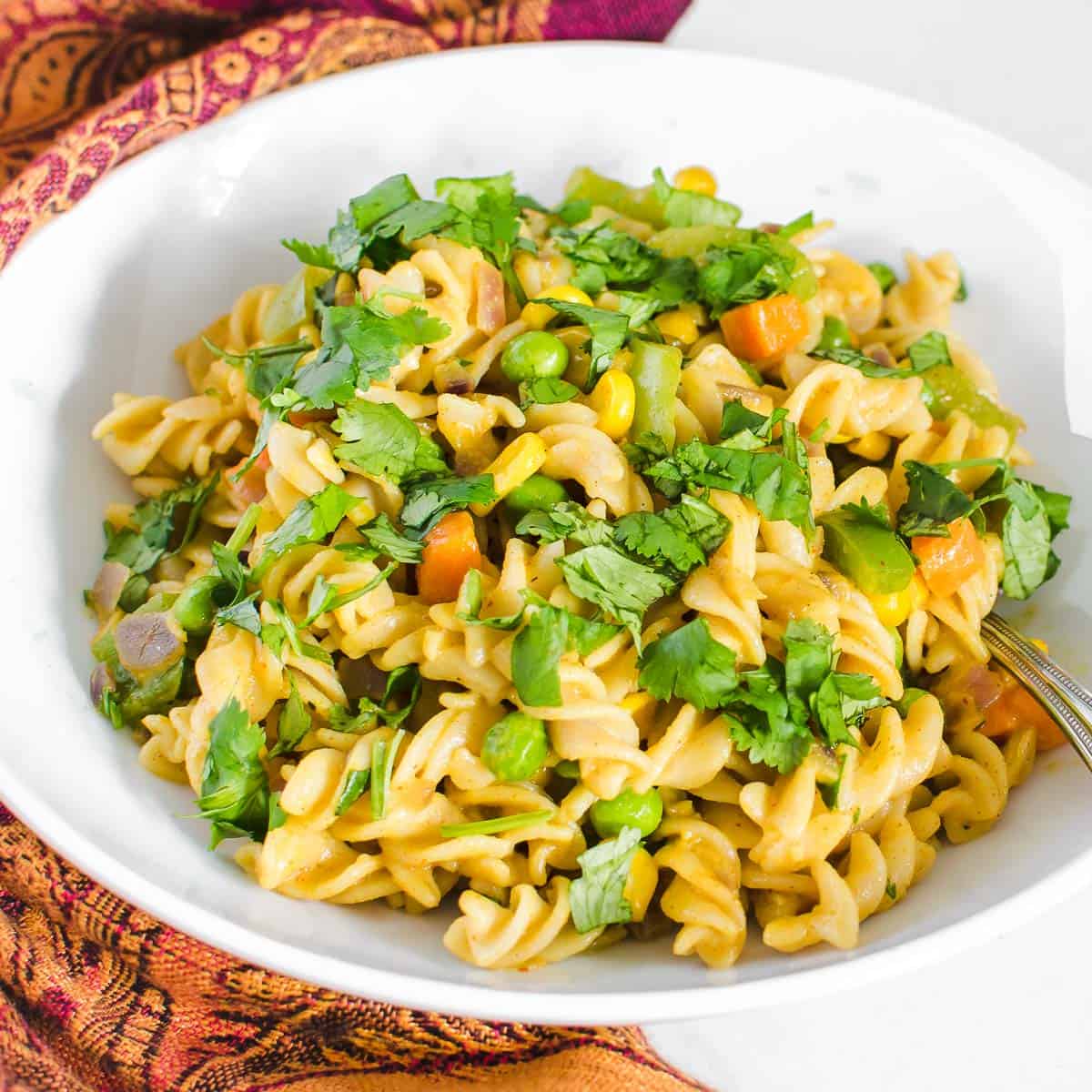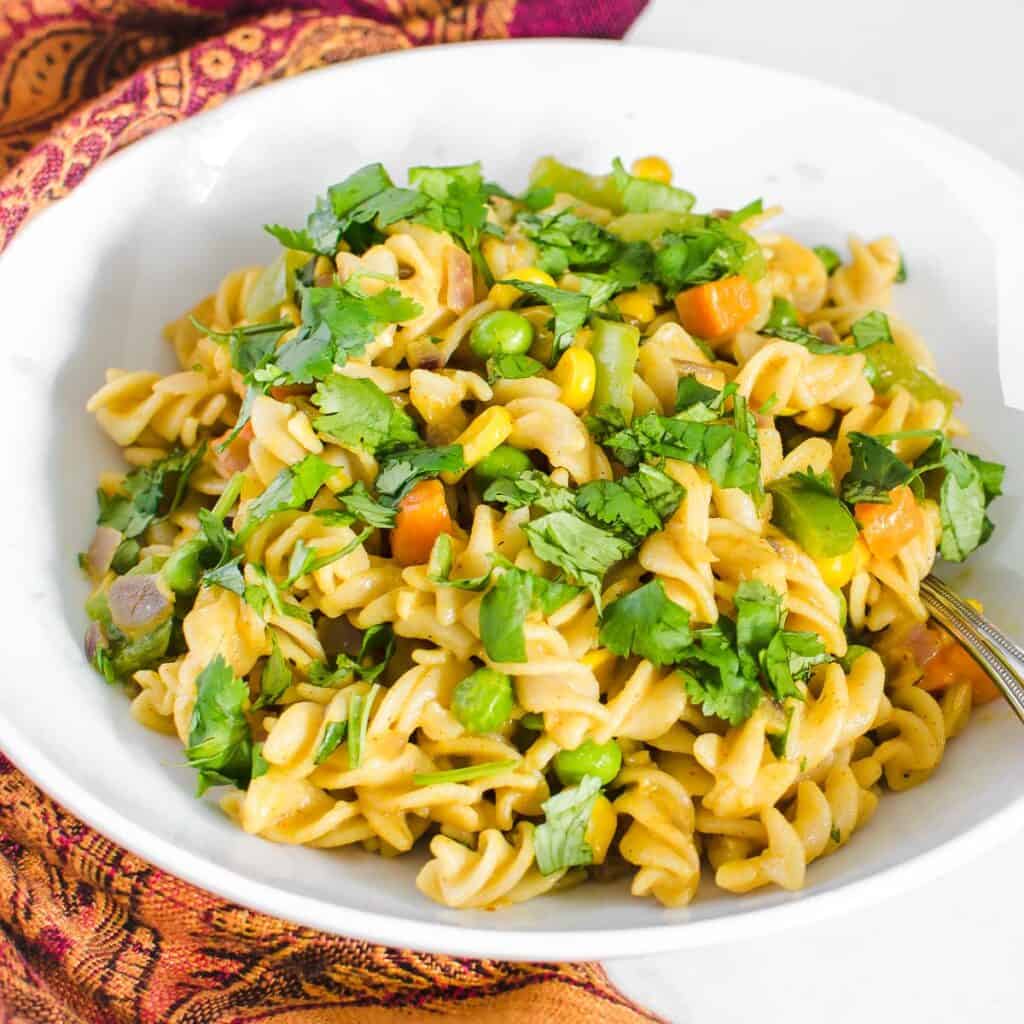 My other pasta recipes that you might like:
Hummus Pasta
Vegan Pasta Primavera
Instant Pot Taco Pasta
Jalapeno Tahini Vegan Pasta Salad
Jalapeno Cheese Pasta
This post may contain affiliate links which means that if you click on them and also make a purchase, I will get a small commission. Moreover, I share only those products which I use personally and love.
I hope you enjoy this masala pasta recipe as much as we did. I am very excited to hear back from you.
Where to find me?
Follow me on Facebook or on Twitter. You may tag @kiipfit on Instagram with your recipe remake images because I would love to see what you cooked.
Did you make it?
If you get a chance to make this recipe then please leave your feedback in the comments below along with a 5-star rating.
In addition, you may checkout my cookbook for everyday comfort vegan recipes.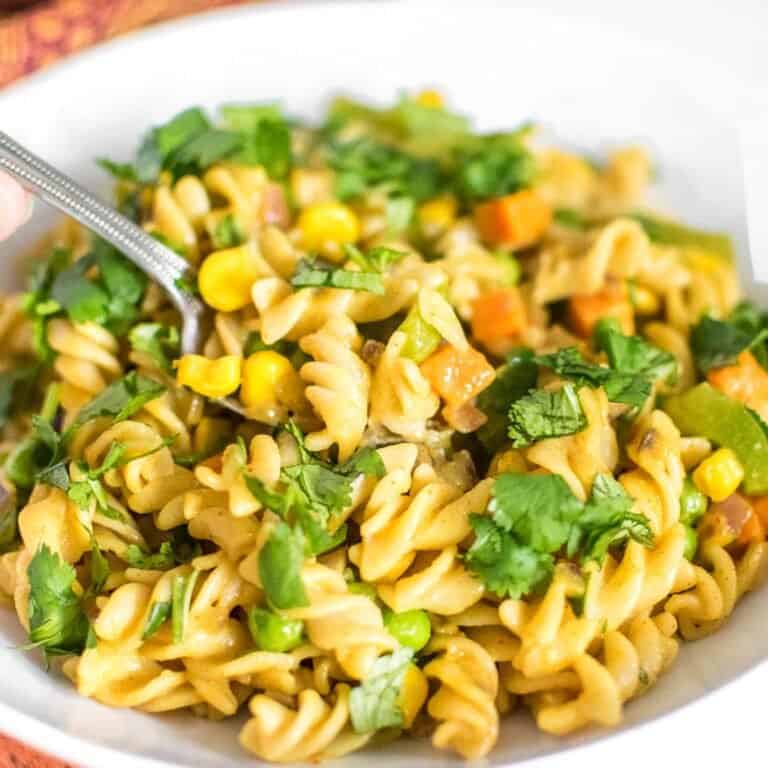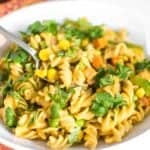 Print Recipe
Masala Pasta
This Indian style Masala Pasta is heavenly in taste and lip-smacking comforting. It's an easy flavor packed kid friendly dish. It's the best weeknight dinner or a great lunchbox meal.
Instructions
Cook pasta as per package instructions and keep it aside. Before draining pasta reserve ¼ cup of its water and keep that aside as well.

Heat oil in a nonstick pan and sauté garlic and onion until translucent.

Add green bell peppers and sauté for 30 seconds.

Add carrots, peas and corn and mix well. Let it cook for 1 minute on medium – high flame.

Add nutritional yeast and cheddar cheese and mix well until the cheese melts and the vegetables become sticky.

Add turmeric, chili powder, coriander powder, garam masala to it and mix well.

Add the reserved pasta water, pasta and salt. Mix well. Let it cook for 1-2 minutes on low-medium flame. Mix again and turn it off.

Garnish with cilantro and serve hot.
Notes
While cooking pasta as soon as the water starts to bubble and the starches takeover measure ¼ cup of that keep it aside for later use. Once pasta is cooked drain the rest of the water and keep the pasta aside also.
Any veggies of your choice can be used in this pasta recipe.
You may substitute nutritional yeast and vegan cheddar cheese with parmesan and regular cheddar cheese as well.
This tastes best when served immediately but the leftovers can be refrigerated for about 3-4 days. Warm it well in microwave before serving.
I have used ancient grain gluten free pasta that's low in carb. You may use any pasta of your choice. The nutritional value will vary depending on the type of pasta you use in this recipe.
Nutrition
Calories:
280
kcal
|
Carbohydrates:
44
g
|
Protein:
7
g
|
Fat:
8
g
|
Saturated Fat:
1
g
|
Polyunsaturated Fat:
1
g
|
Monounsaturated Fat:
4
g
|
Sodium:
105
mg
|
Potassium:
103
mg
|
Fiber:
2
g
|
Sugar:
1
g
|
Vitamin A:
198
IU
|
Vitamin C:
1
mg
|
Calcium:
14
mg
|
Iron:
1
mg