This rich and creamy Cauliflower Tikka Masala is a comforting Indian cuisine! It's made with simple ingredients and is a healthier form of the traditional dish since its low in fat and carbohydrate.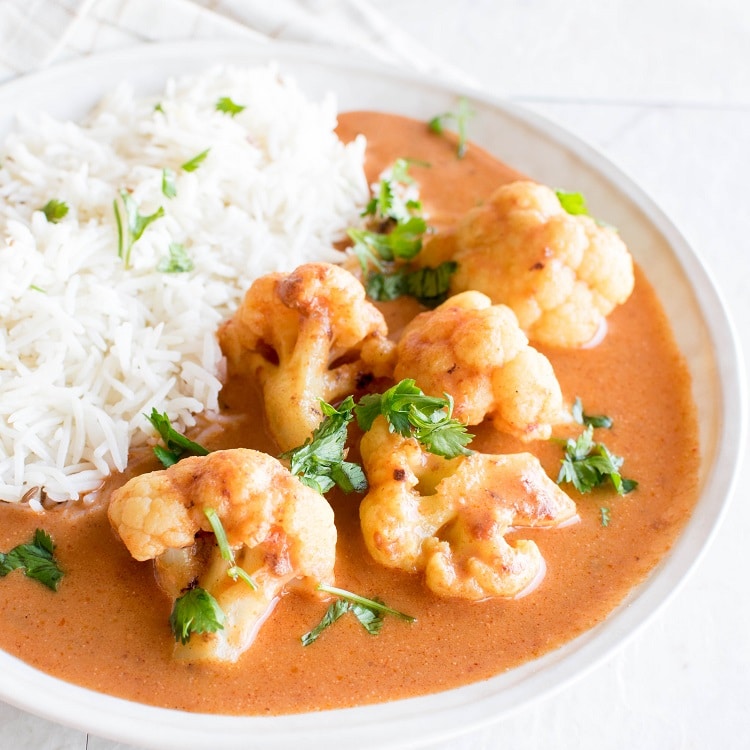 This concept was originally invented by British Pakistani Chef. In India the version of tikka masala is slightly different. Its less spicy and has a smoother flavor. In India, usually chicken or paneer is simmered in tikka masala. Originally, In India, dry form of tikka using chicken/paneer was made. Later, tikka masala in curry form was added to it in Britain.
Here, I have made a healthier version so that it fits into almost all diet types. By adding cauliflower to this vegan tikka masala its nutritious and low in calories as well.
If you are looking for more cauliflower recipes then you must try my creamy vegan cauliflower soup.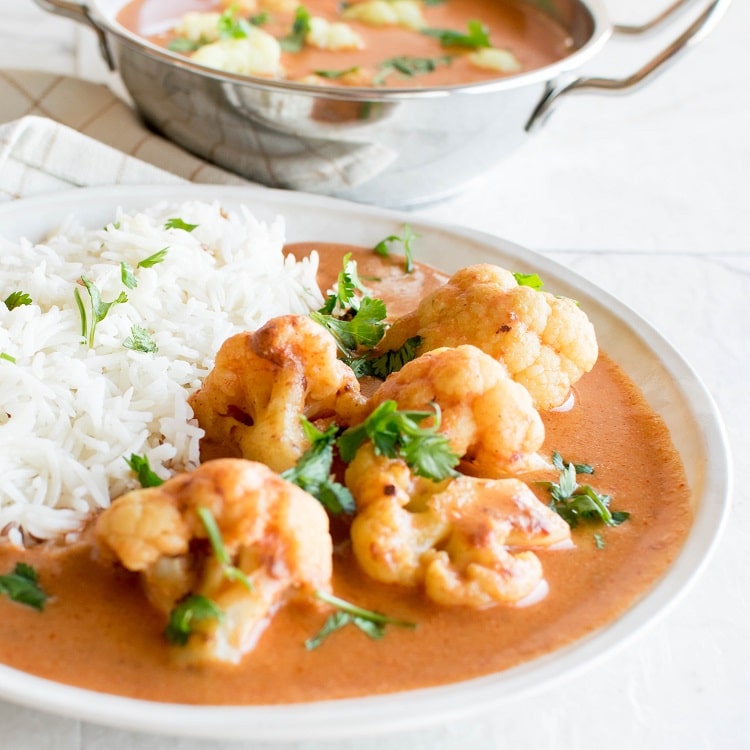 Ingredients for Cauliflower Tikka Masala
For cauliflower
Water
Salt
Turmeric powder
Cauliflower florets
For the gravy
Red onion
Tomato paste
Cashew nuts
Ginger
Garlic
Cumin seeds
Olive oil
Chili powder
Coriander powder
Garam masala
Unsweetened coconut milk
Sugar
Salt
Toppings
Cilantro
How to make Cauliflower Tikka Masala
Firstly, I boiled water and seasoned it with salt and turmeric powder. Then, I cooked cauliflower in it and subsequently, I drained it with the help of a strainer/mesh. Then, I kept it aside.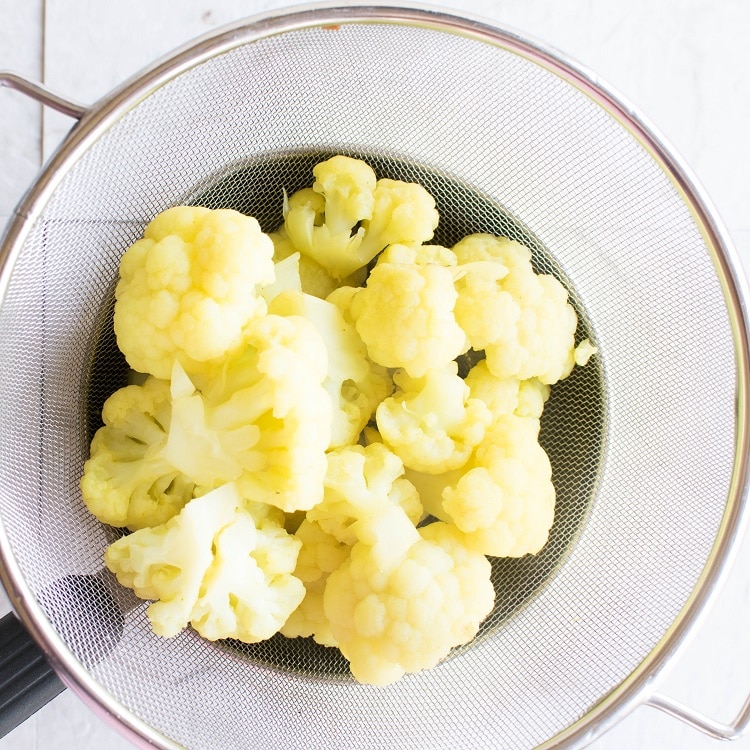 Secondly, I combined onion, tomato paste, ginger, garlic, cashew nuts, cumin seeds in a food processor and ground it absolutely smooth until it became a paste.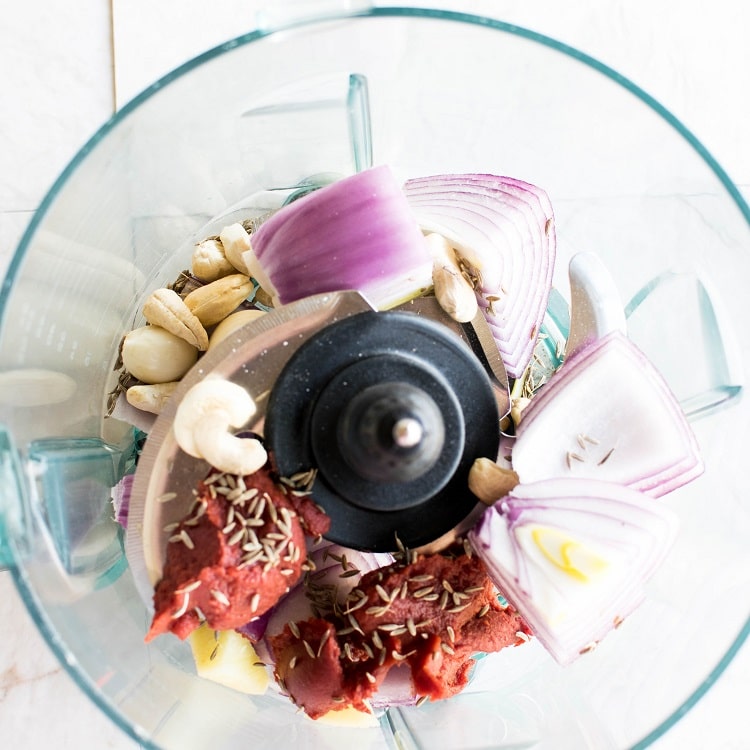 Next, I heated oil in a stock pot and spooned out the onion masala into it and sauteed until the masala reduced and dried up a bit.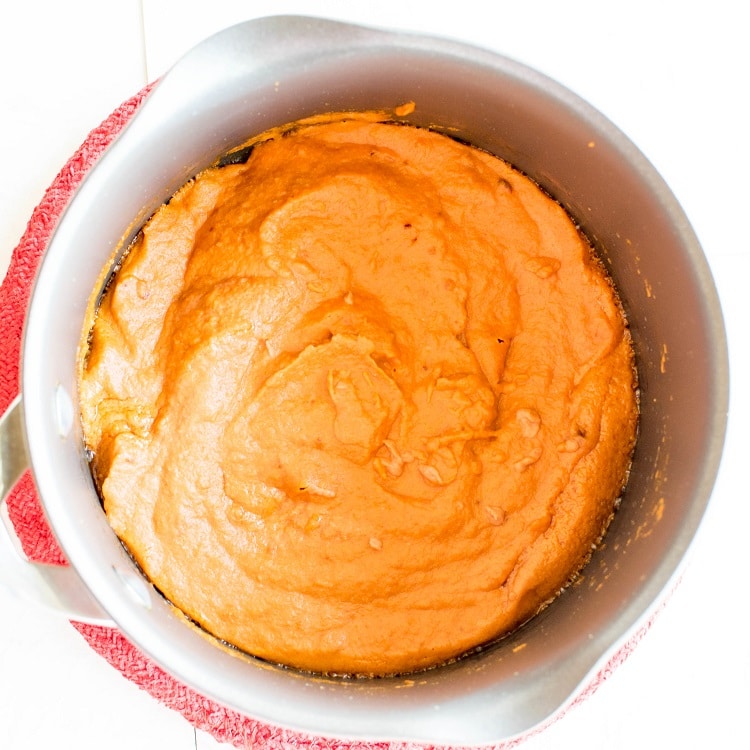 Thereafter, I added spices and sauteed again for few minutes until it was completely dried.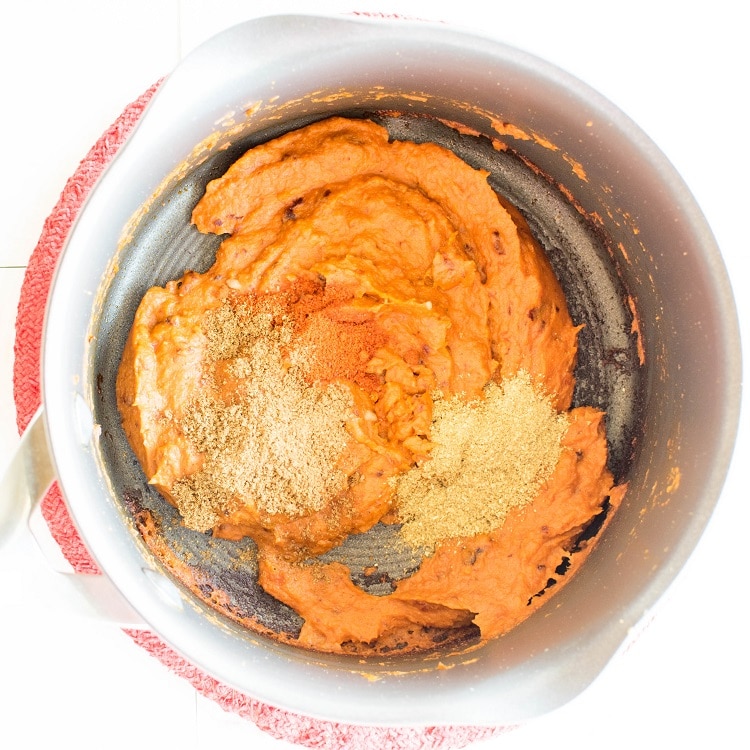 Afterwards, I poured coconut milk, sugar and salt to it. Then, I lowered the flame and stirred it continuously until the masala was well dissolved in the milk.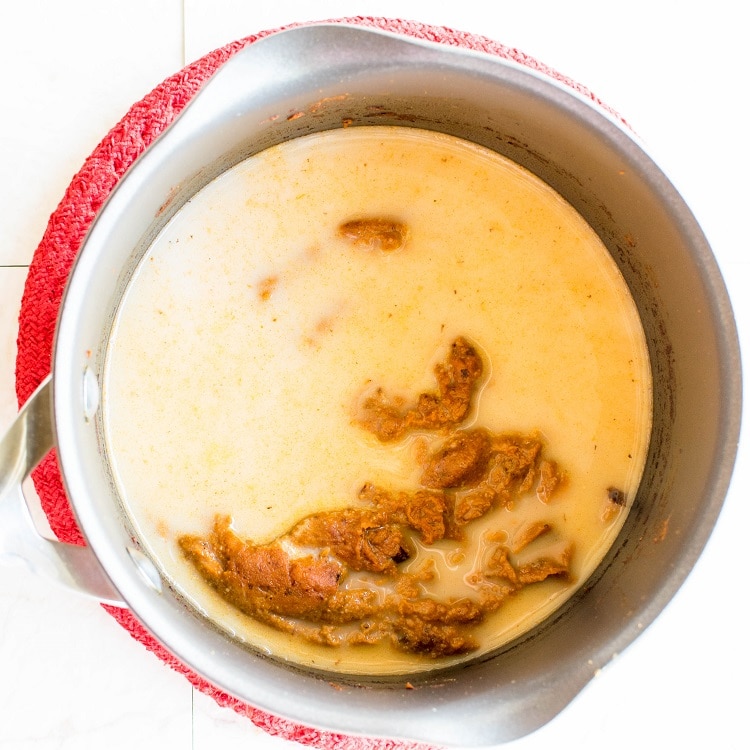 Later, I covered and cooked the gravy for sometime at a low flame.
Then, I added cooked cauliflower florets into the gravy and cooked again for few minutes.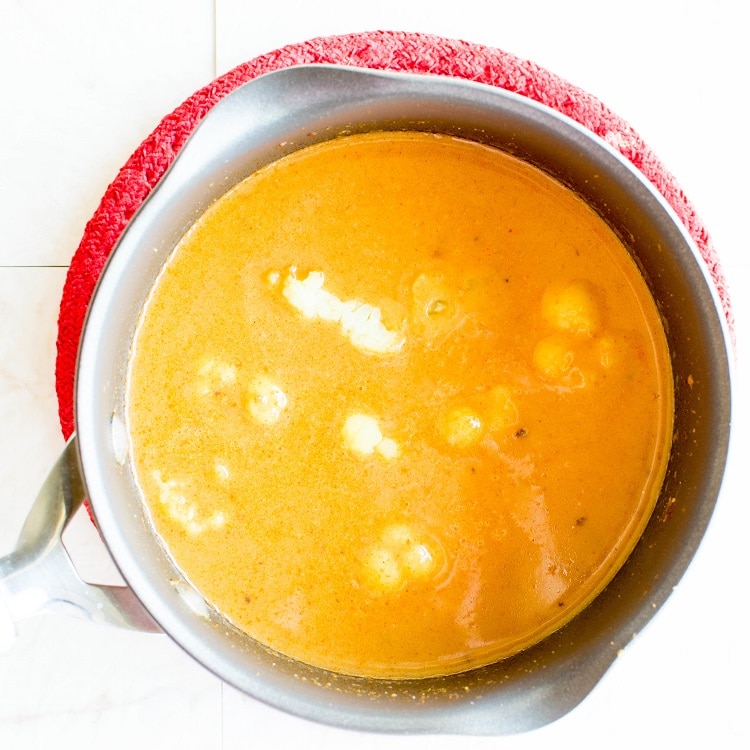 Lastly, I garnished it with chopped cilantro and served it with rice, naan and side salad.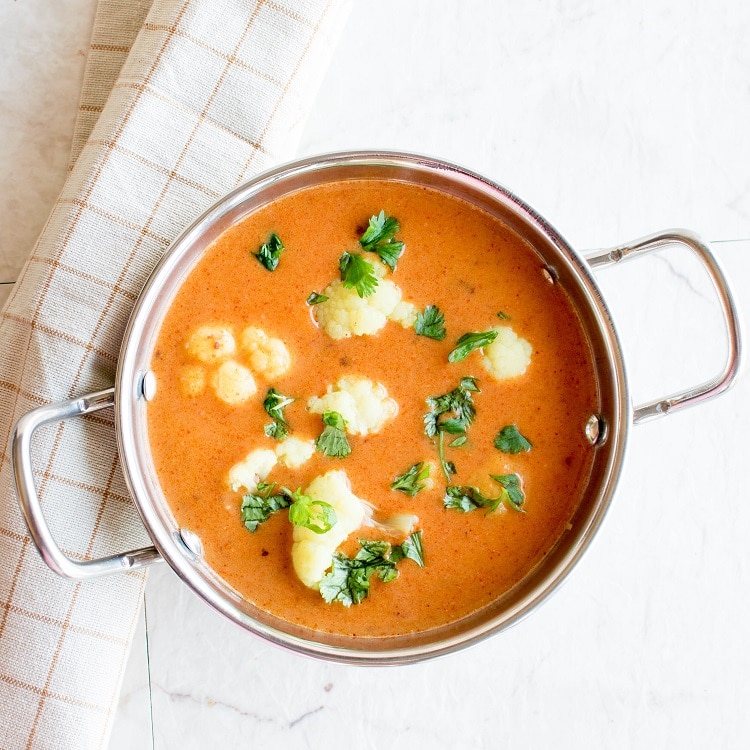 We all heartily enjoyed this dish. It's quite frequent in my house since its comforting, satisfying and wholesome.
Expert tips:
While boiling cauliflower florets make sure the florets absorbs the turmeric color so each floret has to be soaked in the turmeric water.
If you do not have an efficient food processor then put the onion masala in a blender and add about 1/8 cup of water to it. Then, blend it to make it a smooth paste. It is important that the onion masala is absolutely smooth and is a paste kind of texture.
If you like it spicy you can blend few green chilies with other ingredients while making a paste out of it.
Make sure to use tomato paste in this recipe and not fresh tomatoes or tomato puree. Tomato paste gives it a nice reddish color to the gravy and enhances the flavor with its mild tang taste.
Frequently asked questions:
How long do they last?
This recipe tastes best when served immediately. However, it can be refrigerated for about a week in an air tight container. The gravy can be frozen for about a month. When ready to use simply defrost it and warm it up making sure that the milk does not cuddle. Then, follow the rest of the steps as per mentioned (for cauliflower).
Can I make it oil free?
You may try it making oil free by sauteing the masala in vegetable broth. However, the consistency and the taste of the sauteed masala might differ a bit as compared to sauteed in oil.
Is this a curry?
Yes!
What can I pair it with?
Since, it's a curry you may pair it with jeera rice, steamed rice, naan and a side onion salad.
Did you use any food color to bring the red color in it?
No, absolutely not. I cooked this recipe with real and healthy ingredients and the color is all natural.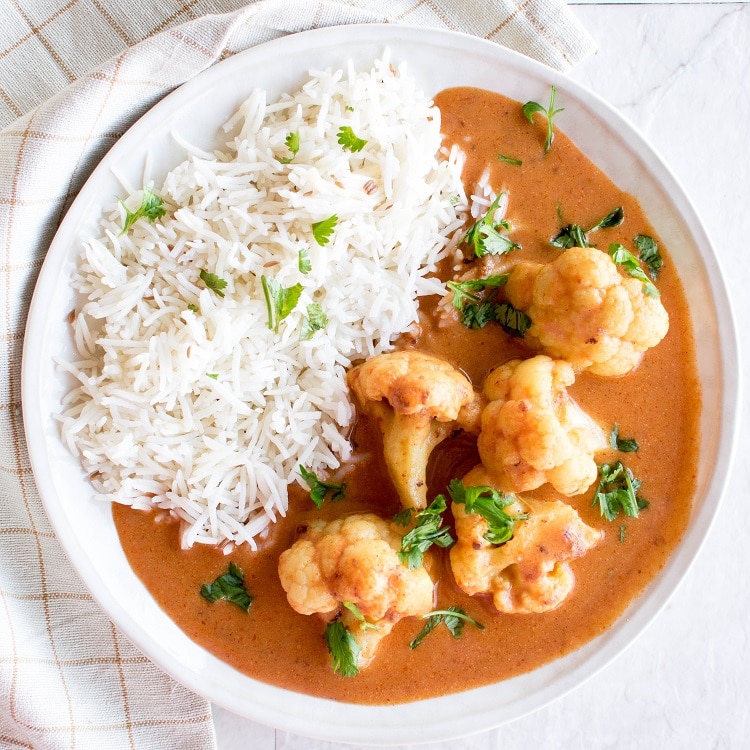 You may also like:
Turmeric Tofu Cashew Curry
Instant Pot Herbed Masala Lentil Curry
Masala Oatmeal
Cauliflower in kale Coconut Curry
Red Potato Mushroom Curry
Zucchini Pinto Beans Kofta in Spicy Cashew Curry
Basil Vegetable Lentil Curry
Tandoori Broccoli Mushroom Wrap
Did you make it?
If you get a chance to make this recipe then please leave your feedback in the comments below along with the ratings. In addition, you may tag @kiipfit on Instagram because we would love to see what you cooked.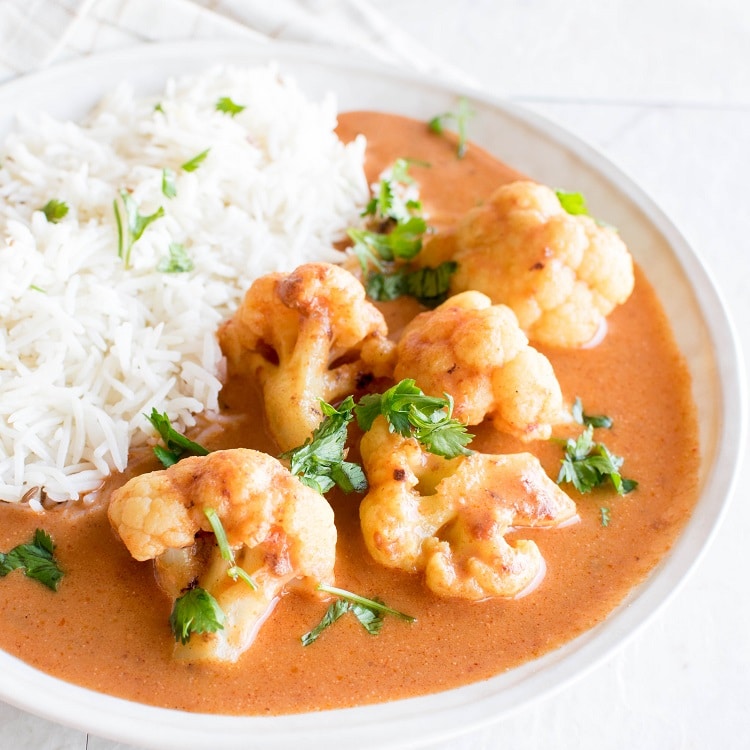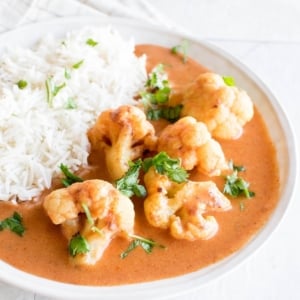 Print Recipe
Cauliflower Tikka Masala
This rich and creamy Cauliflower Tikka Masala is a comforting Indian cuisine! It's made with simple ingredients and is a healthier form of the traditional dish since its low in fat and carbohydrate.
Ingredients
For the cauliflower
2

cups

water

1/2

tsp

salt

1/4

tsp

turmeric powder

3

cups

cauliflower florets

(bite sized)
Topping
2

tbsp

chopped fresh cilantro
Instructions
In a saucepan bring water to boil. Add salt and turmeric powder to it. Give it a quick stir and add cauliflower florets to it.Let it boil for 2-3 minutes. (Make sure its not mushy and firm enough to be held by hand). Turn off the flame and drain the florets using a mesh/strainer. Keep them aside.

In a food processor combine red onion, tomato paste, cashew nuts, ginger, garlic and cumin seeds. Grind it until it's a smooth paste. (you may use a blender for this step and add about 1/8 cup water to make a smooth paste).

Heat oil in a nonstick stock pot and spoon out the onion masala. Saute for about 10 minutes at medium-high heat or until it reduces and dried up quite a bit.

Add chili powder, coriander powder and garam masala to it and saute again for about 1-2 minutes or until it reduces further and dried up completely.

Now, bring the flame to low heat and pour coconut milk, sugar and salt. Stir continuously until there are no lumps and the sauteed masala dissolves well in the coconut milk. This might take up to 5 minutes. Increase the flame to medium heat and bring it to one boil only.

Now, again lower the flame. Toss in cooked cauliflower. Cover and cook for another 5-7 minutes.

Turn it off. Garnish with cilantro and serve with naan, rice and a side salad.
Notes
This recipe tastes best when served immediately. However, refrigerate the leftovers for about a week in an air tight container.
If you plan to make ahead this recipe then you can make the gravy and freeze it for about a month. When ready to use simply make the cauliflower as per the instructions. Defrost and warm up the gravy at low-medium heat making sure that milk does not curdle. So, stir at equal intervals and toss in cooked cauliflower. Garnish and serve.
This recipe can be made in Dutch oven as well.
When boiling cauliflower make sure its light yellow in color after you drain it. It should absorb turmeric color so make sure each floret is well soaked in the water.
It is possible to make this recipe oil free. Saute the onion masala in about 1/8 cup vegetable broth. However, the consistency and texture along with the flavor might differ a bit from the original recipe.
I used the coconut milk from tetra pack/carton to make it lighter. You may use canned unsweetened coconut milk. However the nutritional info may vary.
I have provided step wise images above in the post for your reference.
Nutrition
Calories:
161
kcal
|
Carbohydrates:
7
g
|
Protein:
2
g
|
Fat:
13
g
|
Saturated Fat:
40
g
|
Sodium:
418
mg
|
Potassium:
864
mg
|
Fiber:
7
g
|
Sugar:
9
g
|
Vitamin A:
222
IU
|
Vitamin C:
44
mg
|
Calcium:
71
mg
|
Iron:
5
mg