Creamy, delicious and garlicky Nut Free Vegan Scalloped Potatoes are absolute delight and a family favorite! It serves well as dinner or as a side dish. It's made with cauliflower cheese sauce and is oil free so its low in calories and yet comforting.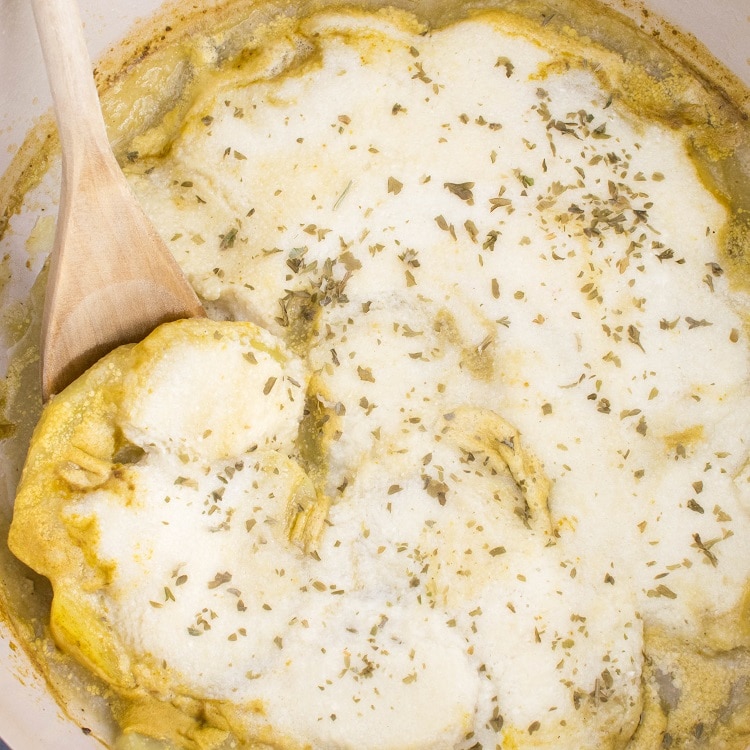 Potatoes are for sure comforting and Thanks giving is around the corner so definitely potatoes top the menu. What can be more satisfying than scalloped potatoes.
However, potatoes are usually mistaken as fattening ingredients. While I was doing my weight management certification, I learnt that potatoes when eaten in the right way and in proportion are very much required carbohydrates.
Carbohydrates are important macronutrient for our body and instead of running away from it, we must focus on the good and complex carbohydrates. And so, when potatoes are eaten in their original form and not overly processed it does wonders. Potatoes are comforting, soothing and versatile that can be blended and cooked in any way in any recipe making your dish even more desirable.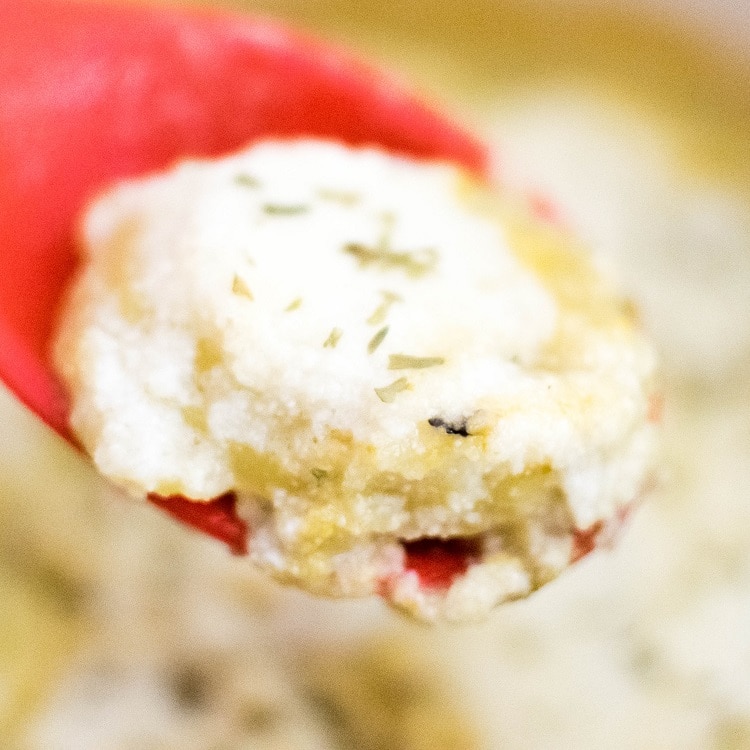 So, after innovating and practicing this low-fat vegan potato casserole which is absolutely dairy free and nut free, I am here to share it with you.
Ingredients for Nut Free Vegan Scalloped Potatoes
Gold potatoes
Vegetable broth
Salt
Black pepper
Cauliflower
Nutritional yeast
Garlic powder
Onion powder
Coconut milk
Cornstarch
Chives/parsley (to garnish)
I have used these easily available ingredients which you may buy from any local grocery store. However, I have provided links to few of them here for your convenience.
If you plan to buy from these affiliate links, then I get a small commission which in turn I get encouraged to bring out more delicious recipes for you.
Ingredients notes:
Potatoes – it's the star of my recipe. It is basically a root vegetable. There are a variety of potatoes available in the market but I chose gold potatoes for my recipe. This worked the best and softened quickly as well.
Vegetable broth – you may make your own broth or use store bought one. I used it so add flavor to this dish and moreover I made it oil free so I need a flavorful comforting base to cook potatoes before soaking them into vegan cheese sauce.
Cauliflower – I wanted to made a low carb, healthier cheese sauce for this recipe and cauliflower works as wonder. When they are blanched/steamed and then blended with other ingredients cauliflower makes the cheese sauce creamier and healthier. They are great substitute for nuts in many recipes.
Nutritional yeast – it gives a nice cheesy and subtle nutty flavor to this recipe along with lots of Vitamin B12.
Cornstarch – I used this to thicken the sauce a bit while baking since we used vegetable broth. To make this dish thick and not runny, cornstarch plays a vital role here.
So, you must have realized that this potato recipe is healthy one pot recipe and absolutely hassle free. In fact, it does not even require any baby sitting and hardly any after dinner clean up. So, therefore, I have made your holidays fun, relaxing and more family time along with comfort foods.
How to make Nut Free Vegan Scalloped Potatoes
Firstly, I sliced the potatoes with a sharp knife/mandolin and kept it aside.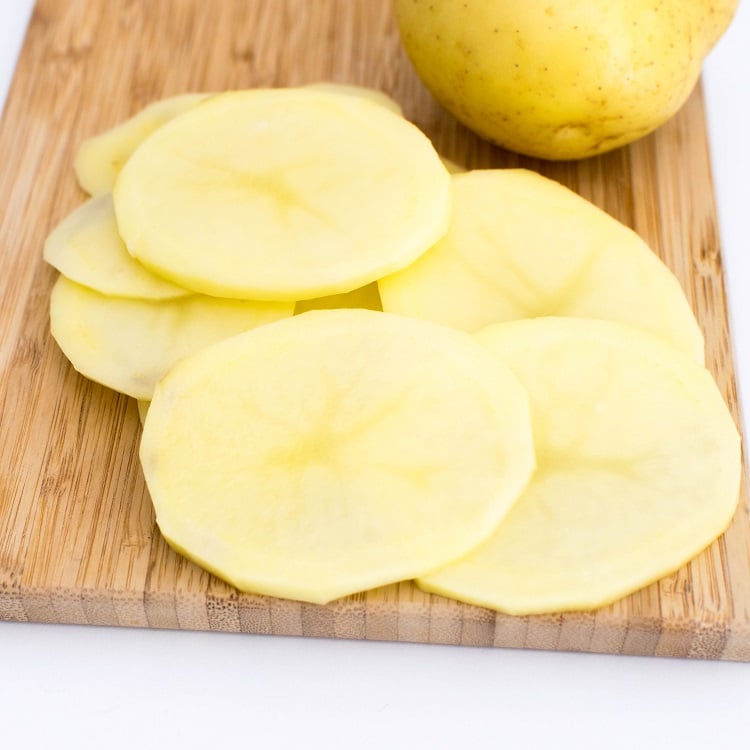 Secondly, I blanched the cauliflower florets. Then, after cooling them a bit I combined all the cheese sauce ingredients in a blender and blended it smooth.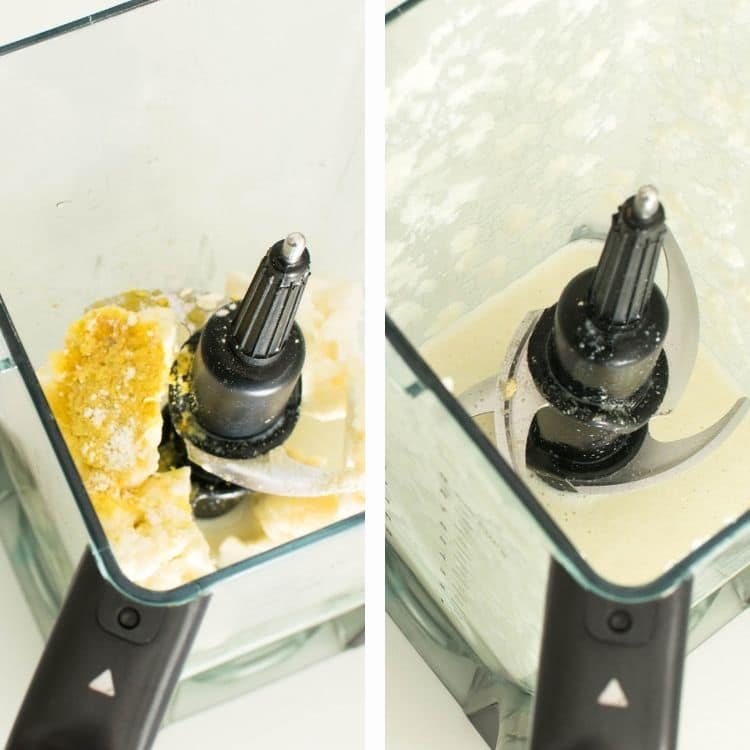 Next, I combined potatoes with vegetable broth in a Dutch oven and seasoned it with salt and pepper. Then, I cooked it covered on the stove top for 5-7 minutes.
Thereafter, when the potatoes were soft, I poured the cheese sauce over them evenly and placed the Dutch oven in the oven.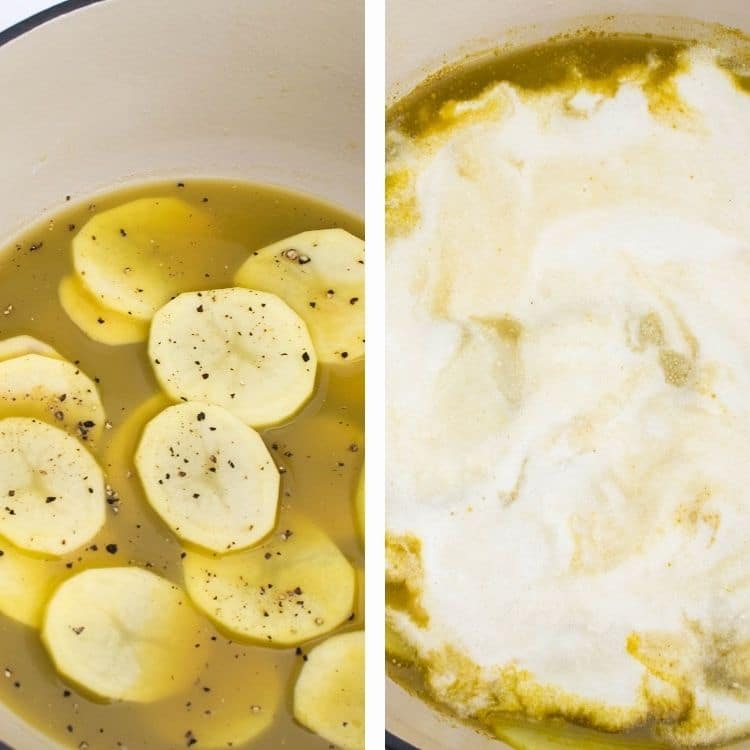 Afterwards, I let it bake for 30 minutes. Then, I turned it off and took it out.
Lastly, I garnished it and served hot.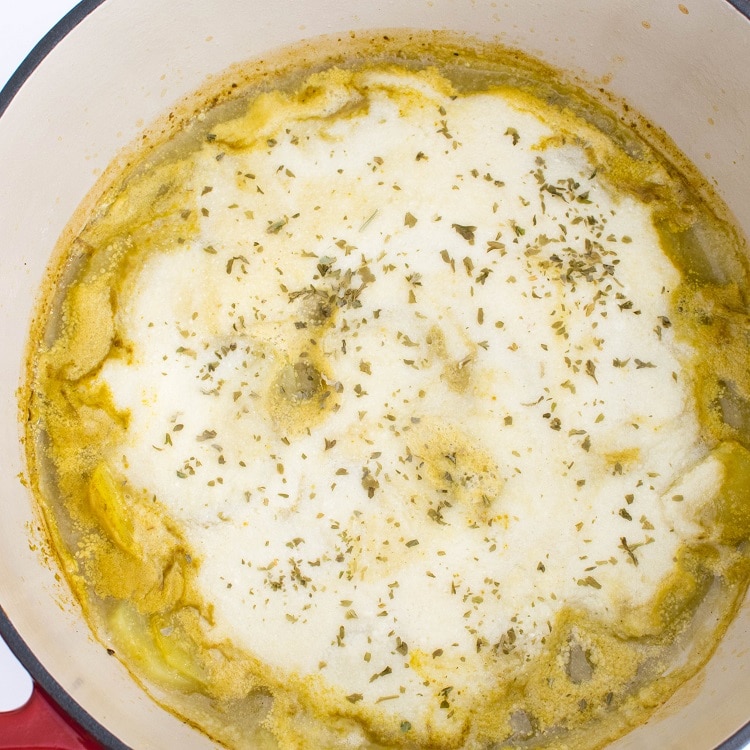 We ate it as our main meal with some garlic breads and dinner rolls and a side salad. We enjoyed our family dinner immensely.
Now, I am so looking forward to enjoy more of these holiday delights with my loved ones.
Expert tips:
The thinner you slice the potatoes the tastier this dish will be.
I personally, like to boil cauliflower florets and drain them. I let it cool down a bit and then blend it into a sauce. This makes the sauce creamier, thicker and richer.
You may use your own homemade vegetable broth as well if desired.
Nut Free Vegan Scalloped Potatoes FAQs
How long do they last?
This tastes best when served immediately, however the leftovers can be refrigerated in an air tight container for about 2 weeks.
Is this healthy?
I understand that potatoes are starchy and are high in carbohydrates. But it's a root vegetable and if you eat them in their original form without heavy processing, they do wonders in satisfying your taste buds. Moreover, I made this recipe nut free which automatically makes it low fat and since it is absolutely oil free, we save a lot of calories here as well. Overall, it's a healthier holiday dish comparatively.
How can I make it a thicker scalloped potato?
While baking, this potato dish thickens because I have used cornstarch in the cheese sauce which helps in absorbing the extra liquid while cooking. Also, the potatoes absorb lot of liquid. And if you have time, keep this dish inside the hot oven for few extra minutes which will thicken it further as per your desired consistency.
Do I have to peel the potatoes?
Yes, for this recipe, I prefer peeling the potatoes skin which makes it smoother after cooking.
I am sure you must be having all the ingredients in your kitchen so I would insist you to grab and get started with this recipe. Trust me you do not have to wait for the Thanksgiving Day to enjoy this recipe. In fact, you can celebrate each day like Thanksgiving with these vegan scalloped potatoes recipe.
You may also like:
Vegan Green Bean Casserole
Creamed Corn Casserole
Baked Cheese Broccoli
Baked Black Beans in Vegan Cheese Sauce
Vegan Cheese and Parsley Baked Cauliflower

Other potato recipe that you might like:
Patatas Bravas
Healthy Vegan Potato Salad
Instant Pot Potato Corn Chowder
Red Potato Mushroom Curry
Did you make it?
If you get a chance to make this recipe then please leave your feedback in the comments below along with the ratings. In addition, you may tag @kiipfit on Instagram along with your recipe image because we would love to see what your cooked.
If you desire to explore more delicious recipes of mine then you may checkout my cookbooks.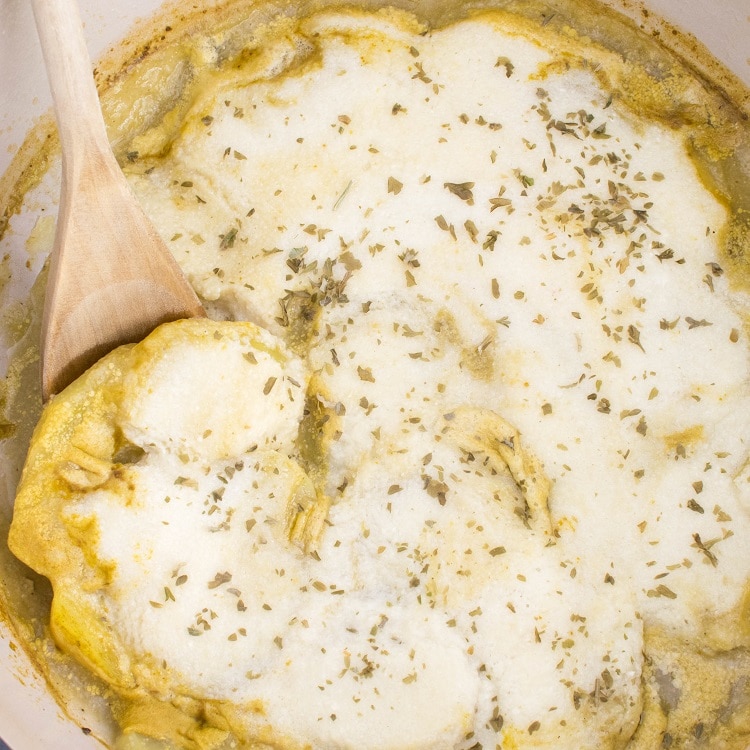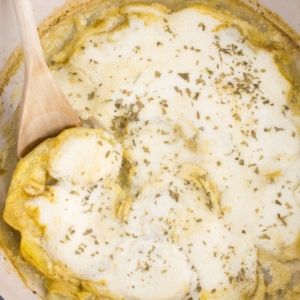 Print Recipe
Nut Free Vegan Scalloped Potatoes
Creamy, delicious and garlicky Nut Free Vegan Scalloped Potatoes are absolute delight and a family favorite! It serves well as dinner or as a side dish. It's made with cauliflower cheese sauce and is oil free so its low in calories and yet comforting.
Ingredients
6

large

gold potatoes

(peeled and thin round sliced)

2

cups

vegetable broth

1-1 1/2

tsp

salt

1/2

tsp

crushed black pepper

1 1/2

cups

cauliflower florets

(blanched/steamed/boiled and drained)

2

cups

unsweetened coconut milk

1/4

cup

nutritional yeast

1

tsp

garlic powder

1

tsp

onion powder

2

tsp

cornstarch

2

tbsp

chives/parsley

(to garnish)
Instructions
Preheat oven at 350-degree Fahrenheit. Combine sliced potatoes and vegetable broth in a Dutch oven. Place it on the stove to and turn on the flame at high-medium heat. Add 1/2 tsp salt and black pepper and gently mix with a flat spatula. Evenly spread the potatoes thought out the Dutch oven. Cover and cook for 5-7 minutes or until potatoes start to soften.

In the meanwhile, in a blender, combine cauliflower florets, nutritional yeast, garlic powder, onion powder, coconut milk, remaining salt as per taste and cornstarch and blend it smooth.

Now, pour the cauliflower cheese sauce over the cooked potatoes evenly.

Turn off the flame and place your Dutch oven in the middle rack of the oven without the lid. Bake it for 30 minutes and turn it off. Take it out and place it on a flat surface. Garnish and serve hot.
Notes
If you do not have Dutch oven you can simply cook the potatoes in vegetable broth in a stock pot or a saute pan. Then, spoon it out in a greased baking dish evenly spreading the potatoes in the baking pan. Then pour the cauliflower cheese sauce over it and bake for 30 minutes. Turn it off and garnish and serve.
Oat milk also works well in this recipe but do not use canned coconut milk or else the coconut flavor will overpower the dish.
Nutrition
Calories:
222
kcal
|
Carbohydrates:
45
g
|
Protein:
7
g
|
Fat:
2
g
|
Saturated Fat:
25
g
|
Sodium:
1388
mg
|
Potassium:
1566
mg
|
Fiber:
10
g
|
Sugar:
8
g
|
Vitamin A:
250
IU
|
Vitamin C:
72
mg
|
Calcium:
58
mg
|
Iron:
4
mg