This protein rich vegan Lentil Shepherd's Pie is packed with flavors. Its topped with cauliflower and is low in carbohydrates. It's the ultimate comfort food with a healthier twist because its oil free too.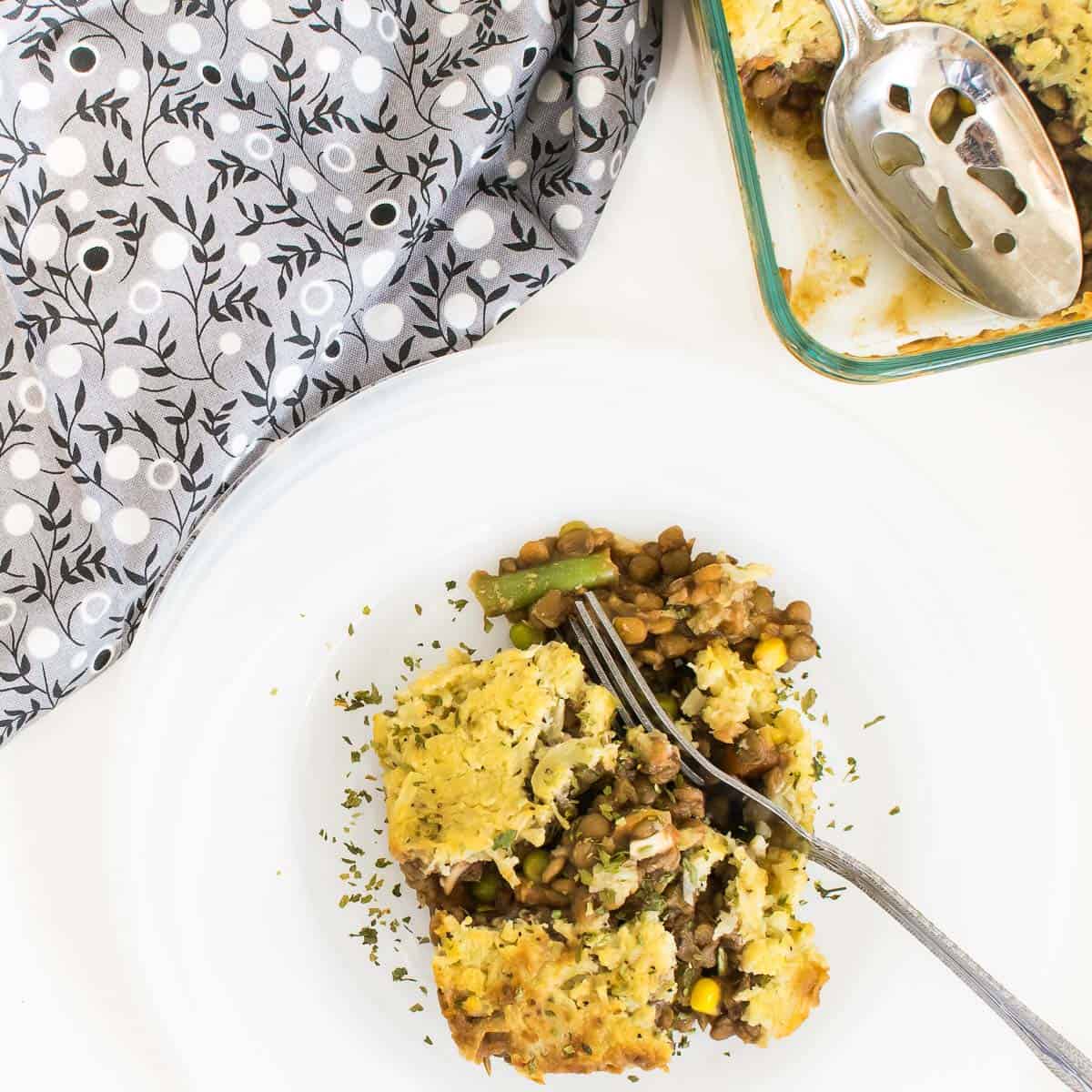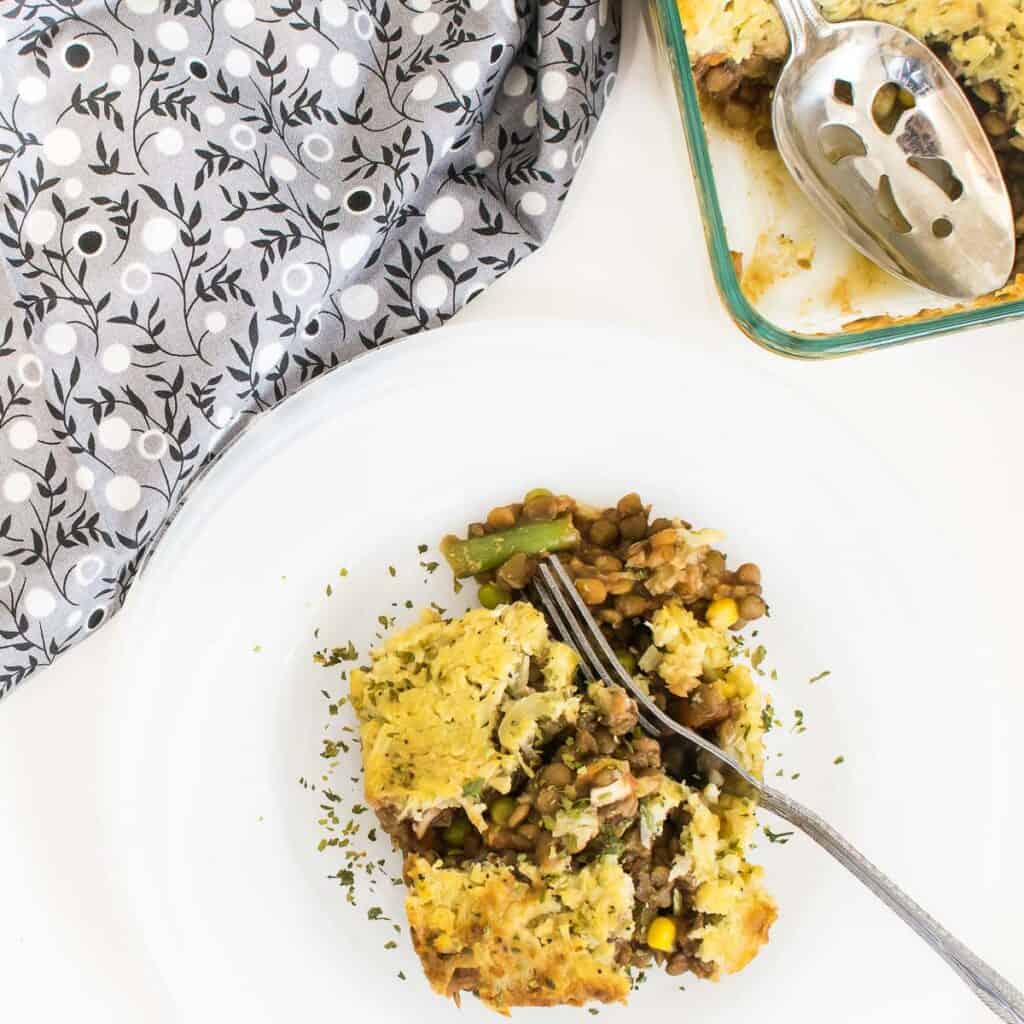 Its protein packed for sure because this dish has the goodness of lentils. It is low in carbohydrates because I have used cauliflower as the toppings instead of potatoes. I agree lentils have carbohydrates but they are the good complex carbohydrates. It is high in fiber because of the veggies. It is delicious because of the mind-blowing seasoning. Overall, this is the ultimate dish that must be presented on your thanksgiving dinner table.
I have eaten vegan shepherd's pie at a friend's place long time back and we loved it. I was amazed at how nutritious yet satisfying it can be. However, I tried it myself this year. I must say, we all loved my version and my interpretation of this dish.
This month I have been making it quite frequently. So, after my family was 100% satisfied with its taste and the final product, I am here to share this recipe of lentil shepherd's pie.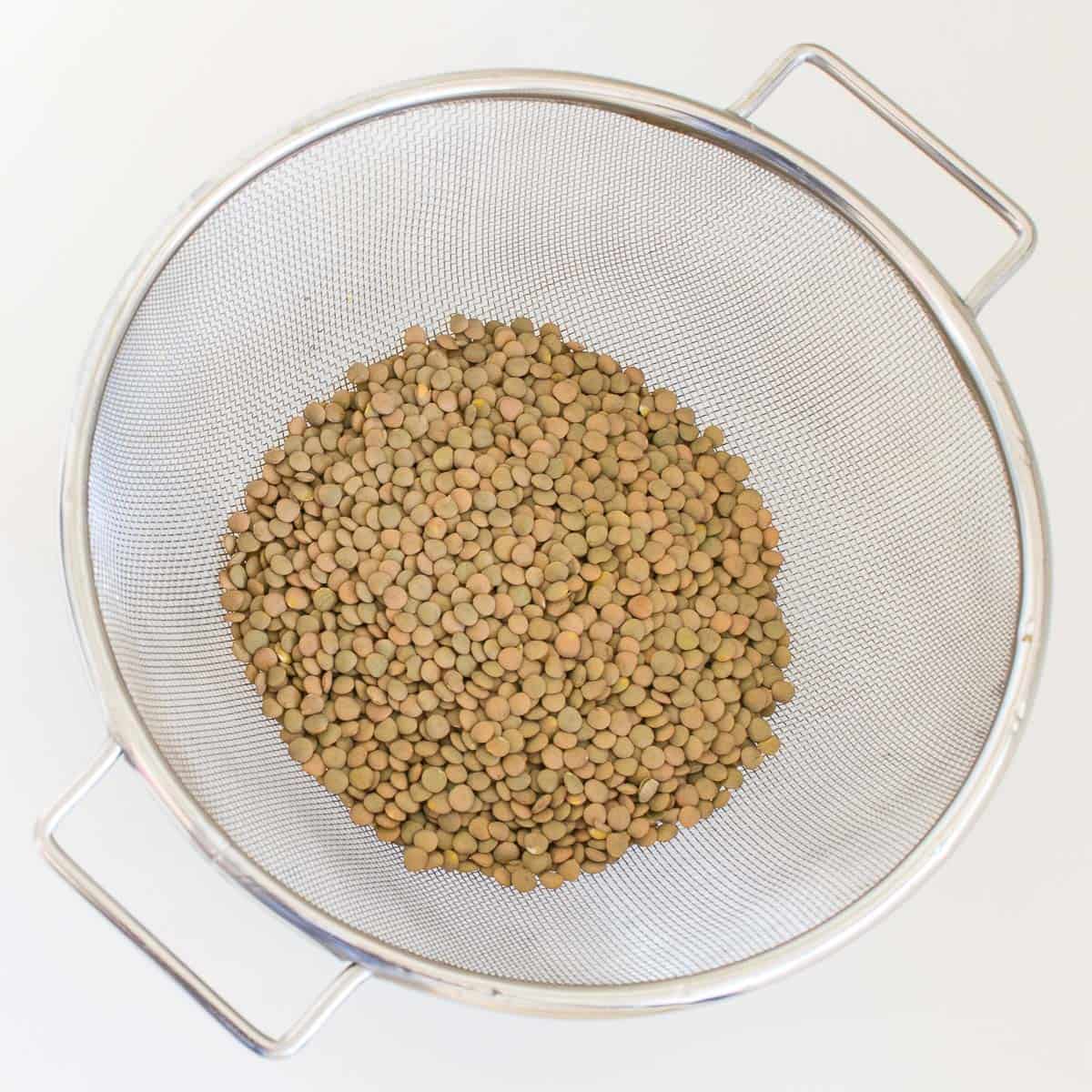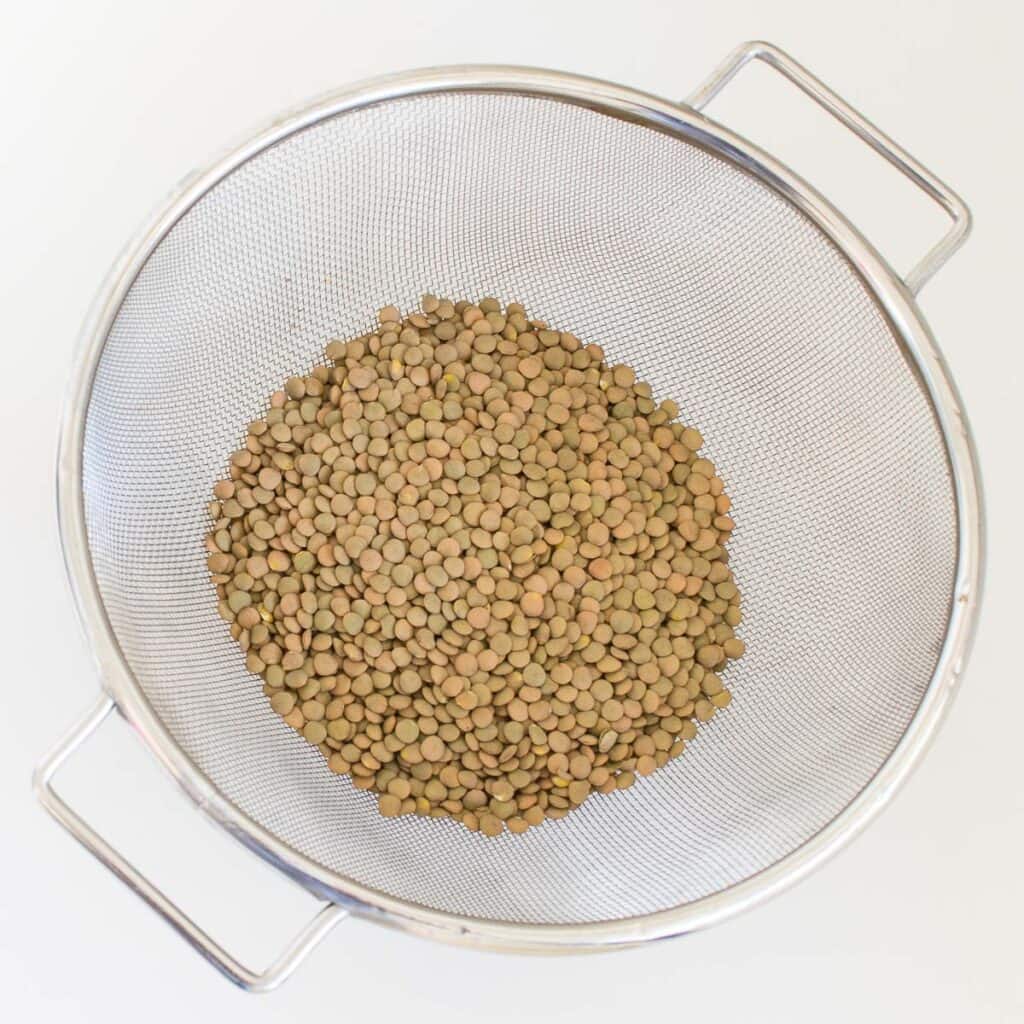 Ingredients you will need
For the lentils
Green lentils
Water
Vegetable stock
Mushrooms
Frozen mixed vegetables
Canned crushed tomatoes
Garlic powder
Onion powder
Sat
Pepper
Cayenne
Italian seasoning
For the topping
Cauliflower
Water to boil
Salt
Nutritional yeast
Garlic powder
Pepper
Parsley
Dairy free milk
I have used easily available ingredients in this recipe which you may buy from any local grocery store. However, I have provided links to few of them for your convenience.
If you plan to buy form these affiliate links then I get a small commission which in turn encourages me to bring in more delicious recipes for you all.
Ingredients notes:
Green lentils: I used specifically green lentils because this worked out best in this recipe as compared to other lentil varieties. It was easier to handle and cooks faster. This in turn encourages you to buy raw lentils and cook it without oil. Its is rich in fiber, protein, good carbs and good fats. Overall, this is the star of the recipe.
Vegetable stock – since I made this oil free and used raw lentils. I needed a base to cook the lentils and yet make it equally flavorful. Therefore, vegetable stock plays a vital role here.
Mushrooms – this adds vitamin D along with a chewy texture.
Mixed vegetables – this adds to more fiber and nutrition plus a mild sweetness to balance out the strong lentil taste.
Crushed tomatoes – I used this to give a nice tang. However, I used a canned one which has only one or two ingredients. Make sure to not buy the flavored or sweetened one because we want to control the calories and keep the nutrition level in check.
Cauliflower florets – to make it healthier and low carbohydrate, I used cauliflower and mashed along with its seasoning. Trust me this taste as good as the traditional one.
Nutritional yeast – this adds to a lot of flavor to the cauliflower topping.
I assure you that this vegetarian shepherd's pie tastes as good as the traditional one and you won't even realize that's its healthy, oil free and made with mashed cauliflower.
How to make Lentil Shepherd's Pie
Firstly, in a stockpot, I combined lentils, water and vegetable stock and cooked covered at high flame until they were soft.
Secondly, I tossed in mushrooms and let it cook until the water was all absorbed.
Then, I mixed in rest of the lentil ingredients and mixed it well.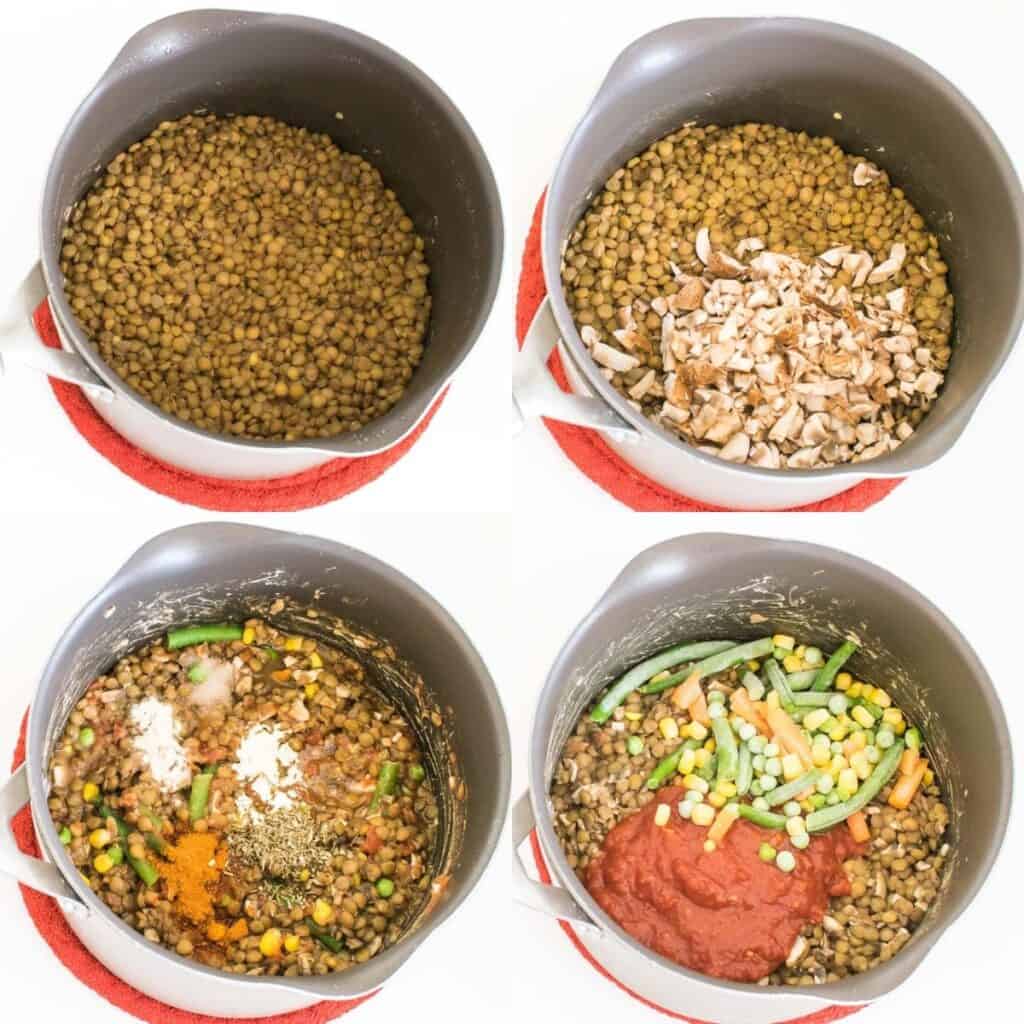 Thereafter, I boiled cauliflower florets in water. Once they were soft and mushy, I drained all the water.
Afterwards, I mashed in rest of the topping ingredients with it.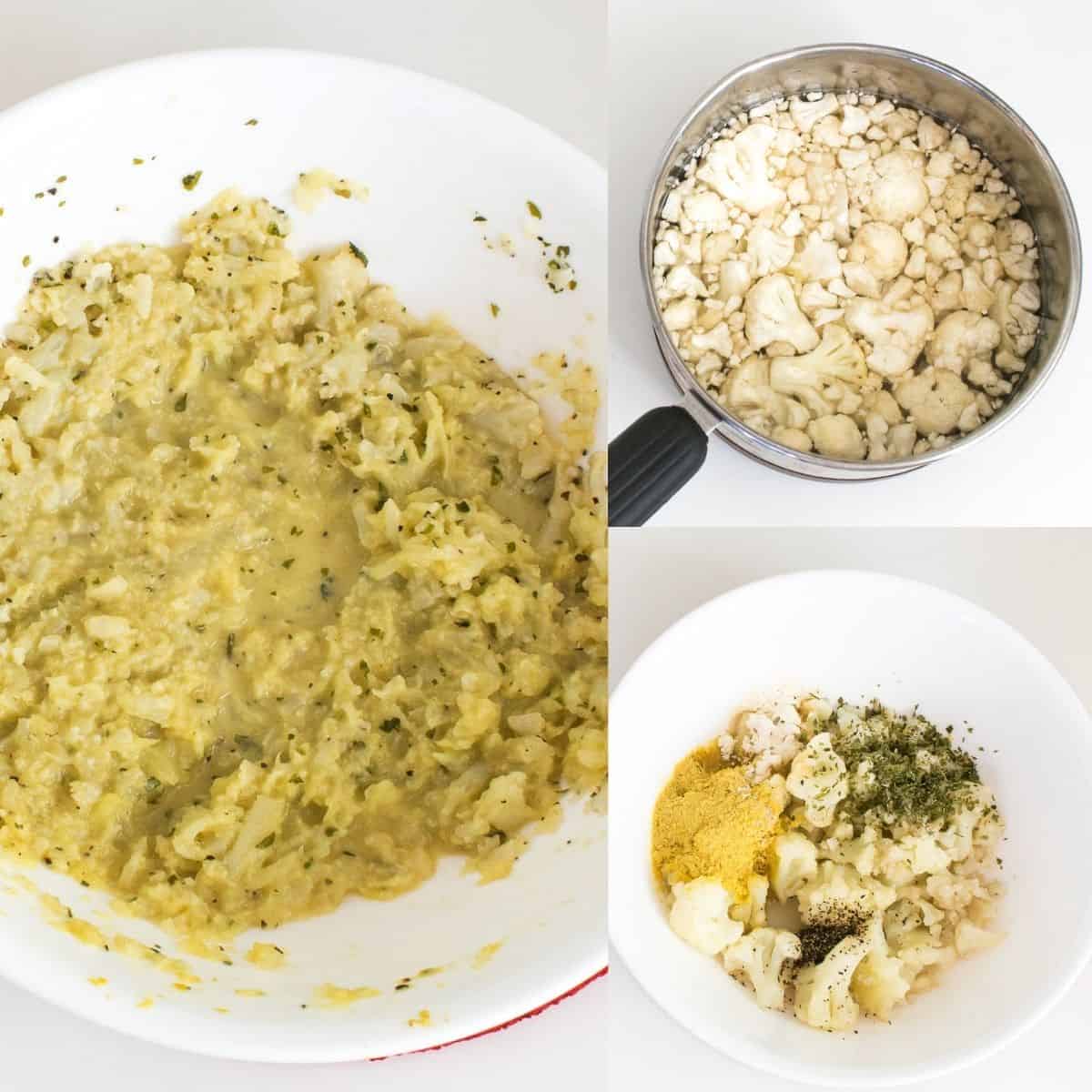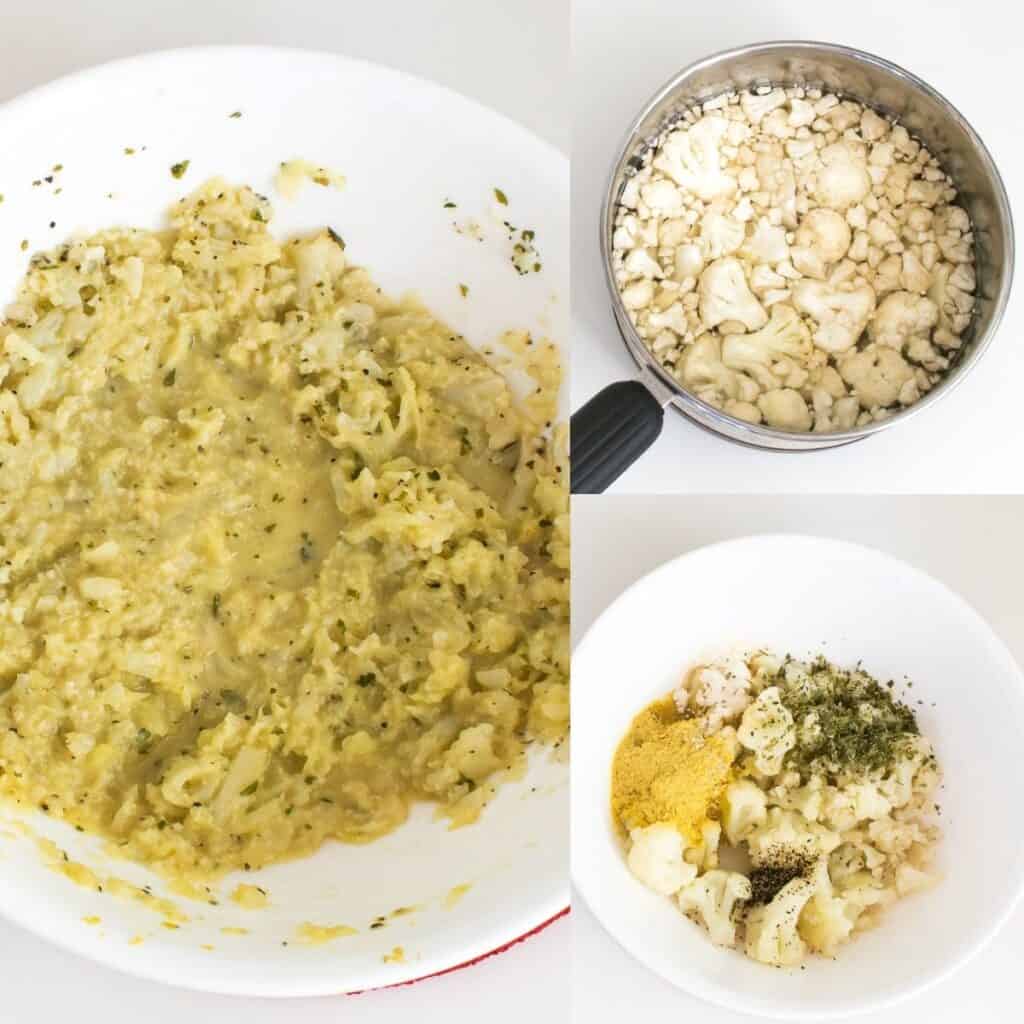 Now, I spooned out the lentils in the prepared baking dish and spread it evenly.
Later, I spooned out the mashed cauliflower on the lentils as topping in the baking dish and roughed it up with fork.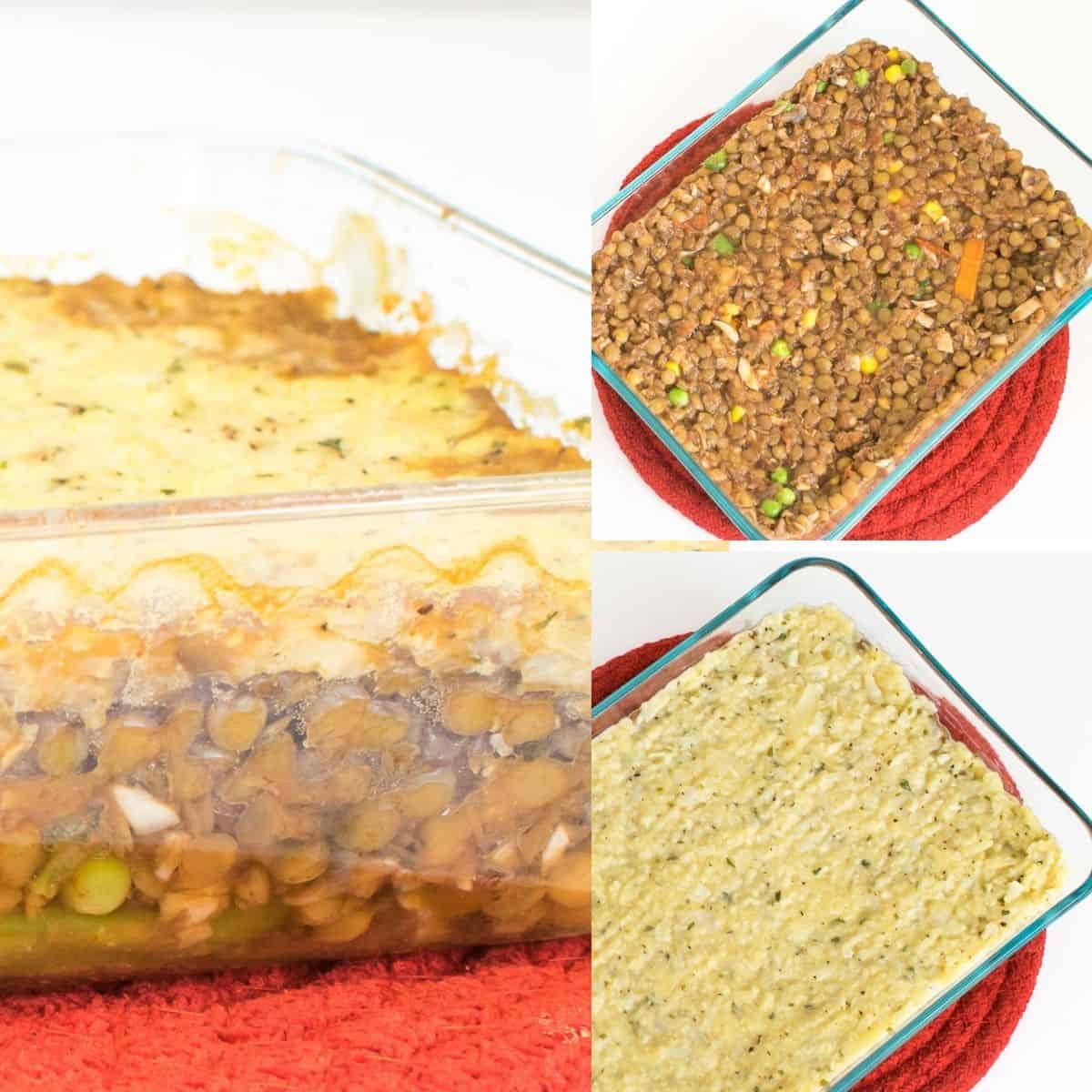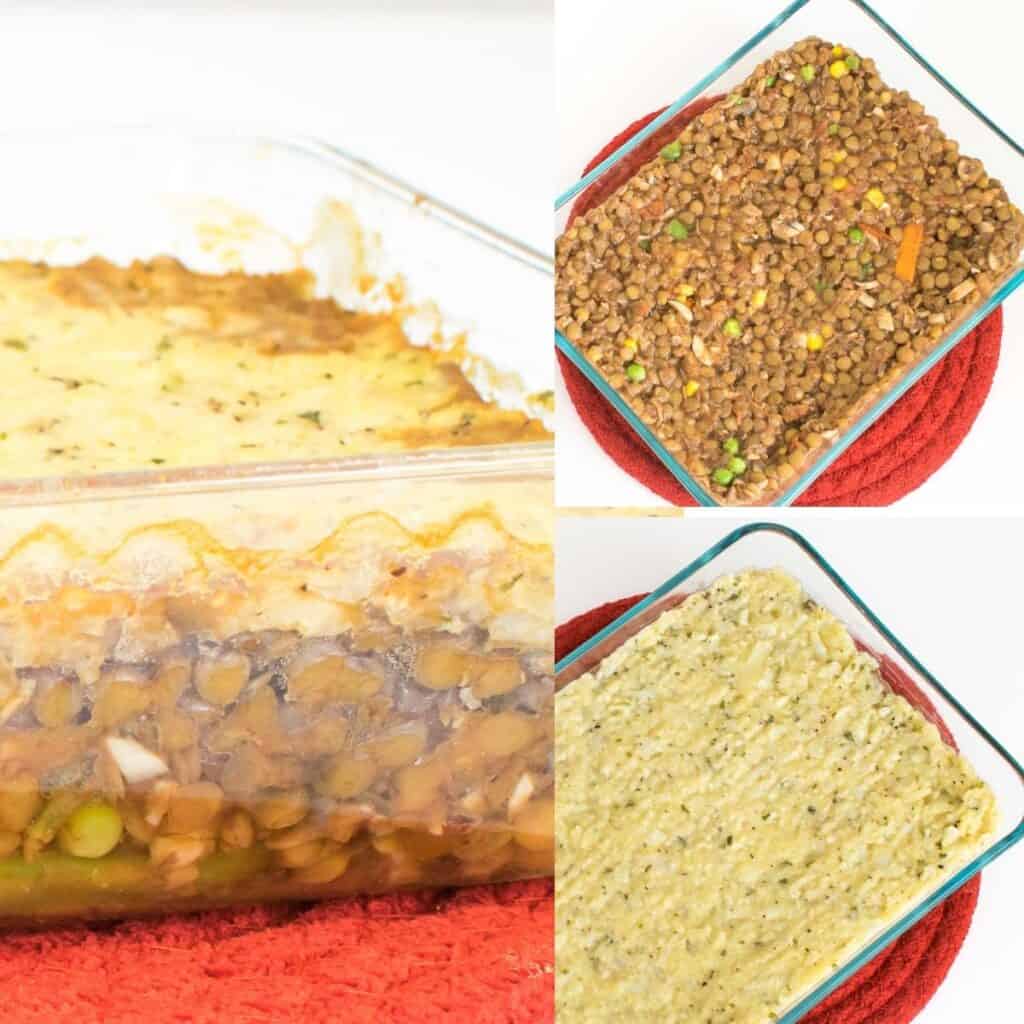 Then, I baked it in the pre-heated oven for 30 minutes or until it was golden brown.
Lastly, I turned it off and placed the baking dish on a flat surface. Then, I spooned it out the serving on the plate.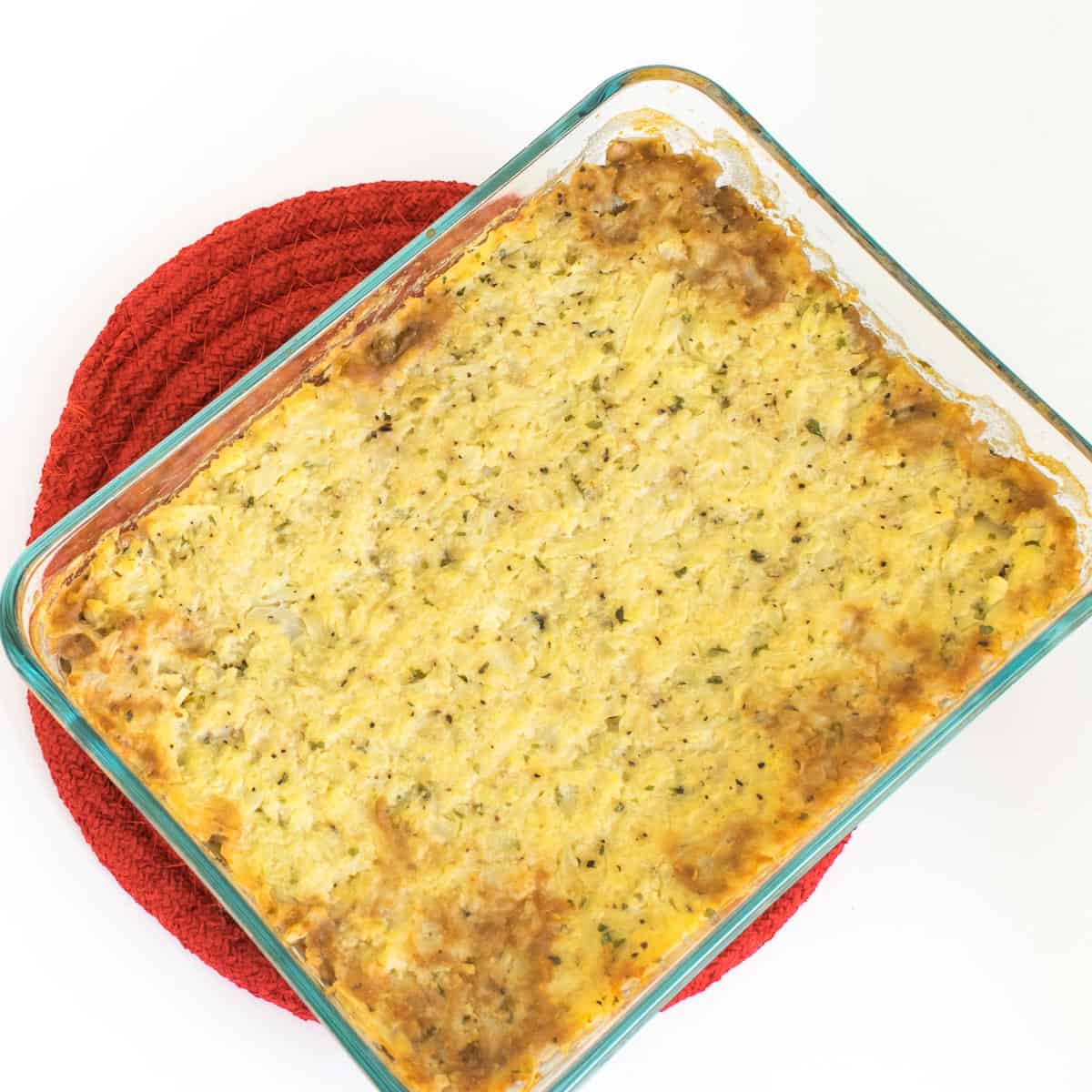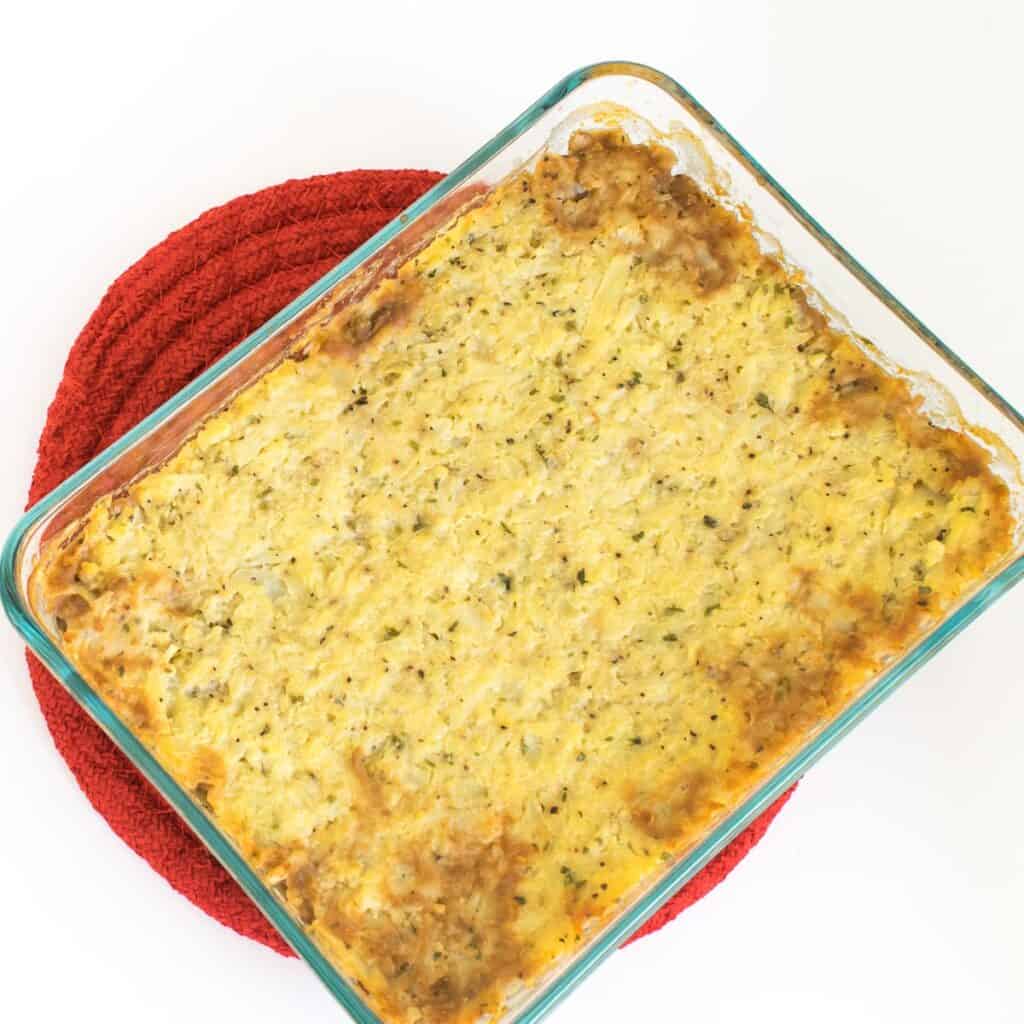 We all enjoyed this shepherd's pie heartily and happily. Our tummy was full but we still wanted more and more.
Expert tips:
To save time start cooking the lentils as per directed in the steps. In the meanwhile, you may start boiling cauliflower in the saucepan on another stove so you can get the lentils and the toppings ready almost at the same time.
If after adding milk to the cauliflower, it still has liquid, let it be. Pour that liquid along with the topping on the lentils. It will all dry up and get absorbed while baking.
It is important to note that if you plan to rough up the topping with a fork, gently draw lines only the top without pressing it because we do not want to disturb the entire dish from the bottom.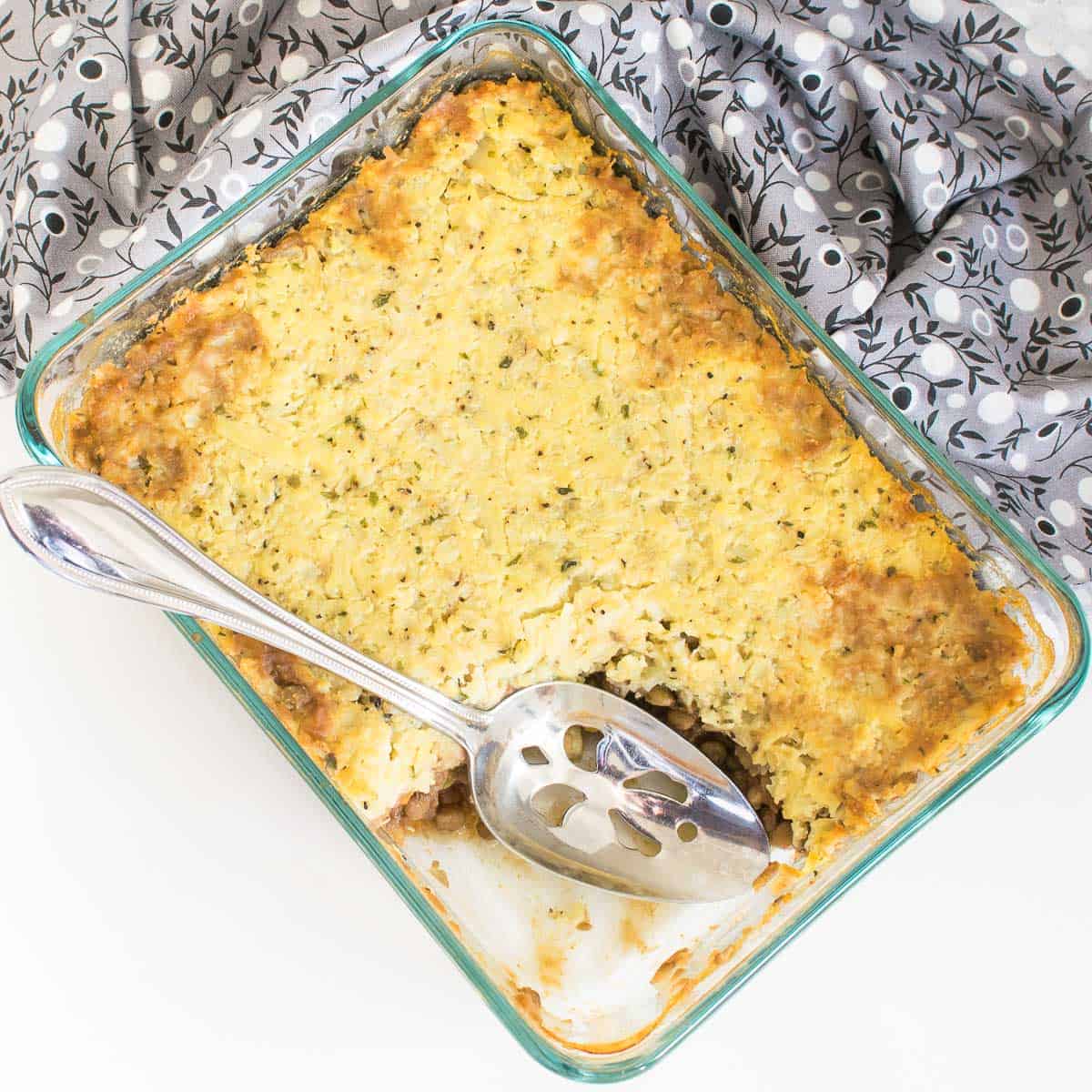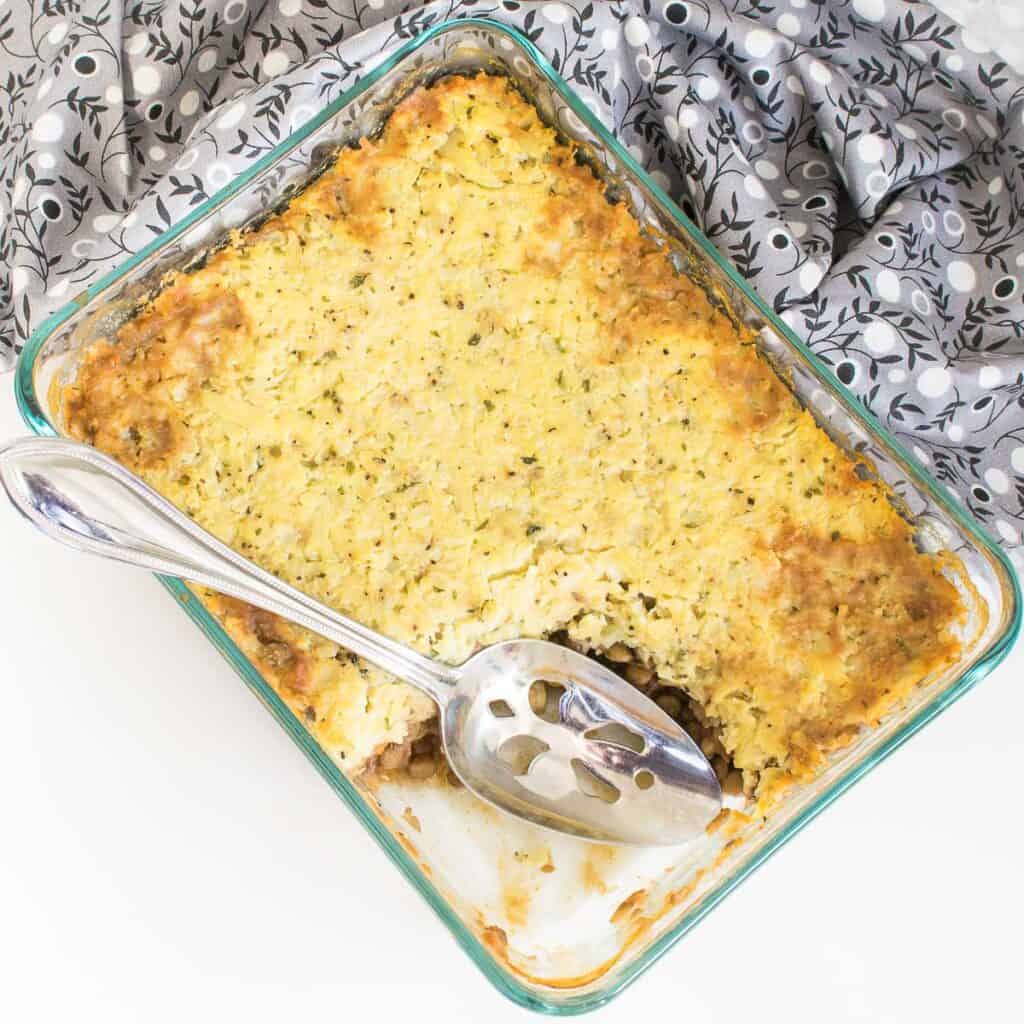 Lentil Shepherd's Pie FAQs
How long does it last?
This tastes best when served immediately after baking. However, leftovers can be refrigerated for over a week. Re-bake it and serve.
How can I prep ahead of time?
You may make the lentils as per the instructions. Spoon it in the baking dish and refrigerate in the baking dish itself with a cover for about a week if desired. Whenever ready simply take it out of the refrigerator and bring it room temperature. In the meanwhile, make the topping and then bake this dish as described in the recipe card.
Is it healthy?
Yes, lentils are high in protein and fiber. Lentils also have other vitamins and nutrients. Cauliflower is a vegetable with many health benefits and is very low in calories and carbohydrates. I have made it oil free so we save on some fats along with calories and other vegetables in it adds to its taste and health. Overall, it is a desirable healthy dish for all ages.
What can I pair it with?
You may pair it with some simple side salad or with some breads, dinner rolls, cornbread.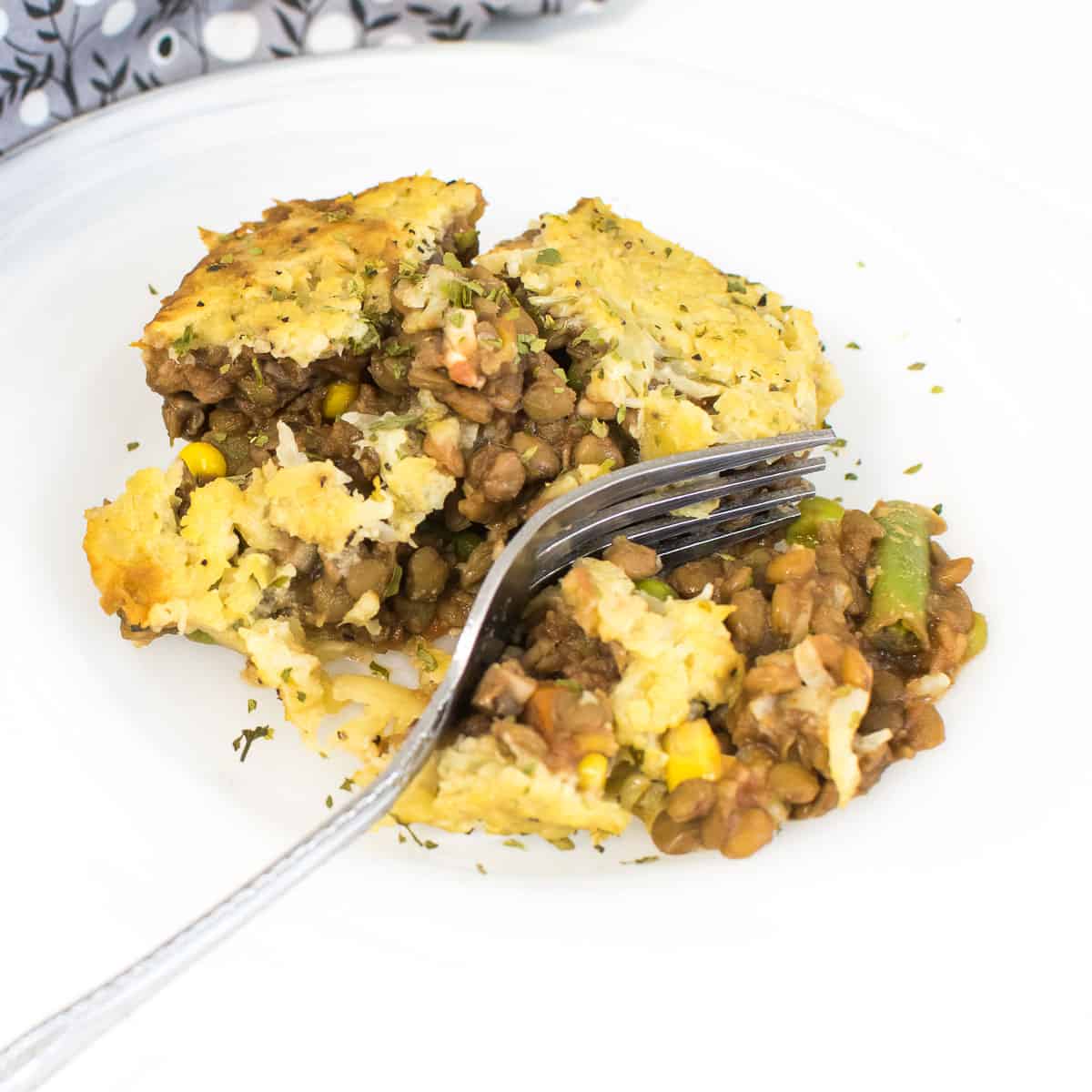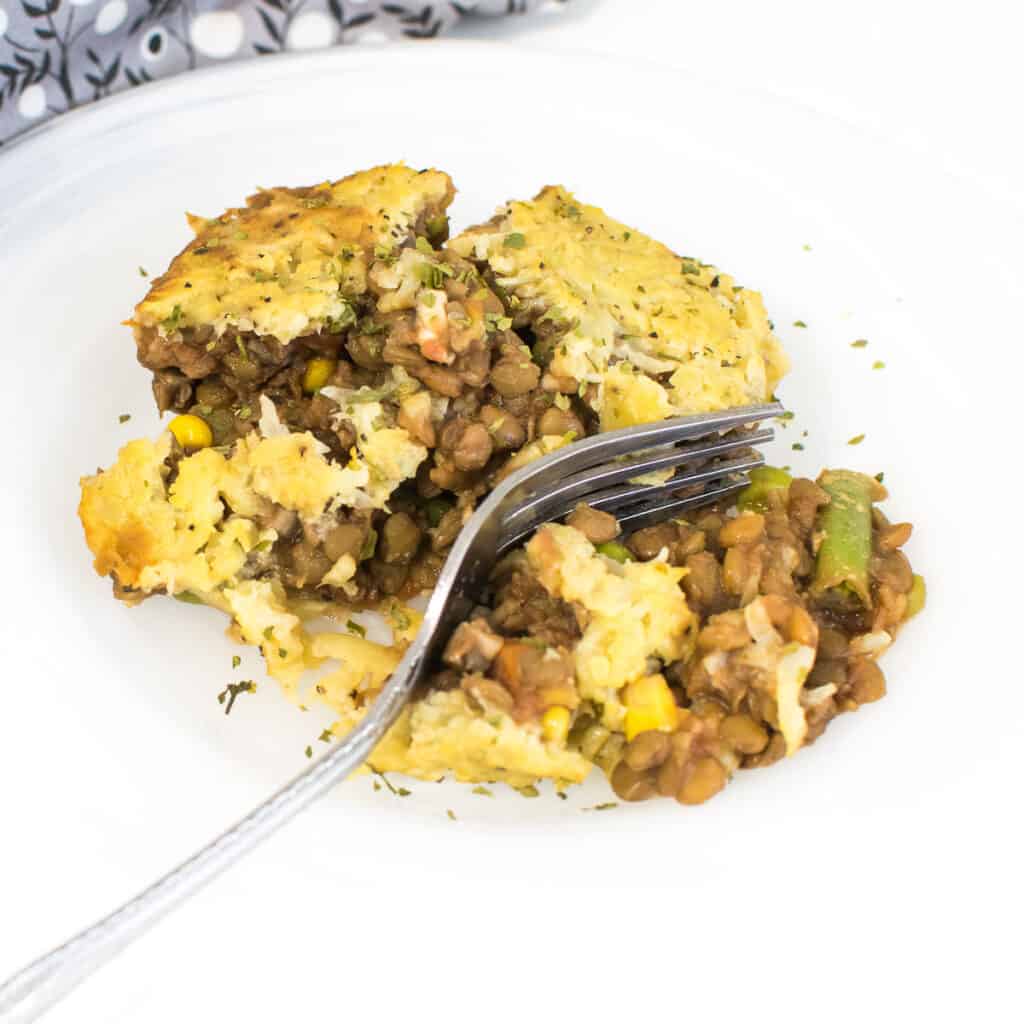 You may also like:
Vegan Pot Pie with Chickpea Flour Biscuits
Vegan Sweet Potato Casserole
Green Bean Casserole
Nut Free Vegan Scalloped Potatoes
Did you make it?
If you get a chance to make this recipe then please leave your feedback in the comments below along with the ratings. In addition, you may tag @kiipfit on Instagram with your recipe images because we would love to see what you cooked.
If you desire to explore more delicious recipes of mine then you may checkout my cookbooks.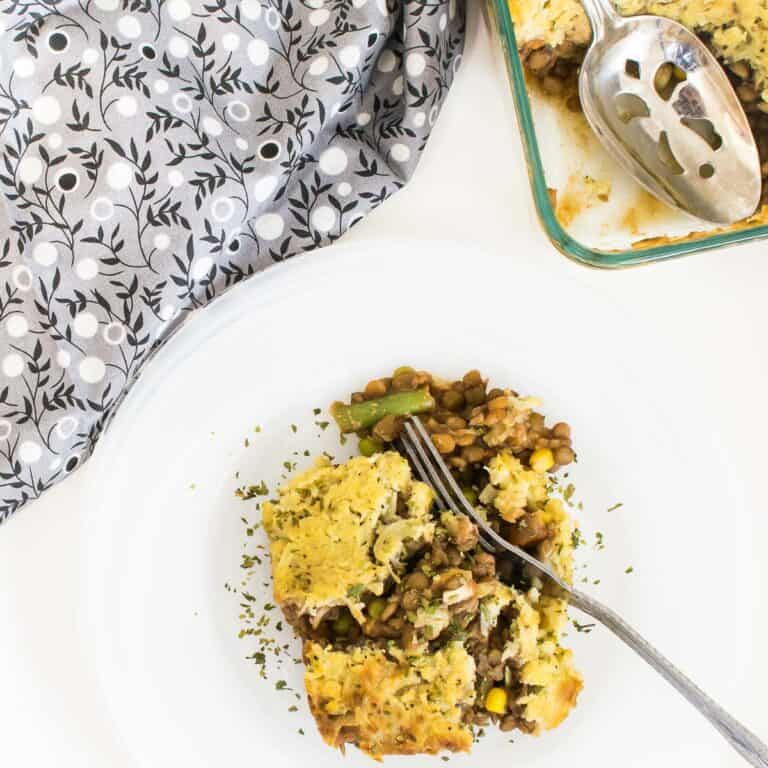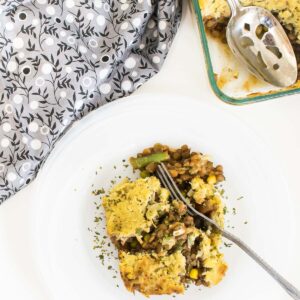 Print Recipe
Lentil Shepherd's Pie
This protein rich vegan Lentil Shepherd's Pie is packed with flavors. Its topped with cauliflower and is low in carbohydrates. It's the ultimate comfort food with a healthier twist because its oil free too.
Instructions
Preheat oven at 400-degree Fahrenheit and prepare an 8-inch baking dish. In a stockpot combine lentils, water and vegetable stock. Let it cook covered at high flame until the lentils are almost soft and water is almost absorbed.

Toss in mushrooms and cook covered again at medium-high flame for 3-4 minutes or until the water is absolutely absorbed.

Now, add mixed vegetable and crushed tomatoes andsauté for 1-2 minutes.

Now add garlic powder, onion powder, salt, crushed black pepper, cayenne pepper, Italian seasoning. Mix well and turn off the flame.

Now, spoon it out in the prepared baking dish and spread it out evenly with a spatula.

Now, combine cauliflower florets in a saucepan and cover it with water. Let it boil uncovered for 5-10 minutes or until its mushy. Turn it off and drain the water.

Now, add all rest of the ingredients of the toppings to the boiled cauliflower and mash it smooth with a food masher.

Add the mashed cauliflower as the top layer and evenly spread it. Then, rough the cauliflower a bit with a fork. (do not press it too much).

Now, bake it in the middle rack of the oven for 30 minutes or until the top is golden brown. Turn it off, take it out and place the baking dish on a flat surface. Spoon it out and serve immediately hot.
Notes
While boiling cauliflower just make sure that the water covers each floret.
After mashing cauliflower there might be some liquid at the bottom which you should pour it over the lentils because it will all dry up and add lots of flavors.
The leftovers can be refrigerated for about 1 week.
I have used dry green lentils in this recipe since I wanted to make it from scratch. Make sure to rinse it well before cooking.
Nutrition
Calories:
172
kcal
|
Carbohydrates:
28
g
|
Protein:
12
g
|
Fat:
1
g
|
Saturated Fat:
1
g
|
Sodium:
508
mg
|
Potassium:
283
mg
|
Fiber:
3
g
|
Sugar:
2
g
|
Vitamin A:
1463
IU
|
Vitamin C:
28
mg
|
Calcium:
45
mg
|
Iron:
1
mg