Cheesy Lentil Quinoa Vegan Casserole is loaded with protein and packed with lots of cheese. Bedsides everything else, my favorite part of this dish is that it is absolutely oil free.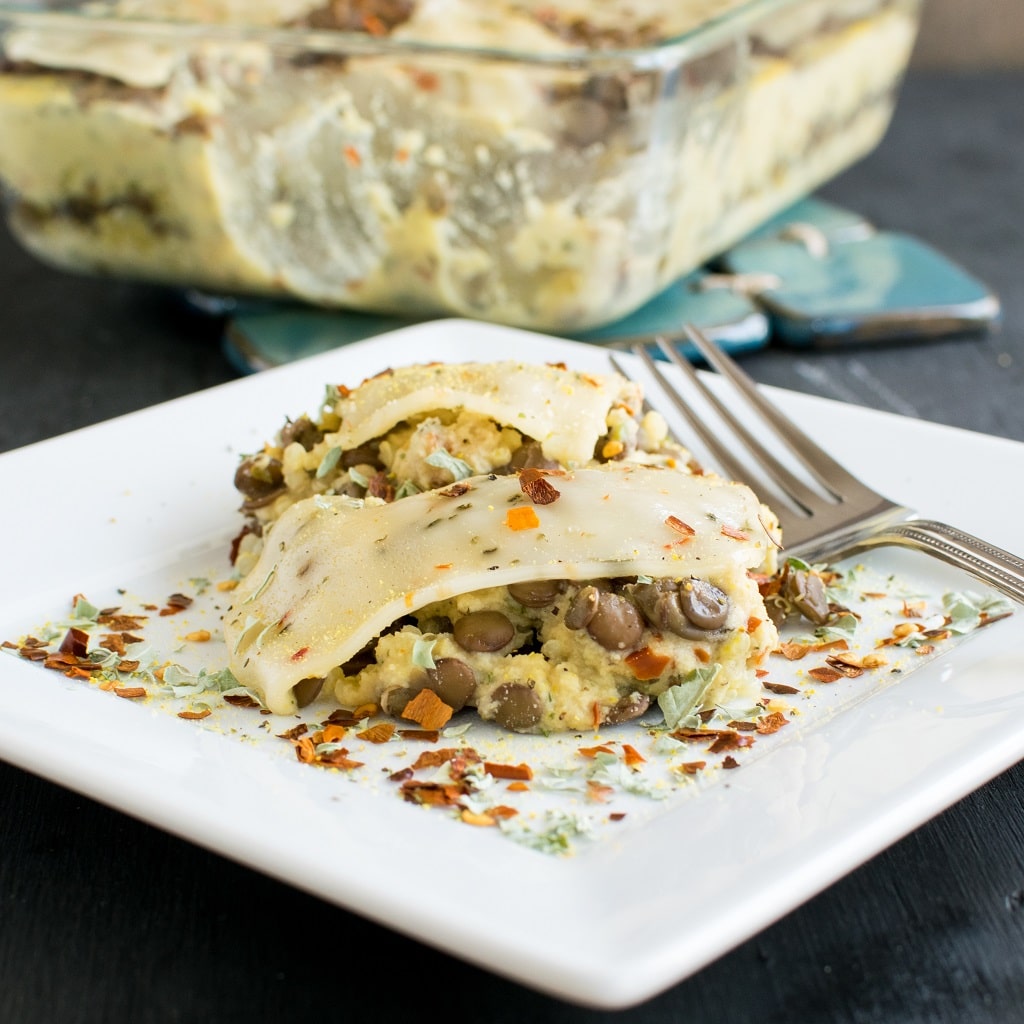 We are kicking our dinner up a notch with creamy coconut sauce, green lentils, fluffy quinoa and lots of lots of vegan cheese, all in just one dish.
Well, I love cheese so my intentions are mostly to include cheese in as many dishes as possible. Cheese enhances the flavor and the creamy texture of any dish.
Moreover, cheese always makes me want to eat the entire dish happily and heartily.
Recently, while experimenting and remaking few of my dishes I learnt to make oil free recipes.
So, in the process I also came up with the usage of leftover lentil water .
Hence, I used it to saute anything or to add to the thickness of the gravy instead of plain water. That way I add more nutrition and protein to the food and save on few extra calories.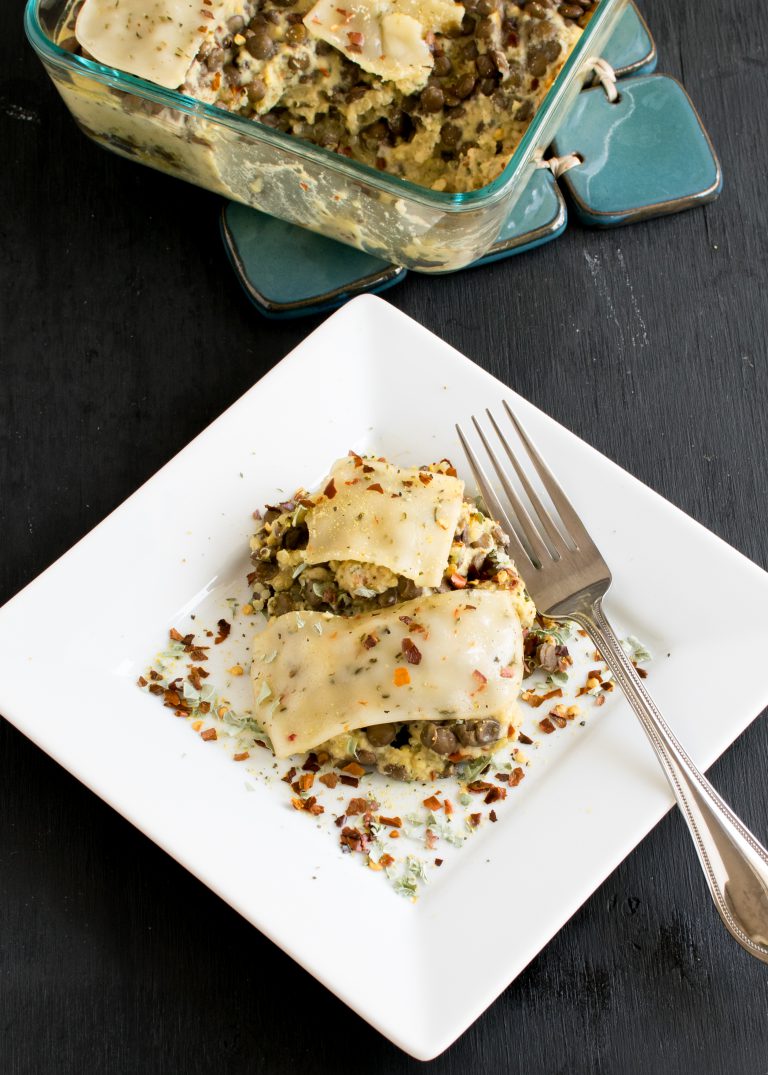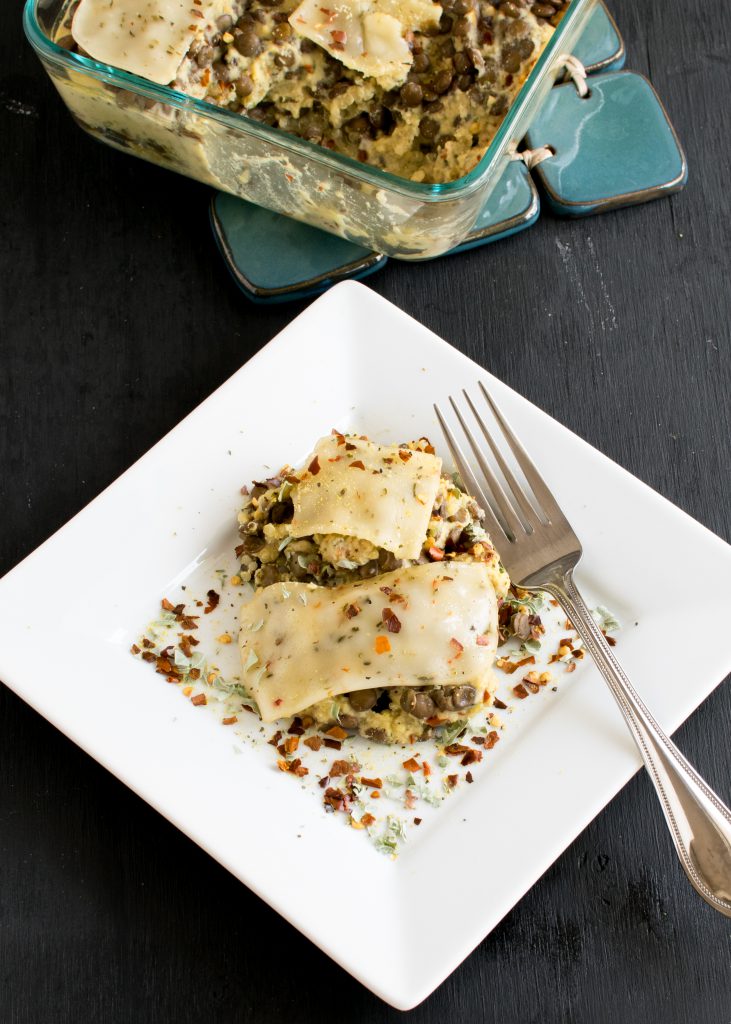 This Cheesy lentil Quinoa Vegan Casserole dish is not only nutritious but it's a plant power meal. It's flavorful and can be refrigerated for a week.
So, it's perfect for meal prep or just hectic weekdays when you don't get enough time to cook.
Just assemble the ingredients in a baking dish. Later, bake and devour. Or else, bake and refrigerate. Then eat it as and when desire. I prefer the latter, where I just have to warm the food and enjoy my meals.
The only thing left is cleaning up the dishes. But if the meals are already prepared then there's hardly any dishes in the kitchen and of course no mess at all. That's …..Happy Me!!!!
How to make Cheesy Lentil Quinoa Vegan Casserole
Firstly, I heated a nonstick saucepan and warm up the coconut milk. Then, I added coconut flour while stirring continuously to avoid any lumps. Subsequently, I added the rest of the coconut sauce ingredients and kept it aside.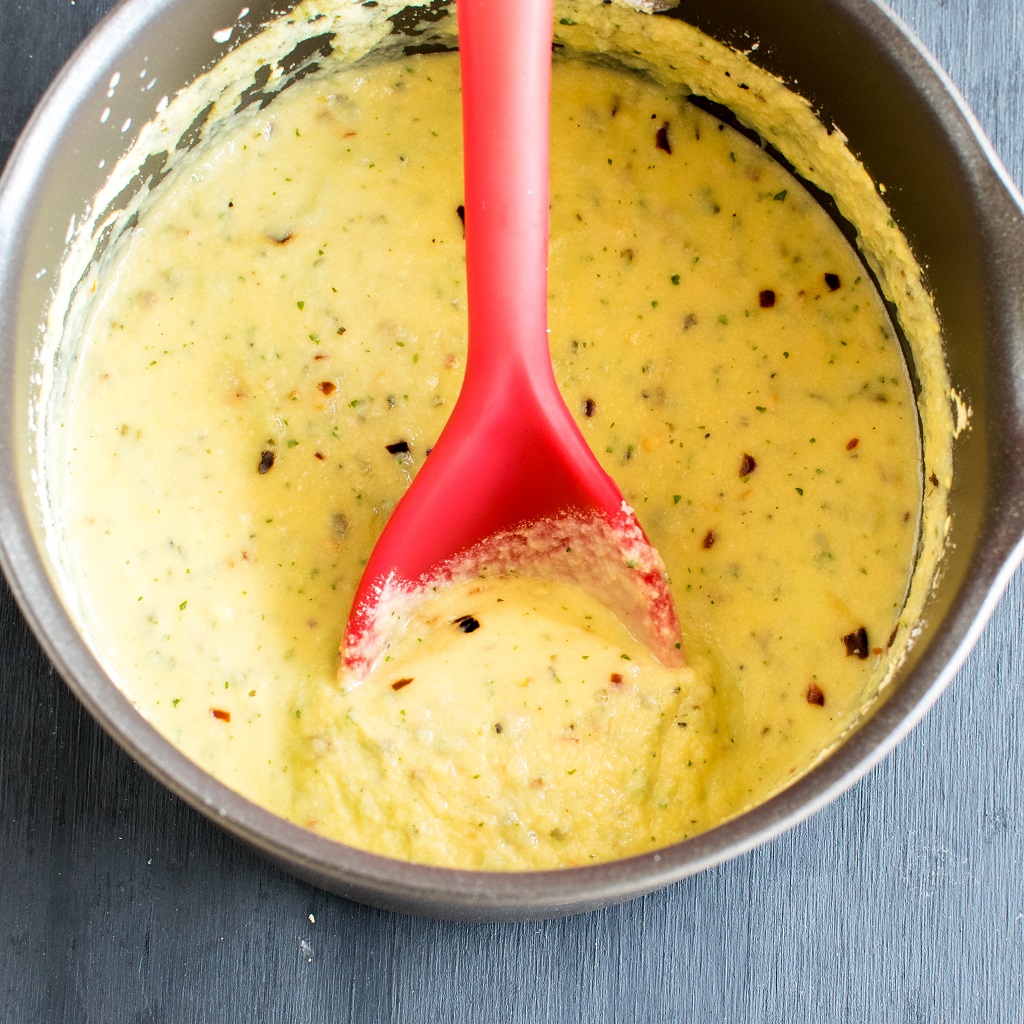 Secondly, I started layering all the ingredients in a baking dish. I poured little coconut sauce as the first layer, followed by quinoa and then lentils.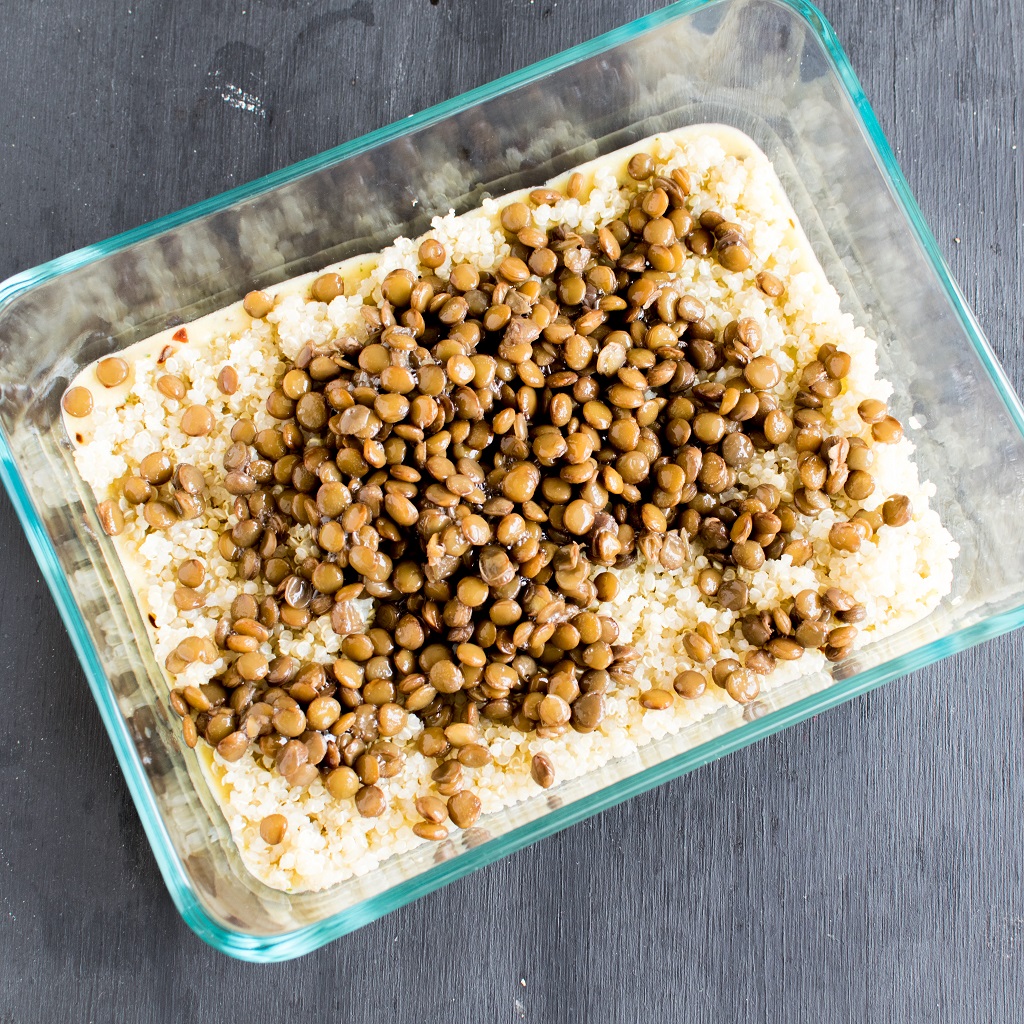 Lastly, I topped it with vegan cheese slices.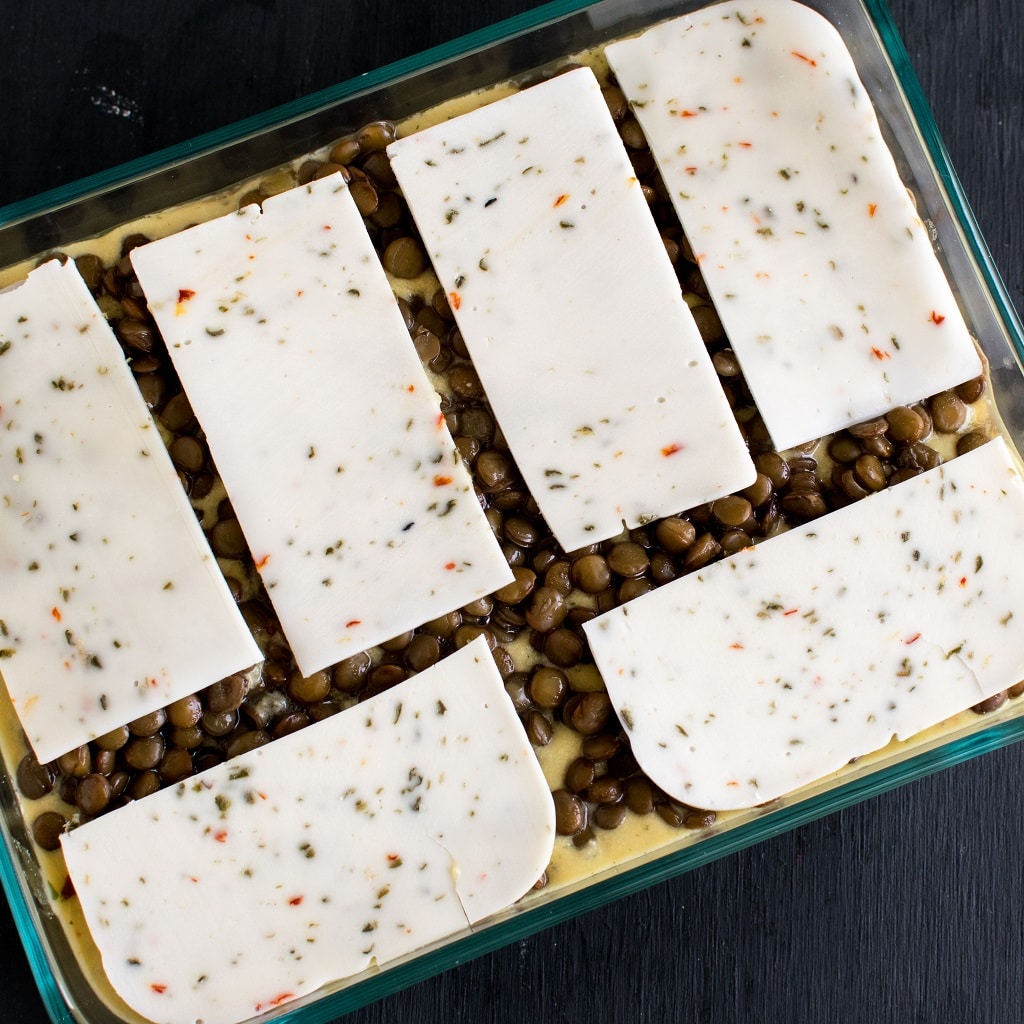 Later, I placed the baking dish in a preheated oven and baked for about 35 minutes or until the cheese started to melt.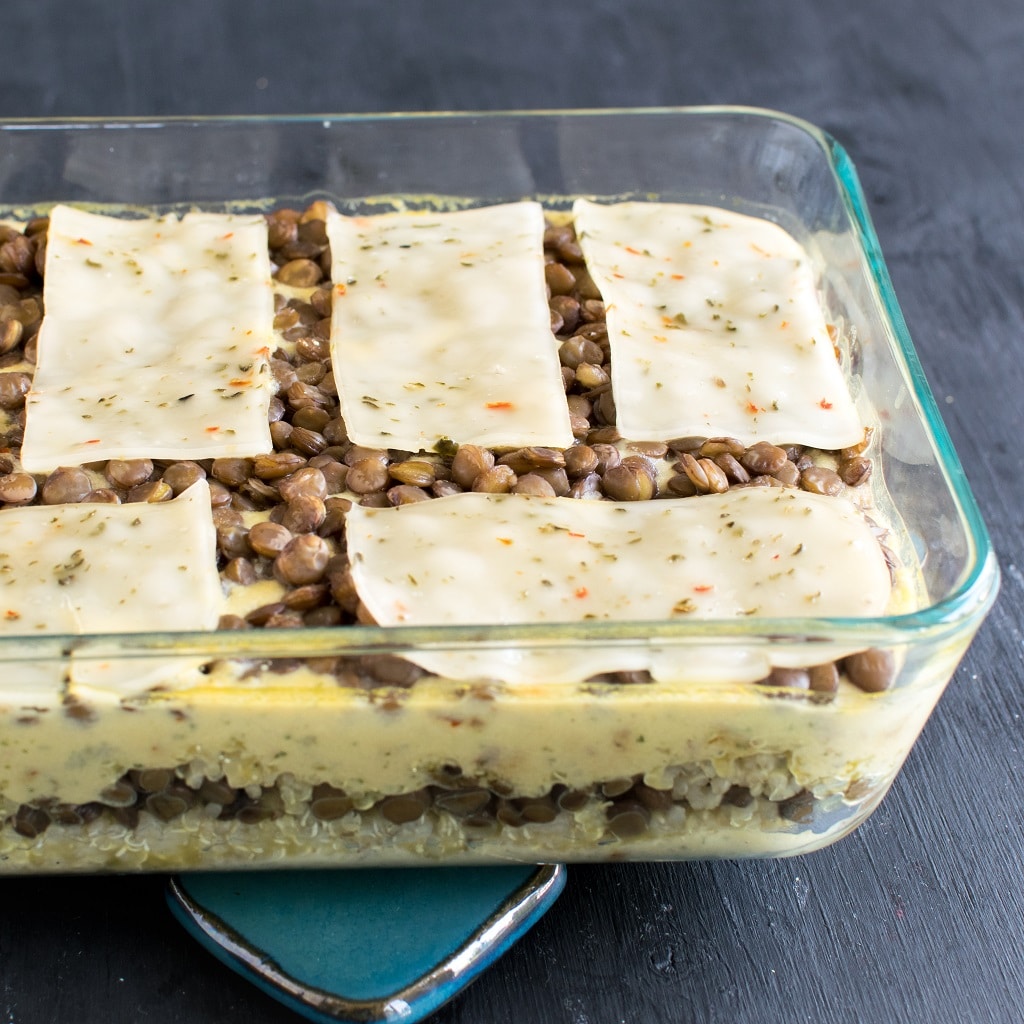 I am drooling while writing and I think I am about to make another batch of this casserole right away and refrigerate it for the entire week 🙂
Health benefit of lentils
Lentils – Apart from being high in protein it's also helpful in promoting good health. Lentils promote good heart health improves digestive system, helps in lowering cholesterol and promotes weight loss.
You may also like:
Instant Pot Herbed Masala Lentil Curry
Sriracha Lentil Cheese Sandwich
Lentil Broccoli Breakfast Cutlets
One Pot Jackfruit Quinoa Pilaf
Habanero Parsley Tofu Curry Casserole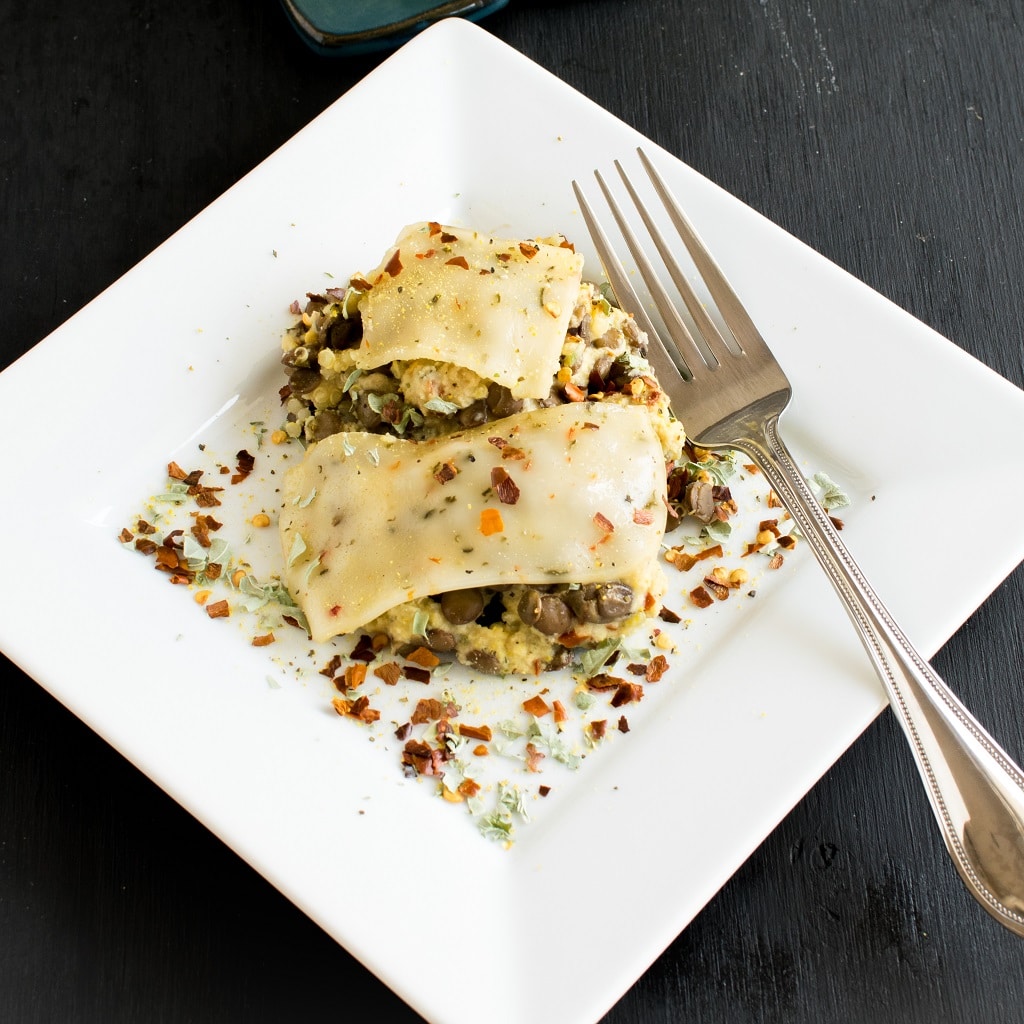 Did you make it?
If you get a chance to make this recipe then please leave your feedback in the comments below along with ratings. In addition, you may tag @kiipfit on Instagram because we love to see what you cooked.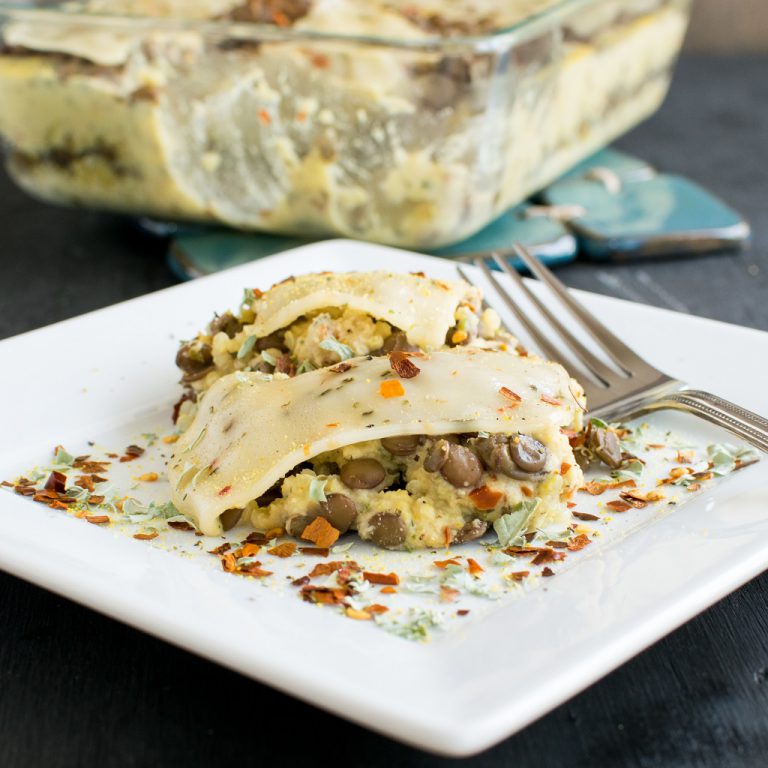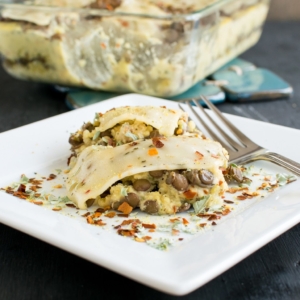 Print Recipe
Cheesy Lentil Quinoa Vegan Casserole
Cheesy Lentil Quinoa Vegan Casserole is loaded with protein and packed with lots of cheese. Bedsides everything else, my favorite part of this dish is that it is absolutely oil free.
Ingredients
For the coconut sauce
2

cups

unsweetened coconut milk

(cartoon/tetra pack)

1/2

cup

coconut flour

1/4

cup

nutritional yeast

1

tbsp

dried oregano

1

tbsp

dried basil

1

tbsp

crushed chili flakes

1

tsp

lemon pepper seasoning

1/2

tsp

salt or as per taste

1/4

tsp

sugar

1/2

tbsp

lemon juice

1/4

cup

leftover lentil water

(see notes)
For the casserole
1 3/4

cup

cooked quinoa

1 3/4

cup

cooked green/brown lentils

(boiled and drained)
Instructions
Heat a sauce pan and pour coconut milk. Add coconut flour and stir continuously until no lumps.

Lower the flame and add nutritional yeast. Stir well until well blended.

Add oregano, basil, crushed pepper, salt and sugar. Stir well and cook for only 30 seconds or till the first two boils on a low flame.

Turn off the flame and add lemon juice and leftover lentil water. Stir very nicely and keep it aside. Adjust the salt at this stage if required.

Preheat the oven at 400 degree Fahrenheit. Take a rectangular or square baking pan of about 8 inches.

Pour a thin layer of the cheese sauce (about ¼ cup). Place another layer of 1 cup of quinoa. Then, cover it with a layer of lentil (about 1 cup). Add another layer of ¾ cups of quinoa. Pour all the cheese sauce at this layer and spread the leftover lentil over it. Lastly, cut the cheese slices into halves and gently place them at the top.

Place the baking dish in the middle rack of the oven and let it bake for 20 minutes or until the cheese melts. ( Its OK if the cheese is not stretchy after baking).

Take it out of the oven, Garnish with some more lemon pepper and crushed chili flakes. Enjoy!
Notes
While draining lentils save its water in a bowl to use it in the coconut sauce.
Refrigerate the leftovers for about a week.
If you don't find vegan pepper jack slices you may use tomato cayenne flavored vegan cheese slices or any cheese of your choice. 
Nutrition
Calories:
235
kcal
|
Carbohydrates:
43
g
|
Protein:
16
g
|
Fat:
5
g
|
Saturated Fat:
18
g
|
Sodium:
37
mg
|
Potassium:
349
mg
|
Fiber:
7
g
|
Sugar:
4
g
|
Vitamin C:
3
mg
|
Calcium:
30
mg
|
Iron:
3
mg