This easy and flavorful Chickpeas Salad in Cilantro Dip is a protein packed vegan lunch option. Its easy, nutritious yet a satisfying meal that's made with simple ingredients.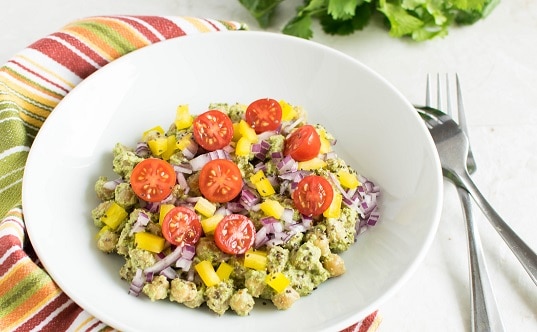 Chickpeas flavored with herbs and seasonings and tossed into a salad are my favorite meal. So healthy, protein packed and lots of fiber is what I desire right now.
Originally, Chickpeas and cilantro go very well together and make a delectable combination.
My other chickpea recipes that might interest you are:
Garlicky Sesame Chickpeas with Coconut
However, this vegan chickpea salad is absolutely outstanding and tastes wonderfully delicious.
My other salad recipes that you may like are:
This time, in my salad recipe I decided to try cilantro dip. Therefore, I followed my instincts of taste and decided on the combination. At the same time I wanted to use simple pantry staples.
Therefore, I cam up with this nutritious and wholesome chickpea salad recipe.
My family loved it and its quite regular in my house all year round. Personally, after my workout, i skip protein shake sometimes and go for this protein rich salad instead.
Hence, here I am to share this chickpeas salad recipe.
Ingredients you will need:
Cilantro
Peanuts
cumin seeds
mustard powder
garlic
ginger
onion powder
chili powder
sugar
salt
lemon juice
water
chickpeas
onion
bell pepper
cherry tomatoes
chia seeds
I have used these easily available ingredients in this recipe which you may buy from any local grocery store. However, I have provided links to few of them here for your convenience.
If you plan to buy from these affiliate links then I get a small commission which in turn encourages me to bring more delicious recipes for you all.
Ingredients notes:
Cilantro – its the main ingredient for the dip and its very similar to an Indian chutney.
peanuts – I used raw peanuts especially unsalted. You may use dry roasted but make sure its unflavored and unsalted. It can be with or without skin.
chickpeas – its a protein rich legume which forms the base of this salad. I used raw chickpeas which I soaked overnight and then boiled in a pressure cooker the next day. You may use the canned chickpeas as well here.
onion – this enhances the flavor of this salad so red onions works best here.
bell peppers – I chopped yellow bell peppers for this recipe but you may use red as well. However, green bell pepper does not pair well with this salad since we need a sweeter pepper to balance its taste in totality.
How to make chickpeas salad in cilantro dip
Firstly, I combined all the ingredients in a food processor/blender for the dip.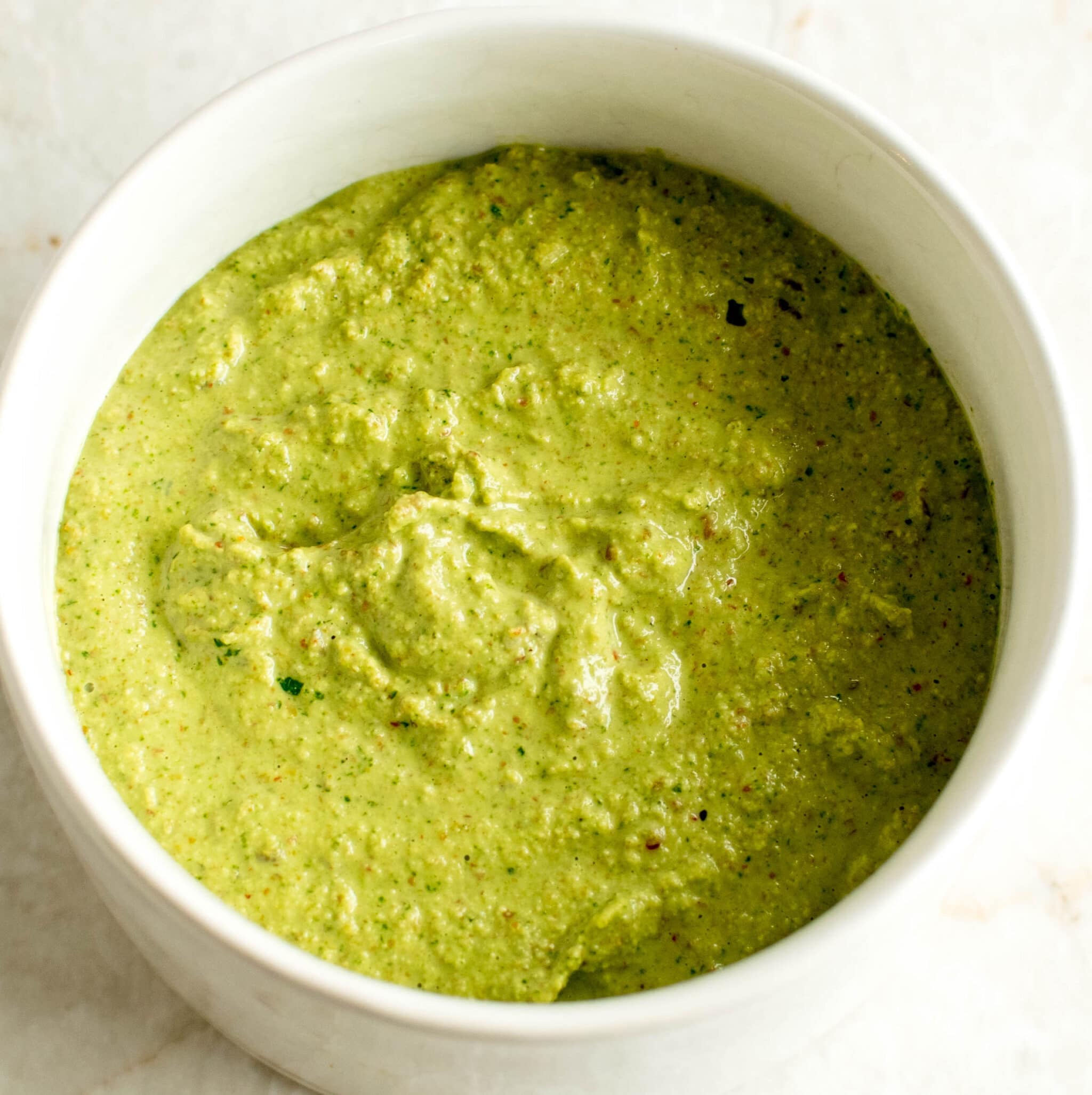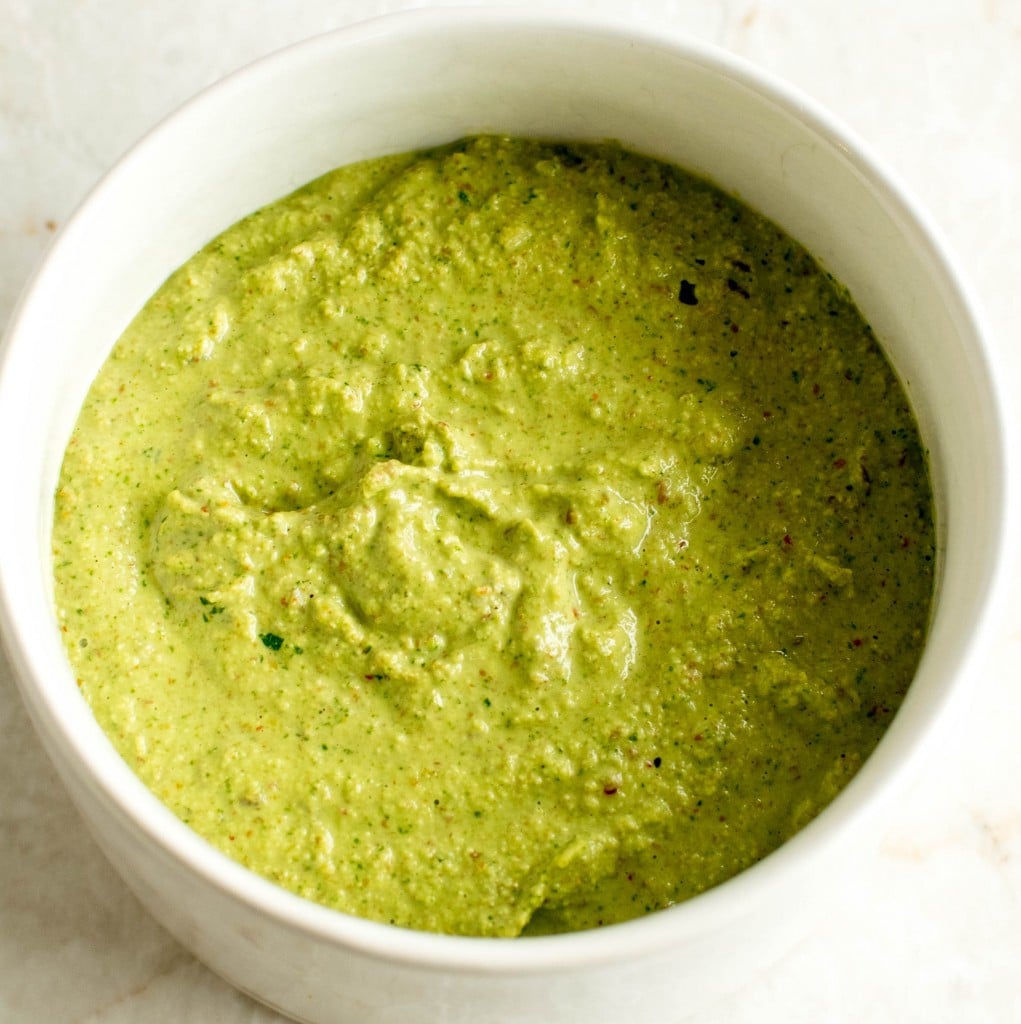 Secondly, I blended it smooth making sure that there are no lumps. Then, i kept it aside.
Next, I combined all the salad ingredients in a large mixing bowl.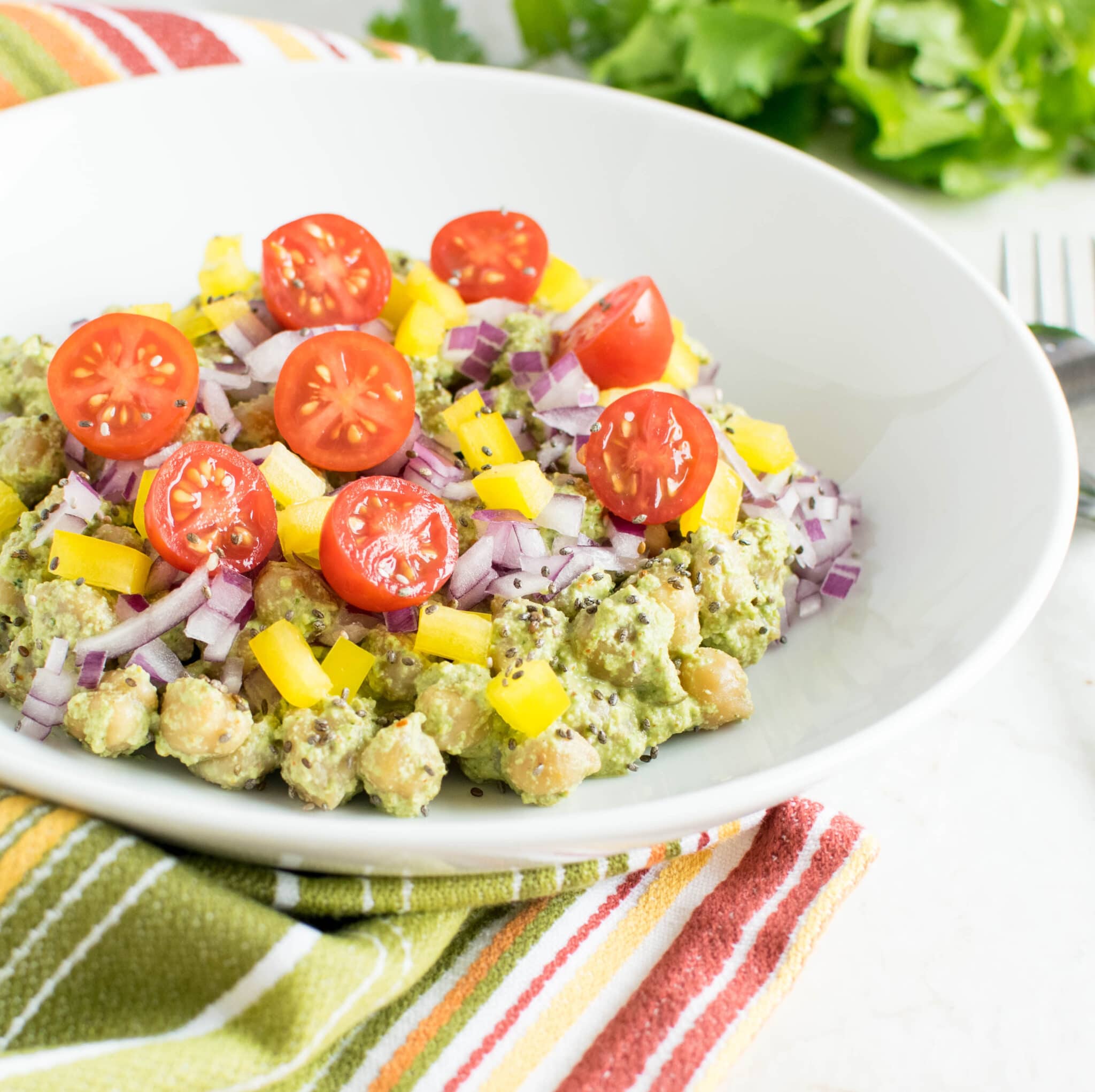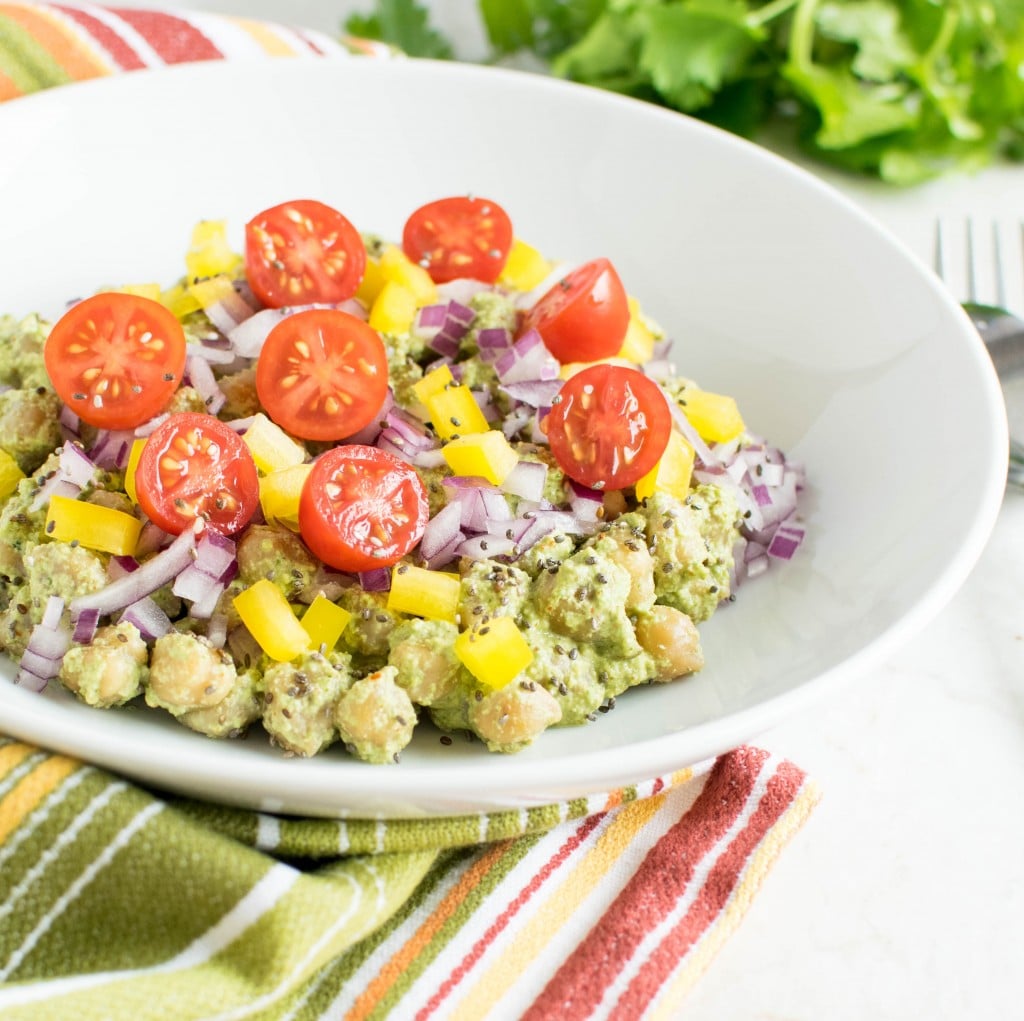 Lastly, I tossed in the dressing and folded it very well and served it immediatly.
It was an instant hit and we all thoroughly enjoyed every bit of it.
This nutty flavored salad will surely become your favorite healthy meal and a regular food item in your daily meal planning.
Expert tips:
Make sure to measure the chickpeas after draining to get to the right measurements.
Use a high speed blender to be able to blend the dip as smooth as possible. But be mindful of the measurements because we do not want a runny dip for this salad.
Chickpeas Salad in Cilantro Dip FAQs
How long does this last?
This taste best when served immediately after tossing.
How can I prep ahead of time for it?
You may blend the dip and refrigerate for about a week. In case you are boiling chickpeas at home you make cook and refrigerate it as well a day before. When ready toss all the ingredients and enjoy.
Is it healthy?
Yes. It high in protein and fiber along with other nutritional benefit. Its oil free too. Therefore, this can be enjoyed everyday.
Did you make it?
If you get a chance to make this recipe then please leave your feedback in the comments below along with a 5-star rating. In addition you may tag @kiipfit on Instagram with your recipe remake image because we love to see what you cooked.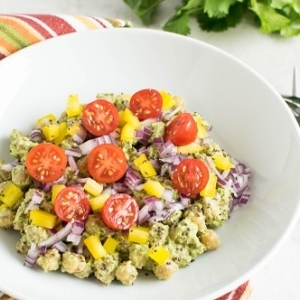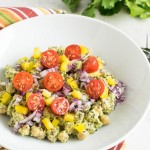 Print Recipe
Chickpeas Salad in Cilantro Dip
This easy and flavorful Chickpeas Salad in Cilantro Dip is a protein packed vegan lunch option. Its easy, nutritious yet a satisfying meal that's made with simple ingredients.
Ingredients
for the salad
2

cups

chickpeas

(boiled and drained)

1/2

cup

finely chopped red onions

1/2

cup

finely chopped yellow bell pepper

1/2

cup

diced cherry tomatoes

1

tsp

chia seeds

(optional)
Instructions
In a food processor/blender combine all the ingredients for the dip and blend as smooth as possible.

In a salad bowl toss in all the salad ingredients along with the dip and serve immediately.
Notes
Measure chickpeas after boiling and draining. You may canned chickpeas as well. But it as 2 cups after draining and rinsing. 
Make sure that the dip is smooth and there are no lumps or crunchy bites.
This dip recipe yields about ¾ cups.
Any unsalted peanuts can be used for this recipe but I preferred using the peanuts with skin for this recipe because of the creamy texture of the dip.
Nutrition
Calories:
489
kcal
|
Carbohydrates:
68
g
|
Protein:
25
g
|
Fat:
15
g
|
Saturated Fat:
1
g
|
Trans Fat:
1
g
|
Sodium:
596
mg
|
Potassium:
283
mg
|
Fiber:
7
g
|
Sugar:
5
g
|
Vitamin A:
373
IU
|
Vitamin C:
3
mg
|
Calcium:
57
mg
|
Iron:
3
mg