This creamy and oil free Vegan Thousand Island Dressing is made healthier and tastier. Its perfect on salads, sandwiches or as veggie dips. Its cashew based, super simple to make and as good as the original!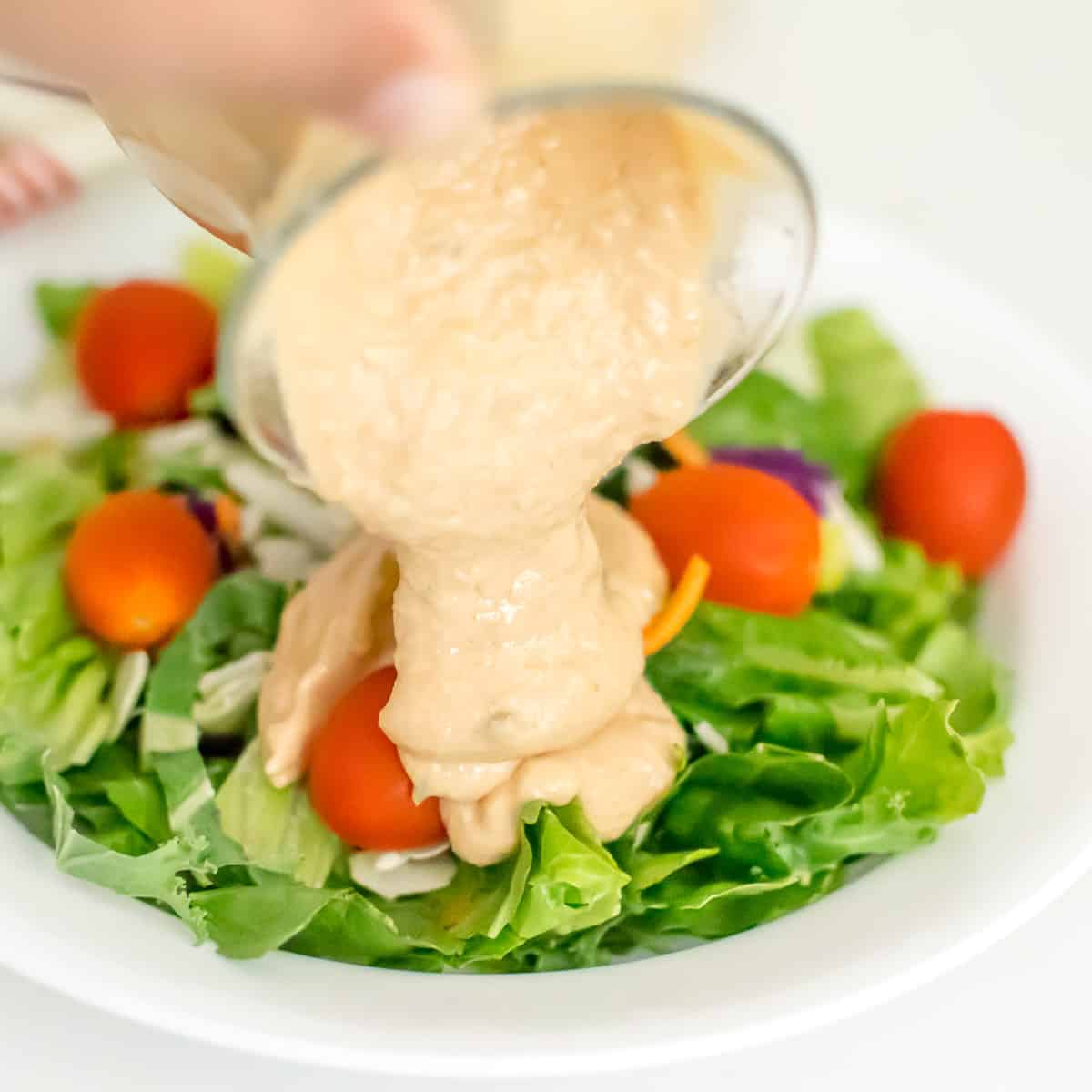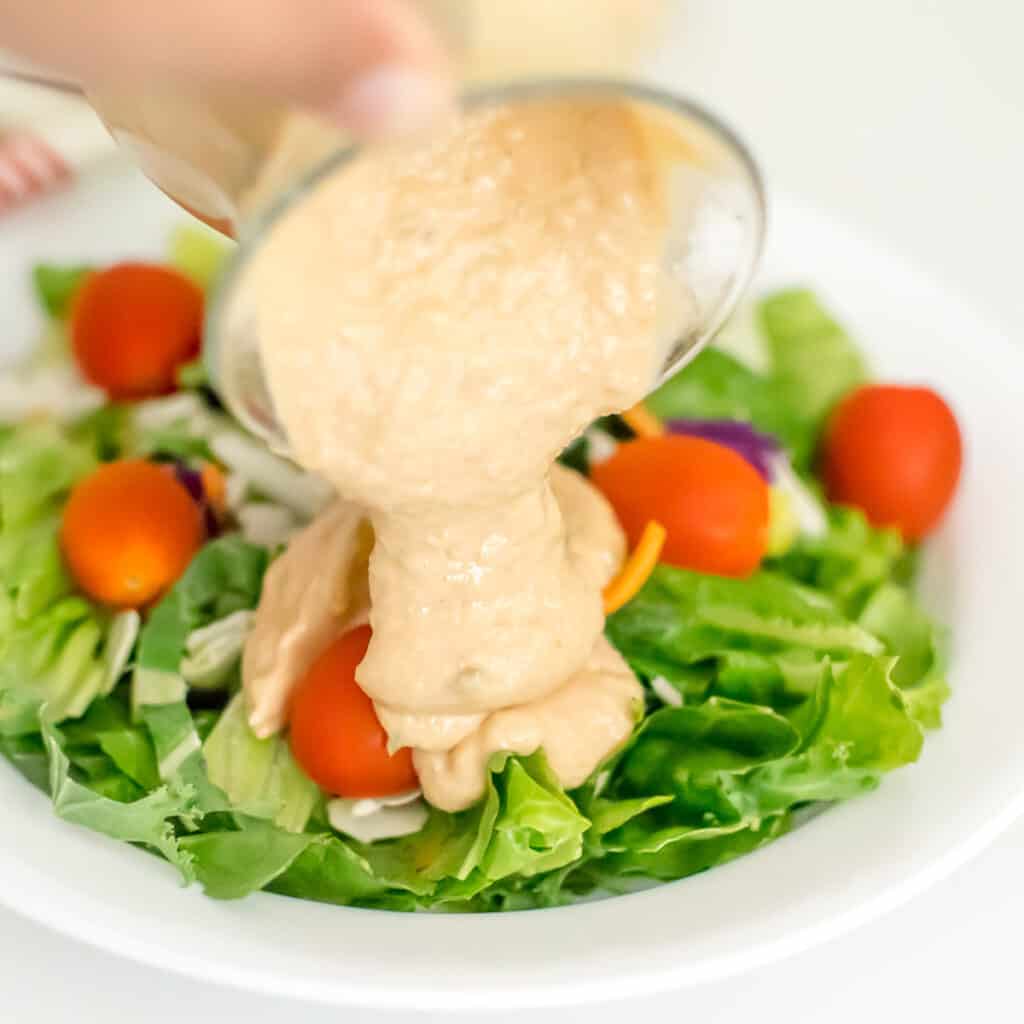 It's true…just because you are vegan you do not have to give up on your favorite thousand island dressing.
While I was working on this recipe, I realized that just one simple trick can make it delectable for vegans as well.
Whoa! I was happy to get my same old comforting and yet veganized version of my favorite dressing.
What is thousand island dressing?
Its name originated from an island in New York. Traditionally, it is made of mayo, olive oil, ketchup and tomato-based condiment. It's supposed to be light pink in color and sweeter in taste.
However, with the variations and a variety of diet, thankfully, we are able to make it approachable to everyone.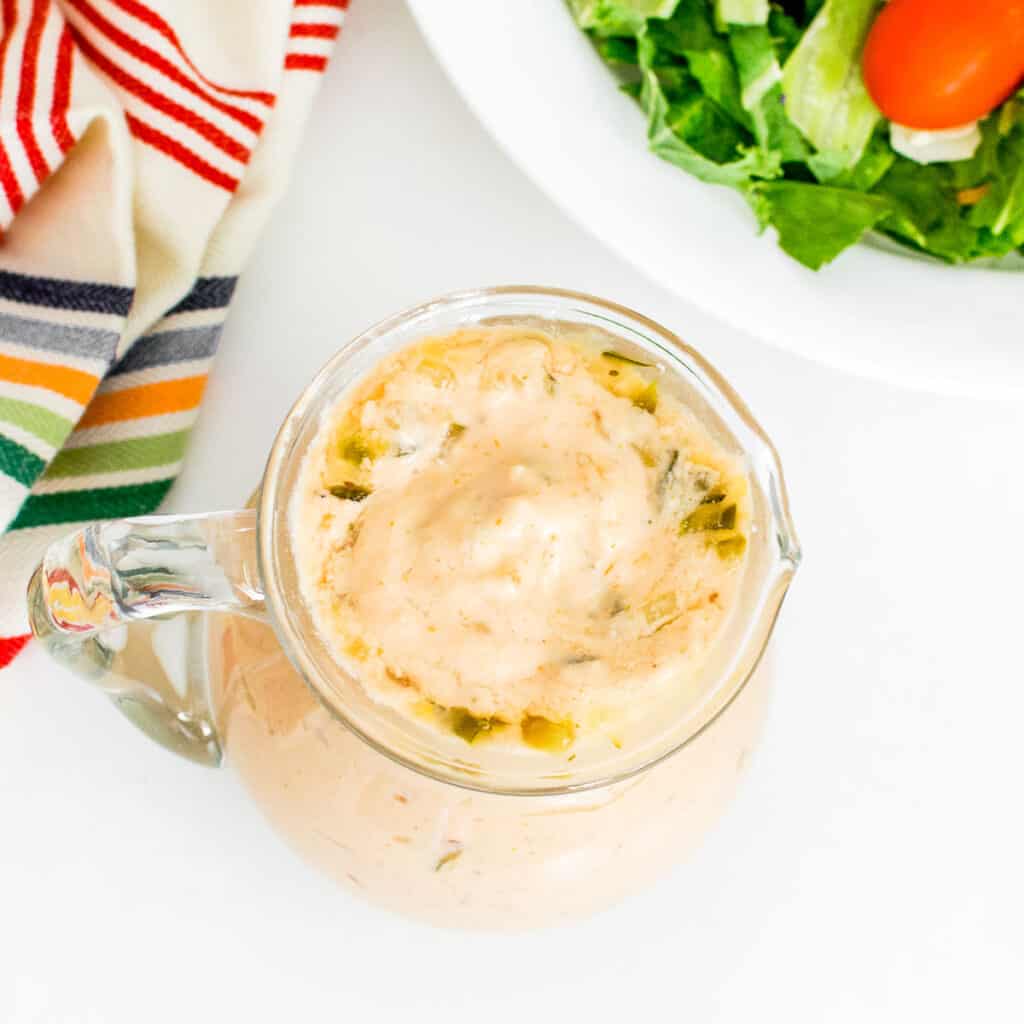 Hence, my vegan thousand island is healthier and easier with the same classic touch to it.
Lately, I have been cooking and baking oil free. In my endeavor, I realized that its actually more satisfying and guilt free.
Moreover, the same original taste can still be achieved which I have proved in many of my recipes like vegan ranch dressing, vegan Caesar dressing, and vegan ricotta cheese.
Yet, we enjoy the same comforting taste as in our early days.
For this recipe, I blended my homemade oil free vegan mayo which is cashew based.

I chose cashew nuts to provide a creamy base and make it thicker. At the same time, I wanted it to have longer shelf life too.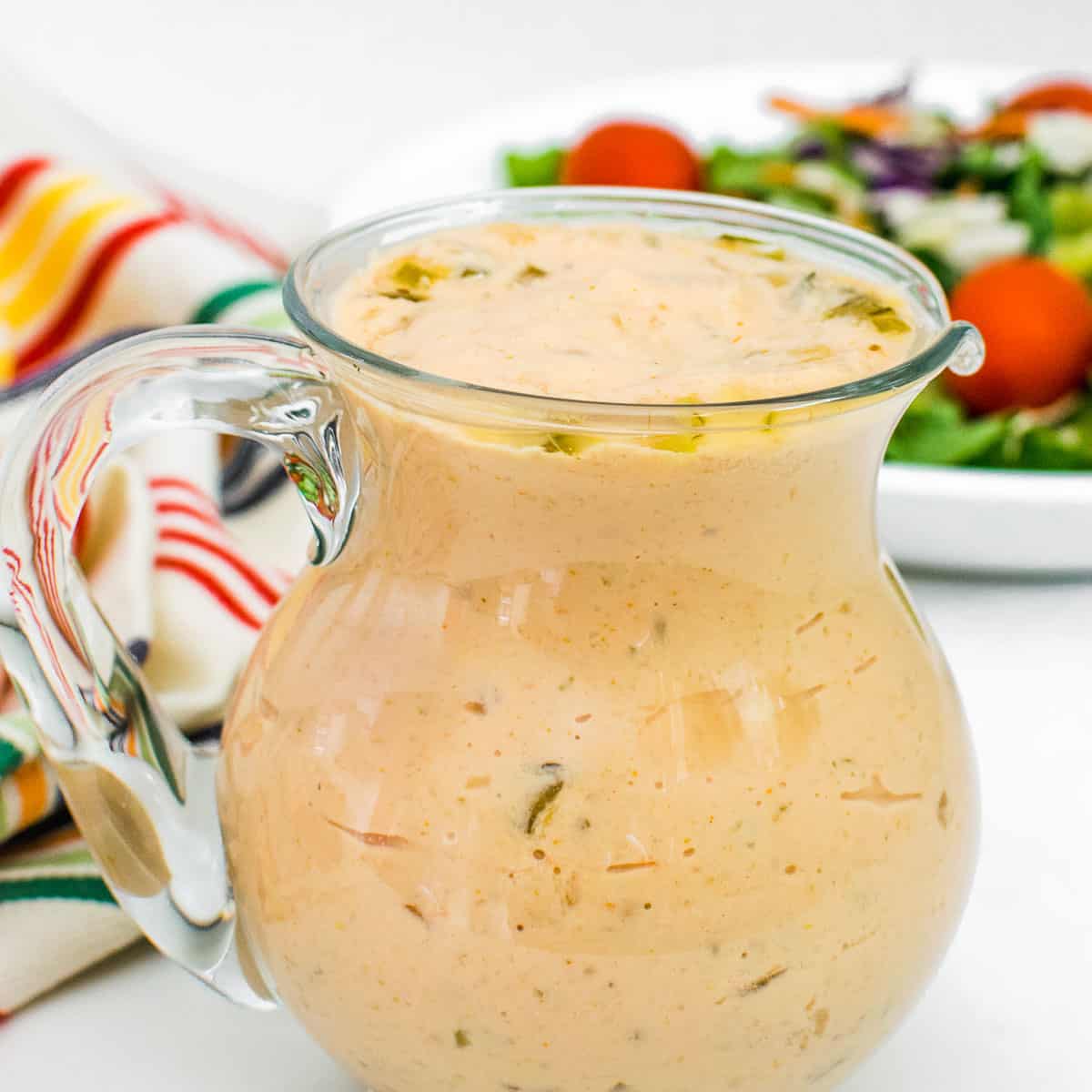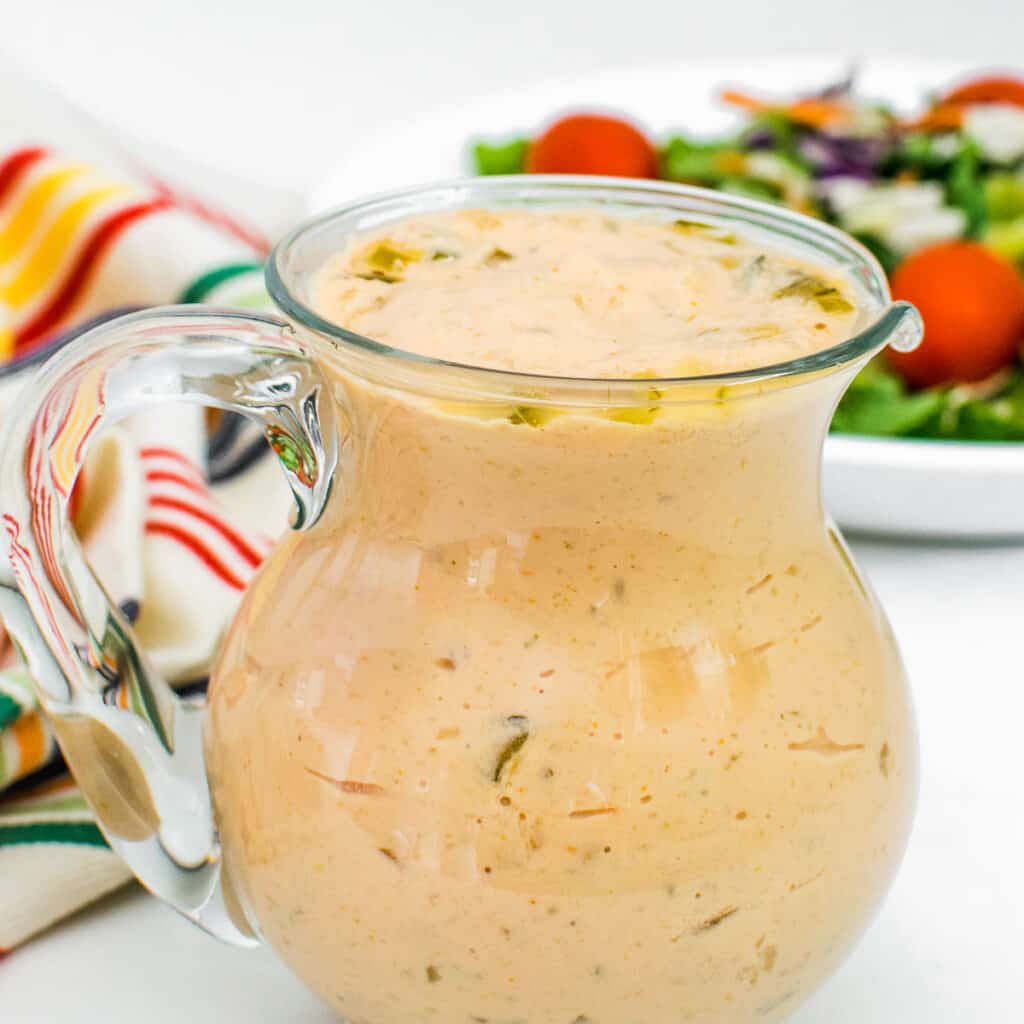 Therefore, today I am here to share this vegan thousand island dressing recipe with you all.
Ingredients you will need
Oil free vegan mayo
Paprika
Ketchup
Sweet pickle relish
Lemon juice
Salt to taste
I have used these easily available ingredients which you may buy from any local grocery store. However, I have provided links to few of them here for your convenience.
If you plan to buy from these affiliate links then I get a small commission which in turn encourages me to bring in more delicious recipe for you all.
Ingredients notes:
Vegan mayo – I used my homemade mayo to make sure that I get the healthiest version possible. Any store bought one can also be used but it's loaded with oil and is high in calories. Therefore, I would recommend blending your own.
Paprika – This does not spice up the dressing just simply enhances the flavors and balances its sweetness well.
Ketchup – this is an important ingredient. It brings out a nice pink color along with providing a tomato like taste and also the required sweetness.
Sweet pickle relish – its sweet and tangy with tiny little chunks. This is a must to get the original classic taste to this vegan thousand island dressing with vegan mayo.
Lemon juice – I could have used vinegar here but it would have made this recipe a little tart. I wanted a smoother tangy flavor so I preferred lemon juice instead.
I am sure you must be excited to try it by now. So am I.
I would love to see your remakes and hear the happiness of your loved ones.
So, please make sure to follow the steps correctly and you are gonna love it.
How to make Vegan Thousand Island Dressing
Firstly, I blended my homemade oil free vegan mayo in a blender. I made sure to follow my recipe diligently and blended it very smooth.
Secondly, in the same blender I combined the rest of the ingredients. However, I kept 1 tbsp of relish aside to mix it later.
Next, I blended all the ingredients really smooth.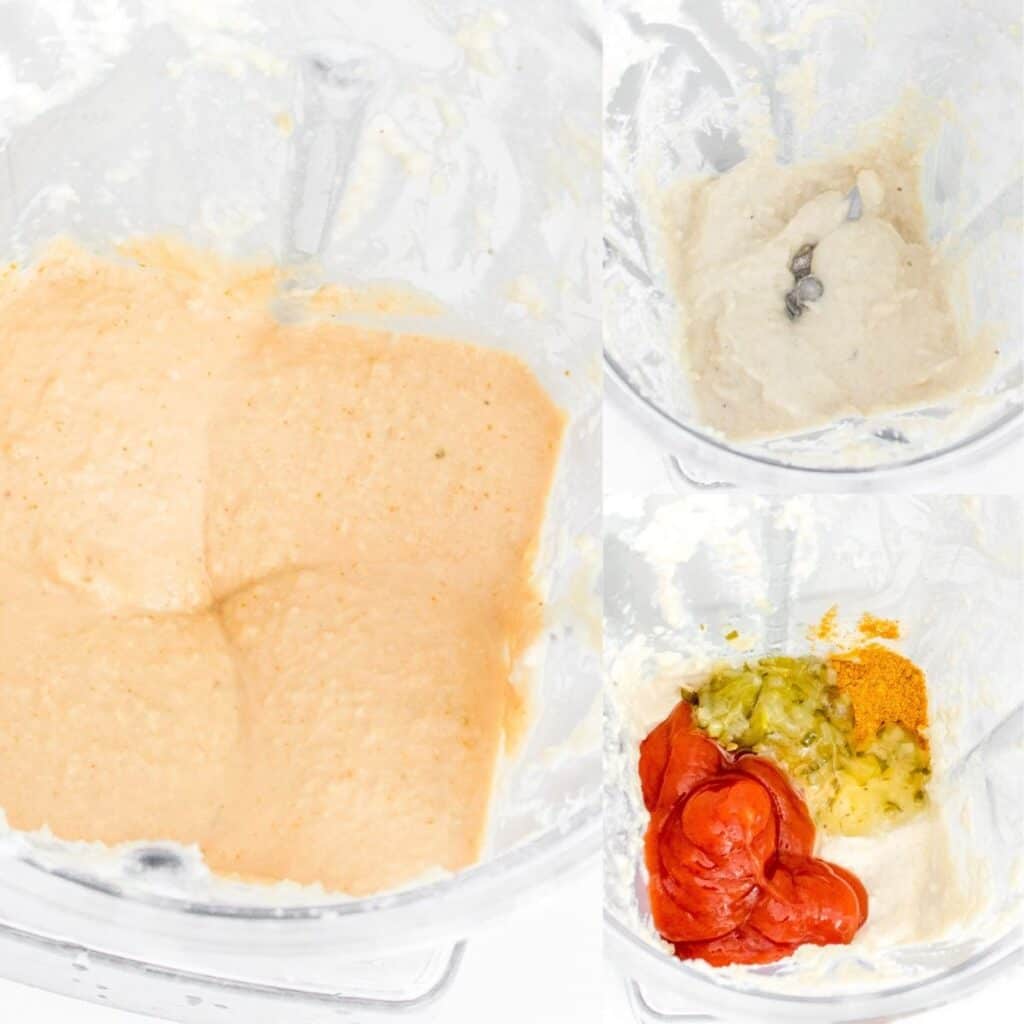 Thereafter, I spooned it out in a mixing bowl and stirred in remaining 1 tbsp relish into it.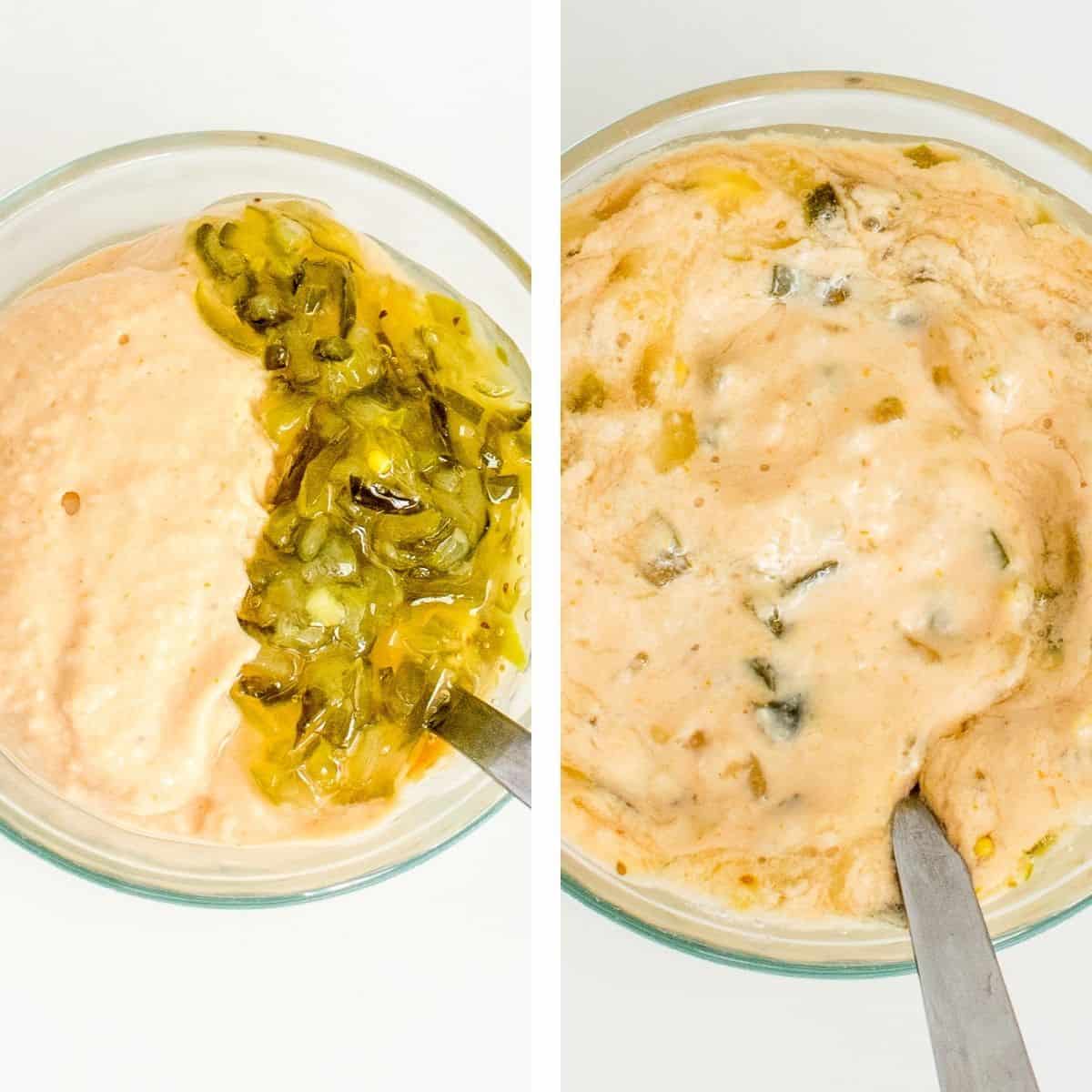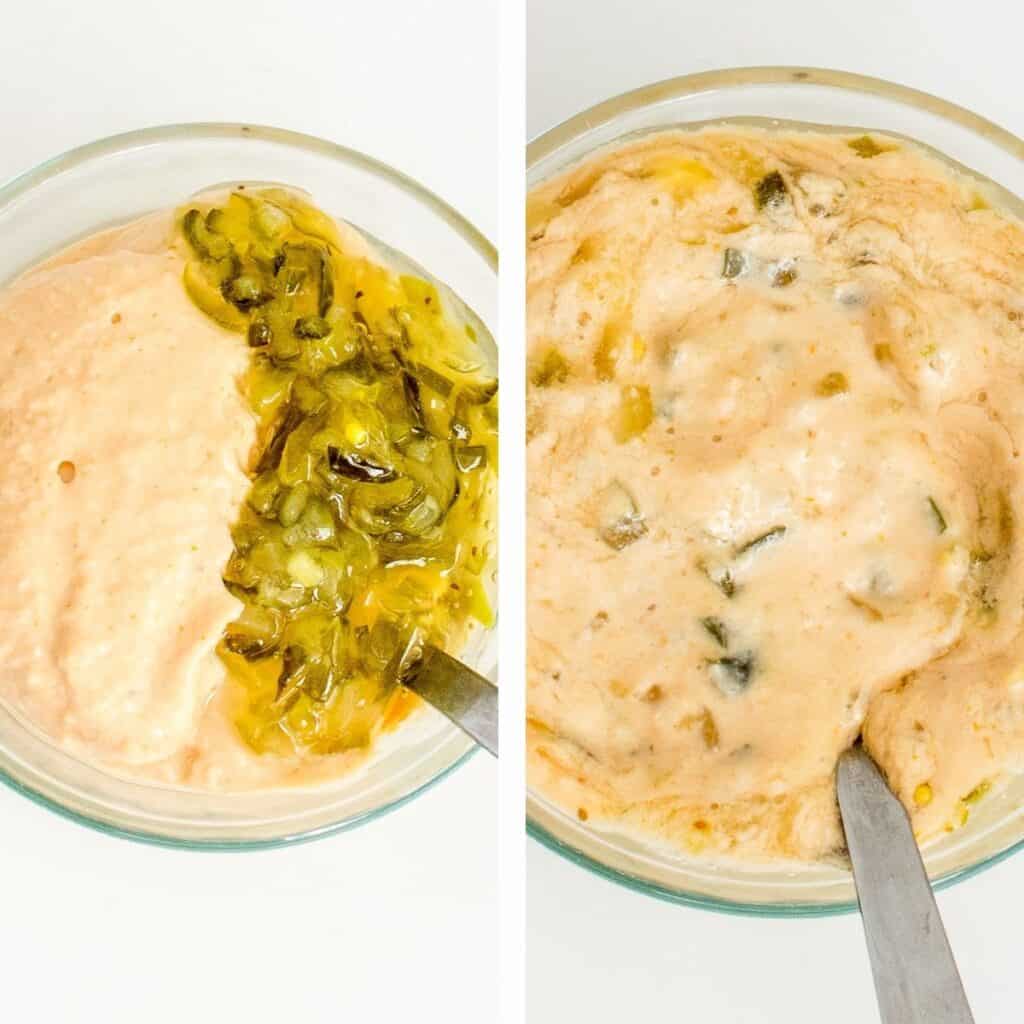 I licked it to make sure its as good at the traditional one. I totally loved it.
It had the perfect sweetness, zesty and tangy flavor along with mild saltiness.
I nailed it and this was a winner.
Now, I keep a big batch of this salad dressing in my refrigerator and enjoy my salads often with it.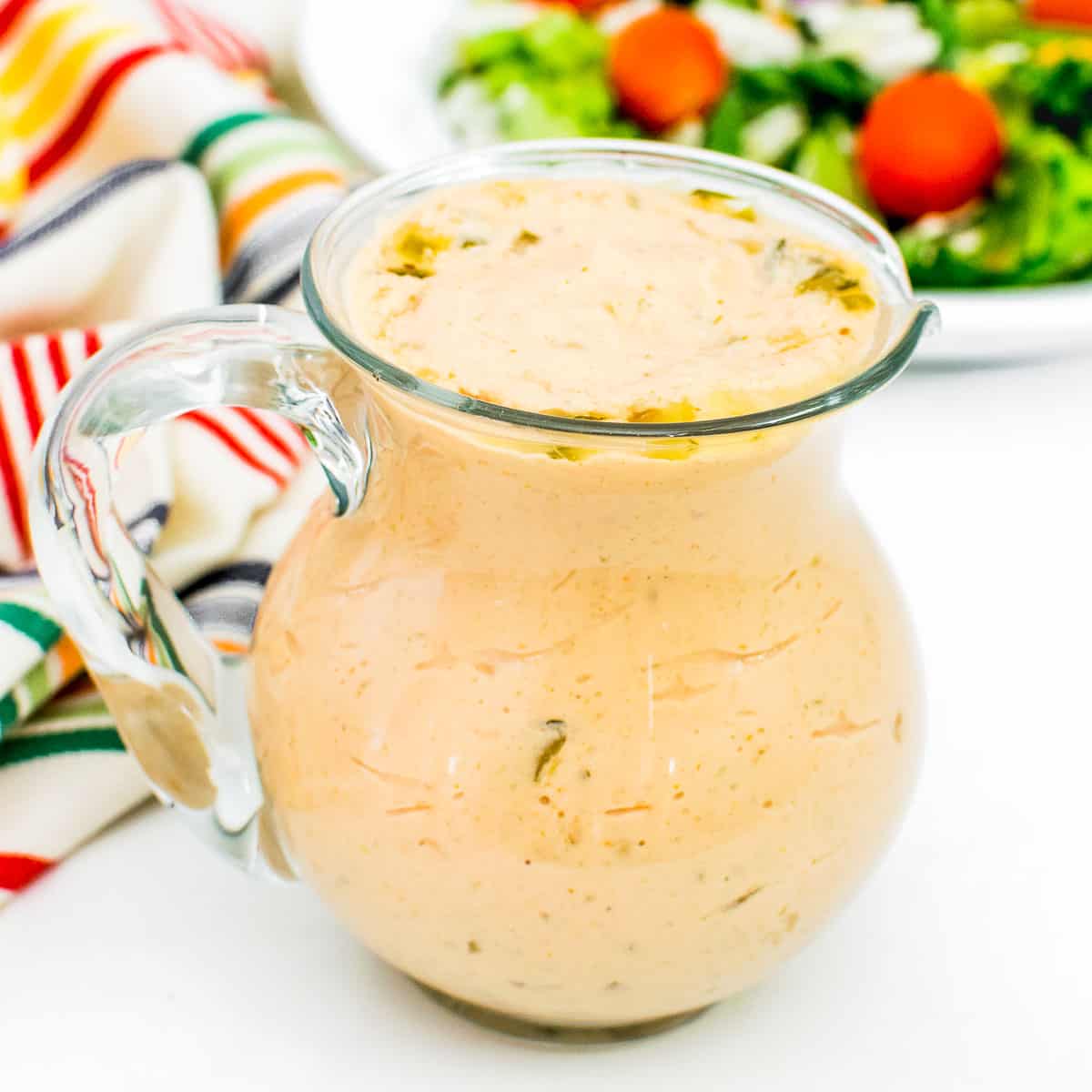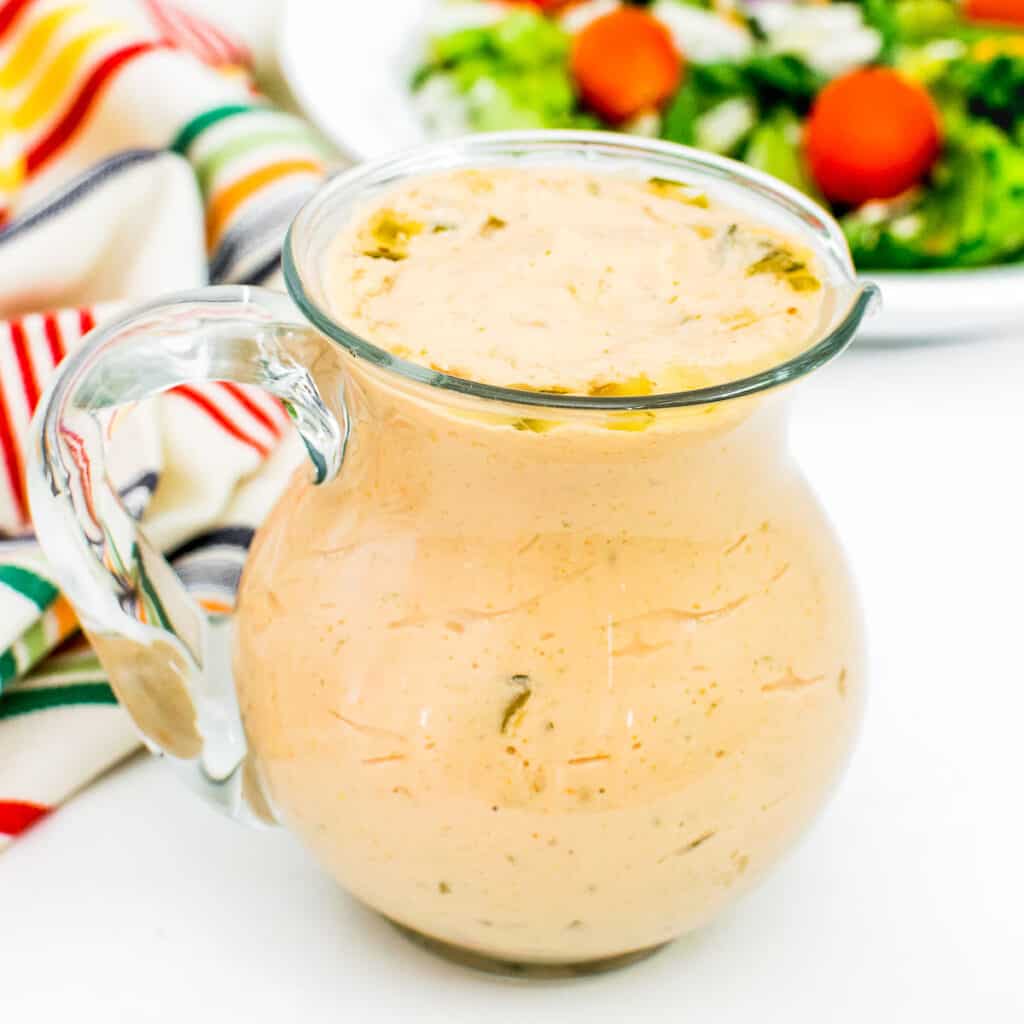 In fact, this is so delicious that even non vegans would never know its vegans.

Therefore, it's a crowd pleaser.
I like the fact that this can be enjoyed immediately and does not need to chill.
So basically, you may use your leftover vegan mayo here or blend a fresh one. Overall, it's the tastiest and the most convenient vegan thousand island dressing ever.
Expert tips
Blend the mayo really well. If you have Vitamix then soak cashews for 5 minutes in hot water and then drain. Check with your fingers if you can break cashews. The softer the cashews the better. If you are using other blender then make sure to soak cashews overnight or boil cashews in water until they can be broken with fingers.
Make sure to stir little relish after blending. The chunks and its juice gives this dressing a nice texture and flavor as well.
Vegan Thousand Island Dressing FAQs
How long does it last?
This can be refrigerated in a glass container for about 3 weeks.
Is it healthy?
Yes, I made it oil free. It is cashew based so it has healthy fats. It has no added sugar and is low in calories too.
How does it taste like?
Primarily, its sweet in taste followed by zesty and tangy taste with a mild saltiness to it.
How can I serve it?
You may serve it over your salad, in your sandwiches or burger or simply dip your favorite veggies into it.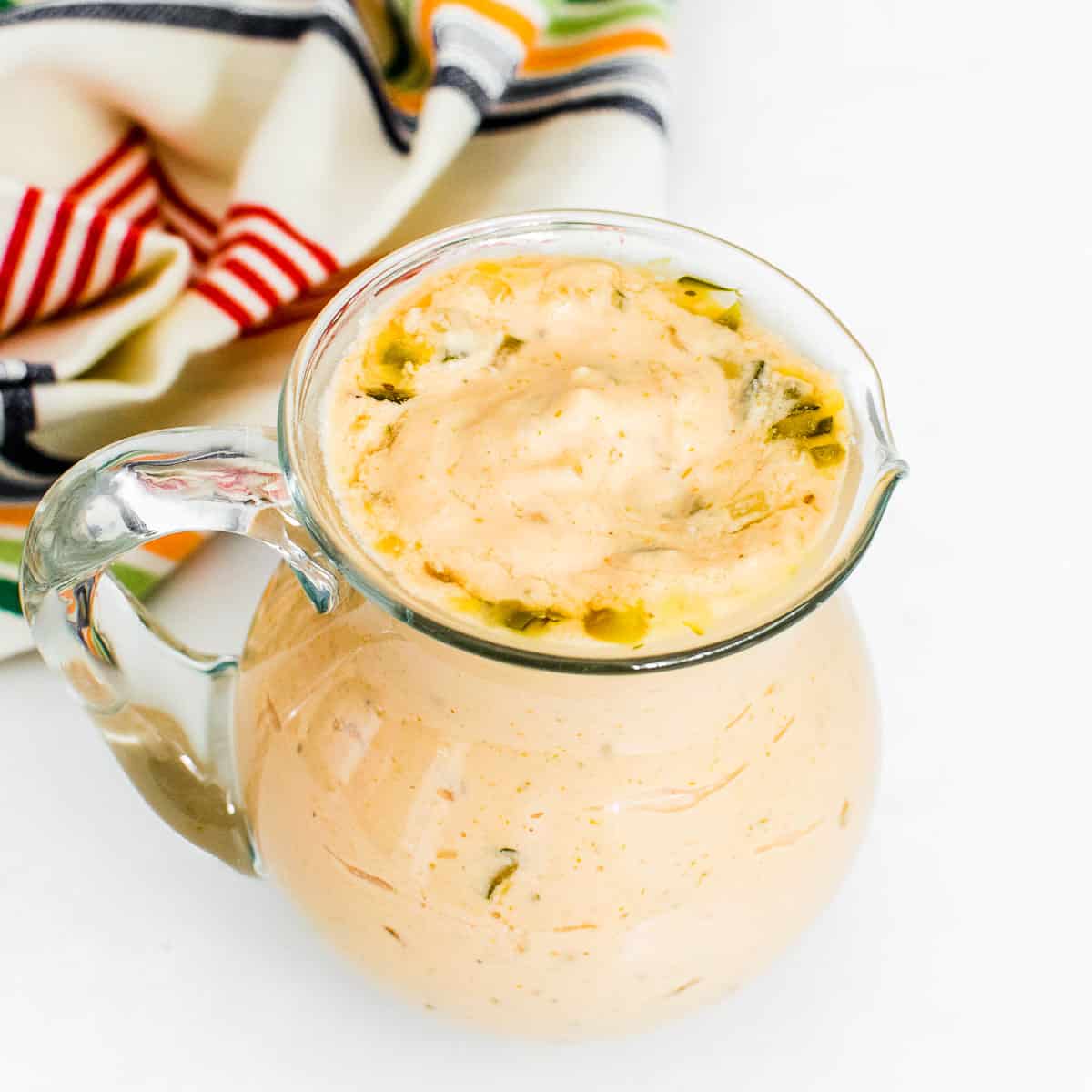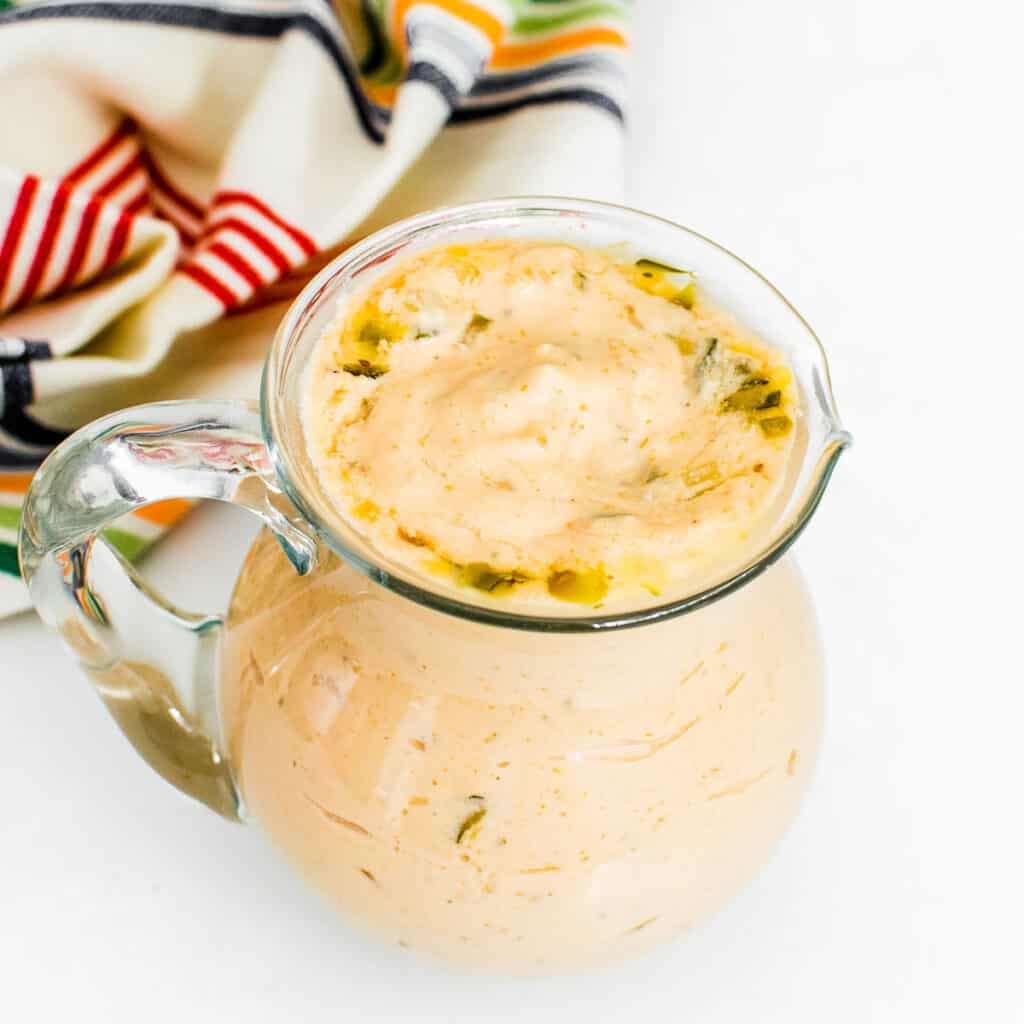 Other salad dressing that might interest you
French Onion Dip
Vegan Queso Cauliflower Dip
Sun Dried Tomato Pesto
Vegan Cream Cheese
Did you make it?
If you get a chance to make this recipe then please leave your feedback in the comments below along with a 5-star rating. In addition, you may tag @kiipfit on Instagram with your recipe remake image because we would love to see what you cooked.
You may also checkout my cookbooks for everyday vegan comfort recipe.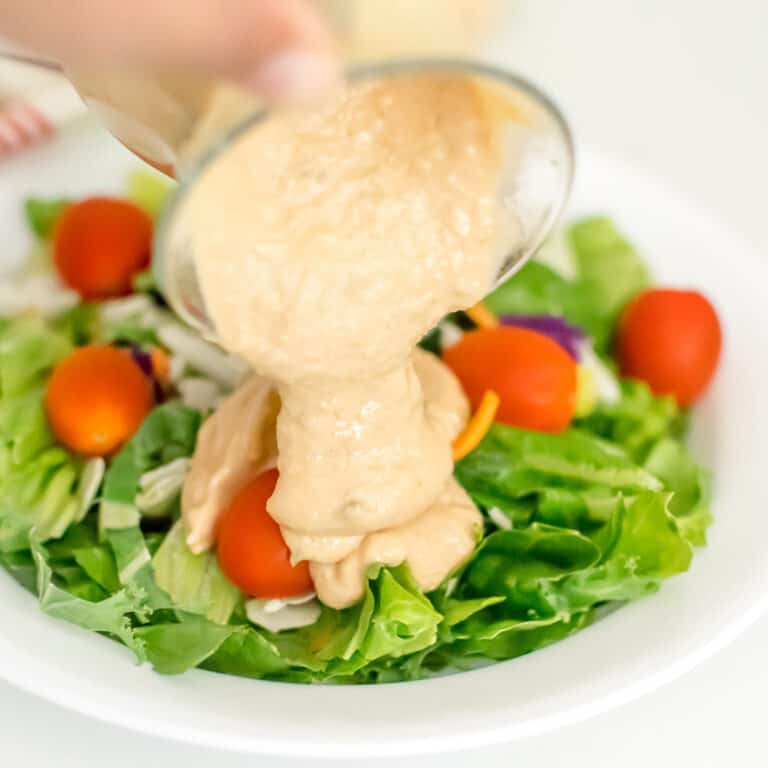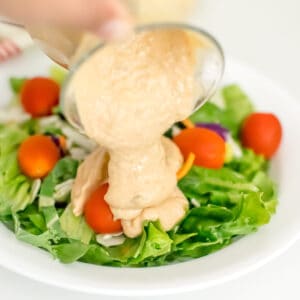 Print Recipe
Vegan Thousand Island Dressing
This creamy and oil free Vegan Thousand Island Dressing is made healthier and tastier. Its perfect on salads, sandwiches or as veggie dips. Its cashew based, super simple to make and as good as the original!
Instructions
Blend vegan mayo in your blender and add rest of the ingredients to it (except keep 1 tbsp. relish aside to mix it later). Blend it smooth. May take about 3-4 minutes.

Spoon it out in a bowl and stir in remaining 1tbsp sweet pickled relish.

Serve immediately on your salad or use it as veggie dip. Feel free to chill if using it later.
Notes
This dressing can be refrigerated in a glass container for about 3 weeks. If you feel it has thickened over time then just add 1-2 tbsp. of unsweetened dairy free milk and adjust salt if needed. Use it as a salad dressing.
Do not add any liquid if using it as a veggie dip. Simply whip it up vigorously with a spoon and this will lighten it up.
I made this recipe using my very own oil free vegan mayo which is cashew based.
This recipe makes about 2 cups of the dressing.
Nutrition
Calories:
82
kcal
|
Carbohydrates:
7
g
|
Protein:
3
g
|
Fat:
5
g
|
Saturated Fat:
1
g
|
Polyunsaturated Fat:
1
g
|
Monounsaturated Fat:
1
g
|
Sodium:
123
mg
|
Potassium:
2
mg
|
Fiber:
1
g
|
Sugar:
1
g
|
Vitamin A:
54
IU
|
Vitamin C:
1
mg
|
Calcium:
1
mg
|
Iron:
1
mg