This Greek flavored Vegan Feta Cheese with Chickpea Flour has a perfect salty, savory along with a tangy taste to it. It's a great dairy free substitute made with some unique combination of ingredients. Its gluten free, soy free, nut free and oil free.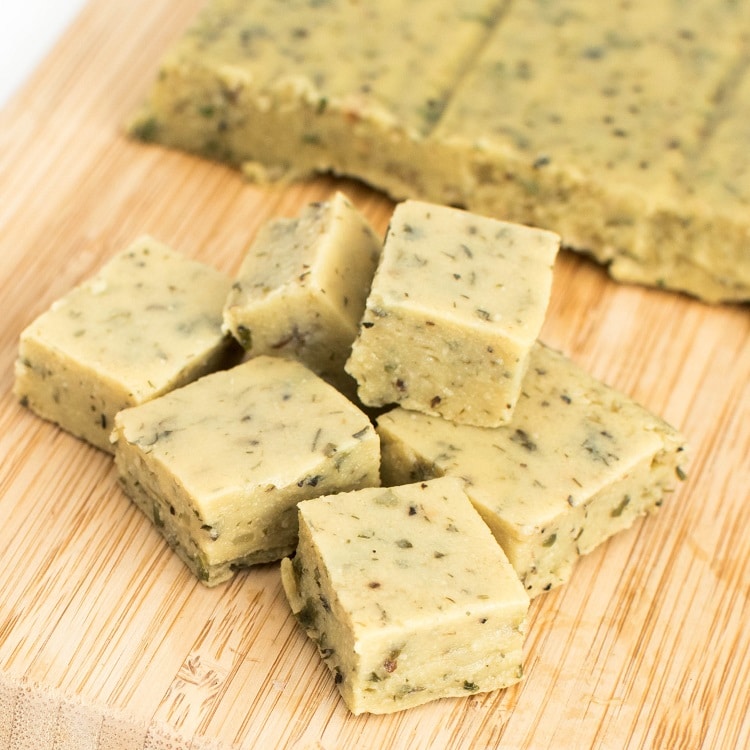 We often use vegan feta for our wraps and salads. Its been a while since I started missing this in my life. Moreover, while my research I found many recipes with either soy or nuts and for some reason I wanted to avoid both for this homemade feta cheese.
I wanted to bring out something different and absolutely outstanding that would fit into most diet styles. Therefore, I decided to settle down with chickpea/garbanzo flour for this vegan feta cheese recipe.
I could not be happier with my decision. Not only me but my mother in law who absolutely runs away from all kinds of cheeses gorged on it and we both finished the entire batch. Since then, I make it regularly and keep a batch in the refrigerator.
However, I must make a note that these are very different form the store-bought ones. They look different as well. But when you taste it you will never look back and only crave for these vegan feta cheese that's made with chickpea flour.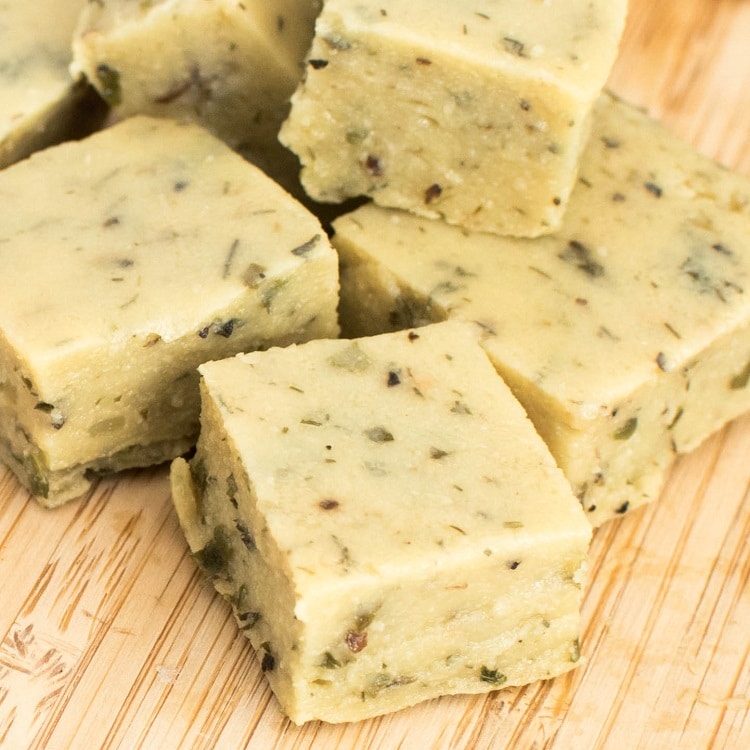 Ingredients for Vegan Feta Cheese with Chickpea Flour
Water
Chickpea flour
Nutritional yeast
Garlic powder
Onion powder
Himalayan pink salt
Oregano
Basil
Dill
Black pepper
Dairy free milk
Cornstarch
White vinegar
Lemon juice
I have used easily available and very common ingredients in this recipe which you may buy from any local grocery store. However, I have provided links to few of those for your convenience.
If you plan to buy from those affiliate links, I get a small commission which in turn encourages me to bring out more delicious recipes for you all.
If you are looking for a variation, then, I like this recipe from A Virtual Vegan. Even though she has used tofu but she made it quite easily without any cooking involved and is nicely flavored too.
How to make Vegan Feta Cheese with Chickpea Flour
Firstly, in a sauce pan I combined water and chickpea flour. Then, I whisked it nicely until there were no lumps.
Secondly, I whisked in all the herbs and seasonings and cooked it on a medium-high flame until it started to thicken.
Thereafter, I added milk, cornstarch, vinegar and lemon juice to it. Whisked it again while it was still hot.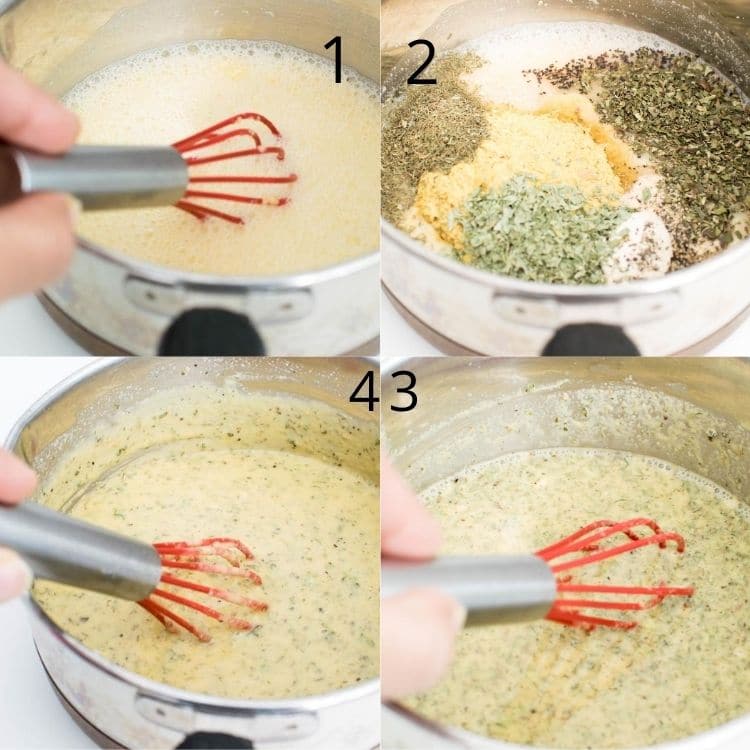 Then, I spooned it in a prepared loaf pan and next, I placed it in a pre-heated oven and baked it at 350-degree Fahrenheit for 10 minutes.
Once done, I took it out and let it cool completely at room temperature. Later I shoved it off into the refrigerator for 15 minutes to further cool down and settle.
Afterwards, I flipped it over on a flat surface and sliced it into cubes.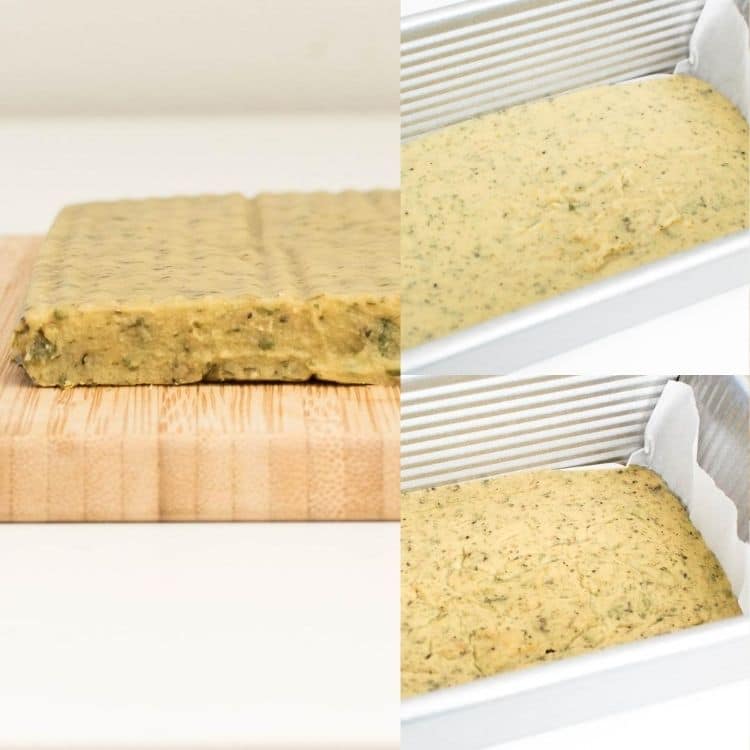 Mostly, I enjoy this vegan feta cheese over my salads or simply as a snack. I am amazed with its taste when just eat its cubes as is. It's a fun and delectable recipe and is a must try.
I am sure you all will enjoy this Greek cheese recipe as much as we did.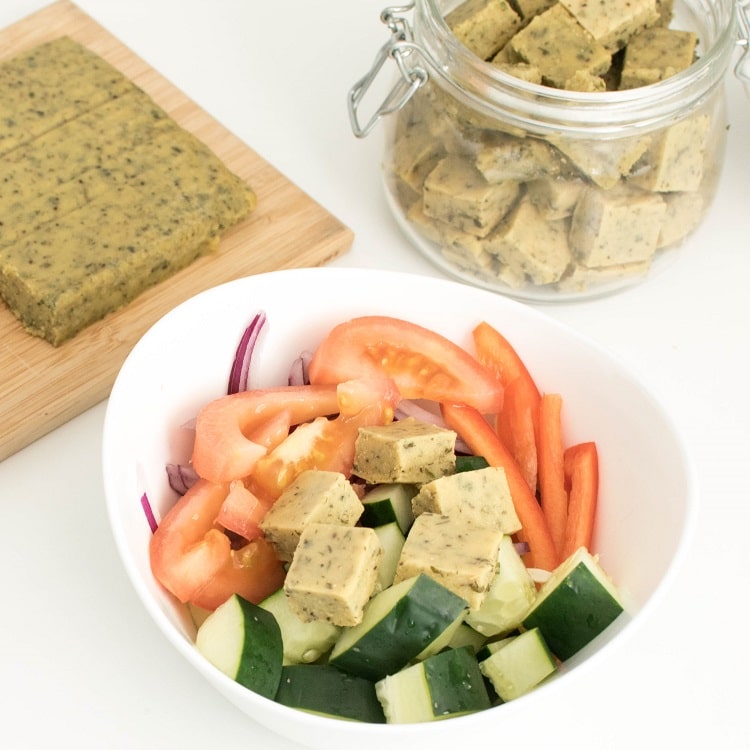 Expert tips:
Once the mixture is cooked it starts settling pretty quickly so keep all the ingredients and loaf pan absolutely ready so that you can quickly get to the steps of baking and cooling.
Make sure to use chickpea/garbanzo flour. They are two different ingredients and this recipe might change a bit if those two ingredients are interchanged.
Make sure to continuously whisk while this mixture cooks on the flame so as to release any lumps and avoid any burning at the bottom.
So, by now you must have noticed that its super easy and hassle free. It just needs a bit of work so that you can enjoy your favorite feta cheese in your life in a vegan version.
Vegan Feta Cheese with Chickpea Flour FAQs
How long do they last?
These can be stored in an air tight glass container for about a week.
What do I pair it with?
I mostly enjoy this vegan feta cheese in my salads or sometimes as a snack just as is.
How does it taste like?
So, it has a nice flavor of herbs with a mild subtle taste of chickpea flour which adds to its deliciousness. It is salty, savory and slightly tangy. Overall, the taste is very similar to the traditional ones but still way different.
What is the difference between besan and chickpea/garbanzo flour?
Besan which is also called chickpea flour is made from split chickpeas that sometimes we consume as lentils. Also know as chana dal in India. However, garbanzo flour is made from chickpeas or garbanzo beans that we sometimes eat in falafel and or salads/curries.
Is it healthy?
I have made it soy free so that many can enjoy who are allergic to soy. At the same time, I have made it gluten free, dairy free and most importantly oil free. I have also made an effort to make it nut free so that anyone who has any kind of nut allergy can also enjoy this vegan cheese. Garbanzo flour adds a little protein to it and nutritional yeast adds vitamin B12 to it. This vegan feta might look different from other recipes but tastes absolutely delectable.
Can I freeze it?
I have not tried freezing it. I like to make fresh batches of this cheese.
Can I use it in a crumbled form?
Yes, however, because of certain ingredients that I have used in this recipe, the crumbled texture would be different than others. But you may still enjoy it as crumbled feta also.
I guarantee once you get the hang of it you will love this feta always. It's also very easy to make. Although it needs to be baked and cooled but its absolutely manageable and you do not have to fuss about being in rush as well.
You may also like:
Vegan Ricotta Cheese
Vegan Ranch Dressing
Nut Free Vegan Cream Cheese
Vegan Cottage Cheese
Other Greek recipes that you may enjoy:
Vegan Tzatziki
Red Bean Hummus Dip
Vegan Gyros
Did you make it?
If you get a chance to make this recipe then please leave your feedback in the comments below along with the ratings. In addition, you may tag @kiipfit on Instagram with your recipe pictures because we would love to see what you cooked.
If you desire to explore more delicious recipes of mine then you may checkout my cookbooks.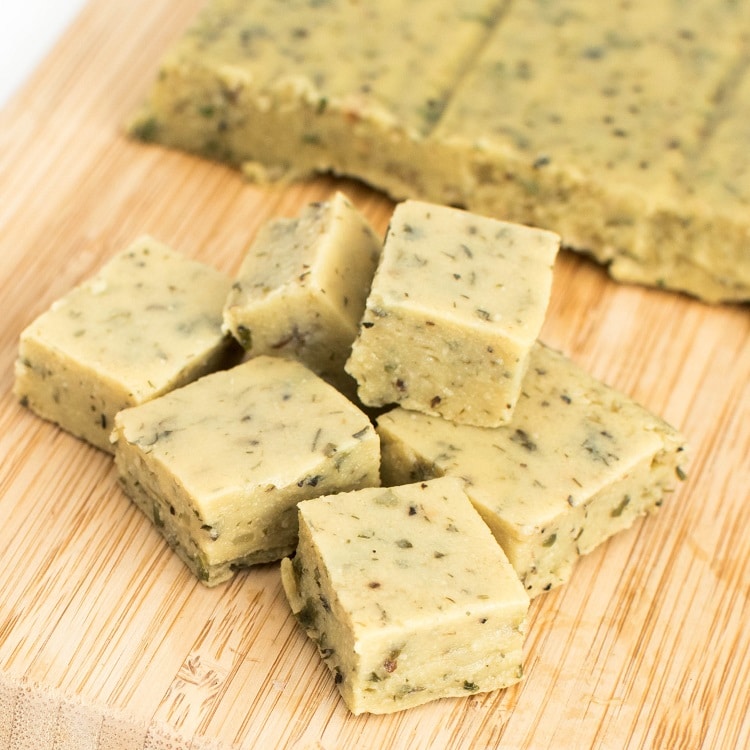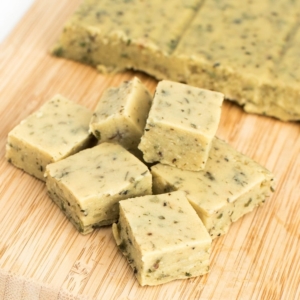 Print Recipe
Vegan Feta Cheese with Chickpea Flour
This Greek flavored Vegan Feta Cheese with Chickpea Flour has a perfect salty, savory along with a tangy taste to it. It's a great dairy free substitute made with some unique combination of ingredients. Its gluten free, soy free, nut free and oil free.
Instructions
Preheat oven at 350-degree Fahrenheit and prepare a loaf pan with parchment paper and keep it aside. In a saucepan combine water and chickpea flour and whisk until there are no lumps.

Whisk in nutritional yeast, garlic powder, onion powder, pink salt, oregano, basil, dill, black pepper and mix until well blended.

Place the saucepan on a medium flame and whisk continuously until it starts to thicken. Just at the first boil pour milk and cornstarch. Quickly whisk until there are no lumps. Turn off the flame and mix in vinegar and lemon juice.

Now,before this mixture starts settling down quickly pour it in the prepares loaf pan. Place it in the middle rack of the pre-heated oven and bake it only for 10 minutes. (Do not over bake). Turn it off and take it out. Let it cool down at room temperature for 15 minutes in the loaf pan itself. Then place it in the refrigerator for another 15 minutes or until it cools down completely.

Now, take it out and flip over on a flat surface. Slice gently into cubes and enjoy it.
Notes
Once the mixture cooks it starts to settle down very quickly so keep everything ready.
This feta cheese is absolutely different from the store-bought ones but I guarantee it tastes almost the same and better. Its consistency would be slightly different too but when combined in a salad it tastes amazing. I have also tried it eating as it like a snack and loved it completely.
To make it absolutely gluten free I have used gluten free cornstarch.
Make sure to use chickpea flour/garbanzo flour for this recipe and not besan. These are two different ingredients and the taste and texture of this recipe might vary if those ingredients are interchanges.
This cheese can be refrigerated in an air tight container for about a week. 
Nutrition
Calories:
46
kcal
|
Carbohydrates:
6
g
|
Protein:
3
g
|
Fat:
1
g
|
Saturated Fat:
1
g
|
Sodium:
2394
mg
|
Potassium:
594
mg
|
Fiber:
7
g
|
Sugar:
5
g
|
Vitamin A:
290
IU
|
Vitamin C:
6
mg
|
Calcium:
130
mg
|
Iron:
4
mg