This easy Vegan Brussels Sprout Salad is flavor packed with fresh homemade sesame oil dressing and has the perfect crunch. It serves great as a side for Thanksgiving or Christmas and as main in warm weather. Its perfect for all year round and for all occasions.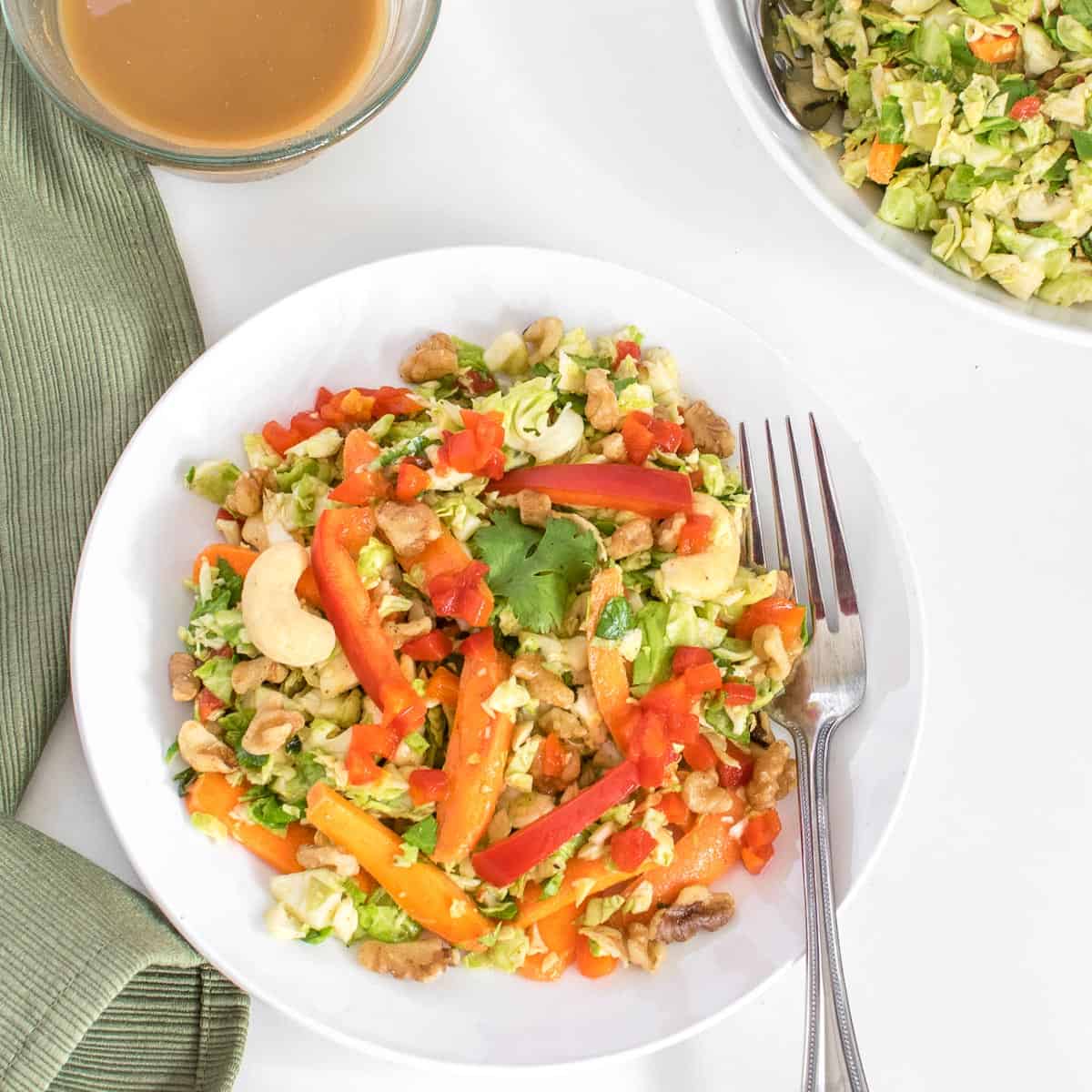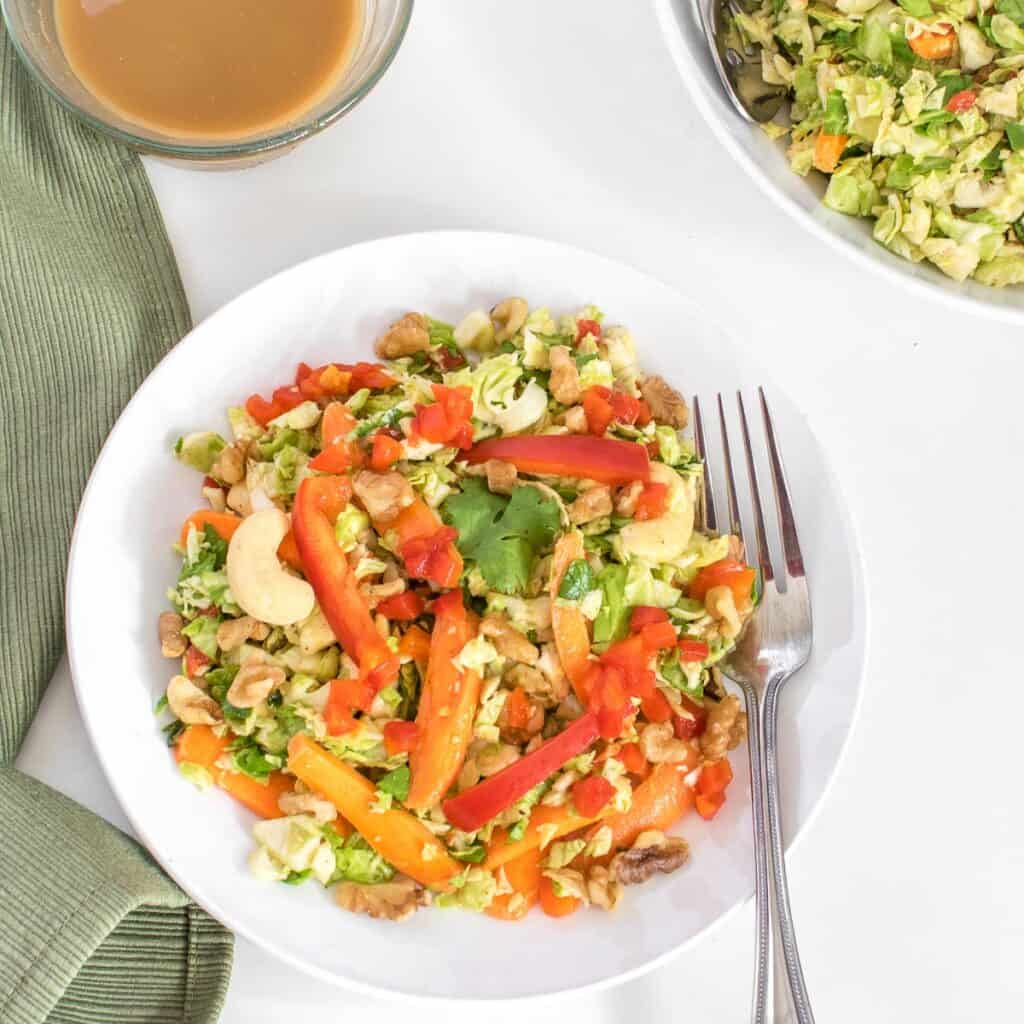 I love to create salads especially homemade salads from scratch. For winters I always make my butternut squash salad and it's a tradition in my house.
We all love it so much and its tastes so much festive as well.
But this time I wanted to come up with another variety to add in my menu. So, therefore, I finalized this shaved brussels sprouts salad.
We have been gorging on it all of last week including my husband. Well, I must emphasize that my husband ate this brussels sprouts salad as his main meal for lunch. It was unbelievable because when it comes to salad, he likes to just eat it with his eyes. I know that sounds so typical and funny. However, I succeeded with him this time.
When I want to go for something a bit elaborate, I like to make fettuccine alfredo with roasted brussels sprouts. This one is my favorite. It is absolutely comforting and satisfying.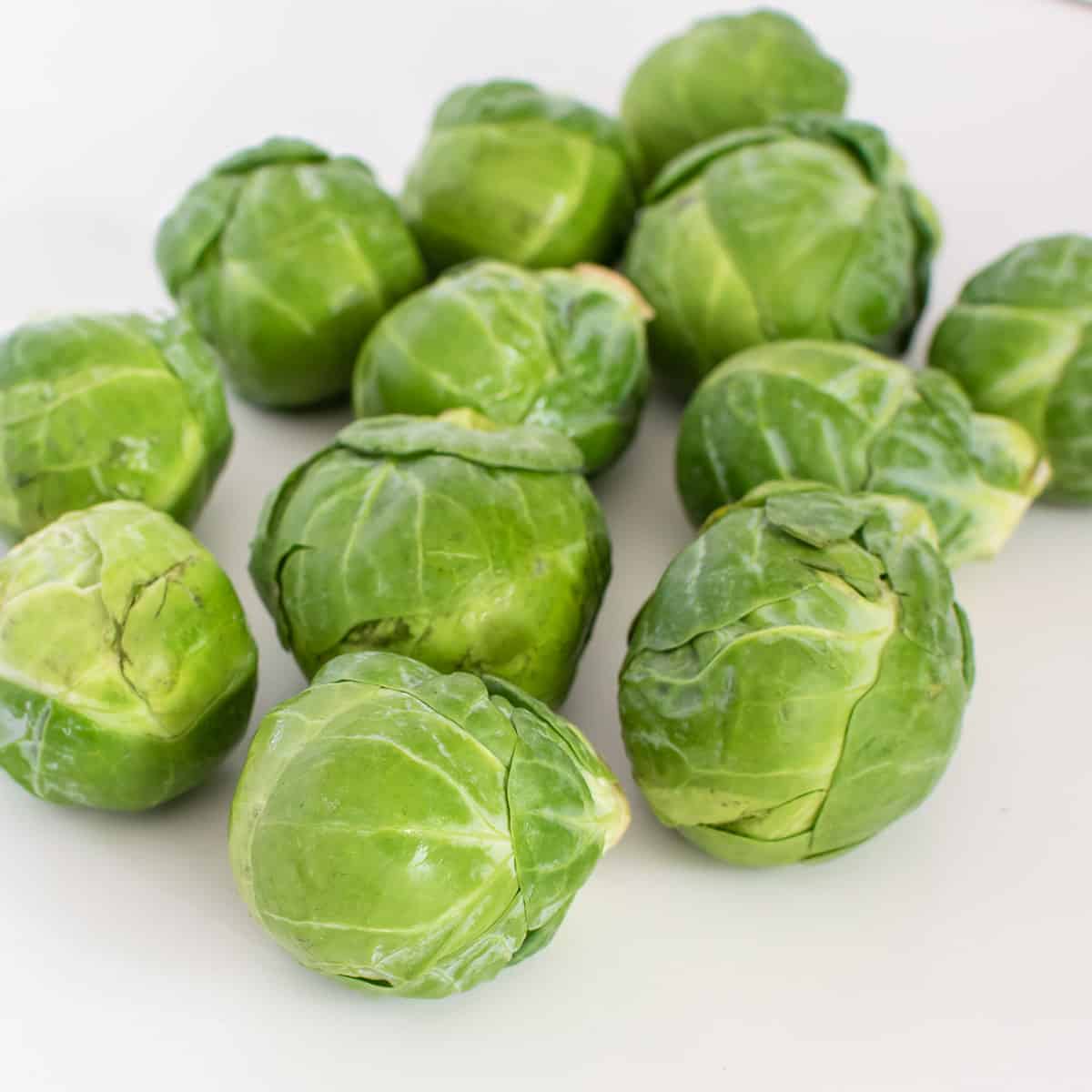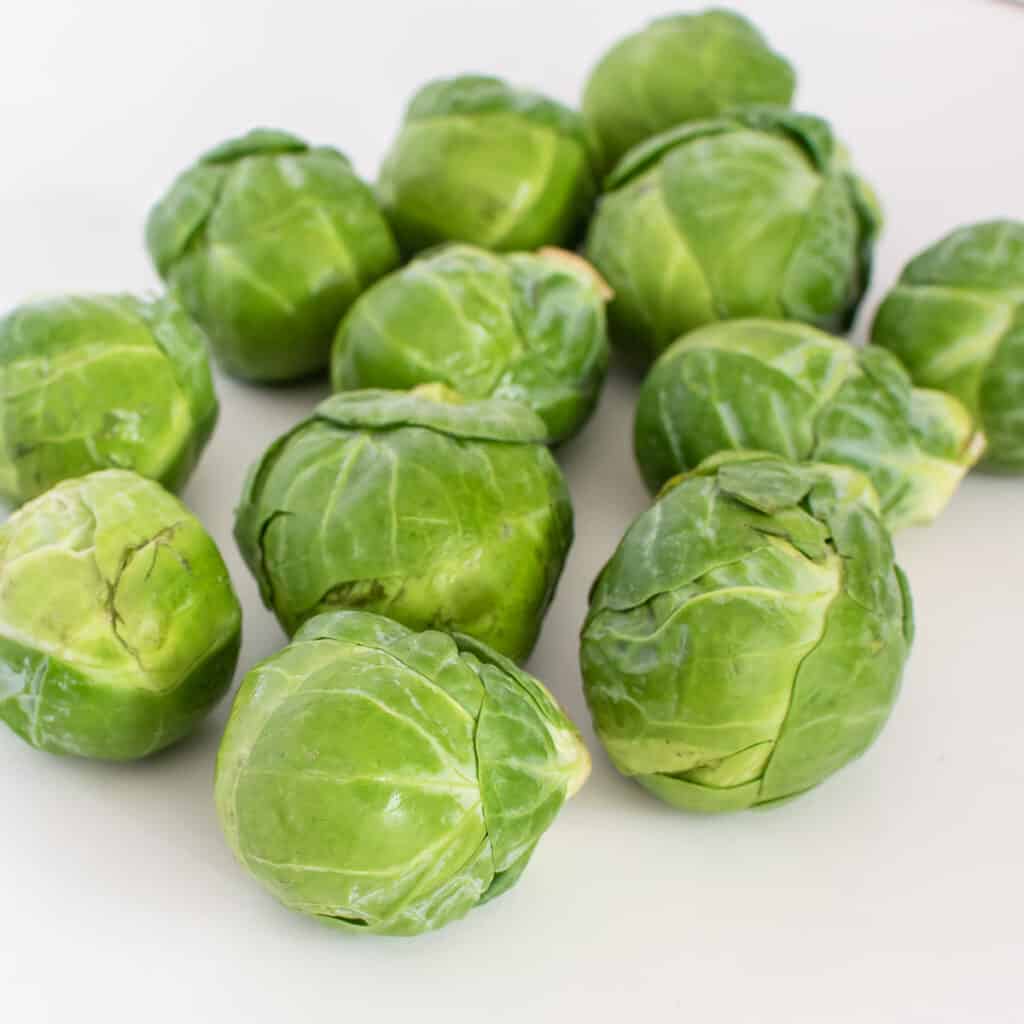 About Brussels Sprouts
It's a tiny form of cabbage densely packed with green leaves. Brussels sprout are nutrient dense vegetable packed with vitamins, minerals and antioxidants. Some people might think it bitter but when cooked properly and combined with the right combination they have a sweet, nutty and smoky taste of their own.
Every year I always try to include this vegetable in our diet because its important to include as many vegetables as possible for a balanced diet.
Moreover, it's a versatile salad in which you may amore veggies of your choice. Shredded red cabbage goes well in this recipe.
You may also various other colored bell peppers and also toss in mini sweet peppers for more colors and flavors.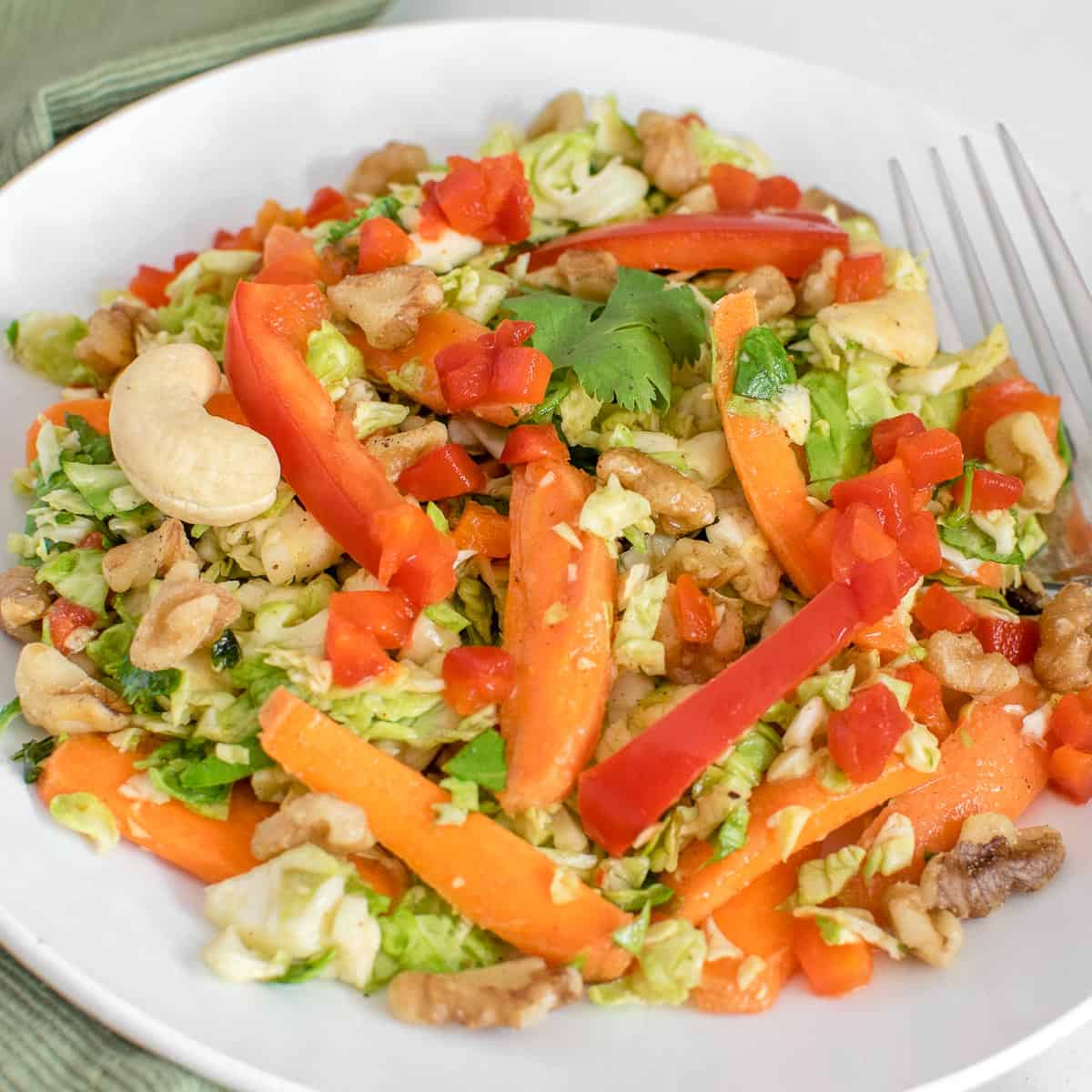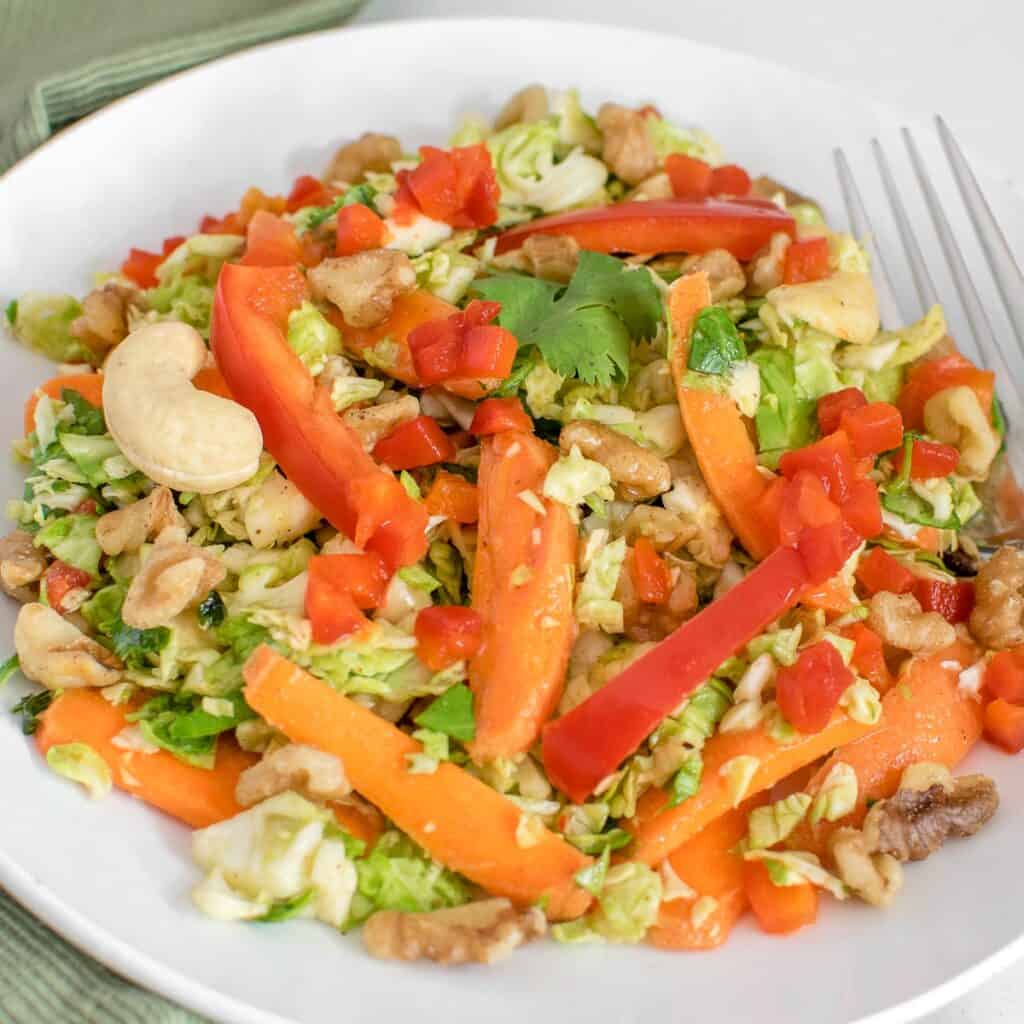 Hence, today I am sharing this shaved brussels sprouts salad recipe with you.
Ingredients for raw vegan brussels sprouts salad
Brussels sprouts
Carrots
Red bell pepper
Pimento pepper
Cashew nuts
Walnuts
Cilantro
Dressing
Toasted sesame oil
Ginger
Garlic
Maple syrup
Almond butter
Salt
I have used these easily available ingredients here and now let's get into its details.
Ingredients notes
Brussels sprouts – it's a vegetable from cabbage and broccoli family. Make sure to trim the sides and remove the outer yellow covering before using.
Pimento peppers – These Spanish peppers have sweeter flesh and are red in color. Fresh pimentos are delicious and enhances the flavor of salad immensely but canned or jarred diced pimentos are easier to find.
Cashew nuts – this adds a nice crunch and healthy fats to this vegan brussels sprout salad
Walnuts – I used chopped walnuts to add omega 3 and plus some distinct nutty taste to this salad.
Cilantro – this adds to its freshness along with adding more aroma.
Toasted sesame oil – this gives an Asian touch to this salad but you may use extra virgin olive oil instead as well.
Maple syrup – this adds a bit of sweetness to it balancing the taste of the entire recipe. So, I would recommend using pure maple syrup here.
Almond butter – this adds to a better color and creamier base to the dressing.
However, you may substitute it with cashew butter if desired.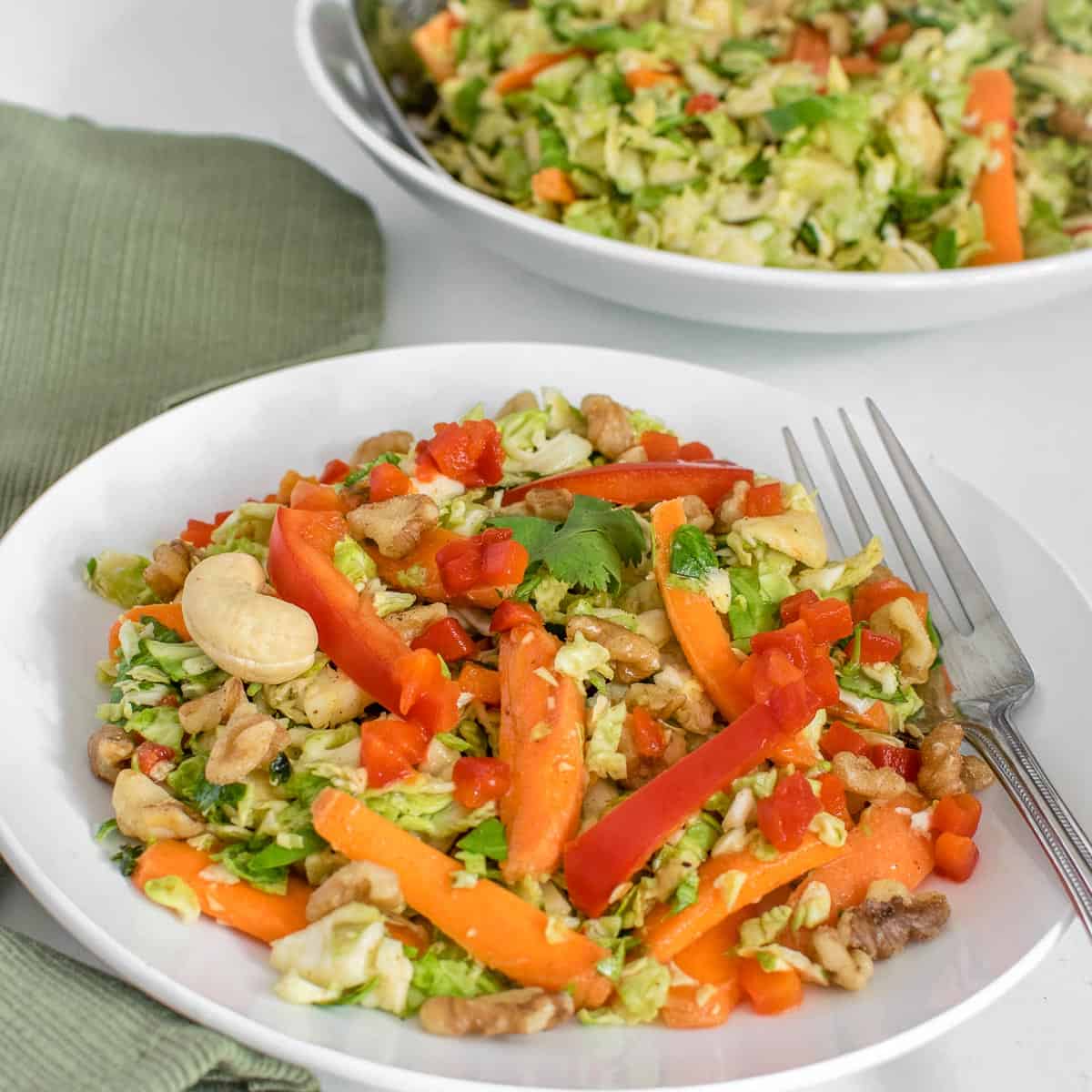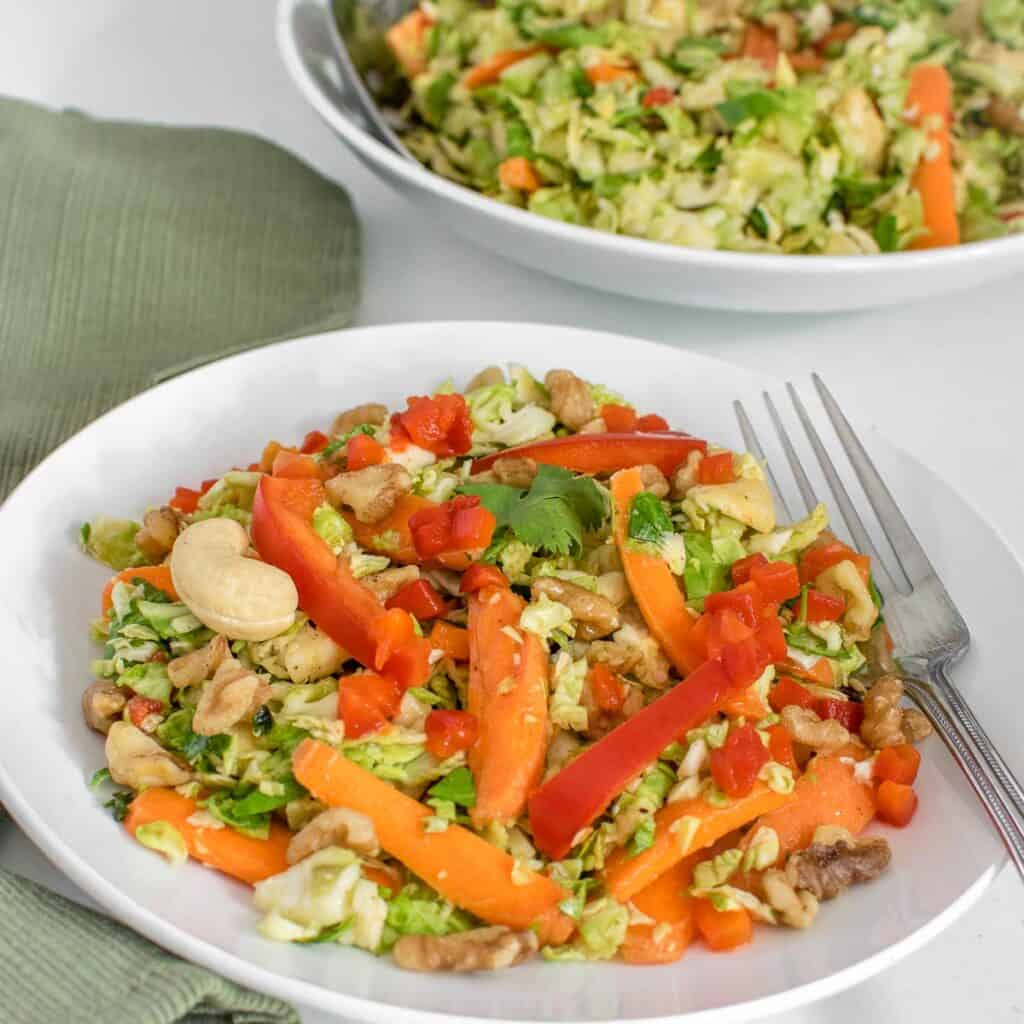 For detailed measurement of ingredients, please scroll down to the printable recipe card at the bottom of this post.
How to make Vegan Brussels Sprout Salad
Firstly, I trimmed the brussels sprouts and combined it in the food processor.
Secondly, I pulsed it until I got shredded like consistency. Then, I spooned it out in a large mixing bowl.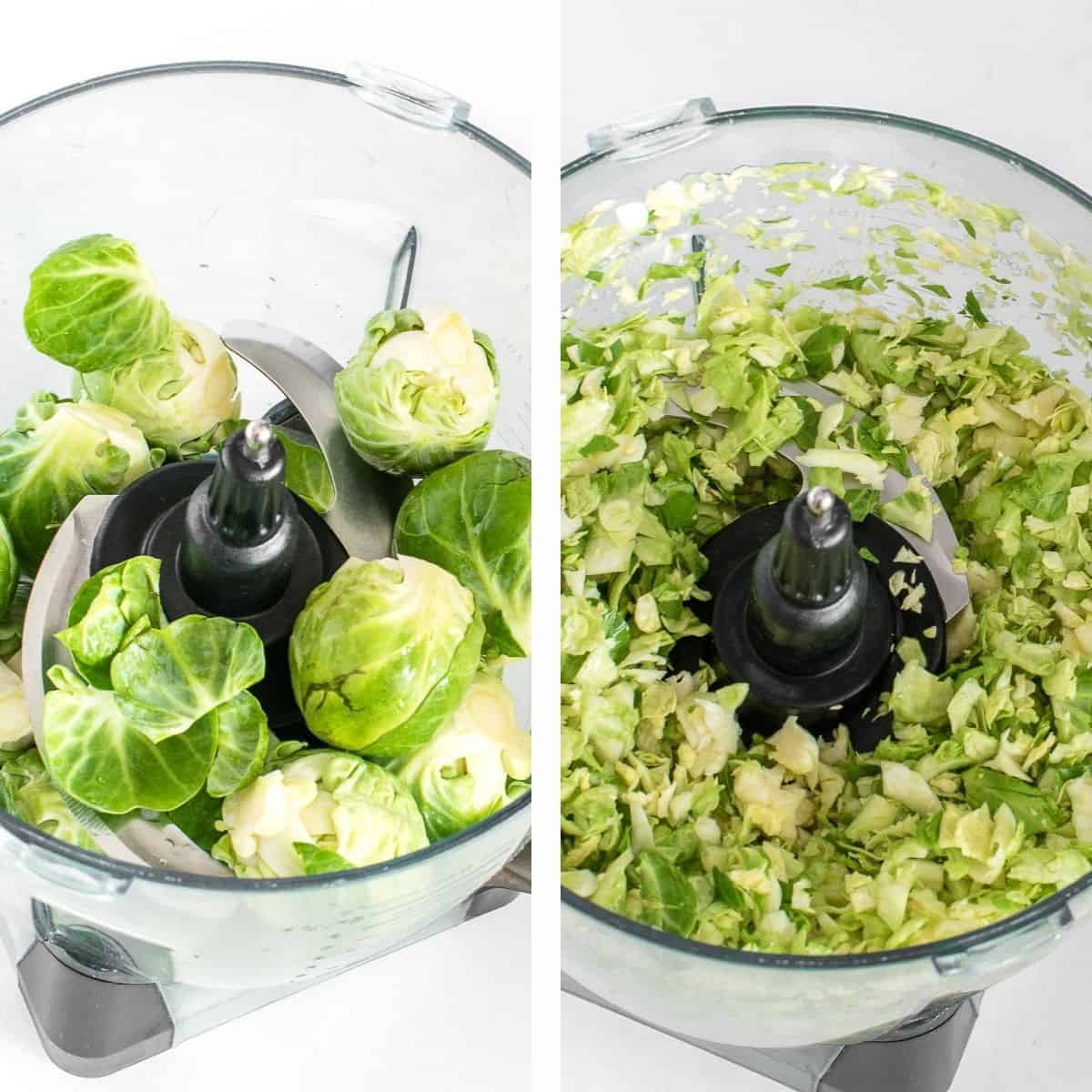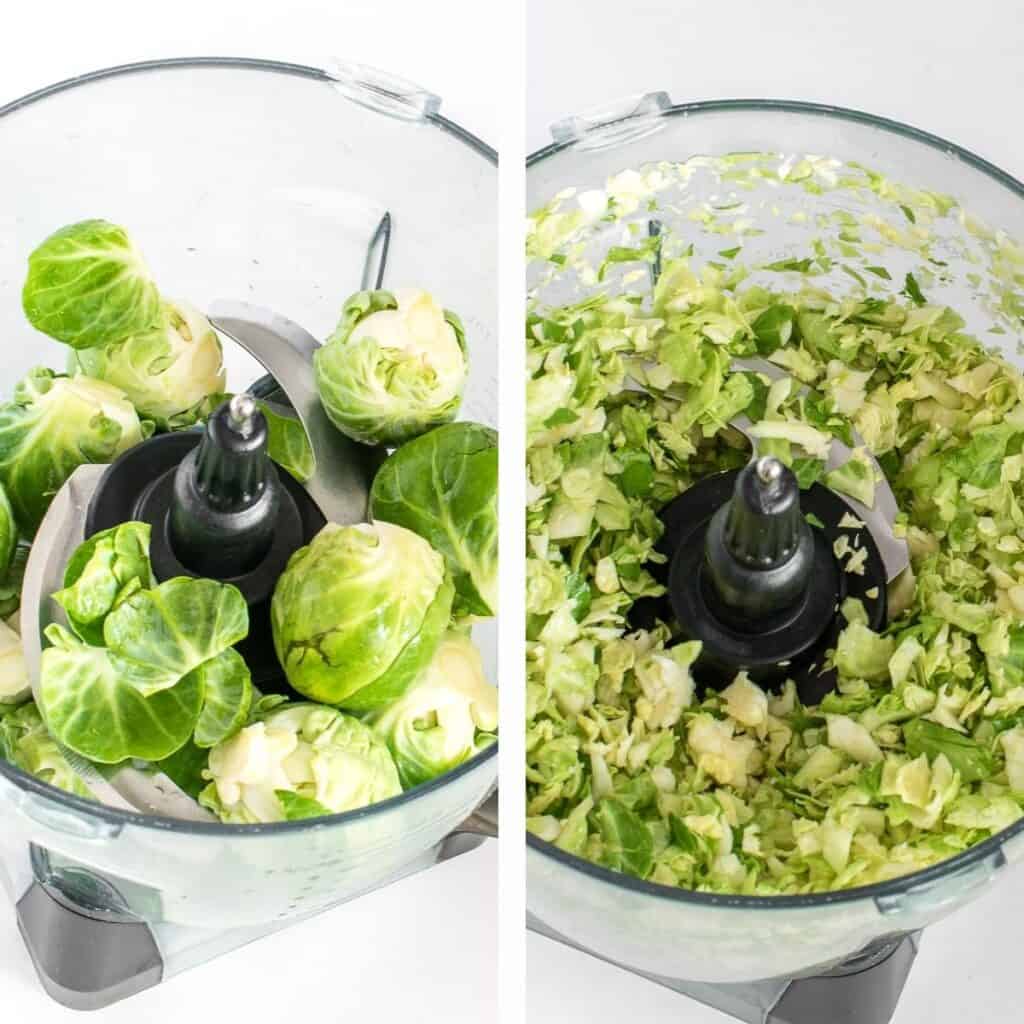 Next, I added sliced carrots to it.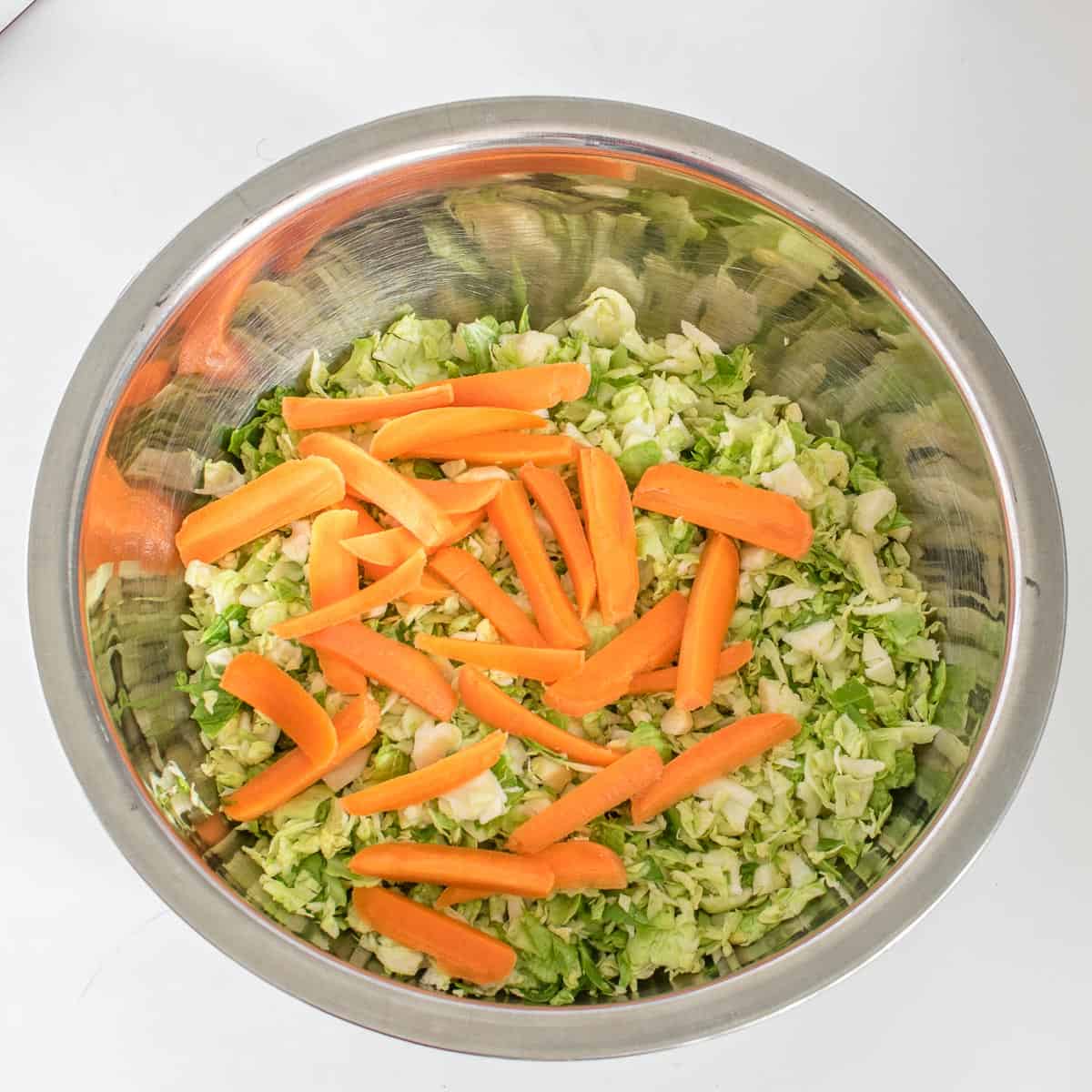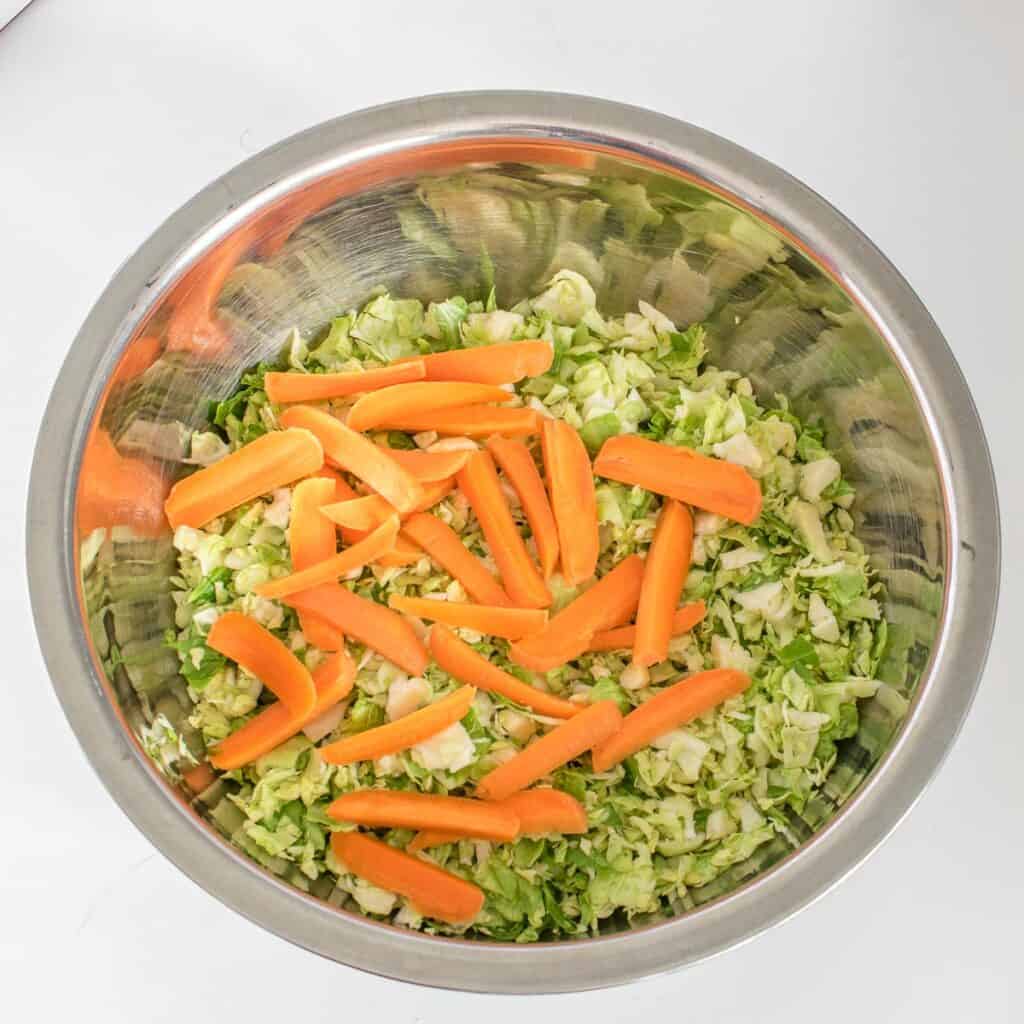 Then, I added sliced red bell pepper to it followed by diced pimento peppers.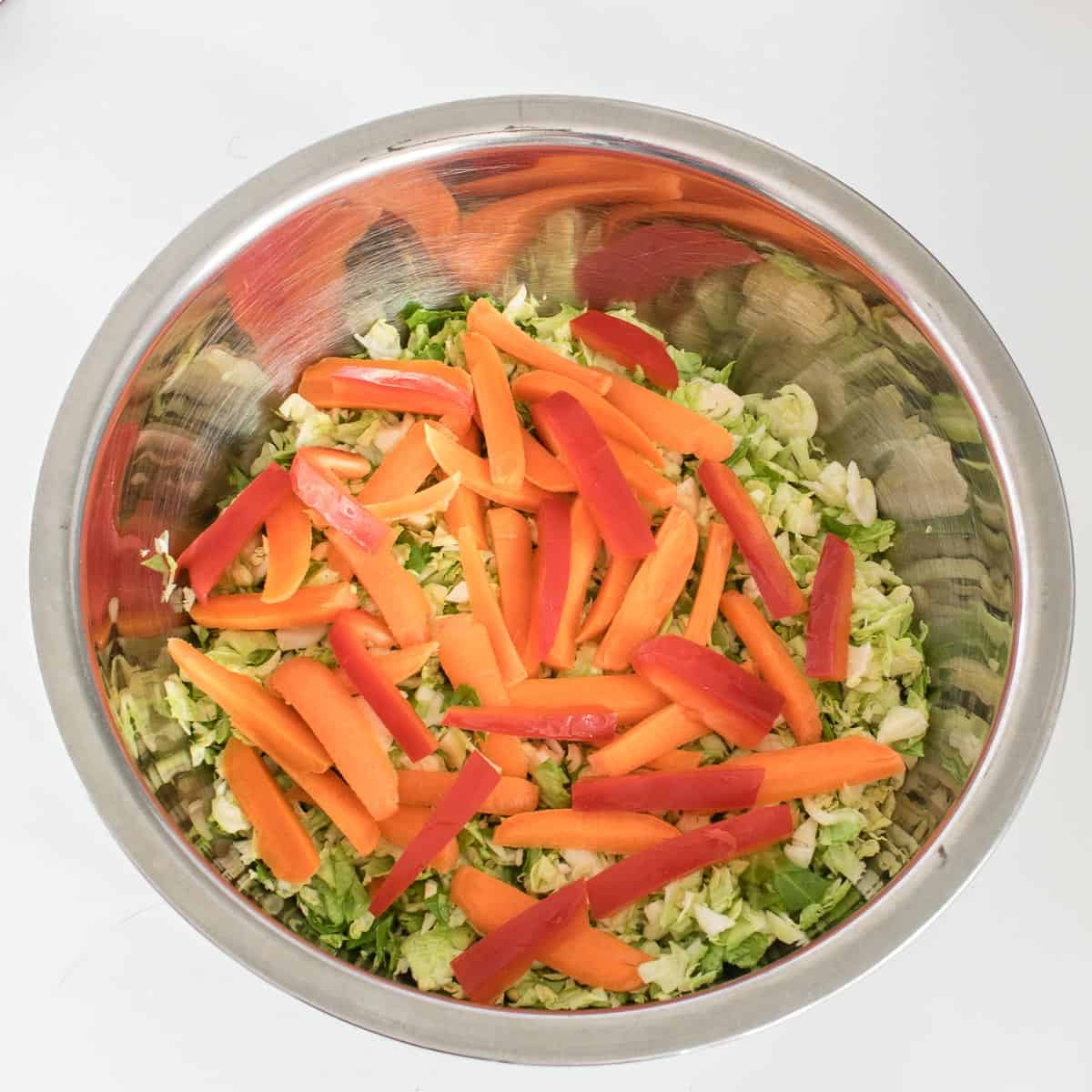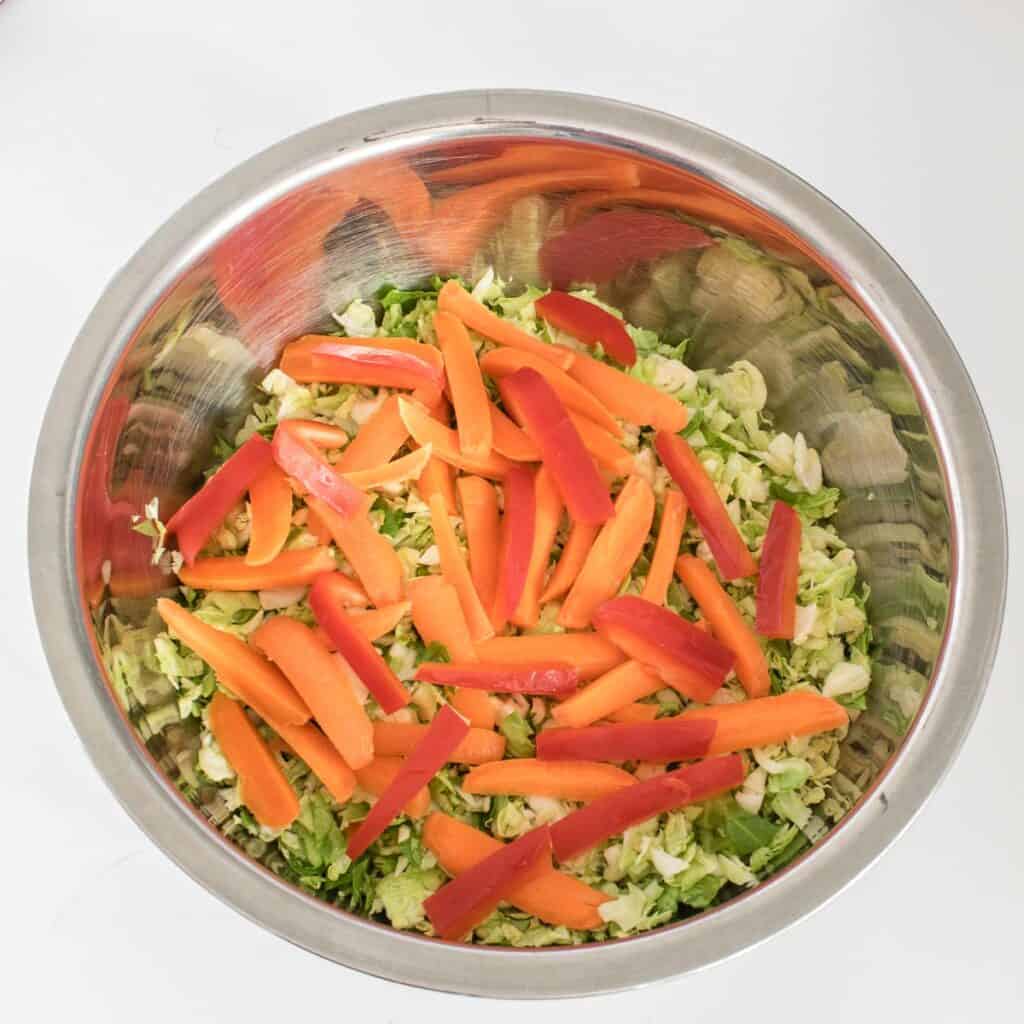 Thereafter, I added cashew nuts, walnuts and chopped cilantro. Then, I kept it aside.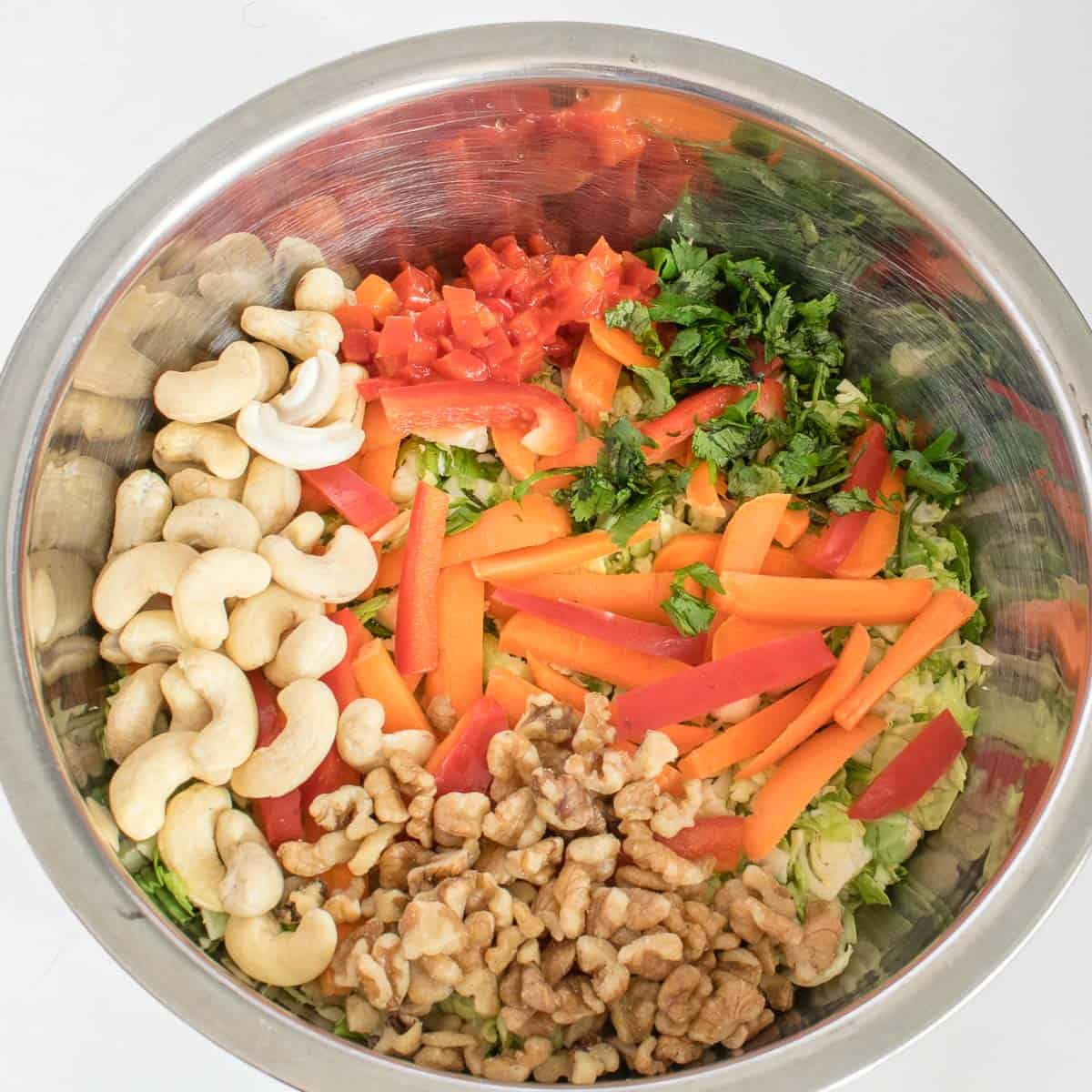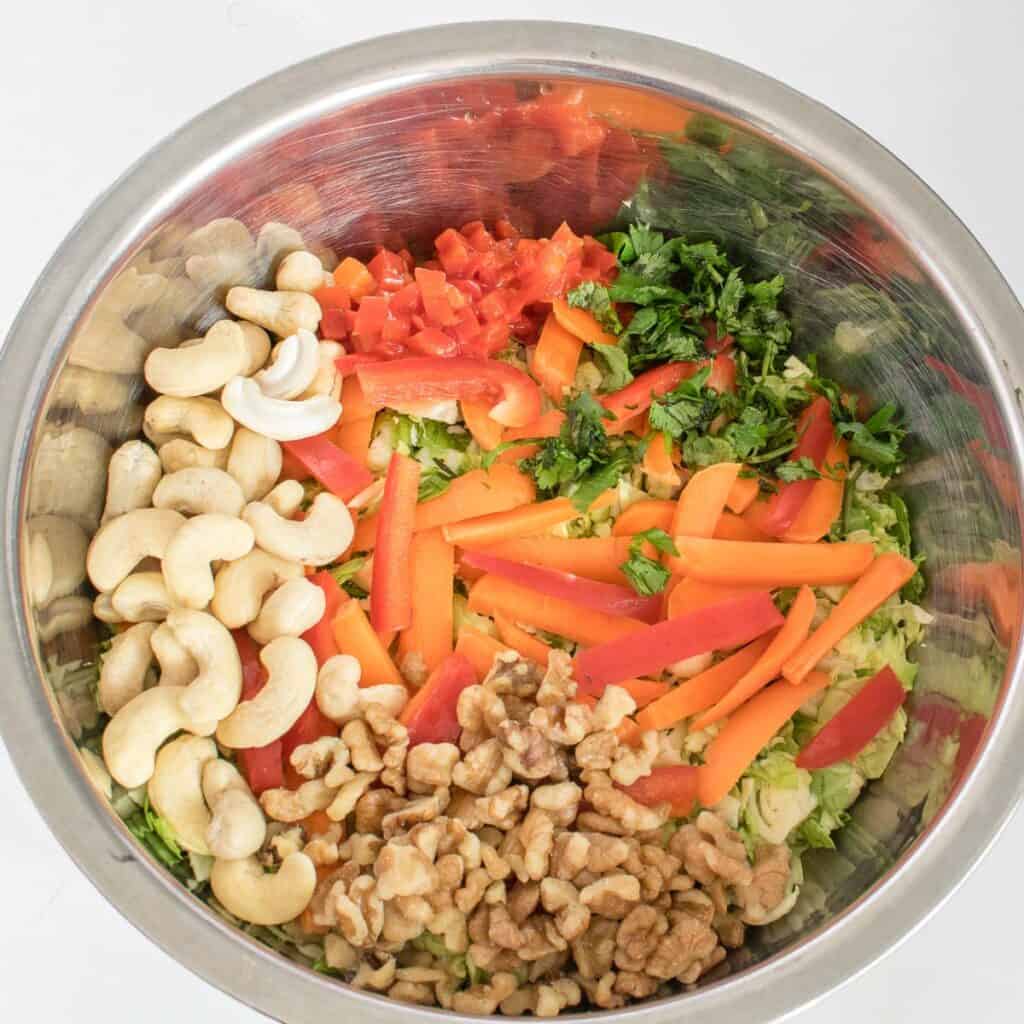 Afterwards, in a glass bowl I combined all the dressing ingredients and whisked it until almond butter melted and blended well.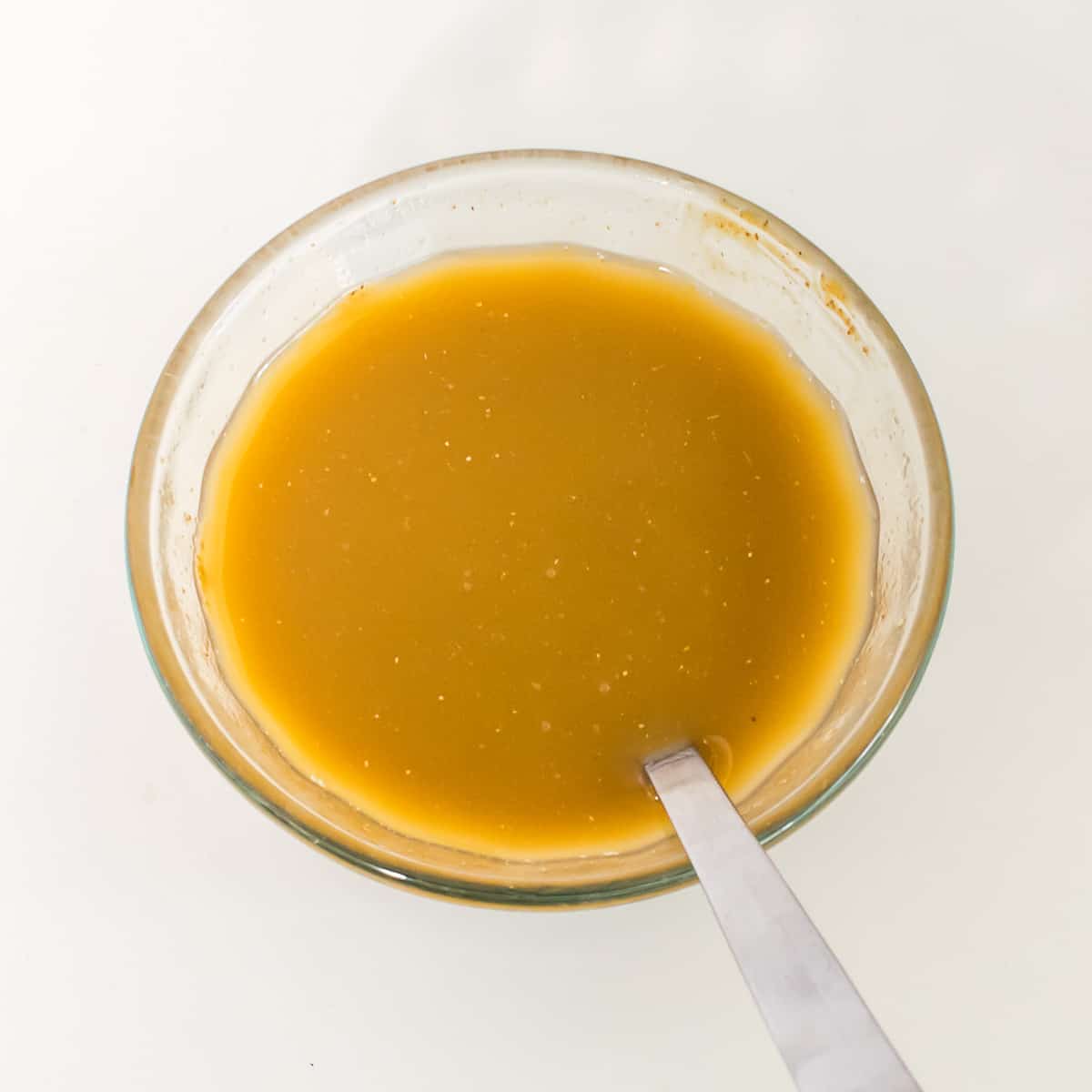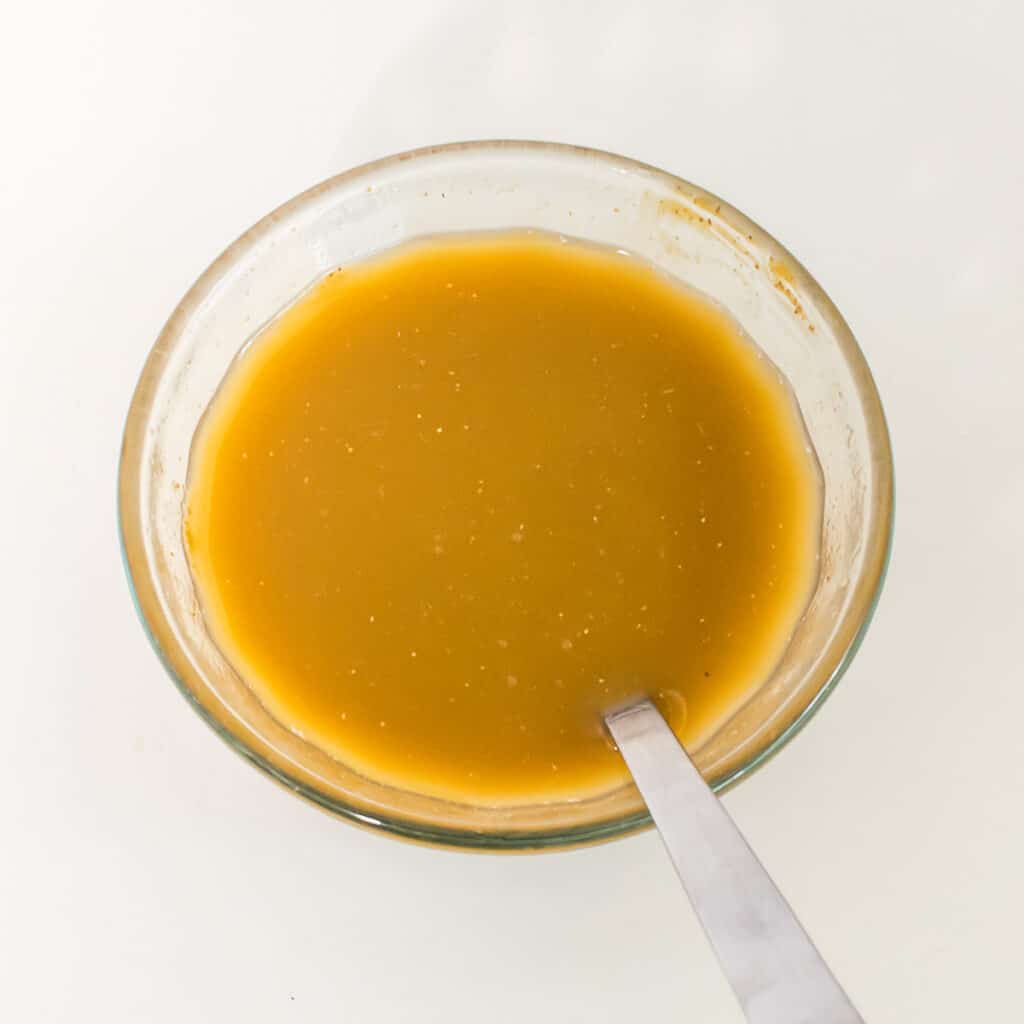 Lastly, I drizzled the dressing over the salad and tossed it nicely.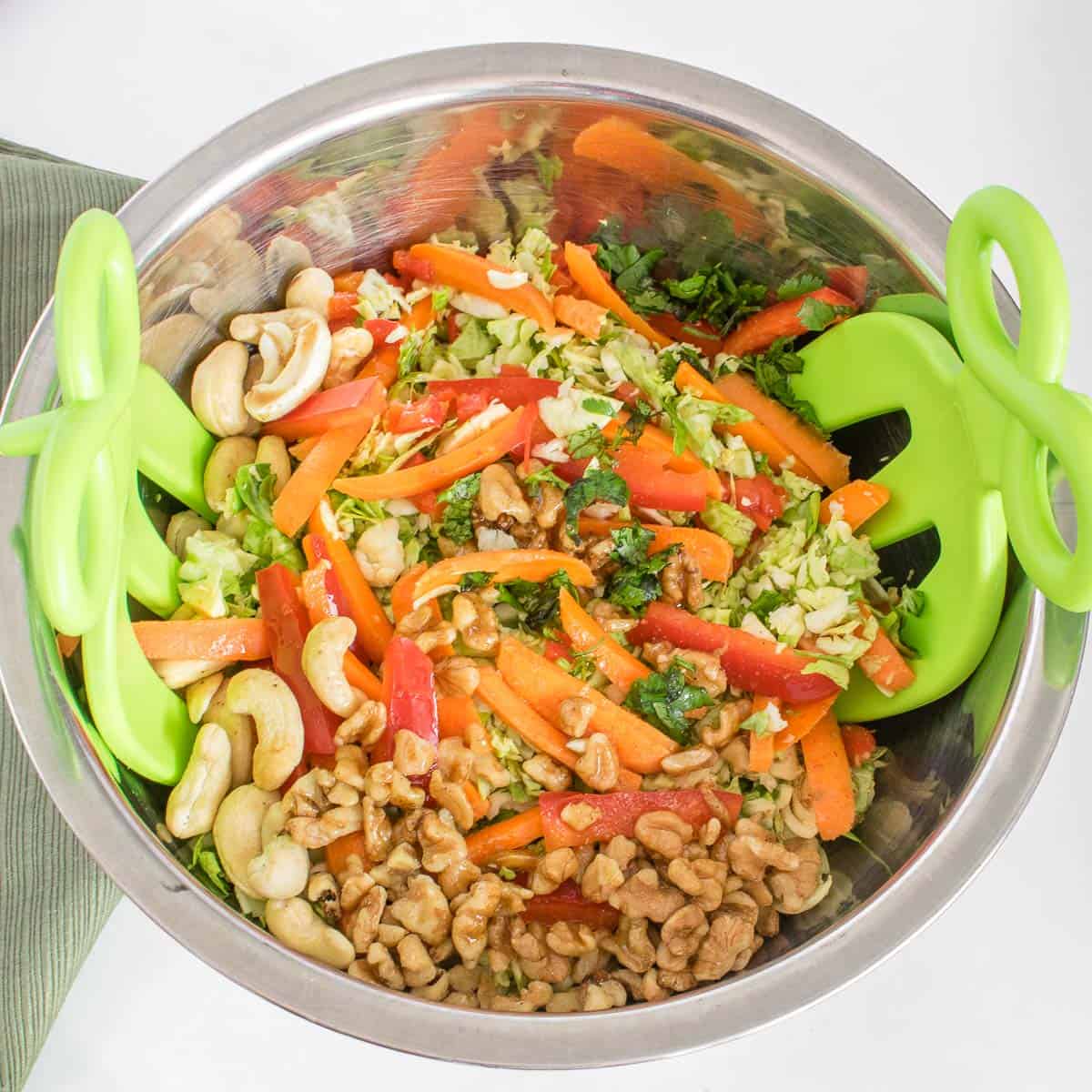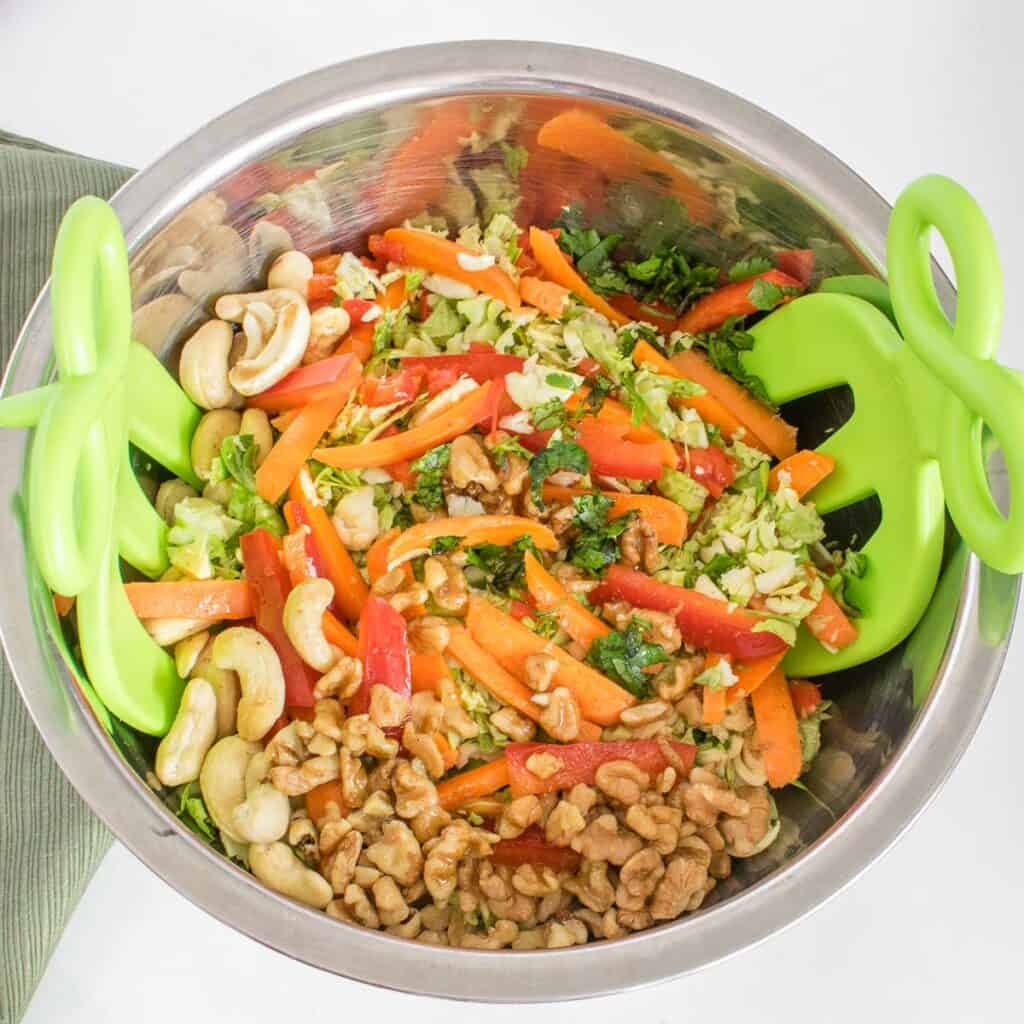 When I served it fresh, I was absolutely stunned by its delicious taste and aroma.
I bet this is the best brussels sprouts salad you have ever tasted.
Its so easy and quick and can be made in just short notice.
If you serve this to your guests, I guarantee they will be impressed and would appreciate this recipe. It's a satisfying and healthy raw salad packed with vitamin C, fiber and other nutrition.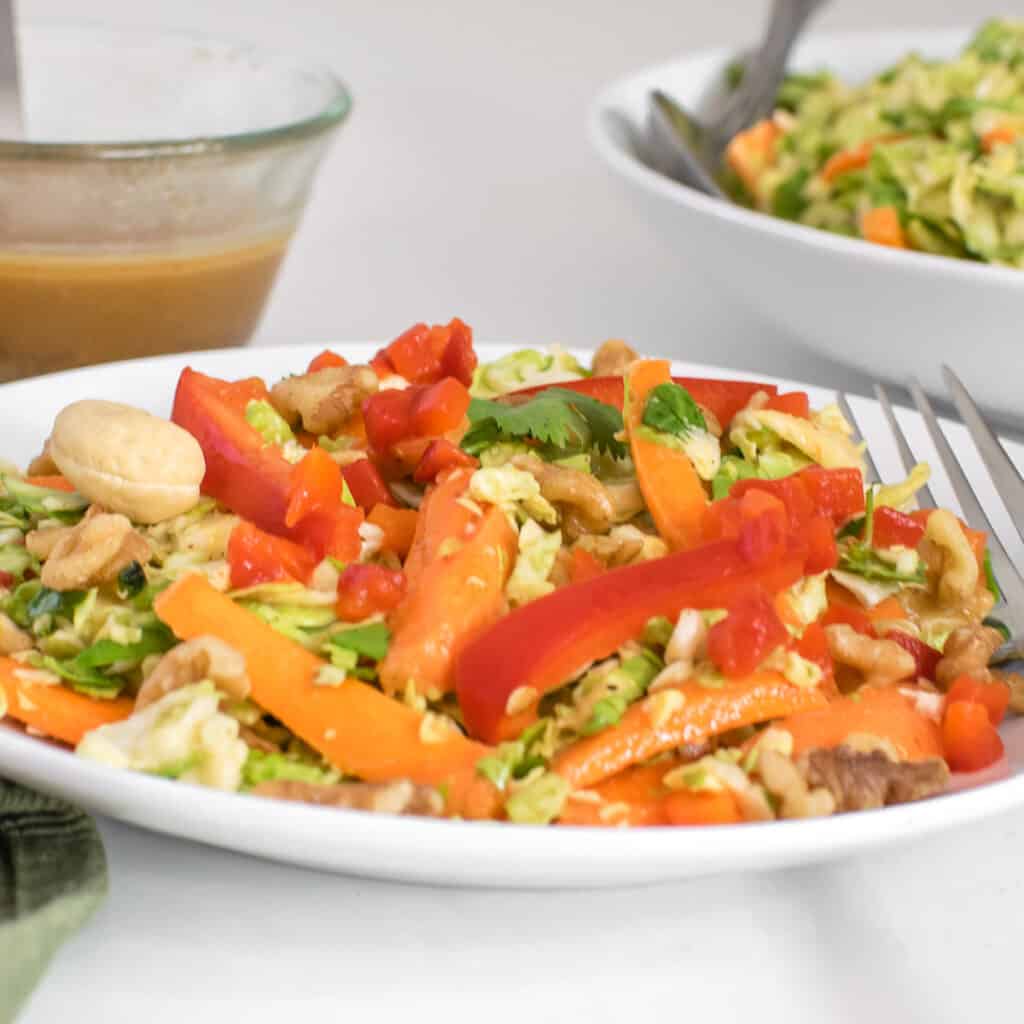 Expert tips
Make sure to pulse brussels sprout until its shredded or crushed.
It is important to whisk the dressing until the almond butter blends well or it will taste differently.
Vegan Brussels Sprout Salad FAQs
How long does it last?
This brussels sprout salad tastes best when served immediately since its raw.
How can I prep for this salad ahead of time?
You may prepare the veggies and wrap in with a food saver and refrigerate for few hours. However, you may whip up the dressing and refrigerate it in a glass jar for about 1 week.
Can I eat raw brussels sprout?
For majority it is fine to eat raw. However, if someone has bloating issues then cooked brussels sprout is better for them.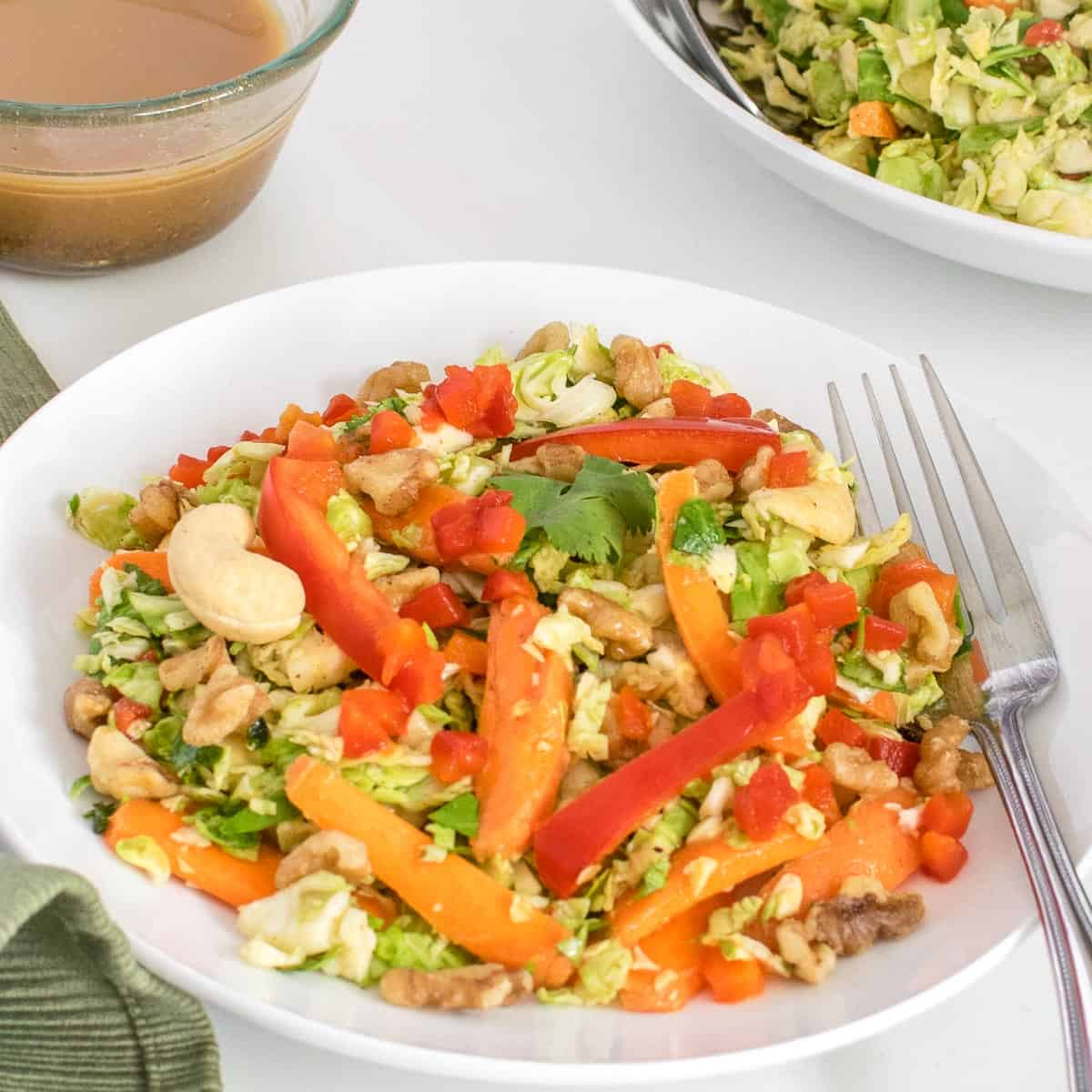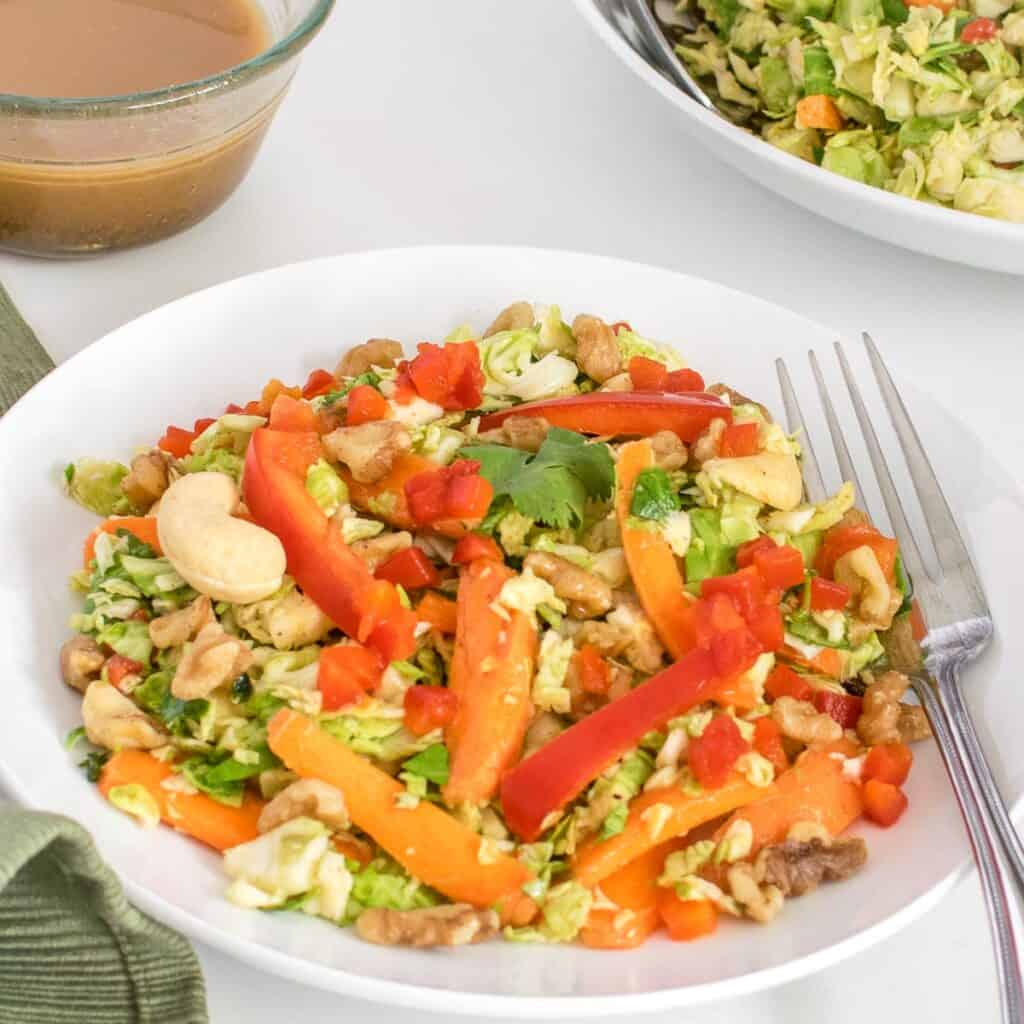 More healthy vegan salad recipes
Vegan Potato Salad
Cashew Balsamic Quinoa Salad
Farro Salad in Butternut Squash Dressing
Butternut Squash Tofu Salad with Roasted Hazelnuts
This post may contain affiliate links which means I get a small commission if you click on those affiliate links and also make a purchase from them. Moreover, I share only those products which I personally use and love.
Where to find me?
Follow me on Facebook or tag me @kiipfit on Instagram with your recipe remake images. I love to see what you cooked. Follow me on Twitter if you love to tweet.
Did you make it?
If you get a chance to make this recipe then please leave your feedback in the comments below along with a 5-star rating.

In addition, you may checkout my cookbook for everyday vegan comfort recipes.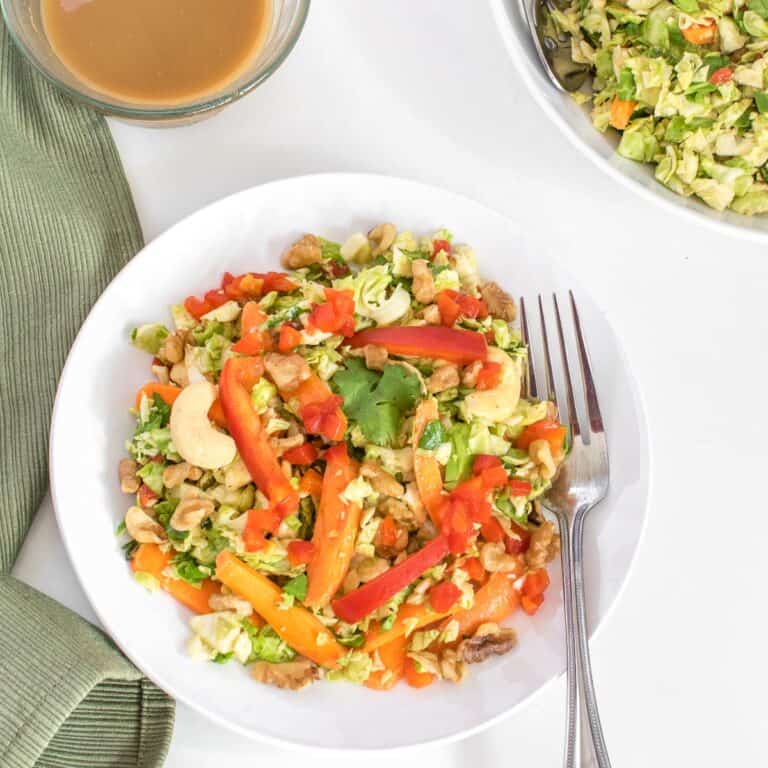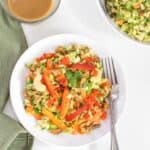 Print Recipe
Vegan Brussels Sprout Salad
This easy Vegan Brussels Sprout Salad is flavor packed with fresh homemade sesame oil dressing and has the perfect crunch. It serves great as a side for Thanksgiving or Christmas and as main in warm weather. Its perfect for all year round and for all occasions.
Instructions
In a food processor combine brussels sprouts and pulse it until its roughly crushed or shredded like consistency. Spoon it out in a large mixing bowl.

Now, combine rest of the veggies and nuts in the same mixing bowl and keep it aside.

In another glass jar or bowl combine dressing ingredients and whisk it very well until almond butter is well blended.

Drizzle the dressing over the salad and toss it well. Adjust salt and serve immediately.
Notes
cashew butter can be used instead of almond butter if desired.
This recipe serves 4 as a side and 2 as the main.
I used bottled diced pimento for convenience but feel free to use fresh ones if available at your location. Make sure to chop them so get the right flavors.
Nutrition
Calories:
225
kcal
|
Carbohydrates:
12
g
|
Protein:
3
g
|
Fat:
19
g
|
Saturated Fat:
1
g
|
Polyunsaturated Fat:
4
g
|
Monounsaturated Fat:
2
g
|
Sodium:
2
mg
|
Potassium:
100
mg
|
Fiber:
1
g
|
Sugar:
6
g
|
Vitamin A:
2
IU
|
Vitamin C:
1
mg
|
Calcium:
33
mg
|
Iron:
1
mg