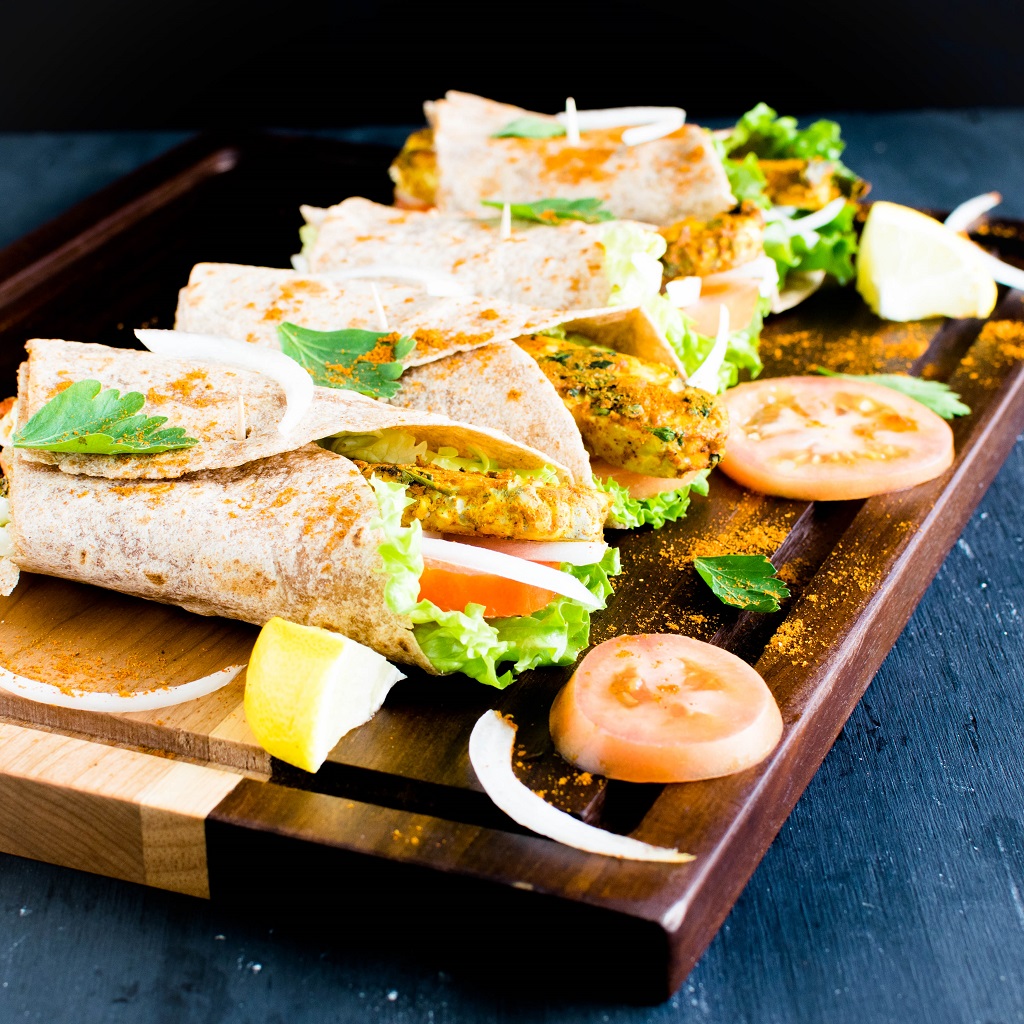 Moroccan Spiced Tempeh Wraps are savory, spicy and easy meal. These vegan wraps are wholesome, hearty and filling with high content of protein + fiber. It's great for lazy weeknight dinners. The leftovers satisfy perfectly for lunch the next day.
I am basically fond of wraps. So it's the first thing that I see in menus anytime I plan to eat out. I love the soft chewy tortilla with crunch vegetables along with some protein. And then of course mounts of flavorful sauces. I like spicy and salty food in combination with some tantalizing spices. I like a variety of taste in my plate and I am always excited to try new food as well.
Lately, I have been trying few Middle Eastern flavors and I simply love them. I got a jar of Moroccan spice seasoning which I have been itching to try it for quite some time. Even though I used it couple of times in my experiments I was not satisfied with the outcomes. However, finally I got the trick and was able to somewhat match the flavors in my marination.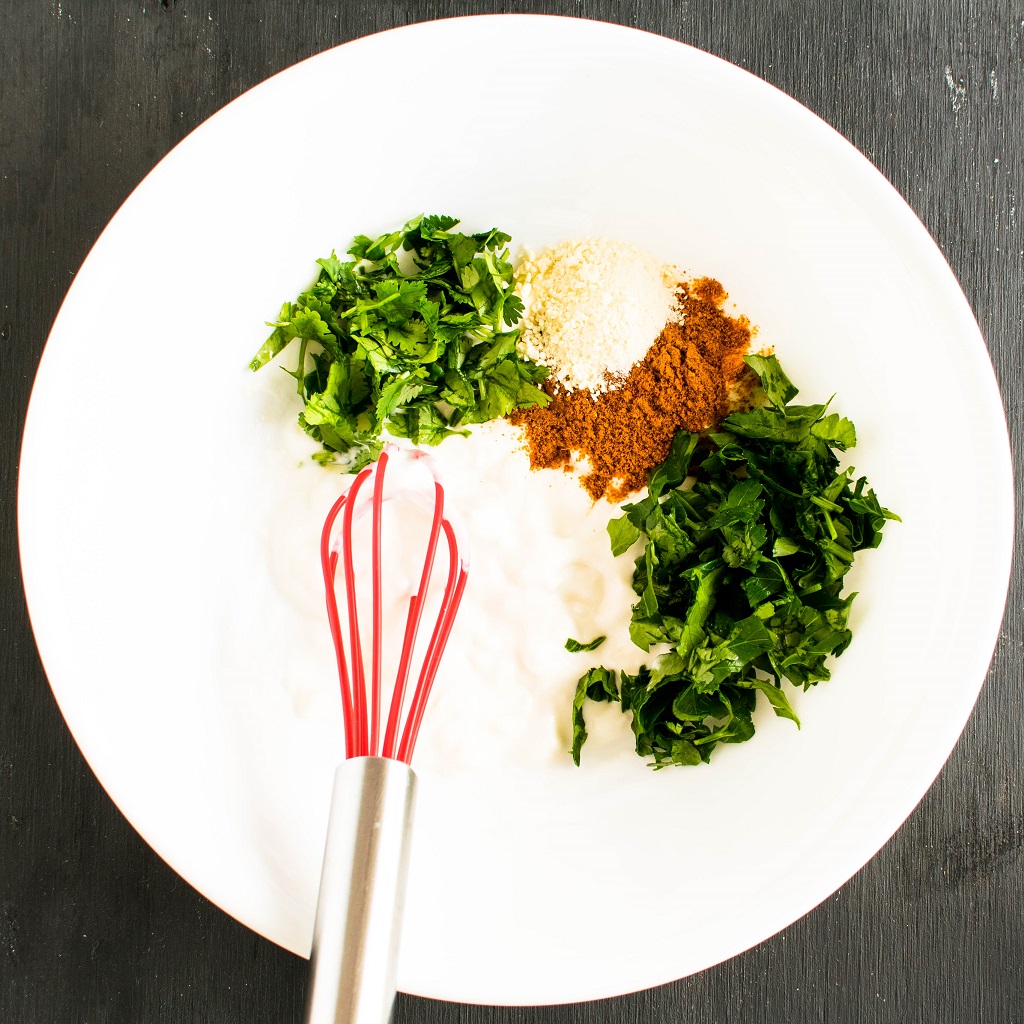 It took me a while to start liking tempeh. But I think I am a pro now. Actually, I learnt a great trick to smoothen its taste. So every time I start with a tempeh recipe I first boil it nicely. That way the raw and fermented taste neutralizes.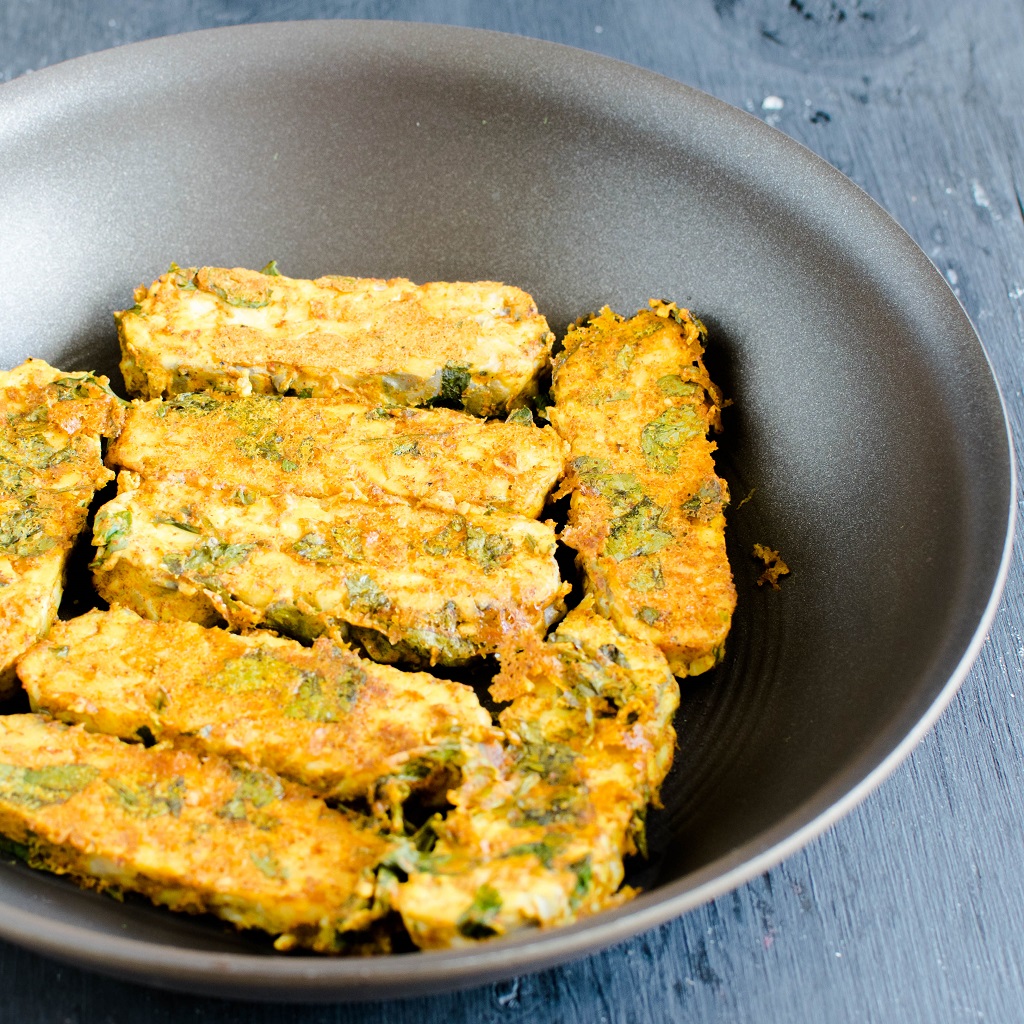 Simple ingredients for Moroccan Spiced Tempeh Wraps:
Vegan plain yogurt
Garlic powder
Moroccan spice seasoning
Parsley
Cilantro
Lemon juice
Cayenne pepper powder
Tempeh
Whole grain tortillas
Lettice
Tomatoes
Onions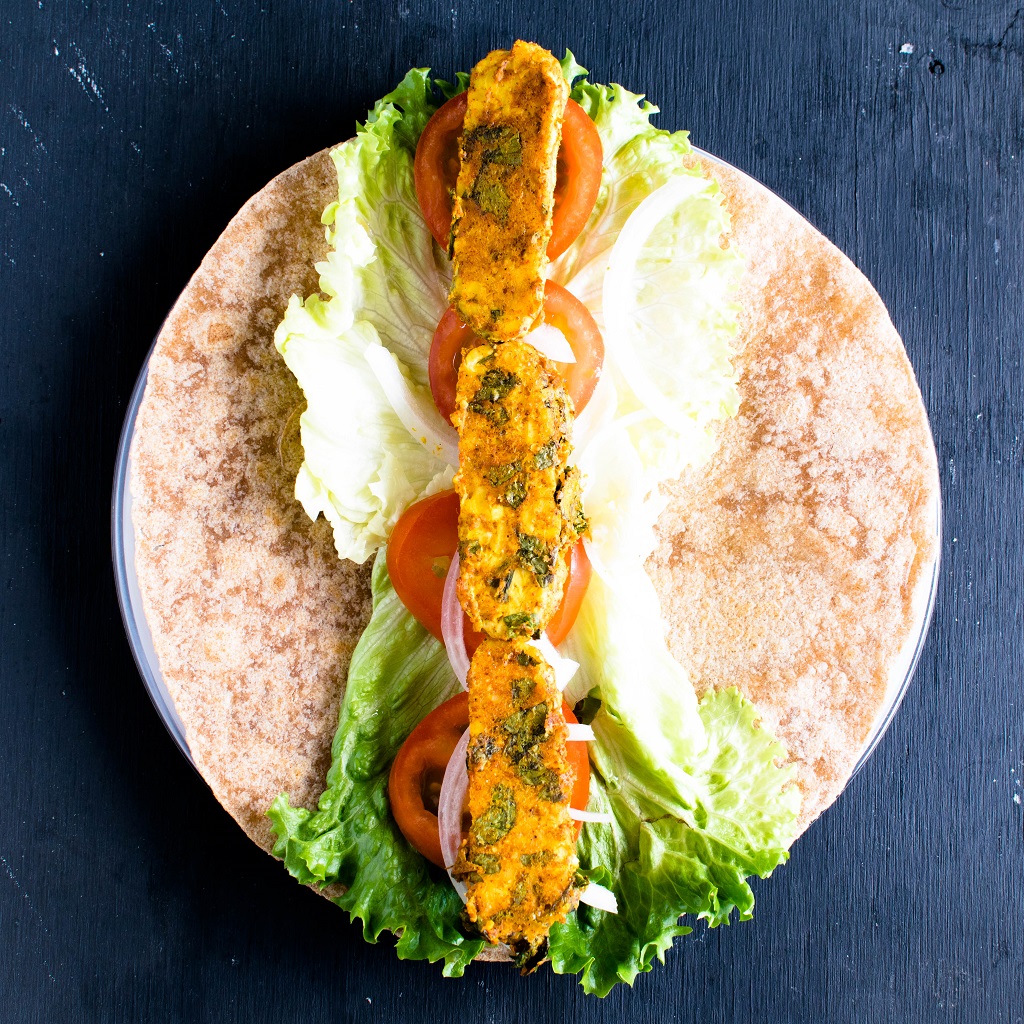 I love these Moroccan Tempeh Spiced Wraps because…..
These are:
Wholesome and satisfying
Protein + fiber rich
Easy + quick
Crunchy from the salad
Savory + spicy with a tang
Scrumptious
If you are looking to reduce your carb intake you may simply leave out the tortilla and toss it in your favorite salad. Also, don't forget to add lettuce because lettuce adds to the overall flavor of the wrap or salad whatever form you plan to enjoy it.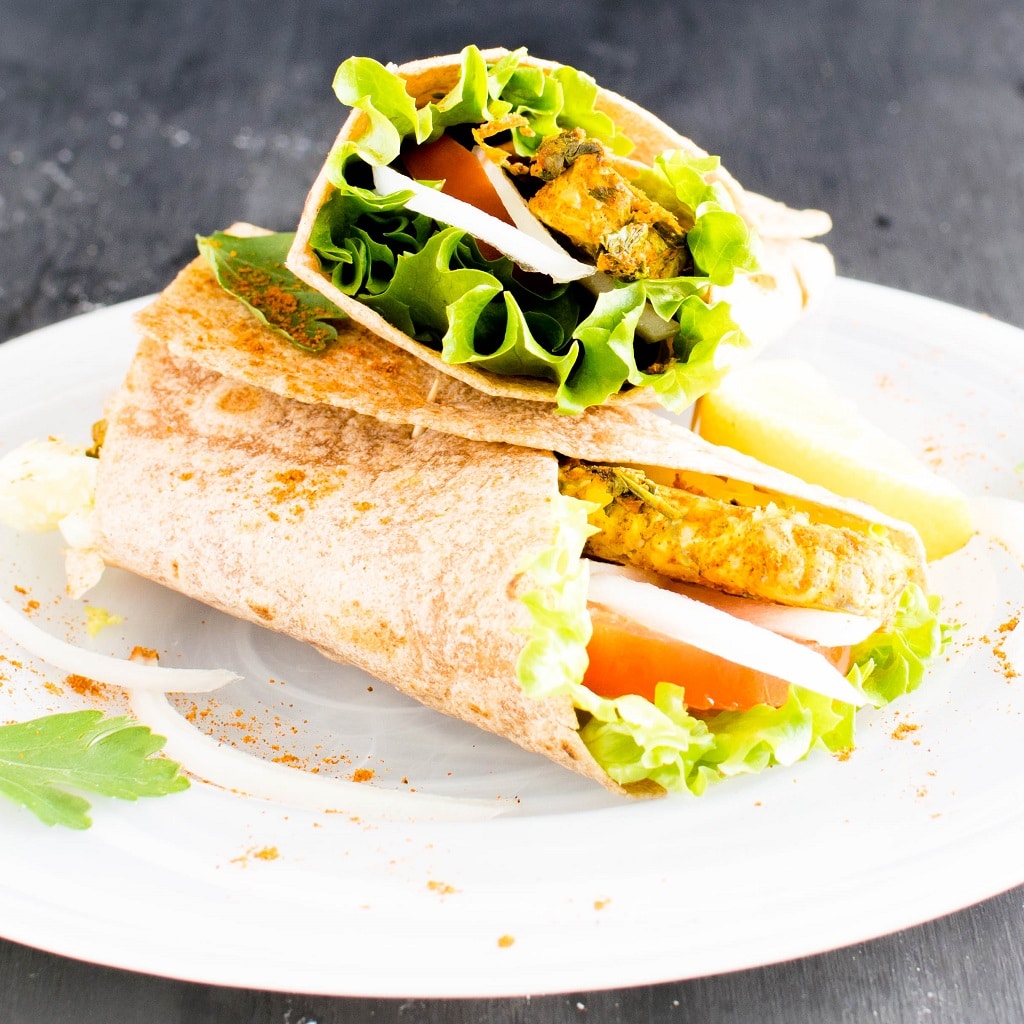 I am sure you will love this Moroccan Spiced Tempeh Wraps are much as I do. If you get a chance to make these do leave your feedback. I love reading your version of description about my recipes.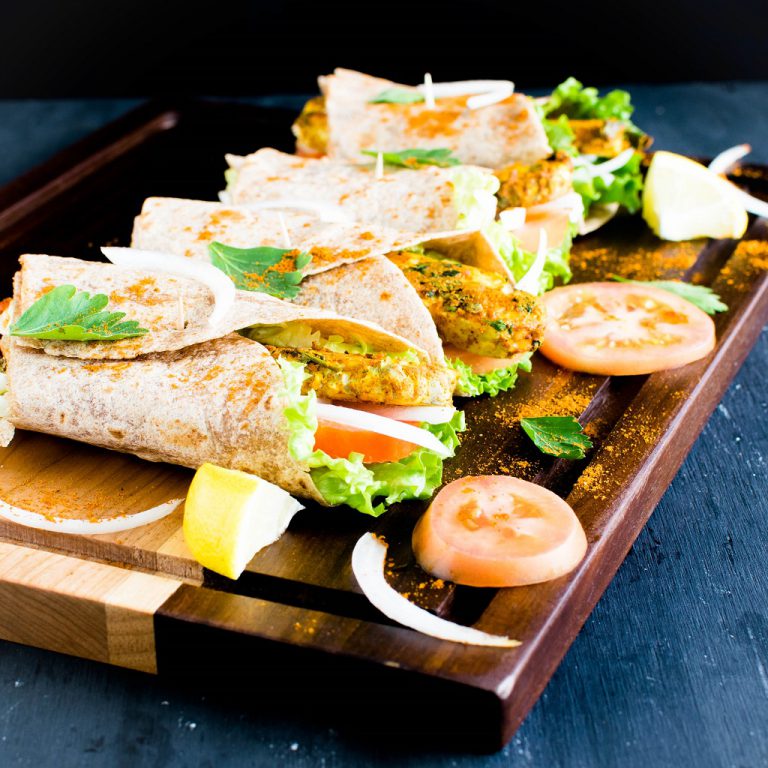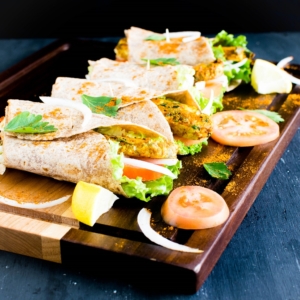 Print Recipe
Moroccan Spiced Tempeh Wraps
Moroccan Spiced Tempeh Wraps are savory, spicy and easy meal. These vegan wraps are wholesome, hearty and filling with high content of protein + fiber. It's great for lazy weeknight dinners.
Nutritional value with tortilla:
Calories: 311 ; Fat: 10g ; Carbs: 39g ; Protein: 21g
Nutritional Value without tortilla:
Calories: 151 ; Fat: 5g ; Carbs: 11g ; Protein: 16g
Ingredients
For the marinade
1/4

cup

plain vegan yogurt

(unsweetened)

1

tsp

garlic powder

2

tsp

Moroccan spiced seasoning

2

tbsp

chopped fresh parsley

2

tbsp

chopped fresh cilantro

1/2

tsp

lemon juice

1/4

tsp

cayenne pepper powder

Salt as per taste

1

8oz

pack of original tempeh

(sliced, boiled and drained)
For the wraps
4

whole grain tortillas

4

lettuce leaves

2

Roma tomatoes

(round sliced)

1/2

cup

white/red onion

(thinly sliced)
Instructions
In a large mixing bowl combine all the ingredients for the marinade and whisk it nicely. Now carefully fold in tempeh slices and mix gently so that each tempeh piece is well covered with the marinade. Cover and let it rest for 20 minutes

Now, heat a nonstick pan/crepe pan and grease it to avoid sticking. Place each tempeh pieces on the pan with the help of tongs. Let it cook until nice brown in color. Flip the tempeh pieces to the other side and let it cook again until nicely brown.

Warm up the tortilla and place lettuce leaves, sliced tomatoes, onions and tempeh pieces. Squeeze few drops of lemon juice and fold it nicely so it stays strong. Enjoy immediately.
Notes
I used almond based plain yogurt for this recipe. However, coconut based plain unsweetened yogurt may also be used for this recipe. I would avoid soy based if possible to have a smooth taste of the recipe. 
If non - vegan regular plain yogurt can also be used. Just add a pinch of sugar in the marinade to cut the sourness of the yogurt. 
Its a make ahead recipe as well. Simply cook the marinated tempeh and refrigerate in a glass bowl for a up to a week. Just warm it up before placing tempeh in a wrap or in a salad. 
Nutrition