These Flourless Apple Macadamia Cookies are soft and chewy with deliciousness in every bite. They are not only guilt free and healthy but are oil free too.
Fresh Apples with Macadamia Nuts and White Chocolate Chips, No Sugar Added! I could not have asked for a healthier cookie.
These Flourless Apple Macadamia Cookies are healthy and gluten free and are perfect to satisfy cookie cravings.
These cookies are soft and chewy and have a distinct taste of macadamia nuts which makes me want moorreee coookkkiieesss! 🙂
Apples! Apples! And more Apples! How else could I express my new interest in apples? I have started enjoying cooking with apples.
Earlier I thought apples to be only a fruit that could be eaten raw or made juice out of it or apple cider or apple pie. But now I have found my new love in Apples.
I am exploring its versatility and will continue till the season lasts. 🙂
This excitement led us to an apple farm few days ago and we had great fun in apple picking. I, especially, picked up so many of them that my baskets were falling short but my excitement did not seem to stop.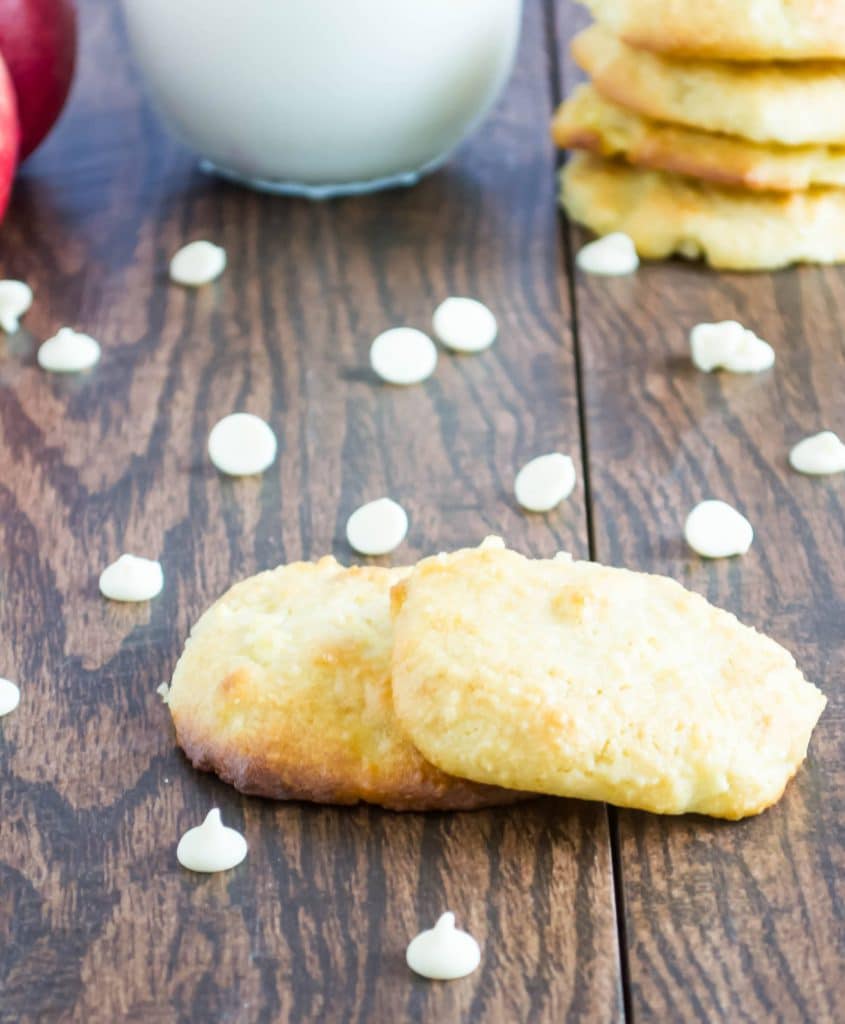 Macadamia Nuts are my favorite nuts and I always keep a stock of these nuts for snacking.
I love the sweet flavor of it and the color is just so wonderful that when mixed with apples in Flourless Apple Macadamia Cookies I could not take my eyes off.
You may also like:
3 Ingredient Almond Butter Cookies
Apple Buckwheat Chocolate Chip Cookies
I must admit that it is very difficult to impress my husband with recipes and that's the toughest job for me but to my delight these cookies have occupied my husband's list of kiipfit's favorite recipe. YAY!
If you get a chance to make this recipe then please leave your feedback in the comments below along with the ratings. In addition, you may photograph your baked cookies and tag @kiipfit on Instagram .
Print Recipe
Flourless Apple Macadamia Cookies
These Flourless Apple Macadamia Cookies are soft and chewy with deliciousness in every bite. They are not only guilt free and healthy but are oil free too. 
Instructions
Preheat oven at 370 degree Fahrenheit. Prepare a cookie sheet with a liner and grease it with cooking spray.

Grind the macadamia nuts until fine powder texture.

In a microwave bowl melt the white chocolate chips. This will take 2-3 minutes stirring in every 1 minute. Make sure to not to overdo as it may burn. Keep it aside.

In a mixing bowl combine powdered macadamia nuts, baking powder and salt. Mix it well until there are no lumps.

Now toss in apples and mix again.

Now, add soaked flax meal and vanilla extract. Mix it very well until a smooth batter is formed.

Lastly, fold in melted dairy free white chocolate chips.

Now, with the help of a cookie scoop place the cookies on the prepare cookie sheet.

Place the cookie sheet in the middle rack of the oven and bake it for 20-25 minutes or until golden brown in color. Turn off the oven and take it out. Let it cool completely. While cooling off the cookies will firm quite a bit and become chewy.

Enjoy with a glass of milk.
Notes
These cookies tastes best when served the same day and at room temperature.
Store them in an air tight glass container at room temperature for about 3-4 days. 
For non-vegan version you may use 2 large eggs instead of soaked flaxmeal.
Nutrition
Calories:
171
kcal
|
Carbohydrates:
9
g
|
Protein:
3
g
|
Fat:
15
g
|
Saturated Fat:
1
g
|
Sodium:
39
mg
|
Potassium:
35
mg
|
Fiber:
1
g
|
Sugar:
1
g
|
Calcium:
14
mg
|
Iron:
1
mg