This easy Teff Tofu Salad is made with healthy ancient grain with a combination of protein and fiber. Its crunchy and so delicious and packed with a variety of veggies.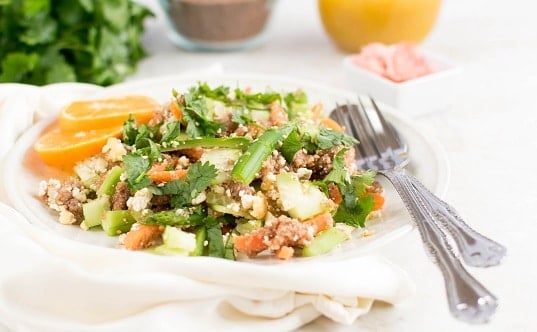 Tofu is quite regular in my house and I can practically live on it. Therefore, I often make tofu in variety of ways but my favorite is Asian tofu curry.
Here, I wanted to combine tofu in a salad form along with some grains.
Also, I decided to lightly cook it and then convert it into a salad. Therefore, this gives a chance of either enjoying this tofu salad cold or warm.
What is Teff?

Its a healthy gluten free tiny grains, dark in color but packed with nutrition. It is high in protein and iron with a combination of much needed amino acid. This new super grain is super tasty, versatile and chewy in texture.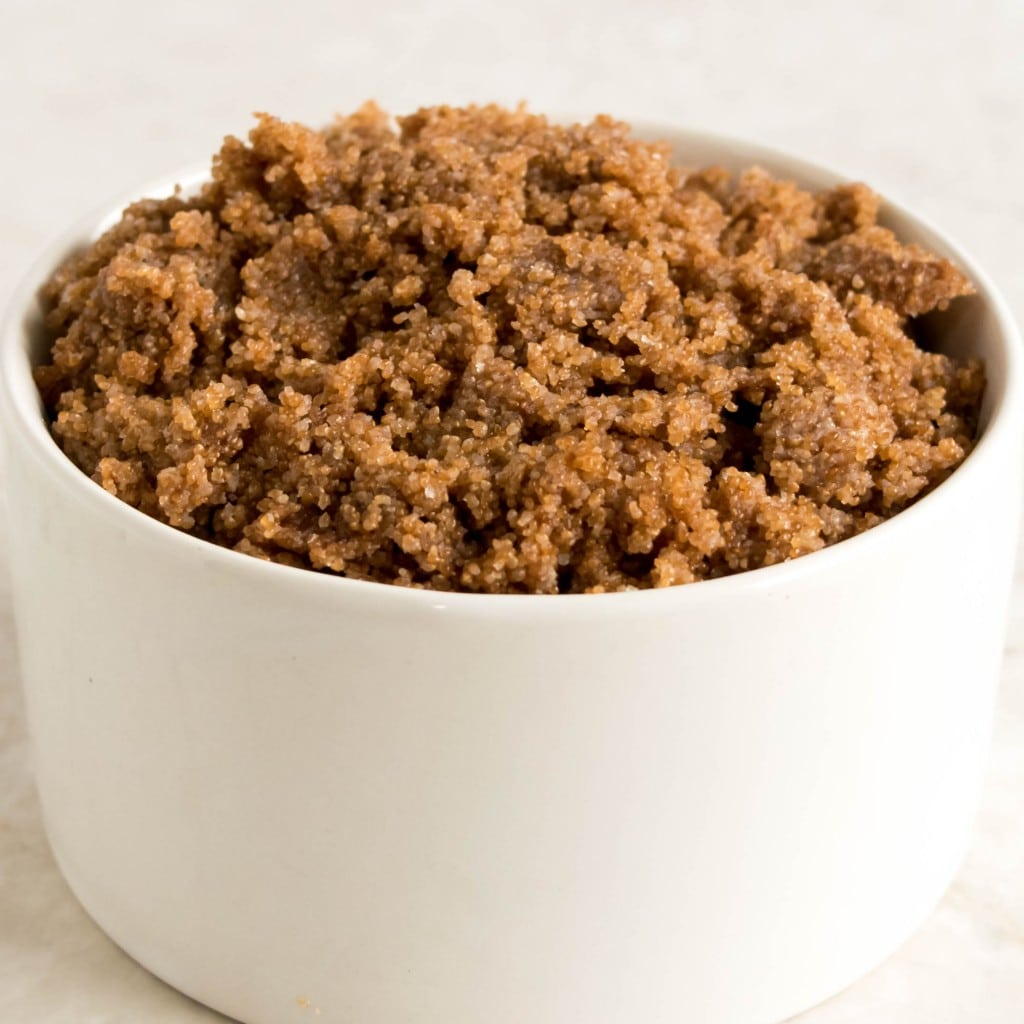 Hence, I am excited to share this tofu salad recipe with you all.
Ingredients for vegan tofu salad
Tofu
Cucumber
Carrots
Asparagus
Teff
White sesame seeds
Cilantro
Salt
Lemon juice
Maple syrup
This list of ingredients is quite small and very common. However, this Asian tofu salad tastes very similar to sushi. Therefore, you must try it.
Ingredients list:
tofu – frim or extra firm tofu works here since we scramble and cook it.
cucumber – this adds a lot of refreshing taste and a nice crunch to this salad.
teff – its a brown colored grain and high in protein. This helps in making this recipe a complete meal.
white sesame seeds – its a great source of calcium and enhances the flavor and presentation of this dish.
Cilantro – this makes it aromatic and delicious.
For detailed measurement of ingredients, please scroll down to the printable recipe card at the end of this post.
How to make Teff Tofu Salad
Firstly, I cooked teff as per the package instructions and kept it aside.
Secondly, I drained tofu and crumbled it. Then, I cooked it in a nonstick pan until it was dry and light brown in color.
Next, I spooned it out of the pan and tossed in with cucumber, carrots and asparagus.
Thereafter, I folded in cooked teff to it.
Lastly, I seasoned it with salt, lemon juice and maple syrup. Mix it well and served immediately.
I paired it with sweet pickled ginger that we get with sushi.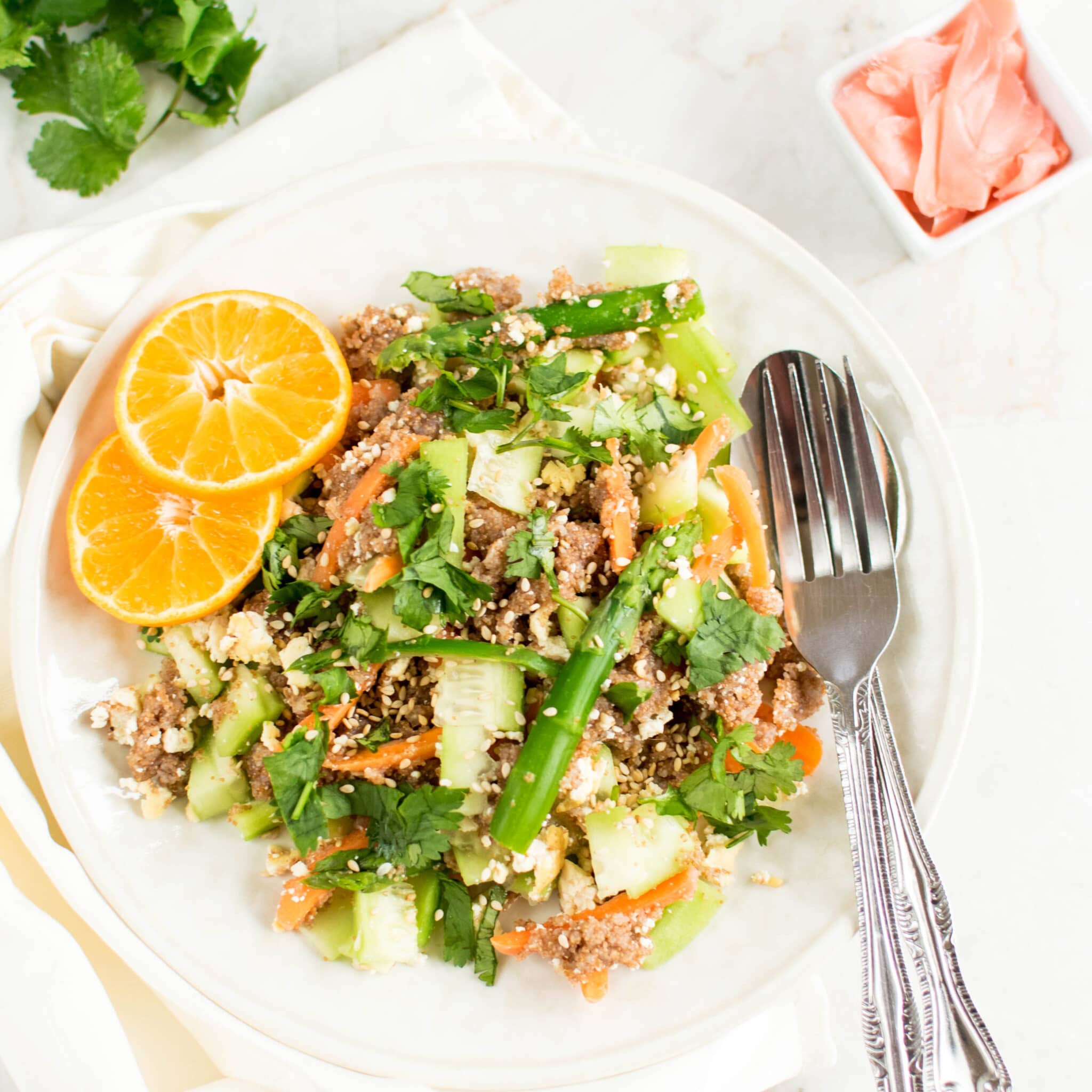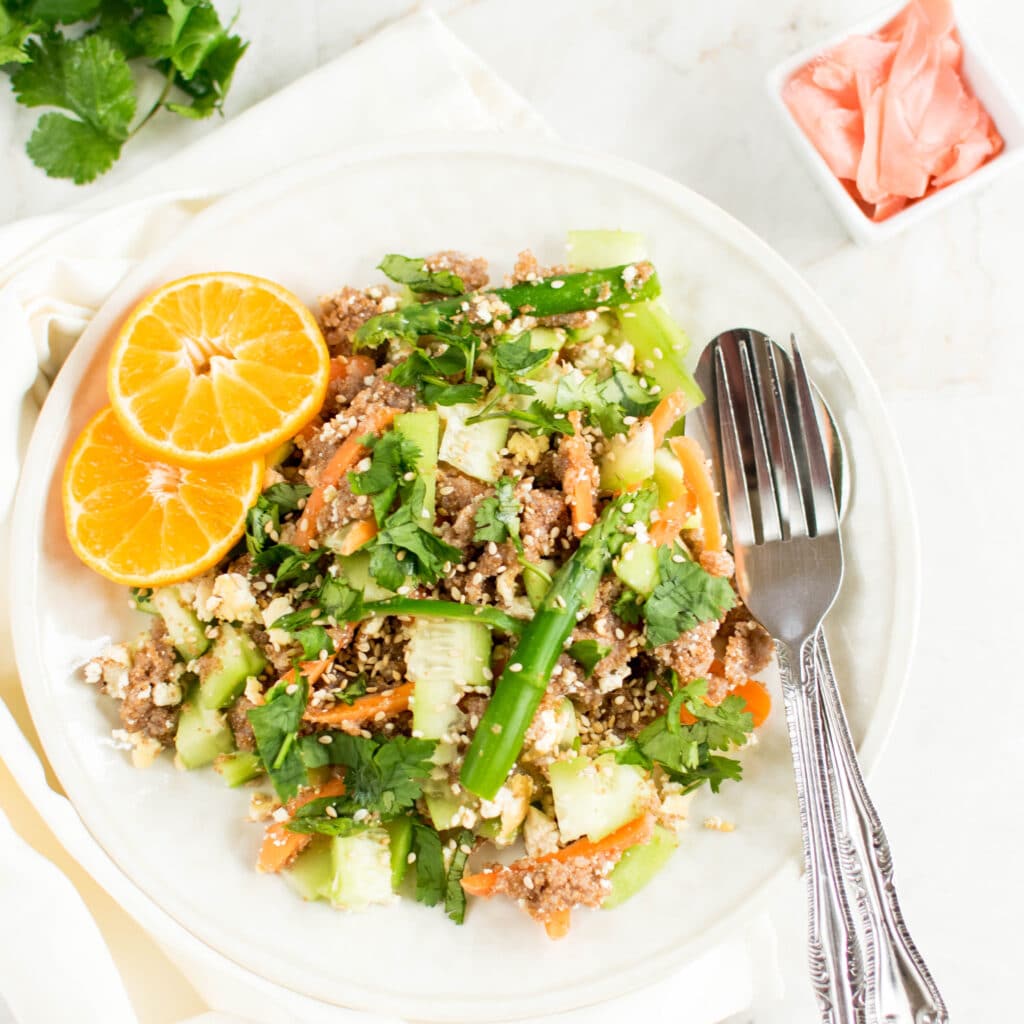 Oh my gosh….it was outstanding every way.
Absolutely delightful lunch and a healthy one. It kept me full for longer due to which I was able to portion control my dinner extremely well.
Expert tips:
It is important to not overcook tofu. We only want it to be dry and light golden in color so as to add to the taste of the recipe.
If you are making this salad recipe with leftover teff then I would highly recommend to bring it room temperature for the best results.
Teff Tofu Salad FAQs
How long does it last?
This taste best when served immediately.
How can I prep for this ahead of time?
You can cook and refrigerate teff for about 1 week. You may also cook tofu and refrigerate for about 1 week. When assembling bring all the ingredients to room temperature. You may also microwave tofu for 20 seconds.
Do I need to press Tofu for this salad?
No! You may only drain it and cook. It will dry in the process of cooking and browning.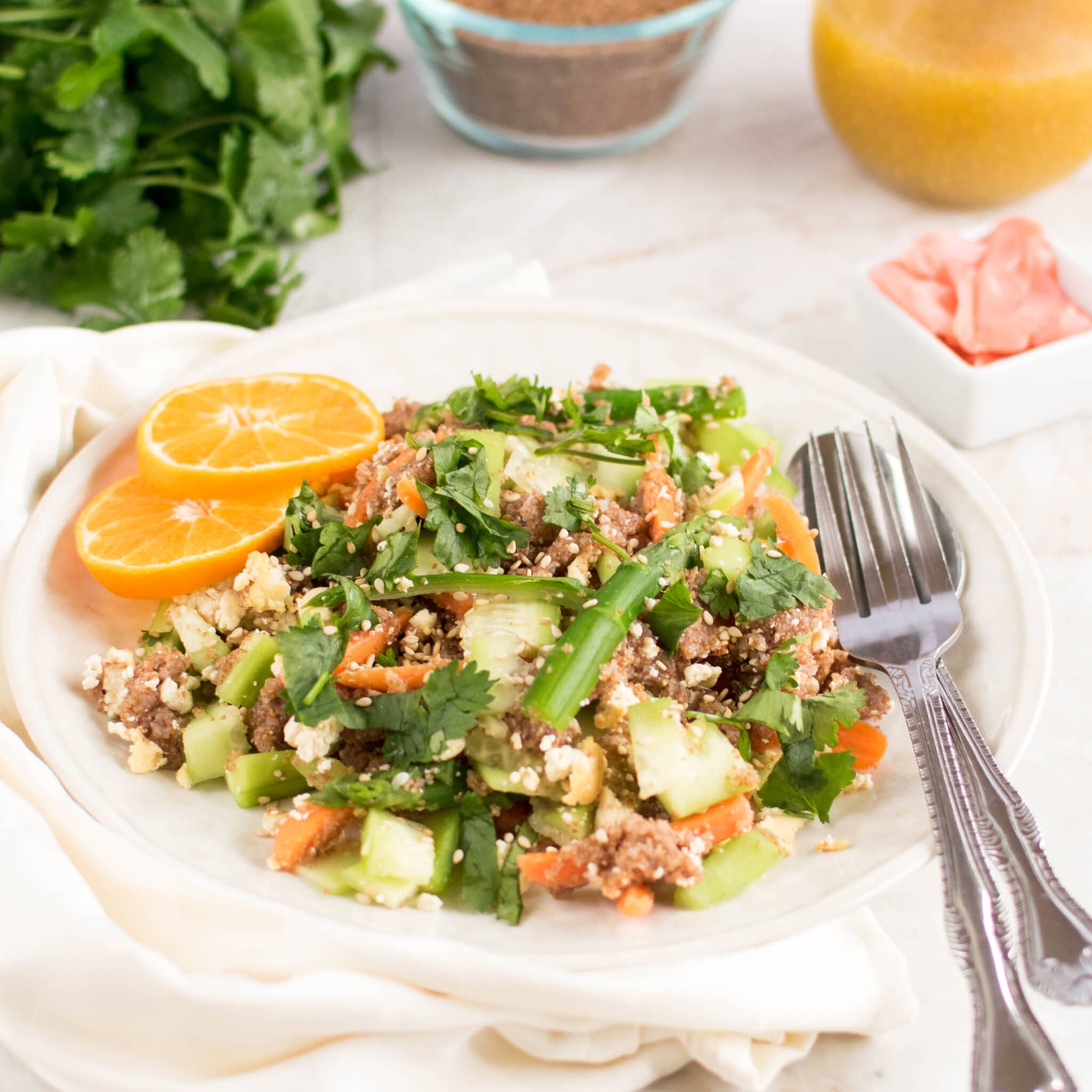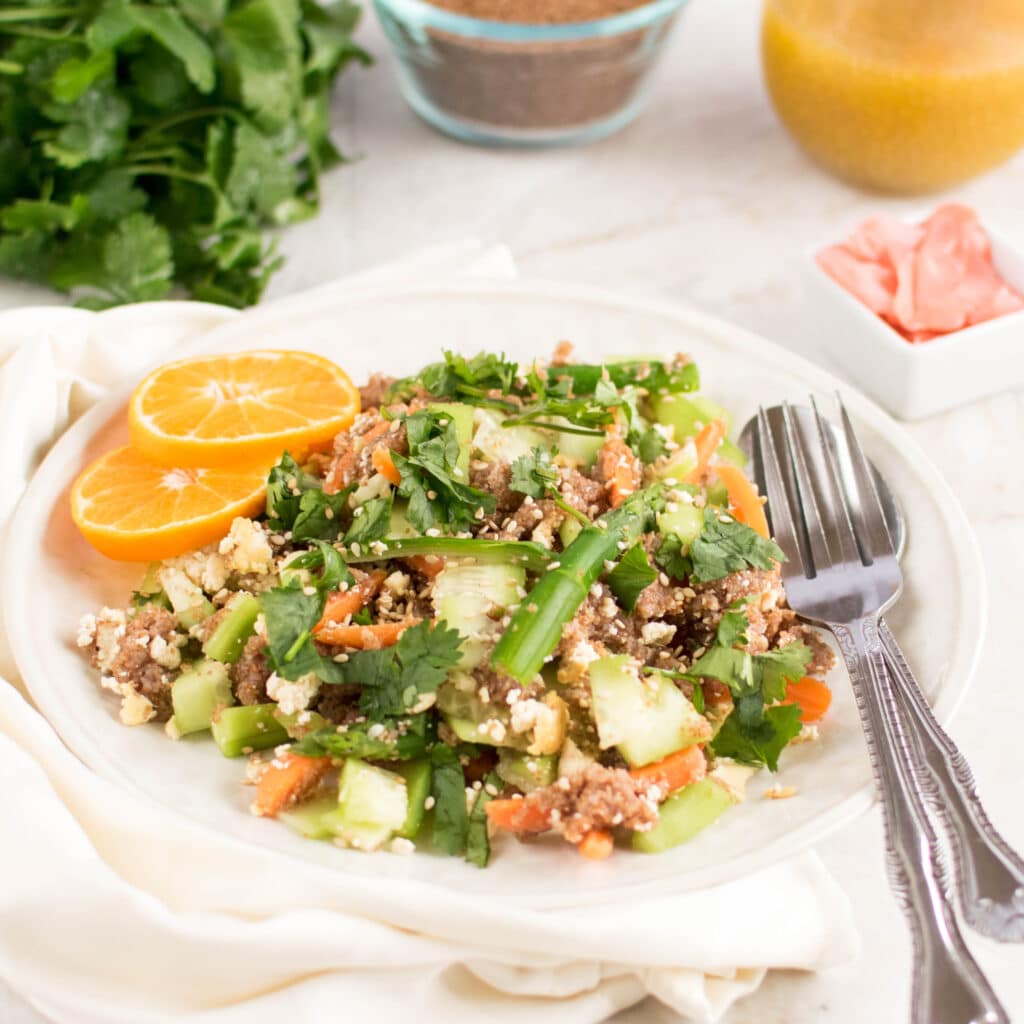 My other salad recipe that might interest you:
This post may contain affiliate links which means that if you click on them and also make a purchase, I will get a small commission. Moreover, I share only those products which I use personally and love.
I hope you will enjoy this salad recipe with tofu as much as we did. I am very excited to hear back from you.
Where to find me?
Follow me on Facebook or on Twitter. You may tag @kiipfit on Instagram with your recipe remake images because I would love to see what you cooked.
Did you make it?
If you get a chance to make this recipe then please leave your feedback in the comments below along with a 5-star rating.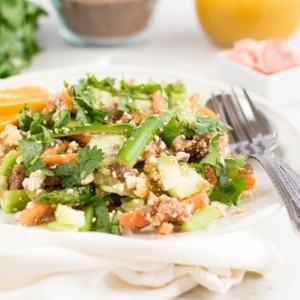 Print Recipe
Teff Tofu Salad
This easy Teff Tofu Salad is made with healthy ancient grain with a combination of protein and fiber. Its crunchy and so delicious and packed with a variety of veggies.
Ingredients
1

cup

cooked Teff

(cook as per package instructions)

1

cup

crumbled tofu

(firm/extra firm)

1

cup

thinly sliced cucumber

1/2

cup

sliced baby carrots

1/4

cup

sliced asparagus

1

tbsp

fresh chopped cilantro

1/2

tsp

salt

1

tsp

lemon juice

1

tsp

maple syrup
Instructions
Cook Teff as per package instructions and keep it aside. Measure it to 1 cup after its cooked.

Heat a nonstick pan and grease it with cooking spray. Add crumbled tofu to it and sauté for 3-4 minutes until dry and cooked. Let it cool. Do not overcook tofu. Mild golden brown color is acceptable.

In a salad bowl combine cooked tofu, cucumber, carrots and asparagus and gently mix.

Add teff while gently mashing with your fingers since cooked teff has sticky texture. Now gently mix the salad making sure to not break the veggies.

Now add salt, lemon juice and maple syrup to it and mix again. Serve. Serve it with sweet pickled ginger.
Notes
While cooking teff it will look like porridge and will stick. Let it cool down completely so that they start separating. You can cook teff ahead of time and refrigerate because the cooler the teff it's better for the salad.
Teff will be slightly sticky and crumbly in the salad but your salad will still be crunchy and not mushy.
Measure teff to 1 cup after its cooked. 
how to cook Teff for salad – bring 3/4 cup of water and salt to a boil in a saucepan and add 1/2 cup teff grains to it. Cook at high. Once the liquid starts to absorb lower the flame and cook covered until all liquid is absorbed. Turn it off and remove the lid and fluff with a fork. 
I would highly recommend serving this salad with sweet pickled ginger on the side to enhance the taste of this salad recipe.
Nutrition
Calories:
245
kcal
|
Carbohydrates:
33
g
|
Protein:
16
g
|
Fat:
7
g
|
Sodium:
582
mg
|
Potassium:
11
mg
|
Fiber:
1
g
|
Sugar:
2
g
|
Vitamin A:
1
IU
|
Vitamin C:
1
mg
|
Calcium:
4
mg
|
Iron:
1
mg