This easy and quick Spicy Cold Cucumber Soup is a refreshing summer meal. Its nicely flavored and is a no cook recipe. It is made in a blender and served within minutes.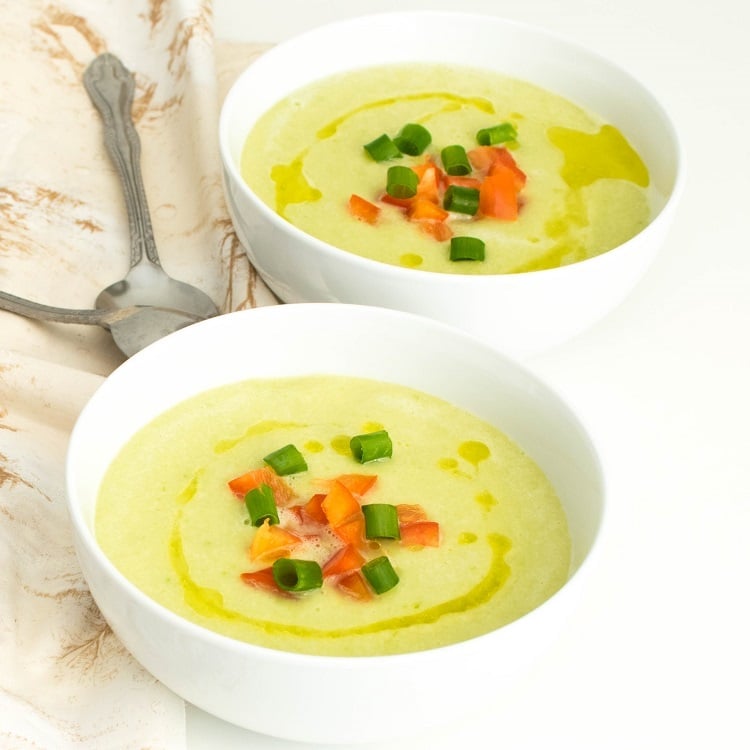 I love a good cold soup to beat the heat. Moreover, I find it very quick and easy especially if I am not in the mood to stand near the flame or the hot oven. It's a great way to cool down and yet feel satisfied.
I had lots of extra cucumber sitting in my fridge which I needed to use ASAP. Blending it into a smoothie was not sufficient and I was looking for a hearty delicious meal. Therefore, I simply blended it with few other ingredients.
We were surprised at this flavorful and tasty meal. We simply paired it with some dinner rolls and satisfied our hungry tummies in no time. I was extra happy because there was hardly any after dinner dishes and cleanup required. This facilitated me to go for a family walk after dinner.
It's fun to discover that I could put cucumber as the main ingredient in a soup. I have made few soups with avocadoes but this one is absolutely out of my box and totally a delectable vegan soup recipe.
Since, this cucumber soup recipe has been approved by everyone in my family I am excited to share it with you all.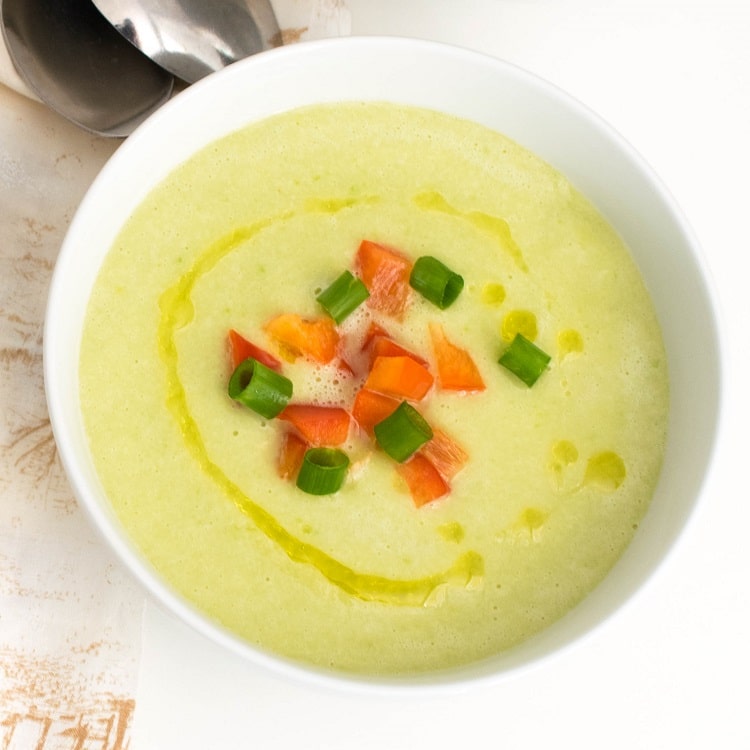 Ingredients for Spicy Cold Cucumber Soup
Cucumber
Jalapeno
Avocado
Garlic powder
Onion powder
Himalayan pink salt
Scallions
Dairy free milk
Toppings
Green onions
Red bell pepper
Extra virgin olive oil
I have used all these easily available ingredients which you may buy from any local grocery store. However, I have provided links to few of them in the recipe for your convenience.
If you plan to buy from these affiliate links, I get a small commission which in turn encourages me to bring out more delicious recipes for you all.
Ingredients Notes:
Cucumber – To my surprise I just discovered that it's a fruit. Hence, it's a cooling fresh produce with many benefits. It blends excellent in smoothies, soups, goes well in salads and acts a cooling agent for eyes too. This fruit is loaded with vitamin K and helps lower blood pressure. It is low in calories and high in fiber and water content.
Jalapeno – It not only adds spiciness and flavor but is also a good source of Vitamin A, C and potassium. Its high in antioxidant and helps fight any damages to your cells.
Avocado – This is packed with good fats and fiber along with being a good source of vitamins. It's a great substitute for oil or cream in some recipes and adds lots of taste to any food.
I have made this vegan cucumber soup extremely simple yet flavorful but if you are looking for a variation then I like this recipe from Veggie Inspired . I love her idea of using apples to add a bit of sweetness to this soup.
How to make Spicy Cold Cucumber Soup
Firstly, I peeled and chopped cucumber and I kept it aside.
Secondly, I roasted jalapeno.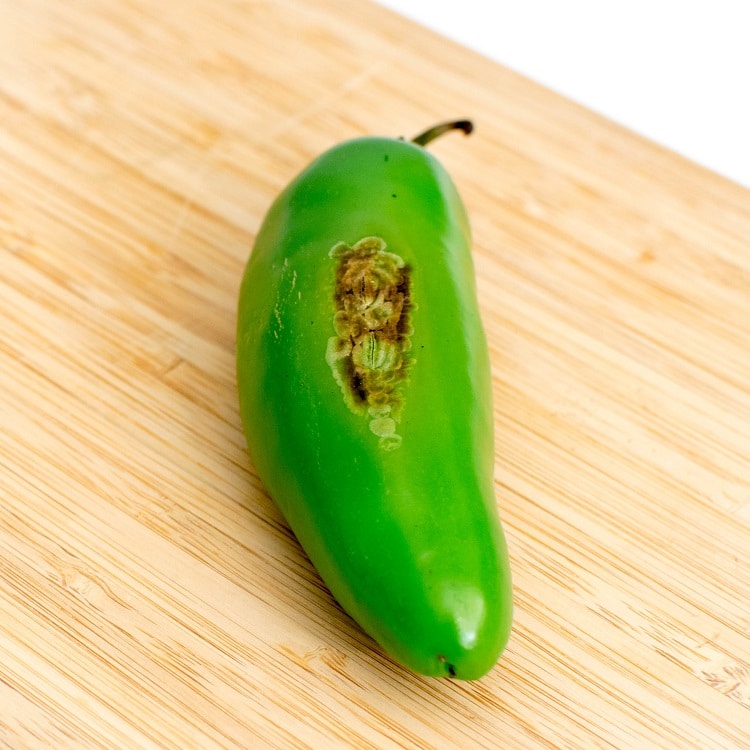 Next, I blended all the soup ingredients in a blender.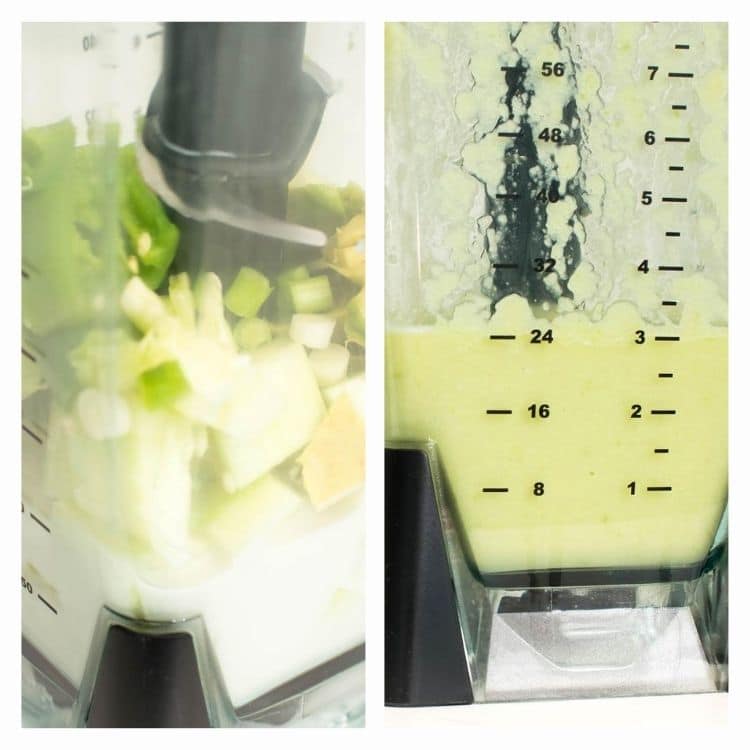 Thereafter, I poured it in the serving bowls and garnished it.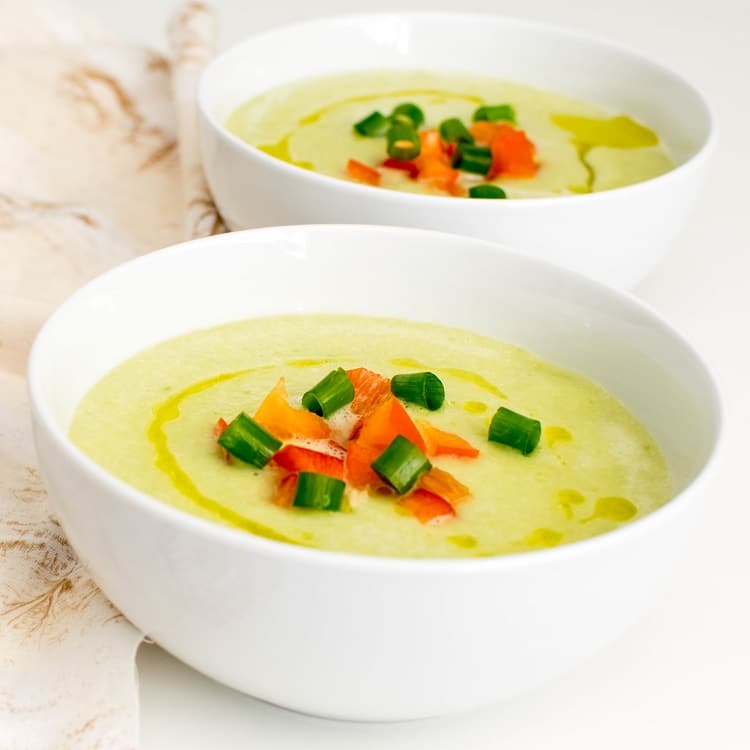 My family enjoyed it at room temperature but I refrigerated mine for some time and enjoyed it chilled.
It's an interestingly easy recipe that the entire family can enjoy together.
I am sure that once you get the hang of it you will simply make it again and again.
Expert tips:
Use regular cucumber and make sure to peel it.
Before chopping and blending cucumbers taste a small piece of it. If you find it bitter then simply rub the ends of the cucumber with the sides for few seconds that you are about to discard. A lot of whitish discharge may ooze out. Rinse the cucumber again, peel, chop and blend.
Before roasting jalapeno just be aware of its strong aroma which would mean that particular pepper is very spicy. If desired you may deseed the pepper after roasting and before blending.
It is true that extra virgin olive oil is optional but it enhances its tastes ten times more.
So, by now you must have realized that this cucumber soup is super easy to blend and its even easier to serve.
Spicy Cold Cucumber Soup FAQs
How long do they last?
It tastes best when served the same day.
What type of cucumber should I use for this recipe?
Regular cucumber works great here. I have also used the regular one.
Is it healthy?
Yes, Its light on tummy and low in calories. No cooking involved and is an absolute summer delight. I definitely drizzled some extra virgin olive oil to enhance this cold cucumber soup recipe a bit but that is totally optional in all respect.
Can I freeze it?
It is already a cold soup and freshly blended tastes best. I have not tried freezing it and if we try to heat it the original taste might change. It hardly takes few minutes to blend this soup so I would recommend making it fresh and not freezing it.
It's perfectly spiced and nicely flavored at every step. I guarantee you will enjoy it throughout the summer.
So, therefore, I am assuming by now you must be drooling over this soup recipe and a quite a bit hungry. So why wait?
I would urge you to go ahead and quickly blend because I am sure you already have all the ingredients in your refrigerator and pantry.
You may also like:
Persimmon Kale Avocado Soup
Fire Roasted Jalapeno Pear Spinach Soup
Sweet Potato Pomegranate Soup
Wondering what to do with cucumbers:
Apricot Cucumber Chia Smoothie
Cucumber Kale Ginger Smoothie
Simple Cucumber Salad
Did you make it?
If you get a chance to make this recipe then please leave your feedback in the comments below along with the ratings. In addition, you may tag @kiipfit on Instagram with your recipe pictures because we would love to see what you cooked.
Also, if you desire to explore more delicious recipes of mine then you may checkout my cookbooks.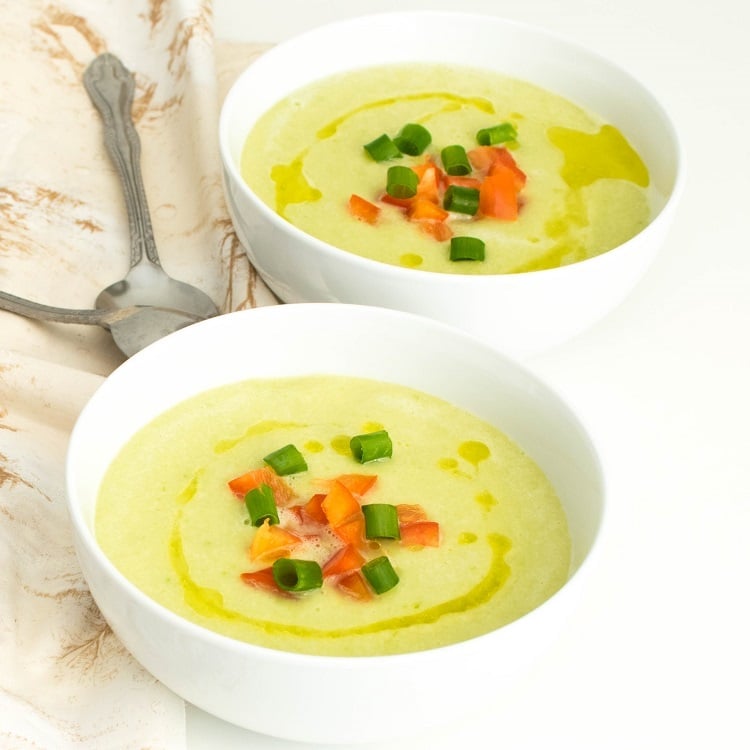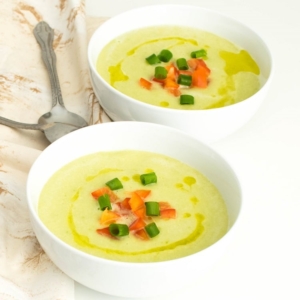 Print Recipe
Spicy Cold Cucumber Soup
This easy and quick Spicy Cold Cucumber Soup is a refreshing summer meal. Its nicely flavored and is a no cook recipe. It is made in a blender and served within minutes.
Ingredients
1

large

cucumber

(peeled and chopped)

1

whole

roasted jalapeno pepper

(see notes)

1/2

of whole

avocado

1/2

tsp

garlic powder

1/2

tsp

onion powder

1/2

tbsp

scallions/green onions

1

cup

dairy free milk

(preferably oat milk)
Instructions
In a blender combine all the soup ingredients and blend it smooth.

Pour it in the serving glasses. Garnish with red bell pepper and green onions, drizzle extra virgin olive oil .Serve it at room temperature or refrigerate for an hour for chilled soup.
Notes
To roast jalapeno – rinse and dry jalapeno.  Depending on your how spicy is your jalapeno pepper, you may chose to remove its seeds after roasting.     
Hold it with a tong and keep rotating it over high flame until the skin starts to get charred. Or
Place in a baking sheet and roast it in a toaster oven in the toasting mode for 4-5 minutes or until the skin gets charred and you the roasted aroma.
This recipe tastes best when consumed the same day.
I have provided the nutritional value including the toppings. If you plan to not drizzle EVOO then the calories would vary slightly. 
Nutrition
Calories:
132
kcal
|
Carbohydrates:
8
g
|
Protein:
2
g
|
Fat:
11
g
|
Saturated Fat:
1
g
|
Sodium:
63
mg
|
Potassium:
357
mg
|
Fiber:
1
g
|
Sugar:
5
g
|
Vitamin A:
565
IU
|
Vitamin C:
13
mg
|
Calcium:
185
mg
|
Iron:
1
mg