Green Peas, calcium rich Tofu and protein packed Almond Flour sweetened with healthy Dates and baked into Vegan Cookies.
Sweet Delicious Dessert!!!
I had no clue that cookies made out of green peas could taste so good. This time I wanted to make a simple and quick dessert and my whole focus was my daughter. She loves cookies, her day starts with cookies. HMMmmm. Kids know how to get their way out. 🙂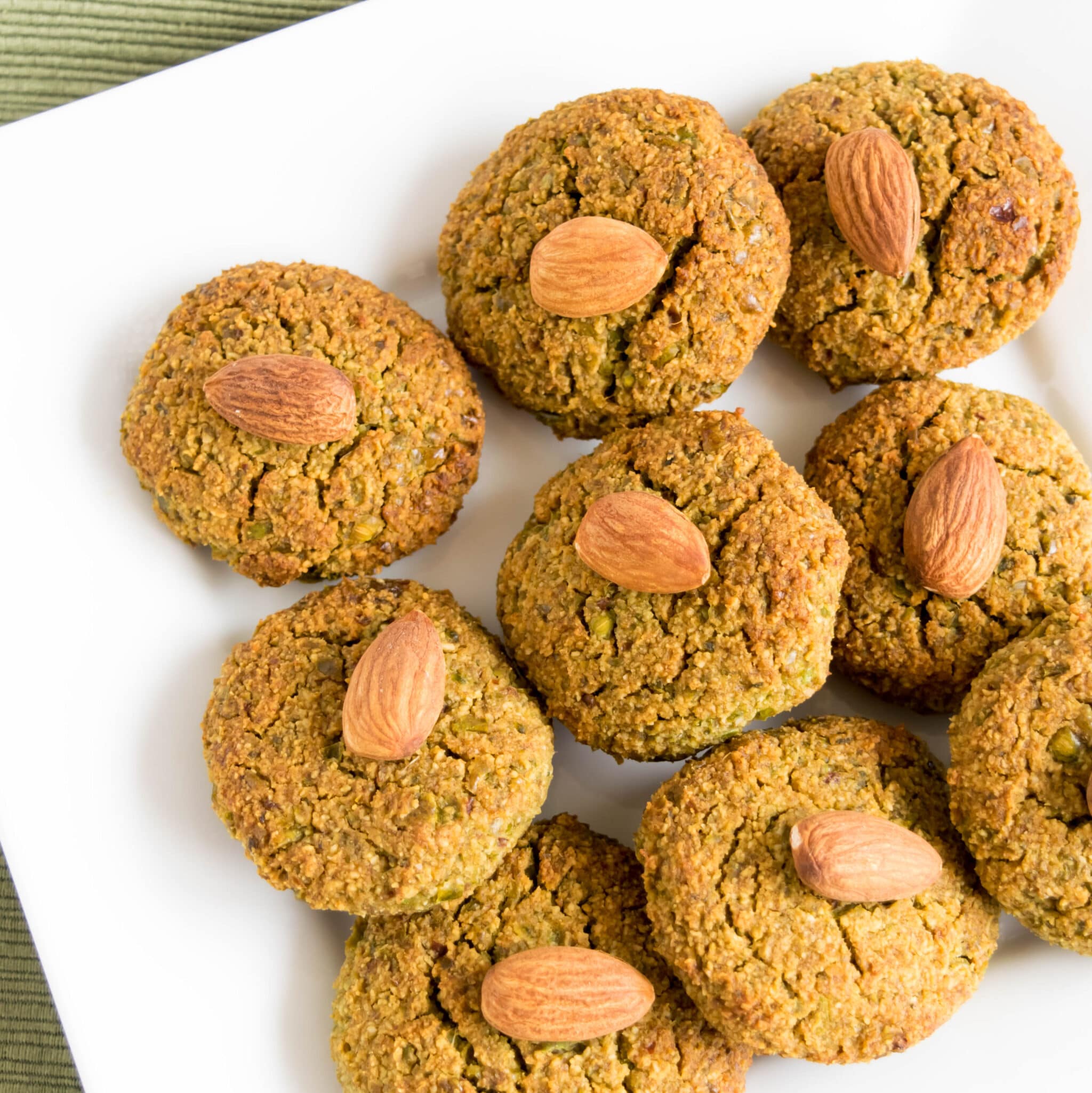 But as a health conscious mom I have to take charge of her diet. Usually she eats most of the vegetables, but lately, she has been avoiding green peas for some reason. Therefore, I got a chance to create Nutrient Rich Green Peas Cookies.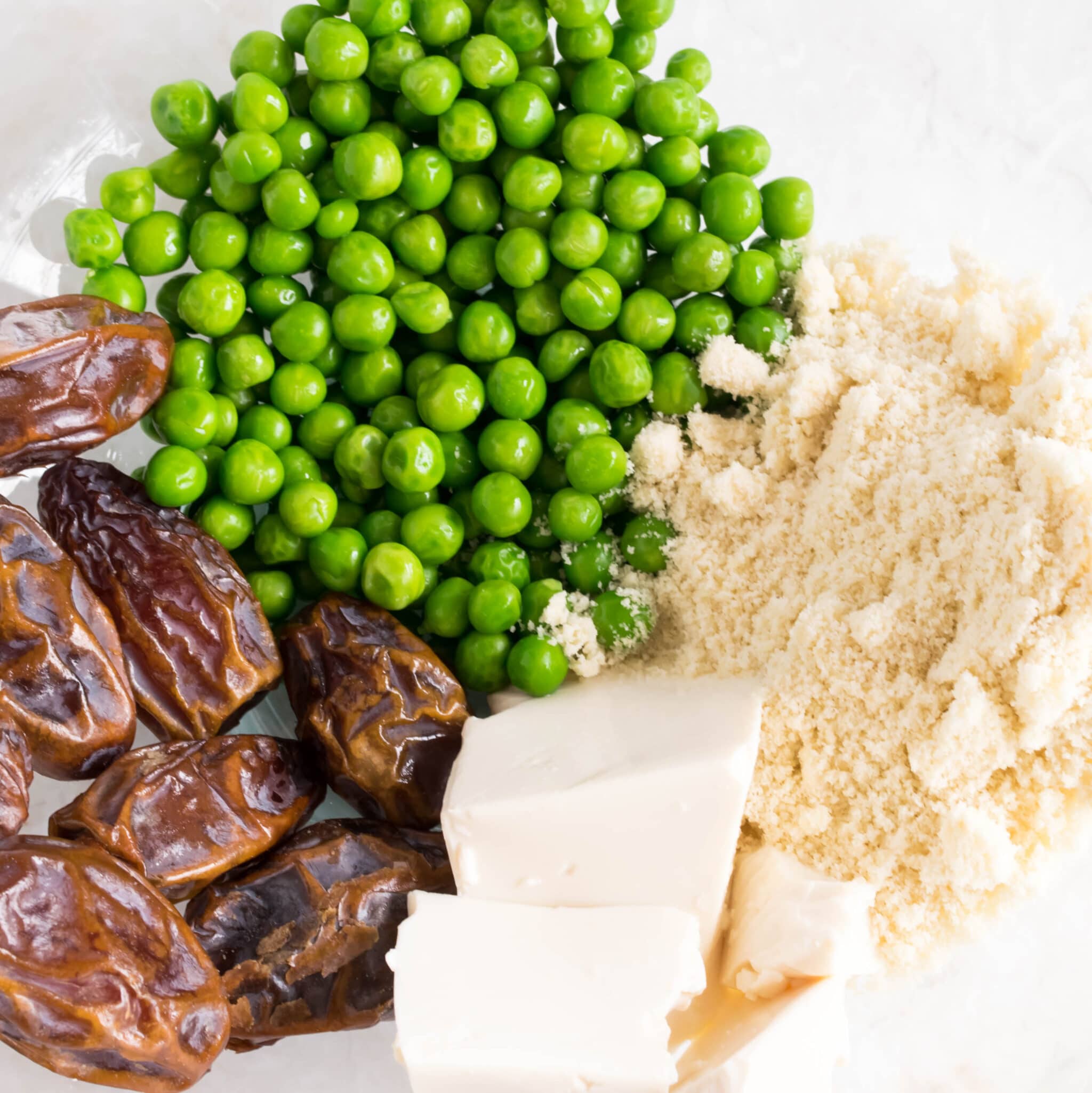 In my effort to feed healthy food to my daughter and yet satisfy her cravings my main ingredient was decided, green peas, but I kept wondering the other ingredients to be mixed for a while because I wanted my daughter to like the cookies and yet she should not figure out that it's made out of green peas. HMM.
Also I had my vegetarian and vegan friends in mind who like their desserts to be egg free. So I came up with this Vegan NUTRIENT RICH GREEN PEAS COOKIES.
When I combined all the ingredients and shaped the batter into round cookies I was actually nervous whether my daughter would accept this veggie dessert. So many questions crossed my mind but I still went ahead with the recipe. When the cookies were baked and I took them out of the oven I loved the aroma all around the kitchen. YUMMY!!!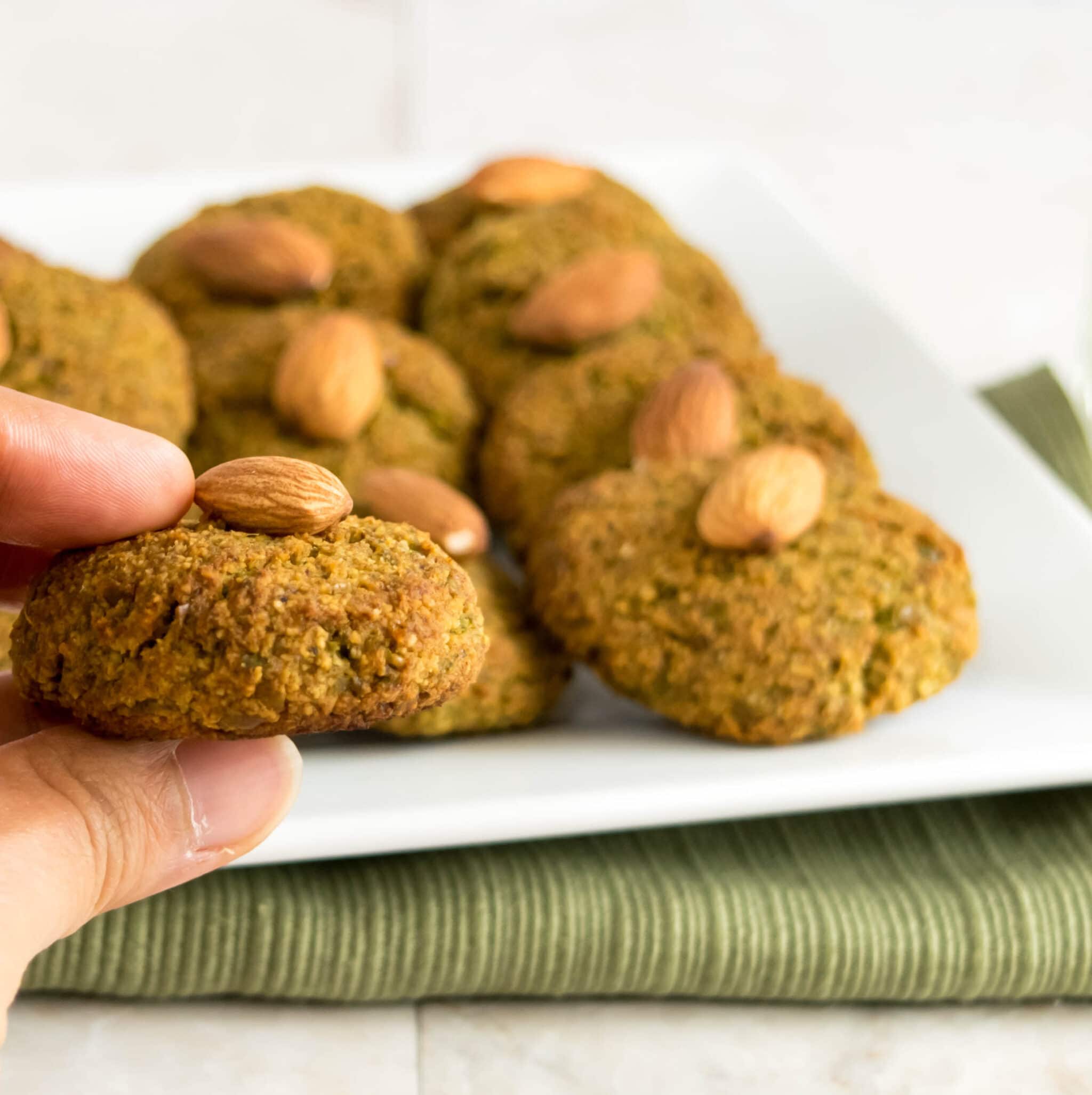 As soon as my daughter came back from school and asked for a cookie for her snack I offered her Nutrient Rich Green Peas Cookies. She looked at it for couple of minutes as if she was inspecting it. 🙂 I think she knew that her mommy was trying to feed her something healthy. Hahahaha. 🙂
She slowly and gradually with a frown took first bite of her cookie. Then her frown went away and she took another bite. It was amazing to see her changing expressions. I wish I could video record that moment. 🙂 . After finishing her first cookie she gave me a smile and asked for another cookie. I could not stop smiling myself. I was so relieved that she liked it.
After she finished her second cookie she surprised me. GUESS WHAT!!!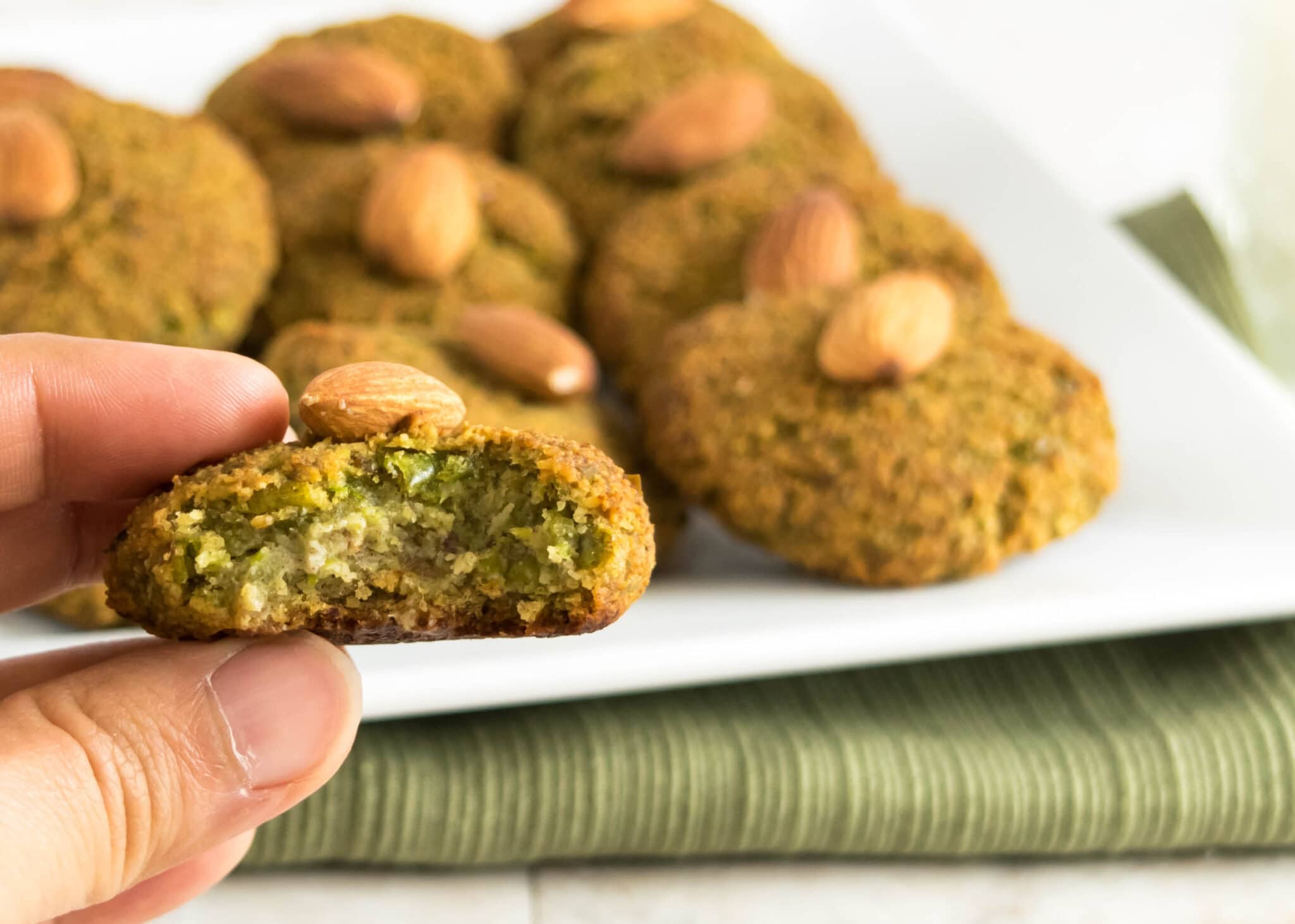 She asked for a third Nutrient Rich Green Peas Cookies and happily wanted to drink a glass of milk with it. WOW. Mission Successful. I was super happy and now I bake regularly these wonderful, healthy and Vegan Cookies!! 🙂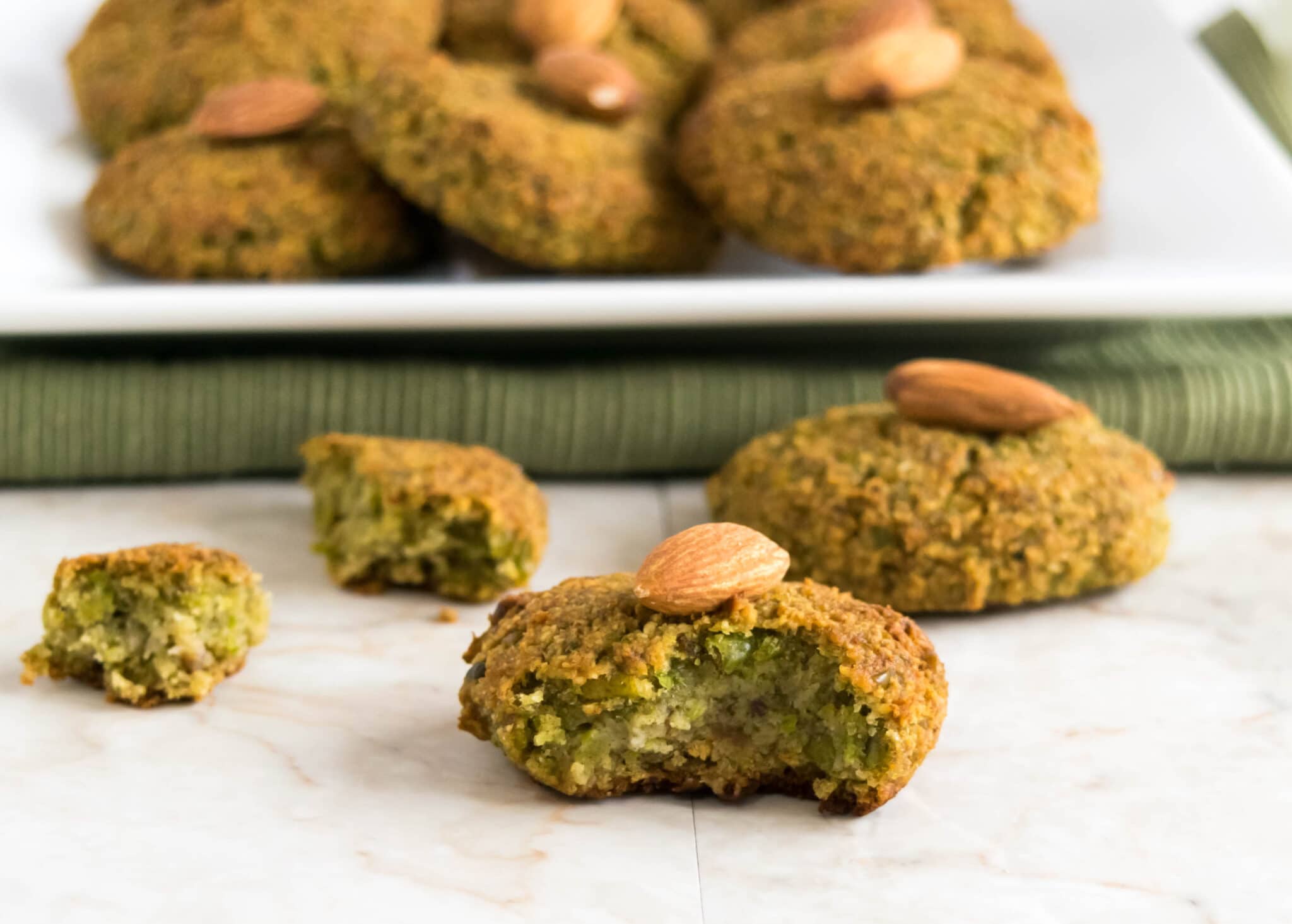 Nutrient Rich Green Peas Cookies
Prep Time: 10 minutes
Cook Time: 30 minutes
Total Time: 40 minutes
Per Serving 82 calories
Fat 5 g
Carbs 9 g
Protein 3 g
Ingredients
1 cup green peas
½ cup mejdool dates (pitted)
¼ cup silken tofu (mashed)
1 cup almond flour
1/8 tsp salt
1 tsp baking powder
15 raw almonds
Instructions
Preheat oven at 350 degree Fahrenheit and prepare a cookie sheet with a liner.
In a food processor/grinder combine peas and dates and grind as smooth as possible.
In a mixing bowl spoon the peas mix and add tofu and mix well with a spoon.
Then add almond flour, salt and baking powder and mix well with your hand.
Very soft dough like texture will be formed.
Take a tablespoonful of the dough between palms and form a round shape and gently flatten in the middle. Try to even out the flat round cookies as much as possible.
Put the cookies on the cookie sheet and garnish with raw almonds. (one almond on each cookie and press very gently so they stick together).
Put the cookie sheet in the middle rack of the oven and bake for 25-30 minutes or until slightly brown in color.
Take it out of the oven and let the cookies cool down for a while and serve.
Notes
I would highly recommend adding almonds for garnishing because it adds to the flavor of the cookies and gives it a crunchy texture.

½ cup dates equals to 5-6 pieces.

The above recipe measurements yields 15 cookies and the serving is 1 cookie per person.

Can be stored in an air tight container in the refrigerator for 2-3 days.