These vegan Nutrient Rich Green Peas Cookies are soft and chewy from inside with a nice crisp texture from outside. Its oil free and a great way to include veggies in our diet.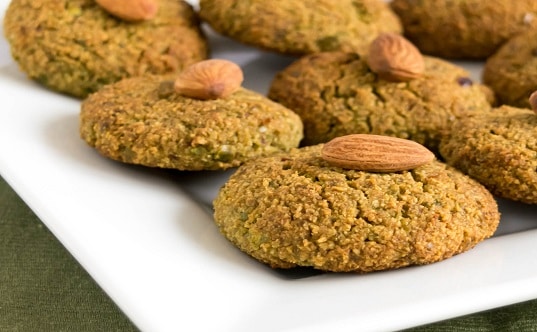 Green Peas, calcium rich Tofu and protein packed Almond Flour sweetened with healthy Dates and baked into Vegan Cookies.
to explore a savory snack with this vegetable, you make my green pea fritters which is a crowd pleaser appetizer.
Sweet Delicious Dessert!!!
I had no clue that cookies made out of green peas could taste so good. This time I wanted to make a simple and quick dessert and my whole focus was my daughter.
We have been gorging on these peanut butter banana amaranth cookies for a while now. Occasionally, we also indulge in these carrot sweet potato almond cookies too.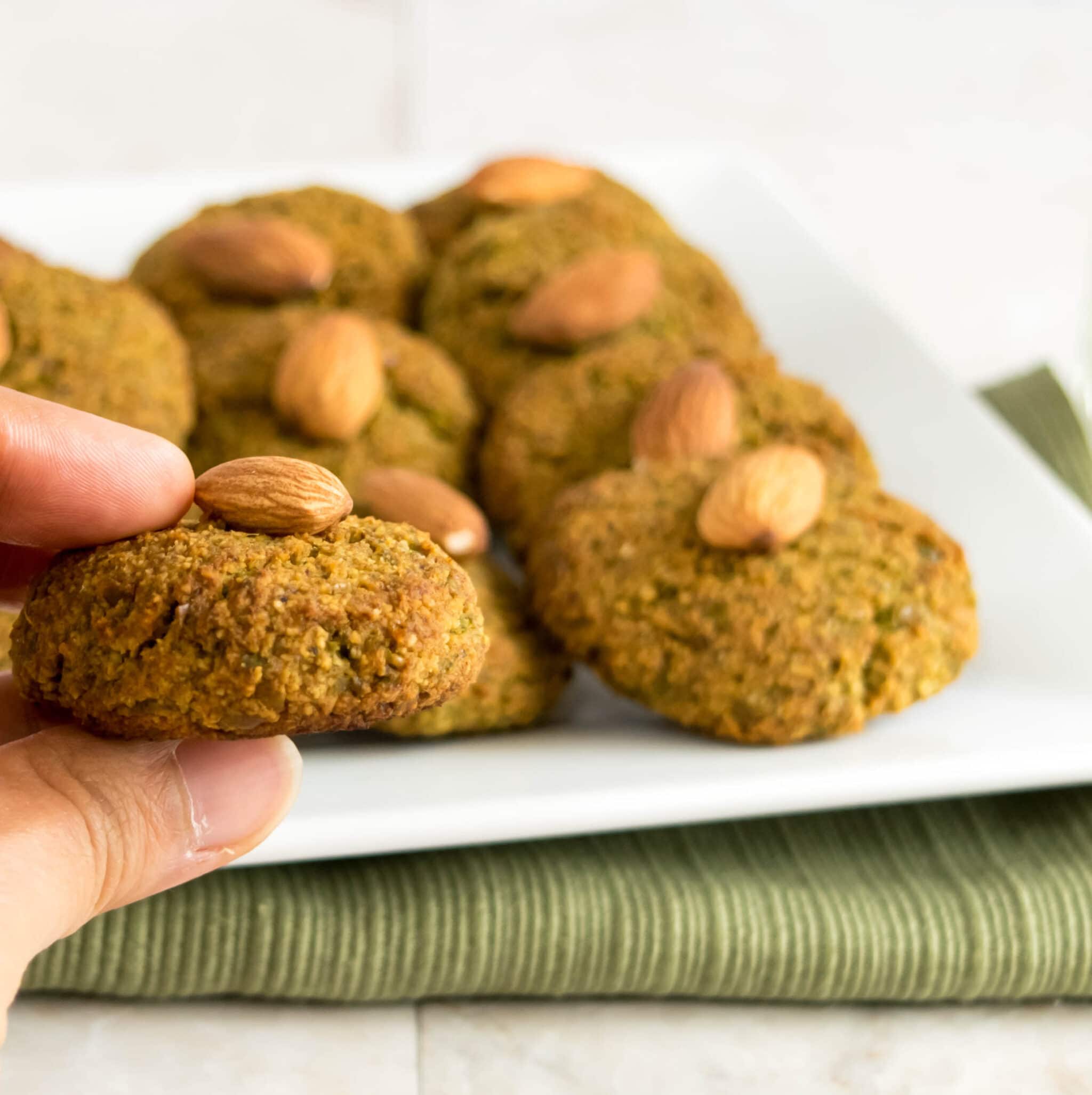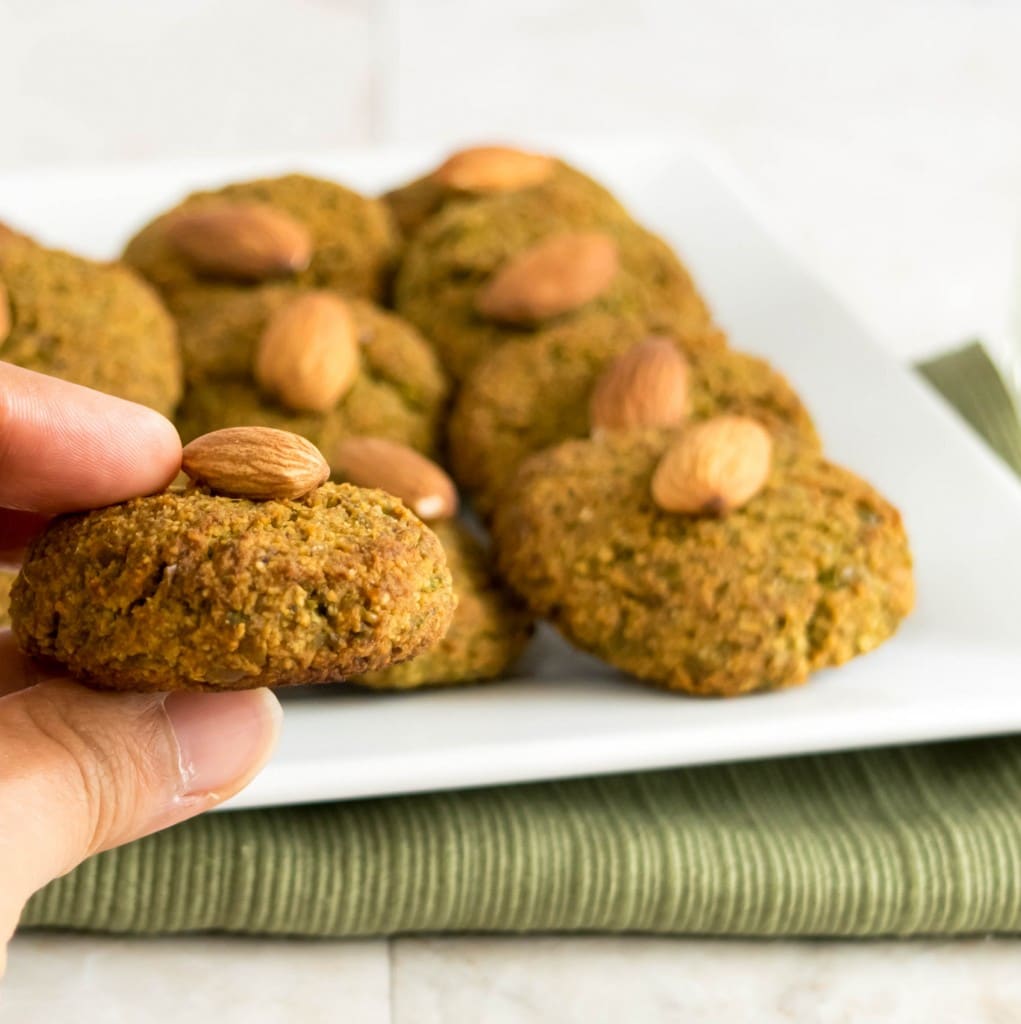 She loves cookies, her day starts with cookies. HMMmmm. Kids know how to get their way out. 🙂
But as a health conscious mom I have to take charge of her diet. Usually she eats most of the vegetables, but lately, she has been avoiding green peas for some reason. Therefore, I got a chance to create Nutrient Rich Green Peas Cookies.
In my effort to feed healthy food to my daughter and yet satisfy her cravings my main ingredient was decided, green peas.
I kept wondering the other ingredients to be mixed for a while because I wanted my daughter to like the cookies and yet she should not figure out that it's made out of green peas. HMM.
Also I had my vegetarian and vegan friends in mind who like their desserts to be egg free. So I came up with this healthy green peas cookies idea.
These came out really good and my family loved them. Especially, my daughter. Therefore, I discovered a way to feed her green veggies in a tastier and attractive way.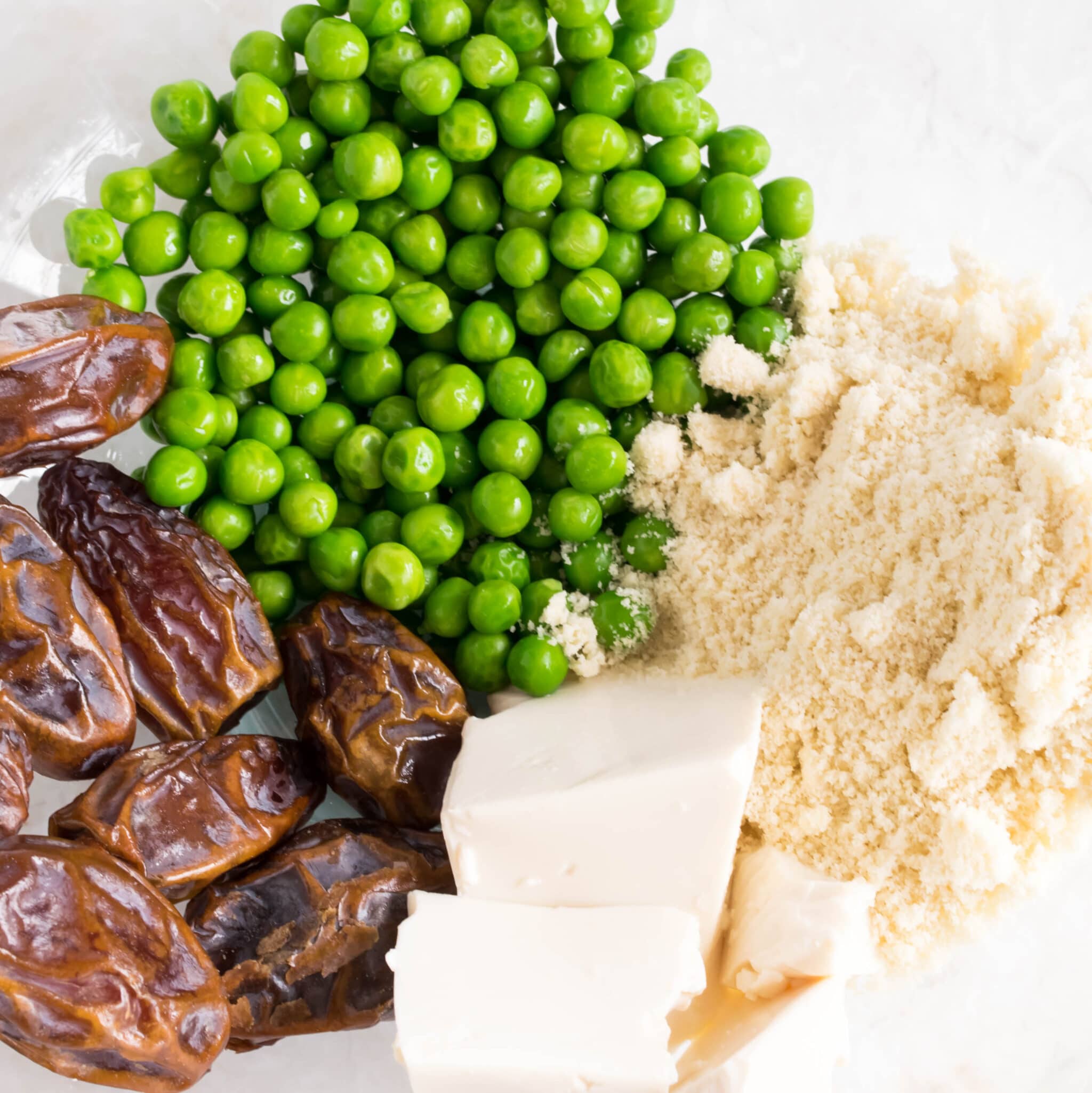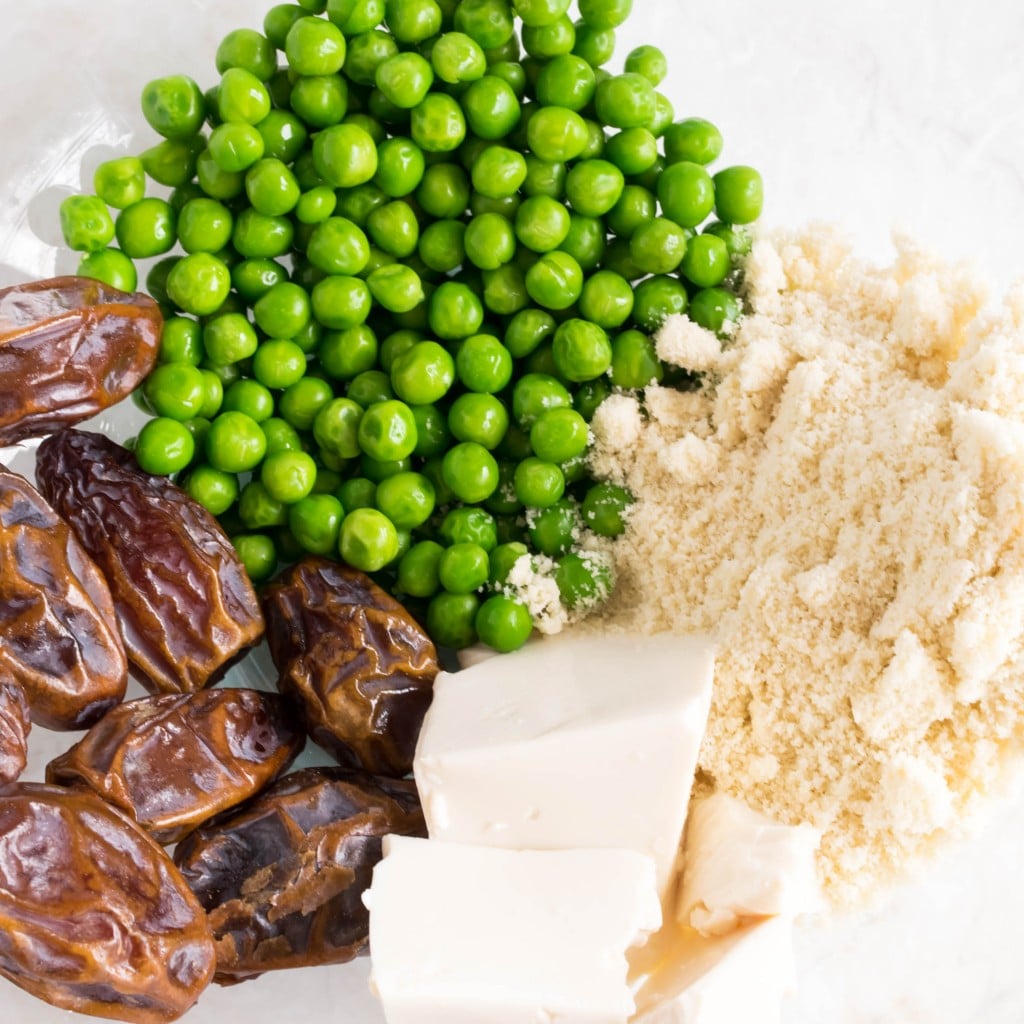 Hence, I am so excited to share this green peas cookies recipe with you.
Ingredients for easy green peas cookies
green peas
dates
silken tofu
almond flour
baking powder
salt
raw almonds to garnish
You must have have noticed that I used only 7 ingredients for this recipe which i am sure you already have in you kitchen.
Ingredients notes:
green peas – I used frozen green peas which is the easiest to find.
dates – this is the only sweetener I used here and its healthy as well.
silken tofu – this acts like an egg replacer in this cookie recipe.
almond flour – this forms a nice batter and adds nutty flavor along with nutrition to this vegan cookie recipe.
raw almonds – must use this to enhance its presentation.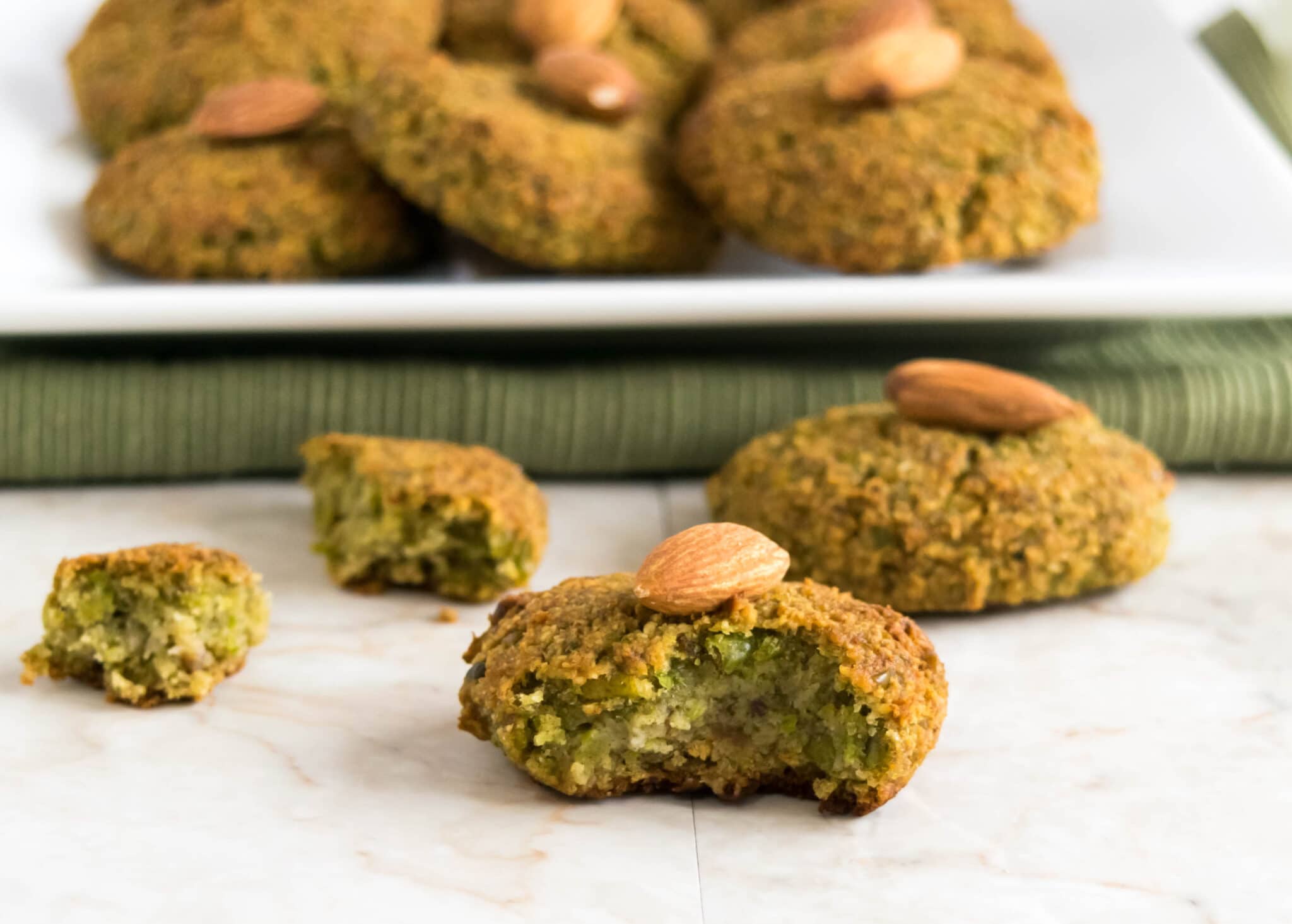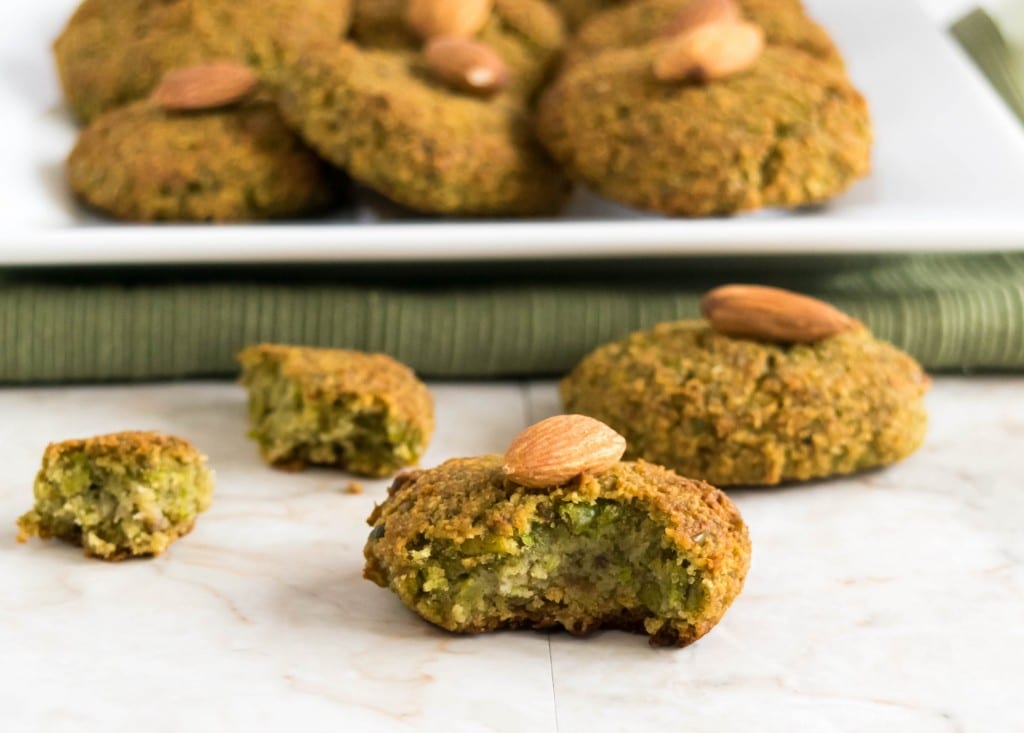 For detailed measurement of ingredients, please scroll down to the printable recipe card at the end of this post.
How to make Nutrient Rich Green Peas Cookies
Firstly, I combined green peas and dates in a food processor and processed it as smooth as possible.
Secondly, I spooned it out in a large mixing bowl. Then, I folded it in mashed tofu to form a batter.
Next, I added almond flour, baking powder and salt to it and mixed it well.
Thereafter, I divided the dough batter into 15 parts. Then, i shaped them into round flat cookies between my palms with a dent in the middle.
Then, I placed them on the prepared cookie sheet.
Afterwards, I topped each of them with 1 raw almond and baked in the middle rack of the preheated oven at 350 degree Fahrenheit for 30 minutes.
Once done, I took it and let them cool down a bit.
We enjoyed heartily and they were all gone the same day.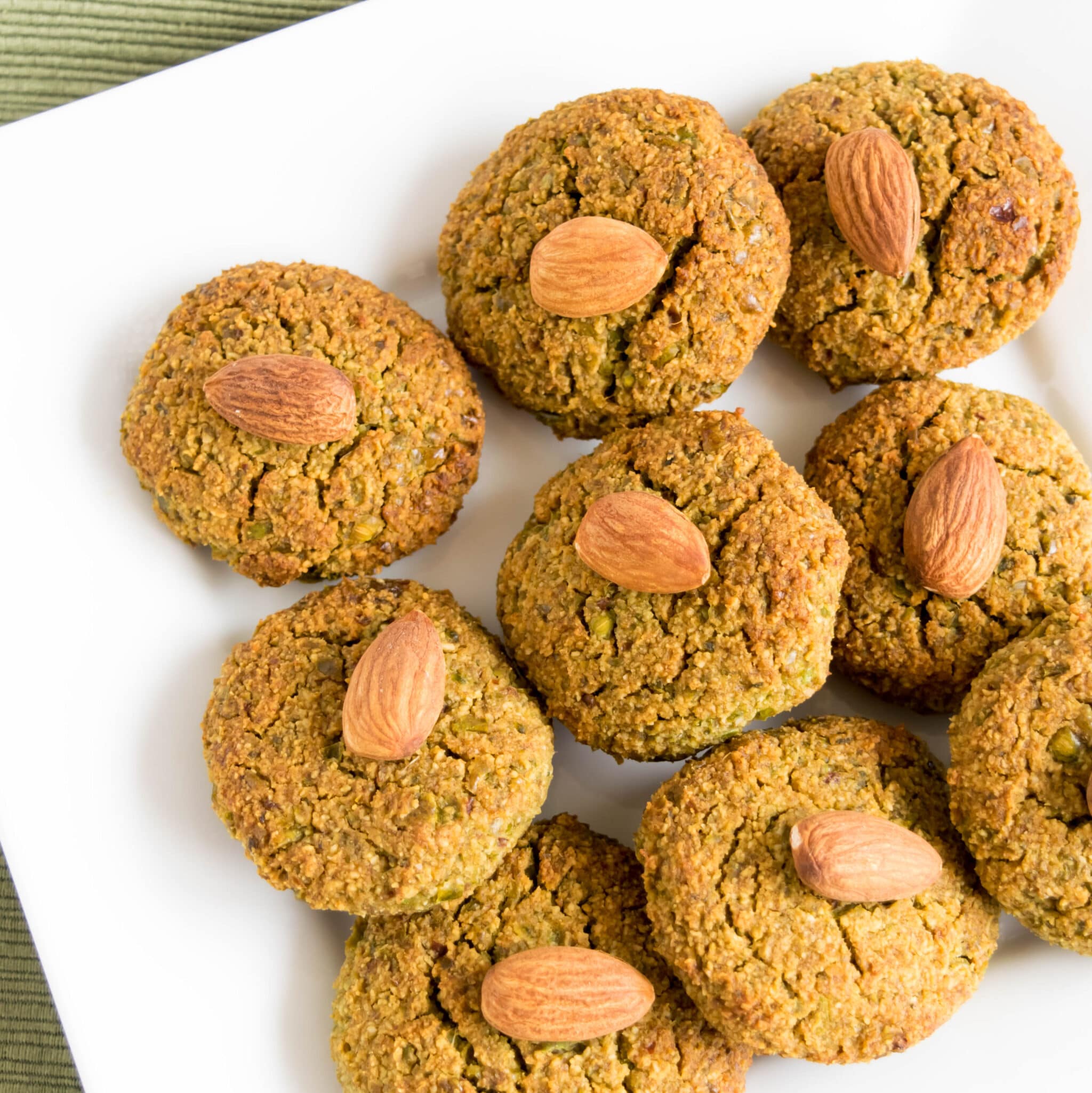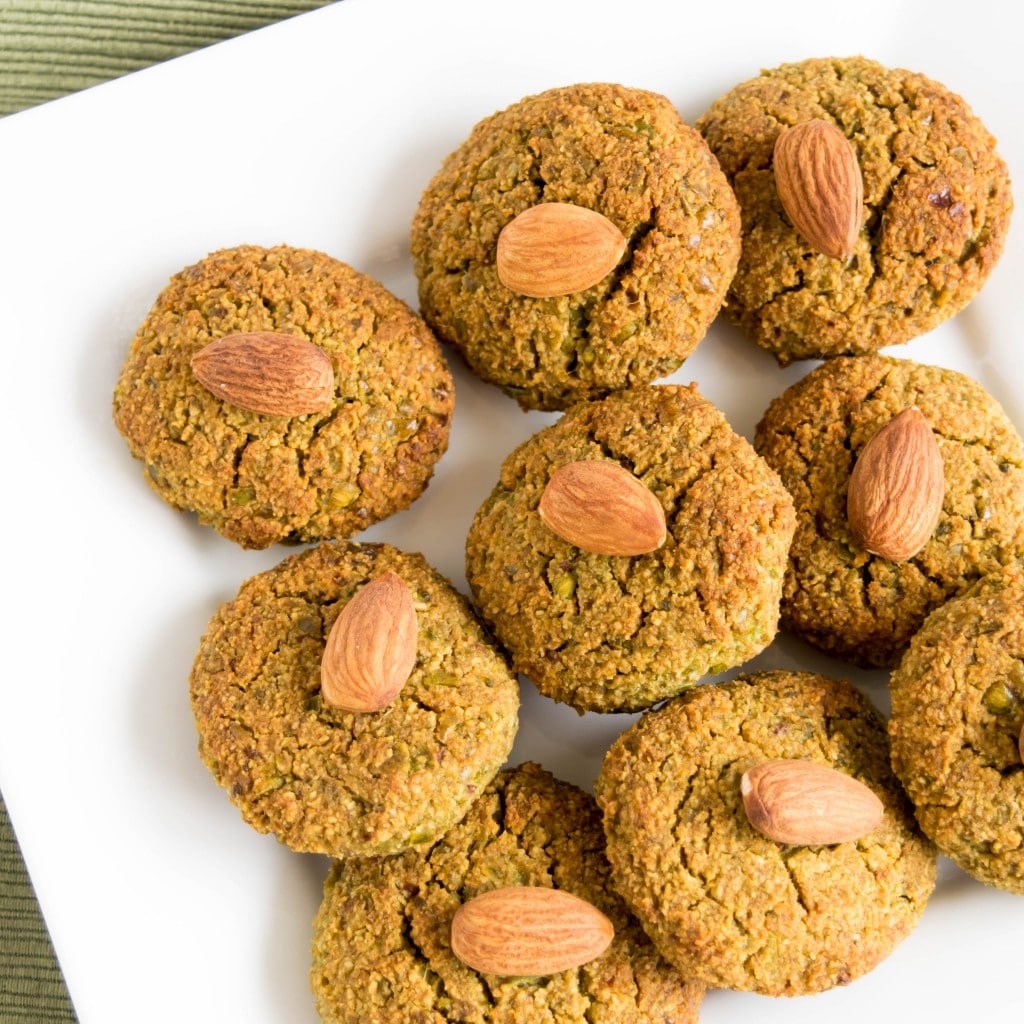 These were delicious and satisfying along with being guilt free.
My daughter enjoys these with milk and trust me thy tastes sooo good.
Expert tips:
Make sure to mix tofu into peas mixture with hands so its well combined.
After adding almond flour it is important to mix the batter with your hands for the best results.
Nutrient Rich Green Peas Cookies FAQs
How long do they last?
These taste best when served the same day. However, refrigerate the leftovers for 2-3 days. Oven toast them for 3 minutes. Let them cool and serve.
Are these healthy?
Yes! They are flourless, oil free and refined sugar free. Therefore, can be enjoyed frequently.
What kind of green peas should I use?
I used frozen green peas which is the easiest to find. They are softer and sweeter too.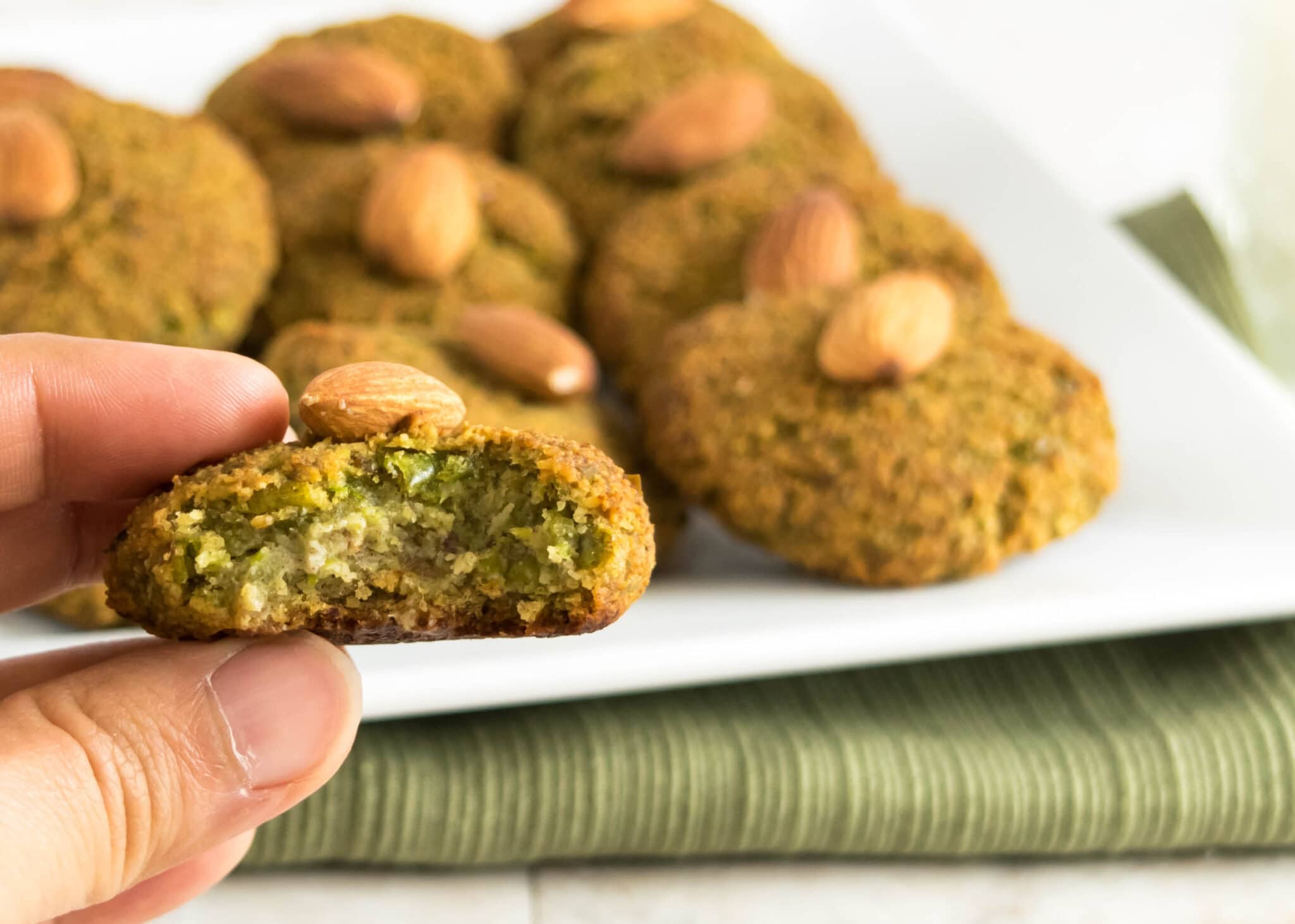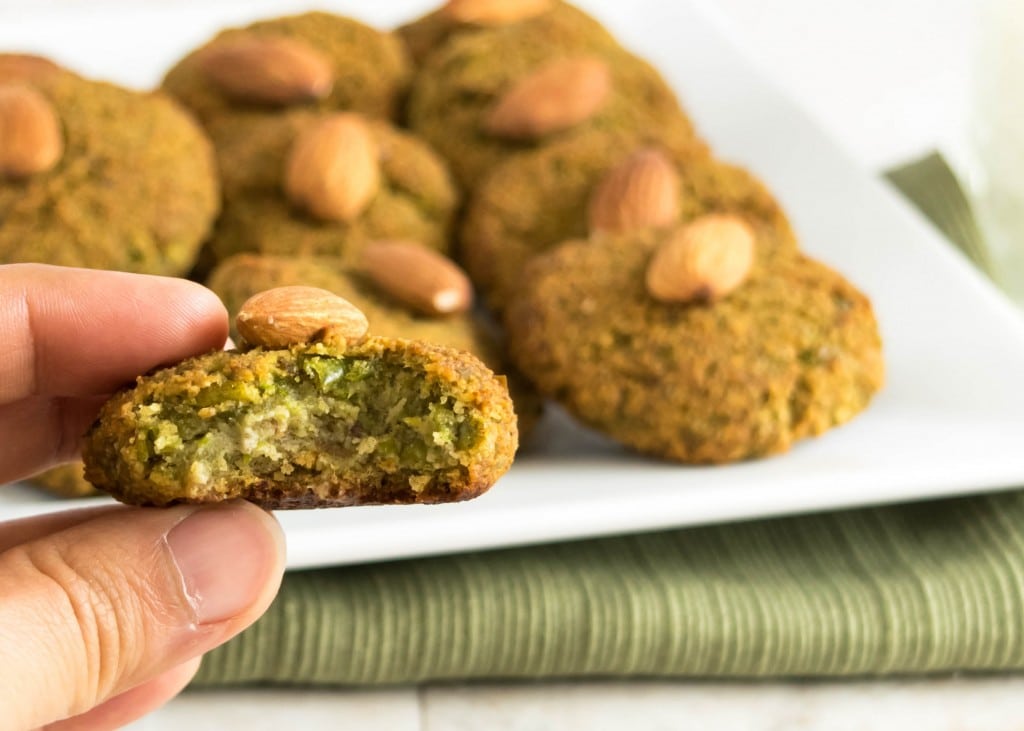 My other cookie recipes that you might like:
Butternut Squash Barley Cookies
Apple Buckwheat Chocolate Chip Cookies
This post may contain affiliate links which means that if you click on them and also make a purchase, I will get a small commission. Moreover, I share only those products which I use personally and love.
These are the best green peas cookies you may have come across so far and I hope you will enjoy them as much as we did. I am very excited to hear back from you.
Where to find me?
Follow me on Facebook or on Twitter. You may tag @kiipfit on Instagram with your recipe remake images because I would love to see what you cooked.
Did you make it?
If you get a chance to make this recipe then please leave your feedback in the comments below along with a 5-star rating.
In addition, you may checkout my cookbook for everyday comfort vegan recipes.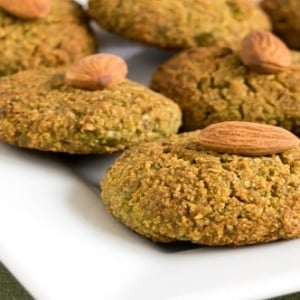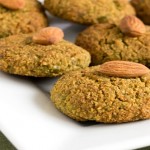 Print Recipe
Nutrient Rich Green Peas Cookies
These vegan Nutrient Rich Green Peas Cookies are soft and chewy from inside with a nice crisp texture from outside. Its oil free and a great way to include veggies in our diet.
Instructions
Preheat oven at 350 degree Fahrenheit and prepare a cookie sheet with a liner.

In a food processor/grinder combine peas and dates and grind as smooth as possible.

In a mixing bowl spoon out the peas mix and add tofu and mix well with a spoon.

Then add almond flour, salt and baking powder and mix well with your hand. Very soft dough like texture will be formed.

Take a tablespoonful of the dough between palms and form a round shape and gently flatten in the middle. Try to even out the flat round cookies as much as possible.

Put the cookies on the cookie sheet and garnish with raw almonds. (one almond on each cookie and press very gently so they stick together).

Put the cookie sheet in the middle rack of the oven and bake for 25-30 minutes or until slightly brown in color. Take it out of the oven and let the cookies cool down for a while and serve.
Notes
I would highly recommend adding almonds for garnishing because it adds to the flavor of the cookies and gives it a crunchy texture.
½ cup dates equals to 5-6 pieces.
The above recipe measurements yields 15 cookies and the serving is 1 cookie per person.
Can be stored in an air tight container in the refrigerator for 2-3 days.
Nutrition
Calories:
82
kcal
|
Carbohydrates:
9
g
|
Protein:
3
g
|
Fat:
5
g
|
Saturated Fat:
1
g
|
Sodium:
20
mg
|
Potassium:
27
mg
|
Fiber:
1
g
|
Sugar:
1
g
|
Calcium:
27
mg
|
Iron:
1
mg