Vegan Pot Pie with Chickpea Flour Biscuits are made absolutely from scratch and in one pot. Besides being oil free it is a medley of vegetables and whole grains.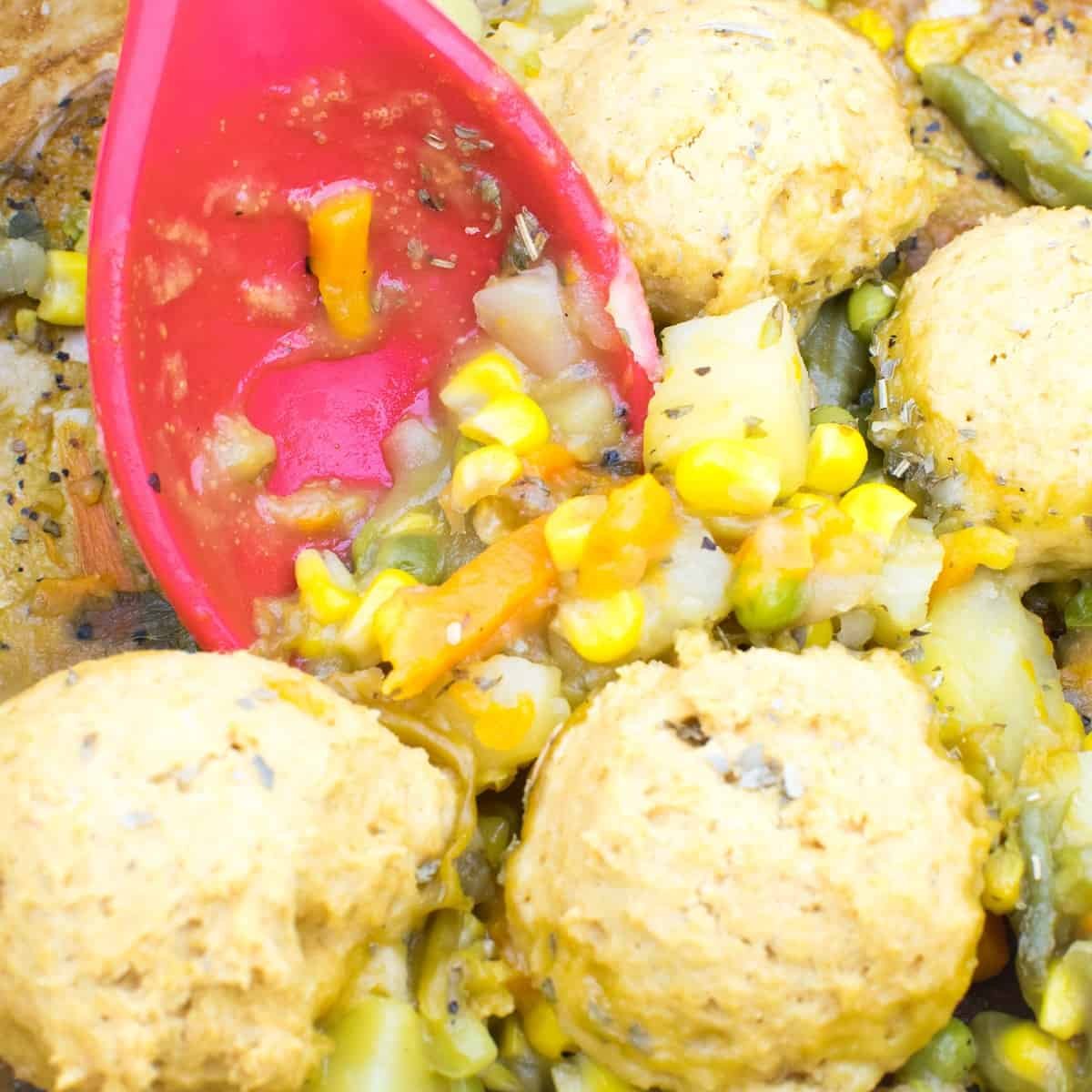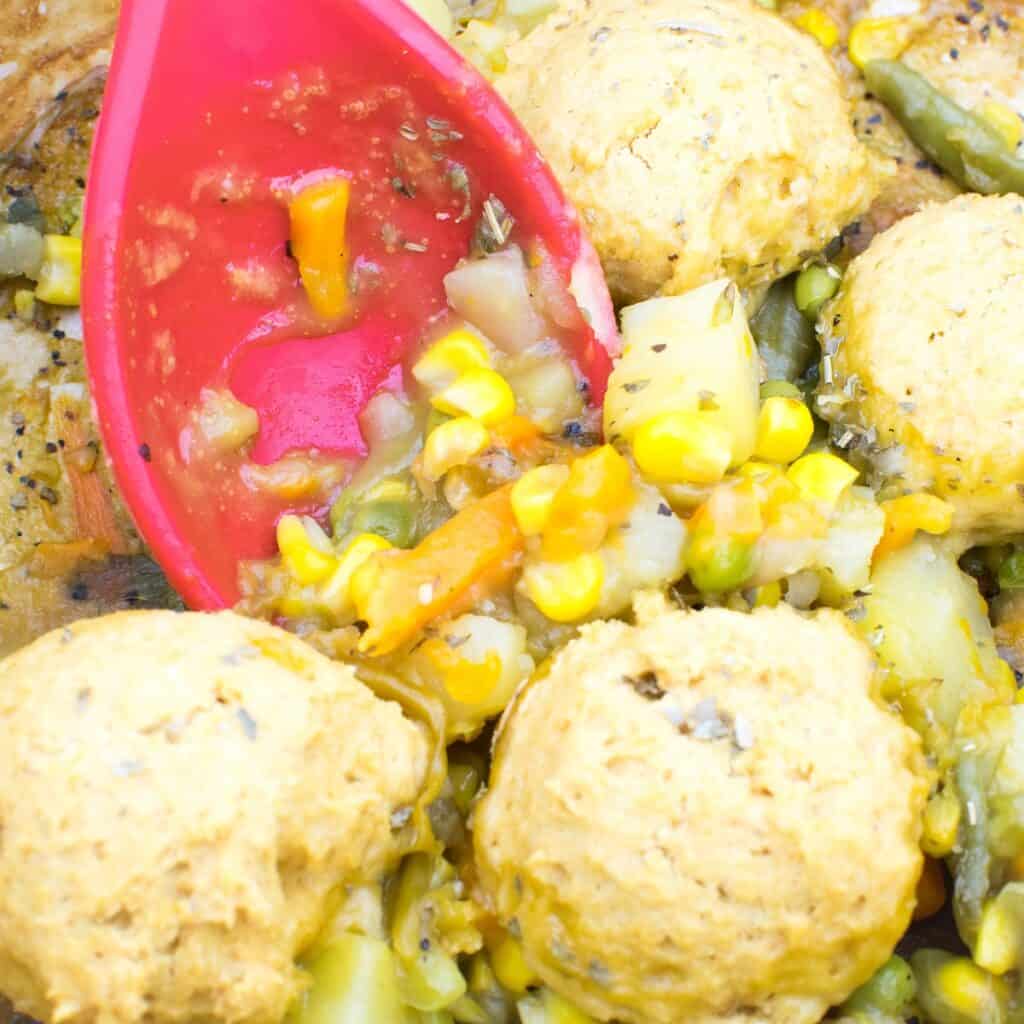 Its easy and is completely hassle-free recipe that your entire family would enjoy. This vegan pot pie is perfect for the cooler weather and is a delightful thanksgiving dinner as well. It's a complete meal made in a Dutch oven.
I preferred making biscuits from scratch for this recipe because I wanted to make something wholesome with healthier and nutritious ingredients. Yet I wanted it to be super delicious and comforting. However, I made this pot pie with simple ingredients that I easily found in my kitchen pantry and refrigerator.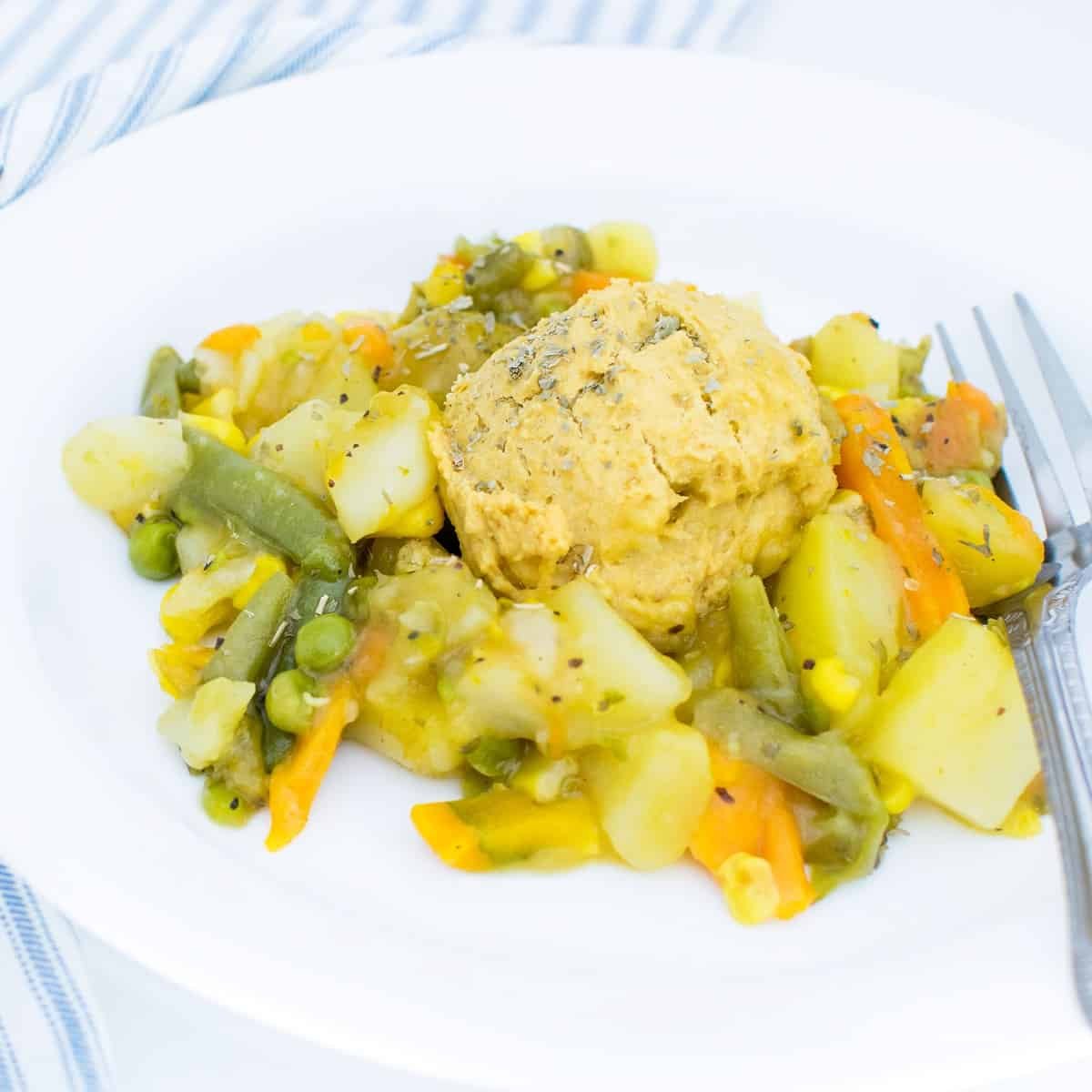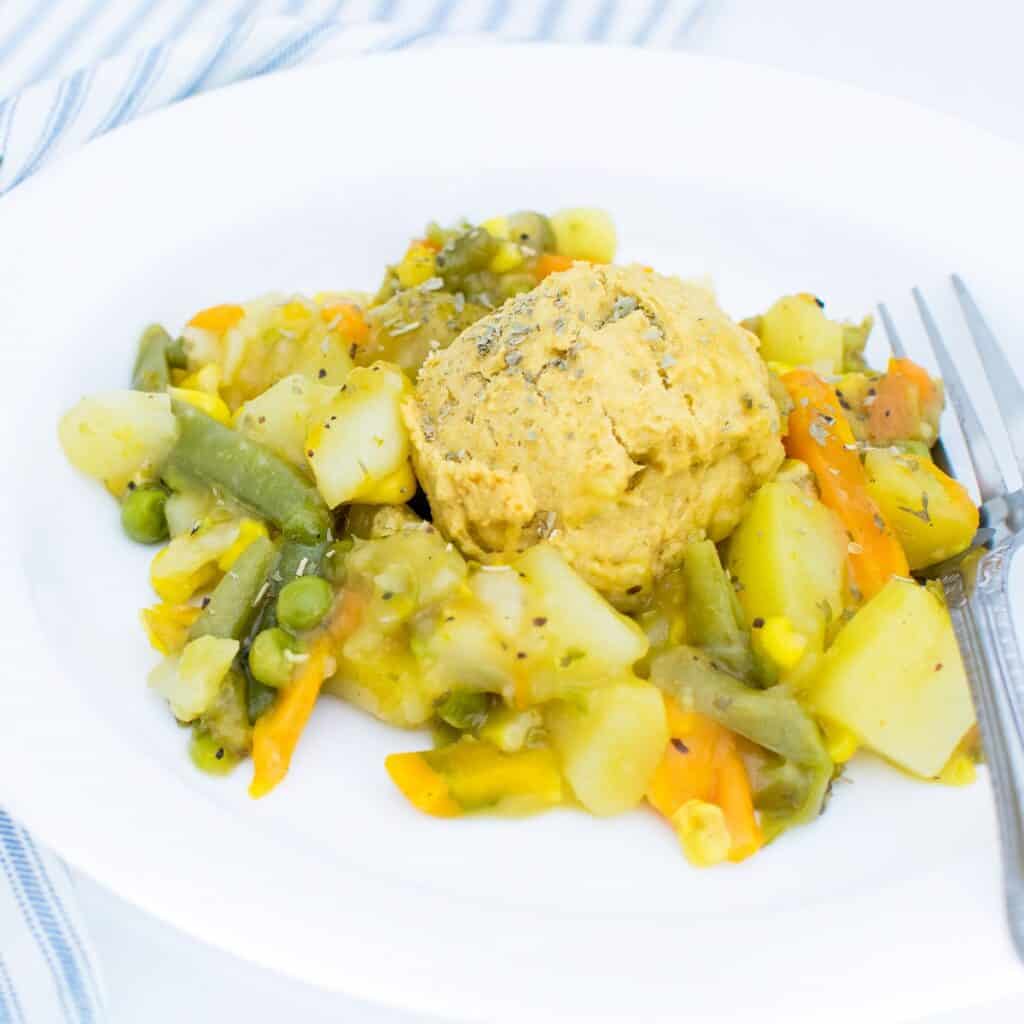 I have tried few versions of this and after finally getting my family's approval here I am to share this vegan pot pie recipe with you all.
Ingredients for Vegan Pot Pie with Chickpea Flour Biscuits
For the pot pie
Vegetable broth
Cornstarch
Potatoes
Mixed vegetables
Onion powder
Garlic powder
Salt
Pepper
Unsweetened coconut milk
For the biscuits
Chickpea flour
Whole wheat flour
Nutritional yeast
Baking powder
Salt
Unsweetened coconut milk
I have used these easily available ingredients which you may buy from any grocery store. However, I have provided links to few of them here for your convenience.
If you plan to buy from these affiliate links then I get a small commission which in turn helps me to come up with more delicious recipes for you all.
Ingredients notes:
Vegetable broth – I used a store bought one but you use any of your choice. Even a homemade vegetable broth would taste delicious and healthier.
Cornstarch – I used it instead of flour to thicken the gravy a bit. You may use flour also but for this particular recipe cornstarch tasted better for us.
Chickpea flour – It is high in protein and fiber. It's a whole grain and a better substitute for processed flour. This also adds a bit more nutrition to this recipe.
Whole wheat flour – I used this to bind the biscuits a bit better while baking since they get a lot of moisture because of the gravy at the bottom.
Nutritional yeast – this gives a nice smooth nutty and cheesy flavor to the entire recipe.
How to make Vegan Pot Pie with Chickpea Flour Biscuits
Firstly, I combined all the ingredients for pot pie in a Dutch oven and coked on the stove top until it starts to thicken.
Secondly, I combined all the biscuit ingredients in a mixing bowl and made a thick dough like batter.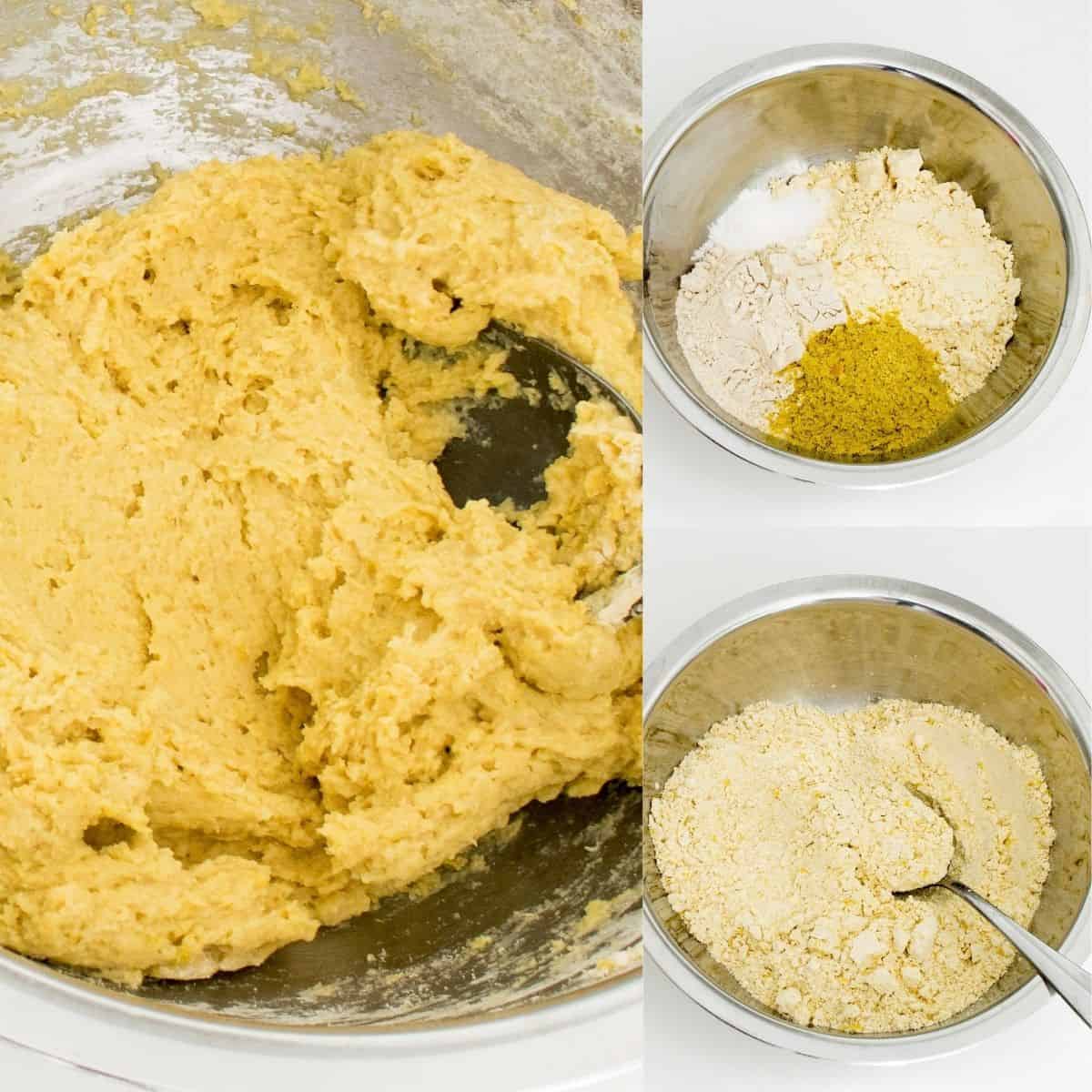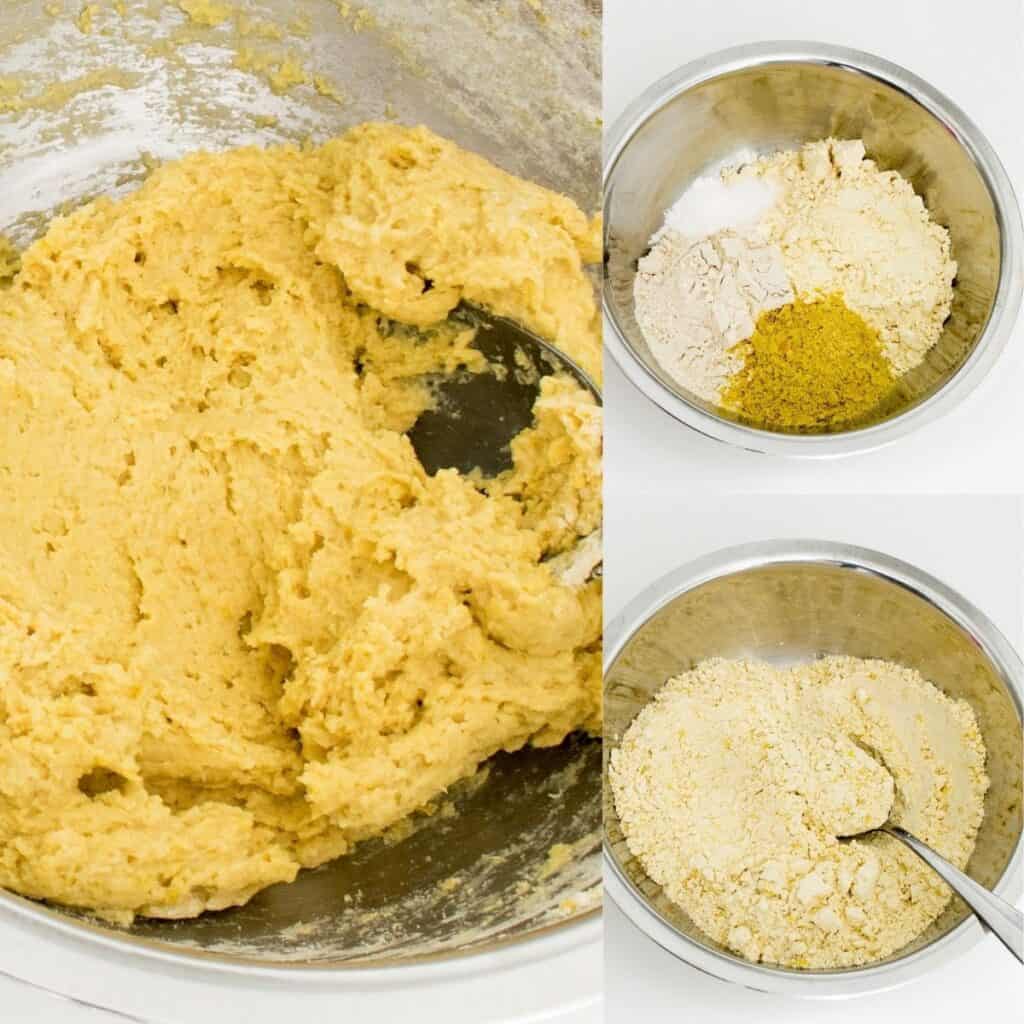 Once, the pot pie was thick enough, I dropped the biscuits on the top of it with the help of a cookie scoop.
Thereafter, I placed the Dutch oven in the middle rack of the oven and baked it for 25 minutes.
Afterwards, I turned off the oven and took it out. I served it immediately.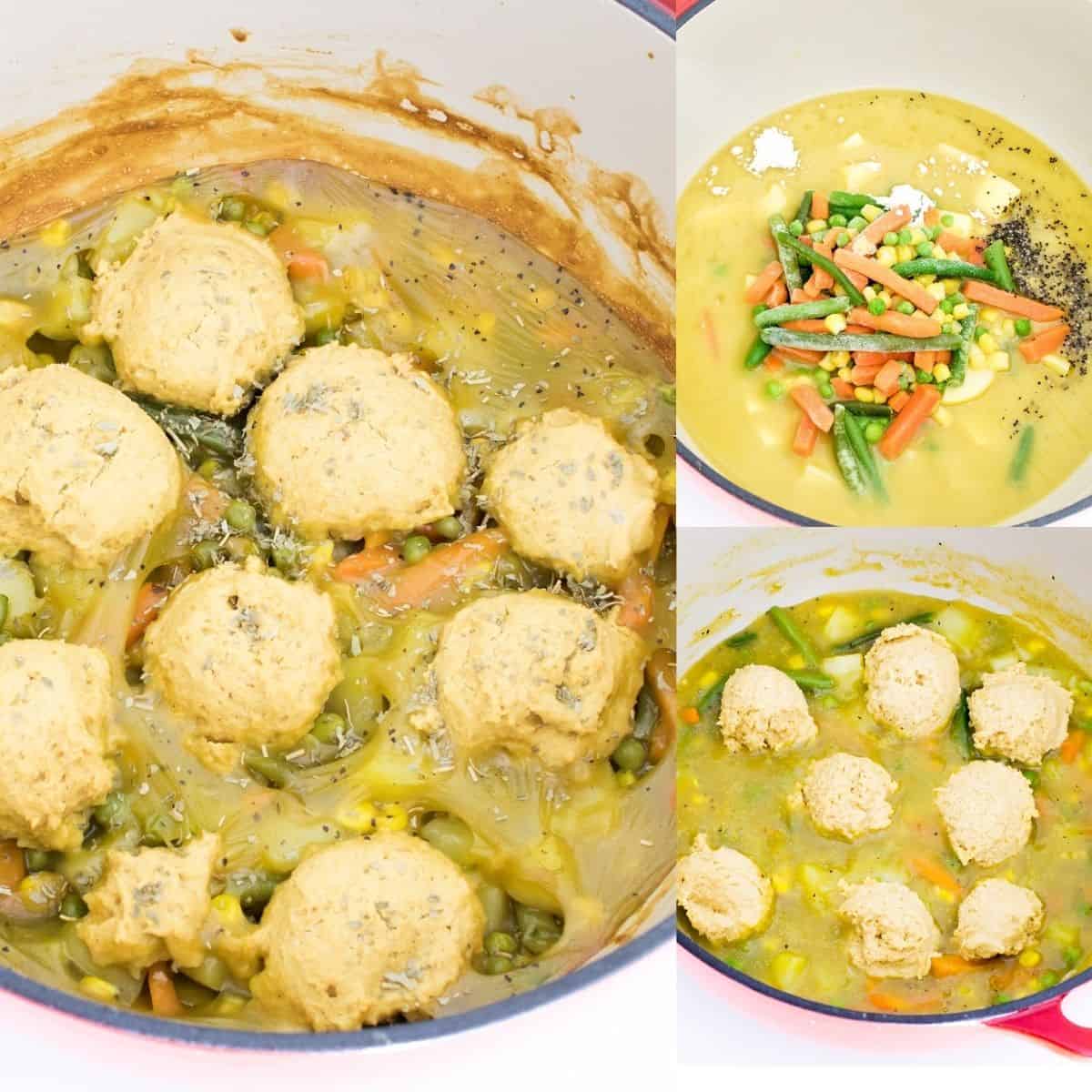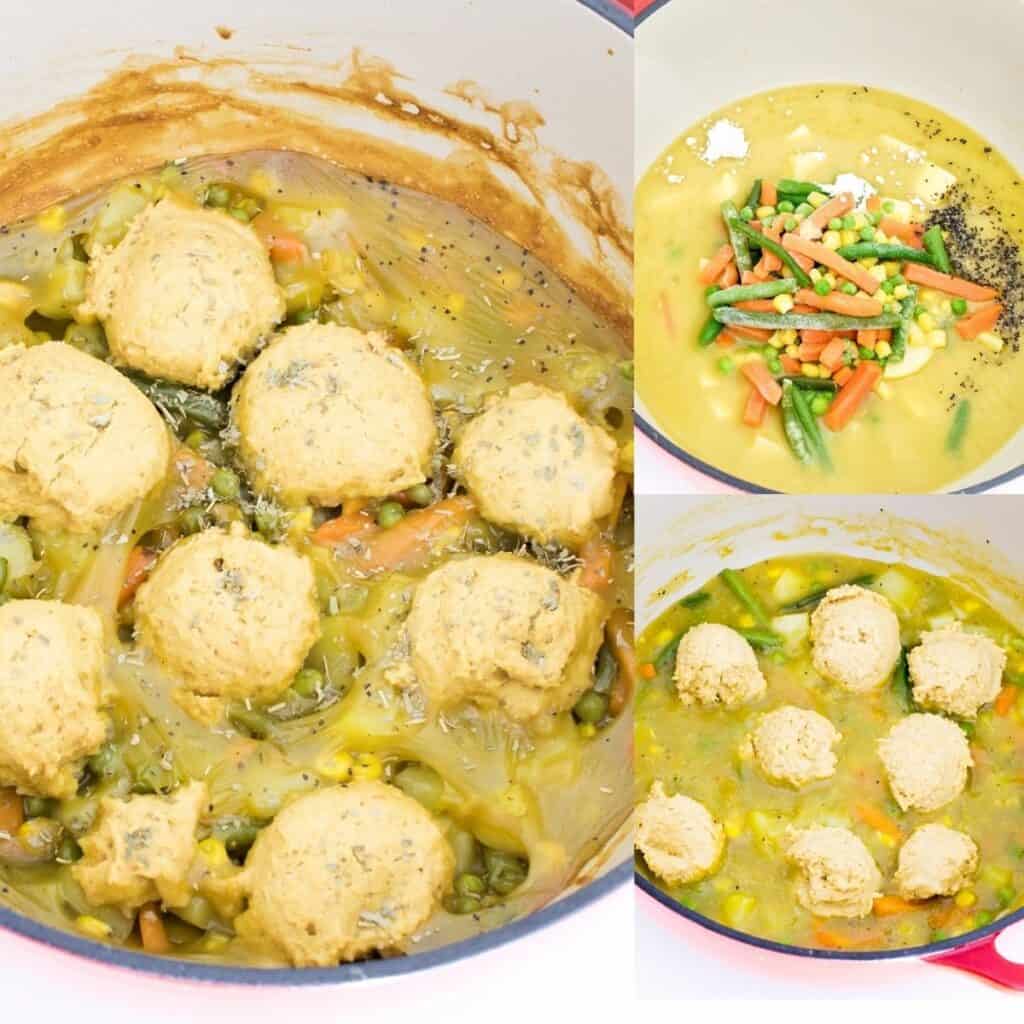 My entire family was so happy and enjoyed this warm winter dinner heartily. I was happy with the fact that I had minimum after dinner clean up and got extra time to spend with the kids on a weeknight.
Therefore, by now you must have realized that this recipe is very simple and requires minimum steps. It's a perfect weeknight dinner recipe along with being a crowd pleaser as well.
Expert tips:
I would recommend to keep all the ingredients ready so its easy for you to put everything together quickly.
Make sure the batter is thick like a dough. Even if you feel that the batter is slightly dry to mix do not add more than recommended milk. The batter will be mixed eventually and you may use your hands if needed. If you add more milk to it the biscuits would turn out to be soft since it gets moisture from the veggies also while baking.
The consistency of the vegetable pot pie before dropping biscuits should be on the thicker side and not watery or overly runny.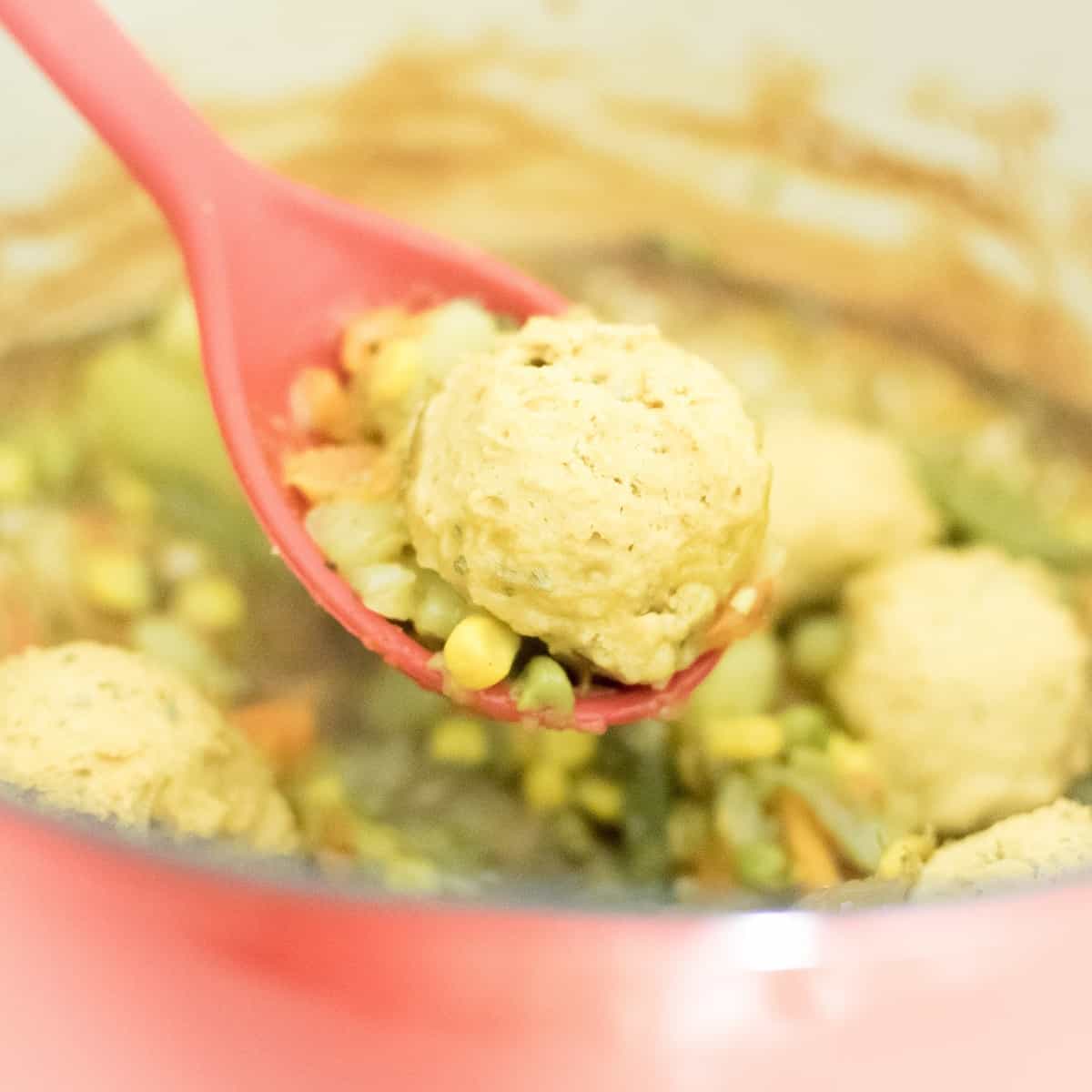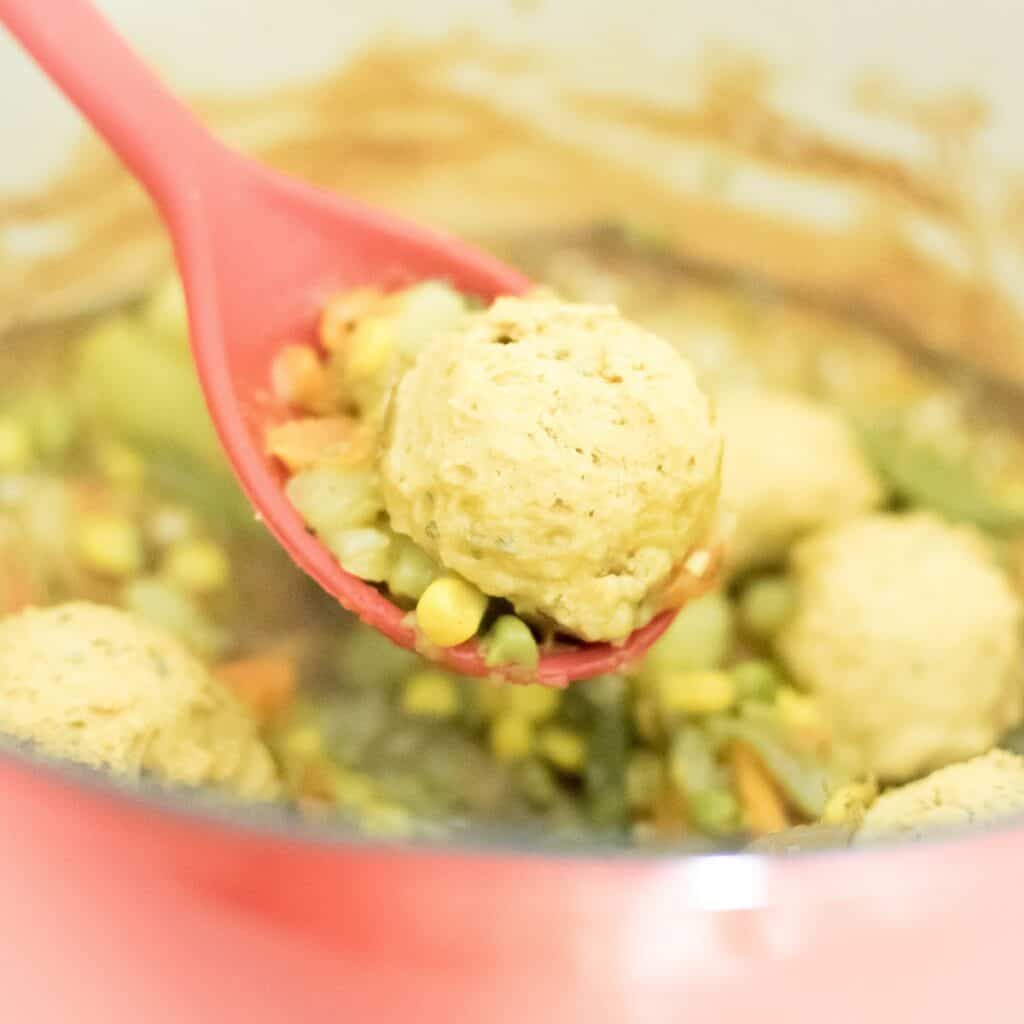 I am sure you must be drooling over this veggie pot pie dish. Its nutritious and healthier too and made with mostly whole foods.
Vegan Pot Pie with Chickpea Flour Biscuits FAQs
How long do they last?
They taste best when served immediately. However, the leftovers can be refrigerated for 3-4 days. Simply warm it up in the oven or microwave before consuming.
Is this healthy?
Yes, I made it oil free and with healthy whole food ingredients. For the biscuits I used whole wheat flour and chickpea flour which are higher in protein and fiber. Therefore, this dish is healthier and nutritious comparatively along with the same old comforting flavors.
Can I use Besan instead of garbanzo bean flour/chickpea flour?
Yes, I have personally tried with both and worked equally good in this recipe.
Can I make it ahead of time?
I would recommend making it the same day in fact to get started an hour before serving to get the best results. However, you may make vegetable pot pie and freeze it for couple of day. Do not add cornstarch in that case. When ready to use, simply warm it up on the stove add and when it defrosts, add cornstarch and then cook until it thickens a bit. Then follow the rest of the process.
Can I just make chickpea flour biscuits?
Yes, absolutely. Make the batter as per the instructions in the recipe card and then drop the biscuits in a prepared cookie sheet. Bake it for 15 minutes or until golden brown in color at the top. Enjoy it with jam or vegan butter.
I do not have Dutch oven, can I still make it?
Yes, absolutely. I have explained it in the notes under recipe card.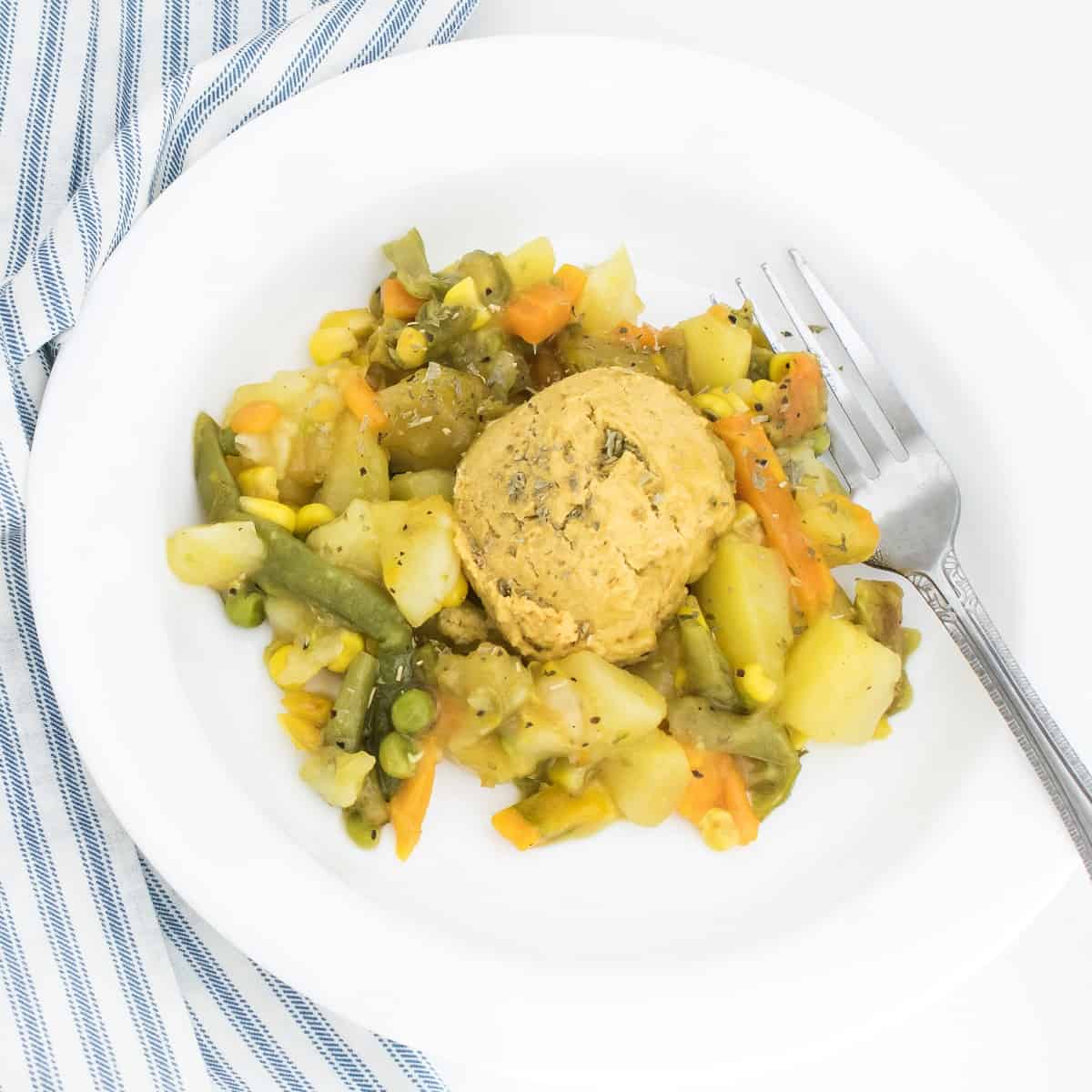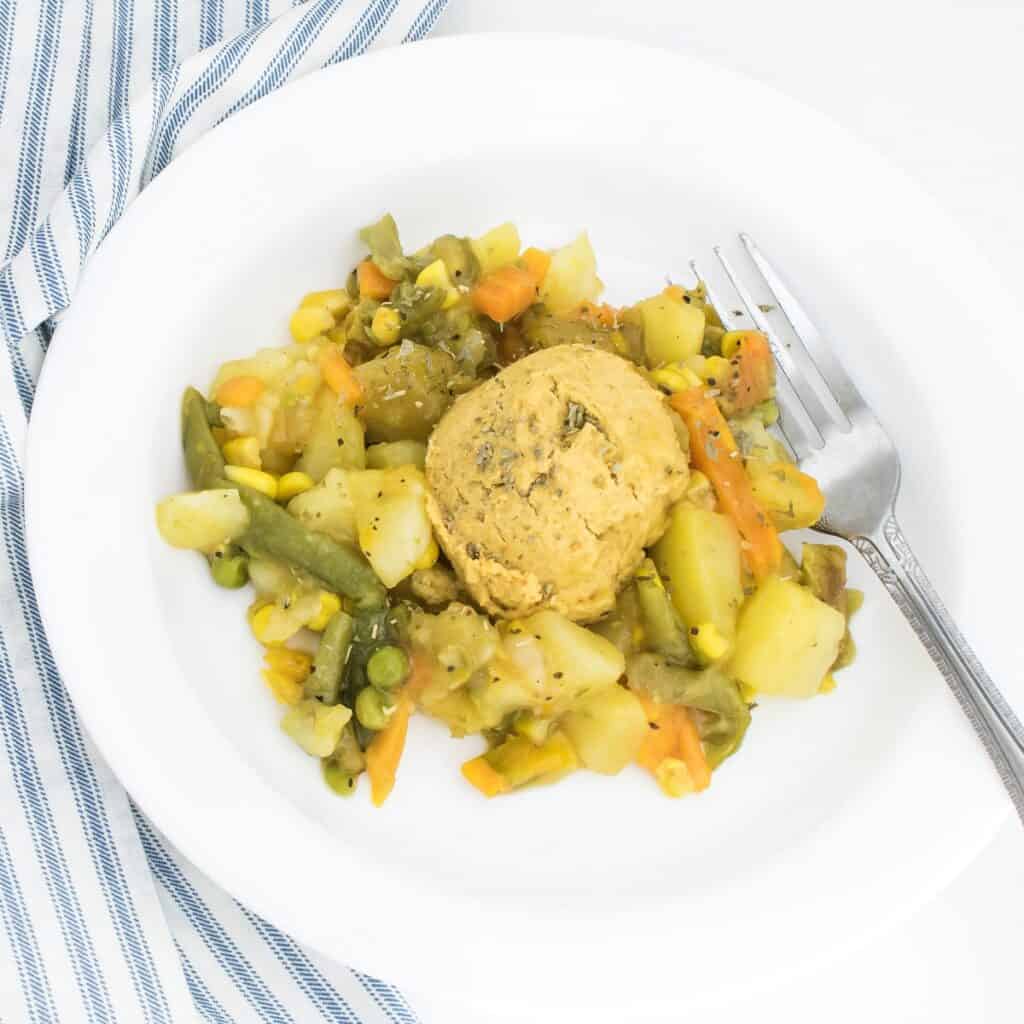 You may also like:
Vegan Green Bean Casserole
Creamed Corn Casserole
Baked Cheese Broccoli Casserole
Nut Free Vegan Scalloped Potatoes
Did you make it?
If you get a chance to make it then please leave your feedback in the comments below along with the ratings. In addition, you may also tag @kiipfit on Instagram with your recipe image because we would love to see what you cooked.
If you desire to explore more delicious recipes of mine then checkout my cookbooks.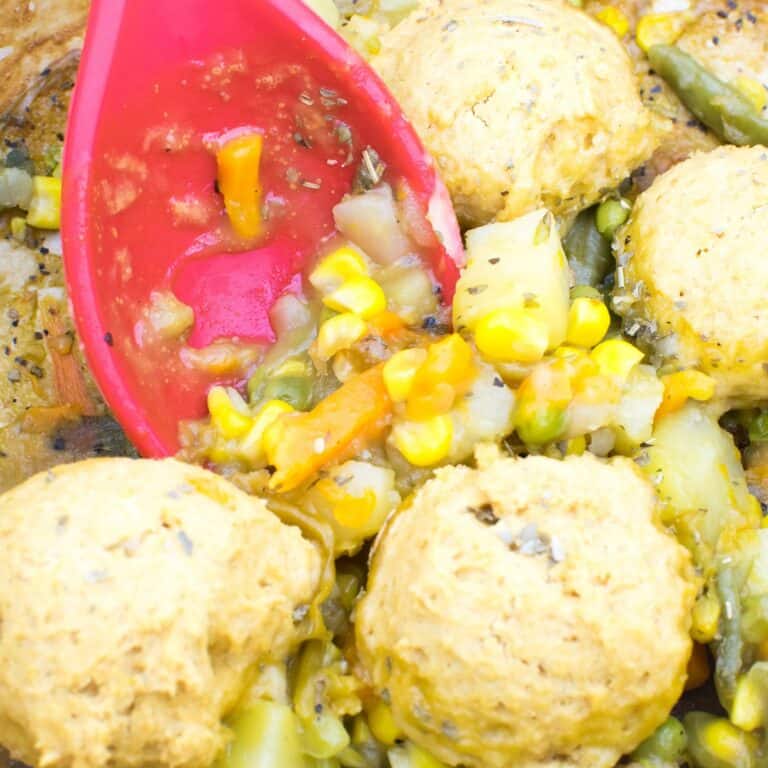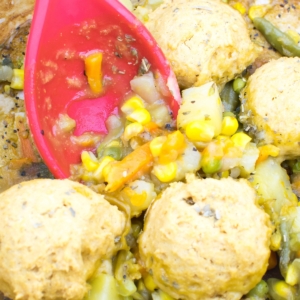 Print Recipe
Vegan Pot Pie with Chickpea Flour Biscuits
Vegan Pot Pie with Chickpea Flour Biscuits are made absolutely from scratch and in one pot. Besides being oil free it is a medley of vegetables and whole grains.
Ingredients
For the pot pie
2

cups

vegetable broth

2

tbsp

cornstarch

1

cup

chopped gold potatoes

(peeled)

1 1/2

cups

frozen mixed vegetables

1

tsp

onion powder

1

tsp

garlic powder

1

tsp

salt or as per taste

1

tsp

crushed black pepper

1

cup

unsweetened coconut milk

(tetra pack)
Instructions
Preheat oven at 400-degree Fahrenheit. In a Dutch oven combine all the ingredients for pot pie (except coconut milk). Stir and place it on the stove top. Turn it on at high flame and let it cook stirring at intervals to make sure it does not stick to the bottom. Once it starts to boil add coconut milk and stir nicely. Let it cook at medium-high heat until it almost thickens but not completely.

In a mixing bowl combine all the ingredients for biscuits and make a thick stiff batter almost like a dough.

Once the pot pie is a bit thick turn off the flame. With the help of the cookie scoop drop the biscuits on the pot pie spreading it evenly. Do not let the biscuits drown into the pot pie. They should be placed at its top.

Now, place the Dutch oven in the middle rack of the oven and bake it for 25 minutes. The biscuits will become crisp. Take it out and garnish with your choice of herbs and serve immediately.
Notes
While making the biscuit dough mix all its dry ingredients very well. Just when you are ready to turn off the pot pie then mix the coconut milk into the biscuit batter and immediately drop them on top of the pot pie.
The consistency of the pot pie before baking would be sticky and will have gravy. It should not very dry and neither very runny.
This biscuit recipe makes about 8 biscuits and the serving size is 2 per person.
If you do not have Duct oven then simply cook the pot pie in a stockpot or in any pan of your choice and pour it in a baking dish. Then drop the biscuits on its top and bake it as per the instructions.
This recipe taste best when served immediately. Leftovers can be refrigerated for about 3-4 days. Simply microwave or rebake them but the biscuits might not be crisp again. However, this entire recipe would still taste excellent.
Nutrition
Calories:
238
kcal
|
Carbohydrates:
43
g
|
Protein:
8
g
|
Fat:
3
g
|
Saturated Fat:
20
g
|
Sodium:
819
mg
|
Potassium:
782
mg
|
Fiber:
9
g
|
Sugar:
6
g
|
Vitamin A:
3716
IU
|
Vitamin C:
10
mg
|
Calcium:
98
mg
|
Iron:
4
mg