Chinese Long Beans lend themselves well to the delicious flavors in this Asian Style Long Beans and Quinoa recipe.  It's quite light and fresh and yet you get all the flavors of sesame seeds, garlic, scallions, vinegar, soy sauce, black pepper and chili sauce and finished with crushed peanuts to add to the protein and taste of this recipe.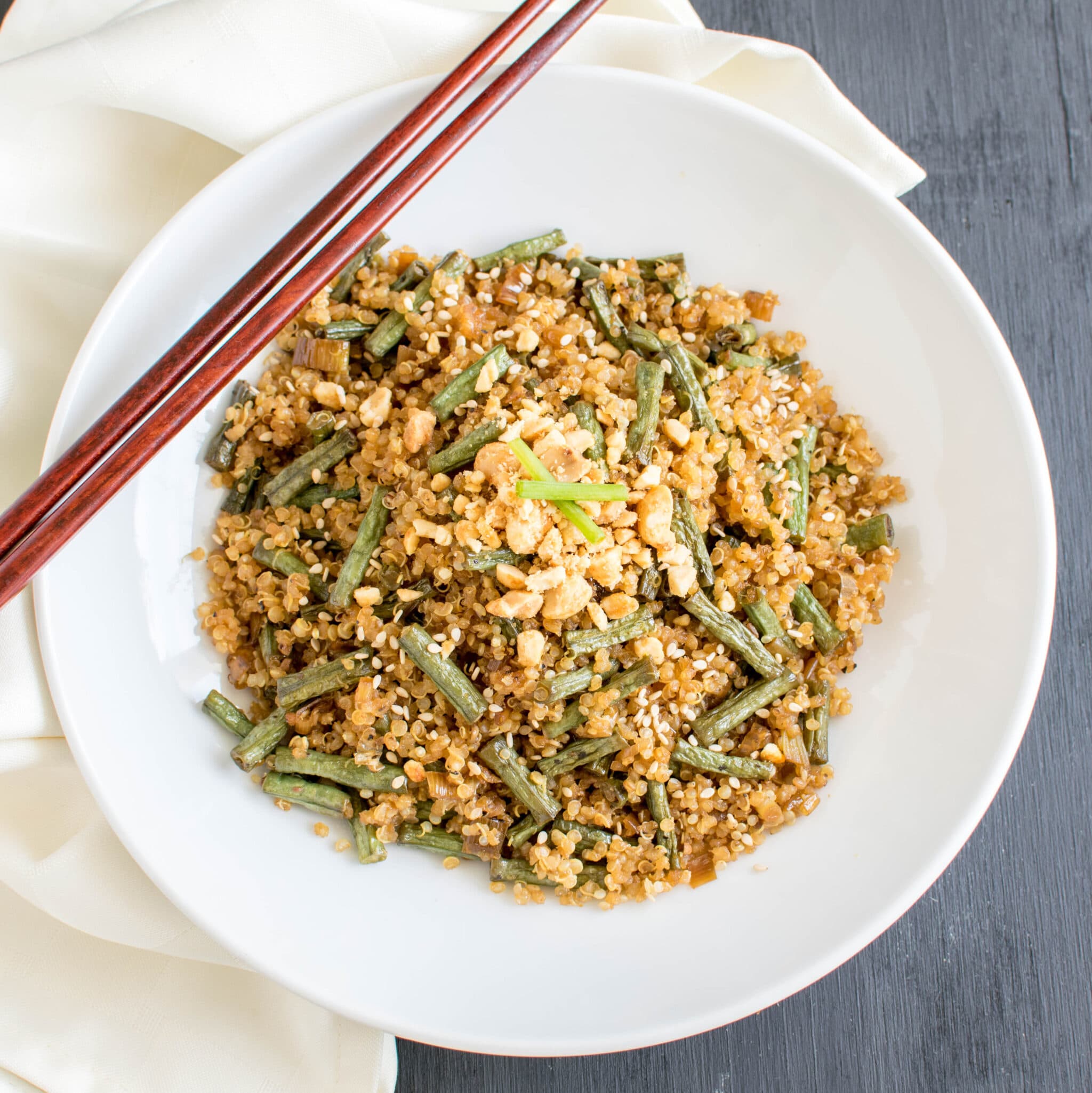 Chinese Long Beans are easily available in Asian super markets and are also available in some regular American store in the Asian fresh produce aisle and are known by various names in India as well. As a kid this vegetable was regular in my home and mom used to cook this vegetable with Indian spices. It used to be my favorite green vegetable. When I migrated to US, for a long time I did not cook this vegetable but recently when I found Chinese Long Beans in my neighboring store I got super excited and cooked innumerous times using my Mom's recipe. But I wanted to come up with something more healthy and filling and add some new favors and to these Chinese Long Beans and recreate its magic. 🙂
This is how I came up with this Asian Style Long Beans and Quinoa recipe that I am sharing with you all today. This easy recipe takes few steps to be cooked and gets ready within 20 minutes and is a delicious healthy and complete lunch option if you are looking for a break from those boring salads.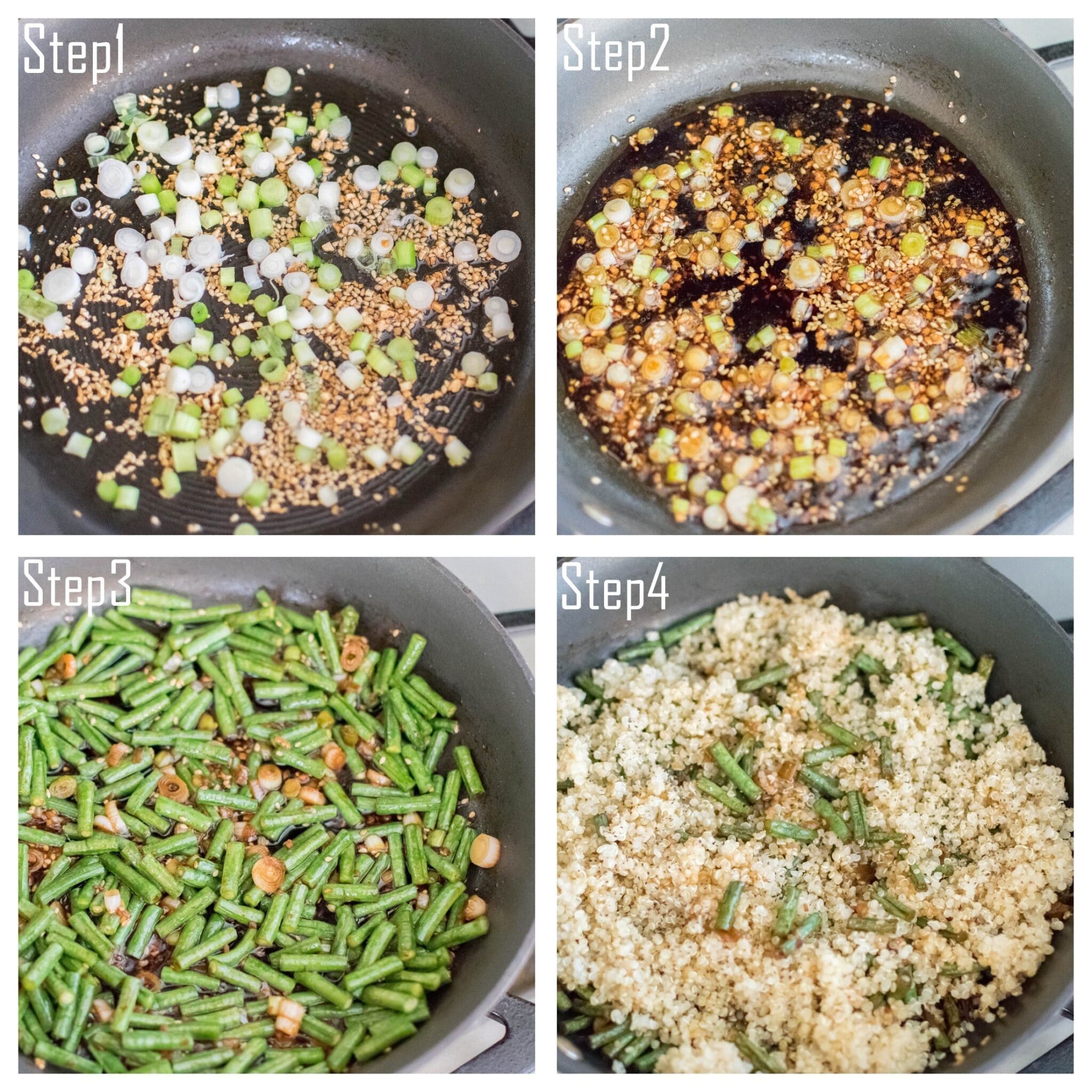 Chinese Long Beans are different from the regular green beans in looks and in taste. They are darker in color and less crunchy. It tastes best when cooked properly and thinner in texture apart from being extra-long.
I am personally very fond of Asian flavors and peanuts top my list for nuts so this recipe was perfect for me to give me a nice healthy and filing lunch. Sometimes I make twice the servings and refrigerate in an air tight container to enjoy it for the next few days. It's one of the favorite lunch box meal for my foodie husband as well and Asian Style Long Beans and Quinoa is quite regular in my home.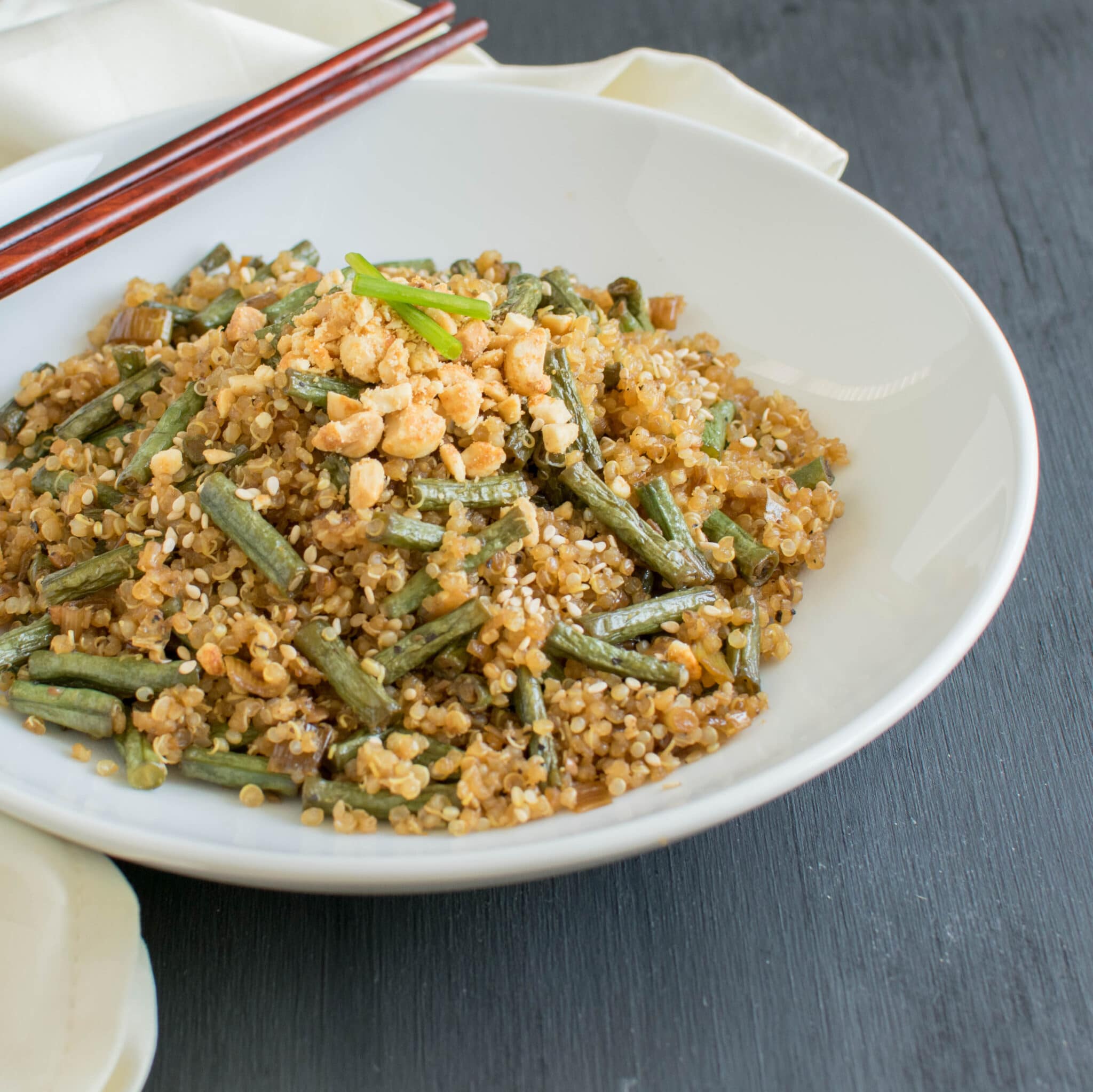 Asian Style Long Beans and Quinoa
Prep Time: 10 minutes
Cook Time: 10 minutes
Total Time: 20 minutes
Per Serving 650 calories
Fat 20 g
Carbs 88 g
Protein 36 g
Ingredients
1 tbsp. olive oil
1 tsp white sesame seeds
1 tsp dried garlic
½ cup scallions
1 tsp white vinegar
¼ cup low sodium soy sauce
1 ½ cups Chinese long bean (chopped 1 inch long)
½ tsp crushed black pepper
1 ½ cups quinoa (cooked)
1 tsp green chili sauce
½ cups peanuts (dry roasted and lightly salted)
Instructions
Heat oil in a nonstick pan and add sesame seeds, garlic and scallions. Mix well.
Now add vinegar, soy sauce and bring to a boil (this may make few seconds so don't leave it unattended).
As soon as it starts to boil add Chinese long beans and mix well. Cover and cook for 4-5 minutes. Long beans should be chewy and crunchy but soft in the center. (Do not let the long beans get mushy).
Now add black pepper, quinoa and chili sauce. Sautee for couple of minutes until quinoa is well coated with all the ingredients.
Turn off the flame and top it with crushed peanuts and serve warm.
Notes
No additional salt is required in this recipe. But if you plan to use unsalted peanuts then you may want to add salt according to taste.

While crushing peanuts don't grind it smooth. Let few pieces be intact. Just pulse your grinder for few seconds.

Sriracha sauce can also be used in place of green chili sauce if desired.

Chinese Long Beans are easily available in Asian Super Market and in some American stores in the Asian fresh produce aisle. Also available in Indian store as long beans.
If you buy products from this recipe using below links I get small affiliate commission.