This satisfying and nutritious Kale Bulgur Soup is a comforting meal for all year round. Its easy to make and a delicious weeknight meal.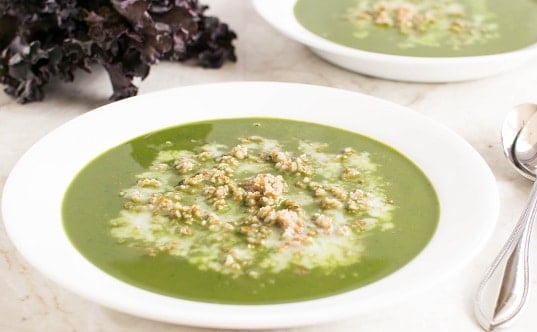 Grocery Shopping when Hungry?
Yes, I know, I always preach my followers to enter the grocery store after your meals and look here what I did.
I happily went ahead on an empty stomach to fill my kitchen pantry and refrigerator.
By now you must have guessed that not only my pantries got overloaded but my budget also went overboard.
Lesson Learnt – always be diligent and careful while picking up attractive stuffs from the grocery store 🙂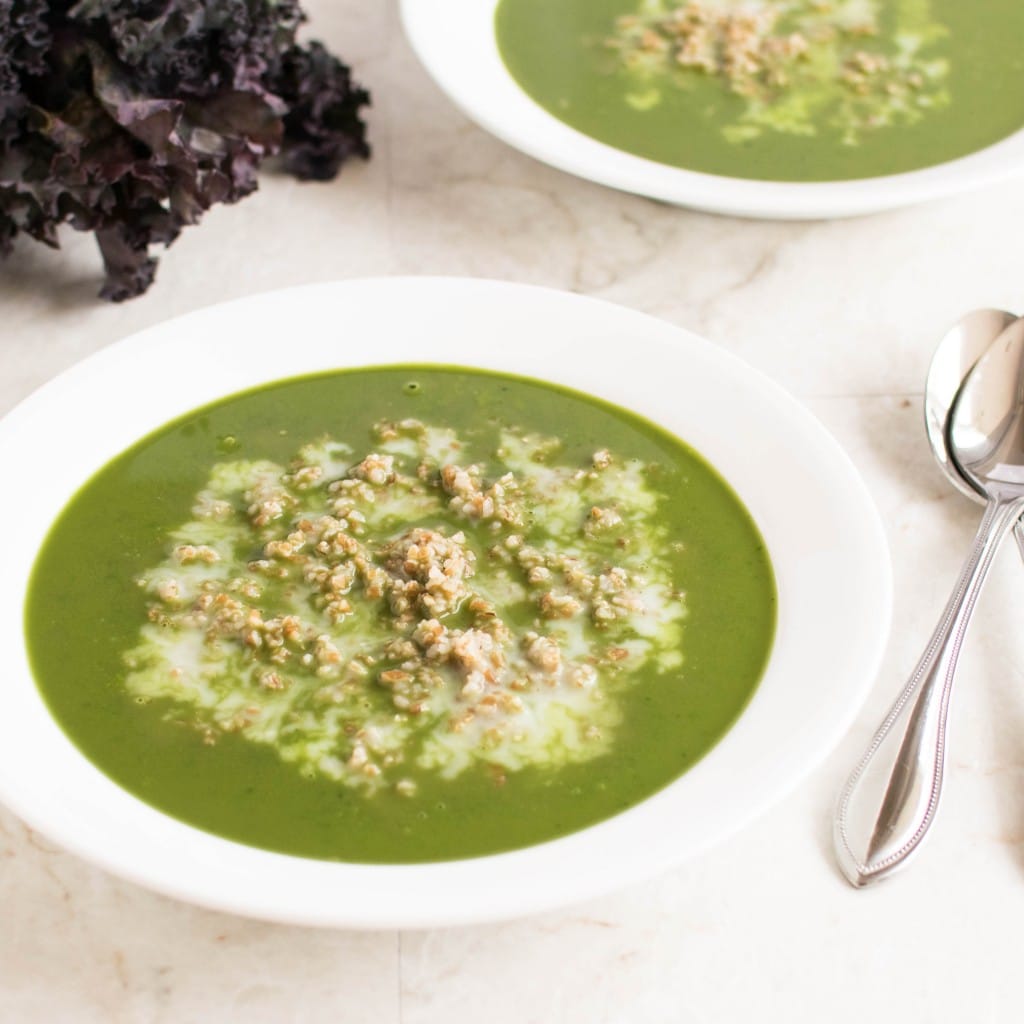 But in all this I found Purple Kale. Thankfully I was mindful to pick some healthy stuff for myself.
Ingredients for kale Bulgur Soup
Beautiful and vibrant purple kale sitting in my refrigerator enticed me to cook this Kale Bulgur Soup. After all, some mistakes do have slight positive effects as well.
And since I decided to pick extra packs of delicious and fiber enriched Bulgur I quickly combined them both in a soup. Because I was really hungry!!! And waiting to eat something healthy all this while was tougher than my workouts!!!!! 🙂 But I managed and passed with flying colors 🙂
Vegetable broth
Salt
Black pepper
Unsweetened coconut milk
How to make Kale Bulgur Soup
Firstly, I sauteed purple kale in warm oil. Immediately, it started to change its color to extremely bright, shiny and aromatic green color.
Secondly, I seasoned it with salt and black pepper and added some vegetable broth the soup. At this stage it was thicker and creamier and so much more inviting than regular green baby kale.
Lastly, I added whole grain, high protein and fiber rich, good carbohydrate and one of my favorite ancient grains – Bulgur in the soup, to make it a complete meal.
Slurp! Slurp! Slurp! Was the only sound around me and I could hear myself relishing this dinner.
A bowl of warm Kale Bulgur Soup on a cold wintery night after the 'expensive' shopping was extremely satisfying and blissful.
You may also like: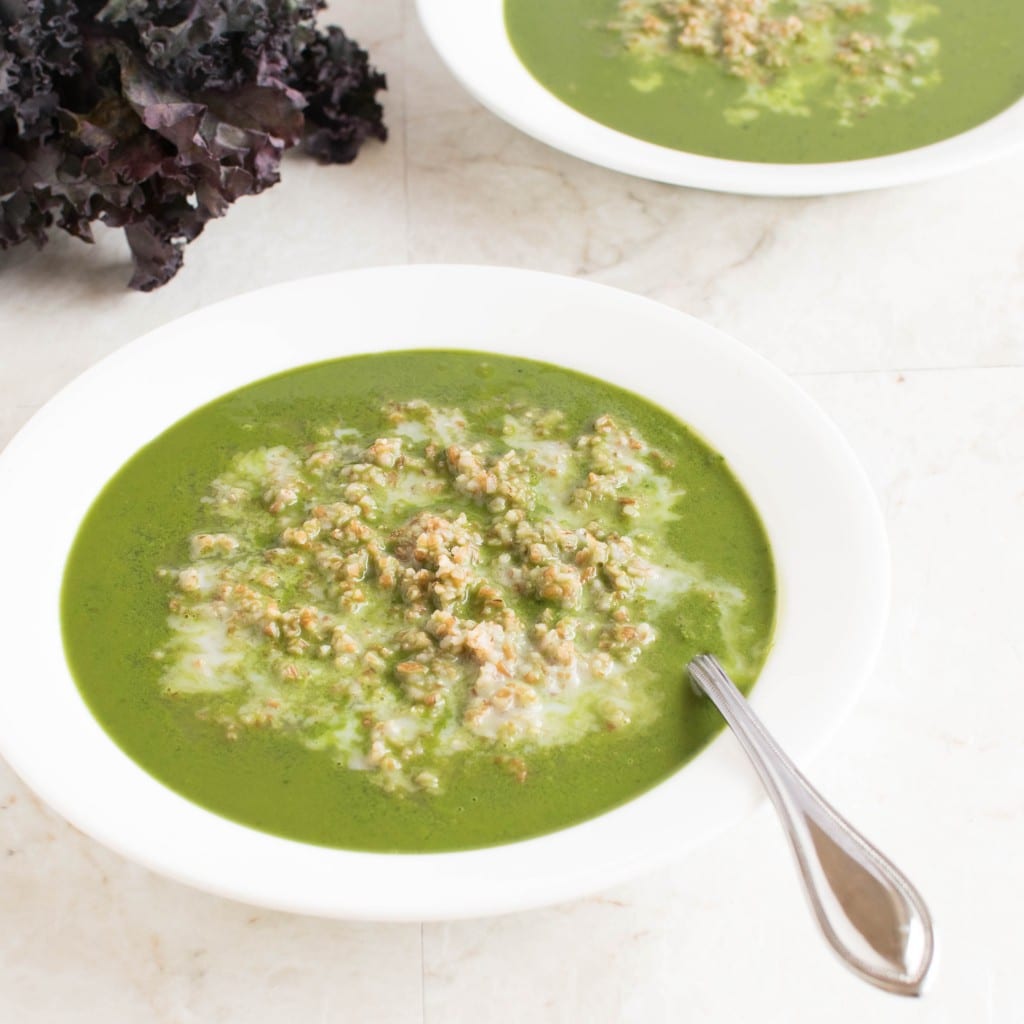 Did you make it?
If you get a chance to make this recipe then please leave your feedback in the comments below along with the ratings. In addition, you may tag @kiipfit on Instagram because we would love to see what you cooked.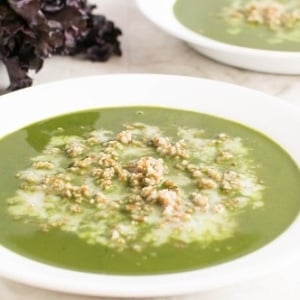 Print Recipe
Kale Bulgur Soup
This satisfying and nutritious Kale Bulgur Soup is a comforting meal for all year round. Its easy to make and a delicious weeknight meal.
Ingredients
1

tsp

olive oil

2

cups

chopped purple/regular green kale

2

cups

vegetable broth

1/2

tsp

salt

1/2

tsp

crushed black pepper

1

cup

unsweetened coconut milk

3/4

cup

cooked bulgur
Instructions
Heat oil in a pan and saute kale in it for a minute or till it start to release water. Purple kale will change its color to bright dark green and will become shiny and aromatic.

Add vegetable broth to it and boil for couple of minutes. Turn off the flame and let it cool.

Once cooled blend it very smooth. The color will change to dark green and will have a creamy texture.

Pour the soup again in the same pan and warm it.

Add salt, pepper and coconut milk and boil for couple of minutes.

Lastly, add cooked bulgur and mix.

Serve this soup warm in soup bowls and enjoy.
Notes
Prepare Bulgur as per the package instruction.
Purple kale changes its color to green when cooked. It has a nice creamy texture and sweeter in flavor. If you use purple kale the soup will have a thicker consistency.
If you plan to use regular green baby kale the taste might change slightly and the consistency would be thinner. In this case add a pinch of sugar.
Nutrition
Calories:
135
kcal
|
Carbohydrates:
15
g
|
Protein:
3
g
|
Fat:
7
g
|
Saturated Fat:
17
g
|
Sodium:
1034
mg
|
Potassium:
397
mg
|
Fiber:
10
g
|
Sugar:
4
g
|
Vitamin A:
334
IU
|
Vitamin C:
2
mg
|
Calcium:
29
mg
|
Iron:
2
mg