These soft, fluffy and perfectly moist Beetroot Quinoa Muffins are packed with taste and nutrition. Its a healthy dessert for all ages and all year round.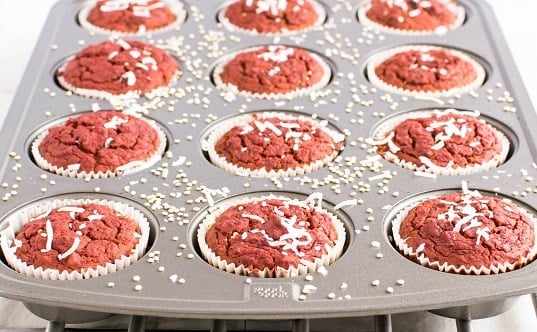 Healthy muffins are the most desirable in my household. I have baked savory zucchini muffins and kale muffins keeping kids in mind.
However, my daughter asked for a sweet muffin this time and so I decided to sneak in beetroot and make it similar to red velvet cookies. Hence, I came up with these vegan beetroot quinoa muffins.
My kids adore them and call them as red velvet muffins. I even baked these for valentine's day and it was an instant hit.
Health benefits of beetroot
Its packed with essential nutrtients. Is a great source for folate and fiber along with being rich in iron and magnasium. It helps improve blood flow, lowers blood pressure and increases exercise perfomance.
Health benefits of quinoa
Its a super grain thats gluten free and is a complete protein. Even though it has complex carbohydrates it is very high in fiber and helps cotrol cholesterol. Its rich in antioxidants and is a great substitute for rice or flour.
Here, I used quinoa flour for these muffins and it was a lot of fun to bake with this new ingredient. Hence, I also baked pumpkin cake with quinoa flour.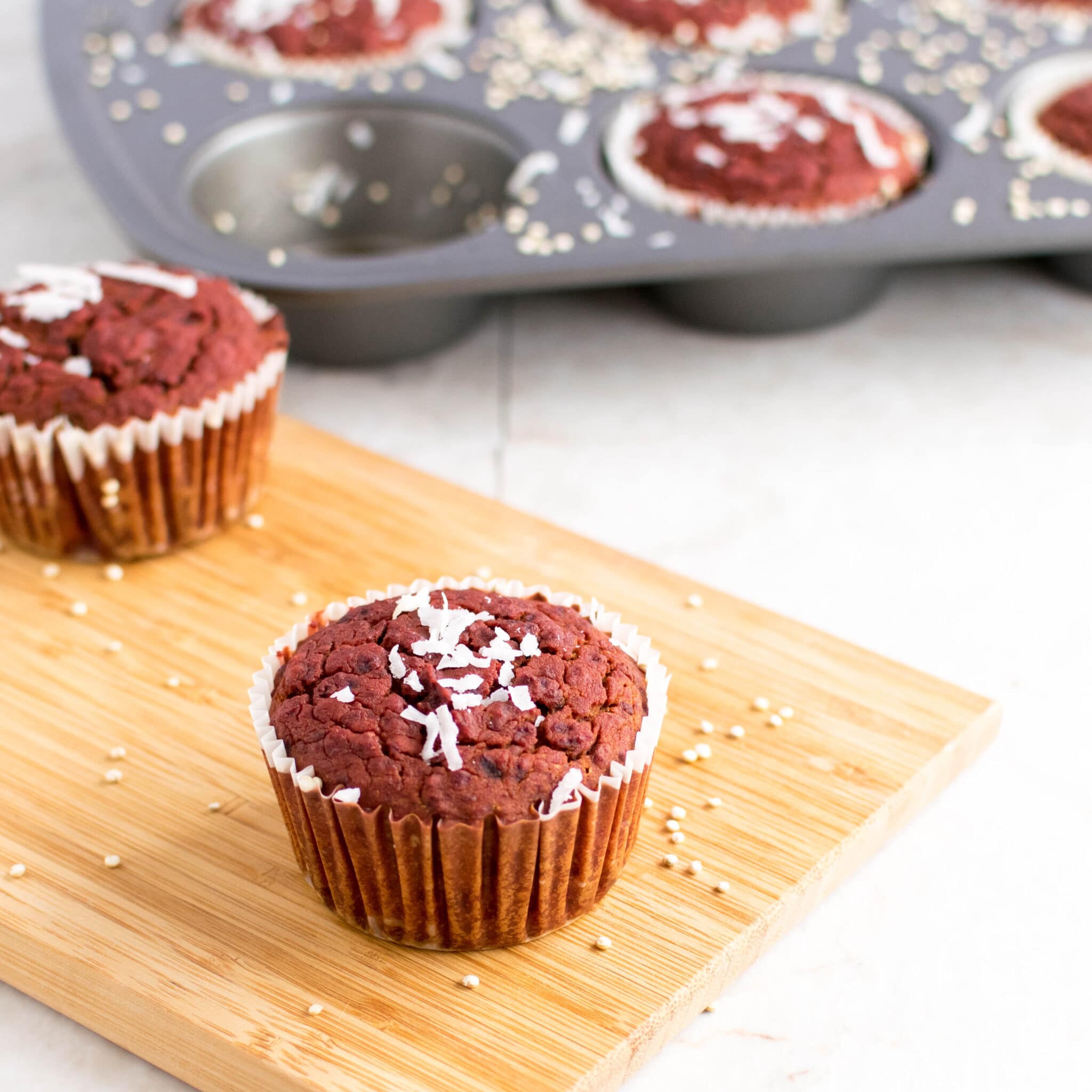 Ingredients for beetroot quinoa muffins
Ripe bananas
Vanilla extract
Unsweetened coconut milk
Walnut oil
Maple syrup
Raw beetroot
Quinoa flour
Baking powder
Baking soda
Salt
Therefore, these simple ingredients are very easy to find in any local store. I am so excited for you guys to bake these quinoa muffins.
Ingredients notes:
quinoa flour – its basically quinoa ground I powdered form. Its easy to handle and has an earthy taste to it.
banana – this is high in nutrition and acts as a natural sweetener making these muffins super healthy. It replaces egg very well.
walnut oil – any oil of your choice can be used here. I used walnut oil to add healthy omega 3 in this recipe.
beetroot – it is messy and colorful to handle beetroot but brigs out awesome color to this quinoa muffin recipe.
For detailed measurement of ingredients, please scroll down to the printable recipe card at the bottom of this post.
How to make Beetroot Quinoa Muffins
Firstly, in a blender, I blended banana, vanilla extract, coconut milk, oil and maple syrup.
Secondly, I spooned it out in a mixing bowl and folded in grated beetroot. Then, I mixed it well.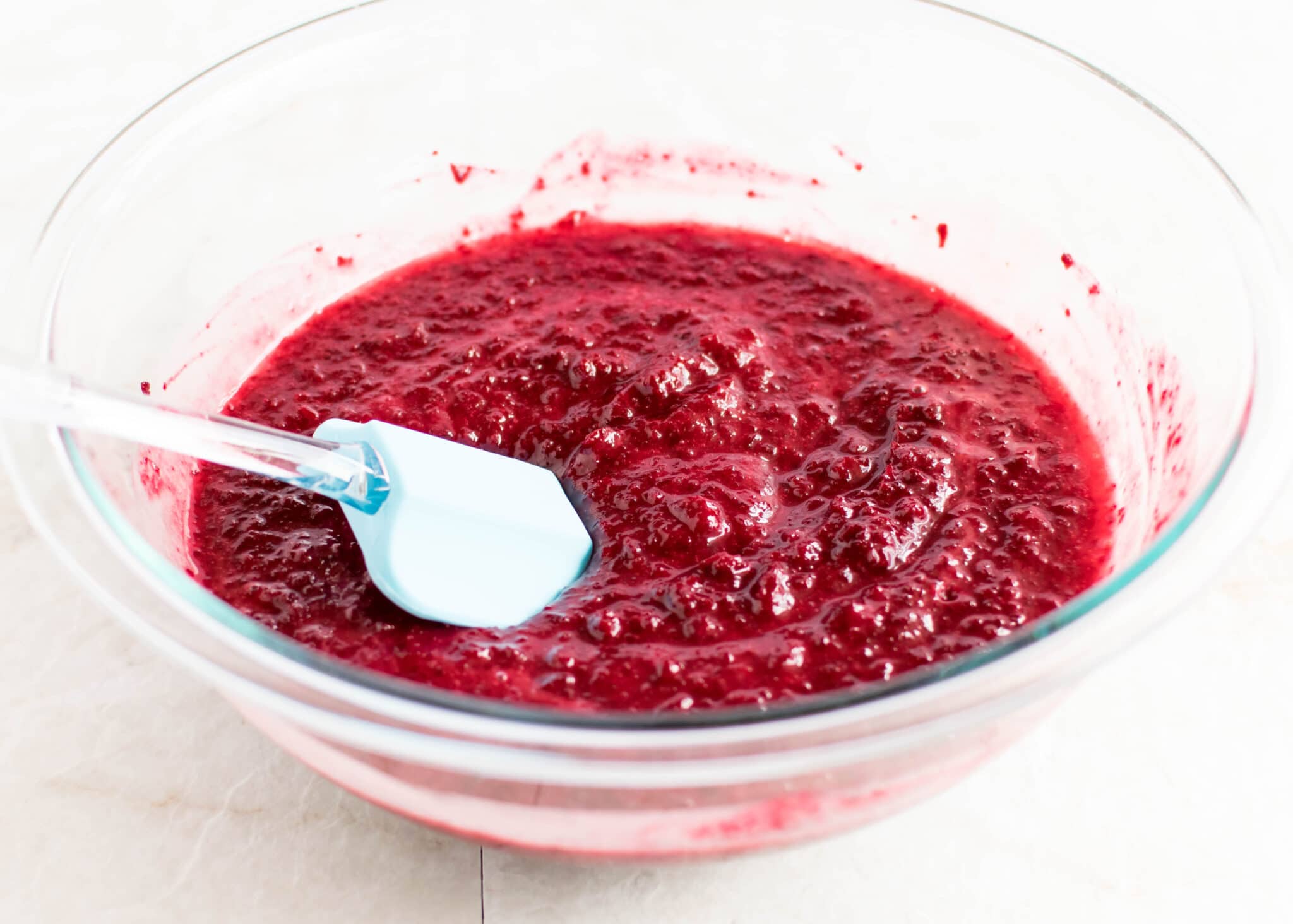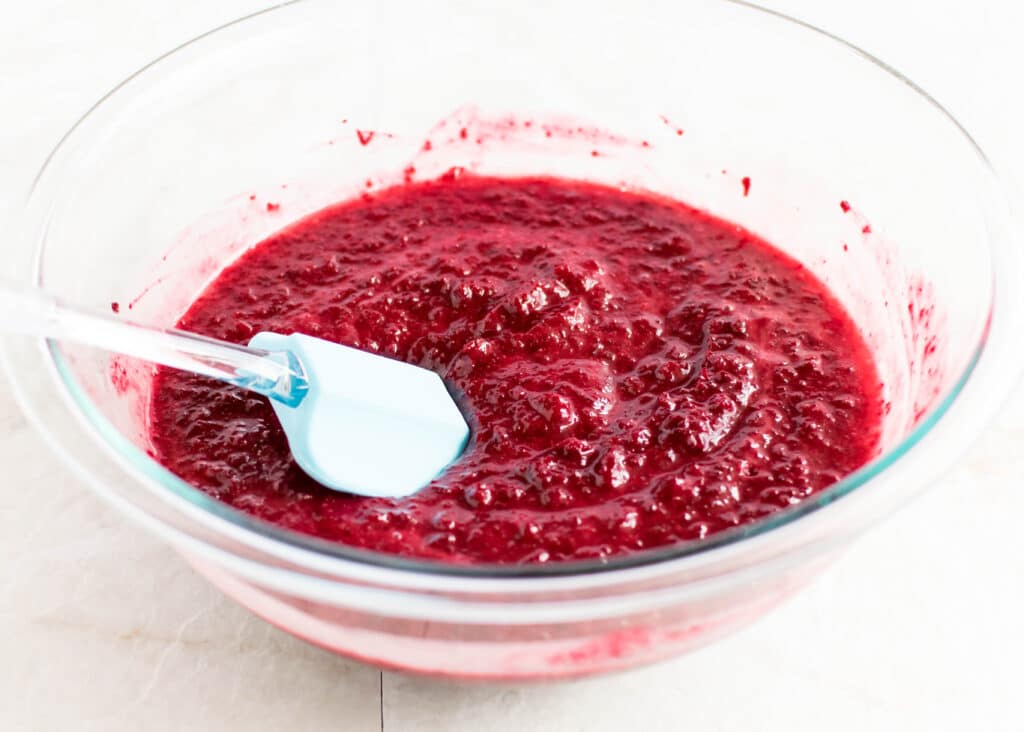 Next, in another bowl, I mixed all the dry ingredients.
Thereafter, I folded in dry ingredients into the wet ingredients and mixed it into a thick batter.
Afterwards, I poured the batter in the cups of the muffin tray and let it bake in the middle rack of the pre-heated oven at 350 degree for 40 minutes.
Once done, I turned it off and took it out. I let it cool down and released from the tray.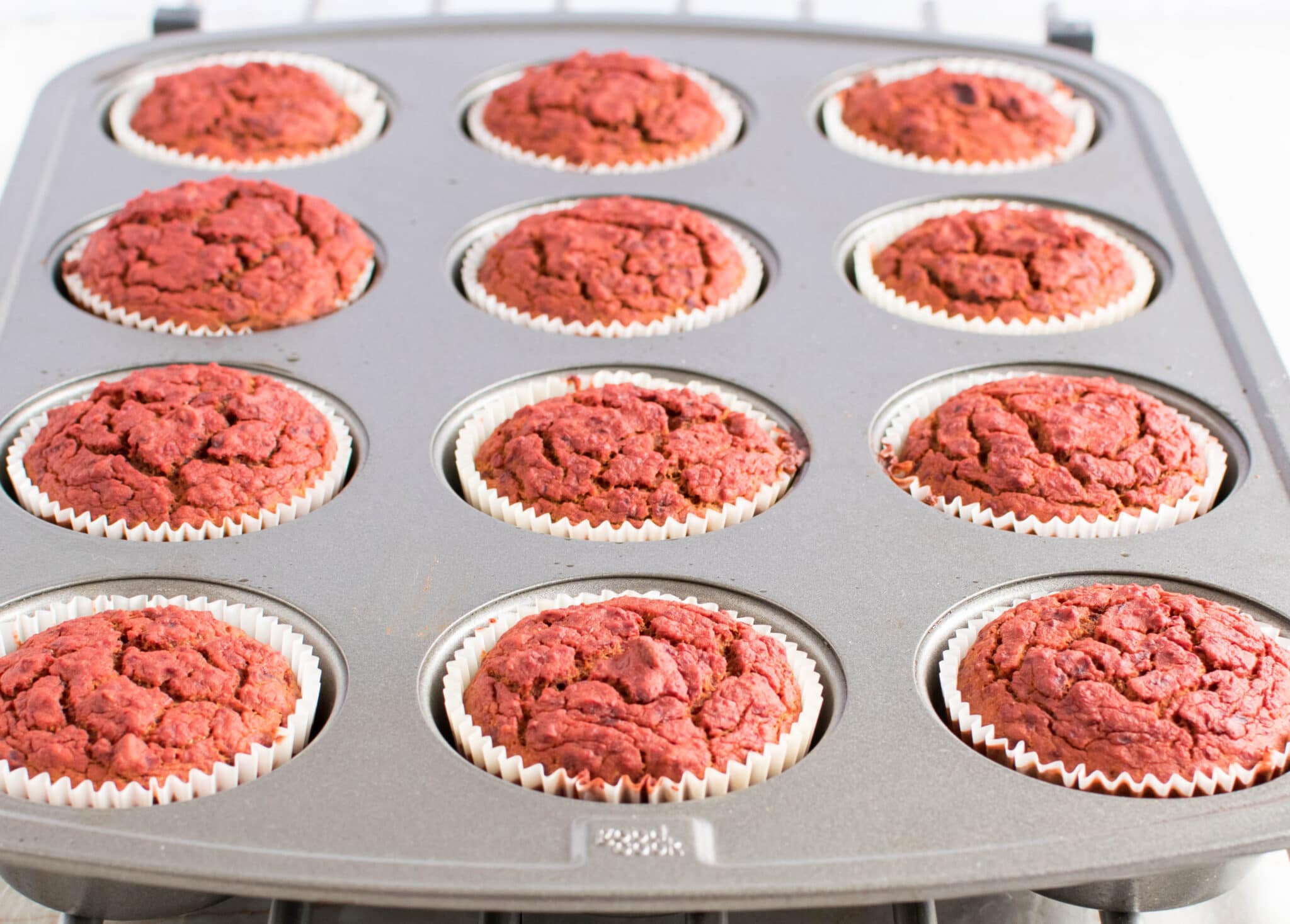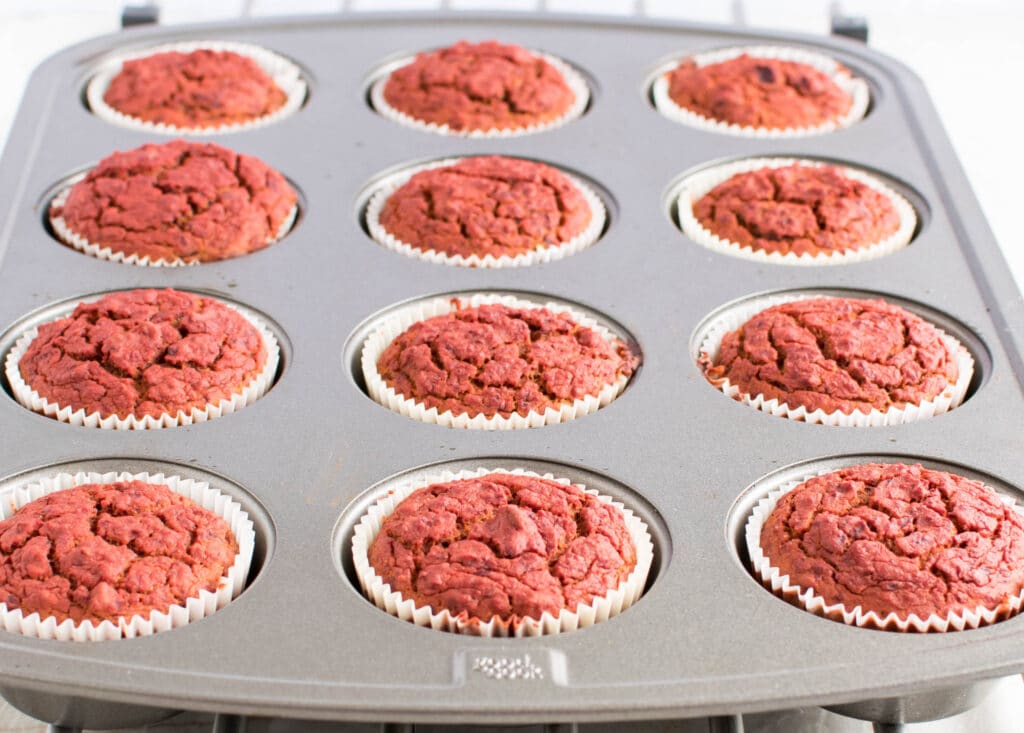 We thoroughly enjoyed them. I even refrigerated the leftovers so I could pack as a snack for my daughter's school.
Expert tips:
It is best to simply peel and roughly chop beetroot. Then, place them in the food processor and crush them. You may also manually grate them but it will be time consuming.
Make sure to blend the banana mixture as smooth as possible.
Beetroot Quinoa Muffins FAQs
How long do these last?
These can be refrigerated in an air tight container for about 3-4 days.
How does these taste?
These are sweet muffins with a slight earthy flavor from quinoa which is not vey noticeable.
Can I make it oil free?
Yes! skip oil and add 1/2 tbsp. apple cider vinegar in the batter.
My other muffin recipes that you may like:
Oil Free Vegan Blueberry Muffins
This post may contain affiliate links which means that if you click on them and also make a purchase, I will get a small commission. Moreover, I share only those products which I use personally and love.
I hope you enjoy this recipe as much as we did. I am very excited to hear back from you.
Where to find me?
Follow me on Facebook or on Twitter. You may tag @kiipfit on Instagram with your recipe remake images because I would love to see what you cooked.
Did you make it?
If you get a chance to make this recipe then please leave your feedback in the comments below along with a 5-star rating.
In addition, you may checkout my cookbook for everyday comfort vegan recipes.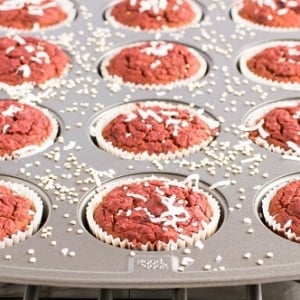 Print Recipe
Beetroot Quinoa Muffins
These soft, fluffy and perfectly moist Beetroot Quinoa Muffins are packed with taste and nutrition. Its a healthy dessert for all ages and all year round.
Ingredients
4

large

ripe bananas

(brown spots on its skin)

1

tbsp

vanilla extract

1/2

cup

unswetetend coconut milk

(tetra pack)

1

tbsp

walnut oil/olive oil

1

tbsp

maple syrup

2

cups

grated/ground raw beetroot

(see notes)

2

cups

quinoa flour

1 1/2

tsp

baking powder

1/2

tsp

baking soda

1/2

tsp

salt
Instructions
Preheat oven at 350 degree Fahrenheit and prepare a muffin tray by greasing it and lined with 12 muffin liner.

In a blender, combine banana, vanilla extract, coconut milk, oil, maple syrup and blend smooth.

In a mixing bowl spoon out the banana mixture and fold in grated beetroot. Mix very well with the spatula.

In another mixing bowl combine all the dry ingredients ( quinoa flour, baking powder, baking soda, salt ) and toss very well with a spoon.

Now, stirring constantly with a spatula fold in the dry ingredients into the liquid ingredients and mix very well until well blended.

Now pour the muffin batter into the muffin cups equally and bake in the center for 40 minutes by turning the muffin tin once after 35 minutes for equal baking. Make sure the tester comes out clean or you may bake for couple of more minutes if required. At the same time do not let the top burn, if it starts cooking fast shift the muffin tray at the bottom rack for few more minutes.

Turn off the oven and take out the muffin tray and let it cool. Garnish with coconut flakes or nuts of your choice and enjoy.
Notes
Leftover can be refrigerated in an air tight container for 3-4 days.
how to grate/ground beetroot – peel the raw beetroot and roughly chop them. Place them in the food processor and crush or grind them until it looks fine but not watery. Measure it after grinding. 
This recipe makes 12 muffins and the serving size is 1 muffin per person. 
Any dairy free milk can be used in this recipe.
Nutrition
Calories:
148
kcal
|
Carbohydrates:
26
g
|
Protein:
4
g
|
Fat:
3
g
|
Saturated Fat:
1
g
|
Polyunsaturated Fat:
1
g
|
Monounsaturated Fat:
1
g
|
Sodium:
149
mg
|
Potassium:
218
mg
|
Fiber:
3
g
|
Sugar:
7
g
|
Vitamin A:
29
IU
|
Vitamin C:
4
mg
|
Calcium:
33
mg
|
Iron:
1
mg