These oil free vegan Pear Muffins come together easily and are packed with juicy fruit, whole grains and warm spices. It's a delicious way to start your day and a perfect snack on the go. It's naturally sweetened, healthier and a make ahead recipe.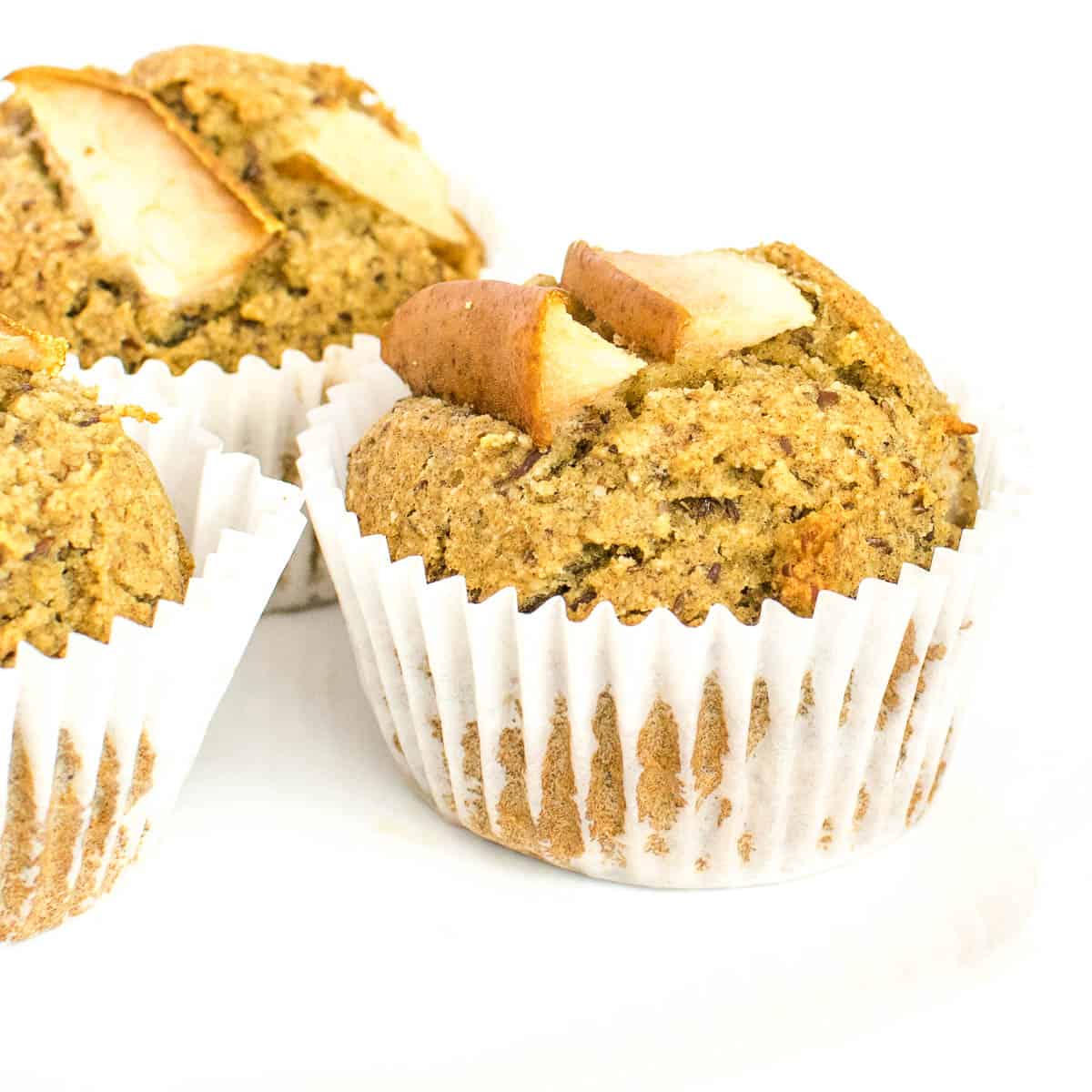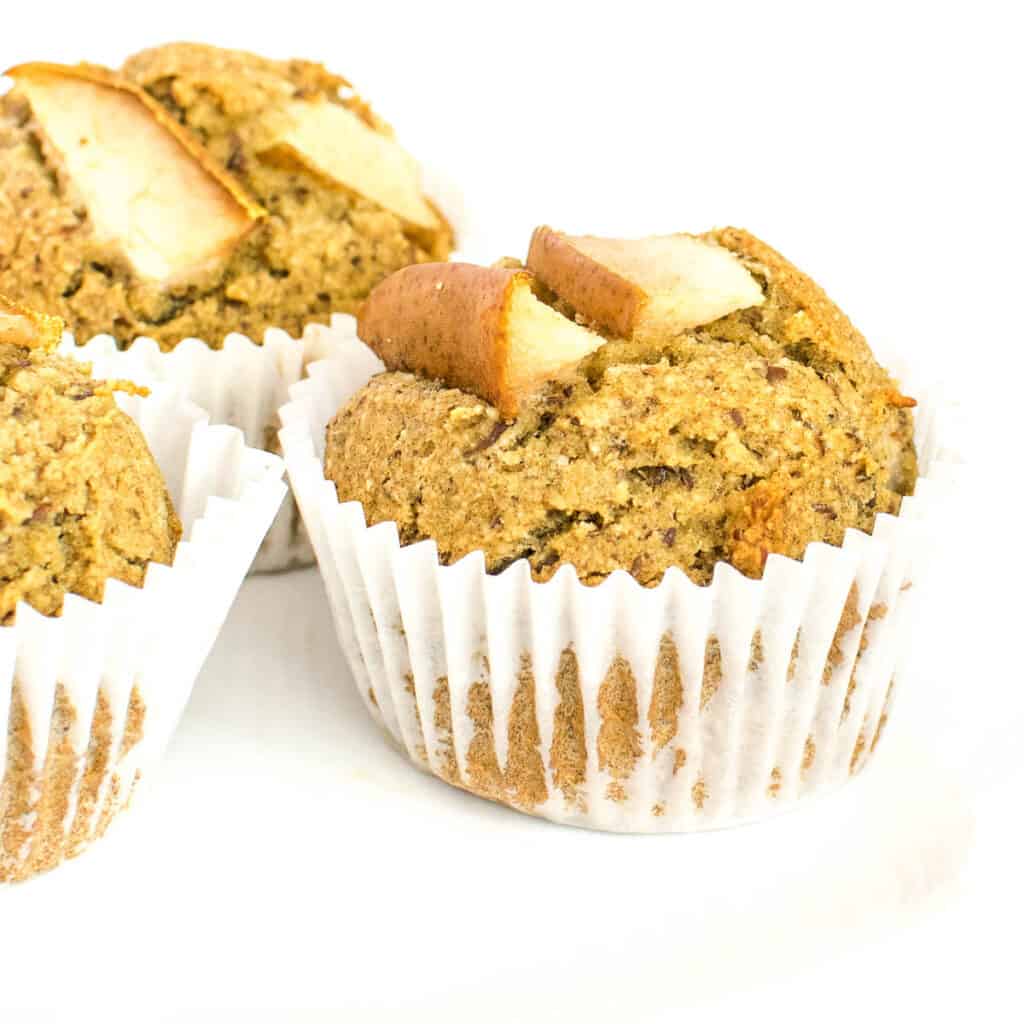 Every year my tree blooms abundantly with pears and so few weeks back I made pear smoothie. Everybody loved it and when in season I make it every day.
With my cooking experiments at peak, I also discovered that baking with pears is so much fun and super healthy too.
I baked pear coffee brownies and it became an instant hit with my relatives. Vegan pear cake is definitely a must try and its so delicious.

Therefore, this time I came up with the idea of baking these easy pear muffins with minimum and simple pantry staples. It was a success.
These healthy pear muffins are a must try and so apt for all ages. The subtle flavor of cardamom makes it so inviting on a cool morning.
Which pear is best for baking?
Even though generally Anjou pears are the best for baking, I realized that green pears work wonderfully well here. SO therefore, I used those green pears from my backyard tree and voila…. loved every bit of it.
How to buy pears?
Here, I baked with absolutely organic green pears from my backyard which was slightly hard but juicy and sweet. However, when you buy from the store try to buy the pear that are light green in color and when you press it gently from the stem side it should feel juicy. If you happen to buy hard green pears and let them sit on the counter for a day and they will ripen up.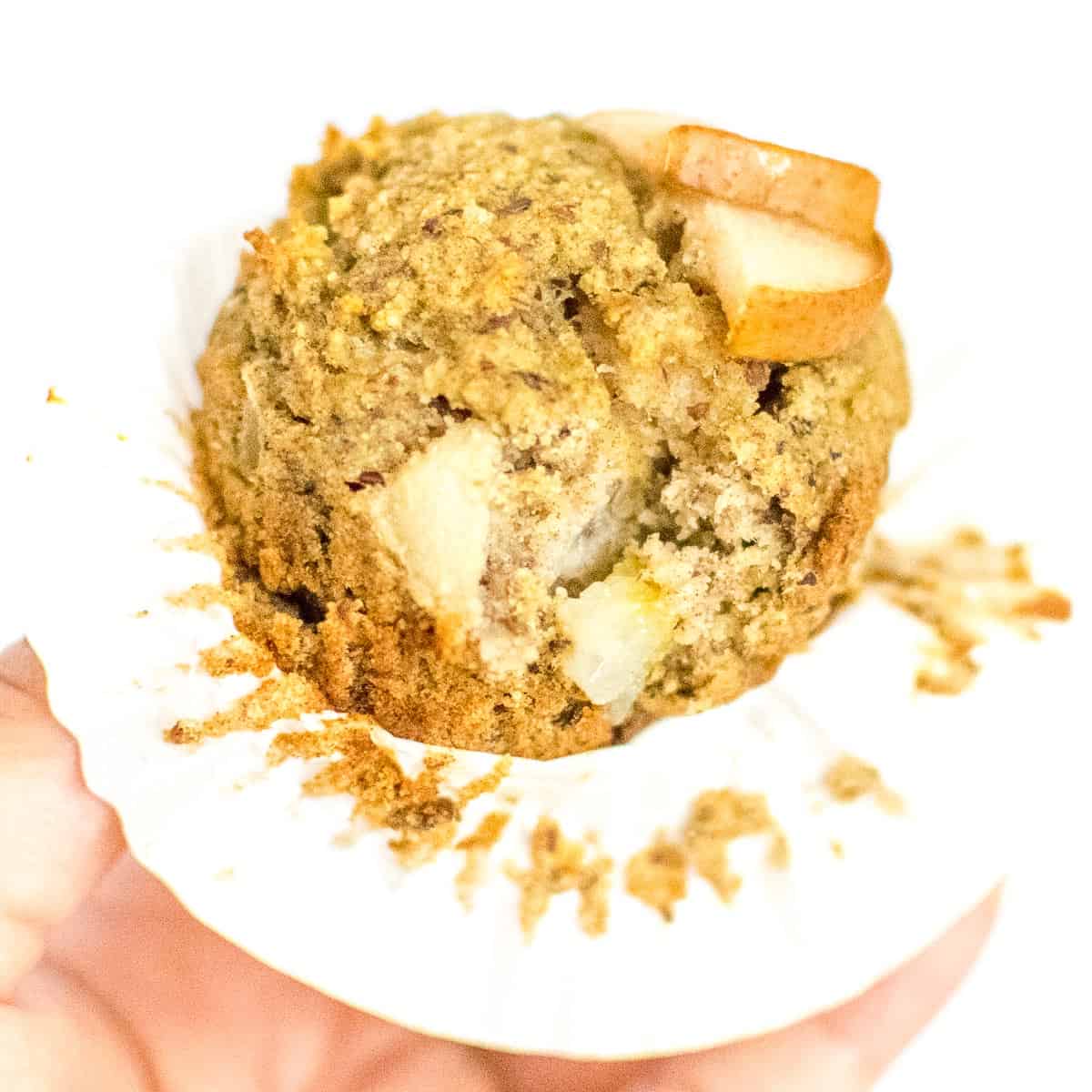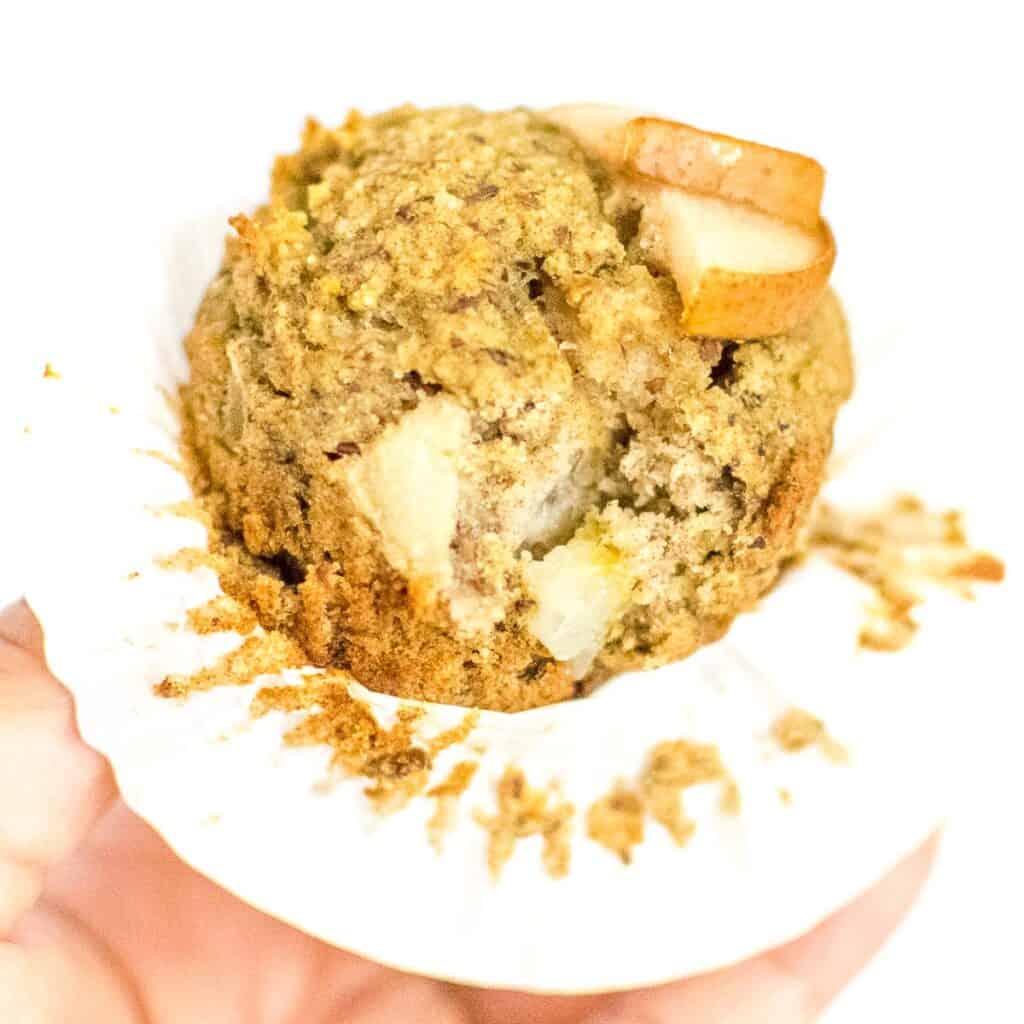 Moreover, its baking season and I love to bake with my girls. It's a family fun activity for all of us almost every day.
Yashvi, being the older one helped me immensely with this baking project. But mostly we loved licking the leftover batter from the bowl.
So, now I am here to share this delectable pear muffins recipe with you all.
Ingredients you will need:
Brown rice flour
Almond flour
Baking powder
Baking soda
Salt
Cardamom powder
Soaked flaxmeal
Dates
Dairy free milk
Vanilla extract
Apple cider vinegar
Pears
I have used these easily available ingredients which you may buy from any local grocery store. However, I have provided links to few of theme here for your convenience.
If you plan from these affiliate links then I get a small commission which in turn encourages me to bring in more delicious recipes for you.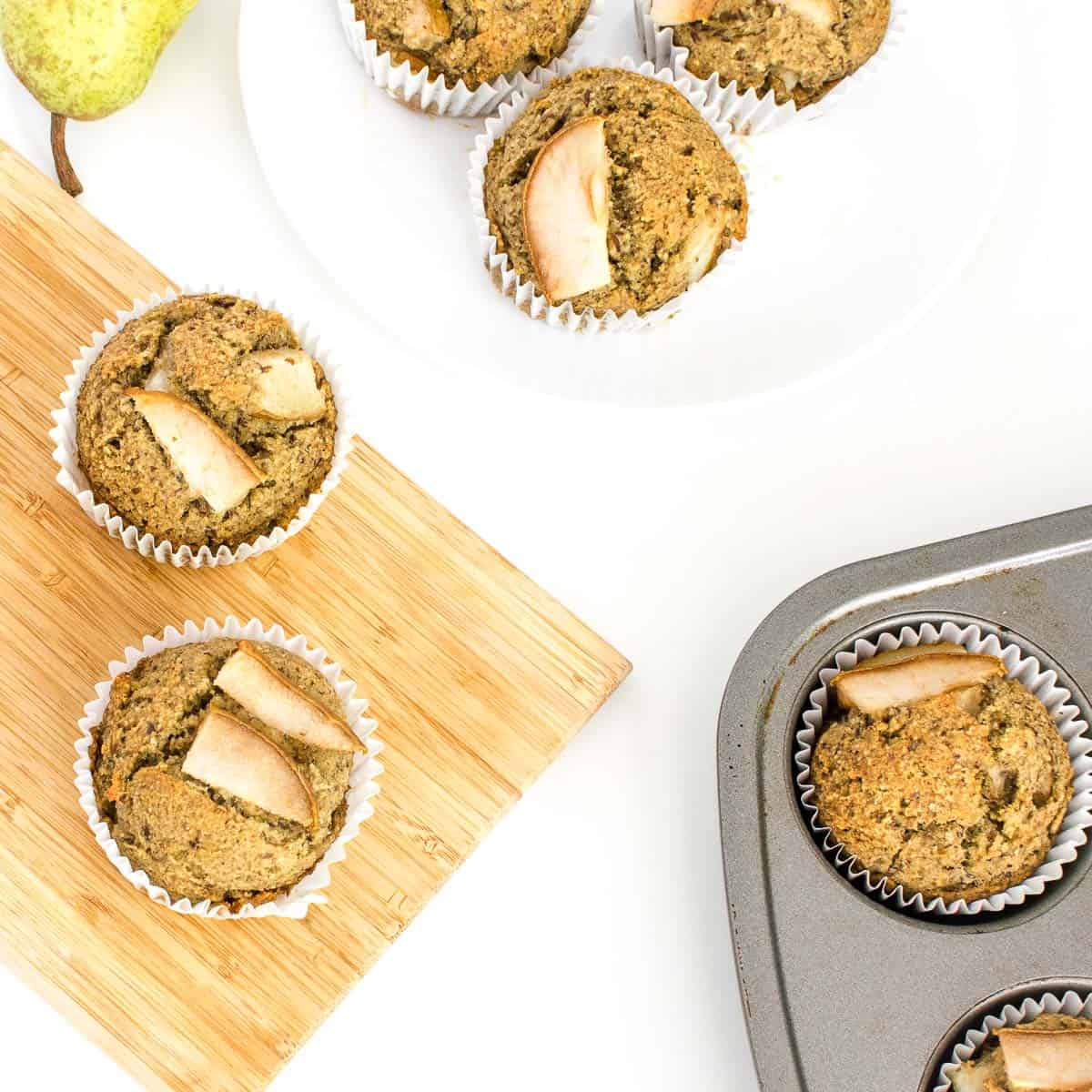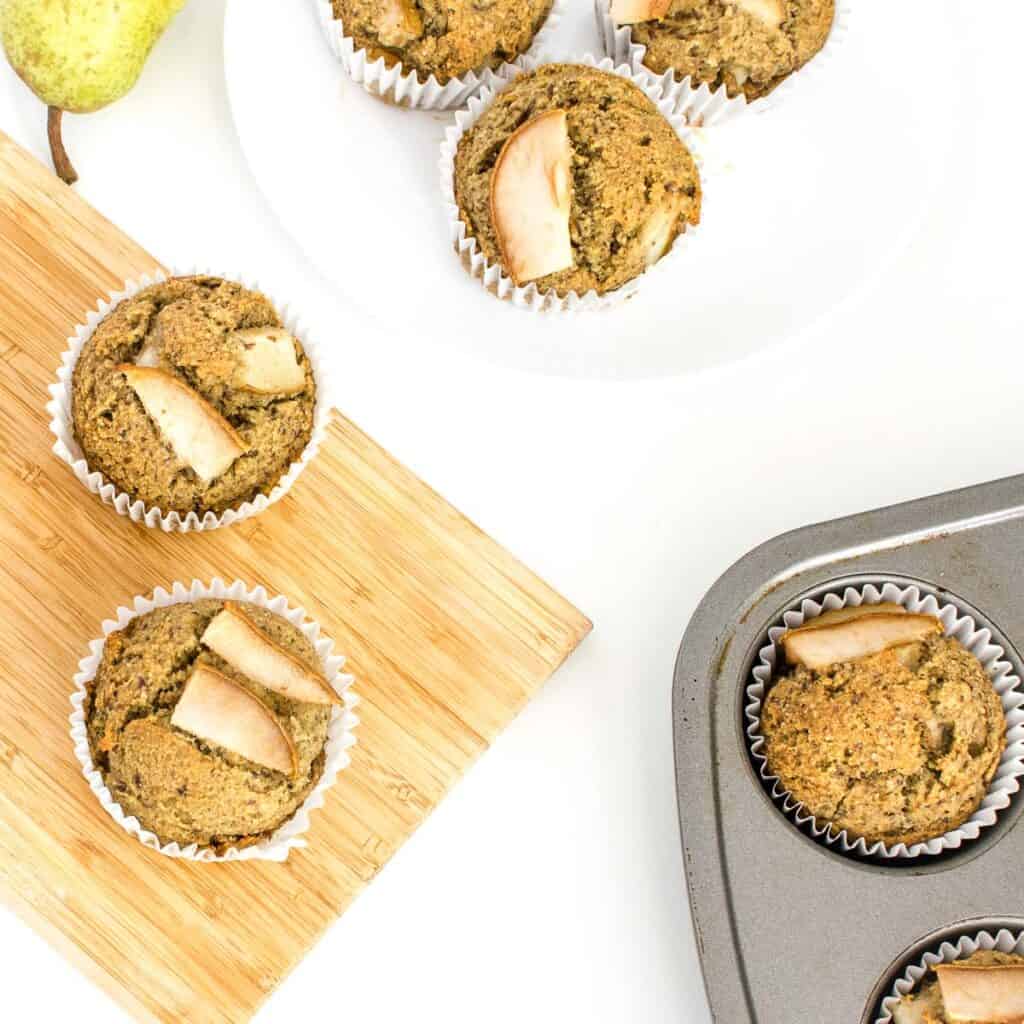 Ingredients notes
Brown rice flour – its gluten free in nature and has more fiber as compared to all purpose flour. It binds well and is basically ground form of brown rice. This is a good source of vitamin B1 and is heart healthy too.
Almond flour – this adds healthy fats and some protein along with making these muffins gluten free.
Cardamom – you may substitute it with cinnamon but cardamom adds a nice sweetness to these. You may ground your own from cardamom pods or get ground cardamom from the store.
Flax meal – it's a vegan egg replacer along with adding fiber and healthy fats this helps in binding and fluffing these pear muffins.
Dates – they have many health benefits and are packed with fiber. It's a great source for antioxidants and a natural way to sweeten desserts which makes these gluten free pear muffins healthier.
Dairy free milk – any unsweetened dairy free milk works here except coconut milk. I used almond milk to keep this dessert lighter.
For detailed measurement of ingredients, please scroll down to the printable recipe card.
How to make Pear Muffins
Firstly, I combined all the dry ingredients in a mixing bowl and kept it aside.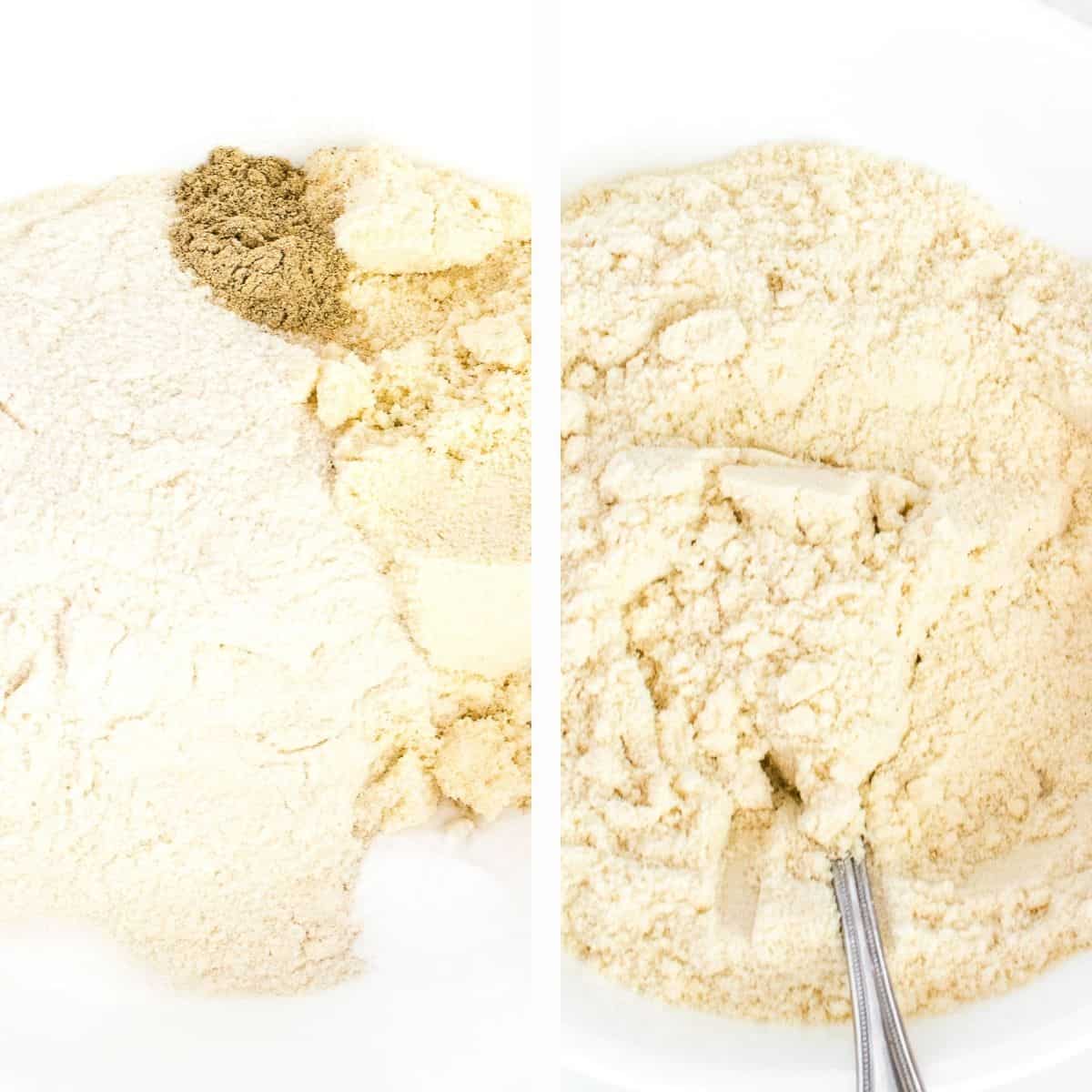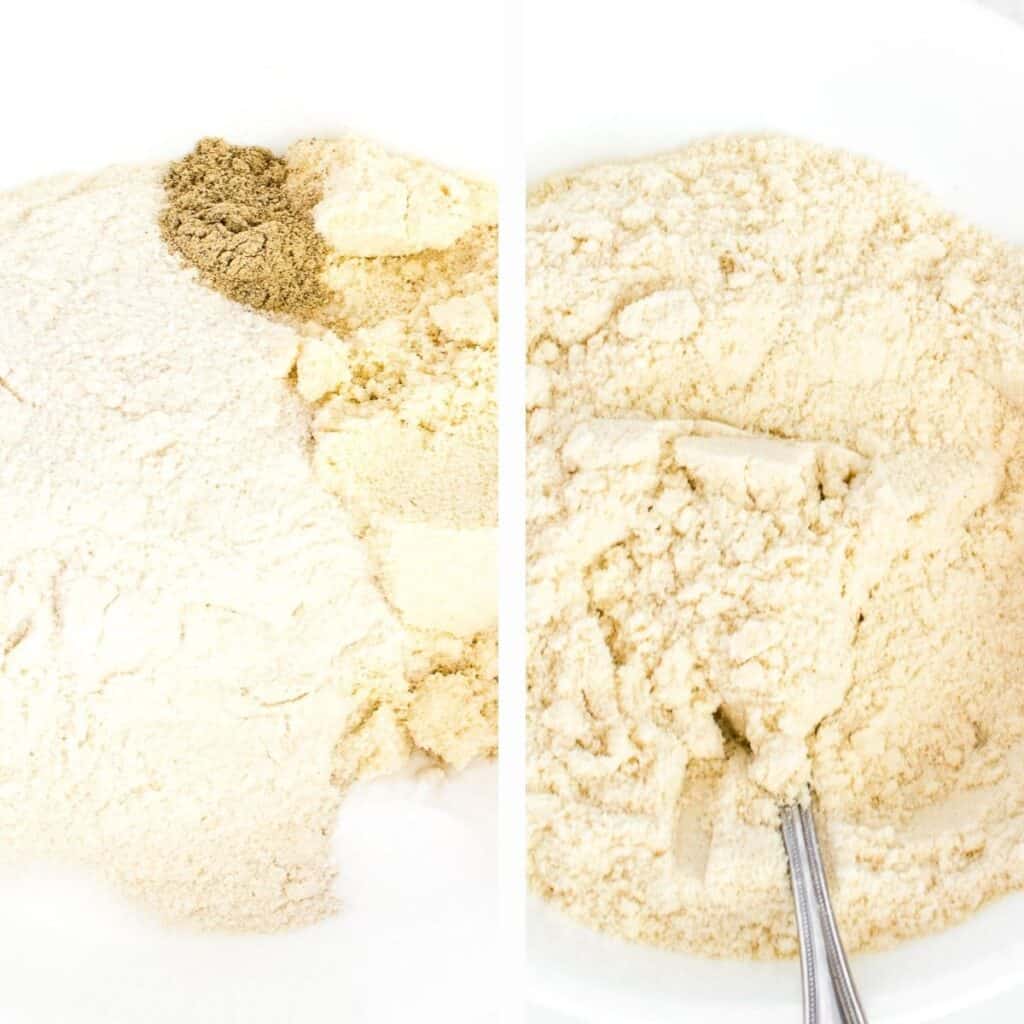 Secondly, I soaked flaxmeal in warm water and whipped it until it was thick jelly like consistency.
Next, I blended dates along with almond milk and vanilla extract which later I whipped with soaked flax meal and apple cider vinegar.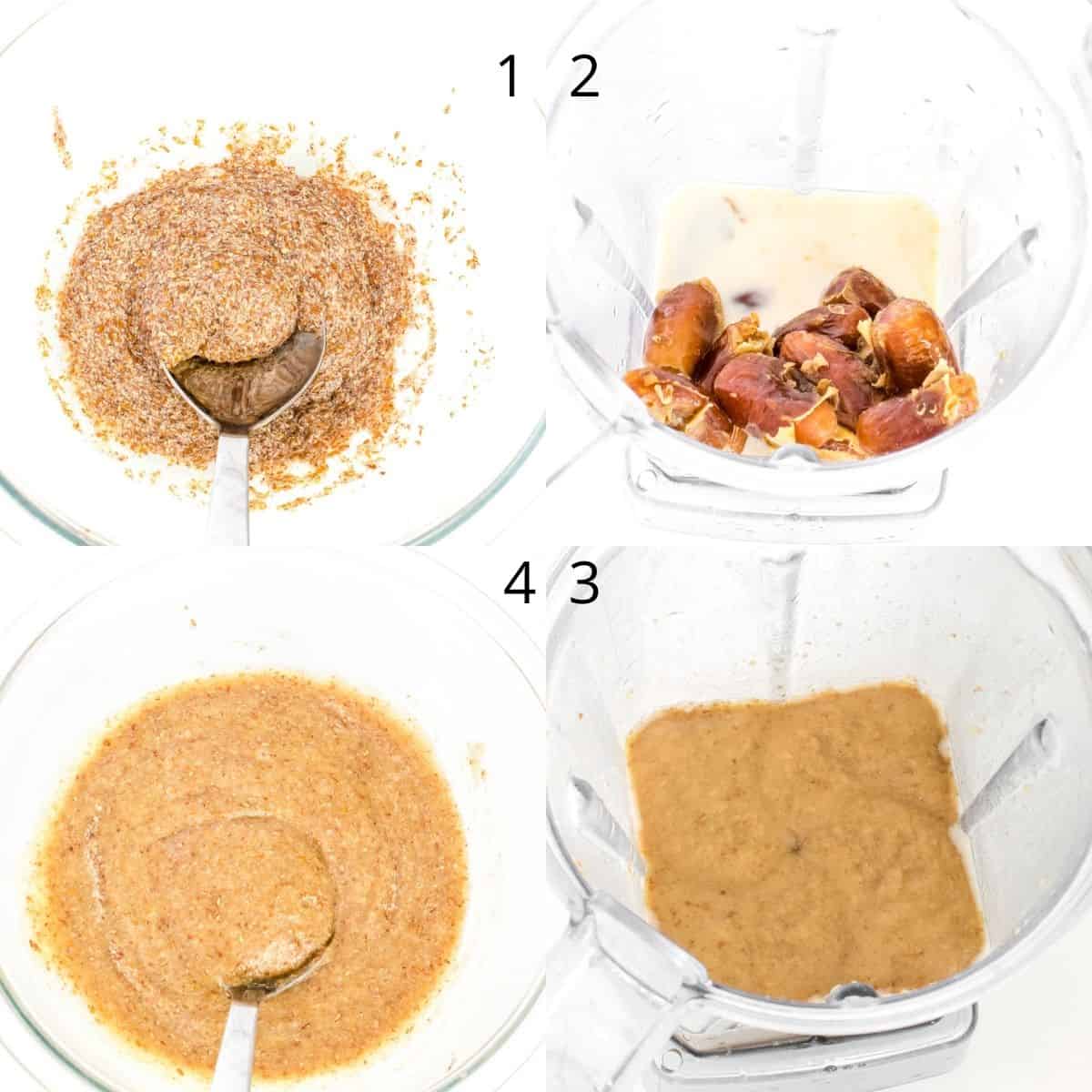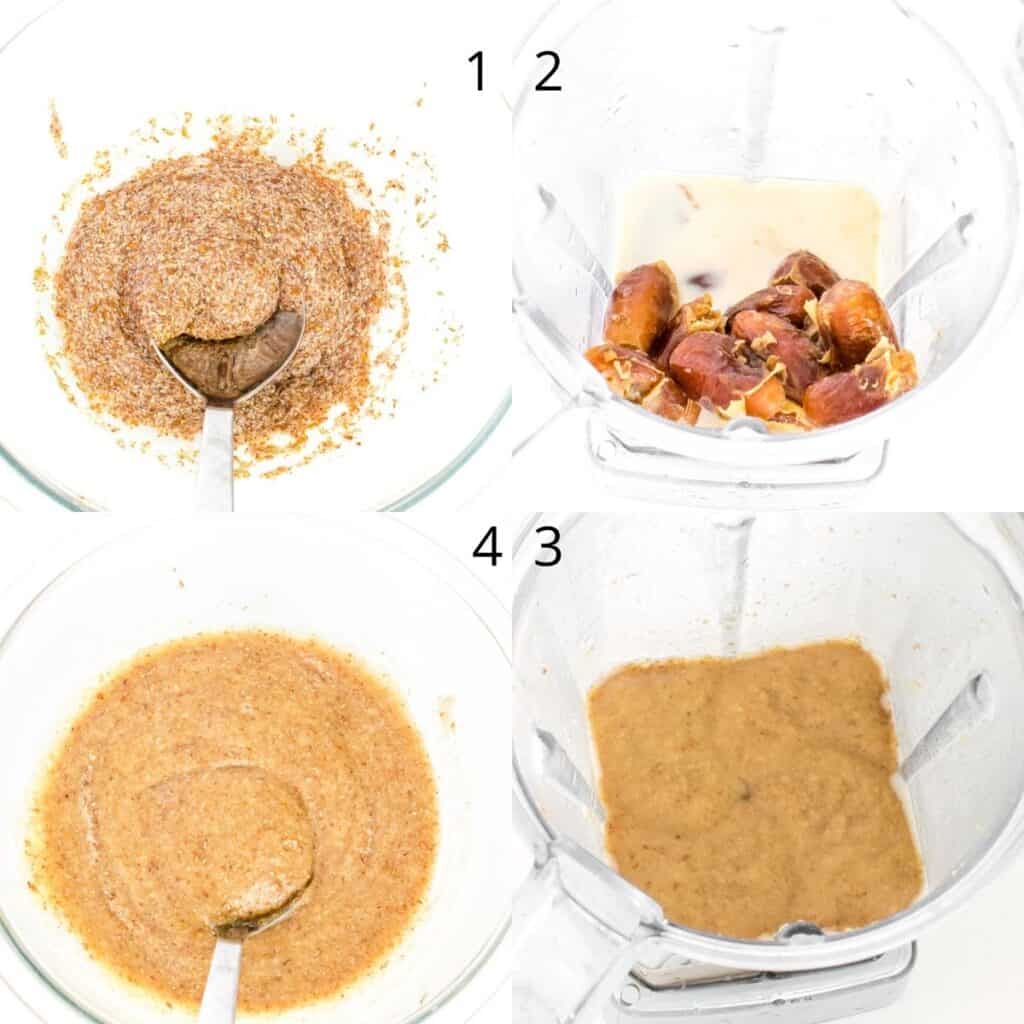 Thereafter, I folded in dry ingredients to the wet ingredients and whipped it into a thick dough like batter.
Afterwards, I tossed in chopped pears and mixed it again.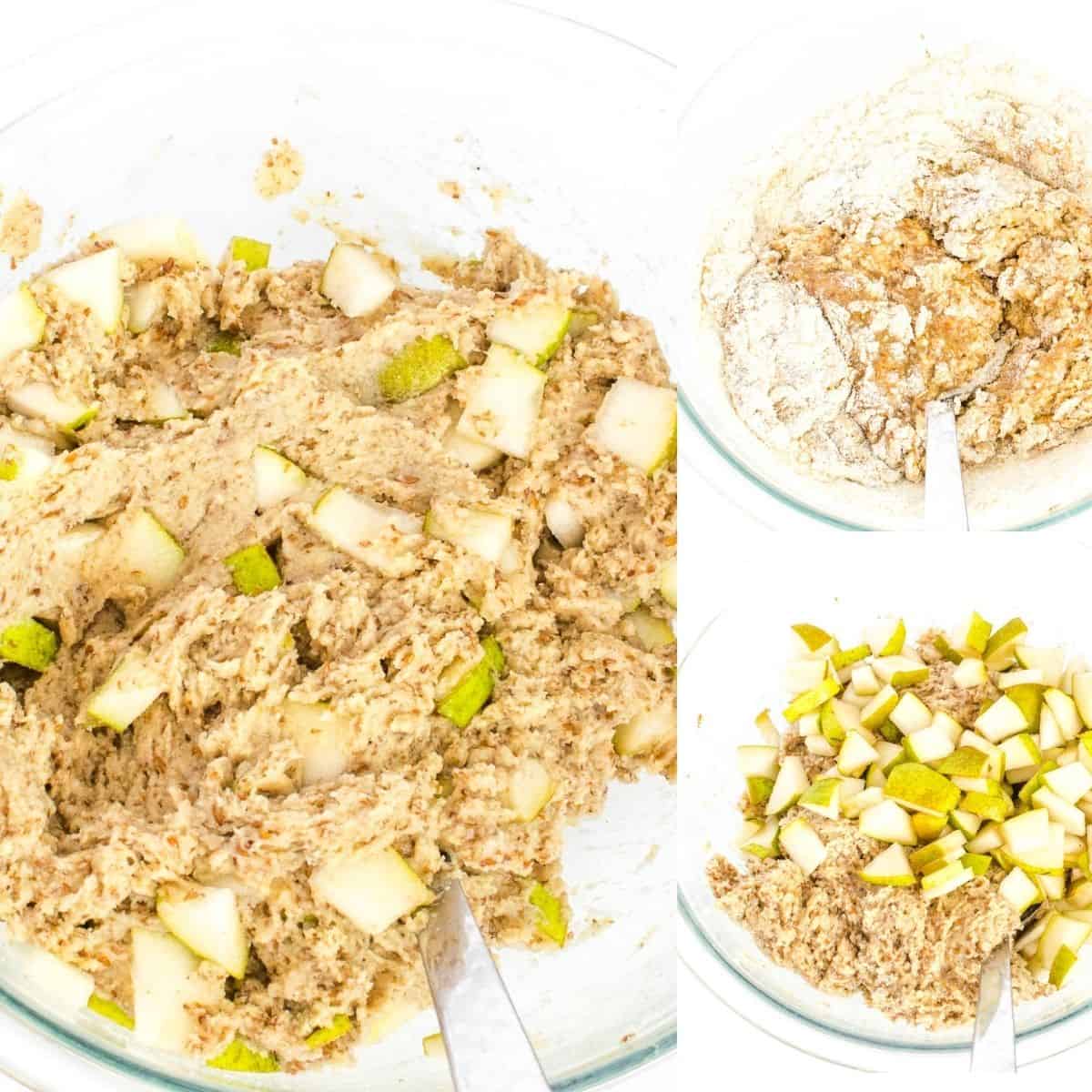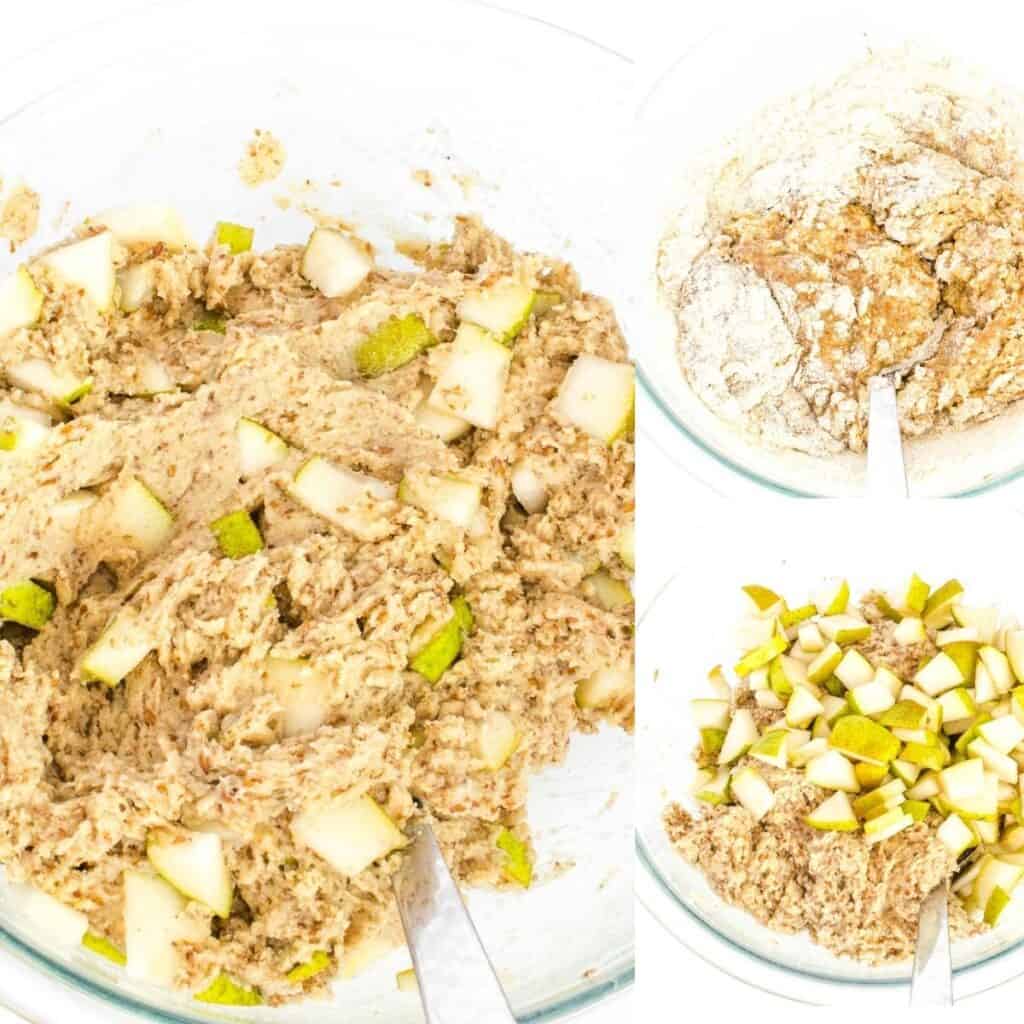 Then, with the ice cream scoop, I filled each muffin liner in the tray with the batter to its top.
After that, I garnished with more sliced pears but it's totally optional.
Later, I placed it in the middle rack of the oven for 20 minutes. Then, shifted it again to the bottom rack and baked for another 5 minutes. I turned it off and let them rest inside the hot oven for 2 minutes.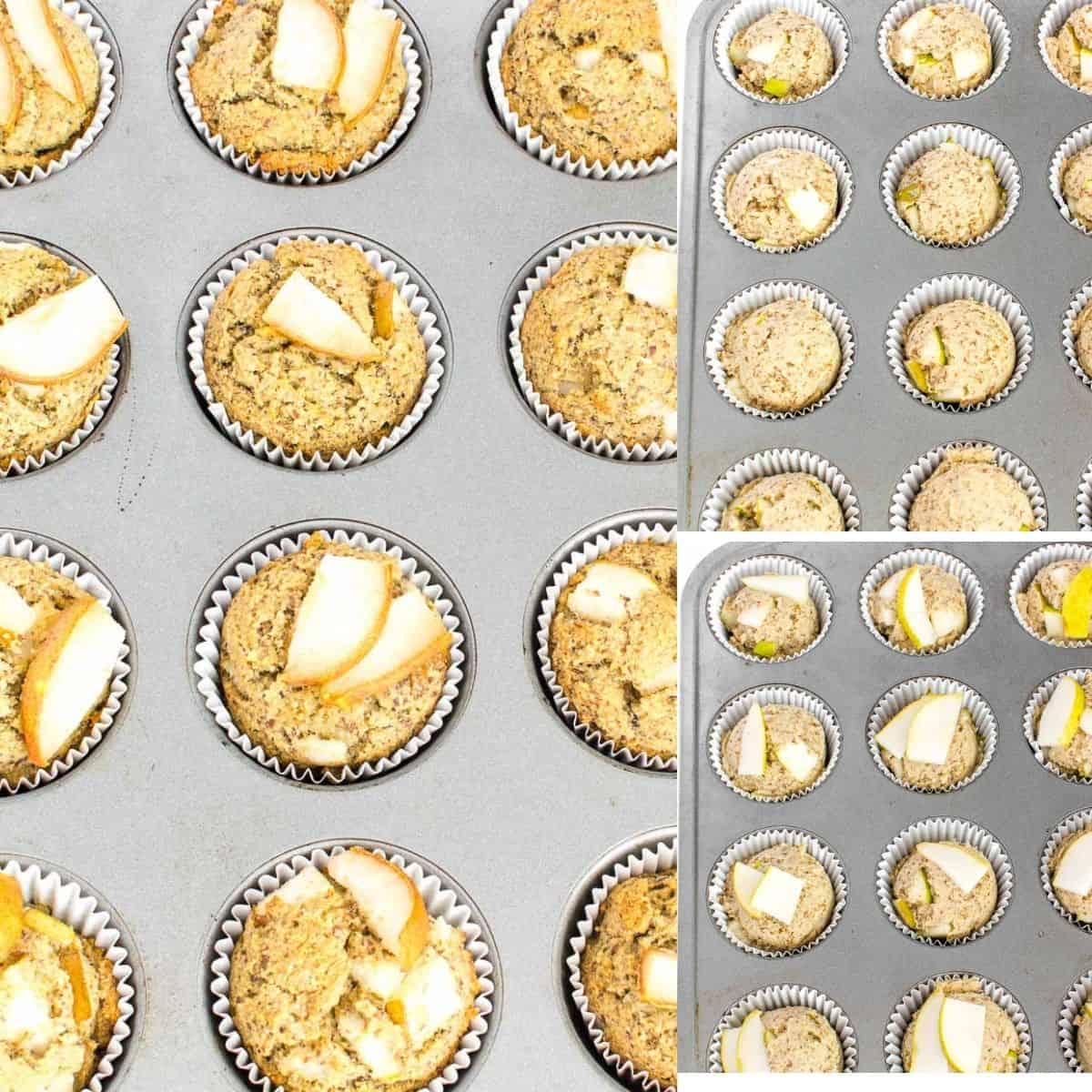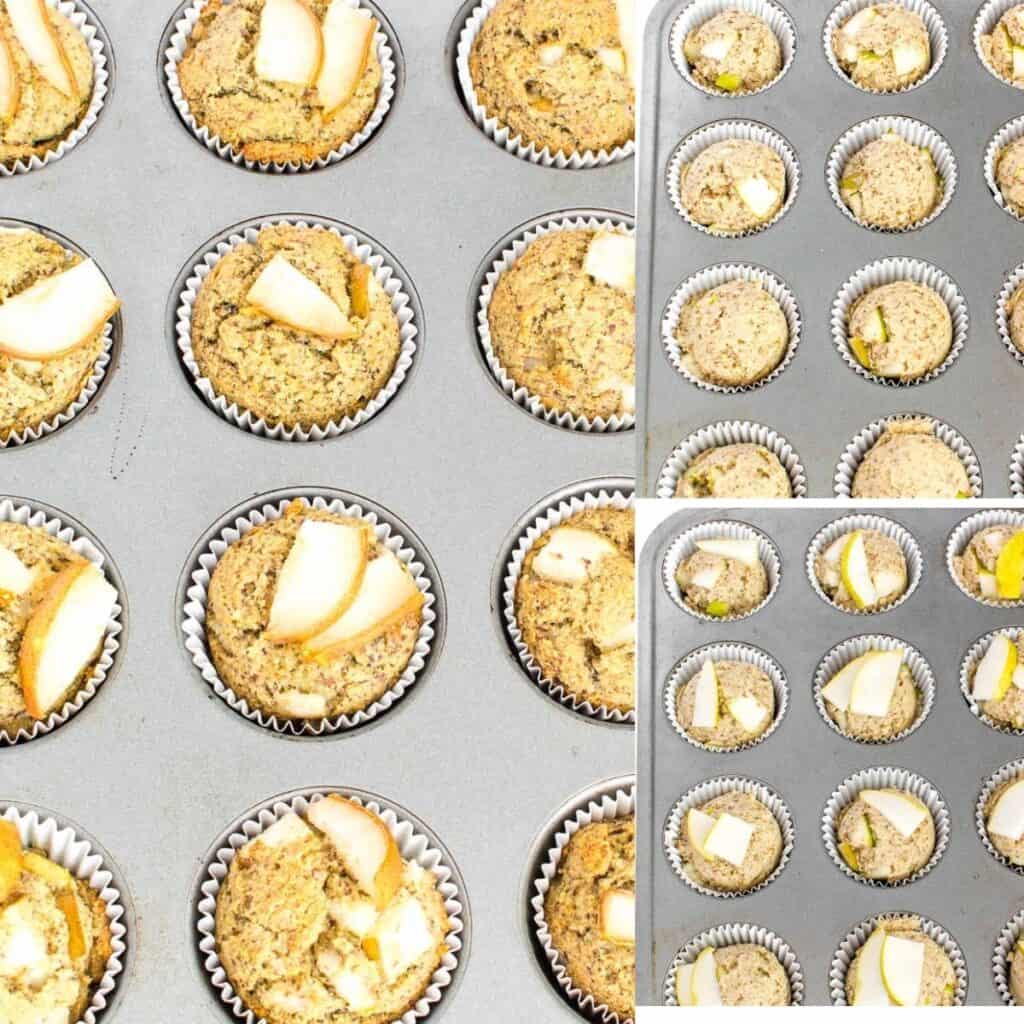 Lastly, I took them out and let them cool completely on a cooling rack.
We thoroughly enjoyed every bit of this delicious dessert.
Also, I found a great to feed this seasonal fruit to my kids and they wanted me to bake more.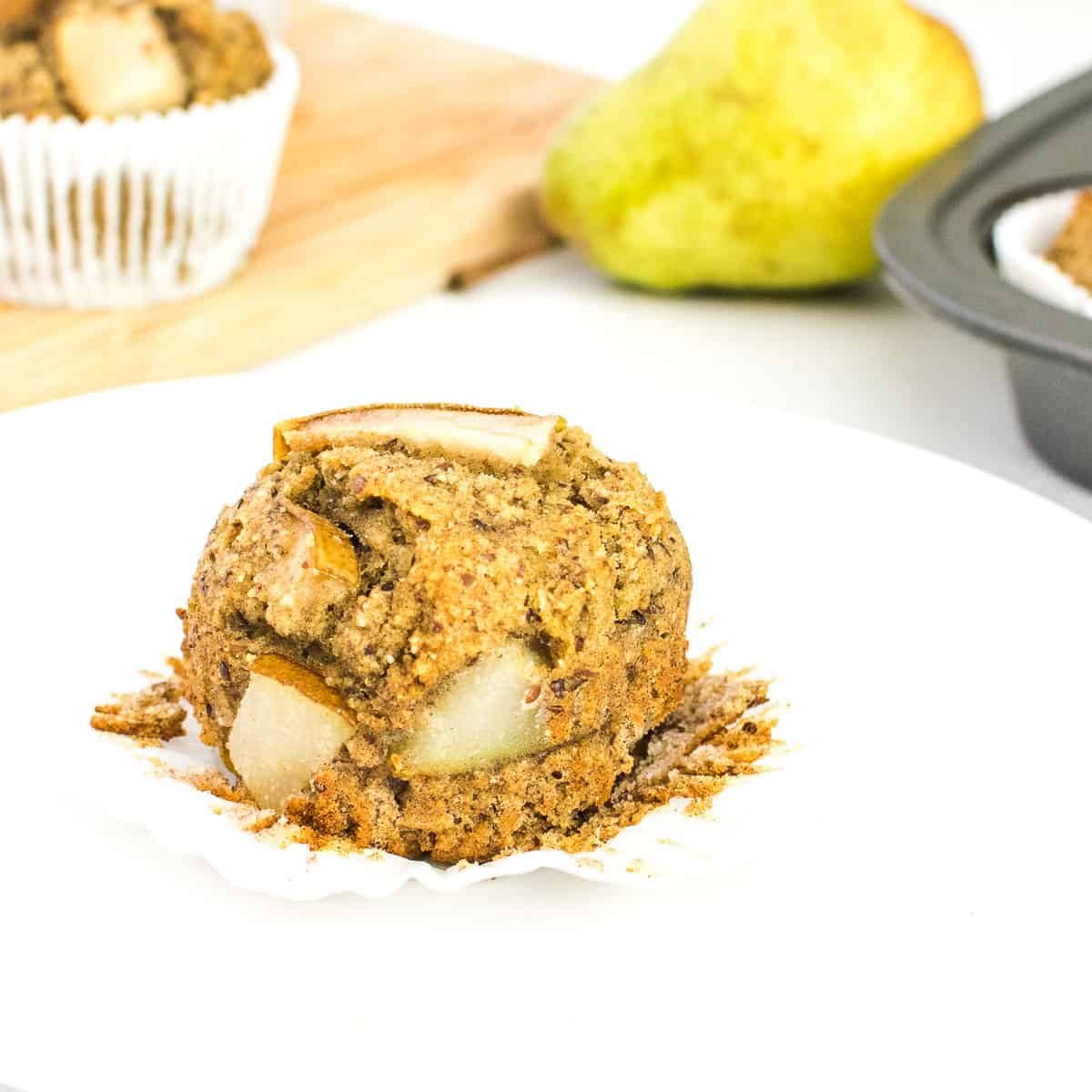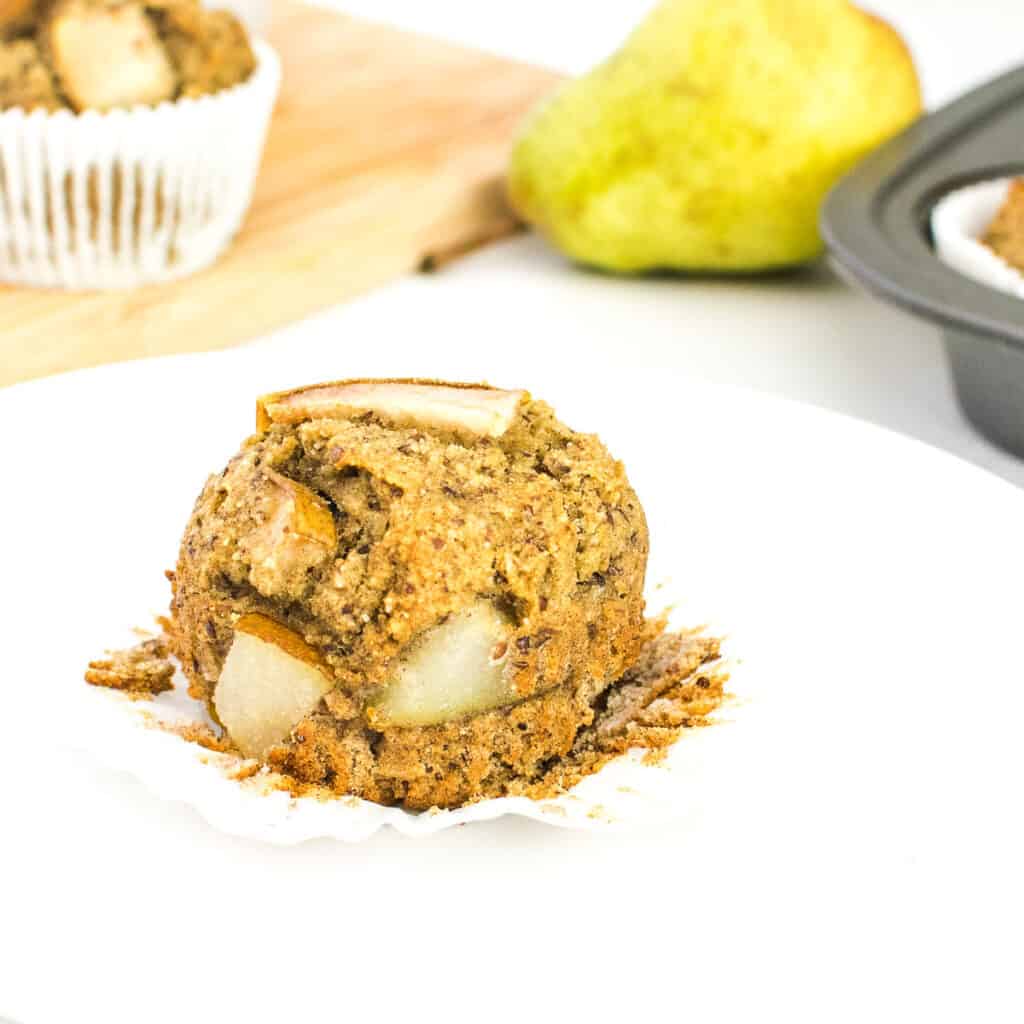 I bake big batches and refrigerate them for days. It serves as a healthy dessert and a great after school snack.
Expert tips:
It is important to soak flaxmeal before getting started with this recipe.
You may soak flaxmeal in a large mixing bowl and pour the blended dates later in it to avoid extra utensils.
Most importantly, bring all the ingredients to room temperature for even baking.
When combining dry ingredients make sure to place the baking agents and salt separately in the bowl. Mix them only after whipping the wet ingredients because sometimes if salt is mixed in baking agent for too long it affects the rise of the muffins.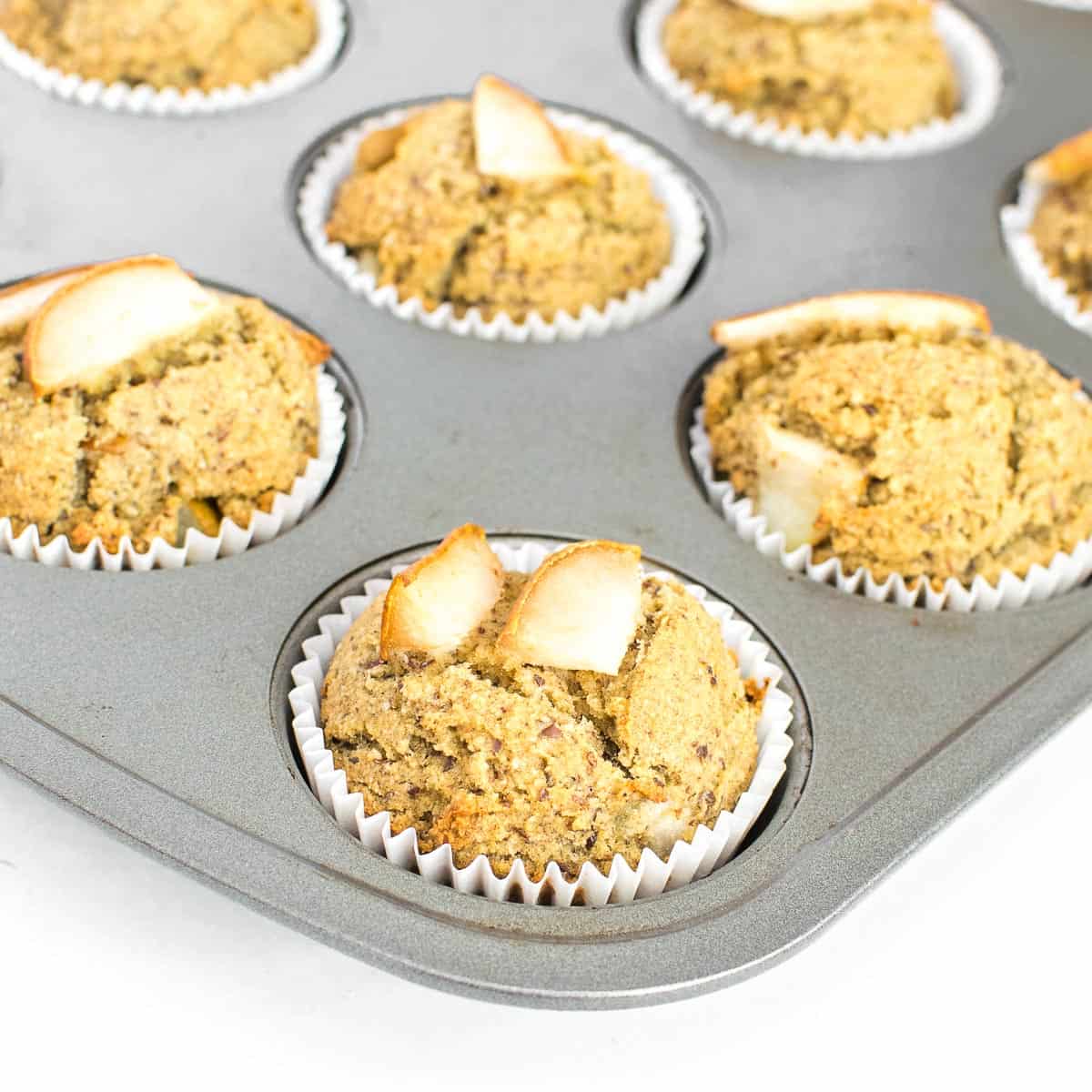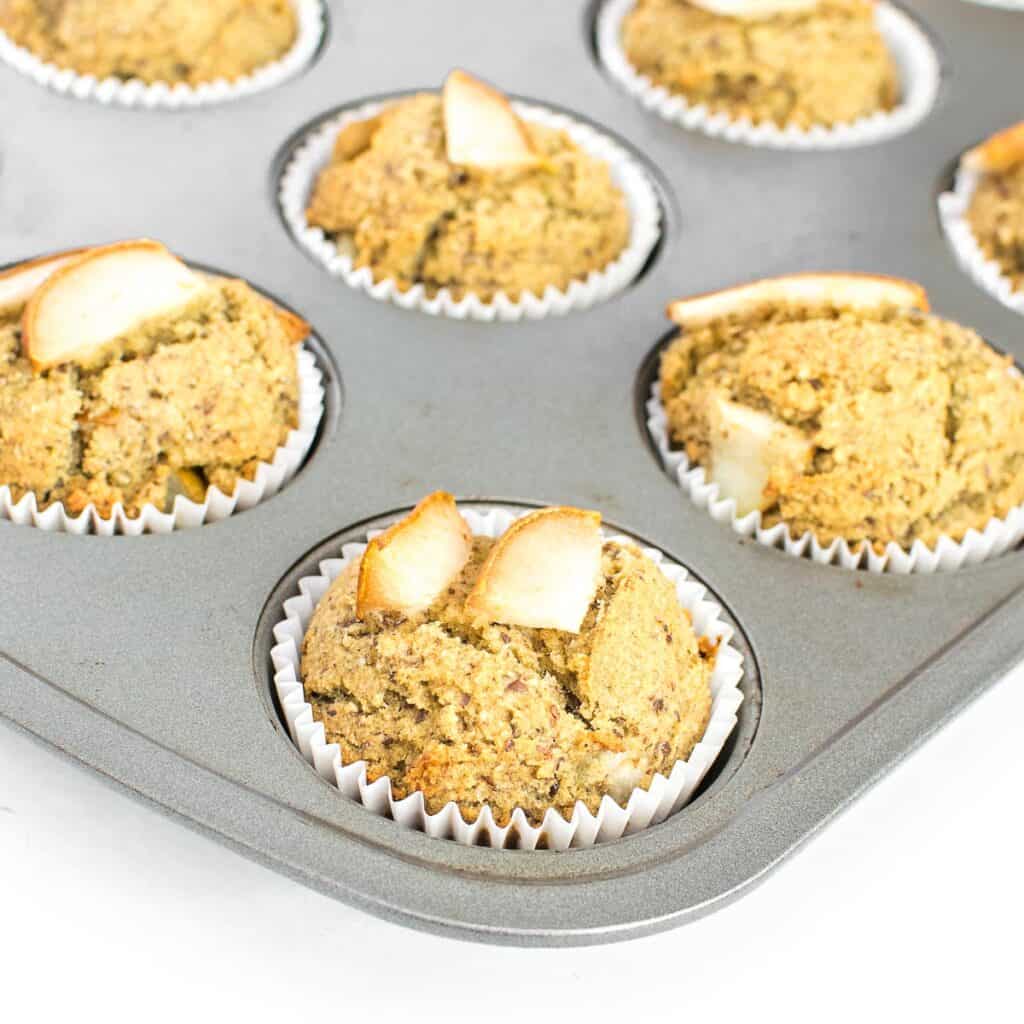 Pear Muffins FAQs
How long does these last?
Refrigerate them in a single layer in an air tight container for about 2-3 weeks.
How does this taste?
These are soft, fluffy with a slight crunch at the top because of brown rice flour. Its juicy and fruity from inside. Overall, its perfectly sweetened with a distinct fruit taste along with a hint of cardamom.
If I have lots of pears, how do I store them?
If you have leftover ripe pears after making this dessert then refrigerate the fruit for longer shelf life.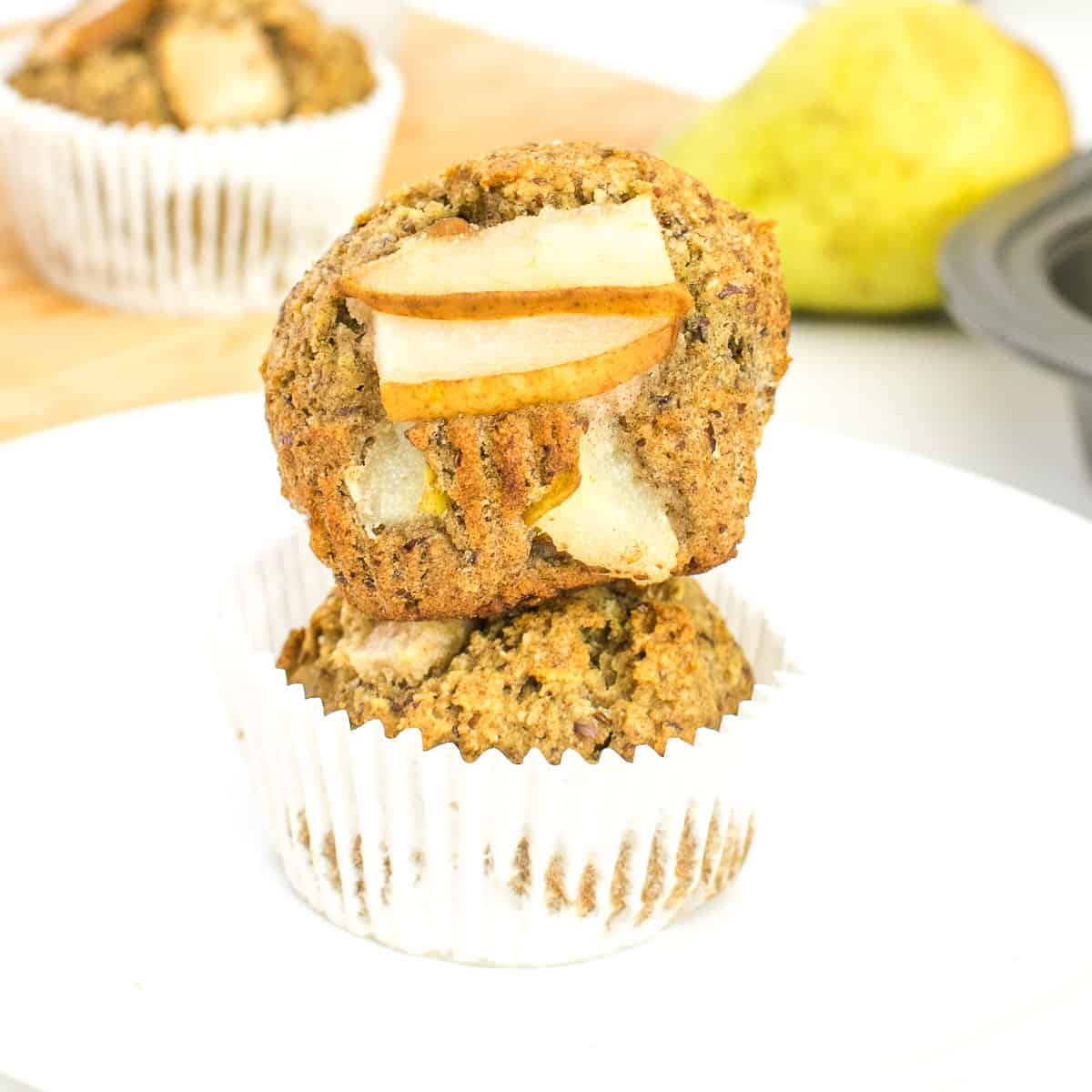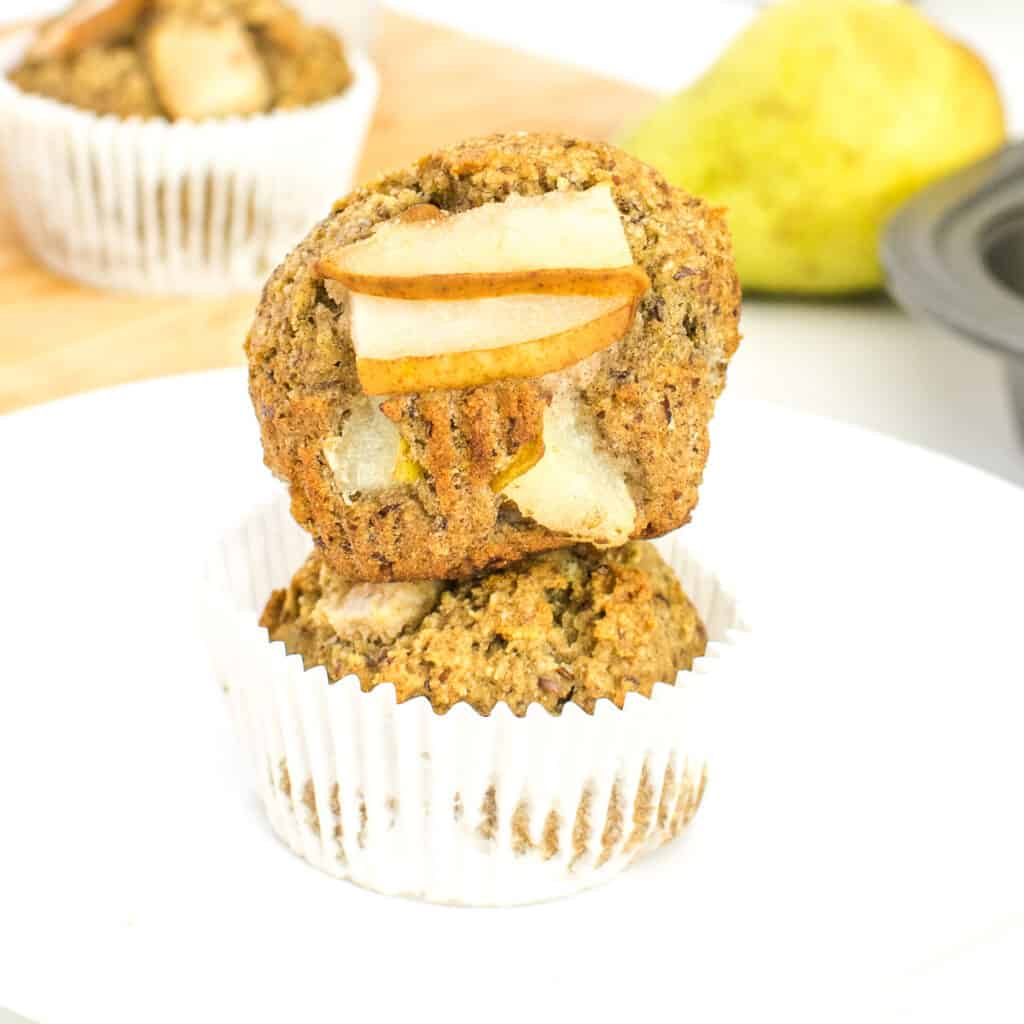 My other muffin recipes that you may like:
Vegan Blackberry Muffins
Oil Free Vegan Blueberry Muffins
Strawberry Jam Muffins
Savory Zucchini Breakfast Muffins
Did you make it?
If you get a chance to make this recipe then please leave your feedback in the comments along with a 5-star rating. In addition, you may tag @kiipfit on Instagram along with your recipe remake image because we would love to see what you cooked.
You may also check my cookbook for everyday comfort vegan recipes.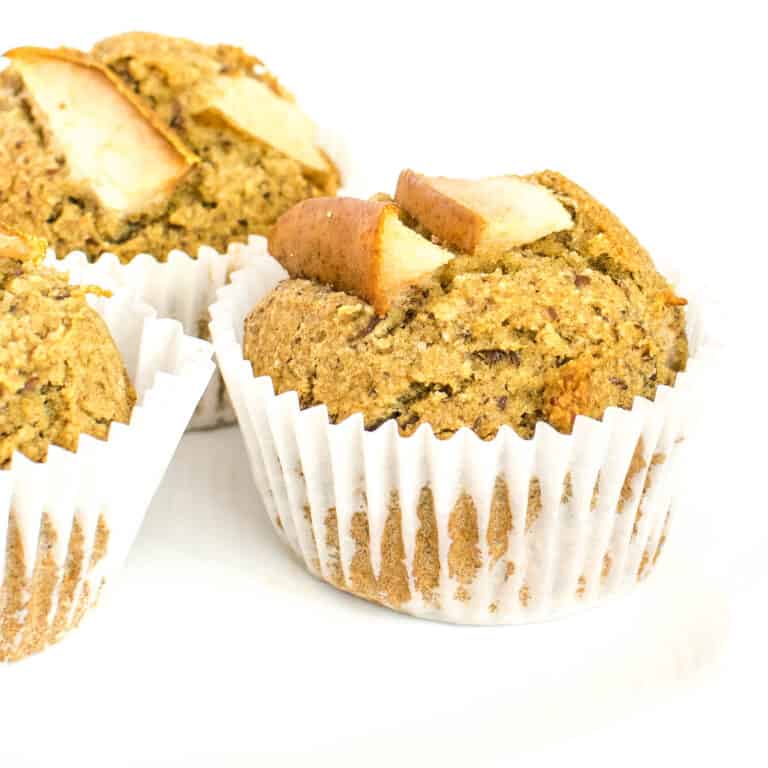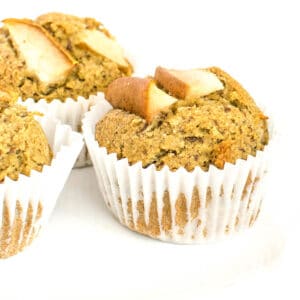 Print Recipe
Pear Muffins
These oil free vegan Pear Muffins come together easily and are packed with juicy fruit, whole grains and warm spices. It's a delicious way to start your day and a perfect snack on the go. It's naturally sweetened, healthier and a make ahead recipe.
Ingredients
1

cup

brown rice flour

1

cup

almond flour

1

tsp

baking powder

1

tsp

baking soda

1/4

tsp

salt

1/2

tsp

cardamom powder

1/4

cup

flaxmeal

(soaked in 1/2 cup warm water)

1

cup

pitted dates

(soaked in warm water)

3/4

cup

unsweetened dairy free milk

1

tsp

vanilla extract

1

tbsp

apple cider vinegar

1 1/2

cups

finely chopped green pears
Instructions
Preheat oven at 350-degree Fahrenheit and prepare a muffin tray with the muffin liners. In a mixing bowl combine brown rice flour, almond flour, baking powder, baking soda, salt and cardamom. Mix well with a spoon and keep it aside.

Drain the dates with the help of a colander/strainer. In a blender, combine dates with dairy free milk and vanilla extract and blend them smooth.

In a large bowl, combine the blended dates, soaked flaxmeal and apple cider vinegar. Whip it well until all the wet ingredients are well blended.

Fold in flour mix into the wet ingredients and whip it into a dough like batter.

Toss in chopped pear and mix again very nicely.

Now, with the help of an ice cream scoop fill the muffin lines with the batter till the top. Decorate it with more pear slices if desired or leave it as is.

Place it in the middle rack of the oven for 20 minutes. After 20 minutes when the muffins start to brown at the top shift the muffin tray to the bottom rack of the oven and bake again for another 5 minutes. Turn it off and let it rest in the hot oven for 2 minutes. Take it out and place it on a flat surface. Let it cool a bit and remove the muffins from the tray carefully since it will be very hot and place each muffin on a cooling rack. Once cooled, enjoy.
Notes
How to soak flaxmeal: combine flaxmeal and warm water in a bowl and continuously whip it with a spoon until it thickens and form jelly like consistency. Keep it aside until ready to use.
How to store: once they are cooled to room temperature completely, refrigerate along with the muffin liners in an air tight container. Each of them should be placed individually in a single layer and not stacked.
Fill up your ice cream with the batter nicely so the it fills the muffin liners to the top.
The batter will be thick but don't worry the pear will release its juice while mixing which will make the batter little lighter in consistency but it should like a cookie dough batter.
Nutrition
Calories:
157
kcal
|
Carbohydrates:
24
g
|
Protein:
4
g
|
Fat:
6
g
|
Saturated Fat:
1
g
|
Polyunsaturated Fat:
1
g
|
Monounsaturated Fat:
1
g
|
Sodium:
142
mg
|
Potassium:
101
mg
|
Fiber:
3
g
|
Sugar:
1
g
|
Vitamin C:
1
mg
|
Calcium:
44
mg
|
Iron:
1
mg