These lightly seasoned Grilled Sweet Potato Wraps are so filling and yet easy to make. Its the best for vegan grilling whether indoor or outdoor.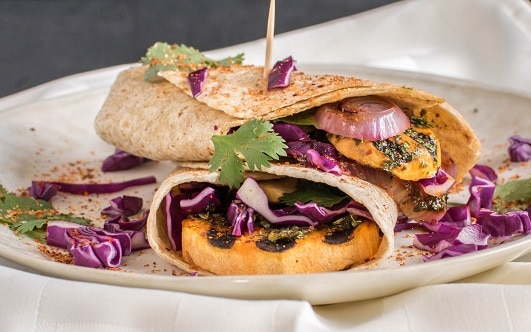 I am totally caught onto sweet potatoes.
Even though I was never a potato person, for past few months I can't have enough of them.
Now, I'm craving for these beautiful orange, delicious and versatile sweet potatoes.
In the process of creating some recipes with this vegetable I learnt many health benefits of this tuber.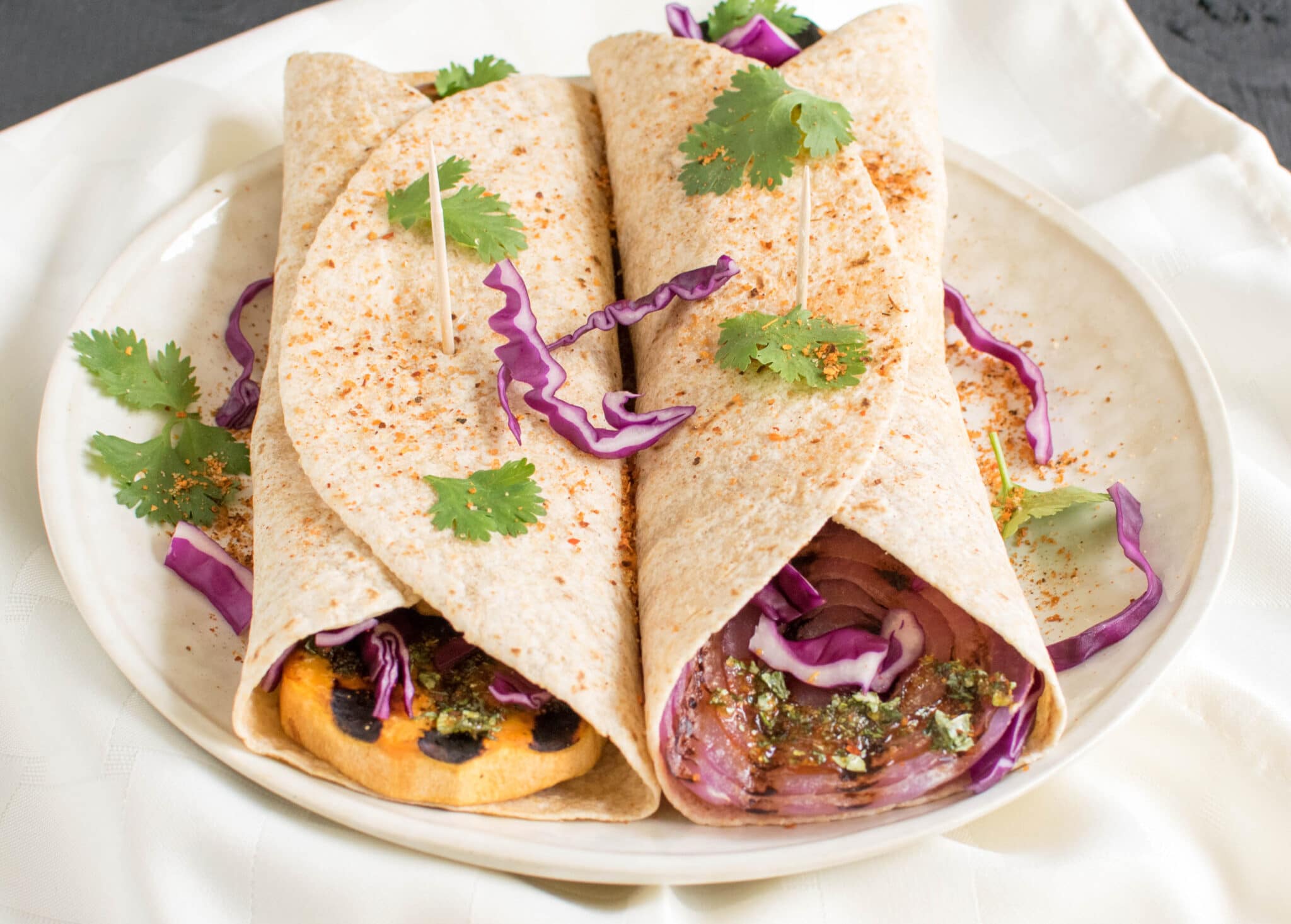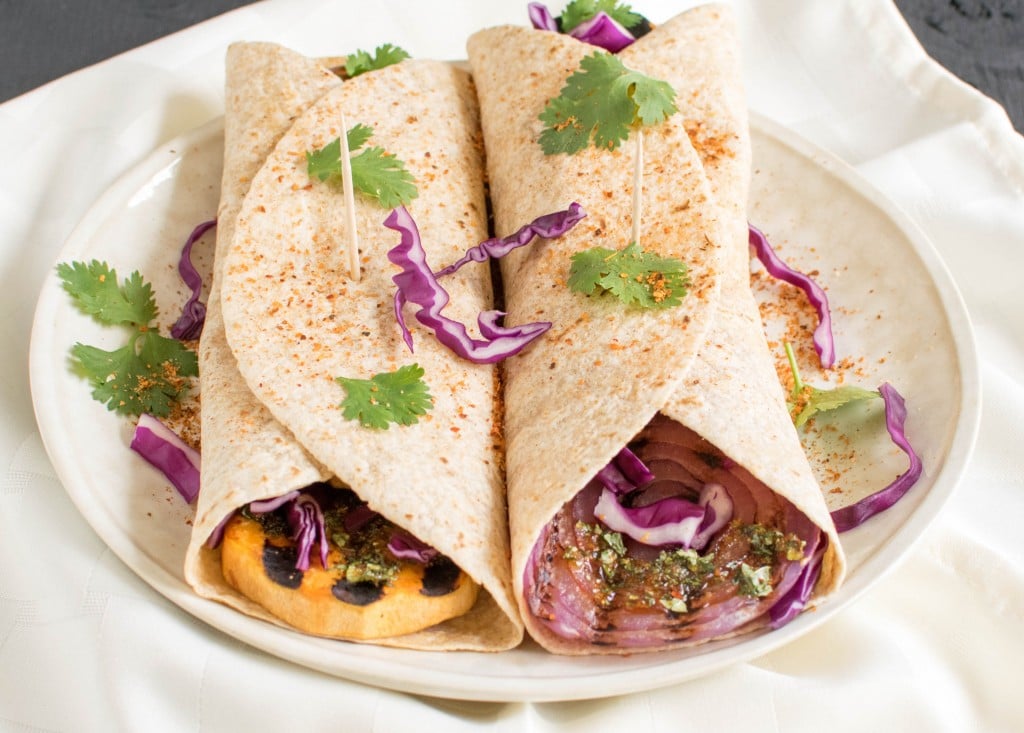 Sweet Potatoes – First of all good news for Paleo followers that sweet potatoes are paleo friendly. This root vegetable is high in fiber and heart healthy with its vitamin B6 content. It's a great source of manganese and are rich in vitamin C and E. It's very easy to cook and blends in with almost any recipe very well.
Grilling season is at its peak and you must try grilling sliced sweet potatoes. I totally fell for it and when paired this wrap with some random dip I went gaga over the wraps.
Generally, I am fond of wraps and this recipe Grilled Sweet Potato Wraps took over me completely.
How to make Grilled Sweet Potato Wraps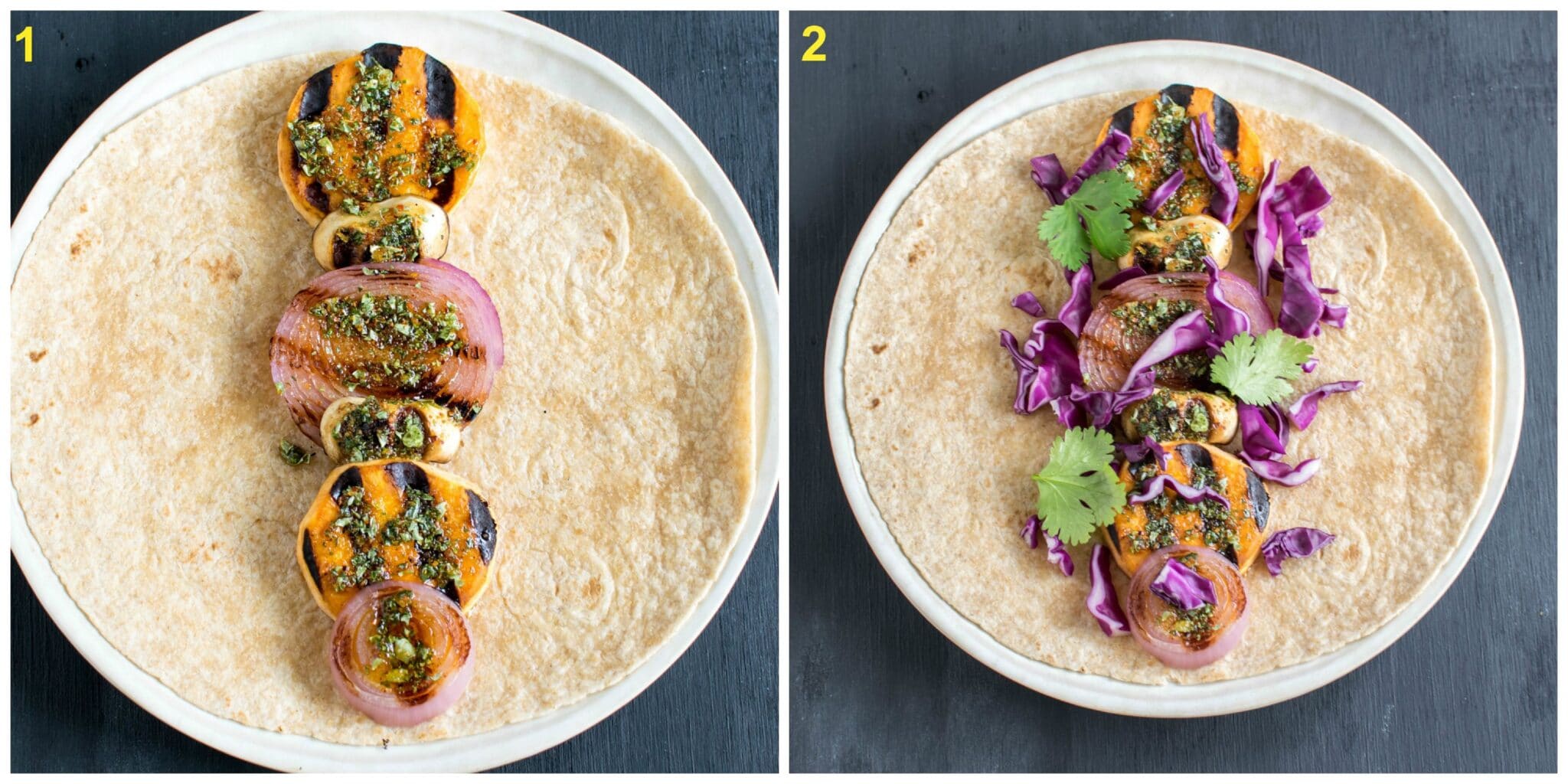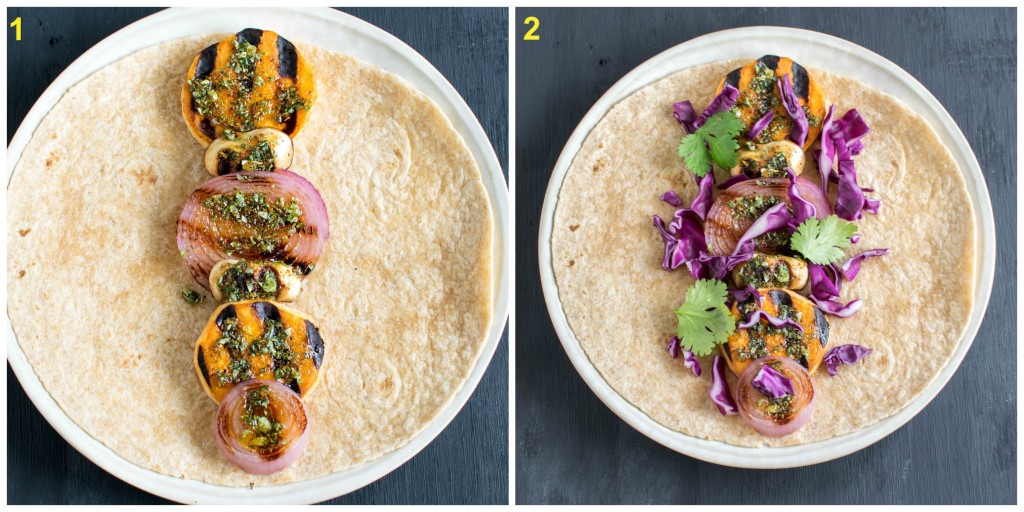 In a few simple steps and with a simple dip this recipe was a big hit with my family.
For the dip I used the ingredients that were easily available in my kitchen pantry.
The only extra ingredient I used was Tajin because it's tangy, spicy and salty taste complimented sweet potatoes perfectly and enhanced the flavor of this wrap and made it even tastier than what I had expected.
I would recommend you to use Tajin seasoning for this recipe to enjoy the delicious flavor of these Grilled Sweet Potato Wraps.
I simply grilled the vegetables and placed them on whole wheat tortilla. Then, I topped with this delectable dip and added more crunchy vegetables to give it a salad like bites and served immediately.
Yummilicious !!!!
Our tummies were full but we still wanted more and now this recipe has become our weekend's favorite lunch/dinner.
The dip can be made ahead of time and refrigerated in a glass container.
During the work week you may just bake the vegetables in your oven and assemble in a wrap and enjoy.
You may also like:
Tandoori Broccoli Mushroom Wrap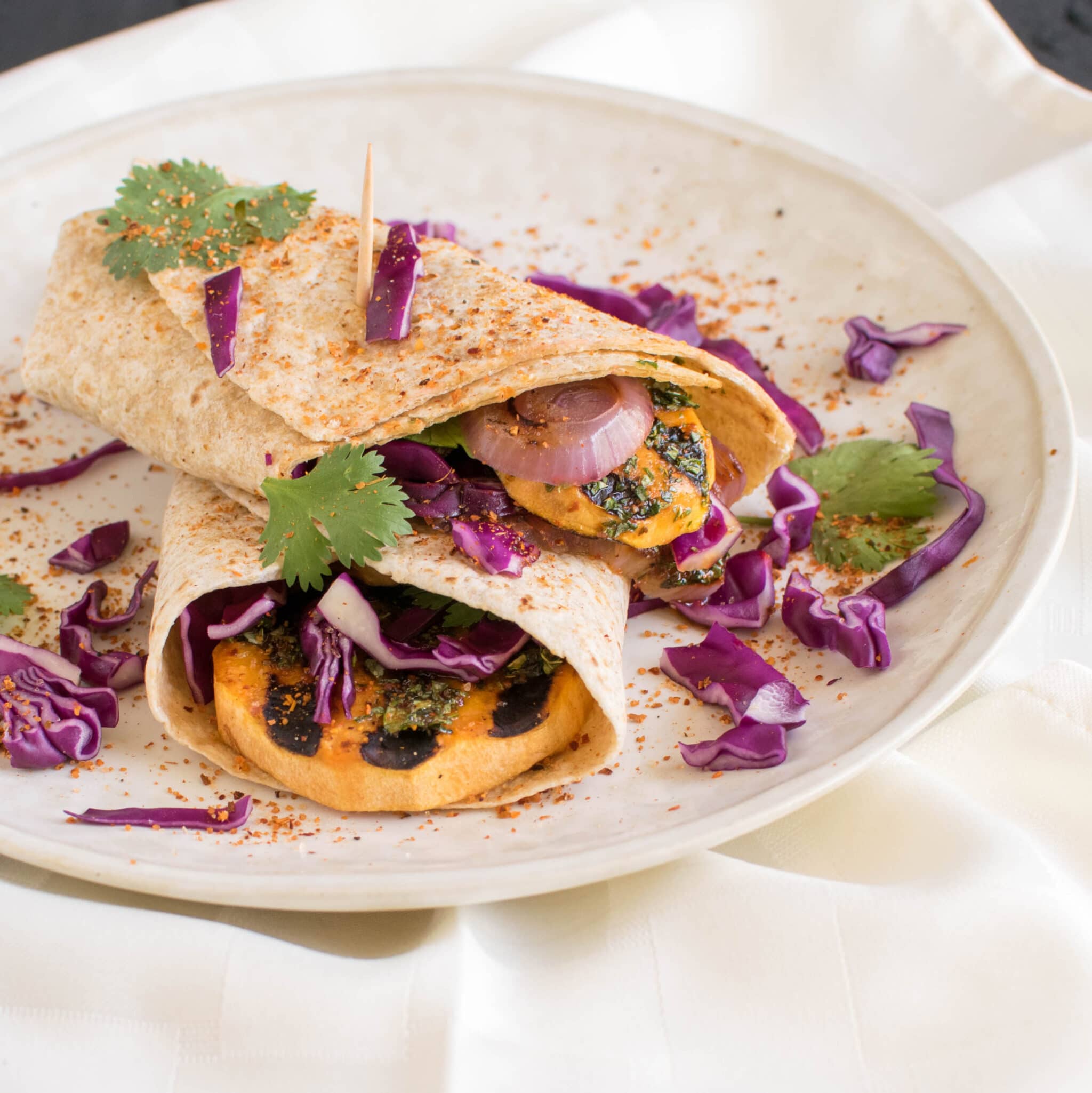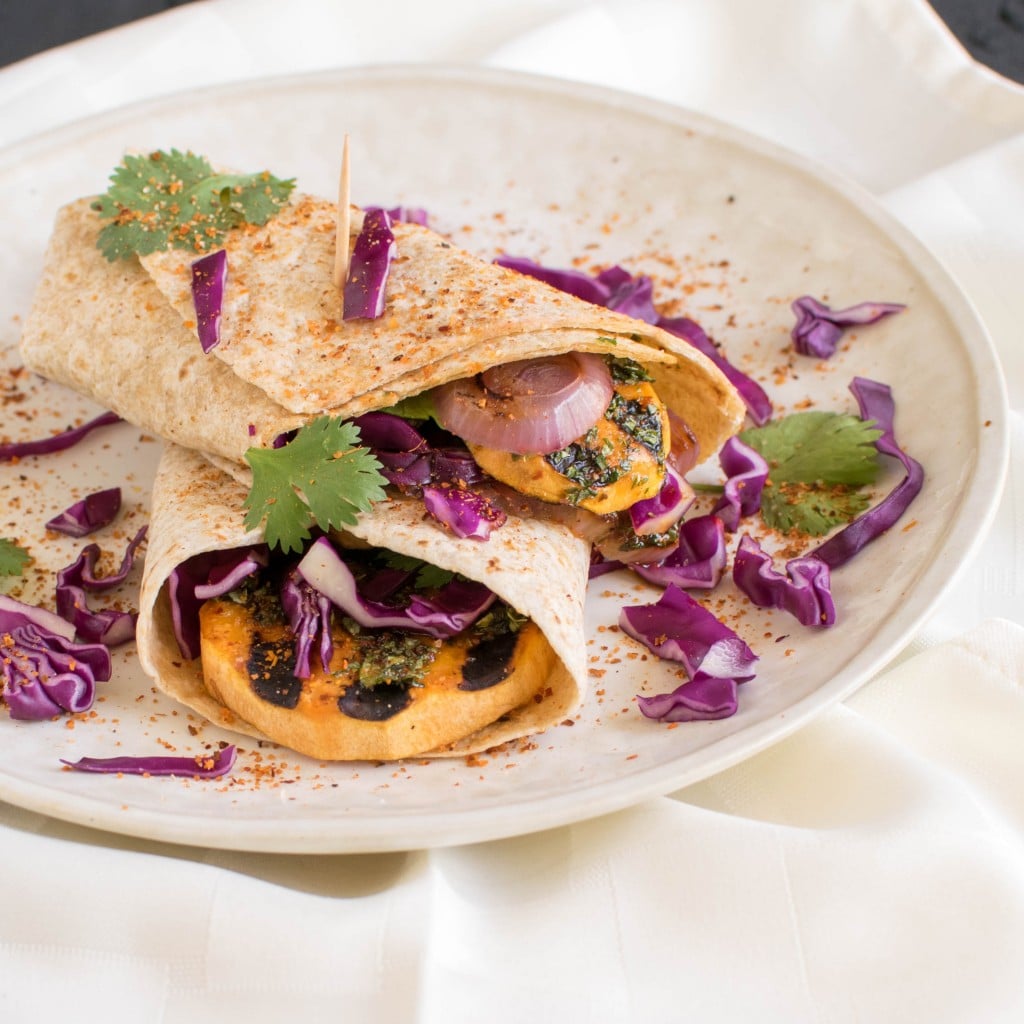 Did you make it?
If you get a chance to make this recipe then please leave your feedback in the comments below along with ratings. In addition, you may tag @kiipfit on Instagram because we would love to see what you cooked.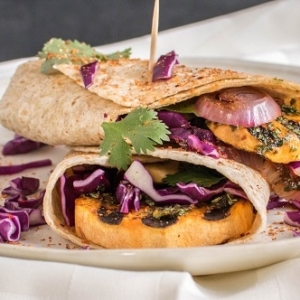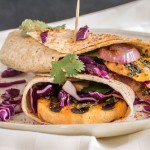 Print Recipe
Grilled Sweet Potato Wraps
These lightly seasoned Grilled Sweet Potato Wraps are so filling and yet easy to make. Its the best for vegan grilling whether indoor or outdoor.
Ingredients
For the wrap
1

whole

red onion

(round sliced)

4

whole

white mushrooms

(sliced into halves)

1

medium

sweet potato

(thin round sliced)

1/2

cup

shredded red cabbage

1

tbsp

chopped fresh cilantro

2

whole wheat tortilla/flat breads

(regular/GF)
Instructions
Prepare the grill and grease it. Place the onions, mushrooms and sweet potatoes on it.

While the veggies are grilling, in a small glass bowl combine tajin, basil, parsley, salt and oil and mix with a spoon. Keep it aside.

Once the veggies are grilled lay the tortillas on a flat surface and place half of the grilled veggies on it in any order of your choice.

Now with a spoon coat the dip very well on all the veggies.

Top it with red cabbage and cilantro and serve the wrap immediately.
Notes
I used electric indoor grill. Outdoor grill can also be used.
If desired the veggies can be toasted in a toaster oven as well or can be baked in the oven. For this line a cookie sheet and grease very well. Place the veggies and either toast them until sweet potatoes are soft and chewy. (Toast all the veggies in separate batches because they all take different time to cook). I baking preheat the oven at 400 degree and bake the onion and mushroom together in a batch until soft. Bake the sweet potatoes separately until soft and chewy.
Tajin spice is tangy and mild salty with a slight hint of spicy. If you don't plan to use Tajin then use more salt according to taste, some chili powder according to your preference of spice level and very little lemon juice for a mild tangy flavor (few drops not too much).
This wrap can be eaten as lettuce wrap to replace the tortilla if desired.
Nutrition
Calories:
305
kcal
|
Carbohydrates:
47
g
|
Protein:
8
g
|
Fat:
11
g
|
Saturated Fat:
1
g
|
Sodium:
654
mg
|
Potassium:
991
mg
|
Fiber:
5
g
|
Sugar:
9
g
|
Vitamin A:
16031
IU
|
Vitamin C:
7
mg
|
Calcium:
40
mg
|
Iron:
2
mg