These soft and chewy vegan Butternut Squash Amaranth Bagels are absolutely delish! Its made with whole grains, vegetables, rapid yeast and is the most favorite breakfast.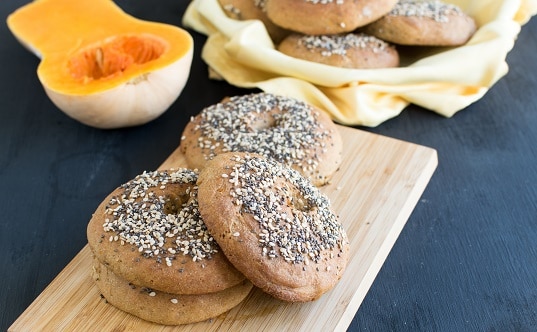 Who doesn't want fresh, flavorful and warm bagels on a Saturday morning for breakfast especially when mornings are cooler and winter seems to be approaching soon.
But I always fall in disappointment zone whenever I am stuck with huge and extremely chewy bagels that never end and leave me with a jaw pain.  Not to forget that those bagels don't even taste as fresh. Alas!
With my yeast experiments continuing, I experimented few bagel recipes at home and I must say that I couldn't stop loving them.
It may seem that I am bragging my own recipe but trust me these bagels are not only fresh out of my oven but they are delicious and super healthy.
I even tested my recipes on my friends and they loved these bagels so much that now they order bagels to me instead of hopping to some bagel shop 🙂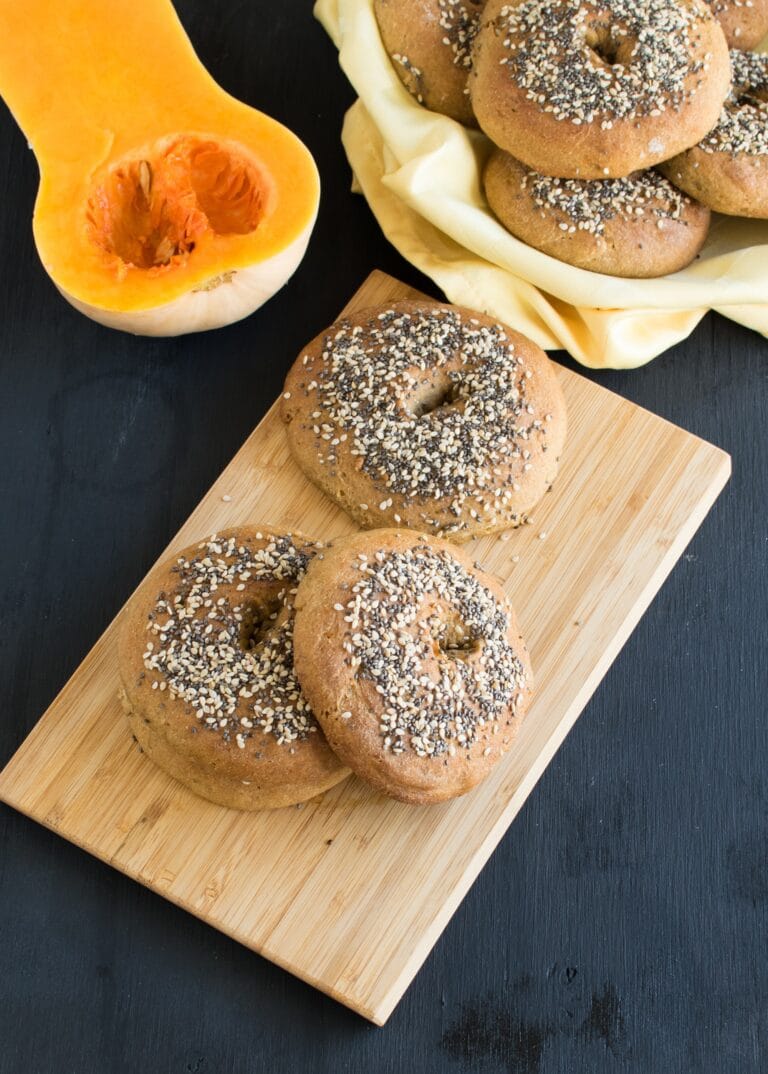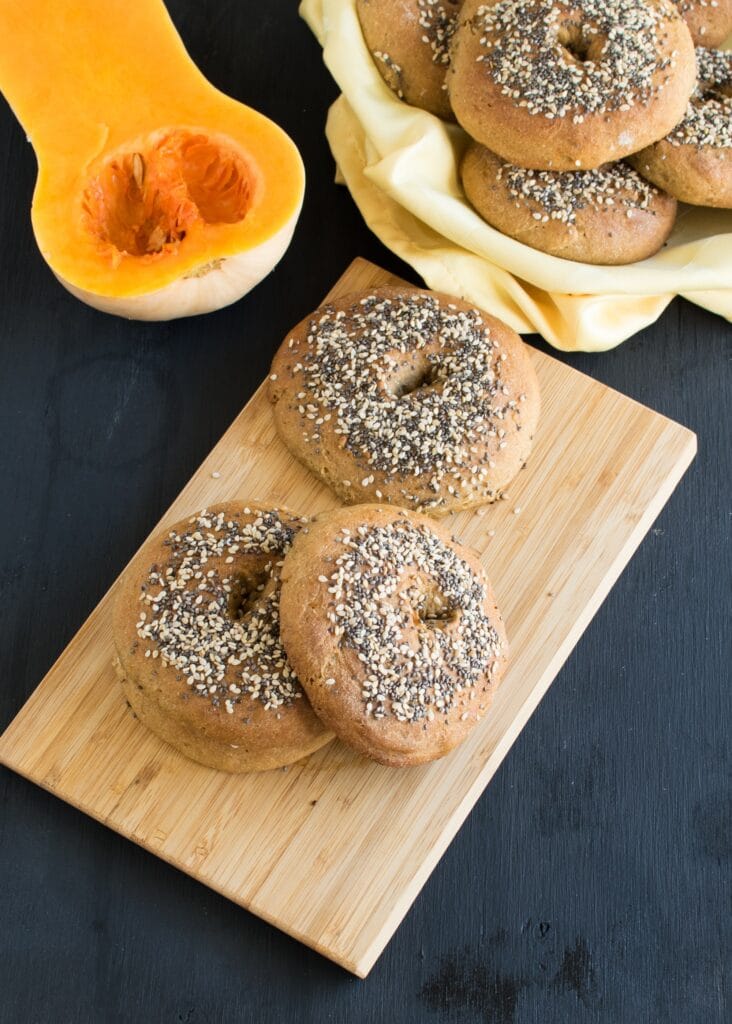 My idea of including vegetables into as many recipes as possible so as to feed healthy and nutritious food to my family led me to this recipe Butternut Squash Amaranth Bagels.
Ingredients you will need:
Butternut Squash
Water
Amaranth Flour
Brown sugar
Salt
Rapid rise yeast
Whole wheat flour
I have used these easily available ingredients which you may buy from any grocery store. However, I have provided links to few of them here for your convenience.
If you plan to buy from these affiliate links then I get a small commission which in turn encourages me to bring in more delicious recipes for you all.
Since its fall season and this is the perfect time to gorge on those beautiful and healthful Butternut squash I pureed this vegetable at home.
Ingredients notes:
I used Amaranth flour because I believe in using healthy grains as always. Amaranth is not only gluten free but it's a complete protein along with being high in fiber. It's the new super grain that's picking up popularity recently.
I used rapid rise yeast because it's easy to use and takes less time to rise as compared to other types of yeast.
Lastly, I used 100% whole wheat flour to bind these bagels into dough and shaping them. (To make it complete gluten free bagels you may use gluten free flour that's easily available in any store). 
And if you plan to be more creative top these bagels with your choice of seasonings and seeds. Here I used chia seeds and white sesame seeds but you can use flax seeds or some seasoning salt or pizza seasoning as per your palate.
How to make Butternut Squash Amaranth Bagels
Firstly, I cooked chopped butternut squash in water until it was soft and easy to mash into puree. Then, I kept it aside.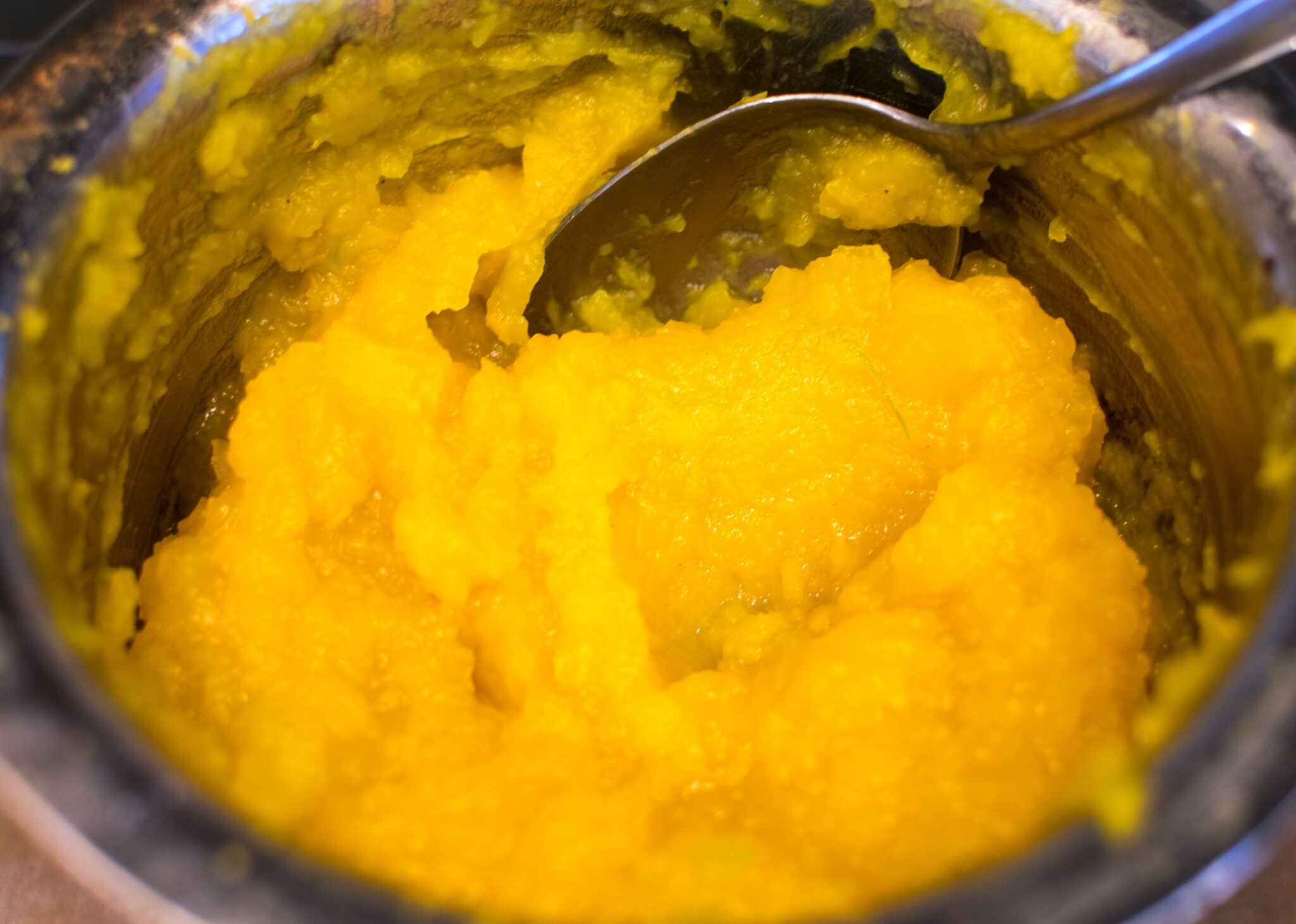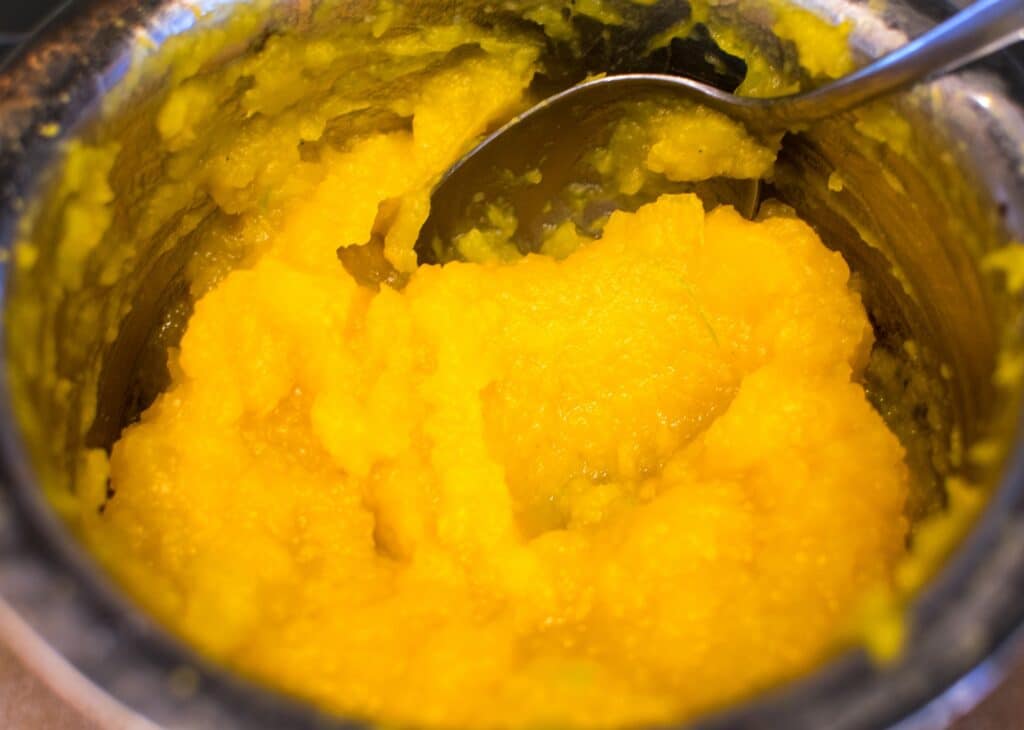 Secondly, I combined dry ingredients (except whole wheat flour) in a mixing bowl.
Next, I mixed in the pureed squash and warm water making sure that their temperature was 120 degree Fahrenheit. Then, I mixed them nicely in an electric dough maker.
Thereafter, I gradually added whole wheat flour and combined it into a dough.
Afterwards, I took it out on a flat surface and kneaded well until it was a firm dough. Then, I coveerd it with a towel and let it rest for 10 minutes.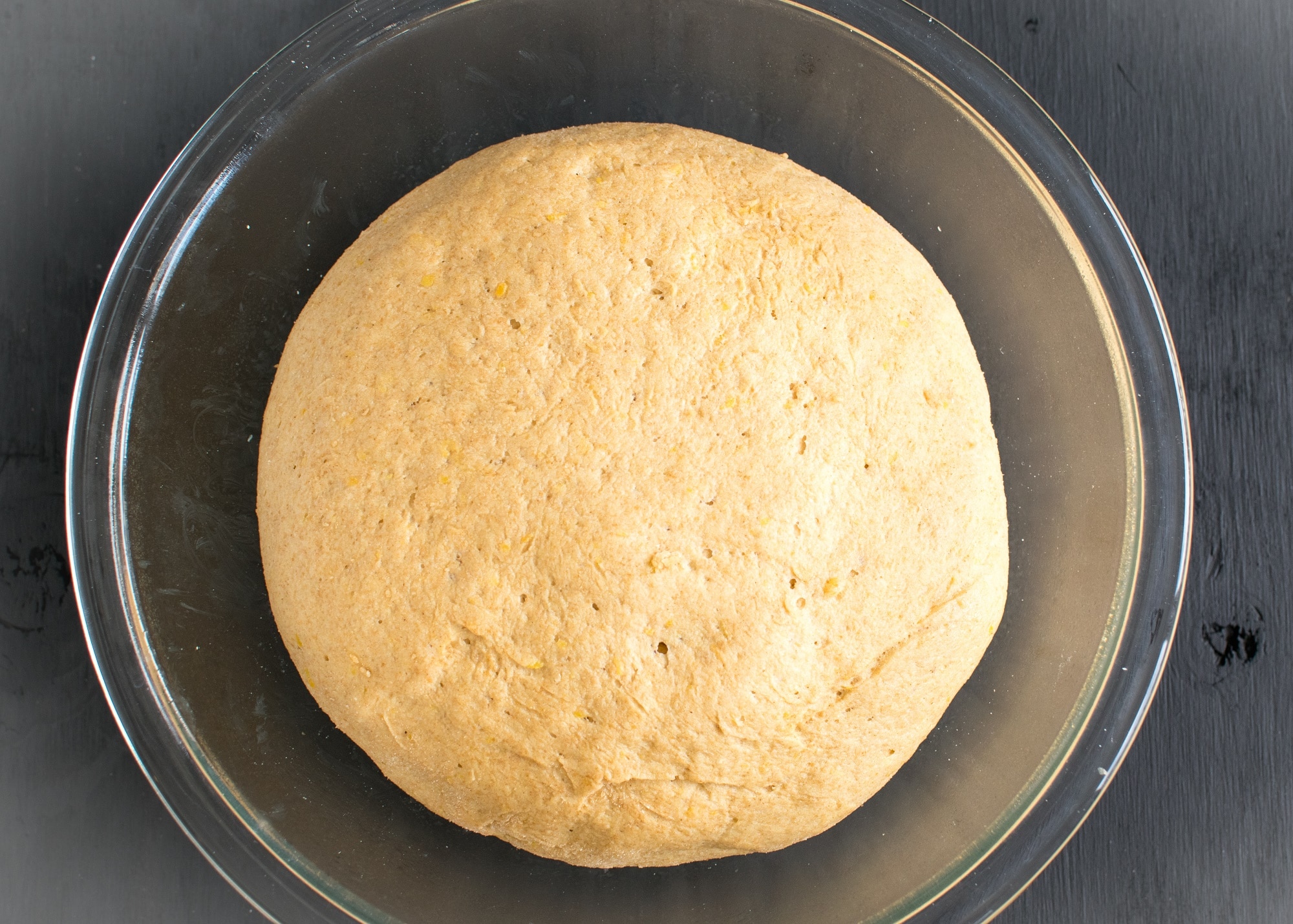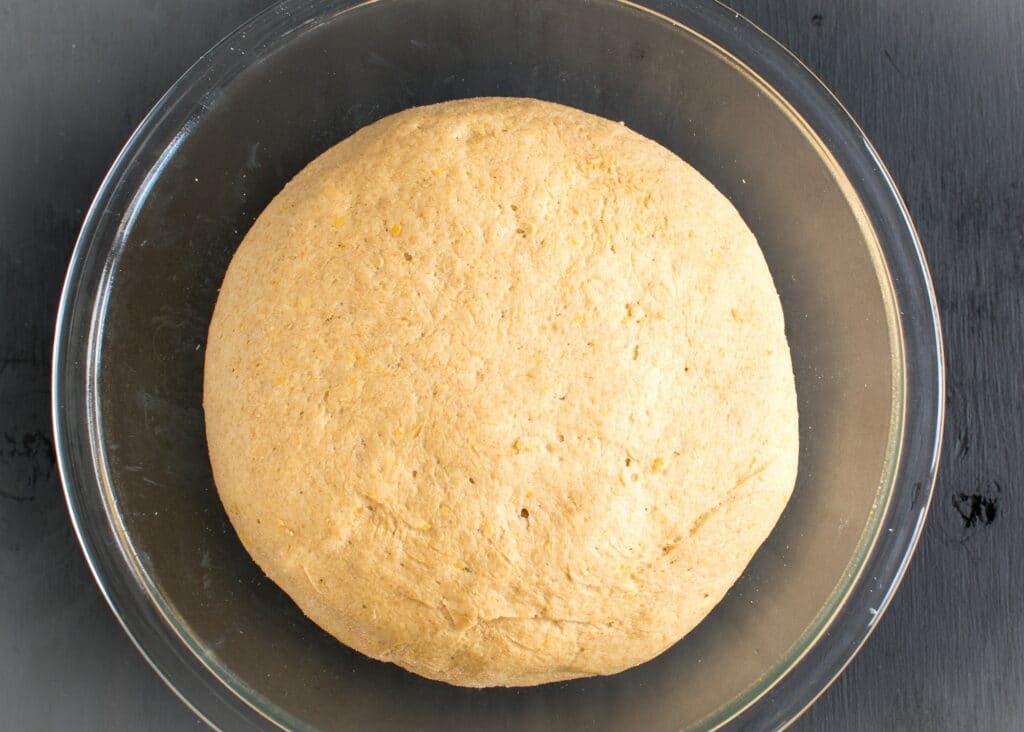 Later, I divided the dough into 12 equal balls and shaped them into bagels and let them rest covered on a greased cookie sheet.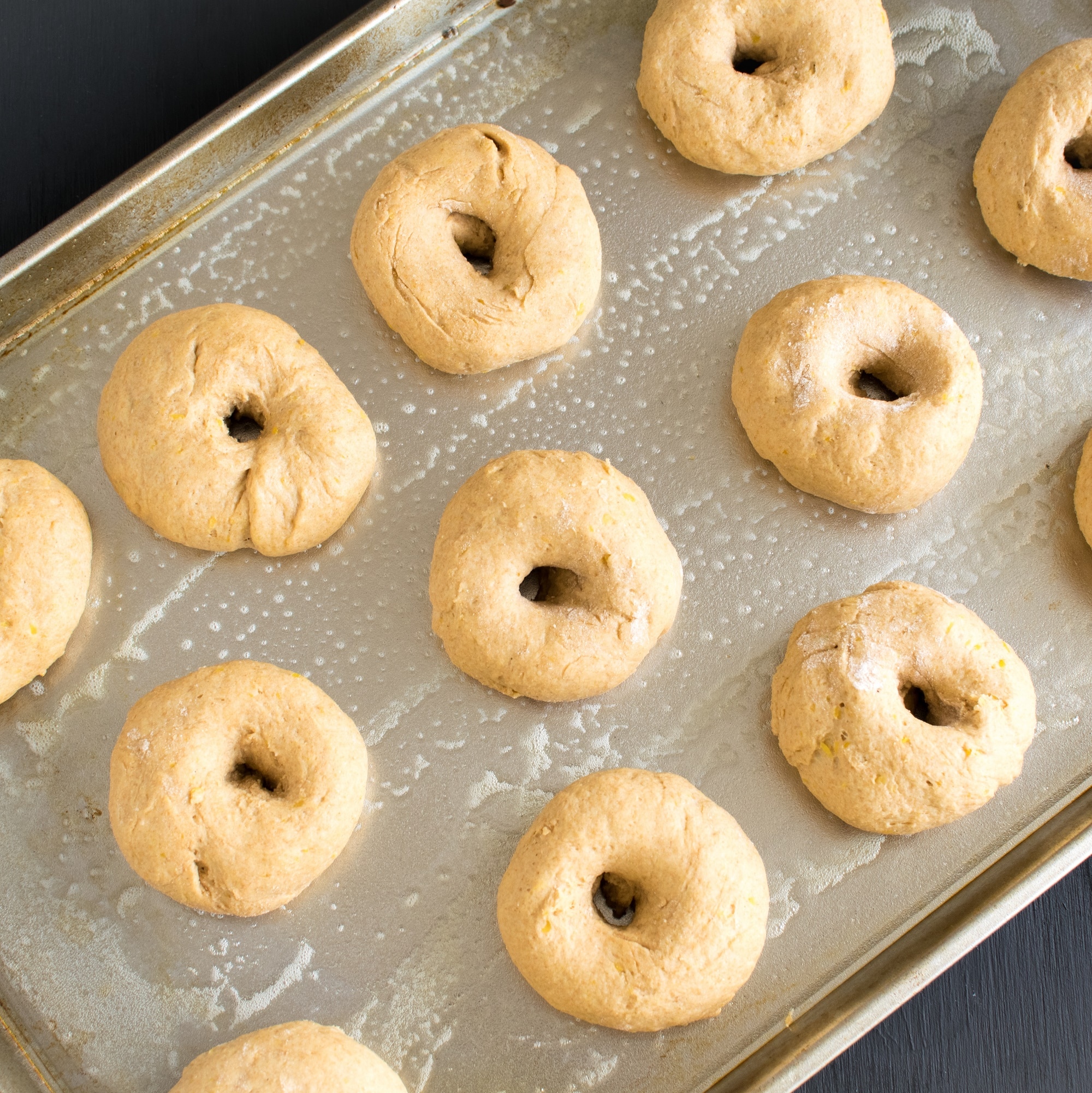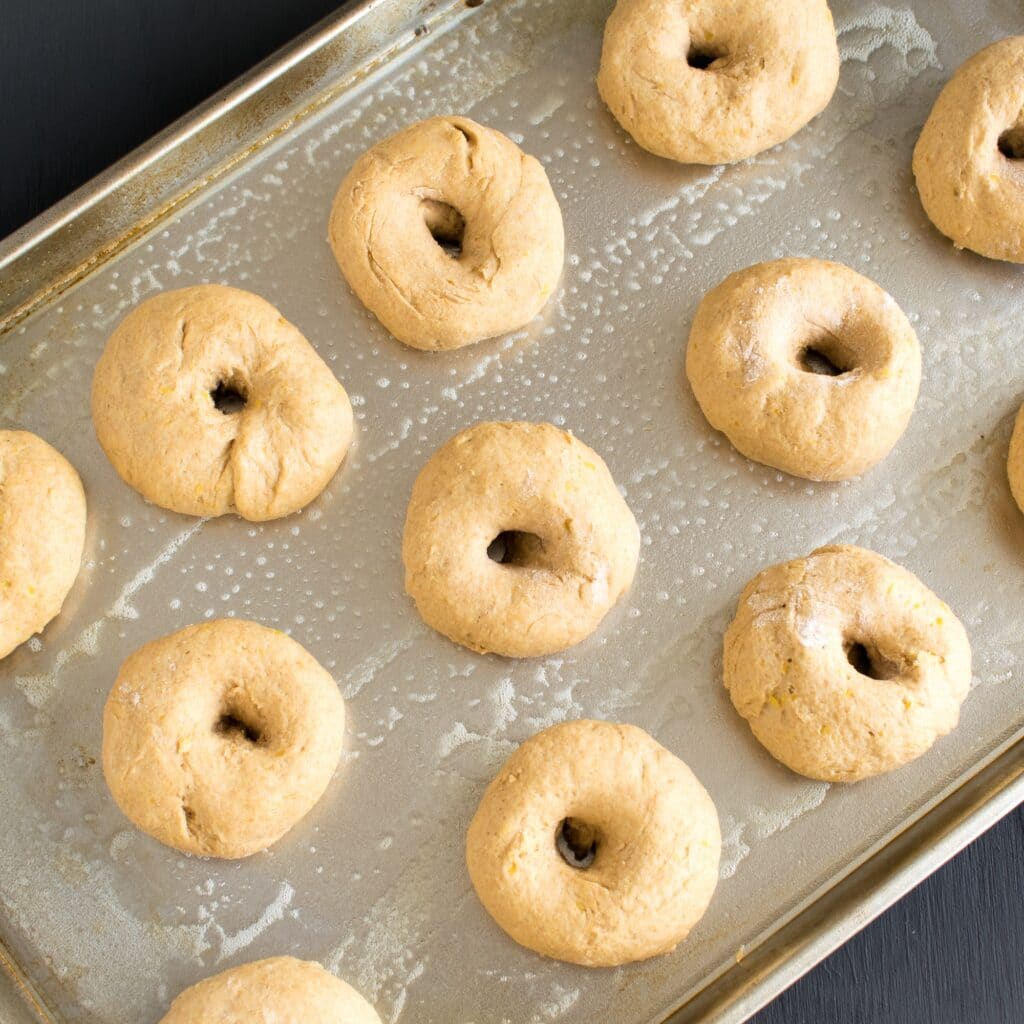 Once these bagels rose as desired I baked them in a preheated oven for about 35 minutes.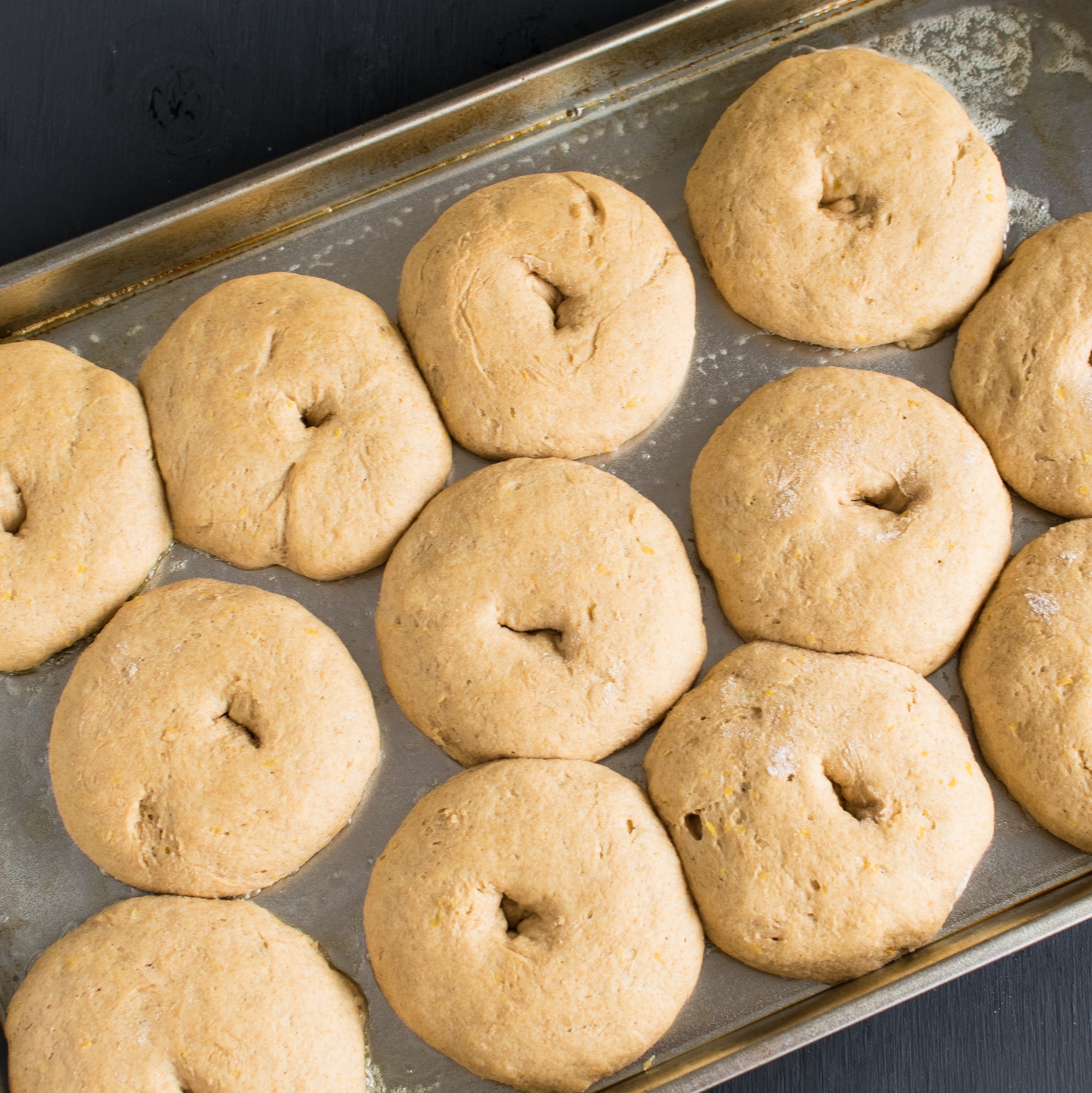 Lastly, I turned it off and took it out of the oven and let it cool slightly before serving.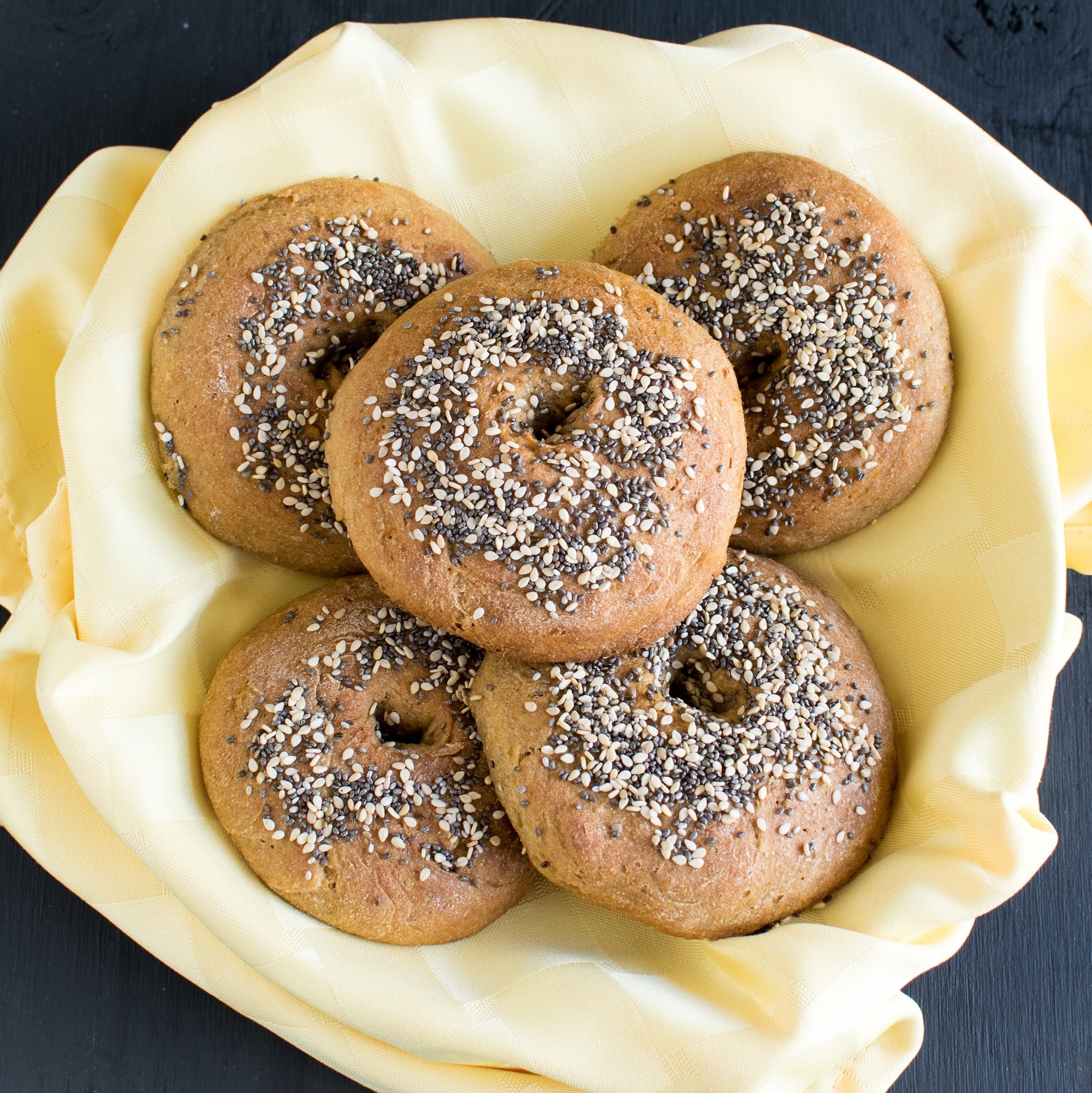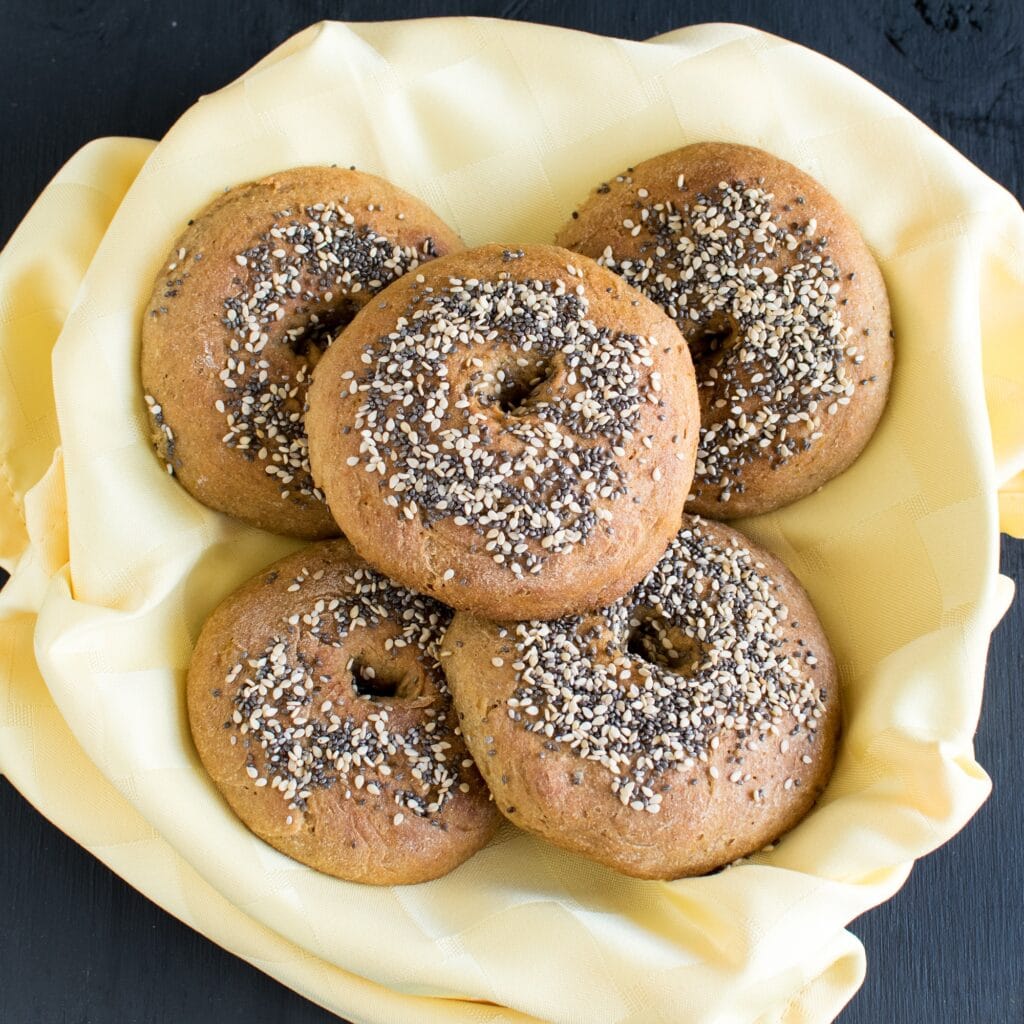 I couldn't be happier seeing happily chattering friends and family on my breakfast table and feeling content from inside when I heard them praising my recipe.
Butternut Squash Amaranth Bagels FAQs
How long do they last?
These can be refrigerated in an air tight container for up to 1 week.
Are these healthy?
Yes, its made with whole grains and is oil free too. I have also added vegetable in this recipe but you wont taste it and kits kid friendly. Therefore, these can be enjoyed everyday for breakfast or for snack.
How does it taste like?
Its tastes better than san be toasted and store bought ones and less chewy. Simply brush it with your of seasoning or seeds and its delicious and satisfying.
What is amaranth flour?
Its ground form of amaranth grains. Its a plant based healthy grain which is high in protein than quinoa. it is gluten free and versatile.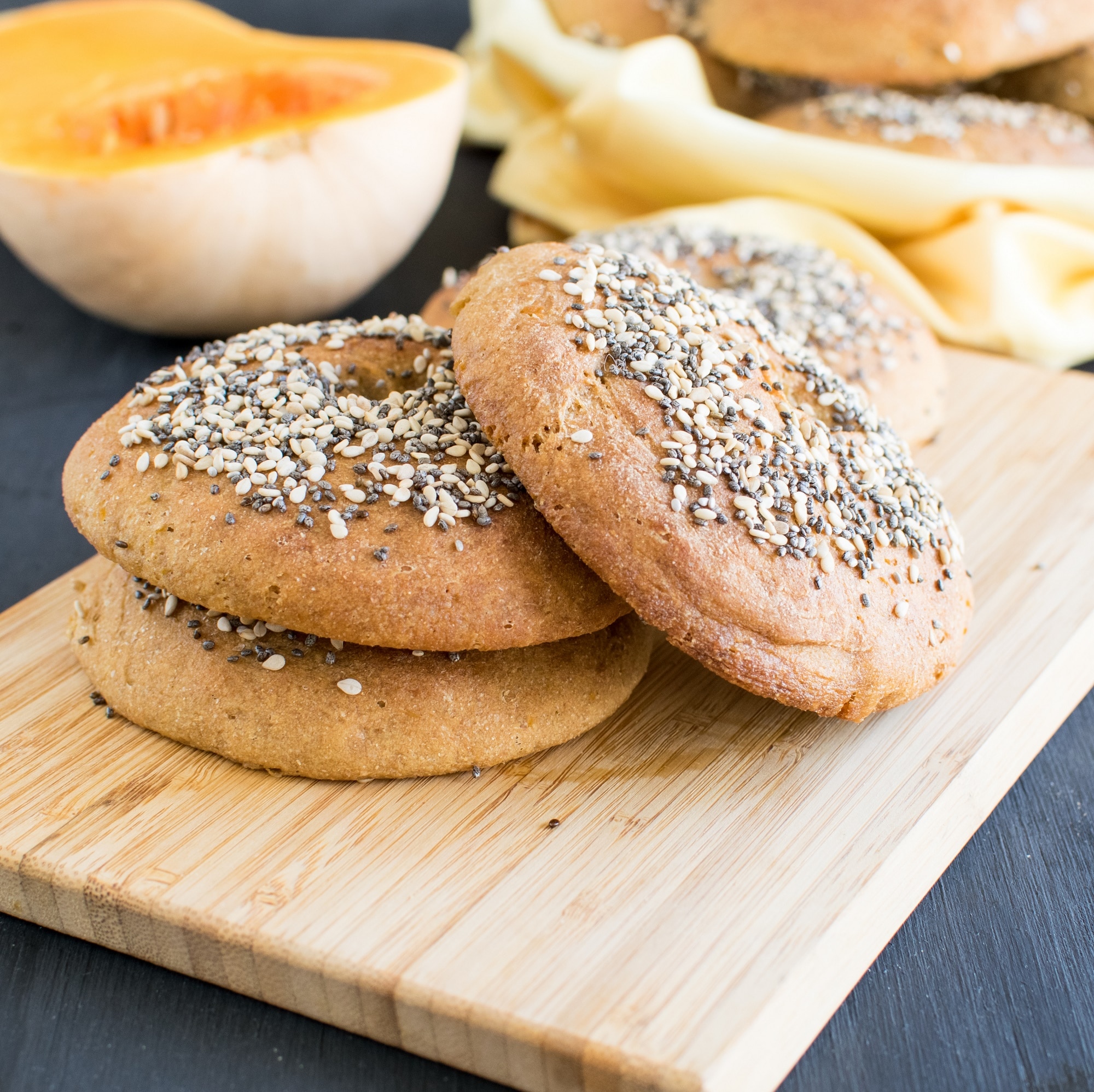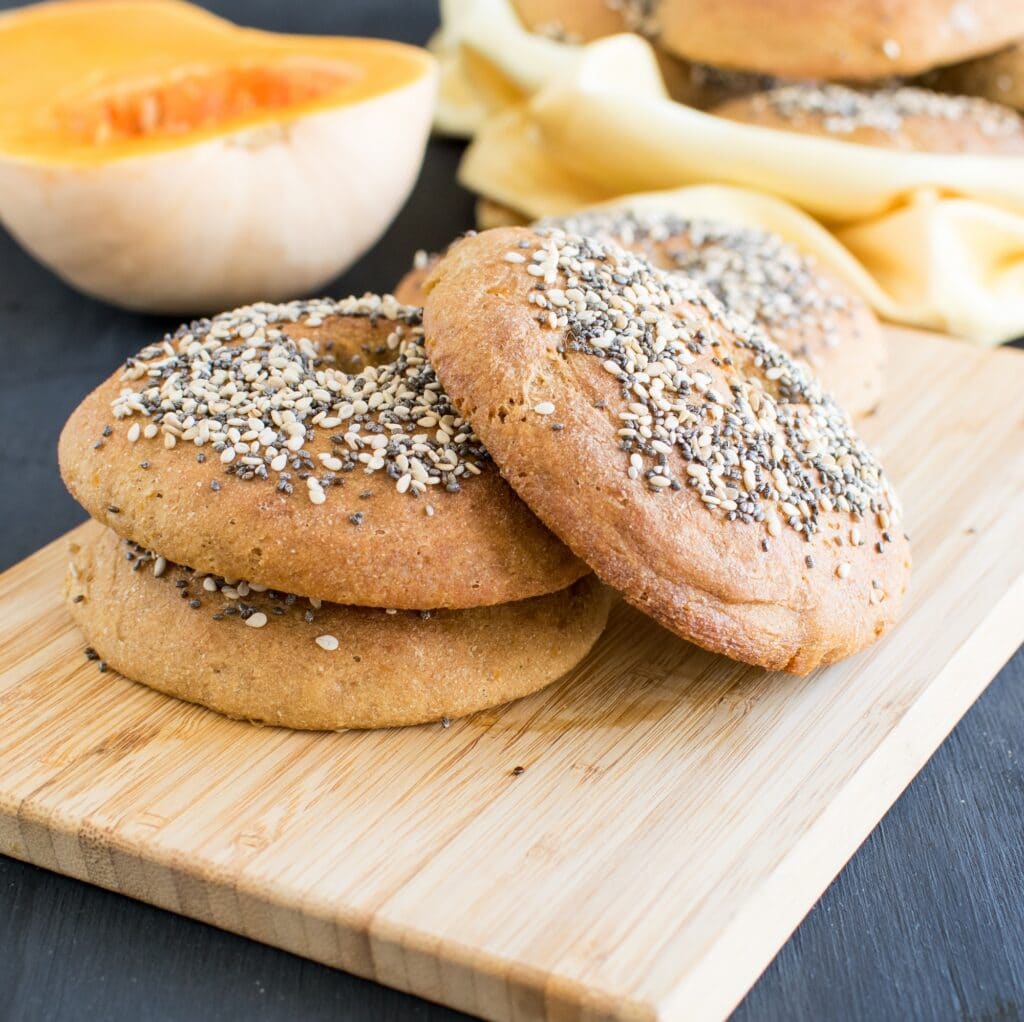 You may also like:
Did you make it?
If you get a chance to make this recipe then please leave your feedback in the comments below along with the ratings. In addition, you may tag @kiipfit on Instagram with your recipe images because we would love to see what you cooked.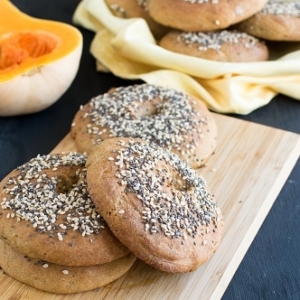 Print Recipe
Butternut Squash Amaranth Bagels
These soft and chewy vegan Butternut Squash Amaranth Bagels are absolutely delish! Its made with whole grains, vegetables, rapid yeast and is the most favorite breakfast.
Instructions
In a saucepan combine butternut squash and ½ cup water and boil until squash softens enough to be mashed with a spoon. (Do not drain the water, mash in the water itself). Make sure it should be 120 degree Fahrenheit. ( measure its temperature with kitchen thermometer.

In a large mixing bowl combine amaranth flour, salt, sugar and yeast. Mix very well a spoon until well blended.

Now, in a dough make combine the flour mixture, pureed butternut squash and warm water and beat it at medium speed. You may also beat it with spatula manually. Gradually add whole wheat flour to it and make it knead it into a dough.

Rub your hand with flour and take out the sticky dough on a dusted surface. Knead the dough with the heel of your hand shaping it into a ball. Rub your hands with flour and keep dusting the surface with flour until the dough is firmer and stops sticking to hand.

In a greased big bowl put the dough and turn it over so the oiled dough is on top. Over with a plastic cling or with a kitchen towel and let rest for 10 minutes.

Take out the dough and form 12 small balls. (If the dough starts to stick rub your hands with flour again). Now, with your index finger make a hole at the center of each ball. Place them on the greased cookie sheet. Cover with towel and let rise in a warm place for 60 minutes.

Preheat the oven at 375 degree Fahrenheit. Once the bagels rise raise brush the top of the bagel with dairy free milk and top it with your choice of seeds. ( hempseeds, chia seeds or flavor it with any seasoning).

Place the cookie sheet in the middle rack of the oven and bake for 35 minutes. Take the cookie sheet out of the oven and let it cool completely.
Notes
Refrigerate the bagels in an air tight container for upto 1 week.
When mixing pureed butternut squash and more warm water make sure that their temperature is at 120 degree Fahrenheit at the time of combining. For this use kitchen thermometer.
Nutrition
Calories:
204
kcal
|
Carbohydrates:
40
g
|
Protein:
7
g
|
Fat:
3
g
|
Saturated Fat:
1
g
|
Sodium:
151
mg
|
Potassium:
73
mg
|
Fiber:
4
g
|
Sugar:
2
g
|
Vitamin C:
1
mg
|
Calcium:
34
mg
|
Iron:
2
mg