Who doesn't want fresh, flavorful and warm bagels on a Saturday morning for breakfast especially when mornings are cooler and winter seems to be approaching soon. But I always fall in disappointment zone whenever I am stuck with huge and extremely chewy bagels that never end and leave me with a jaw pain.  Not to forget that those bagels don't even taste as fresh. Alas!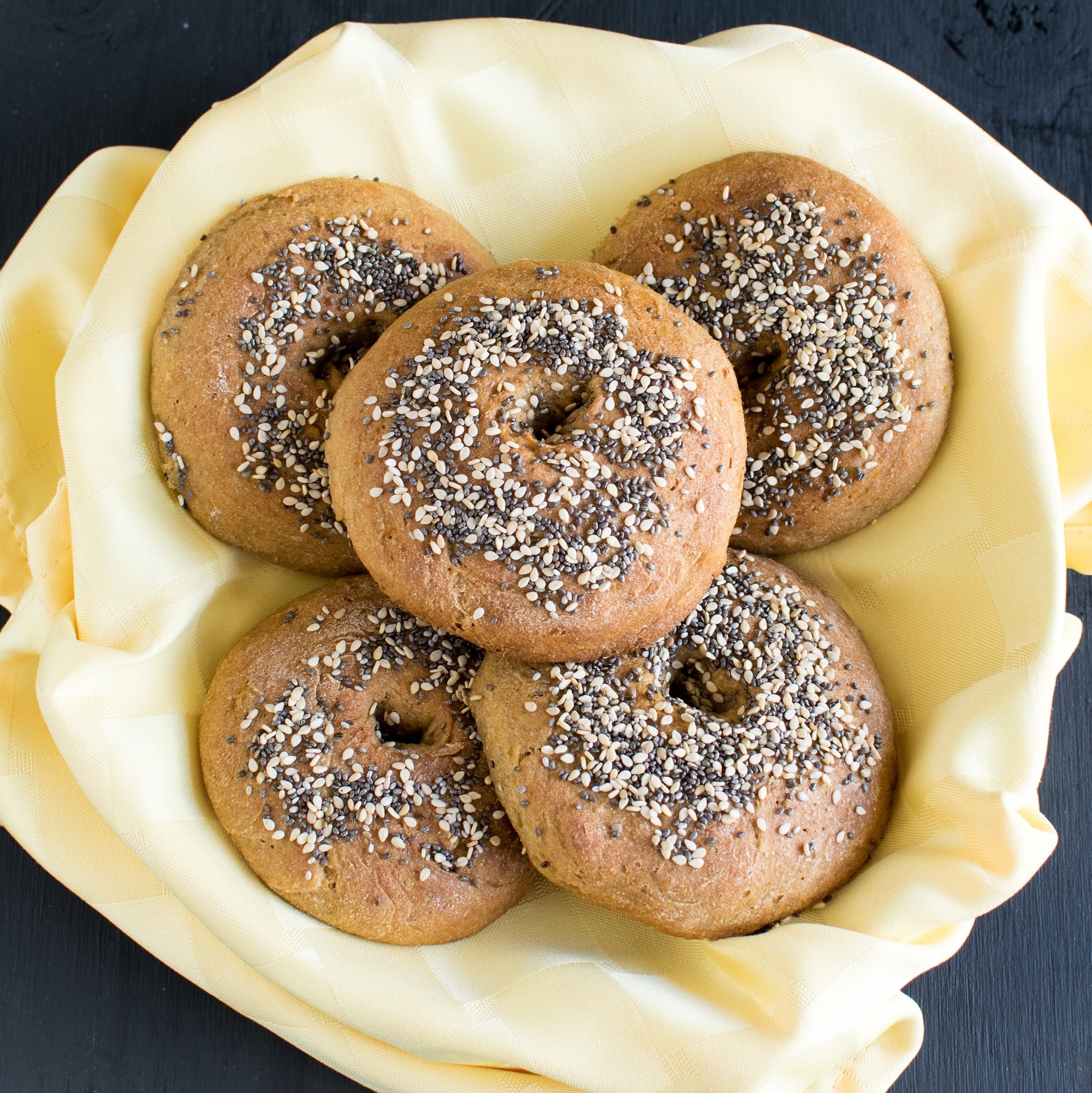 With my yeast experiments continuing, I experimented few bagel recipes at home and I must say that I couldn't stop loving them. It may seem that I am bragging my own recipe but trust me these bagels are not only fresh out of my oven but they are delicious and super healthy. I even tested my recipes on my friends and they loved these bagels so much that now they order bagels to me instead of hopping to some bagel shop 🙂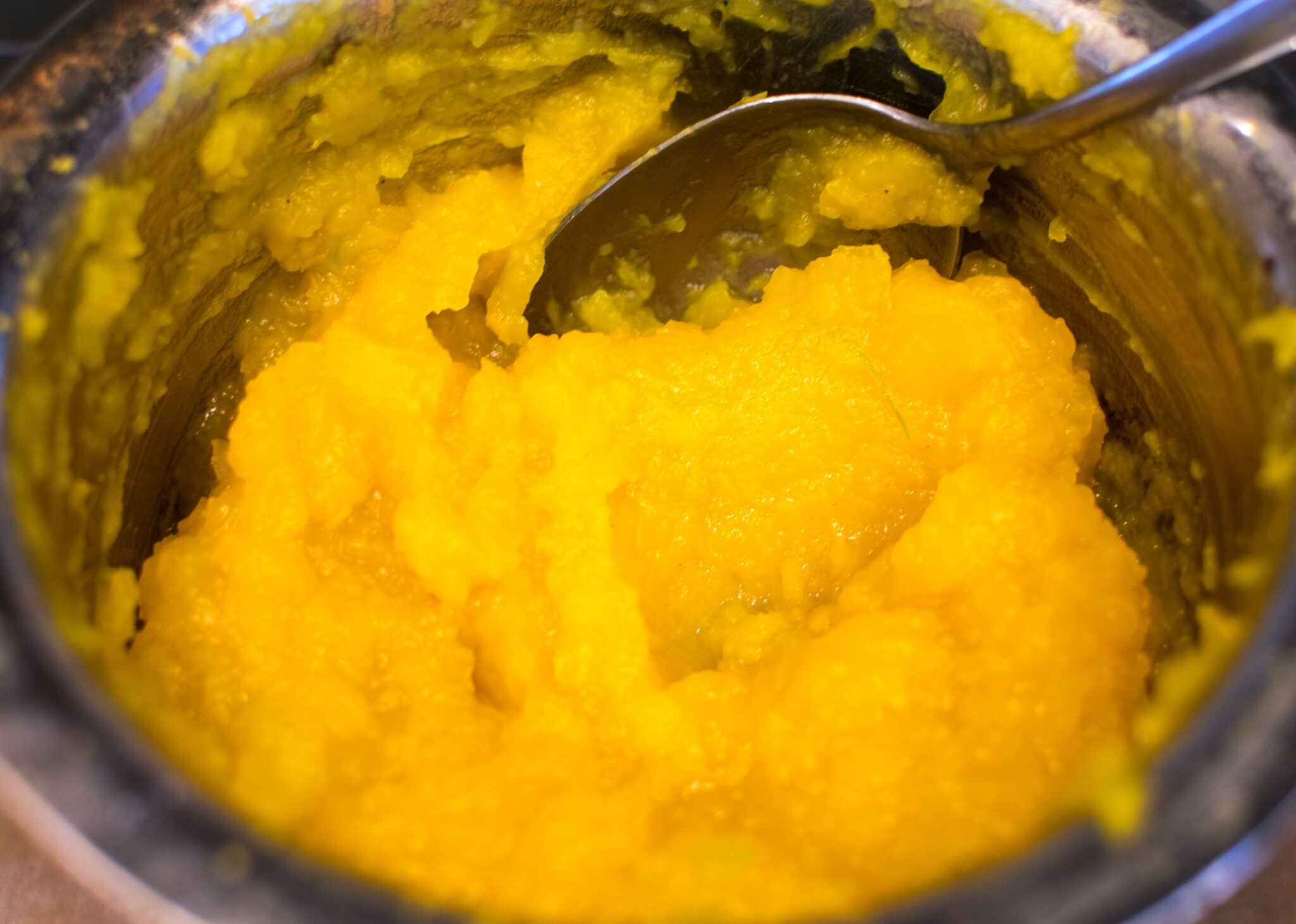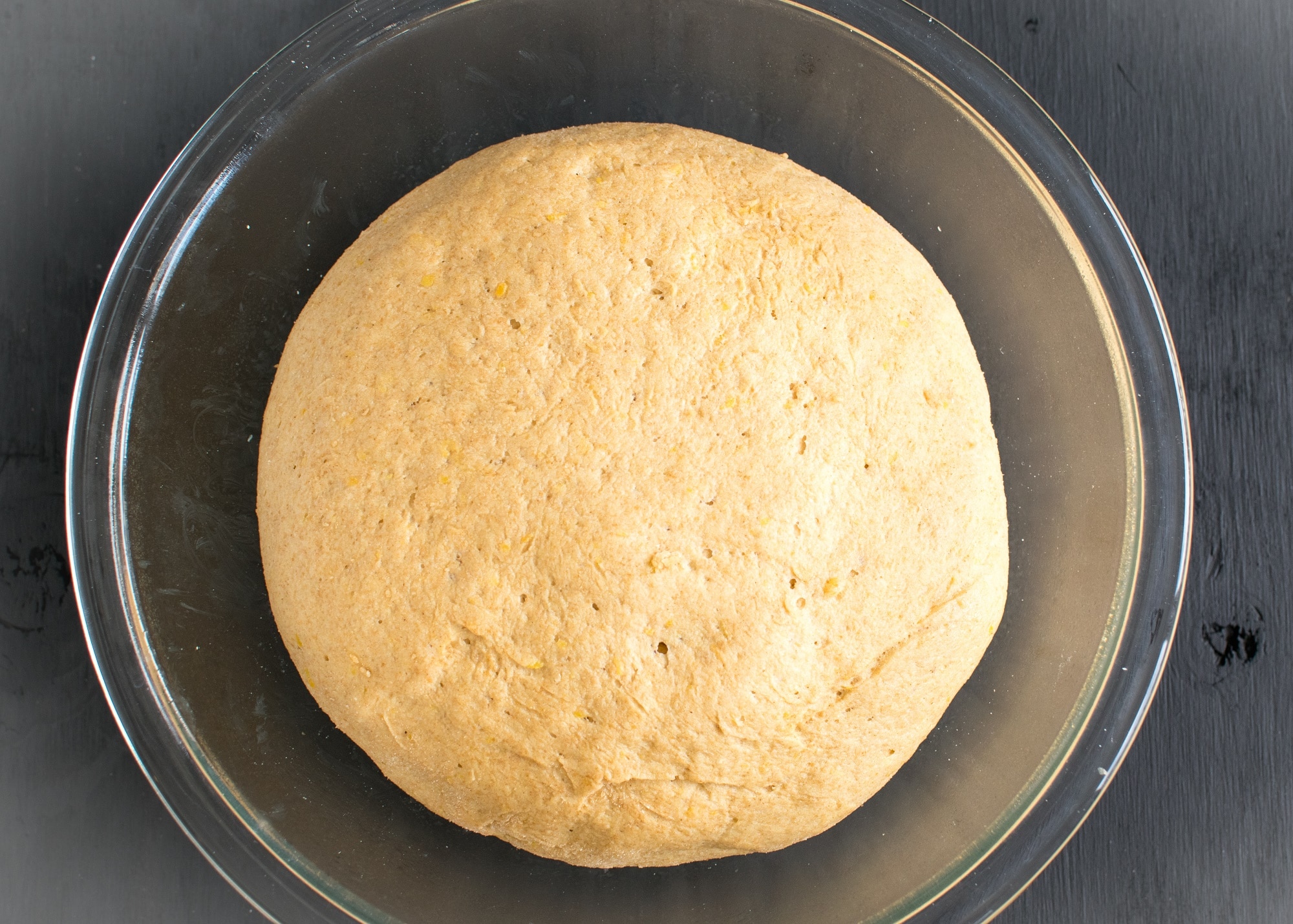 My idea of including vegetables into as many recipes as possible so as to feed healthy and nutritious food to my family led me to this recipe Butternut Squash Amaranth Bagels. Since its fall season and this is the perfect time to gorge on those beautiful and healthful Butternut squash I pureed this vegetable at home. I used Amaranth flour because I believe in using healthy grains as always. Amaranth is not only gluten free but it's a complete protein along with being high in fiber. It's the new super grain that's picking up popularity recently. I used rapid rise yeast because it's easy to use and takes less time to rise as compared to other types of yeast. Lastly, I used 100% whole wheat flour to bind these bagels into dough and shaping them. (To make it complete gluten free bagels you may use gluten free flour that's easily available in any store).  And if you plan to be more creative top these bagels with your choice of seasonings and seeds. Here I used chia seeds and white sesame seeds but you can use flax seeds or some seasoning salt or pizza seasoning as per your palate.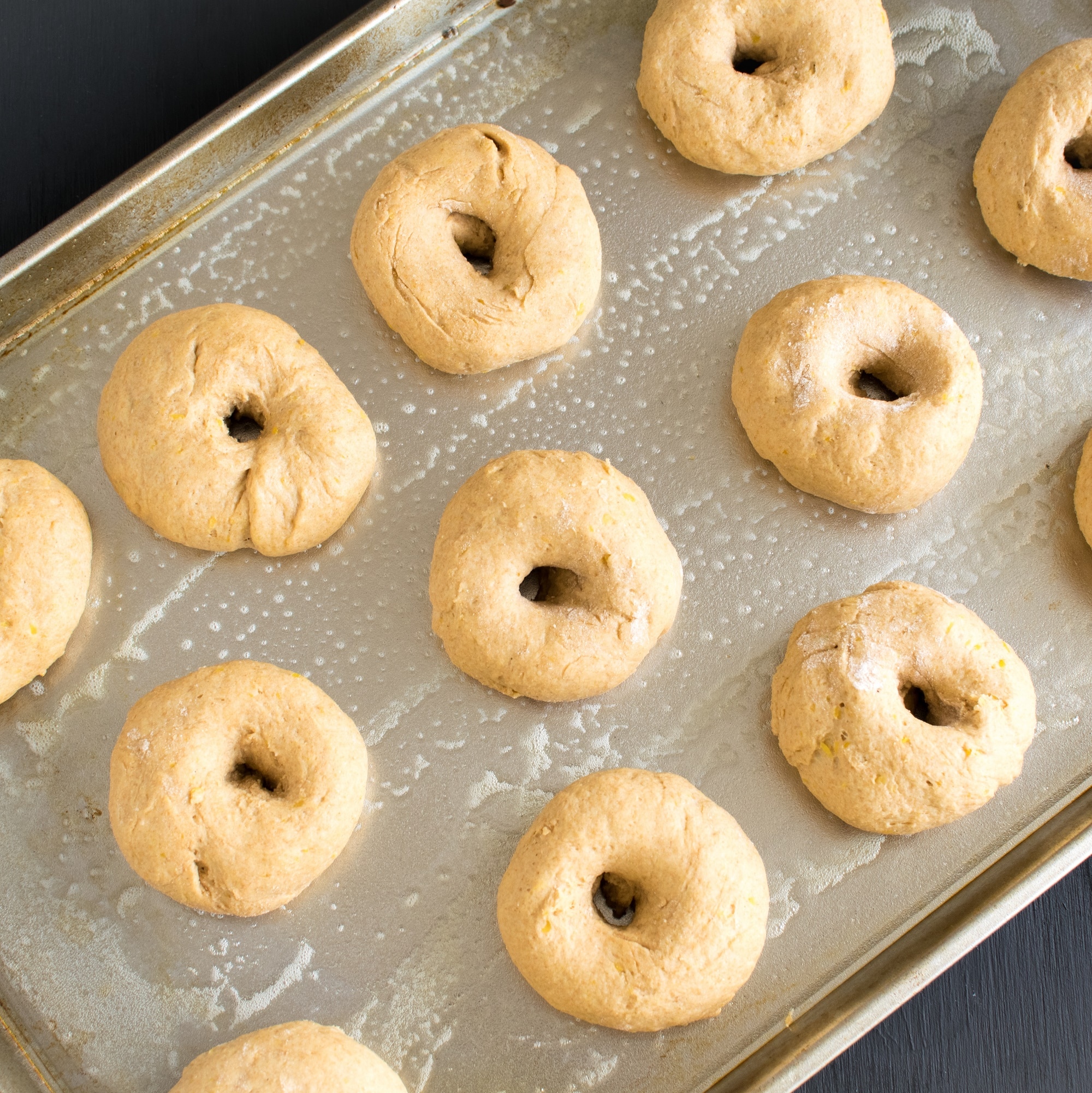 So, while my family was sleeping and I was brewing my coffee I quickly made dough out of all the ingredients which took about only 10 minutes. While, I was cuddling Yashvi in the morning I left the shaped bagels to rise for an hour or so. That's not too difficult because that gave me enough time to make some scrambles and some extra food items for Yashvi because it was Saturday. By that time Bagels were ready to bake. In about half an hour I served warm, aromatic, nutritious and fresh out of oven bagels to my family and some surprise visitors as well.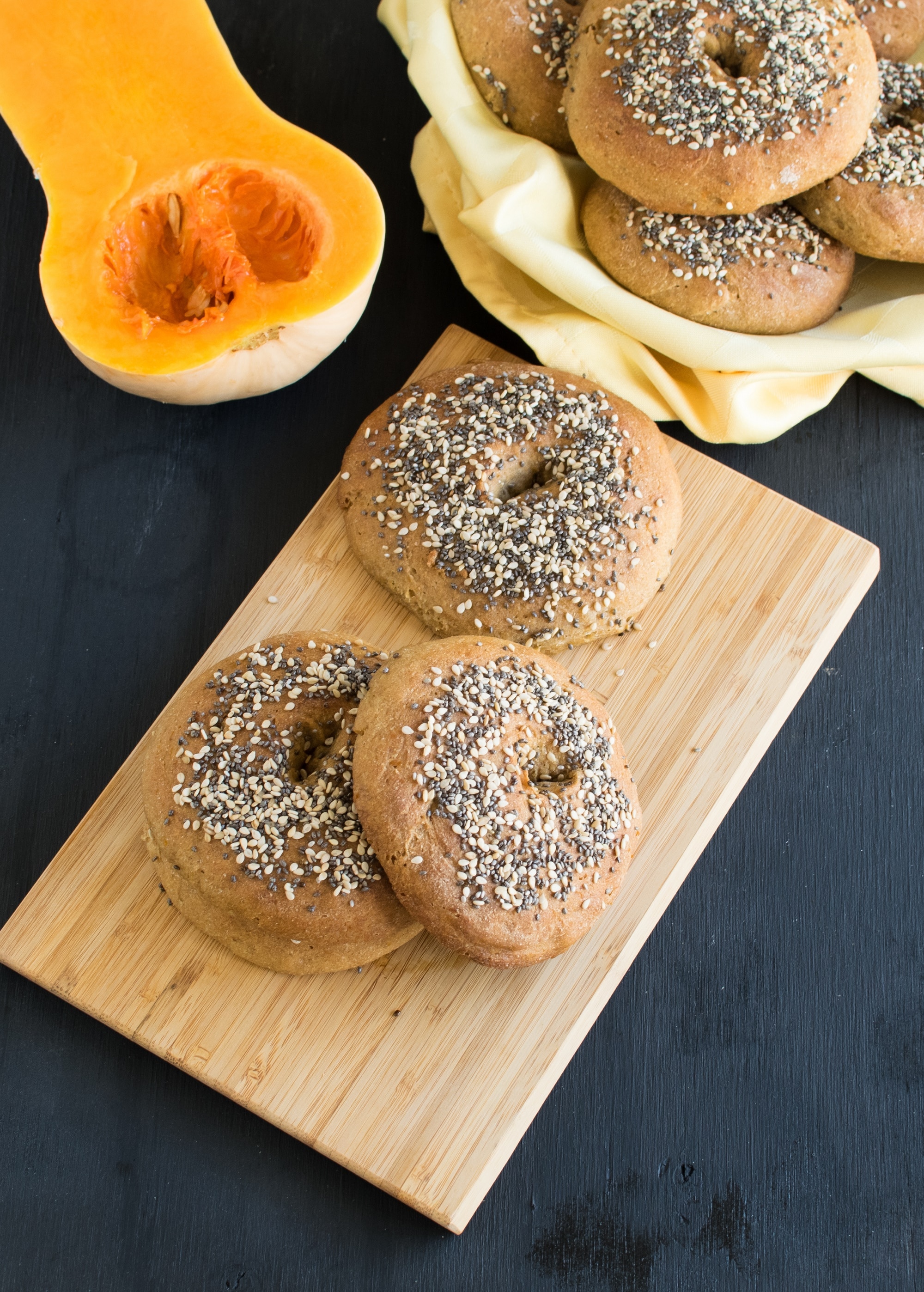 I couldn't be happier seeing happily chattering friends and family on my breakfast table and feeling content from inside when I heard them praising my recipe.
Have fun baking weekends!!!!!!!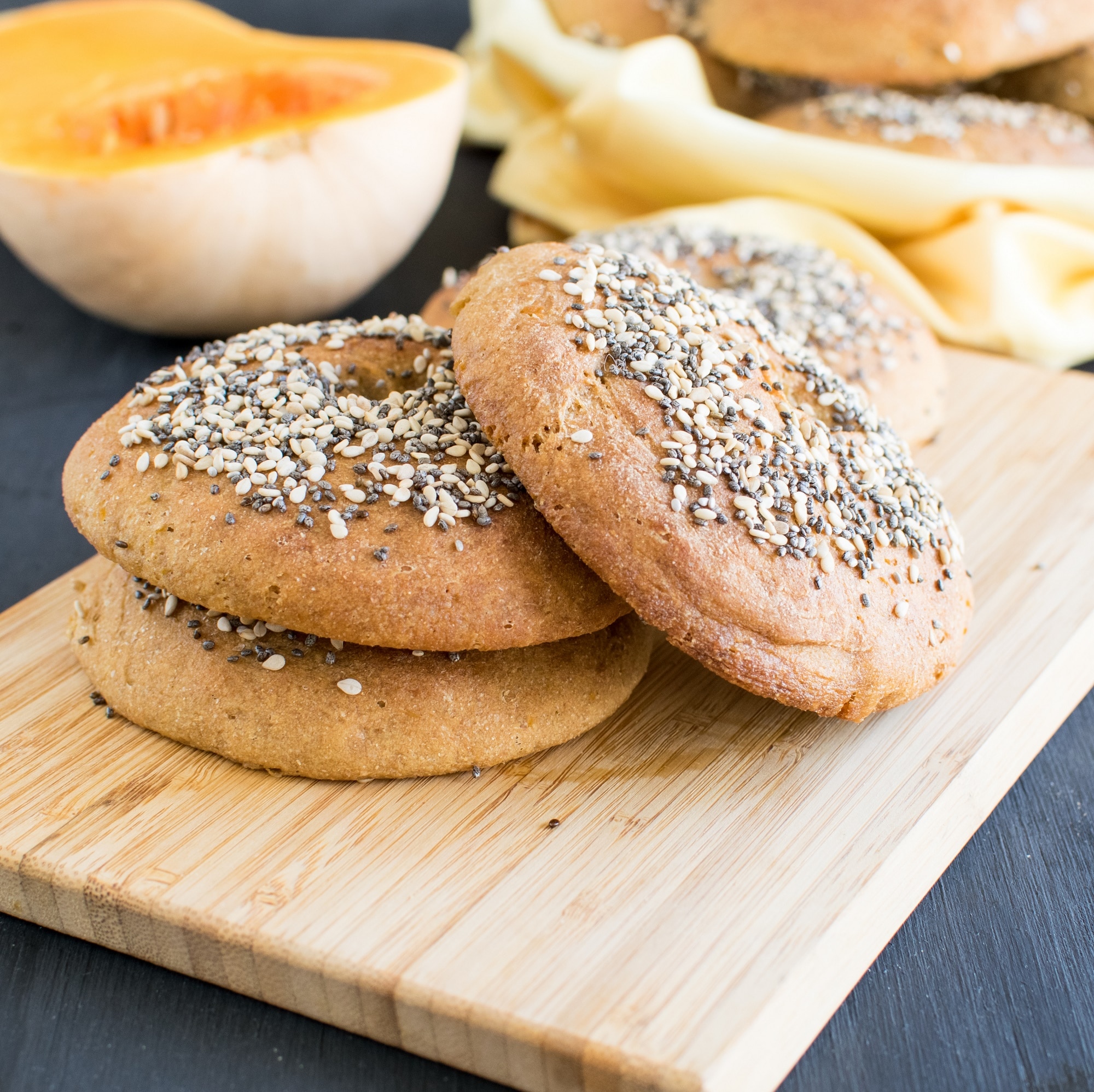 Butternut Squash Amaranth Bagels
Prep Time: 1 hour, 30 minutes
Cook Time: 35 minutes
Total Time: 2 hours, 5 minutes
Per Serving 204 calories
Fat 3 g
Carbs 40 g
Protein 7 g
Ingredients
2 cups chopped butternut squash
½ cup water
2 cups amaranth flour
2 tbsp. brown sugar
¾ tsp salt
2 envelops of rapid rise instant yeast
1 cup warm water
2 cups whole wheat flour
Instructions
In a saucepan combine butternut squash and ½ cup water and boil until squash softens enough to be mashed with a spoon. (Do not drain the water, mash in the water itself).
In a large mixing bowl combine amaranth flour, salt, sugar and yeast. Mix very well a spoon until well blended.
Make sure the squash is at 120 degree Fahrenheit when combining it with flour. Also 1 cup warm water should be of the same temperature.
Now combine mashed squash and water to the yeast flour and beat at medium speed.
Now add whole wheat flour gradually so the dough sticks to each other.
Rub your hand with flour and take out the sticky dough on a dusted surface. Knead the dough with the heel of your hand shaping it into a ball. Rub your hands with flour and keep dusting the surface with flour until the dough is firmer and stops sticking to hand.
In a greased big bowl put the dough and turn it over so the oiled dough is on top. Over with a plastic cling or with a kitchen towel and let rest for 10 minutes.
Take out the dough and form 12 small balls. (If the dough starts to stick rub your hands with flour again). Now, with your index finger make a hole at the center of each ball.
Place them on the greased cookie sheet. Cover with towel and let rise in a warm place for 60 minutes.
Preheat the oven at 375 degree Fahrenheit. Once raise brush the top of the bagel with regular milk/dairy free milk and top it with your choice of seeds.
Place the cookie sheet in the middle rack of the oven and bake for 35 minutes.
Take the cookie sheet out of the oven and let it cool completely.
Notes
Warm up the water up to 120 degree Fahrenheit.

These bagels can be stored in an air tight container in the refrigerator for up to a week.