Whole Wheat Flour folded in fresh pureed blackberries and sweetened with maple syrup. YUM!
Believe it or not I thought I would get away with just making regular cookies and I was munching on this Whole Wheat Blackberry Easter Cookies when suddenly my little one screamed out of excitement…..
BUUNNNYYY COOKIIEESSS!!
I was startled and turned around. I saw her jumping and laughing and at that moment I decided to decorate these cookies for Easter and more so for her. I was equally excited and wanted to make another batch of cookies that would be perfect for the occasion.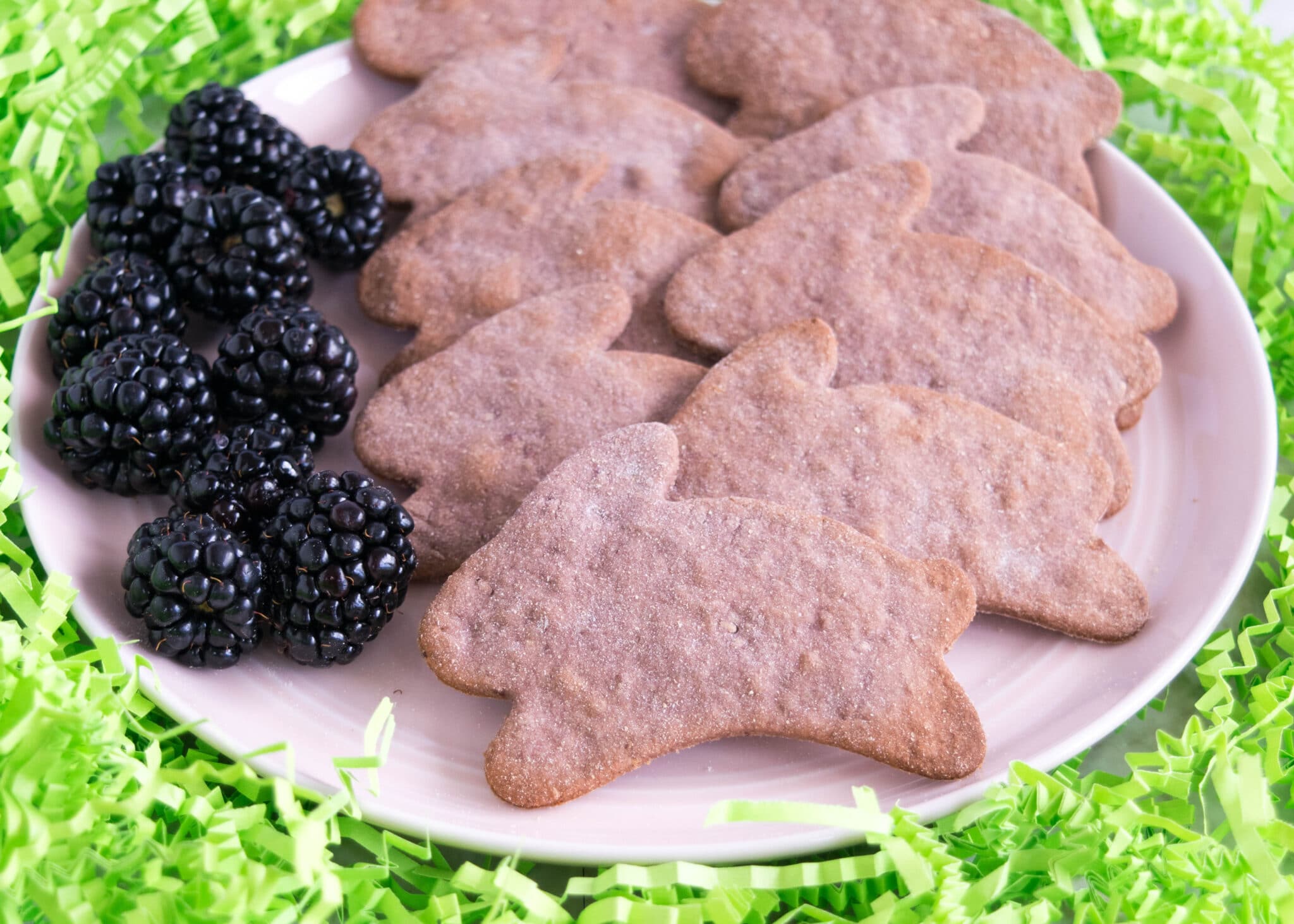 I had bought hopping bunny shaped cookie cutter while walking through the store. At that time I had no intentions of making these Easter Bunny Cookies but this cookie cutter was so adorable and cute that I could not resist and had to get one for myself. Now I think it was the right decision on my part because my daughter was super happy and we got into the spirit of Easter. 🙂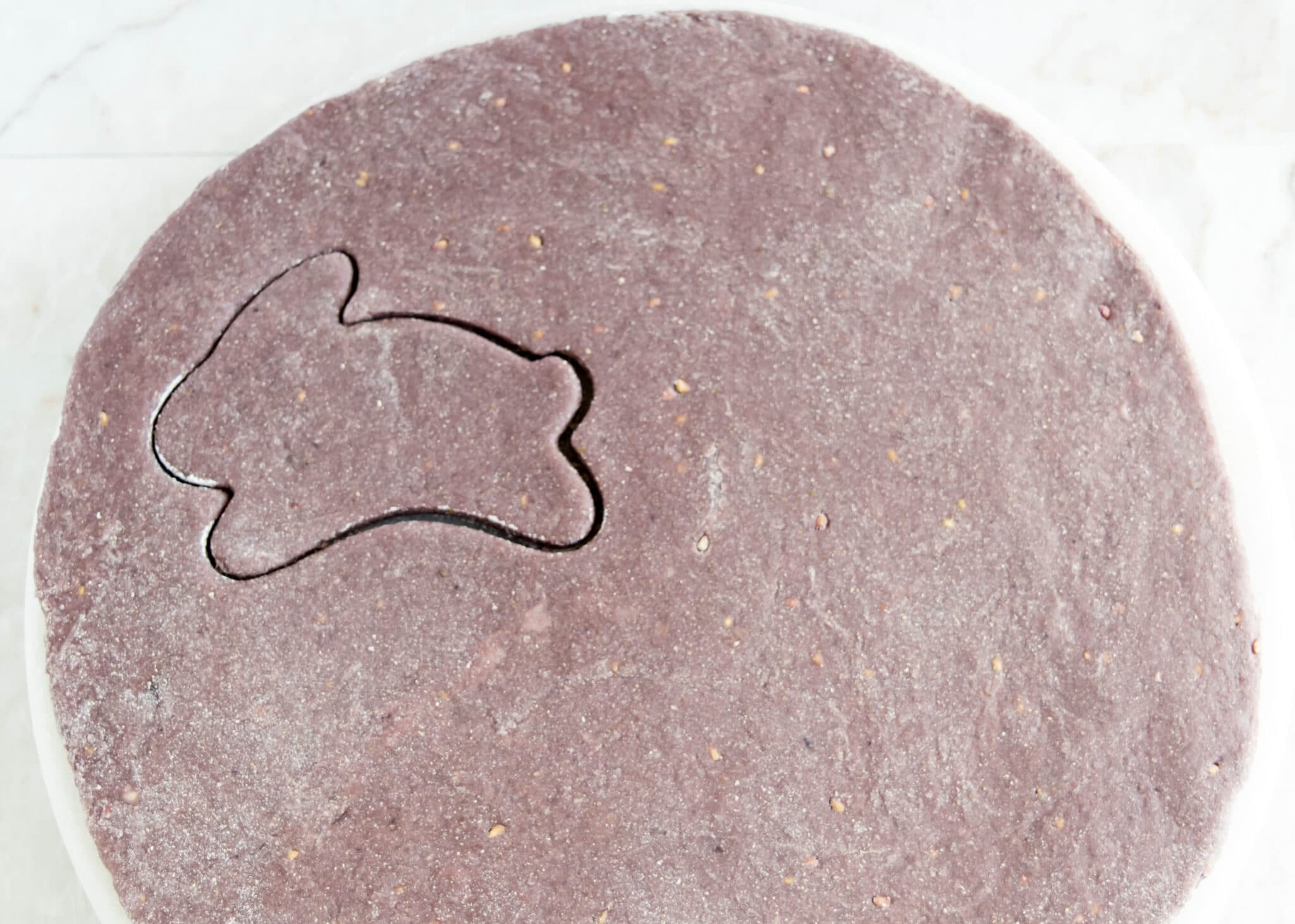 I quickly combined all the ingredients and shaped them into bunny cookies and baked them. I prefer crispy cookies so I baked the cookies immediately but for my daughter I refrigerated the cookie dough for 10 minutes before baking them into softer cookies. When I took the tray out of the oven the cookies looked beautiful.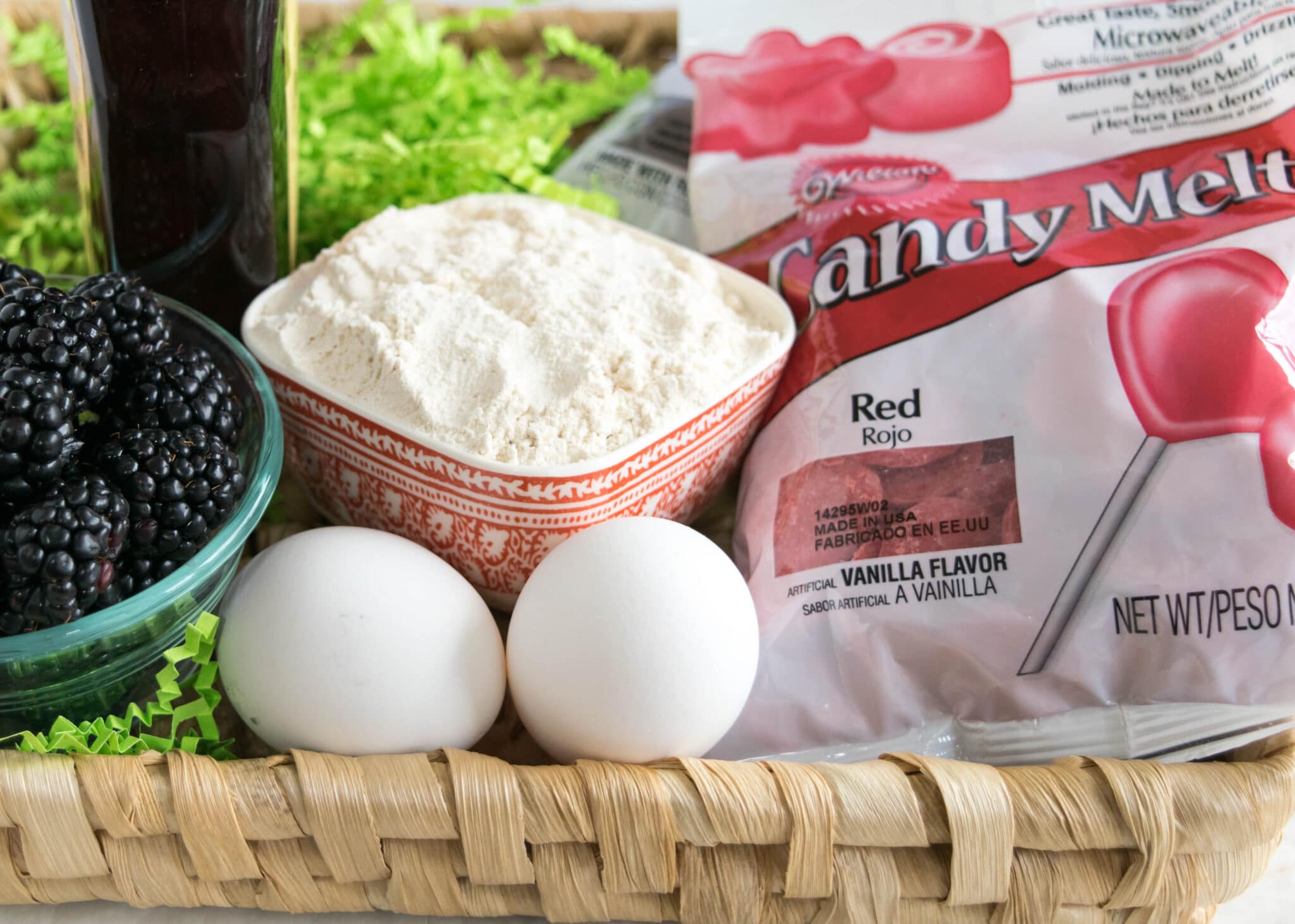 I got some colorful candy melts and sprinkles to decorate these Whole Wheat Blackberry Easter Cookies (or "bunny cookies" as Yashvi calls them). She also participated in decorating the cookies with me and it was a super fun afternoon baking and decorating these Easter cookies. 🙂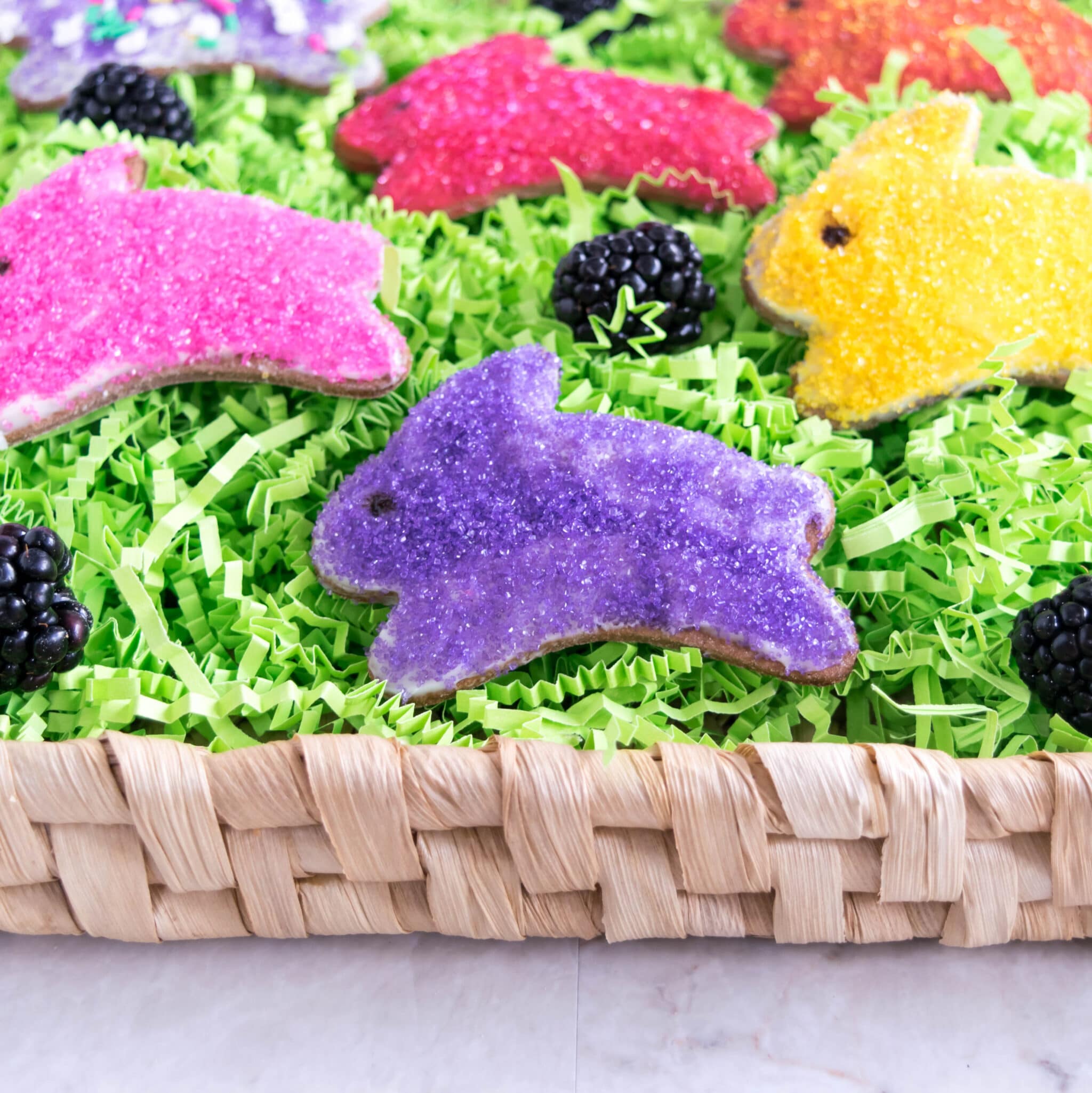 When done these Whole Wheat Blackberry Easter Cookies looked beautiful and super cute and trust me at that moment both of us didn't have the heart to bite into them. These seemed to be in some wonderland hopping on the grass chasing after the blackberries.
Don't you think so?
We preserved them in a container for few days and then finally tasted these cookies. Whole Wheat Blackberry Easter Cookies were delicious and flavorful along with health and I am about to make another batch of these "bunny cookies" next week. 🙂
Happy Healthy Easter!!!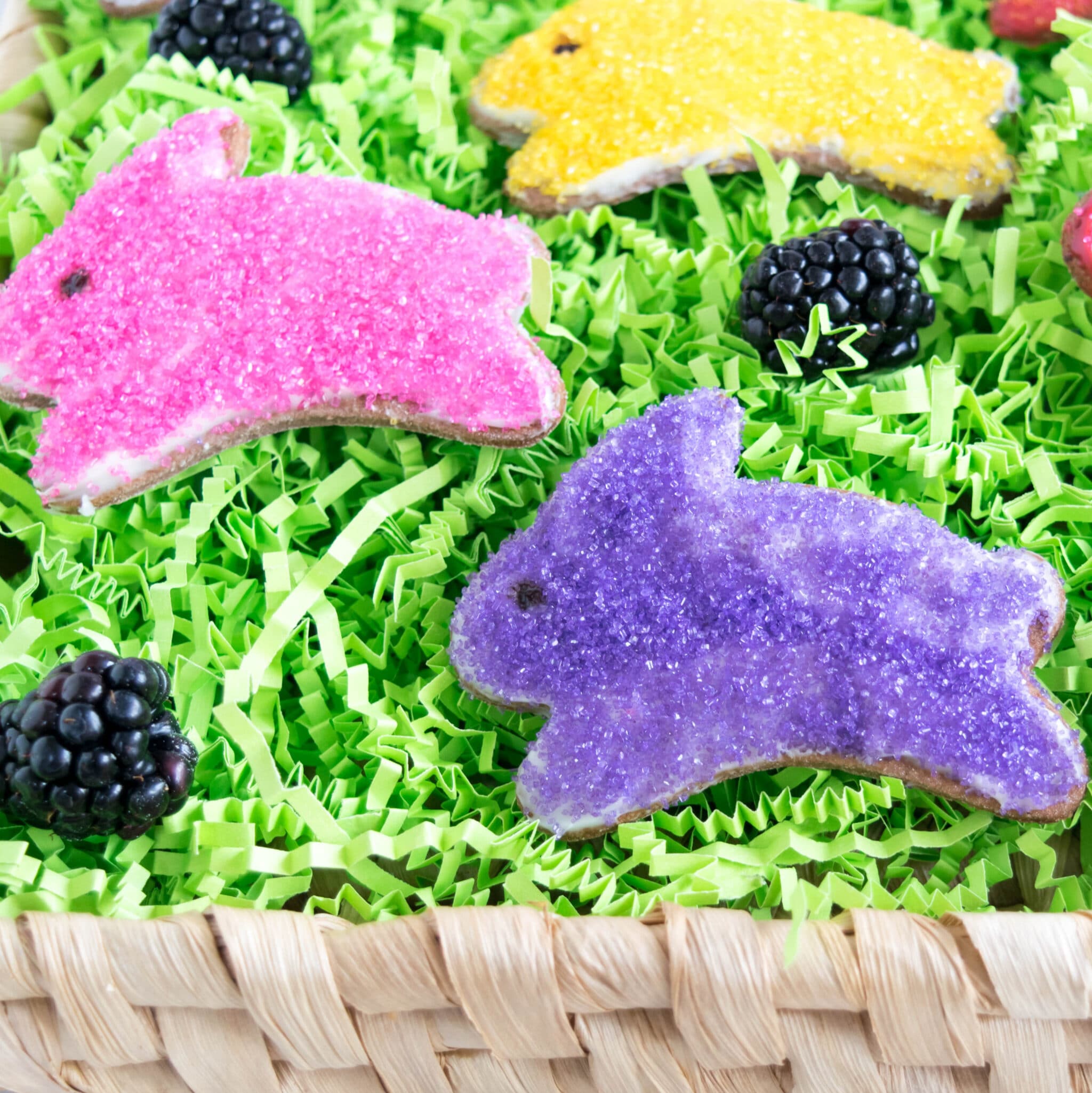 Whole Wheat Blackberry Easter Cookies
Prep Time: 10 minutes
Cook Time: 15 minutes
Total Time: 25 minutes
Per Serving 81 calories
Fat 1 g
Carbs 17 g
Protein 2 g
Ingredients
1 ¾ cup whole wheat flour
½ tsp baking powder
1/8 tsp salt
½ cup black berries
1 egg
½ cup maple syrup
1 tbsp. vanilla extract
½ tsp olive oil
1 cup candy melts (for decoration, optional)
Sprinkles (as per requirement for decoration, optional)
Instructions
Preheat the oven at 400 degree Fahrenheit and prepare a cookie sheet with a liner.
In a mixing bowl combine the dry ingredients (except blackberries).
In a food processor combine blackberries along with the wet ingredients and process until smooth. May take about 2 minutes.
Pour the wet ingredients into the dry ingredients and start folding with a spoon. Once coated use your hand to knead into a dough. (Dough maker can also be used to knead it). I prefer using hands to knead it into dough.
If you want your cookies to be soft put the dough in a covered container into the refrigerator for 10-15 minutes before rolling. I wanted my cookies to be crispy so I immediately rolled out the dough but kept half of the dough in the refrigerator for my daughter because she likes softer cookies.
On a flat dusted surface roll out the dough up to ¼ inch thick and as smooth as possible.
With your choice of cookie cutter shape your cookies and place them on the cookie sheet.
Put the cookie into the oven and let it bake for 10-15 minutes. Until the sides start to brown.
Take it out and let the cookies cool down completely before decorating them.
You may eat the cookie with no decoration also. It will taste as good and is healthier. You will be cutting down on lot of sugar as well.
If you plan to decorate the cookies melt the candy melts as per the package instructions.
Spread the melts on one side of the cookie with a knife/small brush evenly. Sprinkle and let it stand for 1 minute.
Notes
I used the hopping bunny cookie cutter you may use any cookie cutter of your choice.

For bunny eyes I dissolved some cocoa powder in water and used toothpick to circle the eyes. You may just melt some chocolate chip and use toothpick for the eyes. (If you plan to melt chocolate chip just microwave them in a microwave safe bowl for stirring constantly in every 30 seconds).

Feel free to reuse for more cookies if you have any leftover dough after cutting the cookies.