Spinach, Turnips, Paneer sautéed together with Wheat Berries and flavored with fresh garlic, fennel seeds and poppy seeds  and spiced mildly with red pepper flakes and herbed with oregano.
Complete and filling lunch with a balance of fiber, protein, calcium, good fats and right amount of healthy carbs. So satisfying!!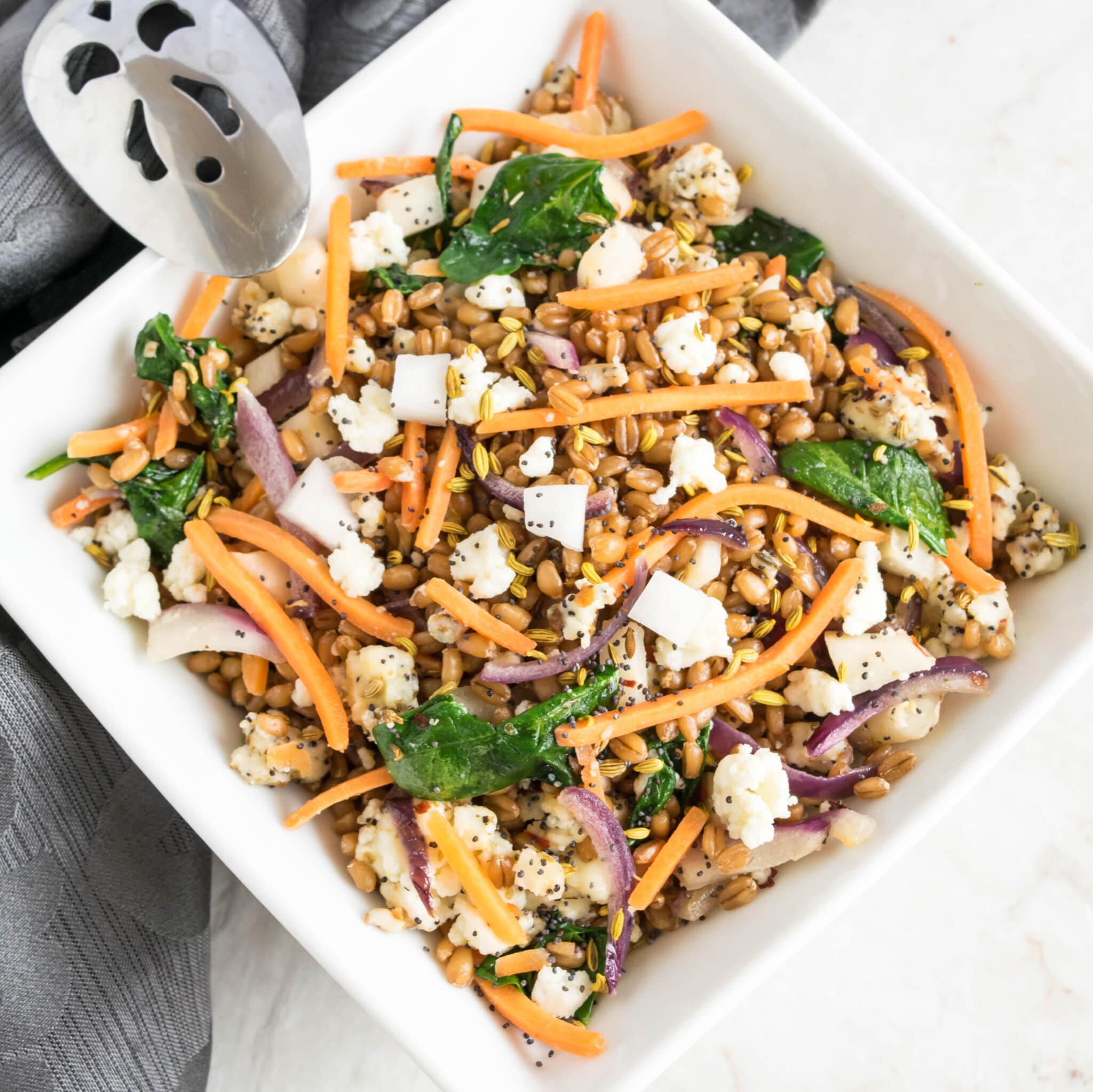 I prefer a quick easy lunch and at times it gets difficult to figure out the right lunch option for me since I am conscious that my meal should consists as much nutrition as possible.  I always try to include some good carbs especially in my lunch because after the morning workout I don't want my body to starve so I eat a balanced nutritious meal to stay energetic for the rest of the day and not crave for any unhealthy snacks. Therefore, lunch is an important part of my diet.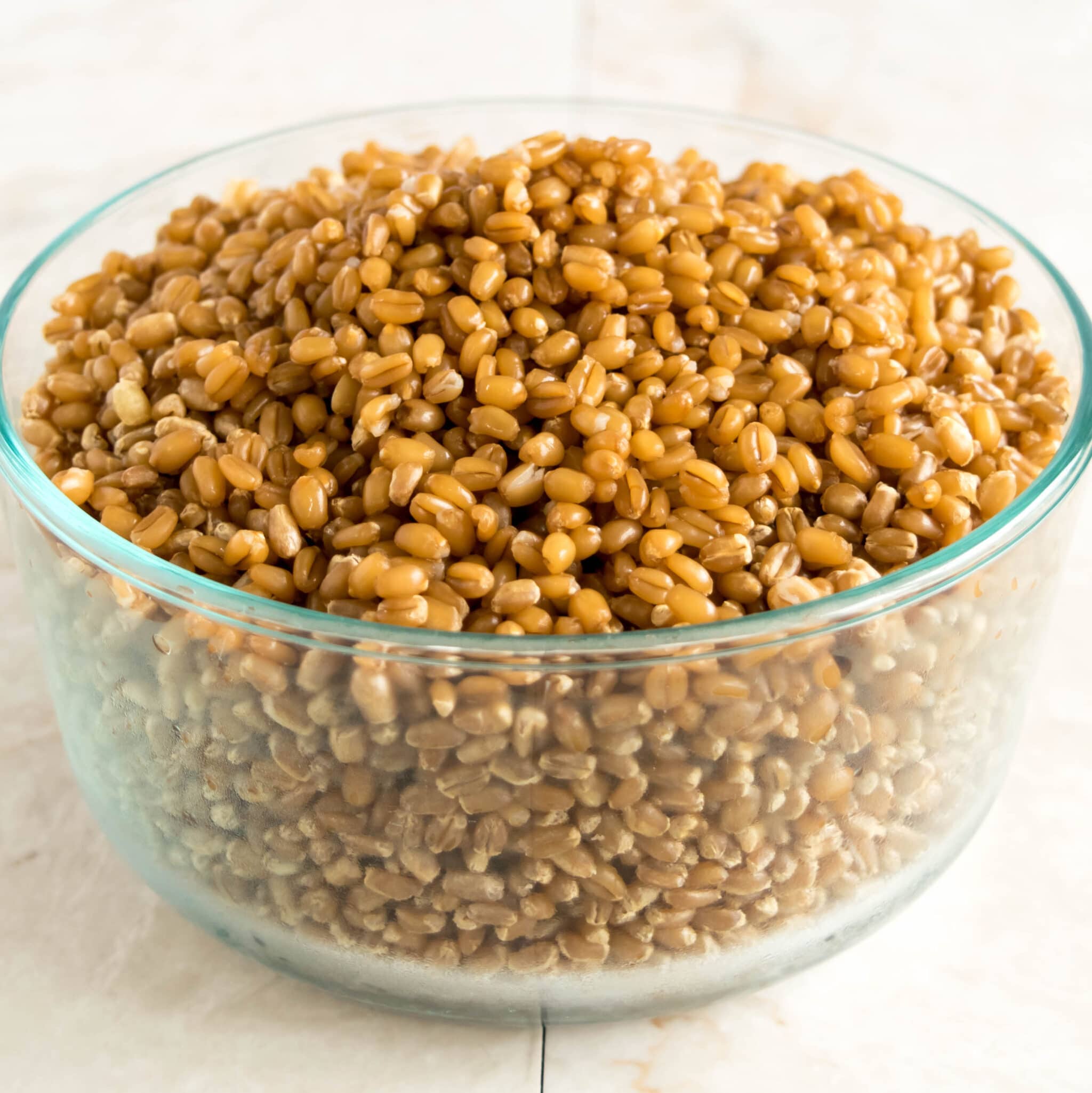 Few days back I came across this wonderful grain Wheat Berries. I cooked the wheat berries to just see the outcome and it smelled so delicious and immediately an idea struck my mind to saute it with some vegetables especially spinach and paneer and flavor it with fennel seeds. YUM! The idea in itself was so tempting that next day I went to the store to buy fresh baby spinach and turnips and started the process of cooking my new creation WHEAT BERRIES SAUTEED WITH PANEER AND VEGETABLES.
Wheat Berries are high in protein and fiber, chewy and brownish in color and not sticky at all.  Wheat Berries are the seeds of a wheat plant and are very nutritious with folic acid, Vitamin B and Potassium and most importantly they are low in fat. 🙂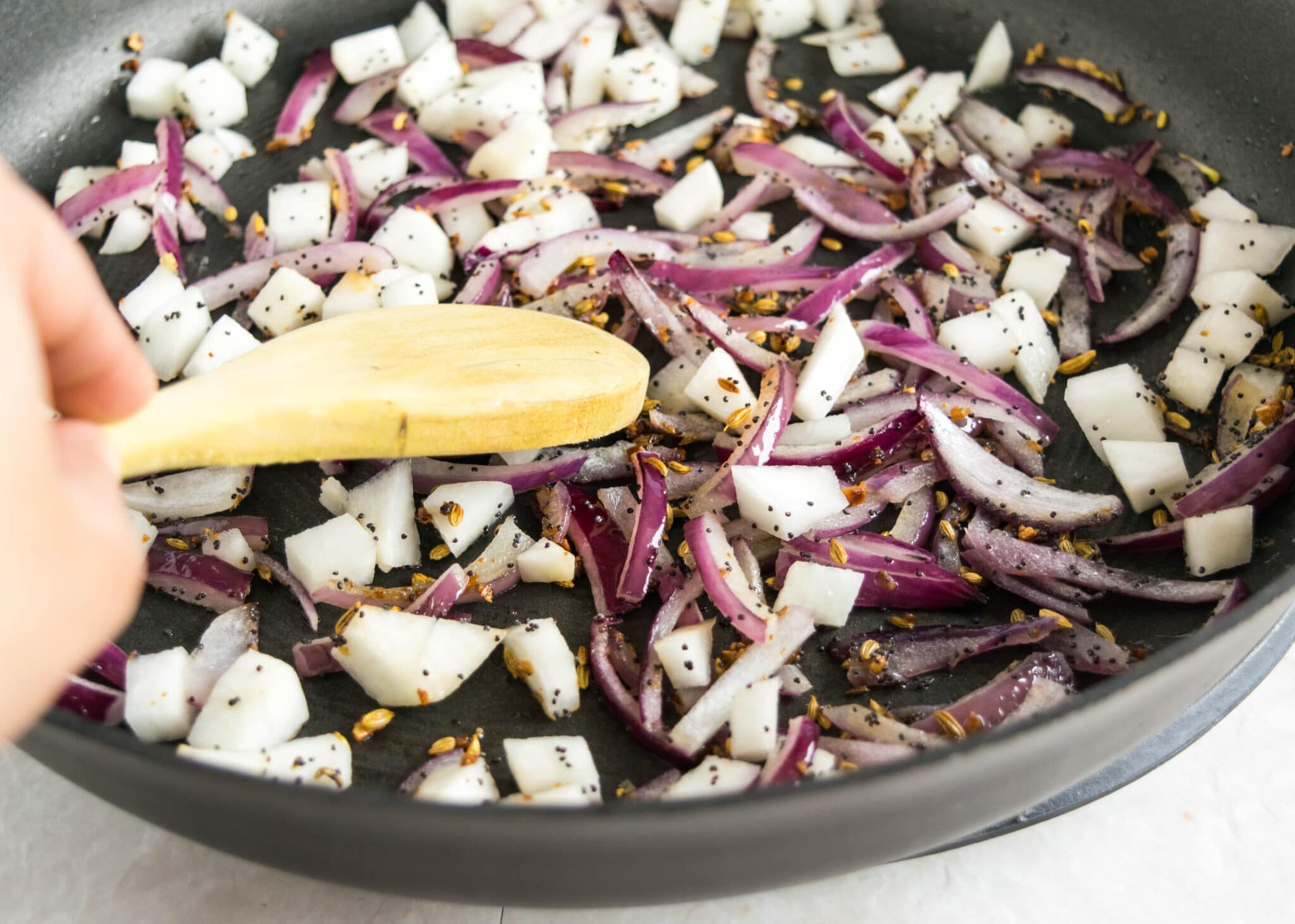 Coming back to the recipe I heated some olive oil in a wok and added garlic and fennel seeds and saw poppy seeds in my kitchen pantry. Poppy seeds are very nutritious and since I always try to add required nutrition in my lunch and usually it's a one pan dish I decided to add poppy seeds. Now I wanted to add turnips to give it a slight twist to my recipe with Asian vegetable. I kept wondering how Paneer and Turnips would tastes together but I still went ahead with the recipe I had in my mind. I added some greens and some carrots because I believe in adding as many colors to a meal as possible to enhance the nutrition level of my dish. I like cooking one pan dish mostly for lunch because it's convenient and less time consuming and hence I try and add as much variety of vegetables to my dish as possible.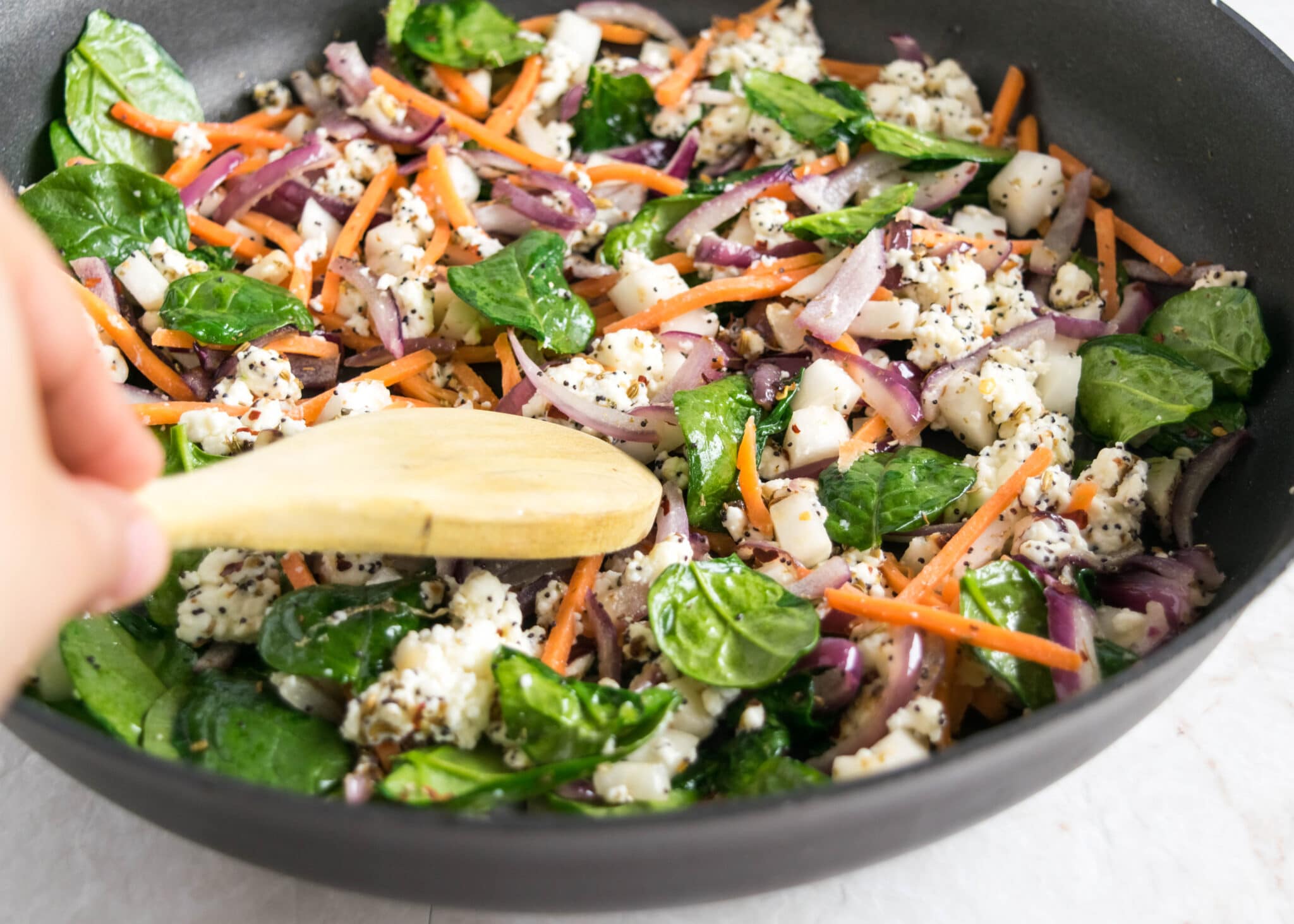 Finally, when Wheat Berries sautéed with Paneer and Vegetables was cooked I took the first bite of my lunch. A smile came to my face.
With the second bite I said Yummy! Satisfying!
With third bite hahahha I was busy eating 🙂 .  NOM! NOM! NOM!
With my last bite I said Fantastic!! I was super delighted with my healthy, nutritious and filling lunch. 🙂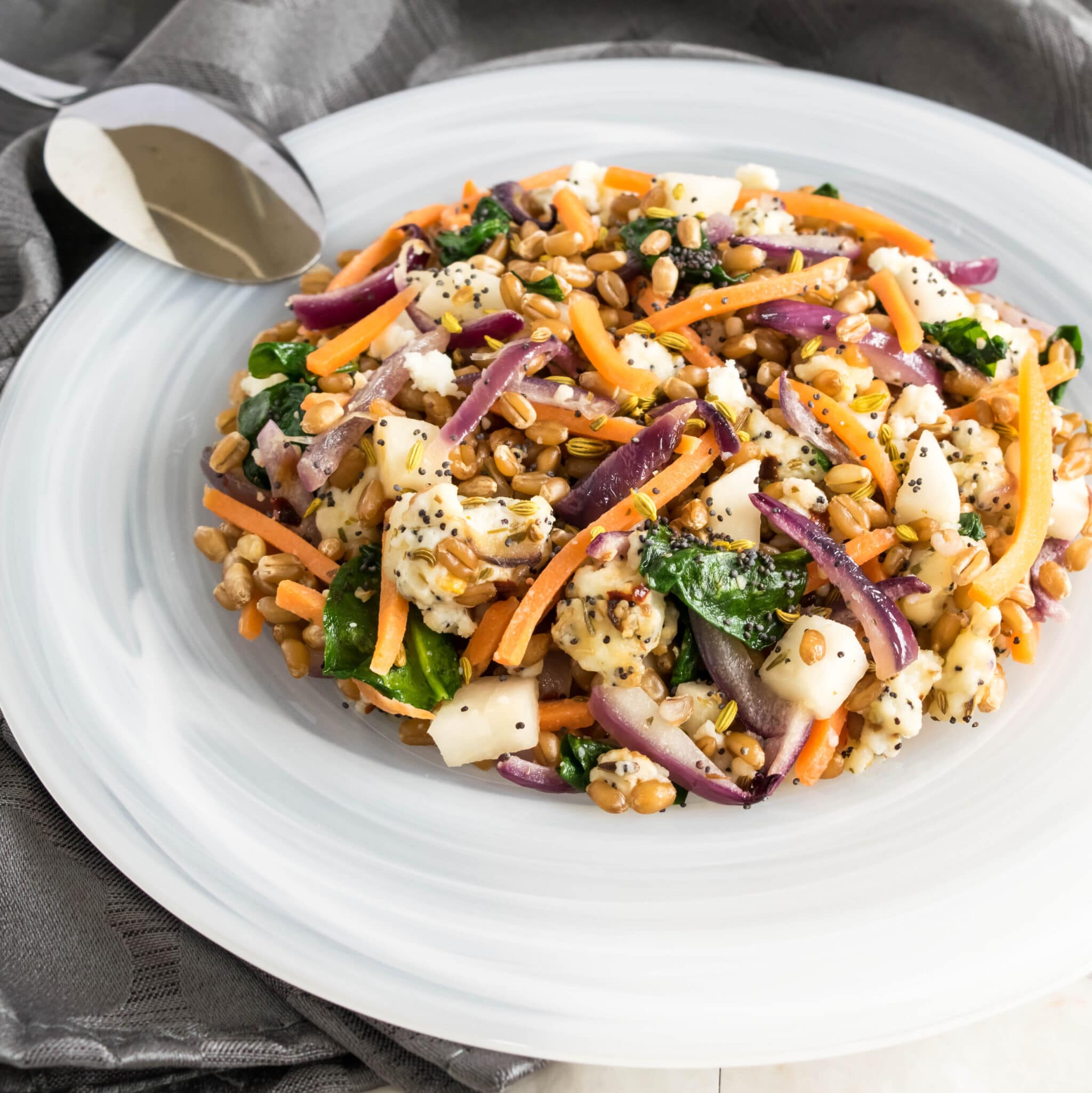 *Click here to buy Wheat Berries
Wheat Berries Sauteed with Paneer and Vegetables
Prep Time: 10 minutes
Cook Time: 10 minutes
Total Time: 20 minutes
Per Serving 263 calories
Fat 5 g
Carbs 48 g
Protein 11 g
Ingredients
1 tbsp. olive oil
1 tsp chopped garlic
1 tsp fennel seeds
1 tsp poppy seeds
1 cup red onions (chopped)
¾ cup turnips (chopped)
2 cups baby spinach
1 cup crumbled paneer
½ cup julienned carrots
1 tsp oregano
½ tsp red pepper flakes
1 tsp salt
2 cups wheat berries (cooked)*
Instructions
Heat oil in a nonstick pan/wok and add garlic, fennel seeds and poppy seeds. Mix them in the oil properly.
Add onions and sauté until onions are soft.
Add turnips, mix and cover for 2 minutes. Cook properly the turnips but maintain its crunchy texture.
Add spinach, paneer and carrots and mix properly so that it's well coated.
Add the remaining spices and sauté well.
Lastly add the cooked wheat berries and mix very well. Cover and cook for 2 minutes.
Turn off the flame and serve warm.
Notes
Cook wheat berries as per the package instructions. You may leave the salt while cooking wheat berries like I did to cut down on sodium.

Wheat Berries sautéed with Paneer and vegetables can be paired with low fat lassi or coconut water.