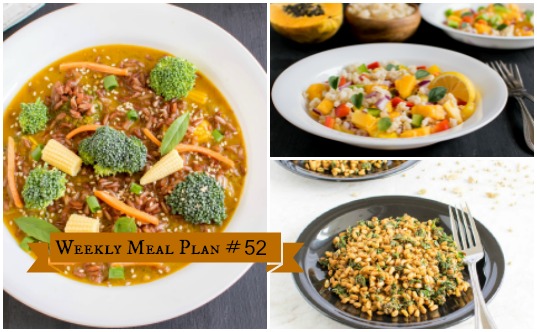 Meal planning is the key to a successful healthy diet. Any health/nutritional expert would vote for regular meal planning, because of the benefits being a plenty. It's one of the most common key to healthier lifestyle and organized life in general. A proper meal planning also helps in maintaining good and healthy diet which again helps in weight reductions and maintenance of a good healthy body weight. It's a saying "Your body shows what you eat".
The other advantages are that meal planning saves a lot of money and time. It eliminates last minute stress which often leads to unhealthy choices, helps to write a proper grocery list and avoids impulsive shopping. Meal planing enables to serve variety of food with balanced nutrition on the table for the whole family.
The meal planner is  in a downloadable PDF document for your convenience to print it and stick it on your refrigerator or save it on your desktop, whatever works for you.  I sometimes use extra ordinary combinations in my recipes but that's what my blog is all about, unique healthy recipes.
I have mentioned some healthy snack ideas here.  The detailed dinner plan with recipe links, breakfast and lunch idea also with recipe links in the PDF printable document.
Also don't forget to read the health tips to stay motivated and in shape 🙂
For Mid-Morning Snacks – include smoothies into your diet to keep you hydrated and full till lunch time.
For Evening Snacks include some low fat yogurt, fresh or dry fruits and nuts. You can also opt for hot snacks if desired.
Click here to find the printable Weekly Meal Plan #52