Hydrating grapes with lip smacking yogurt dip and some walnuts along with greens, this Kale Arugula Grape Salad with Yogurt Dip is my favorite summer salad. I love the combination of fruits and vegetables in a salad and yogurt dip not only provides an enticing flavor to the salad but adds the calcium nutrition to it.
This healthy salad is full of vitamin C, calcium, potassium, iron and many more minerals and super easy to make.  Once you have the hung curd ready it's a child's play to fix this delicious salad and devour it guilt free. 🙂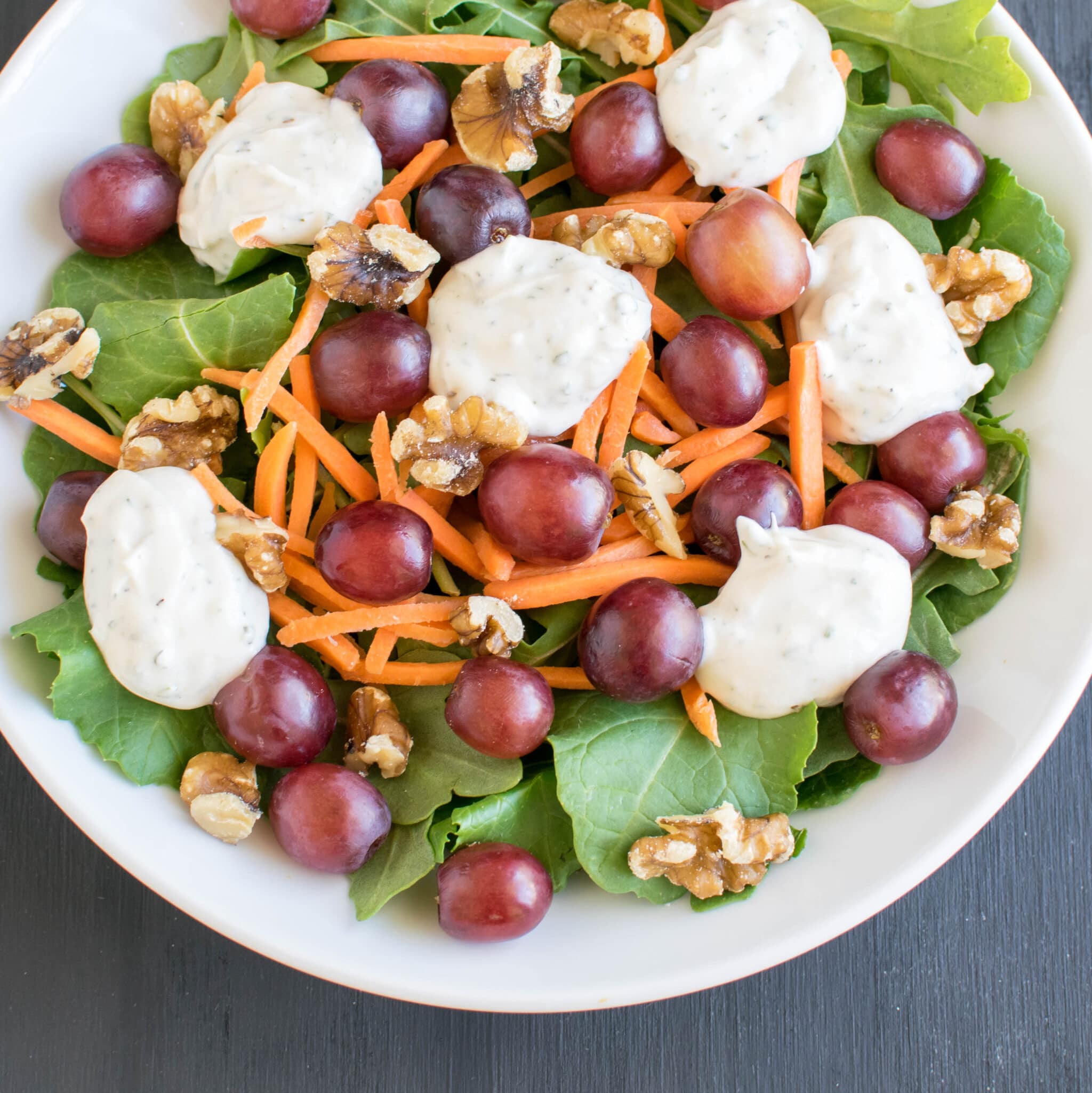 Kale – It's a great detoxing agent with loads of vitamin K and it's a great antioxidant. One of the best green leaves available to eat and live healthy.
Arugula – This mineral rich green vegetable is perfect to improve eye health. it's a great antioxidant source that promotes weight loss and helps in good bone health.
Red Grapes – This hydrating fruit is low in fat and Cholesterol free. A great source of Vitamin C and its antioxidant and anti-inflammatory property prevents constipation, heart disease and provides potassium to stabilize high blood pressure.
Walnuts – The world's healthiest food nourishes thee skin and improves the heart health. Low in calories and high in protein and Omega 3 these nuts are my favorite.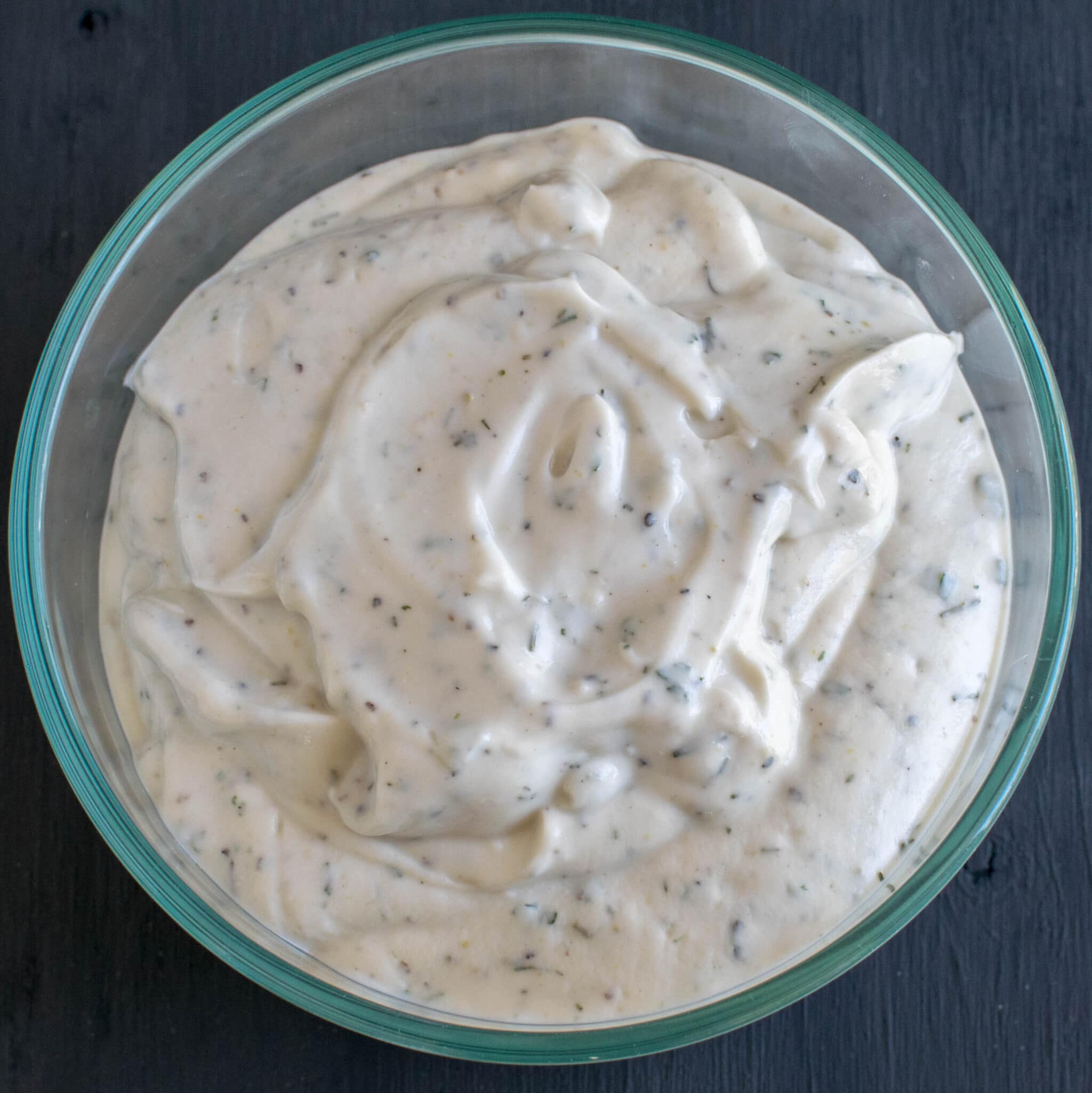 I am totally blown away with this recipe and it has become my regular meal. I enjoy this salad at least 4 times a week and my little one can't stop licking the yogurt dip.  Her love for this yogurt dip and her smile makes me happy and gives me a feeling of satisfaction every time I toss this salad for my family. 🙂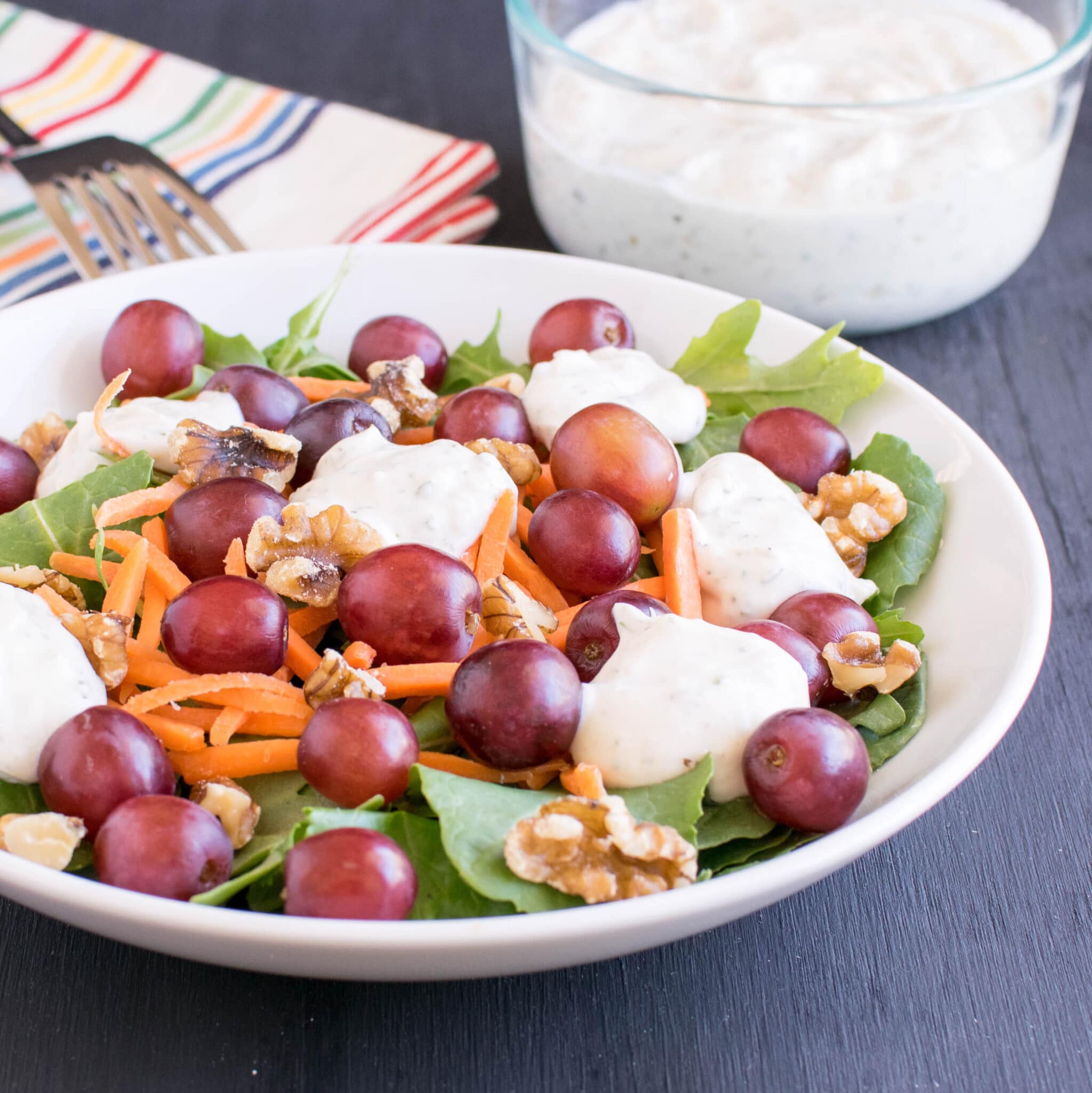 Kale Arugula Grape Salad with Yogurt Dip
Prep Time: 10 minutes
Cook Time: 5 minutes
Total Time: 15 minutes
Per Serving 136 calories
Fat 4 g
Carbs 25 g
Protein 5 g
Ingredients
For the dip

1 cup hung curd/yogurt (low fat)
½ tbsp. sugar
½ tsp salt
½ tsp crushed black pepper
½ tsp garlic (dried)
½ tsp dill (dried)
¼ tsp mustard powder
½ tsp parsley (dried)
1 tsp Worcester sauce

For the salad

2 cups baby kale
2 cups baby arugula
¾ cup julienned carrots
2 cups red grapes (ripe)
¼ cup chopped walnuts
Instructions
In a glass bowl combine all the ingredients for the dip and whip very well.
Now in a salad bowl add all the salad ingredients in the order that is mentioned above and pour the yogurt dip on it.
Mix well and serve at room temperature or chilled.
Notes
The above dip recipe yield about 1 cup.

For the hung curd/yogurt – In cheesecloth/muslin cloth pour 2 cups of thick low fat yogurt and tie it as tight as possible and hang it for 2 hours. Make sure it is creamy in texture. We do now want a runny dip or extremely thick consistency for this salad.

Try to scoop the thick part of the yogurt and avoid/drain the water from the yogurt as much as possible.

The yogurt dip can be made ahead of time and refrigerated for 2-3 days in an air tight glass container.

I personally love the combination of grapes, walnuts and yogurt so I always increase their quantity for myself but feel free to adjust the measurement of the salad ingredients as per your taste.