We have always been talking about motivation or to start living healthy or to find the starting point to live healthy. However, the most important point that we generally miss is about the continuity of our Healthy Habits. Yes, healthy habit is a continuous process.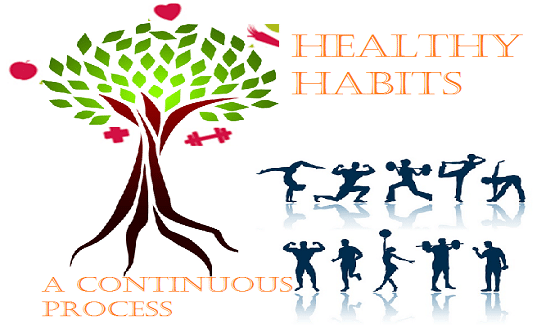 Often times we start to live healthy and try to jump into it all at once. We start dieting immediately, do away with junk foods at home, drive to the sports shop to buy exercises gears, take membership in the gym and so on. All these are the starting point. But then after few weeks we are back again to our old schedule without even thinking once. In all this we never thought of forming Healthy Lifestyle as our habit.
Habits are not formed in one day. It's a continuous process and the best way to achieve is to go slow and form one habit at a time.
Healthy habits reflect our personality, our thinking and our way of living and helps in boosting our inner confidence.
Examples of forming healthy habits are:
1. Always plan to start small.
You cannot achieve all your goals in one day. Take up one health related regime like drinking 8 glasses of water a day.
Try to continue it for a week and log down your achievements.
After the first week if you are still on with it then you are forming it a habit. Now, it's time to move on to forming a 2nd habit which may be sleeping for 8 hours or exercising every day for 30 minutes.
If you go slow you will realize you are forming healthy habits without stressing yourself too much.
2. Now it's time to set a regular schedule.
Dedicate a particular slot of time for your health regime.
By merging healthy habits into your daily schedule will have a greater chance of sustainability and make you more accountable of your achievements.
3. Challenge yourself to set a specific goal.
This will not only motivate you to be healthy but also help you maintain your healthy habits.
The goals should be measurable. It should be an incentive to continue with your healthy habit and from which you can derive pleasure and happiness.
With your new healthy habits you will gain immense confidence, strength, energy and most importantly healthy weight.
When you form healthy habits you tend to shift to healthy eating. As a result, it becomes a part of your regular habit without much pain. You automatically become conscious and make right selection of food.
Initially, forming healthy habits may require some discipline but with this you will be able to create a regular healthy habit. Therefore, eventually, it will be a part of your life which you will start enjoying and forget the initial efforts. 🙂
You may also be interested in the following:
Where to Start healthy lifestyle
Health tip of the week
"Start small, Bring discipline and create healthy habits for better lifestyle".
References: