Paneer marinated in fresh orange marinade, then baked and tossed in with fresh kale and red cabbage.
So healthy, delicious and filling! 🙂
My lunch that defines me completely. 🙂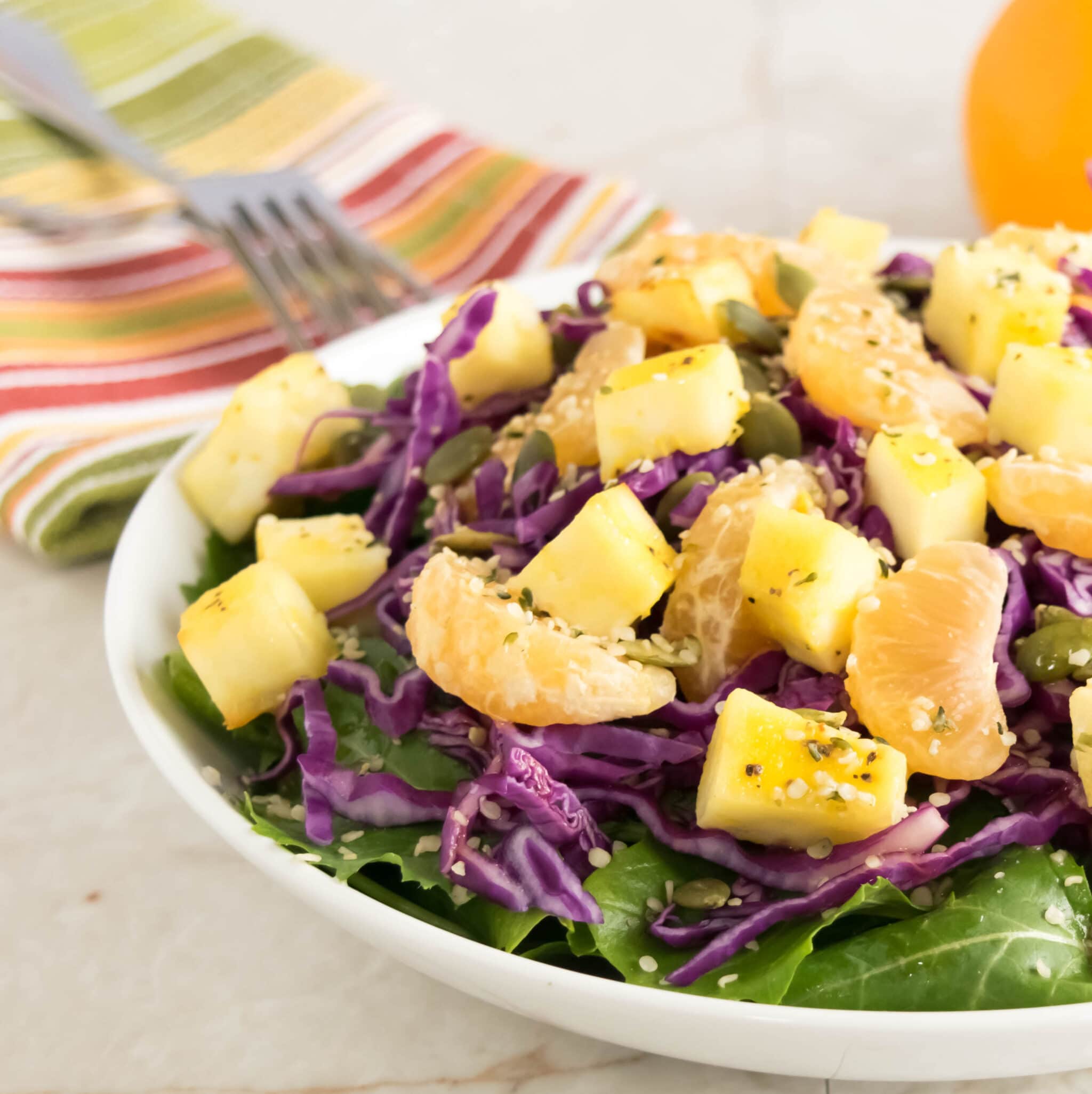 Last week, I was driving back home after dropping my daughter to her school and I was hungry. I wanted to eat something healthy, low carb, yet filling. I wanted to refresh myself with some vitamin C like fresh orange juice. I wanted a healthy and hearty lunch and I wanted to eat paneer in some baked form, at the same time I was craving for some fresh salad leaves.
Hmmm. I guess too may cravings at the same time. But this situation is not unusual with me. 🙂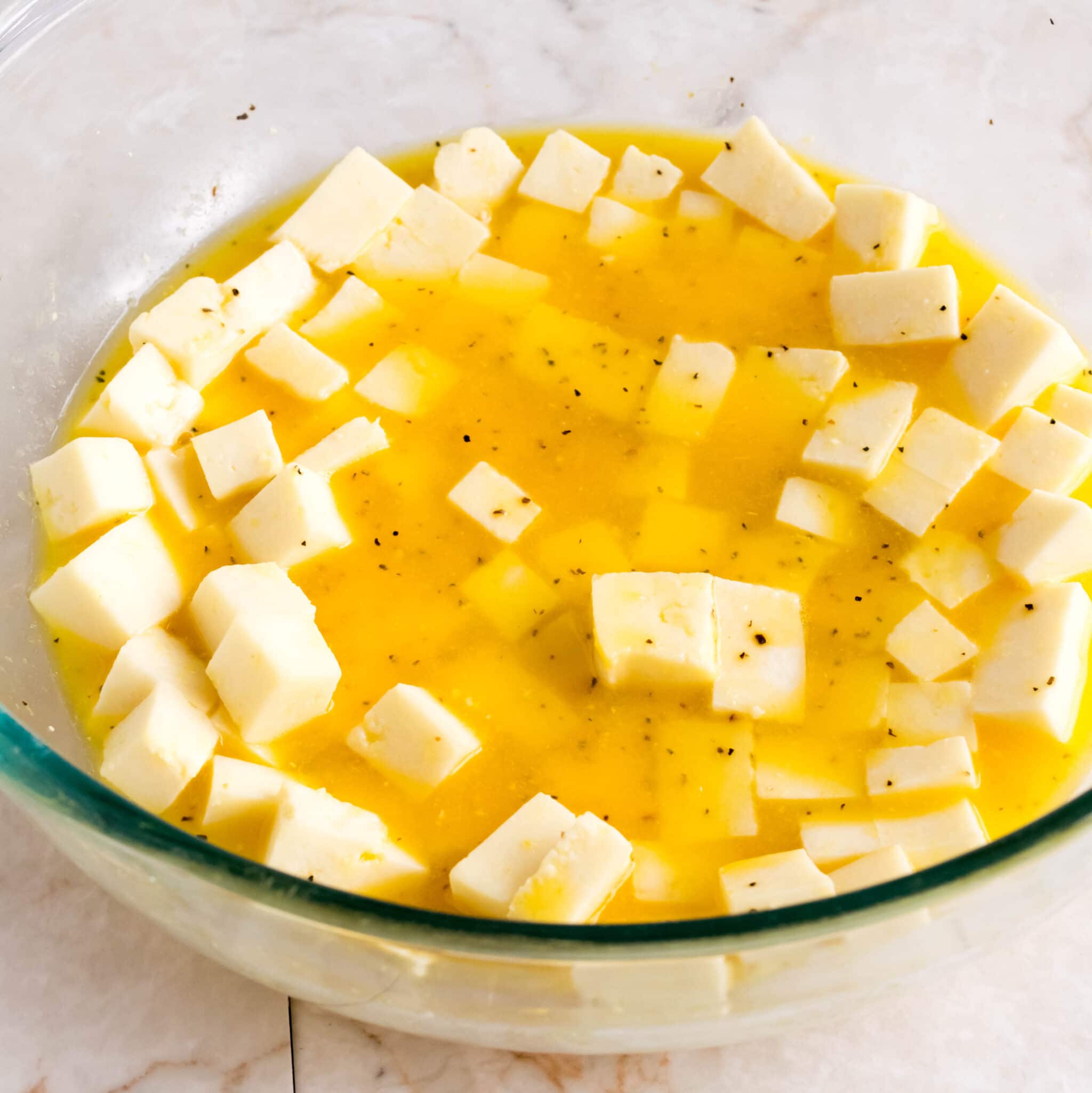 I scanned my refrigerator and found some beautiful oranges and a pack of paneer. Wow! What a relief! A part of me was satisfied immediately with the sight of those two ingredients. I quickly created orange marinade and marinated paneer pieces into it. In the meantime I again looked for some fresh salad leaves.
Yippee! I found red cabbage.
I now realize why I bought the red cabbage from the store? To create a new salad recipe. 🙂 . To my relief I also found baby kale, my favorite greens to add into my salad. Healthy Baked Orange Paneer Salad was in the process and only few minutes were left to satisfy my hungry tummy. 🙂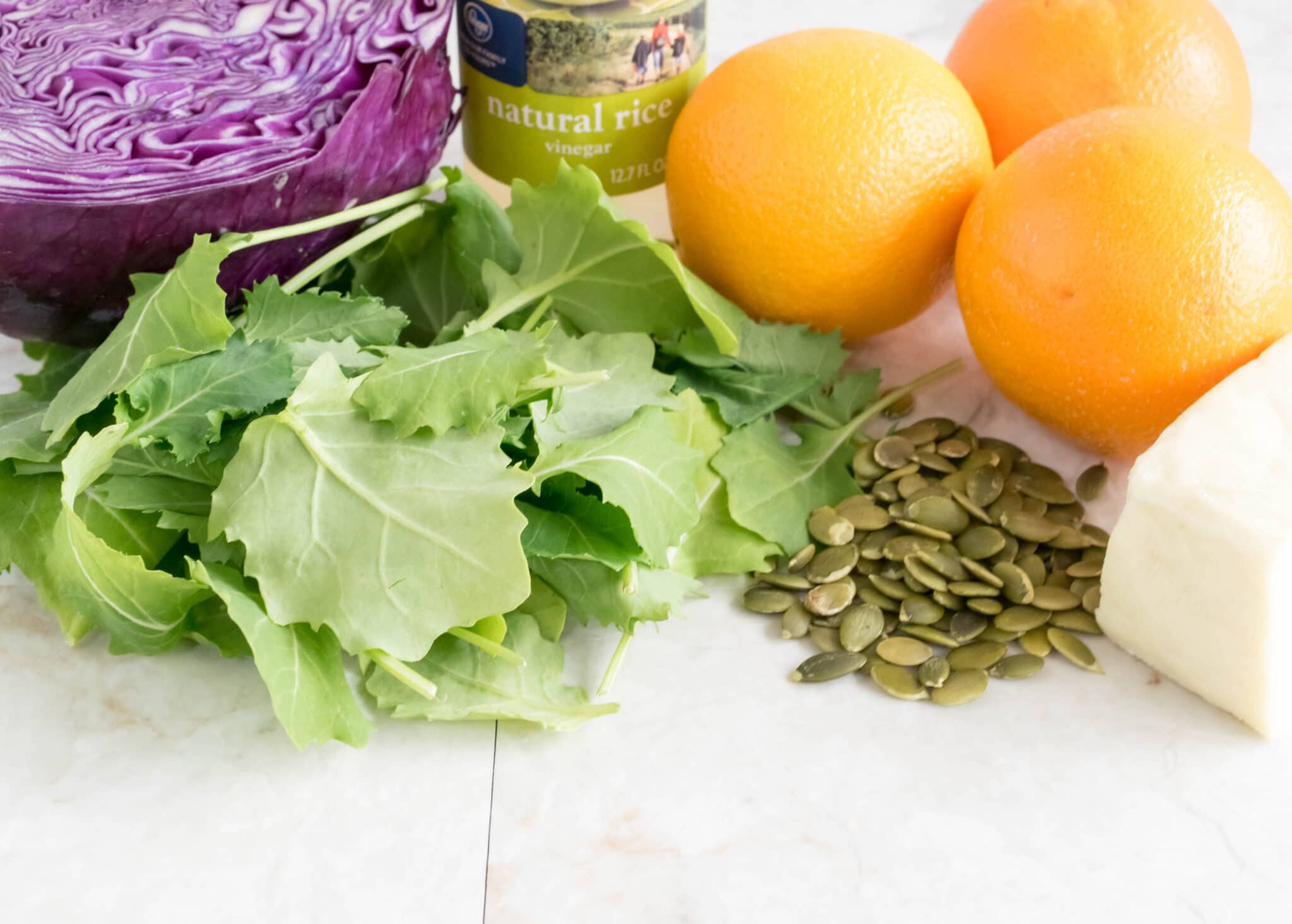 As soon as the paneer was baked I tossed all the salad ingredients together and then I wondered what was missing. AHA! A nice innovative salad dressing was missing. I saw the left over marinade and did not have a heart to throw away so I added few more ingredients and made orange dressing out of it.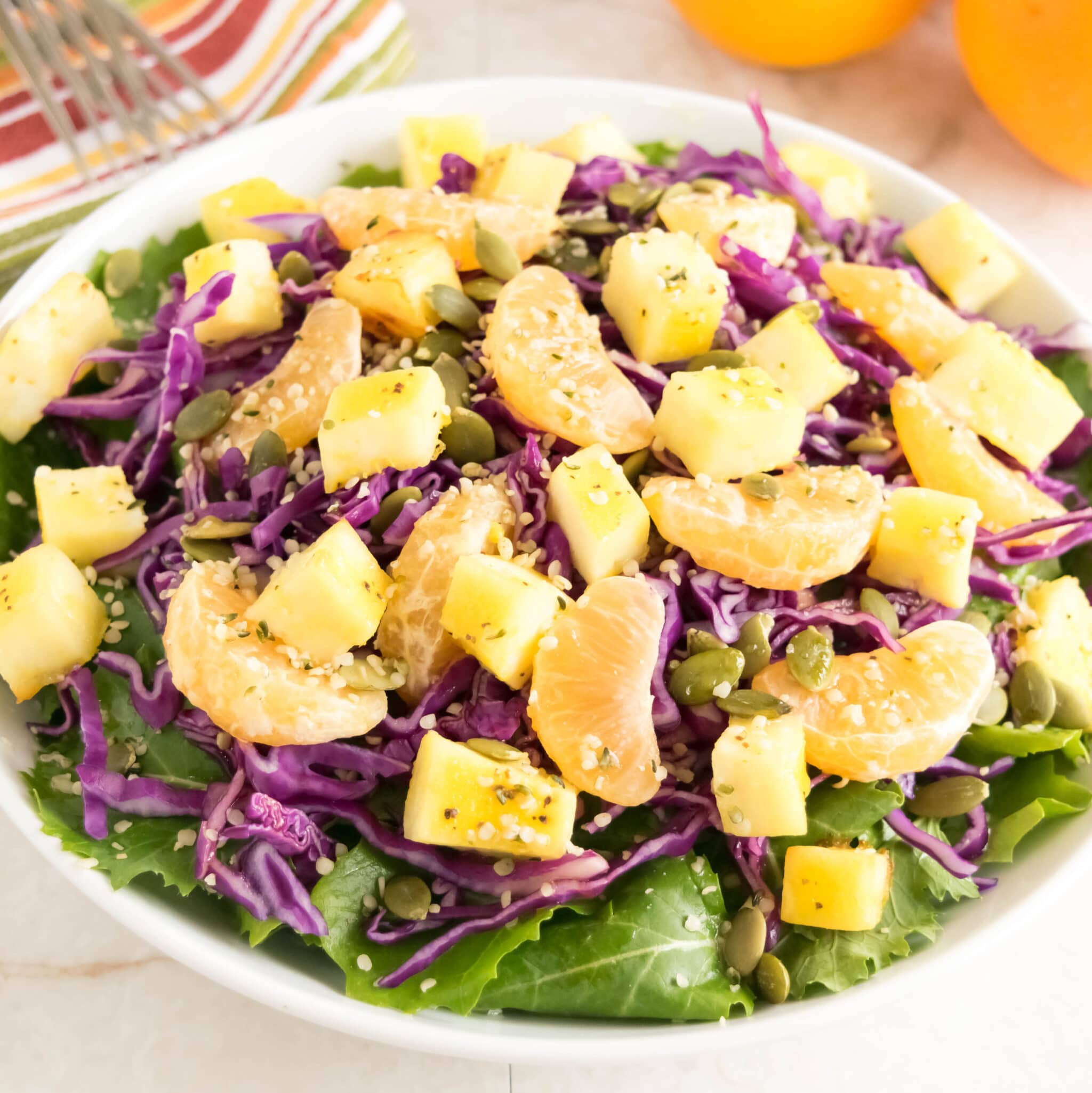 In few minutes healthy and low carb lunch with high fiber and lots of vitamin C and some omega 3 was ready and I was not only satisfied till evening I was also full of energy all day. 🙂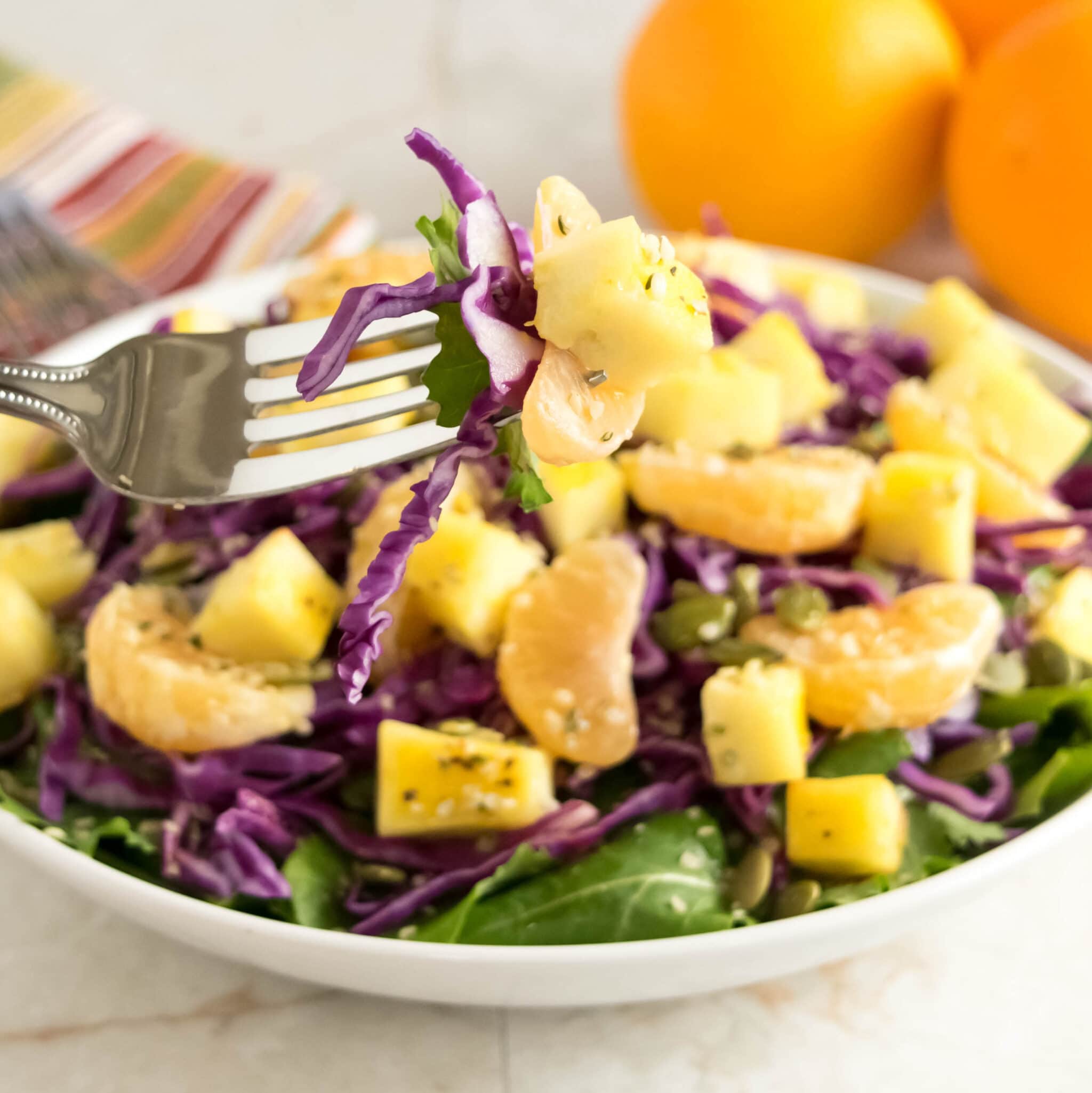 *Click here to buy Flax oil and Dried Garlic
Healthy Baked Orange Paneer Salad
Prep Time: 30 minutes
Cook Time: 20 minutes
Total Time: 50 minutes
Per Serving 163 calories
Fat 6 g
Carbs 17 g
Protein 11 g
Ingredients
2 medium sized orange
3/8 tsp salt
3/8 tsp crushed black pepper
¼ tsp orange extract
2 cups paneer (chopped)
¼ cup rice vinegar
1 tsp dried garlic*
1 tsp flax oil*
1 tbsp. brown sugar
2 cups baby kale
2 cups red cabbage (shredded)
1 small orange (optional)
1 tbsp. pumpkin seeds
1 tbsp. hemp seeds
Instructions
Juice out the 2 oranges and make sure to strain the pulp.
In a mixing bowl combine the orange juice, ¼ tsp salt, ¼ tsp black pepper, orange extract, and paneer and mix with a spoon. Let it marinate for 30 minutes.
In the meantime preheat the oven at 370 degree Fahrenheit. Prepare the cookie sheet with a liner and slightly greased.
Place the paneer onto the sheet (place the paneer dry and save the orange juice for the dressing).
With a spoon Pour 1 drop of the juice on the paneer and bake it for 15-20 minutes or until light golden in color.
While the paneer is baking add rice vinegar, remaining salt and black pepper, garlic, flax oil, brown sugar to the left over orange juice and mix well.
When the paneer is baked take it out from the oven and let it cool for 2 minutes.
Toss all the salad ingredients including the baked paneer into the orange dressing and serve.
Notes
Flax oil can be substituted with extra virgin olive oil.

Dried garlic tastes better in this recipe but feel free to use garlic powder as well. (Fresh garlic will give a raw taste so try to avoid it)

You may or may not add orange pieces to the salad. But if you decide to add orange pieces to the salad it will give extra flavor to the recipe and will taste even better.

Make sure that the oranges that you use for the juice is sweet enough. Or else you may want to adjust the sugar according to the taste.