Fresh pears and flaxseeds meal mixed in with coconut flour and baked into soft and moist muffins!
Aha!!  Savory!!
This aromatic healthy dessert is my daughter's favorite. 🙂 . She loved it so much that she ate this Grain Free Pear Flax Muffins for her meals. I was delighted!! 🙂
I have been tossing quite a lot of grain free muffins recently in my attempt to come up with proper texture and taste. After weeks trying, I finally created Grain Free Pear Flax Muffins the way I wanted it to be. Soft, Moist, flavorful, No crumbles and to my satisfaction!!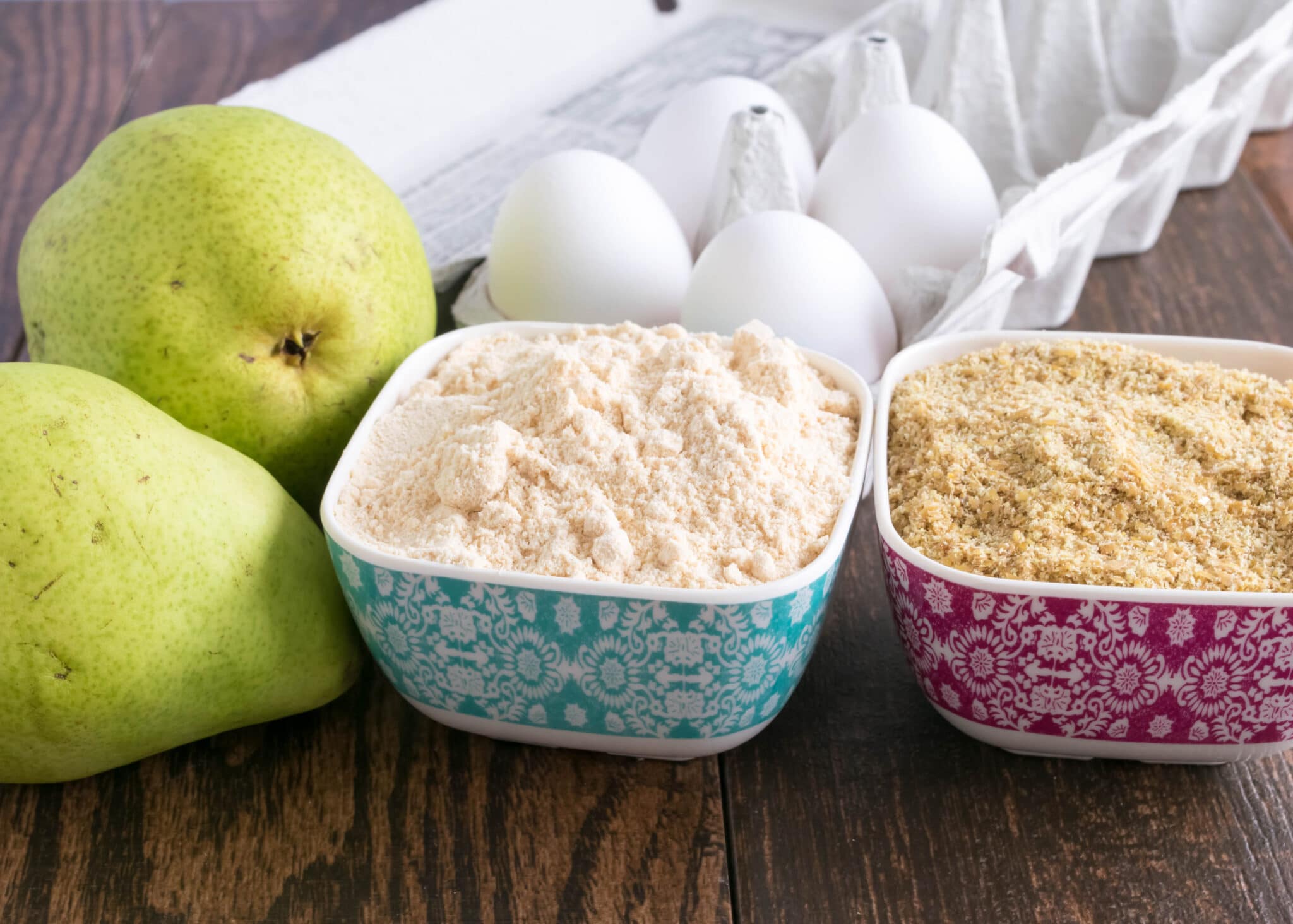 My daughter is crazy after pears and I have been trying to create a healthy dessert out of pears and I had a bag full of coconut flour. Coconut flour is high in protein and fiber. It is wheat free, gluten free and paleo friendly. It's a perfect food for the gluten allergen and has essential amino acids.
Coconut flour reacts slightly different when baking as compared to traditional grains so you may want to follow the recipe exactly.
I added Golden Flaxseed Meal due to its health benefits. Flaxseed is super food which helps in lowering cholesterol and high blood pressure, its gluten free and paleo friendly. It helps in enhancing immunity system and increases energy and vitality.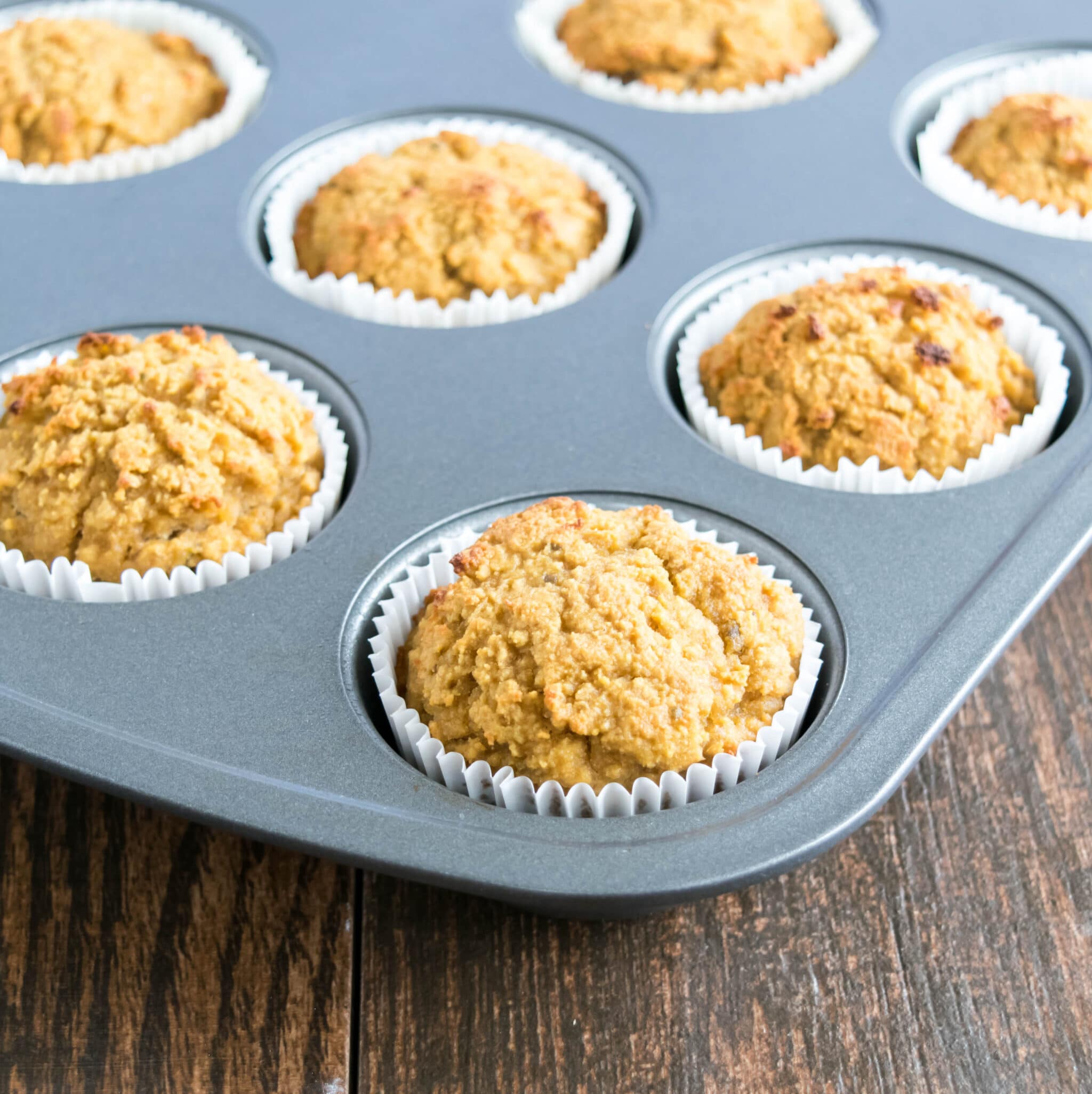 Grain Free Pear Flax Muffins are high in fiber, has required omega 3 fatty acids and good fats, good amount of protein with lots of flavor. It's a perfect guilt free indulgence dessert to satisfy your sweet tooth.
*click here to Golden Flax seed Meal , Coconut Flour , Flax oil
Grain Free Pear Flax Muffins
Prep Time: 10 minutes
Cook Time: 25 minutes
Total Time: 35 minutes
Per Serving 161 calories
Fat 6 g
Carbs 21 g
Protein 6 g
Ingredients
1 whole pear (seed removed)
6 eggs
½ cup pure maple syrup
1 tsp flax oil*
1 tbsp. vanilla extract
1 cup coconut flour*
¼ cup golden flaxseed meal*
¾ tsp baking soda
¼ tsp salt
Instructions
Preheat the oven at 375 degree Fahrenheit and prepare the muffin tray.
Remove the middle seed from the pear and grind it along with the skin as finely as possible.
Add all the wet ingredients in the food processor along with the pear and process for few seconds or until smooth.
In a mixing bowl combine the dry ingredients.
Pour the liquid ingredients into the dry ingredients and mix well with a spoon until the batter is smooth.
Spoon the batter with an ice cream scoop into the muffin tray and bake for 25 minutes or until the tester comes out clean.
Take it out of the oven and serve warm or at room temperature.
Notes
Flax oil can be substituted with olive oil.

You may use any flaxseed meal if desired.

Can be stored in an air tight container in the refrigerator for 3-4 days.