This protein rich Black Beans Crust Pizza is a perfect Friday night family dinner recipe. Its a healthier alternative with the same comforting and satisfying taste.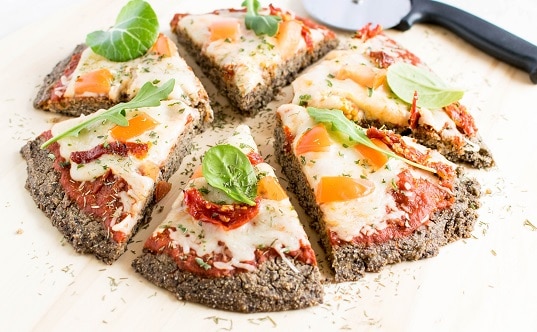 Usually on Friday nights if we aren't indulging in a restaurant, we order pizzas take out. We love to eat crispy pizza and relax relax in our cozy couch in front of our favorite tv shows.
But after consuming so much calories, unhealthy bites and of course over eating, the after effect like bloating and lethargy takes away all the fun from it.
Therefore, I end up feeling guilty and try to compensate for it the next day and it's quite a task.
I have been adding more protein to my diet. Hence, an idea crossed my mind to make a protein rich pizza crust. I wanted to make it healthy and delicious and of course guilt free.
I love black beans and have tried many variety of recipes with it. These tahini black beans fritters are my favorite.
I wanted to experiment a bit more and so came up with this black bean pizza crust.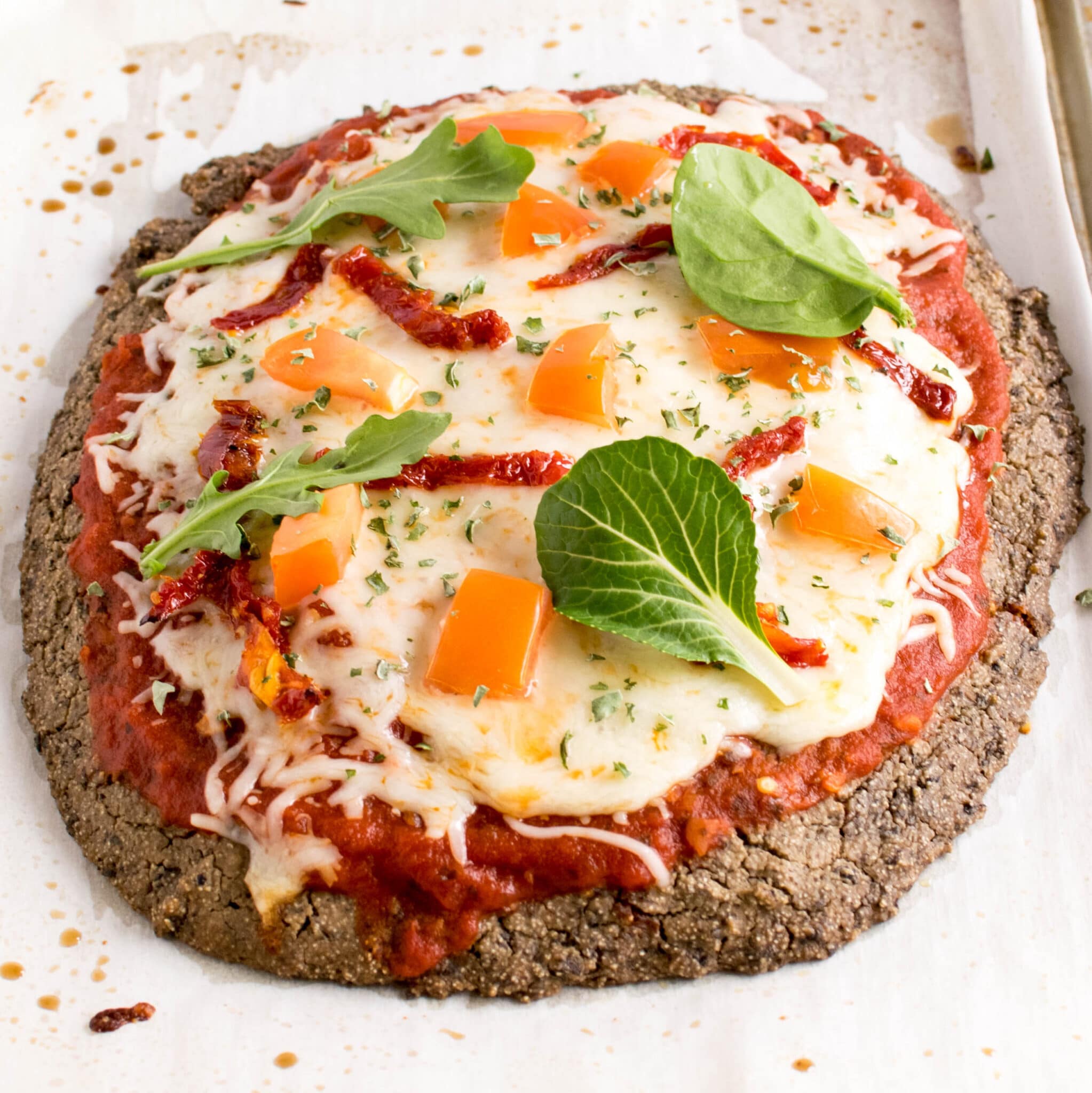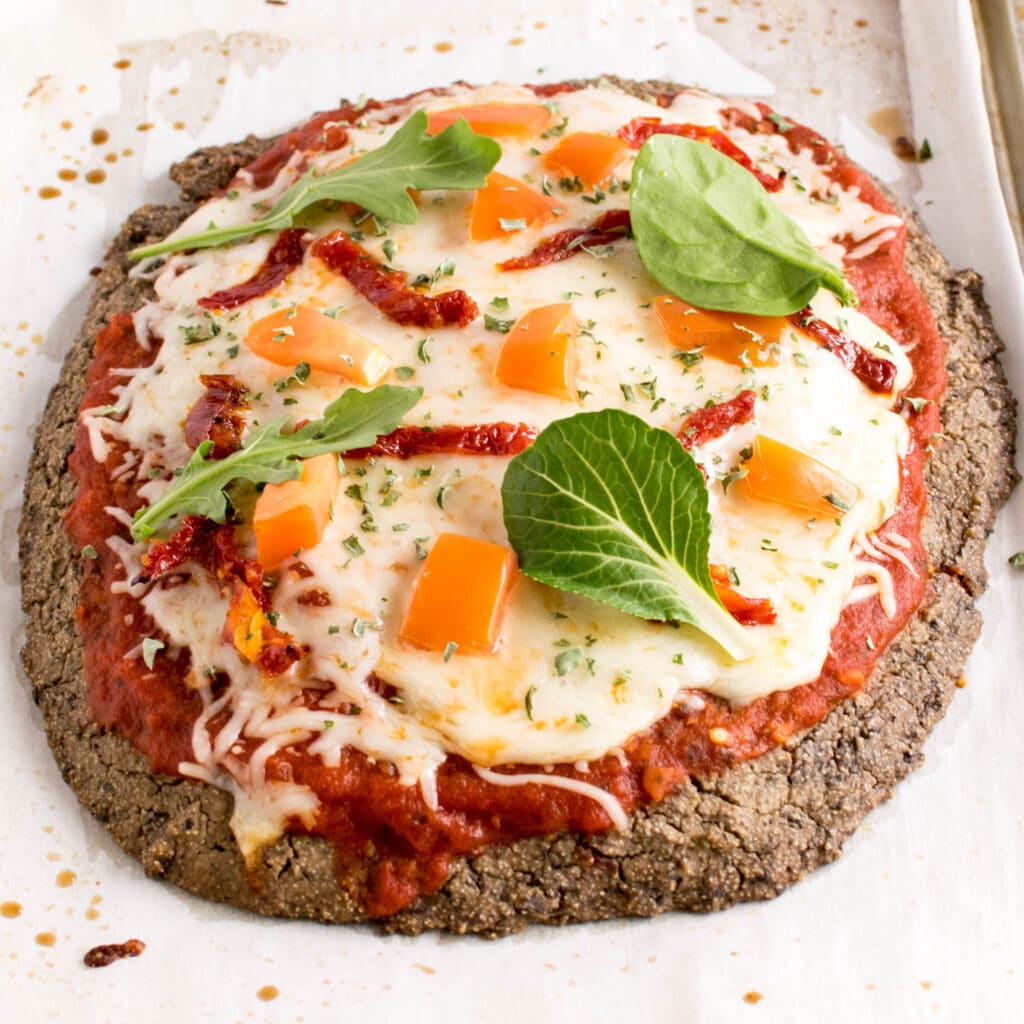 To my surprise, my idea worked and it was an instant hit with my family.
Hence, I am here share this black beans crust pizza recipe with you.
Ingredients you will need
black beans
eggs
olive oil
semolina flour
chickpea flour
salt
baking powder
garlic
cumin powder
I have used these easily available ingredients which you may buy from any local grocery store. However, I have provided links to few of them here for your convenience.
If you plan to buy from these affiliate links then I get a small commission which in turn encourages me to bring in more delicious recipes for you all.
Ingredients notes:
Black Beans – make sure to drain it well and rinse it thoroughly. Dap with a tissue to absorb extra moisture. Its high in proteins and low in calories.
Eggs – I used large eggs here. For vegan option you may substitute it with chia seeds.
Semolina flour – this helps in adding more protein and binds the crust really well.
Chickpea flour – its a gluten free flour. Along with providing protein this helps in binding the pizza crust well while baking.
For detailed measurement of ingredients, please scroll down to the printable recipe card.
How to make Black Beans Crust Pizza
Firstly, In food processor, I combined black beans, eggs and olive oil and blended them well. Then, I kept it aside.
Secondly, I combined all the dry ingredients in a mixing bowl and mixed it with a spoon well.
Next, I folded in the blended ingredients t the dry ingredients and make a sough dough like batter.
Thereafter, I spooned out the batter on the prepared round pizza pan and shaped it nicely.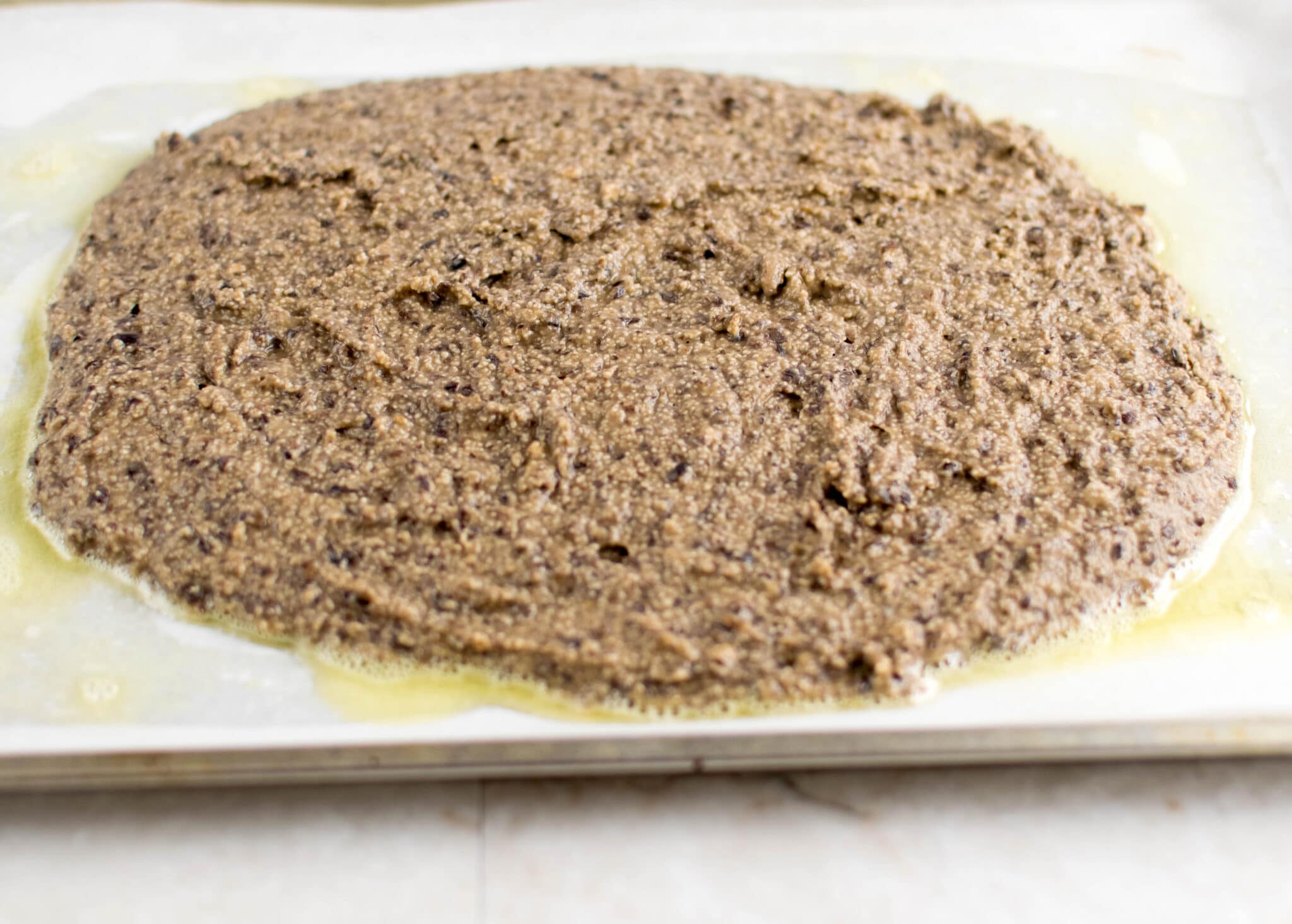 Afterwards, I baked it in the middle rack of the oven for 30 minutes oruntil done.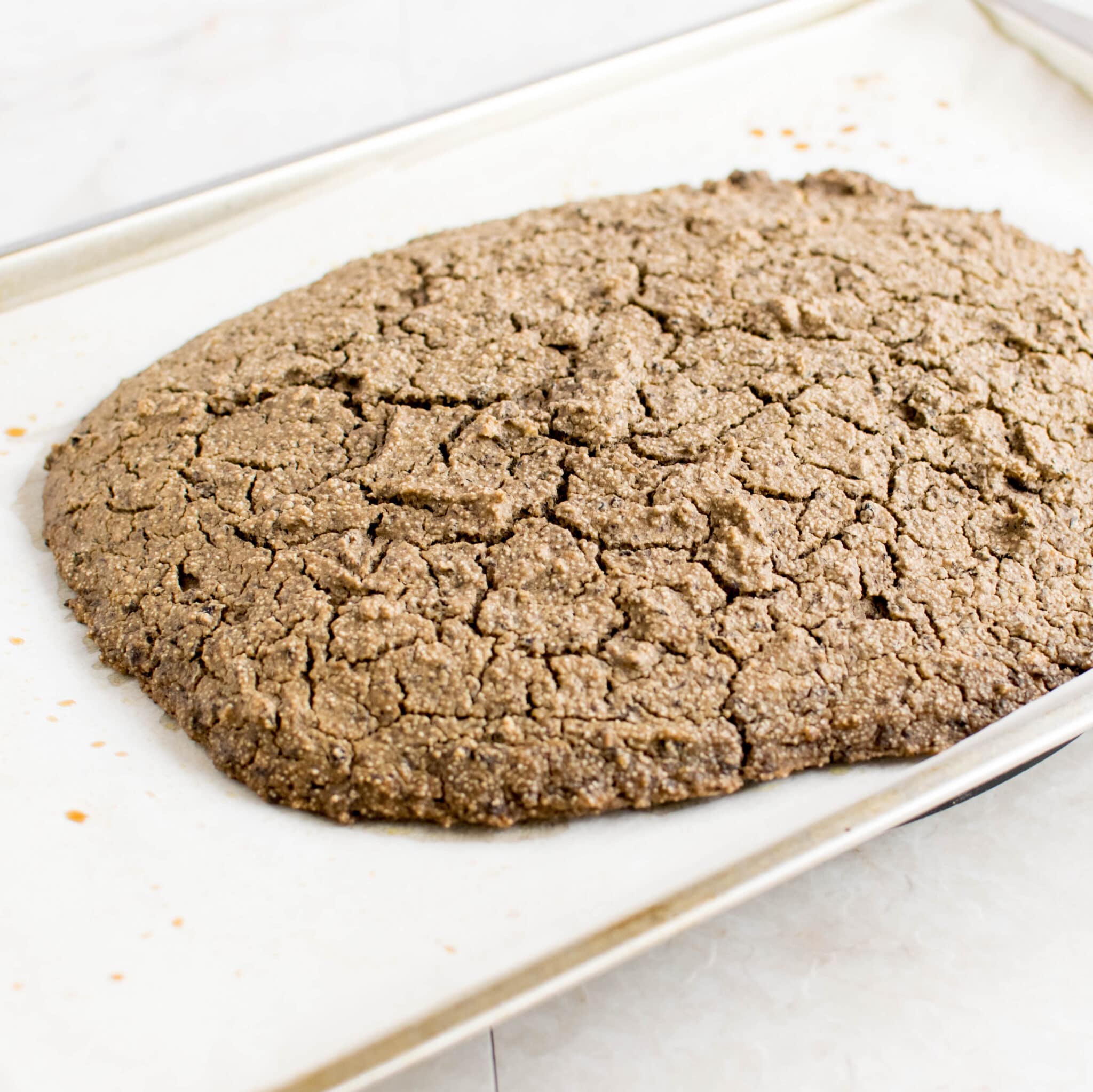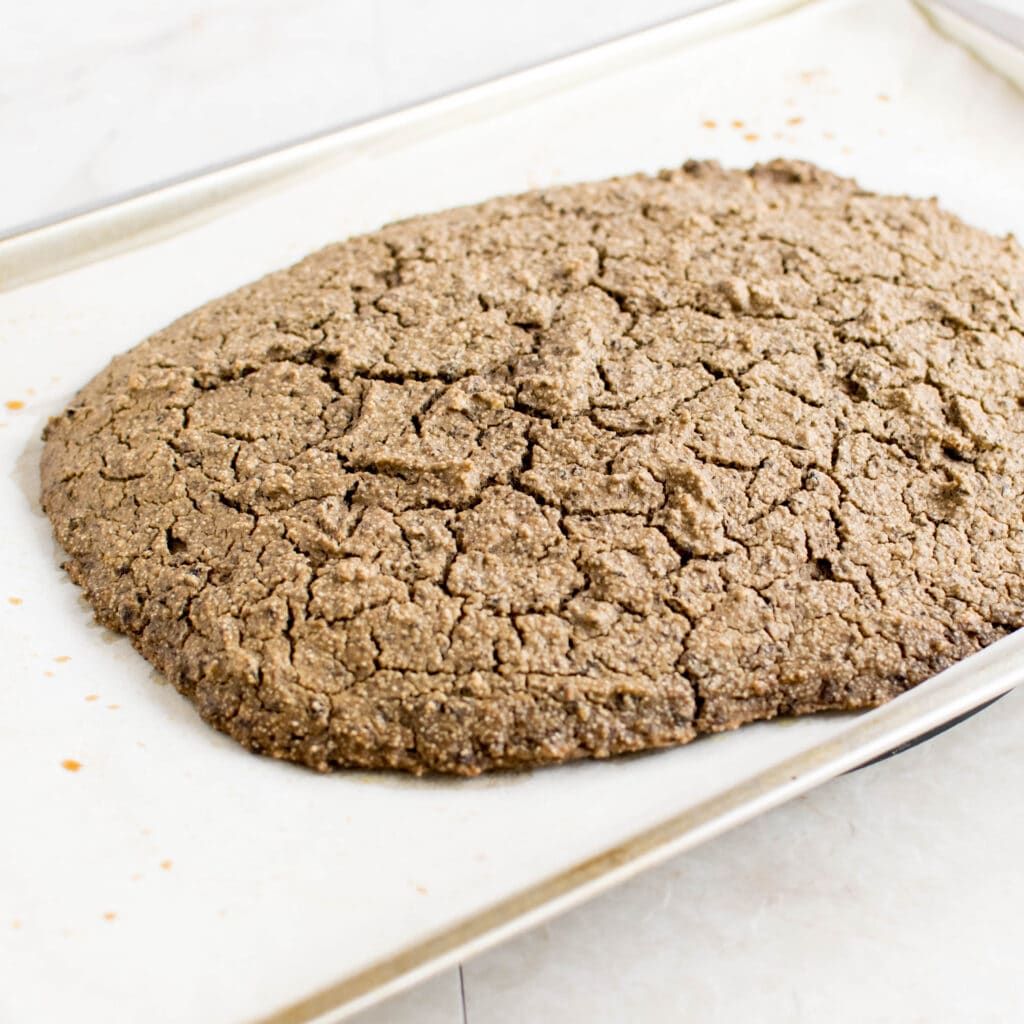 Later, I topped it with our favorite toppings and baked again for 5 minutes for the cheese to melt.
Once done, I took it out and placed it on a flat surface.
It smelled heavenly and we sliced and enjoyed immediately.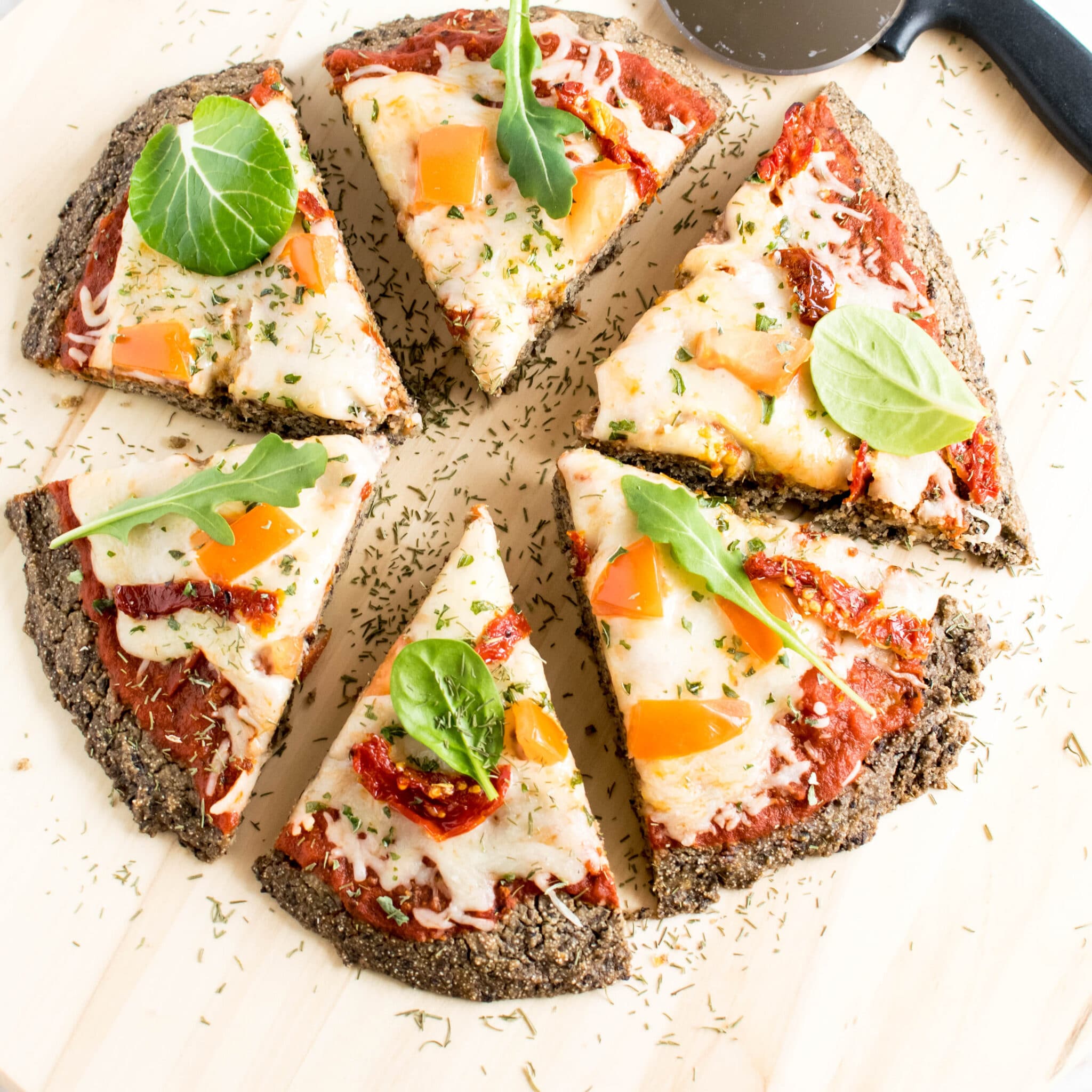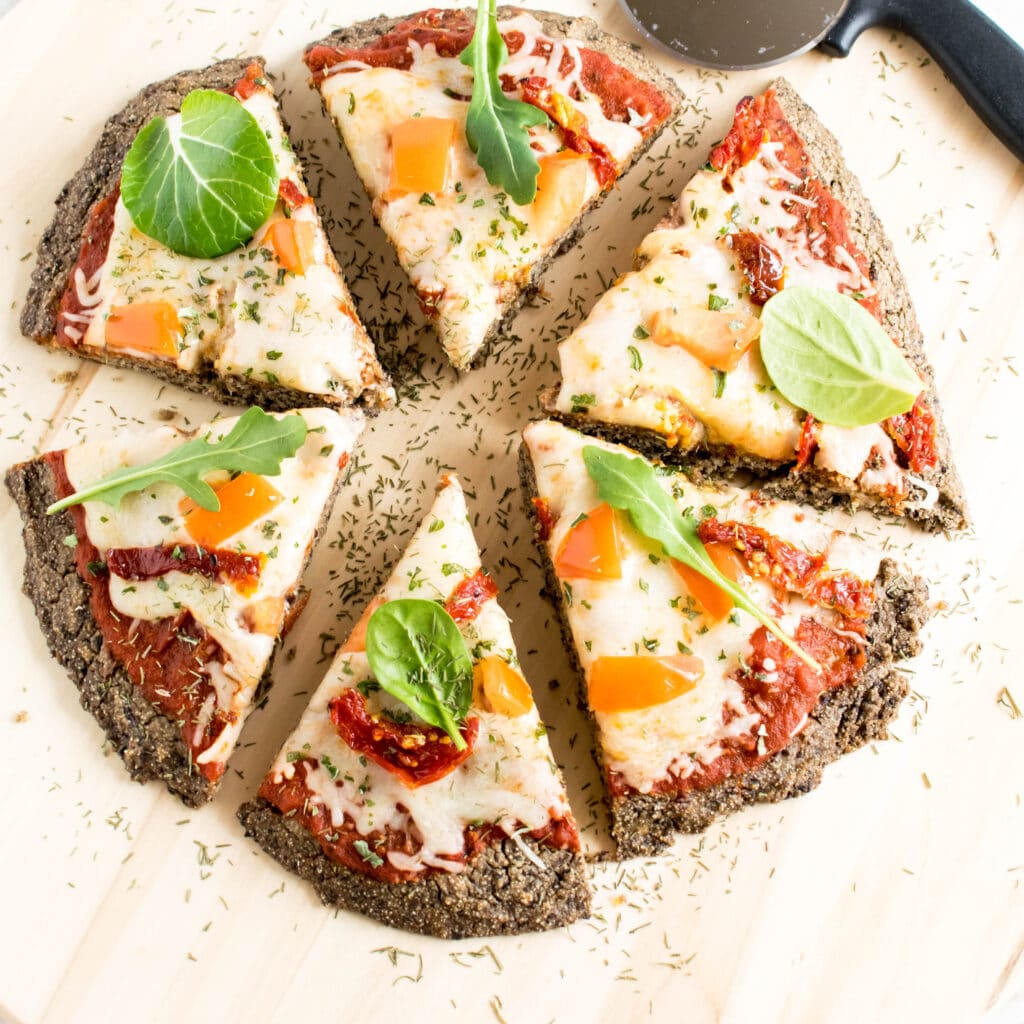 I was happy that I was able to feed protein and other nutrients to Yashvi. She was so happy that she asked to bake it again.
I was super delighted to see those smiling face on the dining table.
Black Beans Crust Pizza FAQs
How long does it last?
This taste best when served immediately. However, refrigerate the leftovers to enjoy it the next day.
can I make it vegan?
yes, just replace eggs with chia seeds. Therefore, soak 2 tsp chia seeds in 6 tbsp. water. Also, top it with vegan cheese.
Is it nut free?
Yes! therefore, can be packed for school lunches.
For a vegan pizza crust you may try my Oatmeal Almond Pizza Crust . Its easy and satisfying as well.
Did you make it?
If you get a chance to make this recipe then please leave your feedback in the comments below with a 5-star rating. In addition you may follow me on Facebook for regular updates.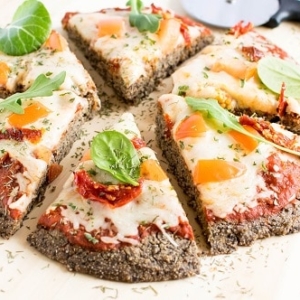 Print Recipe
Black Beans Crust Pizza
This protein rich Black Beans Crust Pizza is a perfect Friday night family dinner recipe. Its a healthier alternative with the same comforting and satisfying taste.
Instructions
Preheat oven at 350 degree Fahrenheit and prepare a cookie sheet or a pizza pan with a parchment paper and grease it very well.

In a food processor combine black beans, eggs and oil and grind smooth.

In a mixing bowl combine rest of the ingredients and mix with a spoon.

Now fold in the ground black beans mixture to the dry ingredients and mix vigorously with a spoon until well blended. Let the pizza batter stand for 1 minute.

Now pour the batter on the prepared sheet and shake the sheet gently holding both sides tight for the batter to take its own shape. Do not let the batter separate.

Place the sheet in the middle rack of the oven and bake for 30 minutes. Make sure the tester comes out clean. Take out the sheet and top the pizza crust with your favorite toppings and bake again for 5 minutes or until the cheese melts. Once done, take it out, slice and enjoy!
Notes
Vegan option : replace eggs with 2 tsp chia seeds soaked in 6 tbsp. water. Also, top the pizza with vegan cheese instead of regular ones.
Make sure to grease the baking sheet and the liner very well to avoid sticking.
After pouring the batter at the center of the sheet shake the sheet gently for the batter to take its own shape but it should not separate at all. You may use your finger gently to shape it if needed.
Make sure to drain all the water from black beans.
This pizza will rise slightly while baking and its edges would be crisp and soft at the center.
The batter would be thick and not runny.
Nutrition
Calories:
437
kcal
|
Carbohydrates:
64
g
|
Protein:
24
g
|
Fat:
10
g
|
Saturated Fat:
2
g
|
Polyunsaturated Fat:
2
g
|
Monounsaturated Fat:
5
g
|
Trans Fat:
1
g
|
Cholesterol:
124
mg
|
Sodium:
258
mg
|
Potassium:
421
mg
|
Fiber:
3
g
|
Sugar:
2
g
|
Vitamin A:
192
IU
|
Vitamin C:
1
mg
|
Calcium:
94
mg
|
Iron:
3
mg