It's pretty hard not to love spaghetti especially if you are a fan of Italian Cuisine. We are usually served spaghetti in tomato sauce, meat sauce or Alfredo sauce but I wanted to shake up my spaghetti routine a bit and create something unique. Immediately, the idea of Italian Mexican Fusion, struck me and I was excited to create this new recipe ALMOND SAUCE SPAGHETTI with CORN SALSA.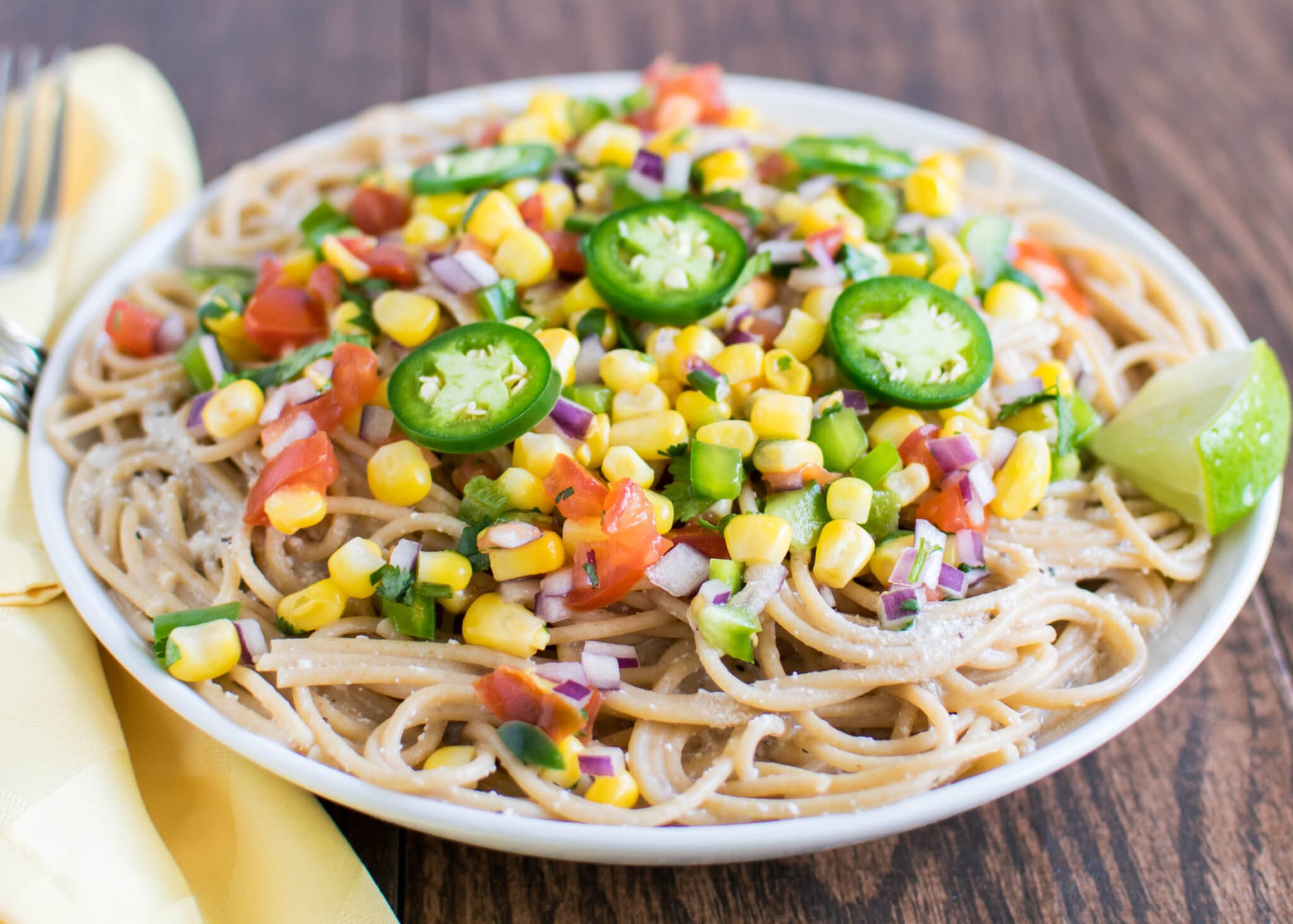 I decided to go with quick and easy Corn Salsa because the warm sunny weather outside was shouting for something cool, refreshing and light food and of course it had to be healthy. (This corn salsa is my very own version).
I know I am always on a lookout for quick and easy recipes but don't we all want to spend minimum time in the kitchen near the flame and yet get some interesting and healthy food? I vote for it. 🙂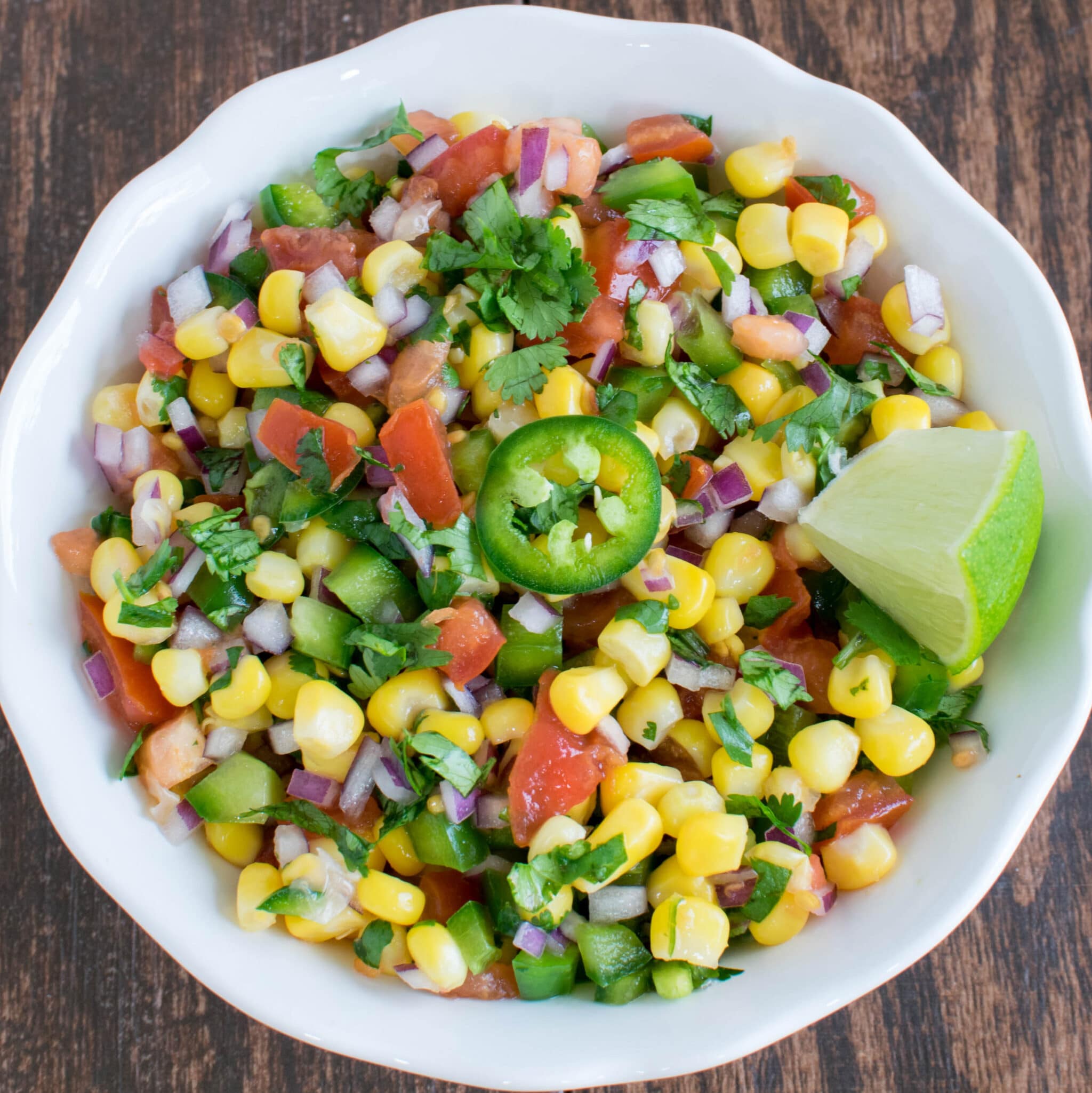 Since summer is just around the corner my craving for corn on the Cobb was getting at a height. I tossed some sweet corns, red onions, green peppers, tomatoes, and my favorite spice jalapeno peppers, along with some cilantro and citrus.
I think I want to dip a tortilla chip into it right now!  🙂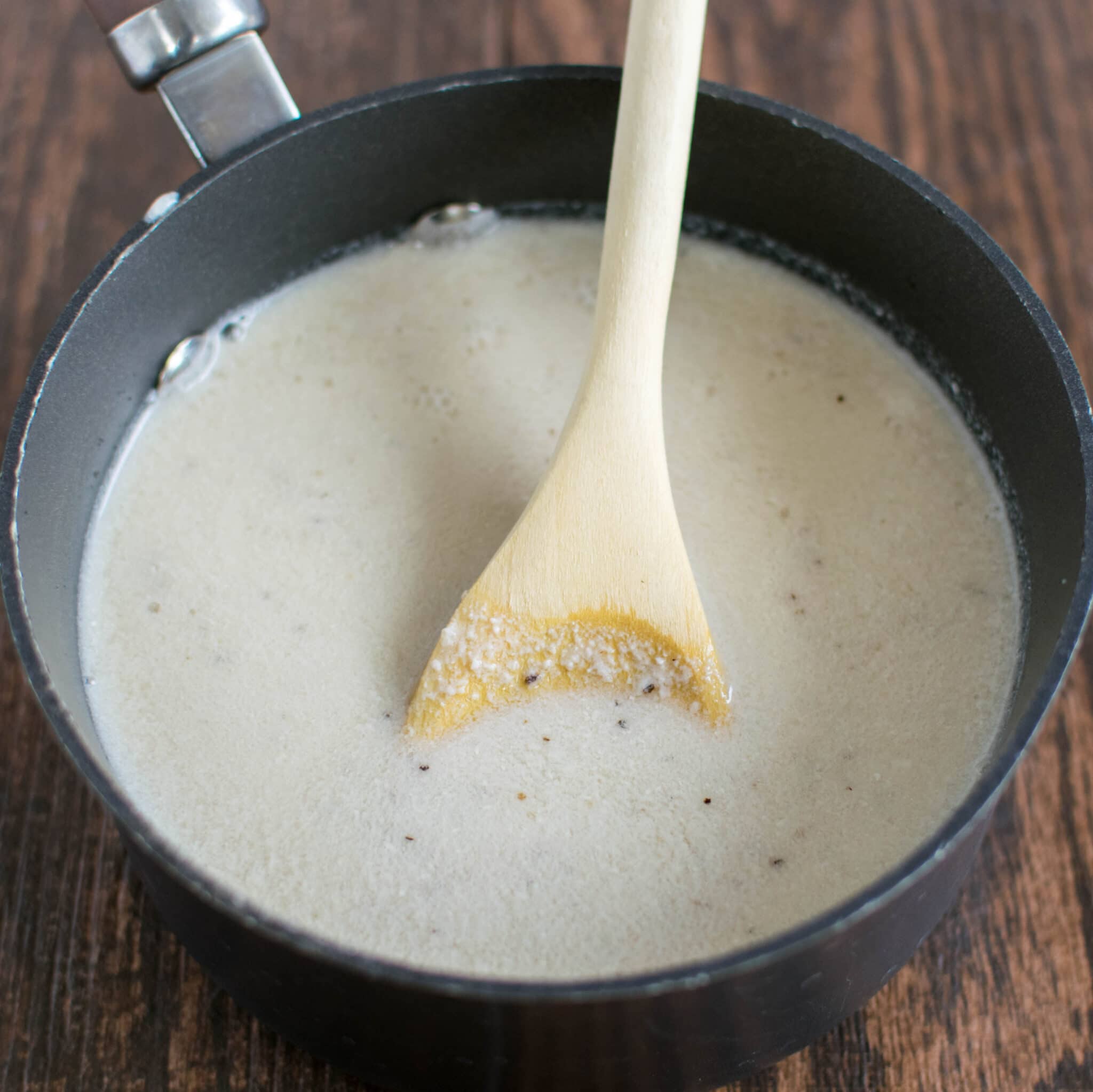 I decided to go for some creamy, smooth and nutty sauce for my spaghetti and decided on cooking Almond Sauce. It seriously took me only 5 minutes for this sauce. In fact this sauce was ready even before my spaghetti was boiled. Doesn't that sound easy?
So for healthy Almond Sauce which I wanted to make oil free and vegan I heated a nonstick pan and combined unsweetened almond milk and almond flour. (Make sure there is no lump). Added garlic, salt and pepper and gave it couple of boils and Almond Sauce was ready. Amazing, so quick, so easy and so healthy. No oil, no white carb and most importantly no butter. A low calorie protein rich sauce.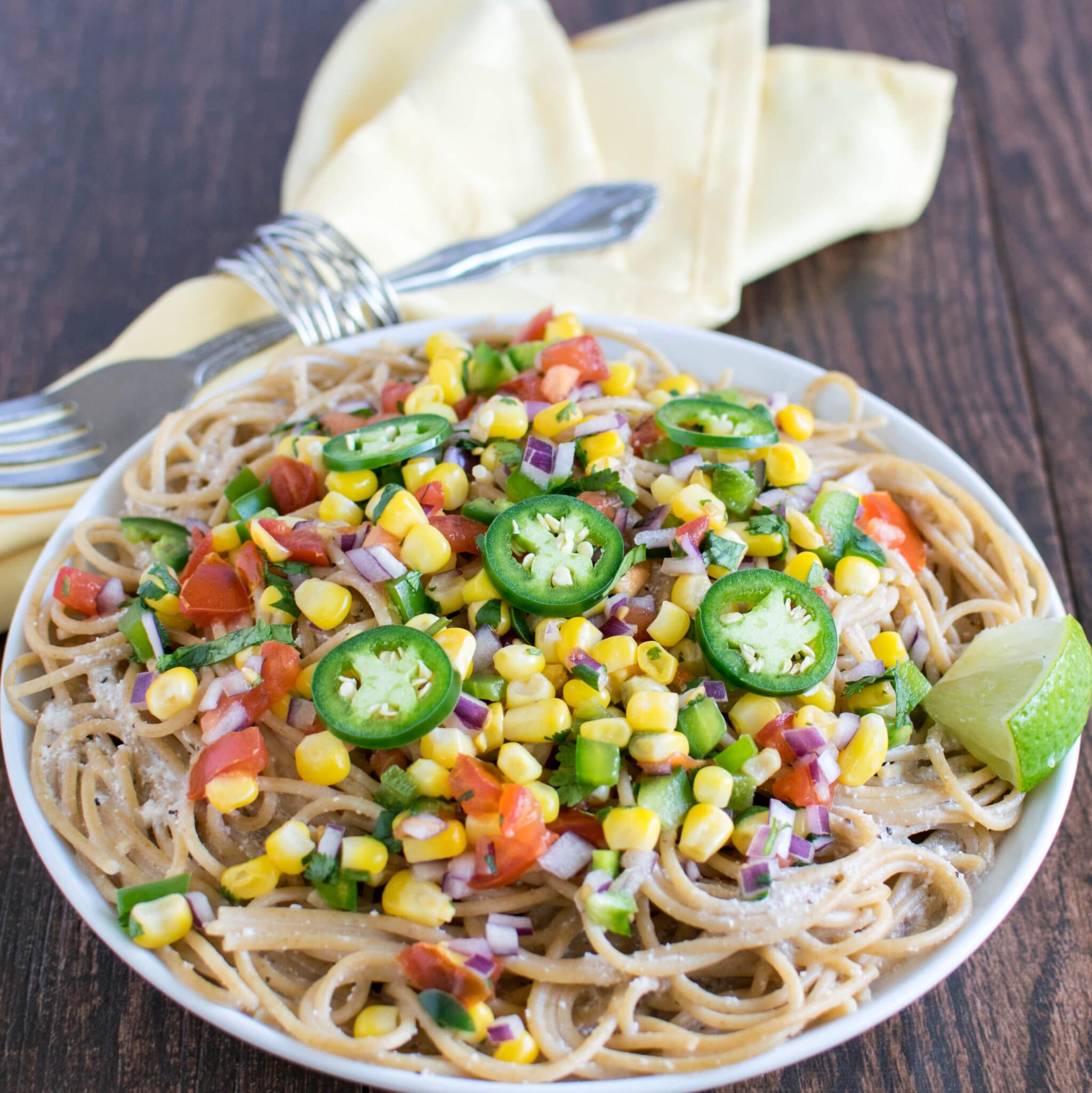 I opted for 100% whole wheat spaghetti for healthy option you can choose any spaghetti of your choice. Just pour the hot Almond sauce over the boiled spaghetti and top it with cool corn salsa and Italian Mexican Fusion dinner in ready. 🙂
Almond Sauce Spaghetti with Corn Salsa tasted warm and cool with salty, nutty and mild tangy flavor. A true healthy fusion meal with so much flavor.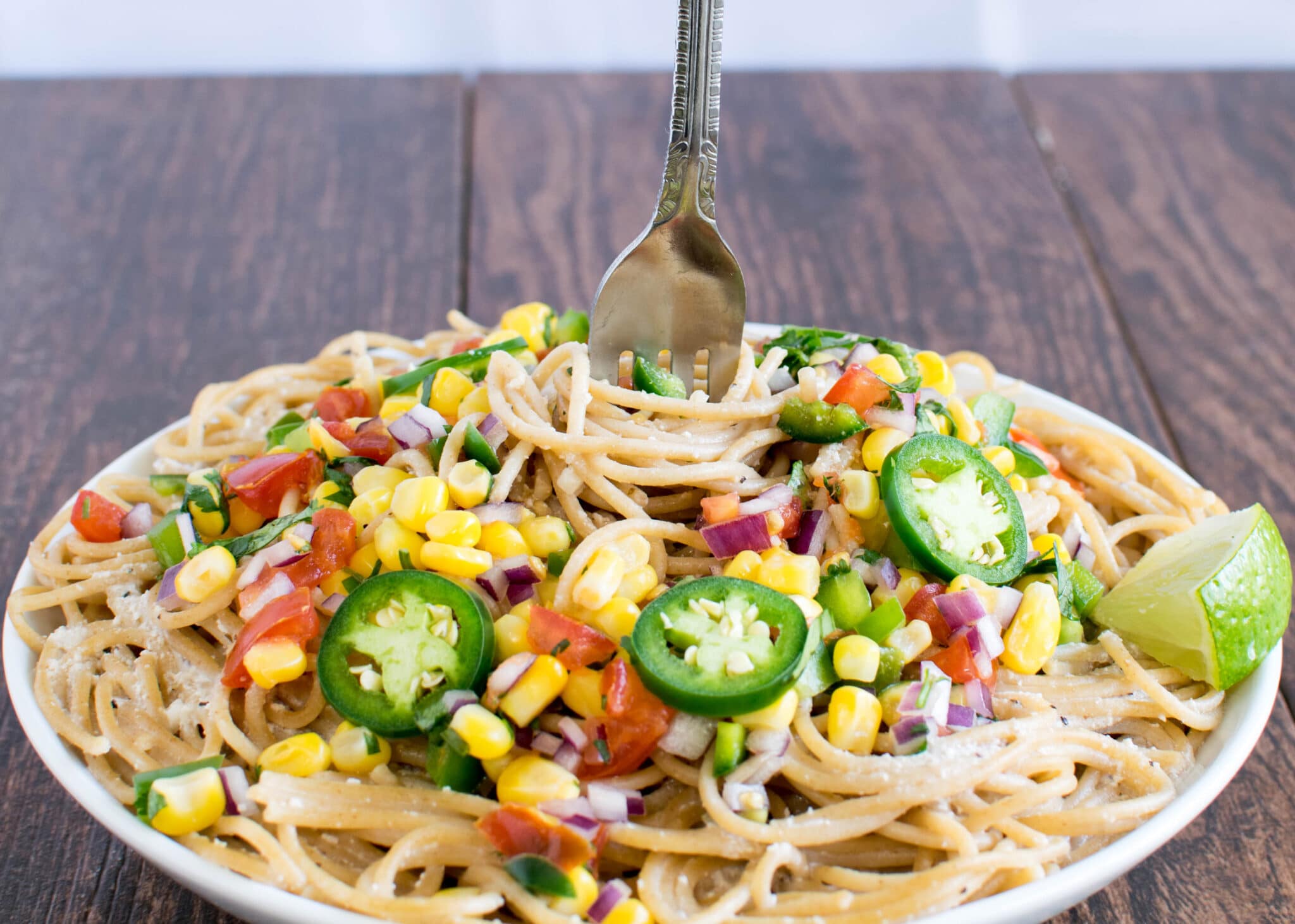 Almond Sauce Spaghetti with Corn Salsa
Prep Time: 20 minutes
Cook Time: 10 minutes
Total Time: 30 minutes
Per Serving 302 calories
Fat 7 g
Carbs 55 g
Protein 11 g
Ingredients
1 cup sweet corn
½ cup red onion (finely chopped)
½ cup green bell pepper (finely chopped)
2 Roma tomatoes (finely chopped)
1 tbsp. jalapeno pepper (finely chopped)
¼ cup cilantro (chopped)
1 ½ tsp salt
2 tbsp. lime/lemon juice
3 cups unsweetened almond milk
¼ cup almond flour
1 tsp garlic (chopped/crushed)
½ tsp crushed black pepper
2 cups whole wheat spaghetti (cooked)
Instructions
In a mixing bowl combine corn, onion, bell pepper, jalapeno pepper, cilantro, 1 tsp salt and lime/lemon juice. Mix well and let it stand for a minimum of 20 minutes.
In the meantime heat a nonstick saucepan and combine almond milk and almond flour and stir till the lumps are gone.
With the first boil add garlic, remaining salt and pepper. Let it boil for 2-3 minutes in a medium flame.
Once the almond sauce is cooked toss in the boiled spaghetti and gently coat it with the sauce.
Take it out in a serving dish and top it with the corn salsa and serve immediately.
Notes
You may spice up your corn salsa according to taste. In that case you may want to add little more salt and lime/lemon juice to it. Make sure it's not very tangy or else it will clash with almond sauce. Salsa should be mild or medium in flavor.

I used whole wheat spaghetti for increasing fiber in our diet you may use any spaghetti of your choice or linguine also goes well with this recipe.

If you have little extra time then you may let corn salsa stay for 30 minutes or longer. Keep it at room temperature in order to match the warm spaghetti.